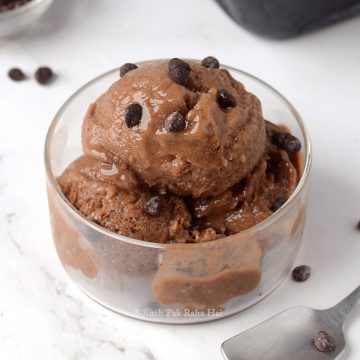 Easy to make, creamy, yummy & healthy chocolate banana ice cream recipe to satisfy your sugar cravings. It is no churn, egg free, dairy free and has zero refined sugar.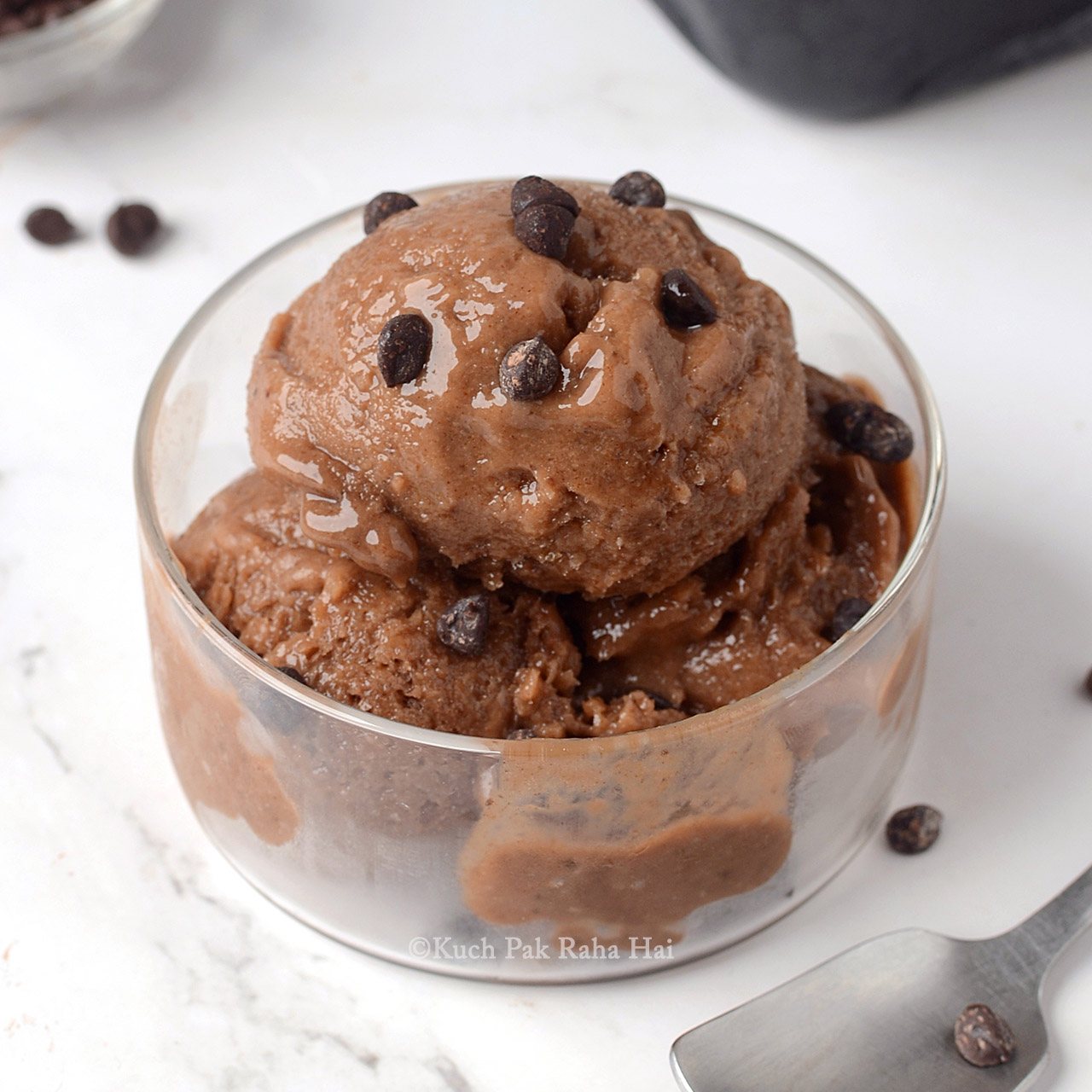 The non dairy ice creams made by blending frozen bananas with other fruits (like avocado, mango, strawberry etc) or flavourings are also called nice creams. Nice creams are made without heavy cream or whipping cream & hence are considered to be healthy alternative to ice creams as as they are low in calories, sugar & fats.
The banana chocolate ice cream recipe shared here is :
Vegan
Vegetarian
Gluten free
Healthy (No refined sugar)
I first tried to make this low calorie nice cream with only 2 ingredients – frozen bananas & cocoa powder. I felt it tasted a bit flat as it was less sweet (as per my taste preference) and less creamy. I added few more ingredients so that it remains healthy but at the same time tastes good too.
Ingredients for vegan chocolate ice cream:
Banana – Use ripe bananas for making this ice cream as they taste sweeter naturally. If you have extra ripe bananas at home, never throw them. Either use them to make banana bread, pancakes, muffins , smoothies, french toast or freeze them for making this tasty ice cream later.
Cocoa Powder – Use good quality cocoa powder as otherwise the ice cream can taste grainy or powdery.
Dates – Dates have natural sugar & act as a sweetener in this recipe. Use pitted dates for it. If you have whole dates then deseed them first.
Almond milk – Almond milk adds richness and creaminess to the ice cream. If you are fine with coconut taste in your ice cream, you can even use coconut milk.
Nut butter– Little bit of peanut butter or almond butter adds fat to the ice cream and makes it smooth. However if you want to make the ice cream nut free, skip adding it
Flavourings– I like to add some vanilla extract to the ice cream mixture as it masks the aroma of bananas. Other ingredients that you can add-
Pinch of sea salt
Dark chocolate chips
Mint chocolate chips
Nuts like walnuts or hazelnuts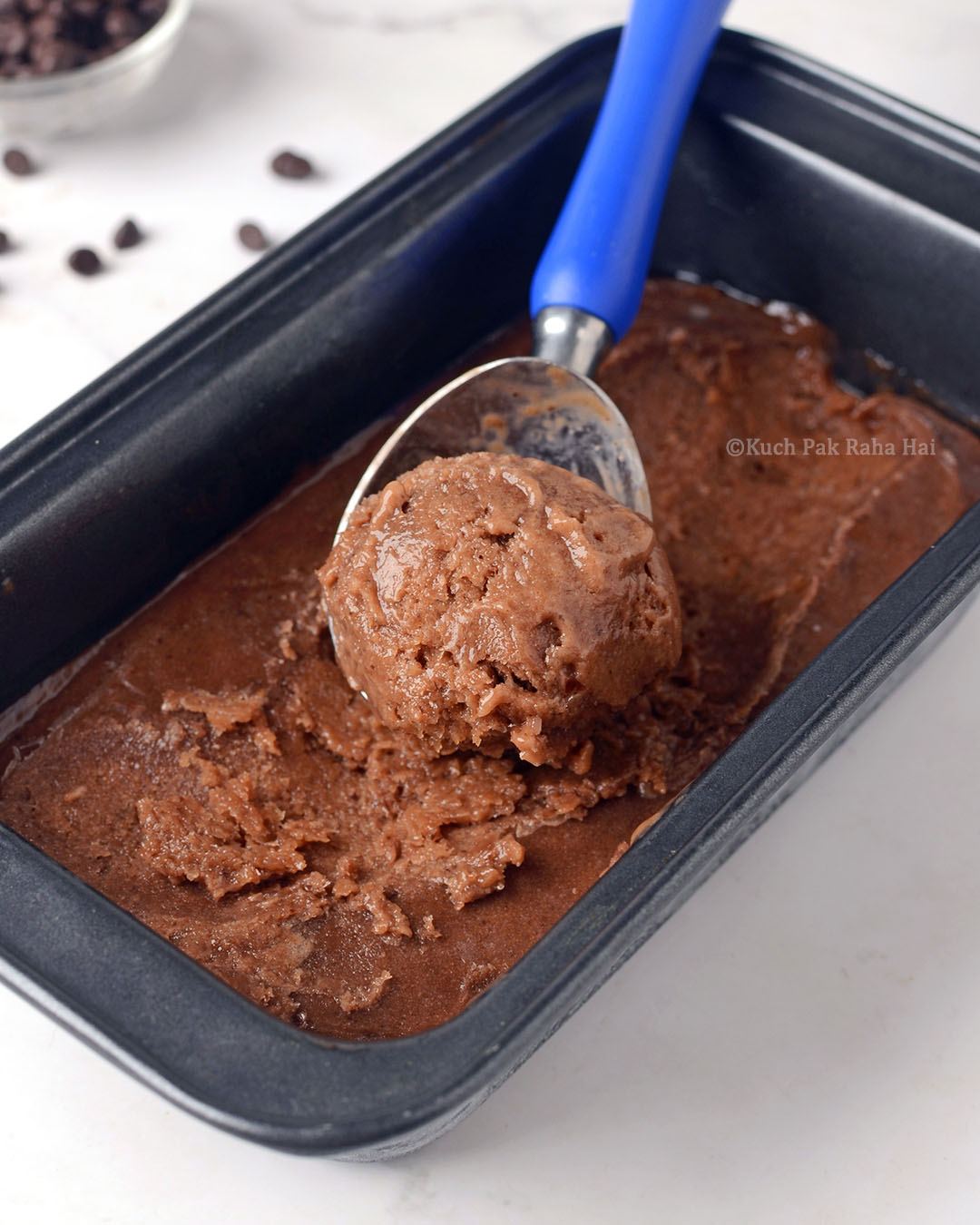 Nice cream benefits:
The ripe bananas are rich source of dietary fibre, potassium, vitamin B, vitamin C and antioxidants etc. Almond milk is especially known to be rich in vitamin E and dates contain potassium, magnesium and calcium etc.
So with a single scoop serving of this ice cream you are enjoying a delicious dessert and also reaping the benefits of these ingredients. It is also a great option for kids who constantly hanker for ice creams in summers.
Nice cream consistency:
For soft serve consistency, you can enjoy the ice cream straight away after blending and if you want proper hard consistency then freeze the mixture for 2-3 hrs. If you want to make chocolate banana ice cream pops, then pour the mixture into popsicle moulds.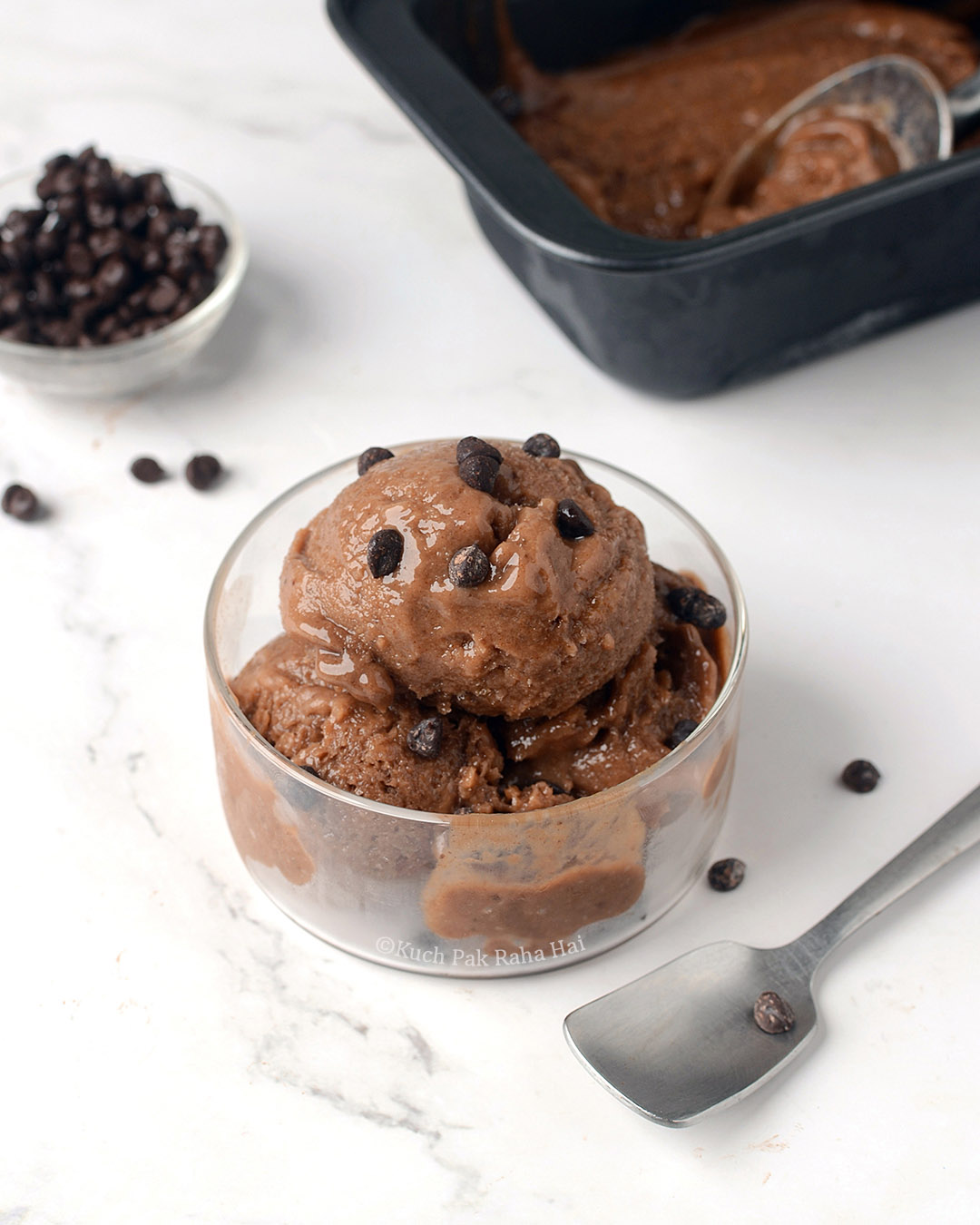 Hope you will like this vegan chocolate ice cream!! 🙂
More healthy dessert recipes:
Ingredients:
Ripe Bananas- 3
Cocoa Powder- (1 + 1/2) tsp
Dates (pitted) – 4 to 5
Almond milk – 1/4 cup
Peanut / Almond butter- 2 tsp (optional)
Vanilla extract- 1/2 tsp
Directions:
Step 1:
Peel the bananas and cut it into slices. Transfer them in a freezer safe bag and freeze overnight.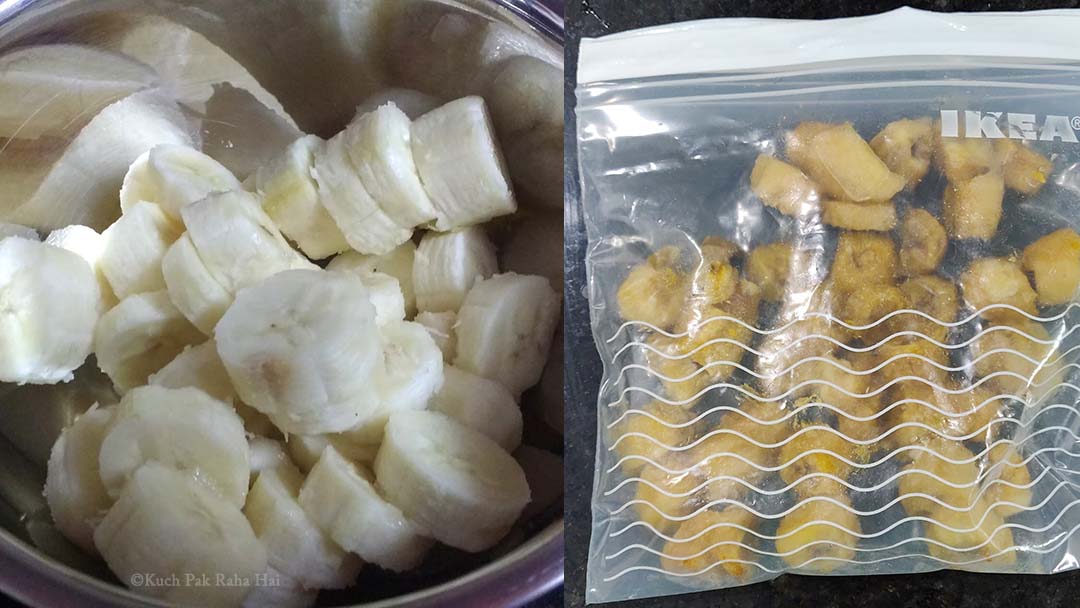 Step 2:
Soak dates in almond milk for 10-15 min (to soften them up). In a blender jar add these dates with milk, cocoa powder, peanut butter & vanilla. Blend till you get smooth puree.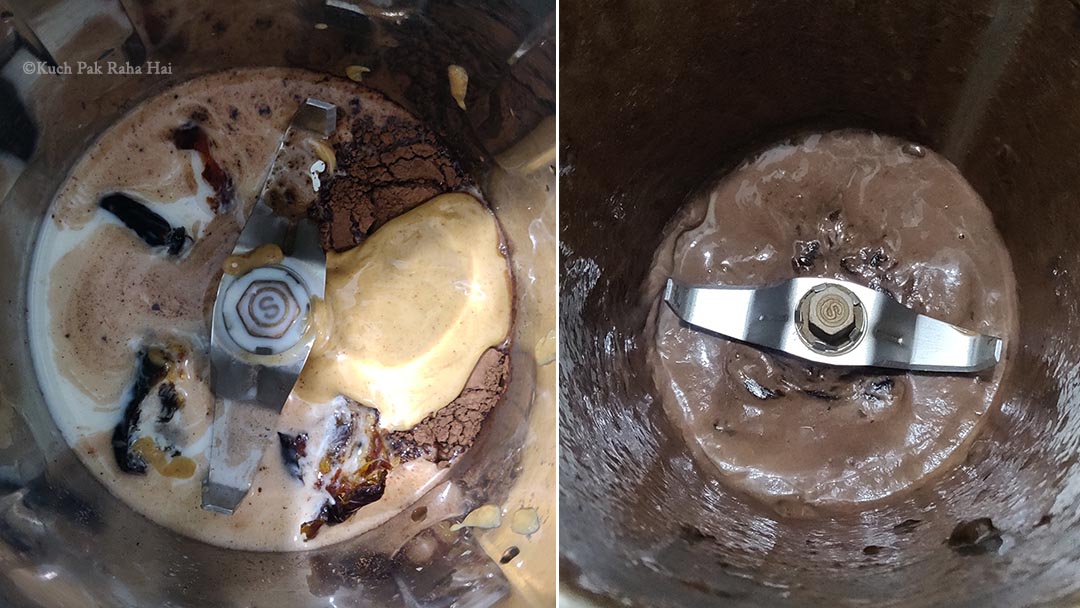 Step 3:
Add frozen banana pieces to the above mixture. Blend well.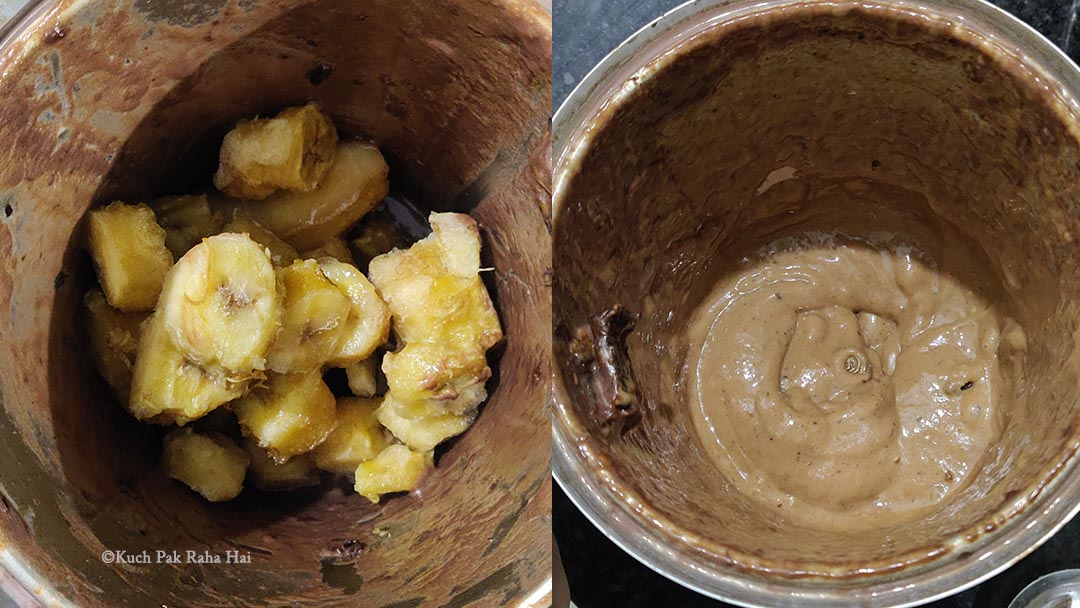 Step 4:
You can enjoy soft serve ice cream straightaway or transfer into a freezer safe container. Cover the top with cling film such that it is slightly touching the ice cream. Freeze for 2-3 hours.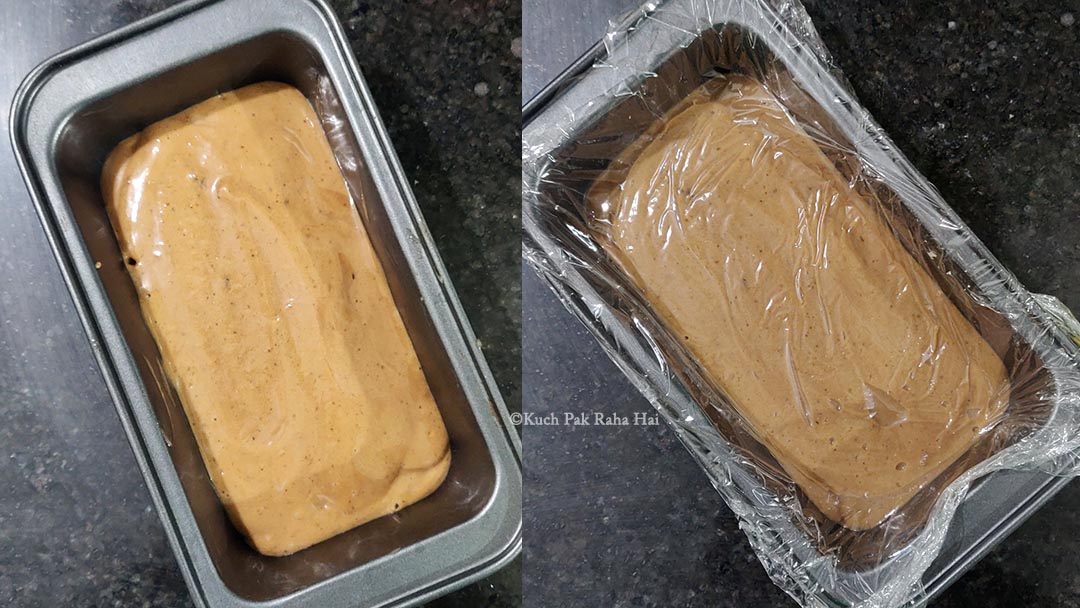 Once frozen, remove the cling wrap from top. Let the ice cream on kitchen counter for 2-3 minutes (to make it easier to scoop).
Scoop and enjoy yummy banana chocolate ice cream. You can add some chocolate sauce or chocolate chips to it.
More ice cream recipes to try (egg free):
Pin for later: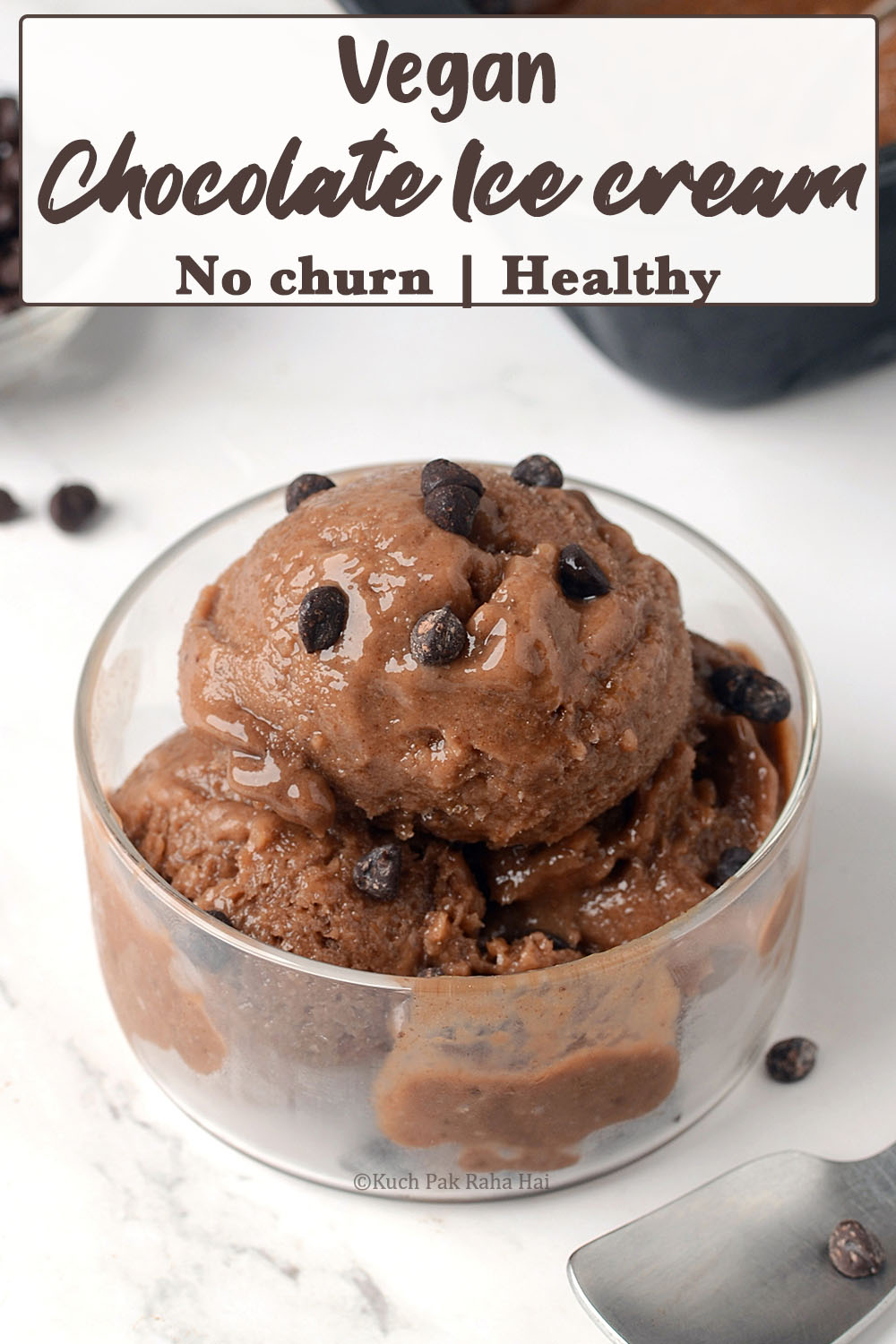 If you try this healthy vegan chocolate banana ice cream recipe & share pics on social media, then don't forget to tag on Facebook, Instagram or use #kuchpakrahahai.
Let's stay connected
Facebook | Instagram | Pinterest| Youtube