Healthy Vegan Banana Chocolate ice cream is an easy to make 2-ingredient rich and creamy ice cream recipe that does not uses milk or any milk products. It is delicious, chocolatey and sugar-free too. This vegan ice cream recipe consists of just two ingredients -banana, cocoa powder and it gives you yummy ice cream in minutes. The best part about it is that it can be eaten even when you are on a diet or on a healthy eating regime.
It happens with many of us that whenever we decide in our heads about completely eliminating sugar from our diets, it is the ice cream that makes us go weak in our knees. With this sugar free ice cream recipe, you can satisfy your sugar cravings and that too without any guilt.
This dairy free ice cream recipe does not contain any artificial sweeteners. The sweetness in this ice cream comes from the bananas. Please take utmost care while making this recipe that bananas should be ripe. If the bananas are not ripe, they would not be sweet enough and would leave a bland taste behind. The ripe banana are rich source of dietary fibre, potassium, vitamin-B, vitamin-C and antioxidants etc. I am personally a die-hard fan of chocolate (& crave most of the time for it) so cocoa powder has to be there in the recipe. Also, apart from giving a chocolatey taste, it gives the ice cream a beautiful colour too. If you don't want to add cocoa, it is fine but then the ice cream colour may be slightly brownish as bananas tend to oxidise with time.
I never imagined that bananas could be transformed into something so delicious and irresistible. You can also try this recipe if you have lots of ripe bananas at home and confused about what to do with them. I have used roasted chopped almonds, pistachios for garnishing . You can use any nuts, chocolate chips or chocolate sauce.
So don't say NO to ice cream this summers and enjoy this mouth watering healthy vegan banana chocolate ice cream!! 🙂
Preparation Time: 10 minutes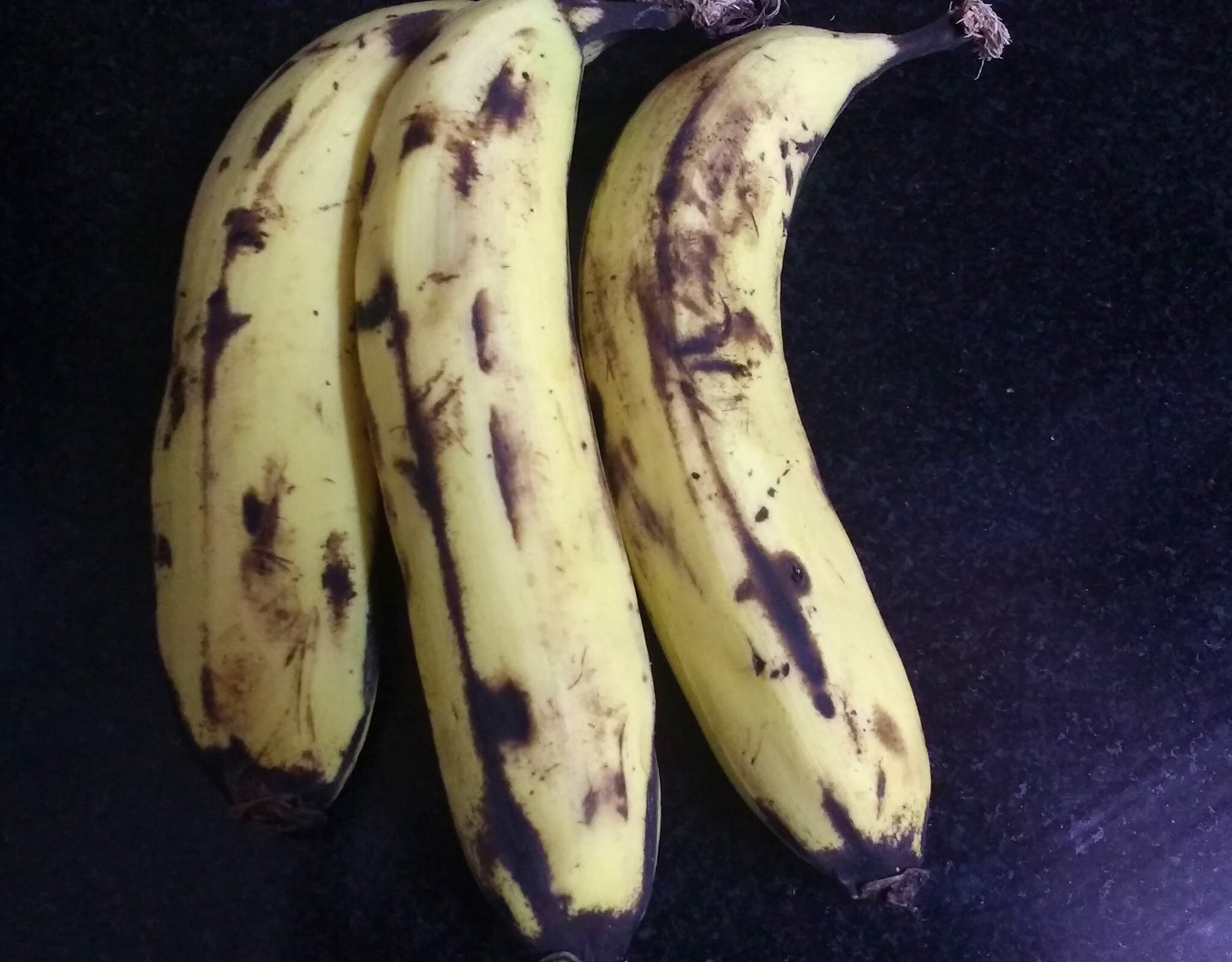 Ripe Bananas
List of Ingredients:
Ripe Bananas-3
Cocoa Powder-2 tsp
Vanilla essence- 1 tsp (optional)
Chopped Roasted Nuts-2 tbsp (For garnishing)
Steps To Prepare:
Step1:
Peel the bananas and cut it into slices.
Store it in a container and keep it overnight in a freezer.
Step2:
Whenever you want to make the ice cream, bring out the frozen bananas. Add it to blending jar or food processor. Add cocoa powder (buy here) and vanilla essence to it.
Blend it well till there are no banana pieces left.
Step3:
You can either eat it straightaway or transfer into an air tight container and freeze it for another 2-3 hours.
Garnish it with chopped and roasted nuts. Enjoy this healthy vegan banana chocolate ice cream and that too guilt free this summers!! 🙂