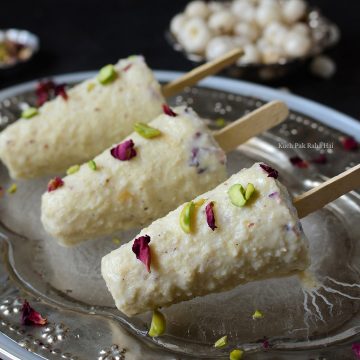 Makhana Kulfi is a lip smacking frozen Indian dessert made using slow cooked milk, sugar, makhana (lotus seeds), nuts & cardamom. It is an easy kulfi recipe & turns out absolutely creamy, luscious without using any condensed milk, mawa (khoya) or thickeners like cornflour.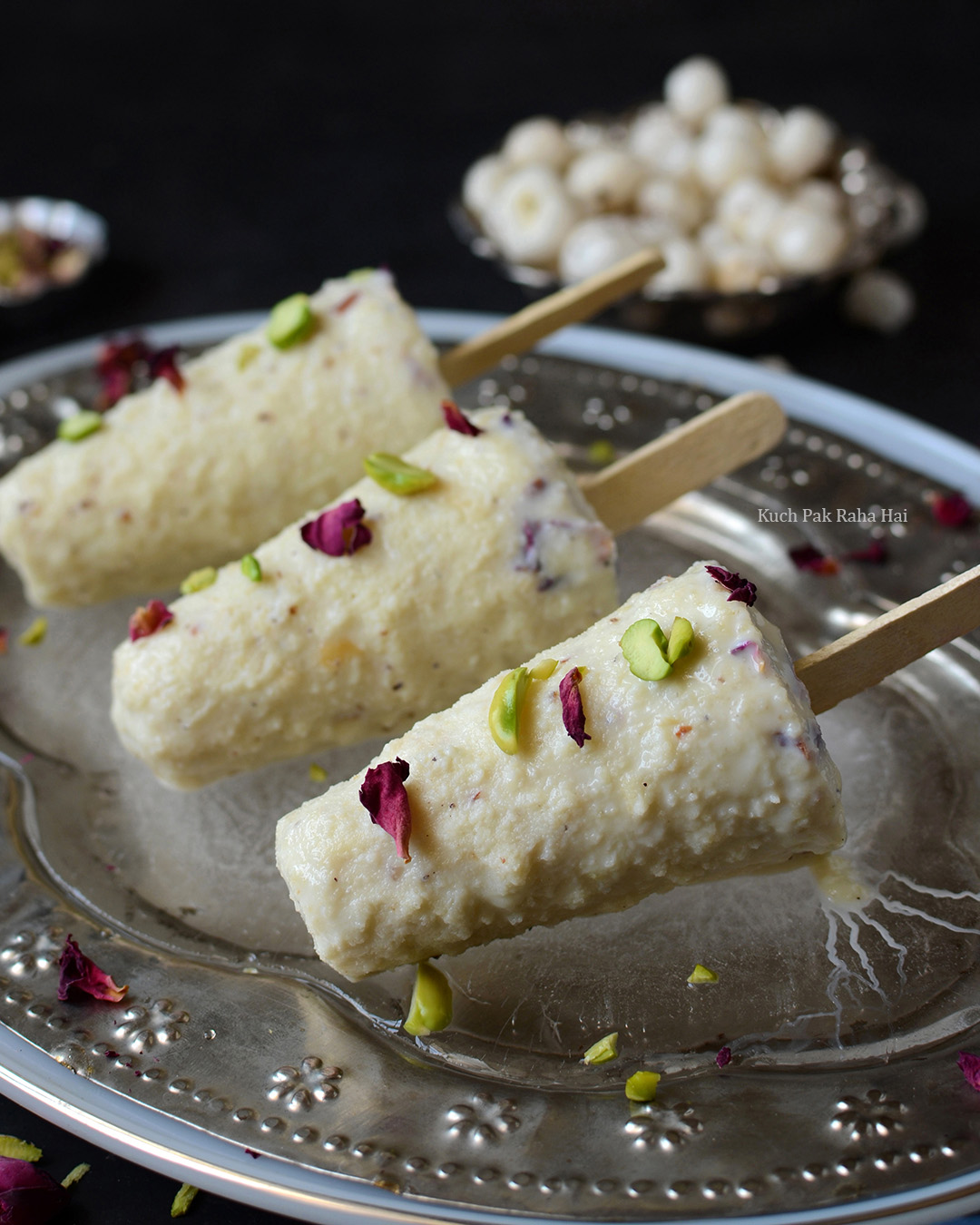 In this makhana kulfi recipe, we will also be using some rose petals & rose water for additional aroma. Some people add bread crumbs or cornflour to prevent ice crystal formation but in this recipe no such thickening agent has been added. The kulfi turns out perfectly velvety smooth with no ice crystals.
Ice cream vs Kulfi:
The summers are almost here and so is the season for ice creams & kulfi. They may appear similar but what sets them apart is the difference in texture. As kulfi is made using evaporated milk & nuts, it tends to be denser & richer in taste. Ice cream on the other is made using whipped cream, which makes it lighter & airier.
How to make makhana kulfi?
In this Makhana Kulfi recipe, we will first roast the makhana seeds till they puff up and become crunchy. They will then be grounded coarsely and added to the evaporated milk with crushed nuts and sugar. The aromatic ingredients of the recipe – cardamom (elaichi), rose petals and rose water are added in the end as they tend to lose their aroma if cooked for longer.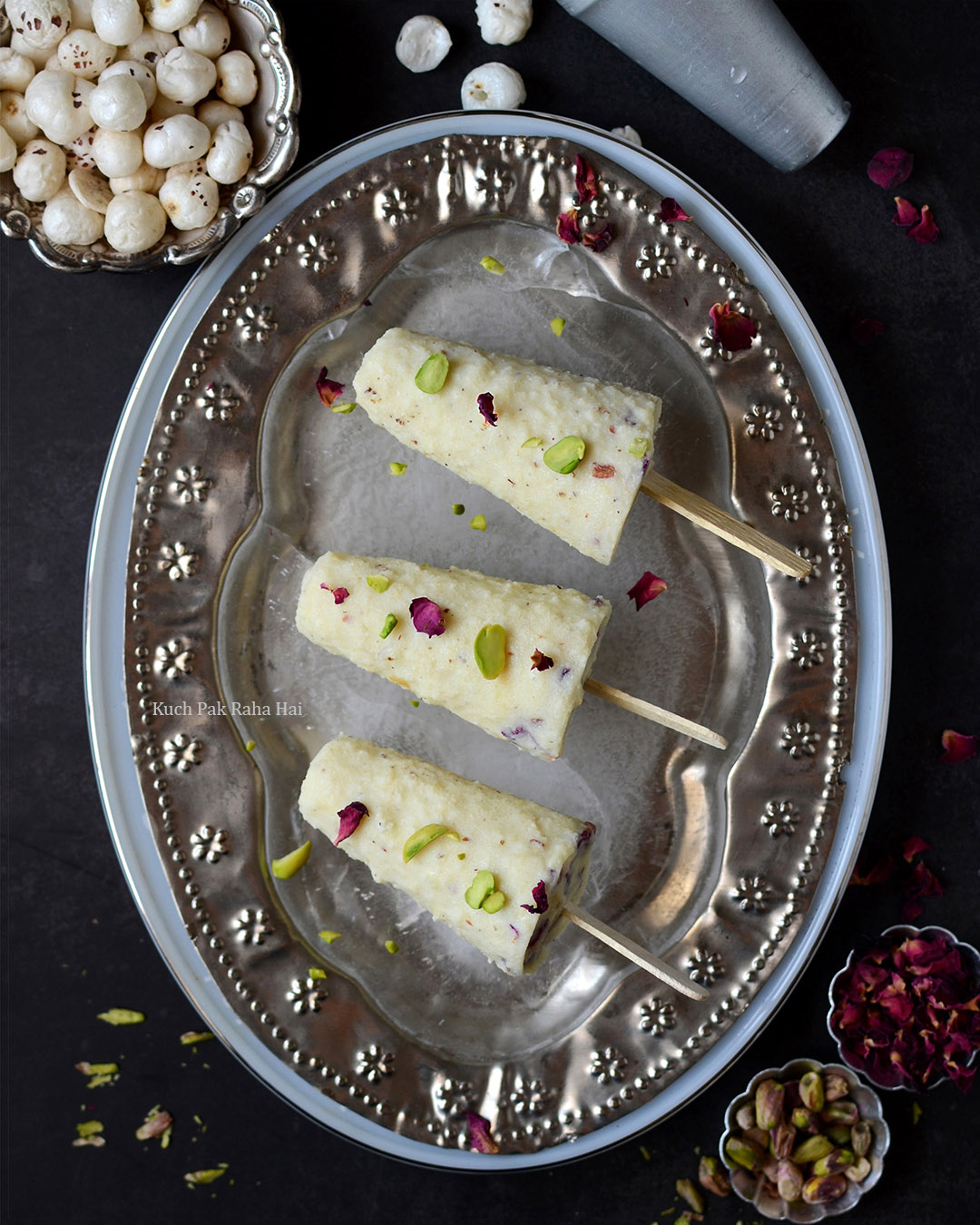 Makhanas are also known as 'lotus seeds' or 'fox nuts' & make for a great healthy snack as they are a good source of  protein, calcium, fibre and magnesium etc. Being a great source of antioxidants, they are also known  for their anti-ageing properties.
I had shared a few Makhana Recipes in the past also. If you are looking forward to include Makhana in your everyday diet then checkout the links below:
Makhana Recipes: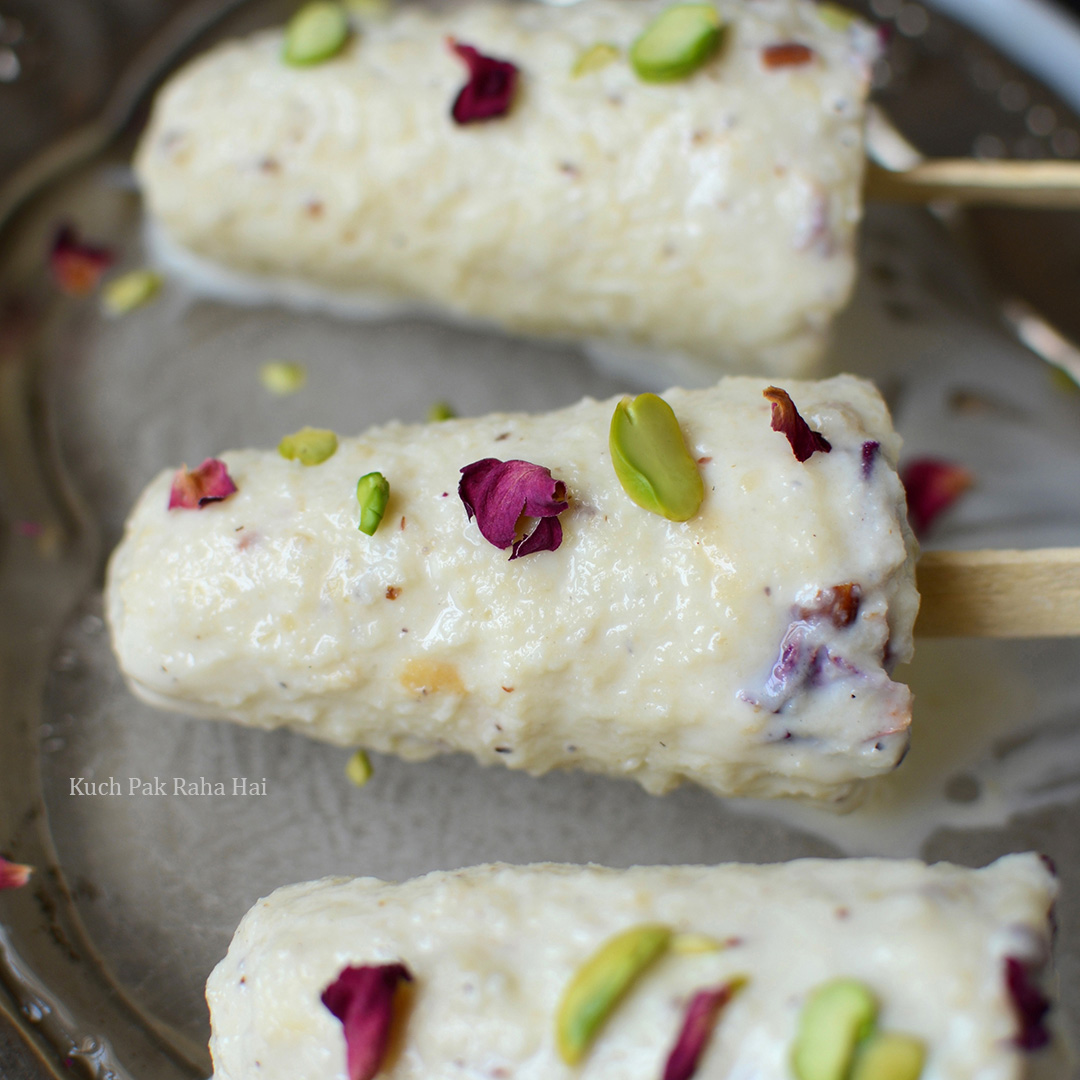 For a richer creamier texture use full fat milk for making these Makhana Kulfis. I have used almonds & cashews here but you can add pistachios and saffron (kesar) too. The quantity of sugar can be adjusted as per one's taste & preference.
Hope you would like this tasty flavoursome Makhana Kulfi recipe.

Ingredients : (Makes 5 pieces)
Full fat Milk-1 litre
Ghee-1 tsp
Makhana (Lotus seeds)-1 cup
Almonds – 4 to 5
Cashews – 4 to 5
Sugar- 1/3 cup
Cardamom (Elaichi) – 2 to 3
Dried Rose Petals- 2 tbsp (optional)
Rose Water – 1 tbsp
(Do check out the recipe notes in end for more details)
Directions:
Step 1:
Add milk to a heavy bottomed pan & bring it to boil. Turn the flame to low & let the milk slow cook. Keep stirring in between. While the milk is cooking, let us move to next step.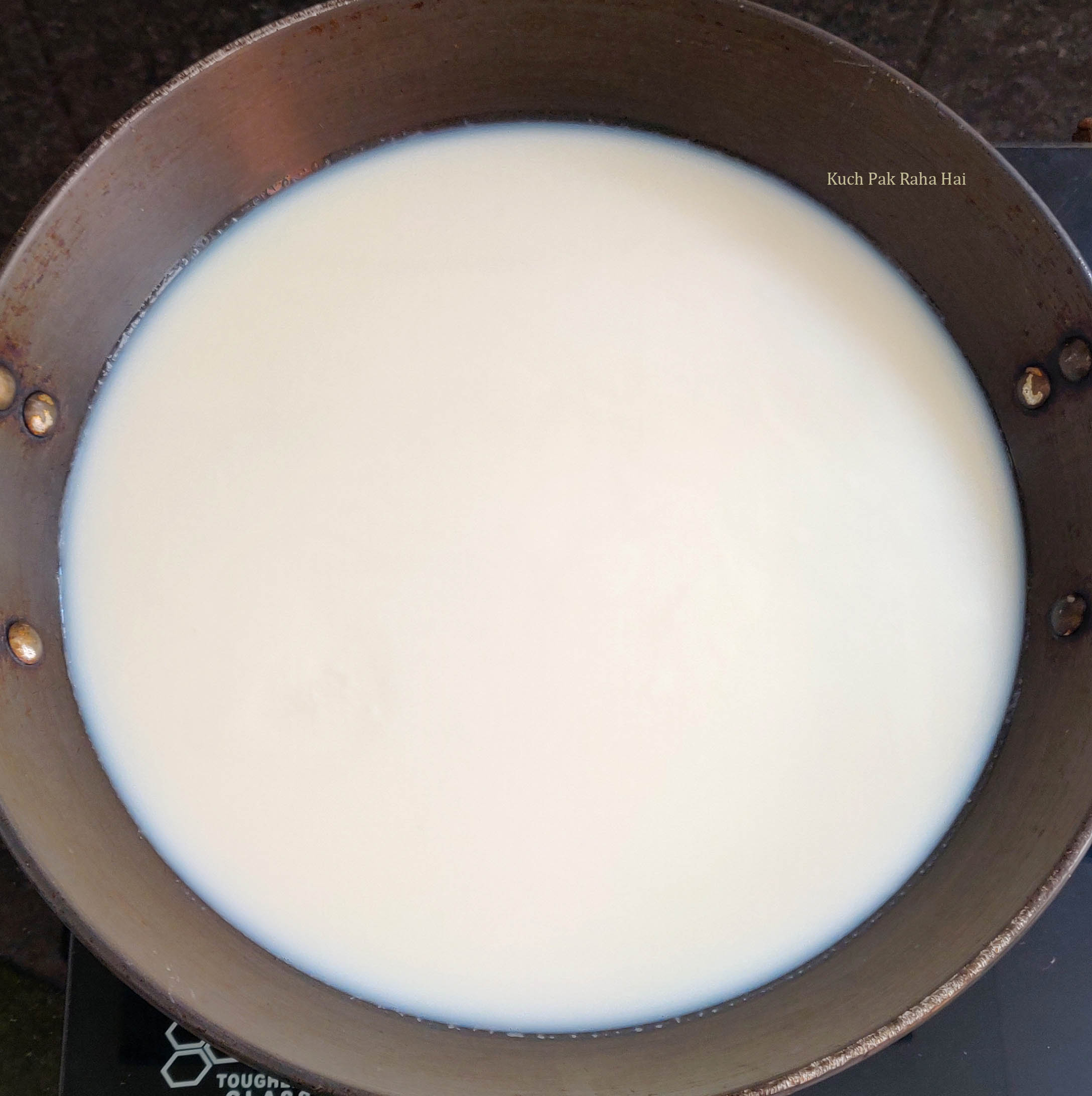 Step 2:
In a pan add ghee and roast the makhana on medium low flame till they puff up and become crunchy. Keep shaking the pan in between for even roasting.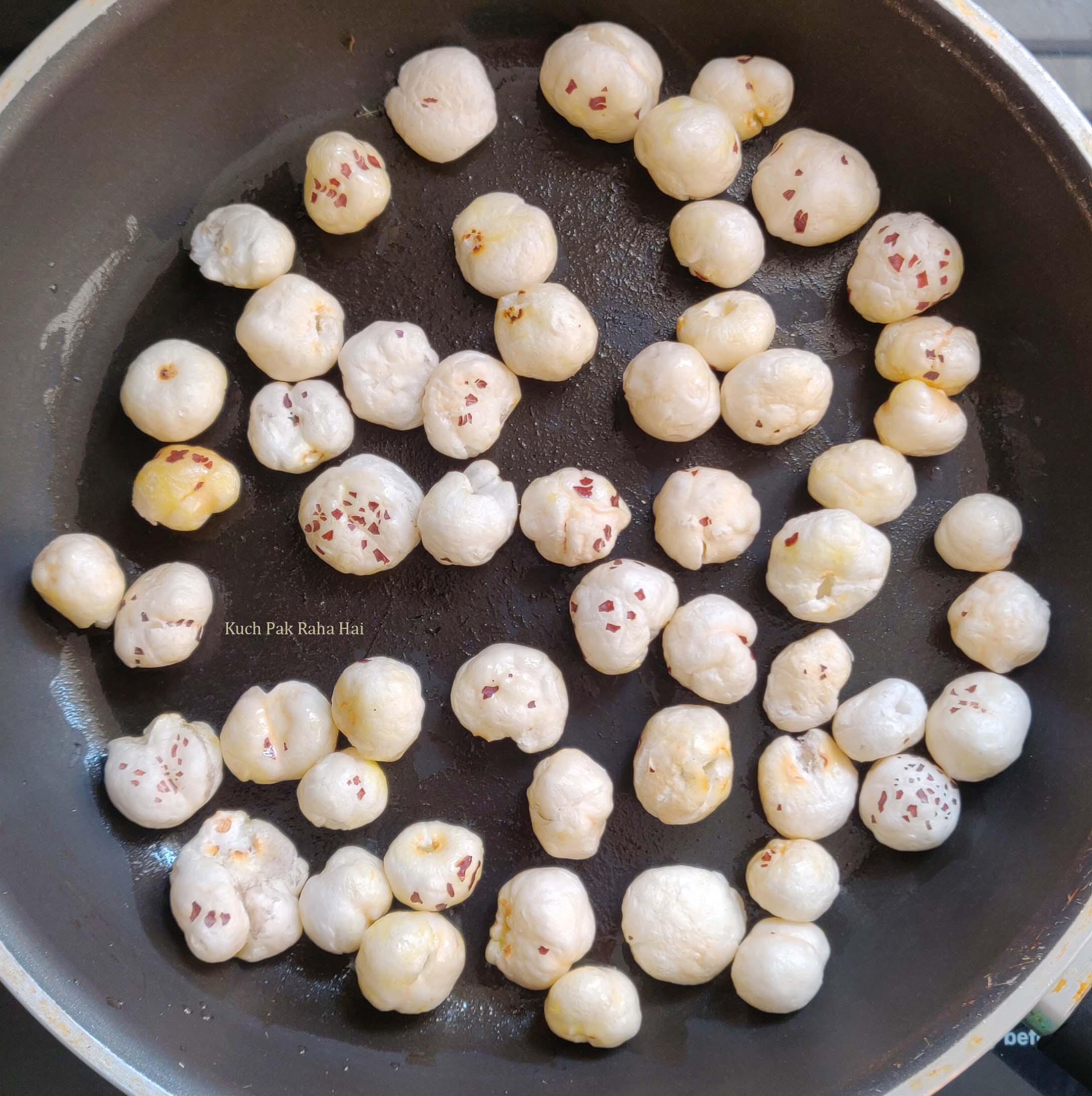 Once the makhanas are roasted completely, let them cool down. Add them to a mixer jar and grind them coarsely. Keep it aside.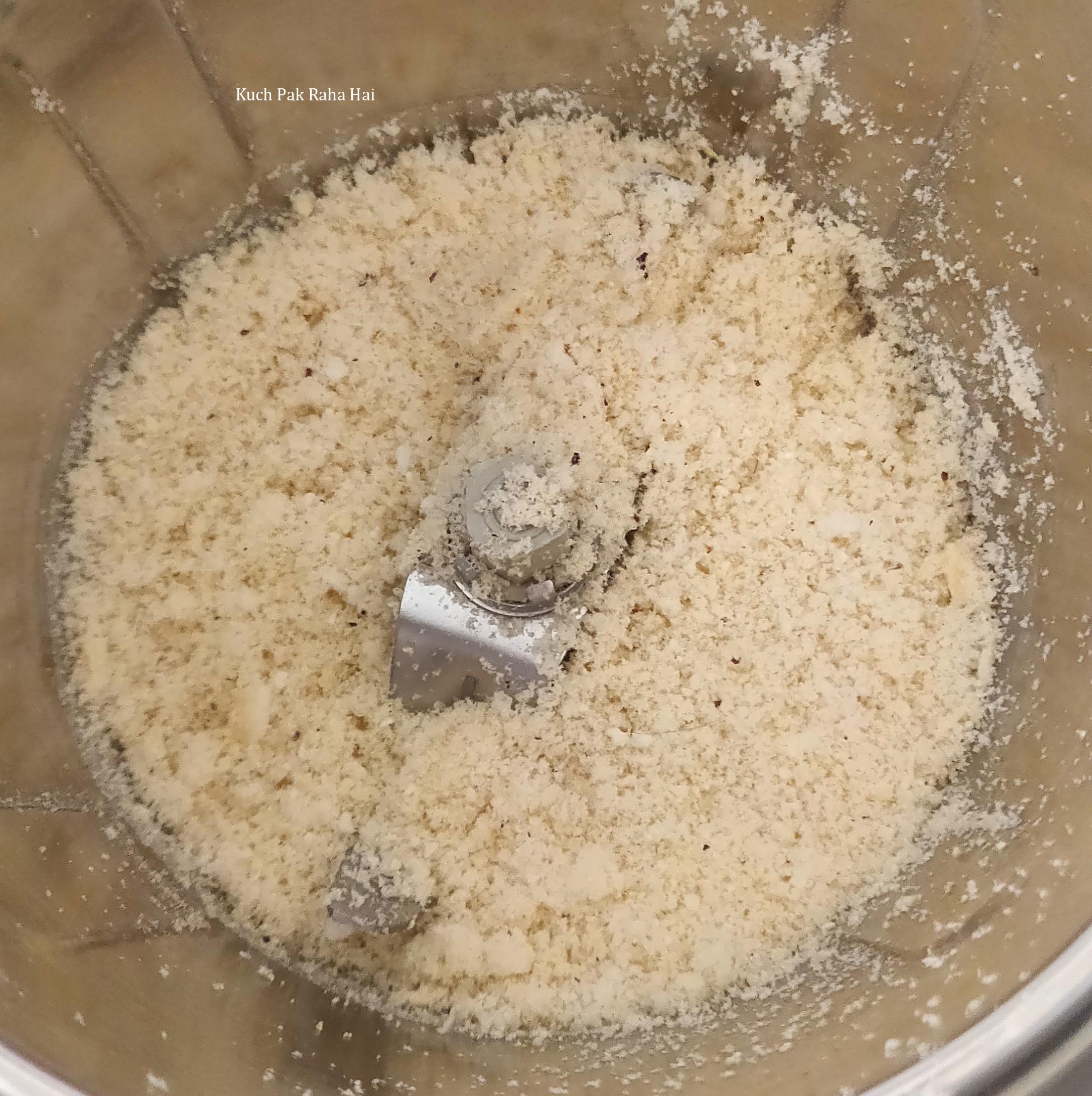 Step 3:
Add almonds & cashews to a mortar pestle. Grind them coarsely such that the nuts are not powdered completely. Keep these grounded nuts aside.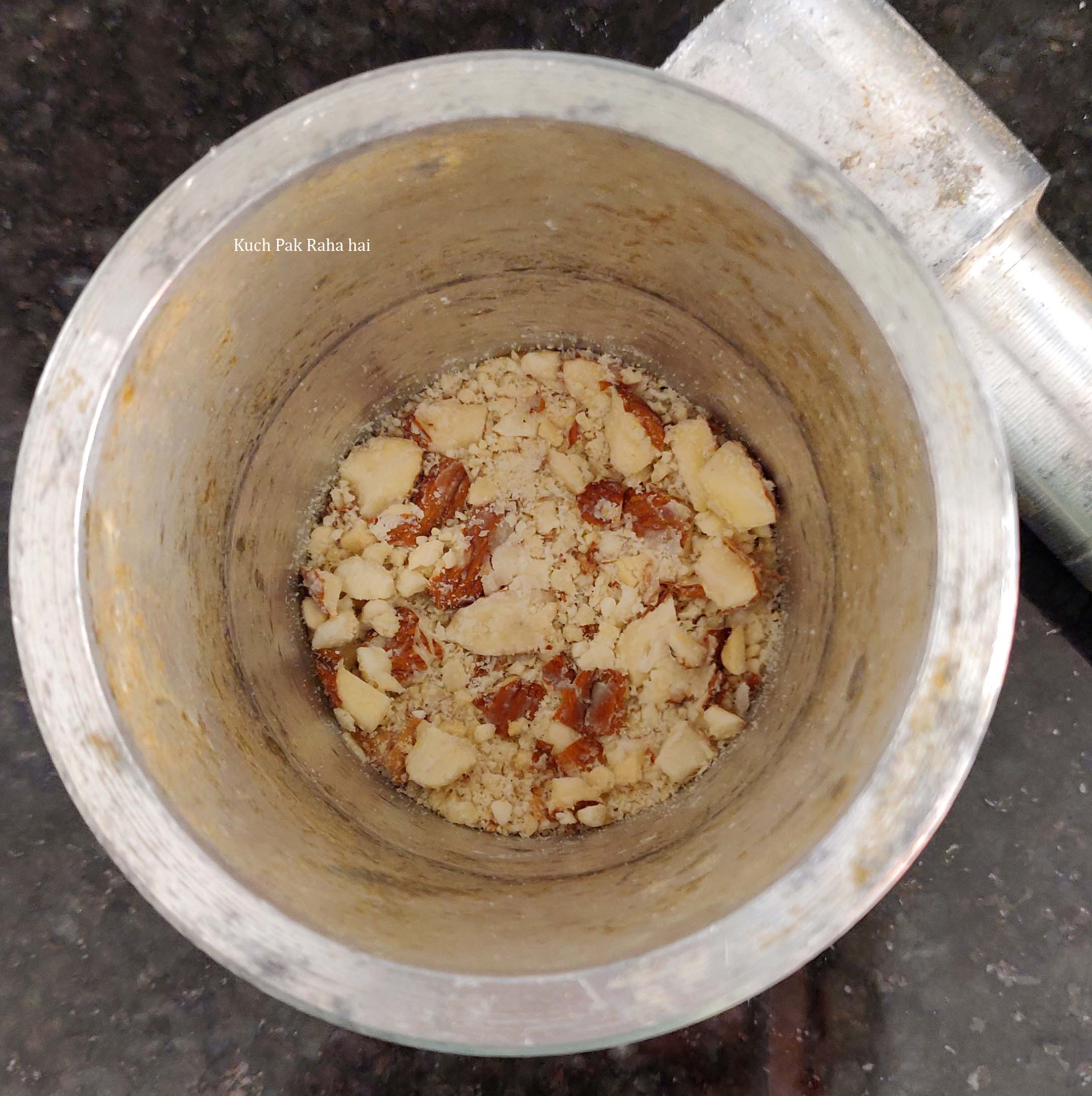 Step 4:
Continue cooking the milk (in step 1) till it almost reduces to half. Don't forget to stir it in between so that the milk does not settle in bottom and get burnt. Add sugar, ground makhanas and nuts to it and let it cook for 5-10 minutes on low flame.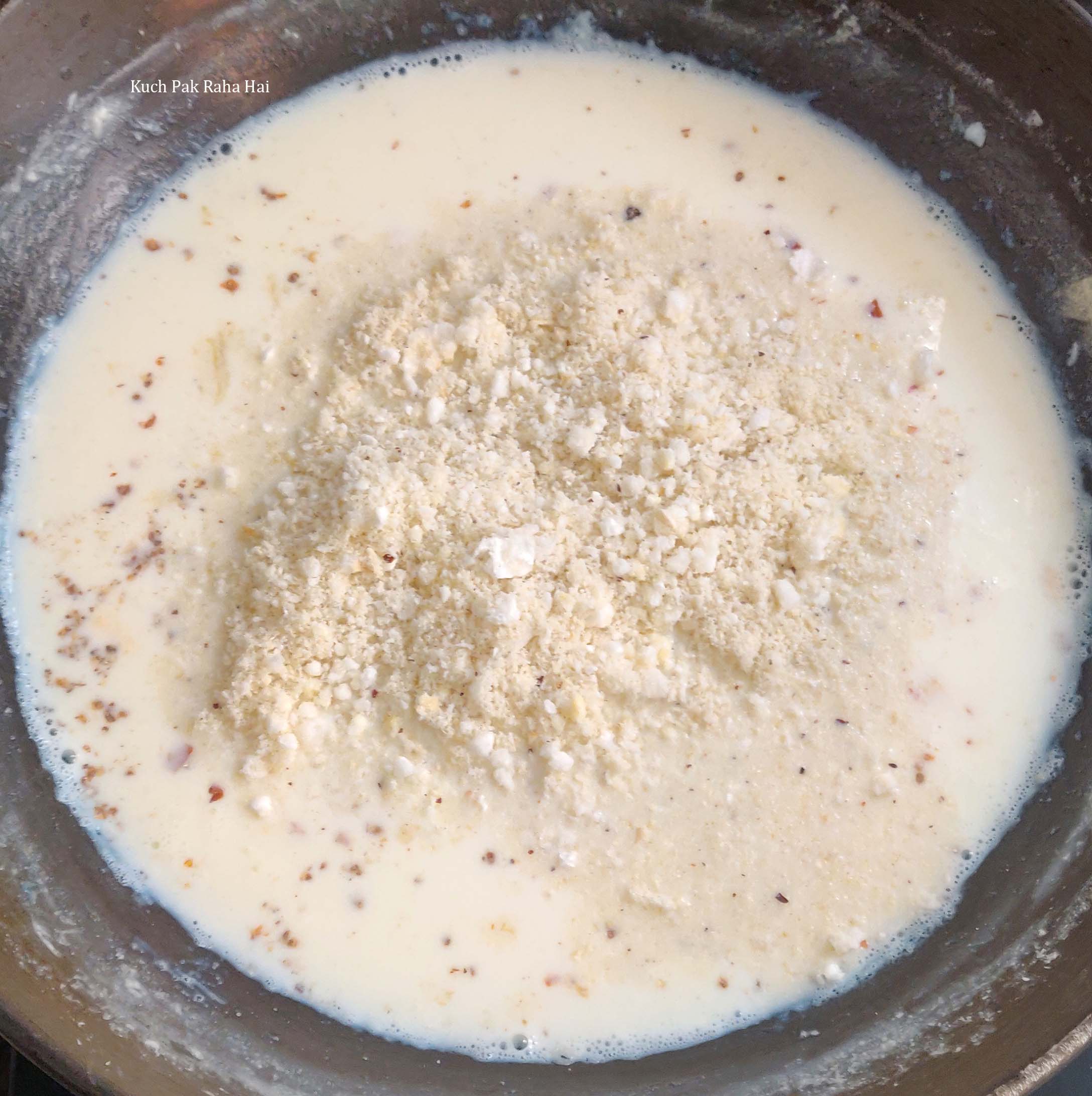 Step 5:
Switch off the flame. After 2 minutes, add crushed cardamom seeds, rose water & dried rose petals to it. Mix well & let the mixture cool down completely.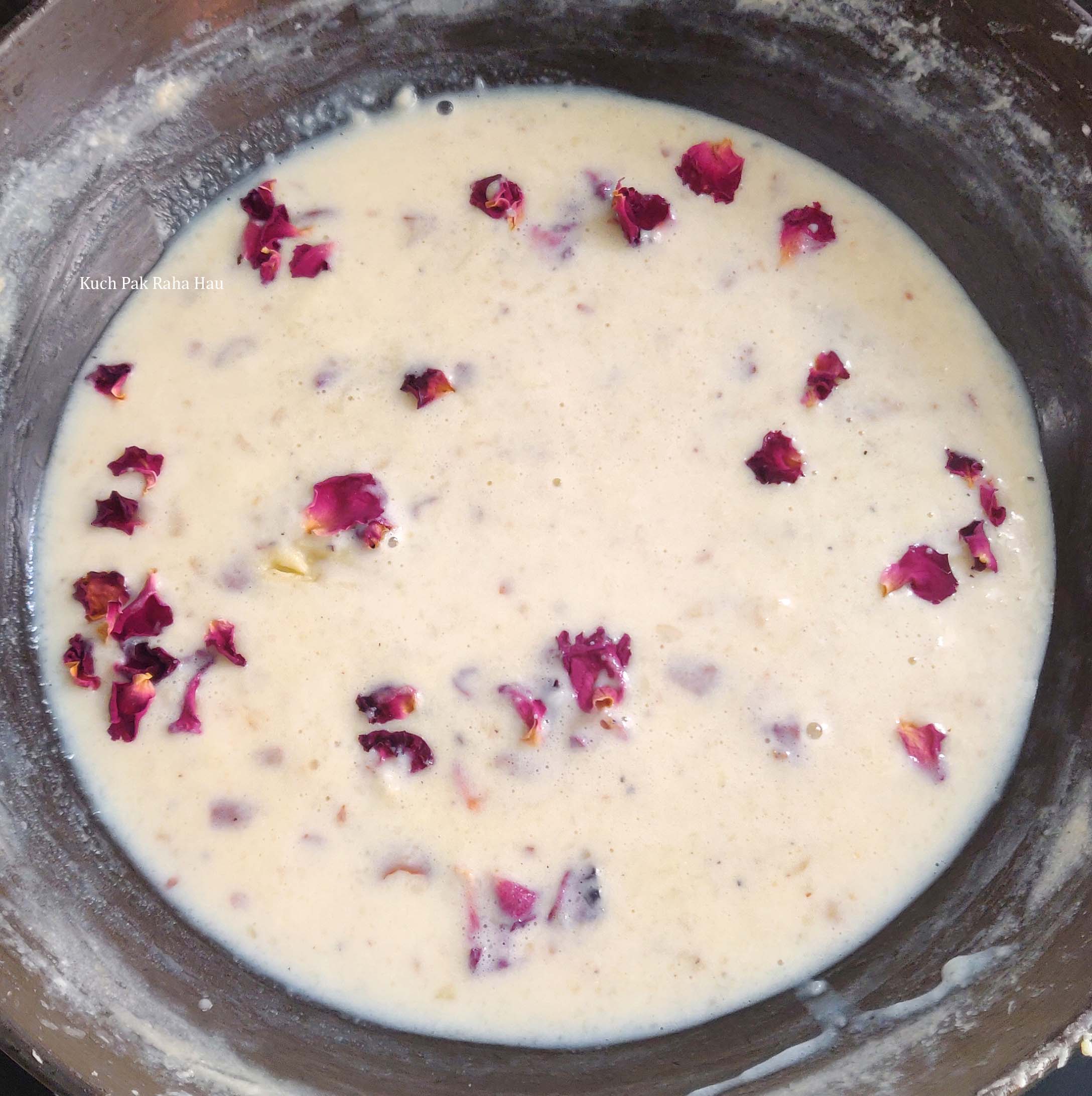 We will cool the mixture before filling them in kulfi moulds. This is because otherwise it will lead to condensation inside the kulfi moulds leading to ice crystal formation.
Step 6:
Once the mixture is cooled, transfer it into kulfi moulds. Keep these moulds in freezer for 5-6 hours or overnight to set completely.  If your kulfi moulds are not air tight, seal them with cling film first & then put the lid on them.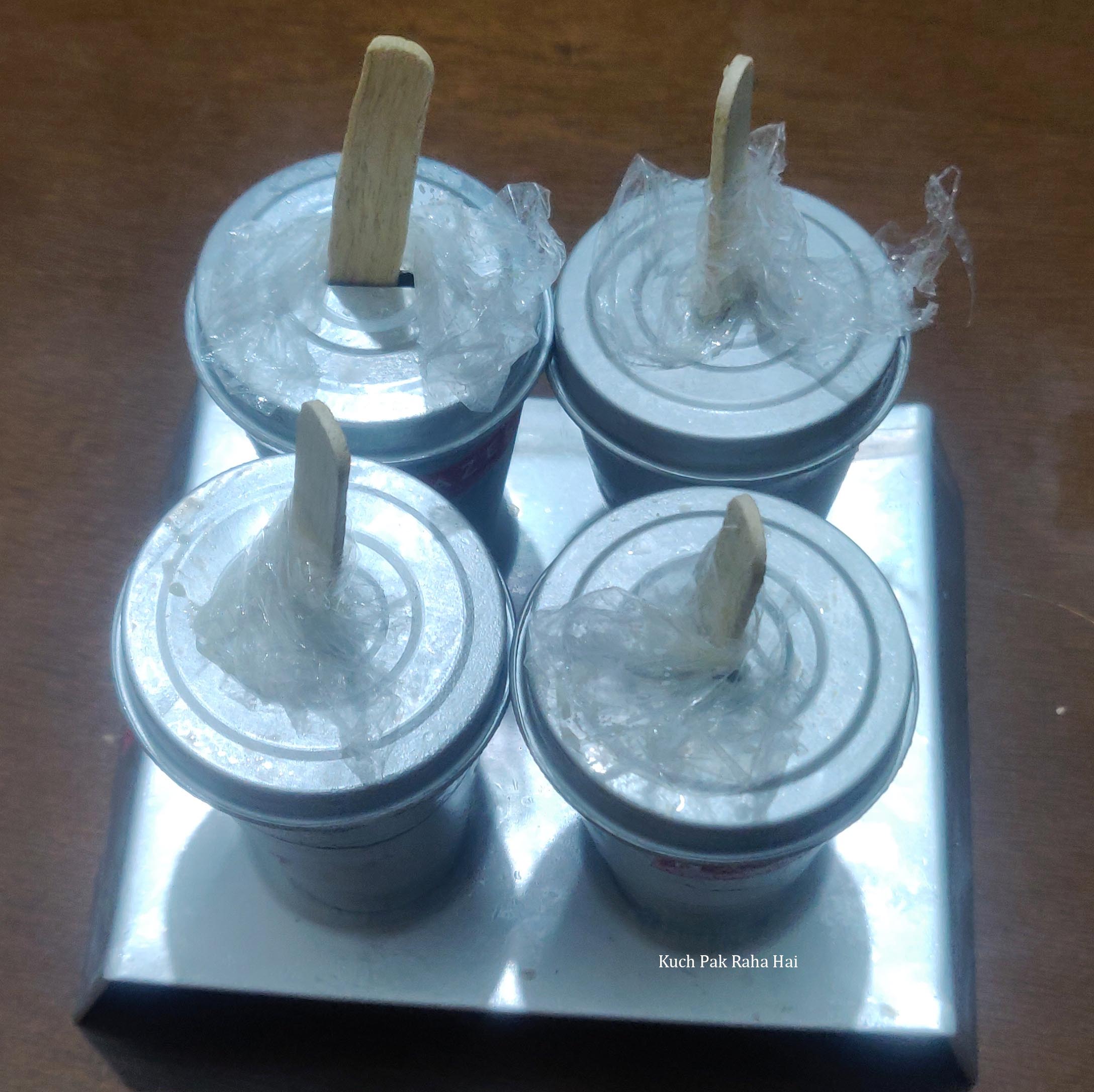 Step 7:
Whenever you want to have kulfi, de-mould & serve. To de-mould, dip lower half of the mould in room temperature water for 15-20 seconds. Then gently pull the stick upwards. Kulfi should de-mould smoothly.
Garnish with some more chopped nuts or rose petals (optional). Enjoy it chilled!! 🙂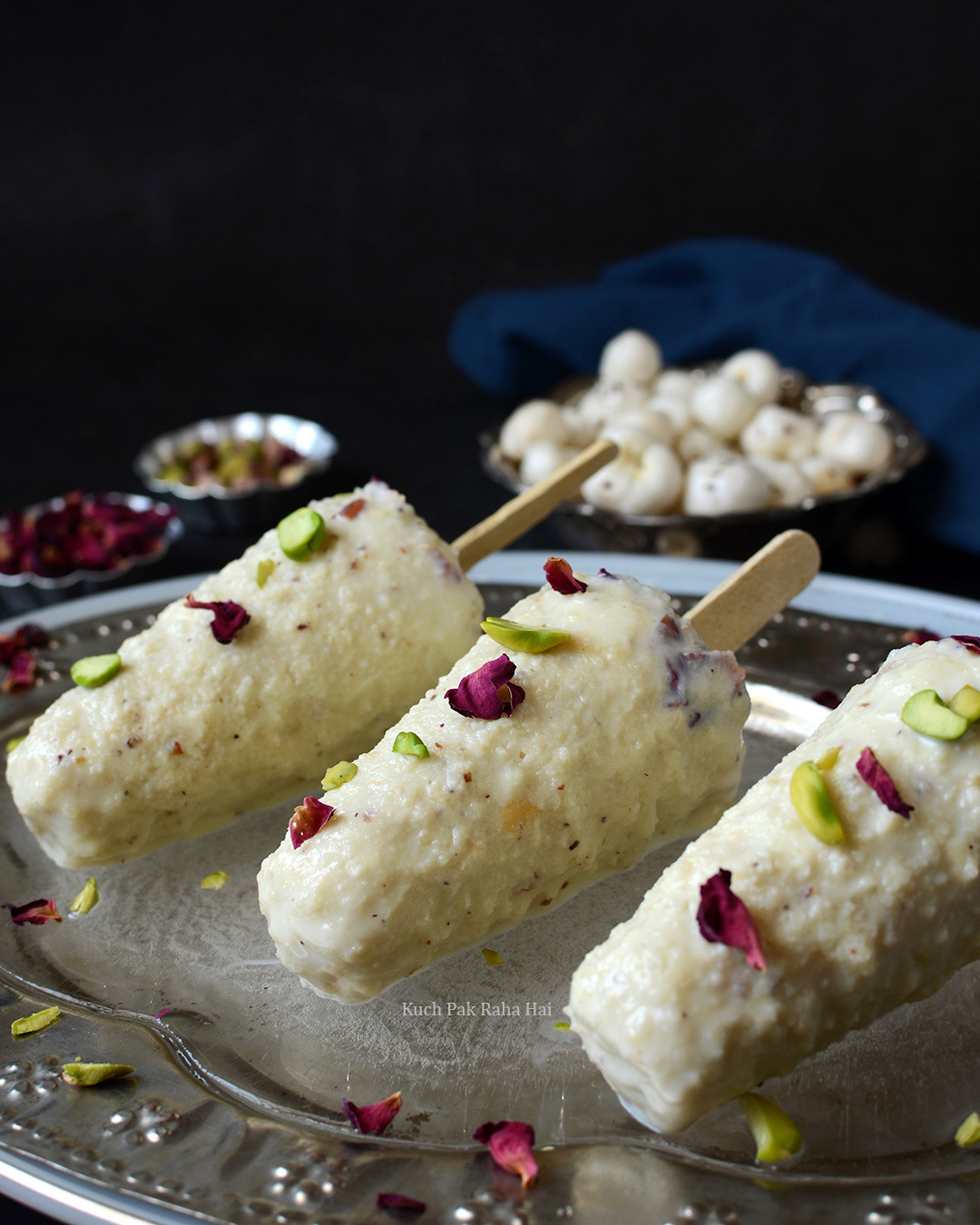 Recipe Notes :
1. While the milk is cooking on low flame, keep stirring in between to prevent it from sticking to the bottom or sides and getting burnt.
2. You can also add pistachios or saffron in above recipe.
3. Use full fat milk for richer taste & texture.
4. If your kulfi moulds are not air tight, then first seal their top of cling film & then put the lid.
5. Feel free to adjust the sugar quantity as per your taste.
Hope you will like this easy makhana kulfi recipe. If you try it, do tag us on Facebook, Instagram or use #kuchpakrahahai.
Let's stay connected
Facebook | Instagram | Pinterest| Youtube
Pin for later: