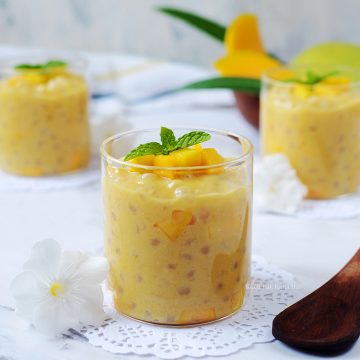 Coconut Mango Sago Pudding is a rich, creamy & delicious dessert prepared by cooking sago pearls with coconut milk and mangoes. Sago Pearls are also known as 'Tapioca' or 'Sabudana'. This Mango sabudana pudding is served chilled and tastes absolutely cooling, refreshing with its tropical flavours especially in summers. It is a gluten free dessert recipe and can easily be made vegan.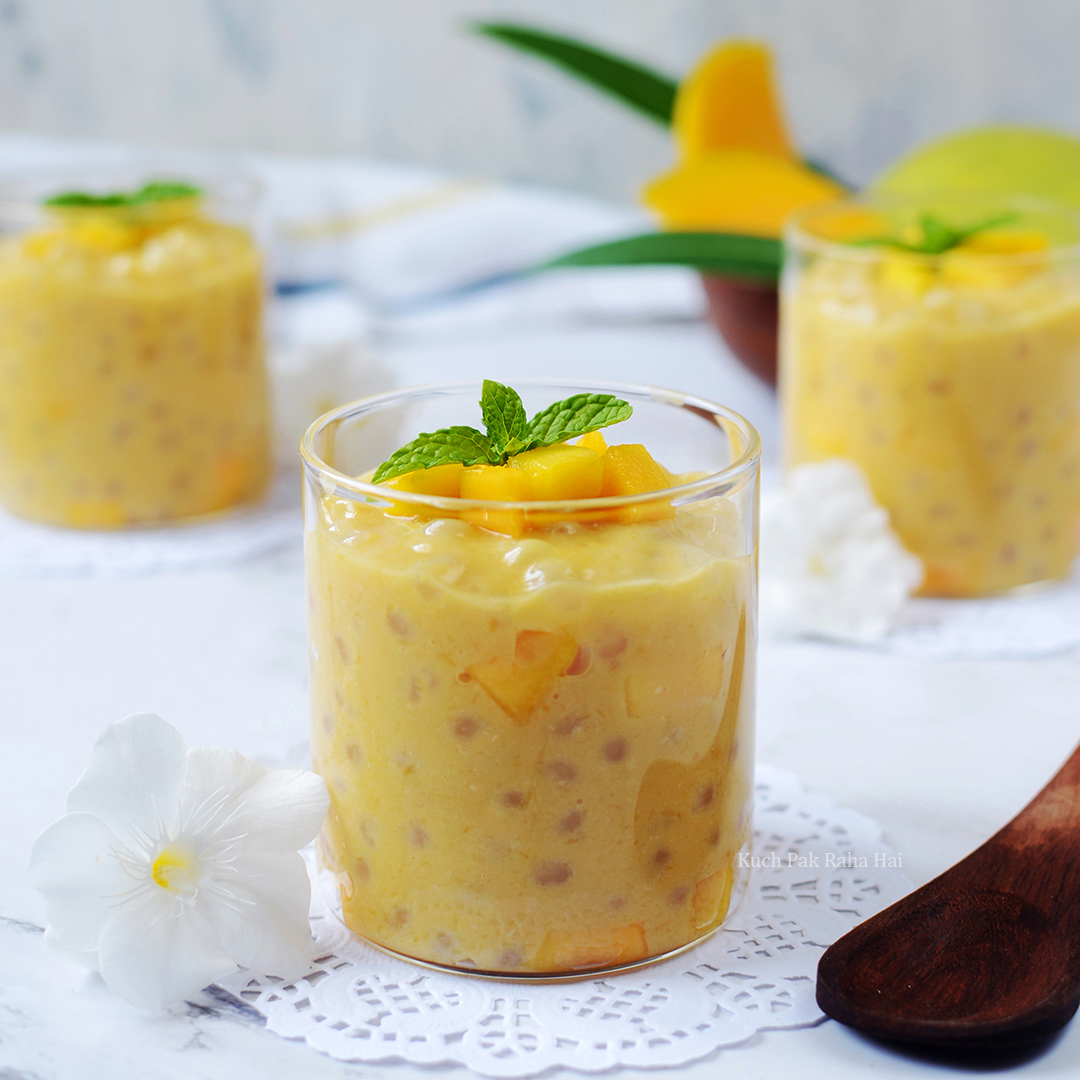 Tapioca Sago pearls are gluten free and are obtained from the root of Cassava tree. They are known to be rich source of carbohydrates and hence provide instant energy to the body. For the same reason, they are often consumed in different sweet & savoury dishes during Navratri vrat (religious fasting) in India.
Mango Tapioca Sago pudding is a simple & quick dessert recipe that you can whip easily at home with handful of ingredients. It turns out absolutely luscious with bursting flavour of mango in every bite. I have used fresh mangoes for maximum flavour & freshness, however you can also use canned mango pulp in this recipe.
My inspiration for this dessert comes from Mango Sticky Rice that I tasted during my vacation on Phi Phi Islands. I have always loved mangoes but never imagined that they could taste so divine with coconut milk. Though this is not sticky rice recipe, but I loved the mango-coconut duo and couldn't wait to try it in my tapioca pudding.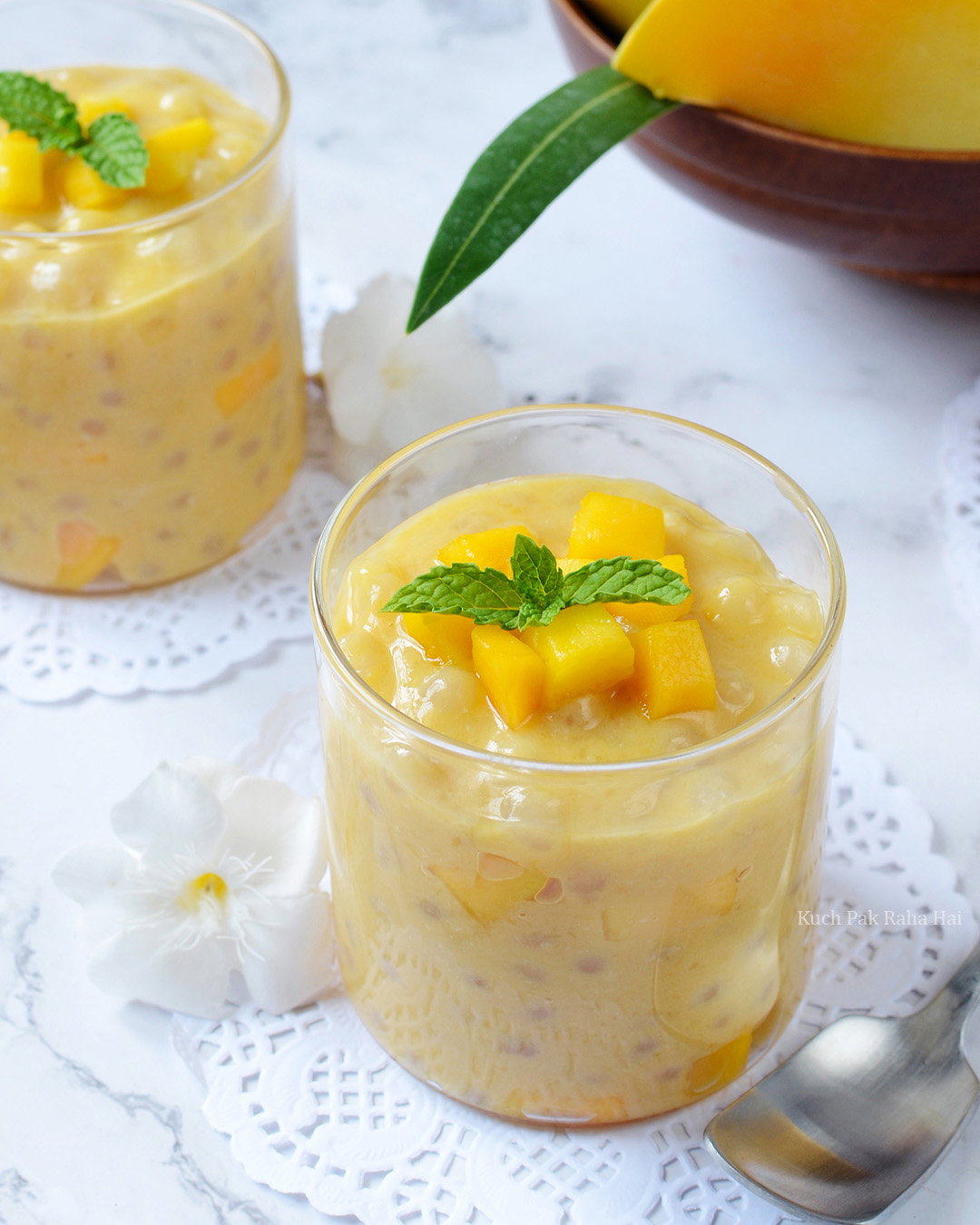 More Mango recipes you would like:
Earlier whenever I made sago (sabudana) pudding, I used to make it with traditional flavours like saffron(kesar) or cardamom(elaichi) but this time I tried it with mango pulp & coconut milk. I have used combination of dairy milk & coconut milk as I did not wanted the pudding to taste all coconutty and less of mango. Instead of dairy milk you can use almond or soy milk for vegan version
If you don't have coconut milk or don't like the flavour of coconut, then replace it with any other milk of your choice. This is a great party dessert option too as it can be prepared few hours in advance and stored in fridge till the time of serving.
Hope you would like this delicious Mango Sago (Sabudana) Pudding recipe!!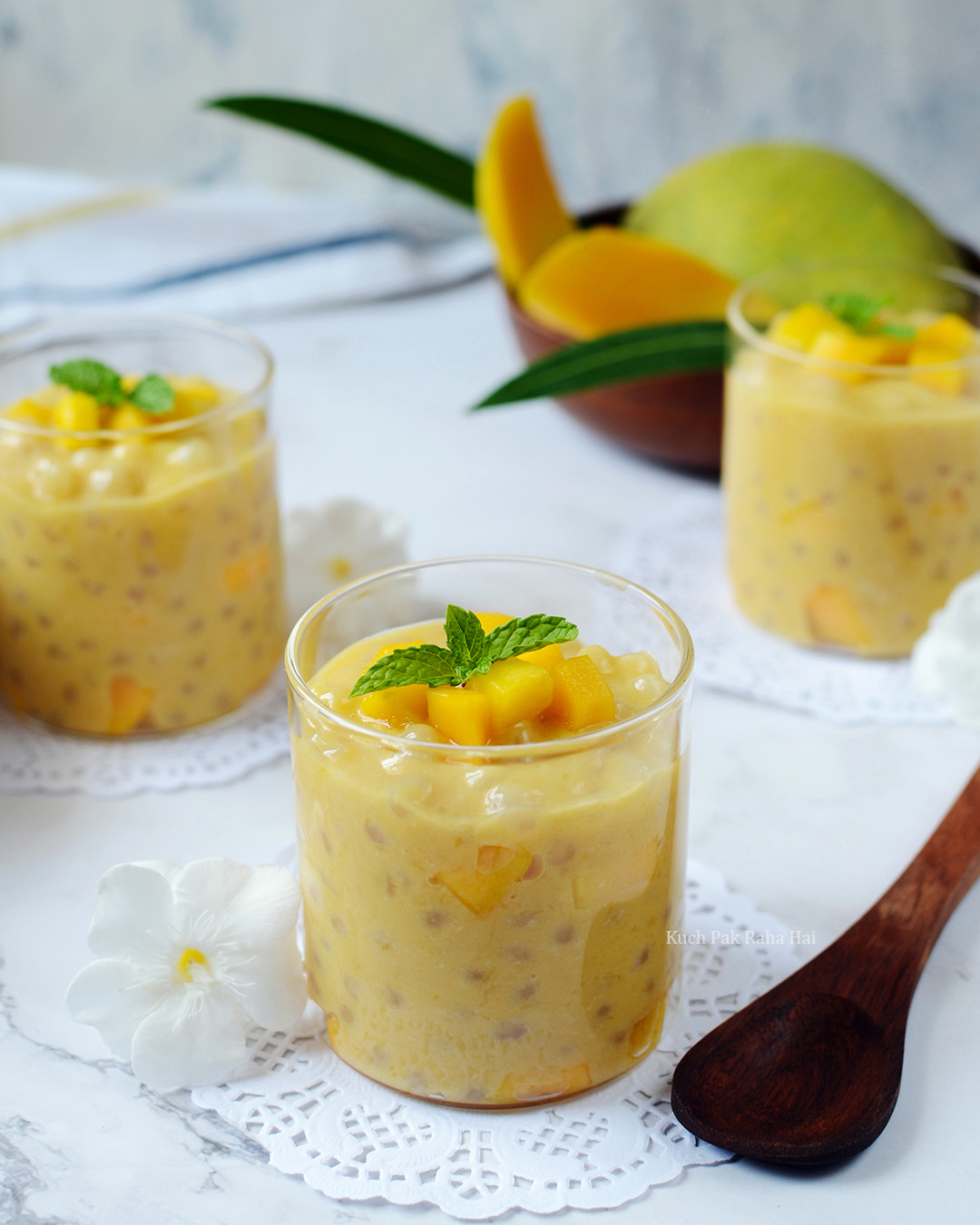 List of Ingredients: (Makes 4-5 servings)
Sago (Sabudana)- 1/2 cup
Water- 1/2 cup
Regular Milk / Almond or Soy Milk-1 & 1/4 cup
Coconut Milk-3/4 cup
Fresh Mango Pulp – 3/4 cup
Sugar-1/3 cup
Mango pieces-1/2 cup
For garnishing (suggested):
Mint leaves
Sweetened Coconut Flakes
Notes :
1. I have used medium sized sago pearls or sabudana in this recipe.
2. You can make this pudding in regular milk only or for vegan version use almond or soy milk.
3. The amount of sugar added depends on the sweetness of mangoes. Taste the pudding once after mixing mango pulp and adjust the sugar as per your taste.
4. I have used low fat dairy milk as coconut milk is already rich in fat. For a richer creamier texture you can use full fat milk.
5. Fresh mangoes have been used in this recipe, however you can use canned mango pulp too.
(Do check out the tips at the end of the post)
Steps To Prepare:
Step 1:
Wash the sago pearls or sabudana under running water once to remove the impurities. Then soak these in water again for 1-2 hours. Cover with a lid & keep aside.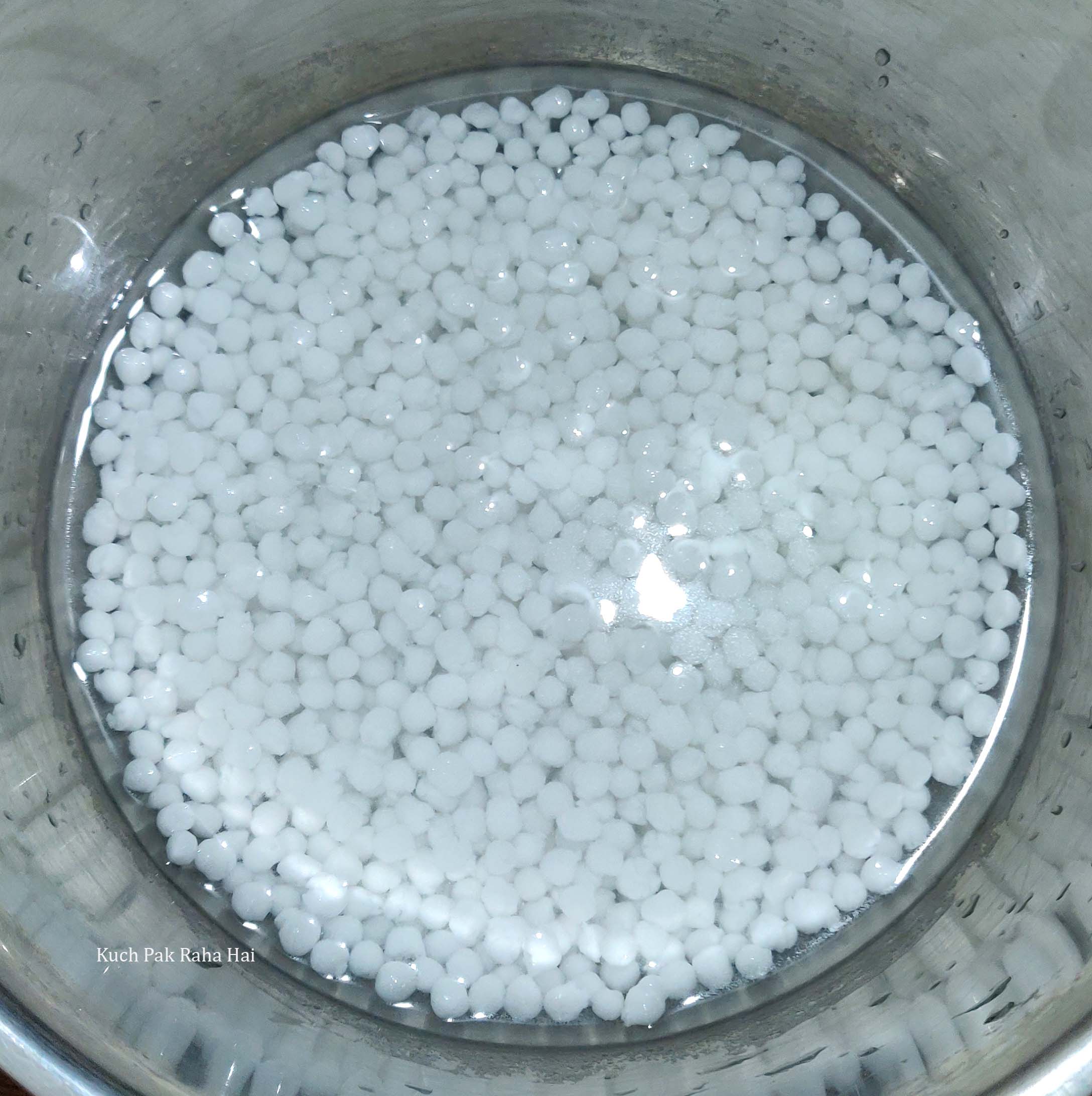 As you can see after one hour, the sago pearls will swell up slightly absorbing the water in which they were soaked.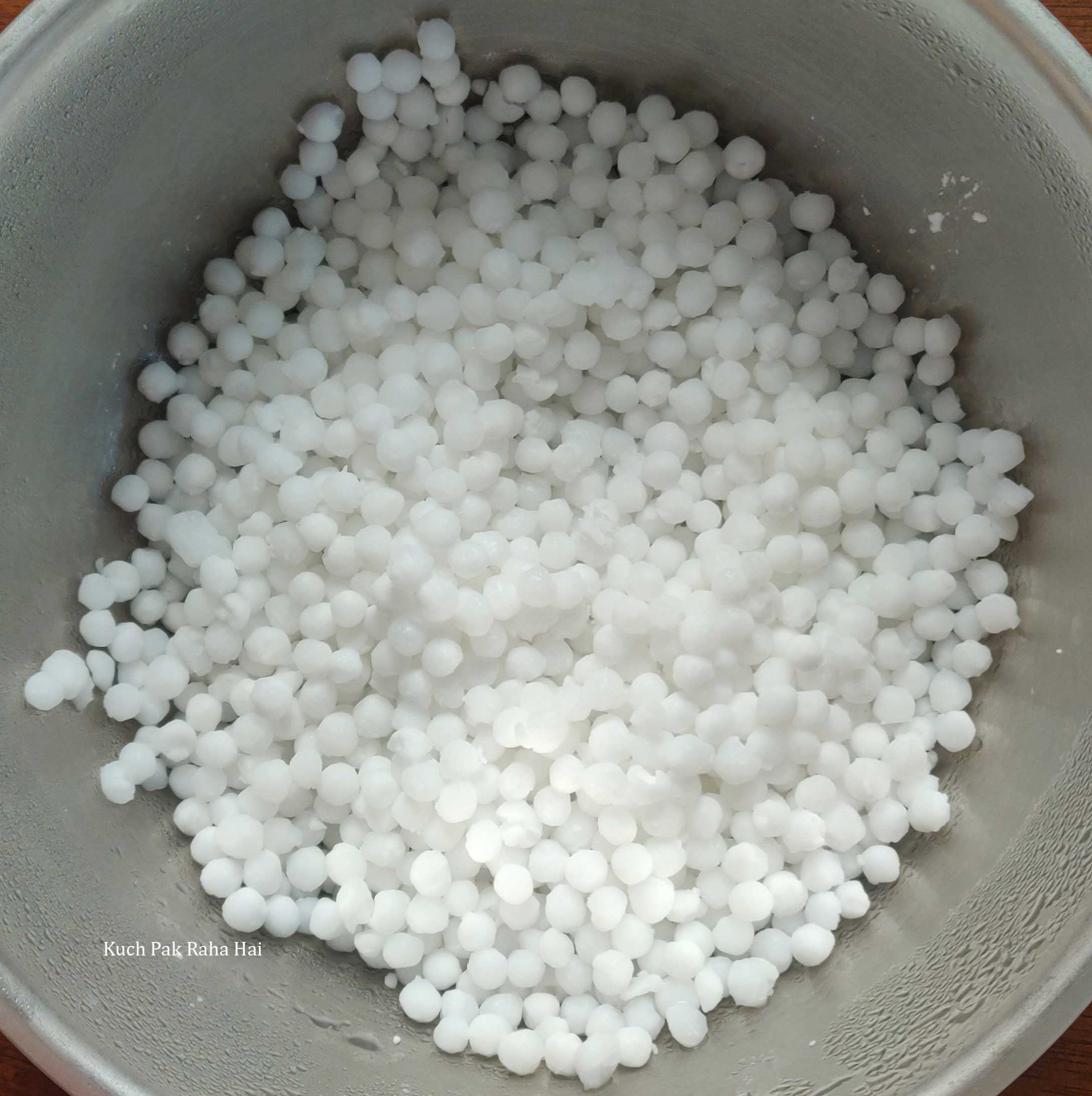 Step 2:
Heat milk in a heavy bottomed pan and bring it to boil. Once the milk is boiled, simmer down the flame. Add soaked sago pearls and coconut milk to it. Stir gently.
We need to cook the sago pearls on low flame till they become slightly translucent. This takes around 8-9 minutes. Keep stirring in between so that sago (sabudana) does not stick to the bottom. While the sago is cooking, lets move to next step.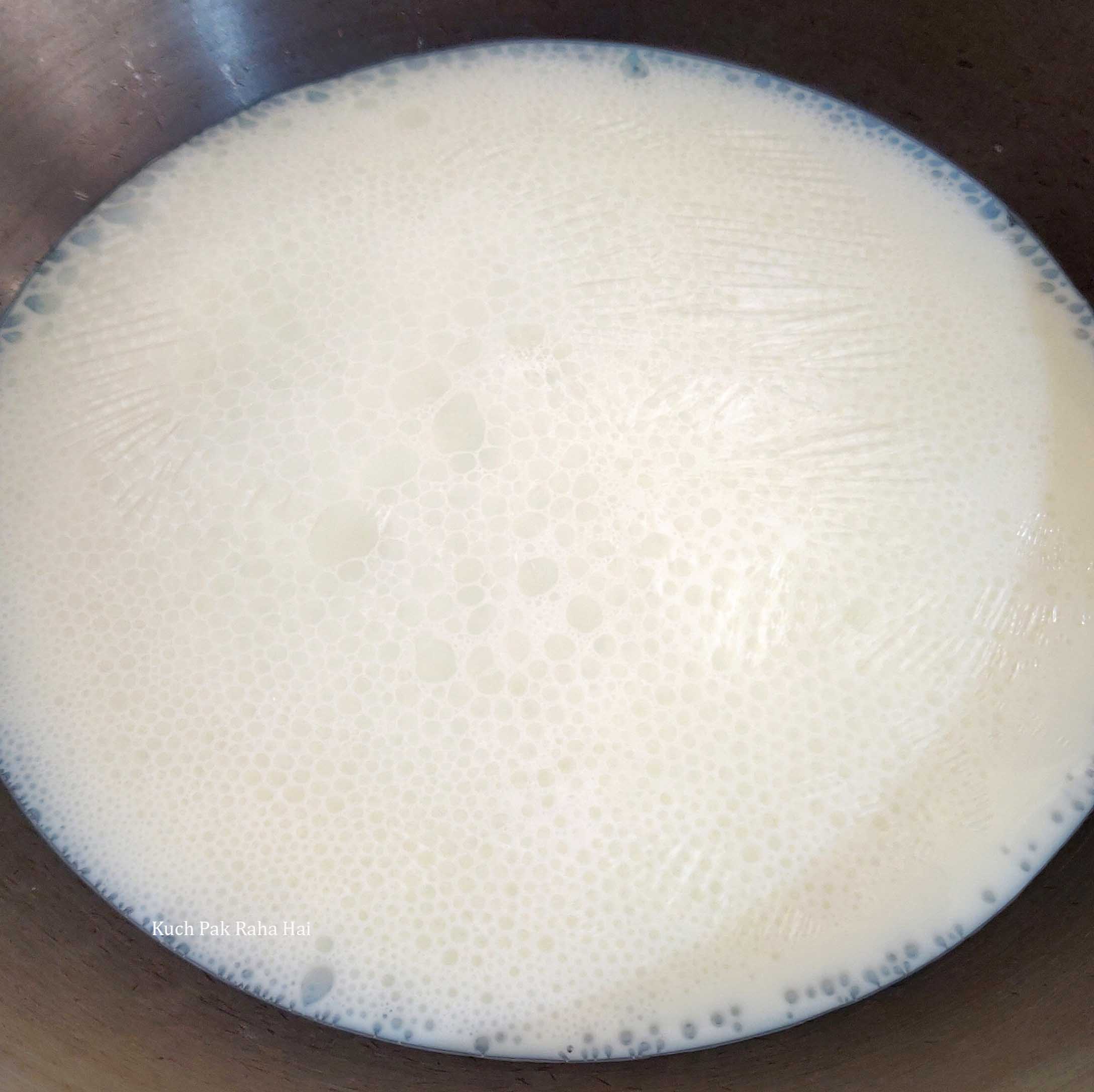 Step 3:
Add mango slices in a blending jar. Blend to got a smooth puree or pulp. If you are using canned mango pulp skip this step. Keep it aside.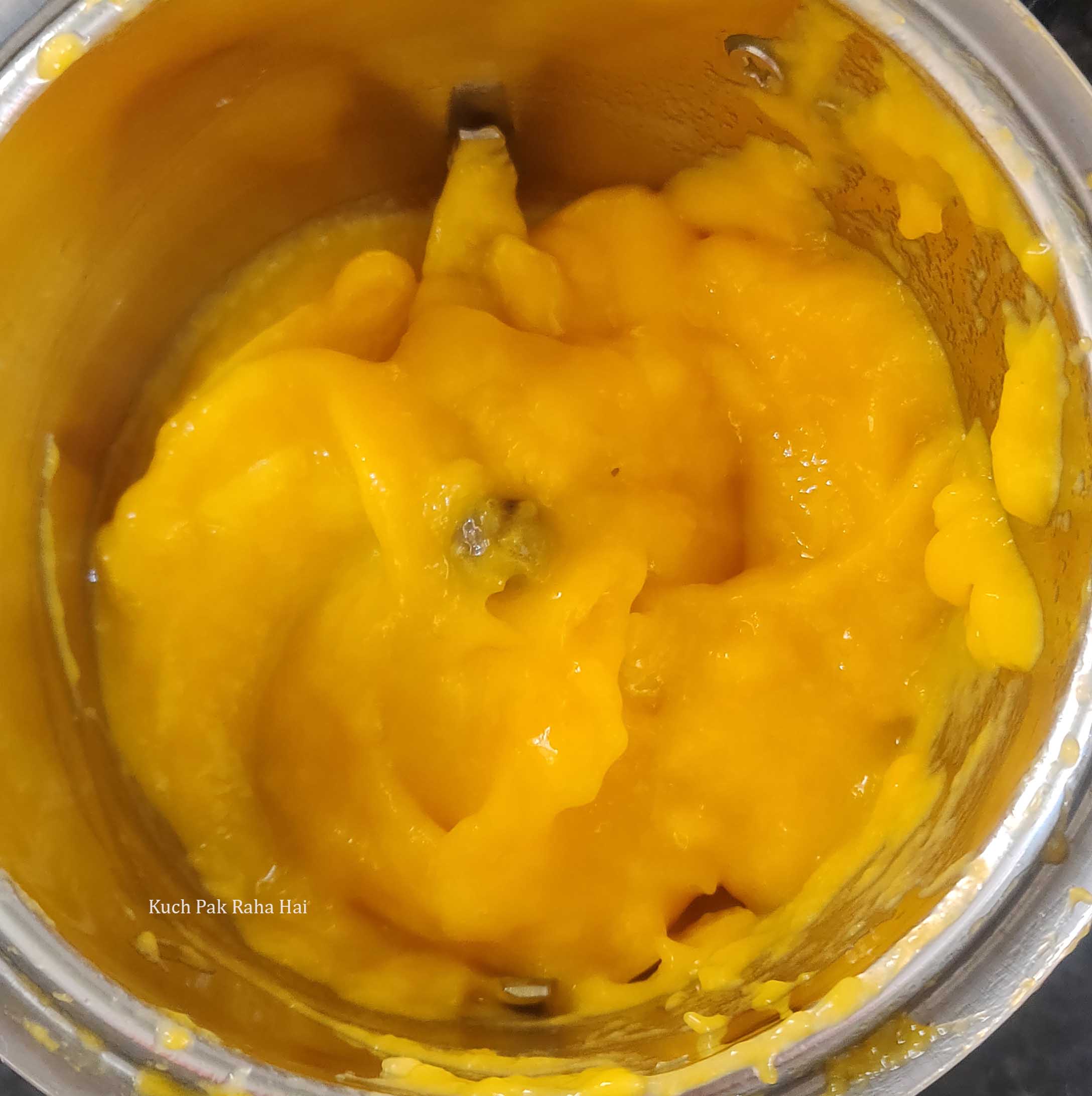 Step 4:
After 8-9 minutes when sabudana(sago) has cooked, add sugar to the pudding. Mix it gently with the help of spatula.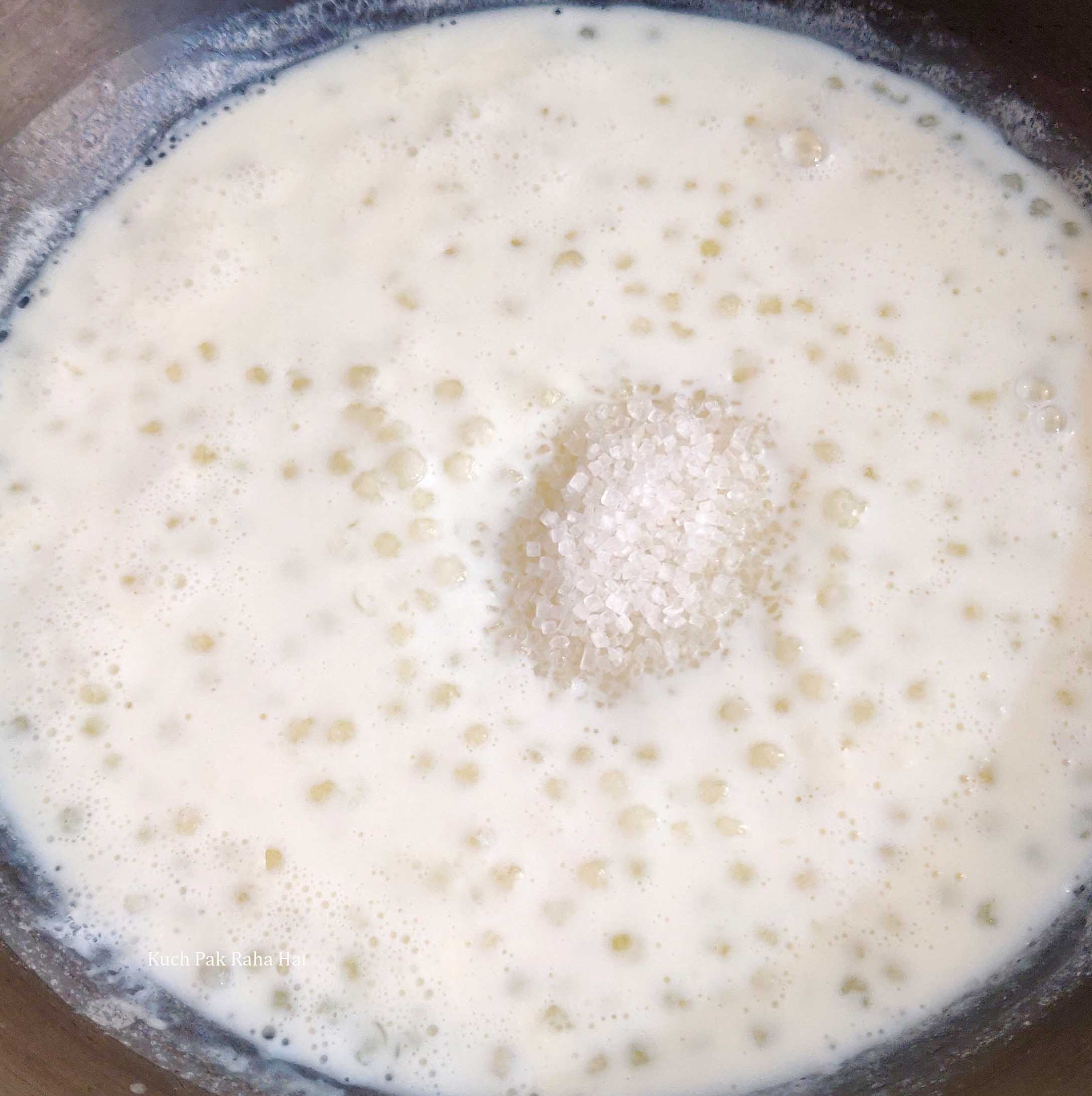 Cook it for another 2-3 minutes on low flame till all the sugar has dissolved completely. Turn off the flame.
Step 5:
After a minutes when the pudding has just slightly cooled off, add mango pulp to it. Mix carefully with the help of a spatula.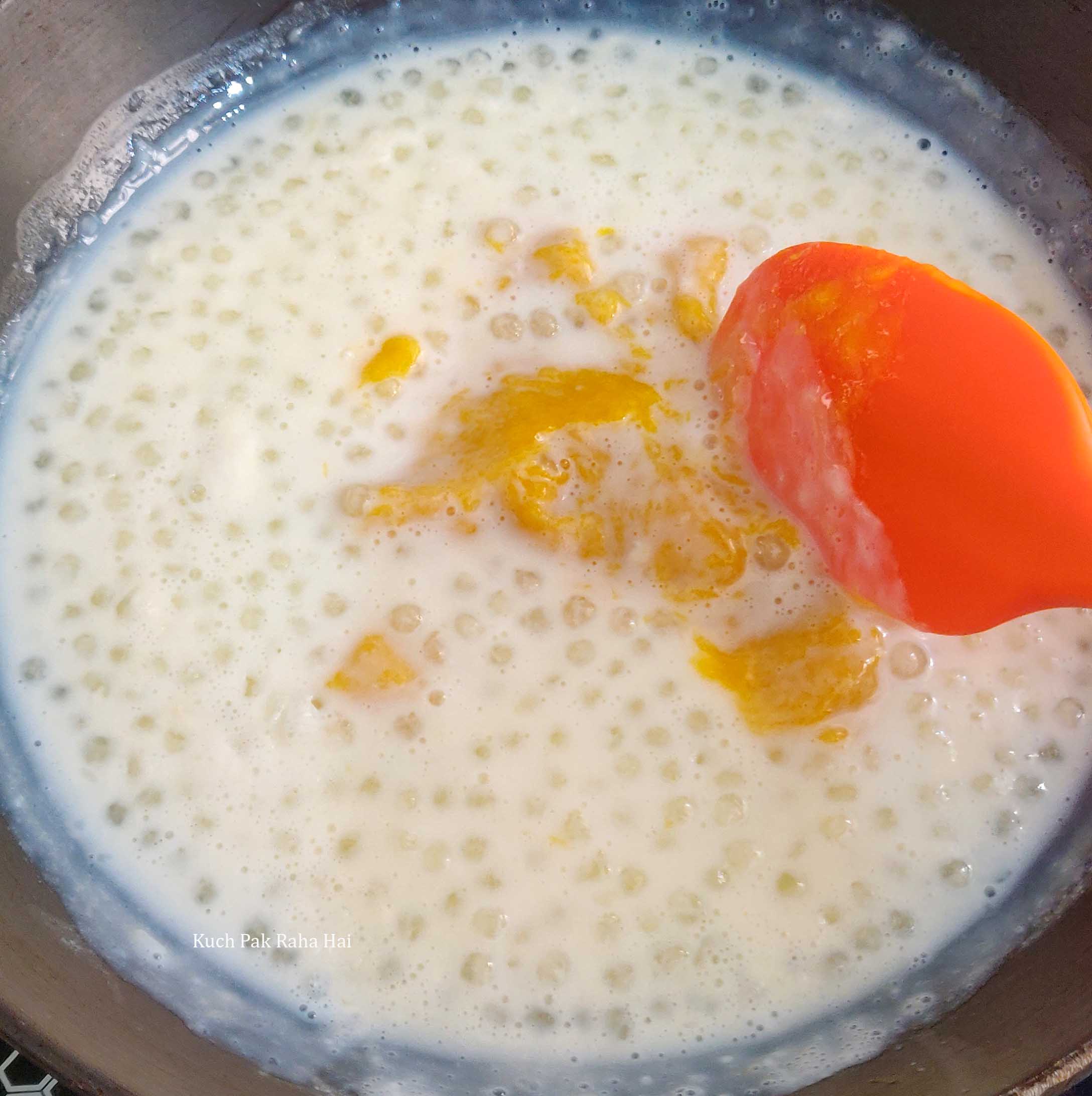 Once the mixing is done, taste and adjust the sugar as per your taste. As the pudding is still warm, sugar will dissolve easily. The pudding may seem thin at this stage but it will thicken up as it gets cooled.
Step 6:
Chill this Mango sago pudding for at least 1-2 hours before serving. Add some more mango pieces to the pudding before serving so that you get burst of mango flavour in between the bites. Garnish with some mint leaves or sweetened coconut flakes.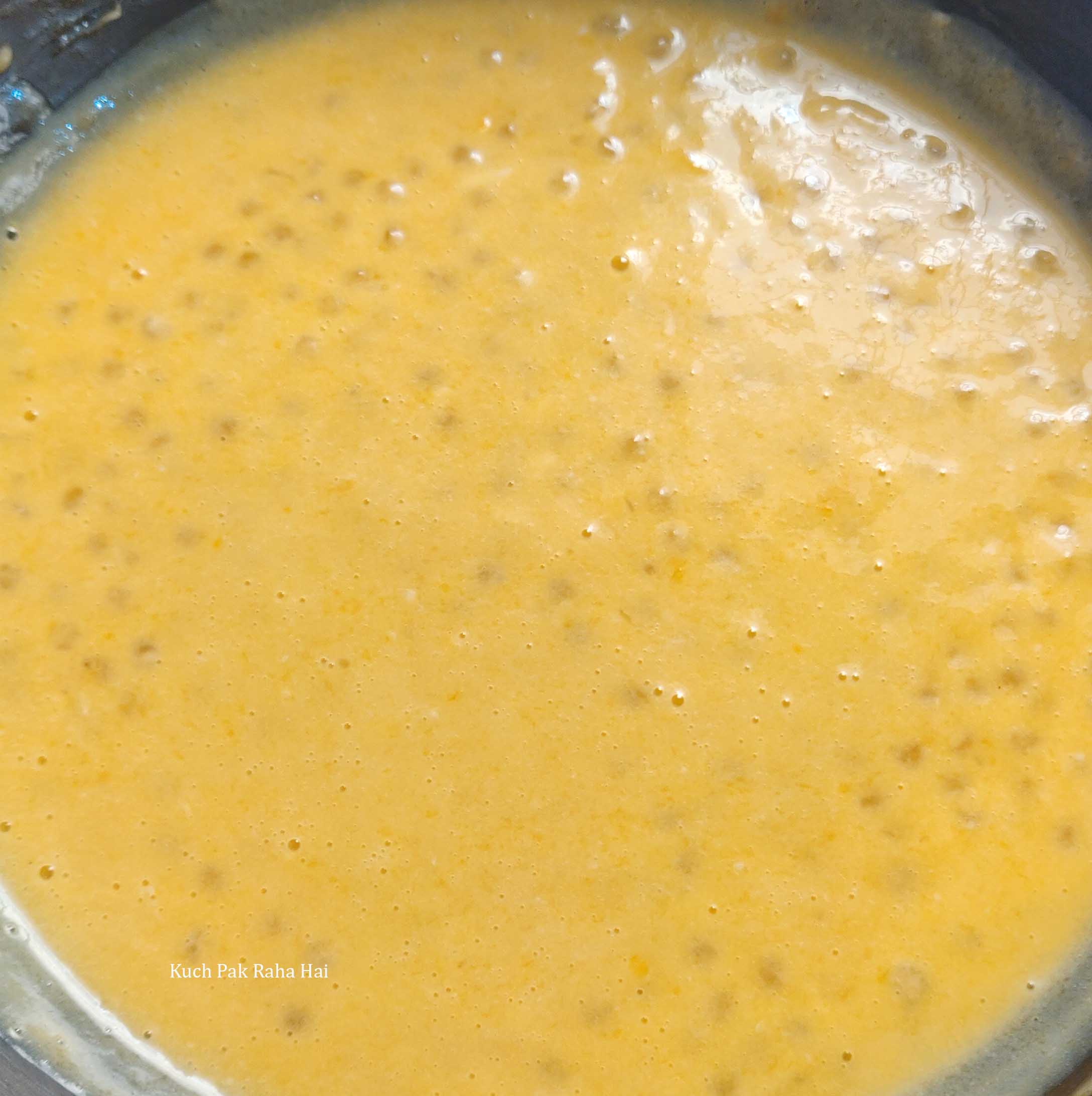 Enjoy this delightful creamy mango sago pudding!! Bon Appetit
How long can we store this Mango Sago Pudding?
Store it in refrigerator at all times and it stays good for 2-3 days.
Tips / Tricks :
1. You can use any variety of mango in this pudding but personally I feel Alphonso mangoes renders the best taste to the pudding.
2. For brighter colour or aroma in pudding you can use few drops of yellow food colour or mango essence.
3. You can add some more fruits like strawberries, raspberries or kiwi etc as they look & taste great with mango pudding.
4. Avoid over soaking the sabudana or tapioca as it will turn the pearls mushy.
5. If the pudding thickens up too much after sometime, add some milk to it (as per the consistency you want) and heat on low flame or you can microwave for 30 seconds. Mix it gently.
Pin it :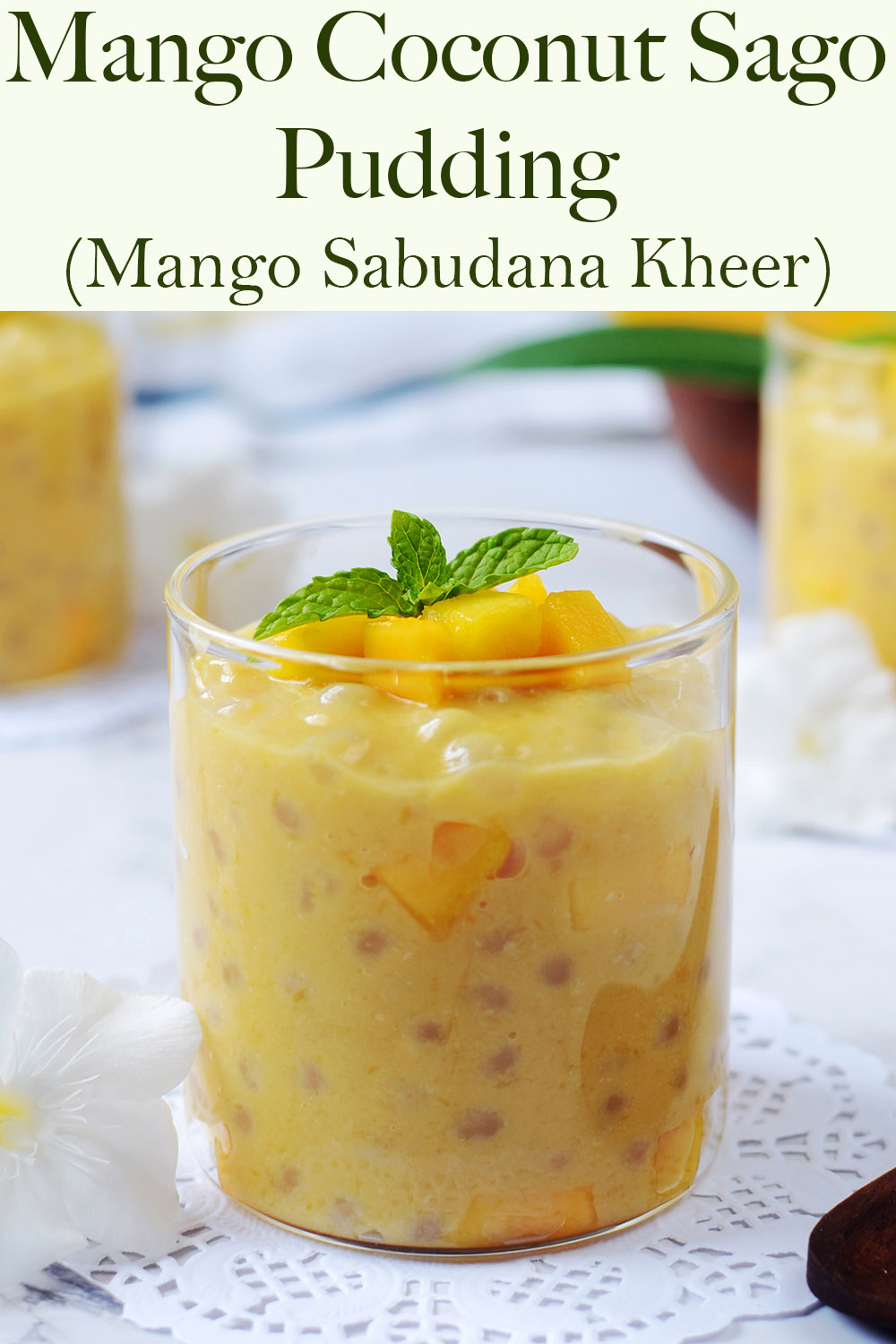 More Sabudana (sago) recipes:
If you try this recipe & share pics on social media, then don't forget to tag us on Facebook or Instagram or use the hashtag #kuchpakrahahai.
Let's stay connected