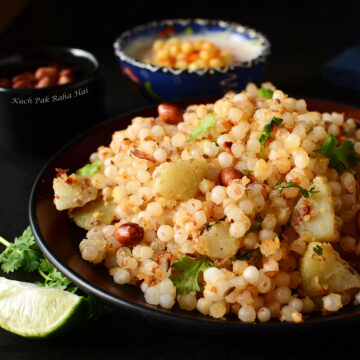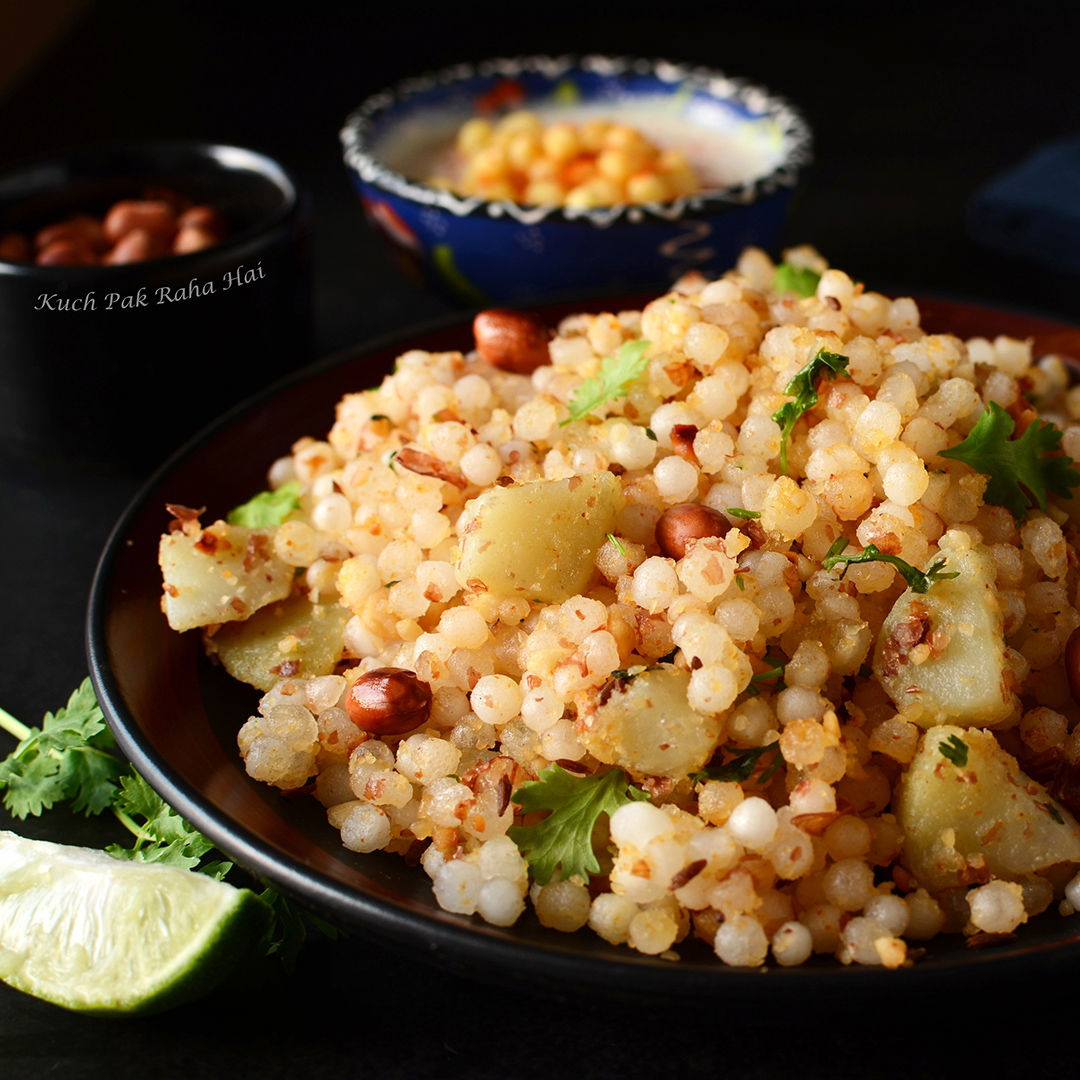 Sabudana Khichdi is one of the popular dishes consumed during Navratri or Maha Shivratri vrat (fasting). "Sabudana" is also known by other names like Sago or Tapioca Pearl. This dish tastes so good that it can be eaten otherwise too as breakfast or snack. One of the key aspects of this recipe is to get perfect non-sticky texture such that each pearl is separated from one another. It is a completely gluten free & vegan recipe.
Sabudana Khichdi (or Tapioca Pearl Pilaf / Pulao) is made by cooking soaked sabudana pearls, boiled potatoes, peanuts; seasoned with rock salt, cumin seeds, green chillies & black pepper. The addition of lemon juice & chopped coriander leaves adds lots of flavour & freshness to the dish.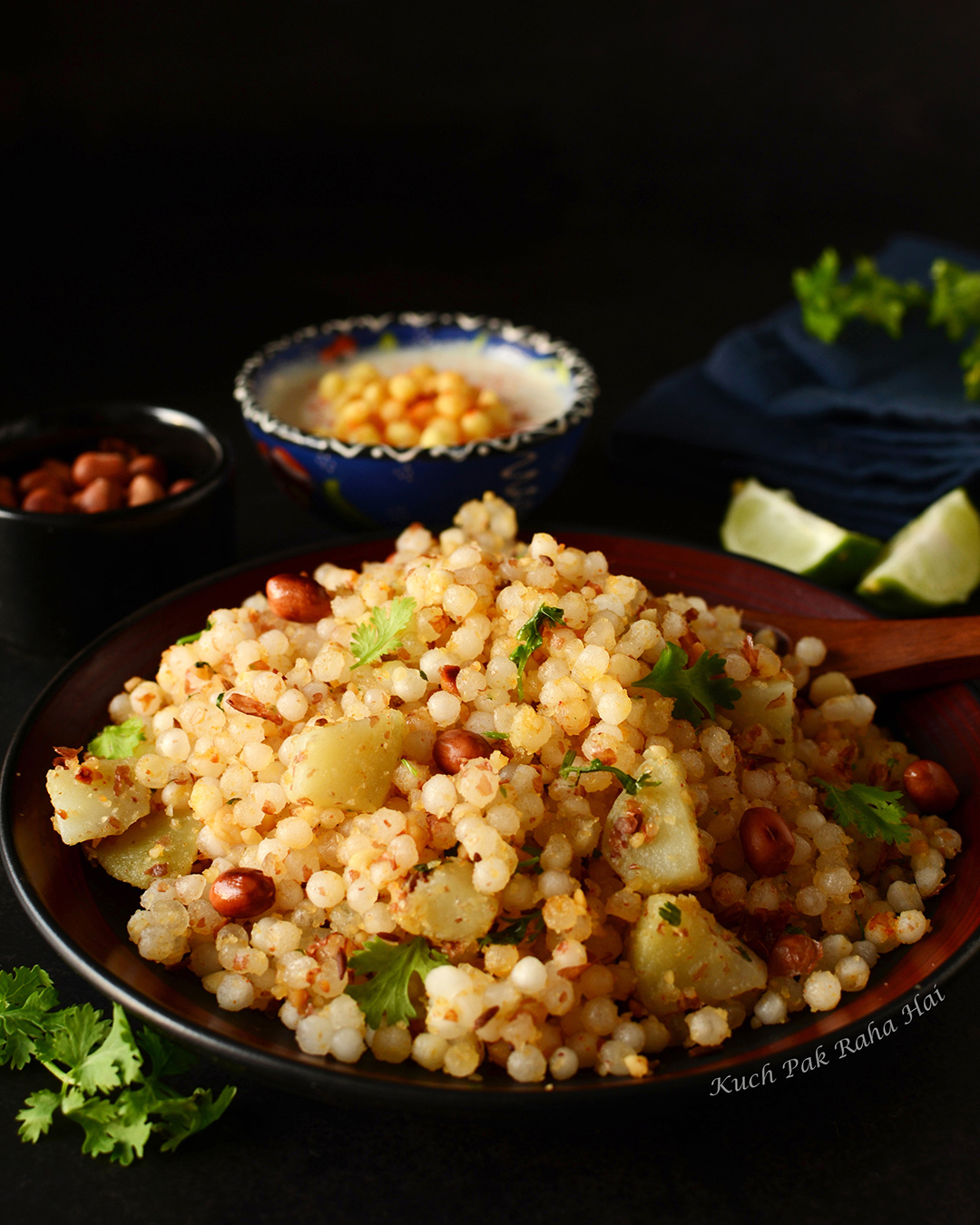 In sabudana khichdi, much depends on the variety of sabudana you are using. In India, there are three sizes available-small, medium & large. The small variety are like tiny pearls which makes them mushy while soaking. So I would recommend using either the medium pearls for this recipe. I am sure if you follow the exact proportions & soaking method you will get perfect non sticky flavourful khichdi.
If you are making this Khichdi other than fasting, you can add more veggies or spices of your choice like tomato, ginger, onion, peas etc to increase its nutritional value. As sabudana mainly comprises of carbs, addition of some nuts and veggies balances the overall nutritive value.
Other Sabudana recipes that you might like:
Hope you would like this delicious & easy non sticky sabudana khichdi recipe 🙂 !!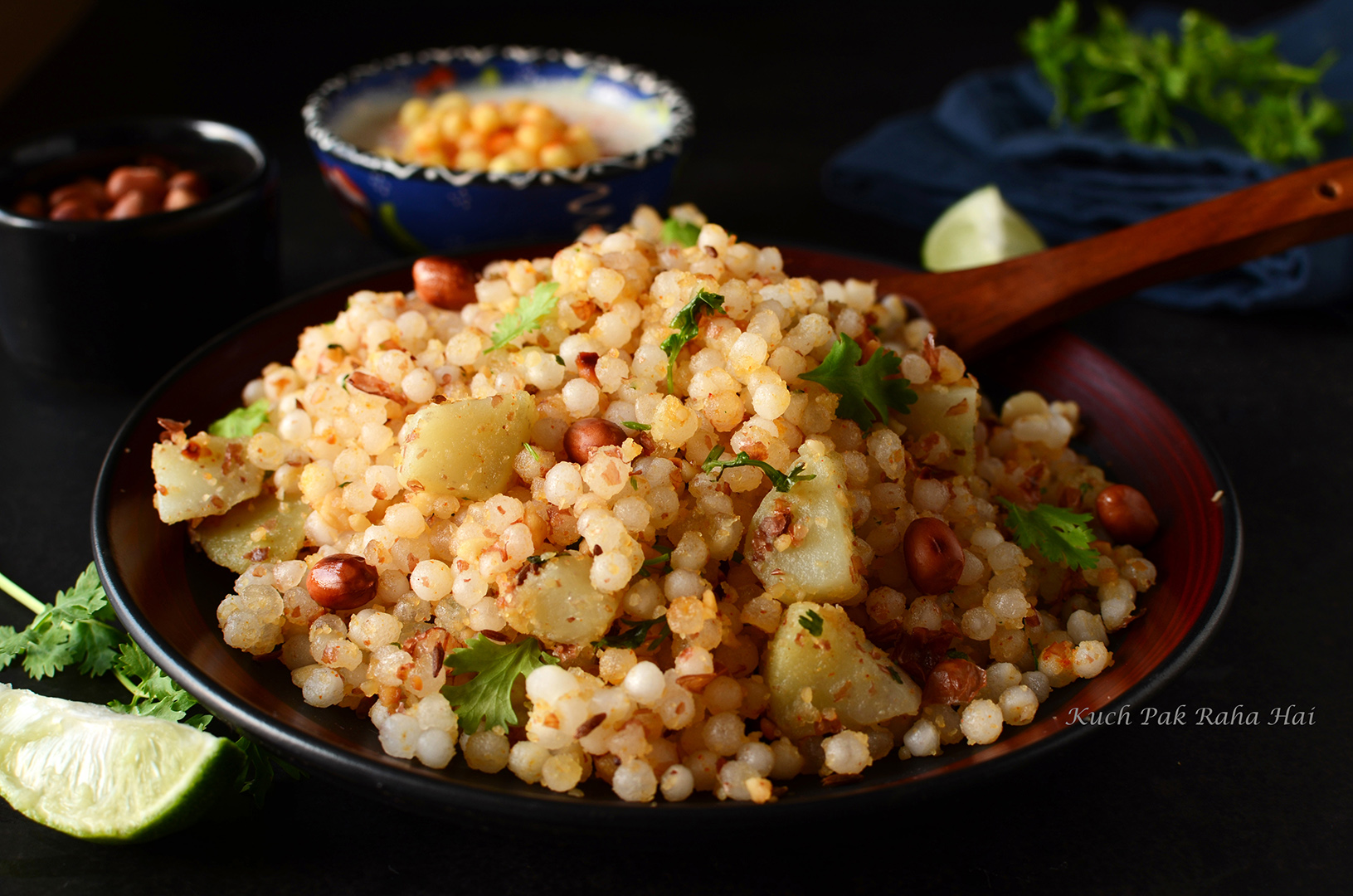 For more Navratri recipes, click here.
List of Ingredients:
Sabudana (Tapioca Pearls) – 1 cup
Water – 1/2 cup + 3 tbsp
Cooking oil – 2 tbsp
Cumin seeds (Jeera) – 1 tsp
Chopped Green Chilli – 1
Chopped Boiled Potatoes – 1/2 cup
Peanuts (Moongfali) – 1/4 cup
Rock Salt/Sendha Namak – 1 tsp (or to taste)
Red Chilli Powder – 1/4 tsp
Black Pepper powder – 1/4 tsp
Lemon Juice – 1 tsp
Chopped coriander/cilantro – 3 tbsp
Notes:
I have used cooking oil here for making the sabudana khichdi or pulao as I wanted to keep this recipe vegan. You can make it in ghee too.
If you are allergic to peanuts, please feel free to skip them.
Different people have individual beliefs about what to eat or not to eat during Navratri fasts. You can skip or replace the ingredients as per your requirement. For example I have added red chilli powder here but many people don't consume it during fasting so you can replace it with green chillies or black pepper.
Some people add curry leaves or ginger too in tadka (tempering).  You can add it if you want.
Steps to Prepare:
Step1:
Soaking sabudana is the first and crucial step in this recipe. If sabudana is under-soaked or over-soaked either you will get unevenly cooked or sticky mushy Khichdi.
Rinse the sabudana well under running water first to get rid of dust or impurities. For soaking, take sabudana pearls in a container and add water to it. I always take sabudana & water in 2:1 (approx). The water should be roughly half the quantity of sabudana. This ratio has always worked for me & gives perfectly soaked sabudana which is not mushy or sticky.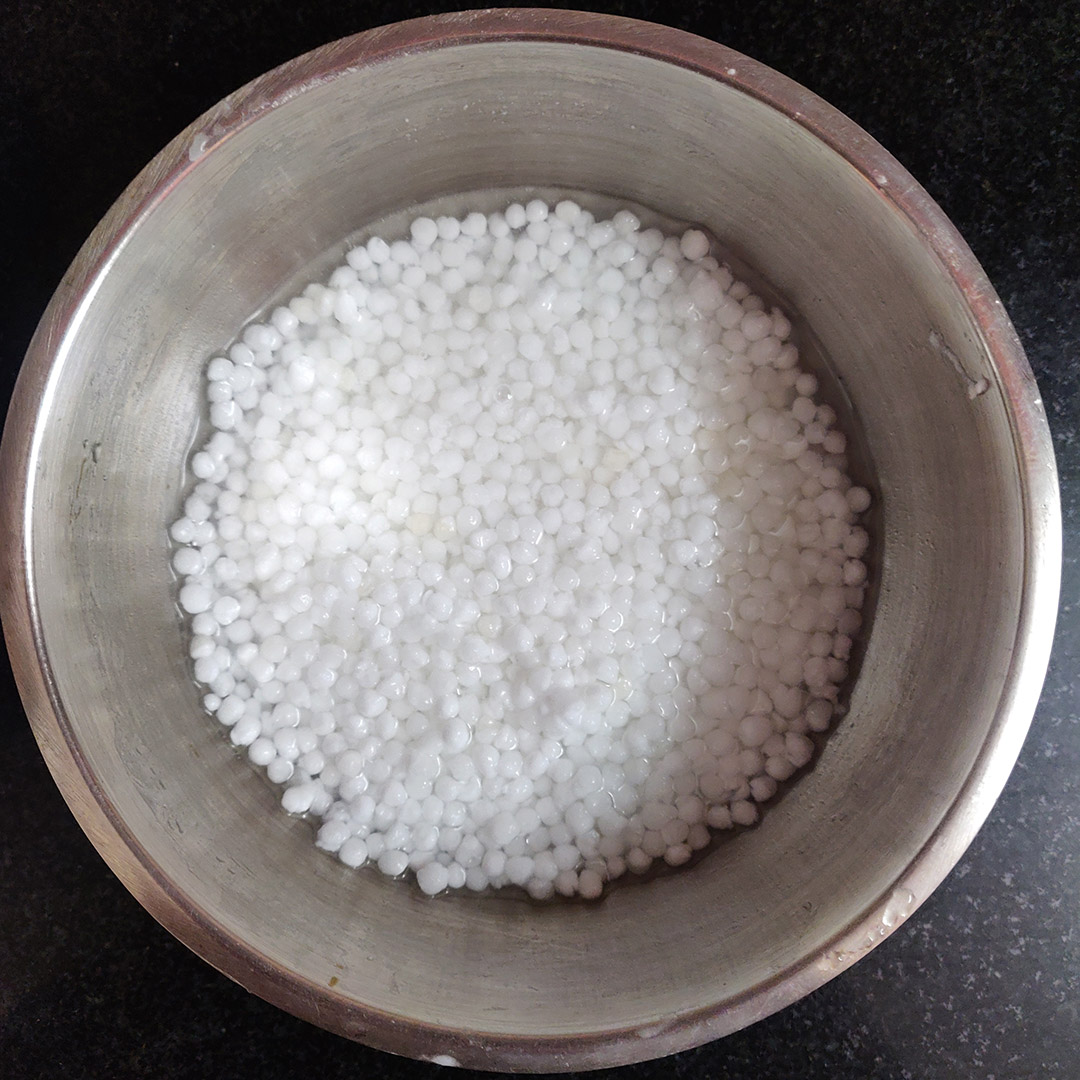 The sabudana should be soaked for at least 2-3 hours. For better results, you can soak it in air tight container in fridge overnight.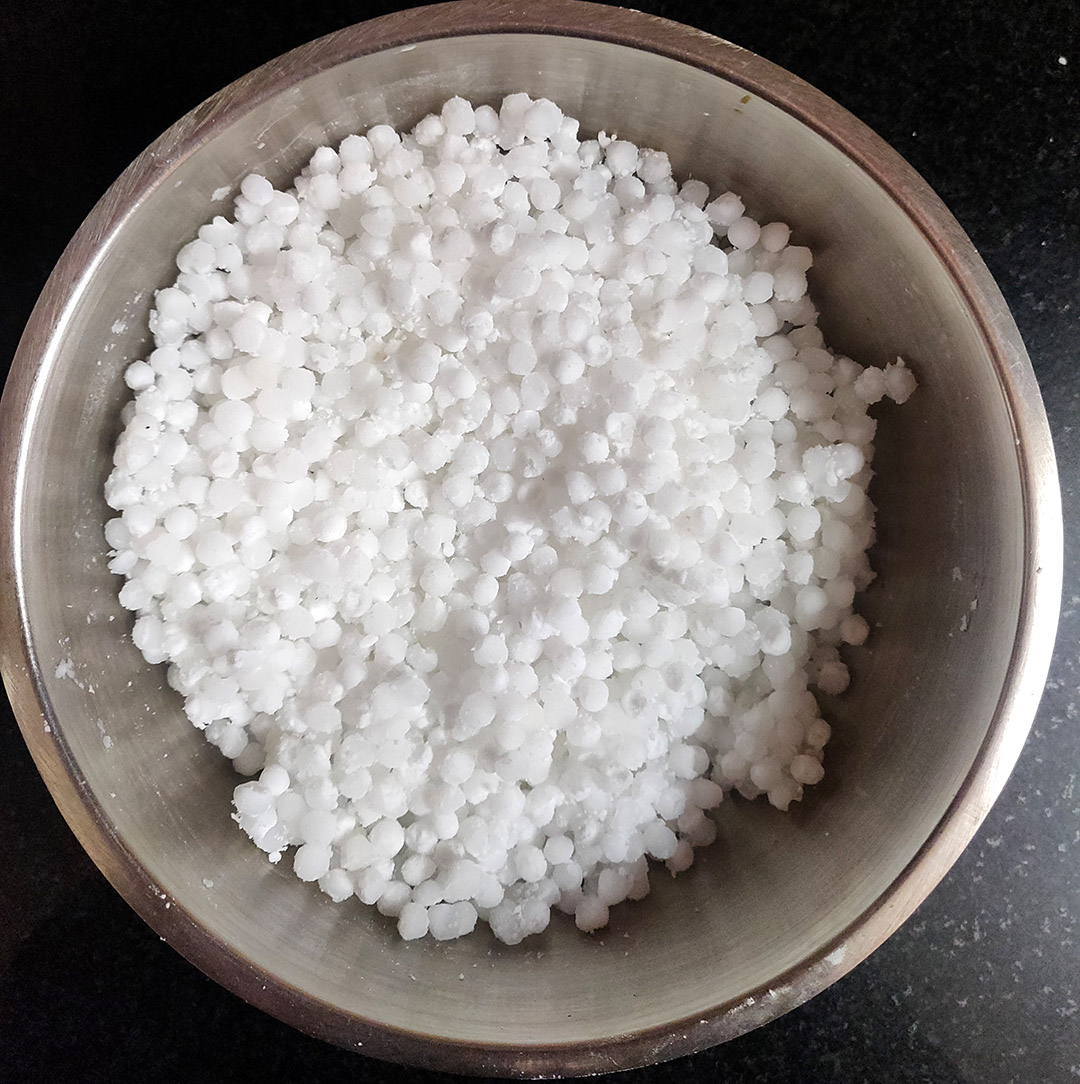 As you can see, the soaked sabudana is perfectly non-sticky & soft. If your sabudana does not turn soft, add some more water & cover it again for half hour to 1 hour.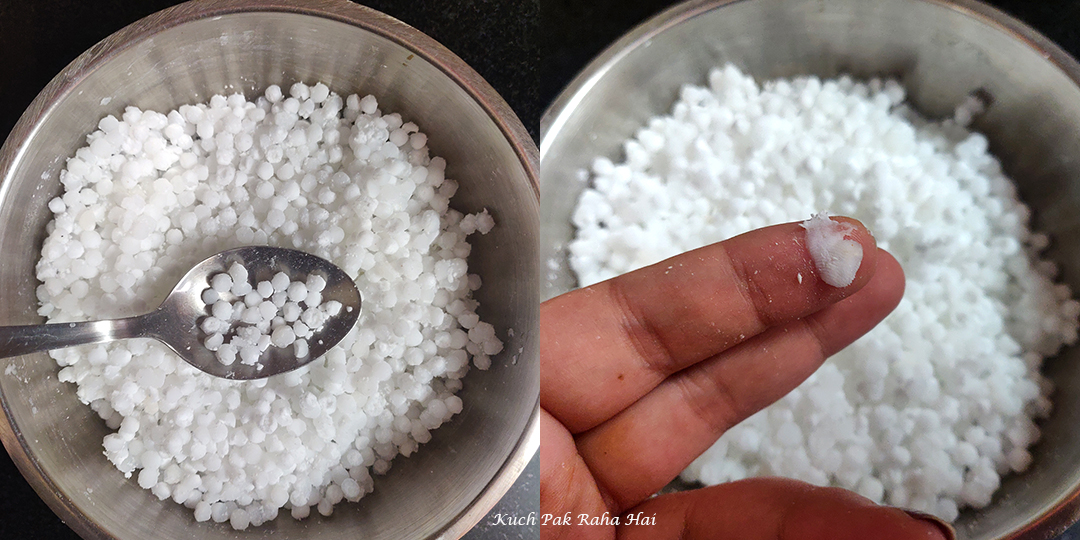 Step2:
Dry roast the peanuts in a non stick or heavy bottomed pan. Roast them for 4-5 minutes on medium low flame till you start noticing brown spots on them. Let them cool down completely.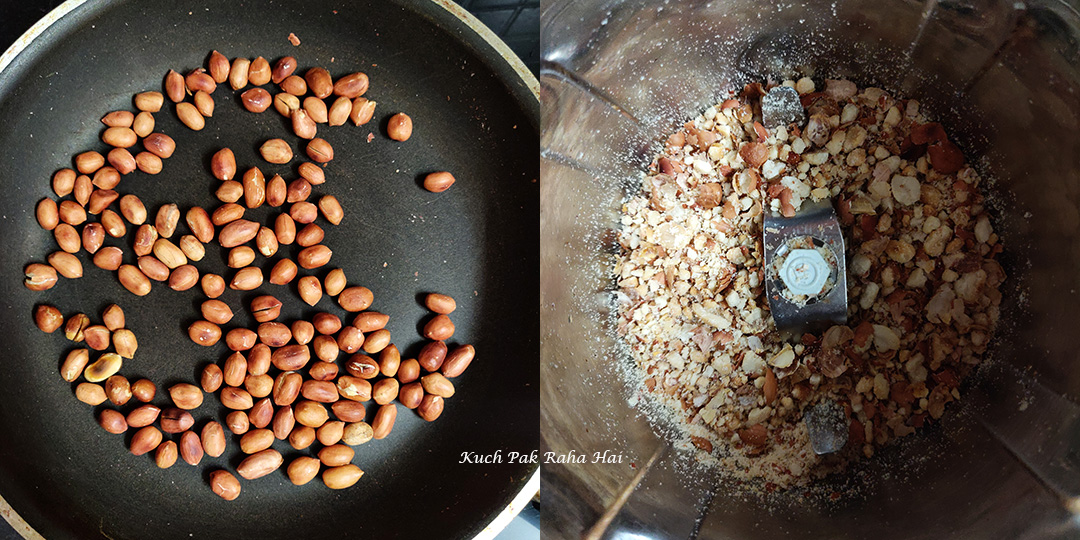 Grind them coarsely. Don't powder them as we want these peanuts to add  crunch in our khichdi. You can use readymade peeled or roasted peanuts also.
Step3:
To the soaked sabudana, add these coarsely grounded peanuts, rock salt, red chilli powder, black pepper. Lightly mix them with spoon.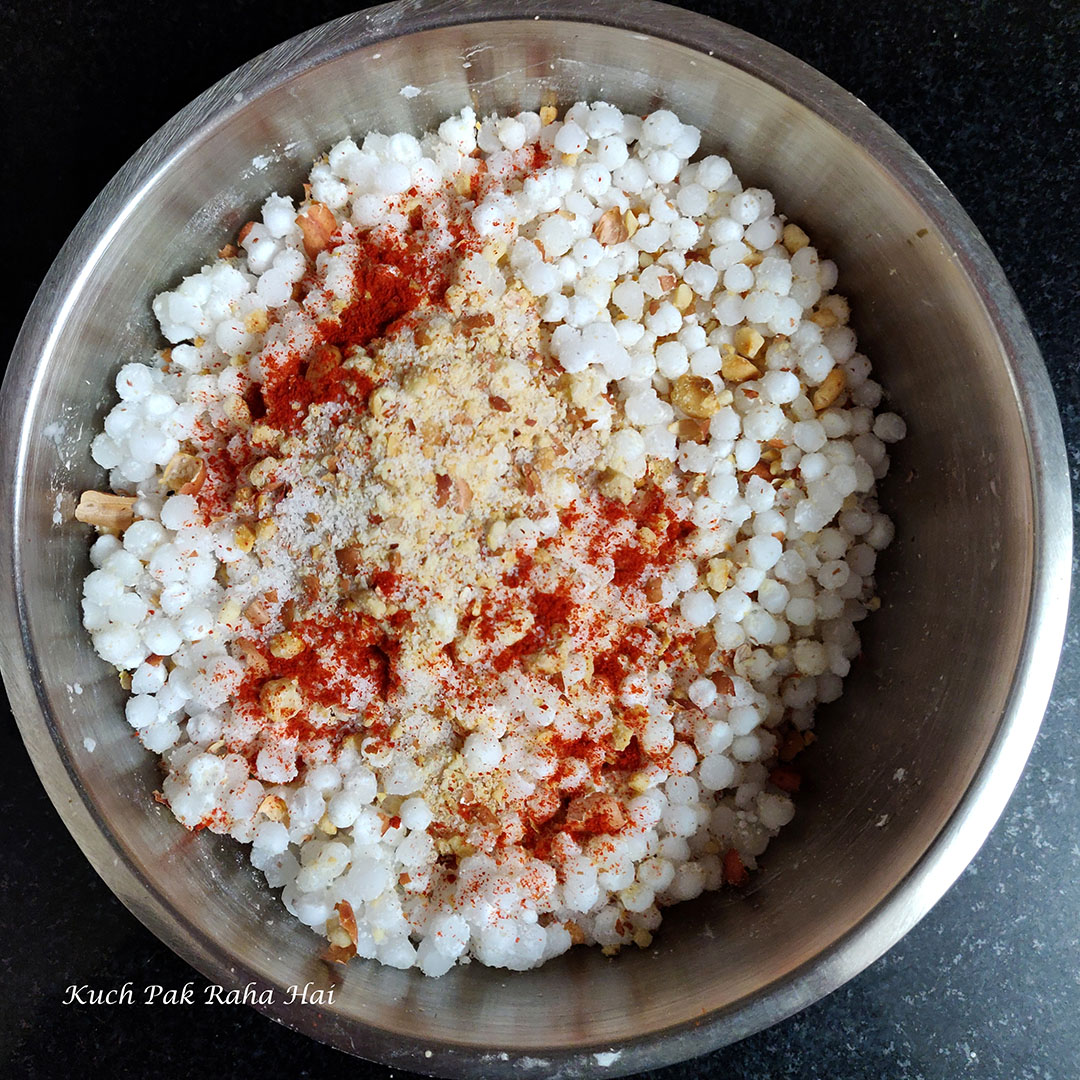 Step4:
Heat oil in a pan. Add cumin seeds to it. Once the seeds start to crackle add chopped green chillies. Stir for few seconds. (If you want to include ginger paste or curry leaves in recipe, add them at this step and let them stir fry for few seconds.) Add boiled potatoes pieces. Saute them for 1 -2 minutes,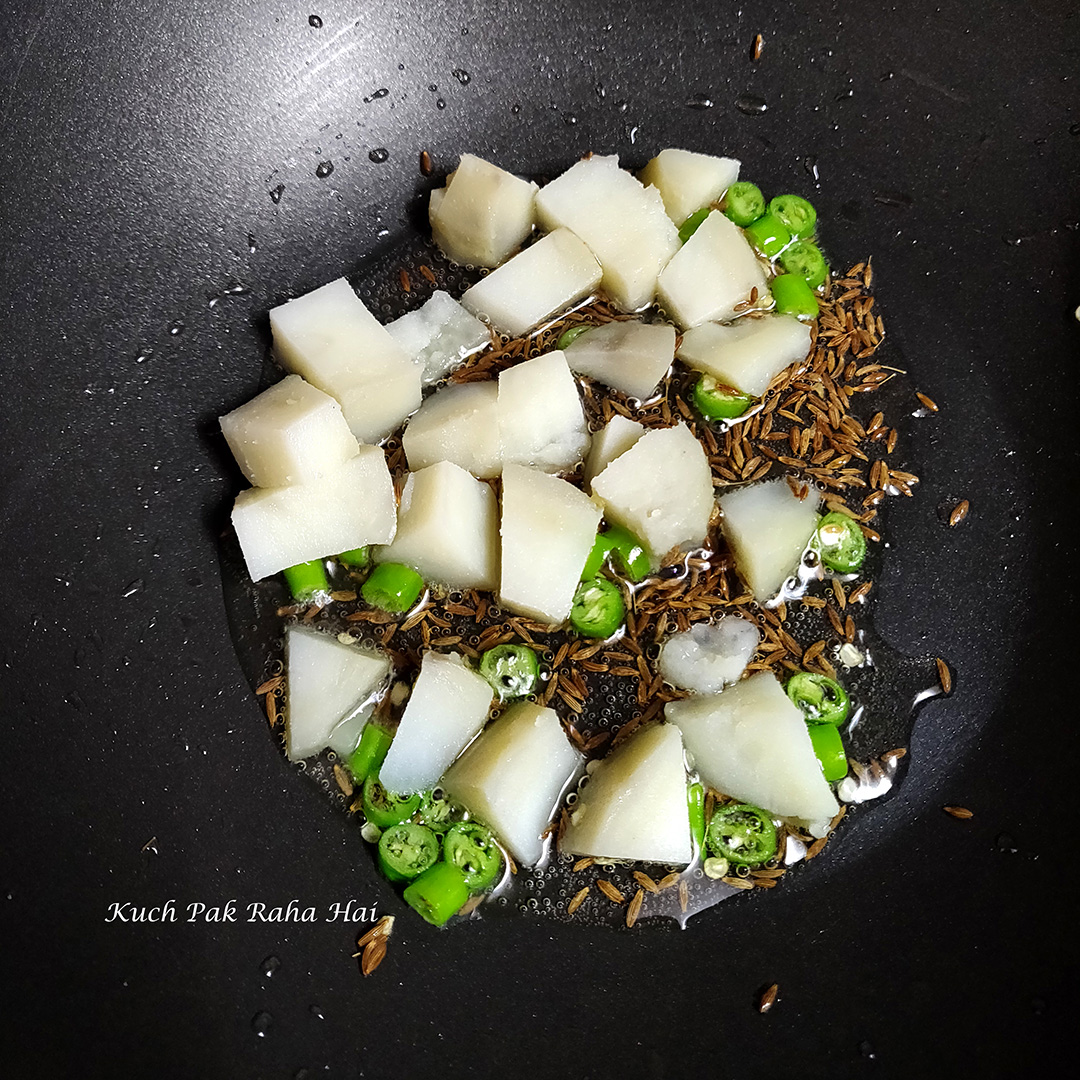 Step5:
Add sabudana mix in this pan. Mix gently.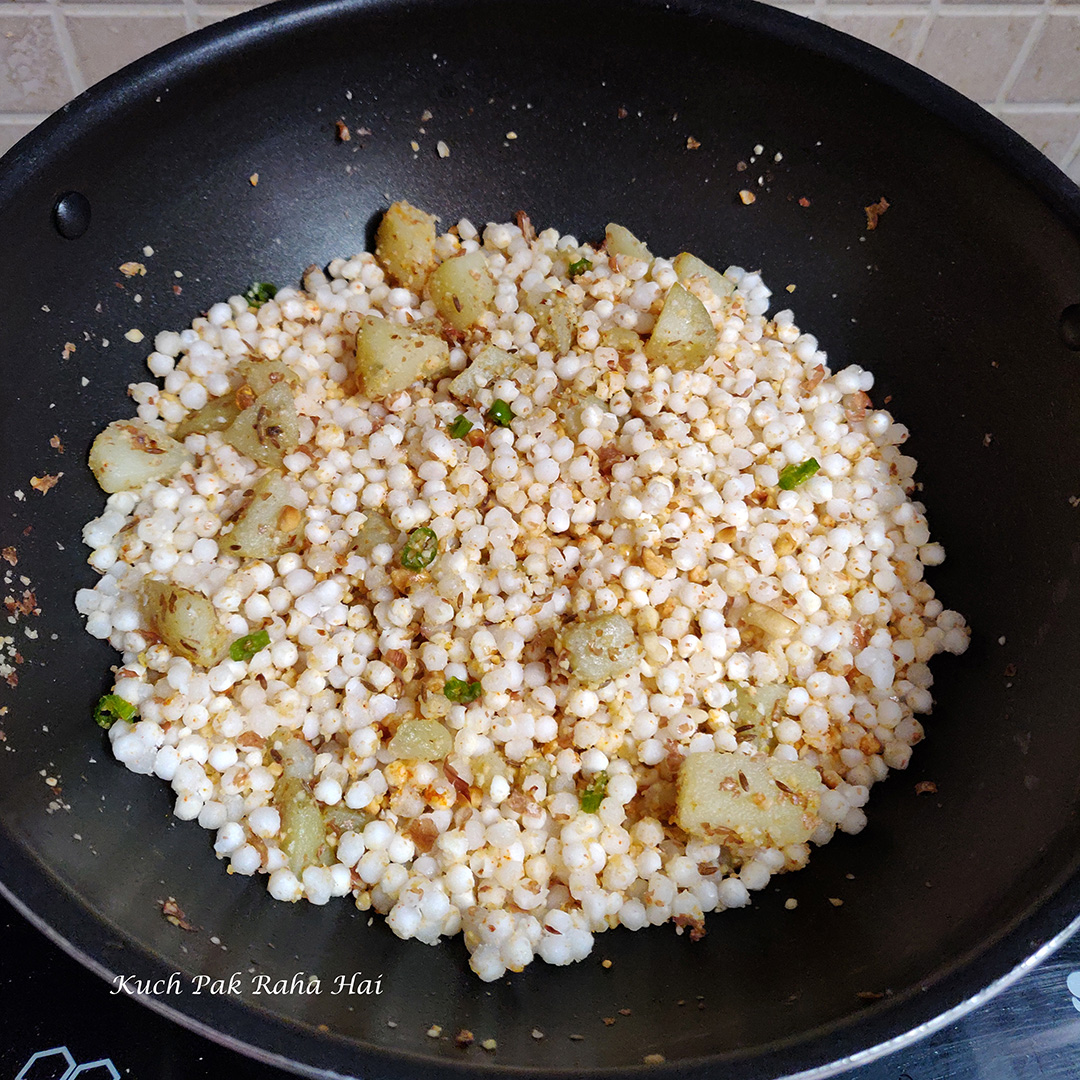 Add 3 tablespoon water and cover with a lid. Let it cook on low flamr for 3-4 minutes till the sabudana turns translucent.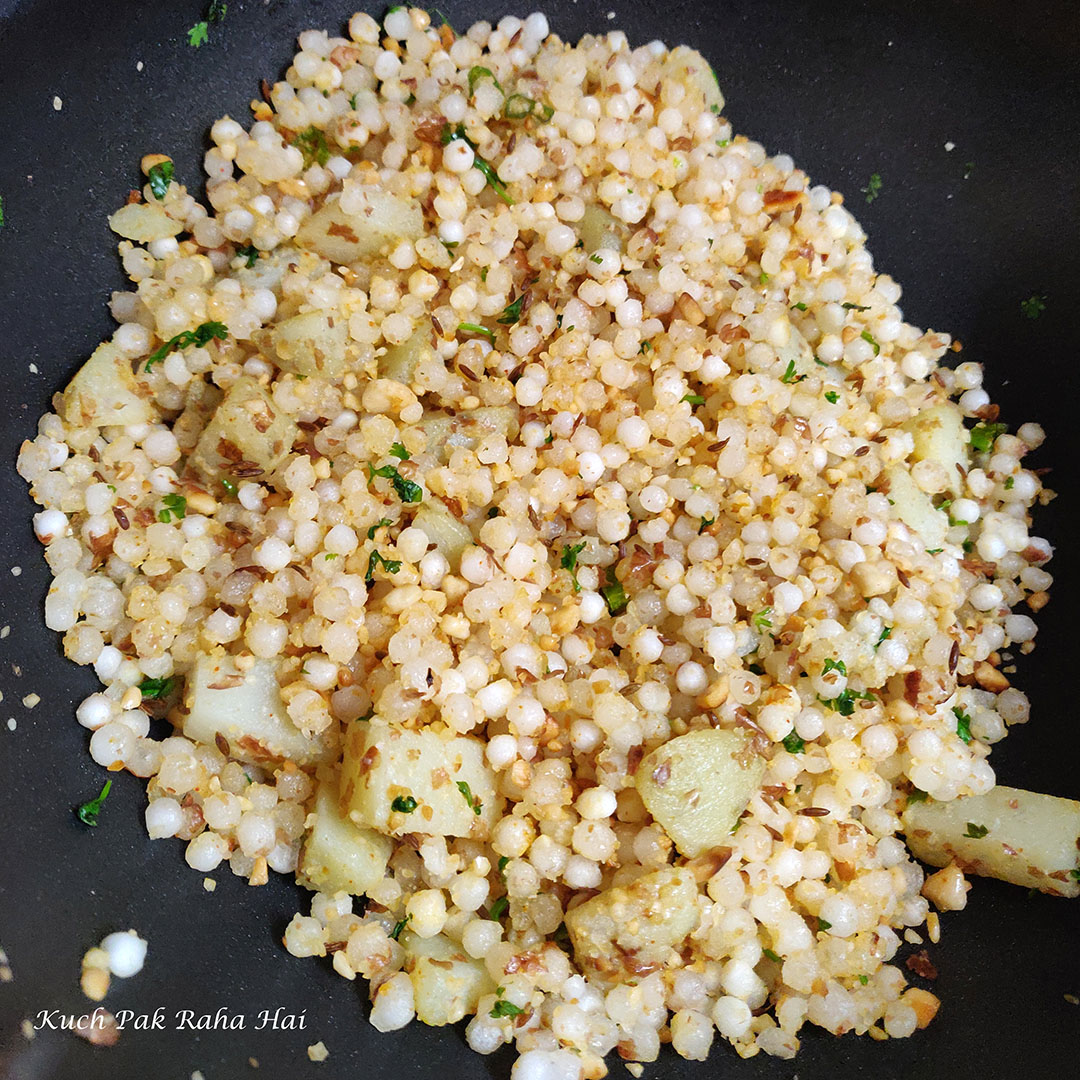 Switch off the flame, add lemon juice & garnish with some chopped fresh coriander leaves.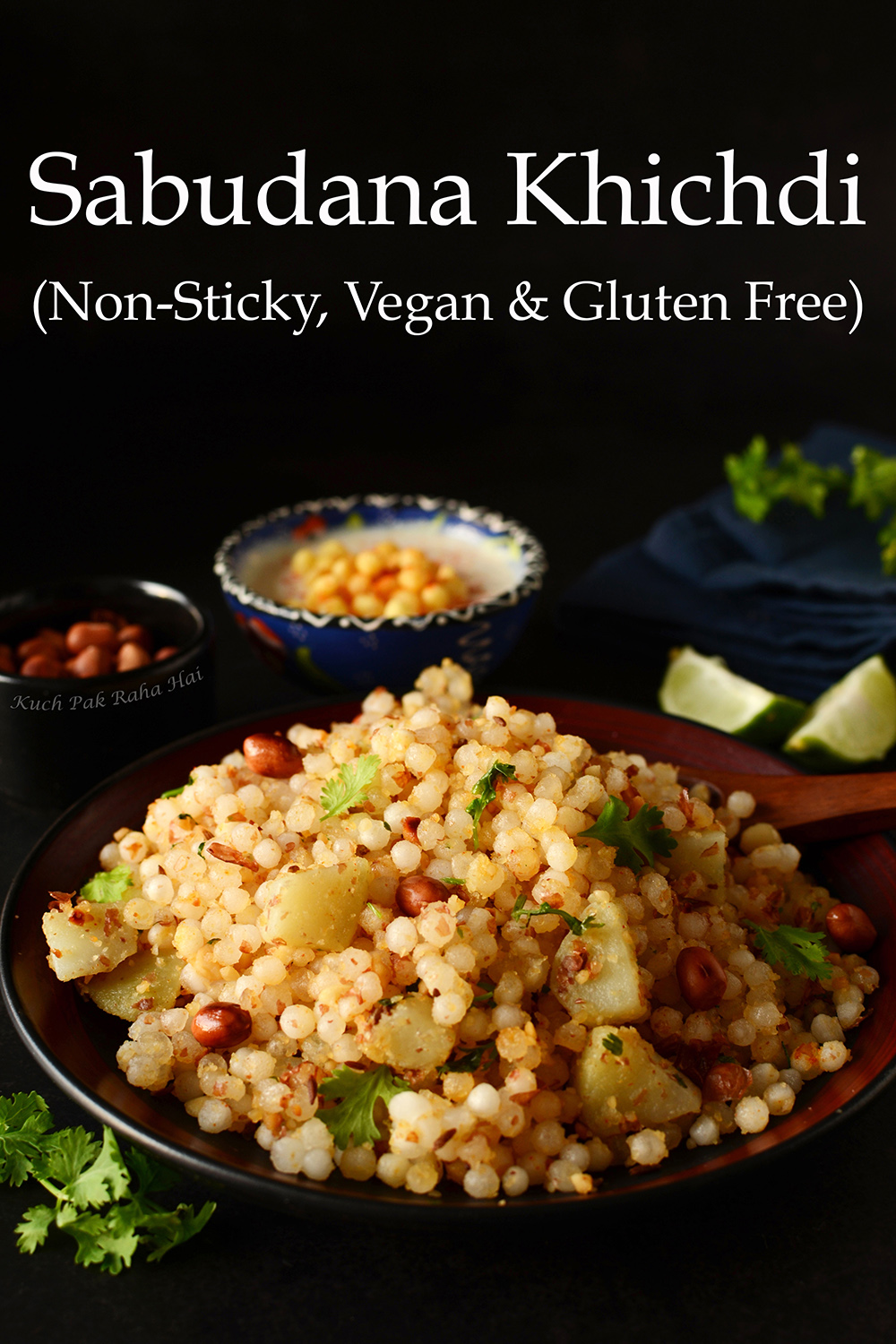 If you like this recipe or try it & share its pics on social media channels, then don't forget to tag us on Facebook or Instagram or use the hashtag #kuchpakrahahai. You can also Subscribe to our Youtube channel for recipe videos. Your feedback & suggestions are valuable. Bon appétit!!