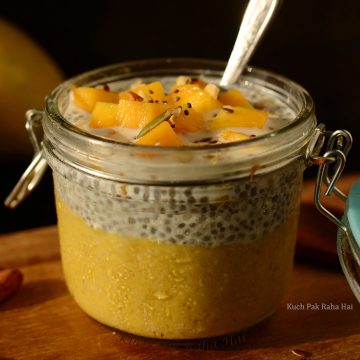 Mango Overnight Oats Chia seed pudding is a delicious healthy vegetarian breakfast recipe with goodness of oats, fresh mangoes, milk & chia seeds. It is an easy & quick breakfast recipe that can also be made vegan by using coconut, almond or soy milk.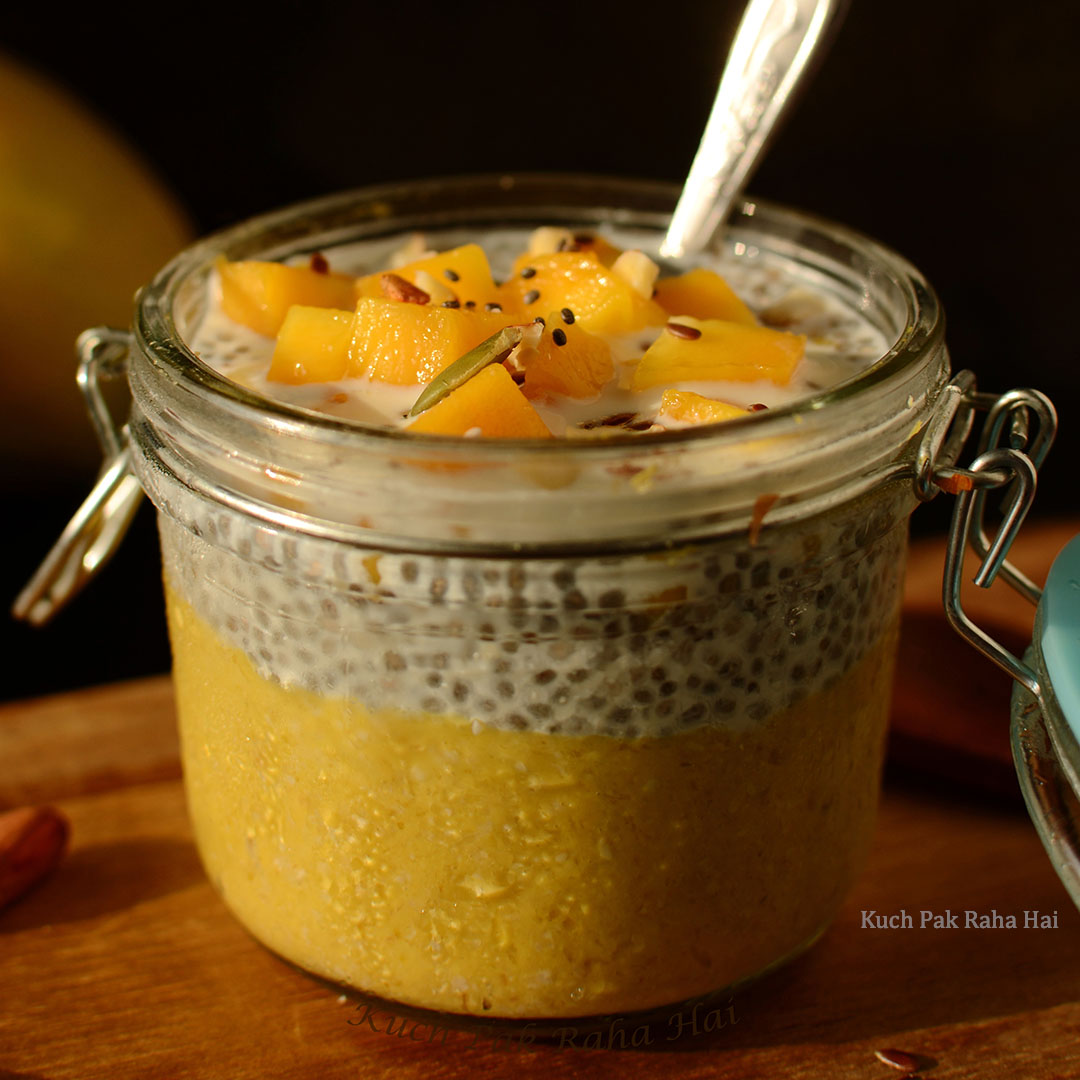 This mango oats recipe has no artificial sweetener or refined sugar. You can even serve it as a light healthy dessert. In this recipe, I have layered mango oats and chia seed pudding in parfait style which makes it look attractive too. You can make this recipe with regular yogurt or coconut yogurt too.
This recipe includes all the four ingredients which our often considered as essential part of healthy breakfast-
Fruits
Oats
Milk
Nuts 
Seeds
Oats are good source of fibre, protein and are high in mineral like selenium, magnesium, zinc and manganese etc. Mango is also a good source of dietary fibre and and also rich in Vitamin A & C. Nuts & seeds also provide complex carbohydrates, protein and other essential vitamins to body.
The variations in these overnight oats are endless. If you are looking for vegan version the milk in this recipe can be replaced by coconut / almond / soy milk. You can choose nuts and seeds as per your own preference. Also, for kids who are too fussy to eat anything. you can garnish this pudding with chocolate chips to lure them.
Minimal preparation and almost zero cooking time makes overnight oats an ideal & popular choice for breakfast. All you need is to mix few ingredients a night before and you will have delicious lip smacking breakfast next day.
Summer time is here which means season for yummy juicy mangoes. I love mangoes (especially alphonso) and their inclusion in any dish makes it desirable too. I am sure you are going to enjoy every spoonful of this mango oats chia seed pudding recipe without frowning upon the blandness and texture of oats.
This overnight oats is so appetising that it feels as if you are almost eating a dessert🍨. Also it is a no cooking or fireless recipe. I had earlier shared a Vegan Chocolate Oatmeal smoothie bowl which also tastes yummy and is healthy too.
It is 19th day of lockdown in India due to Covid-19. Hoping that we all get through this phase safely with our families 🙏. Everyone is in the house now & with all the meals preparation and snack breaks in between 🙆, kitchen is literally functional 24 hours. I have now decided to prepare 2-3 jars of these overnight oats every night before sleeping as you can have them in breakfast, evening snack or even for a late night dessert craving. It tastes just like pudding and so much healthy too.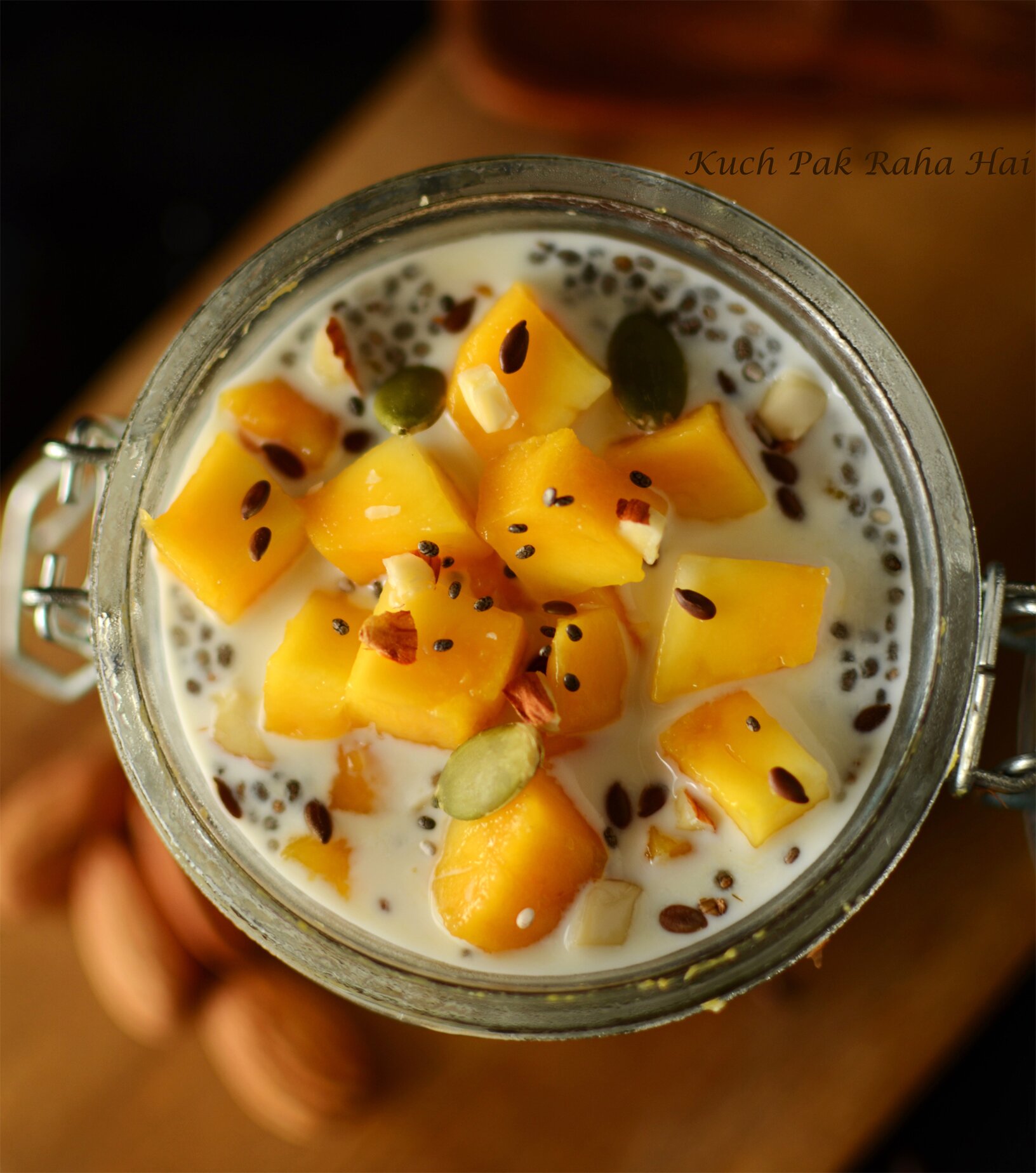 I have also shared a youtube video for the same recipe. If you like this recipe, don't forget to subscribe to my channel for more such yummy healthy recipes.
Youtube video :
For all the mango lovers, I have shared few more mango recipes on the blog which you can checkout here:
Hope you will like this delicious healthy mango overnight oats chia seed pudding recipe😊.
Ingredients: (For 1 person)
Rolled Oats- 1/4 cup
Chopped Mangoes-1/2 cup
Low Fat Milk / Coconut Milk-1/2 cup
Chia Seeds-2 to 3 tsp
Honey / Maple Syrup- 1 tsp
Chopped Almonds- 3 to 4
For garnishing:
Mixed Seeds- 1 tsp
Chopped nuts (Almonds/Walnuts) – 1 tsp
Chopped Mangoes – 2 tbsp
Substitutions :
1. You can use almond or soy milk also for this recipe. As mangoes and coconut make for a delicious combo, I prefer coconut milk any day.
2. If you are trying to reduce the calories in this recipe, you can make it with yogurt too. These days coconut yogurt is also easily available in market.
3. Feel free to add more fruits like strawberries, blueberries & bananas as per you taste.
4. As sweetener,  I have mentioned here honey & maple syrup. You can even use coconut sugar, brown sugar in this recipe.
Directions:
Step 1:
Add chopped mangoes and oats in a mixer jar.  I have used Quaker Oats here. You can use any other variety or brand.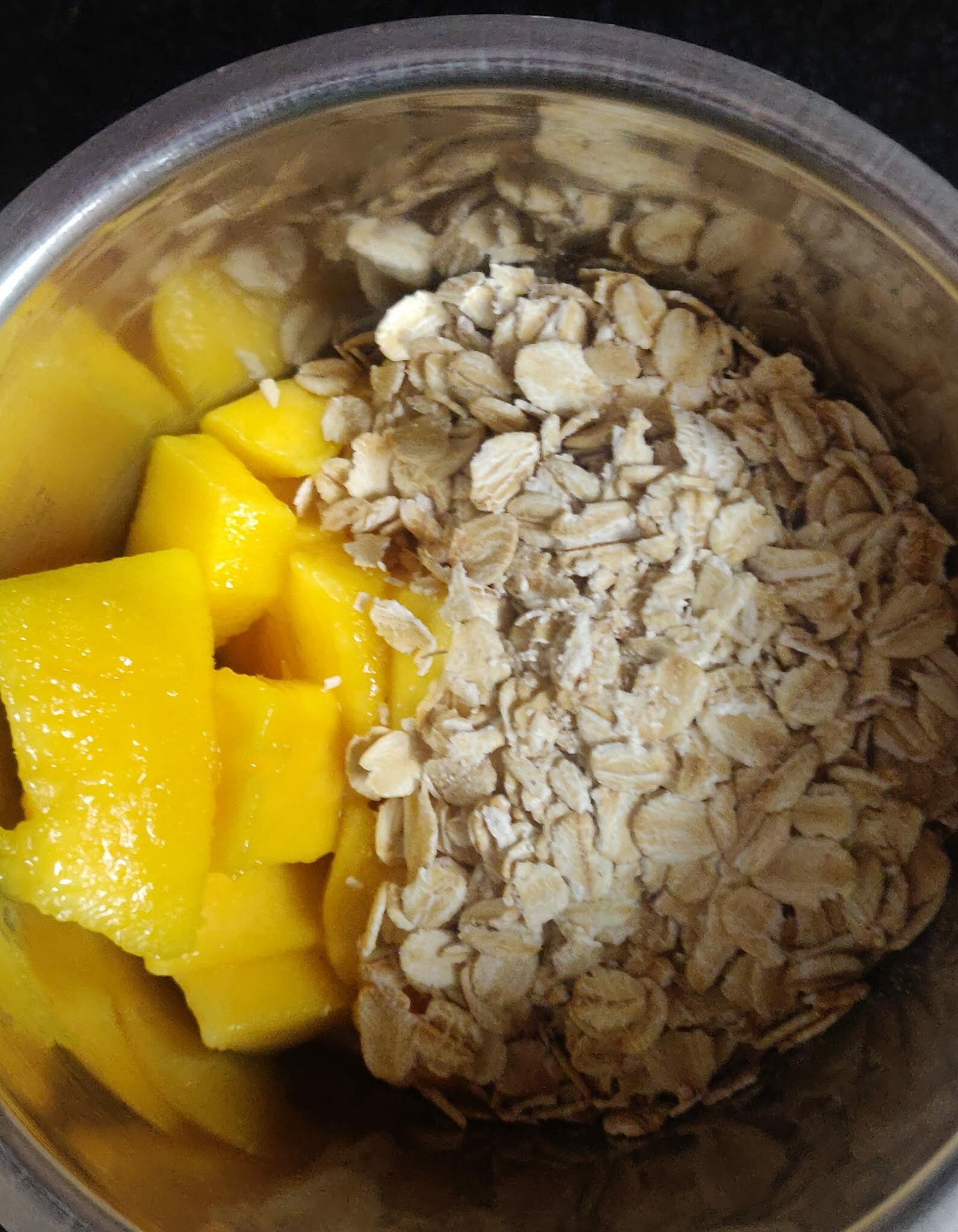 Step 2:
Blend together till all the oats are crushed. If the mixture seems too thick add a table spoon of milk or water.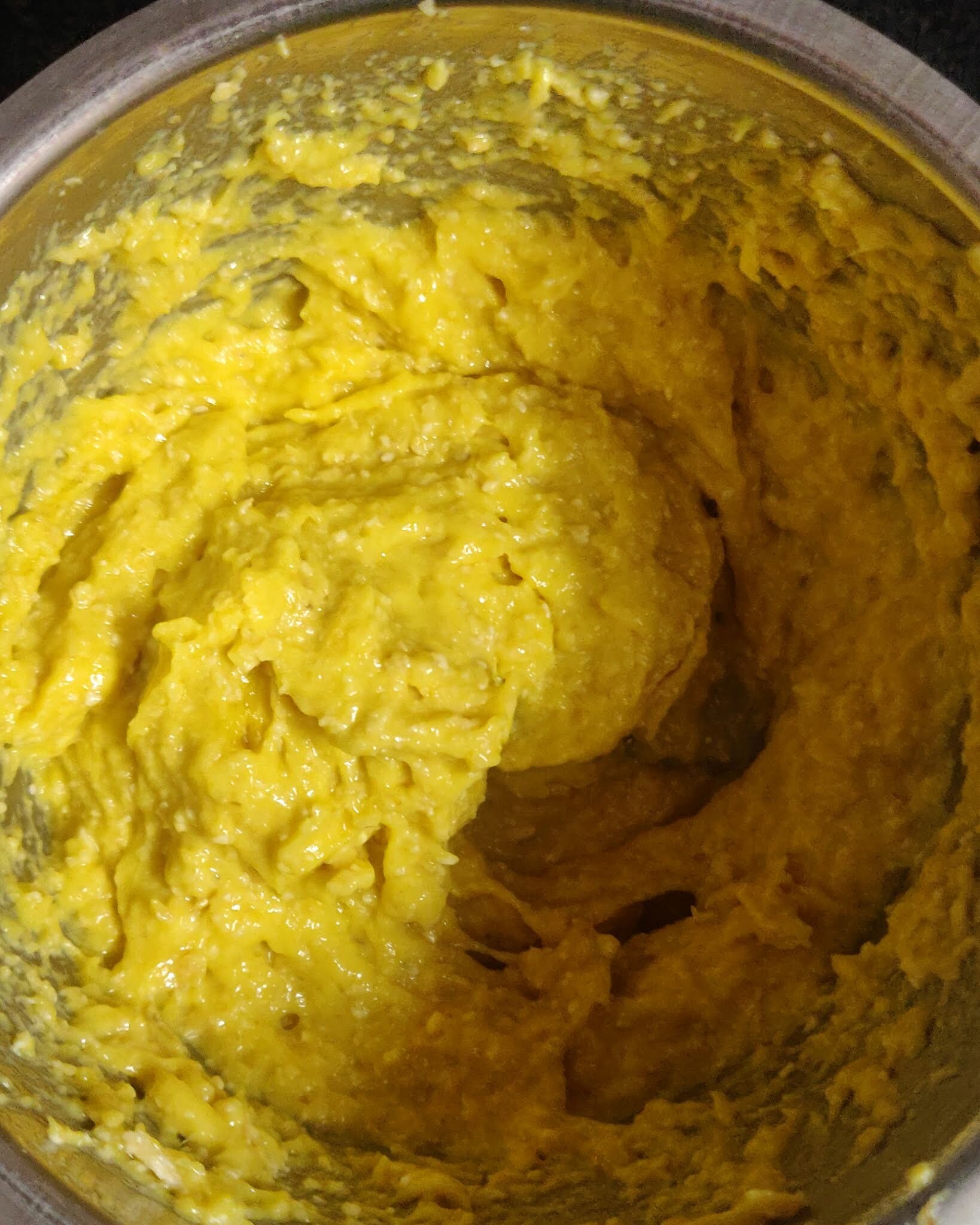 Transfer it in a jar or bowl. Keep it aside.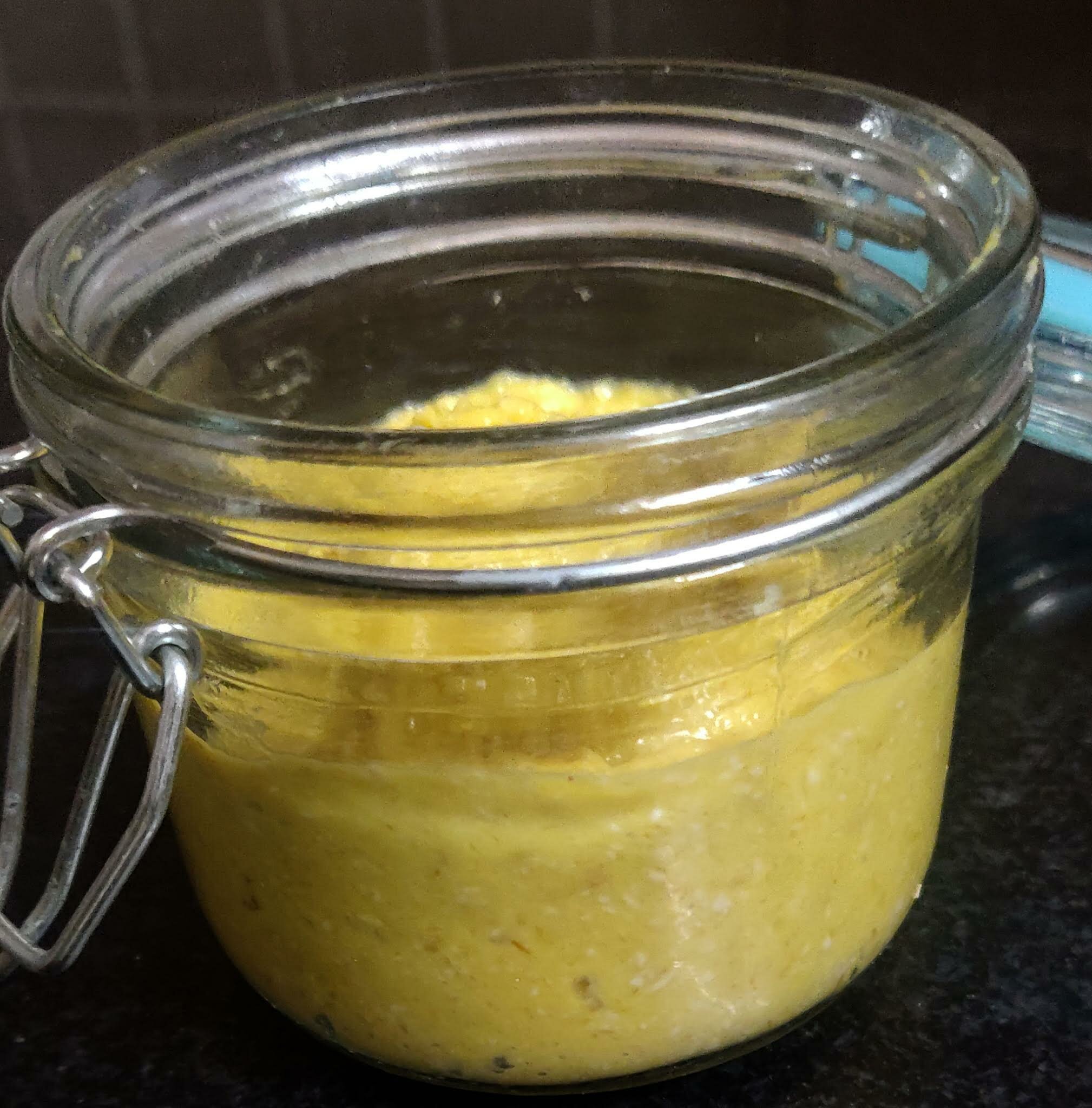 Step 3:
In a bowl add milk, chia seeds, honey and chopped almonds. For vegan version replace dairy milk with coconut , almond or soy milk. Also honey can be replaced by sugar, coconut sugar or few drops of stevia.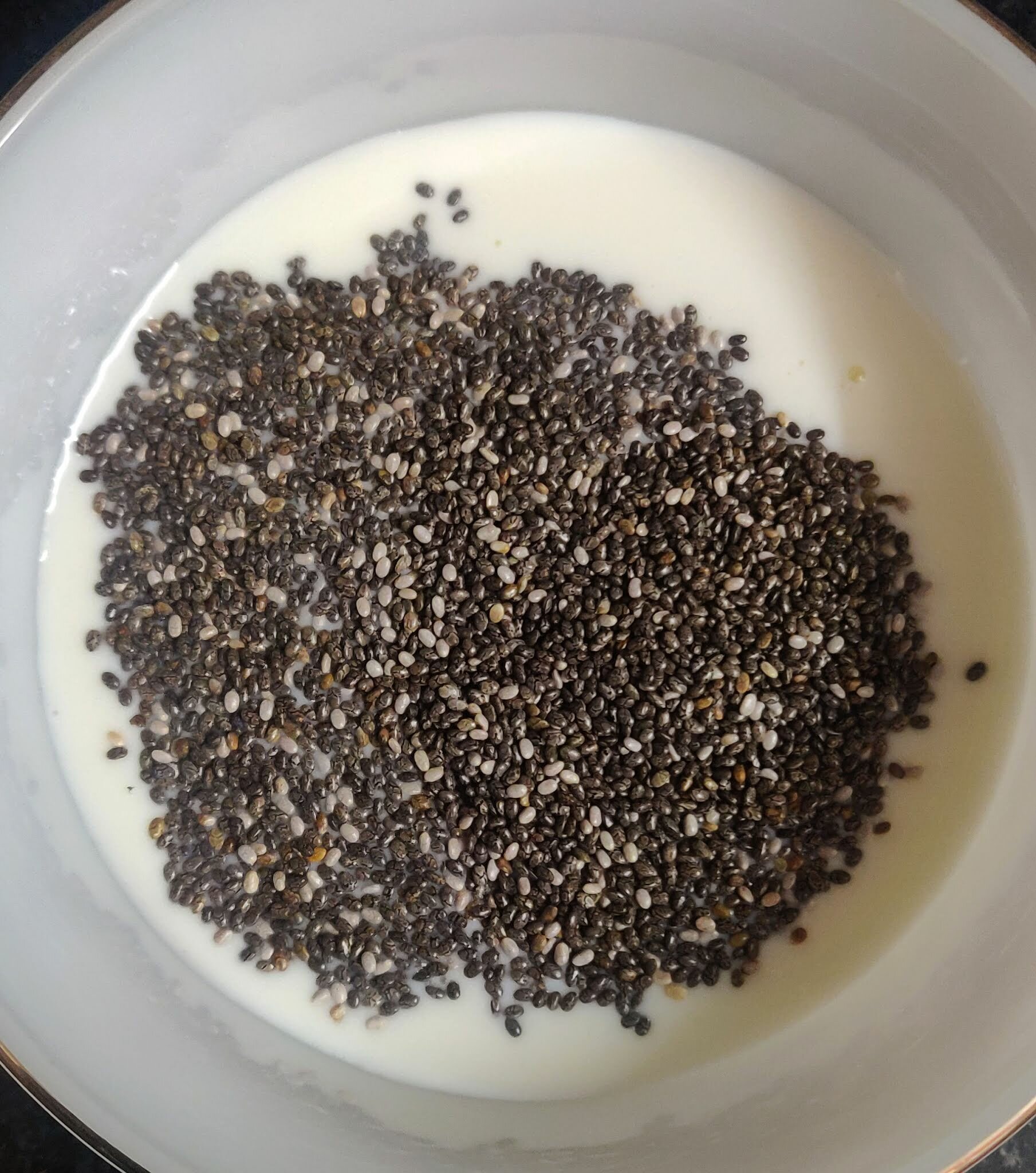 Mix well and let the chia seeds soak in milk for 5-10 minutes. Once the chia & milk mixture begins to thicken up, transfer it above the oats mango layer.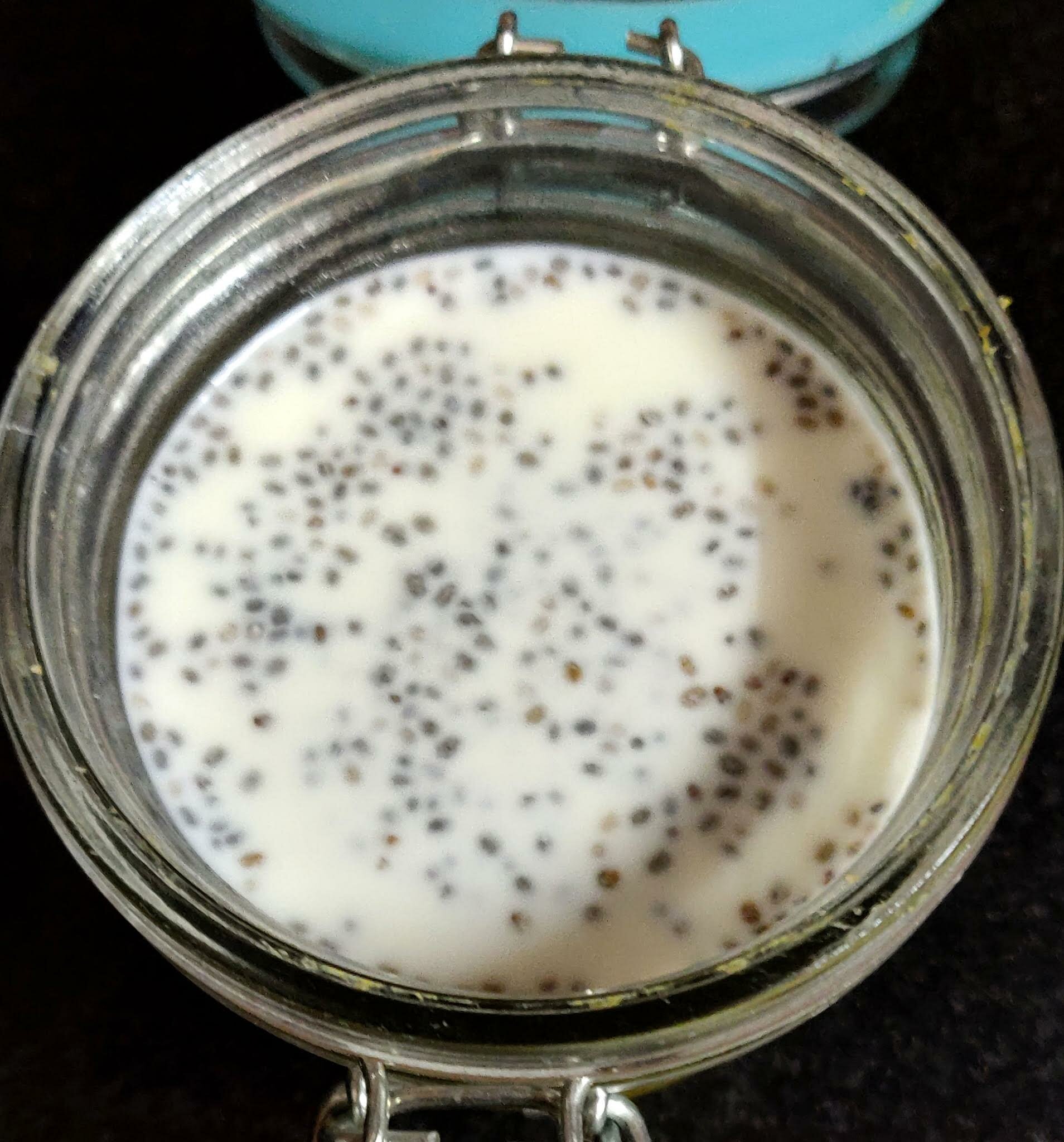 Step 4:
Let this jar be refrigerated overnight. In morning garnish it with some more mangoes, nuts or mixed seeds. Its upto you what and how much you want to include in your diet.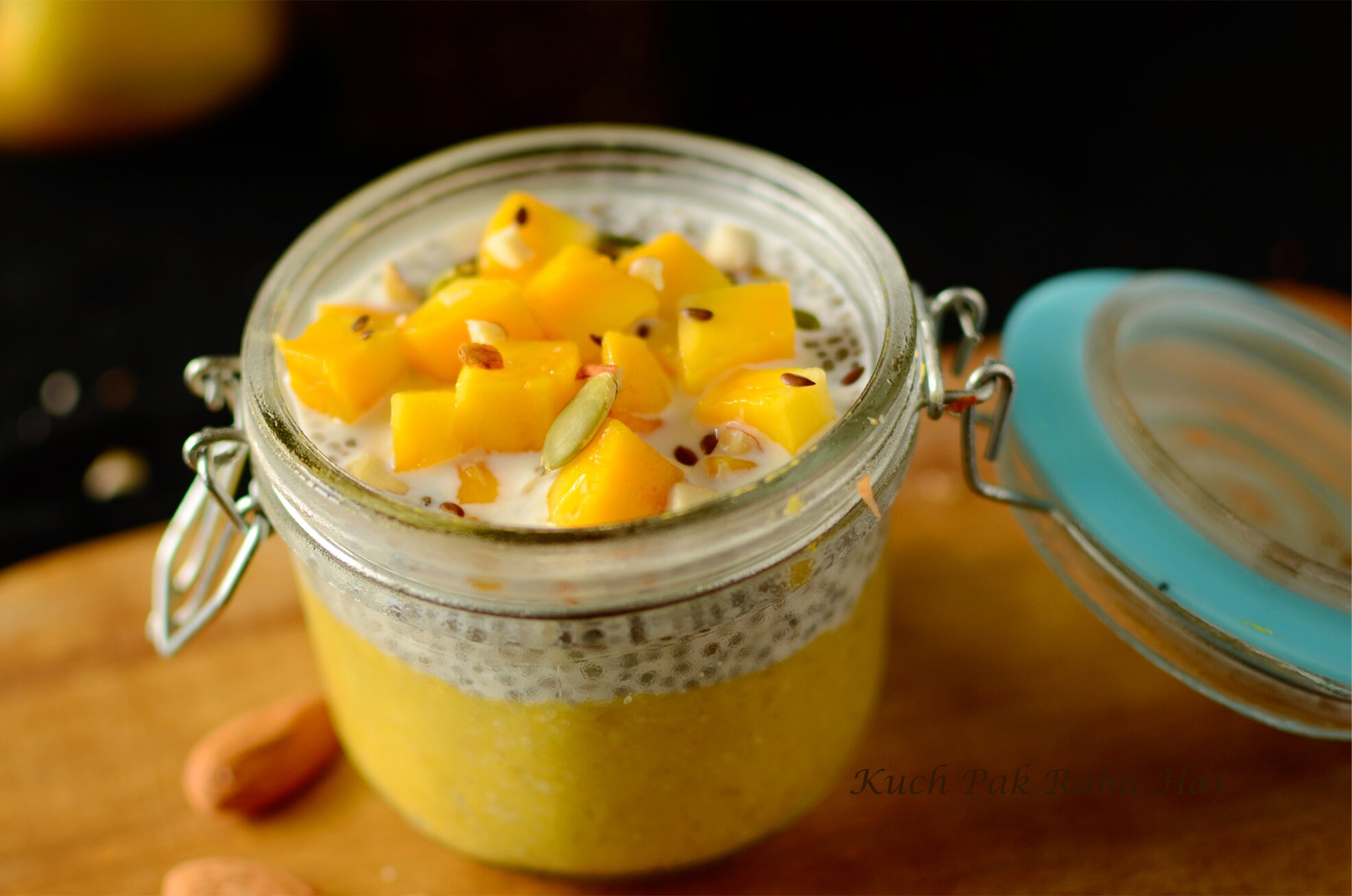 Enjoy this delicious chilled mango overnight oats & chia seeds pudding. It tastes so yummy as if you are eating a dessert. Bon Appetit!!
Pin for later: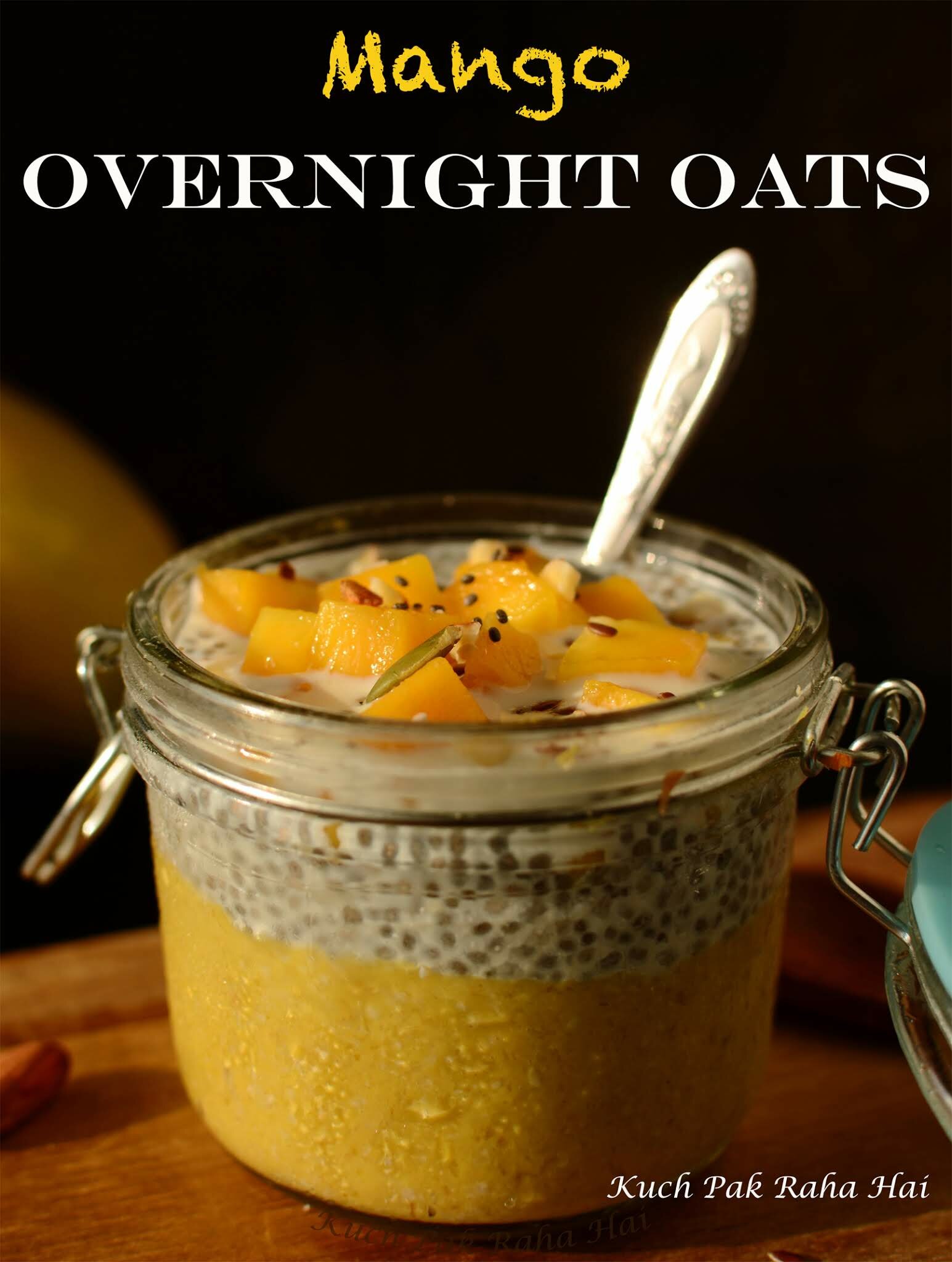 If you try this mango oats recipe recipe & share pics on social media, then don't forget to tag us on Facebook, Instagram or use #kuchpakrahahai.