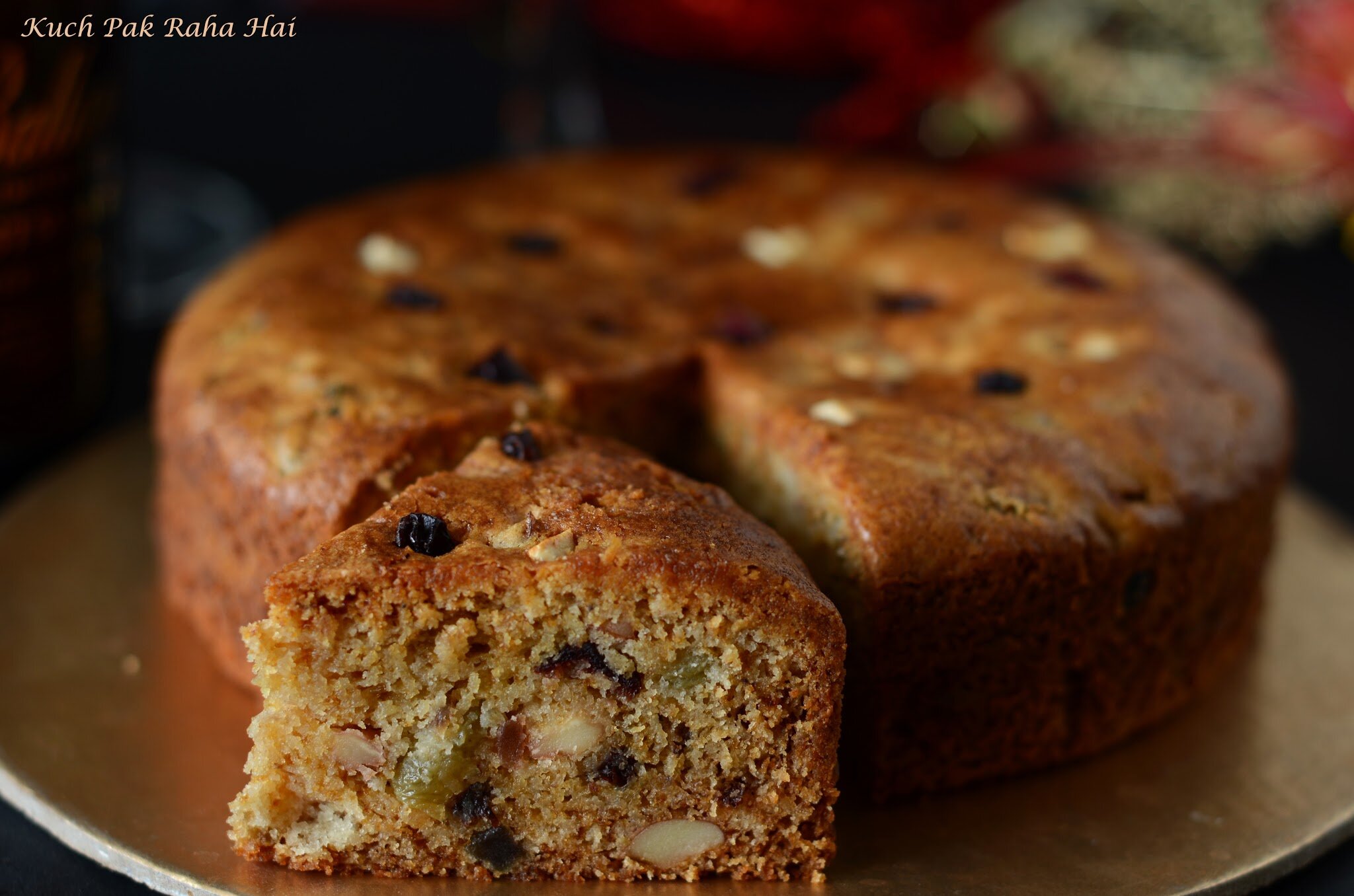 Eggless Fruit & Rum cake is a rich delicious cake loaded with lots of nuts, dried fruits and rum. This cake is not only perfect for your Christmas celebrations but can be made on any other occasion as well.
After receiving many requests for
eggless version of Christmas Rum cake,
I decided to experiment with my already existing egg less cake recipes and Voila!! The recipe I have shared here is rich, moist spongy in texture and absolutely heavenly in taste. The almonds, cashews, dried fruits and tutti fruity bits are soaked for 24 hours in black rum before adding in the cake batter(you can soak them even longer!!).
You can even use dried prunes, dried orange peels or walnuts for soaking in the rum. (I didn't add walnuts here as I am allergic to them!!). Apart from it, the spices added to it are- nutmeg, cinnamon and cardamom which adds up to the depth of flavours and make the cake more aromatic.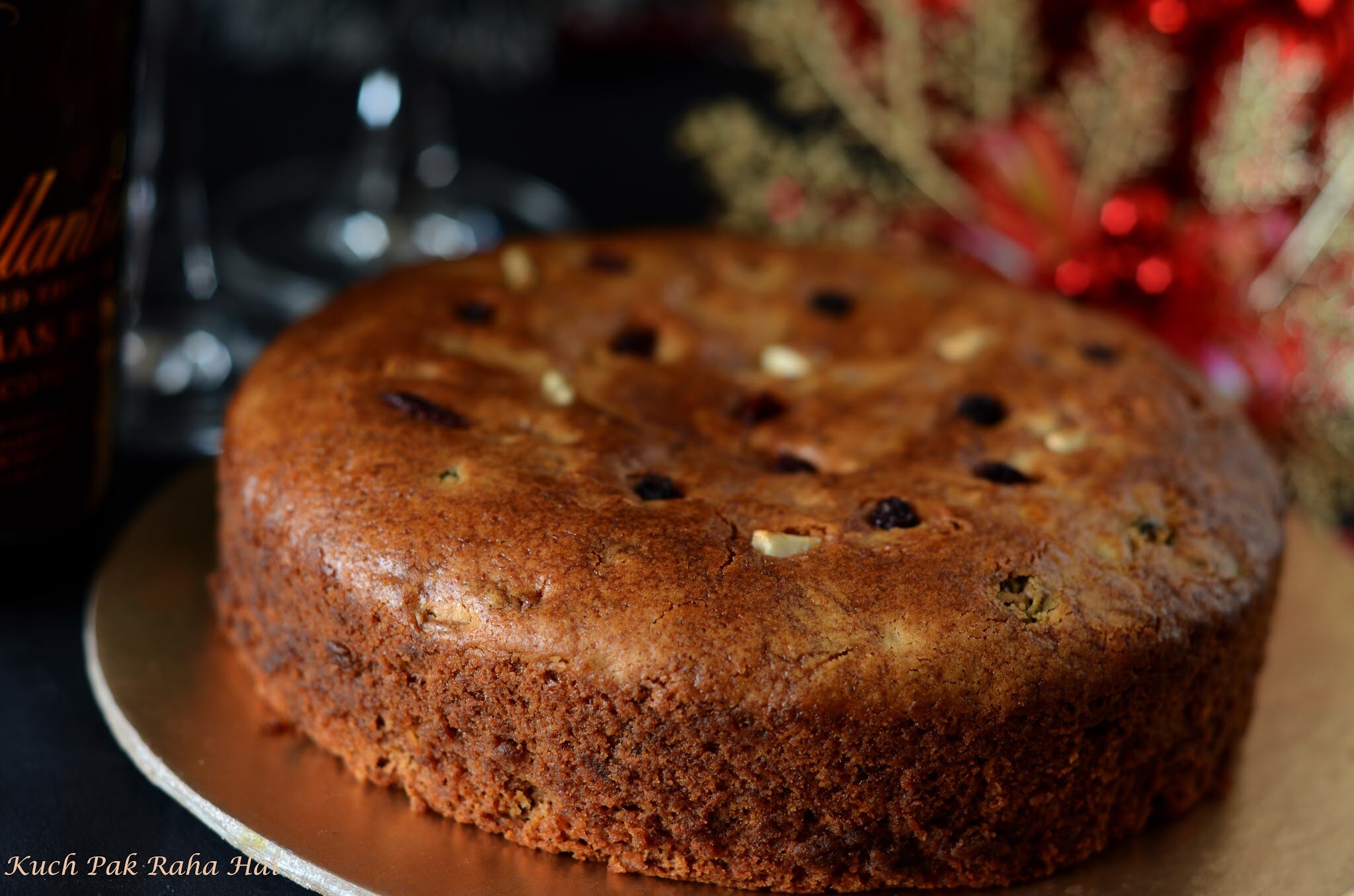 In the given recipe, I have used All Purpose flour and Whole wheat flour in 3:1 ratio. You can also make this cake using whole wheat flour only. The cake is baked at 150 degrees Celsius. The temperature/baking time may vary from oven to oven depending on the size and brand. You may get it after one or two attempts.
Hope you would like this Eggless Christmas Fruit & Rum cake recipe!!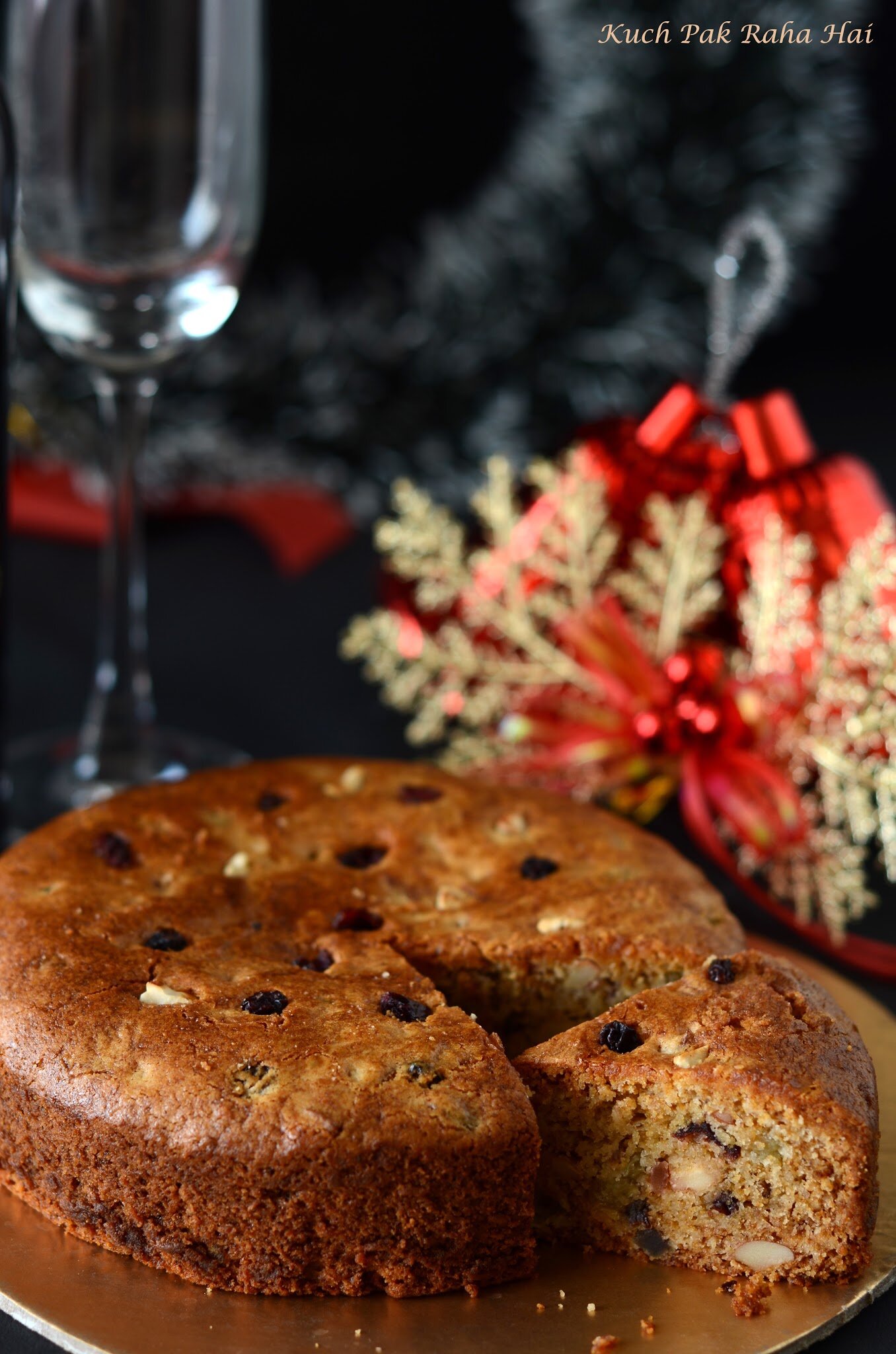 List Of Ingredients: (Makes cake of approx 6. 5 inches)
Condensed Milk-200 grams
Brown Sugar (Powdered)-1/4 cup
All Purpose Flour (Maida)-3/4 cup
Whole Wheat Flour-1/4 cup
Salt- A pinch
Nutmeg powder-1/8 tsp
Cinnamon powder-1/8 tsp
Cardamom powder-1/8 tsp
Baking Powder-1 tsp
Baking Soda-1/2 tsp
Oil-1/3 cup
Milk- 3 tbsp (if required)
For Soaking:

(Approx 1 cup nuts and berries mixture soaked in 1/2 cup rum)
Raisins-3 tbsp
Dried Cranberries-3 tbsp
Dried blackberries- 3 tbsp
Cashews-1/4 cup
Almonds-1/4 cup
Tutti Frutti bits-2 tbsp
Rum-1/2 cup
Steps To Prepare:
Step1:
Step2:
Soak the chopped fruit & nuts in rum for at least overnight. Here I have soaked them for little more than 24 hours.

Step3:
Take condensed milk and brown sugar in a bowl. Whisk well till all the sugar is dissolved and mixture is smooth. Keep these wet ingredients aside.
You can add vanilla essence also if you want.

Step4:
Sieve together maida, whole wheat four, salt, nutmeg, cardamom, cinnamon, baking powder and baking soda. Keep these dry ingredients aside.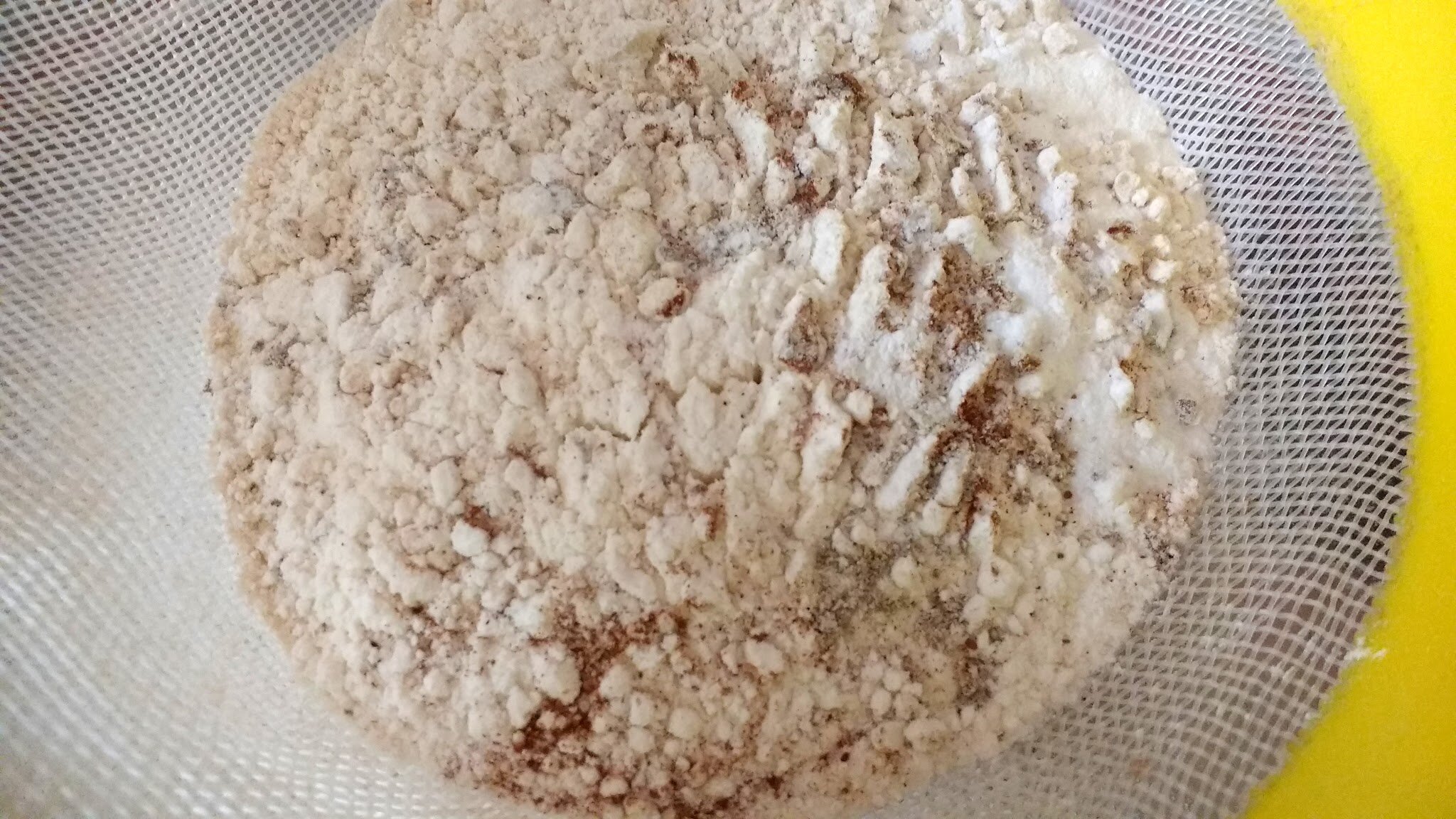 Step5:
Set the oven for preheating at 150 degrees Celsius. In the mean time lets proceed to next step. Strain the soaked dry fruits and sprinkle some flour over it. Do not discard the rum. Save it also as we will use it in later stage.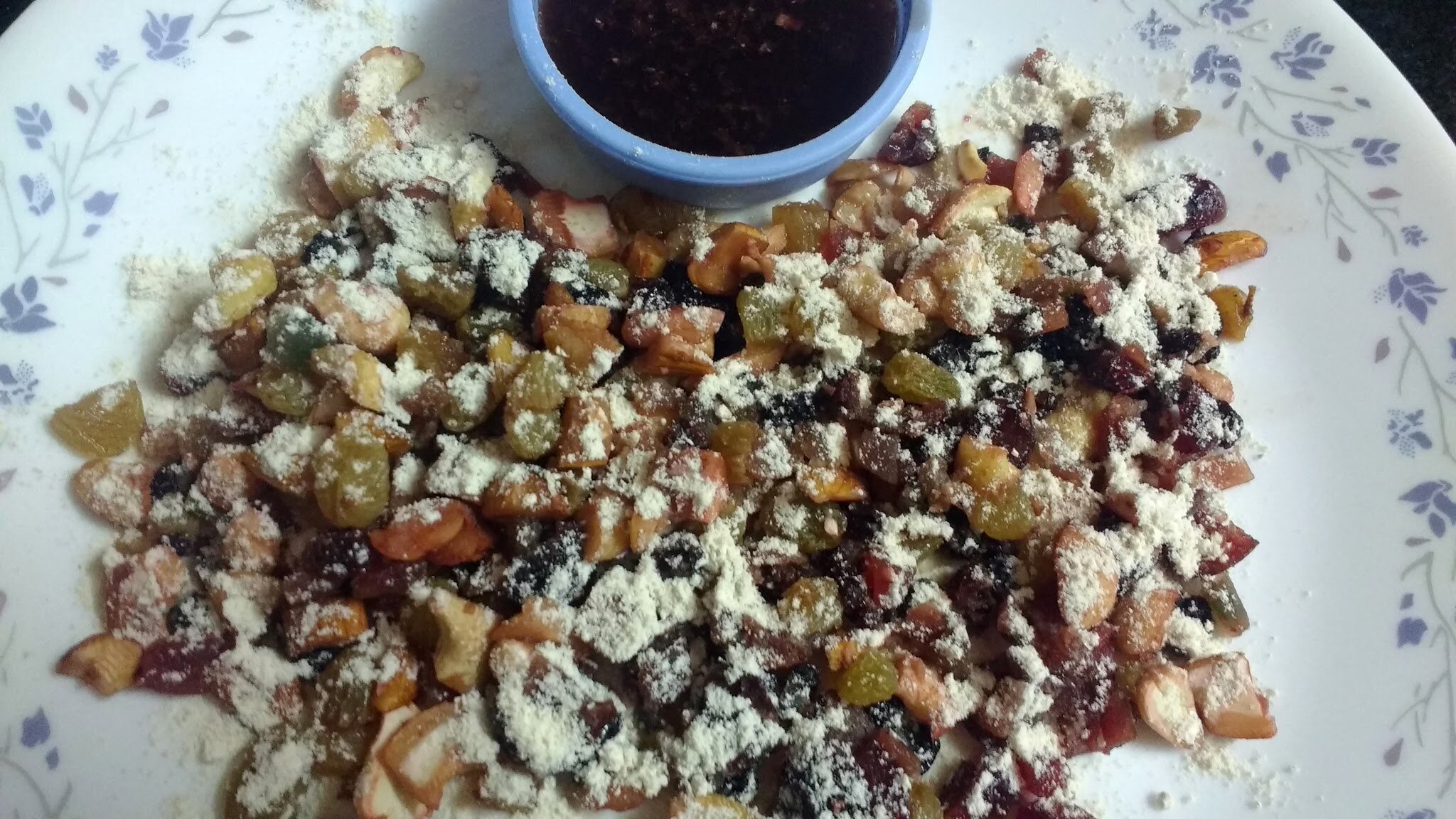 Step6:
Add half of the dry ingredients (prepared in step 5) to the whisked condensed milk and brown sugar. Make a well in the centre and add oil to it. Fold the batter. Repeat the process for another half portion.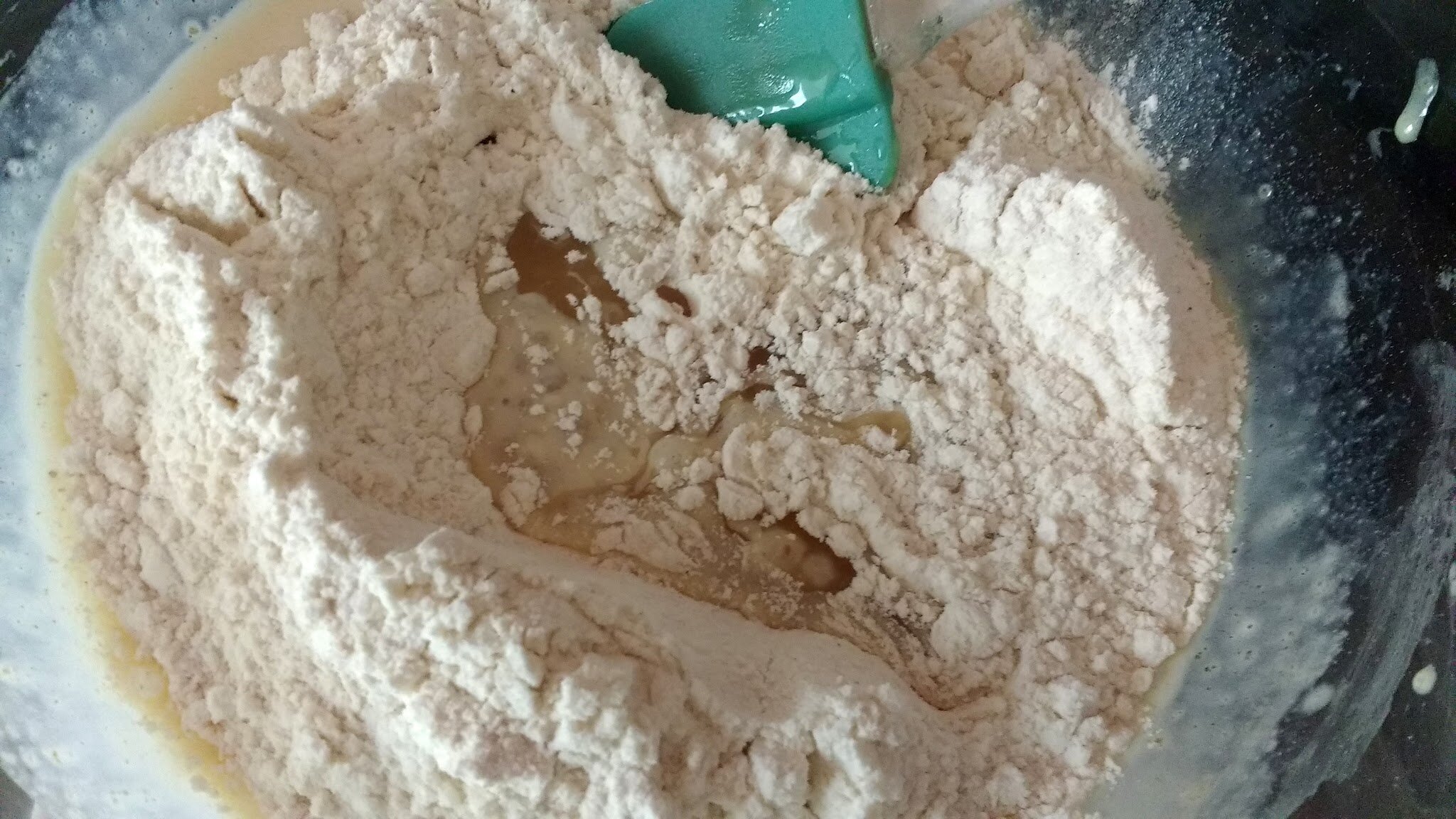 Add the soaked dry fruits and berries to the cake batter along with 3 tbsp of rum (saved in step 5). Fold it gently. If the batter seem too thick you can add some milk also.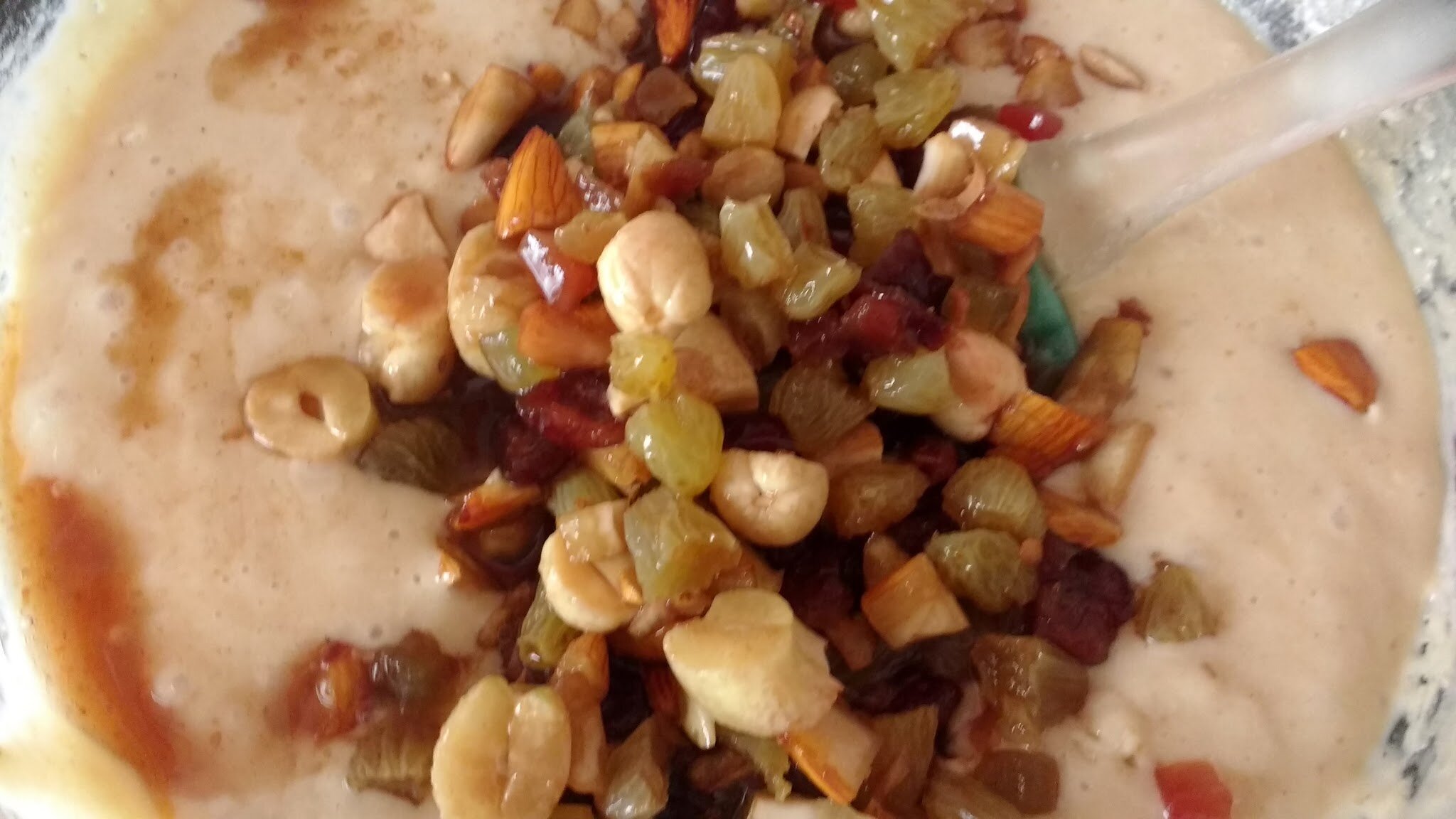 Remember to not over mix or beat the mixture. Just fold it.
Step6:
Brush some oil in the insides of a baking tin. Line it with a butter paper. Lightly brush it with oil once again. You can do this step in the beginning also if you are just a beginner or making cake for the first time. Diameter of cake tin used here is 6.5 inches.
You can buy such cake tins from amazon also. To check out price and specification, click here.
Step7:
Pour the batter in the lined cake tin.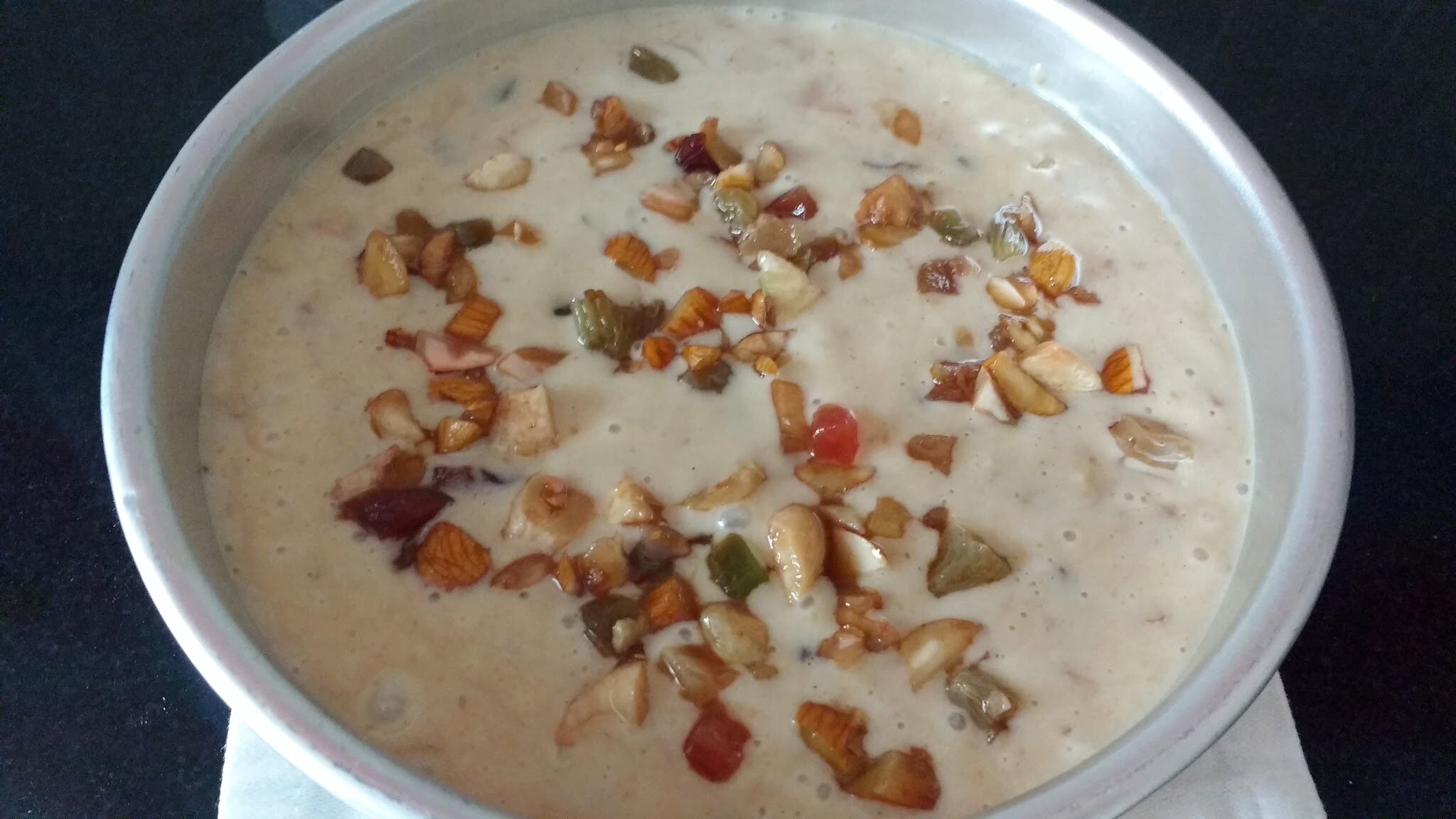 Let it bake for 45 to 50 minutes in convection mode at 150 degrees. Take it out of the oven after 45 minutes and swiftly take the toothpick test i.e. prick the cake at the centre with toothpick; If it comes out clean the cake is ready else bake it for another 5 minutes.
Step8:
Once the cake is ready, let it cool down in cake tin for 15-20 minutes. After that invert it over a plate, and peel the butter paper carefully.

Place it over the wire rack for cooling down. At the end, brush it with some more rum. Wrap it in a cling film and keep it in an air tight container overnight. This step is needed for increasing the sponginess and flavours of cake.