Makhana Namkeen/Lotus Seed Munchies is a healthy and easy to make snack. It tastes really good and crunchy with the additional benefit of being nutritious. Makhana Namkeen can be eaten with your regular morning or evening tea and can also be given to kids in tiffin.
In comparison to wafers/chips/popcorn which are highly salted and full of additives/preservatives, Lotus seeds munchies are much more healthier and wise option. Makhana, known by other names like Lotus seeds, Fox nuts or Gorgon nuts, is a good source of fibre, potassium, magnesium and carbohydrates. It is rich in anti-oxidants and can be consumed by people of all age groups. As it is low in calories, it is wonderful munching option for people who are on weight loss journey and crave for chips or snacks. Lotus seeds can be used in both savoury and sweet dishes.
There are two more interesting and easy recipes in the blog using Makhane, do check them out if you are planning to incorporate them in your every day diet-
I have added Ghee or clarified butter in this namkeen to give it a wonderful aroma and crunch. As it is mentioned in so many articles these days, one should include ghee in everyday diet as it a good fat or saturated fat and very beneficial for digestive tract, immune system and body joints. In case you are still resistant to add ghee in namkeen, you can use olive oil instead of it.
This namkeen can also be made during your fasts or Vrat. Just replace table salt with rock salt or Sendha Namak!!
Hope you would like this recipe!!
List Of Ingredients:
Makhana/Lotus Seeds/Fox Nuts- 50 grams
Ghee/Clarified Butter-1 & 1/2 tbsp
Rock Salt/Table Salt- To Taste
Crushed Black pepper-1/4 tsp
Chaat Masala-3/4 tsp
Preparation Method In Pan:
Step1:
Heat ghee in a pan.
Step2:
Add Makhana to the pan in which you have heated ghee. Roast it on Medium-Low flame for 8-10 minutes till they turn crunchy and become slightly golden in colour.
Step3:
Once the Makhanas are roasted, switch off the flame. Add salt, black pepper and chaat masala to it. Mix well.
Makhana Namkeen is ready for consumption.
Preparation Method in Air Fryer:
Step1:
Preheat air fryer at 160 degrees celsius for 5 minutes.
Step2:
Add melted ghee to Makhanas and mix well.
Step3:
Add Makhanas to the air fryer basket and let them air fry for 10-12 minutes at 160 degrees.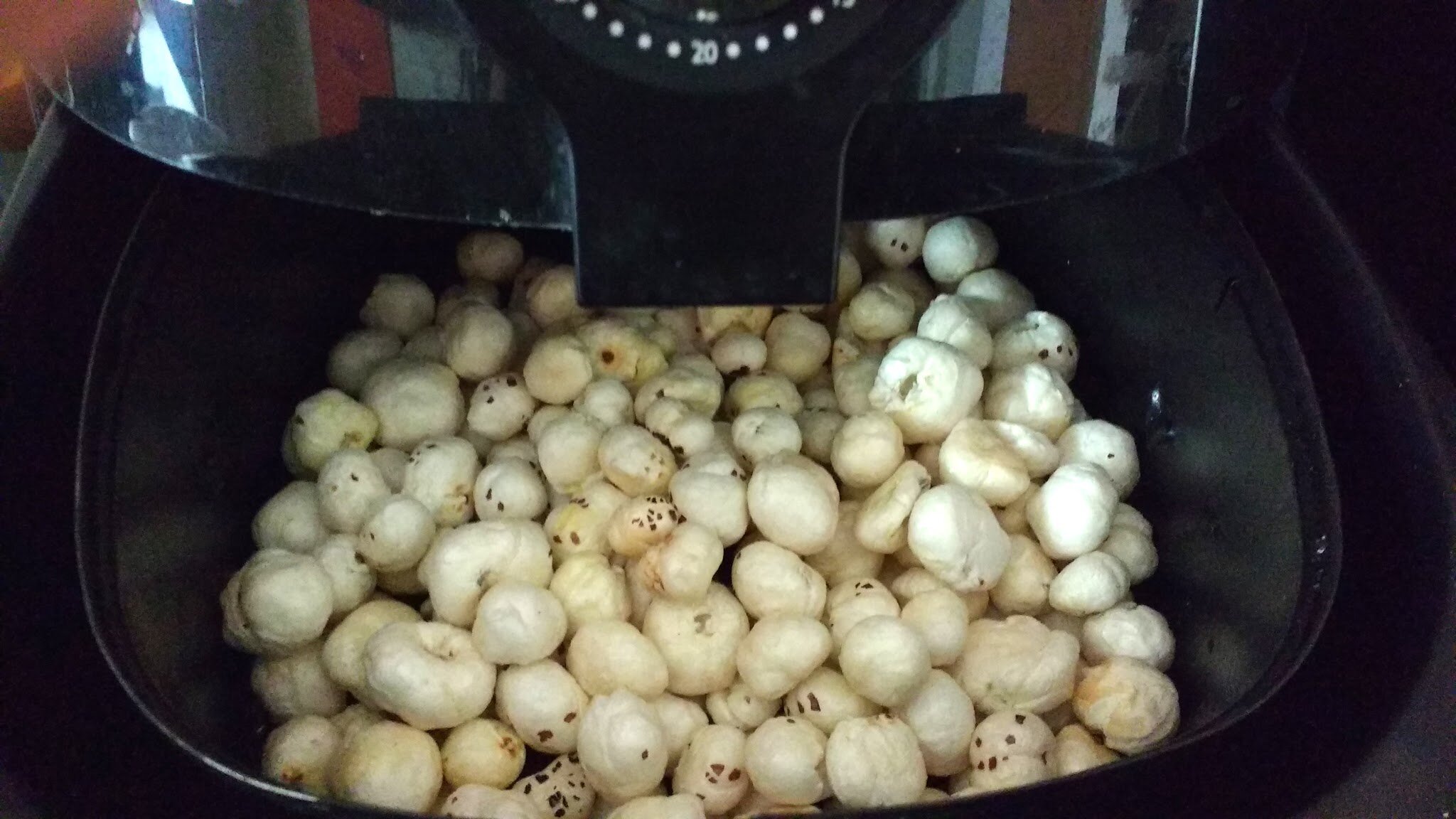 Step4:
Transfer the roasted Makhanas to a bowl or plate.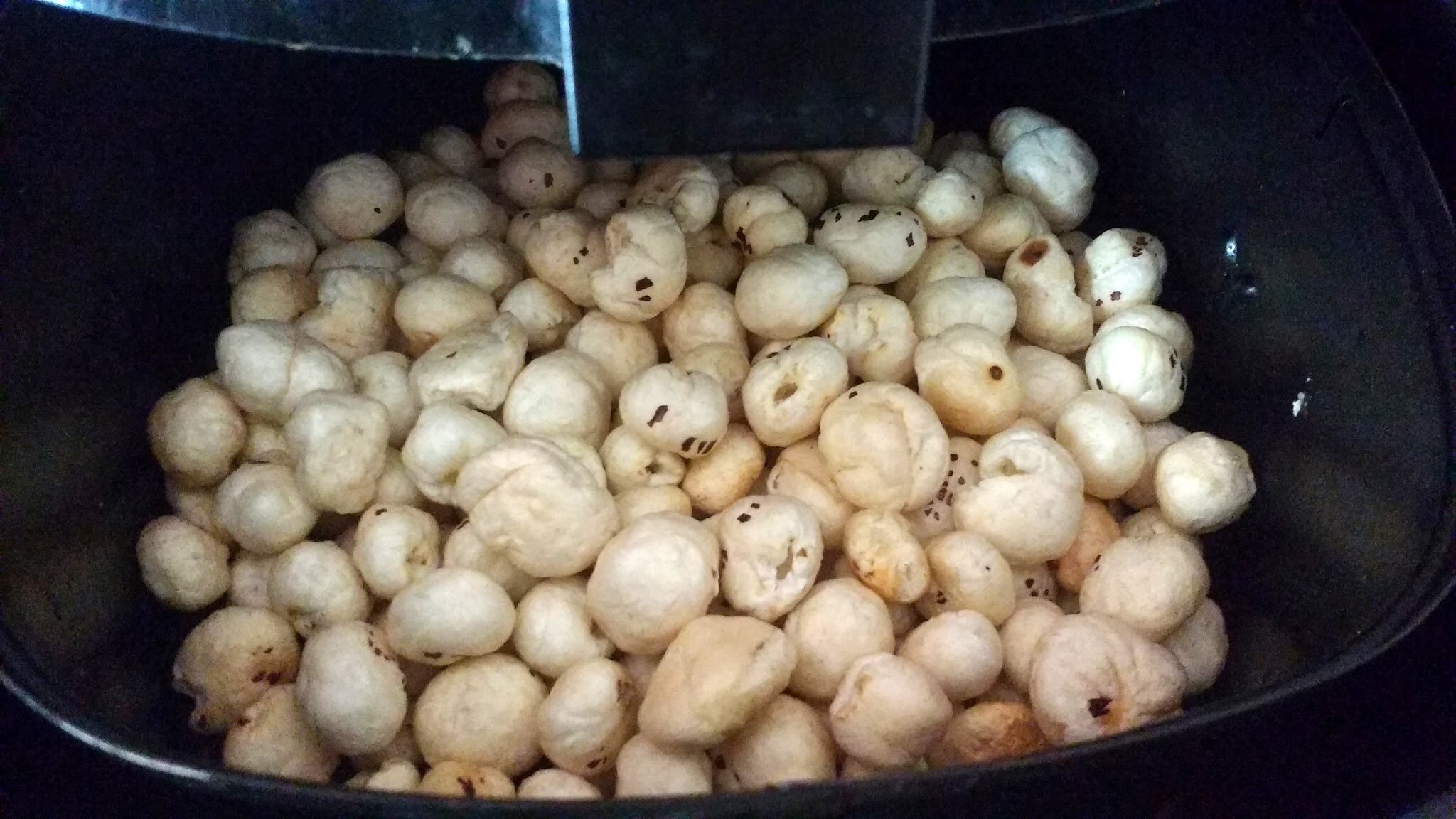 Add salt, black pepper and chaat masala to it. Mix well.
Enjoy Makhana Namkeen or Lotus seed Munchies with your tea or just as a snack!!