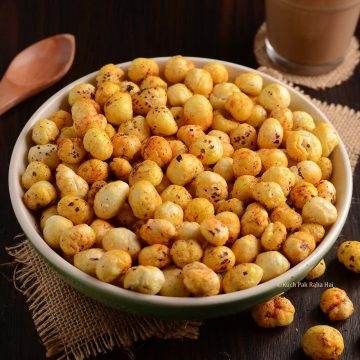 Roasted Makhana (or Lotus Seeds) is a healthy, light & crunchy snack recipe which can be enjoyed with tea, coffee or can packed in kids lunch box. Both stovetop & air fryer methods are explained in the post.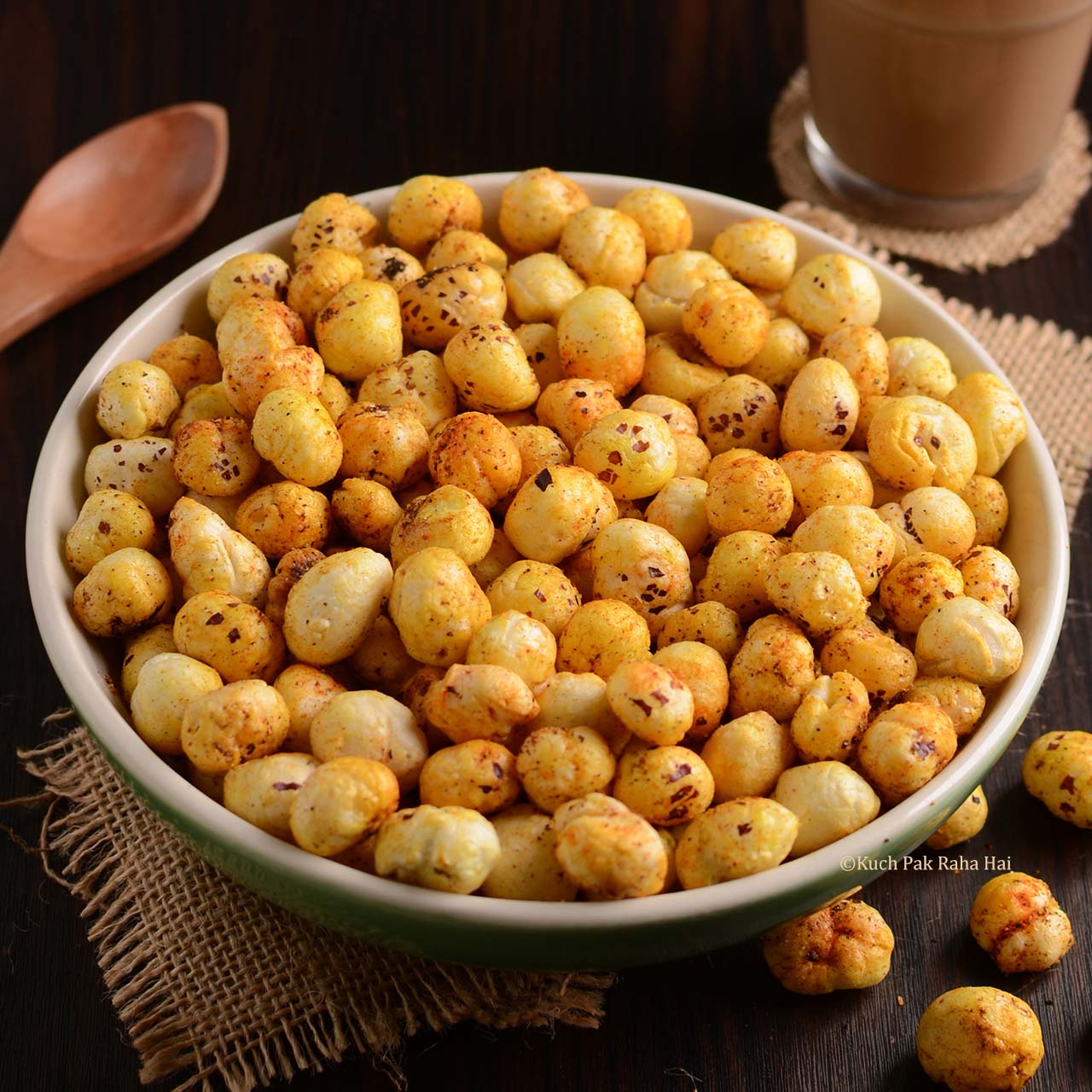 Makhana or phool makhana are known as lotus seeds, euryale ferox, fox nuts or gorgon nuts in english. If roasted properly, they become perfectly crispy making for a great low calorie snack. You can also carry them while travelling.
You can have them as it is or add different spices of your choice like black pepper, turmeric, chilli powder, cheese powder or peri peri. They can be clubbed with more roasted nuts like cashews, almonds, oats, mixed seeds to make a yummy snack mixture like roasted poha namkeen.
In this post I have explained both method of roasting makhana- in a pan on stove top & air fryer. The recipe shared here is:
Vegan / Vegetarian
Low Oil
Gluten Free
Healthy & easy to make
Phool Makhana Benefits:
In comparison to packaged wafers, chips or popcorn which are high in salt and full of preservatives, lotus seeds munchies are a much healthier option.
A 50 gram serving of roasted makhana has roughly 180 calories. They are a good source of fibre, potassium, magnesium, carbohydrates, anti-oxidants and can be consumed by people of all age groups. As it is low in calories, it is also a wonderful munching option for people who are trying to lose weight.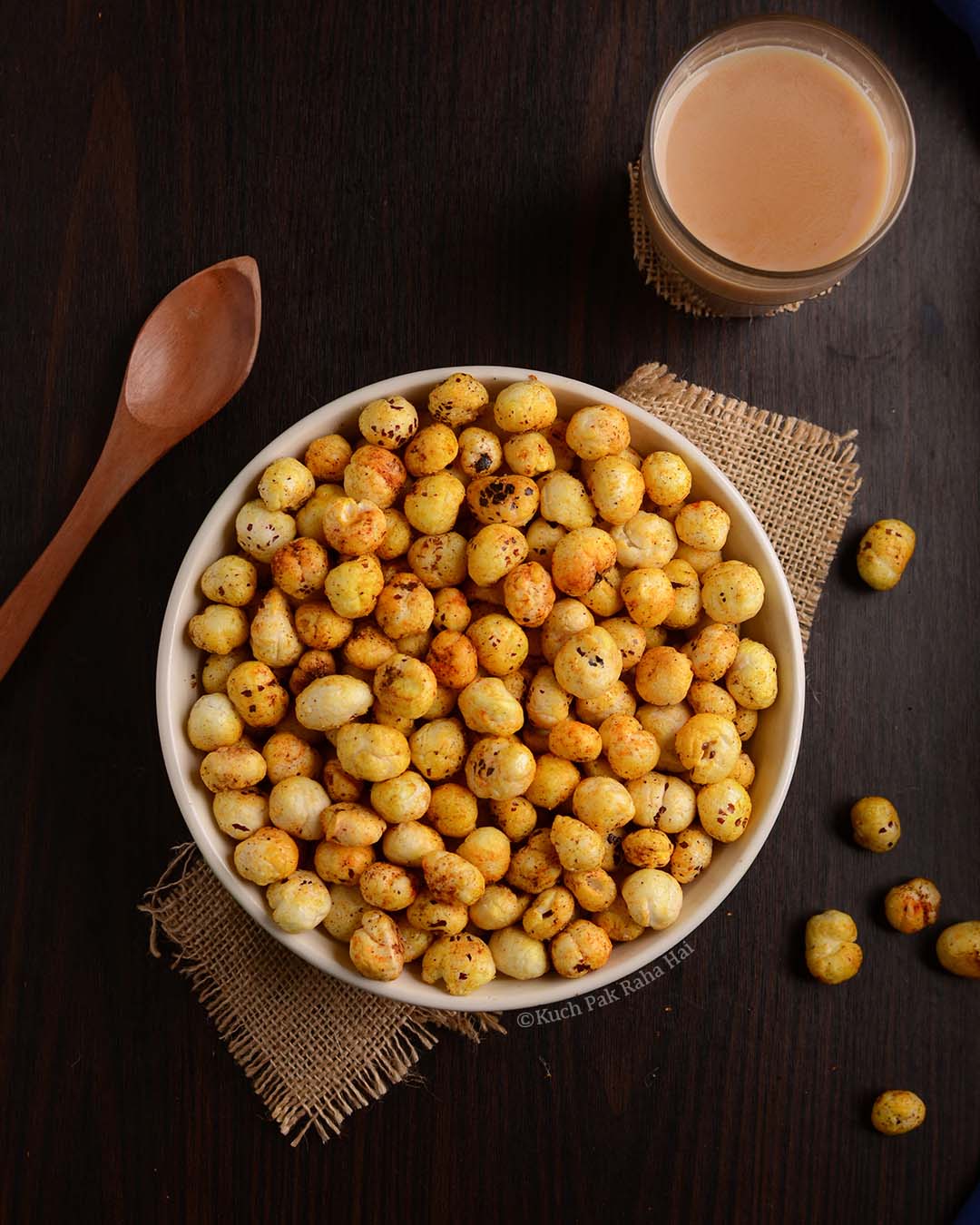 Lotus seeds Uses:
Lotus seeds can be used in multiple sweet & savoury dishes like curries, puddings, salads or soups (as healthy replacement for bread croutons). Some of its recipes shared on the blog are:
You can also include it in Poha Chivda, Ragi Chivda namkeen or add it to bhel or chaat for crunchiness.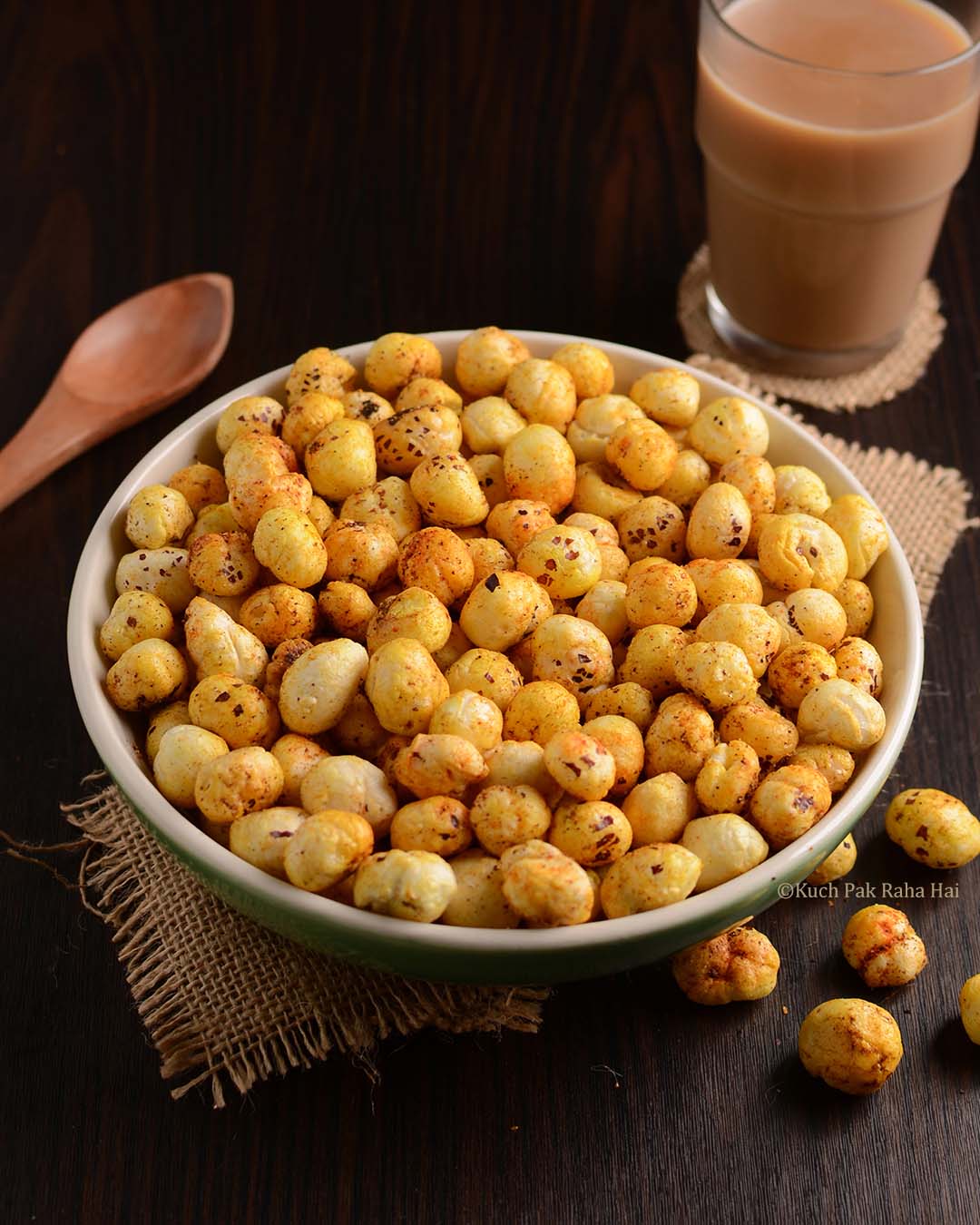 I have roasted makhana in ghee (clarified butter) as ghee gives a nice earthy aroma to them. Ghee should be included in everyday diet as it is beneficial for digestive tract, immunity system and body joints. If you want makhana namkeen to be dairy free (or vegan), you can use olive oil.
Some people often complain that spices don't stick to makhana but personally I feel if you roast the spices first in little bit ghee & then add makhane, it gives better result. The spices & seasoning can be adjusted as per one's choice & preference.
Hope you would like this easy roasted makhana namkeen recipe!!
List Of Ingredients:
Makhana (Lotus Seeds)- 2 cups
Ghee / Oil-1 + 1/2 tbsp
Turmeric (haldi)-1/4 tsp
Red Chilli Powder- 1/2 tsp
Crushed Black pepper-1/4 tsp
Rock Salt / Table Salt- 1/2 tsp (to taste)
Chaat Masala-1/4 tsp (optional)
Directions:
Step 1:
Dry roast the makhana in a heavy bottomed pan on low flame for 5-6 minutes till they become crunchy.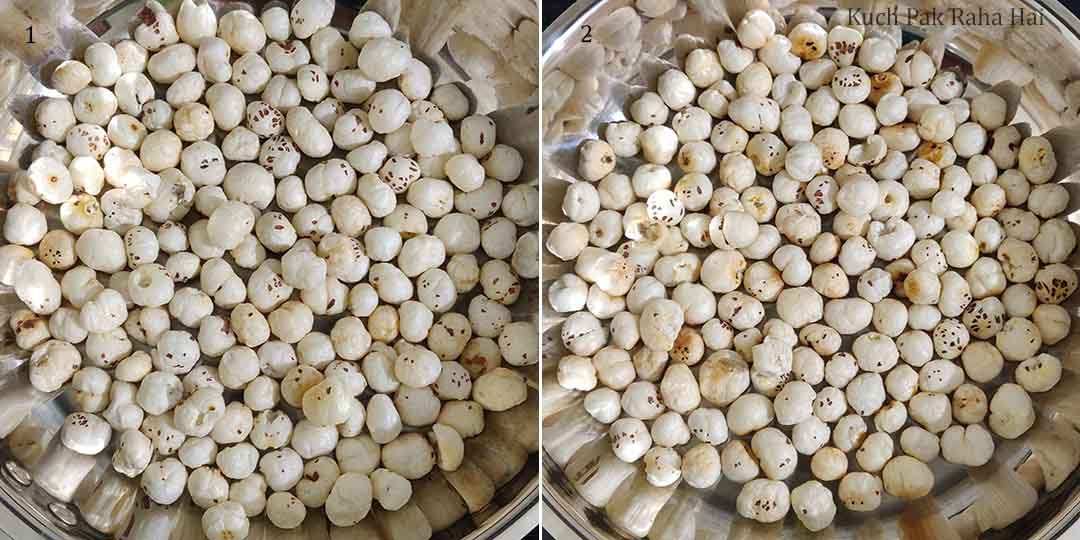 Step 2:
Heat ghee in pan & add turmeric powder & red chilli powder to it. When the spices begin to release their aroma, add the roasted makhana. Add salt, chat masala & crushed black pepper.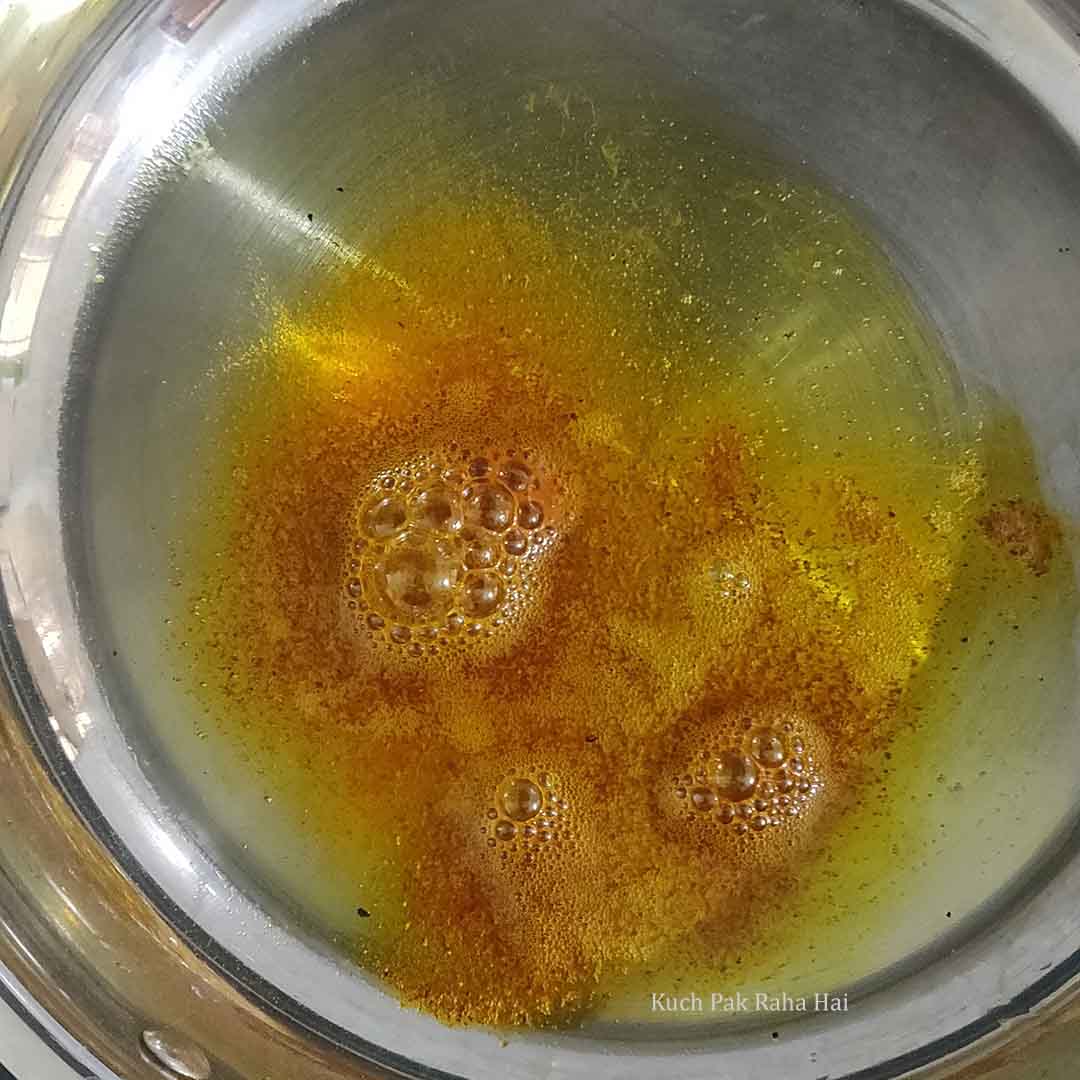 Step 3:
Mix well & roast makhana for another 1-2 minutes on low flame. Taste them once for crunchiness & adjust salt or spices as per your taste. Switch off the flame & let them cool down completely in the pan itself. The makhane will become more crunchy as they cool down.
Delicious crunchy roasted Makhana Namkeen is ready!!.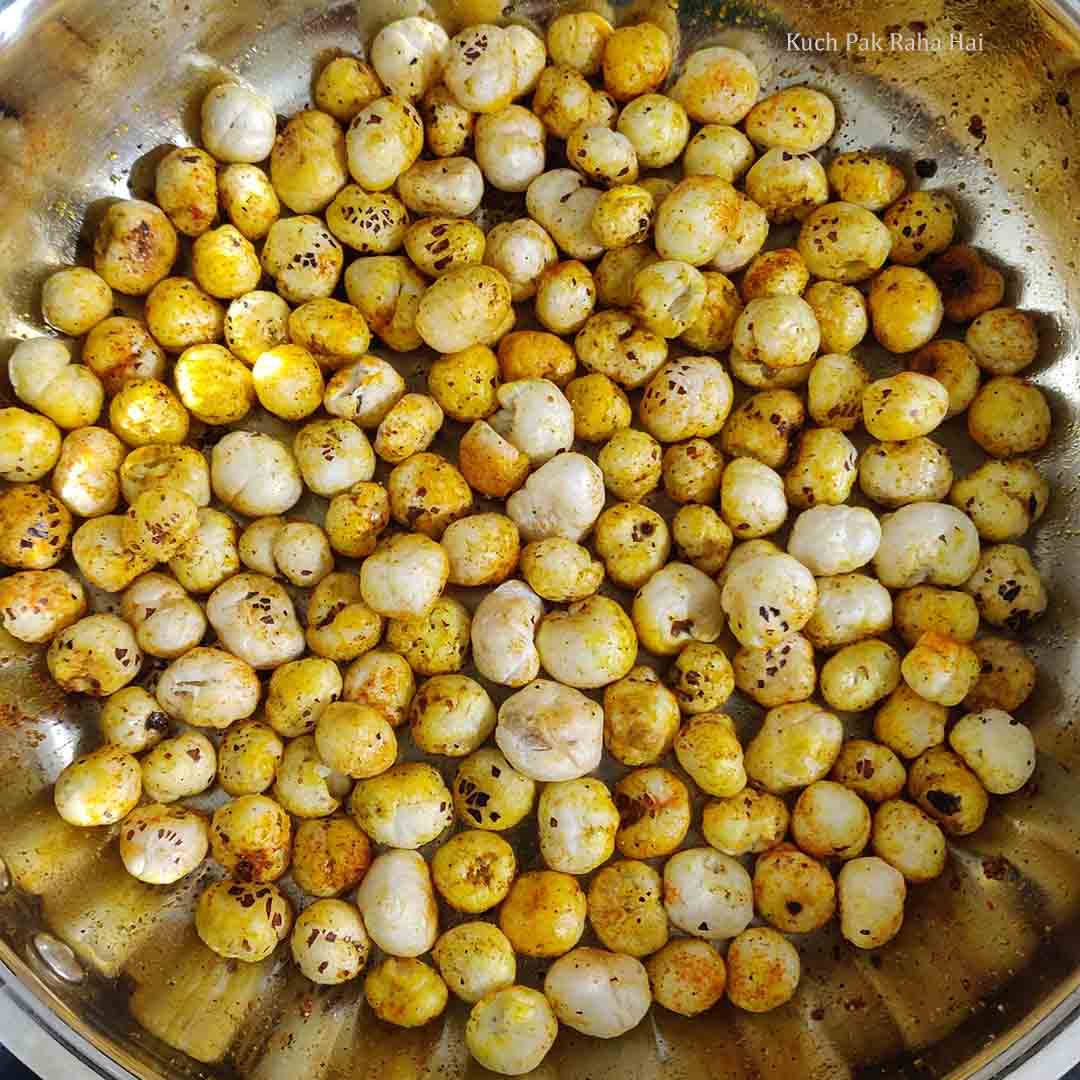 Air Fryer Makhana
Instead of roasting on stove top, you can also roast makhana in air fryer. Ingredients will remain the same only the steps will change.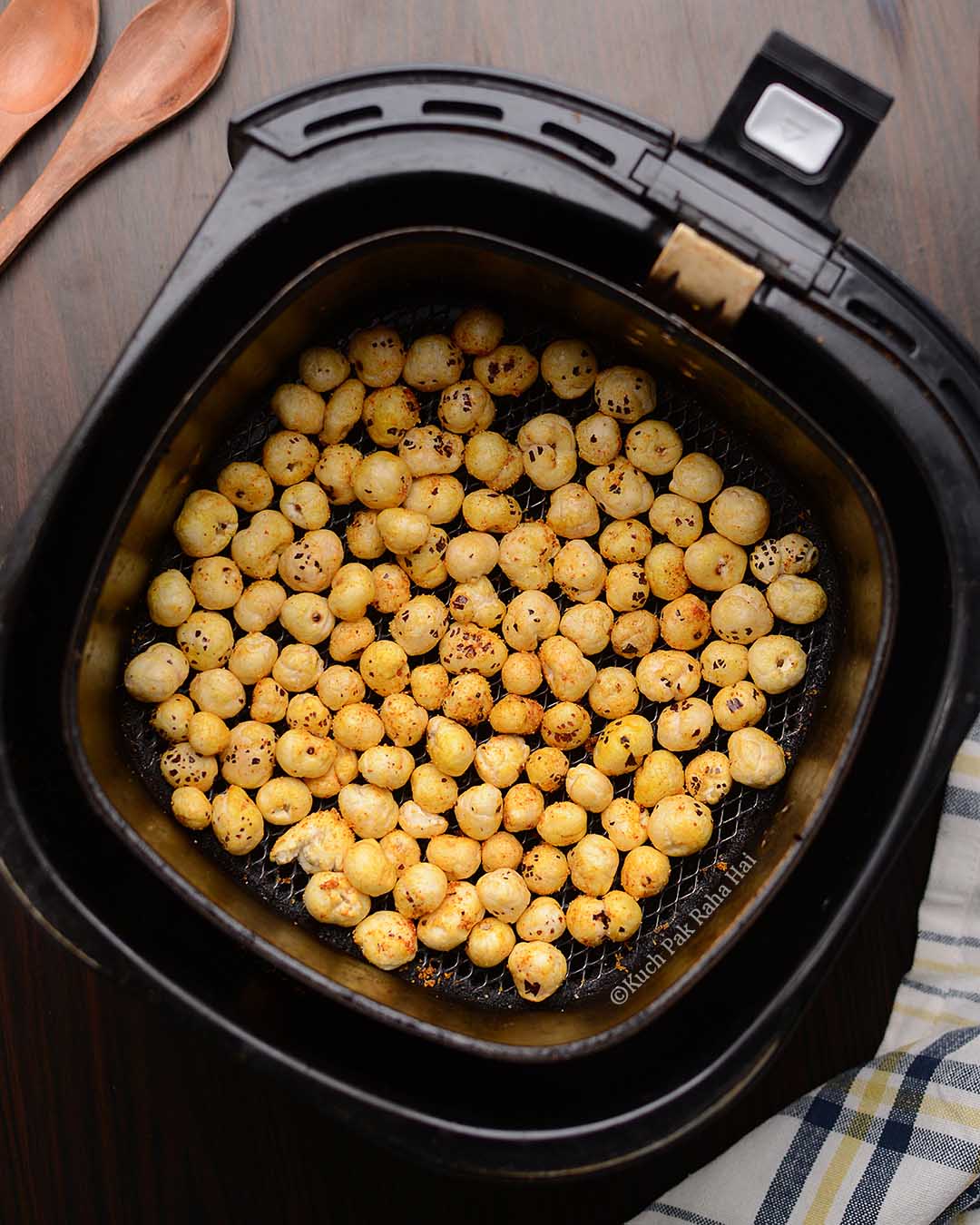 Step 1:
Preheat air fryer at 160°Celsius for 5 minutes.
Step 2:
Add melted ghee to Makhana and mix well. If you have oil spray bottle, you can also spray some oil on them.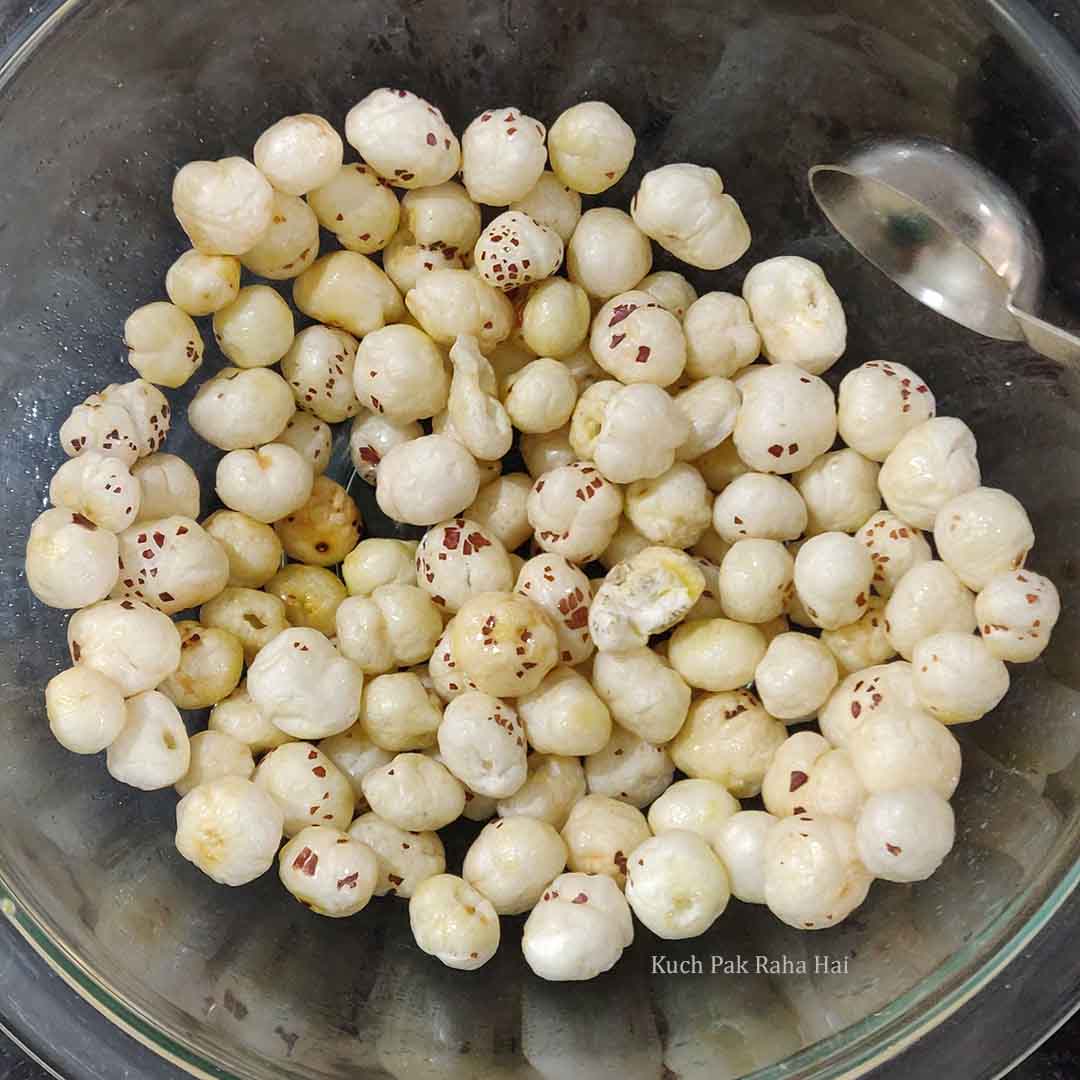 Step 3:
Add lotus seeds to the air fryer basket and let them air fry for 12-14 minutes at 160°Celsius. Shake them every 5 minutes.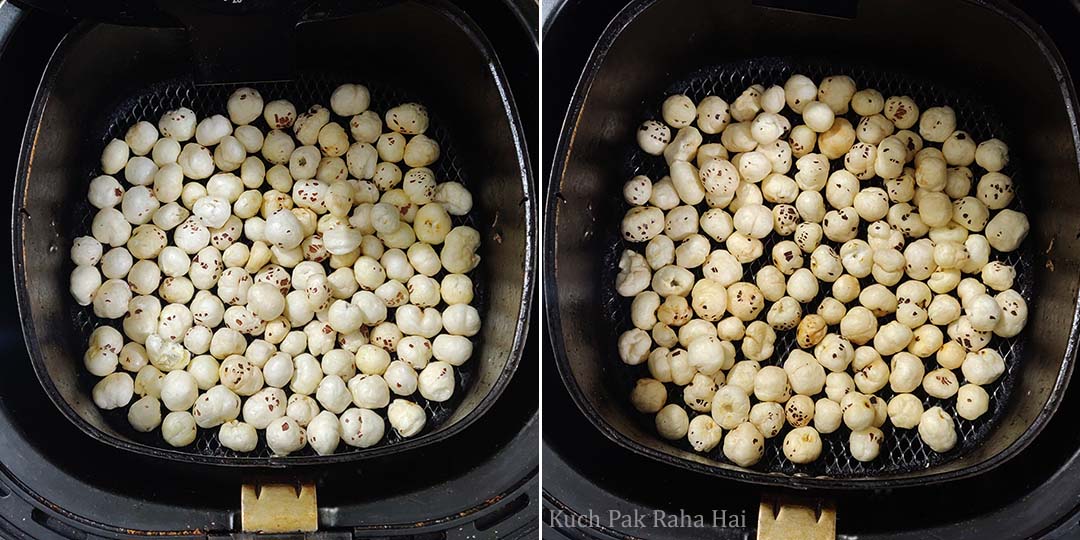 Step 4:
While the makhane are still hot, transfer them in the same bowl (in which we mixed ghee). Add salt, spices before they cool completely and mix well (add little bit ghee if required).
(Adding the spices while makhane are still hot makes sure that spices stick to them).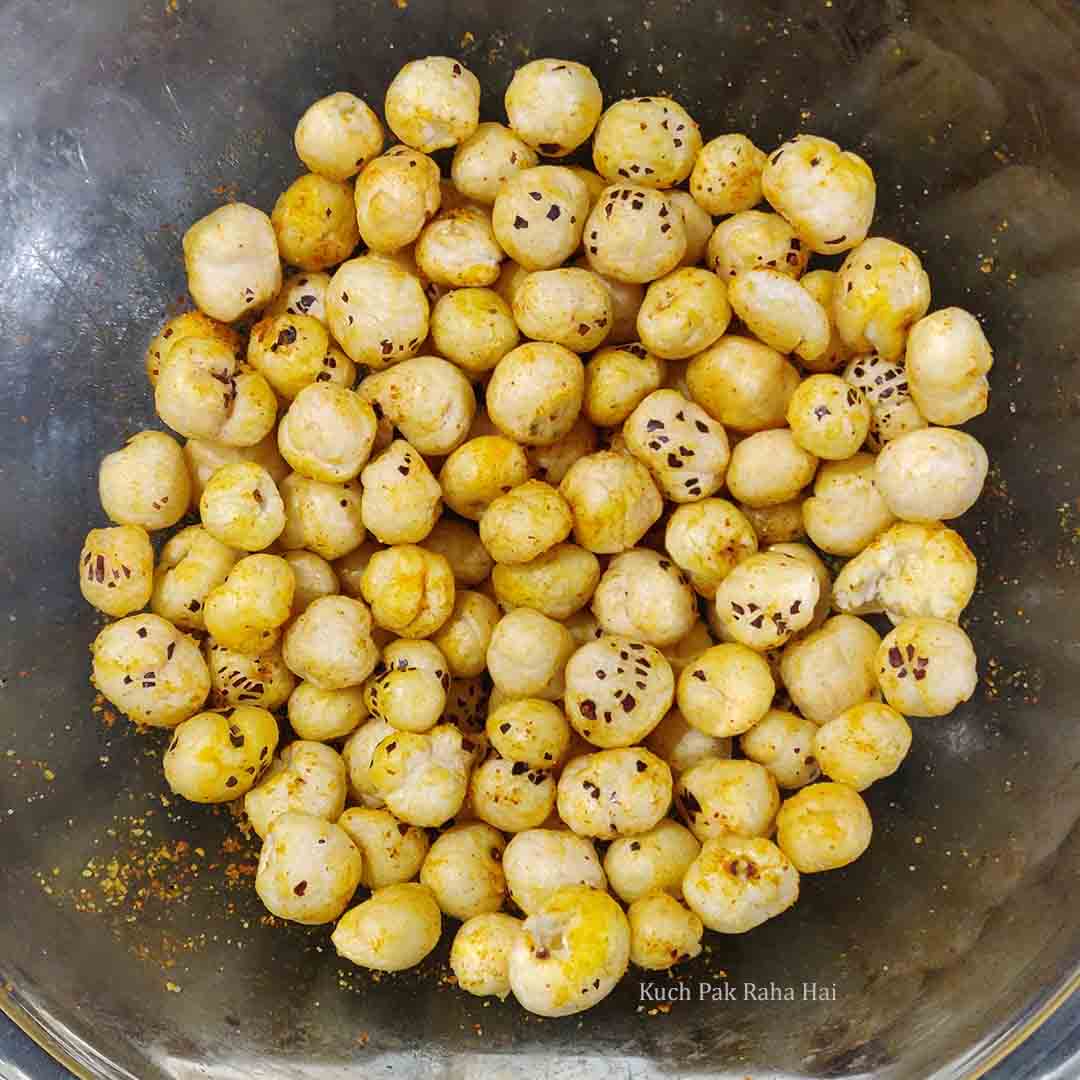 Enjoy Makhana Namkeen or Lotus seed Munchies with tea or coffee.
More air fryer snacks recipes:
How to store roasted makhana?
Always store them in air tight container to prevent them from getting soggy.  This way you can easily store them 7 to 10 days. In case you feel they have softened slightly, dry roast them in pan again or air fry for 2 minutes.
Pin for later: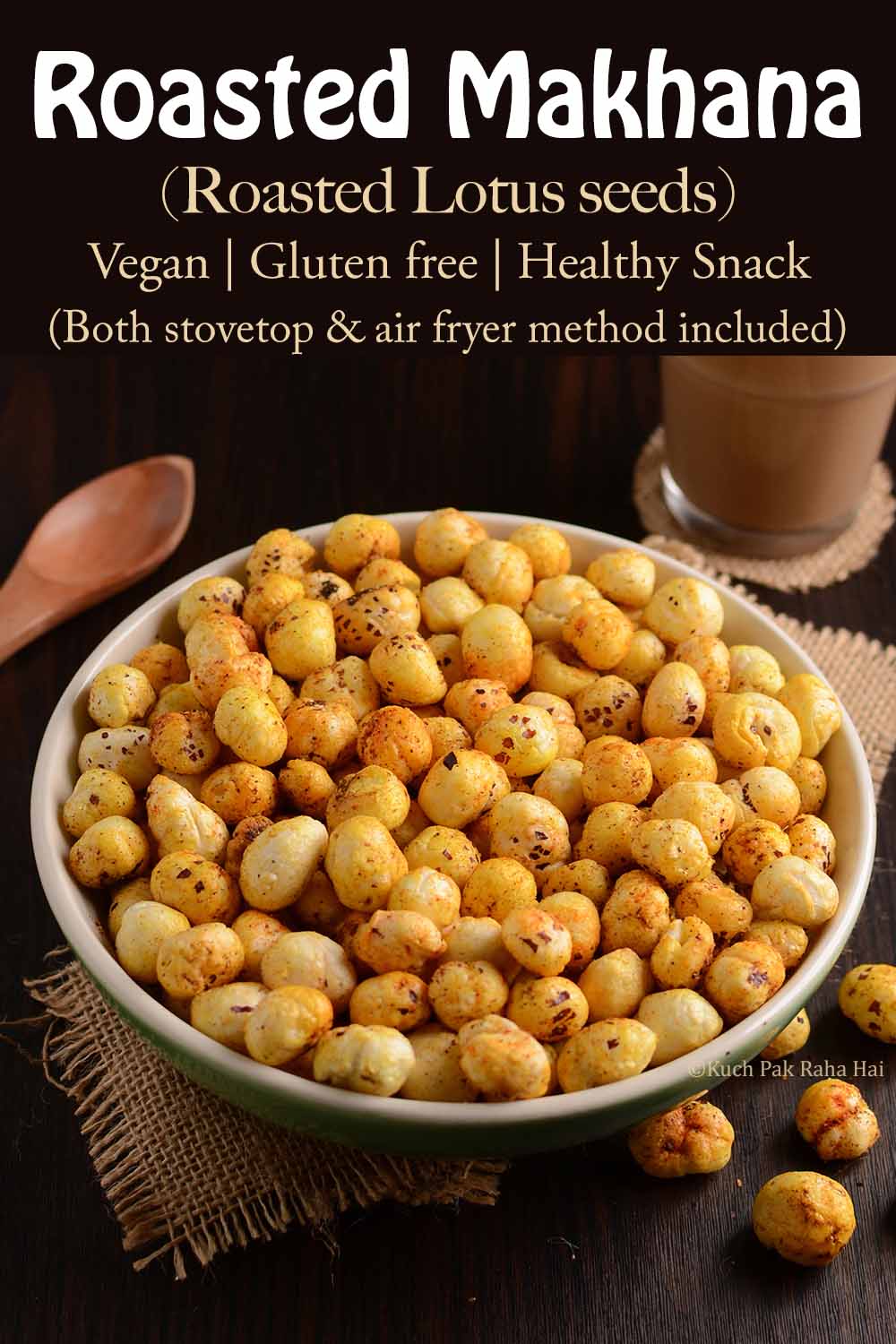 If you try this recipe & share pics on social media, then don't forget to tag on Facebook, Instagram or use #kuchpakrahahai.
Let's stay connected
Facebook | Instagram | Pinterest| Youtube