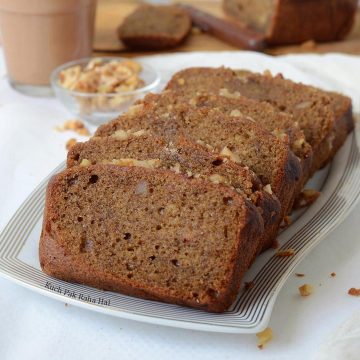 Simple recipe for delicious, soft and moist eggless dates walnut cake. It is a healthy tea time cake recipe as it is made using whole wheat flour,  sweetened with dates and can easily be made vegan.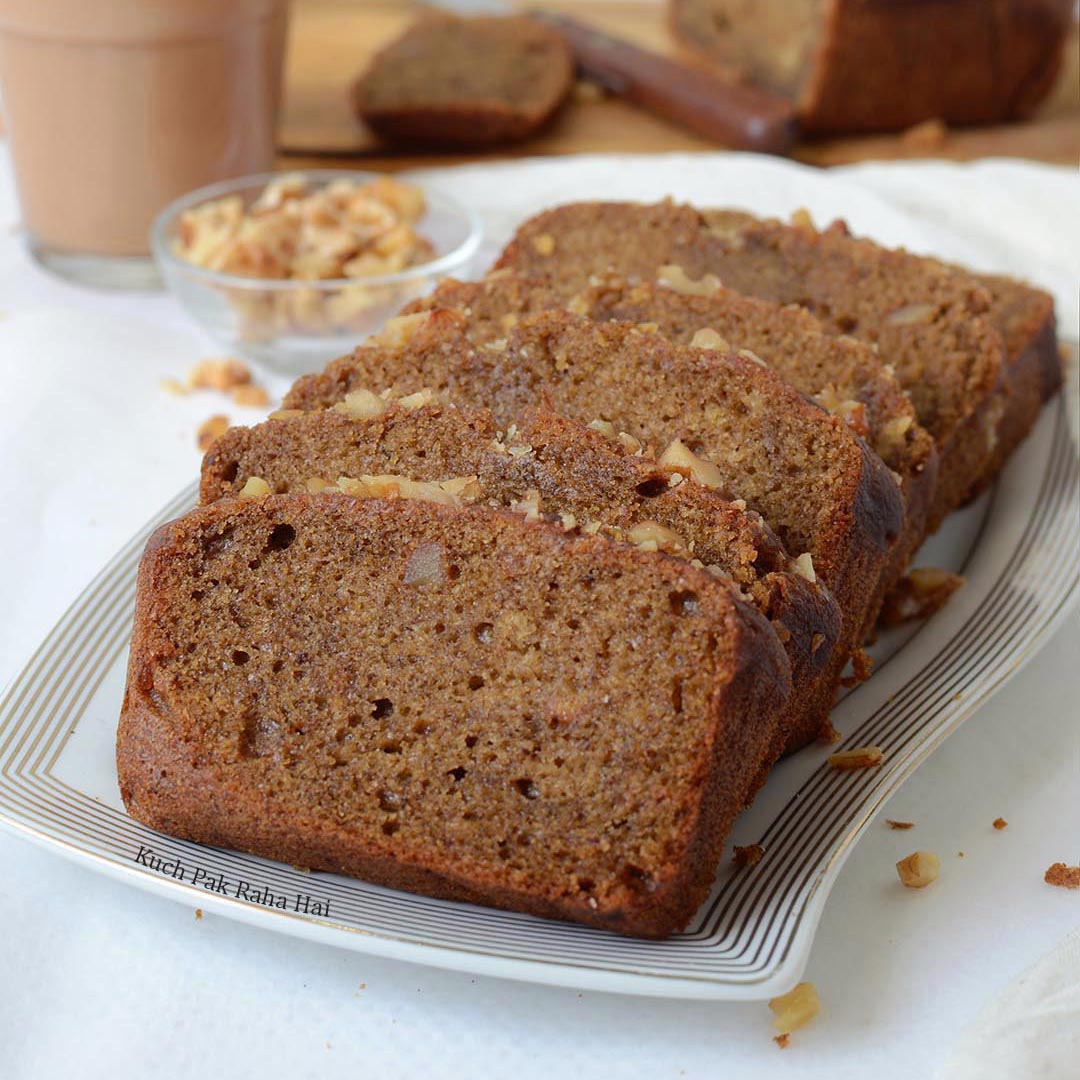 This eggless date and walnut cake recipe has:
No Maida (All purpose Flour)
No Refined Sugar
No Butter
No Eggs
Can be made Vegan
The whole wheat dates cake recipe shared here is made without sugar or condensed milk, which means the cake is 100% sweetened with dates (also known as 'Khajur').  The distinct caramel like sweetness from dates combined with warm nutty crunchy walnuts tastes absolutely blissful.
The holiday season is almost here and most of us will be busy in making goodies like cakes, cookies, fudge etc. This year I have already shared Christmas special eggless thumbprint jam cookies and thought to share a healthy bake recipe too.
I like to enjoy a slice of this mildly sweet date cake with a hot cup of ginger tea. It can also be served as healthy dessert, evening snack or packed in kids lunch box. To make it more divine and yummy, you can drizzle some salted caramel, sticky toffee sauce, butterscotch sauce or date syrup / honey as healthier alternative.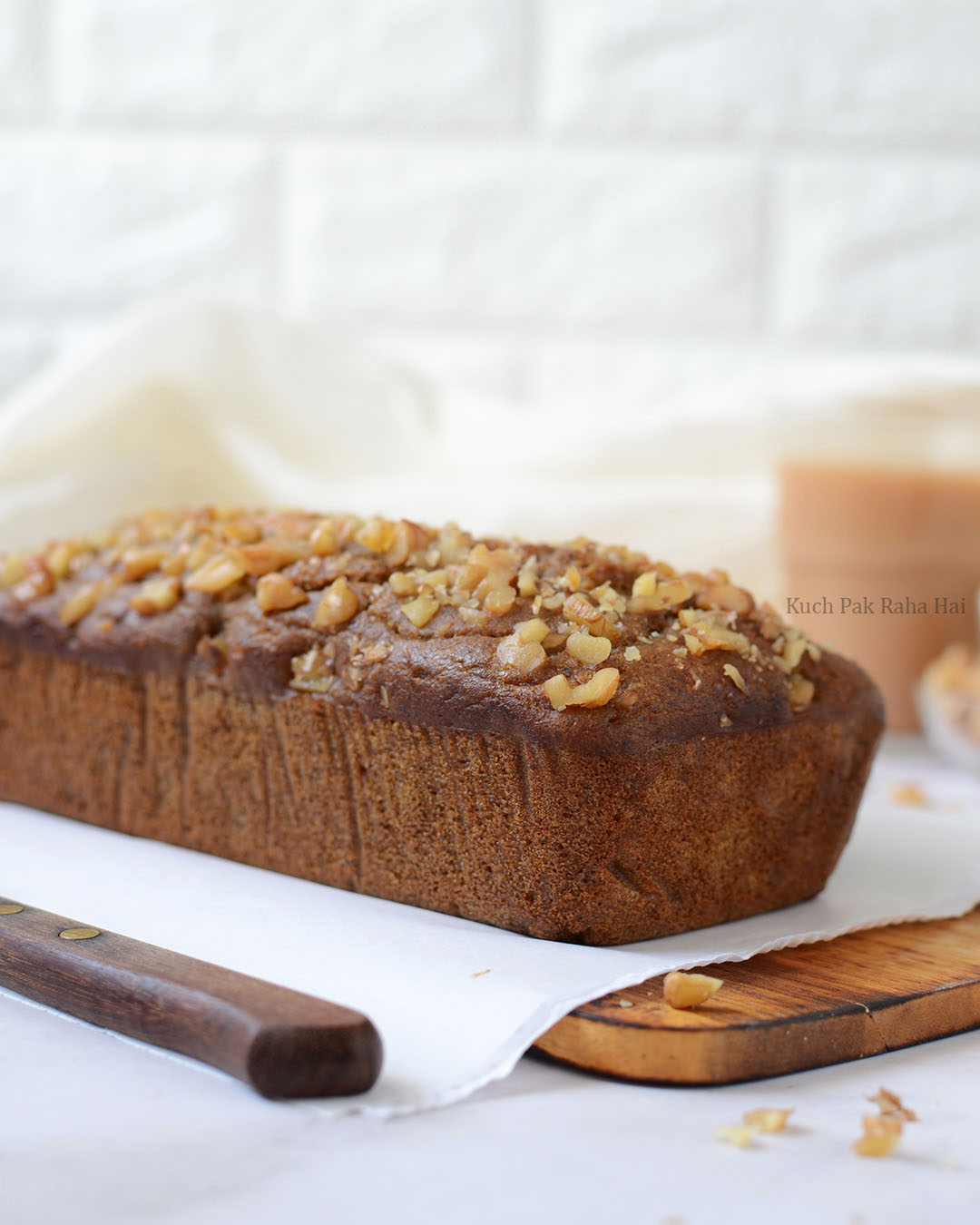 Date Cake Ingredients: 
Flour : I have made this cake with whole wheat flour (aata). If you wish you can make it with all purpose flour (maida) too. However take care while adding liquid ingredients as with all purpose flour you need to add lesser milk (details mentioned in steps below)
Dates (Khajur): To make this dates cake , use de-seeded or seedless dates. If you have whole dates then de-seed them first & then proceed with the recipe. Use premium quality dates or mejdool dates as they will be the only sweetener in our cake. Also, the colour of the cake depends on the variety of dates. More dark dates will render deeper colour to the cake.
Milk : You can use regular milk in this cake recipe or for dairy free (vegan) cake use almond or oat milk.
Walnuts : Though dates and walnuts make a great pair but you can always experiment with the recipe by replacing walnuts with chocolate chips or other nuts like almonds, cashews, pecans, pistachios etc
Flavourings : As I am big time coffee lover, I have added some instant coffee powder to this eggless date cake but if you wish you can skip it. Apart from it some vanilla extract and cinnamon also adds a lovely fragrance to the cake. Other flavourings that you can try- cardamom powder, ginger powder, orange zest.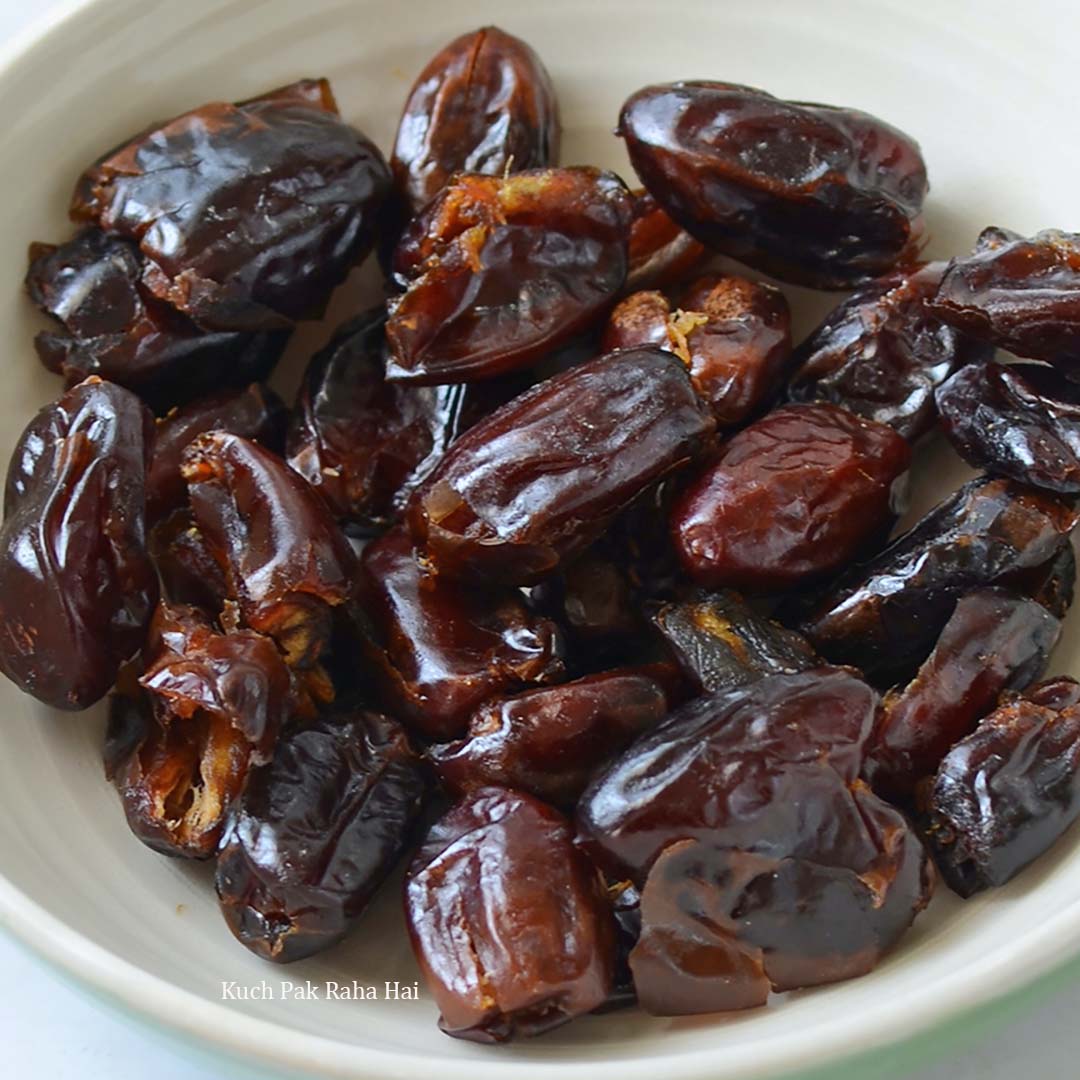 How to make Dates cake?
We will begin by first soaking dates in warm milk for 30-40 minutes till they soften up completely. If you know a day before that you will be making this cake, then soak the dates in milk overnight in fridge and then use them next day for making cake.
We will then blend the soaked dates and milk mixture in a blender jar to make a thick date paste. This date paste will then eventually be combined with oil, flour, walnuts etc to make the final cake batter.
Can I add sugar in this recipe?
This date cake is on slightly less sweet side. If you like it to be more sweet,  you can add 1/4 or 1/3 cup brown sugar in the recipe.
As dates have inherent sticky texture and cake is made with whole wheat flour, the cake turns out moist and slightly dense. If you wish you can make this recipe with all purpose flour too.
Youtube Video:
More Dates Recipes:
Hope you will like this easy delicious date and walnut cake recipe. More eggless bakes you might like: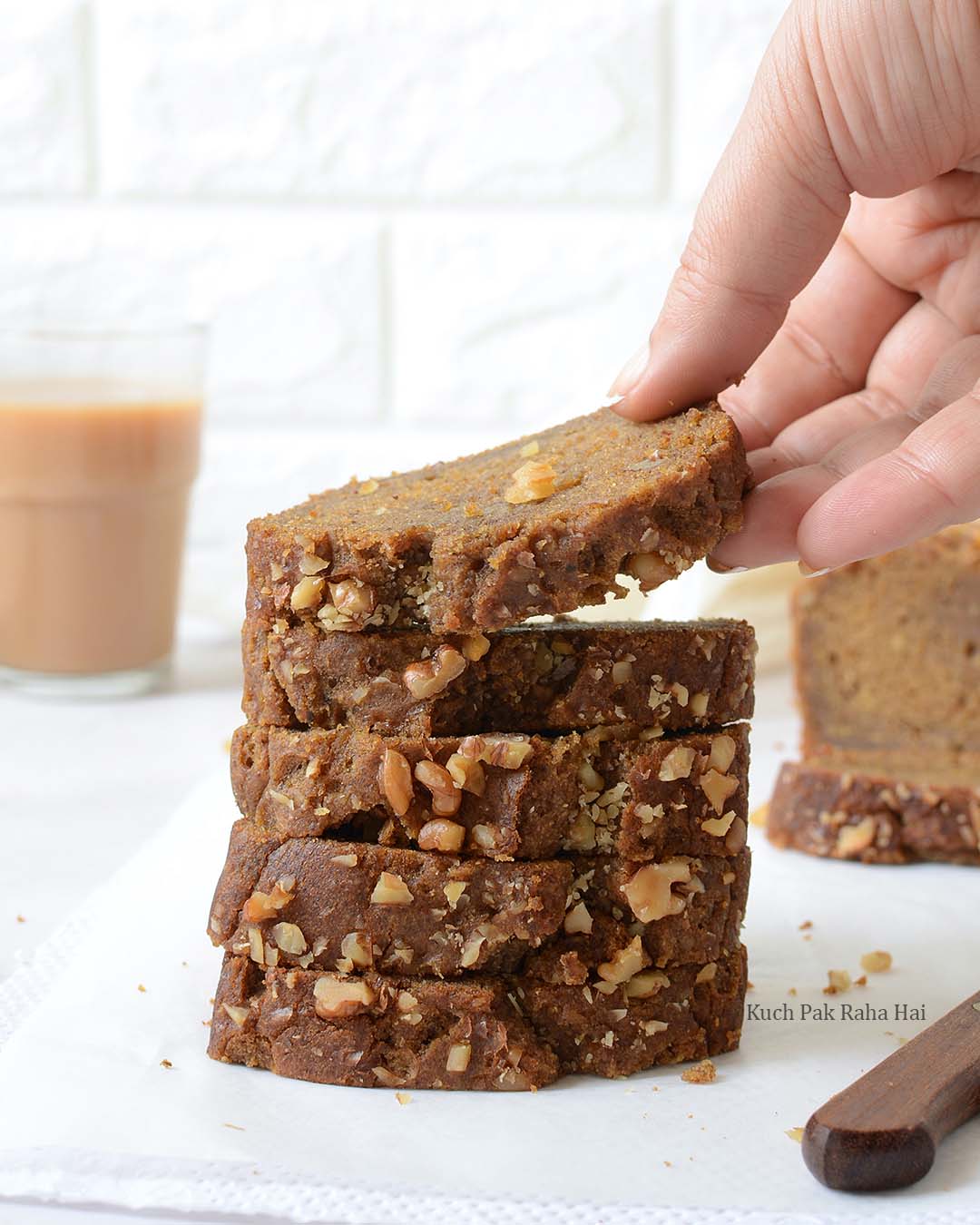 Ingredients:
Whole Wheat Flour- 1 cup (120 grams)
Seedless Dates- 24 to 26 (160 grams)
Milk / Almond Milk-1+ 1/3 cup
Oil*- 1/2 cup
Chopped Walnuts-1/3 cup
Cinnamon Powder-1/2 tsp
Vanilla Extract-1 tsp
Instant Coffee-1 tsp (optional)
Baking Powder-1 tsp
Baking Soda-1/4 tsp
Salt – A pinch
Notes:
Measuring Cup Used : 1 cup = 250 ml
*I have used olive oil here. You can also use sunflower oil, avocado oil or canola oil also.
Apart from walnuts, you can also add hazelnuts, almonds, pistachios or pecans.
To make vegan dates cake, replace dairy milk with almond or soy milk.
Instead of whole wheat flour you can easily use all purpose flour (maida).
I wanted this recipe to be sugar free so I have not added any sugar. If you wish you can add 3-4 tablespoon brown sugar also.
Directions:
Step 1:
In a bowl, soak dates in 1 cup of warm milk for 30 to 40 minutes till they soften up completely. If you are using instant coffee in this recipe then also add it in the same bowl. Cover and keep it aside.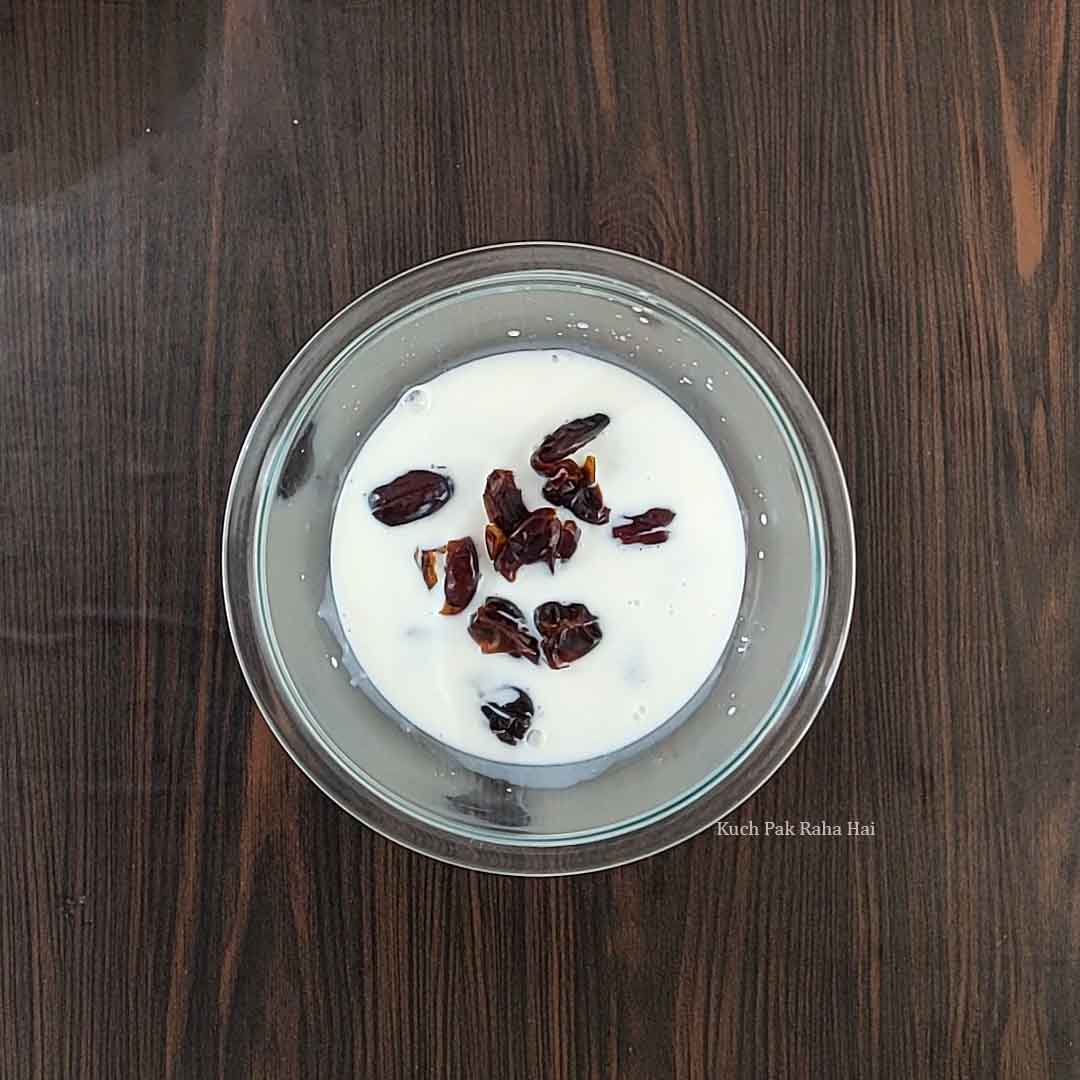 Step 2:
Sieve together dry ingredients – flour, baking powder, baking soda and a pinch of salt together. Keep these dry ingredients bowl aside.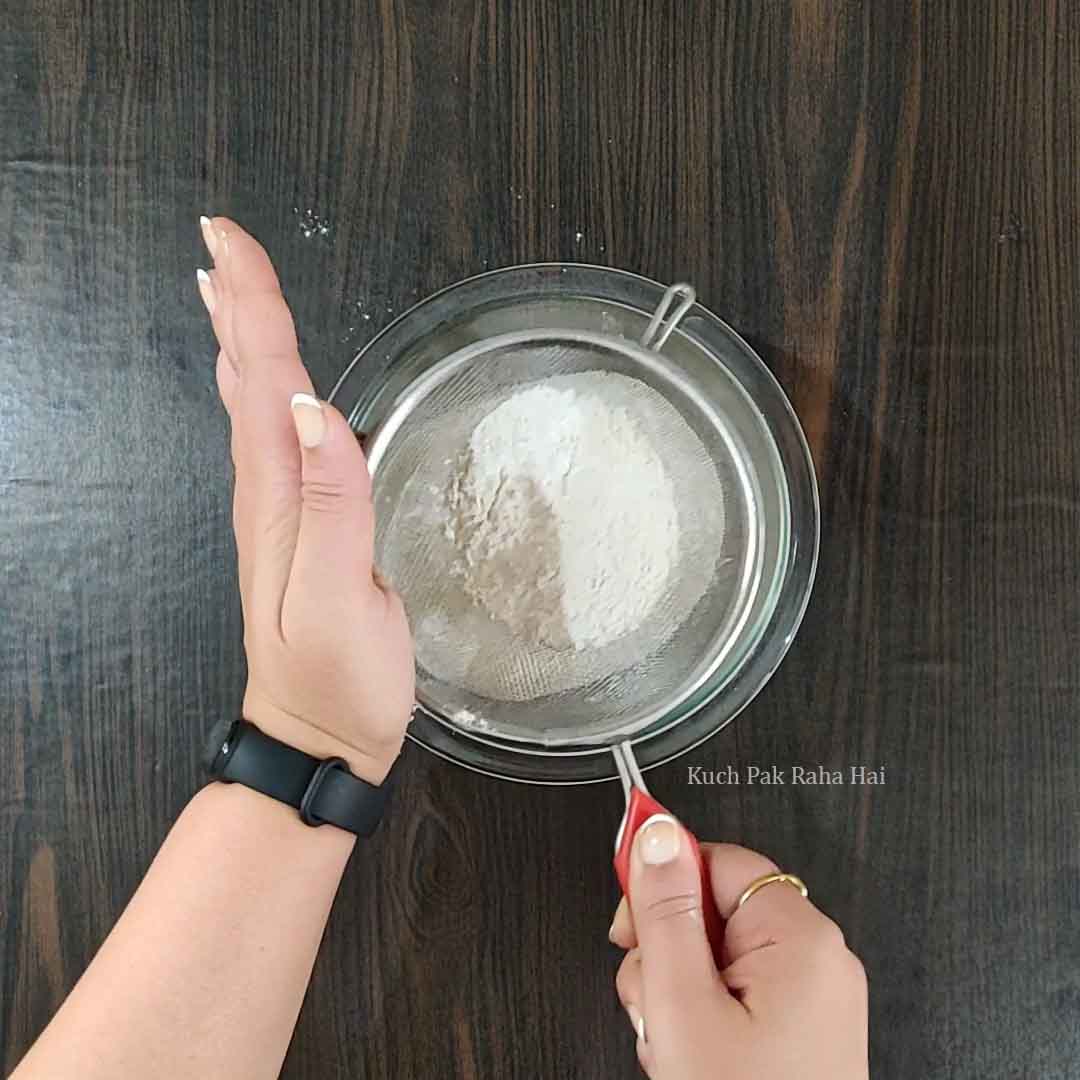 Take 1 tsp flour from it and dust it over 2 tbsp chopped walnuts. This prevent walnuts from sinking. We will use rest of the walnuts for garnishing over the loaf. Keep them aside.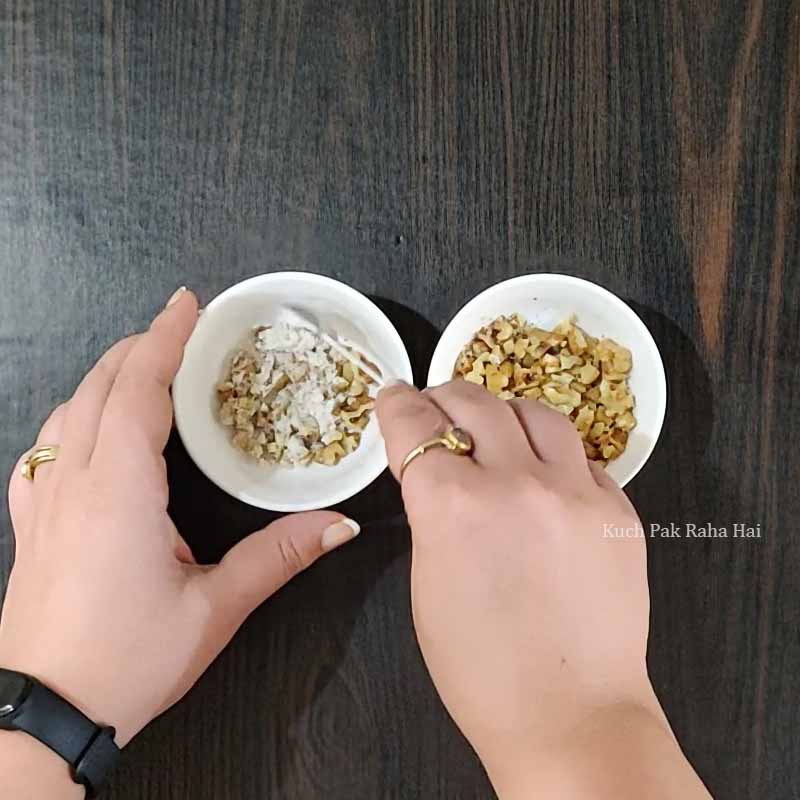 Step 3:
Grind soaked dates and milk together to make smooth paste. Add oil, vanilla extract, cinnamon powder to it and whisk well. Keep it aside.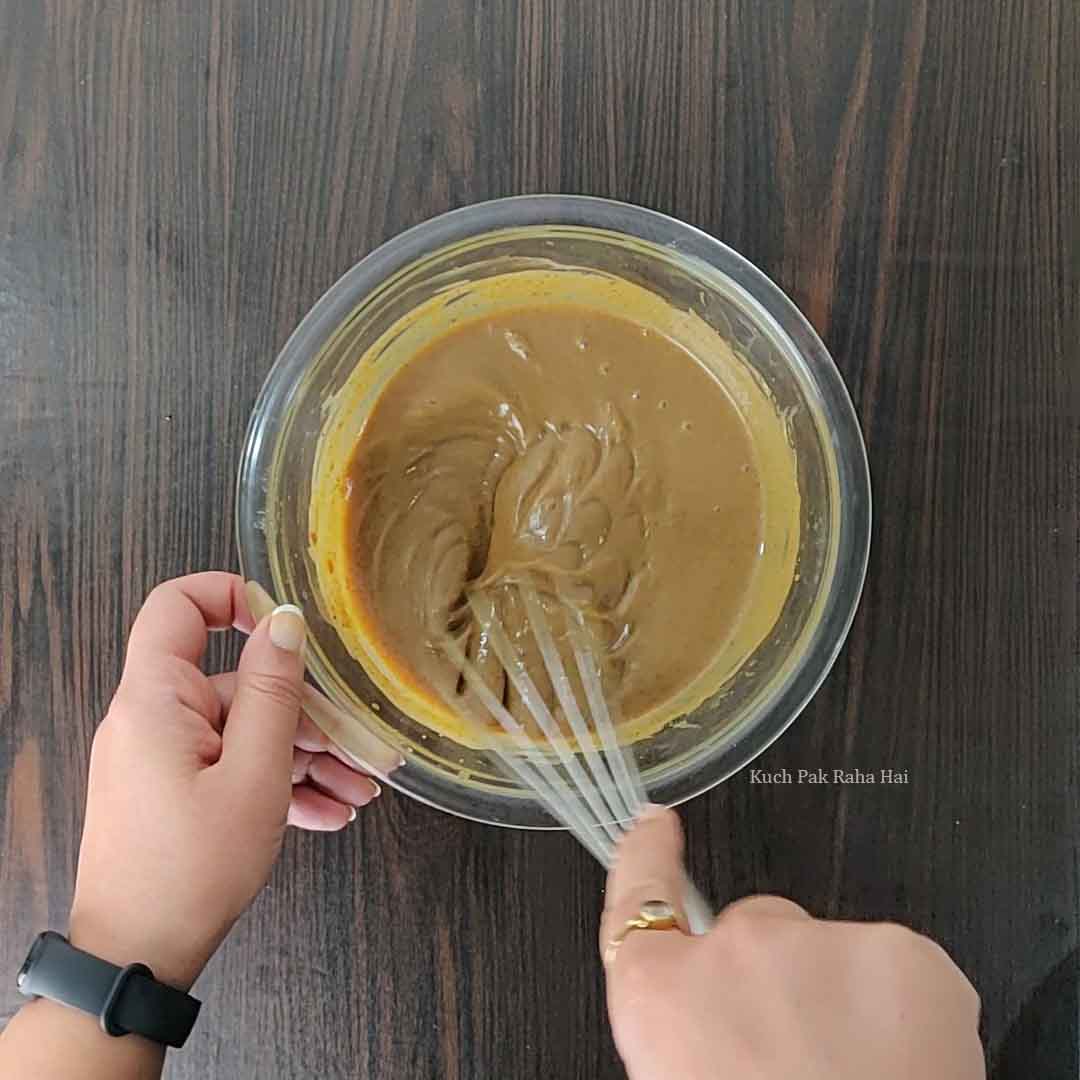 Step 4:
Set the oven for preheating at 180°Celsius (356°F). Prepare the loaf cake tin by lining it with parchment paper and then brushing some oil over it.
Step 5:
Add the dry ingredients to dates mixture (prepared in step 3) gradually while adding 1/3 cup remaining milk little by little. Mix the batter by cut & fold method. The quantity of milk used here depends on the quality of flour used. As I have used whole wheat flour, entire 1/3 cup was used but with all purpose flour (maida) you might require lesser milk.
Don't overmix the batter. Fold the dusted walnuts gently in it.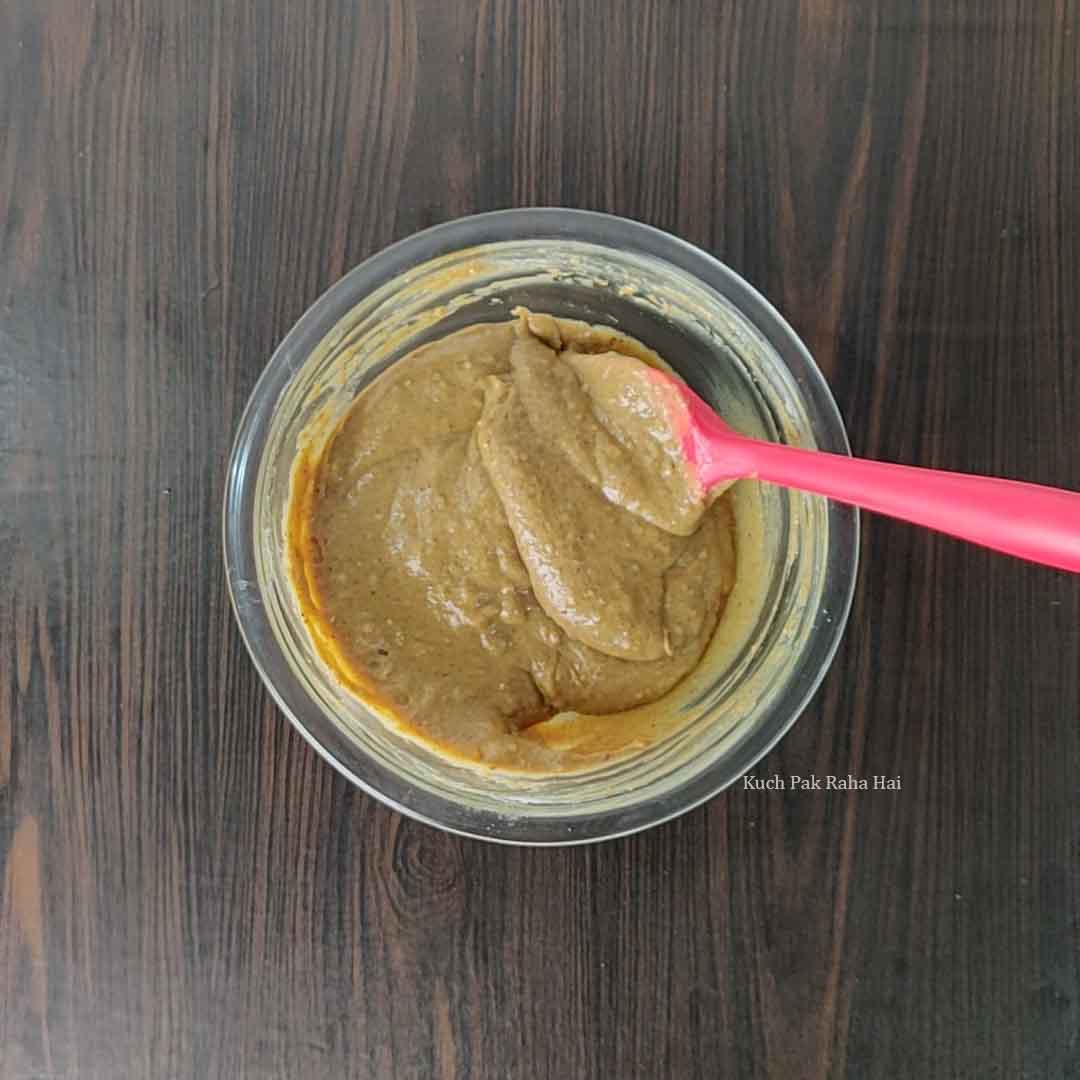 Pour it in the prepared loaf tin and top up with remaining chopped walnuts.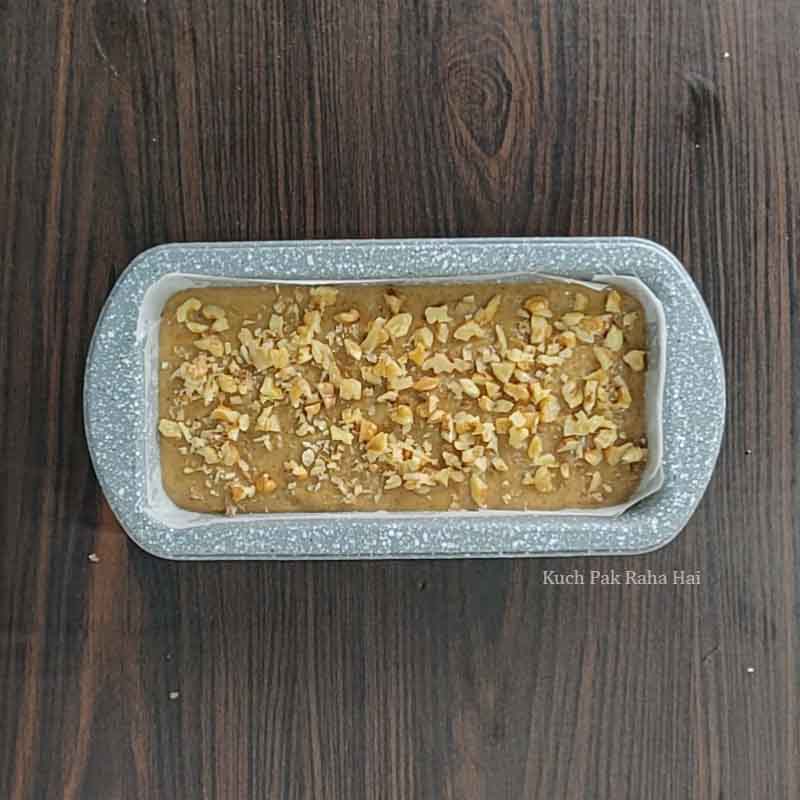 Step 6:
Bake this dates cake at 180°C (356°F) for 30-35 minutes. Check the centre of loaf after 30 minutes with the help of a skewer. If it comes out clean the cake is done else bake for 5 more minutes.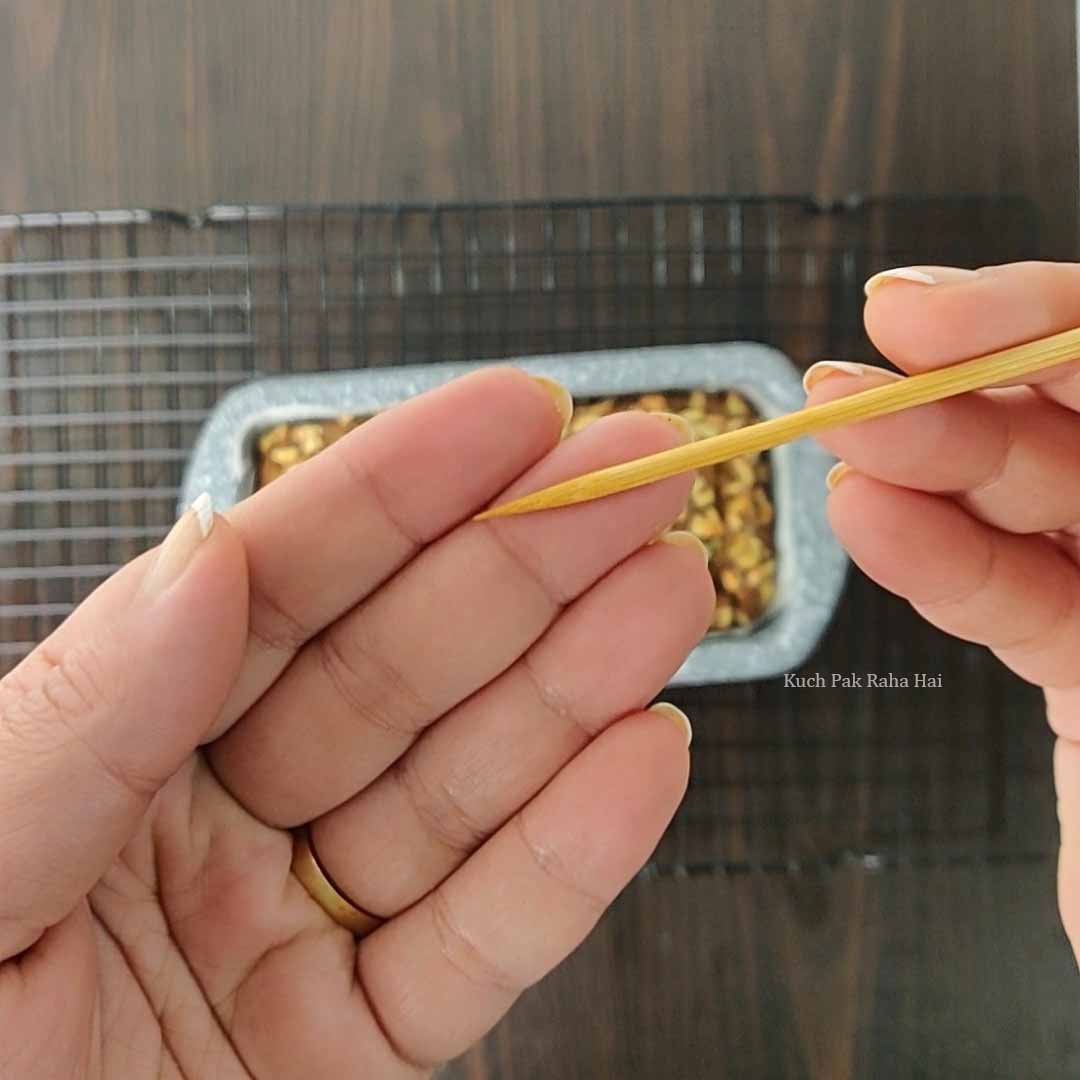 After the cake is baked, let it cool down in tin for 5-10 minutes. Invert it over a wire rack & let it cool down completely on it.
Don't try to slice the cake when it is still warm as you will not get neat slices. Slice it only when it is cooled completely and enjoy with a hot cup of  masala chai or cappuccino.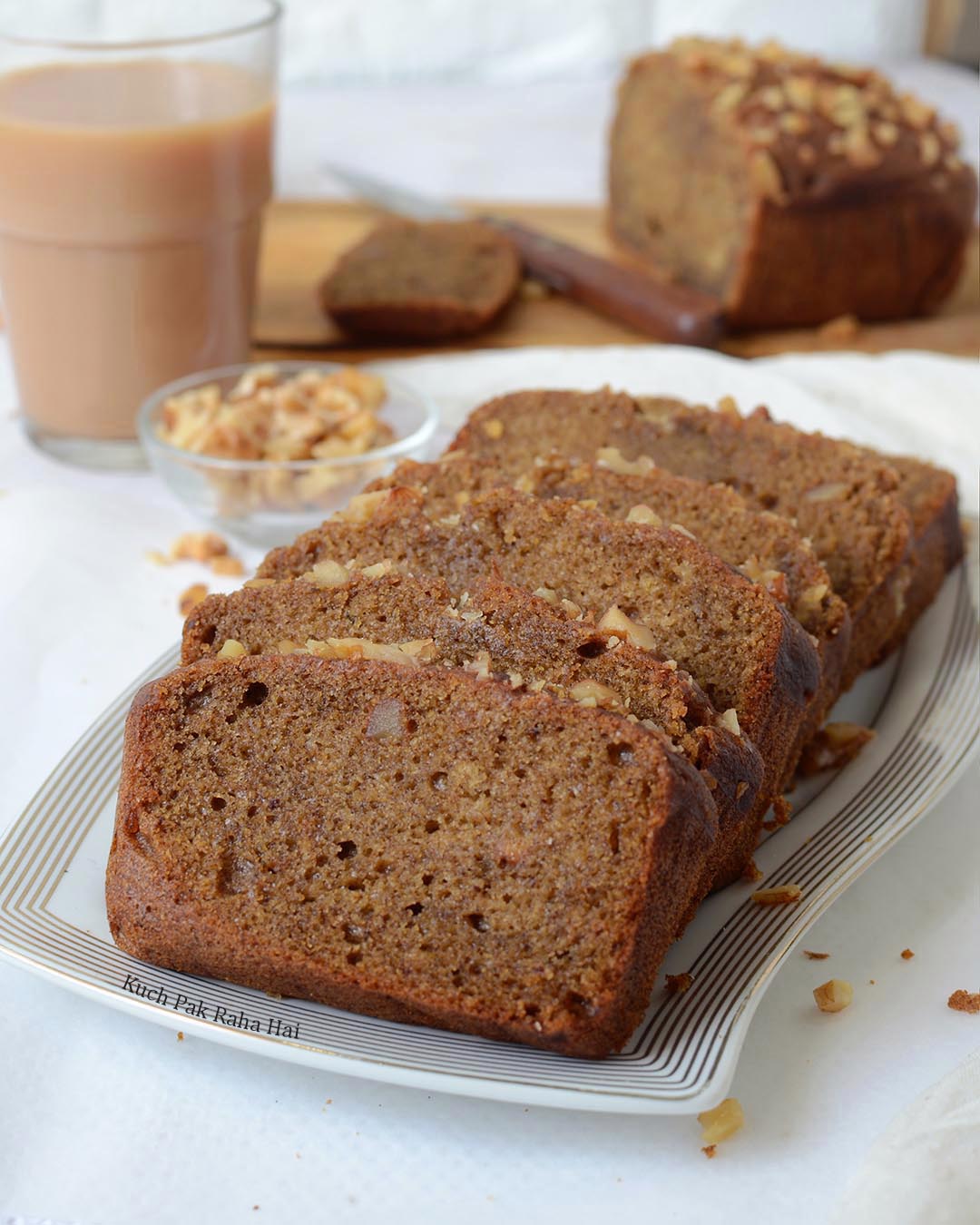 How to store date loaf?
Store it an airtight container or wrap it in cling film and then store in fridge. It stays fresh for 3-4 days. You can even microwave its slices before serving for 20-30 seconds and it will taste as good as fresh.
Can I make vegan date and walnut cake?
Yes instead of dairy milk you can use plant based milk like almond or soy milk to make vegan dates walnut cake.
Pin for later: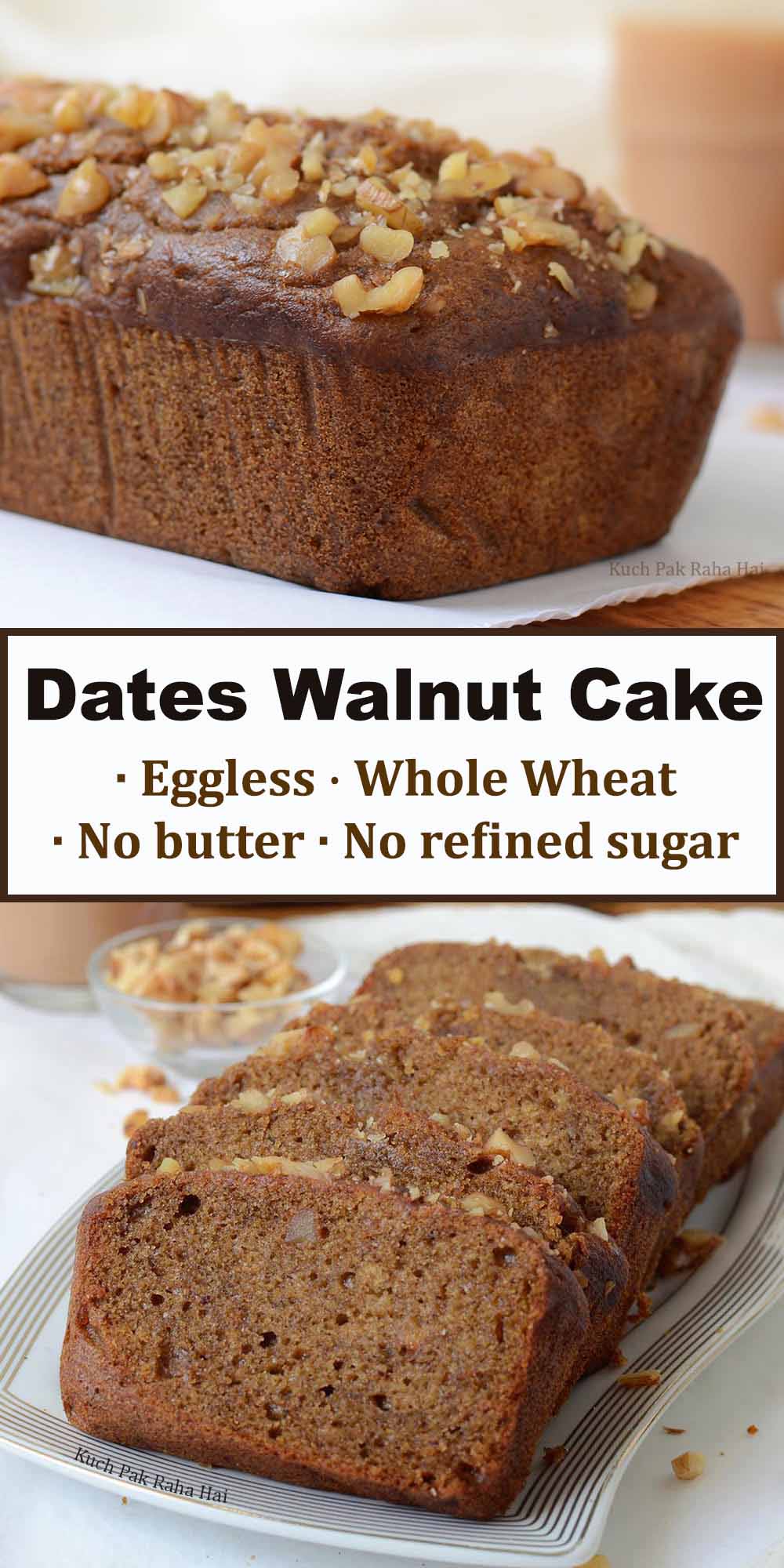 Baking Products Used
(The links shared above are Amazon Affiliate links. It will not cost you anything extra but I may earn a small amount if you purchase anything using them)
If you try this recipe & share pics on social media, then don't forget to tag us on Facebook or Instagram or use the hashtag #kuchpakrahahai.
Let's stay connected
Facebook | Instagram | Pinterest| Youtube