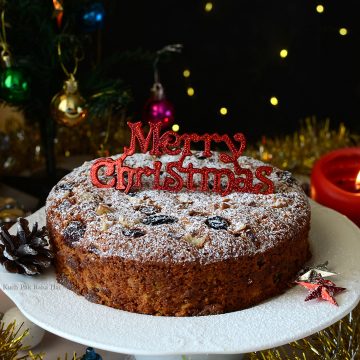 Eggless Christmas Fruit cake is a rich and delicious cake loaded with rum soaked dried fruits & nuts. This cake is particularly made around christmas festival but it tastes so good that I wouldn't mind making or eating it for the rest of the winters. The christmas cake is also know as 'Plum cake' or 'Fruit & Rum cake'.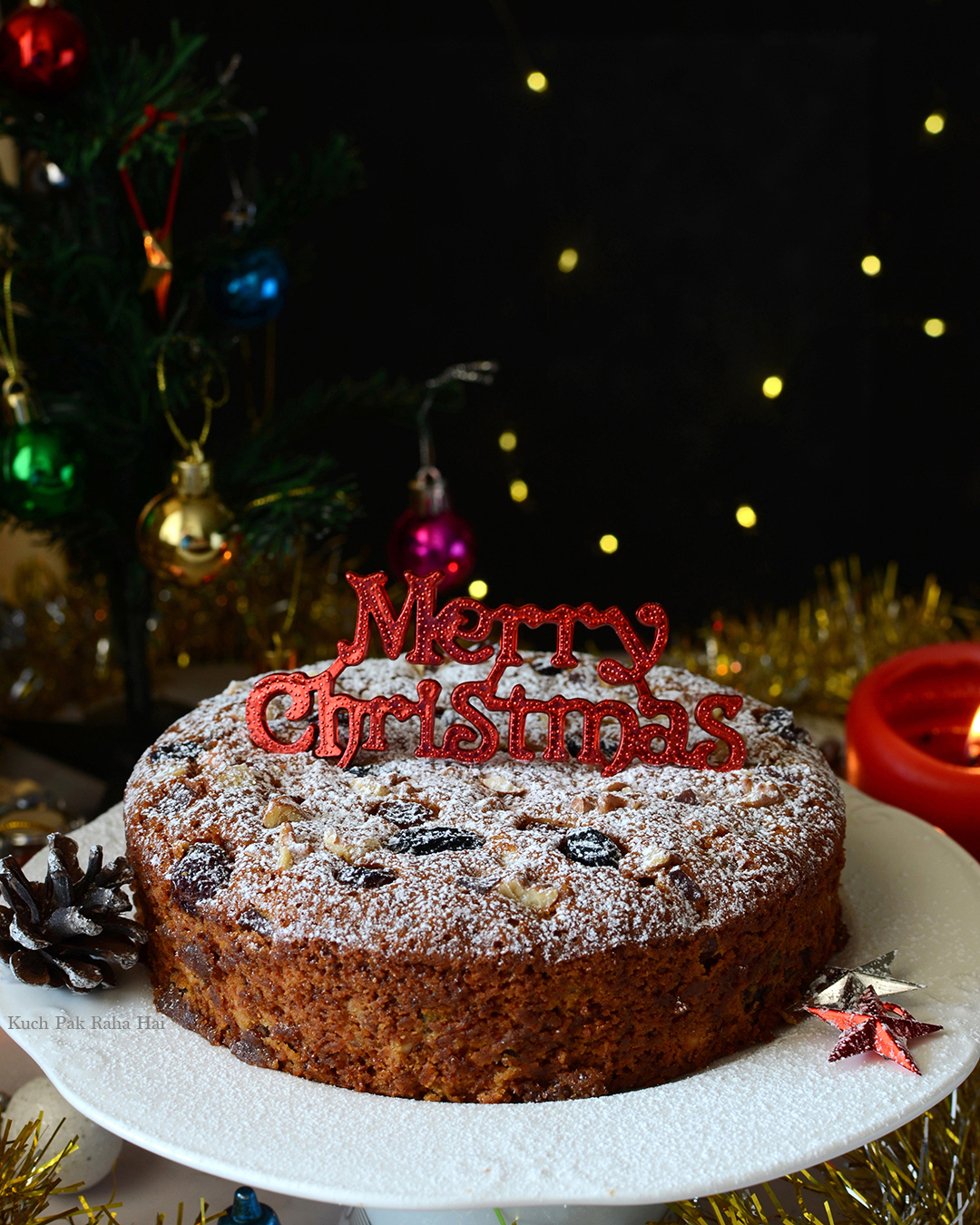 After receiving many messages for eggless christmas cake recipe, I decided to experiment with my already existing eggless cake recipes and after few attempts I was able to make rich, spongy and absolutely heavenly tasting christmas cake.
Traditionally for making christmas plum cake, the dried fruits and nuts are soaked in rum a month before christmas. If you wish you can also soak them a bit longer but here I have soaked them for 10-12 hours. The soaking makes the fruits plump, juicy and thus they add bursting flavour of rum in every bite of cake. Apart from it, some winter special spices are also added to this cake like nutmeg, cinnamon and ginger which adds up to the depth of flavours and make the cake more aromatic.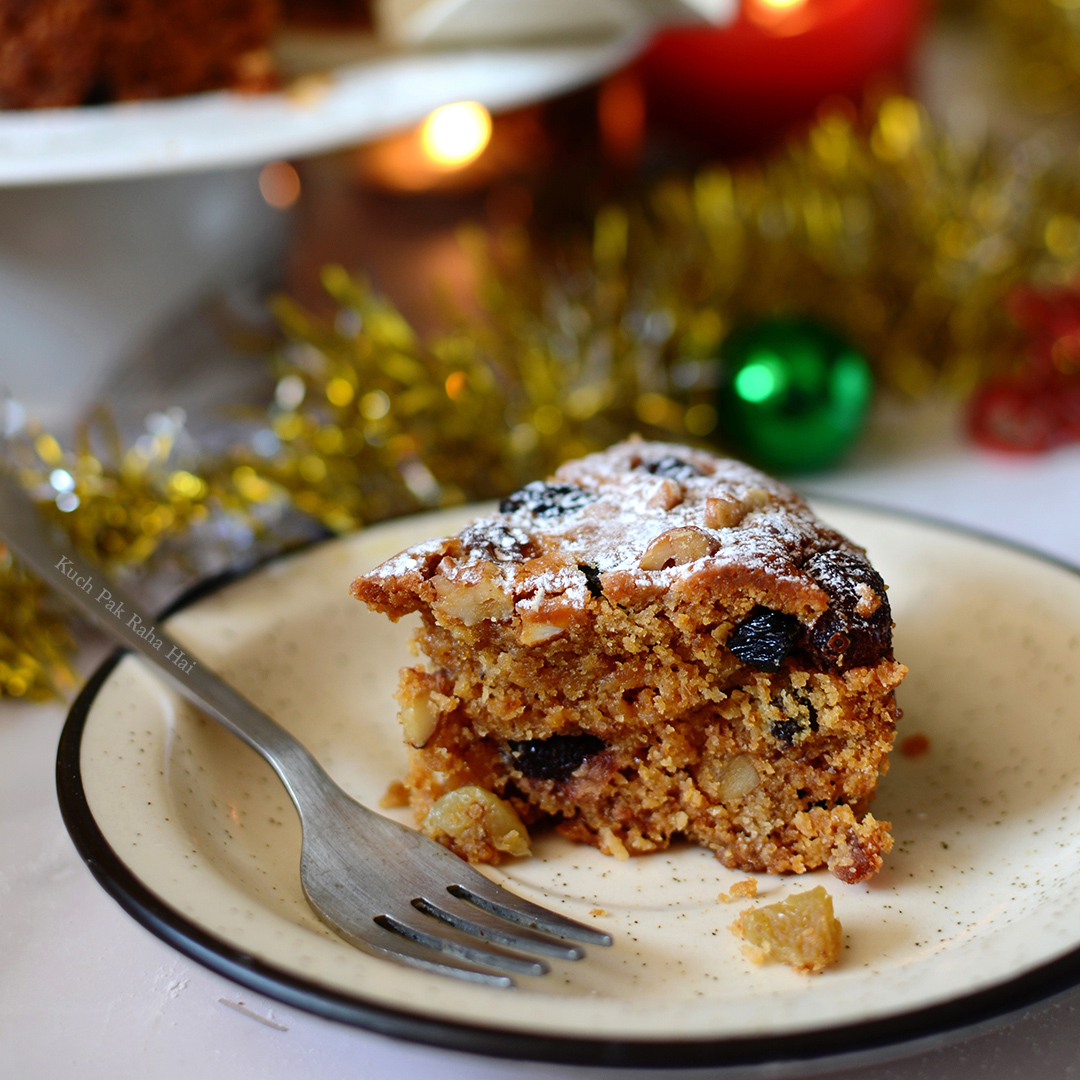 Just like many people I also had this question in mind why christmas cake is referred as plum cake when it actually does not contain any plum. On going through many articles the only explanation I could get was that the raisins, prunes and currants were once upon known as 'plums'. As these were generously used in christmas cake so people started referring to it as 'Plum cake'.
As I have completed my education in a convent school, christmas is one of the festivals that will always have a special place in my heart. Though we never celebrated it at home but it was celebrated enthusiastically in our school and that has built many fond memories with friends and teachers. It used to be the onset of winters and we could see our classrooms decorated with colourful christmas ornaments, a big christmas tree with all dazzling decorations put up on display in school reception area, children practicing christmas carols, school boundaries embellished with string lights, all this literally turned our school into a christmas fairy land. On the last day, Santa Claus used to suddenly pop out and distribute candies and toffees to all of us. For a long time, I used to really believe Santa was real but as the years passed by I could easily recognise that behind the long beard it was no one but one of our teachers kind enough to play Santa for us 🙂 .
I have also shared youtube video for this same recipe. In case of any doubt at any step you can refer to it.
Youtube Video:
Other Eggless cakes recipes which you might like:
I have made this cake using Rum. However in steps its non-alcoholic substitute is also mentioned. Hope you would like this easy eggless christmas fruit cake recipe!!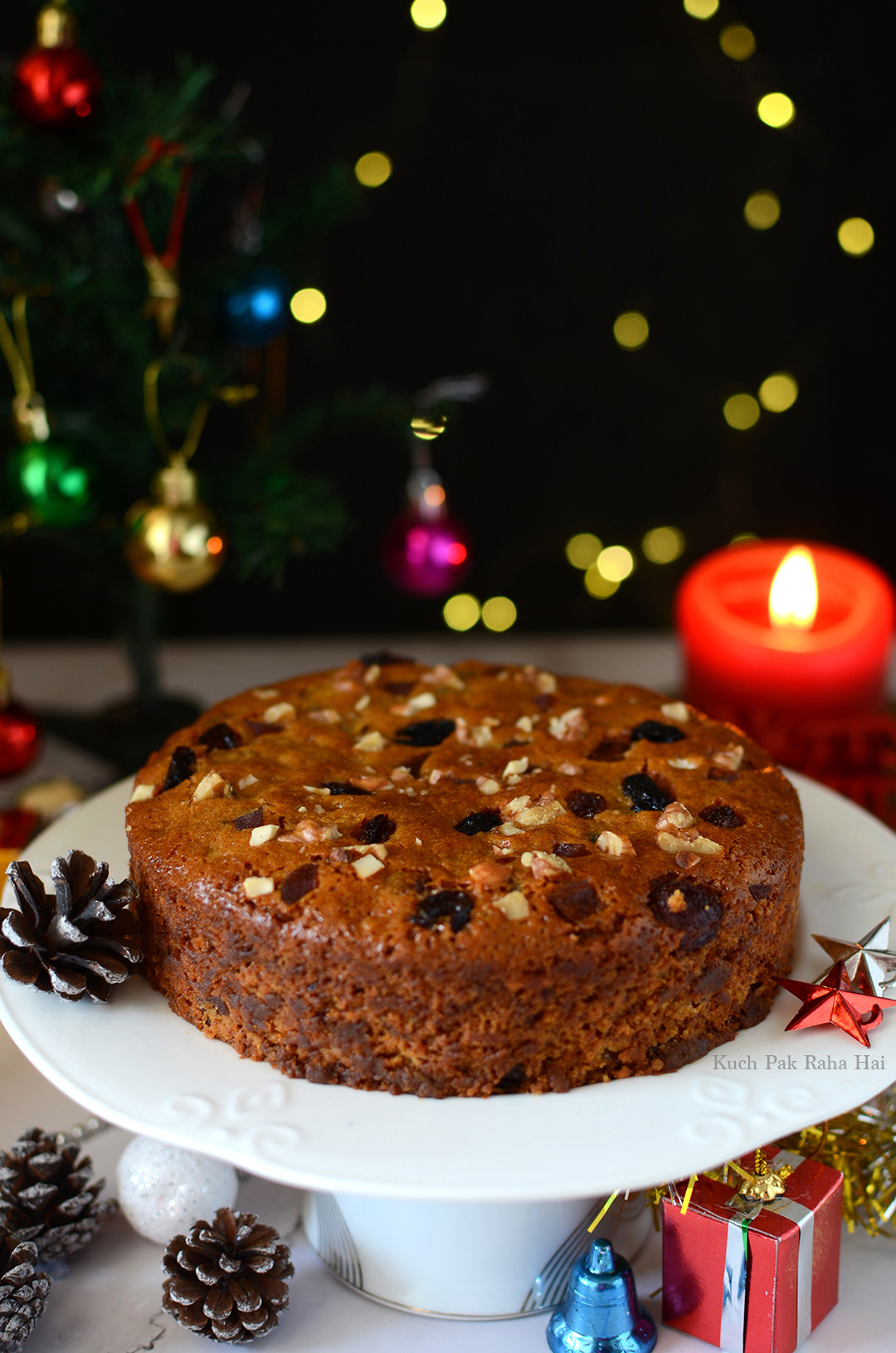 Ingredients:
Condensed Milk-150 grams
Sugar- 1/4 cup
All Purpose Flour (Maida)-1 cup
Nutmeg powder-1/8 tsp
Cinnamon powder-1/8 tsp
Ginger powder-1/8 tsp
Baking Powder-1 tsp
Baking Soda-1/4 tsp
Oil-1/3 cup
Water-1/3 cup
Chopped Nuts (Almonds/Cashews/Walnuts)-1/3 cup
All purpose flour (Maida)-1/2 tsp
Mixed Raisins (Black & golden)-1/4 cup
Mixed Berries-1/4 cup
Chopped dried prunes-1/4 cup
Candied Fruits / Tutti Frutti Bits- 1/4 cup
Rum-1/2 cup
Notes:
1. For non-alcoholic version use orange juice instead of rum.
2. I have used candied oranges and ginger in this cake. You can also use candied orange peel or add little bit of orange zest for nice fruity flavour in cake.
3. You can also use chopped dates, dried black currants or pitted cherries in this recipe.
4. I have used Nestle Milkmaid condensed milk in making this christmas cake.
5. Sunflower oil is used in making this christmas cake. You can use unsalted butter also.
6. I have only soaked dried fruits in rum but kept the nuts separate as I like the crunch of nuts in my cake. If you want you can also soak nuts in rum.
Steps To Prepare:
Step 1:
In a bowl or container add all the mixed berries, raisins, prunes & candied fruits (tutti frutti bits) along with rum. Cover it with a lid & let these soak for at least 8-10 hours or overnight. You can soak it longer too.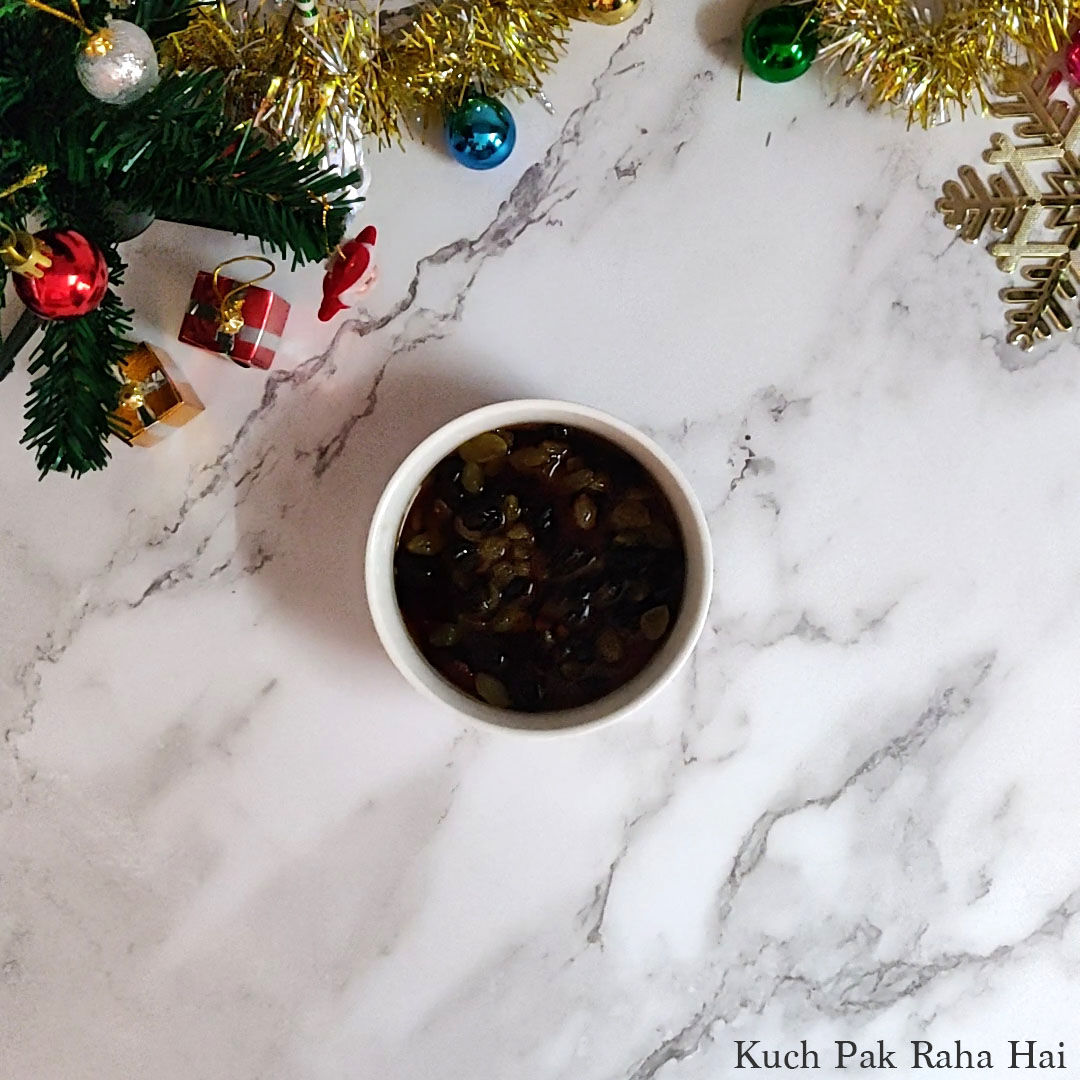 (If you are using orange juice for soaking, soak for 5-6 hours & keep the container in fridge as fruit juices can spoil quickly at room temperature.)
Step 2:
Take a heavy bottomed pan & add sugar to it. Lightly shake the pan in order to spread sugar evenly. Keep the flame to low. Let the sugar melt gradually. Do not try to mix while the sugar is melting. The sugar can burn really quickly so keep an eye on it.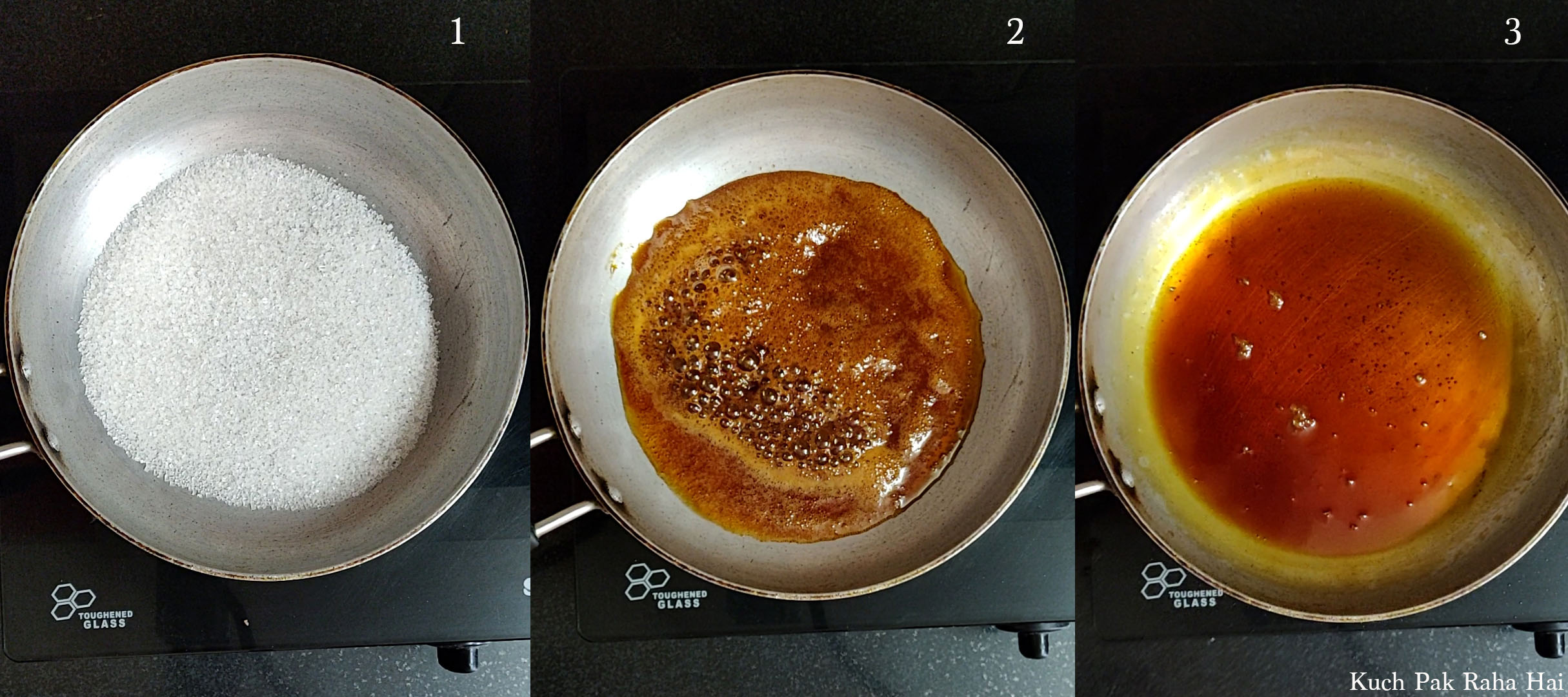 Once you notice the sugar has turned to amber red colour & started bubbling, switch off the flame & add water to it. Be very careful as it splatters. Simmer for another 1-2 minutes while continuously mixing in order to dissolve caramel in water properly. Keep this pan aside to cool down. Mean while lets proceed to next step.
Step 3:
Sieve together all purpose flour (Maida), nutmeg, ginger, cinnamon powder, baking powder and baking soda. Keep these dry ingredients aside.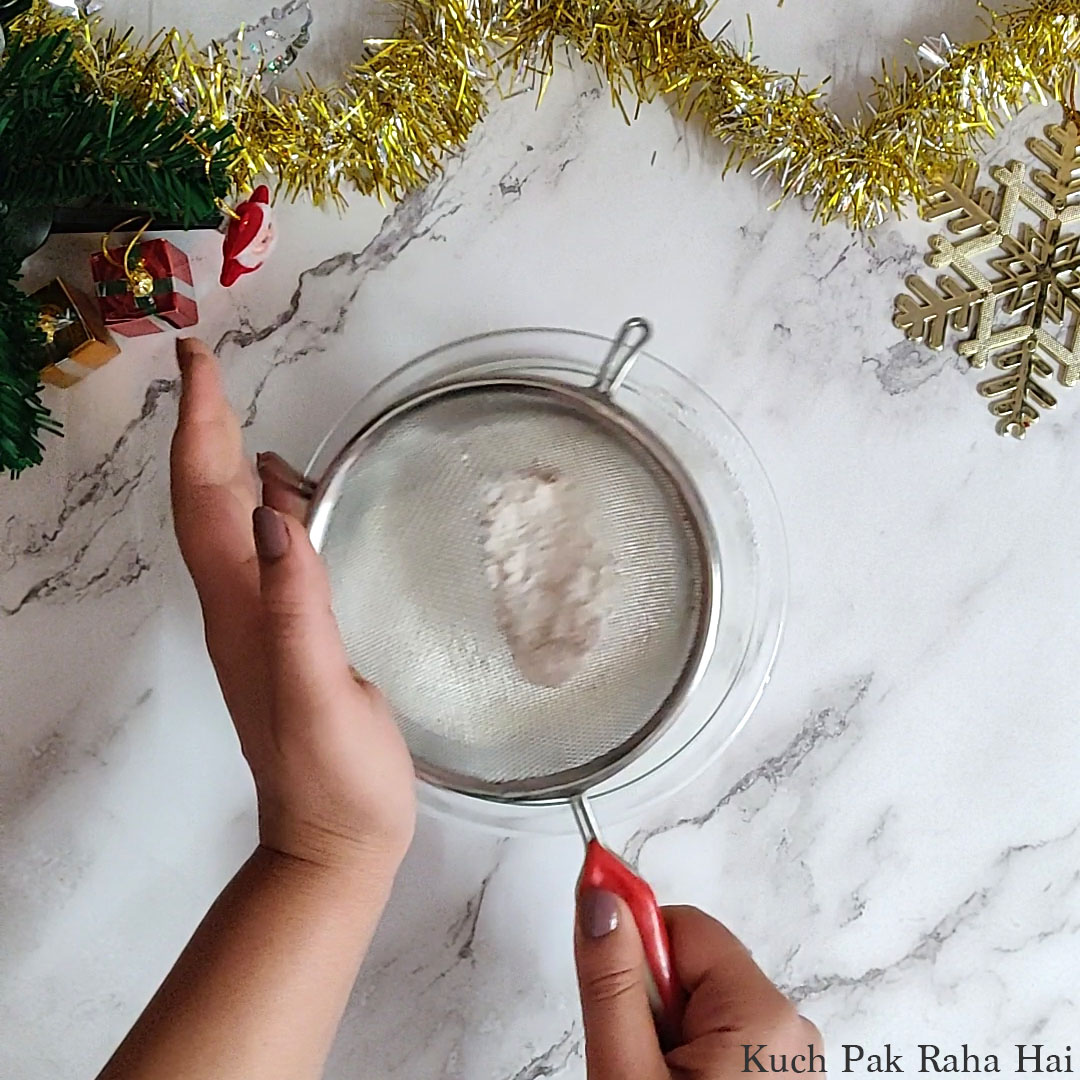 Step 4:
In a bowl or small plate, add all the chopped nuts. I have used almonds, walnut & cashews. Dust them with 1/2 tsp of flour. This prevents them from sinking. Keep these aside.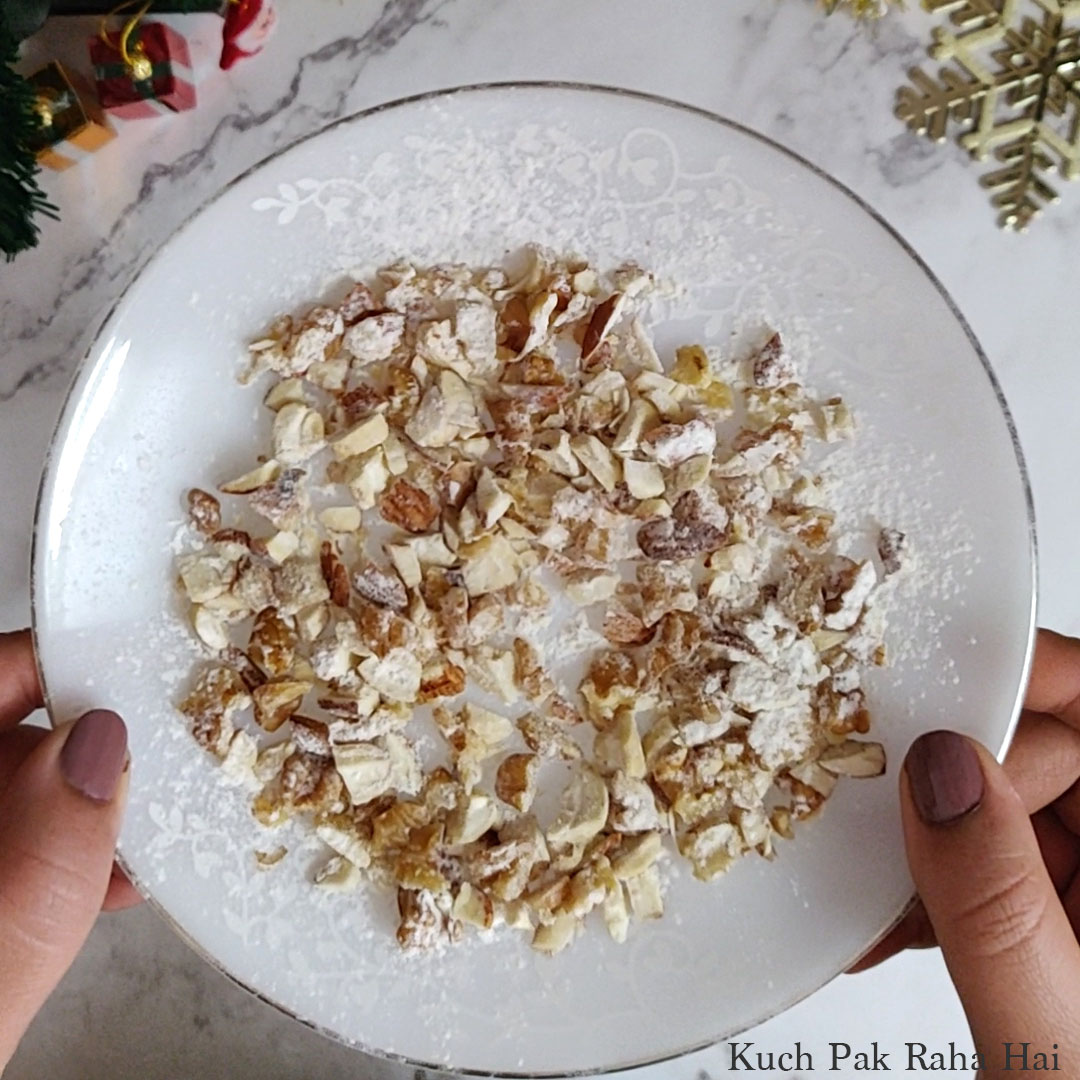 Step 5:
Prepare the cake tin by brushing it with some oil. Cover its base with a parchment paper & then again brush oil on paper and on the sides of cake tin. I have used 6 inches round cake tin here. Keep this cake tin aside.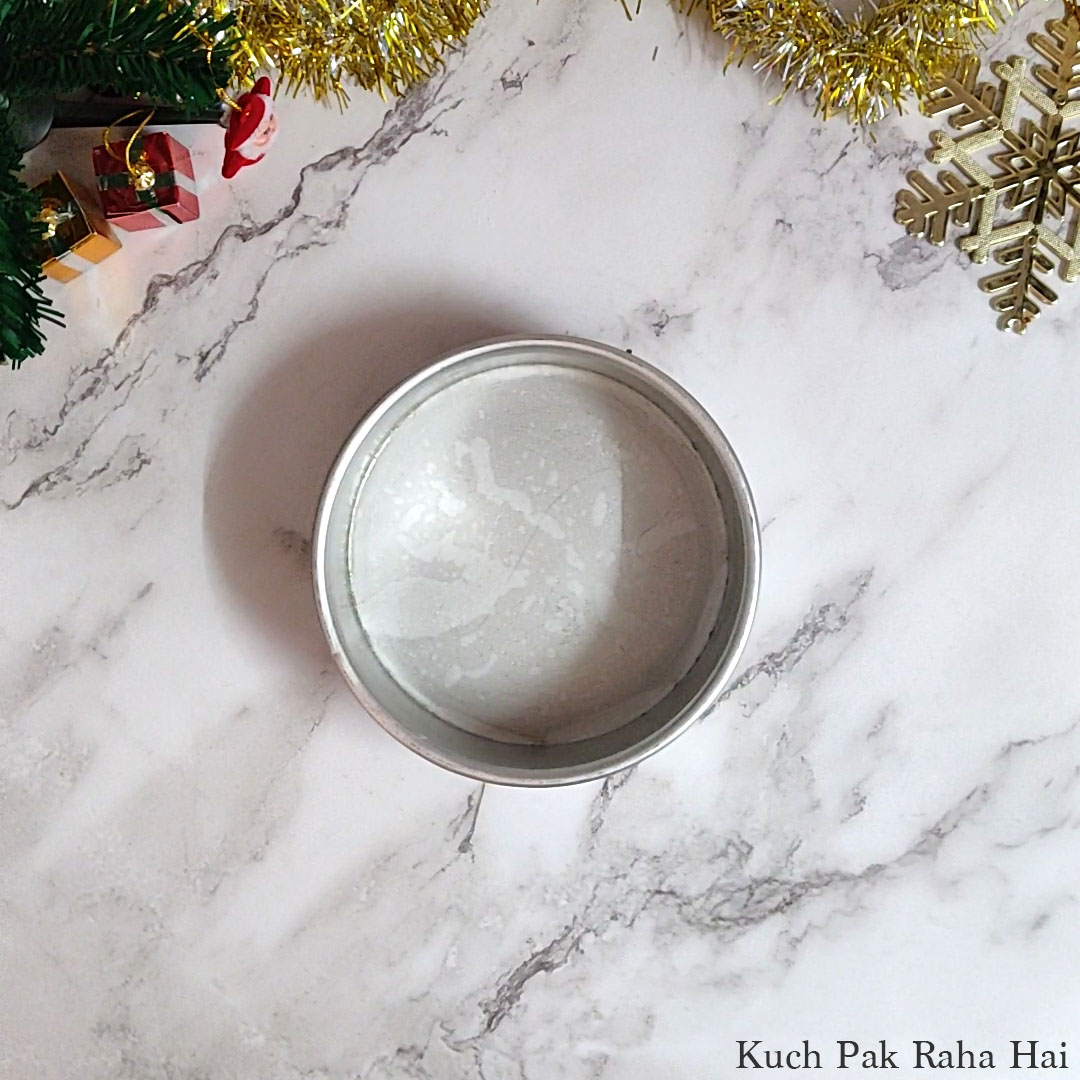 Step 6:
In a big mixing bowl, add condensed milk, oil and the caramel (which we prepared in step 2). Whisk well till the mixture becomes light. Keep this aside.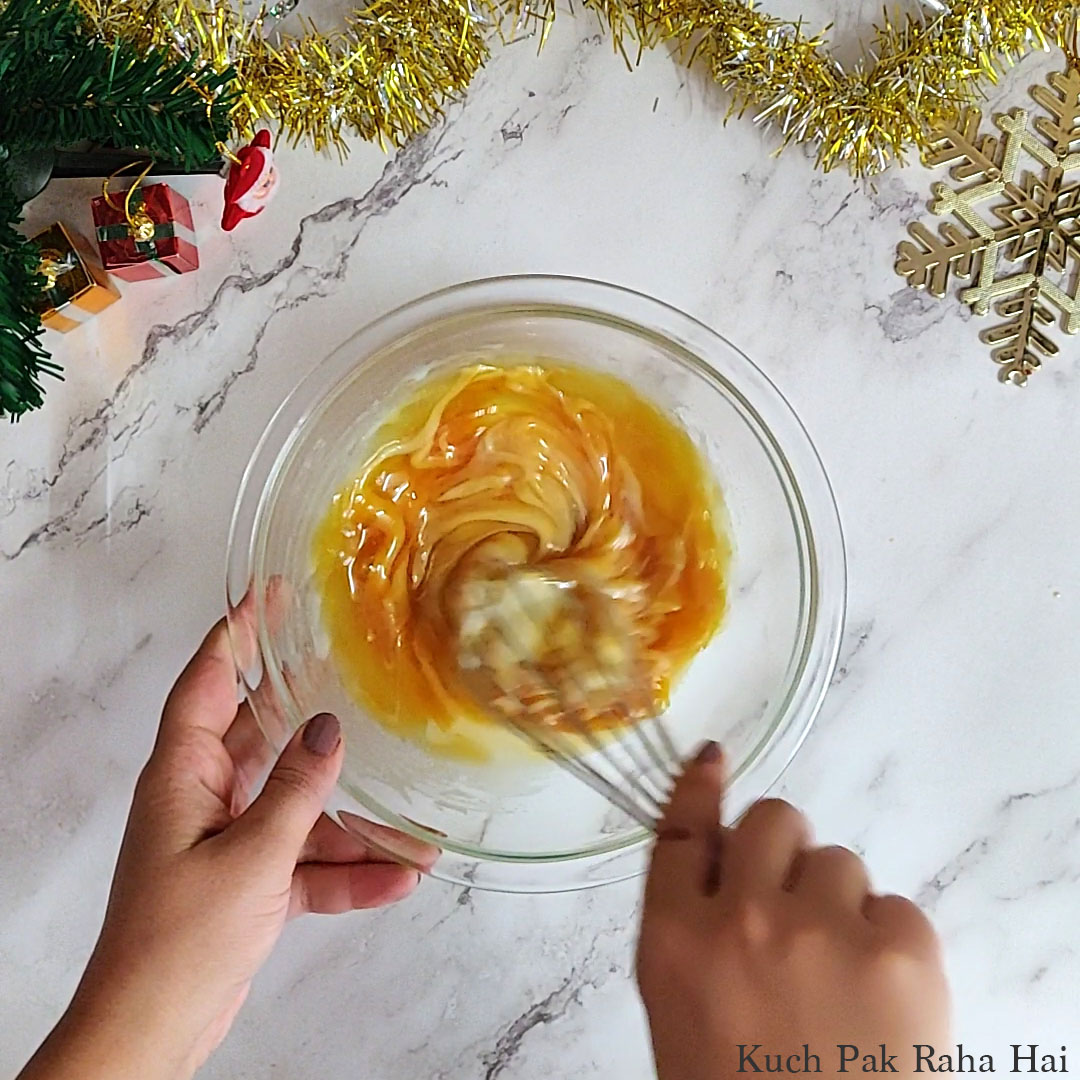 Step 7:
Before we start preparing the batter, set the oven for preheating at 150 degree Celsius.
Step 8:
The bowl in which we had our liquid ingredients, add sieved flour, nuts and soaked fruits to it. Save some of the nuts & soaked fruits to garnish on top. Fold the batter gently using cut & fold method.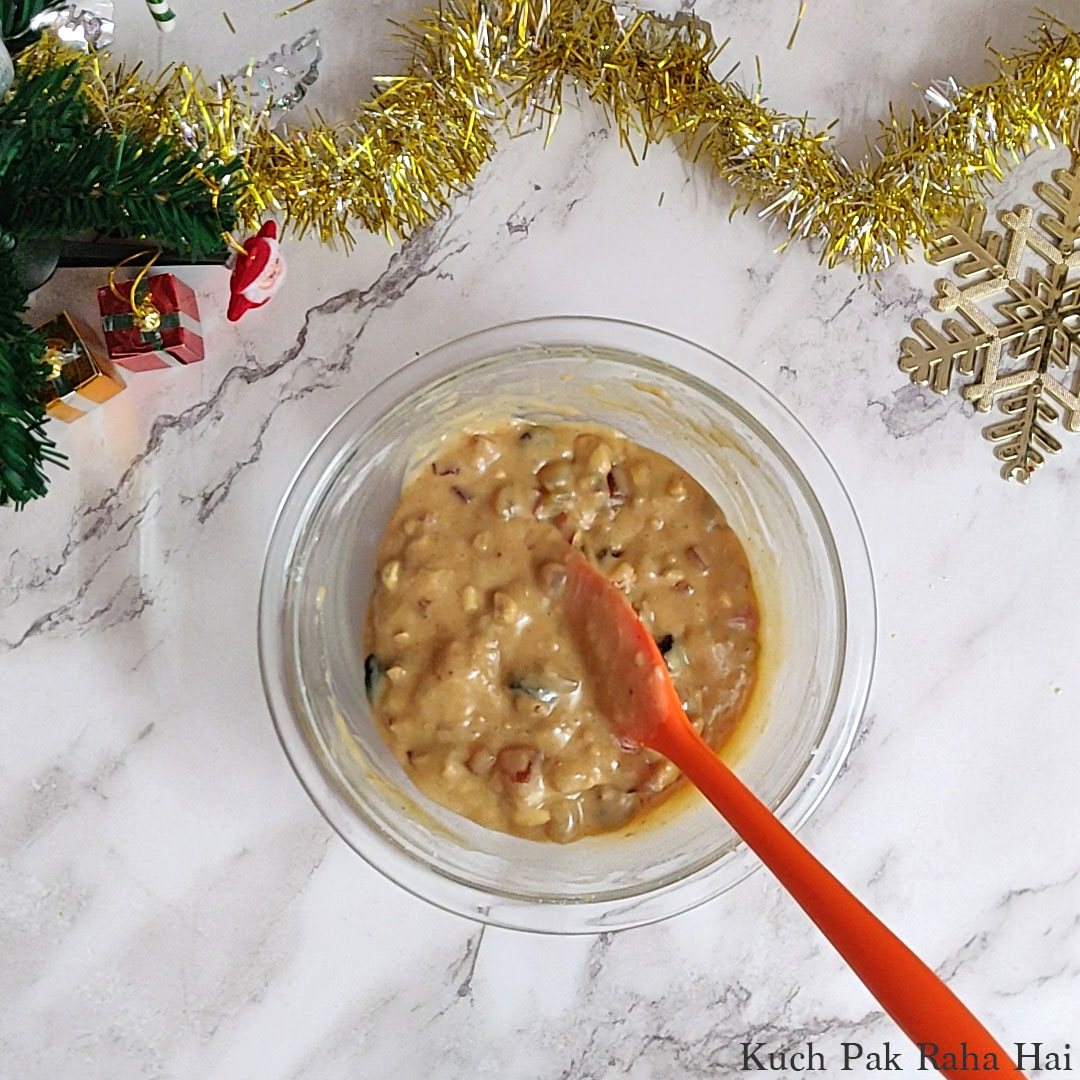 Once the batter is ready, pour it into greased cake tin & garnish with remaining soaked fruits & nuts.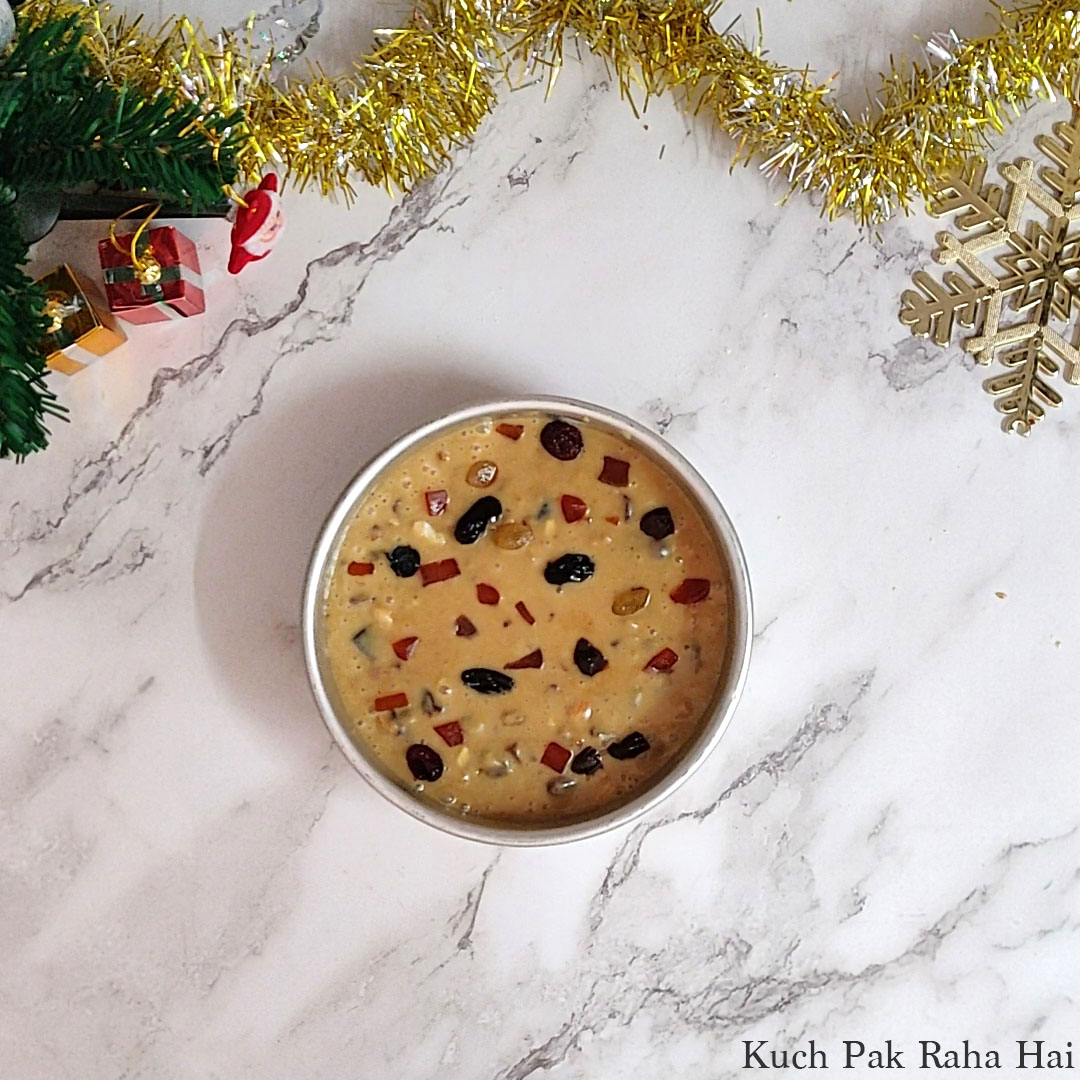 Step 9:
Bake the cake at 150 degree celsius for 50-55 minutes.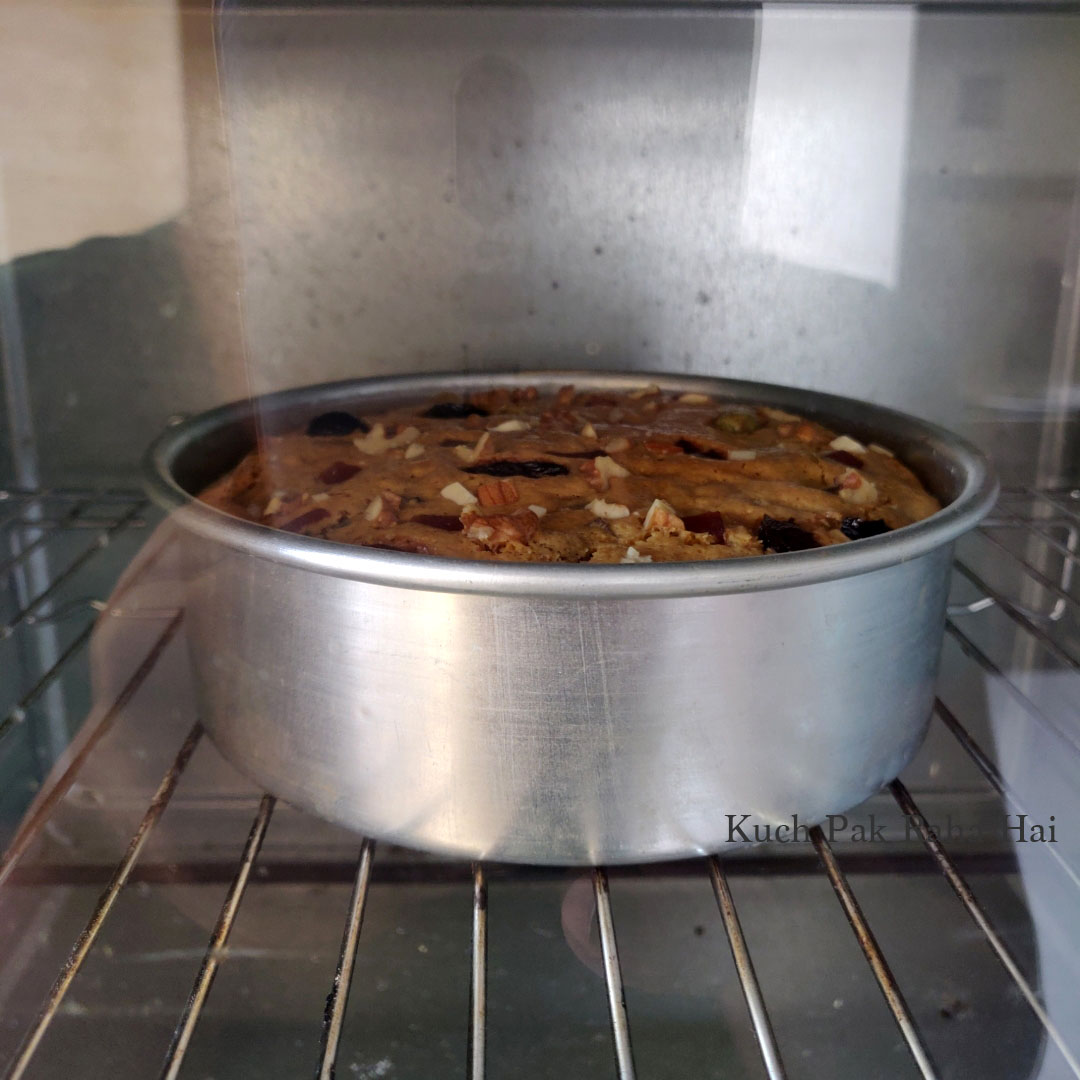 After 50 minutes check for the readiness of cake. Bring the cake out of oven. Insert a toothpick in the centre of cake & check the tip. You should not notice any wet batter on it. If there is any wet batter, bake for another 4-5 minutes.
Step 10:
Once the cake is ready, let it cool down in cake tin for 15-20 minutes. After that invert it over a plate, and peel the butter paper carefully. Place it over the wire rack to cooling down completely.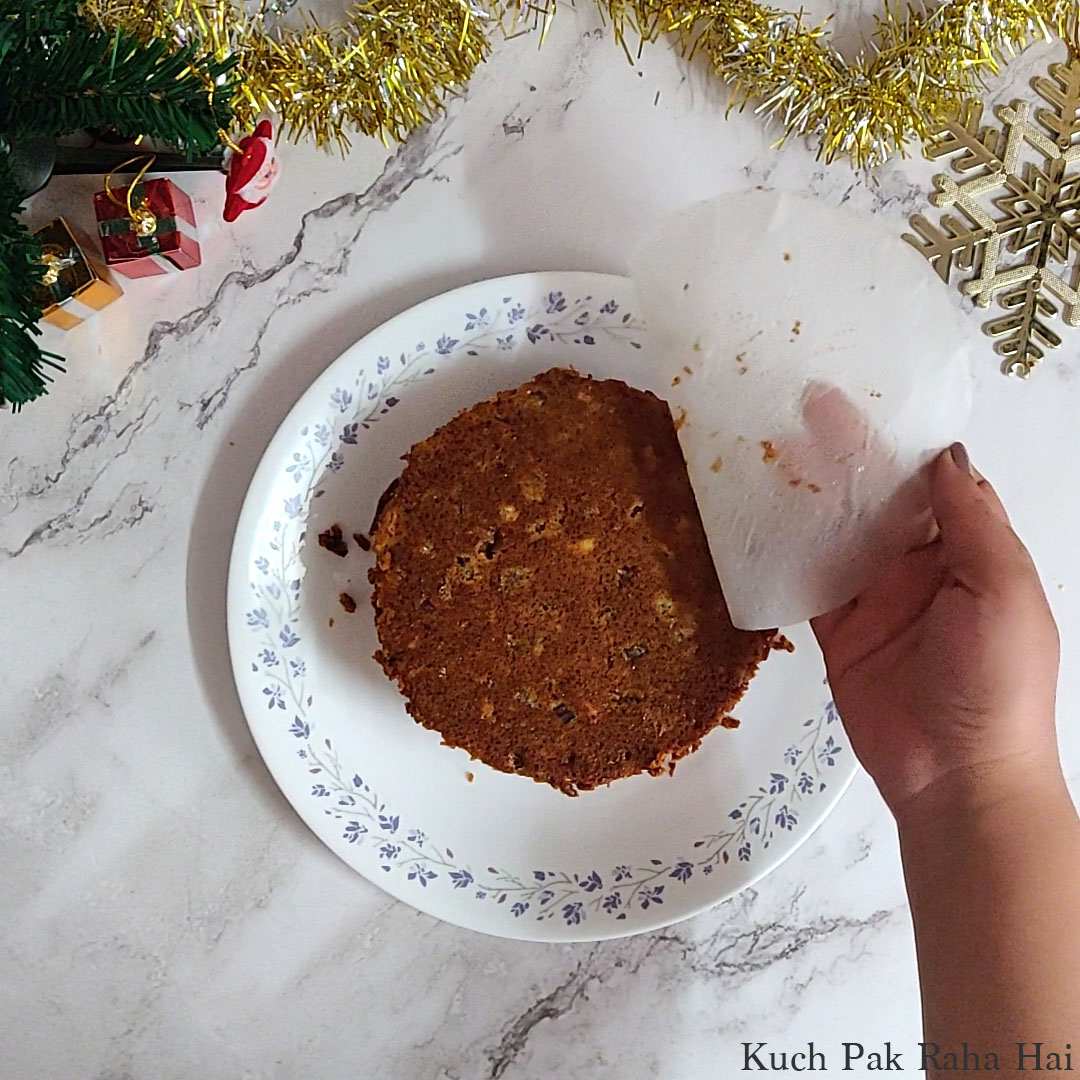 Enjoy this delicious and absolutely heavenly boozy christmas fruit cake!!
How to store christmas cake?
If you want to intensify rum flavour, brush some of it over the cake. Wrap it in a cling film two times and keep it in an air tight container. Store it in a cool dry place. You can even keep this container inside fridge for longer shelf life.
Wishing a Merry Christmas to you & your family. Bon Appetit!!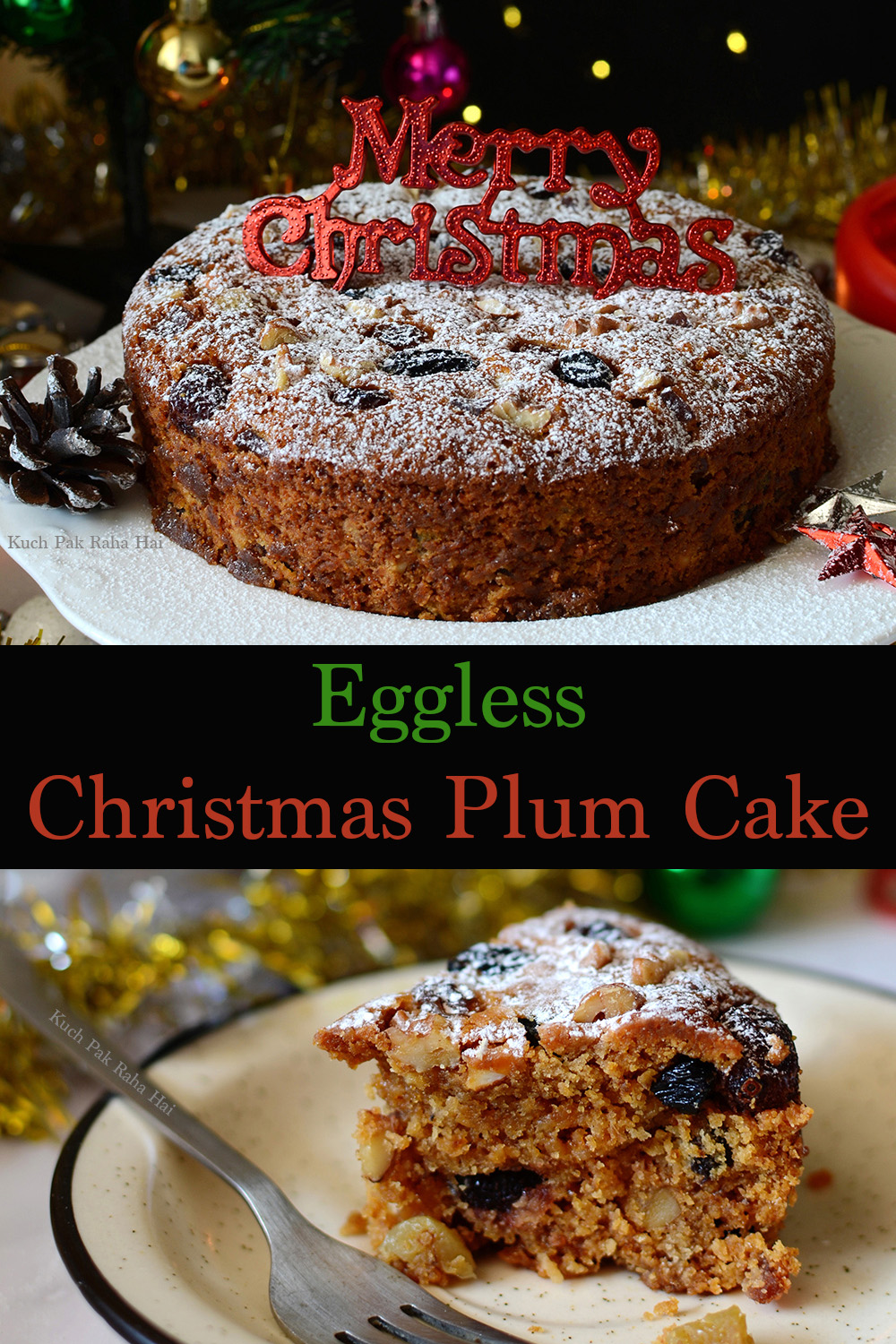 If you try this eggless christmas fruit cake recipe, then don't forget to tag us on your food pics on Facebook or Instagram.