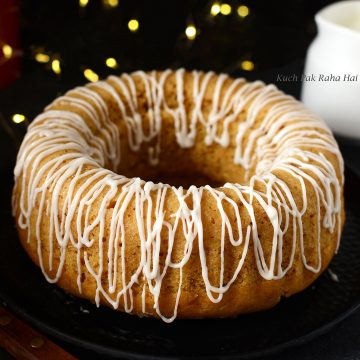 This soft fluffy moist pumpkin bundt cake spiced with warm flavours like cinnamon ginger & nutmeg is perfect dessert for fall season. It is very easy to make, requires just few basic ingredients & made without egg or butter.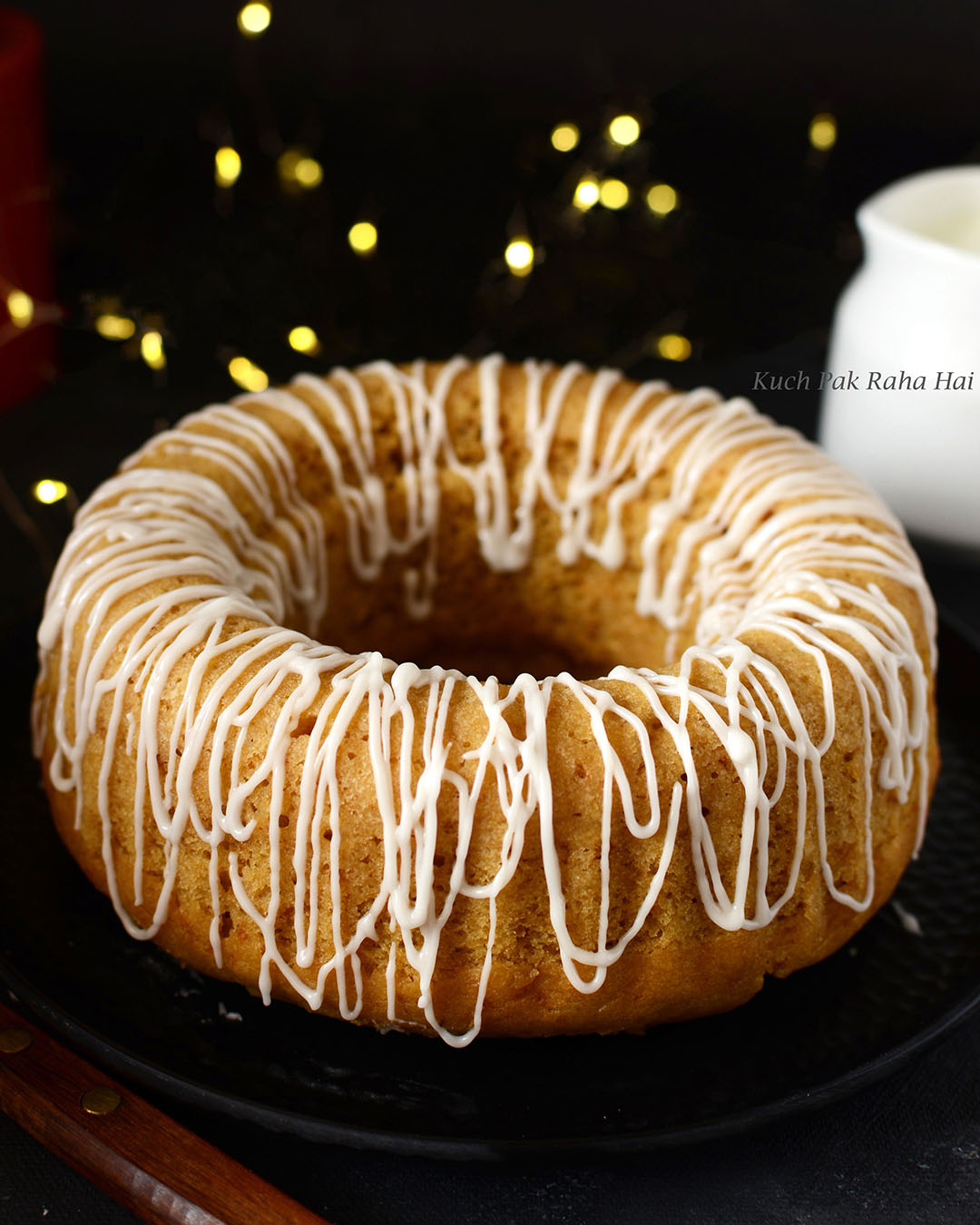 I have used small bundt pan to make pumpkin cake but you can also make it in round 6″ cake tin or make muffins using this recipe. This delicious pumpkin cake can be enjoyed as snack or topped up with vanilla glaze or luscious cream cheese frosting for celebrations.
You can make your own pumpkin cake variation by adding chocolate chips or chopped nuts like pecans or walnuts in the batter. The pumpkin cake recipe shared here is :
Vegetarian (Egg free)
Perfect for 3-4 people
Made with fresh pumpkin puree
I made this pumpkin cake for small halloween celebration at my home. My plan was to pipe the vanilla glaze so that it resembles spider web and then place some spider fondant toppers on top. As my silicon spider molds were not delivered on time, I had to skip that part but if you want to make this cake for halloween then do give this idea a try.
Pumpkin Cake Ingredients:
Flour: I have used half whole wheat flour & half all purpose flour in the recipe. You can use only all purpose flour or replace all purpose flour with equal amount of whole wheat flour for a healthier version.
If you are using whole wheat flour for making this pumpkin bundt cake, then you might have to add more milk to adjust batter's consistency as it absorbs more moisture.
Brown Sugar: Brown sugar is basically a mixture of sugar & molasses. The molasses give it a distinct brownish colour and caramel flavour.  I personally like the flavour of brown sugar in pumpkin cake, but you can use granulated white sugar too.
Oil: Sunflower Oil has been used in this pumpkin cake. You can use olive oil or any other colourless & odourless oil.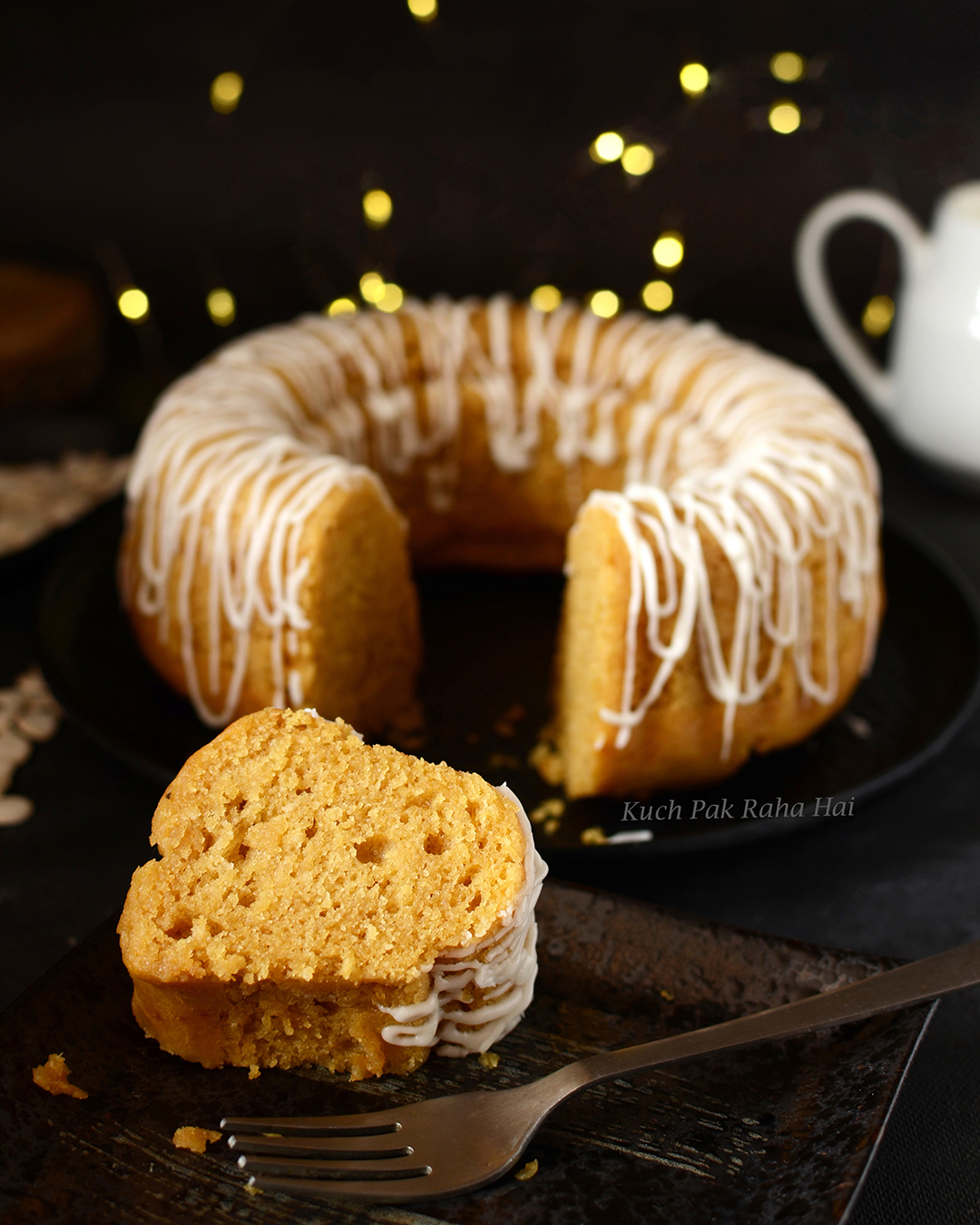 Pumpkin Puree: You can use homemade or canned pumpkin puree to make this cake. As tinned pumpkin puree cans are not easily available everywhere, I have also shared pressure cooker method to make it from scratch.
In India, we get two types of pumpkin – green & orange. I recommend using orange pumpkin as green one's puree turns out yellowish in colour & you may not get that orange hue in your cake.
Aromatics: To give this pumpkin cake lovely warm fall flavours, powdered spices like cinnamon, ginger & nutmeg are used along with vanilla. Instead of using individual spiecs, you can also use 'pumpkin spice blend' or 'pumpkin pie spice'.
Yogurt: Yogurt works as egg replacer and makes the cake tender moist. Always taste it before using as it should not be sour. If you are using homemade yogurt, discard the thin watery part and use thick part only.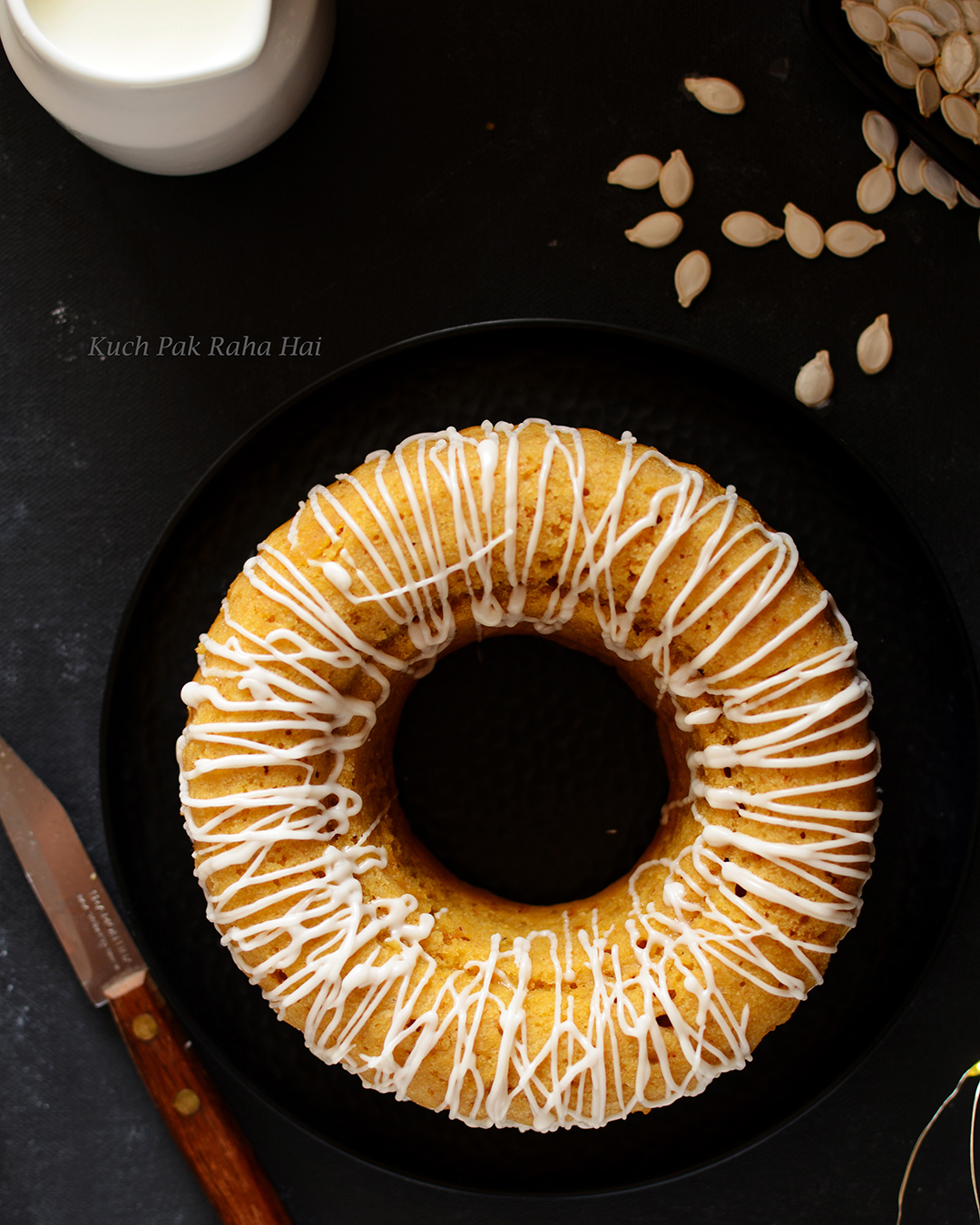 Milk: Whole milk or skimmed milk both work fine in this recipe. It adds tenderness and subtle sweetness to the cake. Always bring milk or any dairy products to room temperature before proceeding. The recipe for vanilla glaze is shared at the end of this post.
Hope you will like this yummy spiced pumpkin bundt cake. f you are looking for more pumpkin recipe, then do try Khatta Meetha Kaddu or 'Indian Pumpkin Curry'. It tastes yummy with Indian breads like paratha or poori.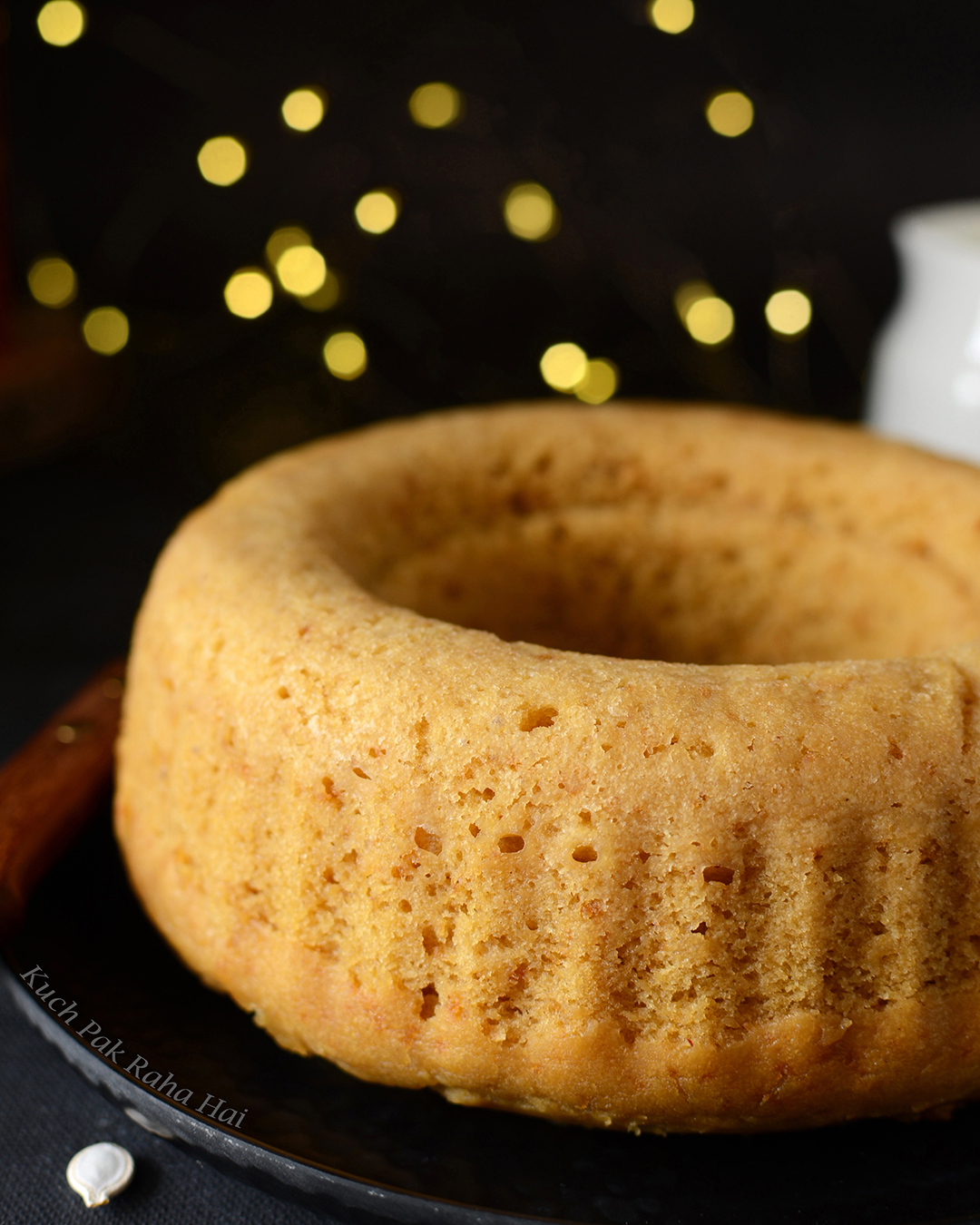 More eggless baking recipes:
Youtube Video:
Ingredients:
Whole Wheat Flour – 1/2 cup
All Purpose Flour (Maida)- 1/2 cup
Brown Sugar – 1/2 cup + 2 tbsp
Pumpkin Puree – 1/2 cup
Yoghurt (Curd) – 1/3 cup
Oil – 1/4 cup
Milk – 1/4 cup
Baking Powder – 1 tsp
Baking Soda – 1/4 tsp
Vanilla Essence – 1/2 tsp
Cinnamon Powder – 1/8 tsp
Ginger Powder – 1/8 tsp
Nutmeg Powder – 1/8 tsp
Notes:
Measuring Cup Used  1 cup=250 ml.
Incase you are planning to dust some sugar or pour icing on cake, slightly decrease the quantity of sugar in batter as per your taste. This will make sure the cake does not turn out extra sweet.

If you are making this cake with whole wheat flour only then increase the quantity of milk by 1-2 tbsp as whole wheat flour absorbs more moisture.
Directions:
Step 1: How to make Pumpkin Puree
In this step we will be making pumpkin puree in pressure cooker. If you are using canned puree, skip this step.
I have taken orange pumpkin (approx 500 grams), cleaned it & scooped out all the seeds from it. In a pressure cooker, I added 3 cups of water & kept a steamer basket inside it. On this basket I placed this pumpkin & steamed it for 2 whistles & then simmered for 5minutes.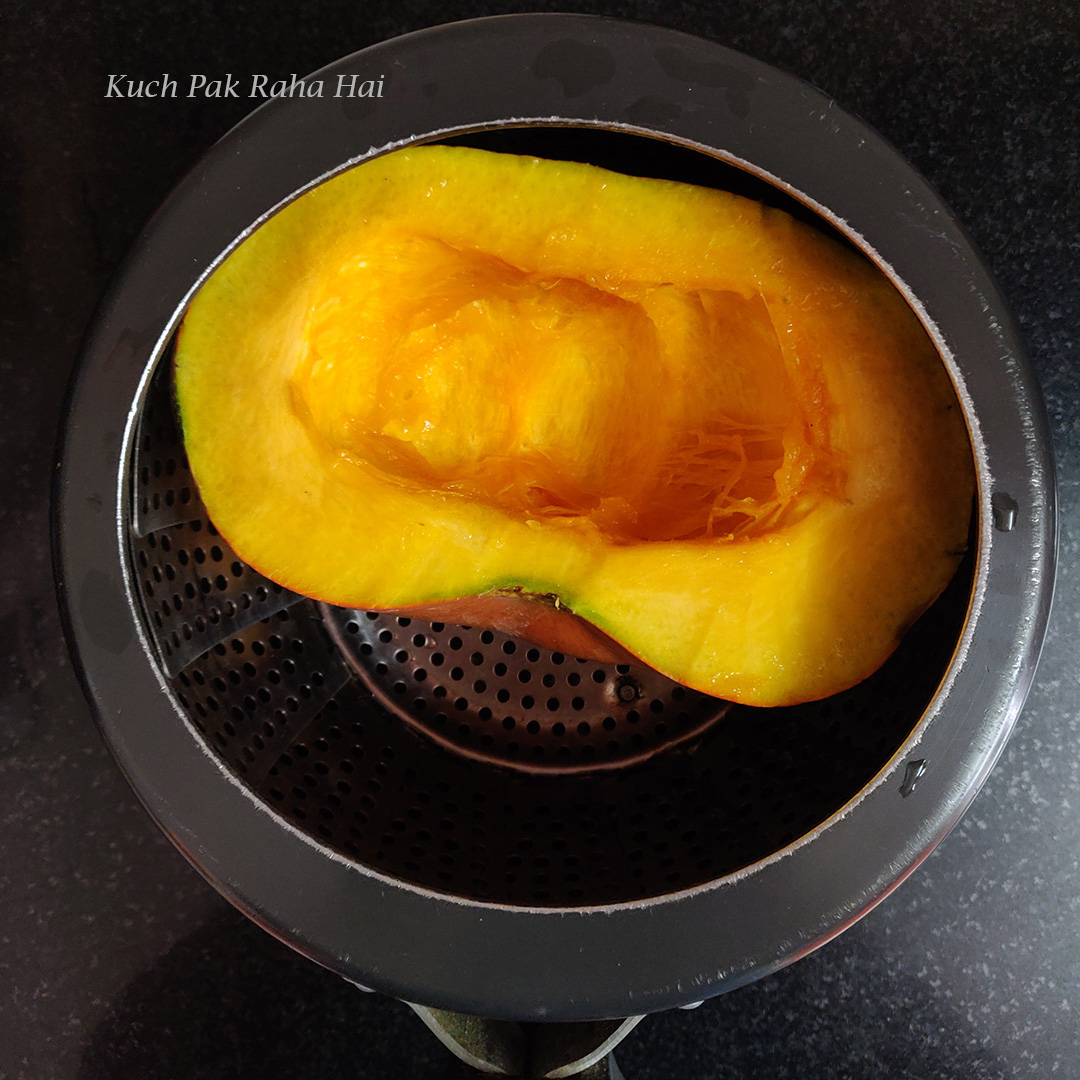 Once the pressure is released, take out the pumpkin & let it cool. Scoop out all the flesh using a spoon & blend it to make puree. We will be using 1/2 cup of this fresh home made pumpkin puree in our cake, so keep it aside for now.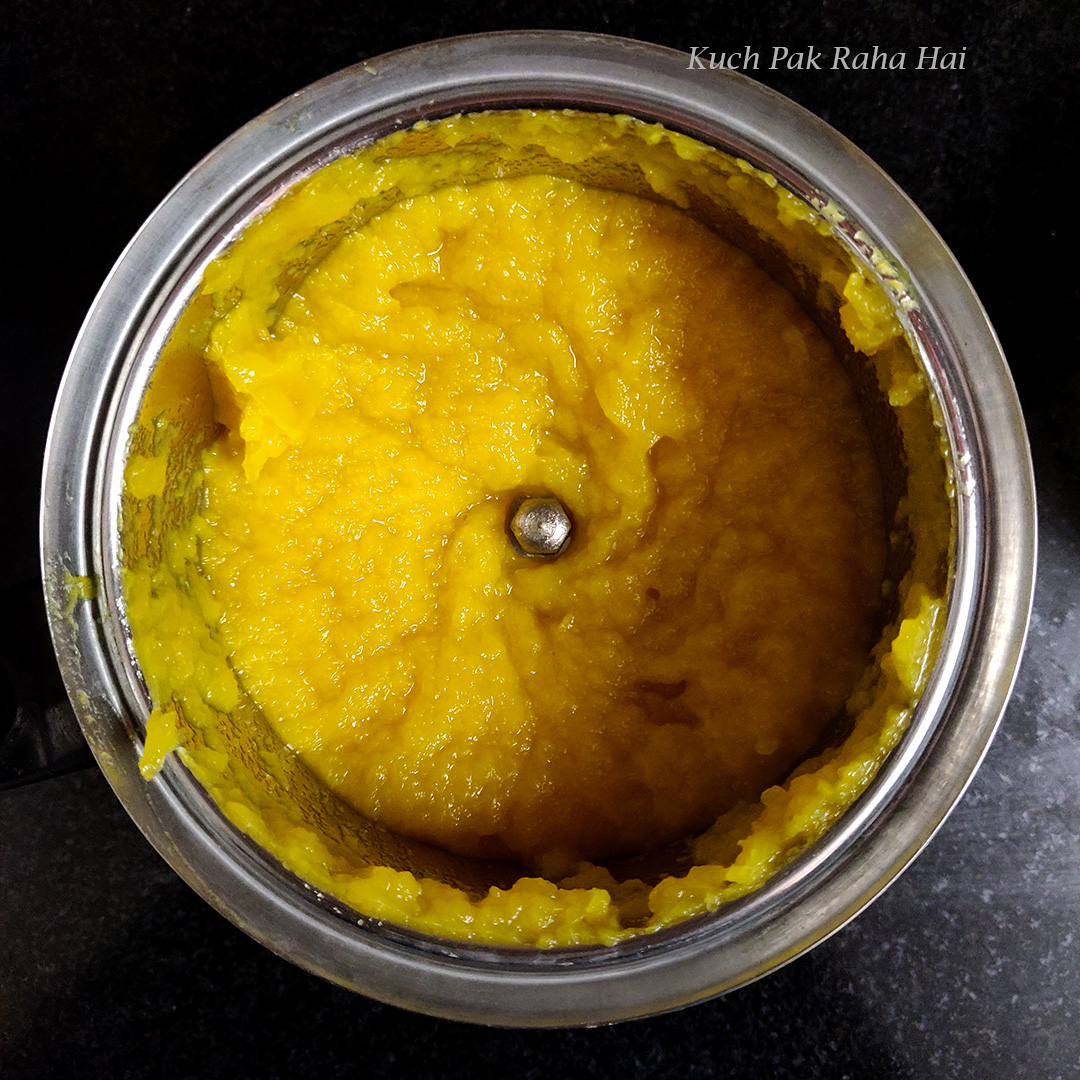 Step 2:
In a mixing bowl, whisk together yoghurt & sugar till sugar is dissolved completely. Add pumpkin puree, vanilla essence & oil to it. Mix well. Keep this bowl aside.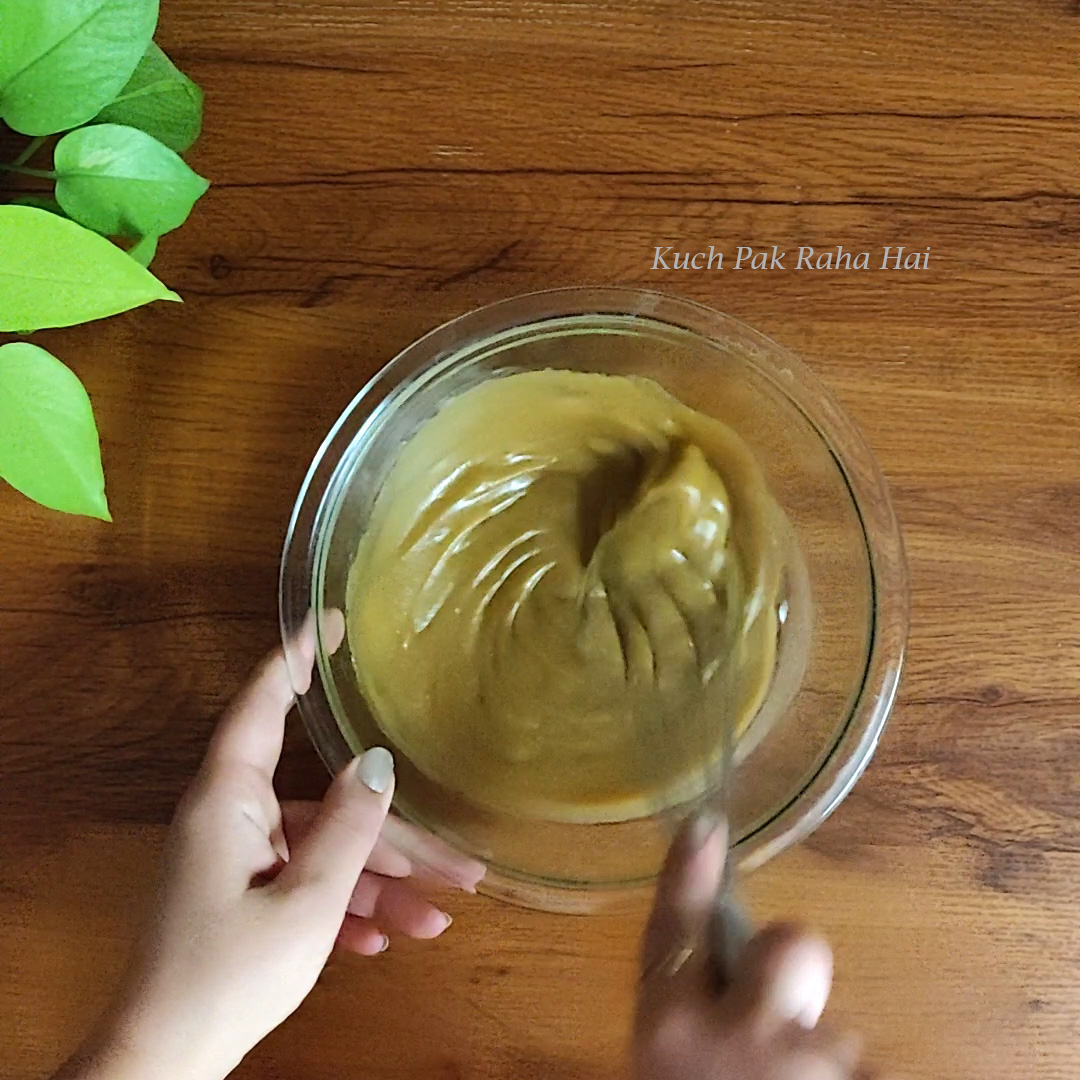 Step 3:
Sieve together whole wheat flour, all purpose flour, baking powder, baking soda & all spices (or pumpkin spice mix). Keep it aside.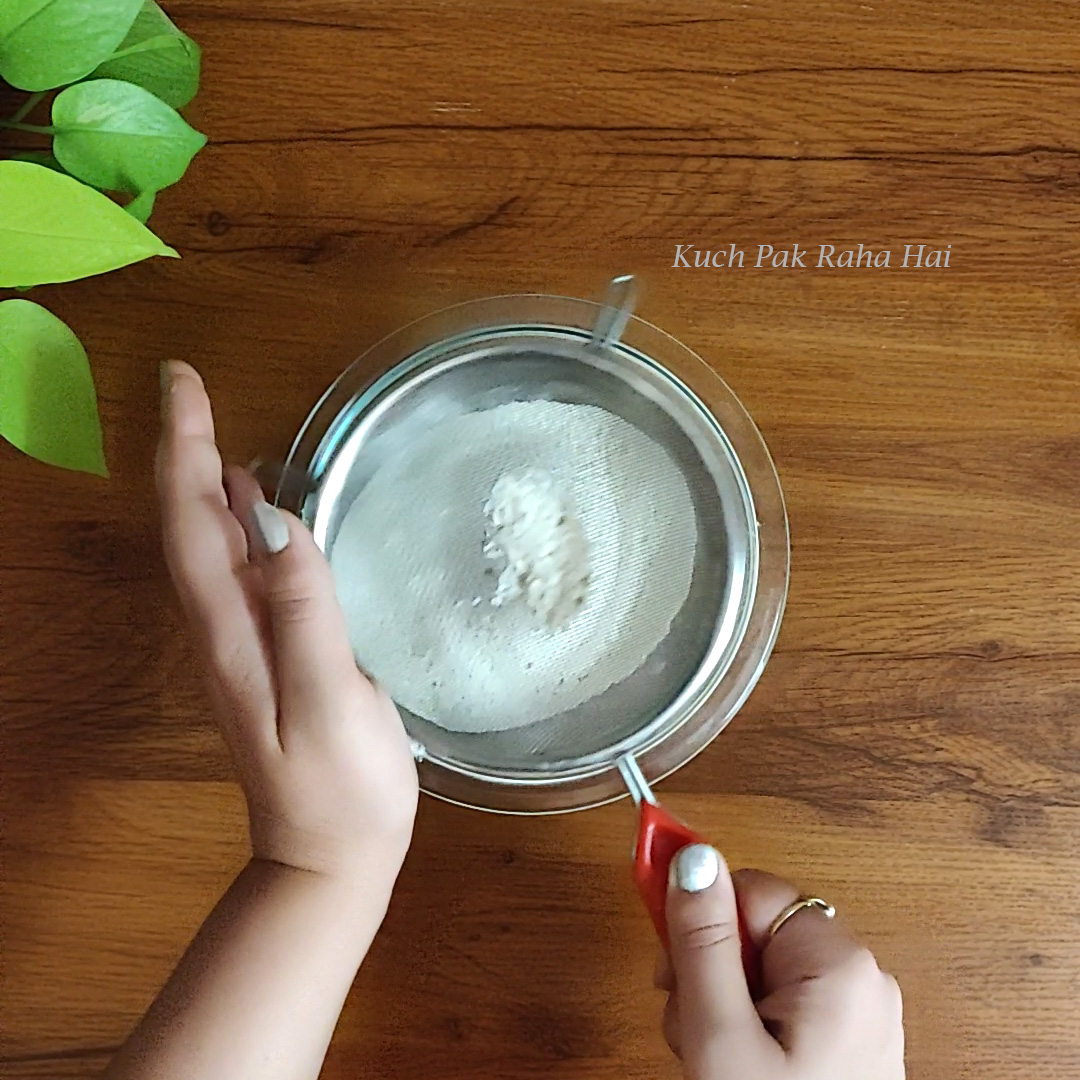 Step 4:
Set the oven for preheating at 170°C (338°F). In the mean time, lets move to next step. Brush some oil inside bundt pan & dust flour on it. This ensures that our cake does not stick to the pan.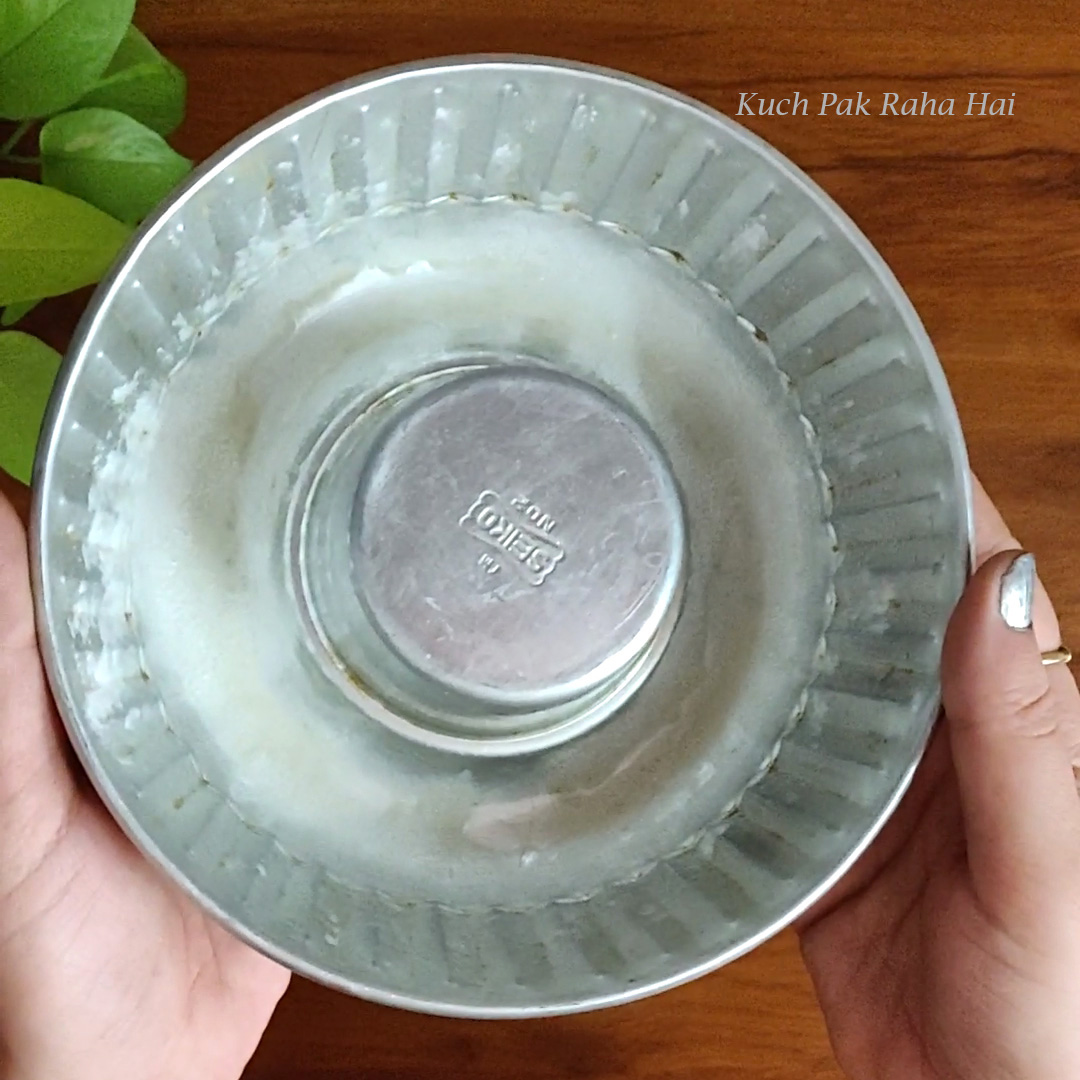 Step 5:
Start folding the sieved flour into the wet ingredients bowl gradually. Add milk little by little during folding. If you are making this cake using whole wheat flour only you may require 1-2 tbsp more milk.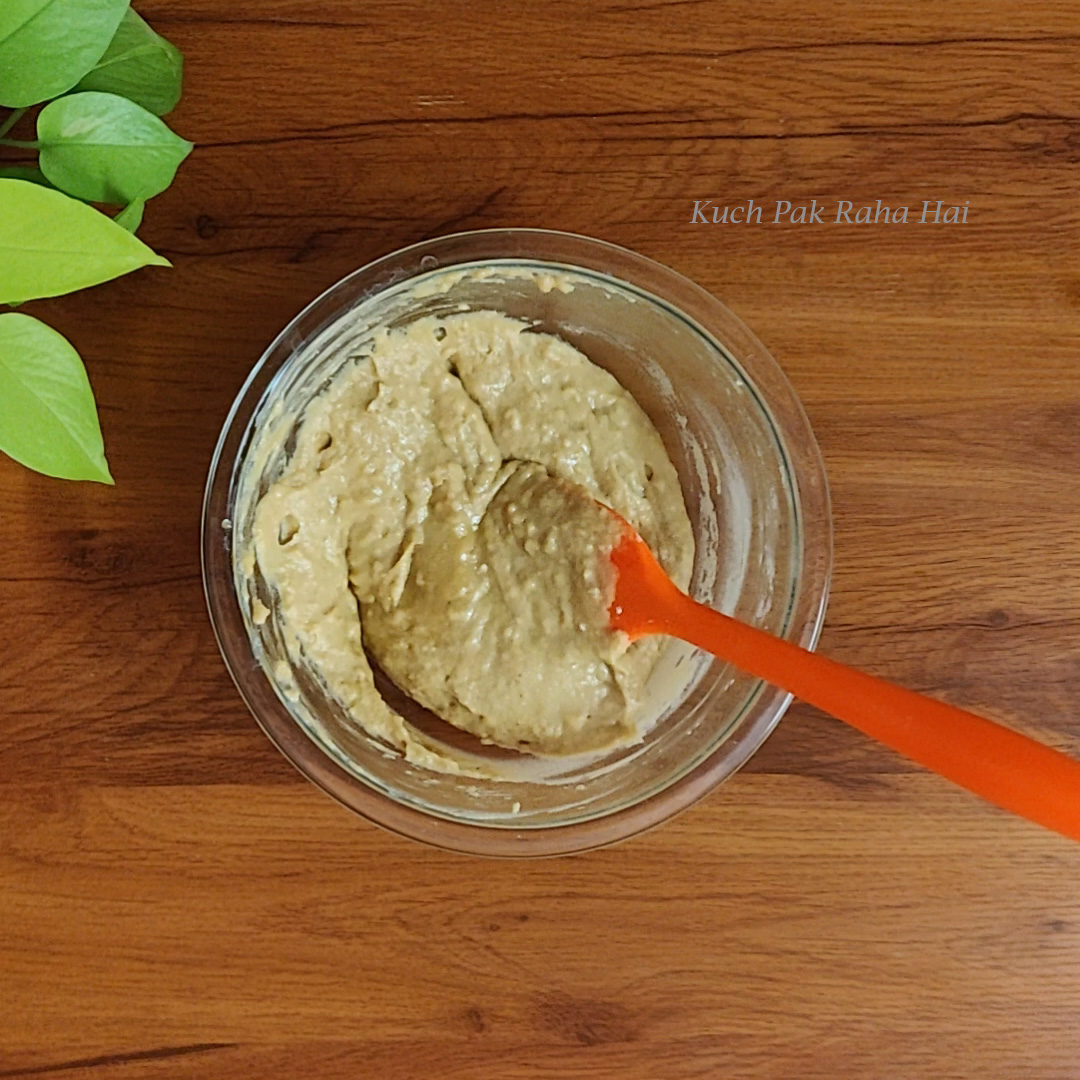 Step 6:
Pour this batter in prepared cake tin & bake at 170°C (338°F) for 30 minutes.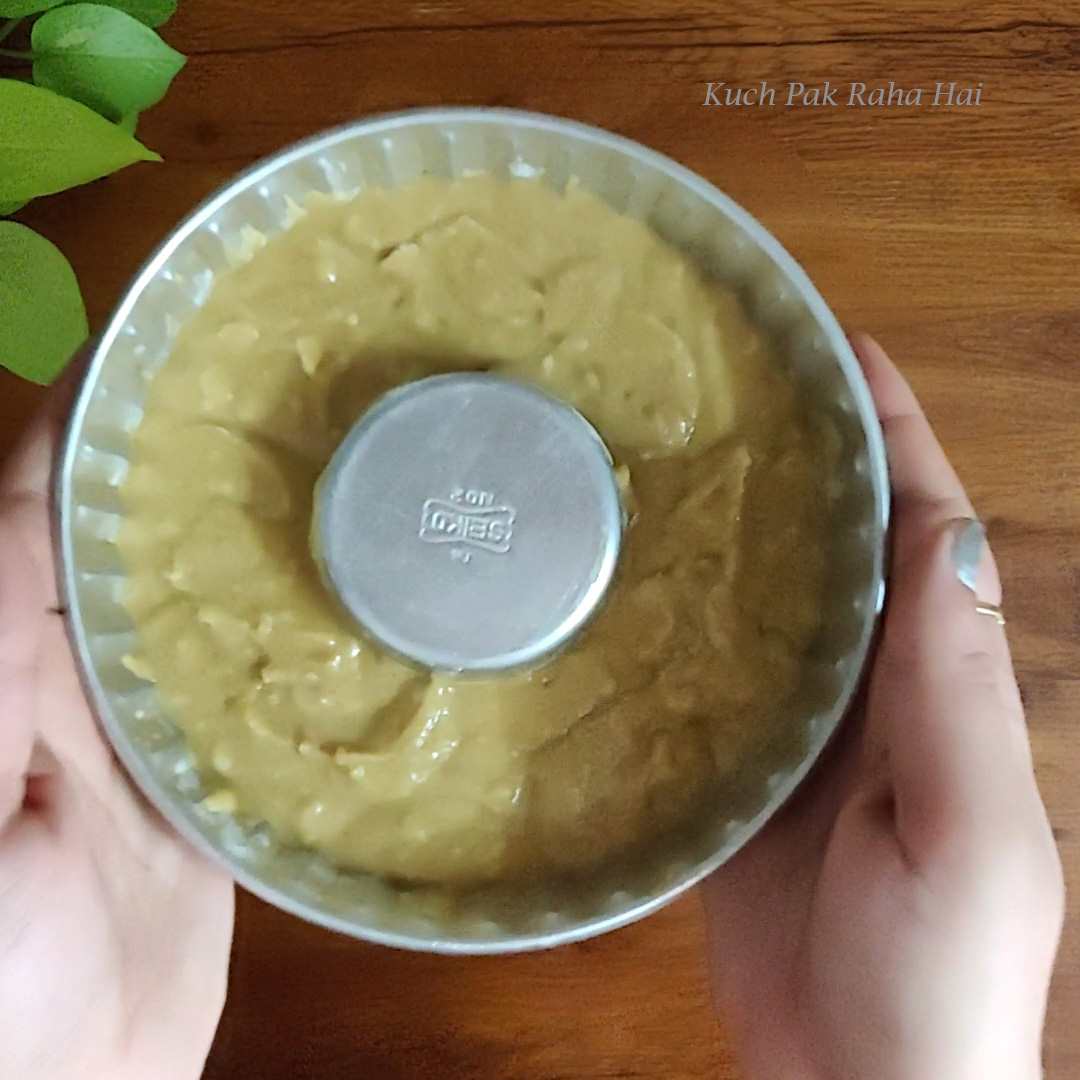 After 30 minutes check the inside of the cake using toothpick or knife. If it comes out clean the cake is ready, else bake for 2-3 minutes more. Bring it out of oven & after 10-15 minutes, invert it over a wire rack. Let the cake cool down completely on a wire rack.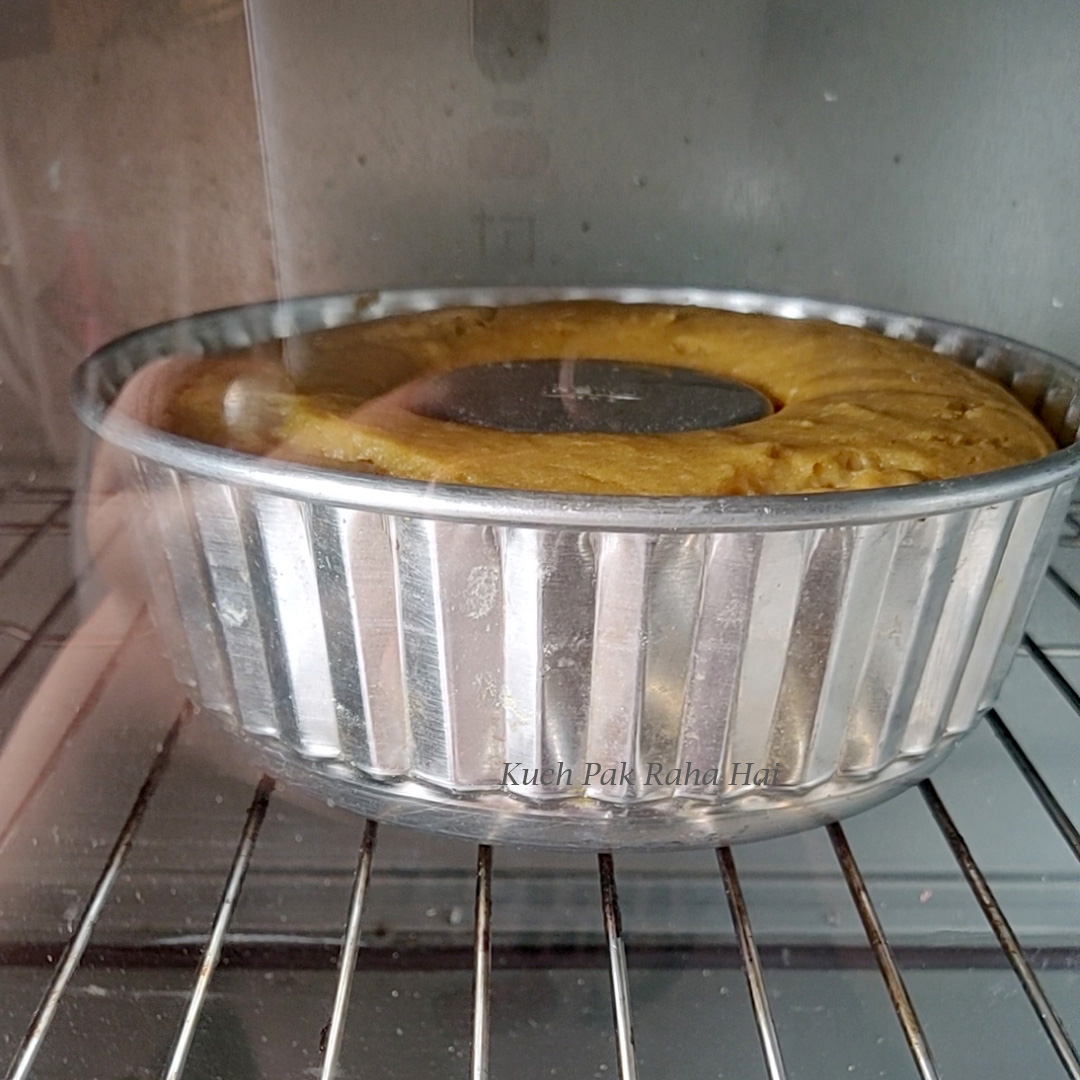 Serving suggestion:
You can dust some sugar on it or pour vanilla glaze as shown in picture. To make vanilla glaze you will need below ingredients. Mix them well & drizzle over the cake using a spoon or piping bag.
Powdered Sugar – 1/2 cup
Milk – 1/2 tbsp
Vanilla Essence – 2 to 3 drops
Cinnamon (powdered)- 1/4 tsp (optional)
Enjoy this delicious egg free pumpkin cake with a cup of hot chocolate or latte. Bon Appetit !!
Pin for later :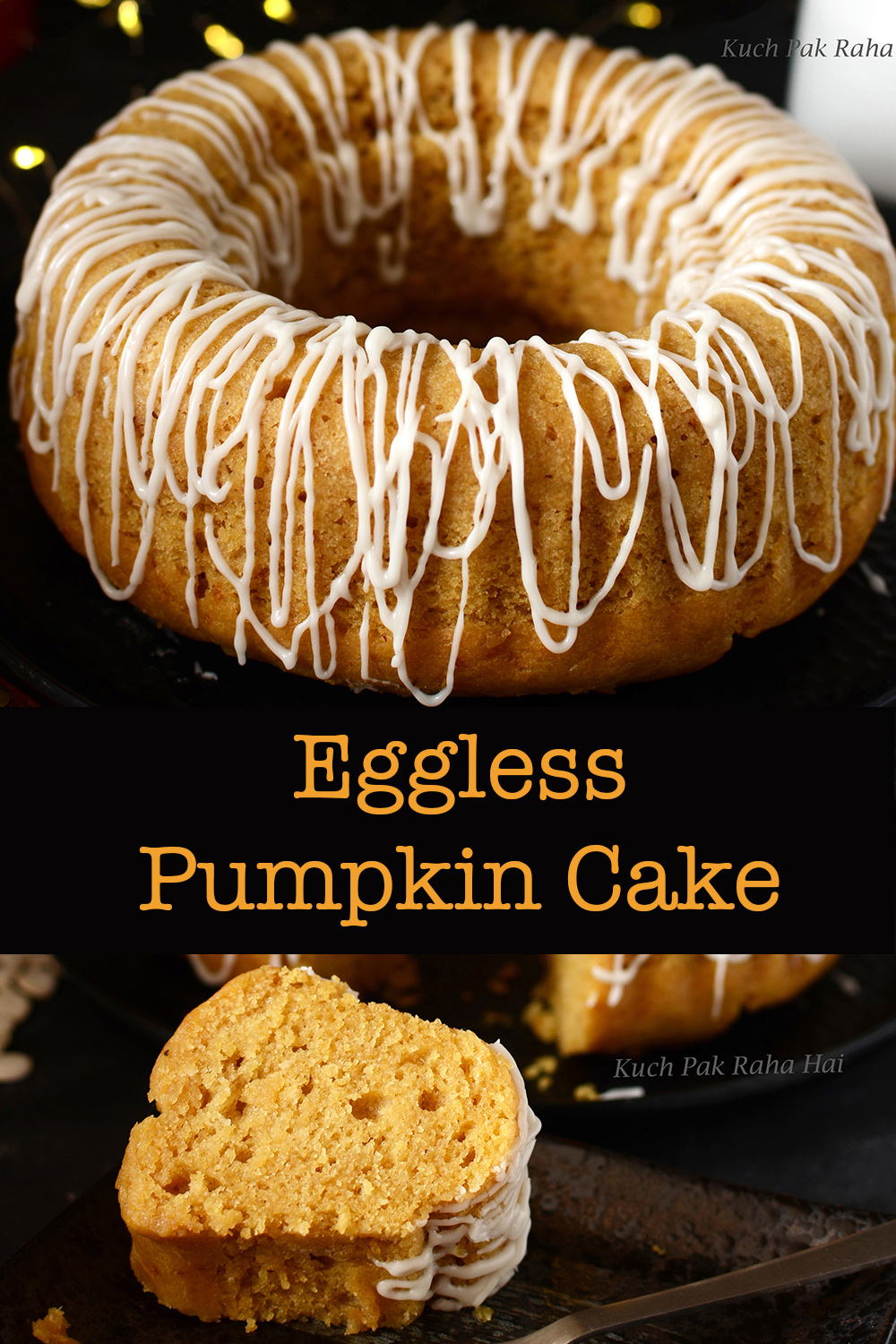 If you try this easy pumpkin cake recipe & share pics on social media, then don't forget to tag on Facebook, Instagram or use #kuchpakrahahai.