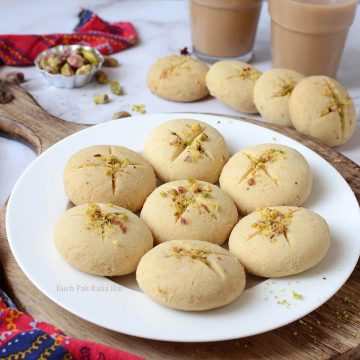 Nankhatai are popular Indian shortbread cookies flavoured with cardamom (elaichi). They are made with flour, sugar, ghee (clarified butter) and are great to serve with tea or coffee.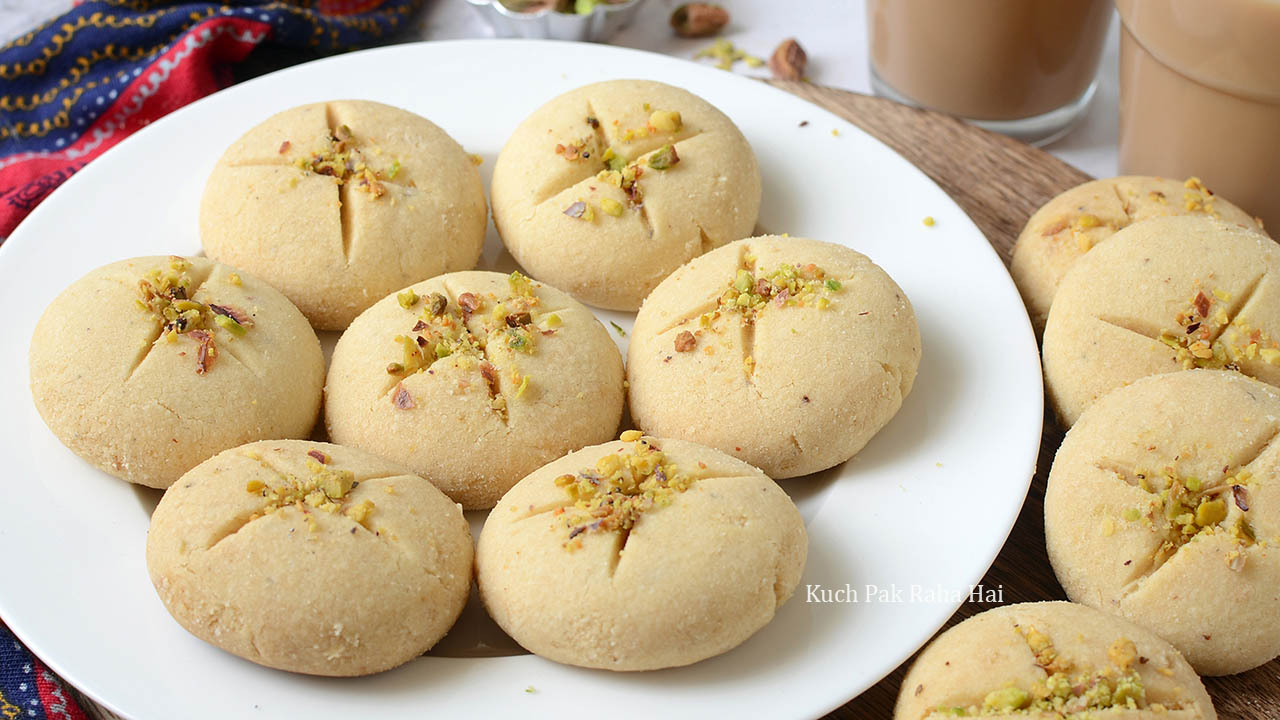 This is an easy nankhatai recipe which you can make and store for few days especially on festivals like Diwali, Holi, Rakshabandhan. They are also ideal for edible gifting or can be packed in kids lunch box as quick snacks.
The nankhatai recipe I am sharing here is a family recipe taught to me by my mom. I just love the way they turn out buttery, crispy with melt in the mouth texture. Every home or bakery shop has their own recipe for nankhatai. Some people also add besan (gram flour) & sooji (semolina) to it but I have made them with only all purpose flour or maida.
The nankhatai cookies are characterised by subtle cracks on its surface, crispy exterior and crumbly insides. In hindi, the word 'khasta'  is often used to describe the texture of nan khatai. You can make nankhatai in oven or make it without oven too (the method for it is explained in the end of post).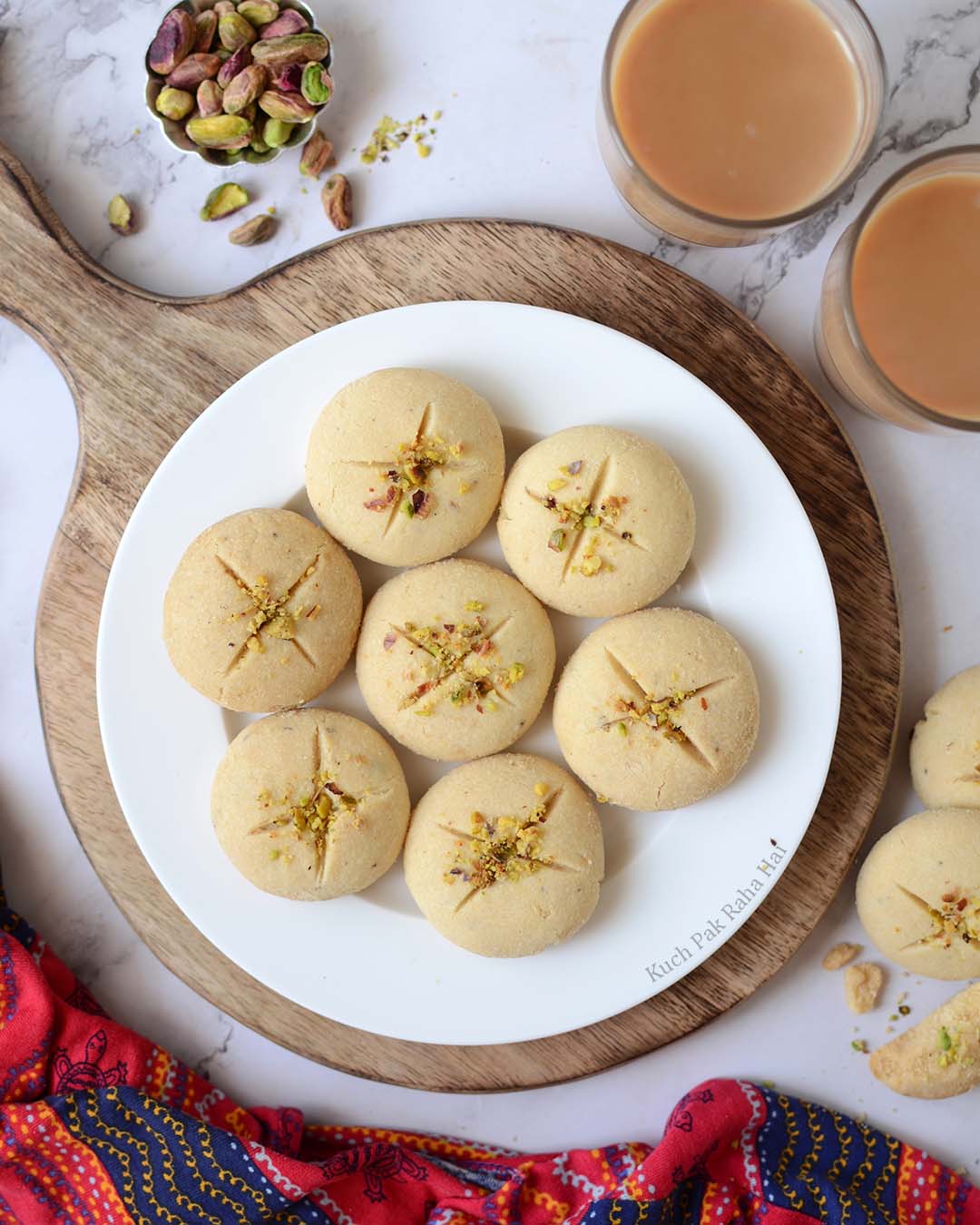 Ingredients required to make Nankhatai:
Flour– To make these nankhatai cookies, I have used all purpose flour or maida. Though these can be made with whole wheat flour also but to get bakery style nankhatai it is better to use maida.
Sugar– Powdered sugar is used in this recipe which can be made by fine grinding regular granulated sugar.
Ghee– Ghee, also known as clarified butter, gives nankhatai a beautiful aroma and richness. However you can also use hydrogenated vegetable oil or vegetable shortening if you want to make nankhatai without ghee.
Cardamom (Elaichi)– Cardamom seeds are crushed and added to nankhatai cookies which give them a pleasing aroma. You can use store bought cardamom powder or crush fresh cardamom seeds in mortar pestle.
Salt- A pinch of salt enhances the taste of these nankhatai. Though the quantity may seem small but it definitely brings out the taste in cookies
As a kid I have always identified nankhatai at my home or in local bakery shops with its criss cross centre topped up with some crushed pistachios. You can even used some crushed almonds or cardamom powder on top of these nankhatai cookies.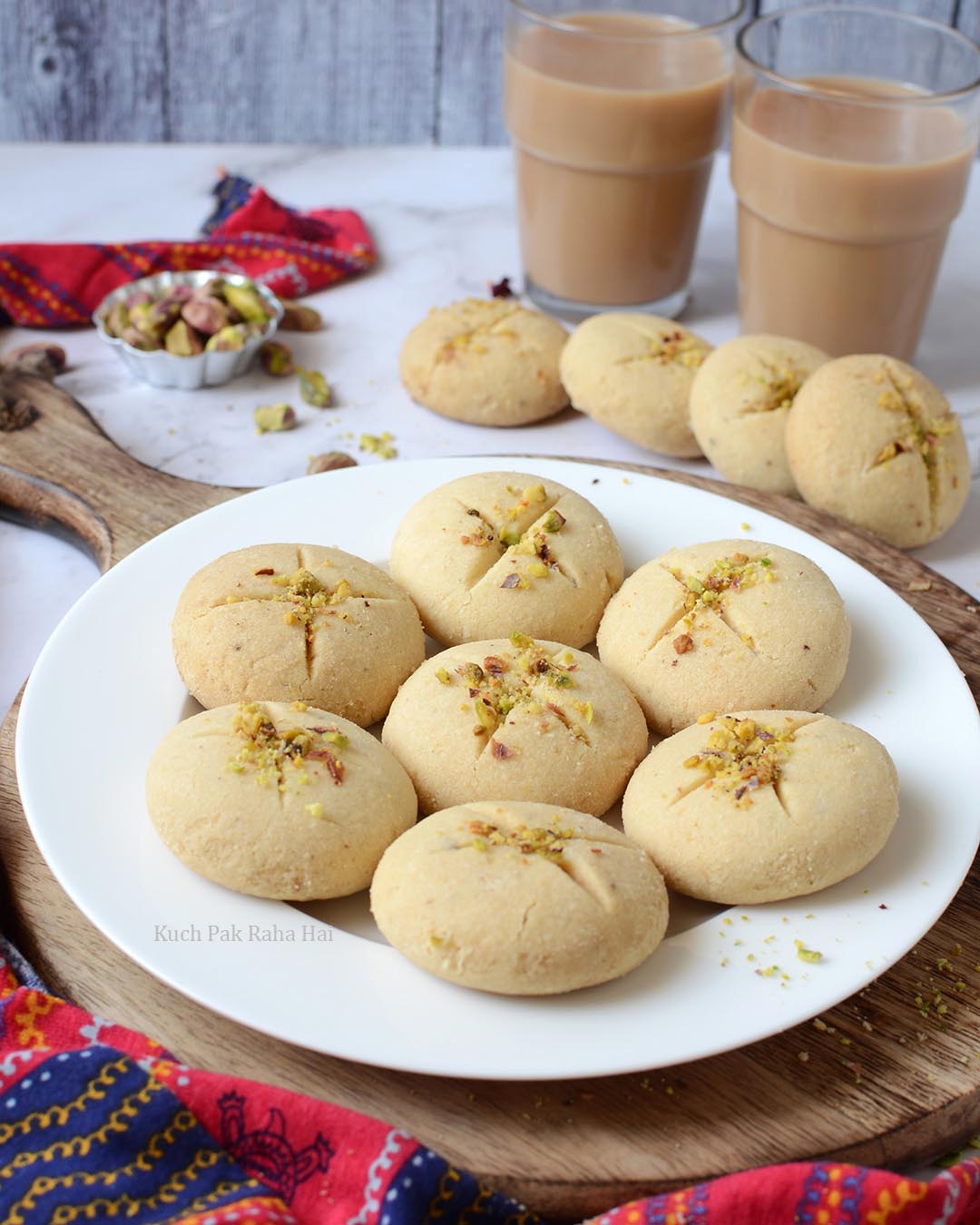 I have shared a youtube video for this nankhatai recipe. If you like watching food videos, don't forget to subscribe to the channel 🙂
Youtube Video:
More such eggless tea time cookies / biscuits recipe:
Hope you would like this easy nankhatai recipe. Do check out the tips and tricks at the end.
Ingredients:
All Purpose Flour (Maida)- 1 cup (115 grams)
Ghee (Clarified Butter)- 1/3 cup (70 grams)
Powdered Sugar- 1/2 cup (75 grams)
Baking Powder-1/4 tsp
Baking Soda-1/4 tsp
Cardamom (Elaichi)- 4
Salt- A pinch
Crushed Pistachios- 2 tbsp (optional)
Notes :
Use semi solid ghee at room temperature for making nankhatai.
To make powdered sugar, grind the regular sugar in a grinder jar. You can even add cardamom seeds to it while grinding.
To make vegan nankhatai (dairy free), you can use vegetable shortening instead of ghee.
If you want to make nankhatai nut free, feel free to skip pistachios or replace it with some powdered cardamom.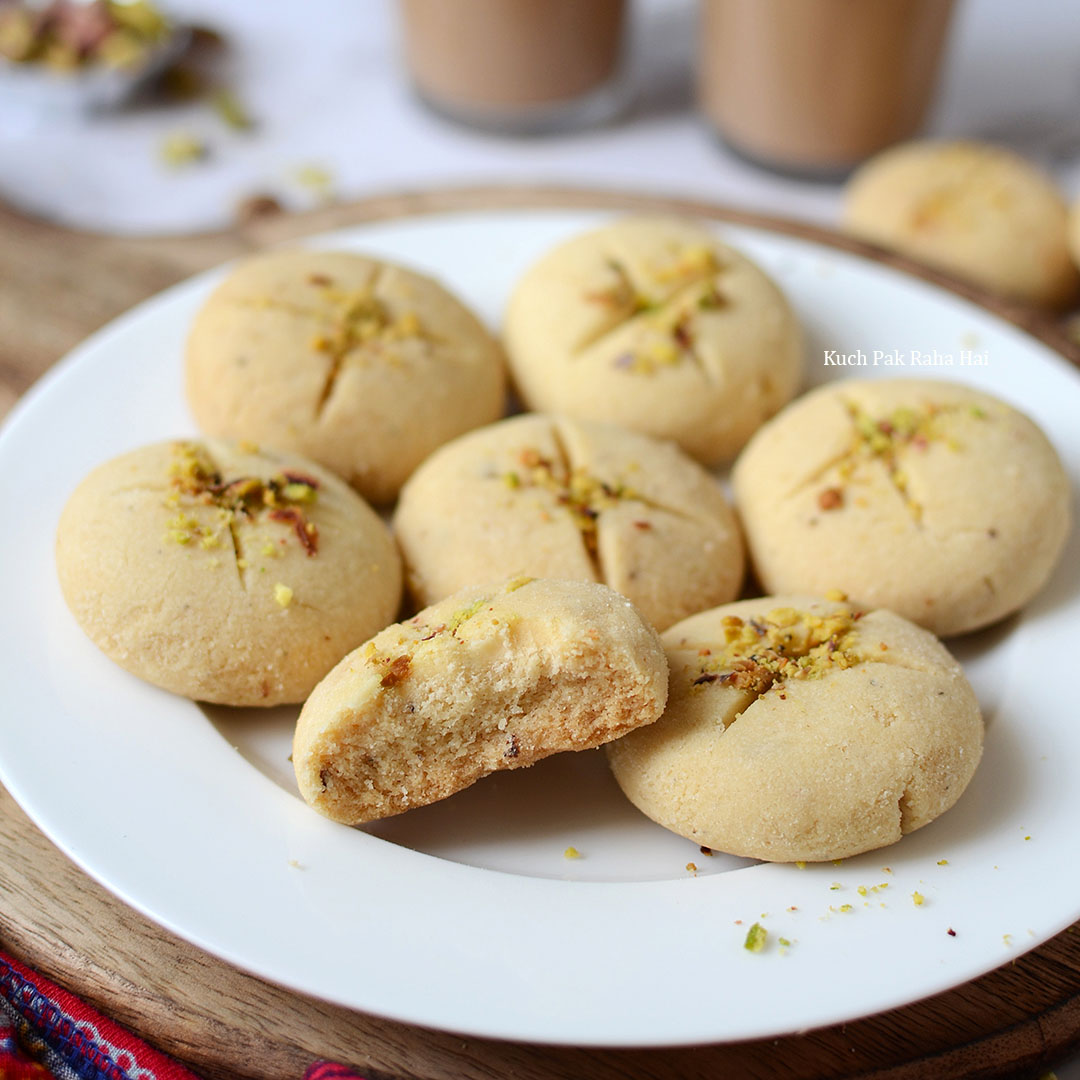 Directions:
Step 1:
Sieve together flour, baking powder, baking soda and salt. Keep it aside.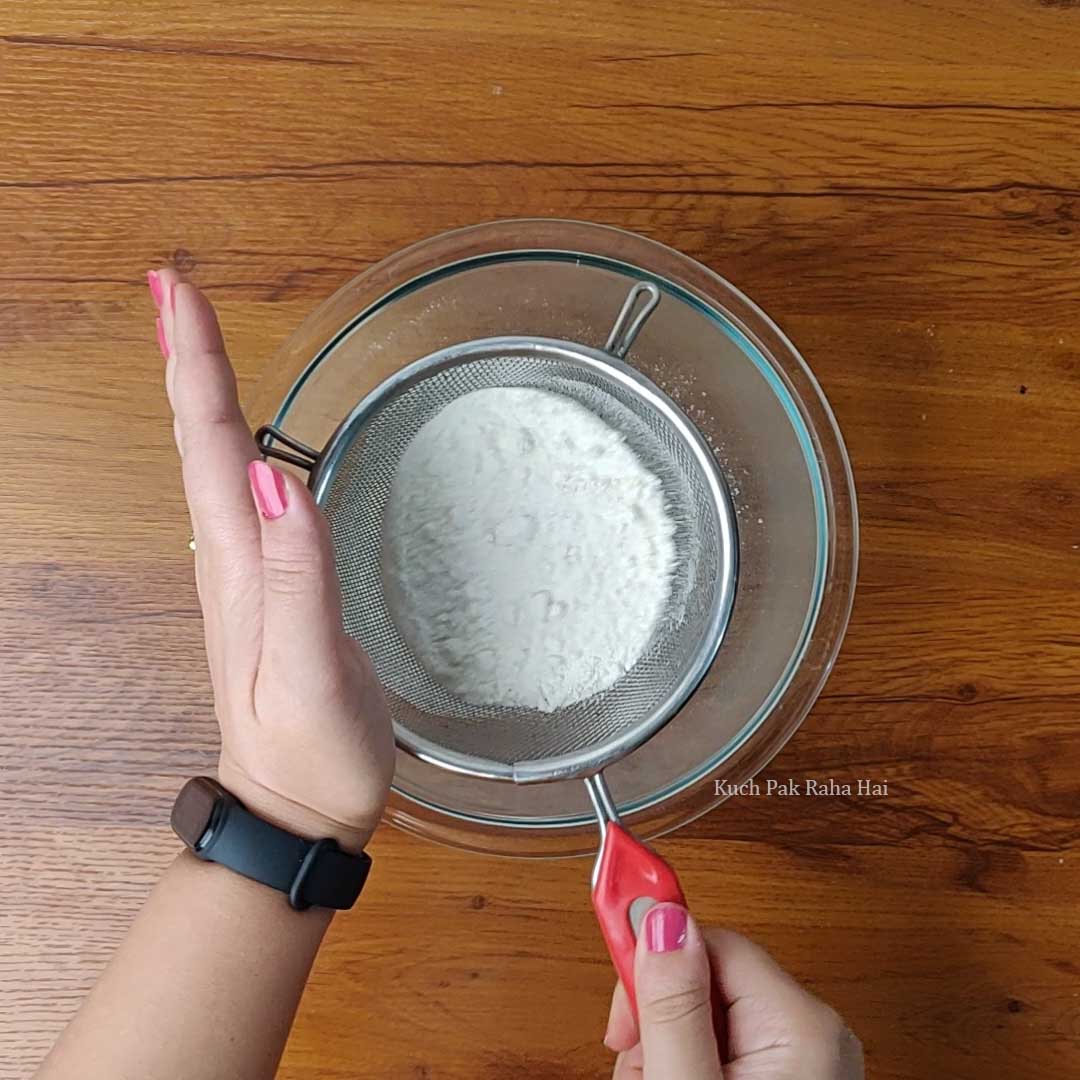 Step 2:
Take ghee in a mixing bowl. Add powdered sugar and cardamom (elaichi) to it. Whisk well till the mixture becomes fluffy and light in colour.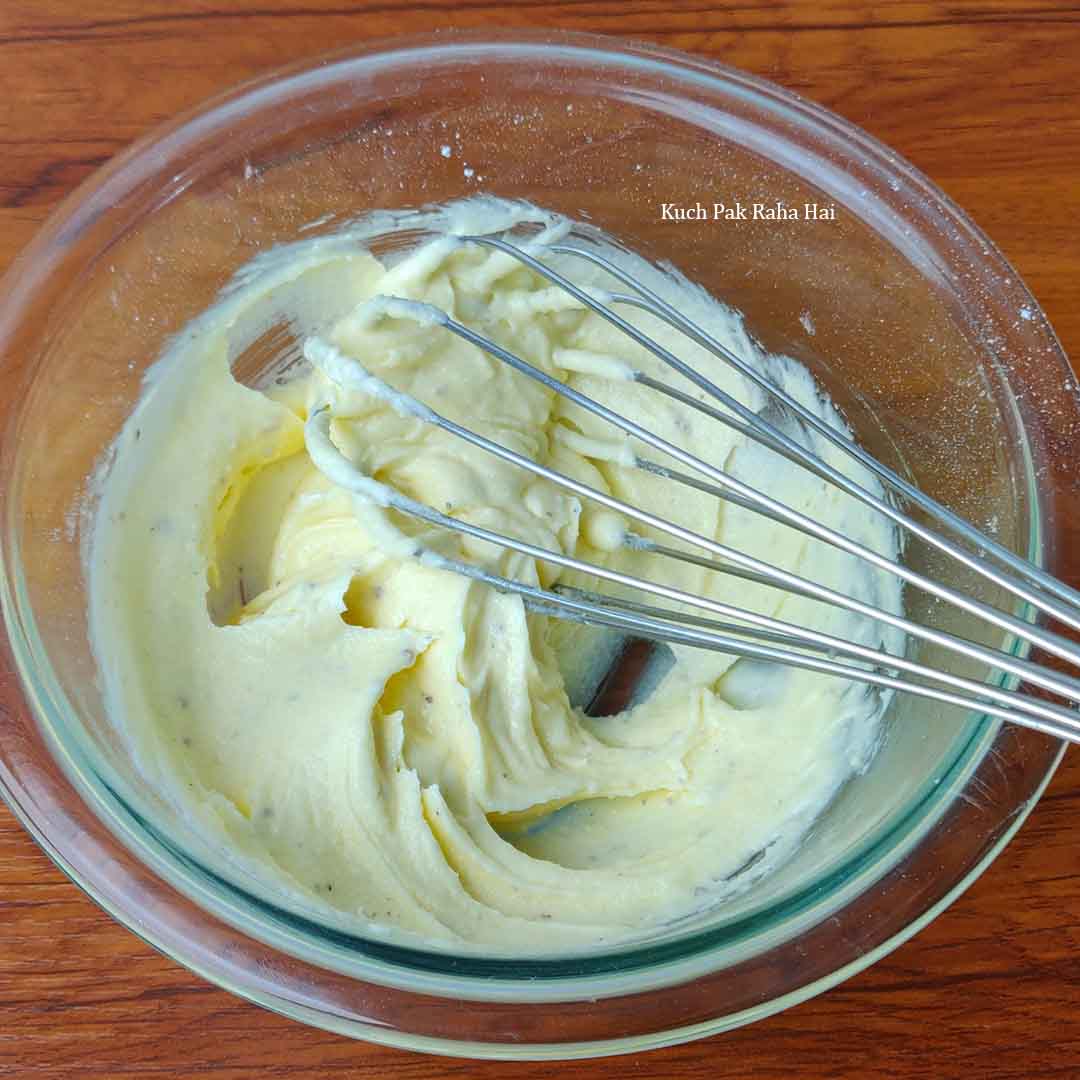 Step 3:
Add the sieved flour to the whisked ghee and sugar. Using your hands or spatula bring together all ingredients to make smooth dough. Do not knead.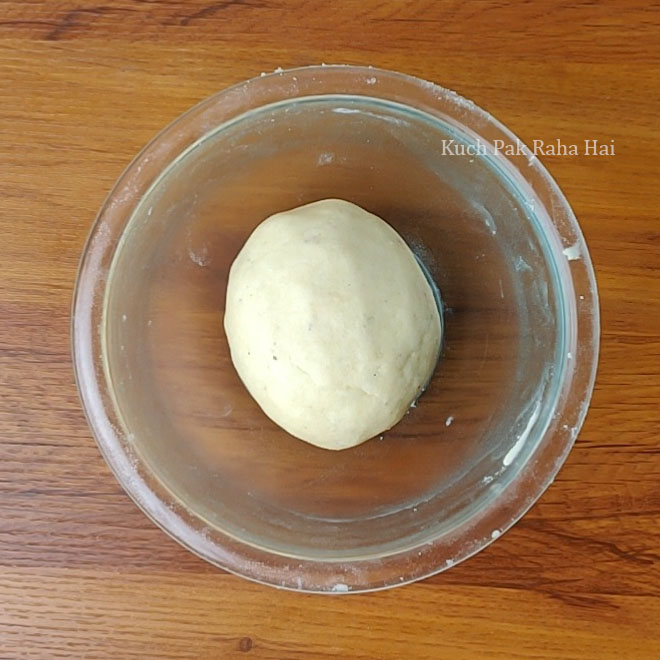 Step 4:
Set the oven for preheating at 180 degrees Celsius. By the time oven is preheating divide the dough into 9 or 10 equal size portions and make smooth balls.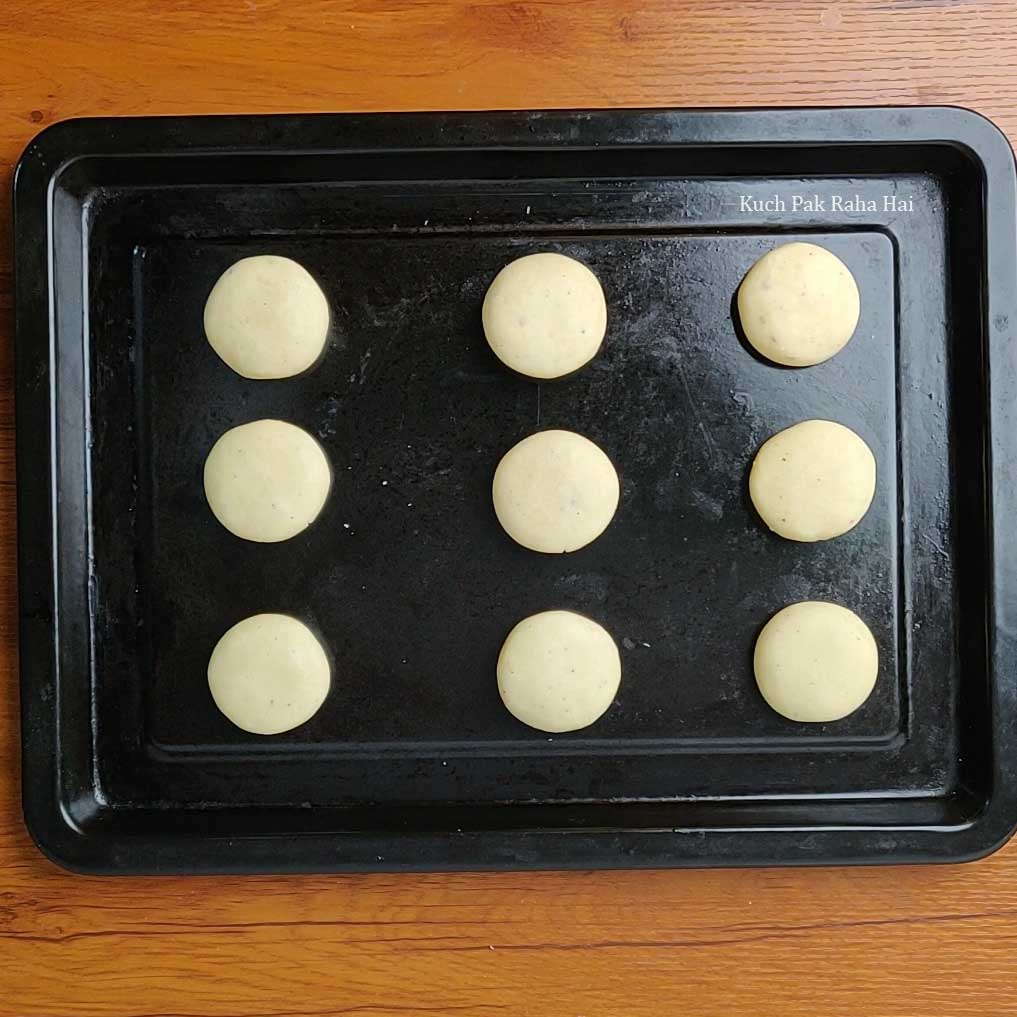 Step 5:
Arrange them on a baking tray leaving space between them as the nankhatai tends to spread while baking. Make criss cross marks on their top using a knife and sprinkle crushed pistachio in the centre.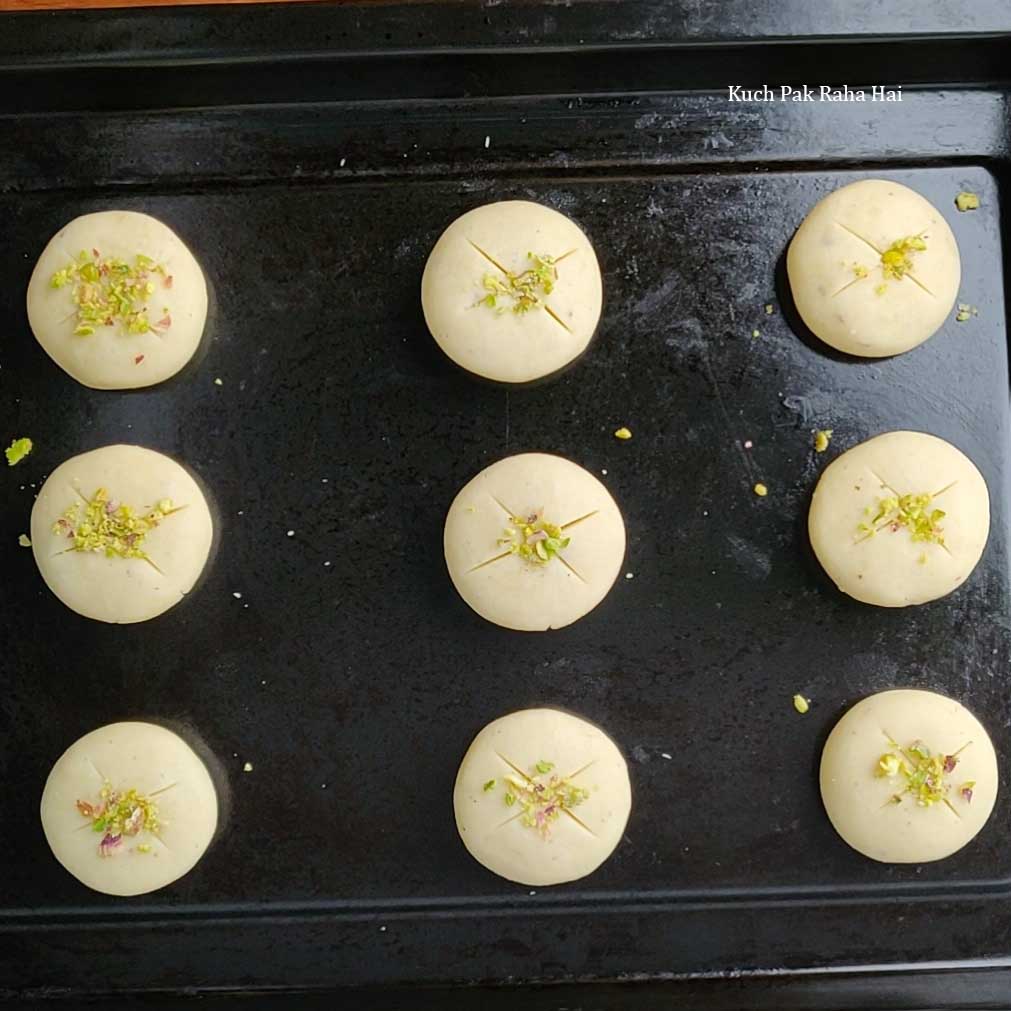 Step 6:
Once the oven is preheated, bake these cookies at 180°C for first 5 minutes and them 25 minutes at 160°celsius. Remember to lower the temperature from 180 to 160.  Check the base for golden brown colour else bake for another 5 minutes.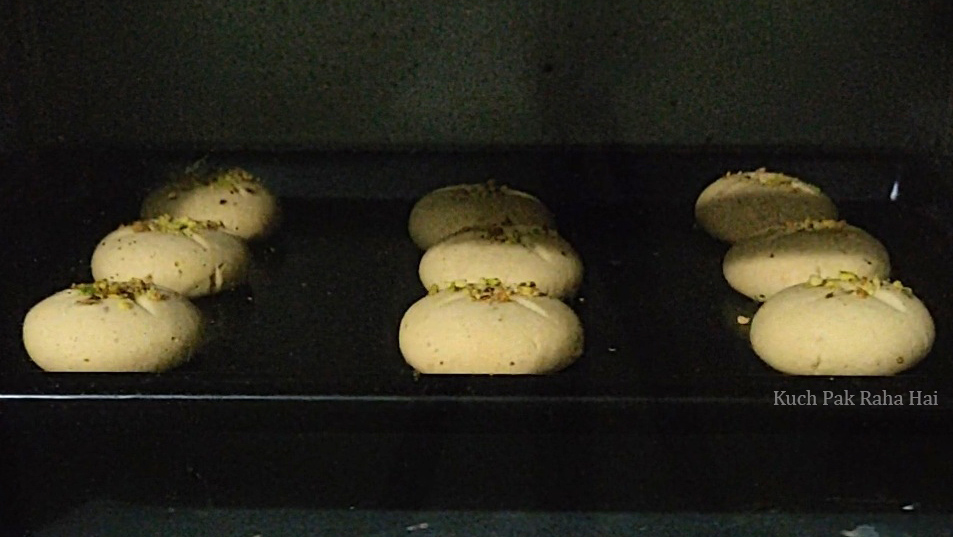 Step 7:
Once the cookies are out of oven they will still be soft. Let them cool down on baking tray only for 5-8 minutes. Then transfer then on a wire rack to cool down completely.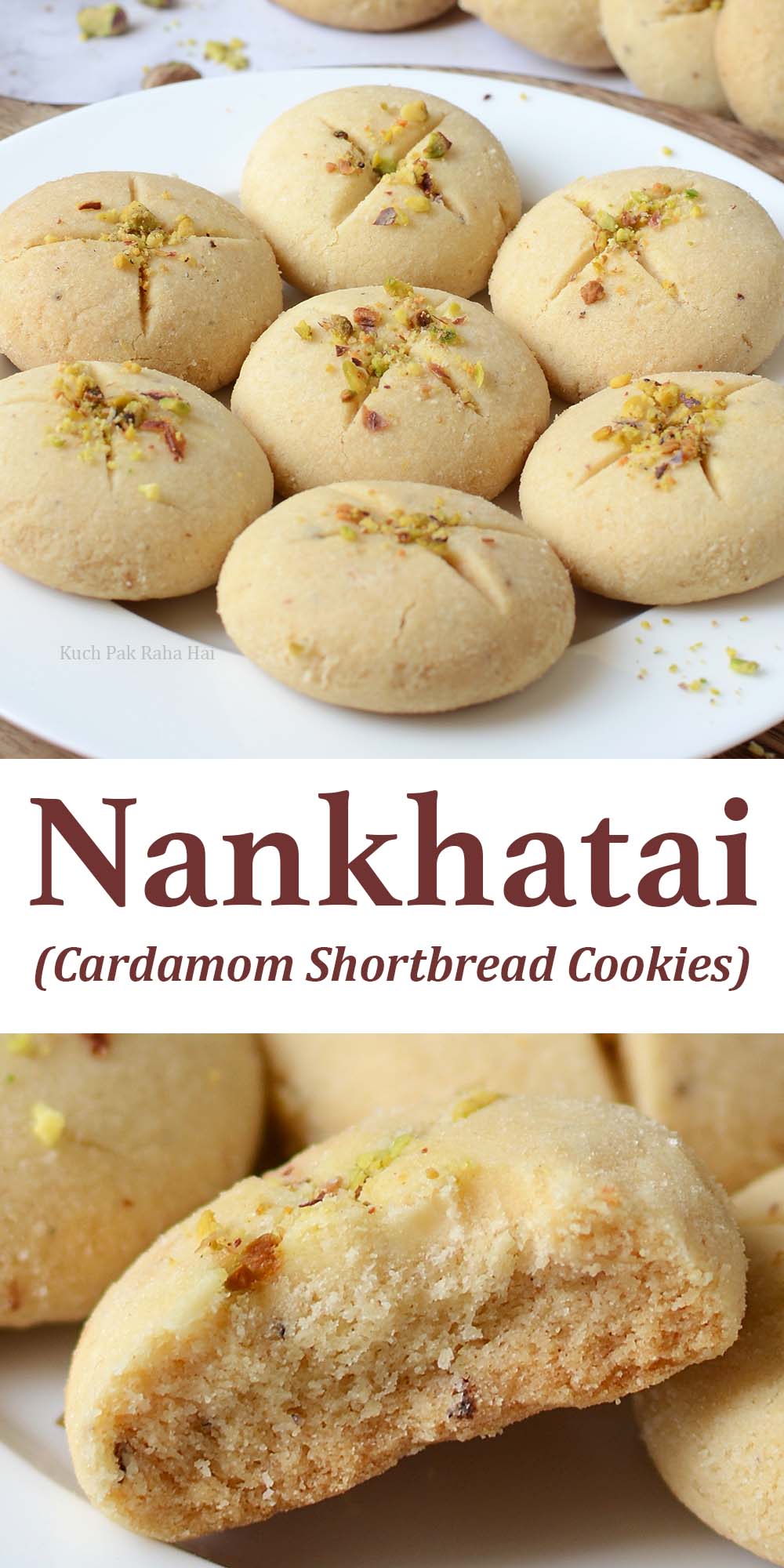 Enjoy these delicious nankhatai with tea or coffee.
How to store Nankhatai?
Store them in an airtight container at all times. These remain good for 10 to 12 days. Because of their long shelf life they can also carried while travelling.
Tips :
1. Do no knead the nankhatai dough as we don't want to form gluten. Mix them enough to get the mixture together.
2. In summers sometimes the ghee starts melting quickly making the dough sticky. Keep it in fridge for 10 minutes and then try to work it out.
3. If you are not able to bind the dough add 1-2 tsp of ghee more.
How to make nankhatai without oven?
To make nan khatai without oven, take heavy bottomed pan & add 2-3 cups of salt to it. Cover it with a lid (use metal lid not glass one) and let it heat on medium flame for 15 minutes (this is preheating step). Arrange the cookies on a plate in a plate or tray that can fit into this vessel. Keep a metal stand inside the vessel first & then keep this plate over it. Cook for 20-25 minutes till the edges near the base start to change colour.
If you try this easy homemade nankhatai recipe & share pics on social media, then don't forget to tag us on Facebook or Instagram or use the hashtag #kuchpakrahahai.