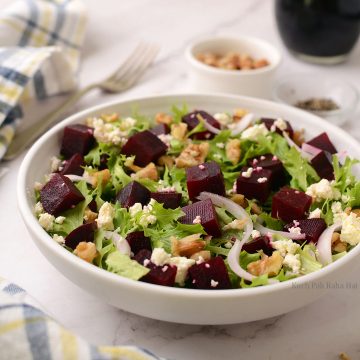 Delicious flavoursome healthy beet salad with earthy roasted beetroots, creamy feta and crunchy walnuts. The salad is tossed in an easy peasy balsamic vinaigrette dressing which takes its flavours a notch higher!!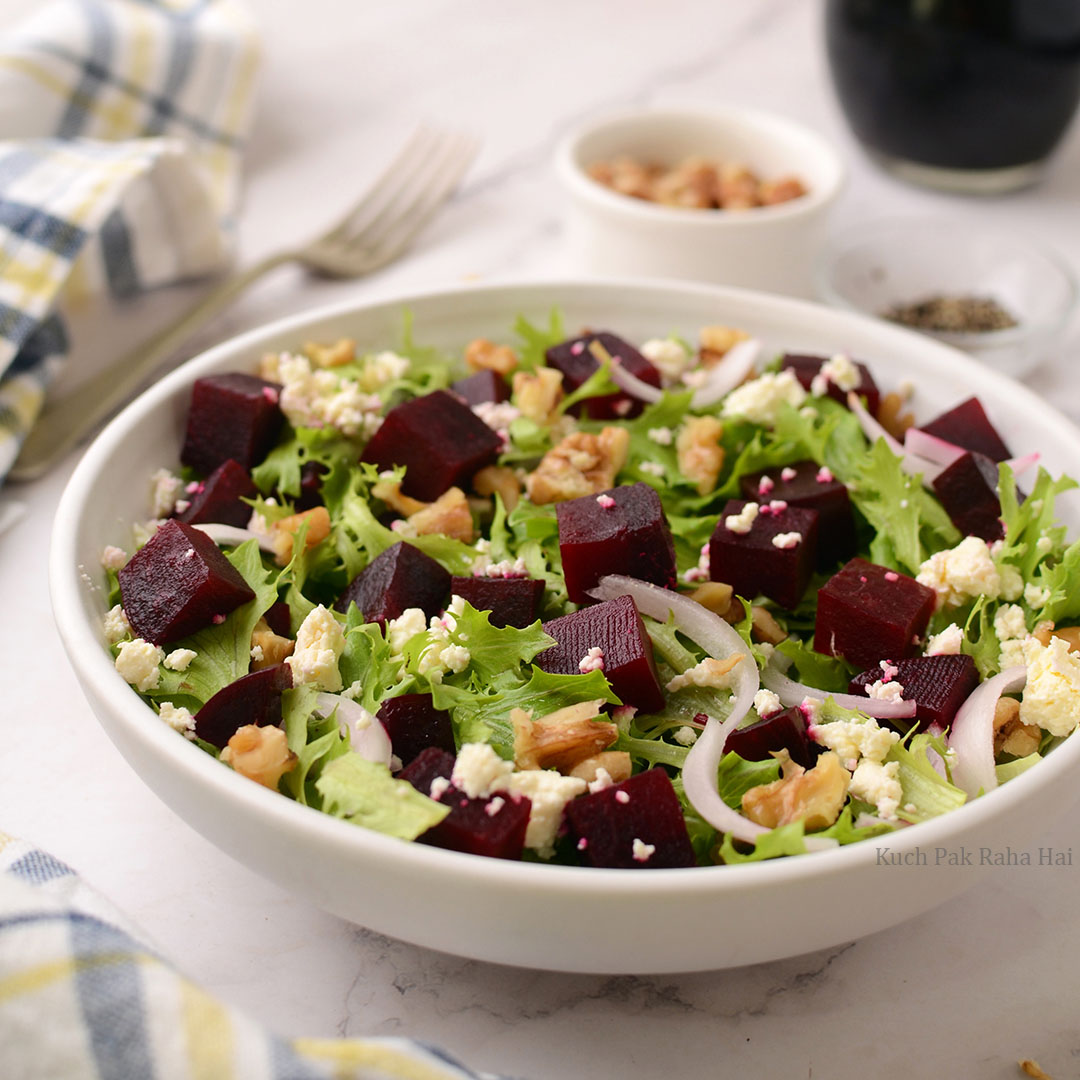 This beetroot salad is:
Healthy
Gluten Free
Vegan (skip feta or use vegan feta)
Easy to make
And so delicious..!!
My husband who hates salad ate it without complaining and even complimented its taste. So even if you are someone who is not fond of salads I can totally assure you that this tasty beet salad is not like other bland salads and will definitely make you reach for second serving.
In this salad recipe we have used oven roasted beetroots as the roasting process brings out its deep flavours and slightly caramelises it. The salad is great to serve as side dish or it can easily replace a meal as it is quite filling and satisfying.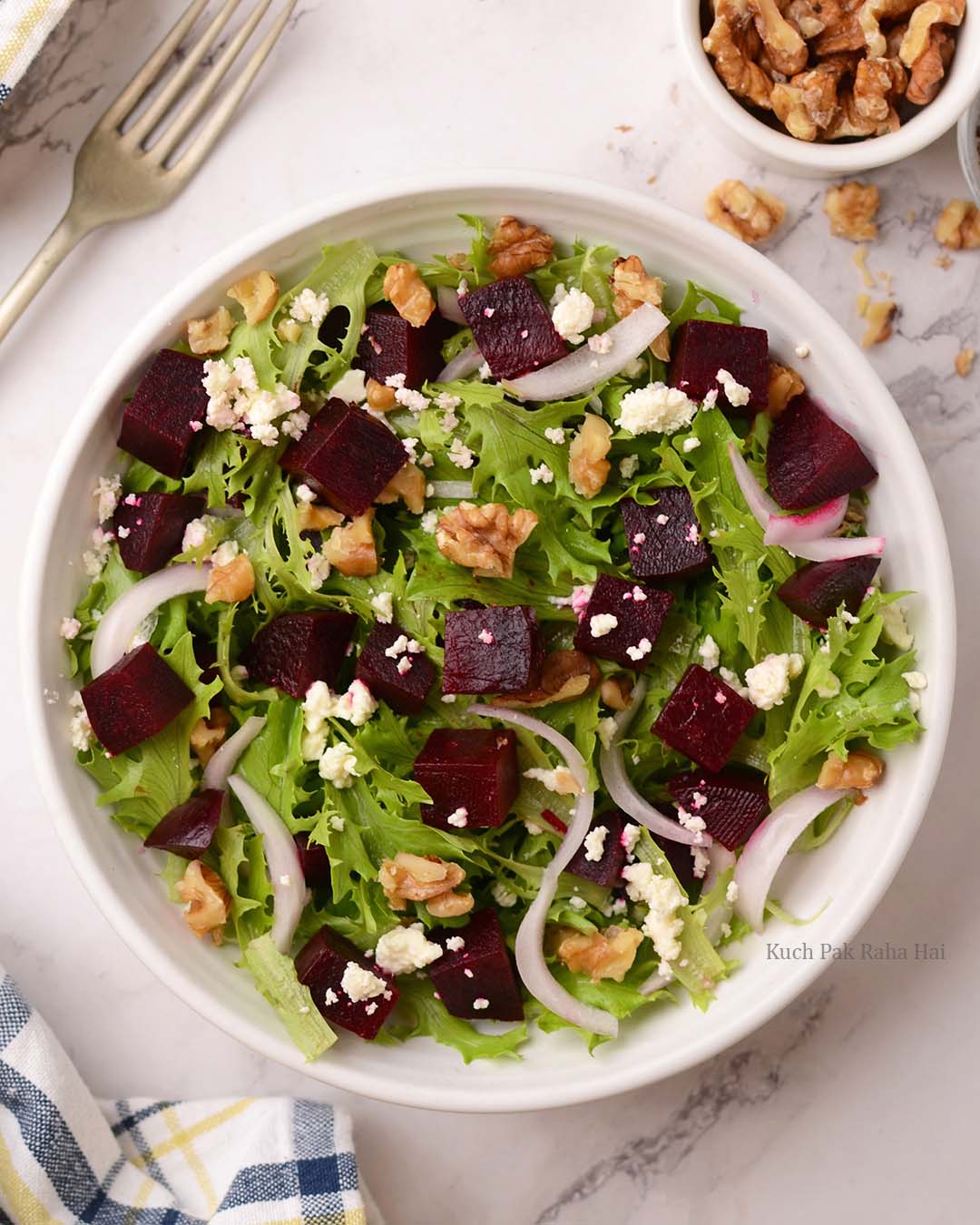 Beetroot or Beet are dark red colour edible vegetables with a slight sweet taste. They have numerous health benefits as they are packed with essential nutrients like folate (vitamin B9), vitamin C, fibre and phosphorous etc.  You can simply juice it up or boil, steam or roast it to use in various recipes like soups, stir fried vegetables, hummus , salads or pickle.
If you are looking more ways  to include this vegetable in everyday diet then do check out other beetroot recipes:
How to roast beetroots or beet?
Wash and scrub the beetroots well. You can peel the beetroots before roasting but as its skin is also edible you can leave it on. Cut them into halves and sprinkle some olive oil and salt on them. If the beets are big in size you can even cut them in 4 pieces. Wrap them in foil and bake in oven for 180 degree celsius for 30 to 40 minutes.
Check the beetroot pieces after 30 minutes with a knife or skewer. If the pieces have become tender then no need to bake them further. However if you find resistance, bake for another 10-15 minutes.
(You can also air fry beetroots which takes lesser time than baking oven)
These roasted beetroots can be stored in fridge in an airtight container for upto a week. Whenever you want to make this salad microwave them for 10-15 seconds or use them just as it is for making this salad.
Salad Dressing – Balsamic Vinaigrette
Balsamic vinegar is intense flavoured, brown colour vinegar made with grape juice. In this salad we have used Balsamic Vinaigrette as salad dressing which is a mixture of balsamic vinegar, olive oil, lemon juice, salt and black pepper. I have added some roasted garlic pods to it as I personally don't like raw garlic in it. You can add some Dijon Mustard in this dressing.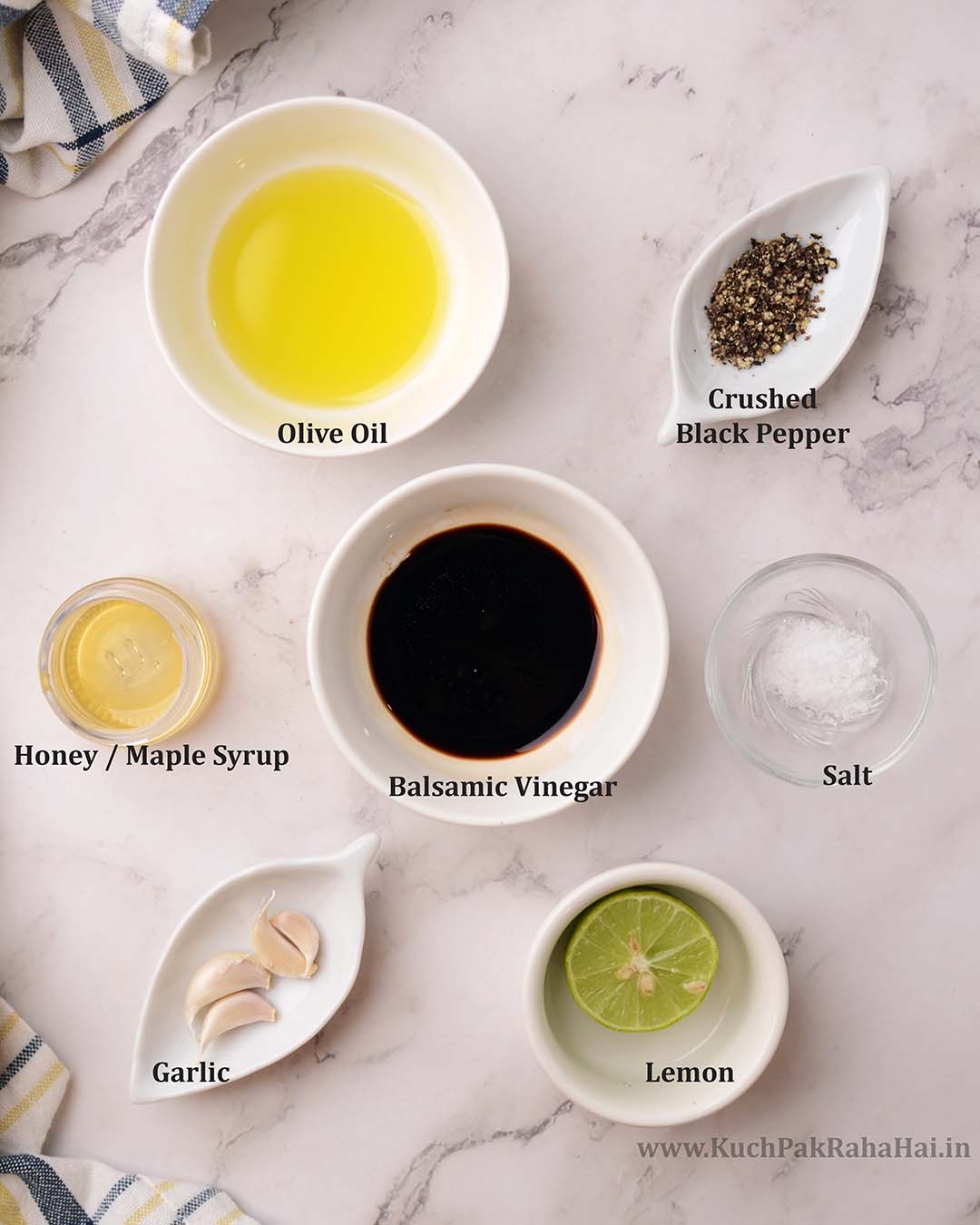 Other Ingredients in this Beetroot Salad:
Nuts: Beetroot and walnuts makes an excellent pair in salads. Almonds, Pistachios, Pecans are some other nuts which you can add in this salad.
Vegetables: Sharp taste of onions balances the sweetness of roasted beetroots. Other vegetables or fruits that you can add are carrots, oranges or apples
Salad Greens: Choose any leafy vegetables of your choice to add in this salad like lettuce, baby spinach, arugula or rocket leaves. Some chopped mint can also be added for freshness.
Feta Cheese: Feta cheese adds the creamy texture to the salad and gives it necessary saltiness. You can even use goat's cheese in this recipe.
Is this Beetroot salad vegan?
The only dairy product in this salad is feta cheese. You can use vegan feta or skip it entirely to make this salad vegan. 50 grams of feta cheese has around 130 calories, 9 grams protein and 10 grams fat (approx). So if you want to reduce calories in this salad then feel free to skip it. I have made this beetroot salad without feta cheese many times and it still tastes good.
(I have used Dlecta brand Feta cheese in this salad recipe. You can use any brand of your choice.)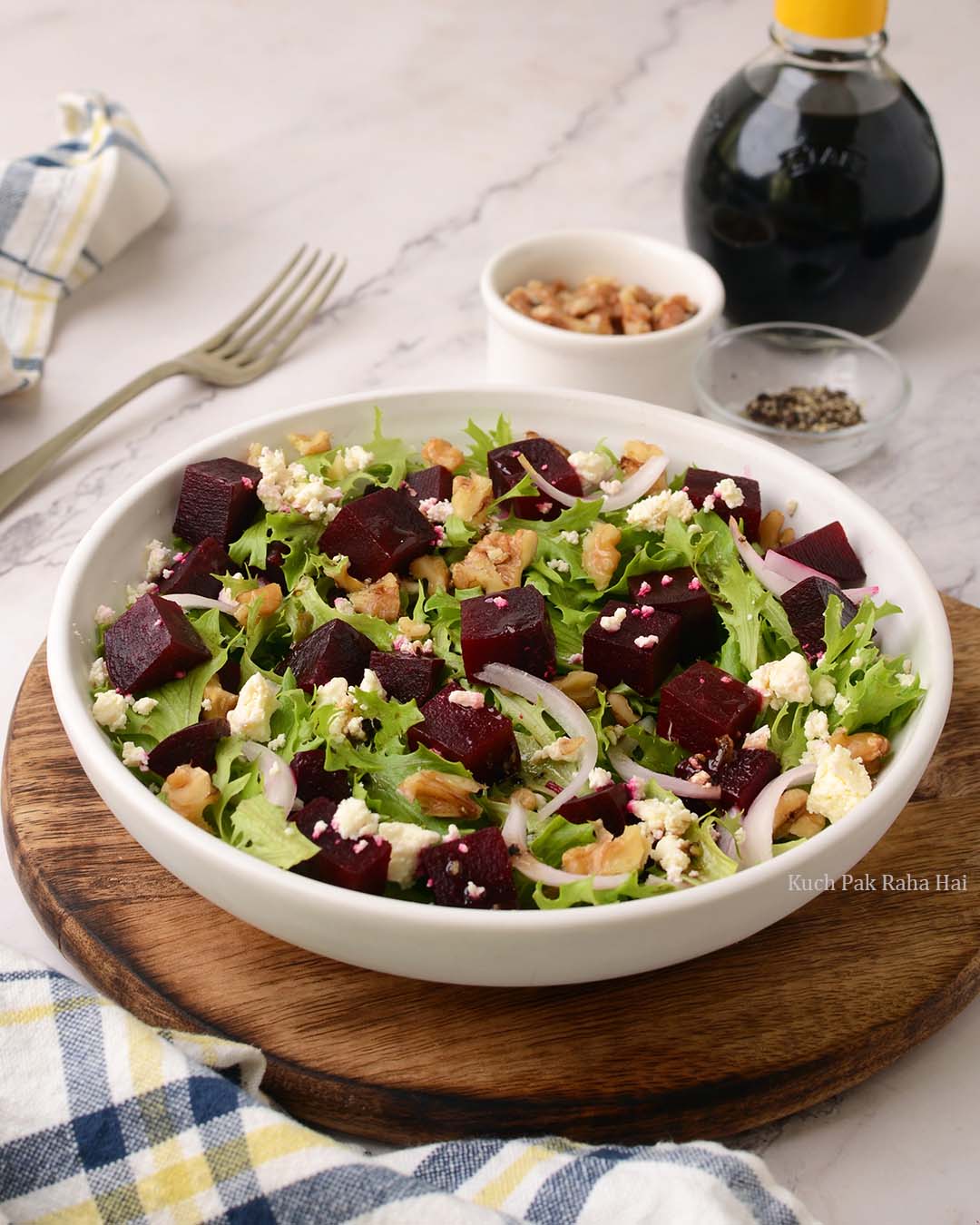 More vegetarian salad recipes:
Ingredients: (2-3 servings)
For salad:

Beetroot / Beets- 3 (

~350 grams

)
Lettuce – 2 cups
Onion (Small) – 1
Olive Oil – 1 tsp
Salt – 1/2 tsp
Walnuts – 10 to 12
Feta Cheese – 1/3 cup (50 grams)

For dressing:

Olive Oil-2 tbsp
Balsamic Vinegar-1 tbsp
Honey / Maple Syrup- 1 tsp
Garlic Cloves- 3 to 4
Salt-1/3 tsp (to taste)
Crushed Black Pepper-1/2 tsp
Lemon Juice- 2 tsp
Notes:
As feta cheese is already salty, don't add too much of salt in dressing initially. Adjust as per your taste later on.
Honey or maple syrup can be replaced with coconut sugar.
Directions:
Step 1:
Wash and scrub the beetroots well to get rid of dirt. Chop their ends and cut them into halves. If they are bigger in size, you can cut them further in 4 parts.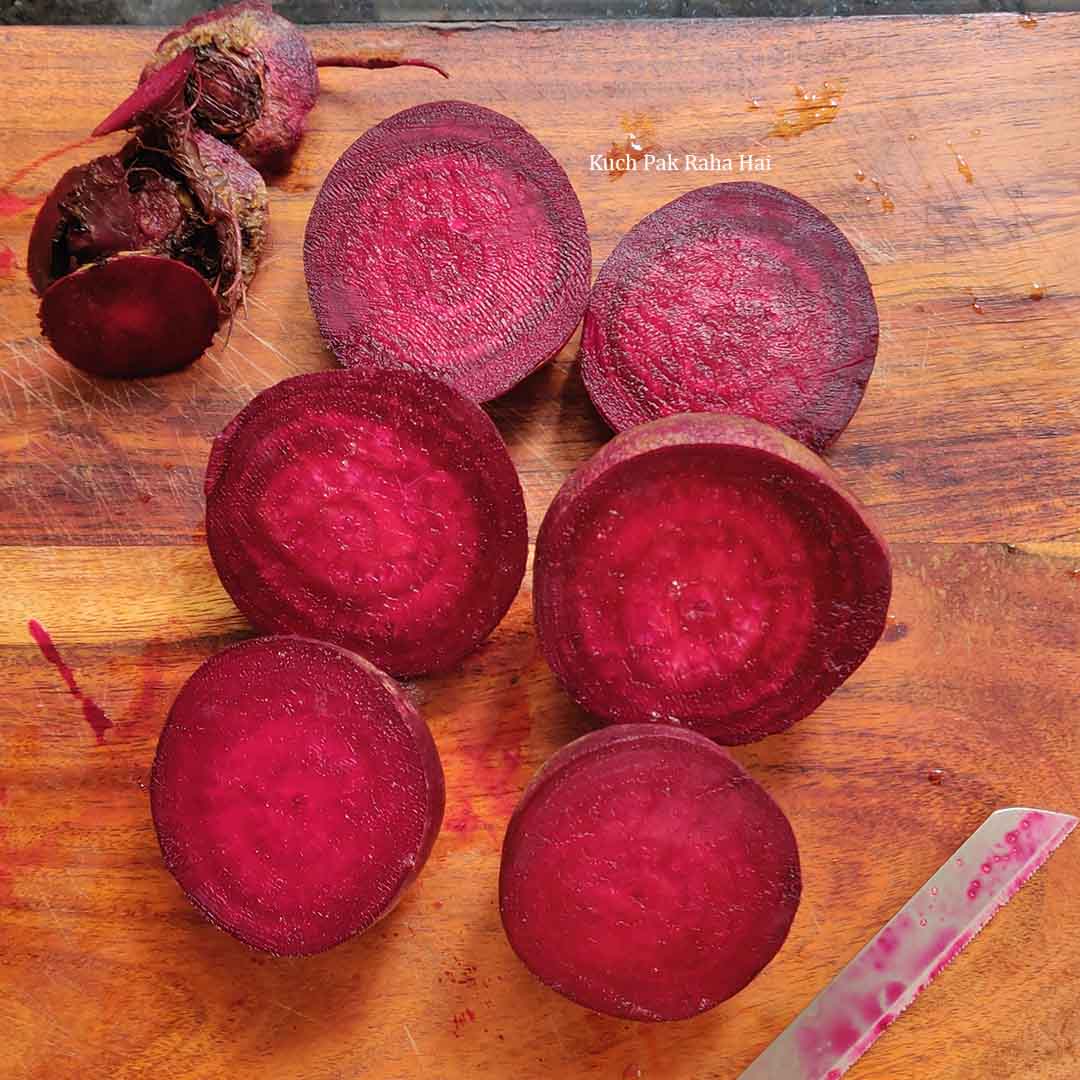 Step 2:
Drizzle some olive oil and salt on beetroots. Rub the oil on beetroots and then wrap them in foil. If you are roasting many beetroots together, wrap in bunches of 2 or 3. Also, chop the tips of garlic pods, rub some olive oil on them and wrap them in another small piece of foil.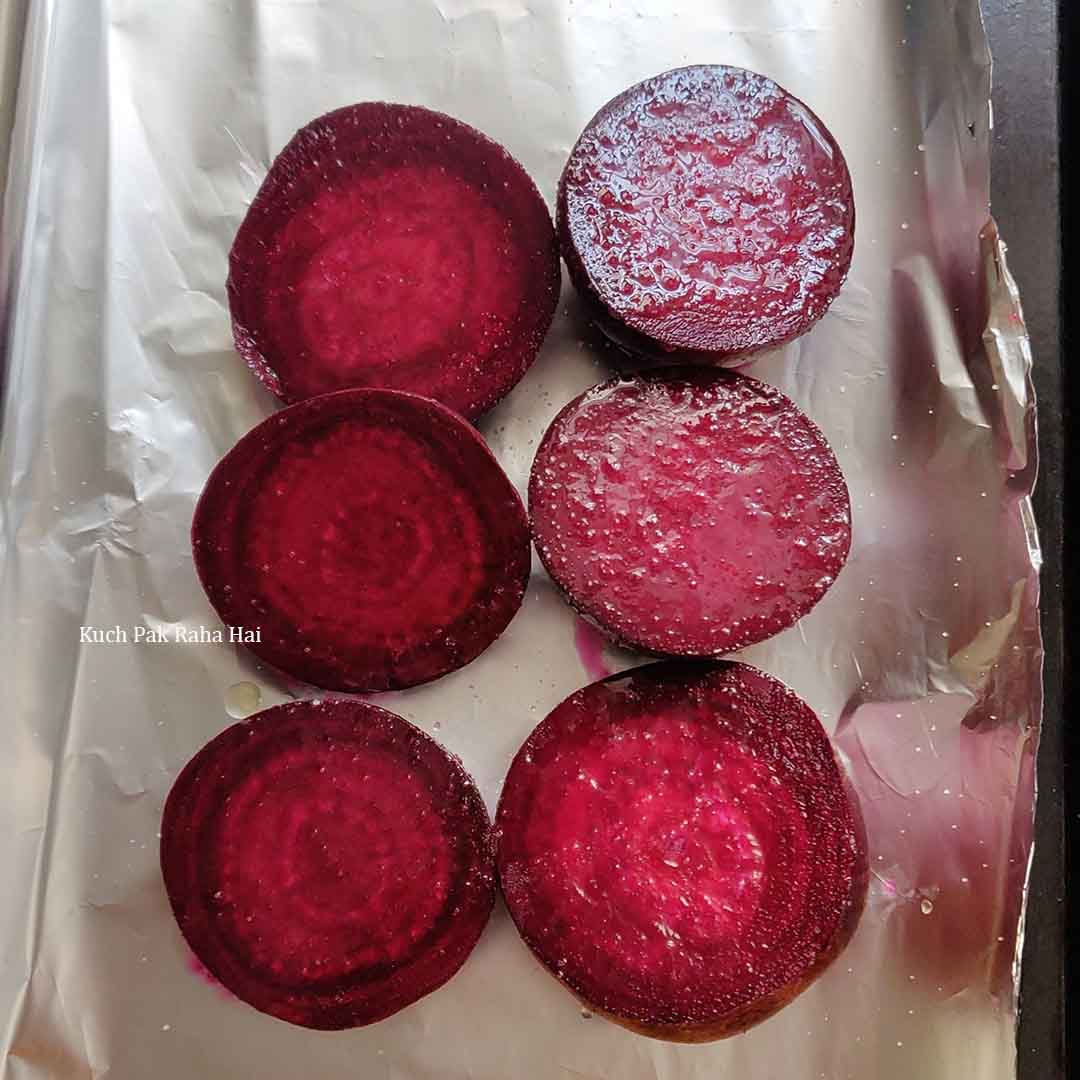 Step 3:
Bake them at 180°C (360°F) for 30-40 minutes. Check the centre of beetroot with a skewer or knife. It should pass through smoothly else bake for another 10 minutes.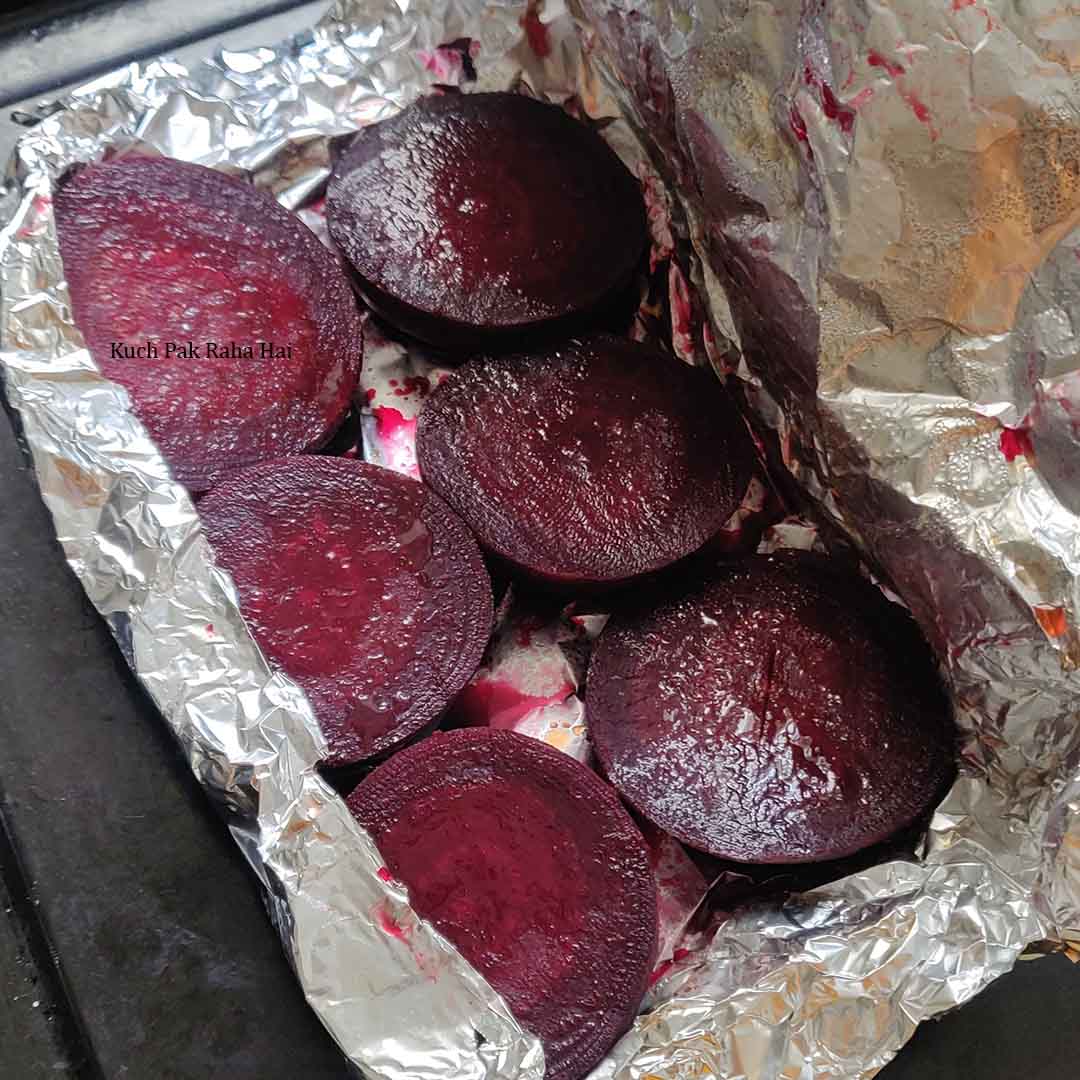 Step 4:
Let the beetroots cool down slightly and then peel them (if you want).Chop the beetroot into cubes and slice the onions. Keep them aside.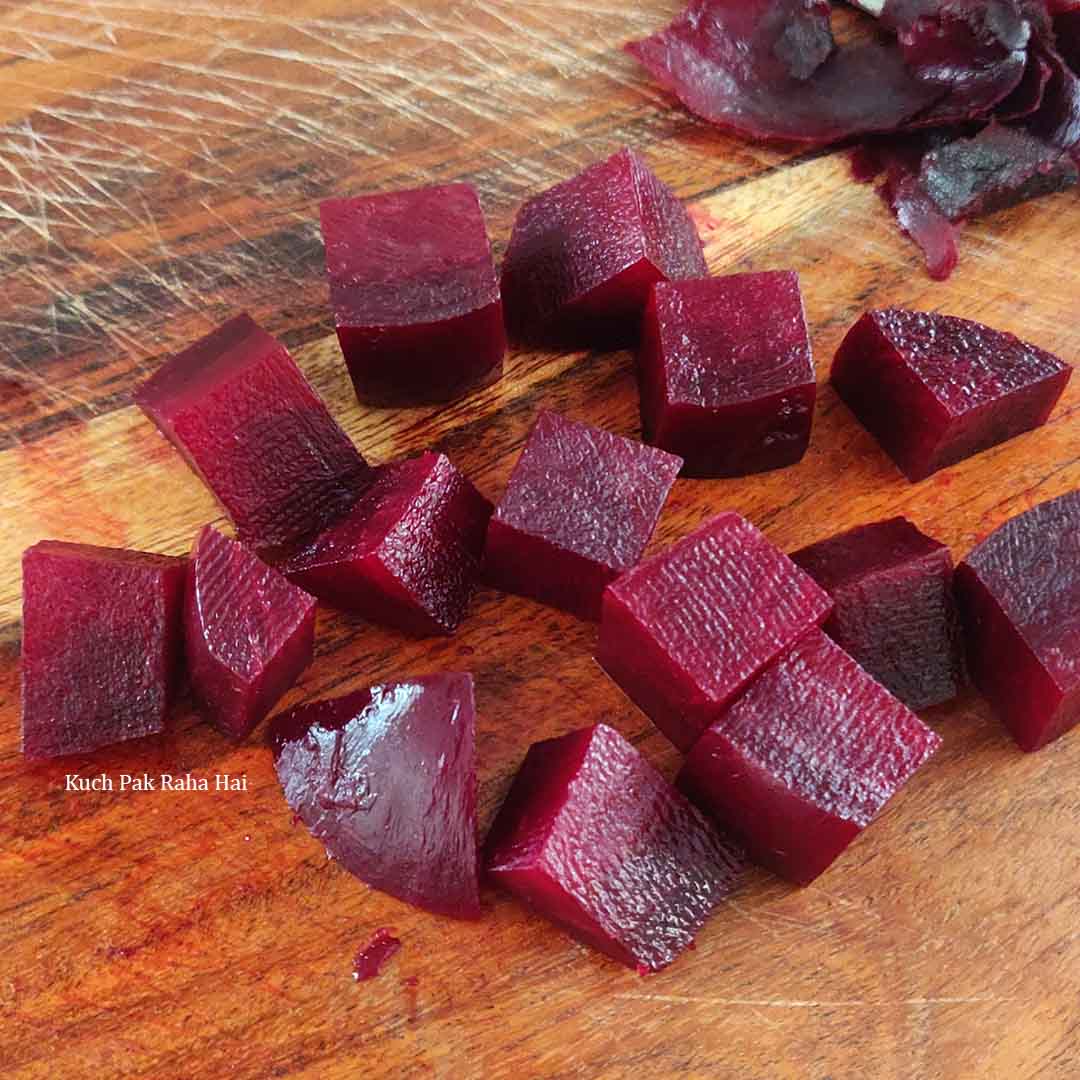 Step 5:
Dry roast walnuts in a non stick pan on medium-low heat for 3-4 minutes. It makes the walnuts more crunchy, however if you are short of time you can skip this step. Keep these toasted walnuts aside.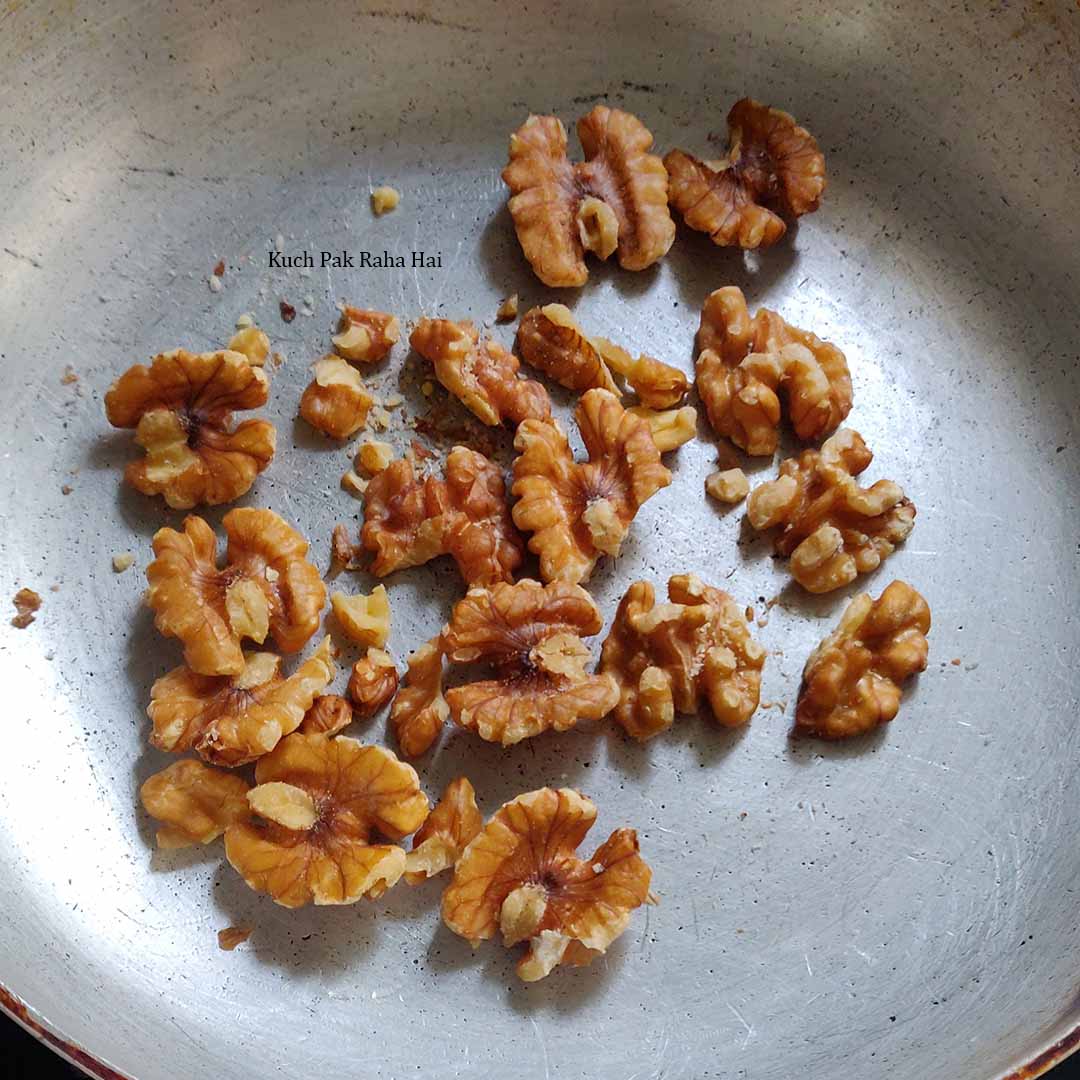 Step 6:
Take together all the ingredients of salad dressing in a bowl. Squeeze the pulp of roasted garlic in the dressing and mix well. If you are using raw garlic cloves then mince them finely before adding in dressing.
You can add the dressing ingredients in a shaker jar also & give a good shake. This way you can save the leftover dressing (if any). Keep this dressing aside.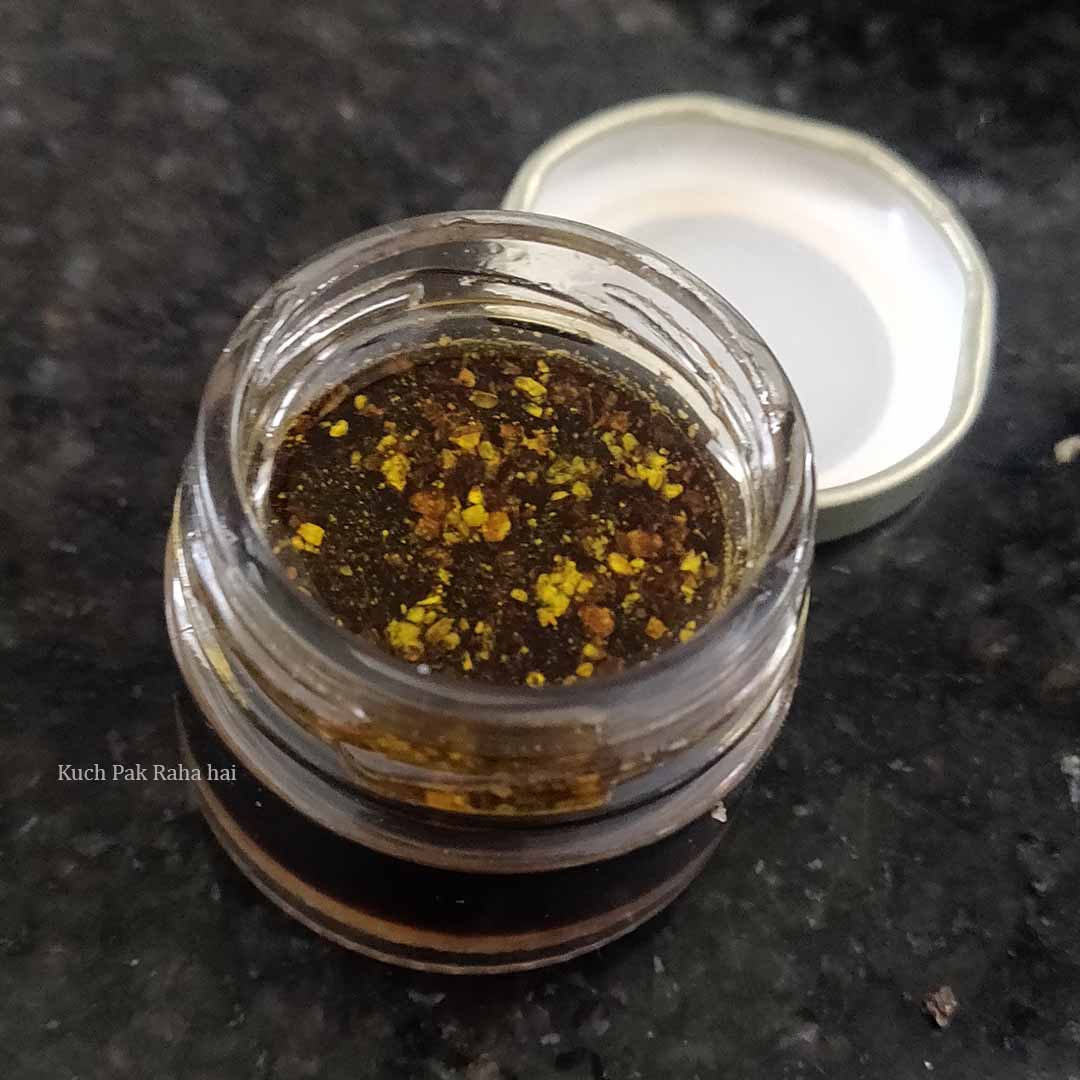 Step 7:
Tear lettuce leaves into smaller pieces and transfer them into a mixing bowl Add chopped roasted beetroots, onions, salad dressing and toss gently. Roughly break the toasted walnuts and feta cheese into small pieces and sprinkle over the salad.
Serve this salad immediately. Bon Appetit!!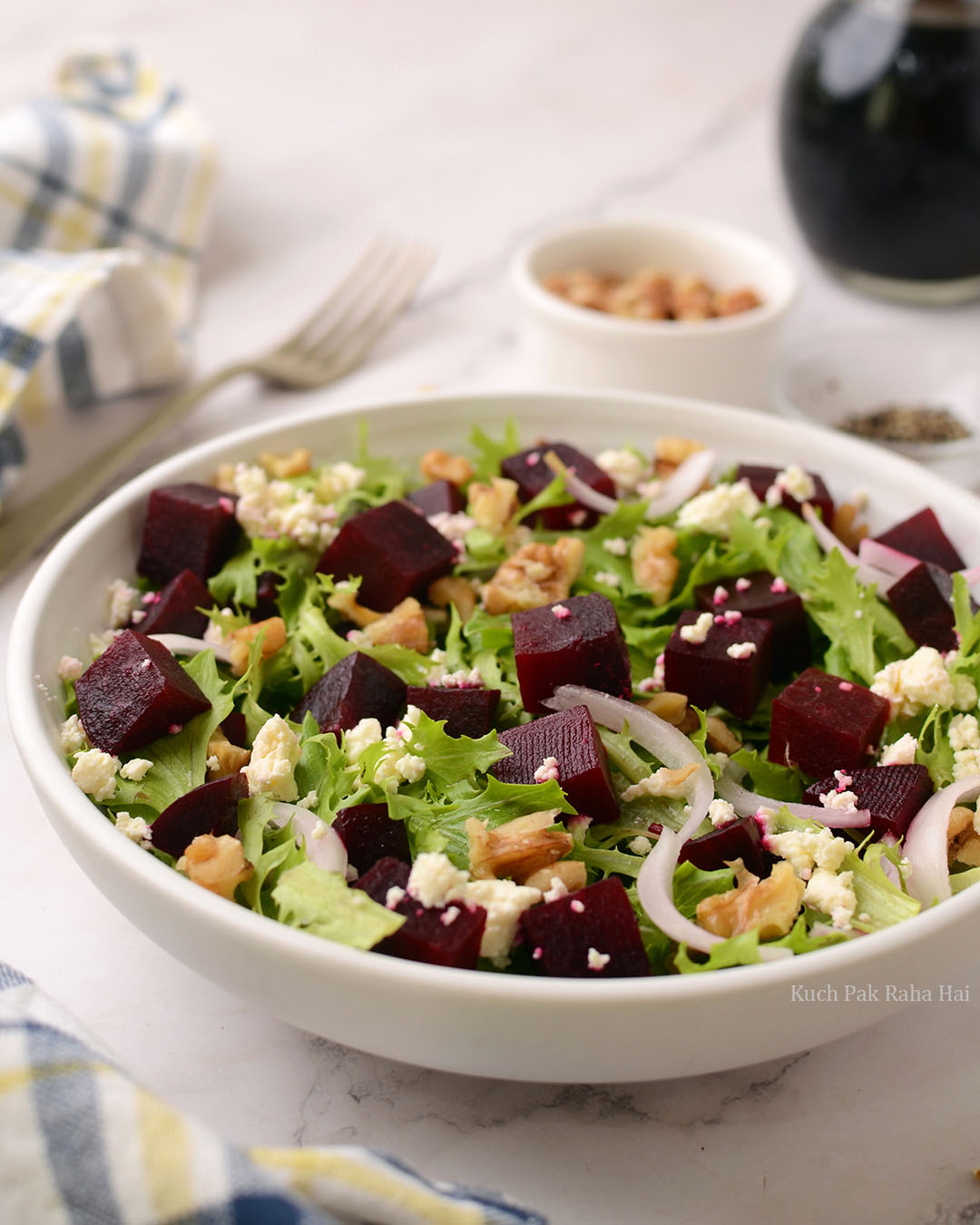 Can I make this beetroot salad in advance?
You can roast the beetroots in advance & store them in fridge. Similarly you can make the salad dressing and keep it in an airtight jar. Assemble the salad whenever you are ready to serve. Mixing salad dressing in advance with other ingredients will make the vegetables soggy and lose their crunch.
Kitchen Products Used:
Pin for later: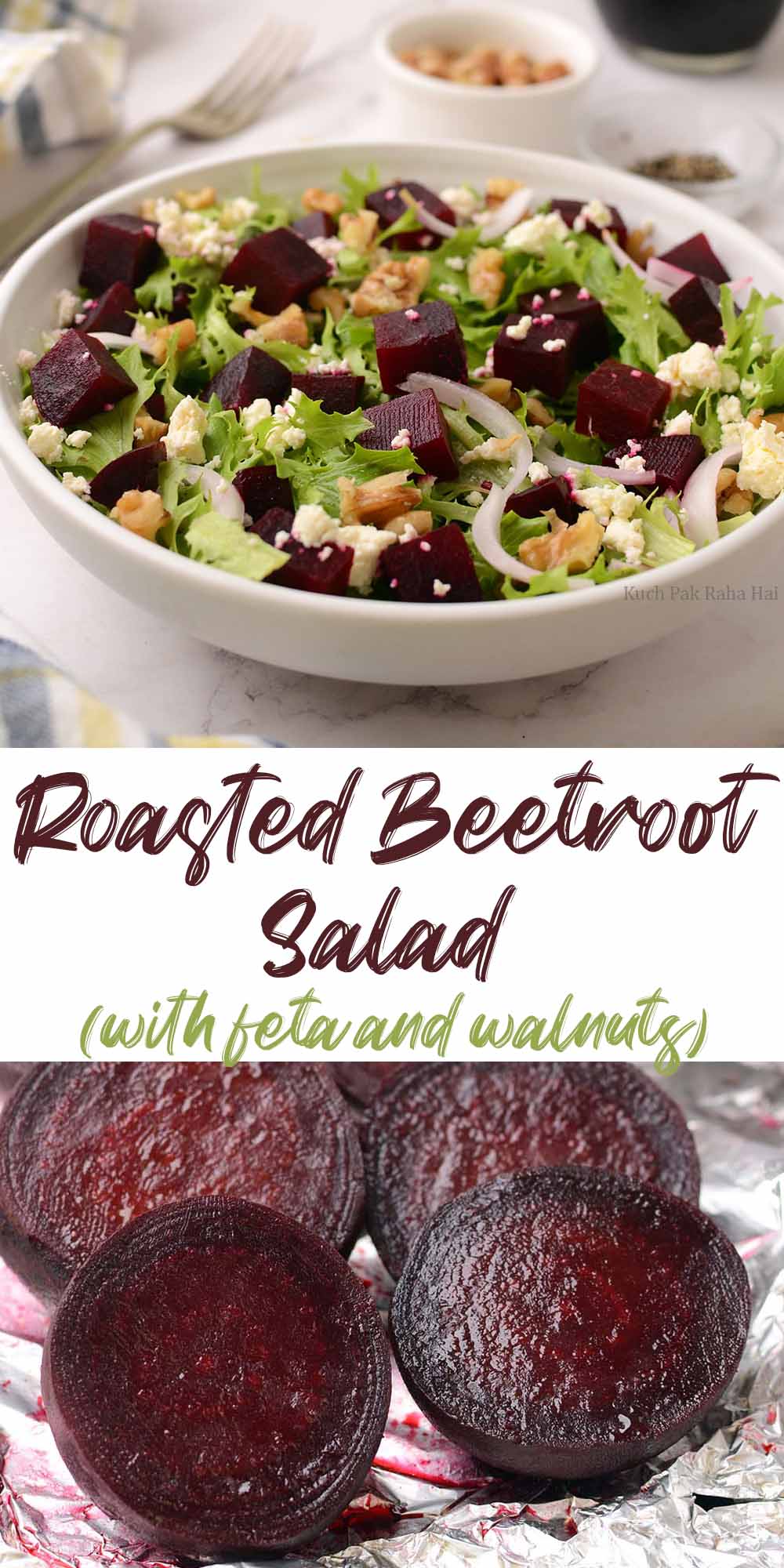 If you try this roasted beet salad recipe & share pics on social media, then don't forget to tag us on Facebook, Instagram or use #kuchpakrahahai.