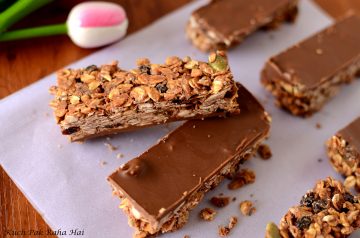 Easy homemade no bake granola bar recipe with goodness of rolled oats, almonds, walnuts, mixed seeds, dried fruits, peanut butter and honey.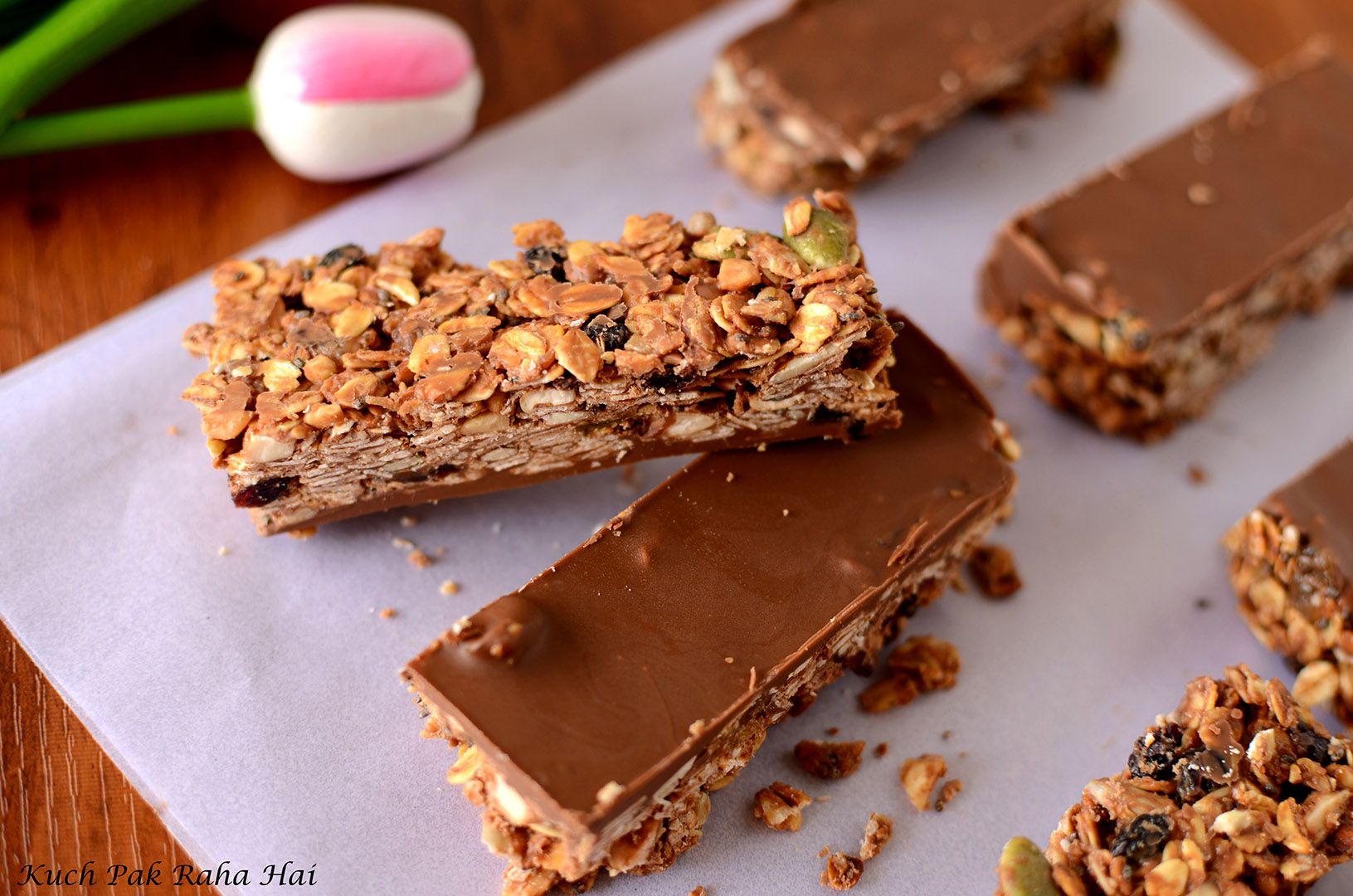 These gluten free granola bars are great as energy bars or breakfast bars. You can have them as mid day snack or pack them in your kids lunch box.
These No-Bake Granola Bars are:
Easy to Make
No Bake
Gluten Free
Healthy with goodness of nuts & seeds
Can also be made vegan
We have so many cereal or energy bars in market these days which are quite popular among people who are fitness conscious or looking for healthy food options. I tried some of these store bought so called 'healthy' cereal bars but on reading the details on their wrapper I was shocked to see not so healthy ingredients like- corn syrup, glucose syrup, hydrogenated vegetable oil, artificial colours, emulsifiers and preservatives etc.
I decided to try making these bars at home as this would not only make them healthier but also give a control over the ingredients we want in these bars. After few attempts, I finally got this easy peasy recipe using which anyone can make market like granola bars at home minus all the preservatives & chemicals.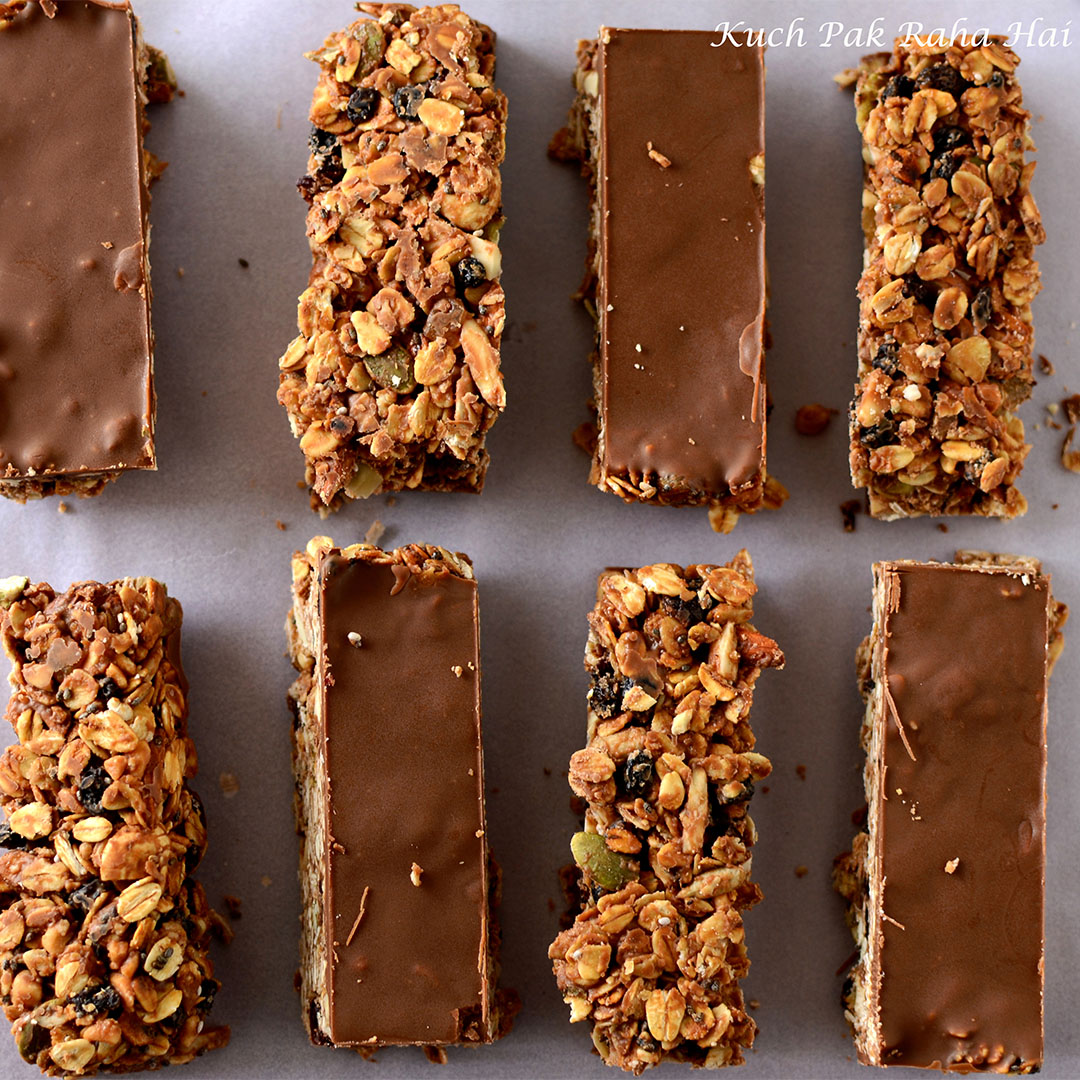 These no bake granola bar are made with :
Rolled oats
Nuts like Almonds, Cashews, Walnuts
Mixed seeds like Sunflower, Melon, Chia
Raisins, Dried cranberries
Honey
Peanut butter – These days market is flooded with so many peanut butter varities like honey roasted peanut butter, crunchy peanut butter, chocolate peanut butter etc, unsweetend peanut butter. Feel free to use any variety of your choice.
Chocolate – You can use milk chocolate, white chocolate or if want to keep calories in check use dark chocolate
Rest of the substitutions are mentioned below the ingredients list. By customising these bars as per your own calorie requirement you can enjoy these without any guilt or worry.
These bars are great to carry while travelling also, as they not only make you feel full while giving instant energy but also satisfy your sugar cravings. Just pack them individually & pop them in your travel bag and you will have delicious munchies on the go.
How to store these no bake granola bars?
These granola bars should be stored in airtight box in fridge. You can keep this box on kitchen counter also but in summers as the chocolate can melt sometimes so better to store it in fridge as much as possible. You can also pack these bars individually in cling wrap or parchment paper which will make them easy to carry around.  I personally make these bars on weekend in advance thus sorting our weekly snacks need.
How many granola bars does this recipe make?
Below mentioned ingredients give you 12 bars of (1″x 3″ inches) size .  You can alter the size by cutting it in squares or smaller portions as per your own needs.
These granola bars can be made in two ways:
Method I : Mixing the melted chocolate in entire batch (shown in youtube video)
Method II : Mixing half of the chocolate inside the bars and pouring rest of it on top (shown in post images)
The recipe is same in both methods, only the procedure is slightly different. Sharing youtube video link below:
Youtube Video :
Hope you would like this delicious No bake Granola Bar recipe!!
Pin for later: https://pin.it/7KS8lAn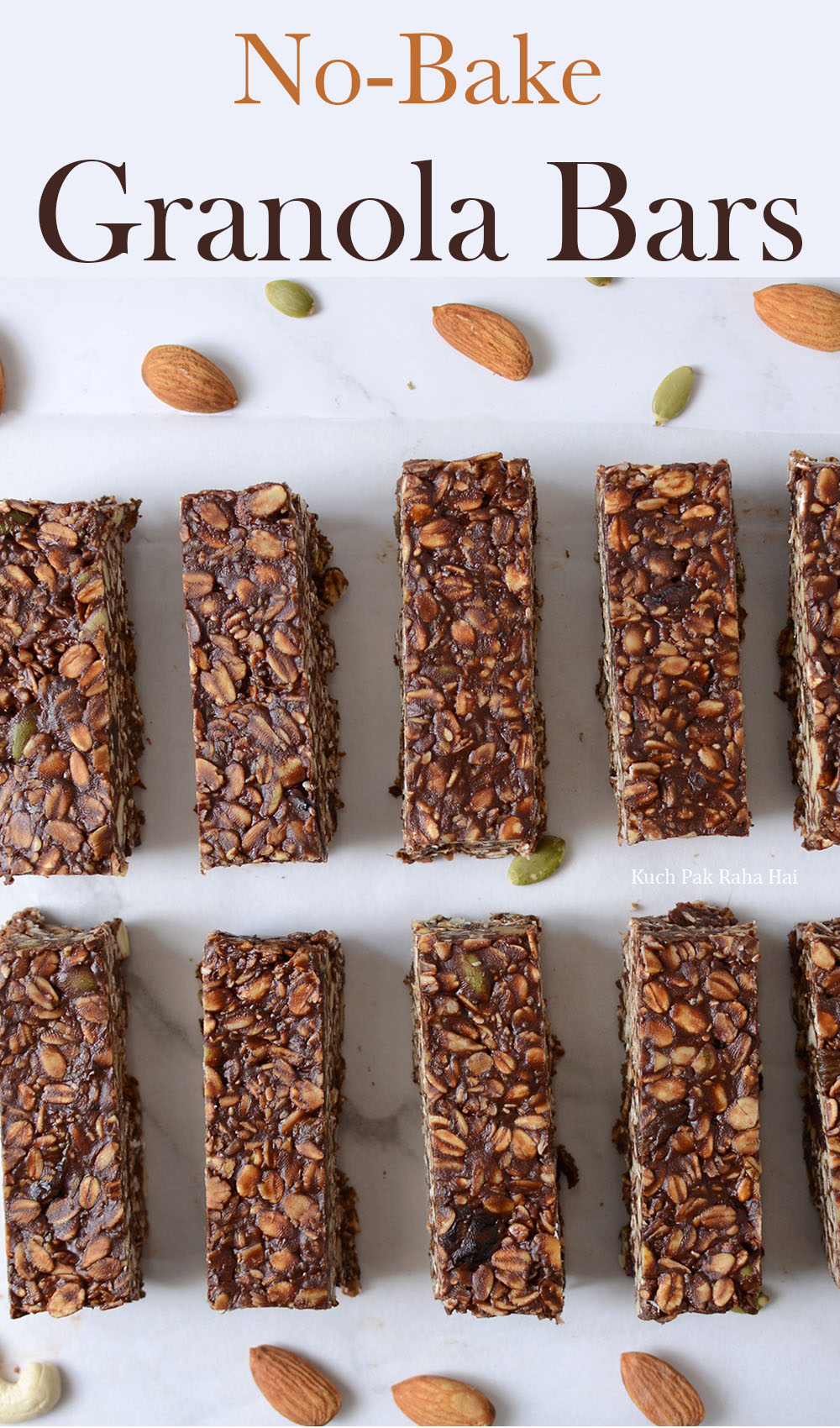 List of Ingredients: (Makes 12 pieces)
Rolled Oats – 2 cups
Chopped Mixed Nuts – 1/2 cup (Almonds / Walnuts / Cashews)
Mixed Seeds – 1/3 cup (Melon / Sunflower / Flax)
Chia seeds – 1 tbsp
Raisins – 1/4 cup
Dried Cranberries – 1/4 cup
Honey / Maple Syrup – 1/4 cup
Peanut Butter – 1/3 cup (Unsweetened)
Milk Chocolate / Dark chocolate – 150 grams
Oil – 1/2 tsp (For brushing)
Substitutions/Notes:
1. Almonds, Walnuts, Cashews, Pistachios etc – Feel free to use any nuts of your choice.
2. I have used mixed seeds packet which had sunflower seeds, pumpkin seeds, flax seeds, sesame seeds etc. You can use any seeds and adjust the proportions as per your needs.
3. Instead of peanut butter you can also use almond butter in these granola bars.
4. To reduce the quantity of sugar in recipe overall, use unsweetened peanut butter and dark chocolate.
5. You can even add some chopped dates in this granola bar recipe.
6. I have used dried cranberries and golden raisins here. You can use some finely chopped dates, black raisins and dried cranberries/strawberries.
7. Use best quality chocolate for making these energy bars and to make these bars vegan use dairy free vegan chocolates.
Steps To Prepare:
Step 1:
In a non-stick pan, dry roast the rolled oats on low-medium flame till they become crunchy, slightly golden in colour and start releasing a nutty aroma. Transfer these roasted oats in a mixing bowl.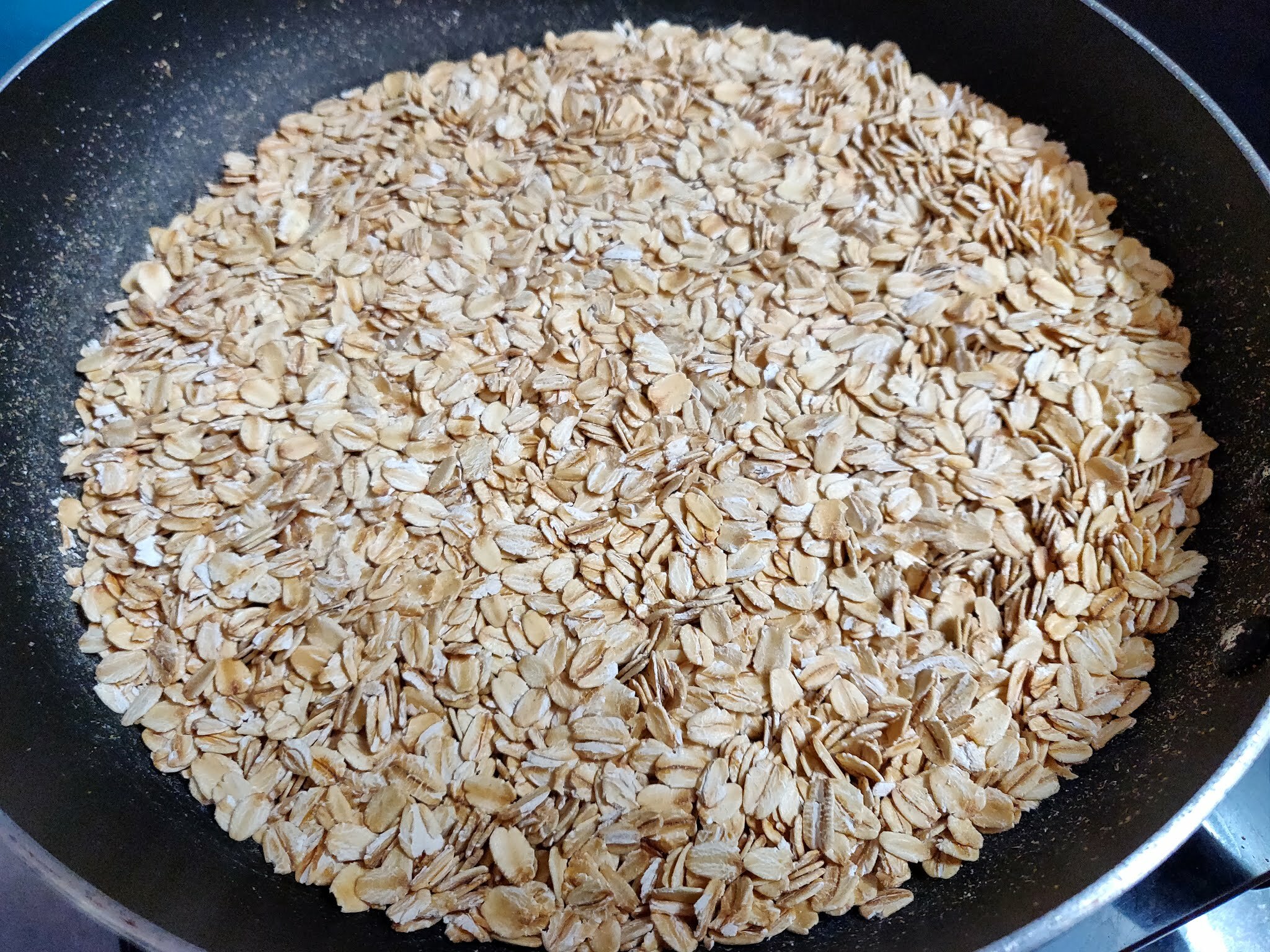 Step 2:
Finely chop the almonds & cashews into small pieces. Dry roast these chopped nuts and mixed seeds for 3-4 minutes. Transfer these roasted nuts into the same mixing bowl with oats.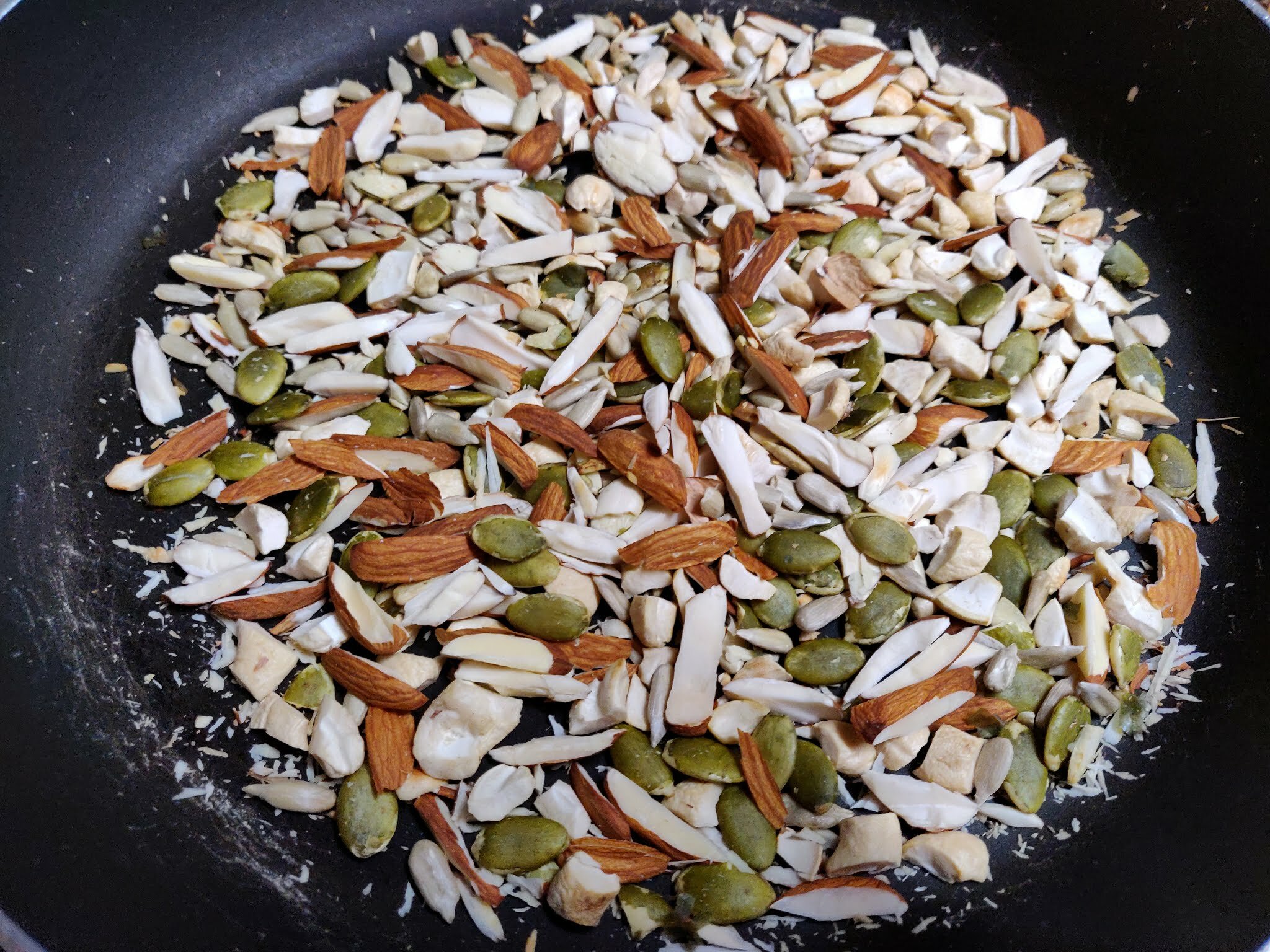 Step 3:
Roughly chop the raisins & dried cranberries. Add these along with chia seeds and honey to the same bowl. Mix it once. Keep this mixture aside.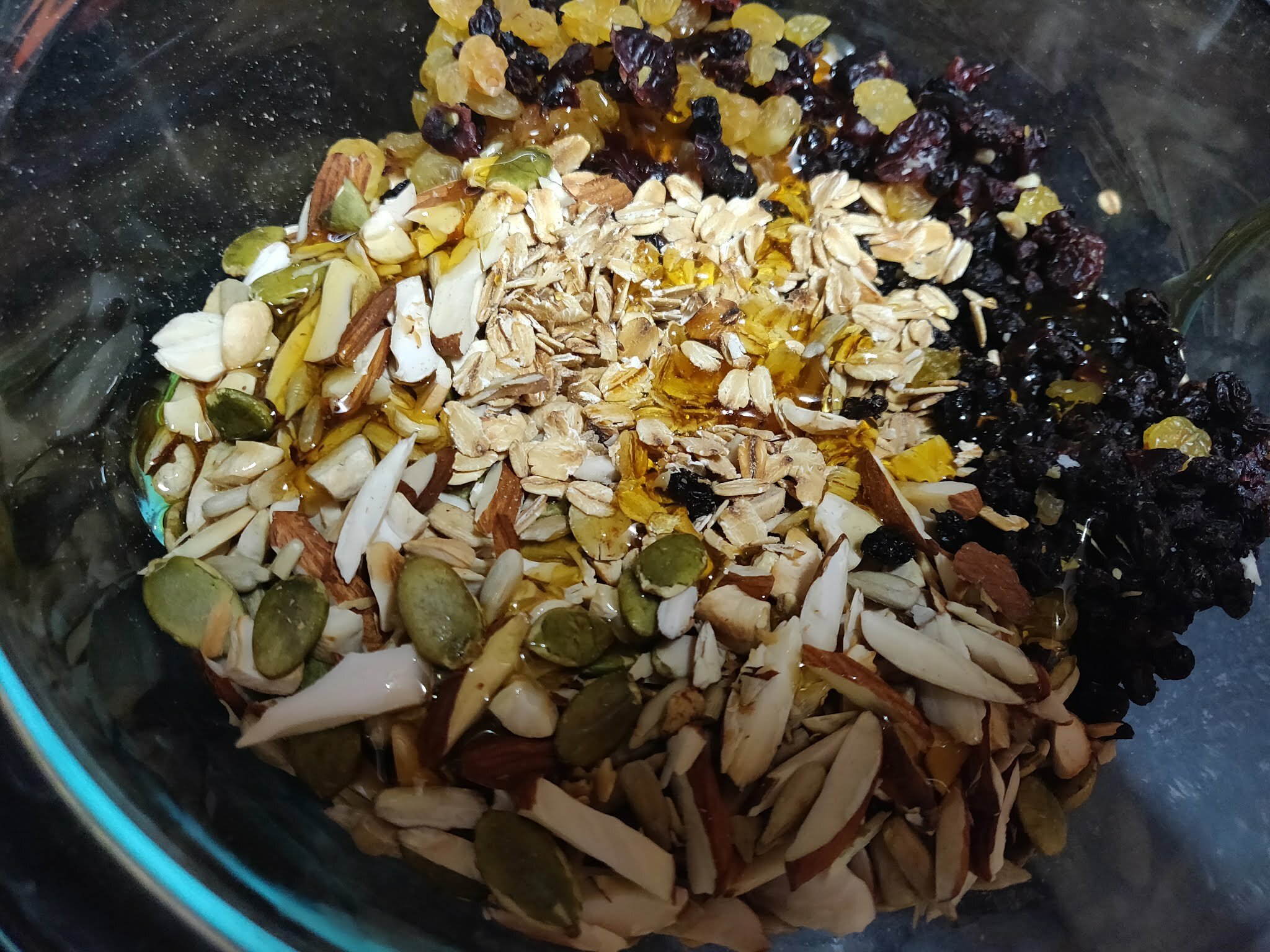 Step 4:
Line a 6 inches square tin with a parchment paper as shown in the below pic. Brush it some oil so that the bars don't stick to the bottom or sides. Instead of tin, even any cookie tray can be used.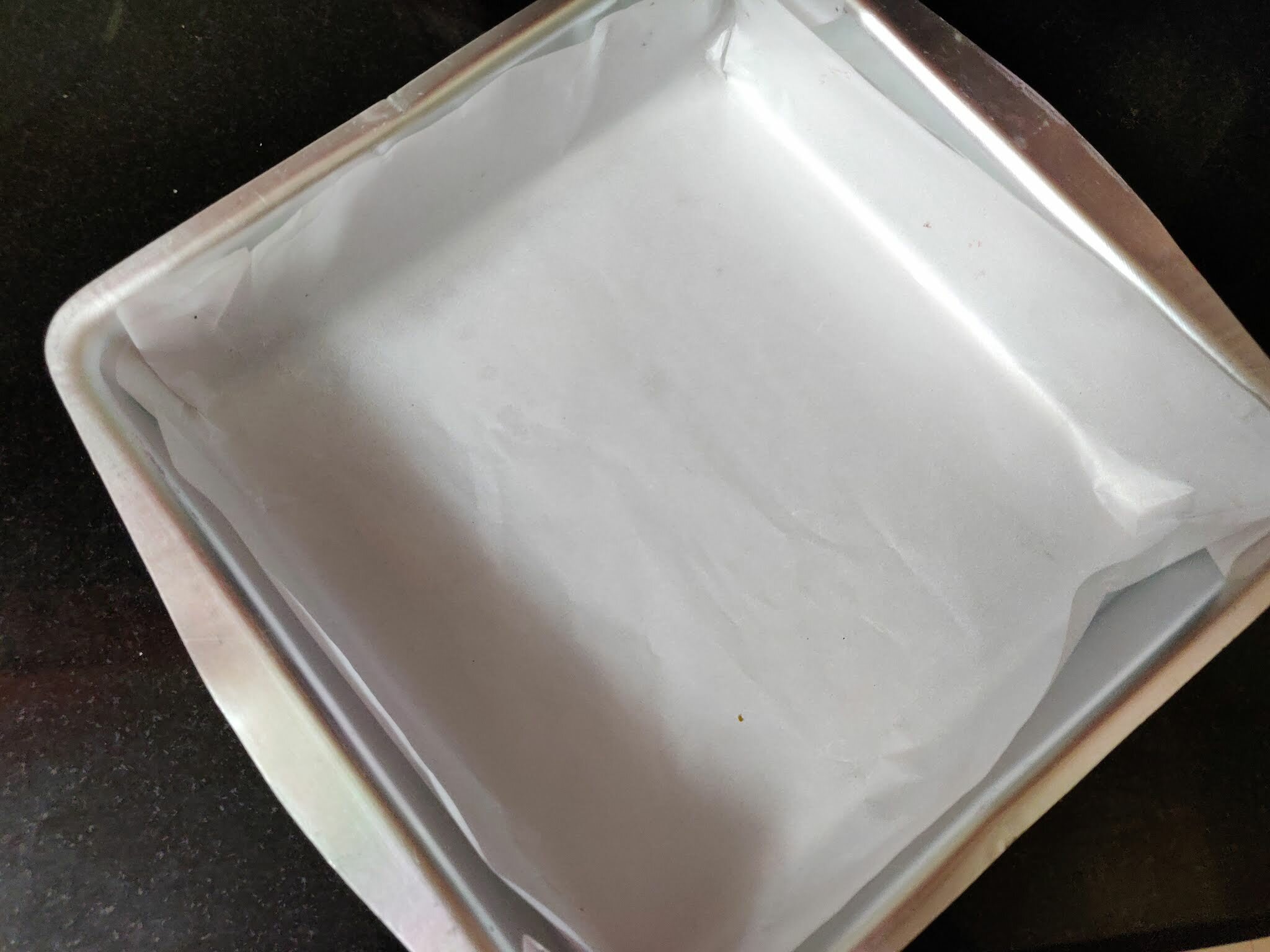 Step 5:
In this step we are going to melt our chocolate. I have used Cadbury Milk chocolate. You can use dark chocolate or any other chocolate of your choice.
Chop the chocolate or break it into pieces. Transfer it in a microwave safe bowl. Here I am using  Borosil Microwave safe glass bowl. Melt the chocolate at 70 percent power in microwave in bursts of 20 seconds. By bursts, I mean microwave it for 20 seconds then check the chocolate with spoon to check if it has melted. Repeat the process till the chocolate is melted completely. It took me around one minute to melt it. Be careful in this step, as chocolate tends to burn really quickly on heating.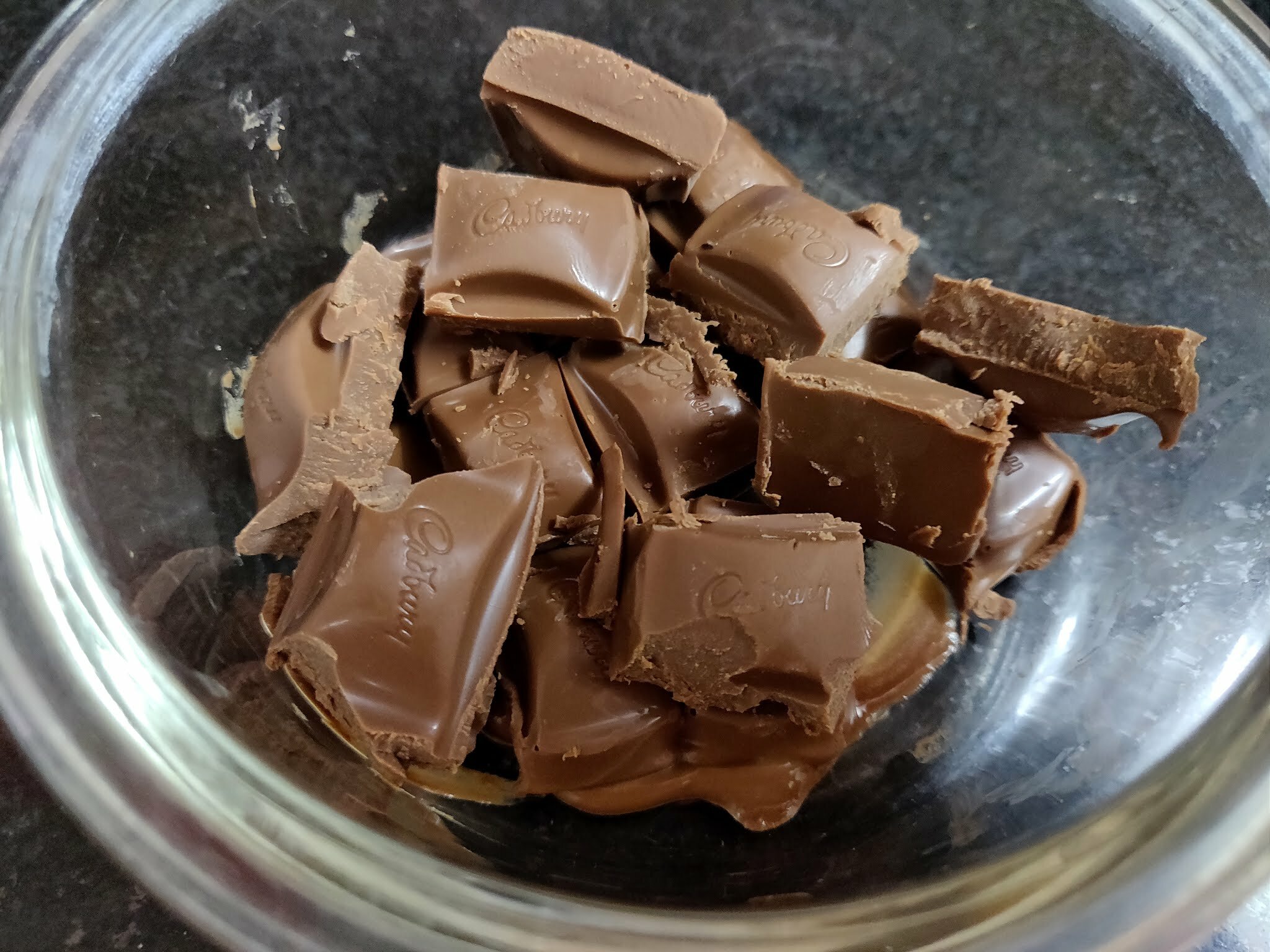 Step 6:
In this melted chocolate add peanut butter and give a good stir. I am a big fan of crunchy peanut butter so using the same. You can use its creamy variant if you want.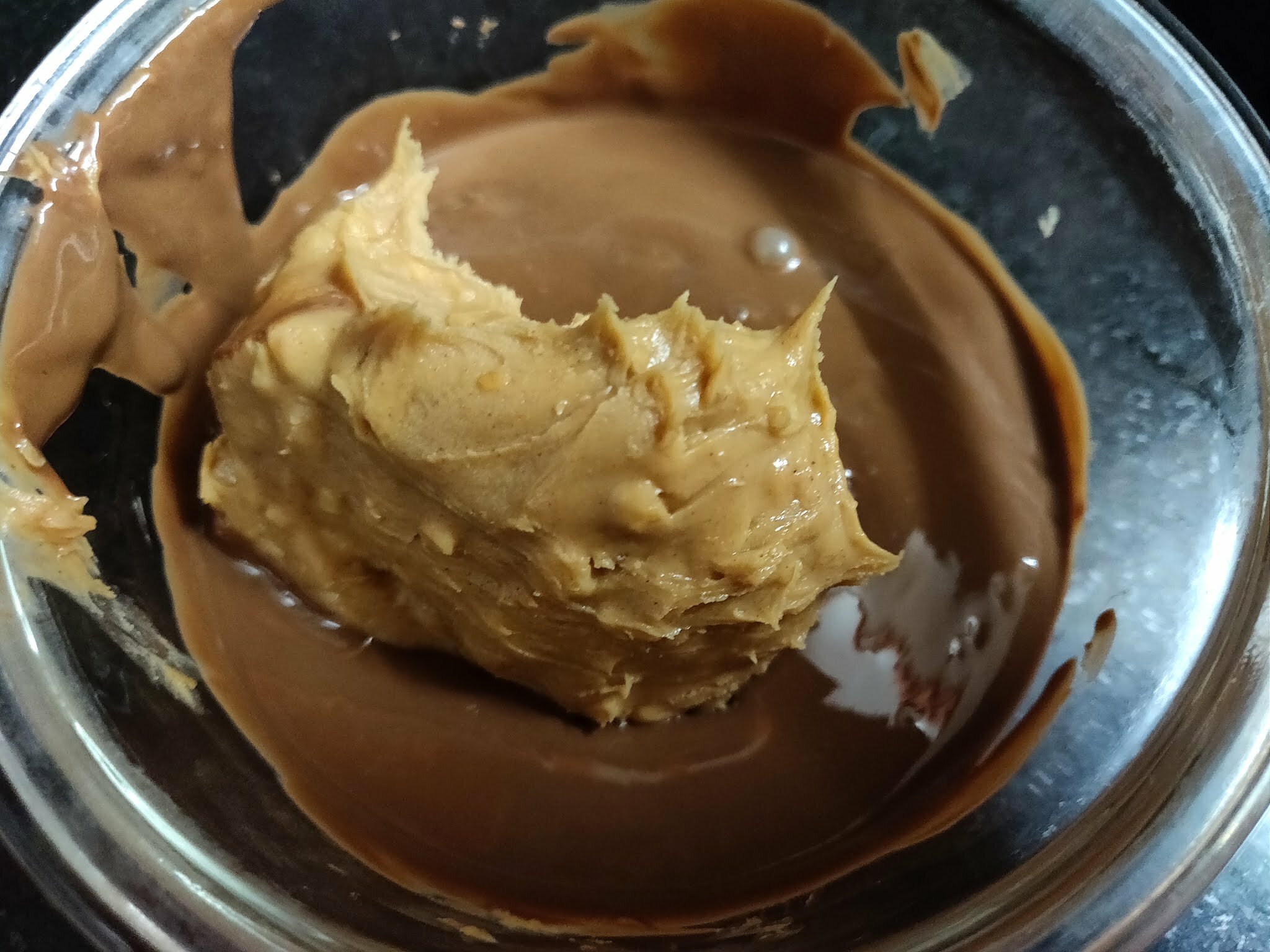 Step 7:
Add half of this melted chocolate-peanut butter in the oats mixture we had prepared in step 3.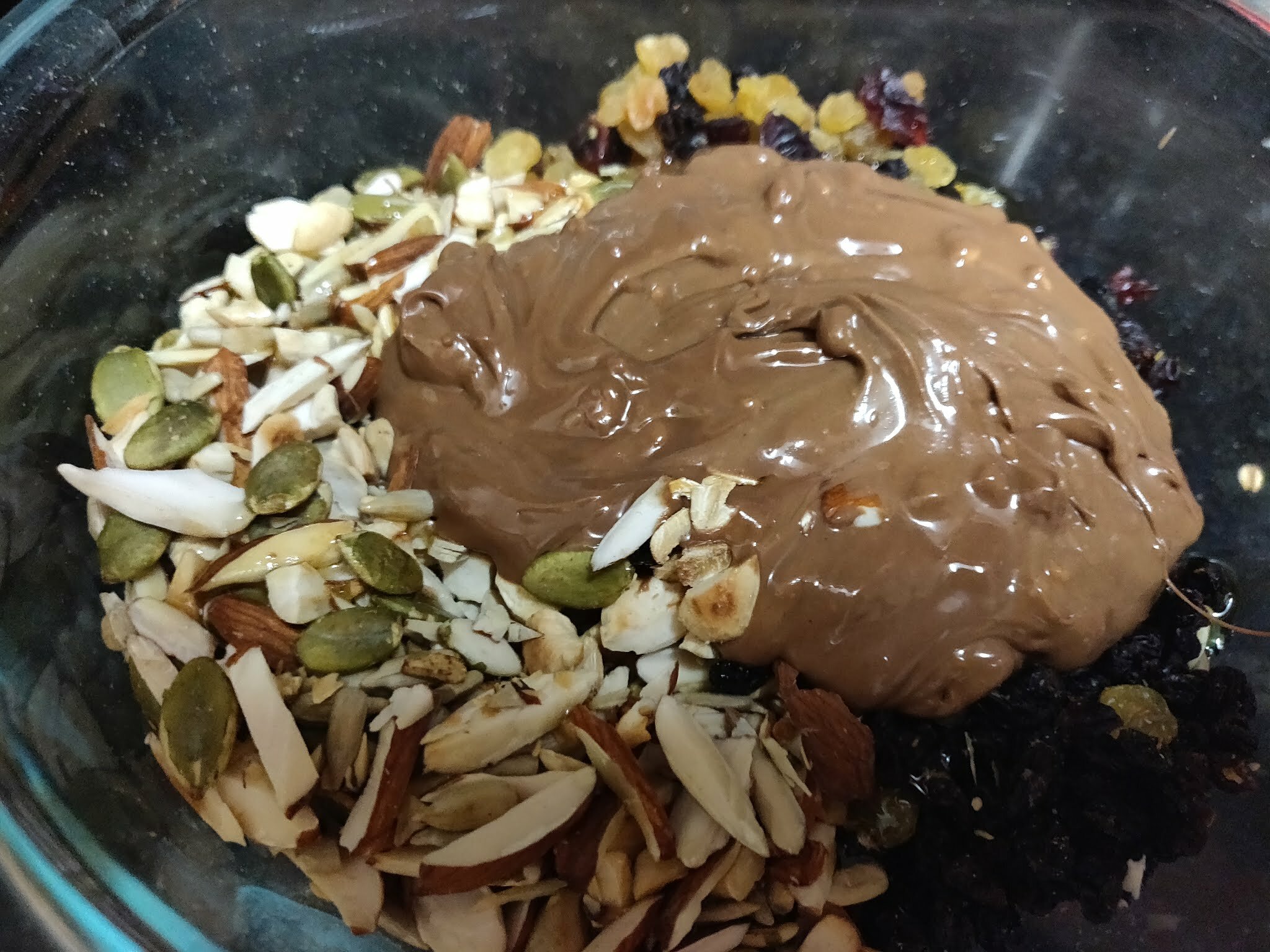 Mix everything with the help of a spoon or spatula so that all ingredients are mixed evenly.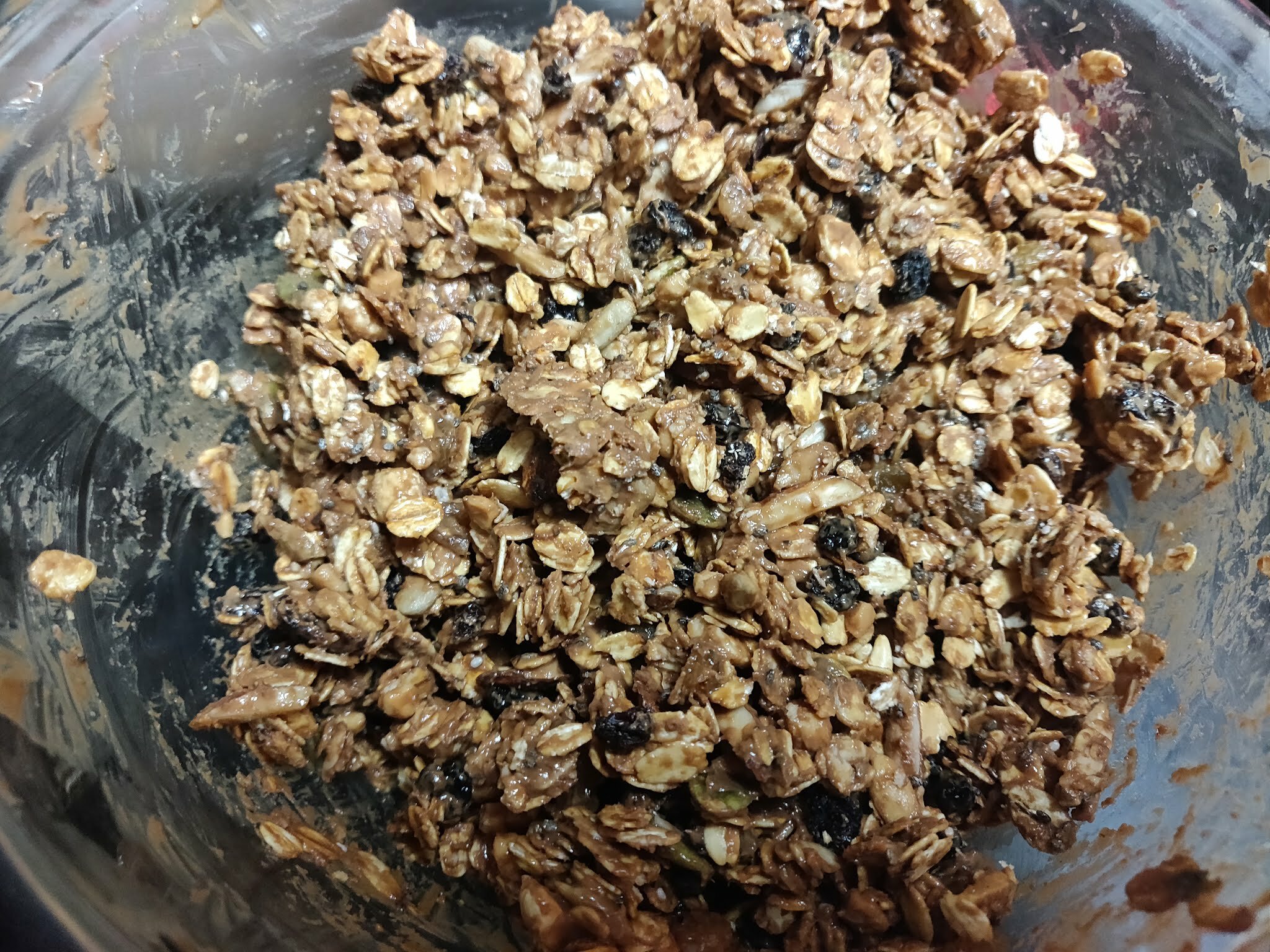 Step 8:
Transfer this mix in the baking tin we had lined earlier. Be little quick in this step as we don't want to cool down our mixture. Press it with a spoon or flat spatula inside the tin.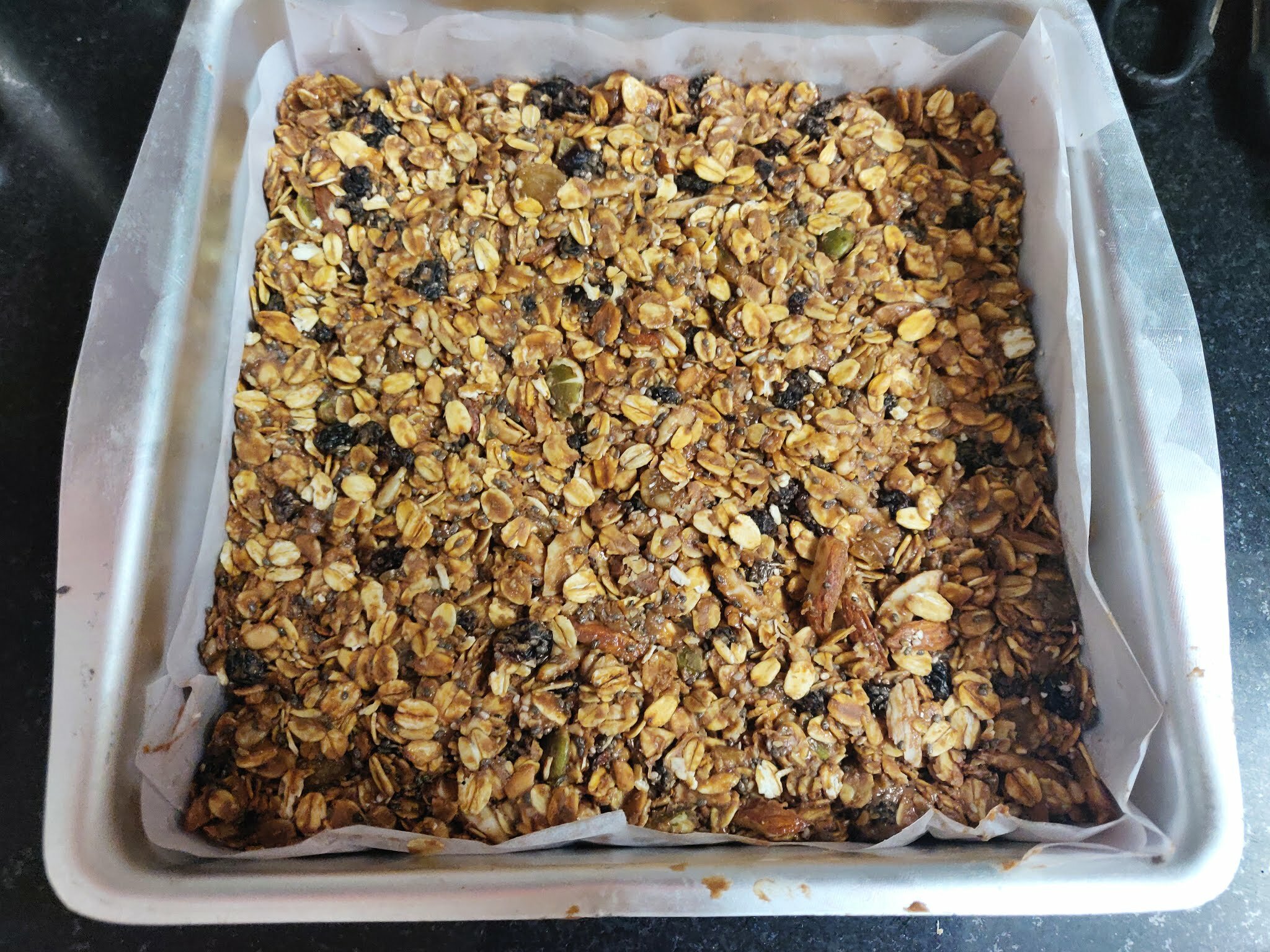 Step 9:
Pour the remaning melted chocolate over the flattened mixture in the tin. To spread the chocolate till the edges either use spoon or tilt the tin so that chocolate will flow by itself and reach till the corners. Let it cool in the fridge for 2 hours.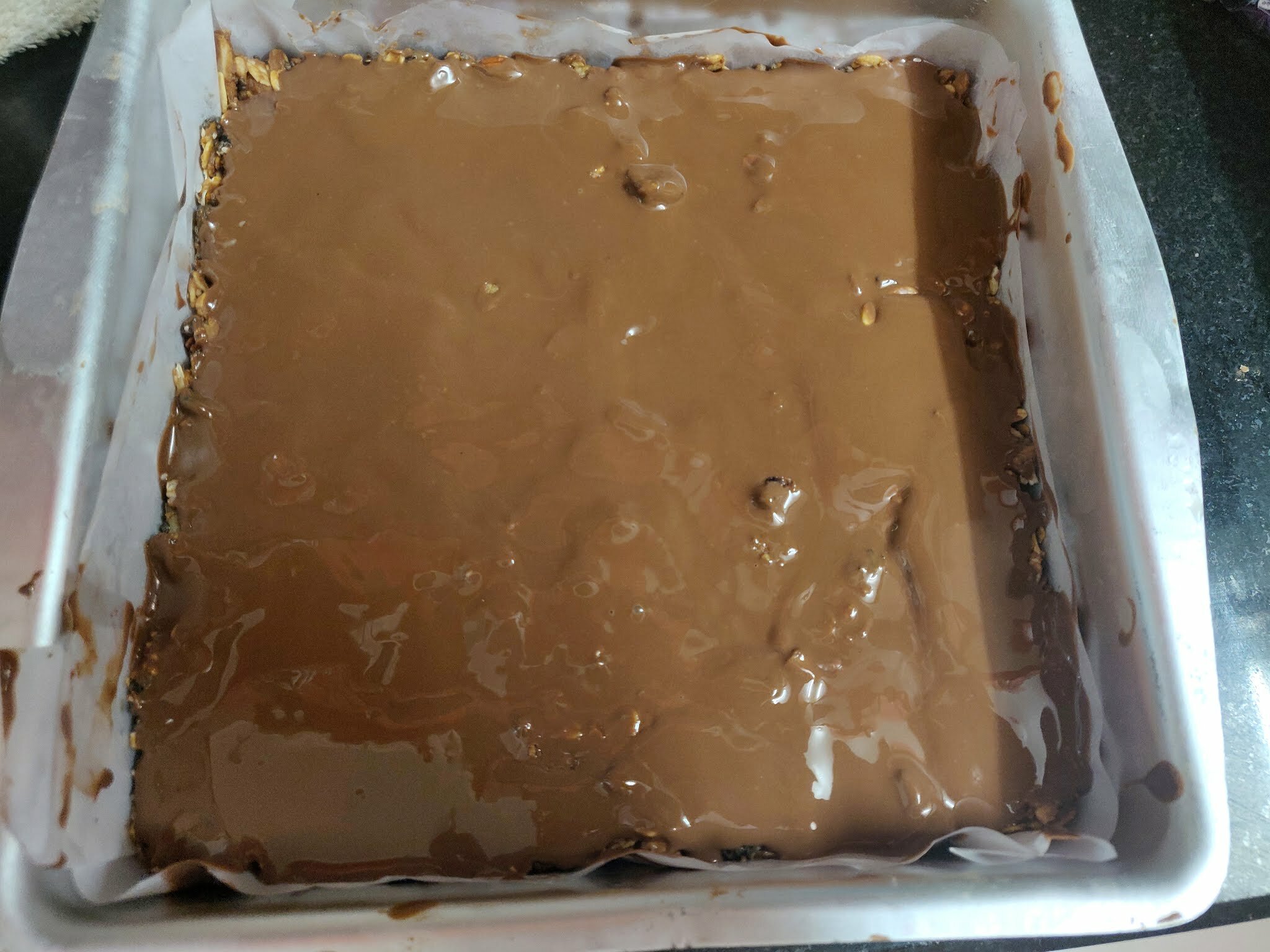 Step 10:
Once it is cooled completely, take the tin out of the fridge. Lift the chocolate-oats slab by holding the parchment paper from sides and keep it on a chopping board.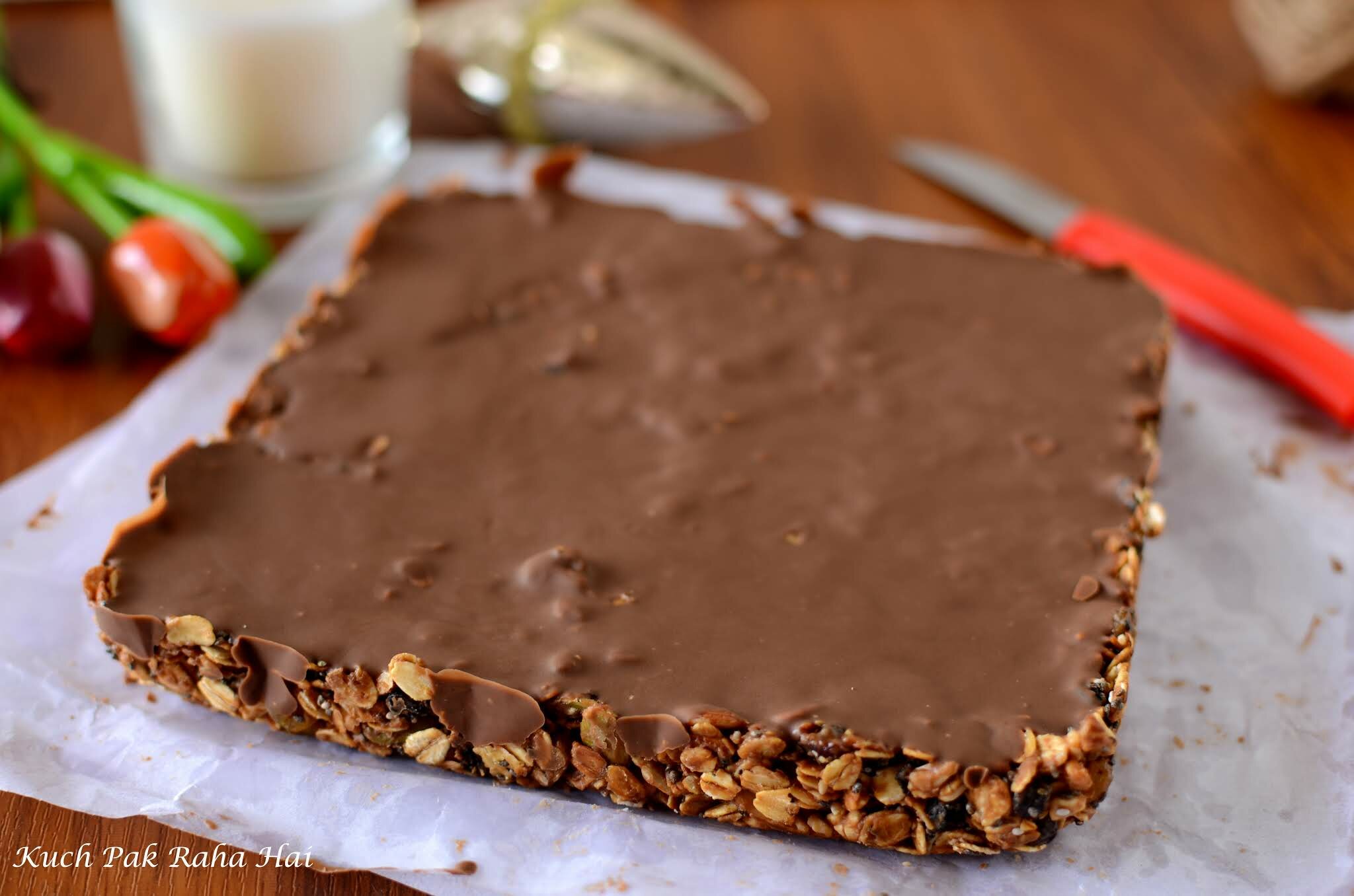 Step 11:
After 2-3 minutes, cut the slab into bars using a sharp knife. I have cut it into pieces of 1″ x 3″ inches size. This gives you exactly 12 bars.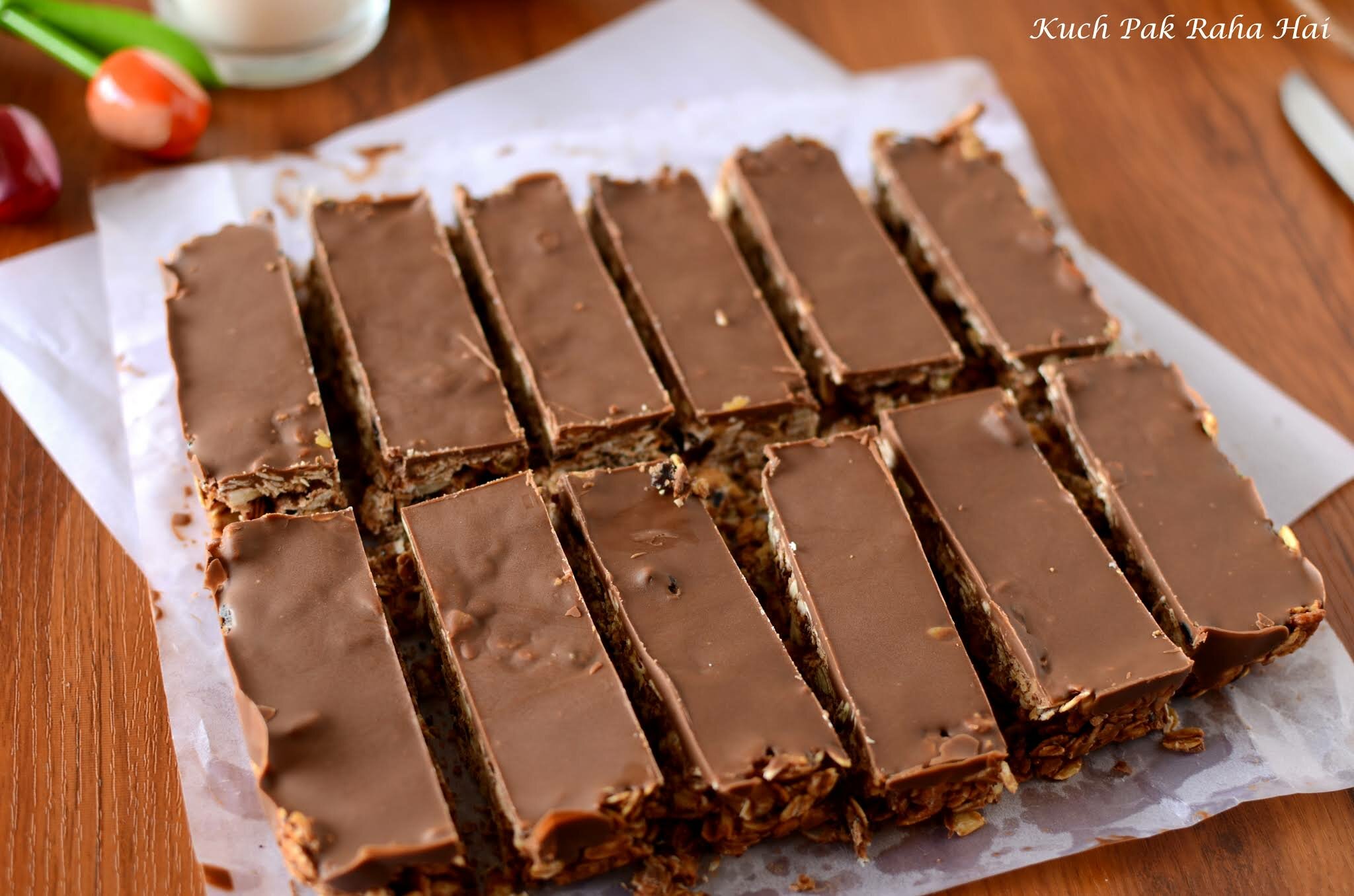 So now when you will lift these bars, on one side there is a layer of chocolate and on other side you can see beautiful golden grainy texture of oats, nuts & dried fruits.
Enjoy these delicious & healthy Chocolate granola bar in your breakfast, as mid day snack or happily pack them in your kids tiffin.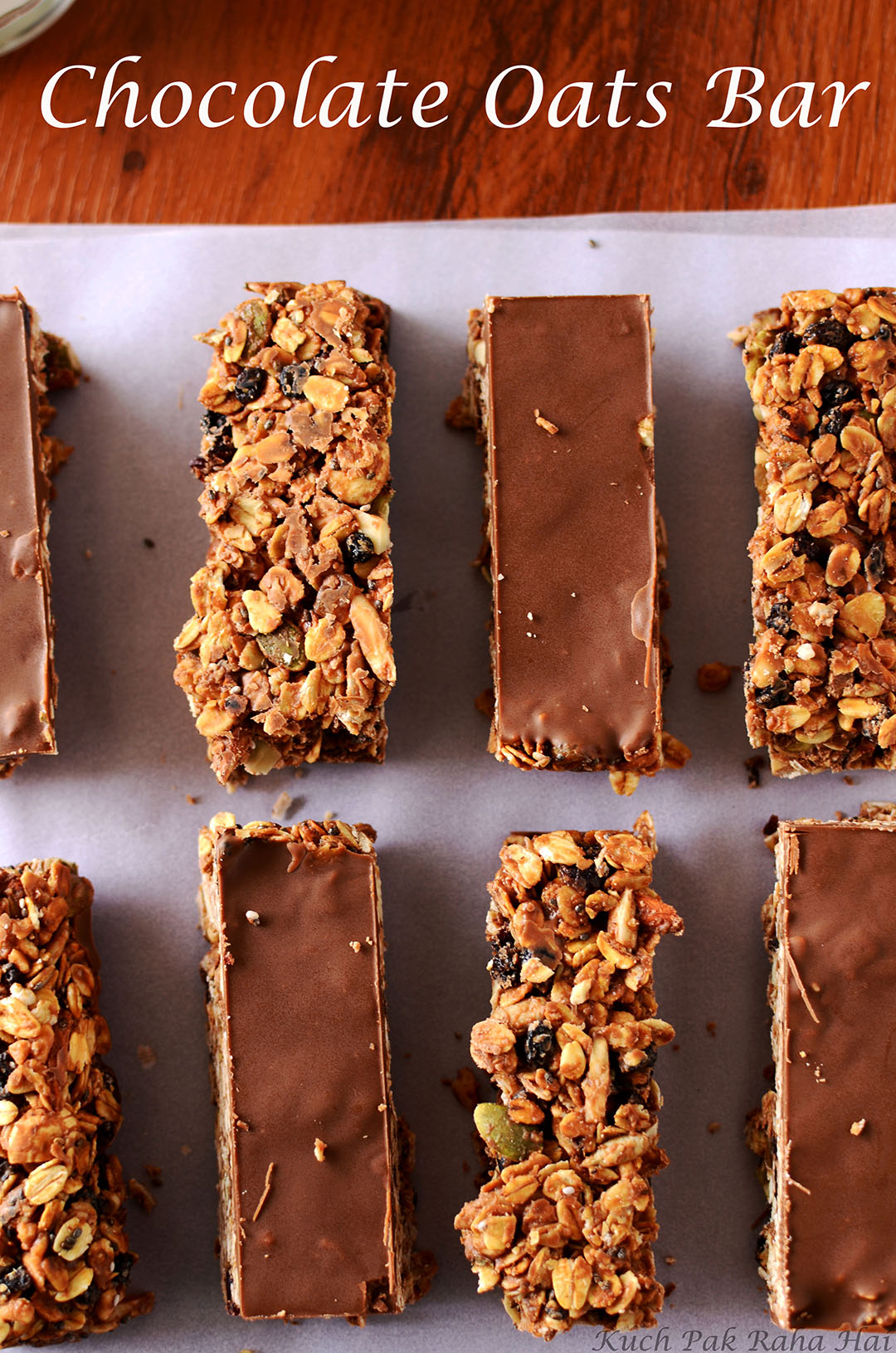 Can we make these granola bars vegan?
The only non-vegan ingredient in this recipe is chocolate. You can use vegan chocolate to make these granola bars totally vegan.
More Oats Recipes you might like:
If you try this recipe & share pics on social media, then don't forget to tag us on Facebook or Instagram or use the hashtag #kuchpakrahahai.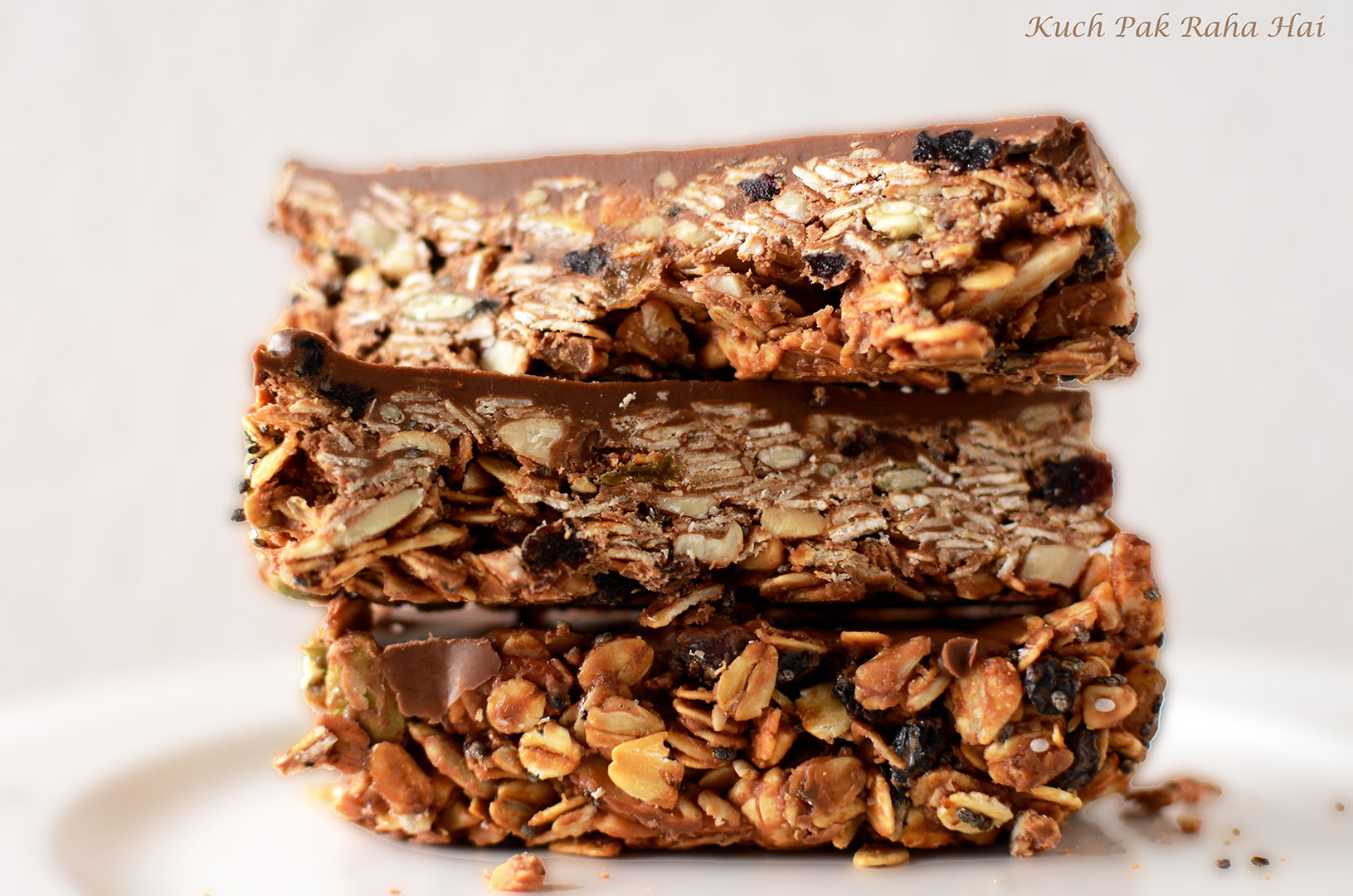 Let's stay connected
Facebook| Instagram| Pinterest | Youtube