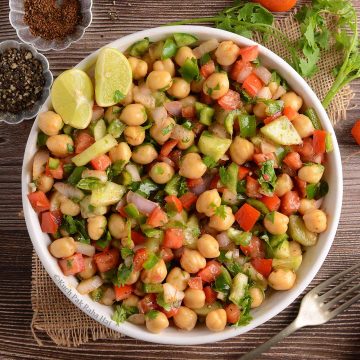 Delicious, flavoursome & refreshing chickpeas salad loaded with cucumber, tomatoes, onions, bell peppers & spiced with mediterranean flavours. It is easy to make, protein packed, absolutely filling & a healthy option for lunch or dinner.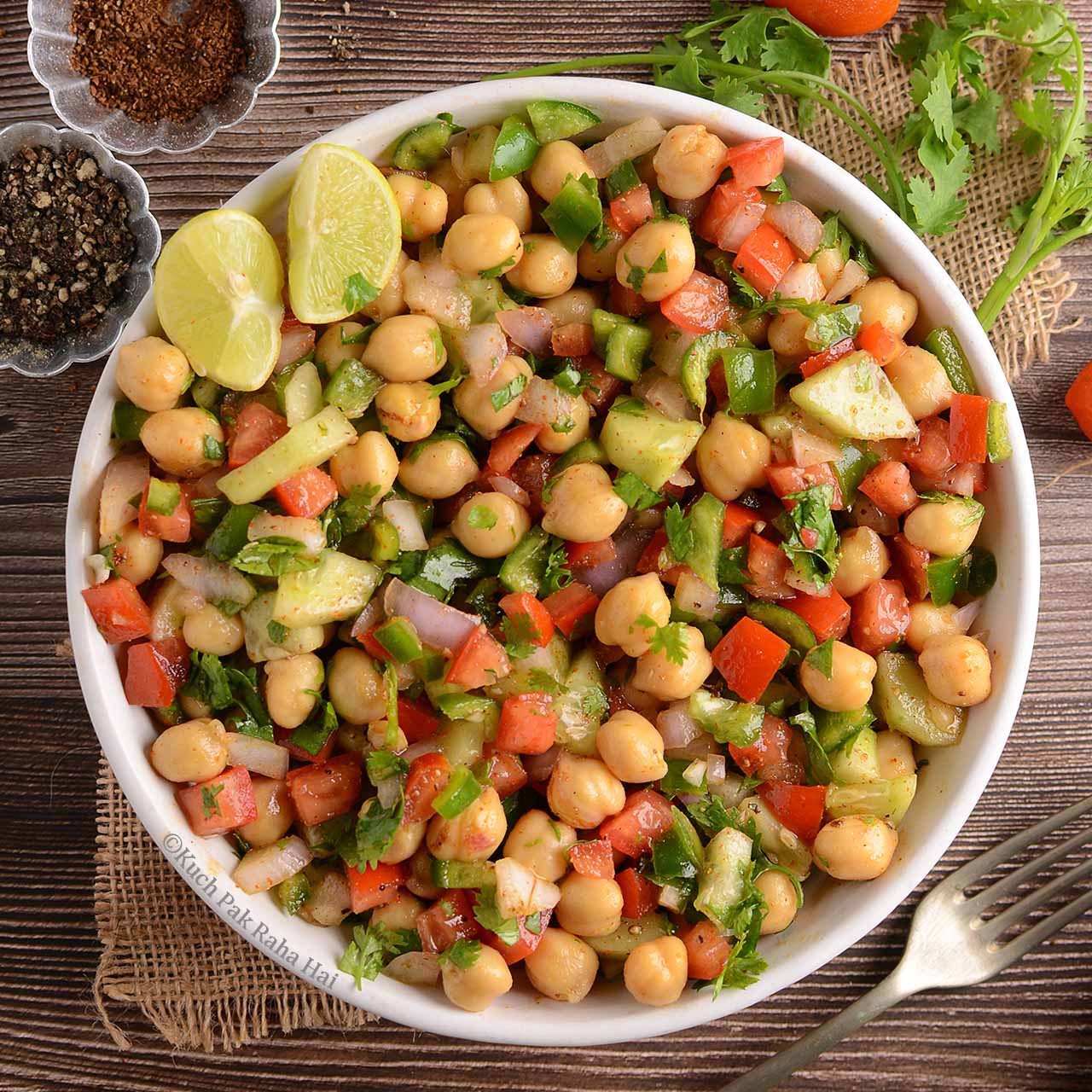 The simple chickpeas salad recipe shared here is:
Vegan / Vegetarian
Gluten Free
High Protein
Kids Friendly
Ingredients to make Chickpea Salad:
Chickpeas, also known as garbanzo beans or chana, has number of health benefits as 1 cup (164 g) of boiled chickpeas has 14.5 g of protein , 12.5 g of fibre & 269 calories. They can be used in so many recipes like hummus, falafel, curry or air fried to make a crunchy yummy snack.
Combined with vegetables like cucumbers, tomatoes & red onions this salad is an absolute power house of nutrition. A mix of green, red & yellow bell peppers add pop of colour & flavours to the salad. I generally try to add mix of all three in this salad (eating the rainbow!!) but feel free to add whatever colour you have.
This light flavourful chickpea salad is spiced up with mediterranean flavours using salt, crushed black pepper, roasted cumin powder, red chilli powder (paprika) & lemon juice. A generous drizzle of extra virgin olive oil makes the salad more palatable but if you are looking for a weight loss zero oil recipe then feel free to skip it.
To add crunch to this salad, you can add some toasted sesame seeds. Addition of fresh herbs like cilantro, parsley or coriander makes the salad even more refreshing. Instead of cilantro you can also use few fresh mint leaves or garlic chives.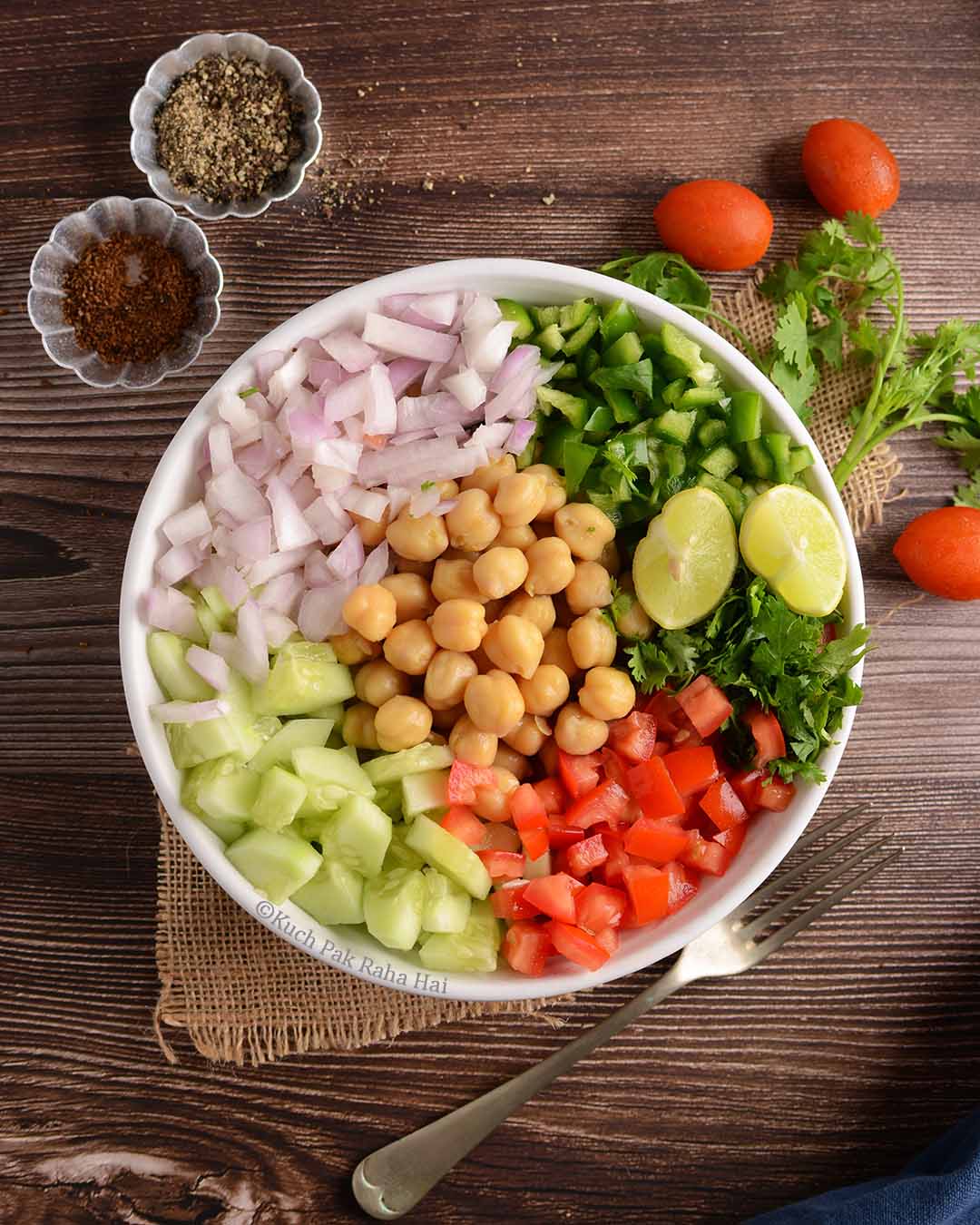 Chickpeas Salad Variations:
Other additions you can make in this chickpea salad:
Boiled Pasta: You can add boiled bow pasta or lentil pasta to make chickpeas pasta salad.
Feta / Goat Cheese: Some crumbled feta or goat cheese adds creamy texture & saltiness to the salad.
Seasoning / Spices: You can spice up this salad by using other spices or seasoning of your choice like cayenne pepper, dijon mustard, chilli vinegar or Indian chaat masala.
More vegan gluten free chickpea recipes :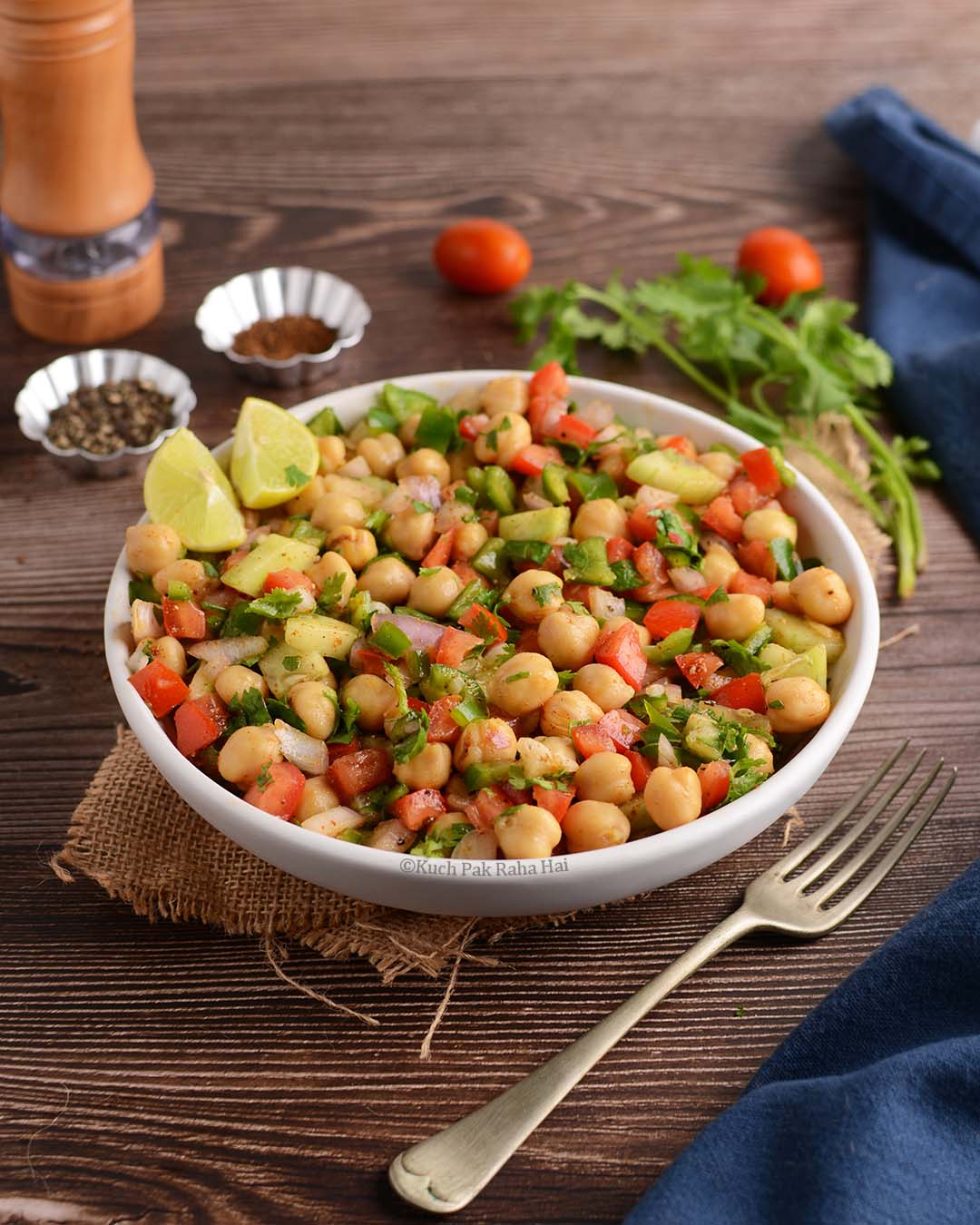 Hope you would like this healthy easy Chickpea Salad recipe!!
Ingredients: (Serves 2)
Boiled Chickpeas- 2 cups
Cucumbers (chopped)-1 cup
Red Onion (chopped)-1/2 cup
Tomatoes (chopped)-1/2 cup
Bell Peppers (chopped)-1/3 cup
Garlic cloves (grated)-2 to 3 (small)
Lemon Juice- 2 tsp
Extra Virgin Olive Oil- 2 tsp
Crushed black pepper- 1/2 tsp
Roasted Cumin Powder- 1/2 tsp
Red Chilli Powder / Paprika-1/2 tsp
Salt-1/2 tsp (to taste)
Chopped Cilantro / Coriander-2 tbsp
Notes:
1. Deseed the tomatoes before chopping otherwise the salad can turn out watery.
2. You can skip red chilli powder in this salad recipe or adjust other spices as per your taste.
Directions:
Step 1:
If you are using canned chickpeas, drain & rinse them first.
If you are using uncooked raw chickpeas, you can boil them in pressure cooker or instant pot. Rinse well (pic 1) & soak them overnight for at least 5-6 hrs (pic 2). In a pressure cooker, add 1 cup soaked chickpeas, 2-3 cups of water & 1 tsp salt (pic 3). Pressure cook for 3 whistles & them simmer down for 20 minutes.
Switch off the flame & let the pressure release on its own. Transfer the chickpeas to a colander to drain out all the water(pic 4). Let the chickpeas cool down.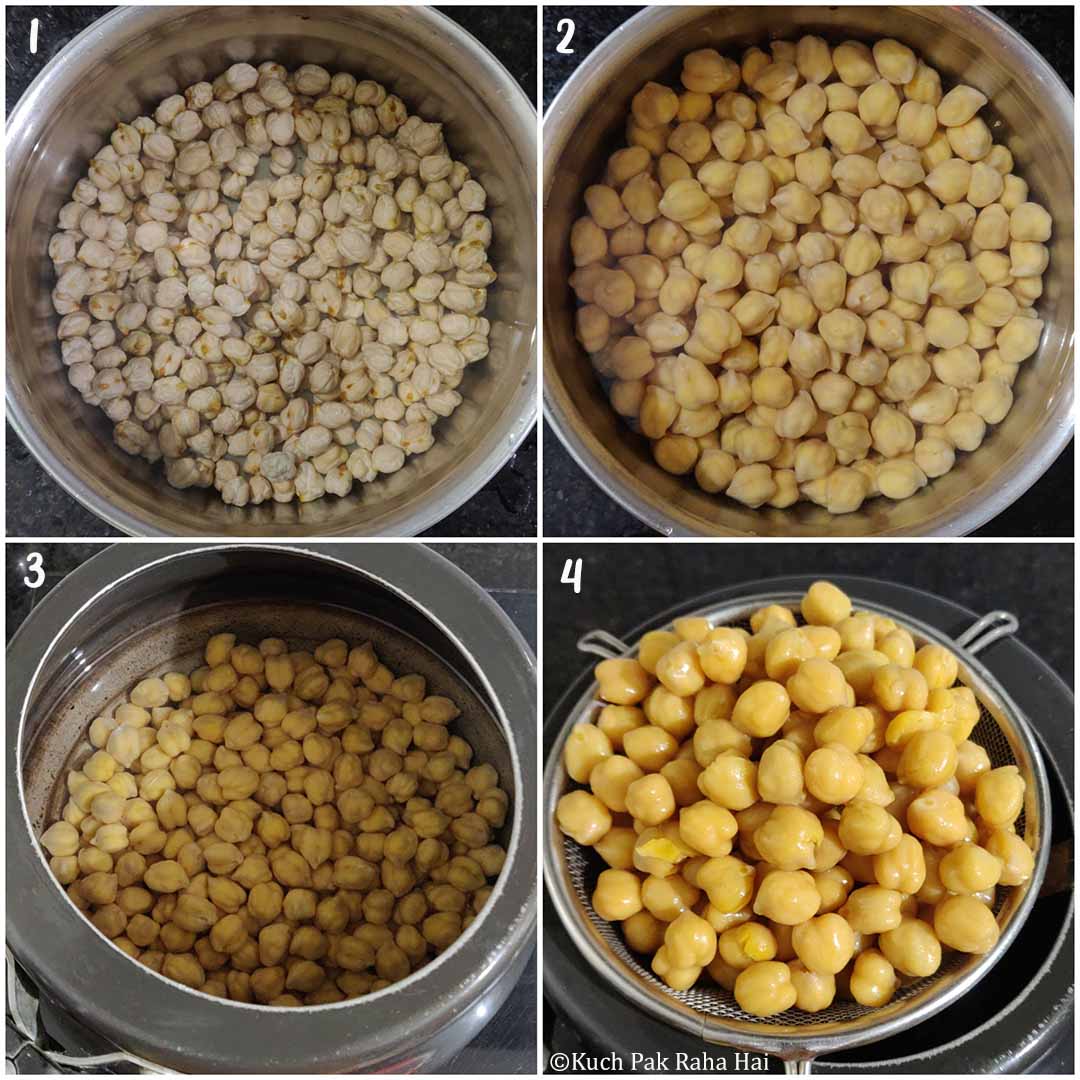 Step 2:
In a large mixing bow, add boiled chickpeas, chopped vegetables, cilantro, grated garlic along with lemon juice, extra virgin olive oil, roasted cumin powder, crushed black pepper, chilli powder (paprika) & salt.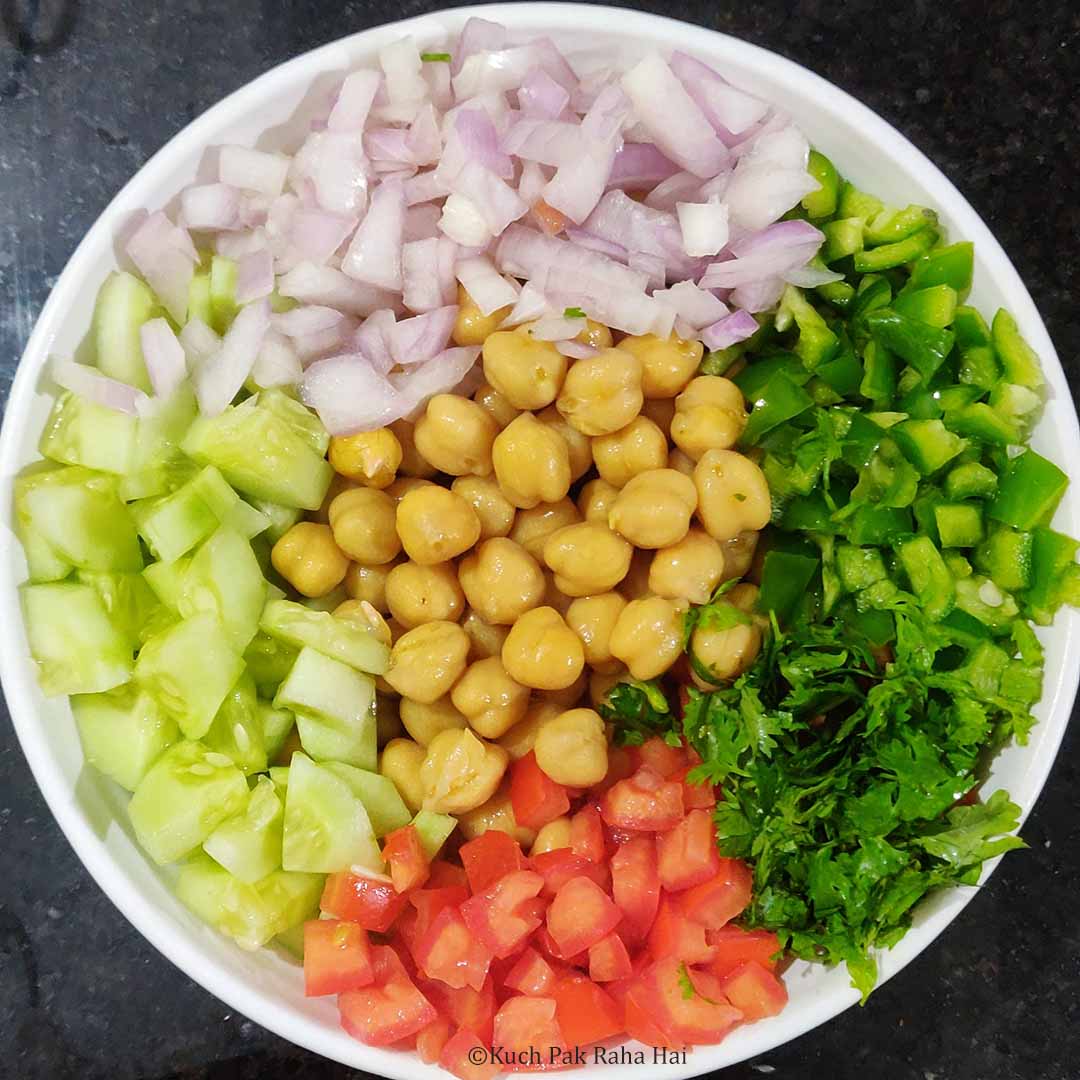 Step 3:
Mix gently so that seasoning is evenly distributed in entire salad. Garnish with freshly chopped cilantro or coriander leaves.
Enjoy this yummy protein packed salad as it is or as side dish.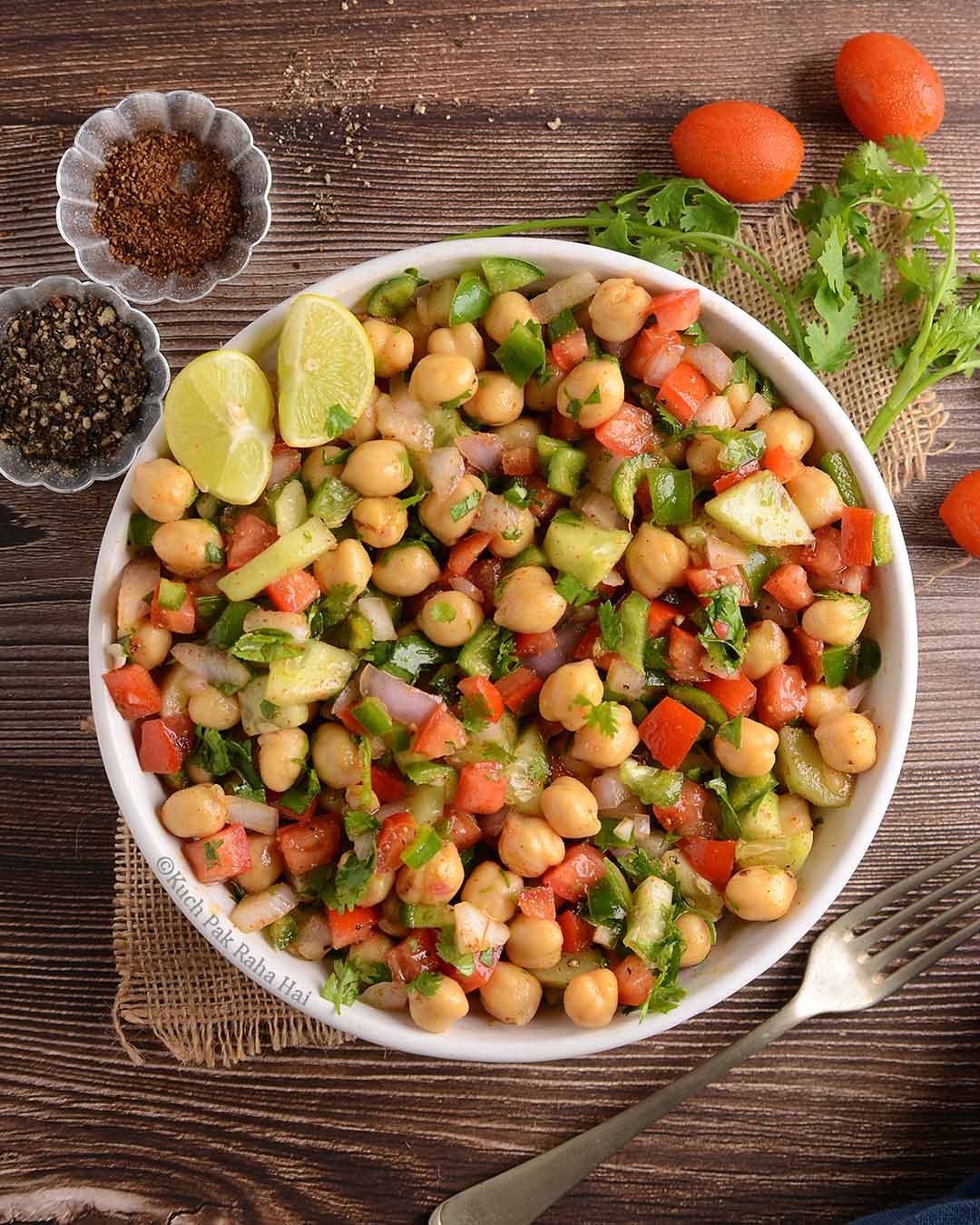 How to store chickpea salad?
Store this salad in an airtight container or if you are storing in a bowl then cover with a cling wrap in fridge. Covering is important as onions can sometimes leave its odour in fridge. I won't recommend storing it for more than a day as veggies start to lose their crunch. However you can boil the chickpeas and store them for a couple of days without adding the veggies.
More easy salads recipes:
Pin for later: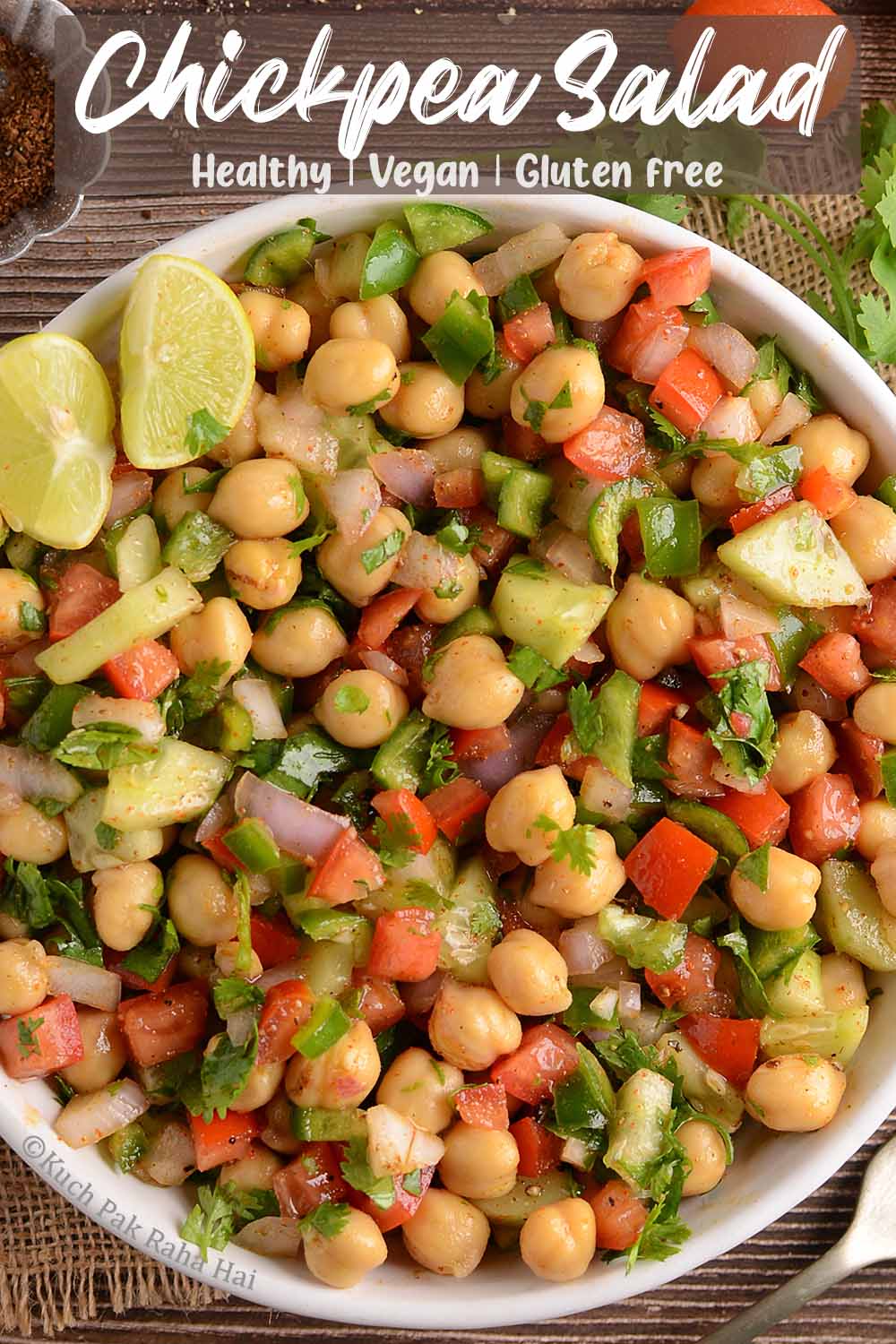 If you try this easy chickpea salad recipe & share pics on social media, then don't forget to tag us on Facebook, Instagram or use #kuchpakrahahai.
Let's stay connected
Facebook | Instagram | Pinterest | Youtube