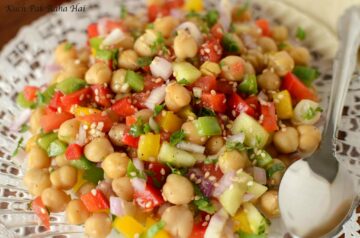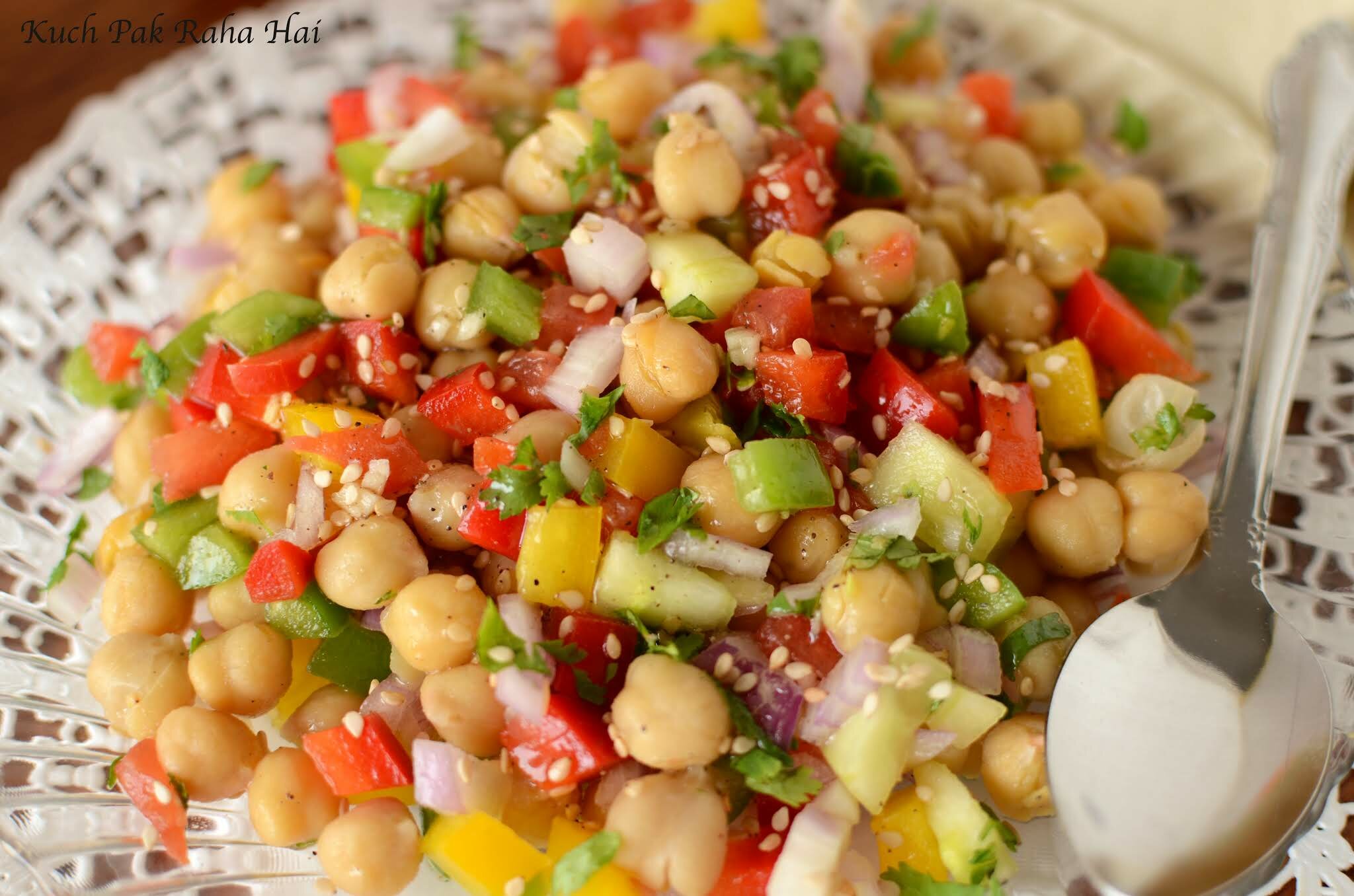 Chickpea salad is an absolutely delightful delicious salad option which is protein packed, full of anti-oxidants, fibre & other essential nutrients. Chickpea is also known by other names like 'Garbanzo Beans' or 'Bengal Gram'.
The body of our salad constitutes of chickpea(as also the name suggests) , accompanied by fresh cucumbers, crunchy onions, ripe-juicy tomatoes and crisp bell peppers. The salad's dressing has sweet-sour flavour with dash of lemon & honey, punch of garlic, garnished with roasted sesame seeds & fresh coriander for adding that extra freshness and flavours in it.
Earlier whenever I made this salad I never added honey or any sweetener to it. Recently when I was making it with my mom, she asked me to add a little honey to it and see myself how it enhances the overall flavour of salad. After being hesitant, I added a teaspoon of it and yes it really brought a balance to the overall taste. Lesson learnt-Mom will be mom & you don't argue with her, no matter what age you are 😉 !!
It is almost winter time in most of India, also the time when you are constantly looking out for some quick recipes which can me made without spending hours in kitchen. This easy & quick chickpea salad along with a soup of your choice makes for a complete meal anytime. You can even serve it as a side salad in lunch or dinner for your daily dose of protein. Also, this is a good option for weight watchers as it is quite filling and makes you feel satiated for long.
You can alter the proportion of veggies as per your own preference. For example, some people often complain that they find green capsicum slightly bitter, so you can skip it or add it in lesser amount. Personally, I feel that it balances the sweetness from red & yellow bell pepper so do try the exact recipe first and then later alter the quantities as per your palate in second attempt.
Hope you would like this Healthy colourful Chickpea Salad recipe!!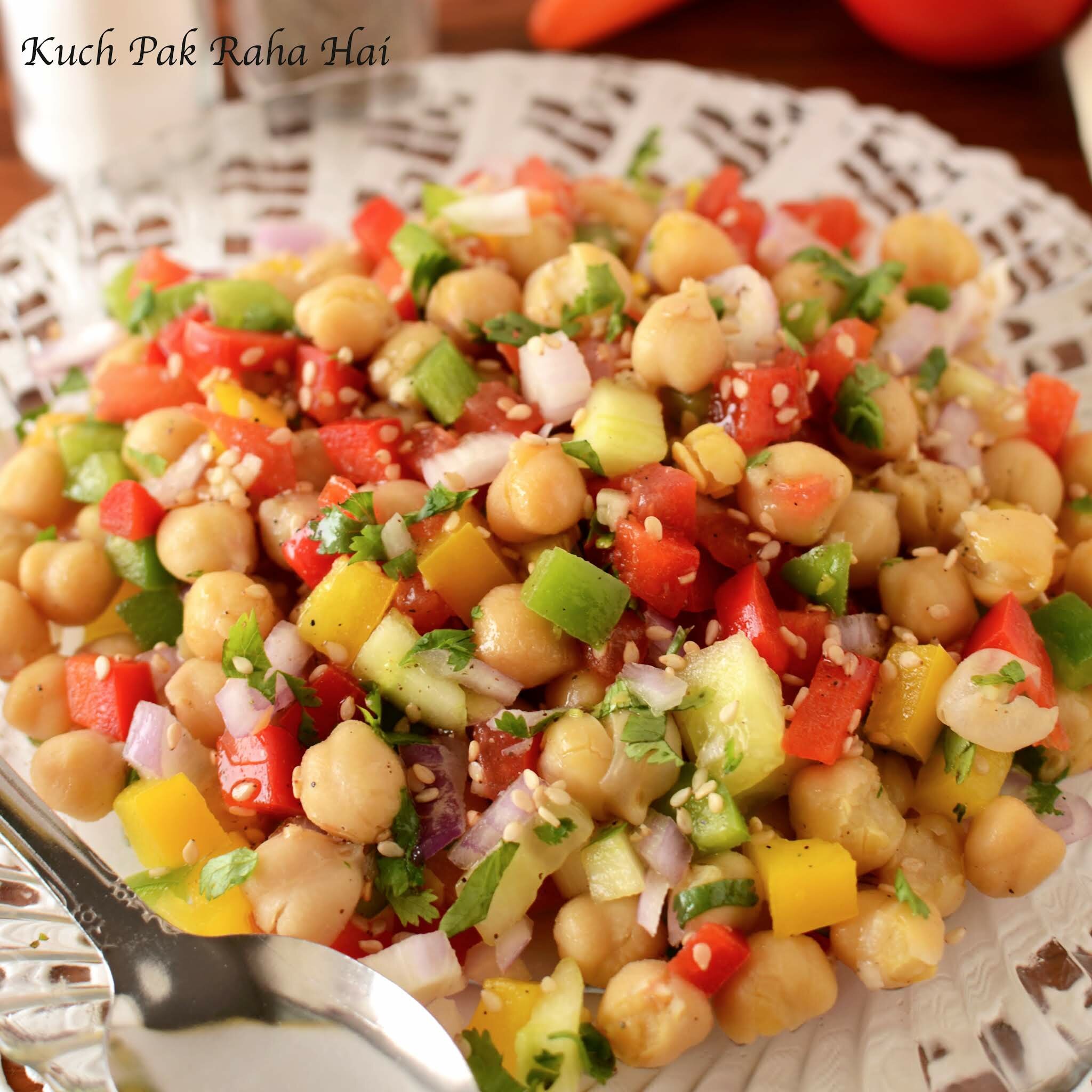 List of Ingredients: (Serves 2)
Boiled Chickpea- 1 cup
Chopped Onion-1/4 cup
Chopped tomatoes-1/4 cup
Chopped Red Bell Peppers-1/4 cup
Chopped Yellow Bell Pepper-1/4 cup
Chopped Green Bell Pepper-1/4 cup
Chopped Cucumber-1/4 cup
For Dressing
Honey / Maple Syrup-1 tsp
Garlic cloves-2
Lemon Juice-2 tsp
Olive Oil-1&1/2 tsp
Crushed black pepper- 1 tsp
Salt- To taste
For Garnishing
Roasted Sesame seeds- 2 tsp
Chopped Coriander leaves-2 tbsp
Steps To Prepare:
Step 1:
Soak the chickpea overnight or 5-6 hours. Pressure cook them in a cooker by giving three whistles and them simmering down for 20 minutes. If you don't have time for soaking/boiling the chickpea you can even use canned tin for the same.
Step 2:
Finely chop the garlic cloves. Mix together all the ingredients for dressing-honey, chopped garlic, lemon juice, olive oil, crushed black pepper & salt. Keep it aside.
Step 3:
Finely chop all the vegetables you are going to use for the salad. Fresher the better!! I just love this colourful spread on my chopping board.
Step 4:
In a mixing bowl, boiled chickpeas and chopped veggies. Top it up with the dressing prepared in step2. Toss the salad gently or stir it gently using a spatula.
Step 5:
Garnish it with roasted sesame seeds and freshly chopped coriander leaves. Enjoy this vibrant looking wholesome salad either as side-salad or with your favourite soup in winters!!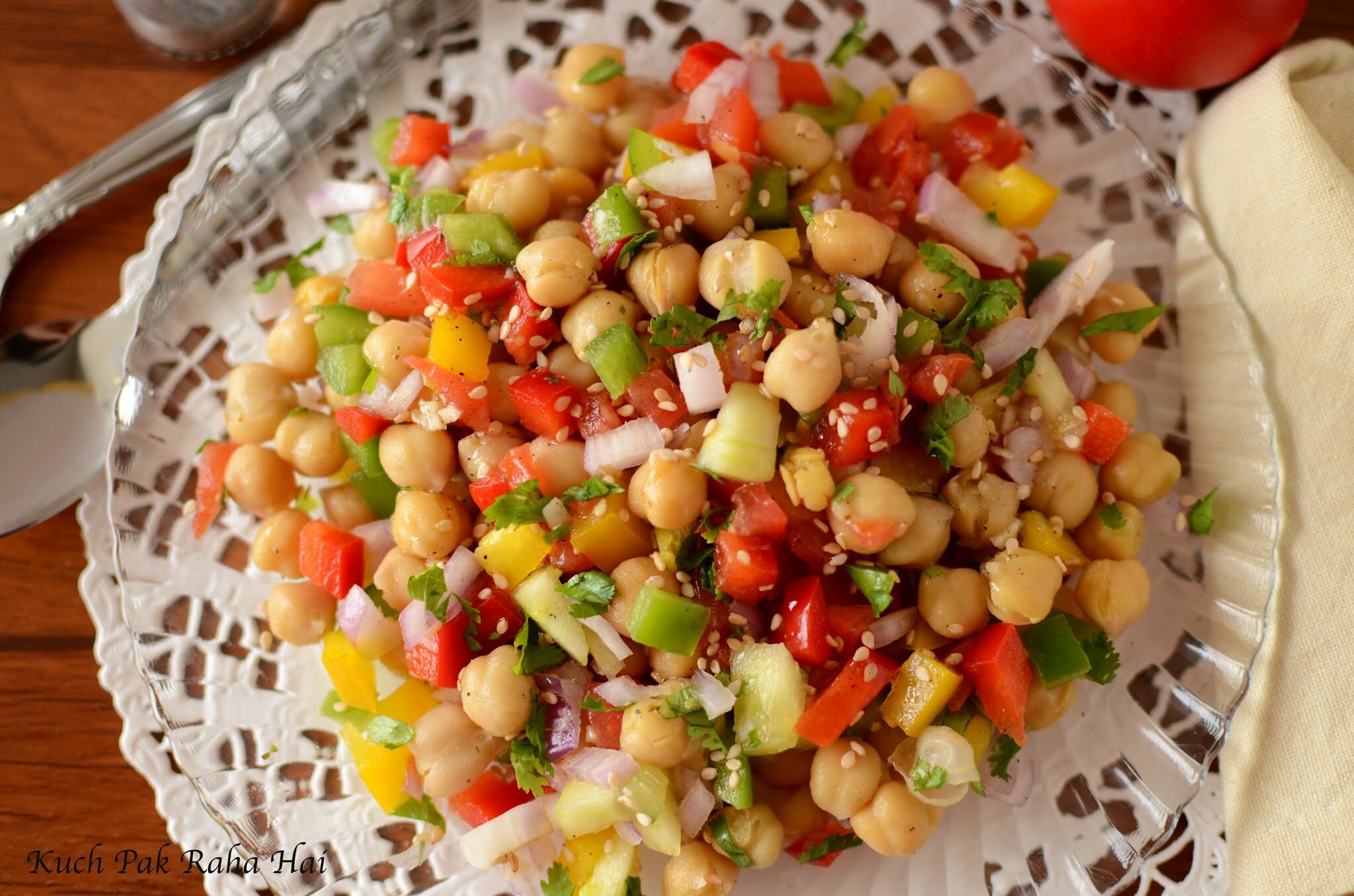 If you try this recipe & share pics on social media, then don't forget to tag us on Facebook or Instagram or use the hashtag #kuchpakrahahai.
Let's stay connected
Facebook| Instagram| Pinterest| Youtube
More chickpeas recipe :