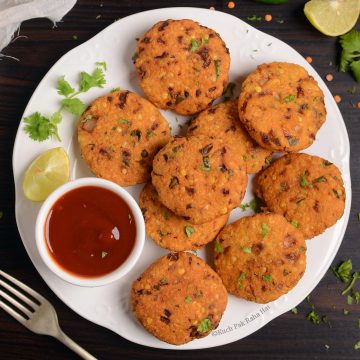 Delicious crispy lentil fritters made with red lentils, onion, garlic, green chillies and few spices. It is an easy, high protein, vegan & gluten free snack recipe. You can fry them on stove top or in an air fryer.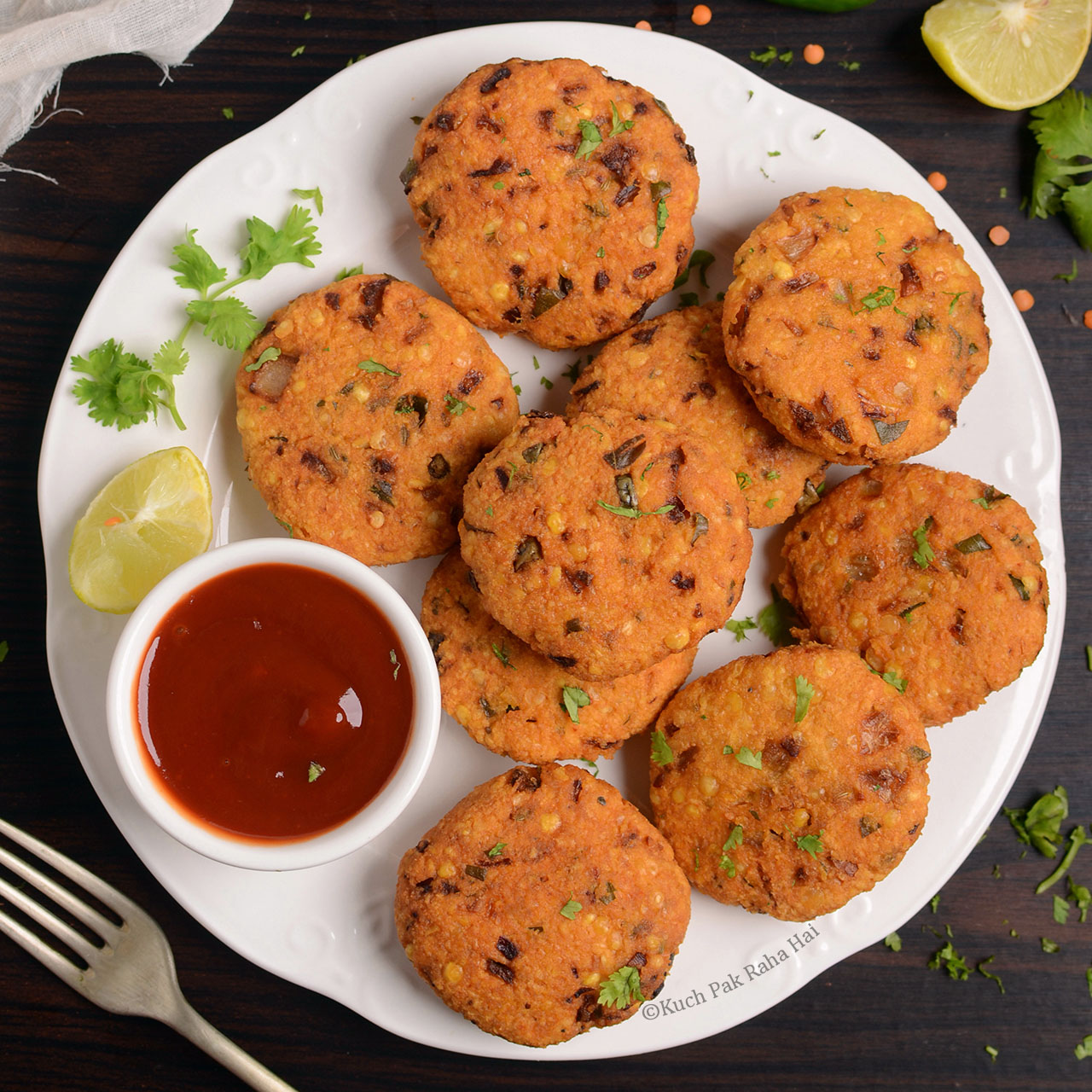 The recipe for these lentil fritters is inspired from South Indian snack called 'Dal Vada' or 'Parippu Vada' made using chana dal (split chickpea lentils).  I made them with split red lentil (also known as red masoor dal) and the vadas absolutely turned out crunchy & yummy.
These delicious dal vada or lentil fritters are powerhouse of protein as 100 grams of red lentils has roughly 25 grams of protein, 10 grams of fibre, 340 calories and other nutrients like potassium, iron, vitamin C etc. As it is low in fat, It is often used in variety of recipes like curries, soups, parathas or khichdi.
You will be surprised how crispy these fritters (or vada) turn out without using any flour, cornflour or bread crumbs. The mixture for these fritters is made using just few ingredients which are easily available at home.
The lentil fritters recipe shared here is:
Vegan / Vegetarian
Gluten free
High in protein
Can be deep fried or made in air fryer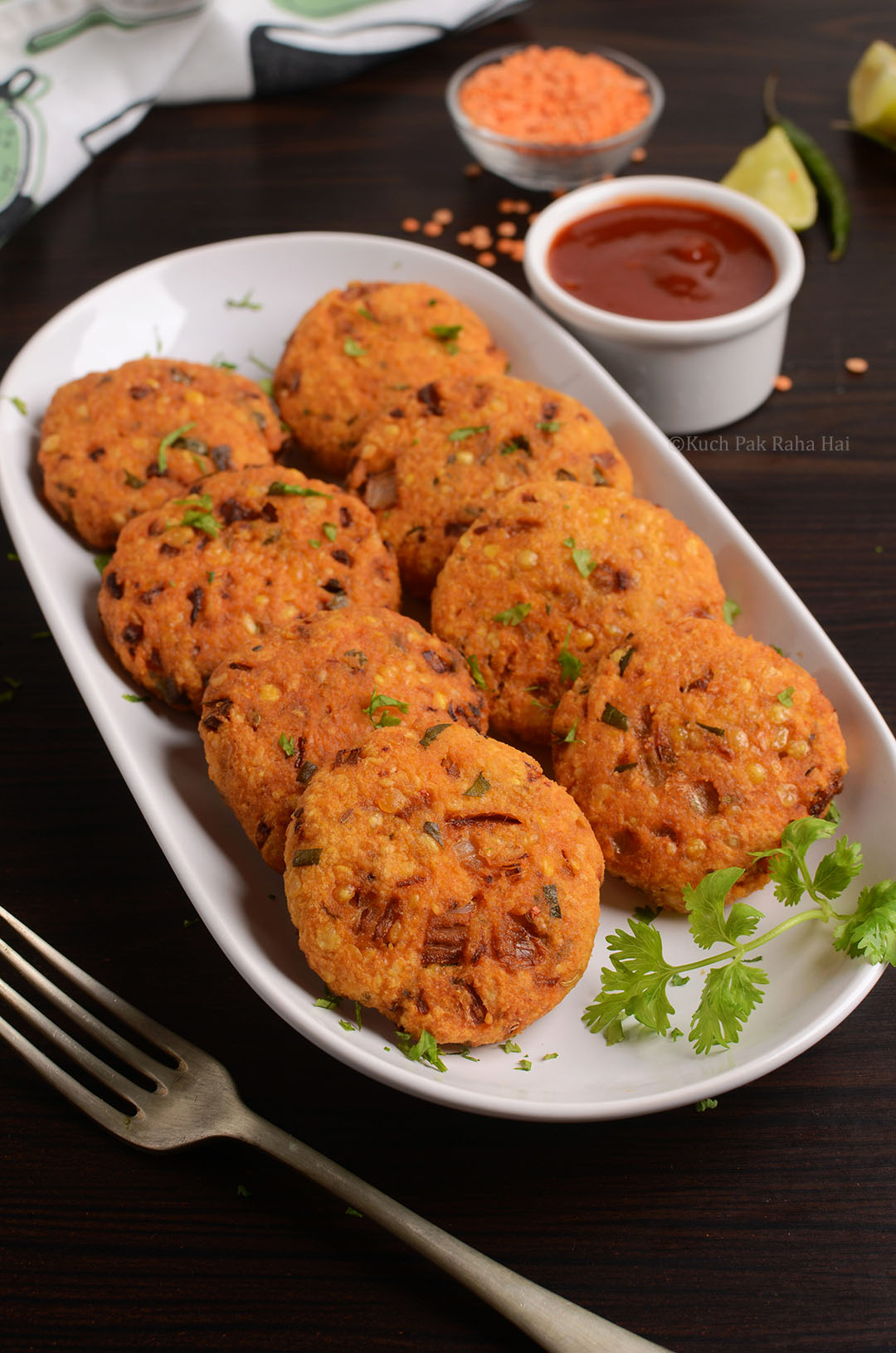 Ingredients for lentil fritters:
Red Lentil: Red lentils are basically skinned & split Indian brown lentils. Due to their colour they are also referred to as pink lentil or orange lentil.
Vegetables: Vegetables like onion, garlic, ginger and green chillies add flavour to these vadas. If you like less spicy food, skip green chillies.
Fresh herbs: Traditionally curry leaves are used in these fritters recipe. However you can also use freshly chopped coriander, cilantro or parsley. Herbs instantly add aroma, freshness and prevents the fritters from getting dry from inside.
Spices: Different spices like chilli powder, turmeric powder, asafoetida (heeng), fennel seeds (saunf) & chilli flakes enhance the colour and flavour of these fritters.
Prepping lentils:
To make these crunchy lentil fritters, the foremost step is to prep the lentil. We are not going to cook the lentils here but instead just rinse & soak them. Rinsing helps in getting rid of dirt and anti-nutrients making them easier to digest. Soaking process softens up the lentil, thus making them easier to grind and suitable for making fritters.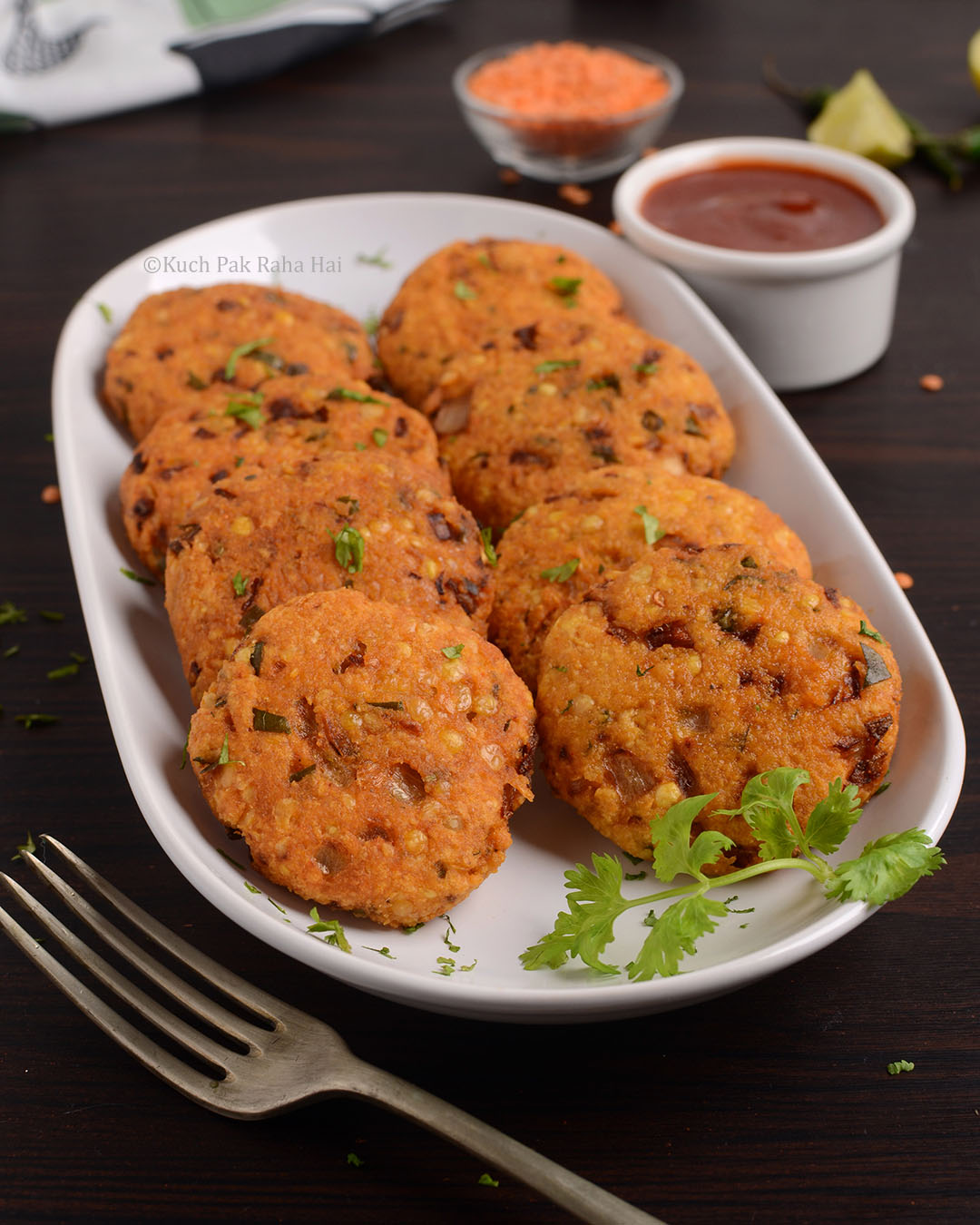 What to serve with lentil fritters?
You can serve these dal fritters with ketchup,  coriander mint chutney, chilli lime mayo or any dip of your choice. These are my favourite as evening snack with a cup of masala chai or filter coffee.
More easy lentil recipes:
Hope you would like this easy yummy red lentil fritter recipe. Do checkout the tips shared at the end of post.

Ingredients:
Red Lentil (Masoor Dal)- 1 cup
Onion (chopped)-1 medium
Garlic cloves (minced)-2 to 3
Ginger paste -1 tsp
Chopped Green Chillies- 2
Chopped Coriander-2 to 3 tbsp
Chilli Flakes- 1/2 tsp
Fennel seeds (saunf)- 1 tsp
Turmeric powder (haldi)-1/4 tsp
Red Chilli Powder – 1/2 tsp
Asafoetida (heeng)- 1/4 tsp
Salt- 1 tsp (to taste)
Notes:
1. Adjust spices as per your taste. You can skip asafoetida if you don't have it.
2. Instead of coriander, you can also use freshly chopped curry leaves or cilantro.
Directions:
Step 1:
Wash the lentils 1-2 times to get rid of dust. Soak it in fresh water for 30 to 50 minutes.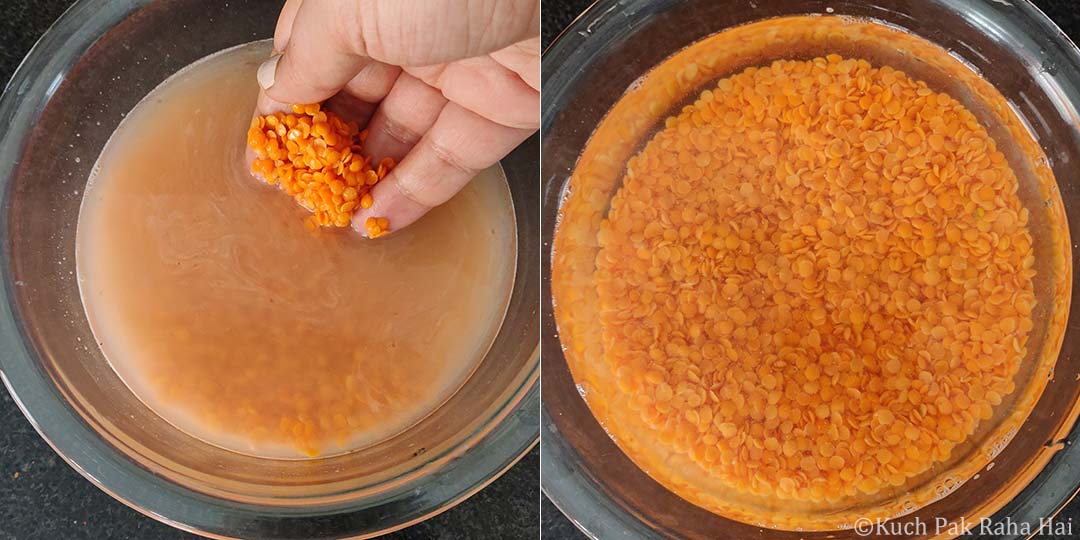 Step 2:
After soaking, drain all its water. Keep 2 tbsp of lentils aside and grind rest of it in pulses (don't add water). It should be coarse and not smooth. If you are making a big batch, grind in batches. Transfer this coarsely ground lentil paste in a bowl.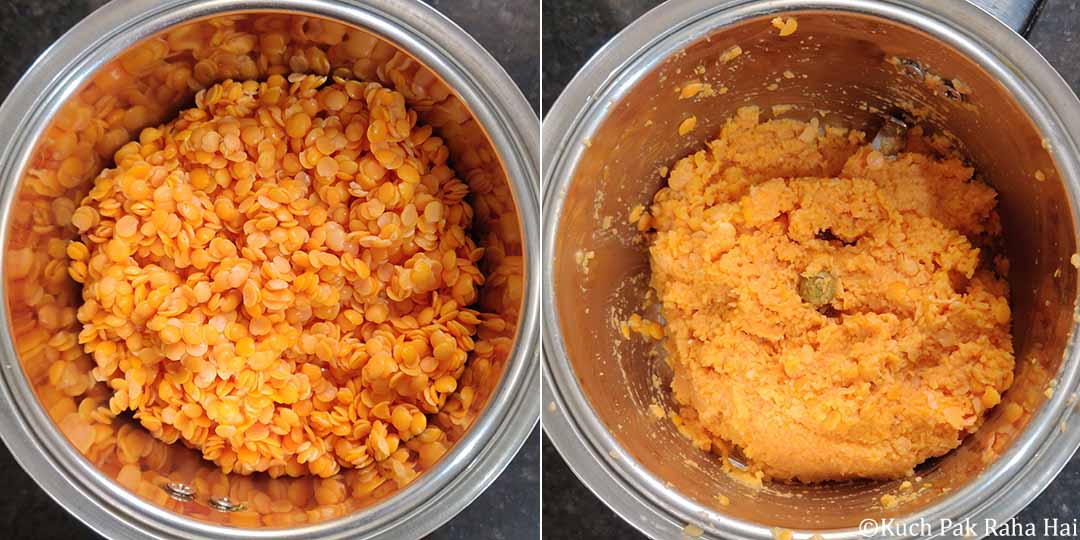 Step 3:
To this bowl, add chopped onions, garlic, ginger, green chillies and coriander along with all the spices. Also, add 2 tbsp soaked lentil which we kept aside. Mix well all the ingredients.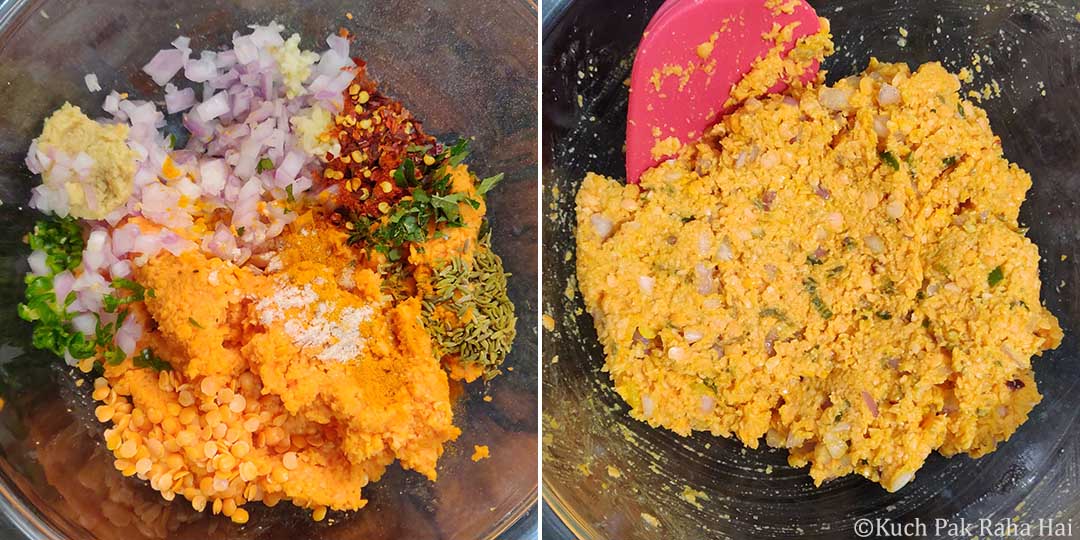 Step 4:
Apply oil on your palms and a plate. Take roughly 2 tbsp mixture, roll it into a smooth ball & then flatten gently by pressing between your palms. Transfer it on greased plate & repeat the process with remaining mixture.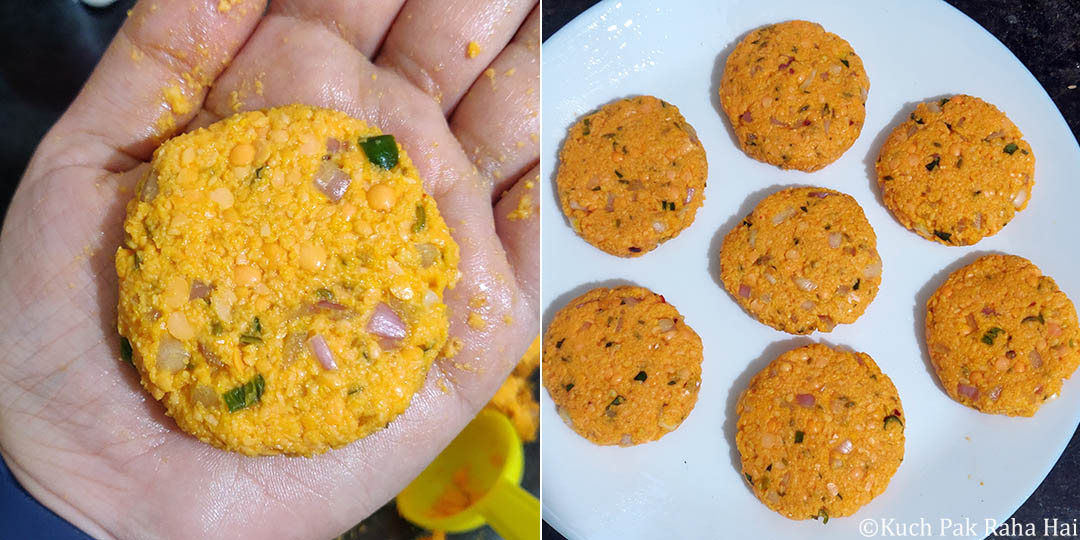 Step 5:
Heat oil in a pan. Once the oil is hot, fry these fritters or vada on medium flame till they are crispy golden brown from both sides.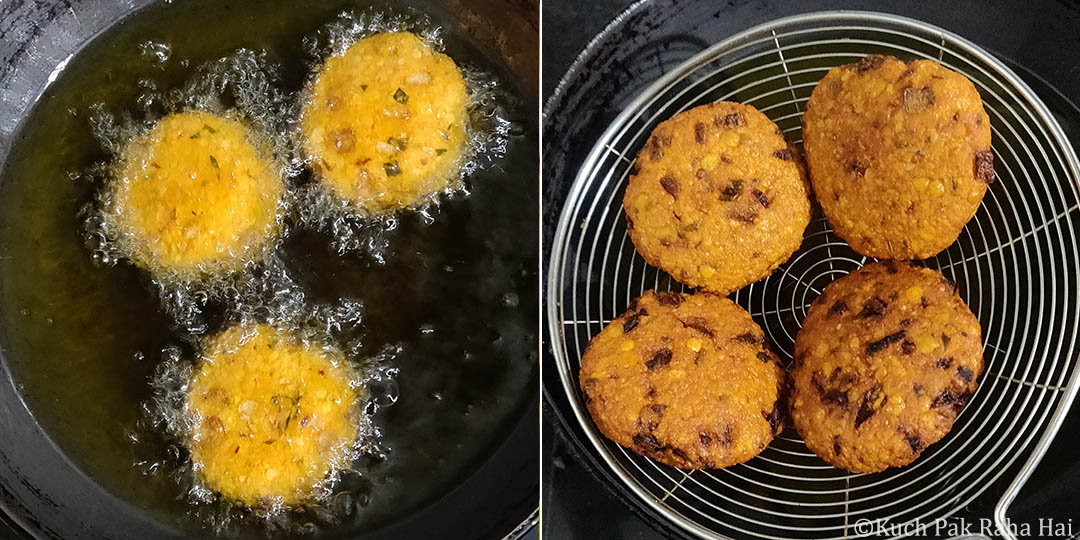 Serve these lentil fritters hot with ketchup or any dip of your choice. Enjoy them with a steaming cup of tea or coffee.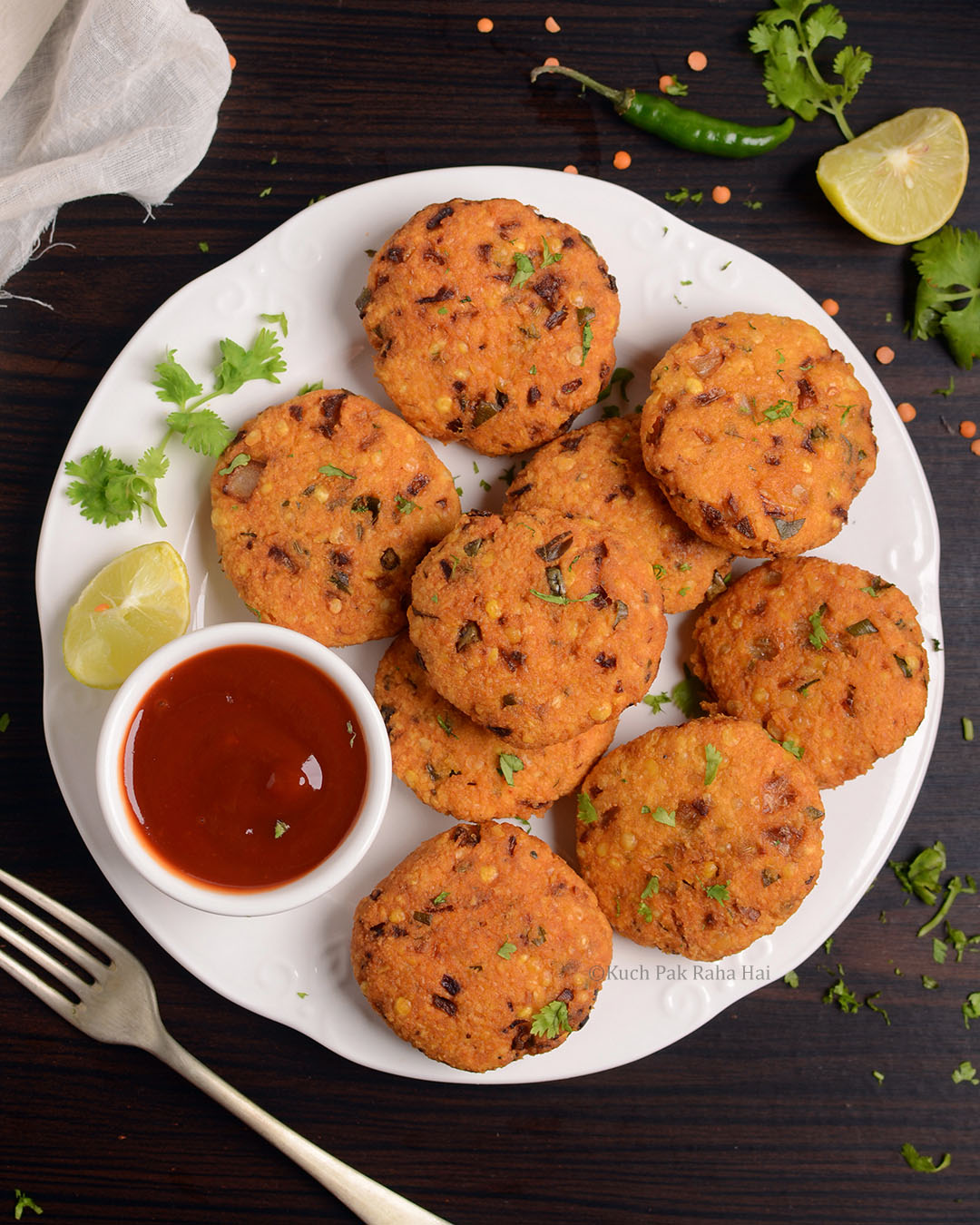 Air Fryer Lentil Fritters
You can also air fry these lentil fritters. All the steps will remain same except step 5. Follow the steps below for air frying method:
1. Preheat air fryer at 180°C (356°F). Once the air fryer is preheated, line with with parchment paper and brush oil over it.
2. Transfer the fritters on this sheet & brush more oil over it.
3. Air fry for 8-10 minutes at 180°C (356°F) till their surface becomes non sticky & you are able to lift them without breaking. Remove the parchment paper and brush some more oil on fritters. Air fry for another 3-5 minutes till they become golden brown on both sides.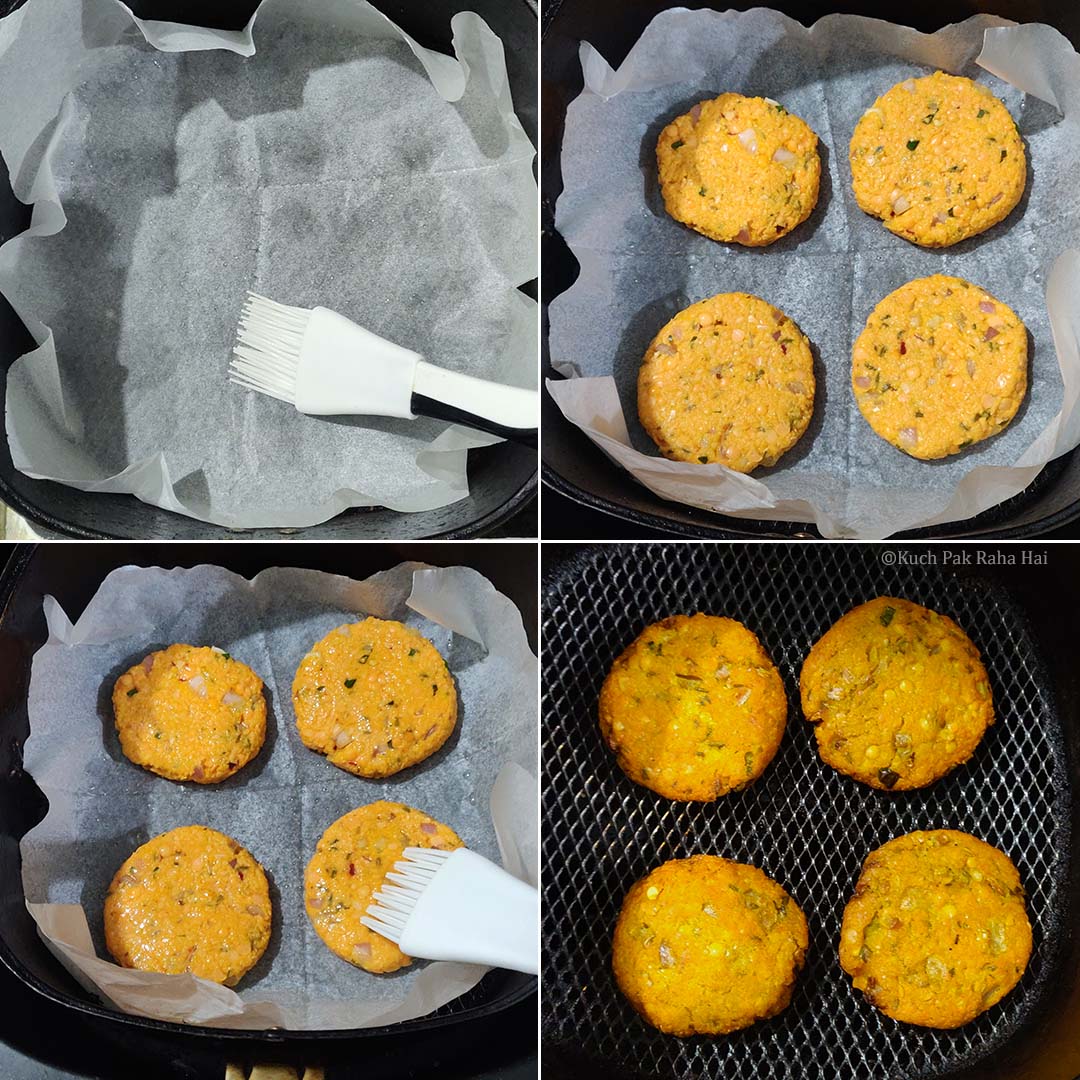 (Removing the parchment paper is an optional step but I prefer to do it as it makes sure you get nice golden colour on both sides of vada.)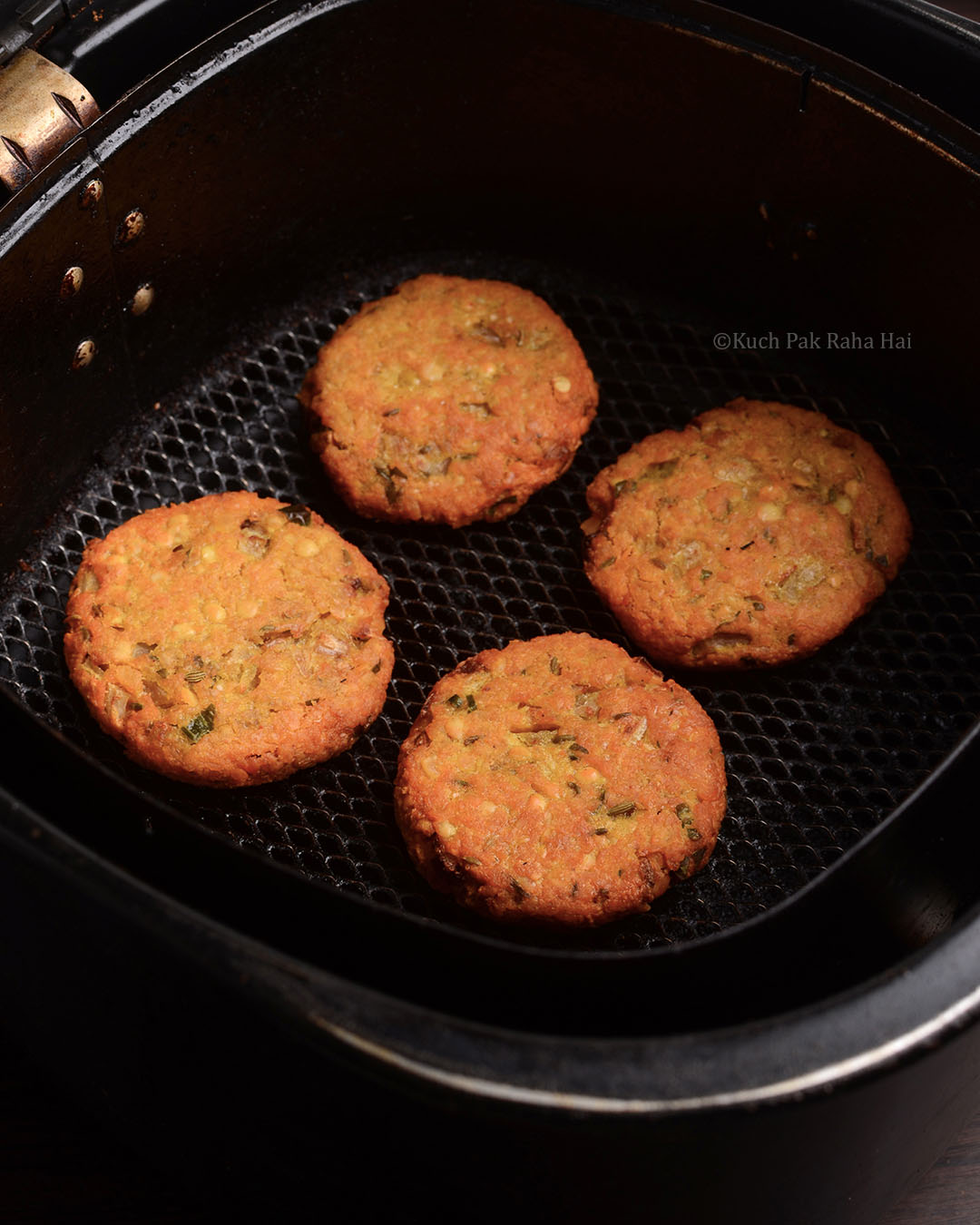 Tip to cook perfect dal vada:
1. Generously apply oil on vadas before & during air frying otherwise they will turn out dry.
2. Never fry these dal fritters on high flame. Always fry them on medium flame. If they are cooked at high temperature, they will get quickly crispy from outside but may taste raw from inside.
3. Don't keep the thickness of fritter too thick. Keep them of medium size.
4. To check whether the oil is ready to fry, pinch a small amount of fritter (vada) mixture and put it in oil. If it sinks to the bottom, it means oil it not sufficiently hot. It it rises to the surface then you are good to go.
Pin for later: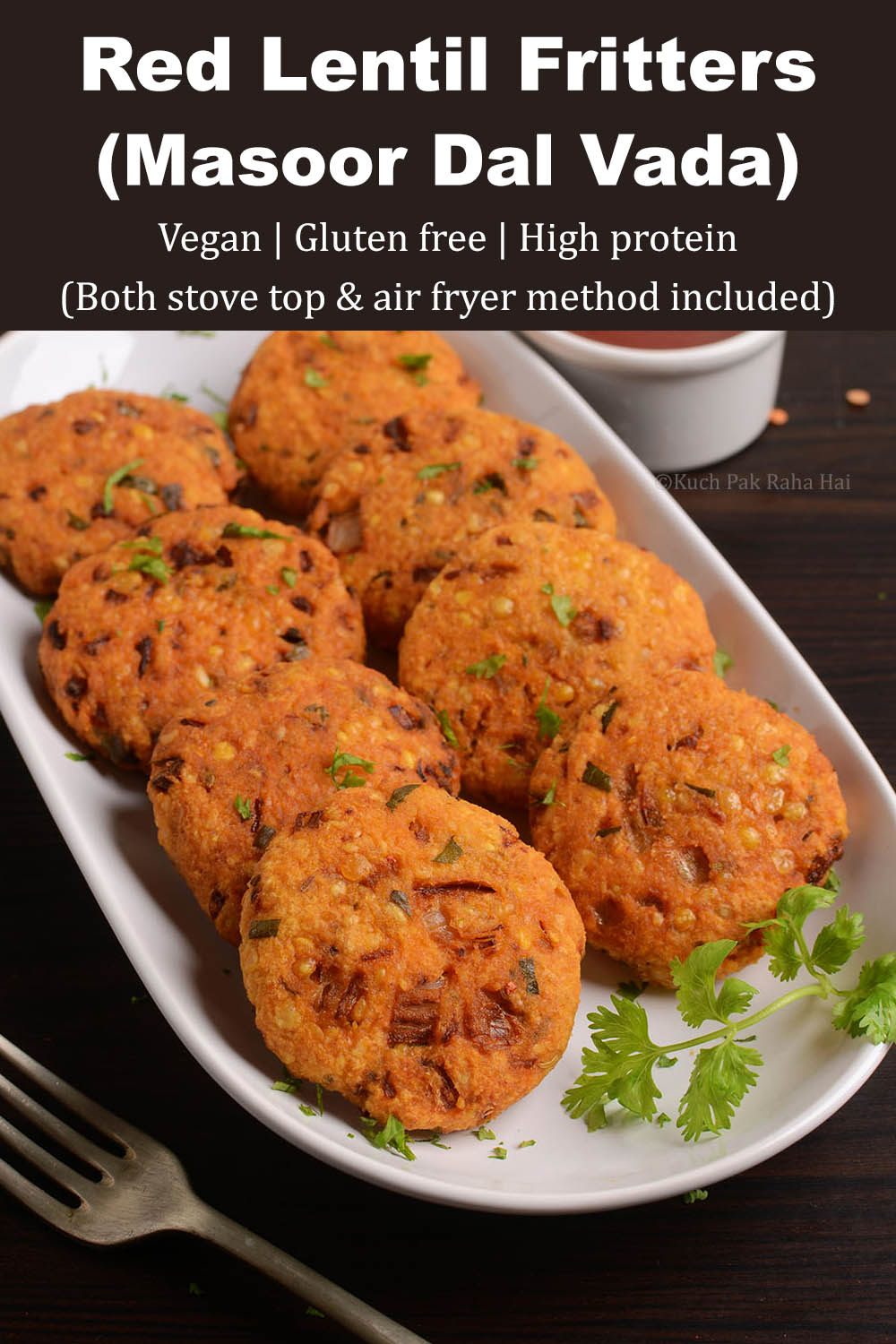 More air fryer recipes you might like to try:
If you try this recipe & share pics on social media, then don't forget to tag on Facebook , Instagram or use #kuchpakrahahai.
Let's stay connected
Facebook | Instagram | Pinterest| Youtube