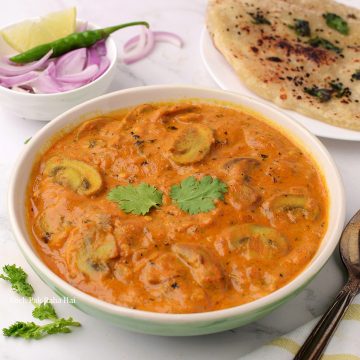 Mushroom Masala is a delectable Indian curry recipe where succulent mushrooms are cooked in creamy tomato based gravy seasoned with aromatic spices. This mushroom gravy goes well with hot chapatis, naan or steamed rice.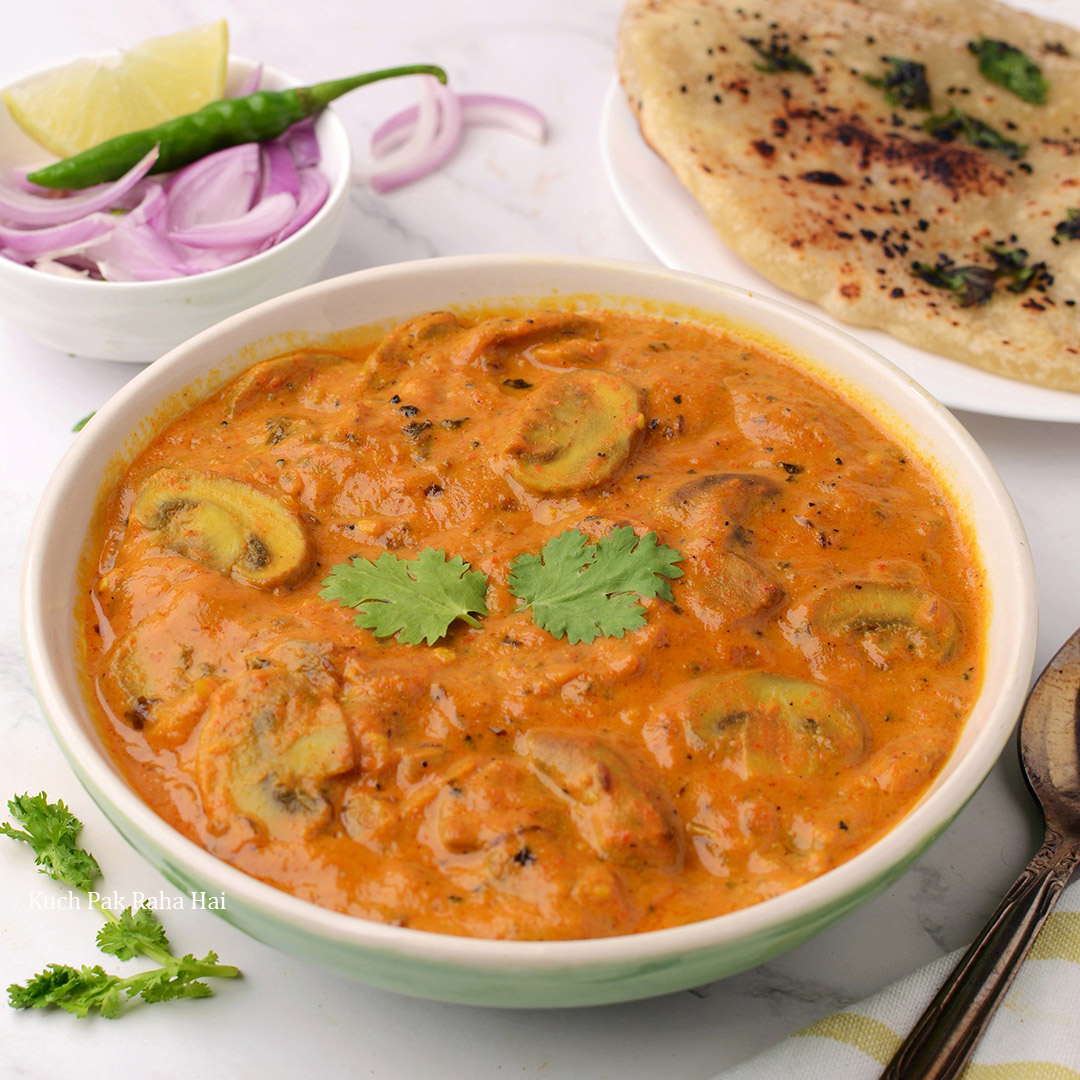 This masala mushroom curry recipe is:
Vegan (Dairy free)
Gluten Free
Prepared in less than 30 min!!
It is such a quick, easy and flavour packed mushroom recipe that you would want to make it again & again. To make this gravy restaurant style, I have used cashews which gives its a smooth velvety texture. However if you wish you can also use some low fat cream or coconut milk instead of cashews.
I have used button mushrooms in making this gravy as they are most commonly available in India. Before using mushrooms make sure to wash them well under running water to get rid of all the dust or soil particles. Never leave the mushrooms in water as they tend to become soggy really soon, thus ruining their texture.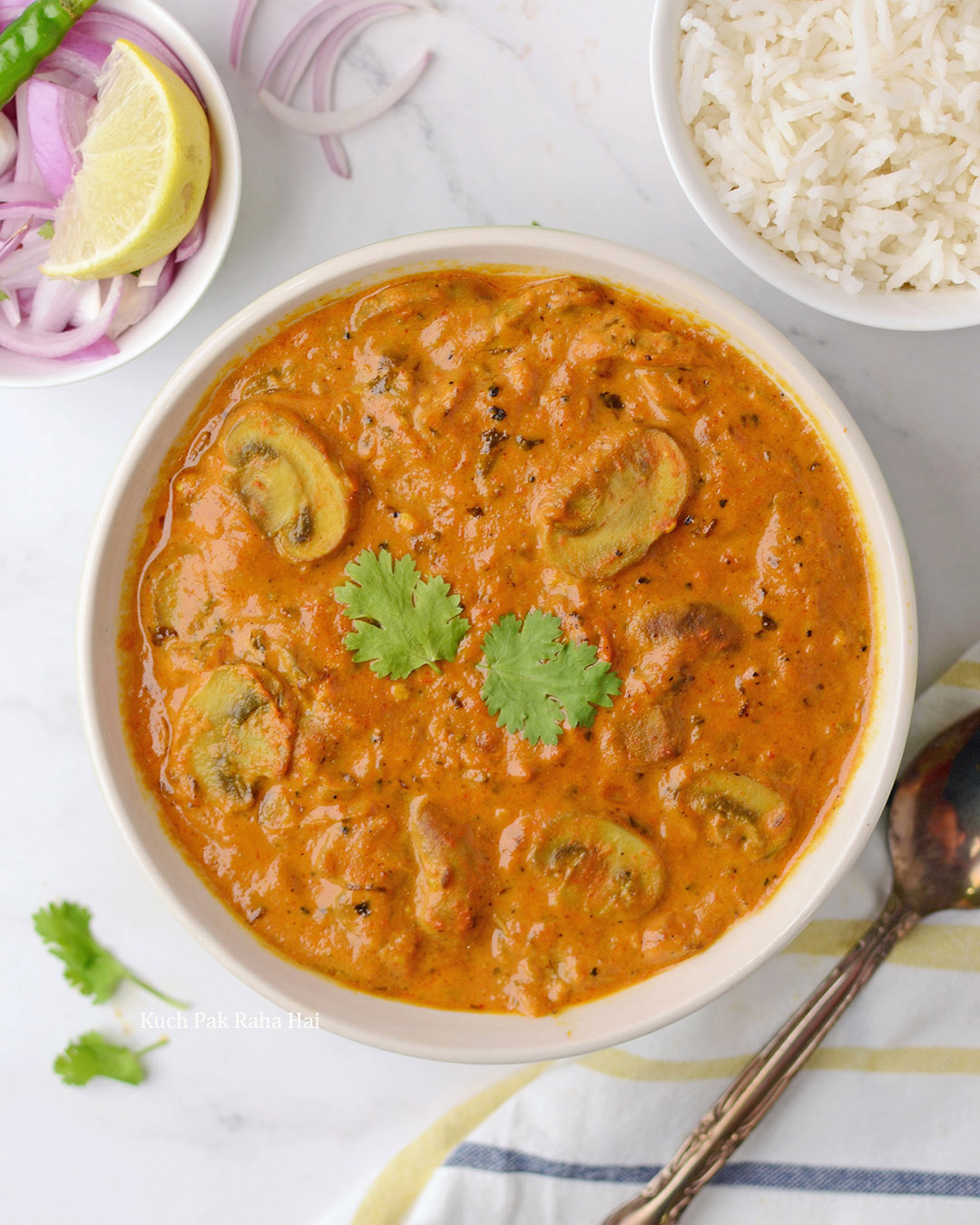 Mushrooms are low in calories and loaded with lots of vitamins & antioxidant. I love the versatile ways these can be used in various recipes like curries, pasta, noodles, soups and casseroles etc. Because of their juicy texture they are often used as meat substitute too in many recipes.
If you are a mushroom lover like me, then do check out below mushroom recipes too :
I have also shared a youtube video for this mushroom masala recipe. If you like it, don't forget to like or subscribe 🙂
Youtube Video:
More vegetarian / vegan main course recipes you might like:
Ingredients:
Mushrooms- 200 grams
Cooking Oil- 2 tsp
Cumin seeds (Jeera)- 1 tsp
Chopped Onion-1
Ginger Paste- 1 tsp
Crushed Garlic- 2 to 3 cloves
Tomatoes- 2
Salt- 1 tsp ( to taste)
Red Chilli Powder- 1/2 tsp
Turmeric (Haldi)- 1/2 tsp
Coriander Powder (Dhaniya)-1/2 tsp
Crushed Black Pepper- 1/4 tsp
Cashews-1/4 cup
Hot Water-1/3 cup
Water-1 cup
Garam Masala-1/3 tsp
Kasuri Methi (Dried fenugreek leaves)-1 tsp
Chopped Coriander- For garnishing
Notes :
1. I have used both red chilli powder and crushed black pepper in this mushroom recipe. You can adjust the spiciness as per your taste.
2. As this is vegan mushroom masala recipe, I have done the cooking in oil and used cashew cream to make the gravy creamy. If you don't want to use cashews, you can use some low fat cream or coconut milk.
3. Variations : You can also add some peas, spinach or capsicum chunks in this recipe.
4. If you want to add protein in this mushroom curry, feel free to add some tofu or paneer cubes.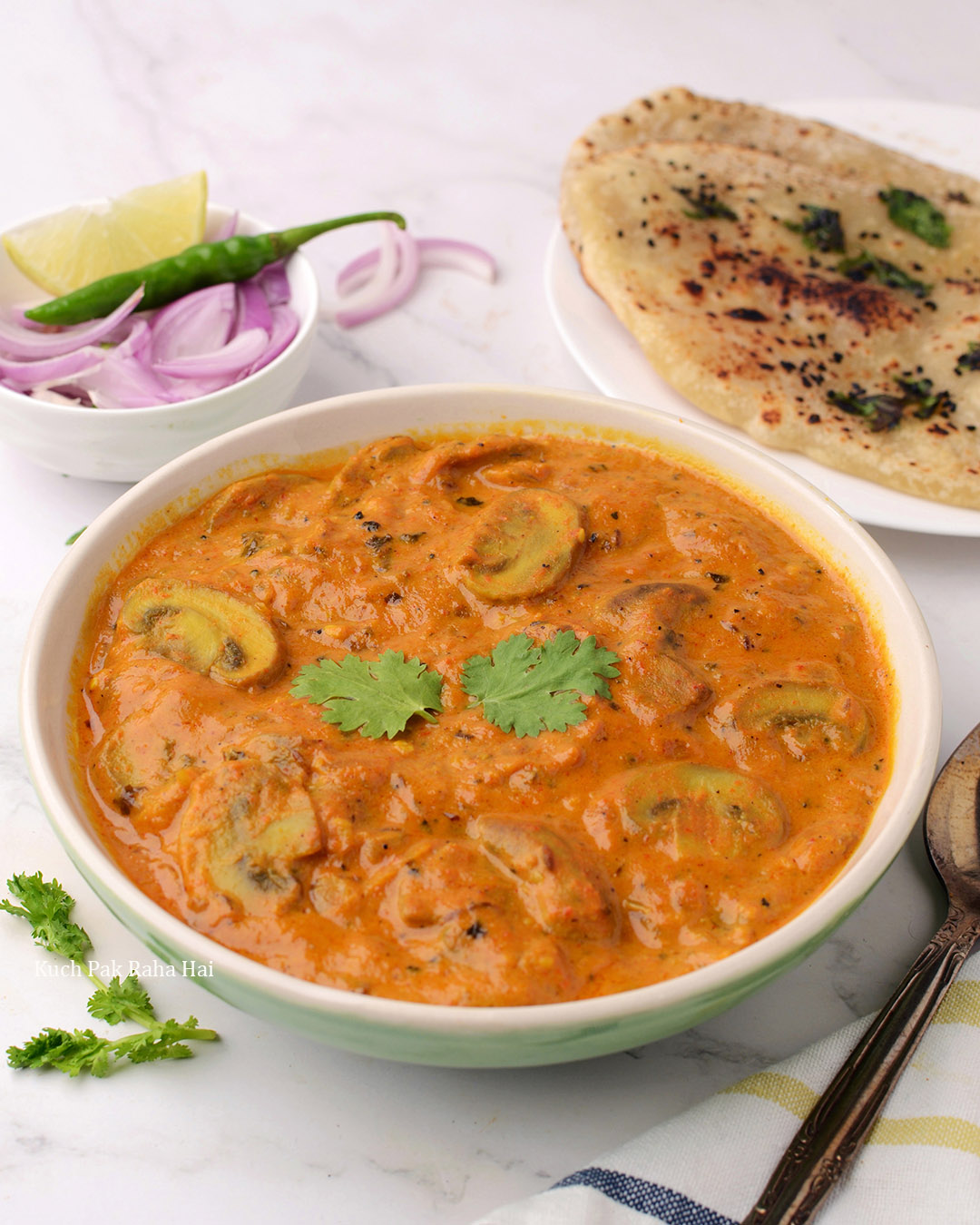 Directions:
Step 1:
Wash & scrubs the mushrooms in a water bowl. Transfer them on a kitchen towel and scrub once again to get rid of dirt or dust. Chop off the mushrooms into slices. Keep these aside.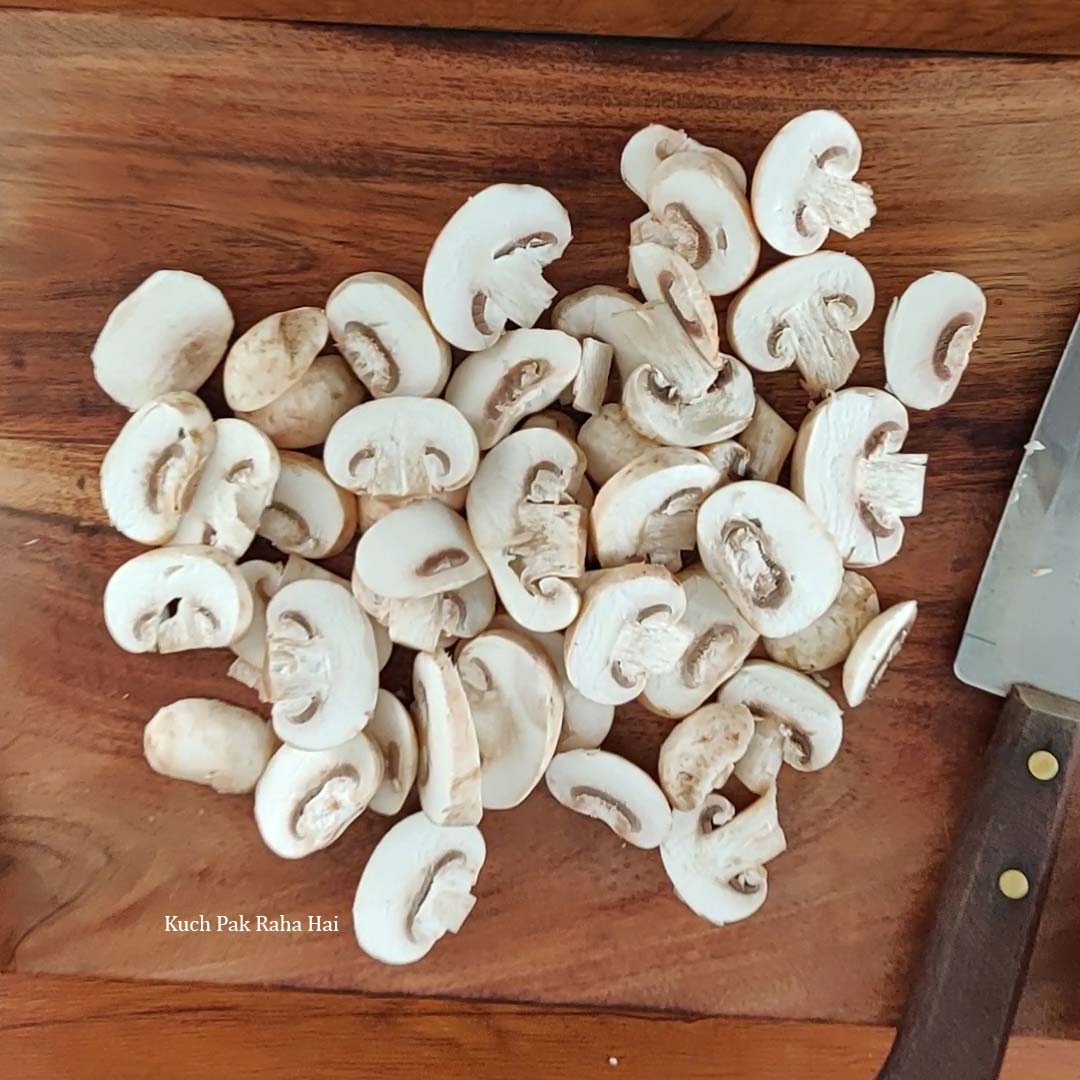 Step 2:
Heat oil in a pan. Add cumin (jeera) and sauté them for 15-20 seconds. Add chopped onions and cook them till they turn pink in colour.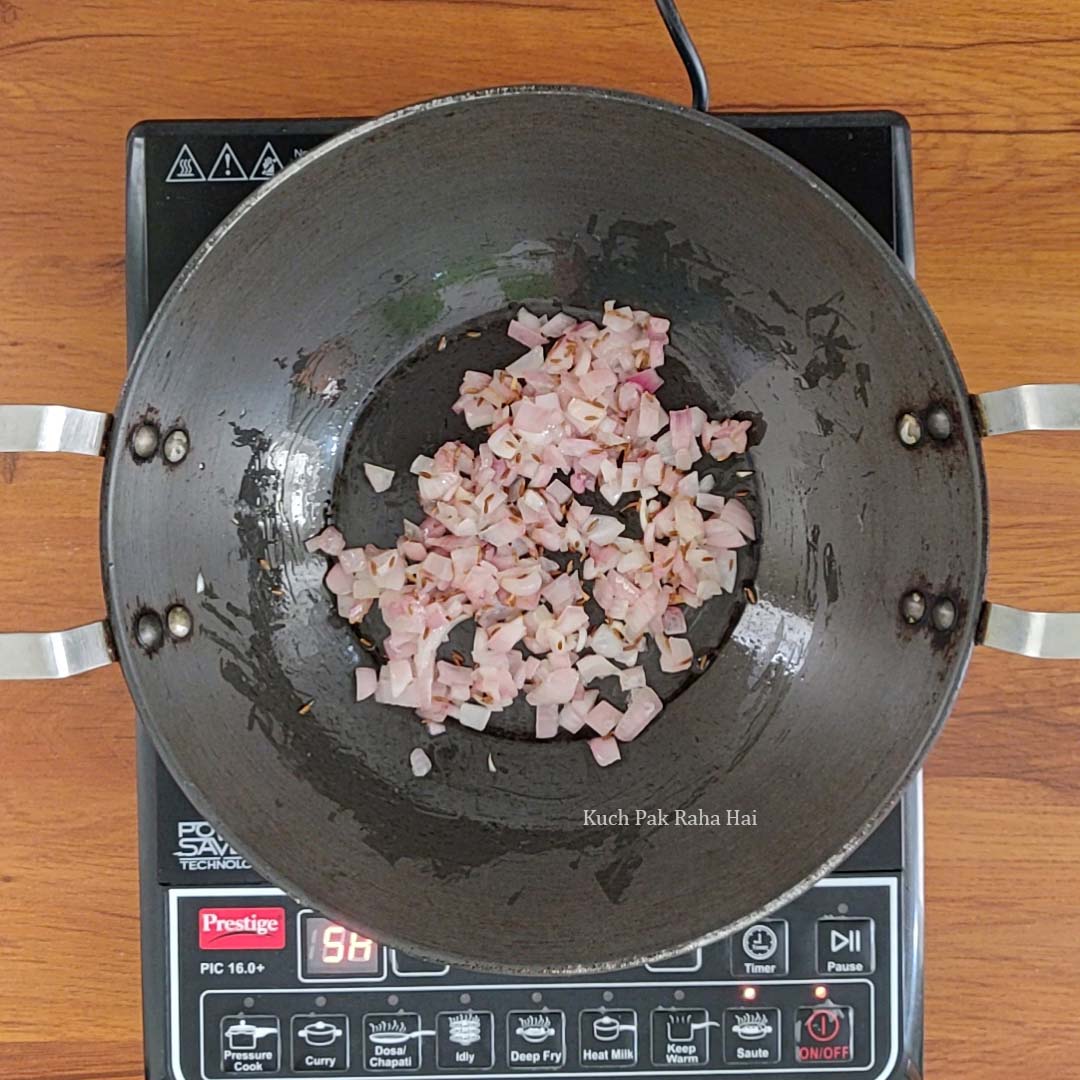 Step 3:
Add ginger paste, crushed garlic to the above pan and sauté for a minute. Puree the tomatoes and add them along with salt, red chilli powder, turmeric (haldi), coriander powder (dhaniya) and crushed black pepper. Let this masala mix cook on medium low flame till it starts releasing the oil on sides of pan.  In the mean time, let's proceed to next step.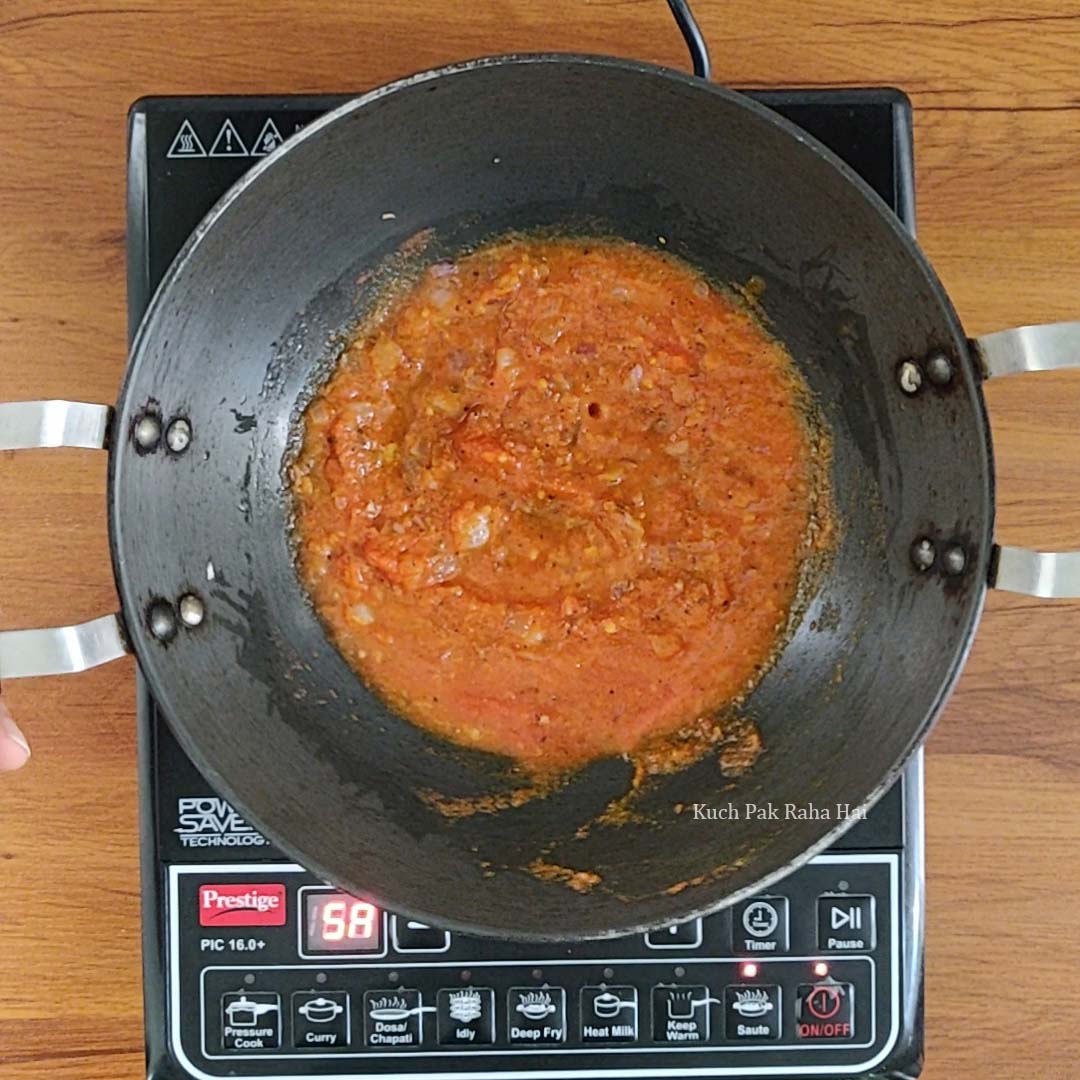 Step 4:
Soak cashews in hot water for 10-15 minutes. Discard the water in which they were soaked and transfer to a blending jar. Add 1/3 cup water to it and blend well to get cream like consistency.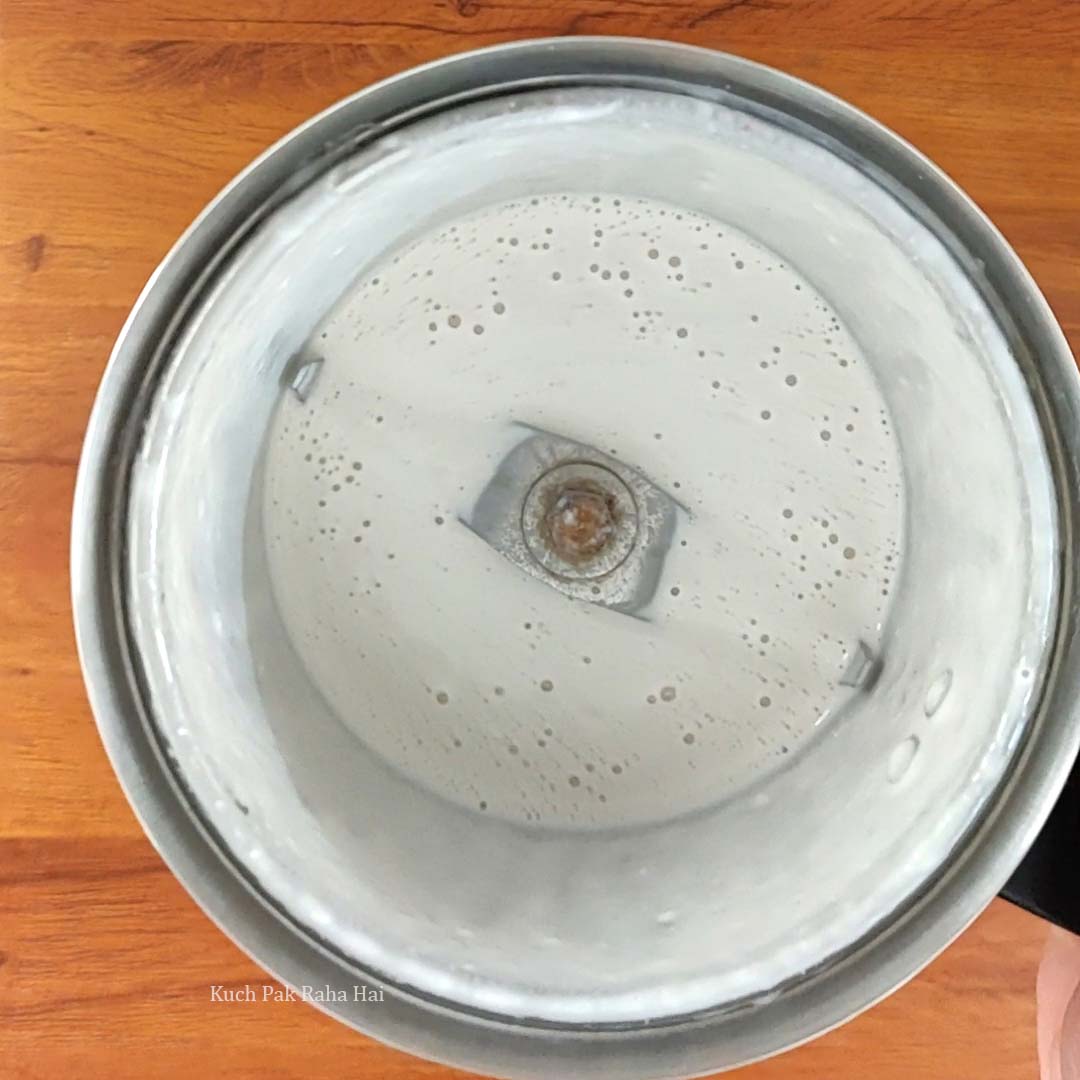 Step 5:
Once the masala mix has started releasing the fat, add this cashew cream to it and mix well for 1-2 minutes.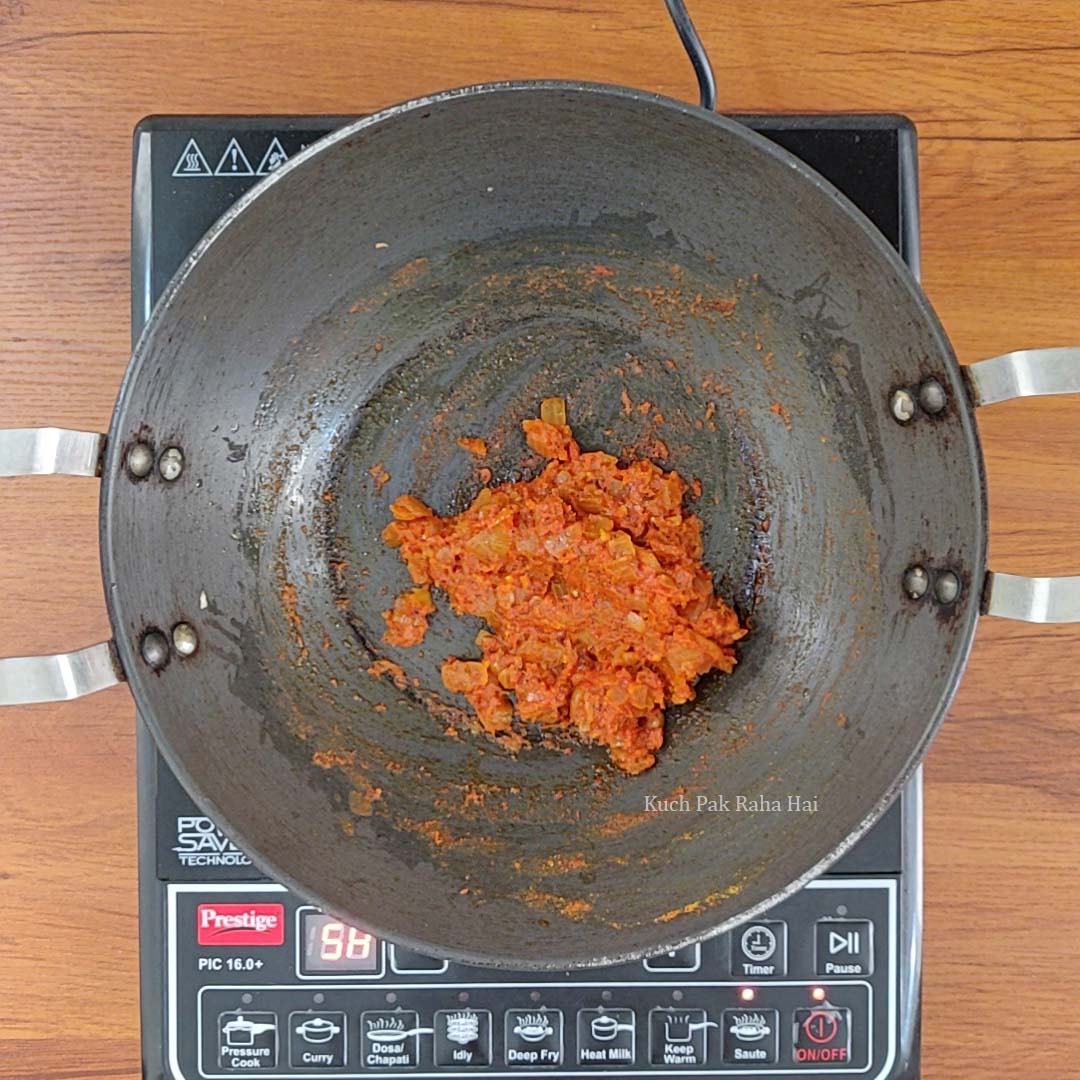 Step 6:
Add sliced mushrooms, mix gently and let the mushrooms saute in this mix for 1-2 minutes on low flame. Add 1/4 cup water and cover the pan with a lid. Let the mushrooms cook for 5-6 minutes.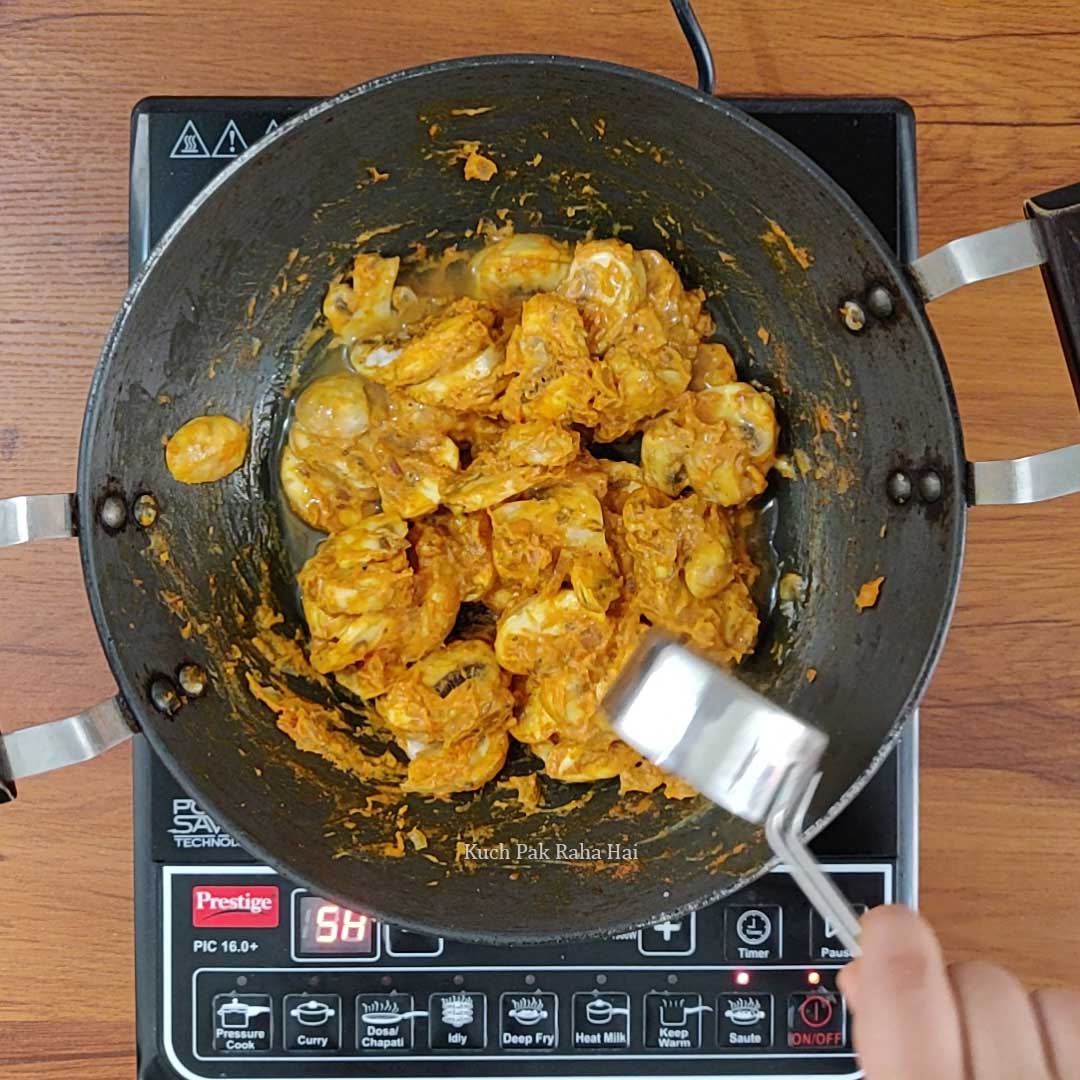 Step 7:
After 6-7 minutes, open the lid & you will notice how mushrooms have released their moisture in pan. Add 1/4 cup to 1/3 cup water more, depending on how thick or thin you want the gravy. Mix gently (in order to not break the mushroom pieces) and let the mushrooms cook for another 5-6 minutes in open pan on low flame. The gravy will eventually thicken up and gain cream like consistency.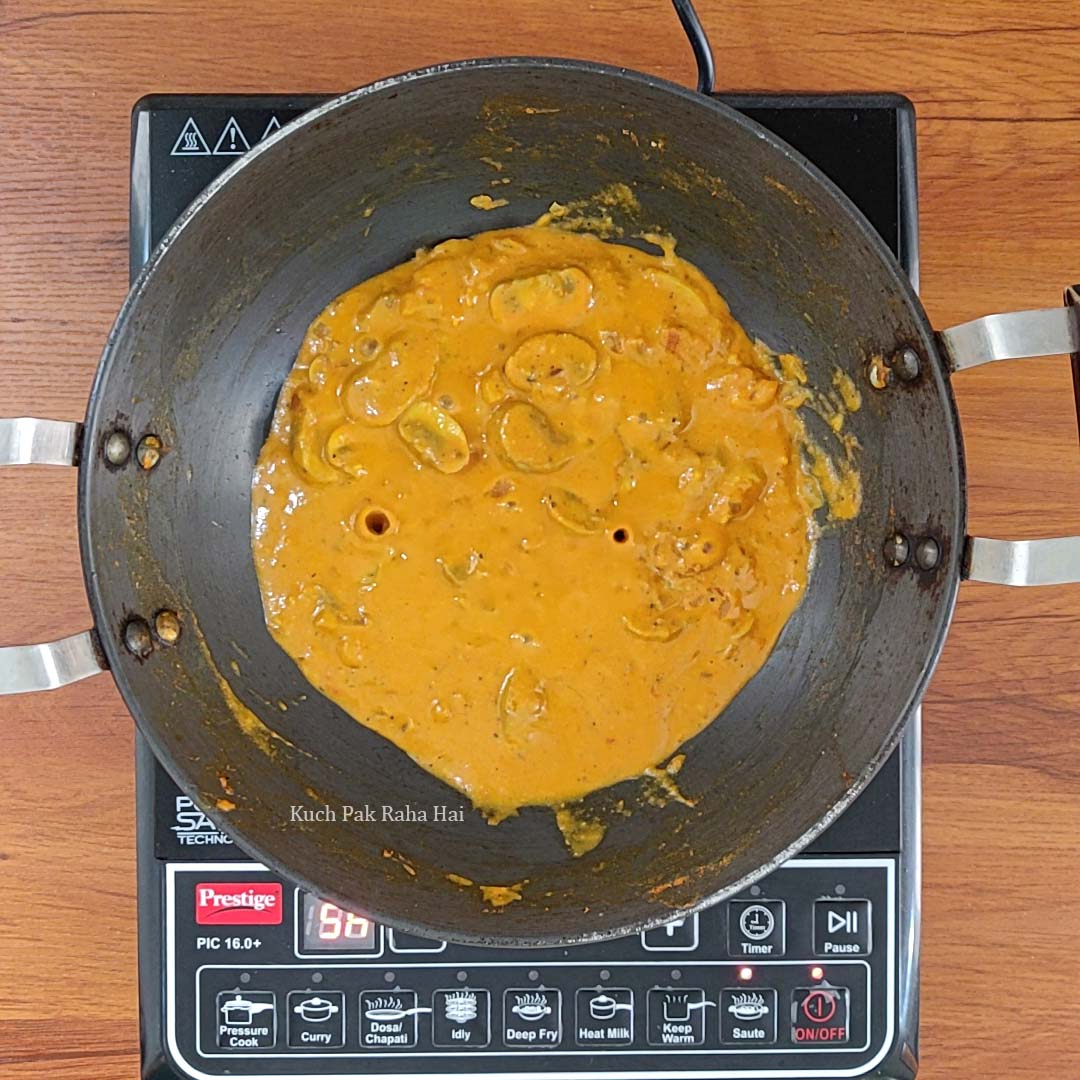 Switch off the gas, add some garam masala and kasuri methi to it. Mix gently & transfer this hot piping mushroom curry in a serving bowl. Garnish with some fresh coriander leaves (optional). Enjoy with chapatis, naan or a bowl of steamed rice.
Pin it : https://pin.it/4smg6Wu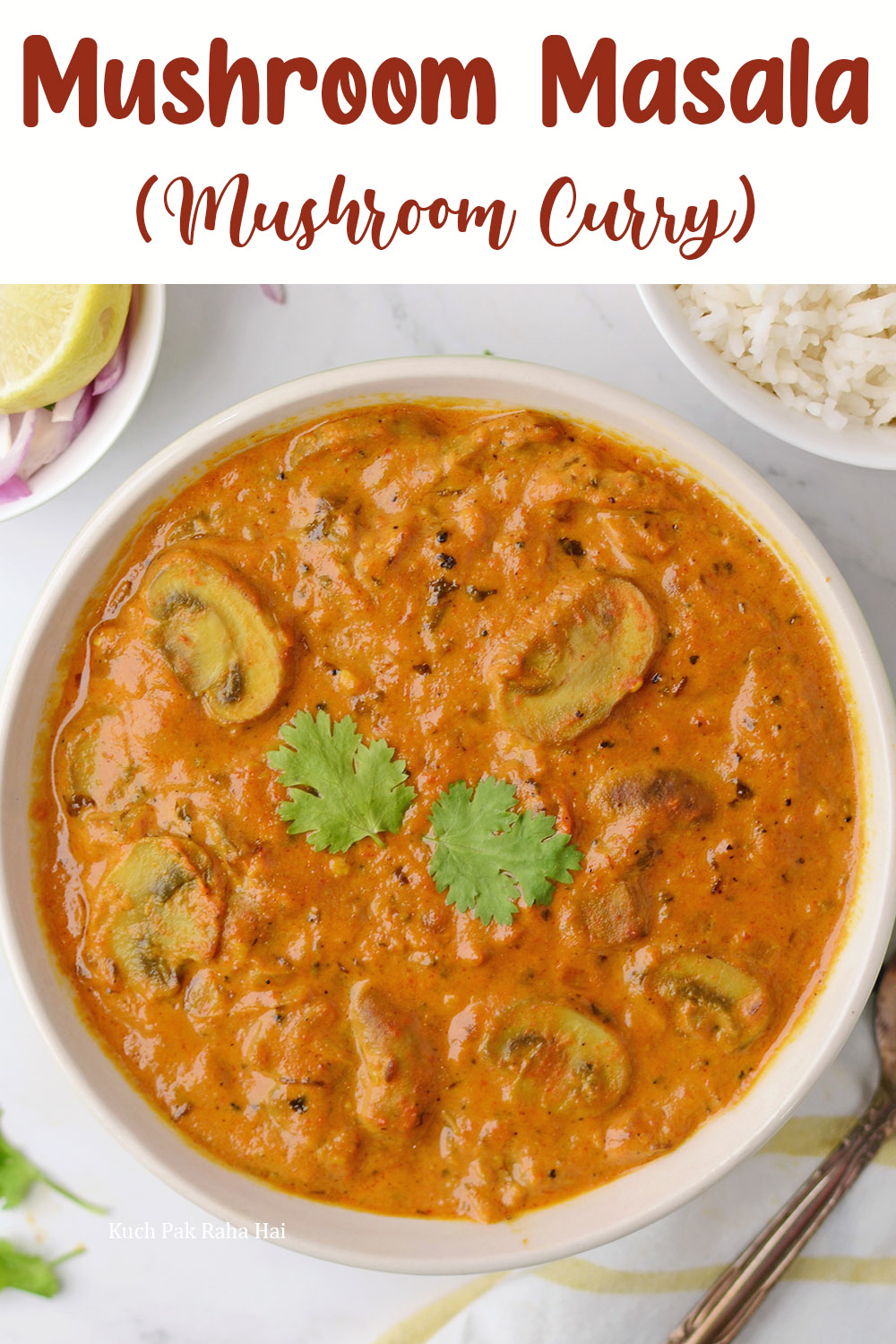 If you try this recipe & share pics on social media, then don't forget to tag us on Facebook or Instagram or use the hashtag #kuchpakrahahai.