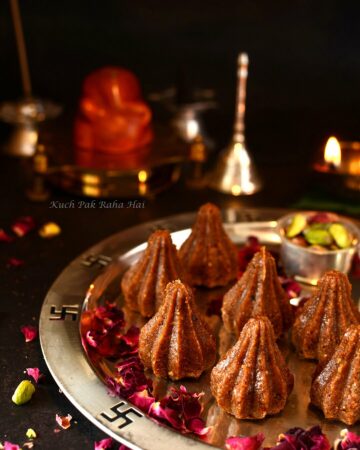 Oats Modak is a delicious and healthy modak made with oats, nuts, coconut and jaggery powder. It is a quick modak recipe that you can easily make at Ganesh Chaturthi or any other festival.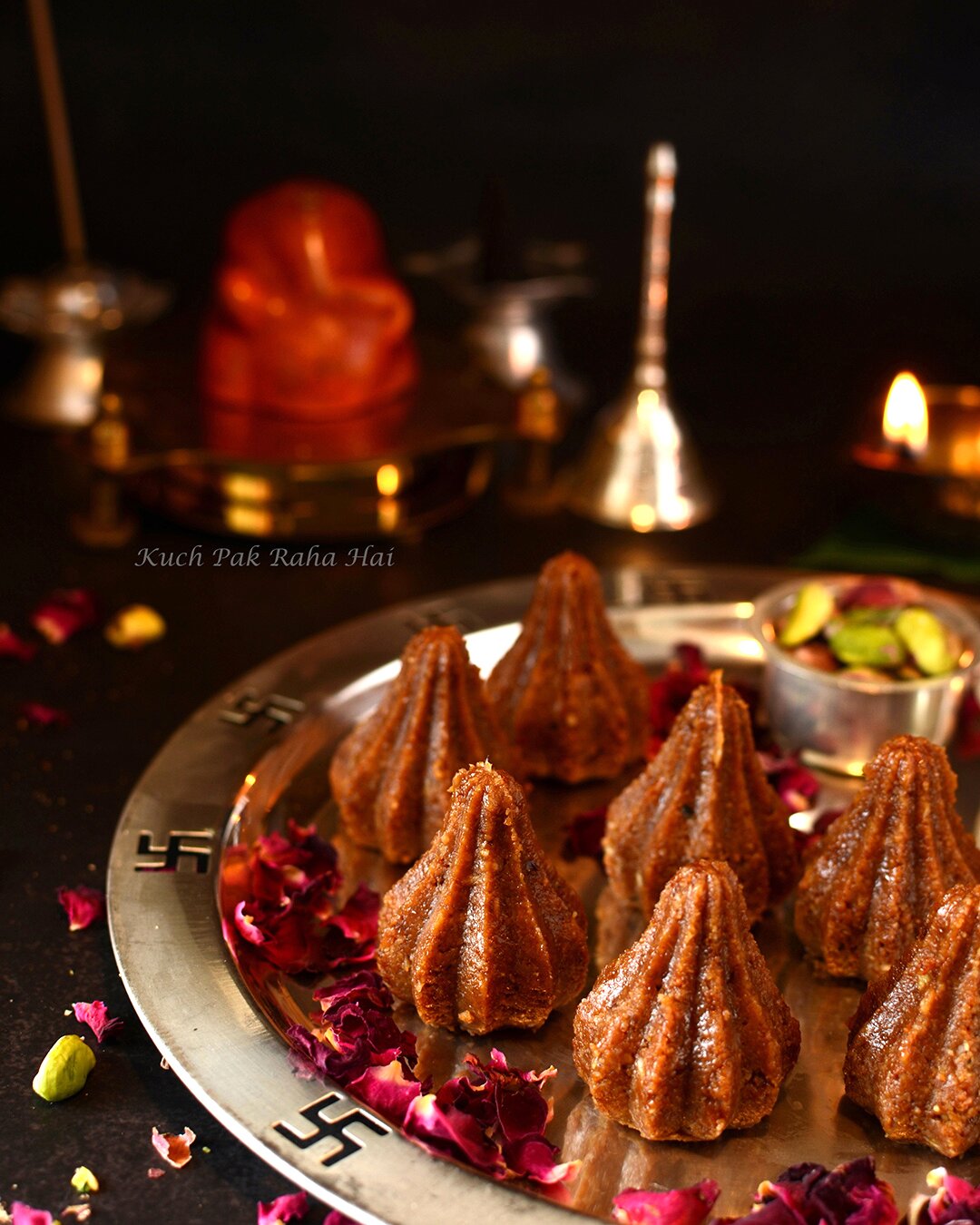 The oats jaggery modak recipe shared here is:
Gluten free
Refined sugar free
Required no steaming
Easy to make
Ganesh Chaturthi is a Hindu festival that celebrates the arrival or birth of Lord Ganesha on earth. His idols are brought home as a symbol of welcoming him & worshipped with great zeal and vigour. This festival is one of the most popular festivals in Maharashtra state of India & is celebrated for 10 days. Different types of 'prasadam' are offered to Ganesh ji or Lord Gajanan (another name) in form of sweets & Modak.
Traditional Ukadiche Modak or 'Modakam' is a steamed sweet dumpling with jaggery & coconut filling & outer covering made of rice flour and wheat flour. The word "Ukadiche" is a Marathi word meaning steamed. It is believed that Lord Ganesha loves Modak & hence Ganpati festival is incomplete without making/offering these to him 😇🙏. Generally 21 Modaks are offered to Him as bhog & then served as prasad.
Sweets are integral part of any festival & what could be better if we could make them little healthier without compromising on taste. I thought to try a healthy yet tasty version of Modaks. In this post I have shared the recipe for healthy oats Modak. These modaks are totally gluten free & are absolutely delightful in taste.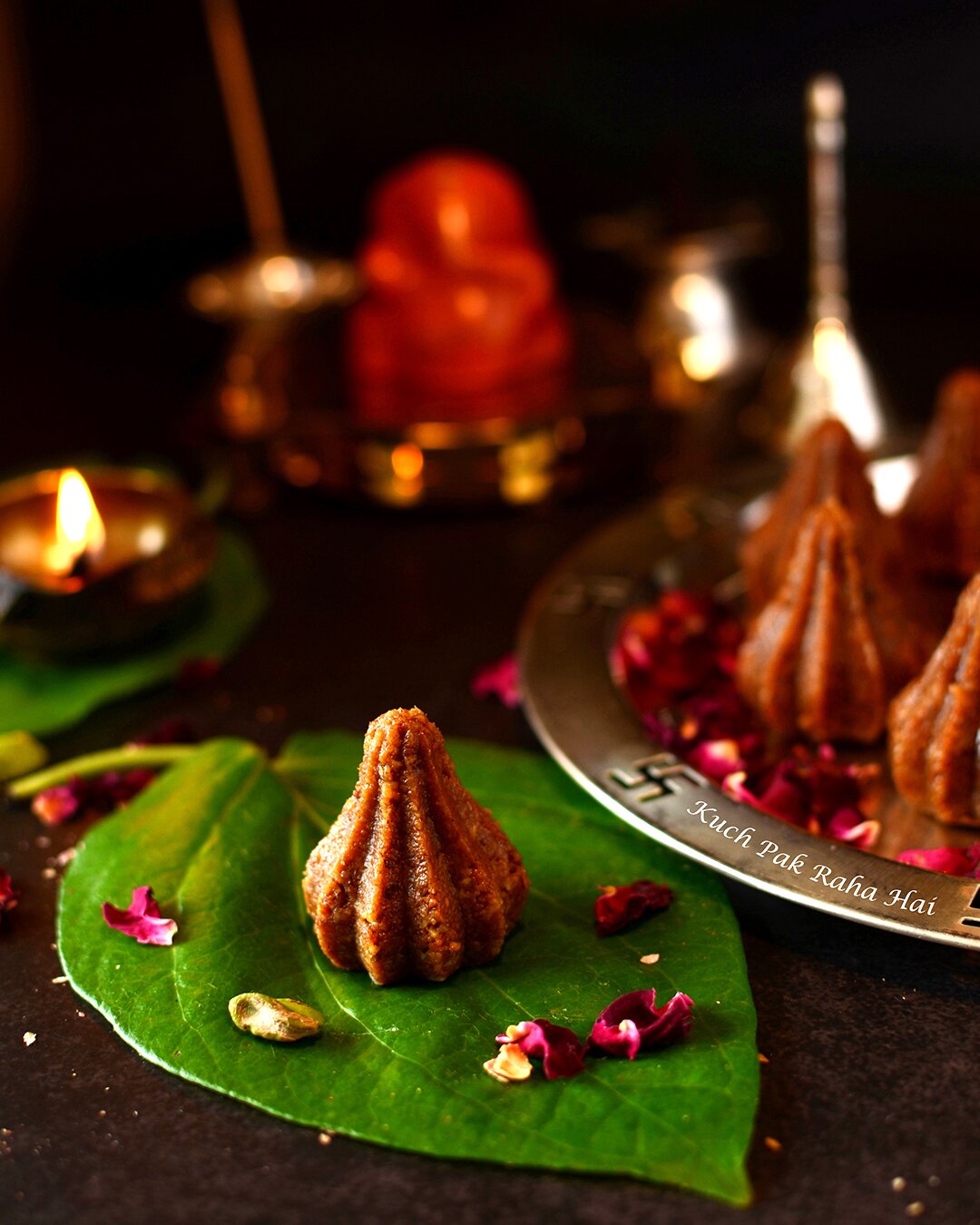 Oats Modak Ingredients:
These modaks taste so yummy that no one at my home was able to guess that they are made of oats. The ingredients are adapted from traditional recipe with some modifications. Instead of fresh coconut, desiccated coconut has been used. Rice flour & wheat flour are replaced by powdered oats, plus there is no steaming in this recipe.
These days many nutritionists & dieticians advice adding oats in regular diet due to its numerous health benefits. Oats are rich source of anti-oxidants, fibre and other essential vitamins & minerals like manganese, magnesium and copper etc. Due to its high fibre content, it is quite filling, makes you feel full for longer & hence aids in weight loss. Also, oatmeal helps in relieving constipation & may help in lowering blood sugar levels.
In this oats modak recipe, it has been tried to keep it as nutritious as possible. Instead of refined sugar, Jaggery Powder is used as sweetener. Desiccated coconut, almonds, cashews have been used which gives a nice nutty taste & aroma while enhancing the nutritive value.
Also, ghee is an essential part of all Indian desserts, so it has to be there in this recipe too. The quantity of jaggery powder can be adjusted as per your own taste. Also you can use only almonds, cashews or even include pistachios in it.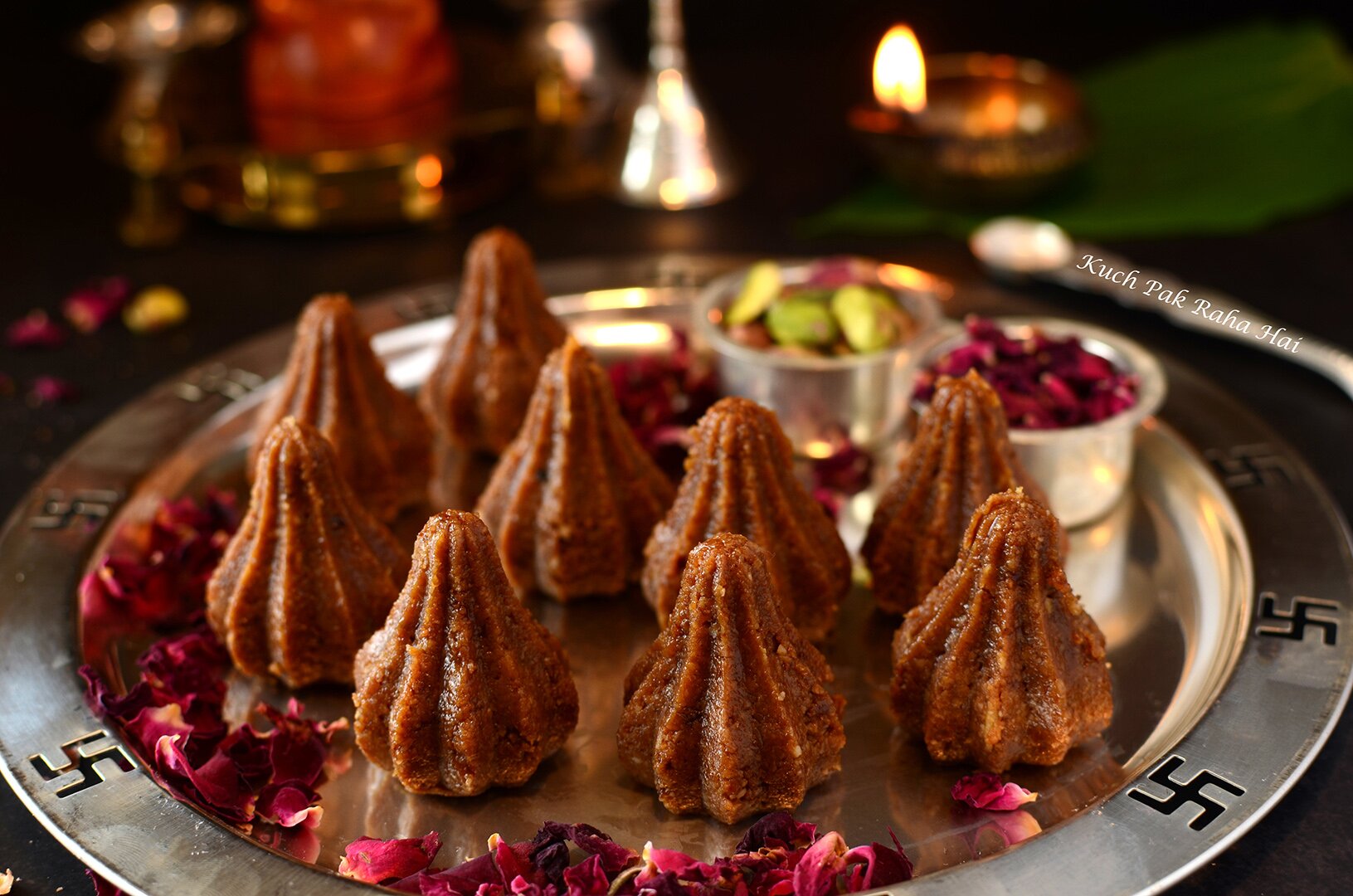 Other easy Indian sweets recipes you may like:
Hope you would like this Delicious & Healthy Oats Jaggery Modak Recipe. I have also shared Youtube Video for the same recipe. If you like it, do Subscribe to our channel 🙂
Youtube Video :
Ingredients:
Rolled Oats – 1 & 1/2 cups
Almonds- 10 to 12
Cashews-10 to 12
Desiccated Coconut – 1/4 cup
Jaggery Powder- 1 cup
Cardamom (Elaichi) – 2 to 3
Raisins (Kishmish) – 3 tbsp
Ghee (Clarified Butter)- 3 tbsp
Milk- 2 to 3 tbsp
Directions:
Step 1:
Take oats in a grinding jar & grind them well.  I have used Quaker Rolled oats here.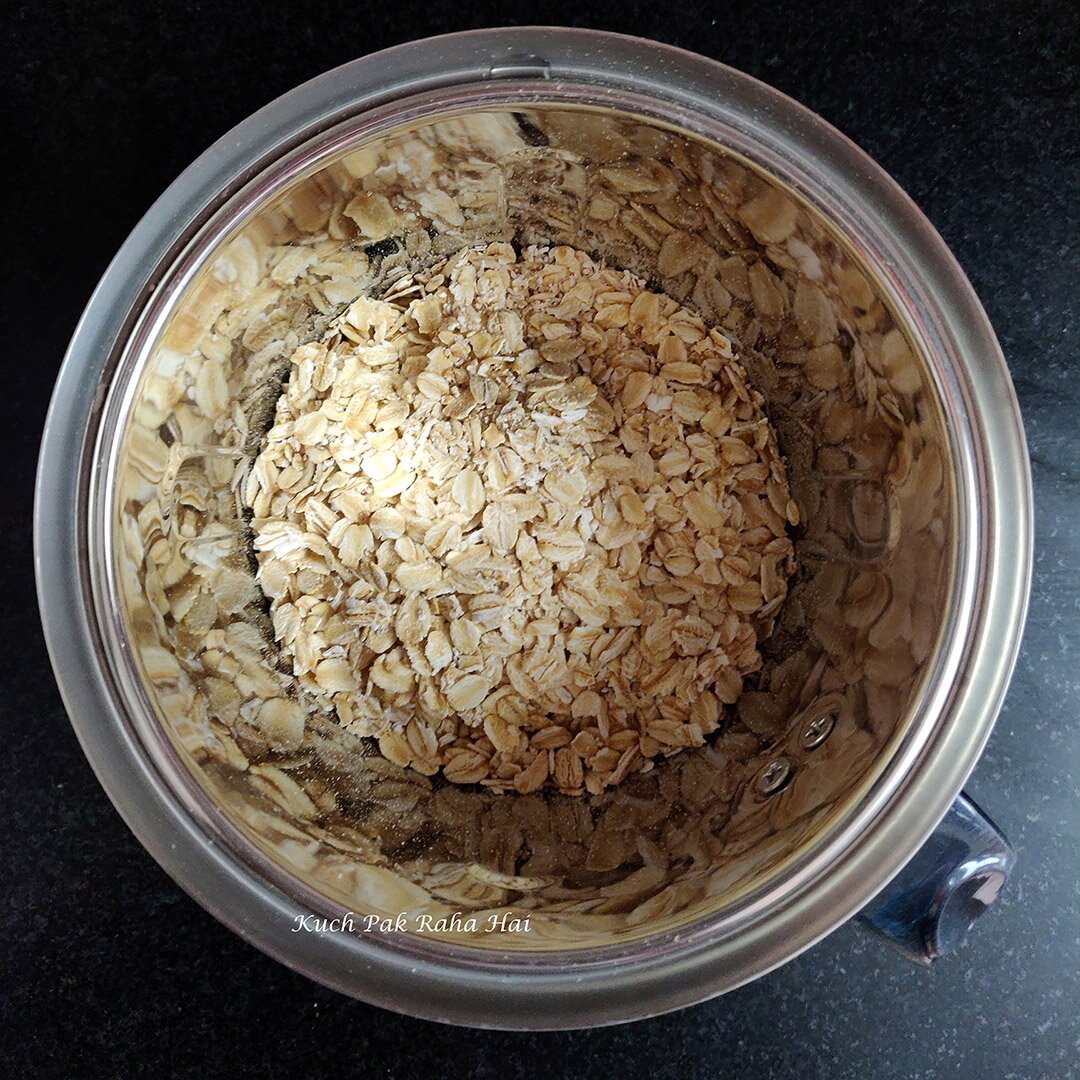 Step 2:
Heat ghee in a non stick pan & add these powdered oats in it. Roast it on medium-low flame till the grounded oats turn slightly golden in colour.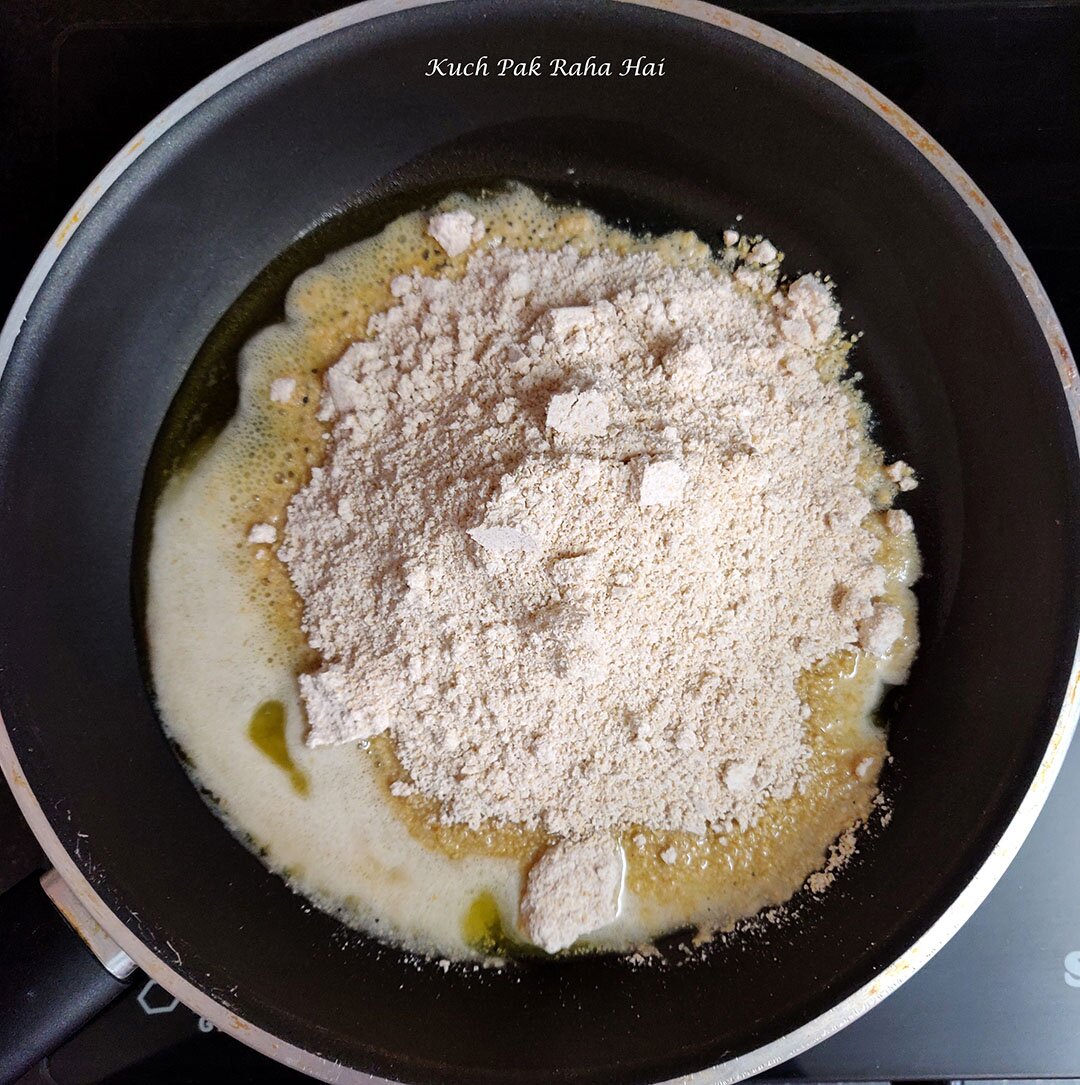 Step 3:
Add desiccated coconut in the same pan & roast for 1-2 minutes more.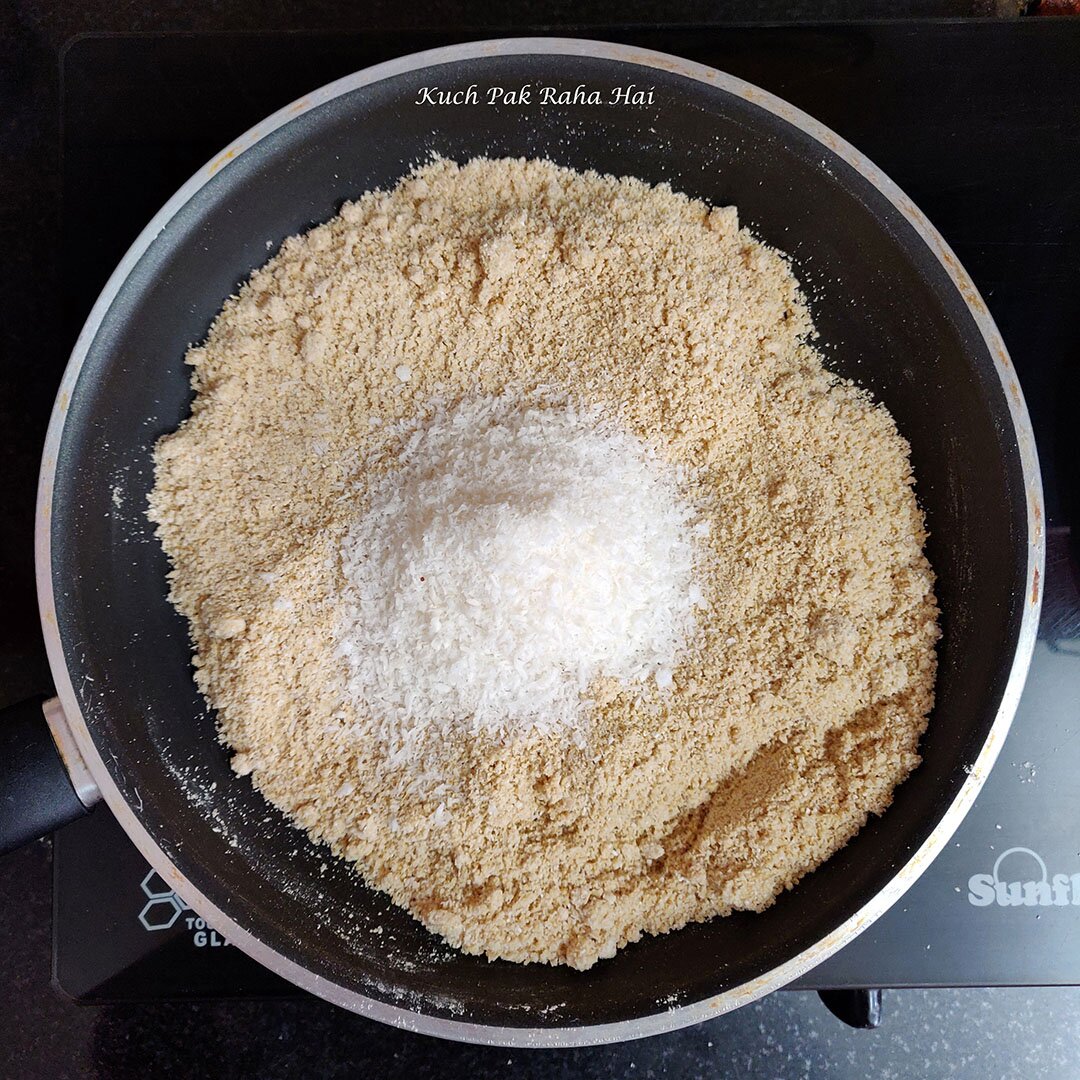 Step 4:
Grind almonds & cashews & add them too. Roast for 1 minute or more till they start releasing their nutty aroma.
Step 5:
Peel the cardamom to extract the seeds. Crush them till they are powdered. You can use store bought cardamom powder too but I feel that freshly grounded spices add more aroma to dishes. Add this cardamom powder & raisins. Mix well.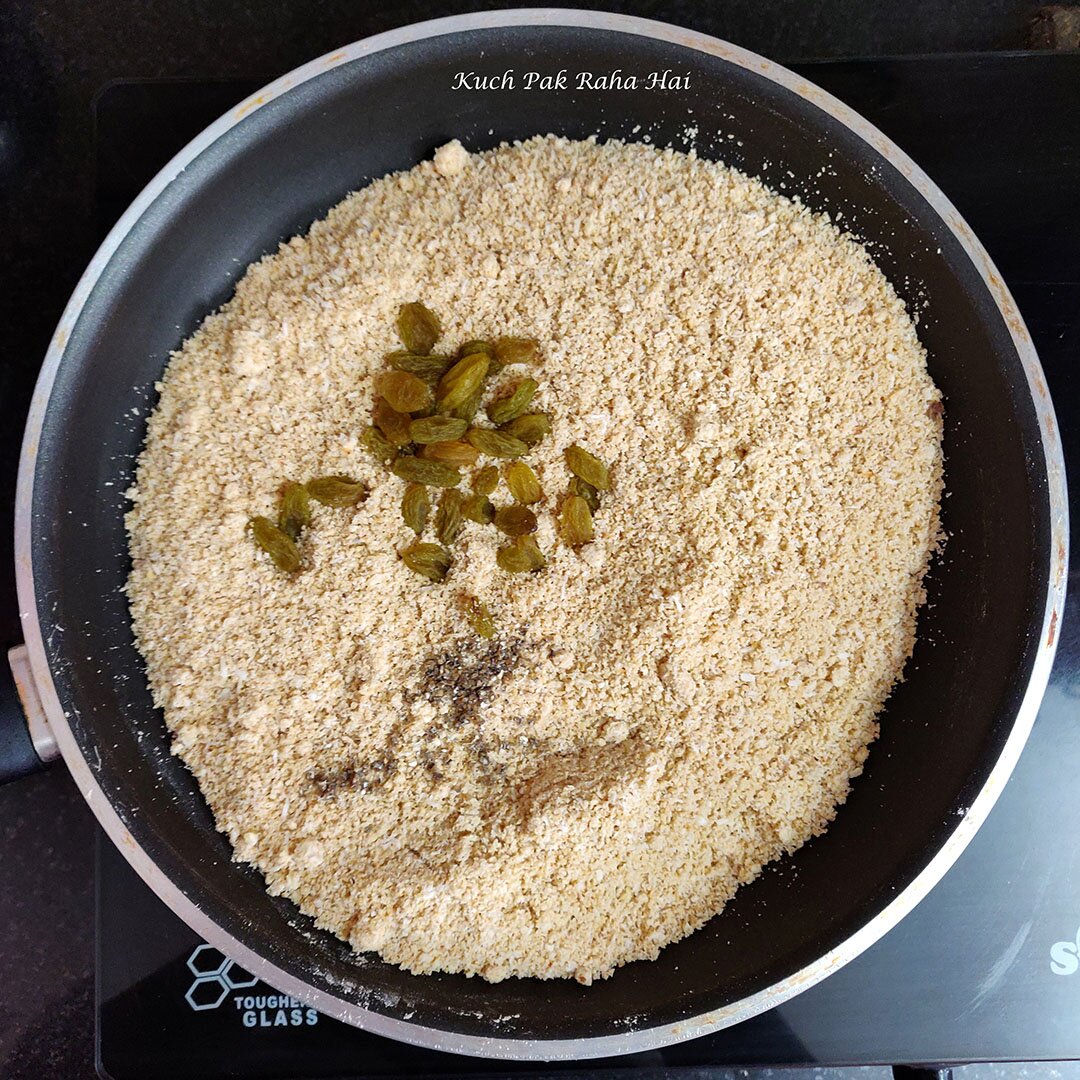 Step 6:
Add Jaggery powder to the same pan. If you like your desserts on less sweeter side, you can decrease the quantity of jaggery powder slightly. Let the entire mixture roast for 2-3 minutes more while you keep mixing the ingredients with the help of a spatula. The mixture will turn light brown in colour.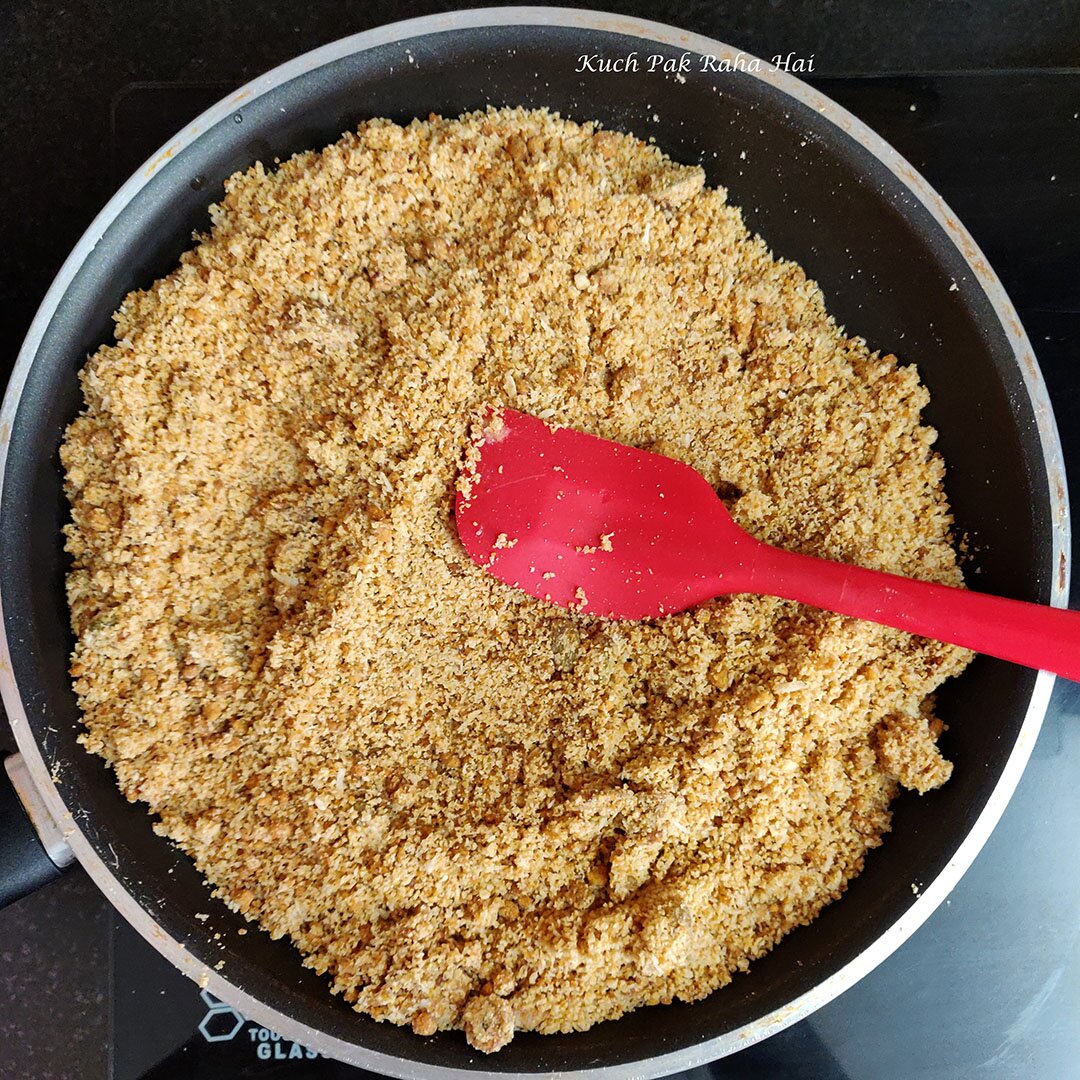 Step 7:
While the mixture is still hot, transfer it in a bowl. Heat the milk & add it tablespoon by tablespoon in the mixture to make a dough.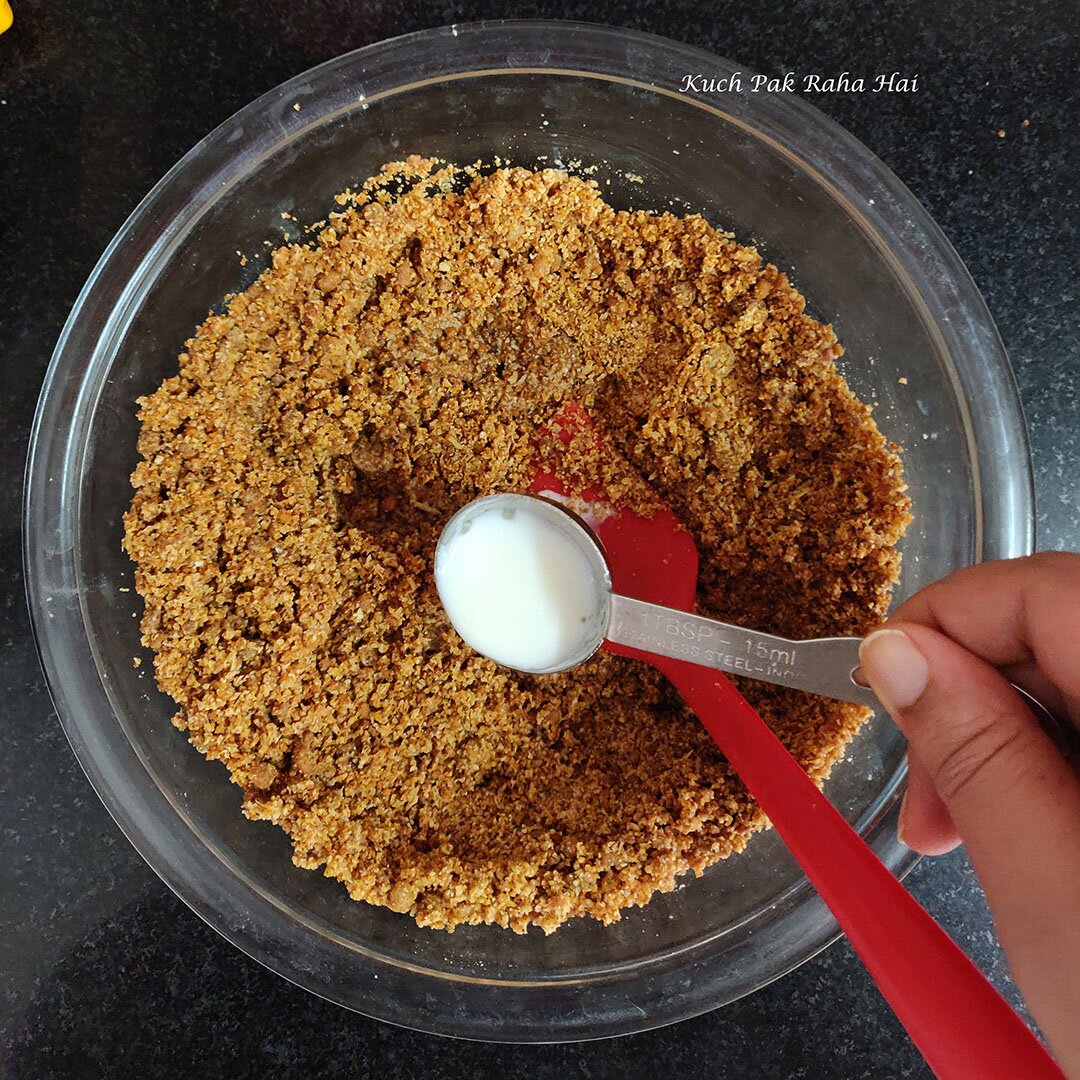 Don't use your hands for mixing as the mixture will be hot. Use a spatula or spoon. Add milk gradually till the mixture starts to bind together.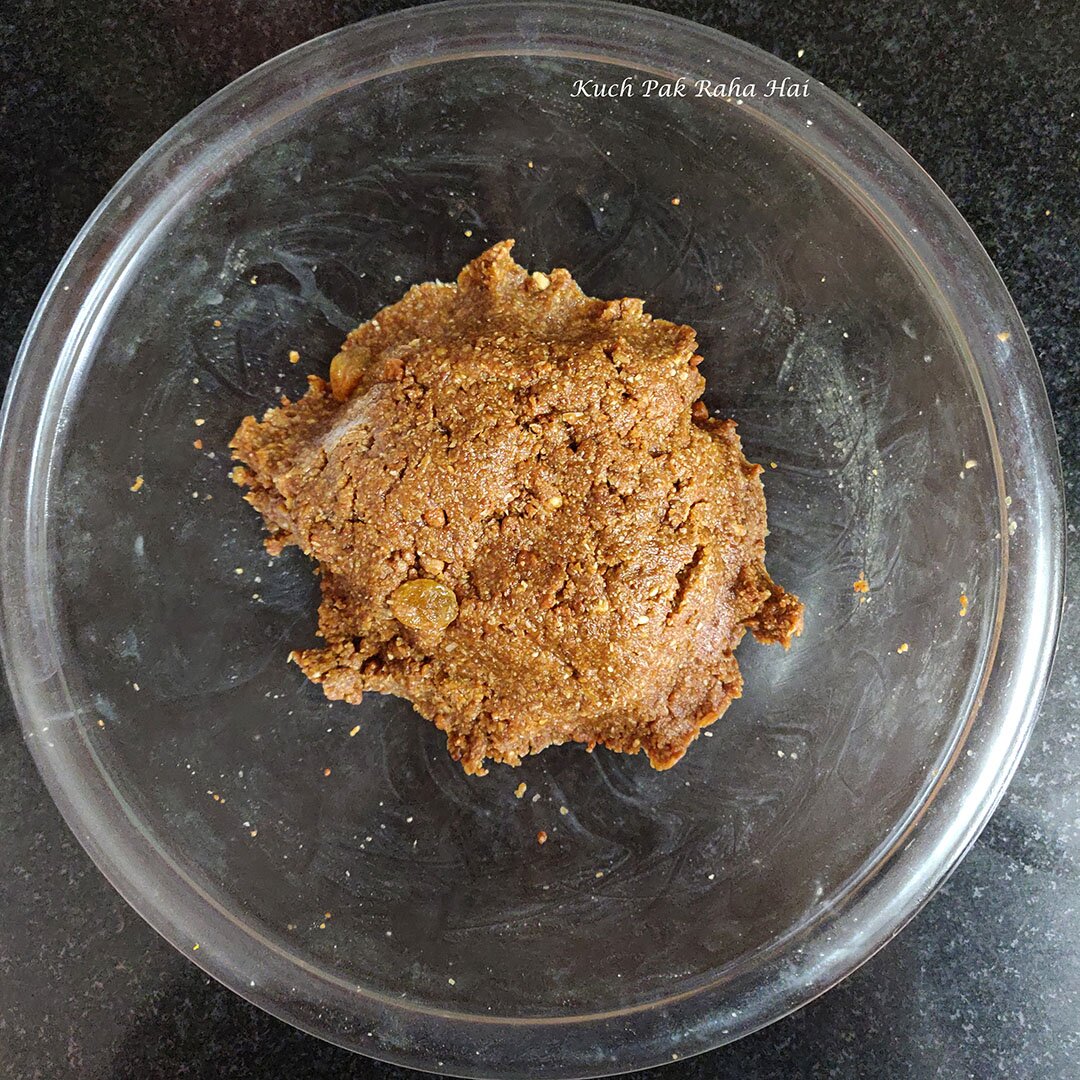 Step 8:
While the mixture is till warm (not hot), we will start making modaks using it.  Take modak mould, stuff it with this mixture & press with your thumb.
(P.S: While making modaks if the mixture gets cooled down or become crumbly, microwave for 10-15 seconds, it will soften again.)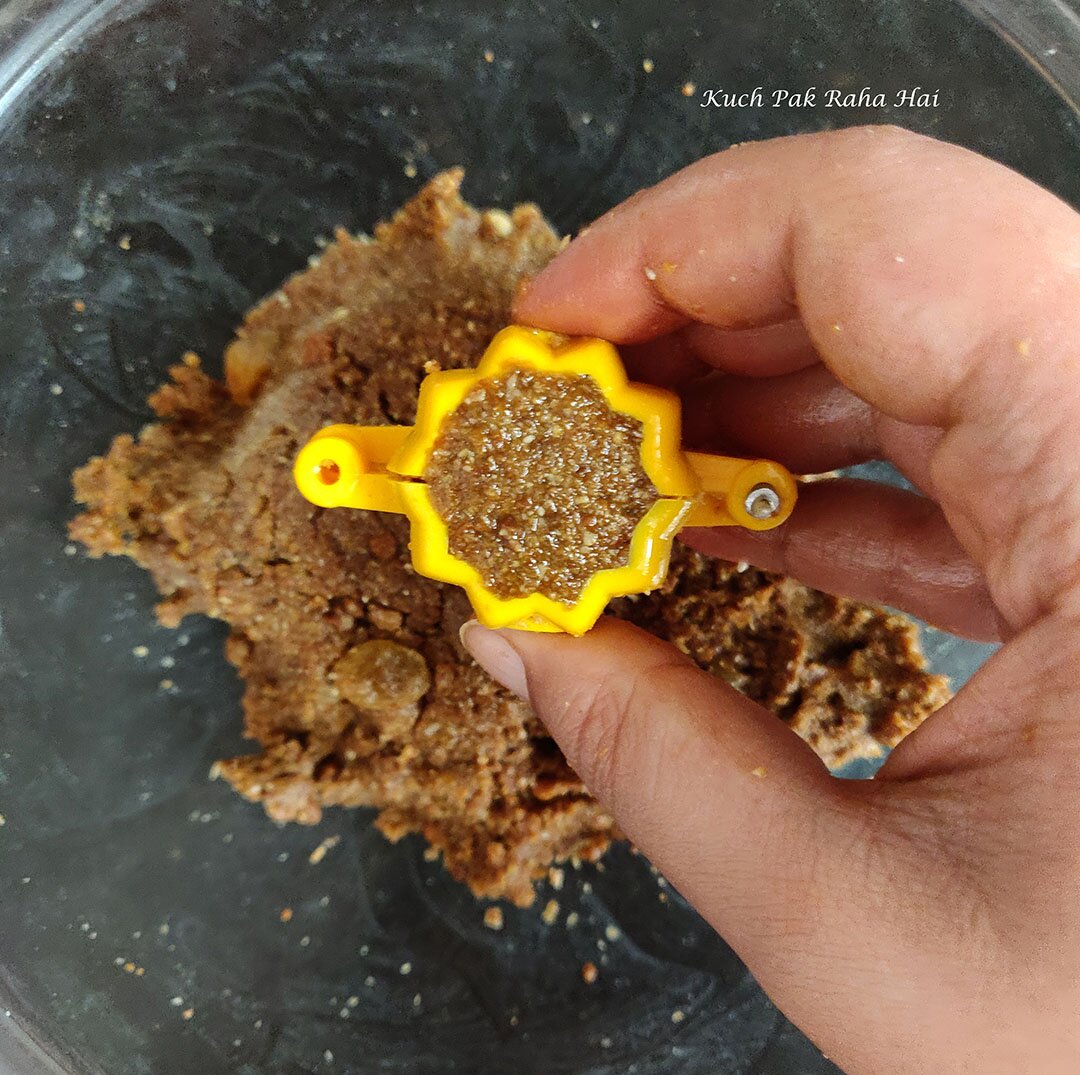 Demould to get perfect shaped modaks. Chill them in refrigerator for 2-3 hours to set completely.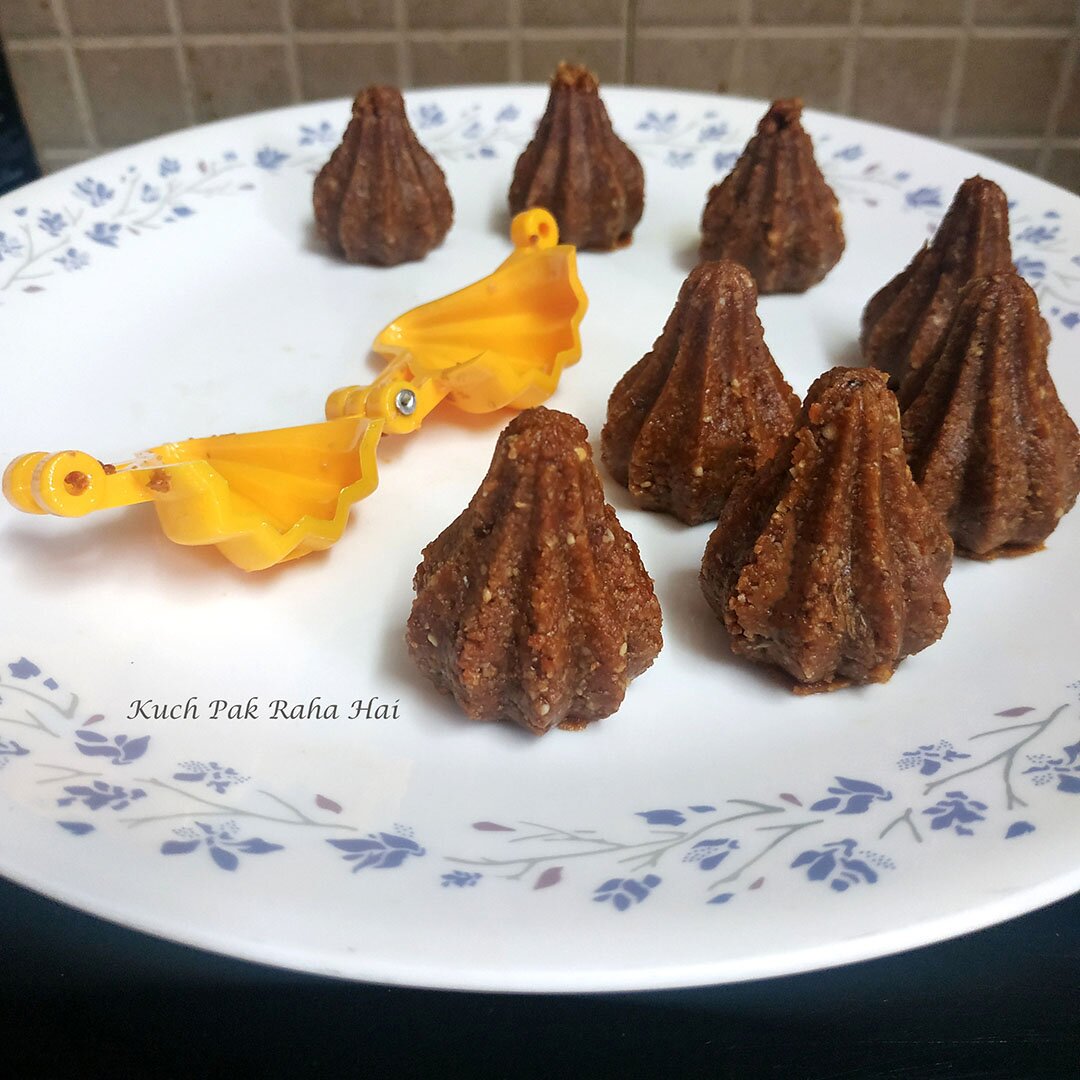 Delicious Healthy Oats Modaks are ready !! Hope you enjoy these festivities with your family & loved ones. Happy Ganesh Chaturthi to all 😊🙏.
Pin for later: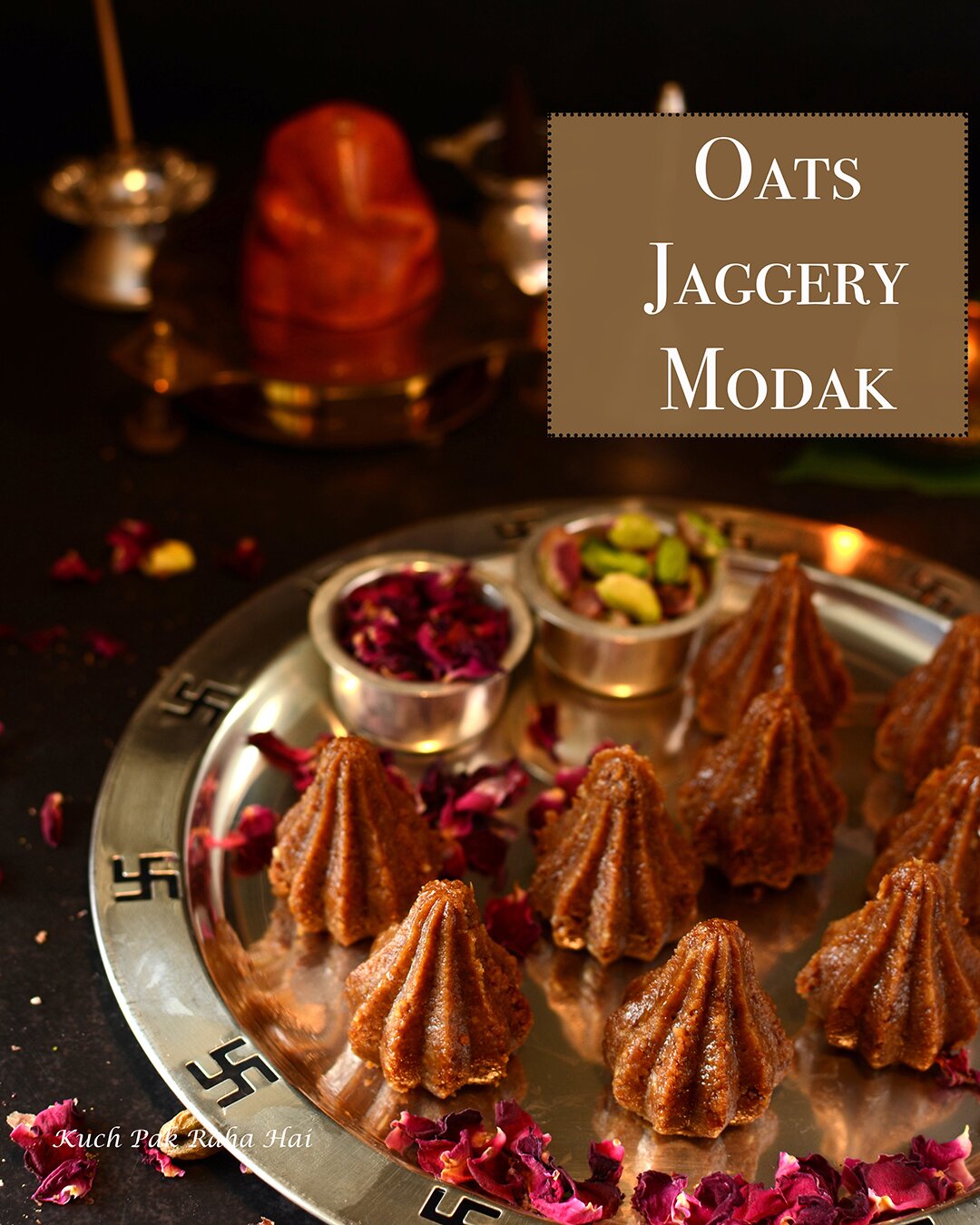 Kitchen products used:
(P.S: The above post contains amazon affiliate links. Please refer to the privacy policy page for more details)
If you try this oats modak recipe & share pics on social media, then don't forget to tag us on Facebook or Instagram or use the hashtag #kuchpakrahahai.
Let's stay connected
Facebook| Instagram| Pinterest| Youtube