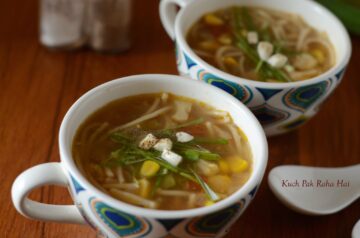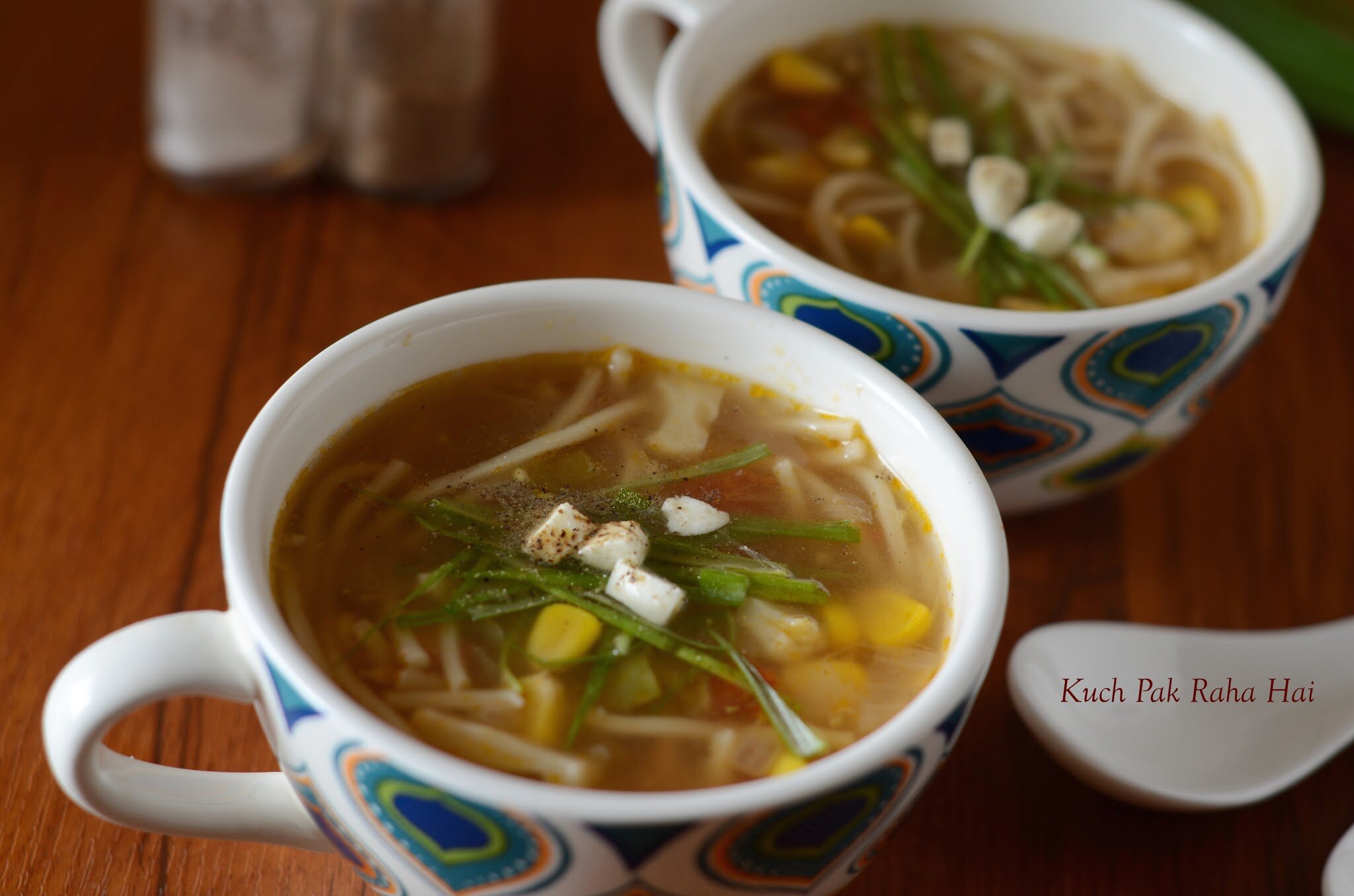 Good evening to all the lovely readers!! Firstly I would like to thank all of you for your encouraging words and appreciation that have been pouring in from last few days and for making the blog cross 25k mark 😀 😀 !!
Its onset of winters and time for relishing some hot-sumptuous bowls of soup. Today I am going to share healthy vegetable noodle soup recipe. The soup so filling, satisfying and full of fibre, vitamins, proteins. It is my mom's no-fail noodle soup recipe and is one of the most liked soups at my home.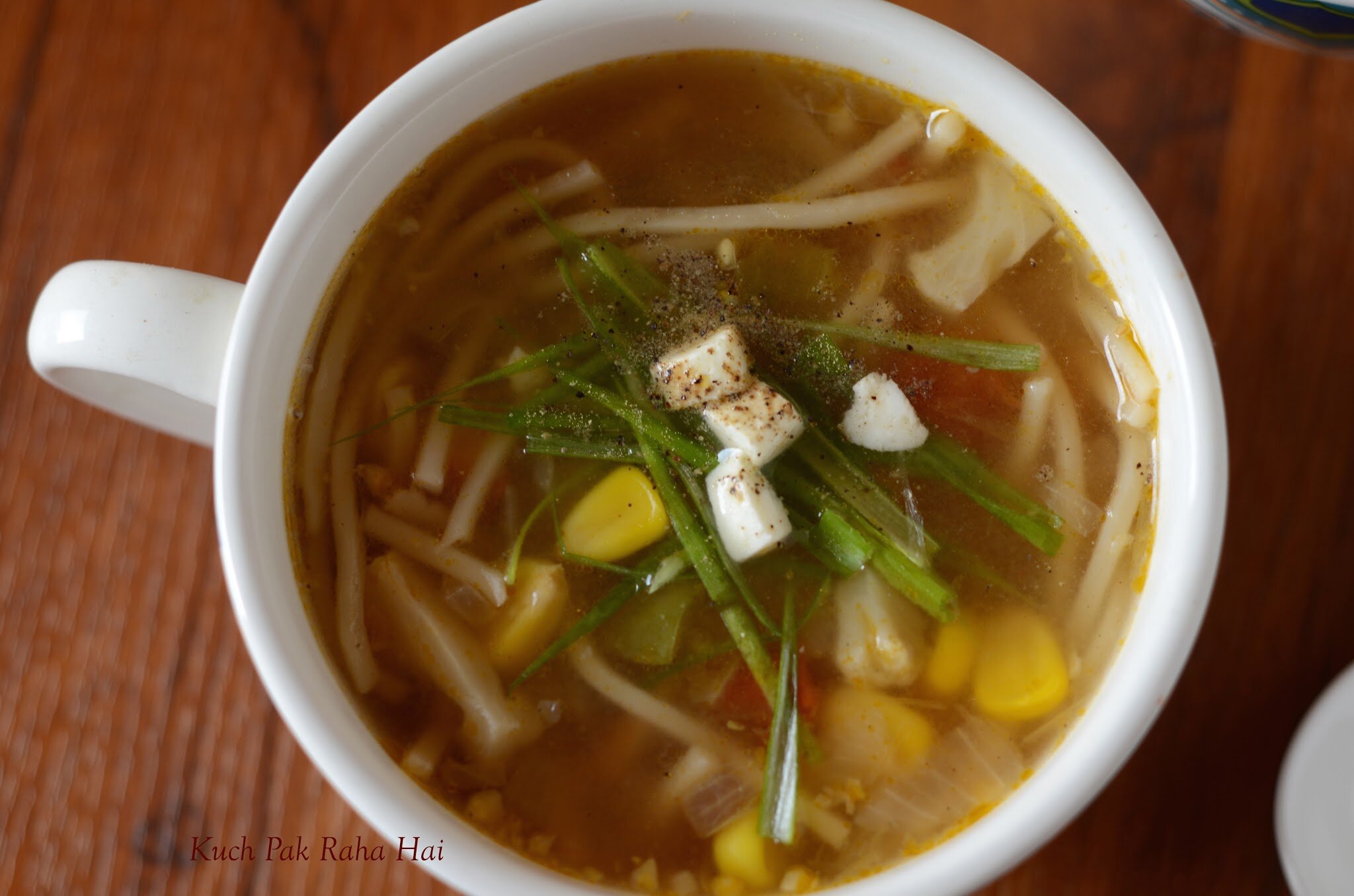 More vegetarian soup recipes you might like:
List Of Ingredients: (Serves 3-4)
Cooking Oil-2 tbsp
Ginger Paste-1 tsp
Garlic Paste-1/2 tsp
Chopped Onion-1/4 cup
Chopped Capsicum-1/4 cup
Chopped Baby Corns-3 tbsp
Sweet Corn-1/4 cup
Chopped Cauliflower-2 tbsp
Chopped Tomatoes-1/4 cup
Diced Paneer/Tofu -2 tbsp
Chopped Spring onions – For garnishing
Noodles-50 grams
Water/Vegetable Stock-3 cups
Salt- 1 tsp ( or to taste)
Black Pepper- 1/2 tsp
Soya Sauce-1 tbsp
Chilli Sauce-1/2 tsp (optional)
Vinegar -1 tsp
Cornflour-1 tsp (optional)
Steps To Prepare:
Step 1:
Heat oil in a pan. Add ginger paste and garlic paste. Stir for few seconds. Add chopped onions and stir till they turn out to be soft and light pink.
Step 2:
Add all the vegetables to the softened onions, adding the hard vegetables first and softer ones later on (likes tomatoes and sweet corns towards the end). Saute all the vegetables for 1-2 minutes. Sprinkle some salt over it. Add a little water, cover the lid and let the vegetables cook on low flame for 2-3 minutes.
Step 3:
Add water to the softened veggies and bring the water to boil. Add soya sauce, chilli sauce, black pepper and diced paneer / tofu to it.
Break the noodles into two and add them to the boiling water. The soup will get thick by the starch in the noodles but if you wish a thicker soup, dissolve cornflour in some water and add to it. You may increase the quantity of noodles also as per your choice.
Cover the pan with water and cook on low flame for 8-10 minutes or till the noodles are done. Switch off the flame and add vinegar to it.
Garnish with some spring onions and cheese cubes. Enjoy hot steaming cup of Veg Noodle soup!!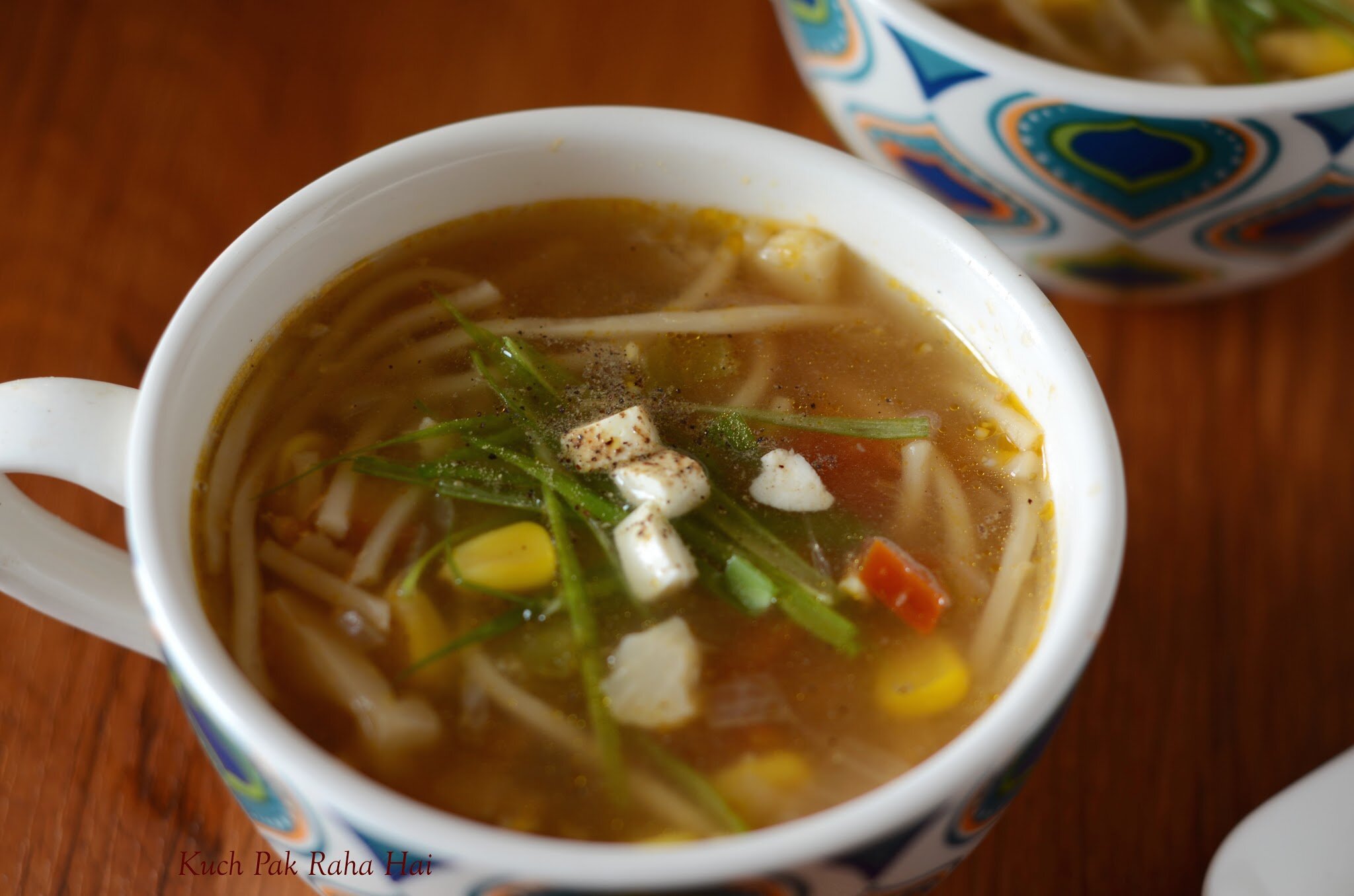 If you try this eggless coconut cookies recipe & share pics on social media, then don't forget to tag us on Facebook or Instagram or use the hashtag #kuchpakrahahai.
Let's stay connected
Facebook | Instagram | Pinterest| Youtube