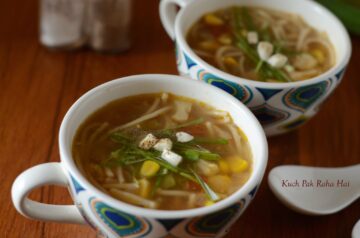 Vegetable noodles soup is a healthy, light & flavoursome soup recipe with goodness of fresh vegetables & tofu. It is easy to make, gets ready in less than 30 minutes and makes for an absolutely wholesome comforting bowl on a chilly winter evening.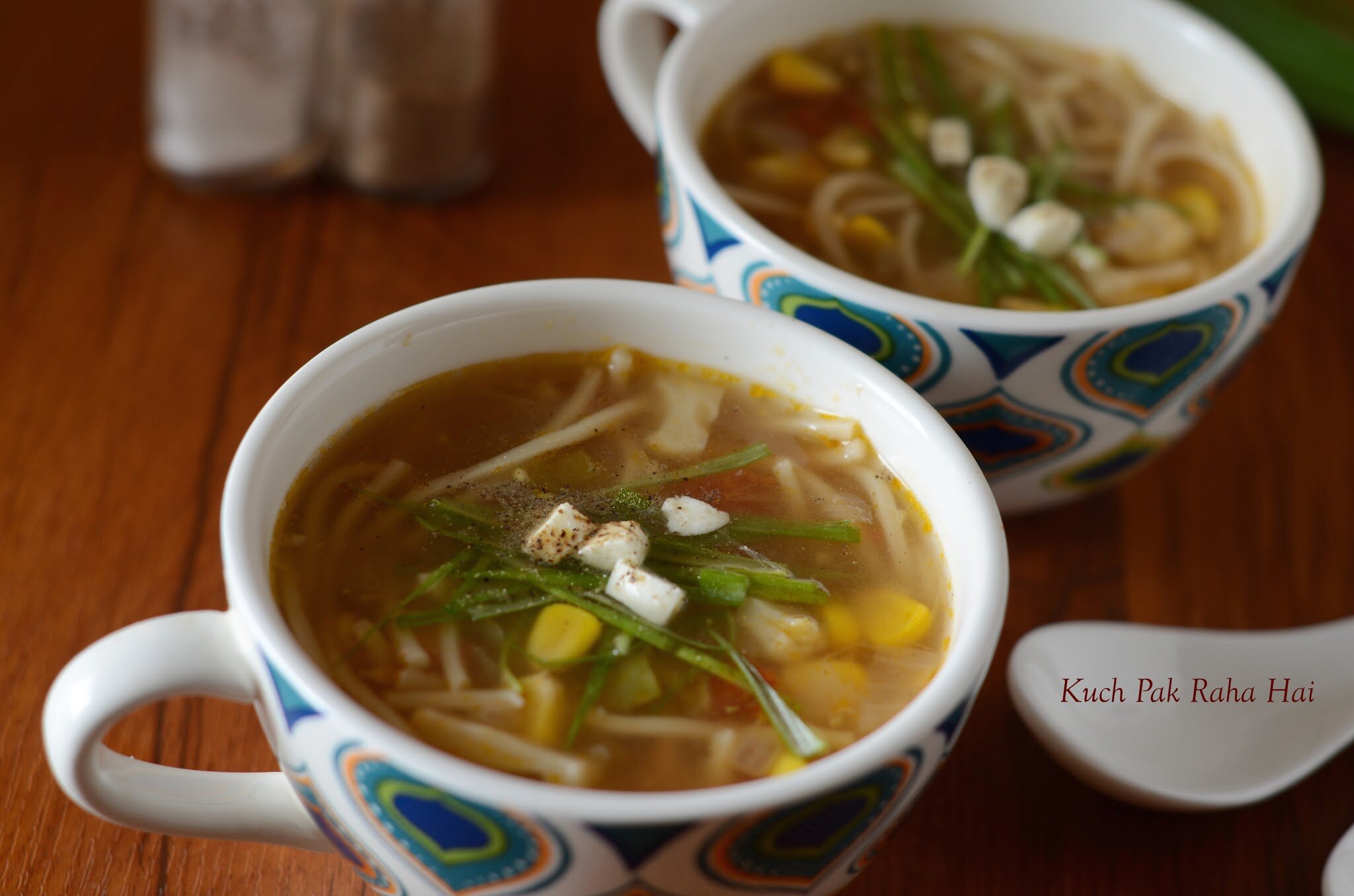 This Indo Chinese style of soup is also known by the name Talumein soup. The addition of noodles & tofu / paneer makes this vegetable soup more filling, nutritious & protein packed. Its recipe is quite flexible as you can add any vegetables & protein of your choice depending on the seasonal availability.
This vegetable noodle soup can even replace your dinner on busy days. The recipe shared here is:
Vegan / Vegetarian
Gluten free
Easy to make
Nourishing & satisfying
Ingredients for Noodle Soup:
Vegetables: Onion, garlic, ginger, broccoli, bell peppers (capsicum), mushrooms, cauliflower, bok choy, carrots, sweet corn, french beans, baby corns, spring onions, coriander (cilantro) are some of the vegetables that can be used. Ginger, garlic & some fresh herbs are must add as they add lots of flavour to this soup.
Noodles: You can use instant noodles, ramen, rice noodles, udon noodles, soba noodles or any gluten free noodles of your choice.
Protein: Feel free to add any protein of your choice like paneer, tofu or vegan chicken to it for a complete meal.
Oil: The vegetables are first sauteed in little bit of cooking oil. You can use sesame, sunflower or olive oil for it.
Spices: The veg noodle soup is lightly spiced using salt & crushed black pepper. You can also add some chilli flakes for more heat.
Sauces: The soup is flavoured using chinese sauces like soy sauce, white or rice vinegar, chilli (or sriracha) sauce. You can even add some garlic chilli oil to this soup.
Vegetable Stock: It adds lots of flavour & punch to the soup. If you don't have vegetable stock you can use water, chicken stock or stock cubes.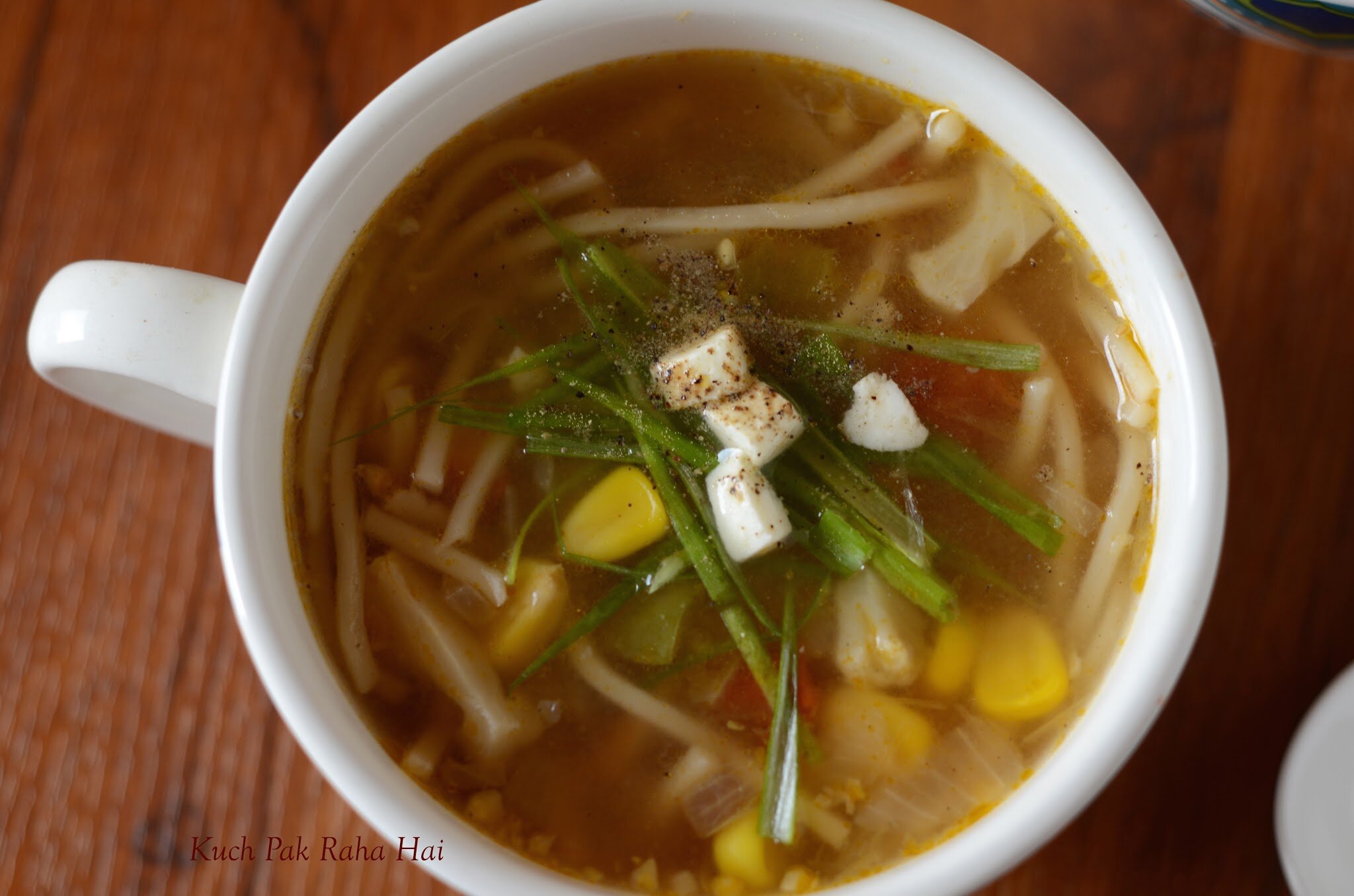 Should I boil noodles before adding to soup?
If you are short of time, you can add the noodles directly while the soup is simmering. However the starch from the noodles can give cloudy appearance & make it thicker. If you want it clear (more broth like), then boil the noodles separately and then add them to the soup.
Tips:
1. Boil the soup to al dente to avoid getting them overcooked later on after being added in soup.
2. Always add paneer or tofu in last 3-4 minutes of cooking. Over boiling makes them chewy & rubbery.
Is noodle soup healthy?
With all the seasonal fresh vegetables, tofu & vegetable stock, this noodles soup is packed with vitamins, minerals, fibre & protein. You can adjust the amount of noodles, tofu as per your calorie requirement and portion size.
A 100 grams block of tofu has 144 calories, 17 gms proteins & 2.8 gms carbs. On the other hands, 50 grams of instant noodles has 230 calories, 4.5 gms protein & 32.9 g carbs. If you want to make this noodle soup low calories you can reduce the amount of noodles in it or if want to more protein in it you can increase the amount of tofu.
Noodle Soup Variations:
Zoodle Soup: To make this noodle soup even healthier, you can try adding zoodles (zucchini noodles) instead of instant noodles.
Ramen Noodle Soup: If you are using ramen noodles, also add the seasoning to the souo that comes with it (skip the salt as seasoning already has it).
More vegetarian soup recipes:
Ingredients: (Serves 3-4)
Cooking Oil-2 tsp
Grated Ginger-1 tsp
Garlic (minced)-3 to 4 cloves
Chopped Onion-1/4 cup
Chopped spring onion (white)- 2 tbsp
Chopped Green Bell Pepper-1/4 cup
Chopped Red Bell Pepper- 1/4 cup
Chopped Mushrooms- 1/4 cup
Chopped Green Beans-3 tbsp
Chopped Cauliflower / Broccoli-1/4 cup
Diced Paneer / Tofu -2 tbsp
Instant Noodles-50 grams
Water / Vegetable Stock-3 cups
Salt- 1 tsp (or to taste)
Black Pepper- 1/2 tsp
Soy Sauce-1 tbsp
Sriracha / Chilli Sauce-1/2 tsp
White Vinegar -1 tsp
Chopped Spring onions greens – 1/4 cup
Substitutions:
1. Instead of white vinegar you can use rice vinegar or lemon juice. Add lemon juice in the end just before serving.
2. Both vegetable stock & soy sauce have salt. It's better to first taste the soup & then add salt.
3. You can a mixture of (cornflour+water) to thicken it up. Mix 1 tsp cornflour in 1/4 cup water. Add it to the soup when it is simmering.
Directions:
Step 1:
Heat oil in a pan. Add ginger, garlic & spring onion whites. Stir for 30-40 seconds. Add chopped onions and sauté till they turn translucent.
Step 2:
Add rest of the vegetables. Sauté for 1-2 minutes.
Step 3:
Add water or vegetable stock to these sautéed veggies and bring to boil. Add soy sauce, sriracha (or chilli sauce) & black pepper.
Add the noodles to the boiling water. Cook they on low flame for 7 to 8  minutes. Add paneer/ tofu cubes in last 3-4 minutes of cooking.
Switch off the flame and add vinegar / lemon juice to it.
Garnish with some chopped spring onion greens. Enjoy hot steaming cup of Veg Noodle soup!!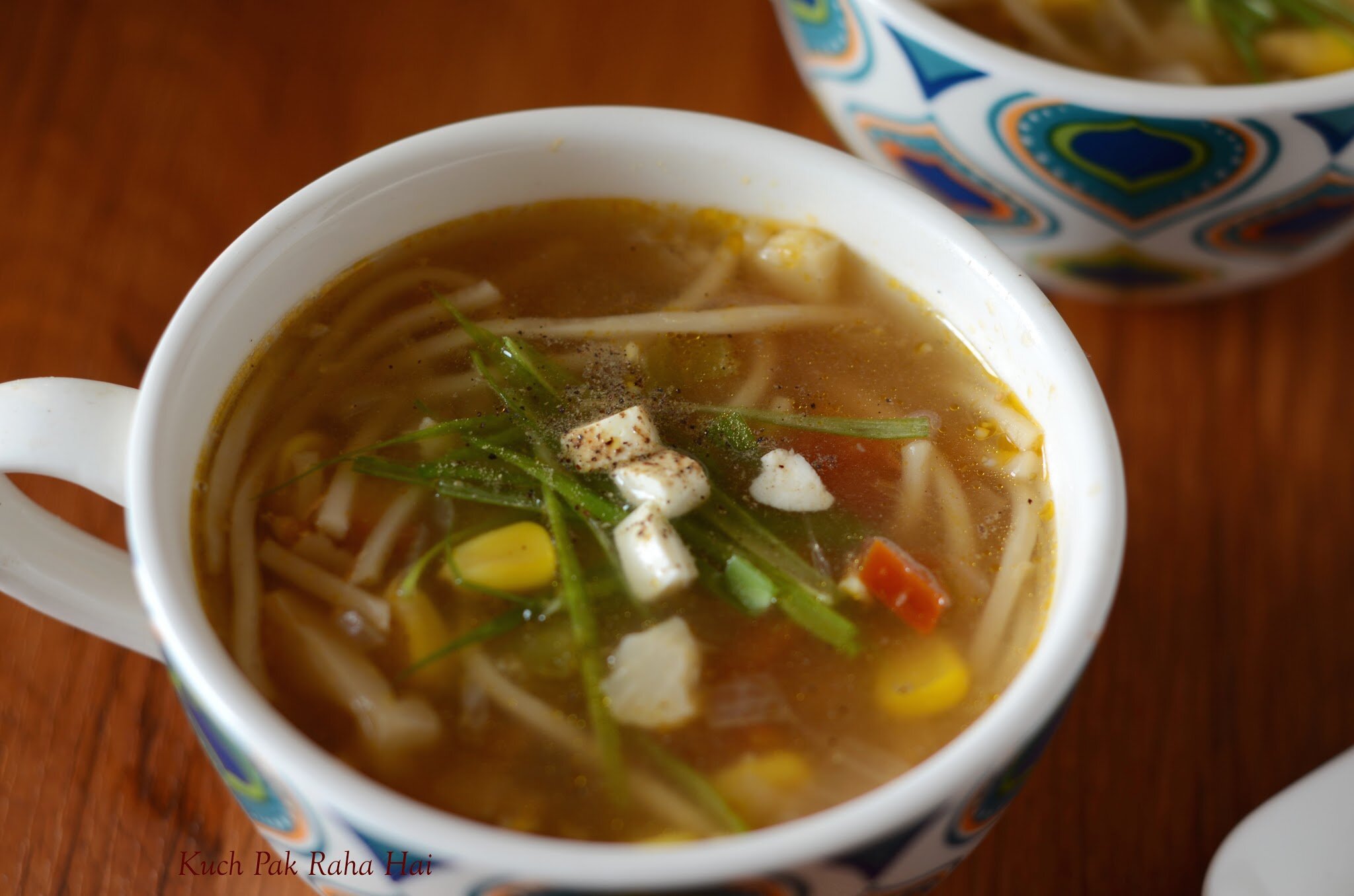 If you try this vegetable noodle soup recipe & share pics on social media, then don't forget to tag us on Facebook or Instagram or use the hashtag #kuchpakrahahai.
Let's stay connected
Facebook | Instagram | Pinterest| Youtube