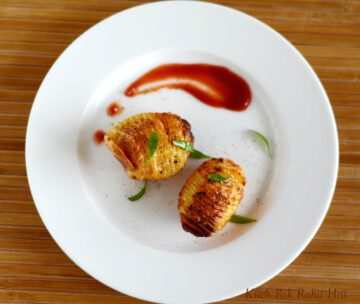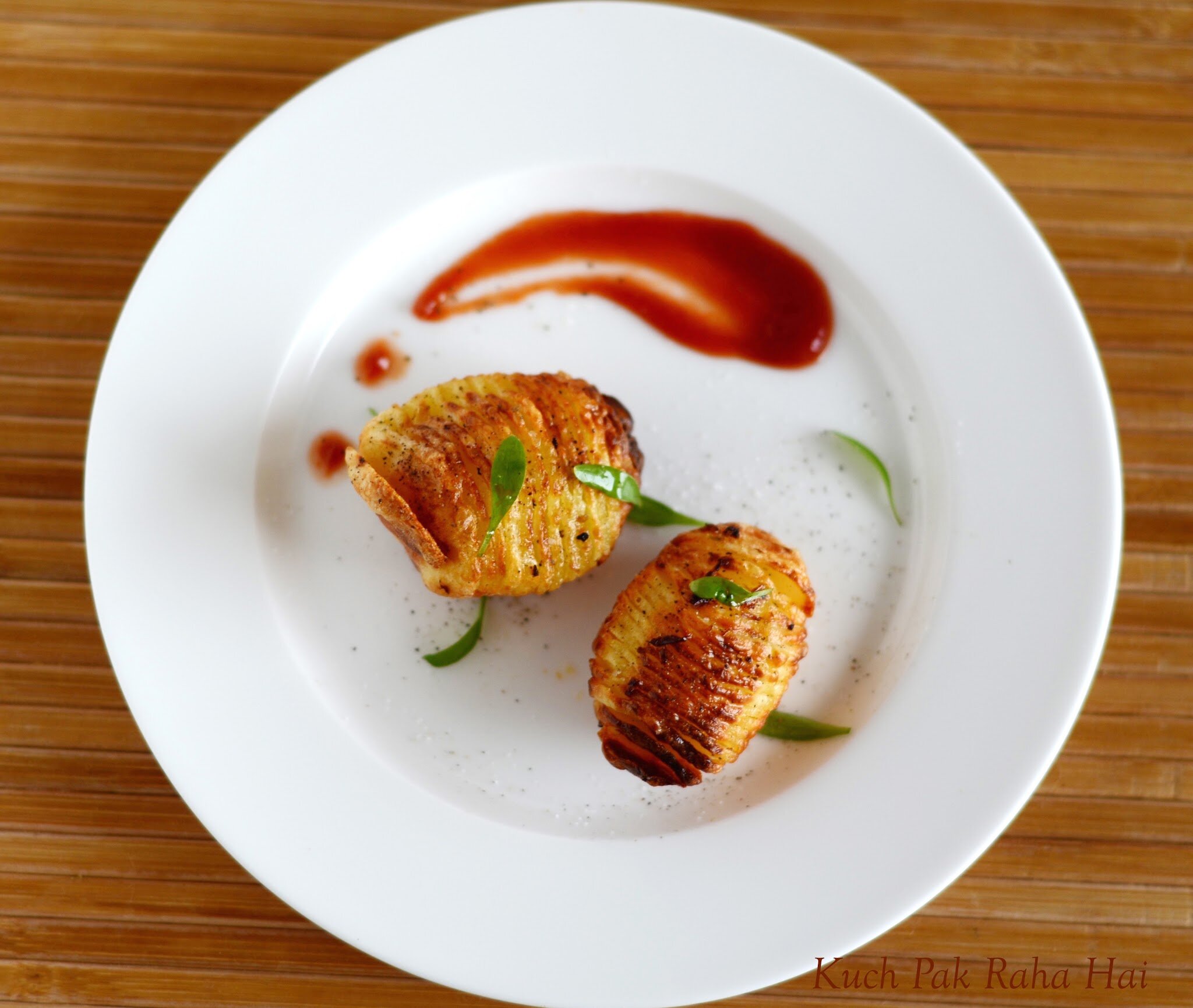 Today while randomly googling about the potential dishes using Potatoes I came across an interesting recipe called "Hasselback Potatoes". They were first introduced in the 1940s, Hasselbacken in Stockholm, Sweden and they were called "hasselbackpotatis". Hasselback Potatoes are basically whole potatoes which are cut in such a way as to resemble a fan or accordion when roasted. The edges of the potatoes are crispy and golden whereas the inside is soft and creamy.
There are various version available on different sites/channels. I decided to give a try to this simple yet tempting dish in air fryer and indeed the results did not disappoint me. I was amazed to see how the so dull potatoes were turned to something so delicious.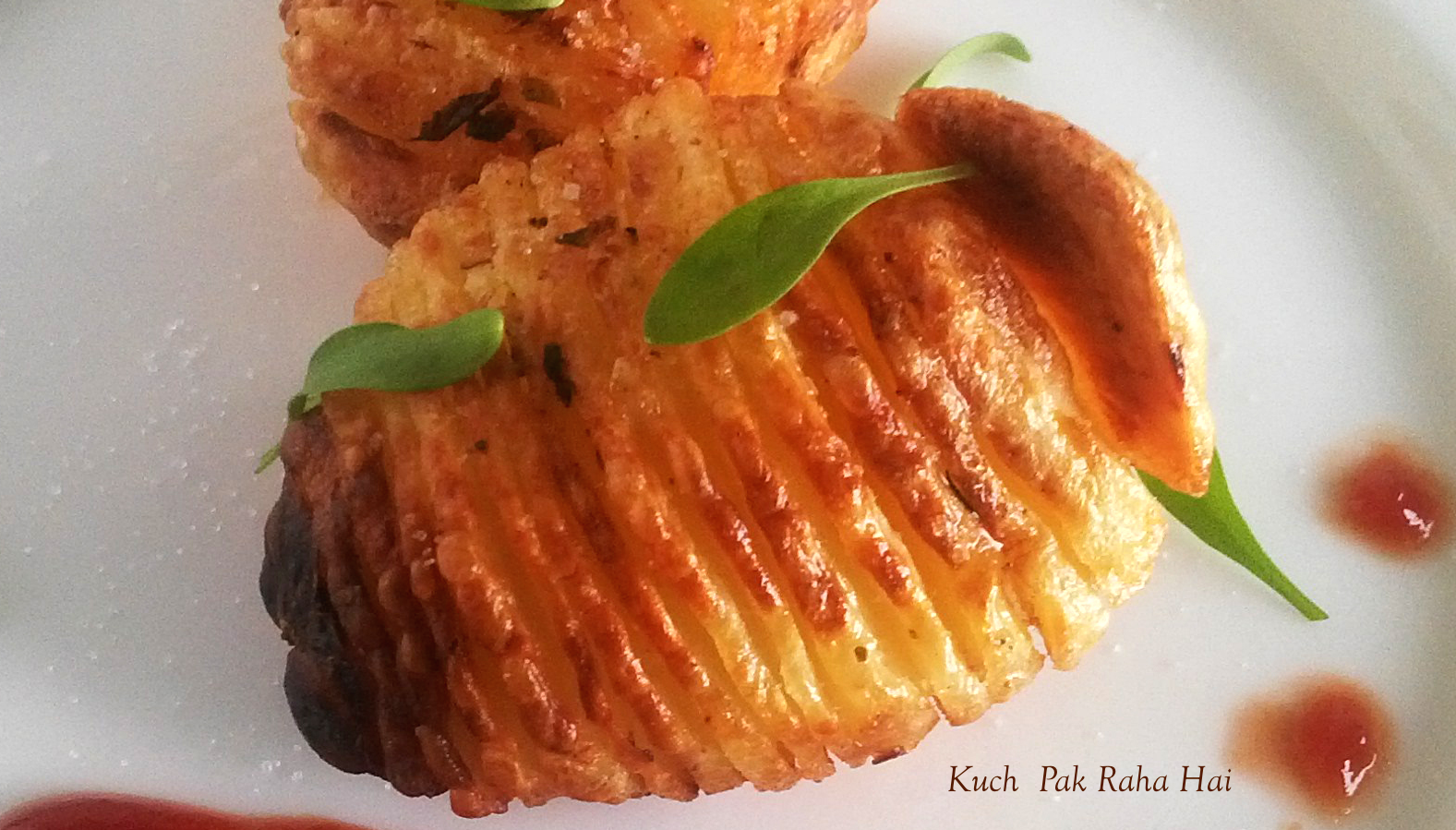 Other Vegan & Gluten Free Air Fryer Recipes you might like:
For more such Vegan / Vegetarian Air Fryer recipes click here.
Ingredients:
Medium Sized Potatoes-2

Olive Oil- 2 tbsp

Garlic Paste-1 tsp

Salt-1/2 tsp (or to taste)

Dried Oregano Leaves-1/2 tsp

Black Pepper-1/2 tsp


Steps To Prepare:
Step1:
Infuse olive oil with garlic paste, salt, oregano leaves and black pepper. Let this mixture stand for 20 minutes. You may keep it for longer time as it will give more time for spices to infuse their flavour and aroma in olive oil. Also, Italian seasoning can be used.
Step2:
Wash and peel the potato. Slice the potato horizontally such that the cut is not completely through. You may take help of chopsticks or pencil as shown in below image.
Dip it cold water to prevent discolouration. Repeat the process with other potato. You may skip peeling the potatoes if the outer covering is thin.
Step3:
Set the air fryer for preheating at 180 degree Celsius for 5 minutes. Take out the potatoes from the water and dry them using kitchen towel. Brush 3/4th of the garlic infused olive oil onto it using a silicon brush (buy here).
Step4:
Once the air fryer (buy here) is preheated, transfer the potatoes in the air fryer's basket and cook for 20 minutes at 180 degree celsius.
Step5:
After 20 minutes, take the basket out of air fryer and rub the remaining olive oil onto it.
Bake for another 10 minutes or more at 180 degree celsius till the potatoes turn crispy golden brown.
P.S: If you don't have air fryer, you can make bake these hassleback potatoes in convection mode of oven at 180 degrees for 20-30 minutes.
Transfer the baked potatoes to a plate. Sprinkle a pinch of salt and black pepper over it. Garnish with fresh herbs like basil or coriander. Enjoy!!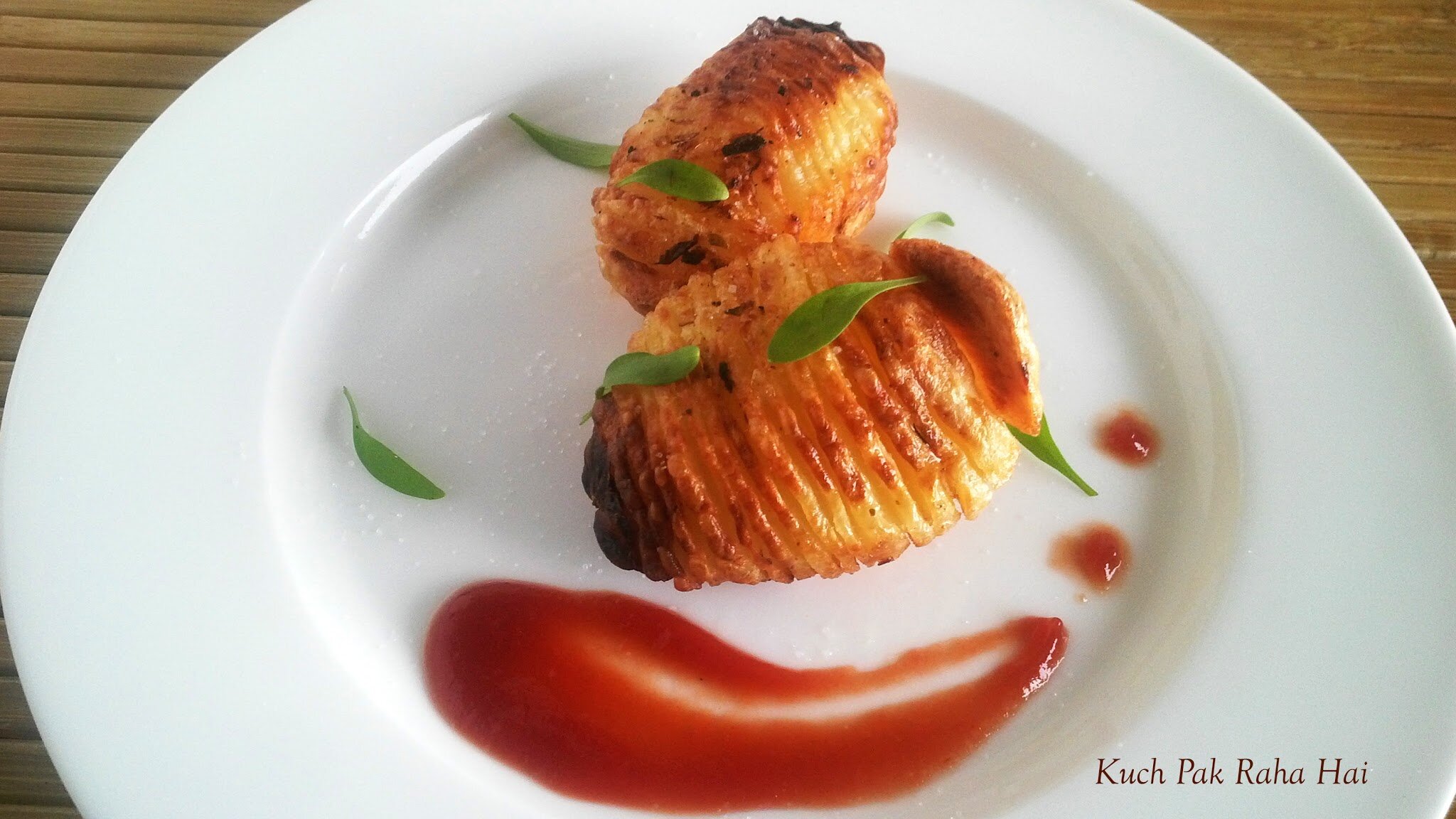 Few of the followers have asked for the tips that can help in turning these potatoes crisp from outside. So here I am sharing the tips that I got from my experience:
The slices should be kept thin as this will help in turning the edges crisp.
The potatoes should be washed and dipped in water for sometime as this removes excess starch from it.
Applying the oil in the beginning and then in between the baking time gives that lovely golden color and crunch to the potatoes.