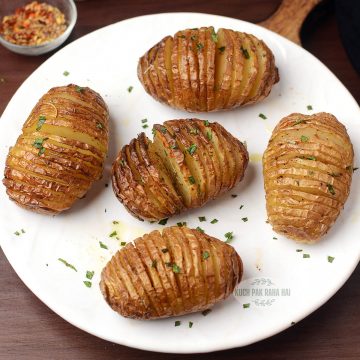 Crispy air fried hasselback potatoes with garlic and herbs makes for perfect side dish anytime. They are vegan, gluten free & so easy to make in air fryer.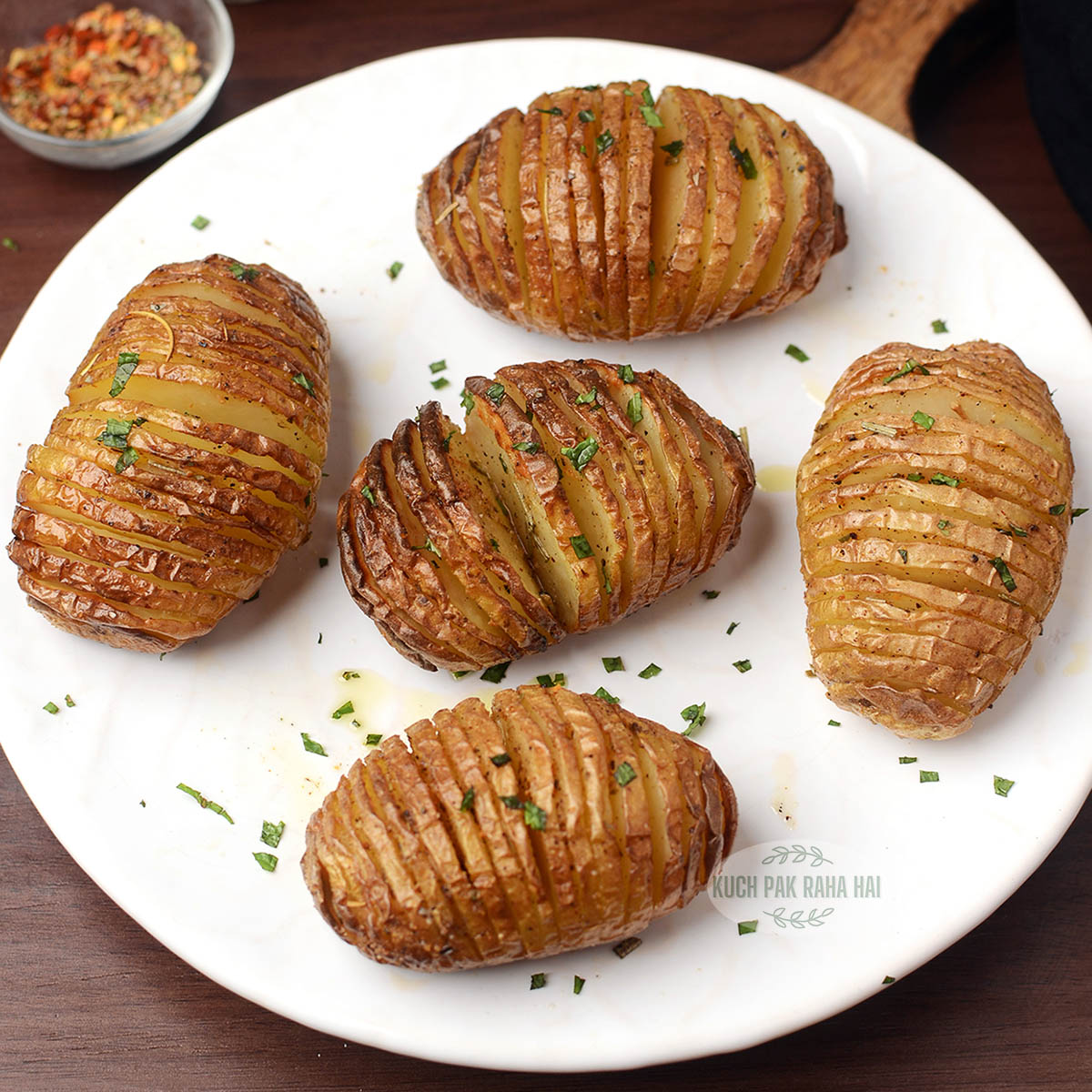 Hasselback potatoes were first introduced in the 1940s in Hasselbacken in Stockholm, Sweden and they were called hasselbackpotatis. They are basically whole potatoes cut in slices in such a way as to resemble a fan or accordion when roasted. The edges of the potatoes become crispy golden whereas insides become soft and creamy.
These delectable air fryer baked potatoes are great to serve as side dish with soups, salads, casseroles, pasta or sandwiches. You can make cheesy hasselback potatoes by adding parmesan or any grated cheese or serve with dips like sour cream, chipotle mayo or ketchup.
Air Fryer Hasselback Potatoes Ingredients:
Potatoes: You can use Russet, Yukon gold potatoes or any potato variety to make these hasselback potatoes. If you opt for large potatoes, the cooking time will be more in comparison to medium or small size potatoes.
Olive Oil : Use good quality olive oil or extra virgin olive oil for brushing the potatoes. If you like butter flavour, you can use half olive oil & half butter in the recipe.
Italian seasoning : The Italian seasoning I have used here is a mix of various dried herbs like basil, thyme, oregano & rosemary. You can use any dried herbs of your choice.
Garlic: You can use garlic powder or minced fresh garlic cloves to season the potatoes.
Fresh herbs: A sprinkle of freshly chopped chives, parsley or cilantro adds freshness and aroma.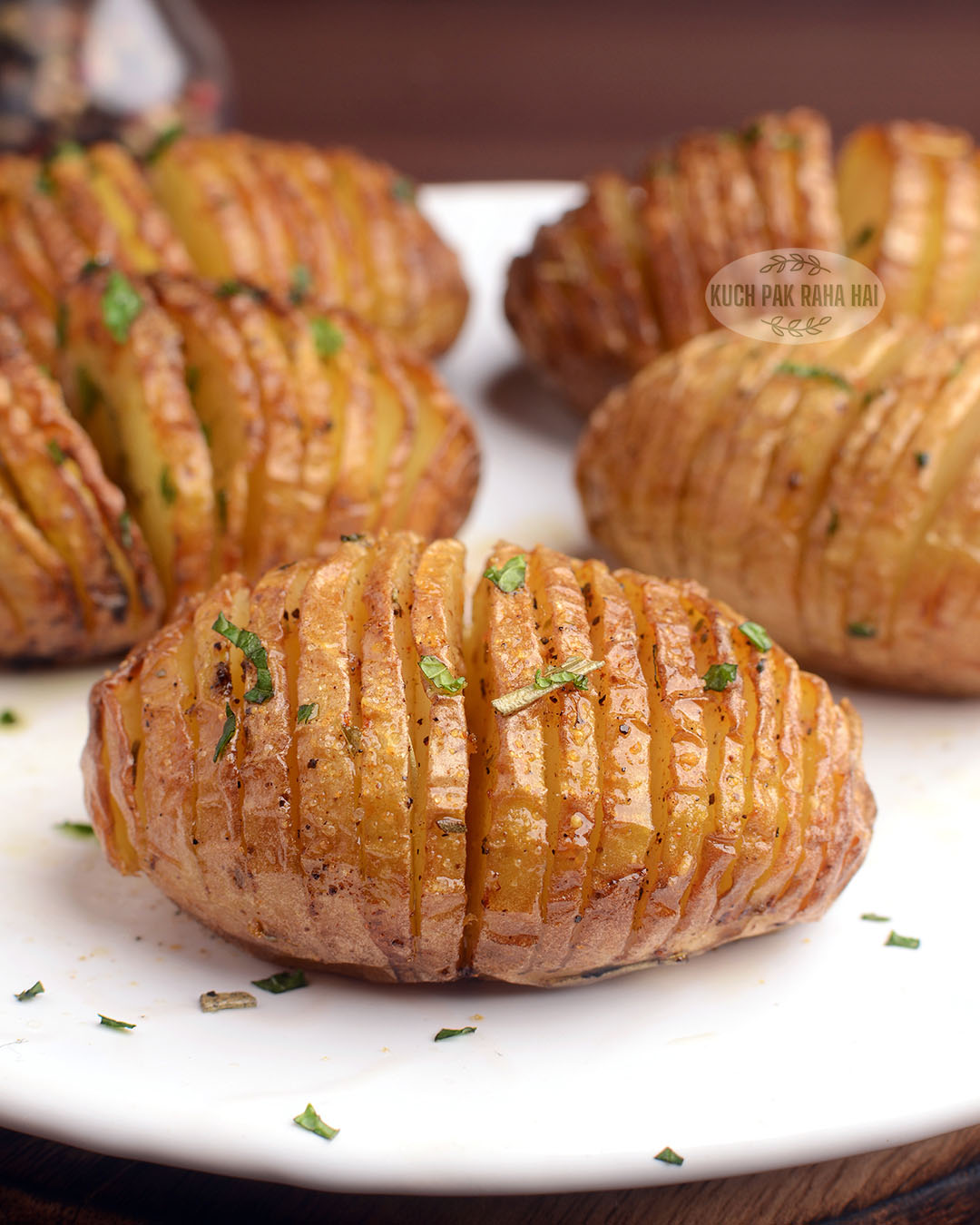 Variations: 
If you are cheese lover, you can sprinkle some parmesan cheese on these roasted hassel back potatoes once they are out of air fryer & still hot.
Feel free to experiment with different seasonings like smoked paprika, red chilli powder, Indian chaat masala etc.
Tips to make perfect hasselback potatoes:
1. The slices should not be cut too thick as the edges will take longer to become crispy.
2. For best results, The garlic & herb infused olive oil should be applied in the beginning, halfway during air frying & in the end (also known as basting) to prevent the potatoes from drying out.
3. I don't peel the potatoes as their skin become crisp on air frying. It is totally your choice whether you would want to peel them or not.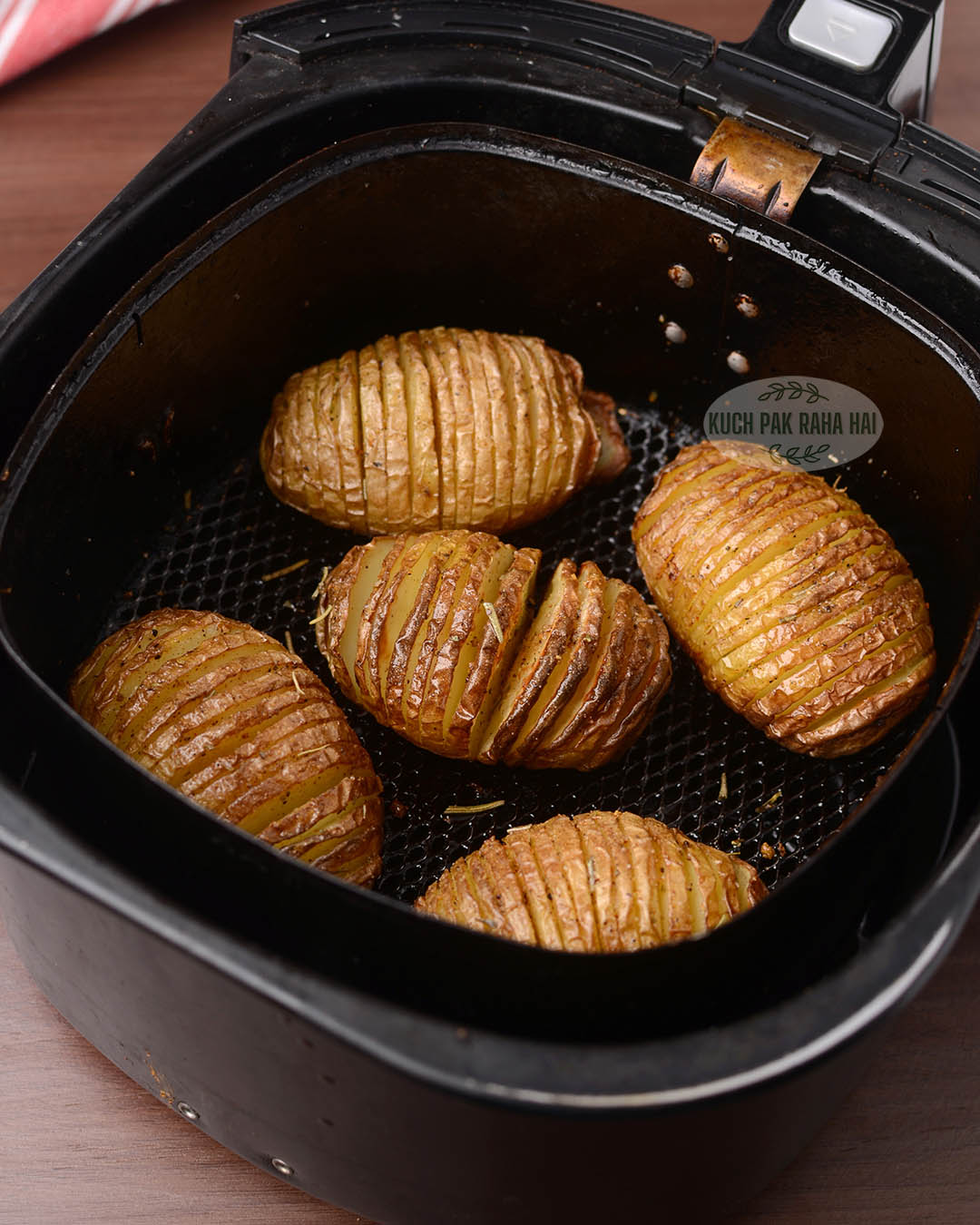 Hope you would like this easy air fryer hasselback potatoes recipe. More air fryer potato recipes you might like:
Ingredients:
Potatoes (medium)- 4

Olive Oil- 3 tbsp

Garlic Powder-1 tsp

Italian seasoning-1/2 tsp

Salt-1 tsp (to taste)

Crushed Black Pepper-1/4 tsp (to taste)
Directions:
Step 1:
In a small bowl, mix olive oil, garlic powder, Italian seasoning (or any dried herbs), salt and black pepper.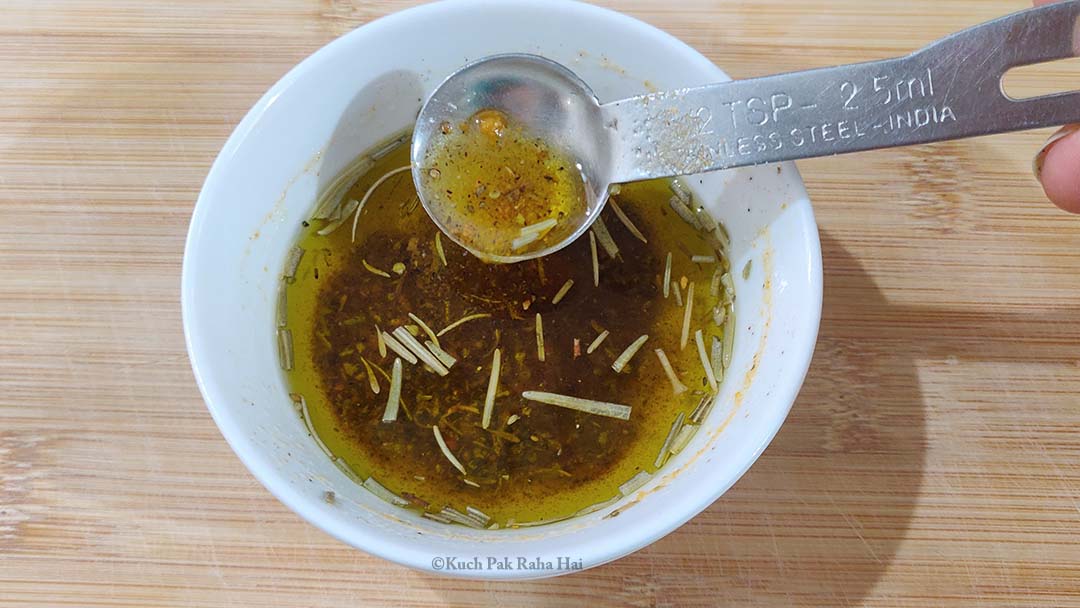 Step 2:
Wash the potatoes well. Place them horizontally on kitchen counter and start slicing them into 1/8″ inch thick slices with a sharp knife without cutting them all the way to the bottom. You may may use chopsticks or skewers as slicing guides (shown below).

Step 3:
Set the air fryer for preheating at 180°C (356°F) for 5 minutes. By the time air fryer is preheating, brush herbed olive oil (prepared in step 1) generously on each of the potato including its base.

Step 4:
Once the air fryer is preheated, transfer these hasselback potatoes in its basket. Air fry for 30-35 minutes at 180°C (356°F). After half time the potato slices would begin to fan out, brush more oil in between the slices.

Step 5:
Once the potatoes are cooked completely, rub the remaining garlic infused olive oil on them. (If you are planning to add parmesan cheese, sprinkle them when the potatoes are still hot and air fry for 2 more minutes). Garnish with fresh herbs like chives, cilantro or parsley and serve them hot.
Notes:
1. The air frying time can vary depending on the size and variety of potatoes. In my air fryer, it took 35 minutes for these medium size potatoes to cook completely. For the bigger ones, you may have to increase the cooking time slightly.
2. If you want to make cheese stuffed hasselback potatoes, then once they are cooked completely stuff small pieces of cheese in between the potato slices. Air fry them for 3-4 minutes more till the cheese is melting & bubbling.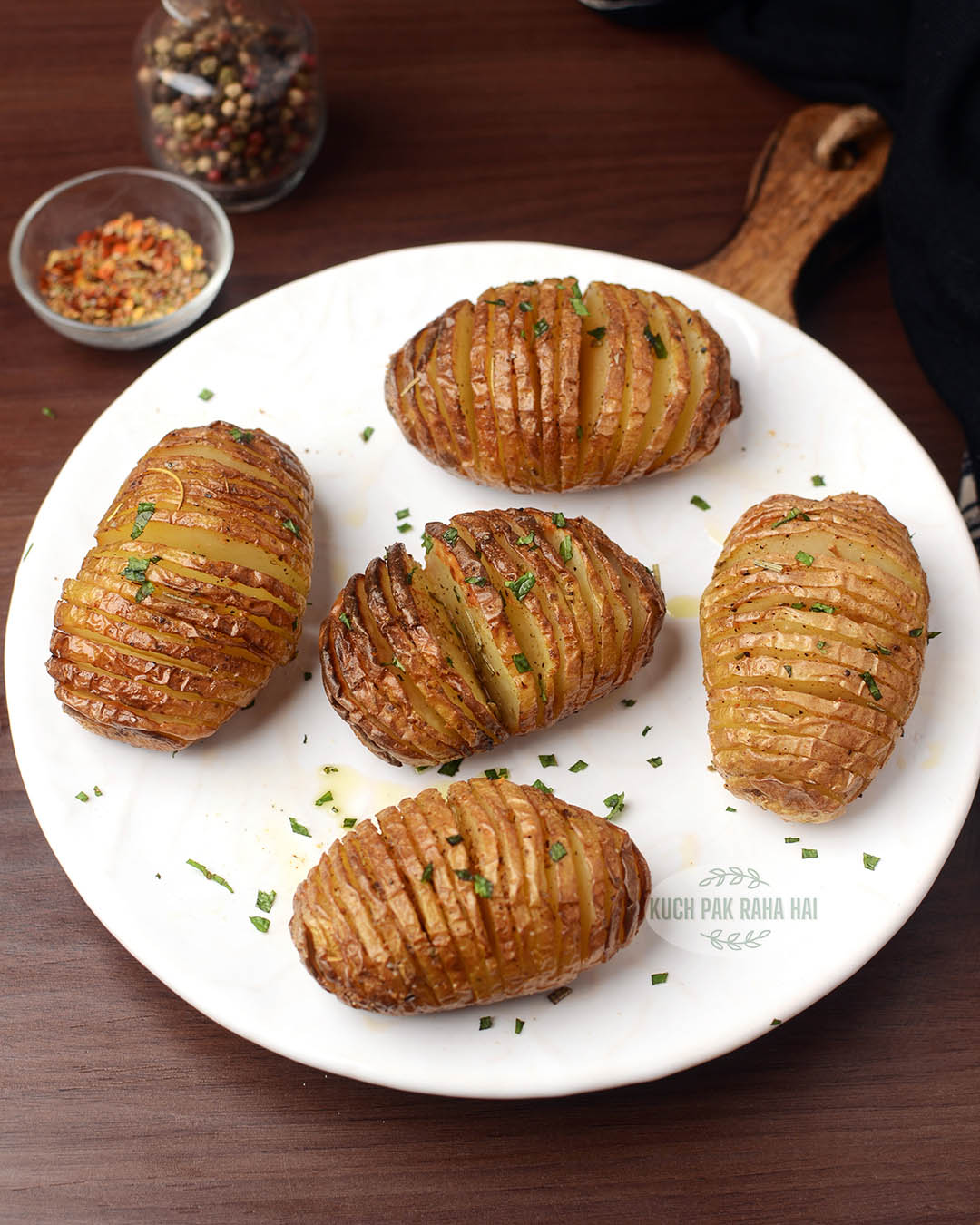 FAQ:
How to store & reheat the leftovers?
You can store the leftovers in an airtight container in fridge. To reheat them, air fry for 2-3 minutes.
Can I bake these potatoes in oven?
If you don't have air fryer, you can make bake these hassleback potatoes in convection mode of oven at 180°C for 45-50 minutes till they are cooked completely.
More vegan gluten free air fryer recipes you might like:
Pin for later: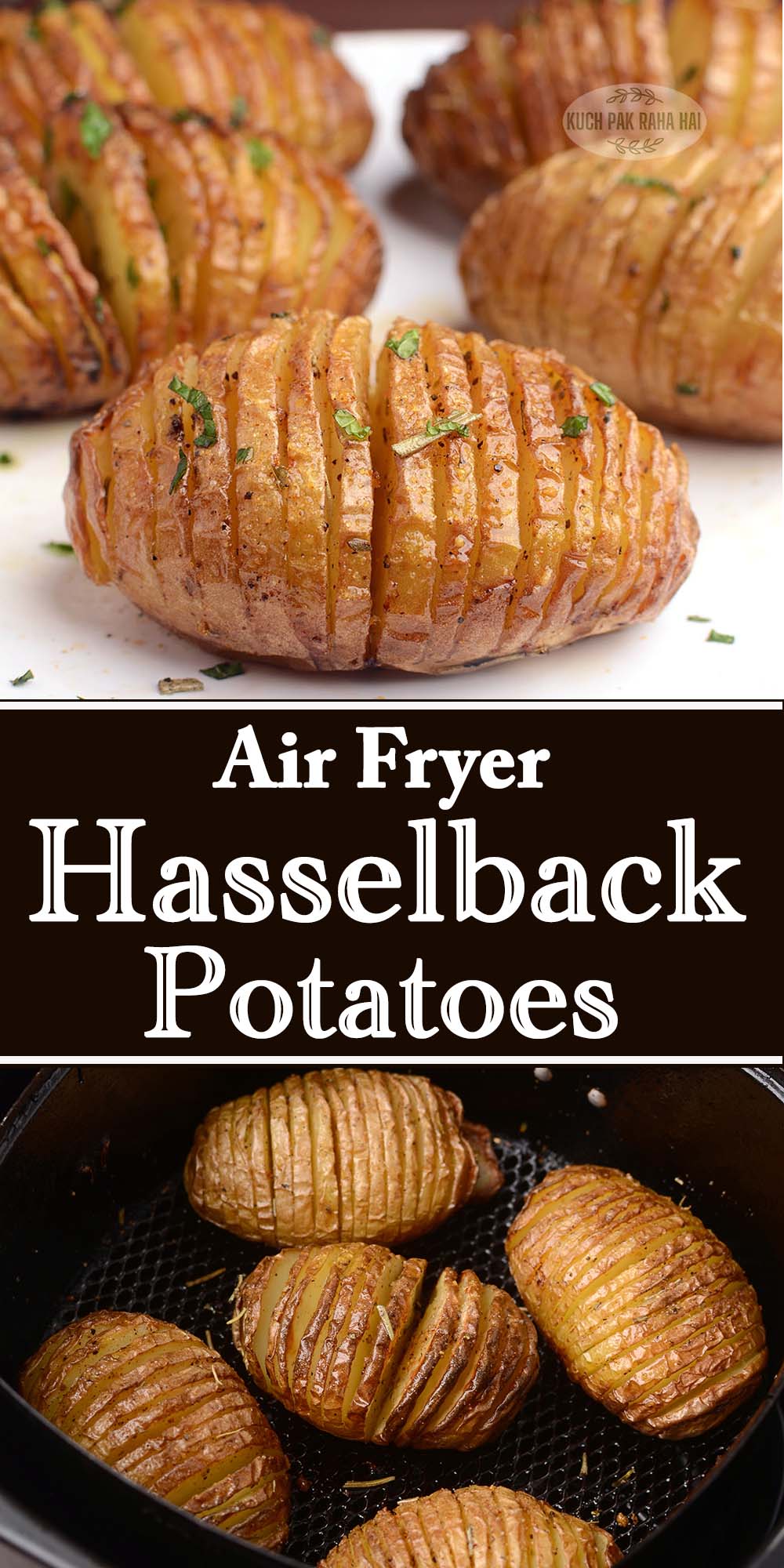 If you try this air fryer baked hasselback potatoes recipe & share pics on social media, then don't forget to tag on Facebook, Instagram or use #kuchpakrahahai.
Let's stay connected
Facebook | Instagram | Pinterest| Youtube
(Note: The recipe was originally published in Sep 25, 2015 & has now been updated with fresh pictures and tips.)