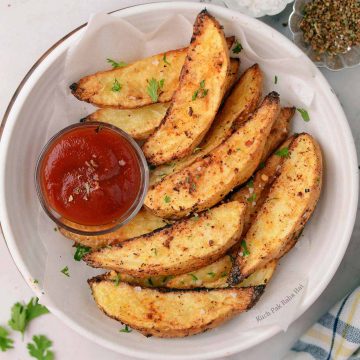 Perfectly crispy from outside, tender inside, seasoned potato wedges made in air fryer. They are made using minimal oil and are great to serve as snacks or appetisers.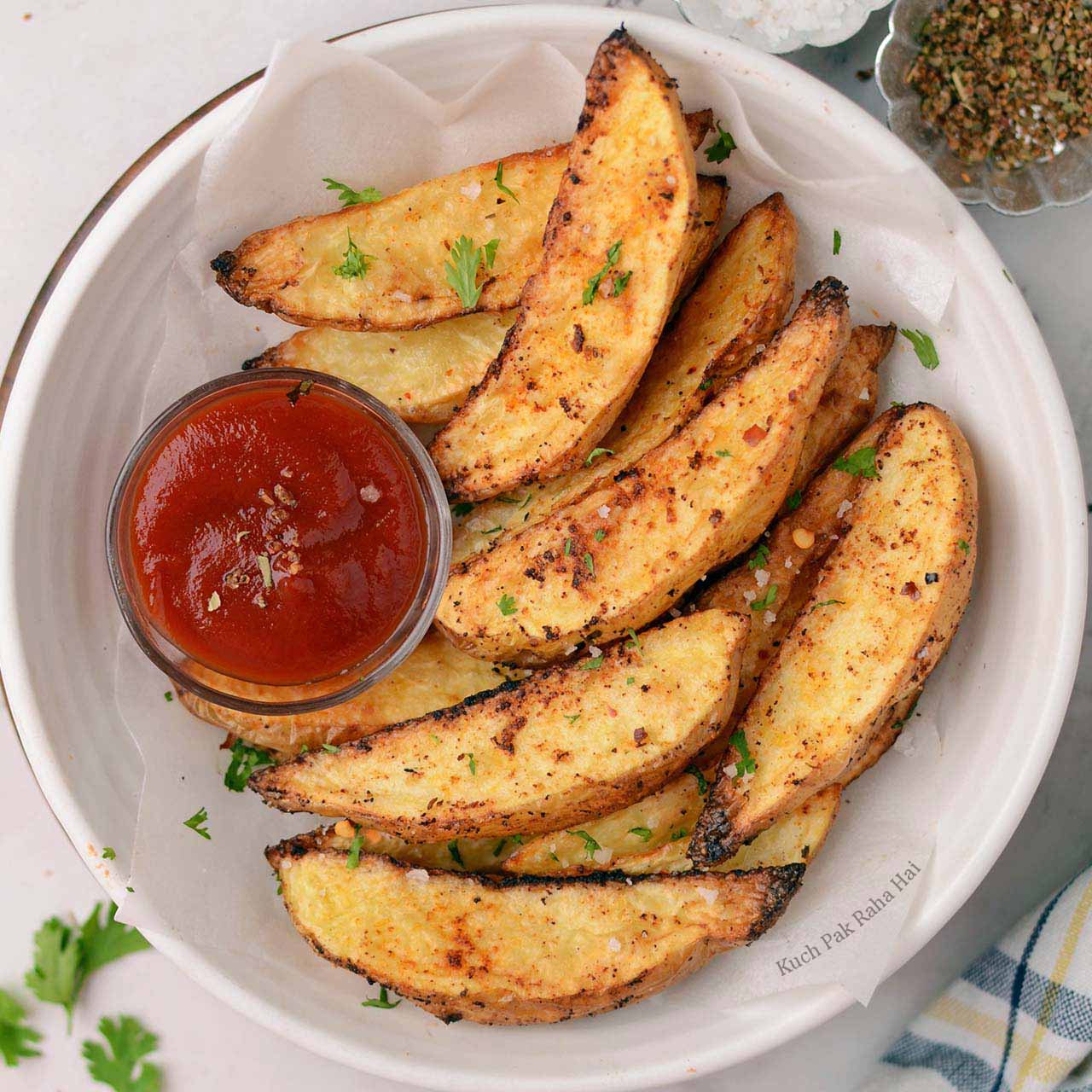 Whether it is super bowl, world cup or any game day, these ultra crispy homemade potato wedges are a favourite snack at my home. Air frying not only saves effort & time but calories too as your favourite snacks are cooked in very little oil.
The air fryer potato wedges recipe shared here is:
Vegan
Gluten Free
Easy & quick
Made in minimal oil
These air fried potato wedges can be served as snack, appetiser or side dish with burgers / sandwiches. You can pair them with your favourite dips or sauces like:
Tomato Ketchup
Garlic Mayonnaise
Ranch dipping sauce
Ingredients for potato wedges:
Potatoes: A lot depends on the type of potatoes you are using for making wedges. Russet potatoes (or Idaho potatoes) are the best for making wedges because of their high starch and low moisture content. This makes them crispy from outside and soft fluffy from inside on baking or air frying.
Oil: You can use olive oil, canola or sunflower oil to make these wedges.
Seasoning: I have used a mix of red chilli powder, garlic powder and salt to season the wedges. You can also add some onion powder, dried oregano or black pepper.
Parmesan (optional): If you love cheesy potato wedges then you can also add some parmesan cheese to the wedges. As I am making vegan wedges so I have not added it here.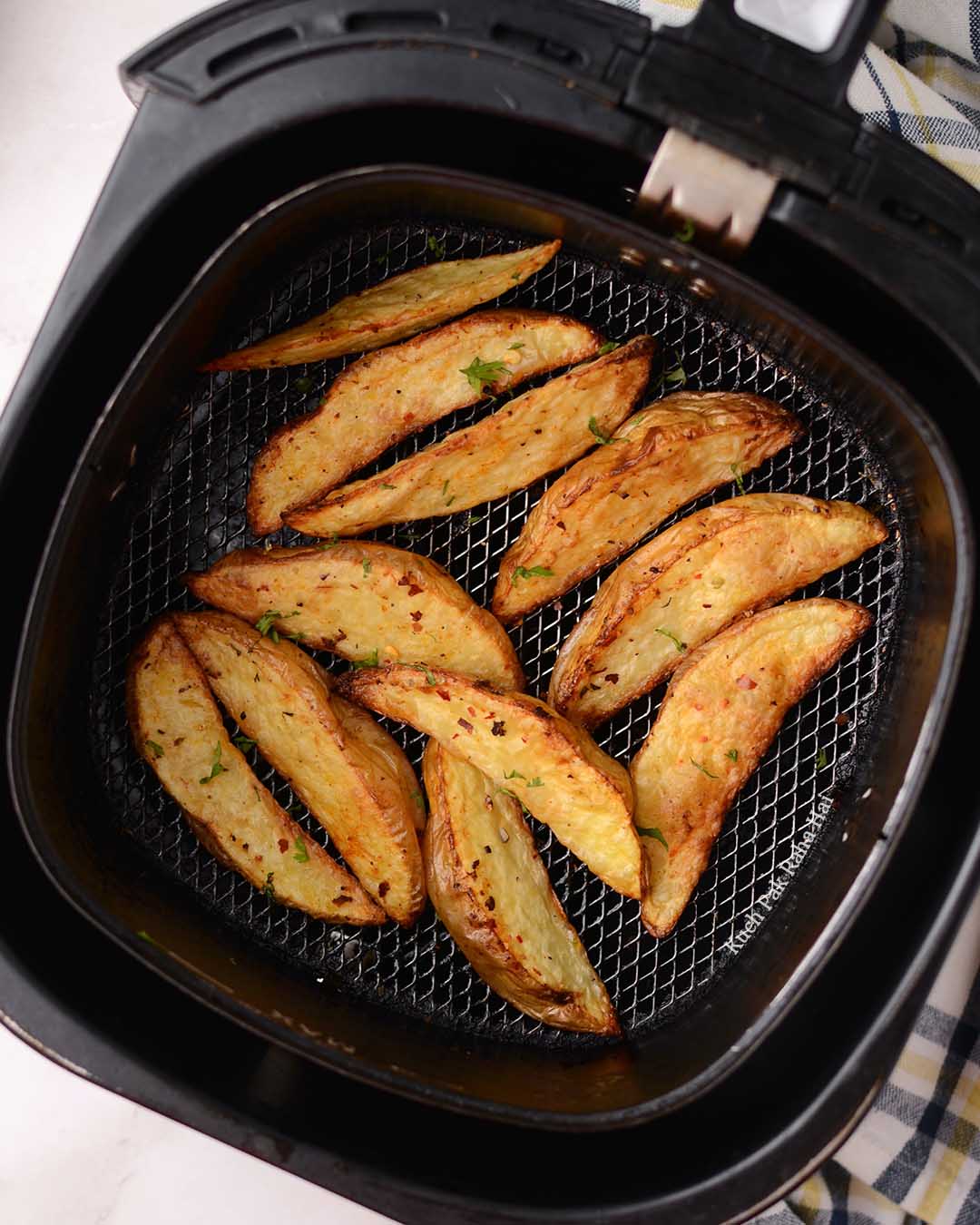 How to cook potato wedges in air fryer?
Preparing the potatoes: We begin by first washing and scrubbing the potatoes to get rid of all dirt. Though you can peel the potatoes if you want to but I always like to leave the potato skin on as they get really crispy on baking or air frying (Also potato skin is nutrient packed with fibre, vitamins and potassium etc so why not!!)
Cutting potato wedges: Once the potatoes are washed properly, we will them cut into half lengthwise. Then we will cut those parts into half again and repeat the process till we get desired size potato wedges.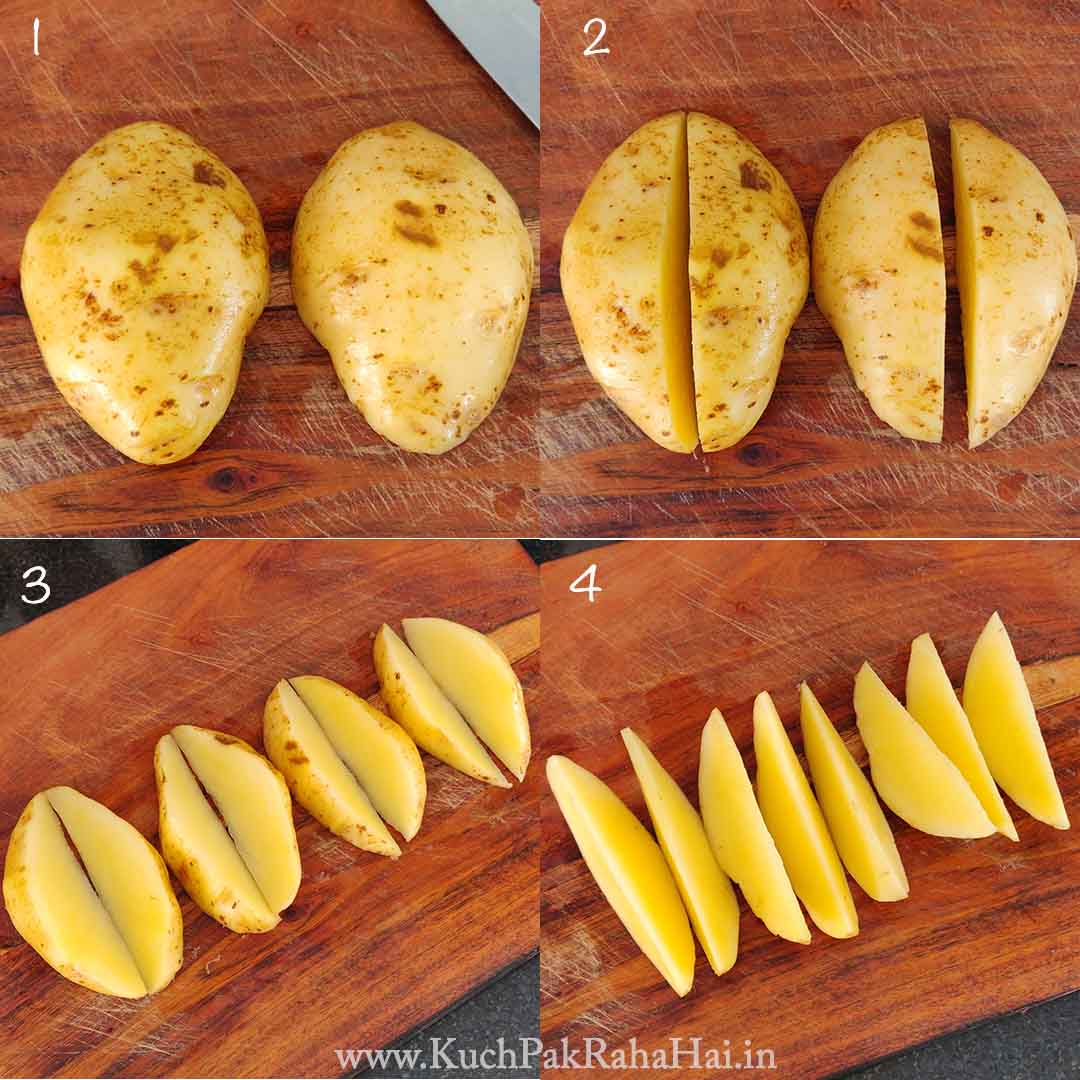 Soaking : Soaking the wedges in cold water for 20 to 30 minutes gets rid of all the excess starch. They become more crispy on air frying and also don't stick to each other in air fryer basket.
The next step is to transfer these soaked wedges on a colander to drip water from them and then spread them on kitchen towel to make sure they dry out completely
Seasoning: Transfer these in a bowl and drizzle some olive oil on them. Coat with salt, spices or seasoning mix of your choice (If you want to add parmesan add it at this step),
Air frying: Always preheat the air fryer before baking any snacks. Spread the seasoned potato wedges in air fryer basket and air fry them till they become nice & crispy.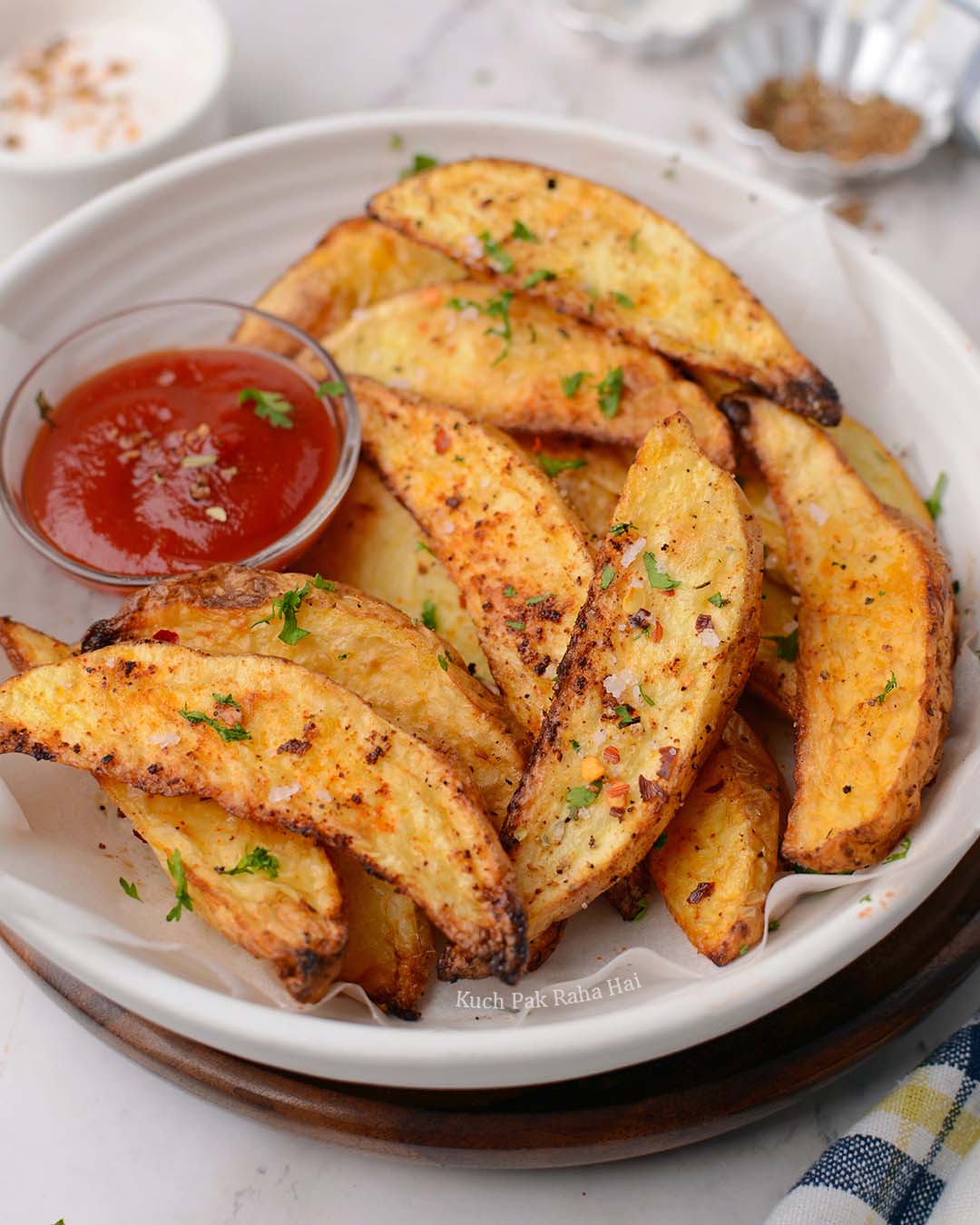 How long to cook potato wedges in air fryer?
The potatoes wedges should be cooked at 200°C(400ºF) for 18 to 20 minutes till they become golden crispy. Flip them after half time for even browning. Cooking time can vary slightly as per the air fryer model (or basket size), so keep an eye after 15 minutes.
Hope you will like this yummy air fried potato wedges recipe. Some more easy air fryer recipes:
Ingredients:
Russet Potatoes-2
Olive Oil- 3 tsp
Salt-1/2 tsp (or to taste)
Paprika / Red Chilli Powder-1/4 tsp
Garlic Powder-1/2 tsp
Italian seasoning- 1/2 tsp
Chopped parsley- 1 tsp (optional)
Note:
The Italian seasoning I have used here is a mix of dried herbs like oregano, bail, rosemary etc. If you don't have it you can skip it or use dried herbs of your choice.
Directions:
Step 1:
Wash the potatoes well while scrubbing them to get rid of dirt from surface. Cut them into wedges. First halve the potato by cutting it lengthwise and then further cutting them into halves. Repeat till you get wedges of desired thickness (shown above). Soak them in cold water for 20 to 30 minutes.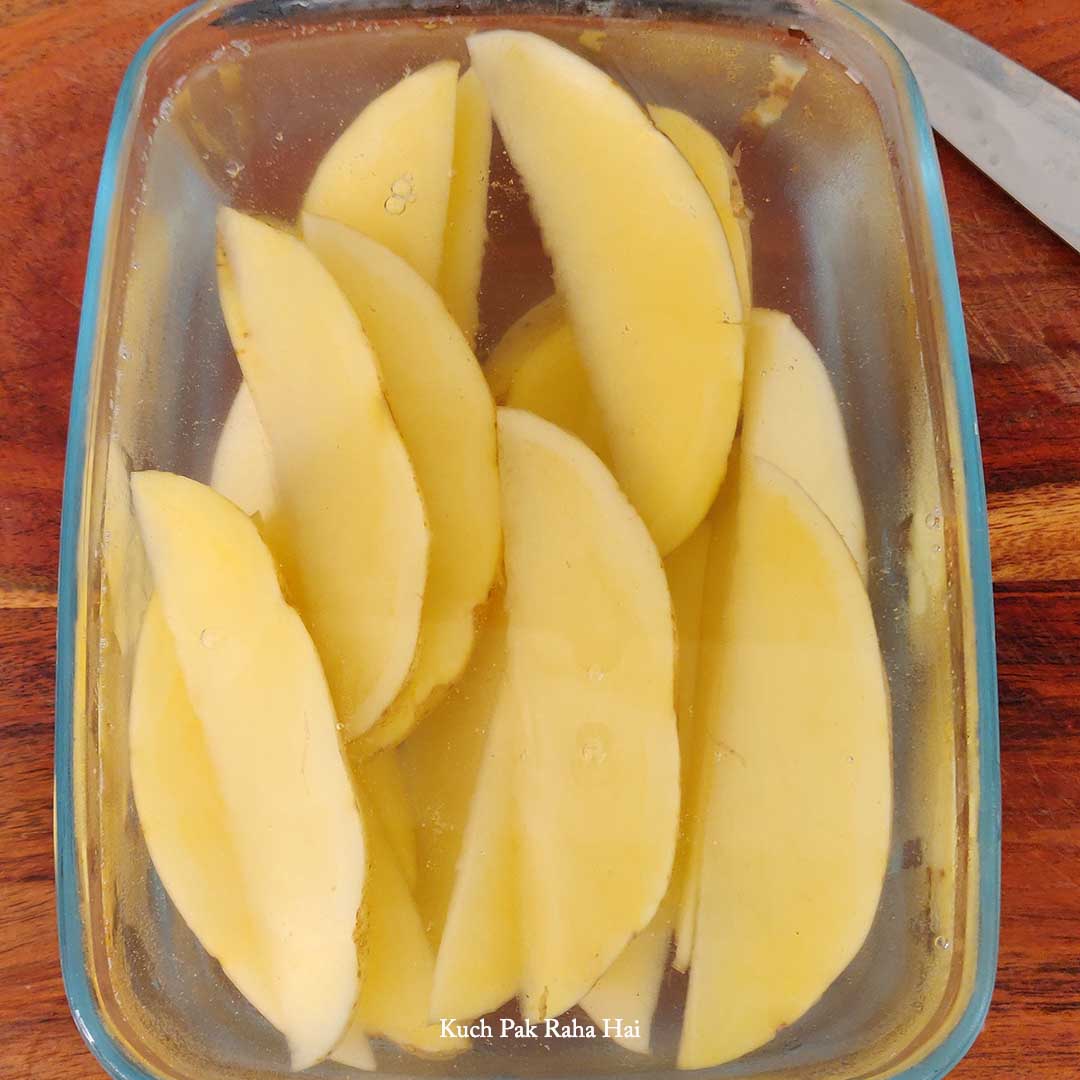 Step 2:
Dry the potato wedges on a kitchen towel so that all its moisture is removed.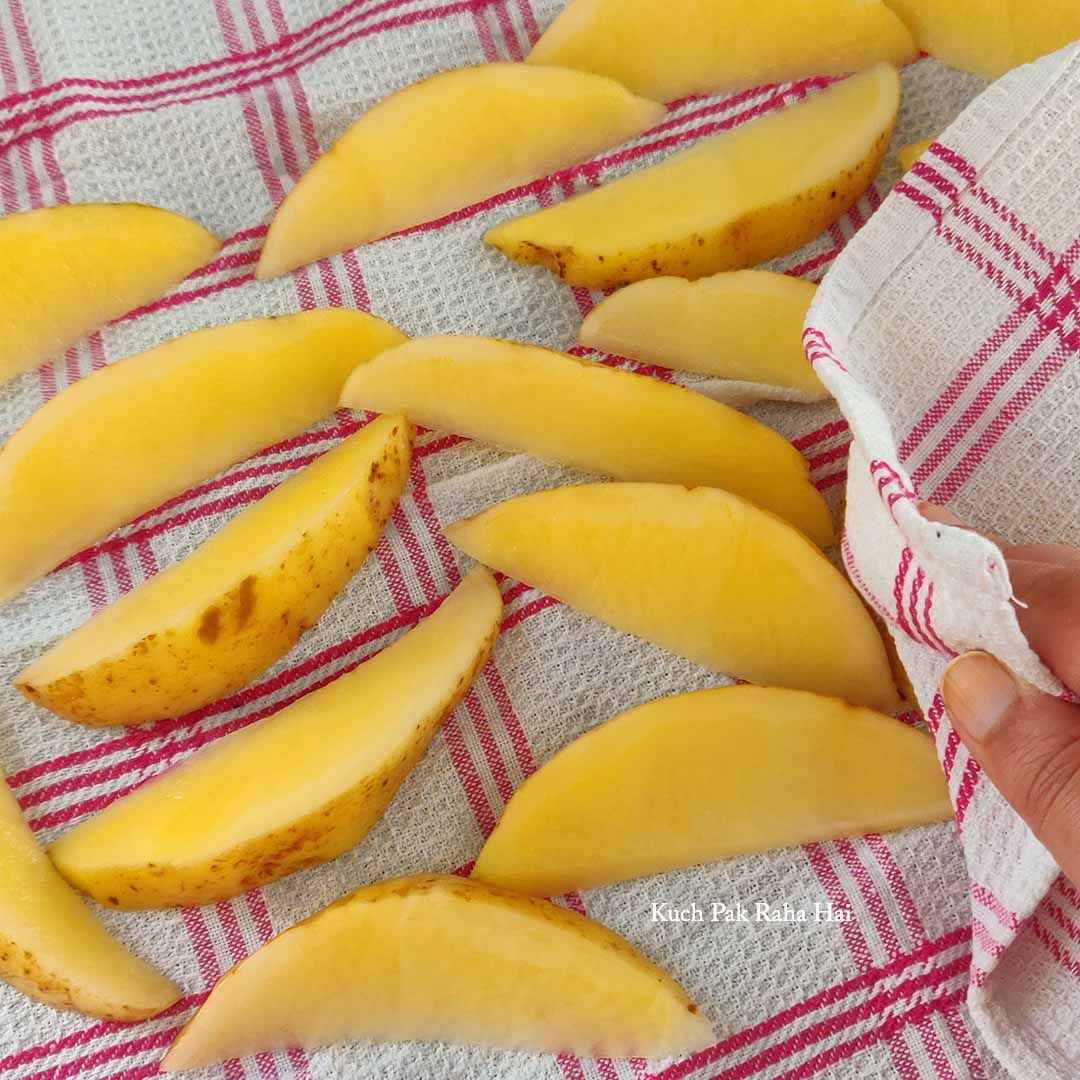 Step 3:
Preheat the air-fryer at 200°C (392°F). By the time air fryer is preheating, lets move to the next step.
Step 4:
Mix all the seasoning with salt in a small bowl & keep aside. Transfer potato wedges in a bowl. Drizzle olive oil and this seasoning mixture on them. Mix well using hands or spatula so that all the spices stick to the potatoes.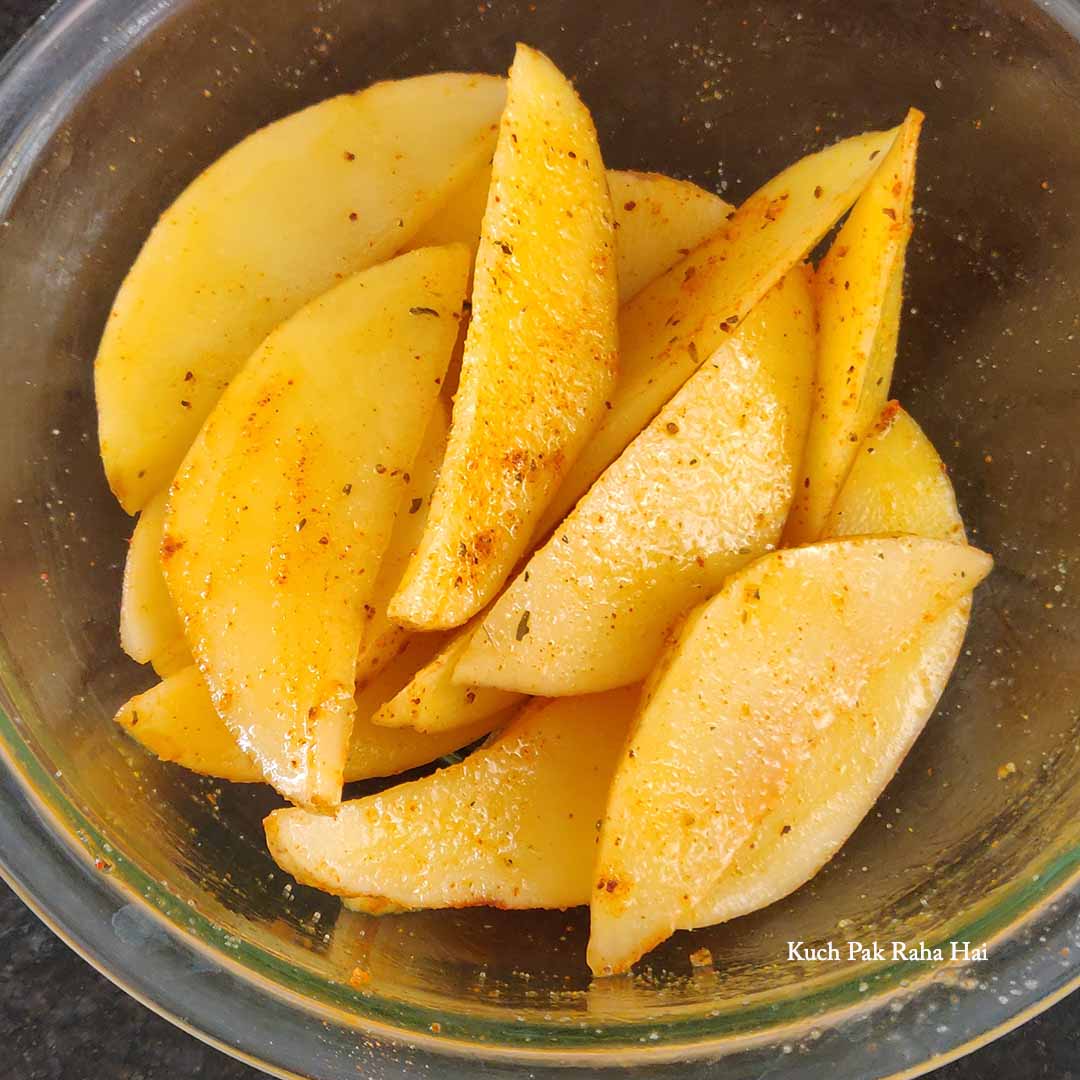 Step 5:
Place the seasoned potato wedges in air fryer's basket and air fry for 18 to 20 minutes at 200°C (392°F).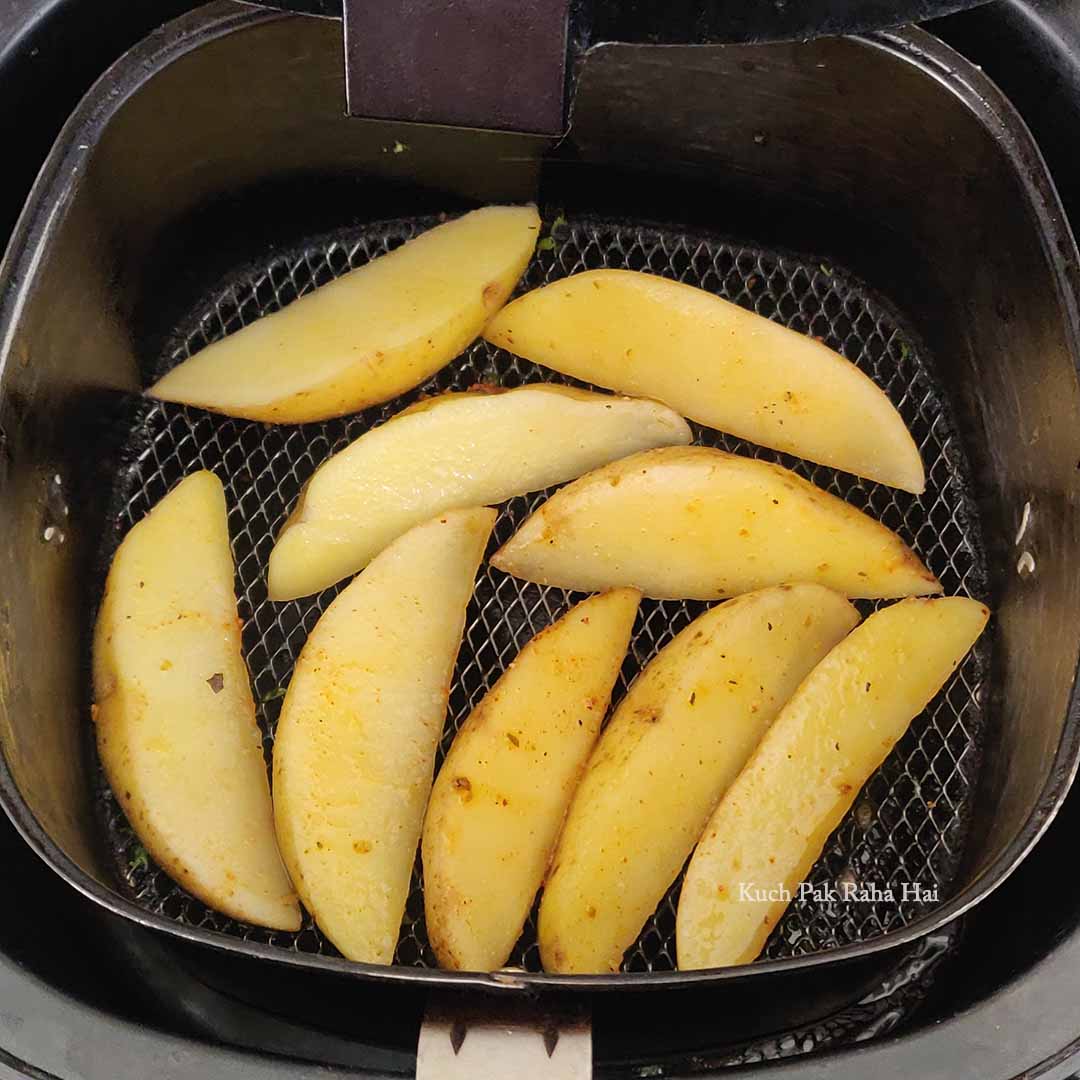 Pull the basket out and flip the wedges after 10 minutes. You can also brush or spray some oil again. Adjust the cooking time as per your preference of browning.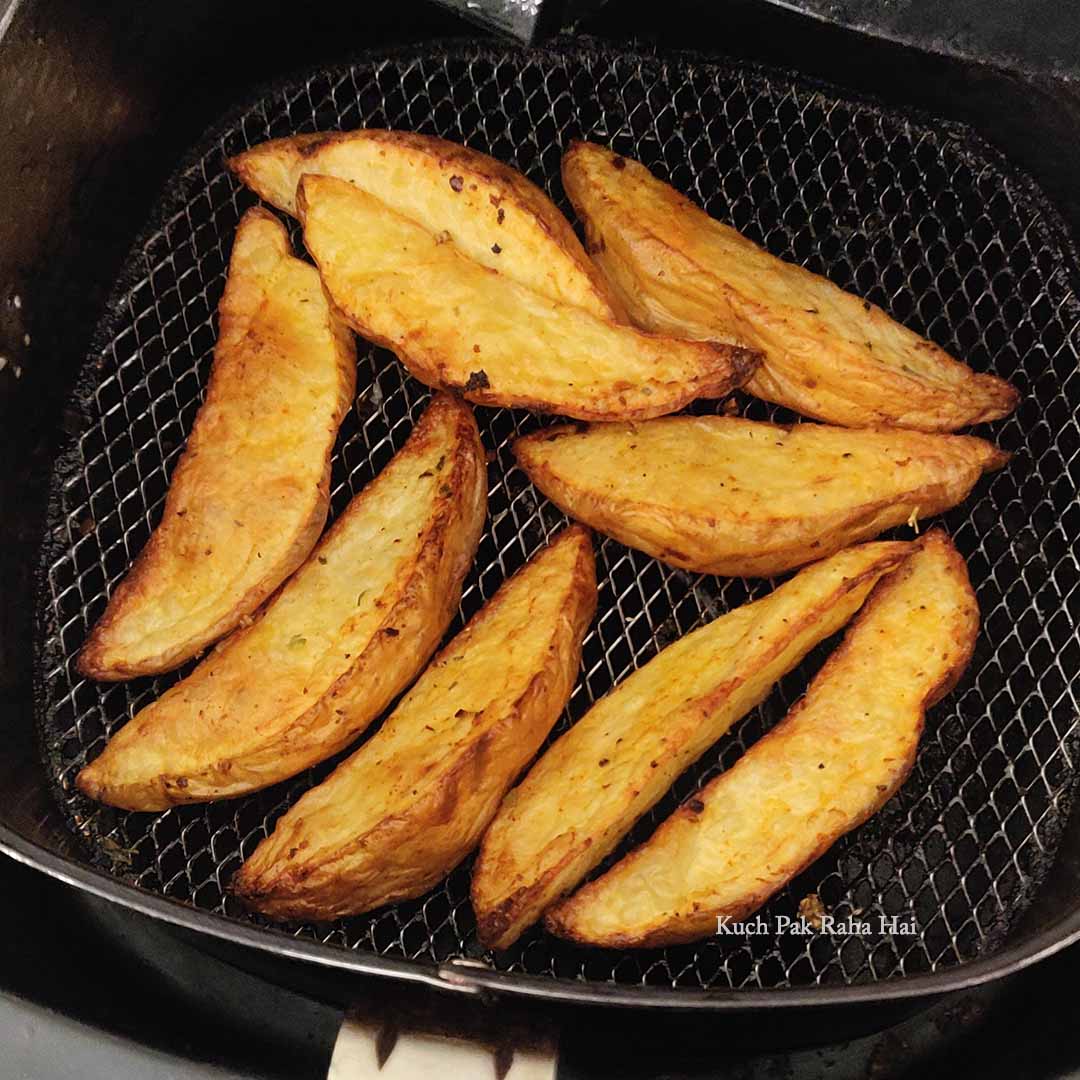 Delicious crispy potato wedges are ready to be served!!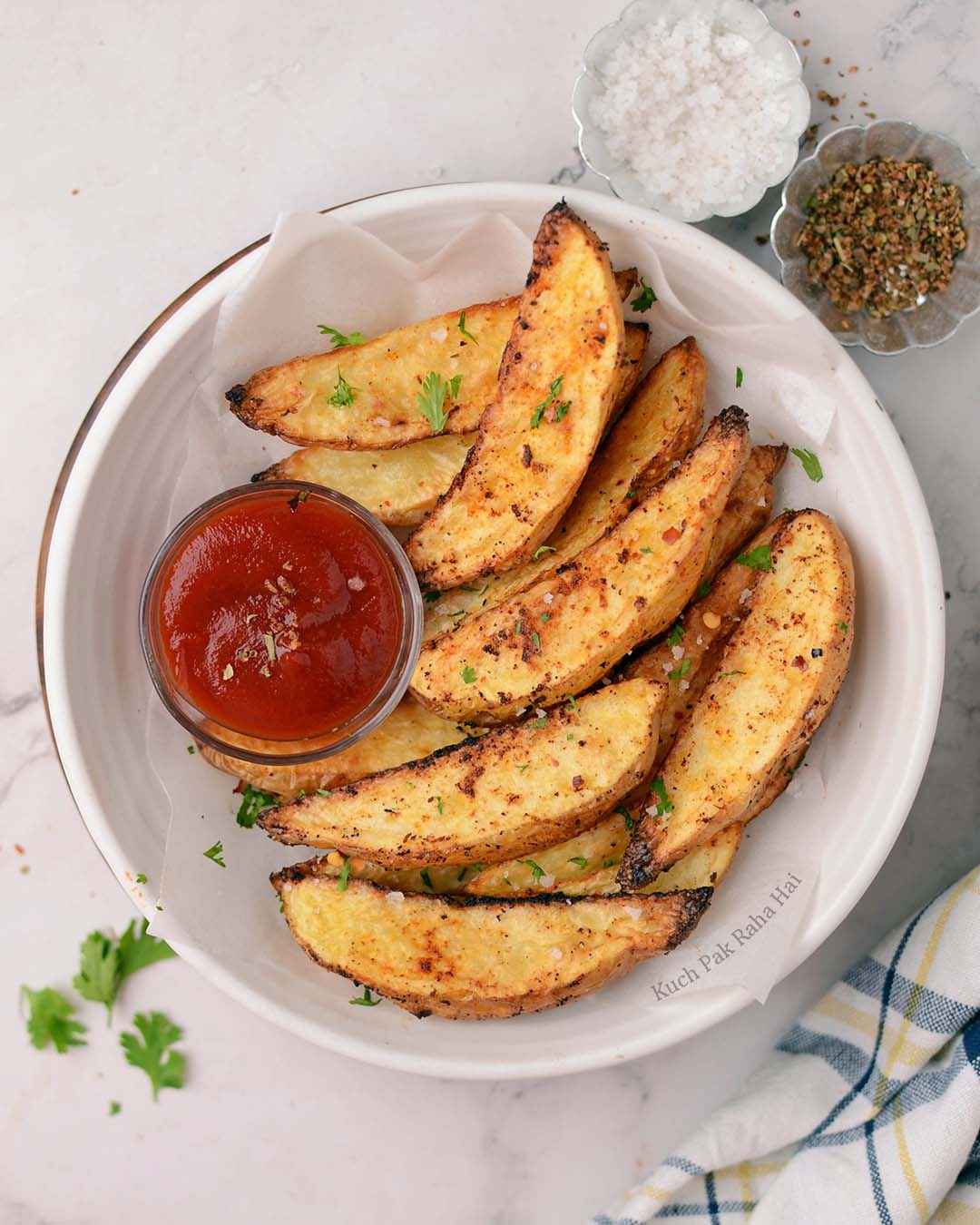 Tip:
Add salt to the potato wedges once the air fryer is preheated completely. Resting the potatoes for long after sprinkling salt on them makes them soggy & also changes their colour (due to oxidation).
FAQ:
How to cook frozen potato wedges in air fryer?
These days frozen potato wedges are easily available in market. Though most of the brands have included air fryer instruction on the back of their packet but if you are not able to find them follow these steps.
Preheat the air fryer at 200°C (392°F). Once the air fryer is preheated, spread the frozen wedges (straight from freezer) in air fryer basket and air fry for 15 minutes (approx) till they become golden brown. You can spray some olive oil if you want. The potato wedges need not be thawed until specifically stated on packet instructions.
More potato recipes you might like:
Pin for later: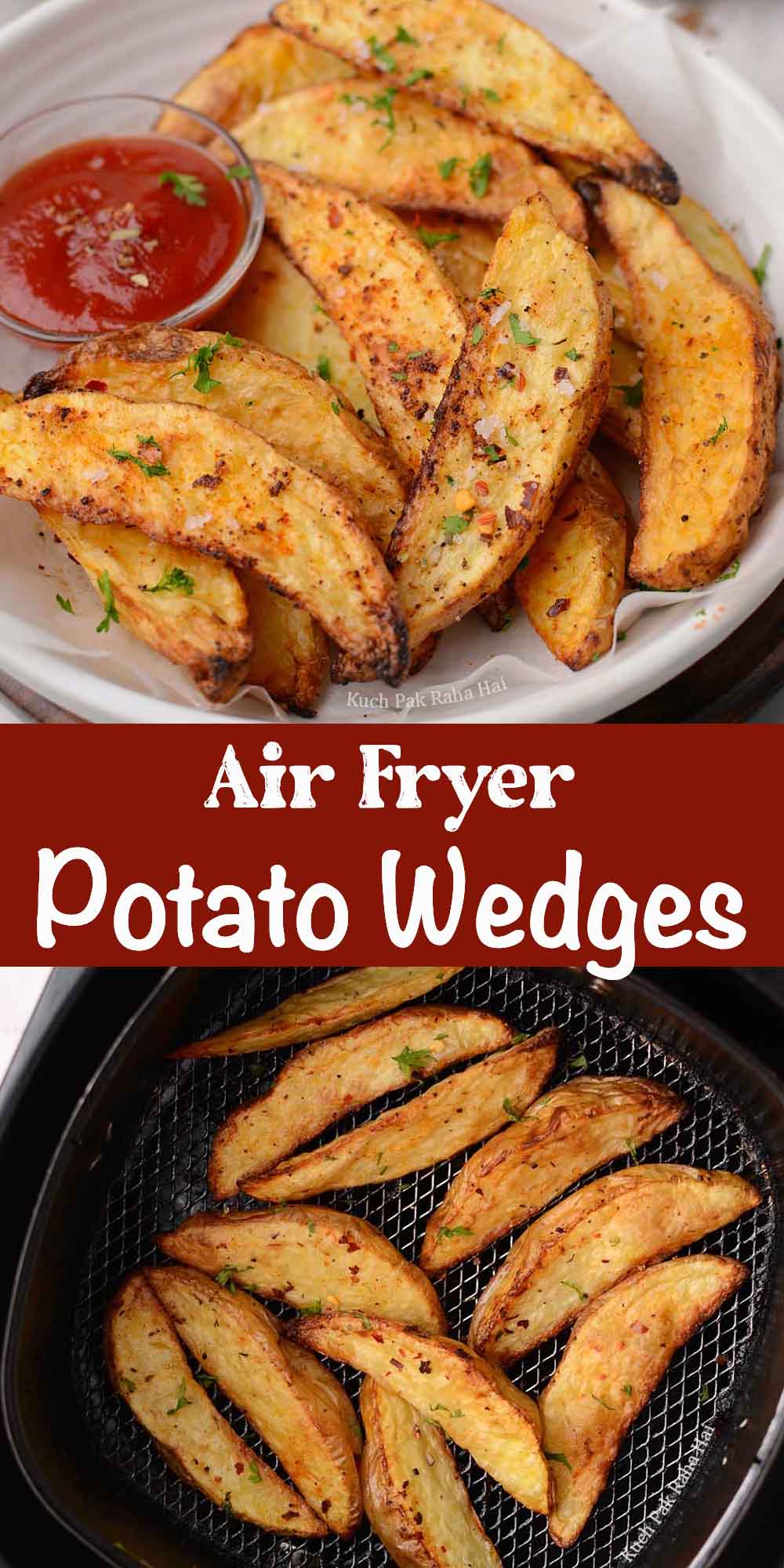 If you try this air fryer potato wedges recipe & share pics on social media, then don't forget to tag on Facebook, Instagram or use #kuchpakrahahai.
Let's stay connected
Facebook | Instagram | Pinterest| Youtube