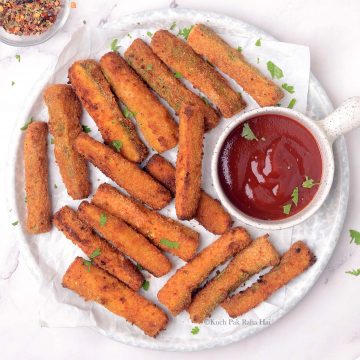 Healthy, tasty & crispy air fryer zucchini fries are great to serve as snack, appetiser or side dish. It is an easy quick air fryer recipe, kids friendly and completely vegan or vegetarian (no eggs used).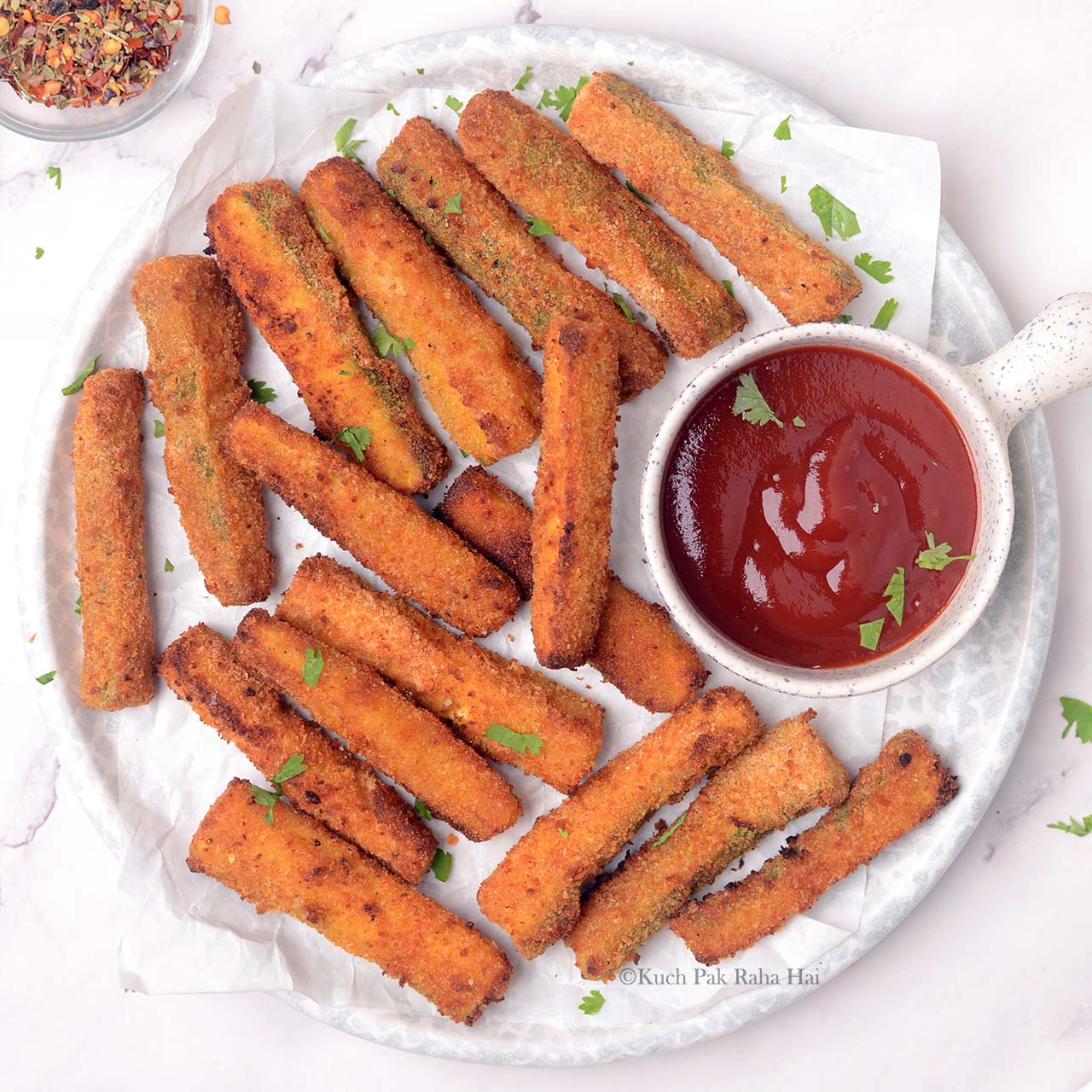 You just need a handful of ingredients to transform simple zucchini into crunchy delicious fries. The air fryer zucchini recipe shared here is:
Vegan (dairy free / egg free)
Vegetarian
Can be made gluten free
Easy & healthy snack
These air fried zucchini fries are so much better than deep fried ones as they are lighter in texture because of minimal oil used. Also it takes roughly just 10 minutes of preparation time, 10 minutes of air frying time and you have a delicious snack ready.
Ingredients to make Zucchini Fries-
Zucchini: It is also known by other names like courgette or summer squash. Use fresh firm zucchini to make these fries. I have not peeled the zucchini here as the peel gives a better texture and structure to fries. Just clean the zucchini well before using.
Bread Crumbs: You can use panko bread crumbs or plain breadcrumbs to make these breaded zucchini fries. If you want to make low carb zucchini fries, then instead of bread crumbs you can use almond flour.
Seasoning: These fries can be seasoned with spices like paprika, crushed black pepper, onion powder or garlic powder. You can adjust salt or spices as per your taste.
All Purpose Flour: Dusting the zucchini fries with flour (maida) absorbs all the excess moisture and prevents them from becoming soggy during air frying. You can even use gluten free flour for coating.
Cornstarch: Cornstarch, also known as cornflour, is extracted from corn grain and gives a lovely crunch to fried food as it absorbs more moisture from food than regular flour. I have used a mixture of all purpose flour & cornflour for coating.
Oil: Spraying little bit of oil like olive oil, avocado or canola oil gives a perfect golden brown colour to the outer crust. Do spray some oil in air fryer basket too to prevent from sticking.
Optional Ingredient: If you like you can also use some parmesan in this recipe. Add it to bread crumbs and mix well.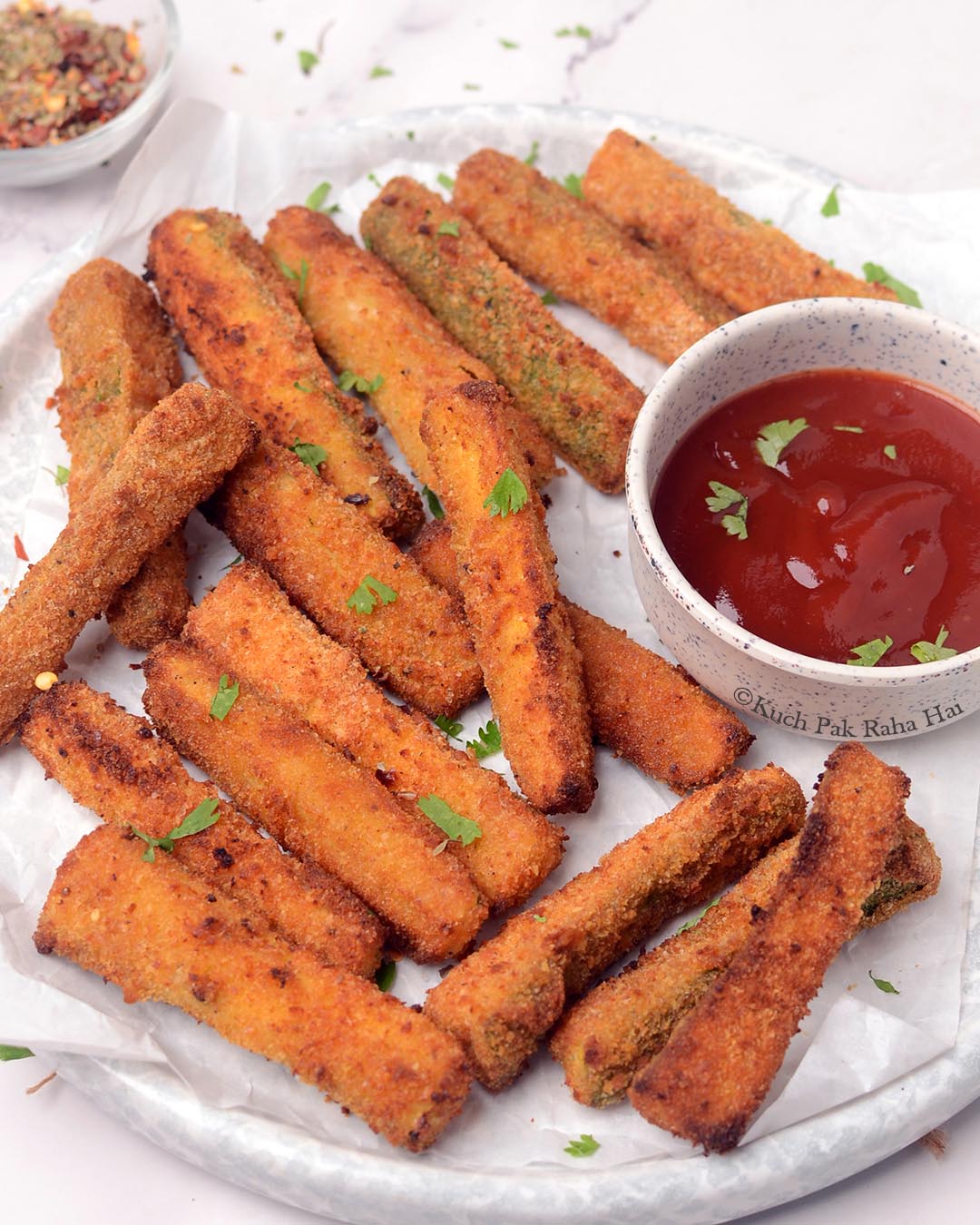 How to make crispy zucchini fries?
The secret to making perfectly crispy zucchini fries is in its breading technique. If done improperly, the bread crumb coating can come off while air frying. The trick is to first coat the zucchini sticks in dry flour, then in a mixture of (flour+water) and finally in bread crumbs.
Avoid overcrowding or overlapping zucchini fries in air fryer basket by leaving space between them. It ensures proper hot air circulation rendering prefect crispy fries.
If you are making large quantities, then I would suggest making them in batches.
What to serve with zucchini fries?
You can serve them with ketchup, garlic mayo, chilli lime mayo or healthier dips like yogurt garlic dip, tzatziki or guacamole. I like them best with ketchup. These breaded zucchini fries can also be served as side dish with meals.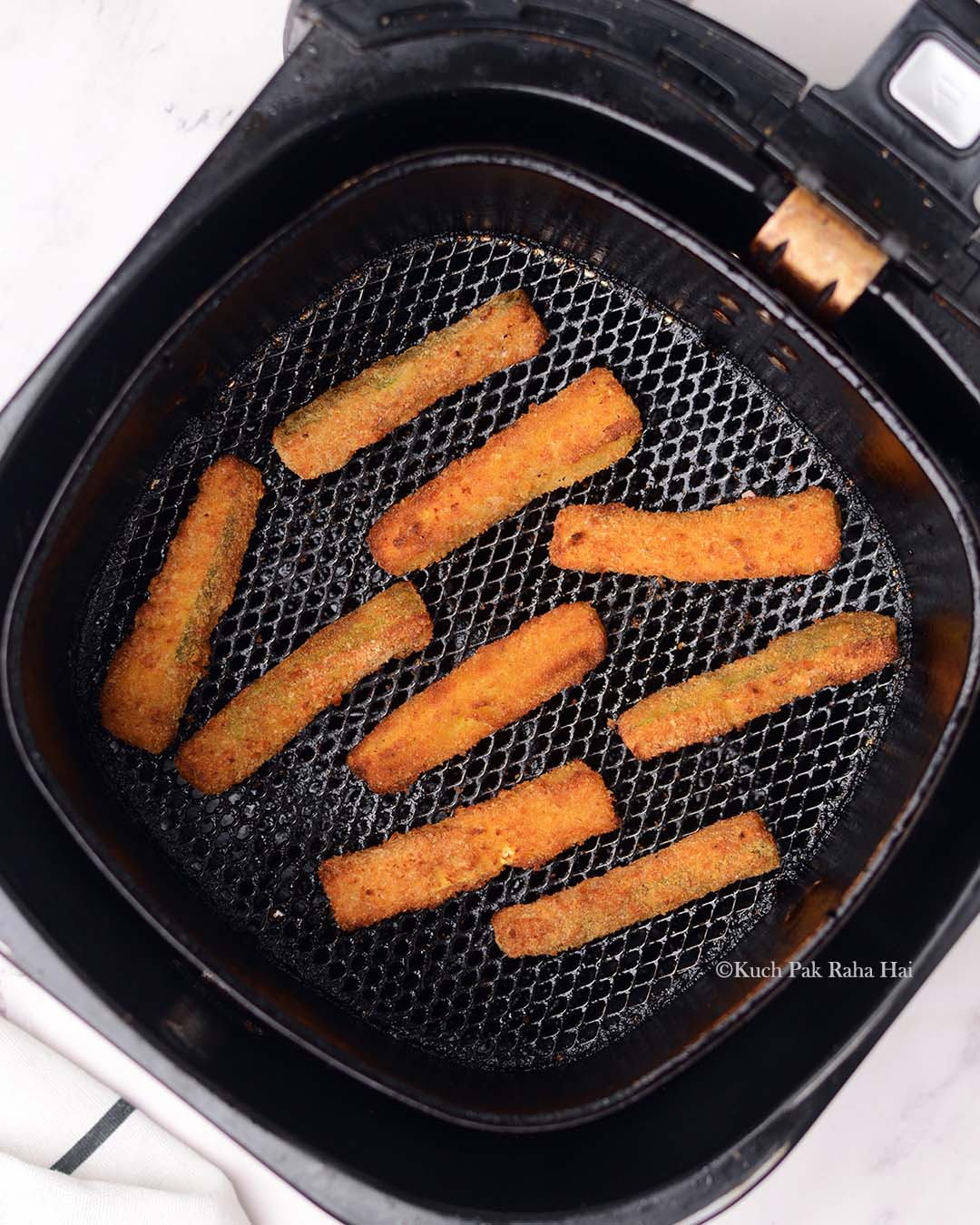 Are zucchini fries healthier than regular fries?
These air fried zucchini fries are much healthier than regular french fries as they are made using very little oil. As zucchini has lesser calories and fat than potatoes, it is a great choice to make a healthy guilt free snack or side dish.
Hope you would like this zucchini fries recipe. More air fryer recipes:
Ingredients:
Zucchini- 1 large
All purpose flour- (1+3) tbsp
Cornstarch / Cornflour -1 tbsp
Water- 4 to 5 tbsp
Breadcrumbs-1/2 cup
Salt- 3/4 tsp (to taste)
Crushed Black Pepper-1/4 tsp
Paprika -1/2 tsp
Garlic Powder-1/4 tsp
Chopped Cilantro – For garnishing
Oil – 1 to 2 tbsp (For cooking)
Note:
1. If you don't have cornstarch, skip using it and instead use all purpose flour.
2. Feel free to use spices or dried herbs of your choice like onion powder, red chilli powder, turmeric etc.
Directions:
Step 1:
Wash & scrub the zucchini well (as we are not going to peel it) and wipe with kitchen towel. Trim off its ends. Cut it into half. Slit each part further lengthwise. Cut these halves in roughly 1/2 inch thick sticks.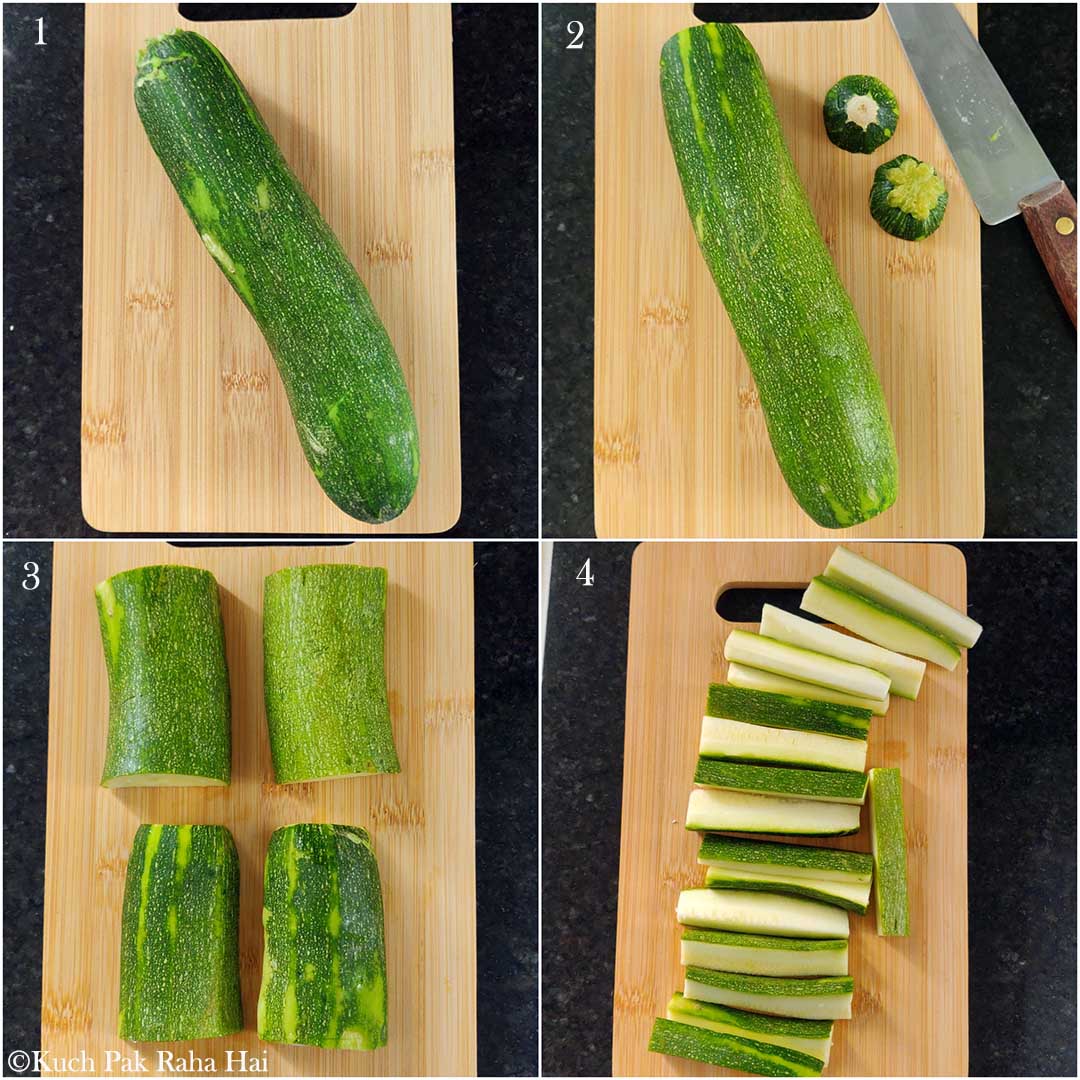 Step 2:
Transfer these zucchini sticks in a bowl. Sprinkle around 1 tbsp of flour and mix well such that each piece is coated with flour. If required, add little bit of flour more. Keep these aside.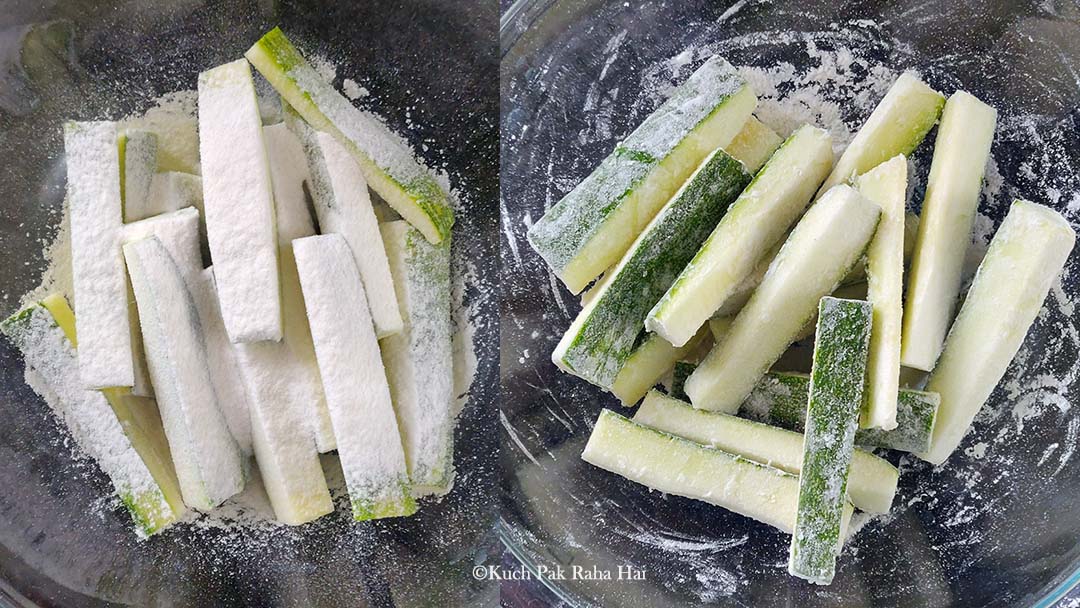 Step 3:
In a bowl, add 3 tablespoon flour, cornstarch, 1/8 tsp salt (to taste) and crushed black pepper in a bowl. Gradually add water to make smooth lump free slurry. The batter should not be too thick or too thin, just enough to lightly coat the fries.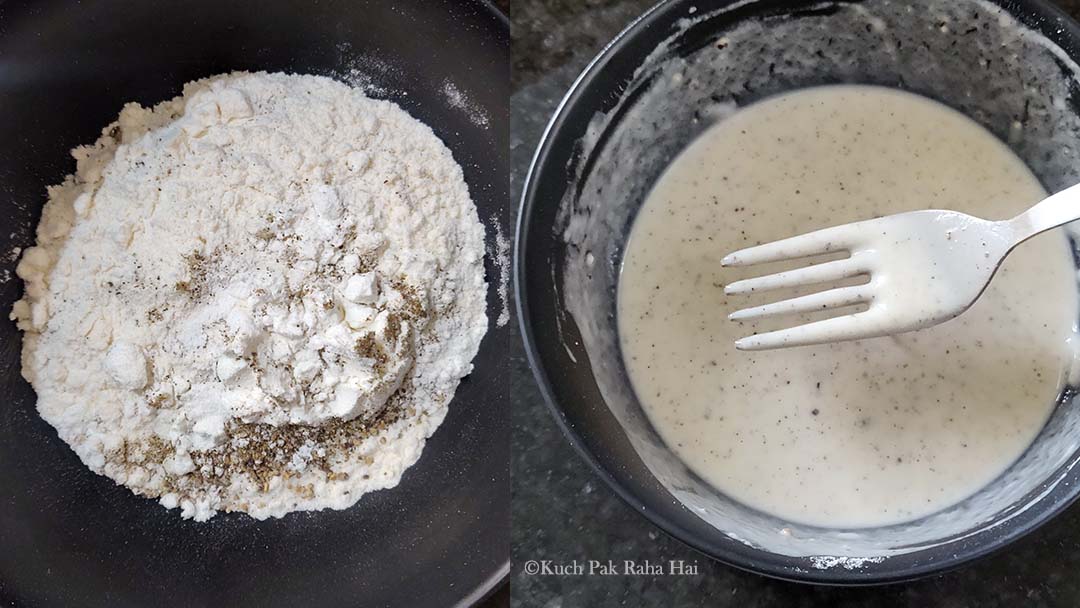 Step 4:
To another bowl add all the bread crumbs, 3/4 tsp salt (to taste) and all the remaining spices. Mix well.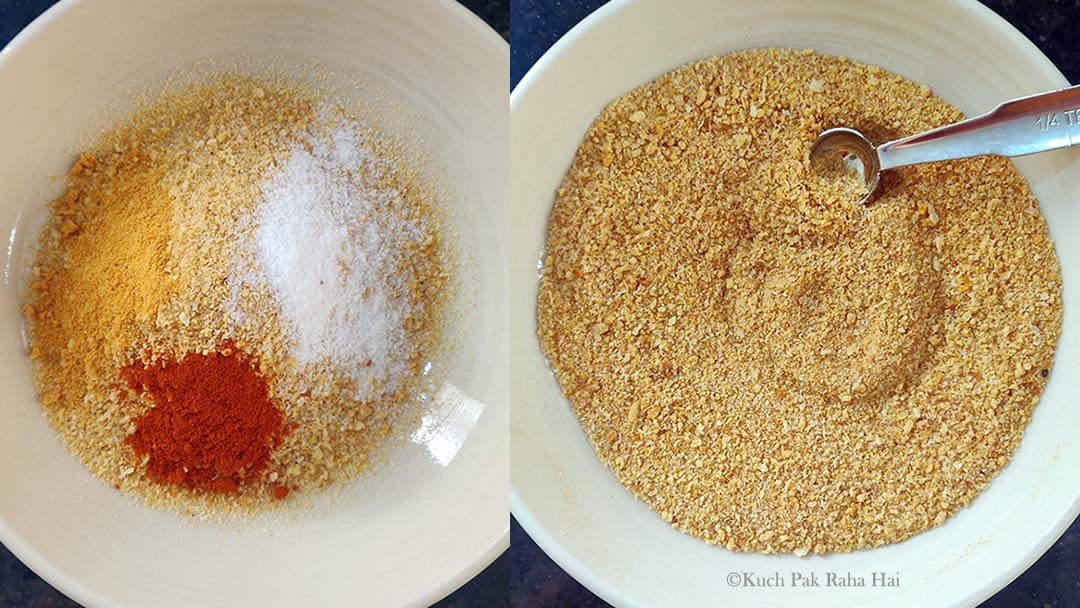 Step 5:
Prepare the kitchen counter by placing three bowls in a line – flour coated zucchini sticks, (flour + water) mixture and breadcrumbs.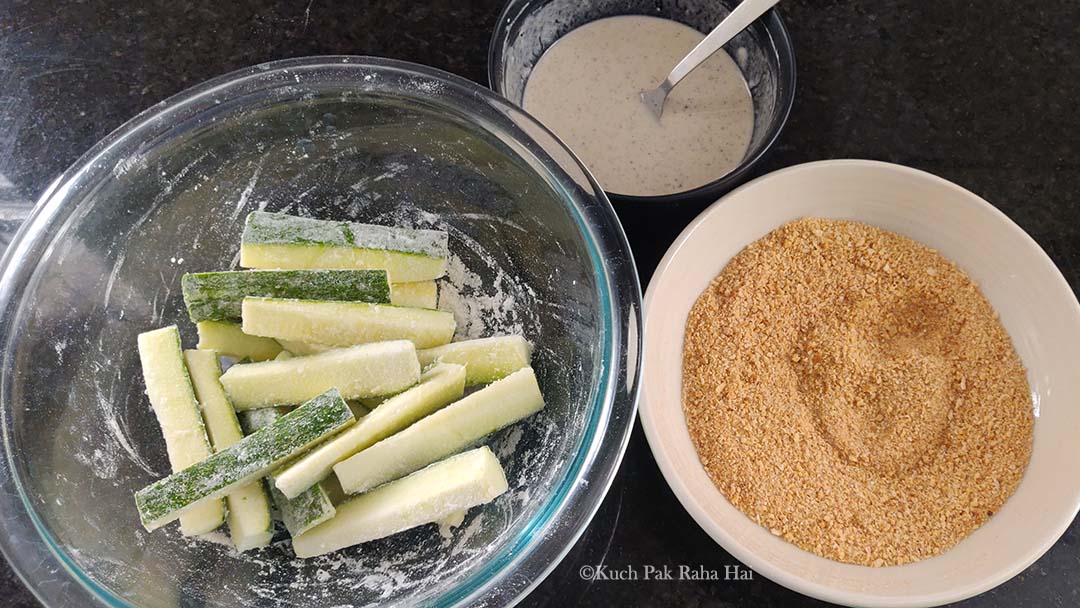 Step 6:
Dip a zucchini stick in flour batter and pick it up using a fork to drip any excess liquid. Transfer it in bread crumbs bowl and roll so that all sides are coated evenly. Transfer it on a plate. Repeat this process for all zucchini fries.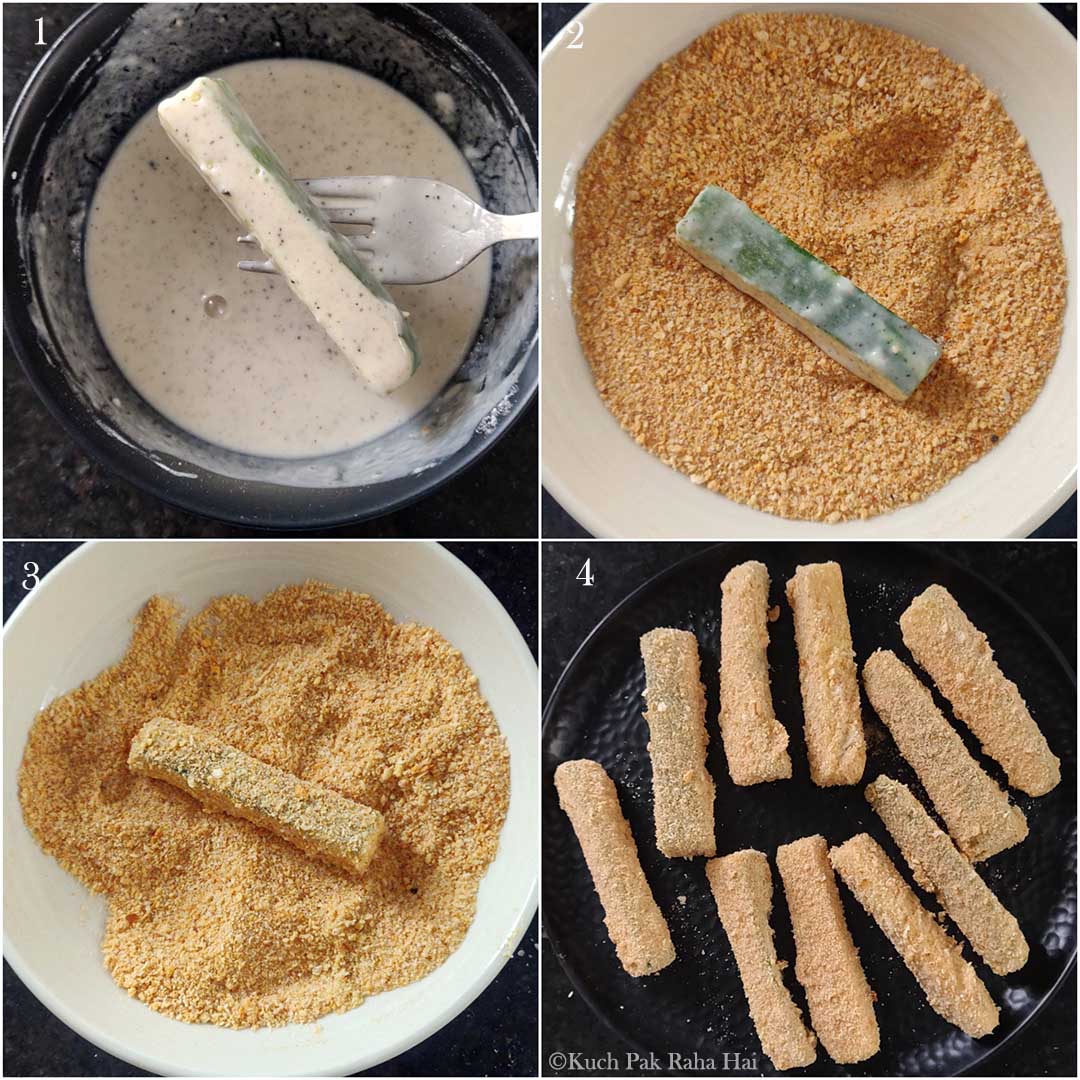 Step 7:
Preheat air fryer at 200°C (392°F). Spray or brush some oil on air fryer basket. Transfer these zucchini fries in preheated air fryer (don't overcrowd) and spray some oil on them.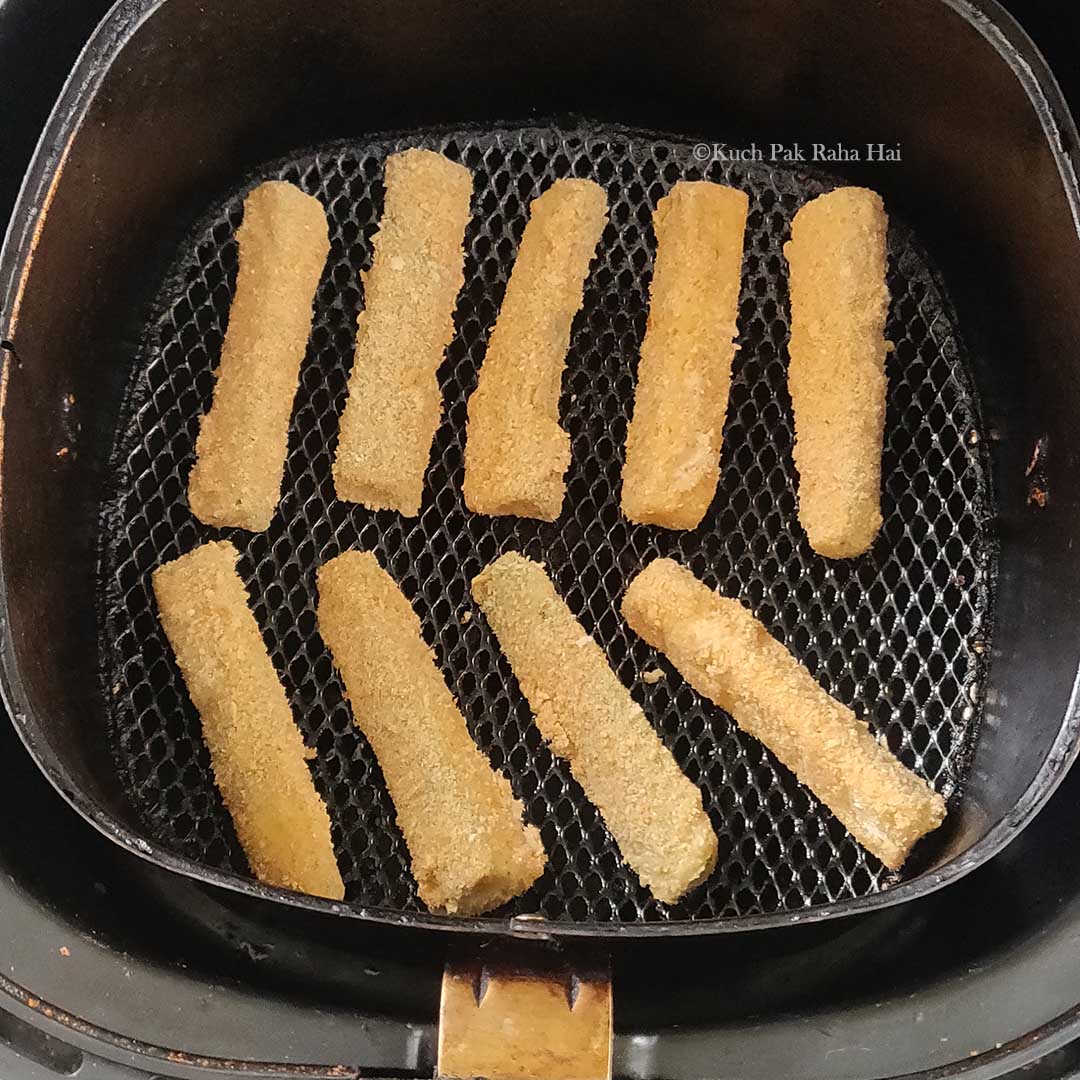 Air fry at 200°C (392°F) for 9 to 11 minutes. The time can vary depending on airfryer model so keep an eye after 9 minutes. Flip the fries after halftime and spray some more oil.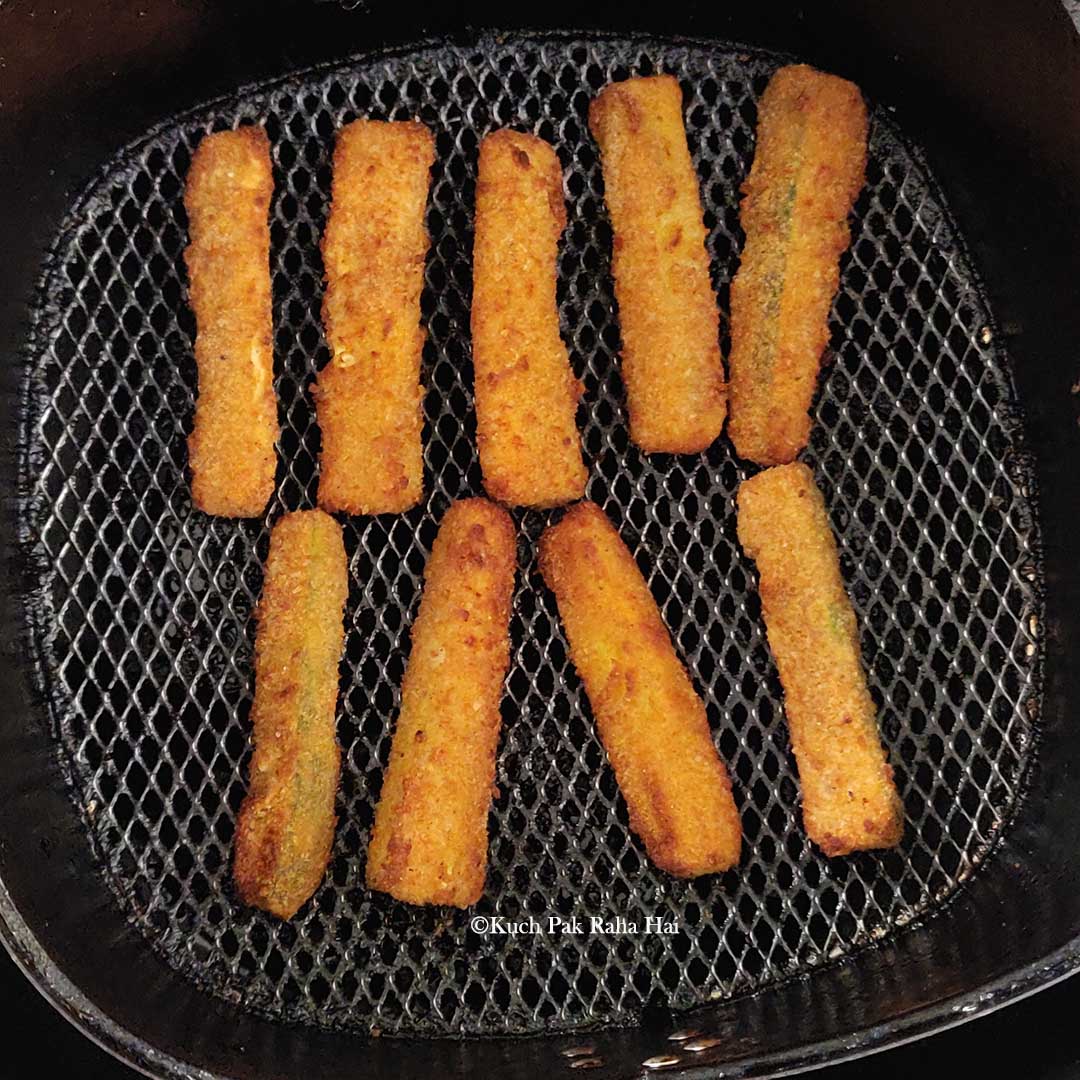 Enjoy yummy crunchy hot zucchini fries with ketchup or any dip of your choice.
How to store Zucchini fries?
Though these fries have best taste & texture when consumed hot straight out of air fryer but if you have leftovers you can store them in an airtight container in fridge for upto 2 days. To reheat, air fry them again for 4-5 minutes.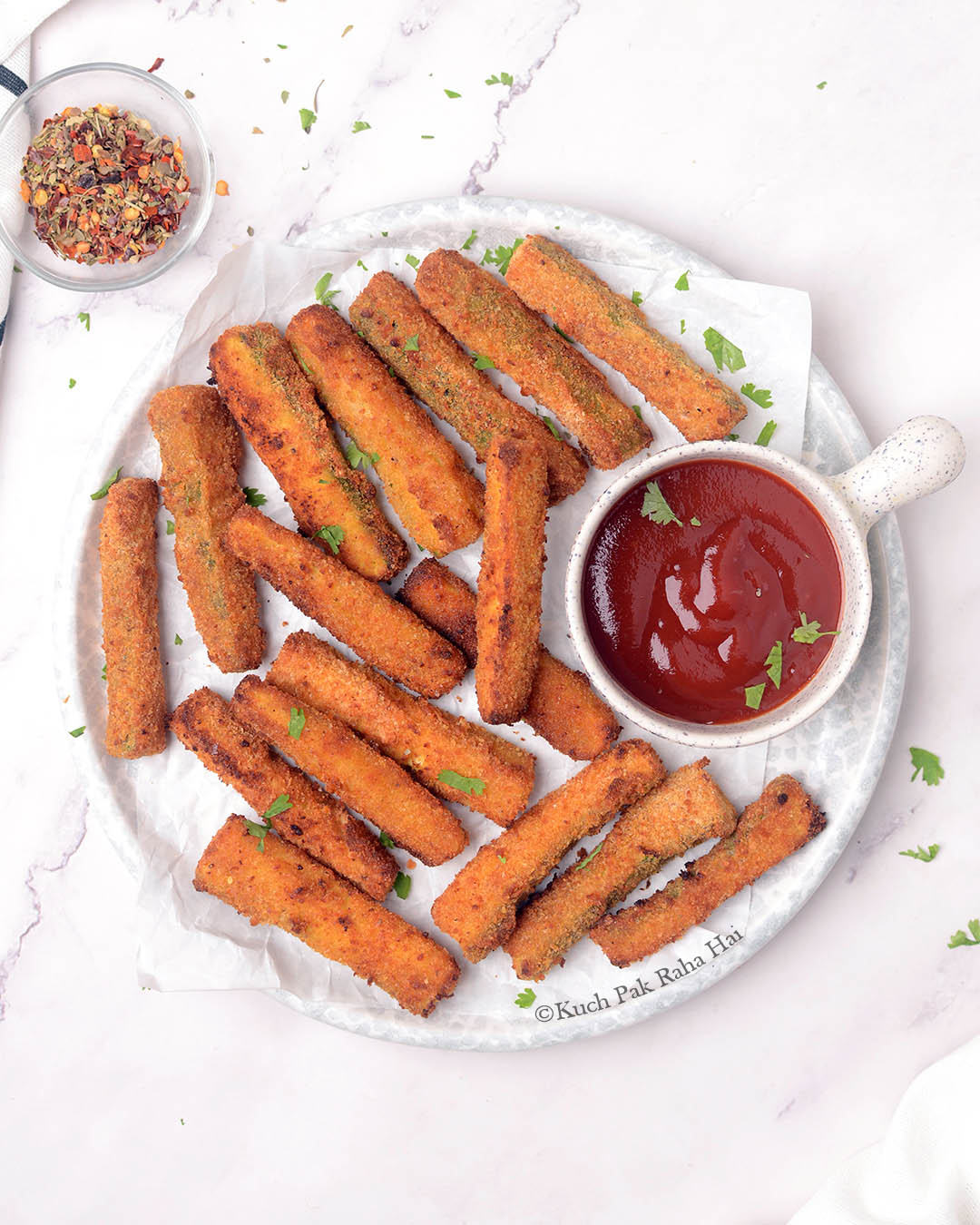 How to freeze air fryer zucchini fries?
If you want to freeze these zucchini fries, then first air fry them for 5-6 minutes only. Let them cool completely. Spread them on a lined baking tray and freeze for 2 hrs. Once the fries are frozen, transfer in a resealable freezer safe bag.
Whenever you want to have them, re-heat in a preheated airfryer at 200°C (392°F) till they are crispy golden brown (No need to thaw the fries).
Tips:
1. Instead of green zucchini, you can use yellow zucchini to make these air fryer zucchini fries.
2. You can do flavour variations by adding cajun seasoning, Italian seasoning or Indian spices like turmeric, red chilli powder in breadcrumbs mixture.
Pin for later: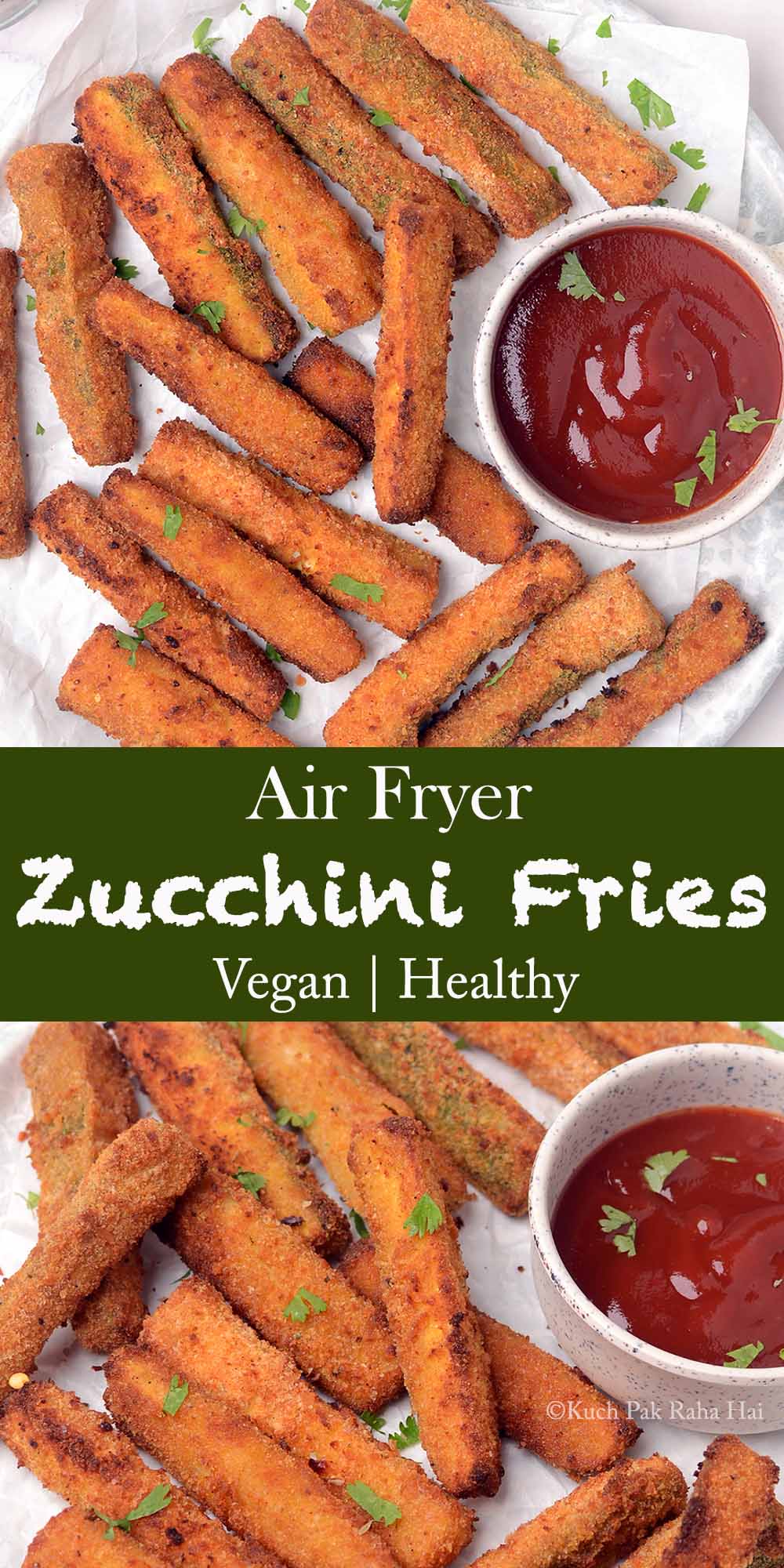 If you try these zucchini fries in air fryer & share pics on social media, then don't forget to tag on Facebook, Instagram or use #kuchpakrahahai.
Let's stay connected
Facebook | Instagram | Pinterest| Youtube