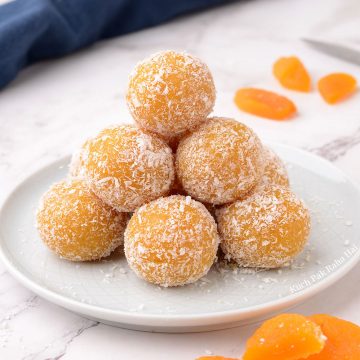 Apricot Balls is a delicious healthy dessert or snack recipe with goodness of dried apricots, coconut, nuts & seeds. They are made without condensed milk or refined sugar.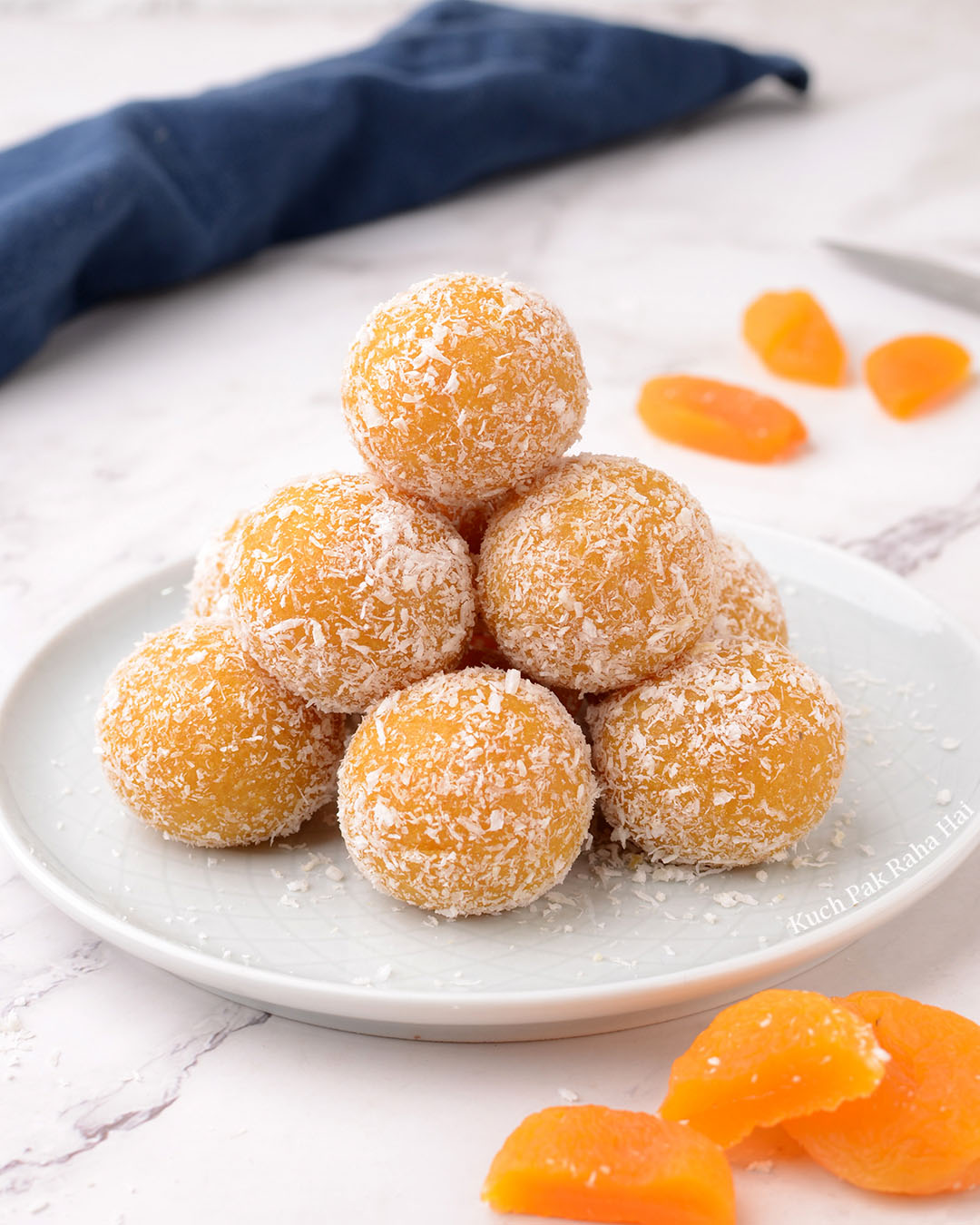 This apricot bliss balls recipe is :
Gluten free
Dairy free
Vegan
Healthy with no added sugar
Easy & quick to make
You just need handful of kitchen ingredients to make these divine tasting golden bliss balls. If you are looking for dried apricots recipes then this one is a must try. They are perfect to pack in lunch box as mid day healthy snack or you can carry them while travelling to instantly satiate your sugar cravings.
Apricot coconut balls can also be served as healthy treat around festivals like Diwali, Christmas or Holiday season. Though celebrations are synonyms with indulgences, these bring just the right kind of balance between health & sweetness. They are also a great option for potluck or edible gift basket.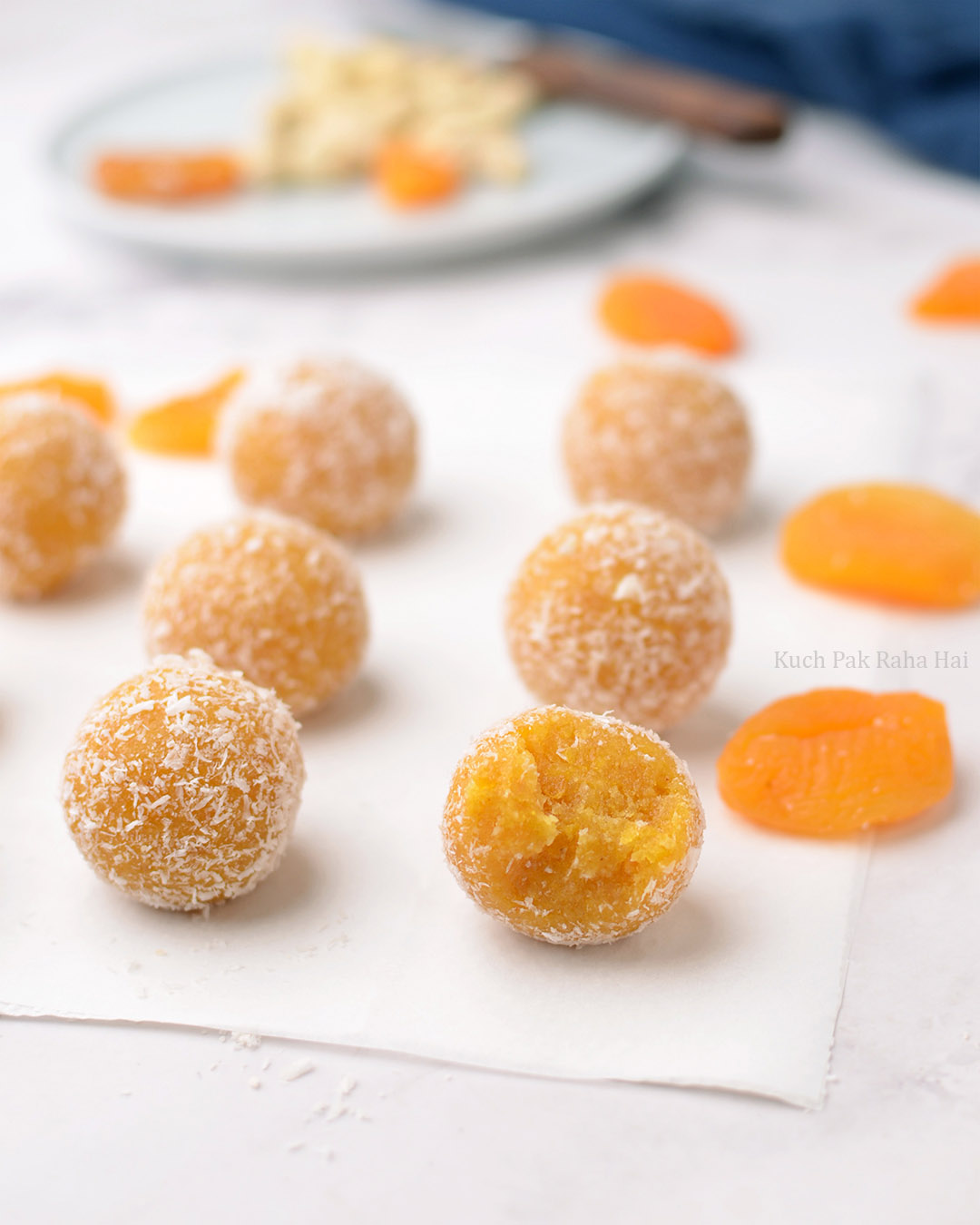 What are Apricots & their health benefits ?
Apricot is a fruit, also known as 'Khubanee' or Khubani' in hindi. It looks similar to peach and has sweet-tart flavour. It is considered to be very nutritious & has many health benefit. Apart from being a rich source of antioxidants, it is also a rich source of potassium, vitamin A, C & E. As apricots are rich source of fiber, they are known for promoting gut health.
Which type of apricots should we use for making apricot balls?
To make these apricot bliss balls, you need to use dried apricots which are easily available in grocery stores or online. I have used Sultan brand Turkish whole sun-dried apricots here.
The slight sweet and tart flavour of apricot amalgamates well with the warm comforting undertones of coconut. Cashews & sesame seeds add healthy fats to these balls and can be replaced by any nuts or seeds of your choice.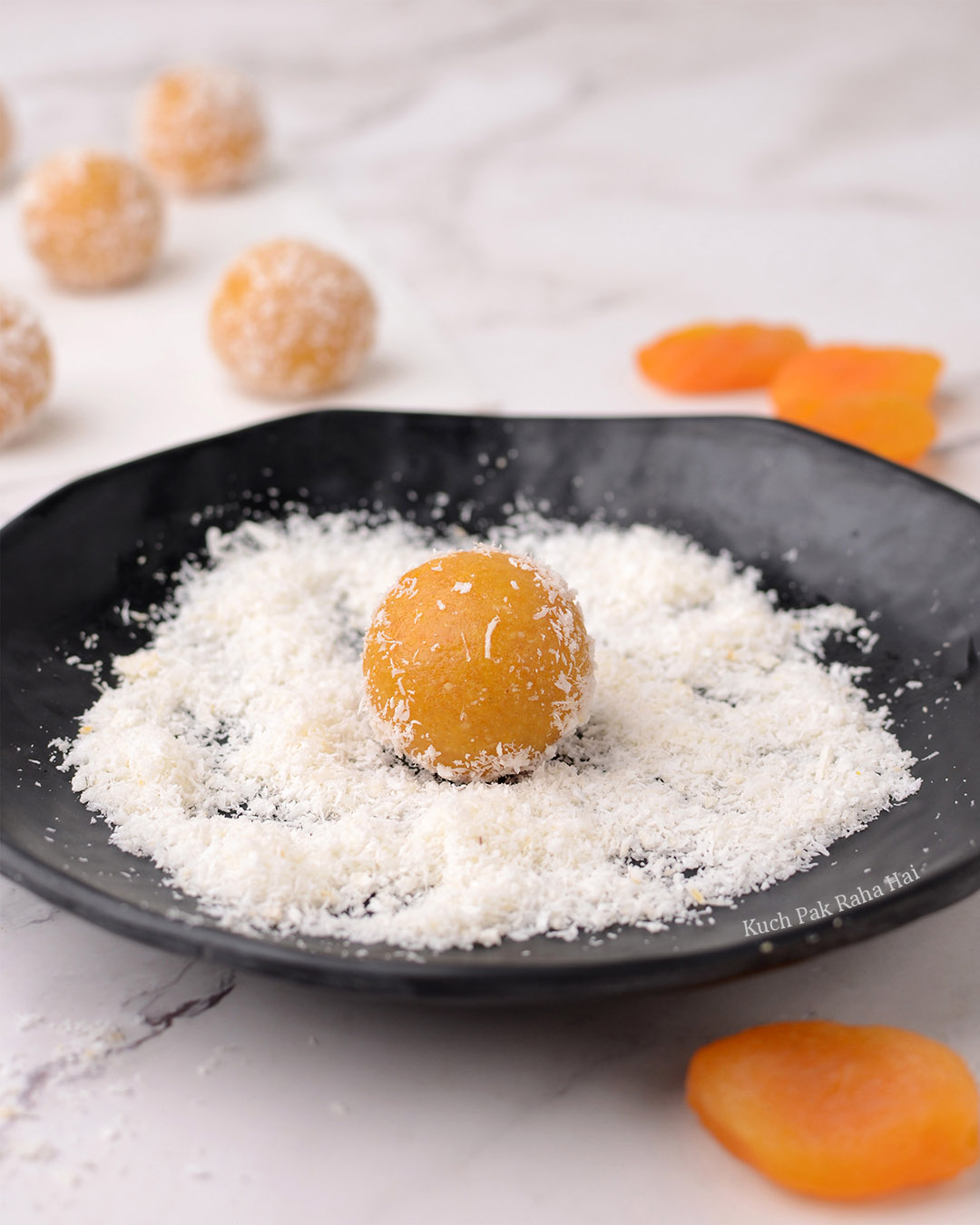 Hope you would like this easy apricot coconut balls recipe. More healthy desserts or snack recipes (without refined sugar) :
Youtube Video:
Ingredients: (Makes 10 balls)
Dried Apricots – 18 to 20 (~160 grams)
Desiccated Coconut-1/2 cup + 3 tbsp
Cashews- 1/4 cup
Sesame Seeds (

Til

)- 1/4 cup
Honey / Maple Syrup- 1 to 2 tbsp (to taste)
Cinnamon- 1/8 tsp
Substitutions:
1. Instead of cashews you can take almonds (or almond meal), walnuts or pistachios.
2. To make these apricot coconut balls more nutritious, you can replace sesame seeds with mixed seeds like chia, flaxseeds or pumpkin seeds.
3. Cinnamon can be replaced with 1/2 tsp vanilla extract.
4. Instead of honey or maple syrup you can add some brown sugar, powdered sugar or dates syrup. Even some mejdool dates can be added for sweetness.
Directions :
Step 1:
In a pan, add cashews and let them roast for 2-3 minutes on medium-low flame. Keep stirring. Add sesame seeds & roast them with cashews on low flame till they start to puff a little bit, releasing their aroma. Switch off the flame & add 1/2 cup desiccated coconut. Mix well. The coconut will roast in the residual heat of the pan. Keep the mixture aside to cool completely.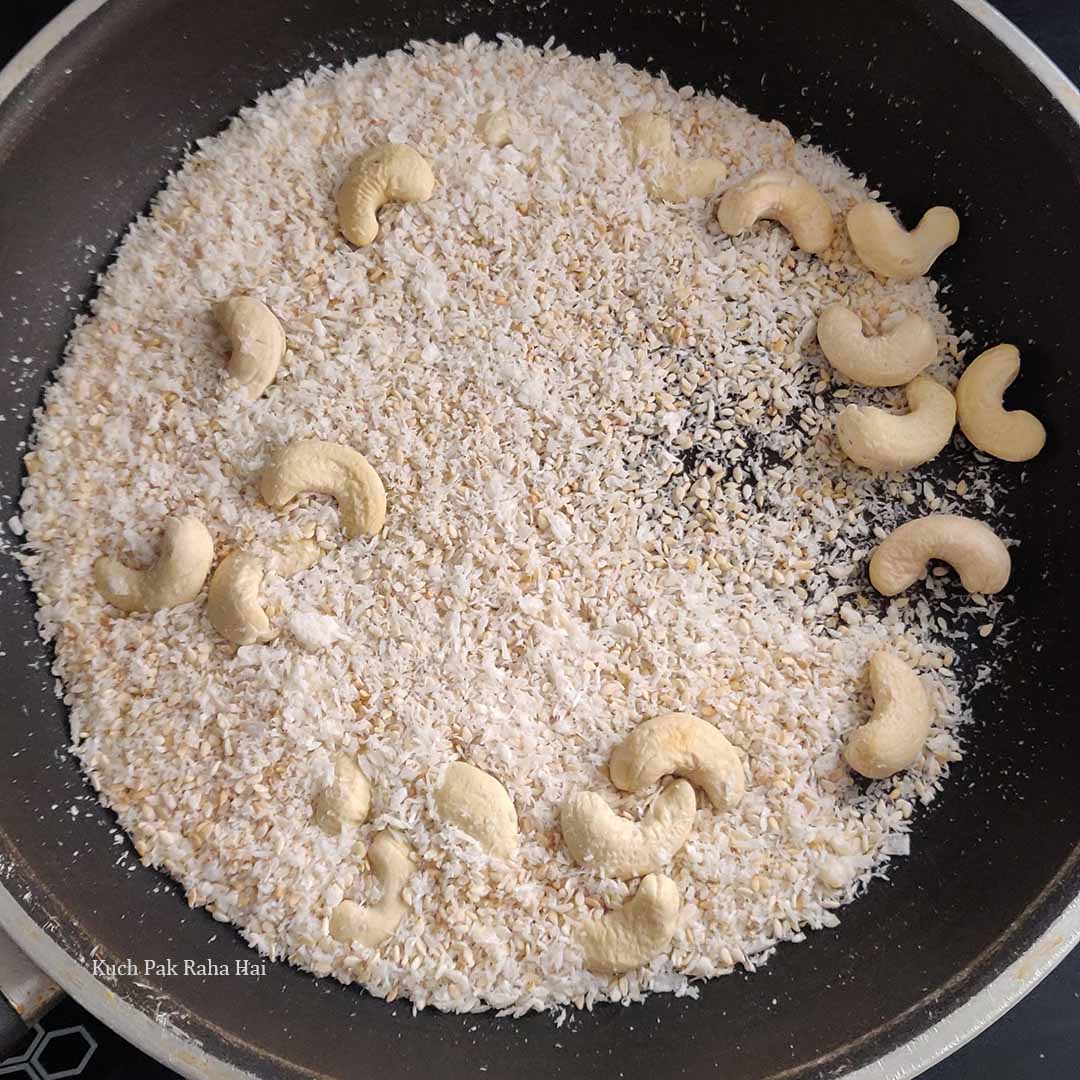 Step 2:
Once the above mixture has cooled, transfer it to a grinder jar or food processor and grind in pulses till it gets powdered completely. Transfer it in a bowl.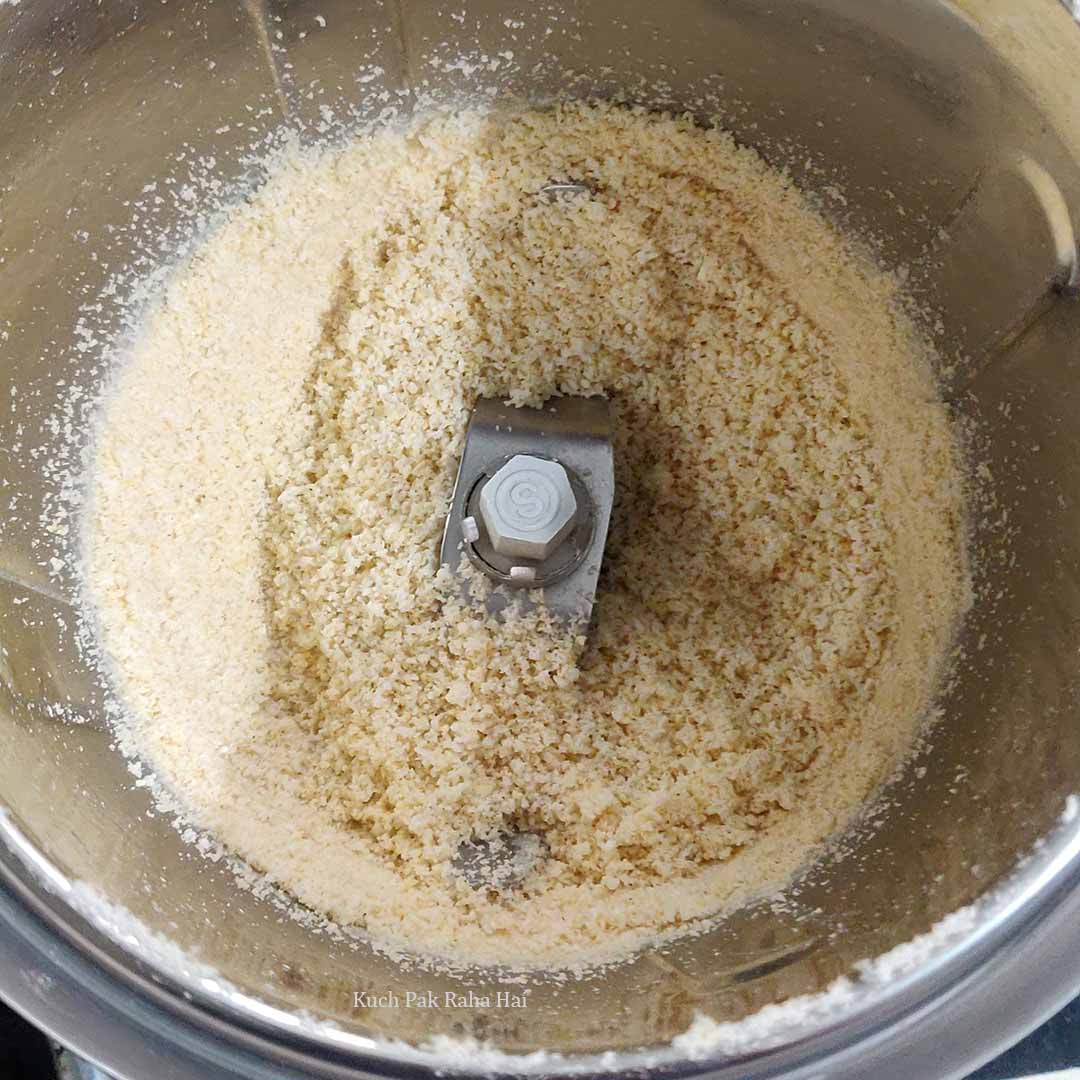 Step 3:
Chop the apricots into smaller pieces. This makes sure they grind quickly later on.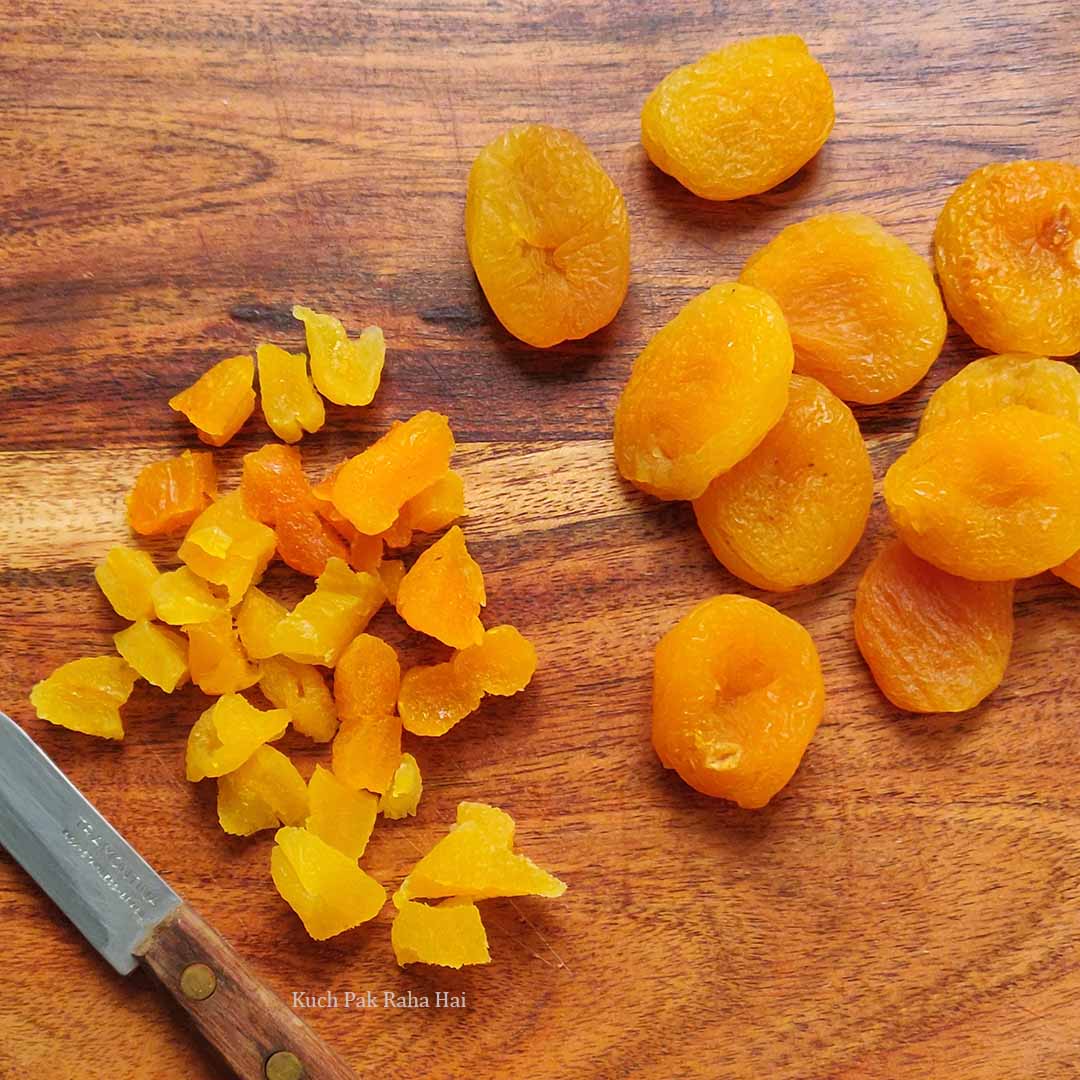 Step 4:
To the same grinder jar, add these chopped apricots and blend it in pulses. Once they start to breakdown, add powdered coconut & nuts mixture. Blend well till all the ingredients are mixed properly.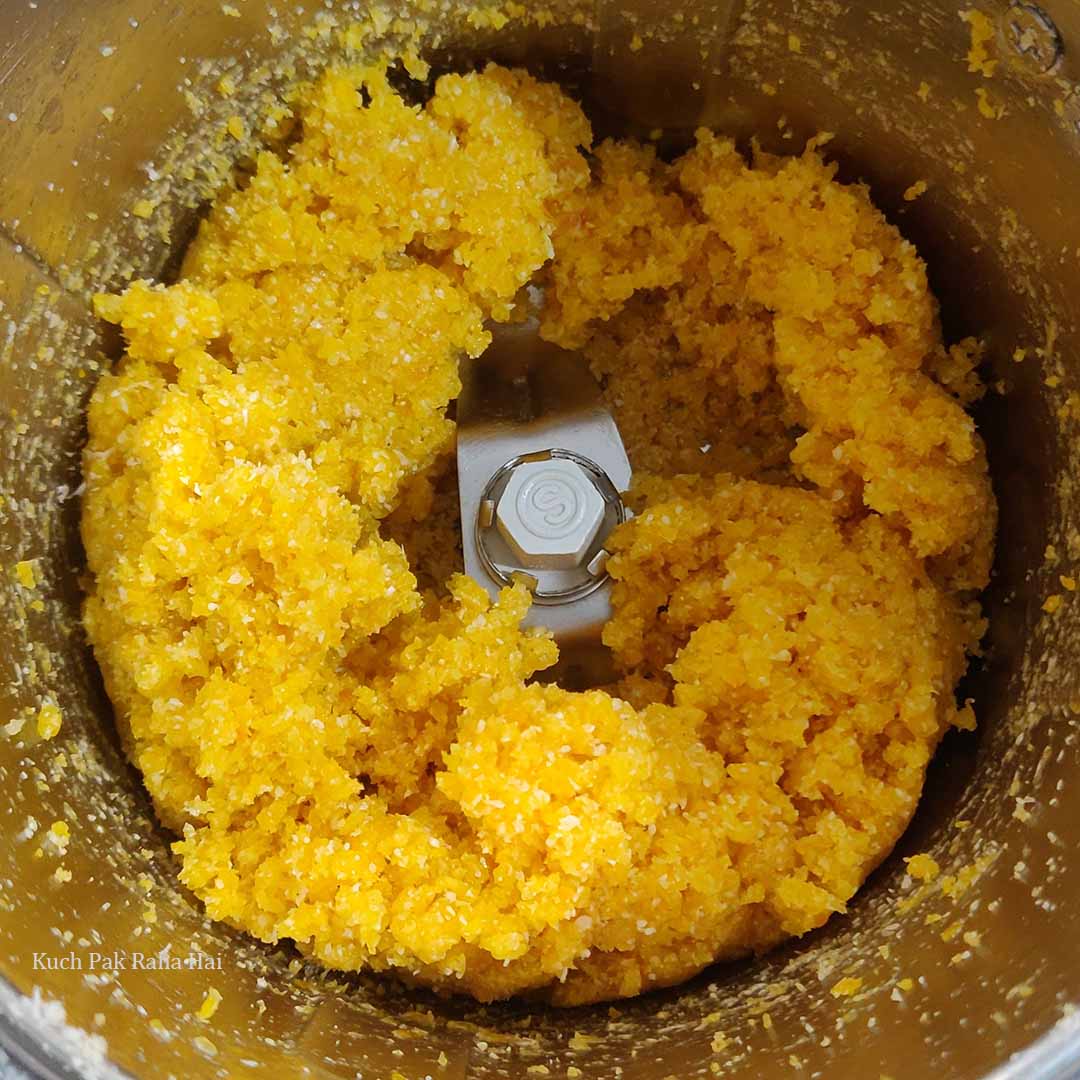 Step 5:
Transfer this into a bowl and add honey, cinnamon powder or vanilla extract to it. Mix well using a spatula or spoon. Taste it once & adjust the sweetness as per your taste. The mixture will have a dough like consistency as shown below.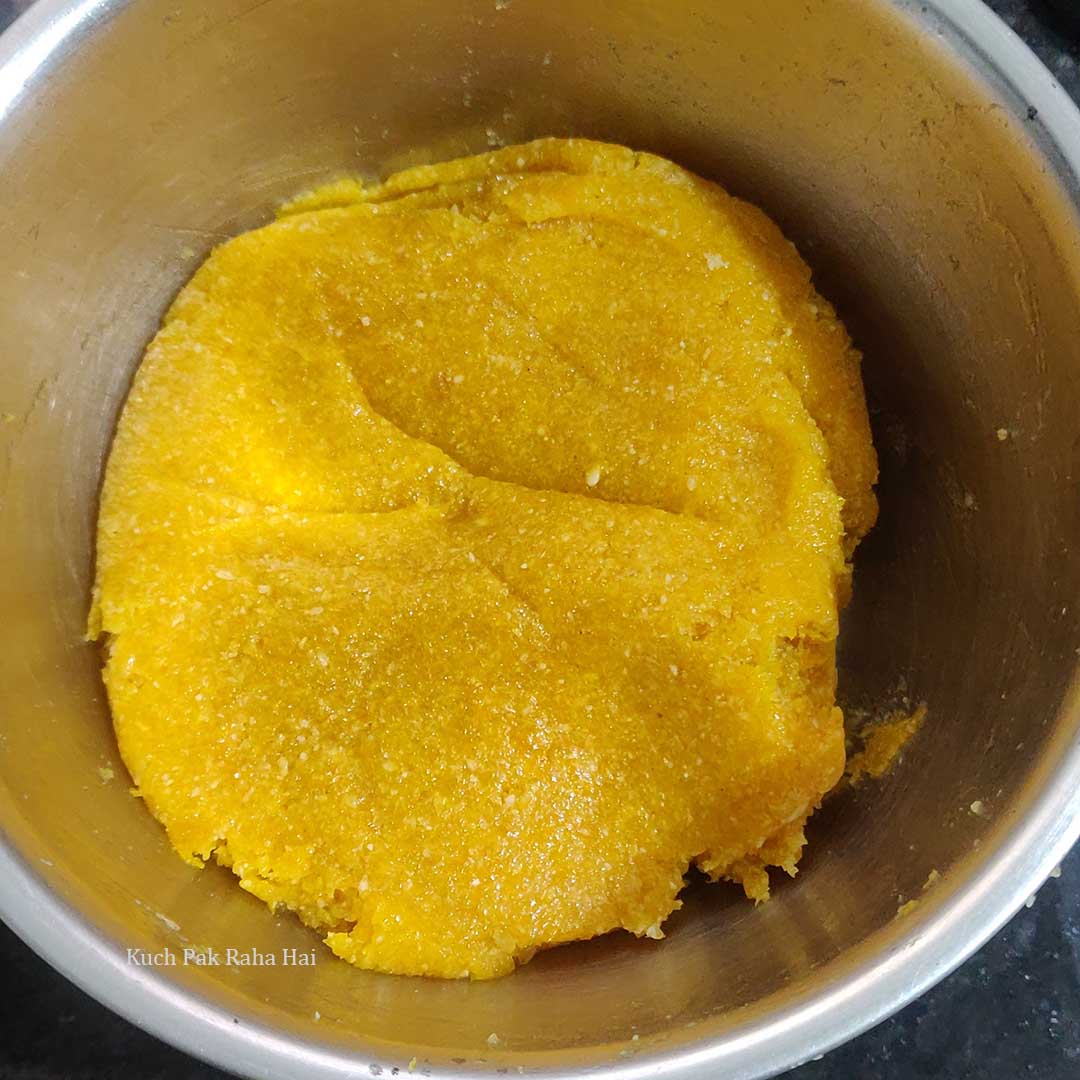 Step 6:
Scoop out 1 to 2 tbsp of mixture using a measuring spoon or scooper and make a smooth ball. Roll this ball into some desiccated coconut. Repeat this for all balls.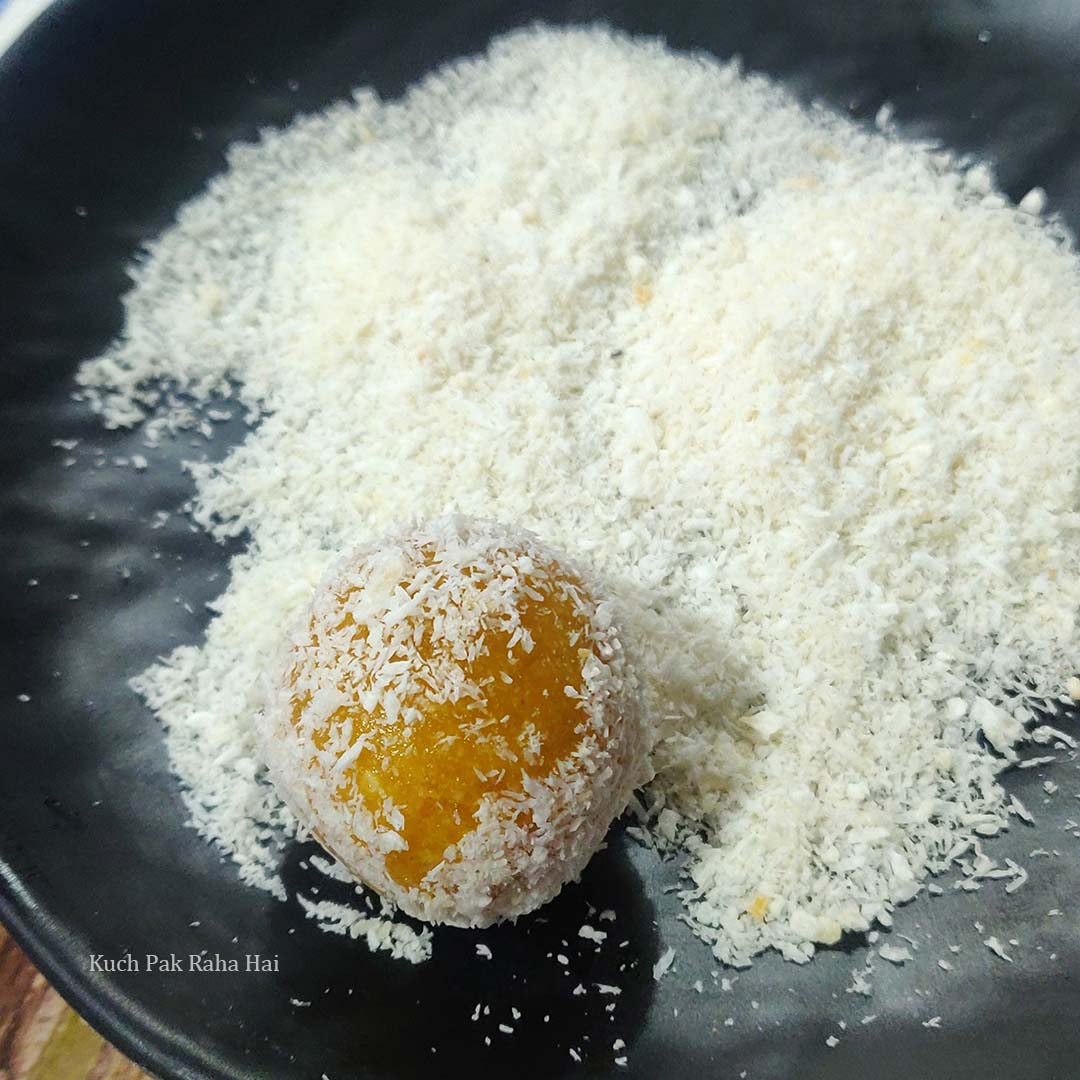 Delicious healthy Apricot balls or apricot laddu are ready. Bon Appetit !!
How many pieces does this apricot balls recipe yields?
This recipe yields 10 balls of roughly 25 grams each. To make a bigger batch, feel free to double or triple the recipe.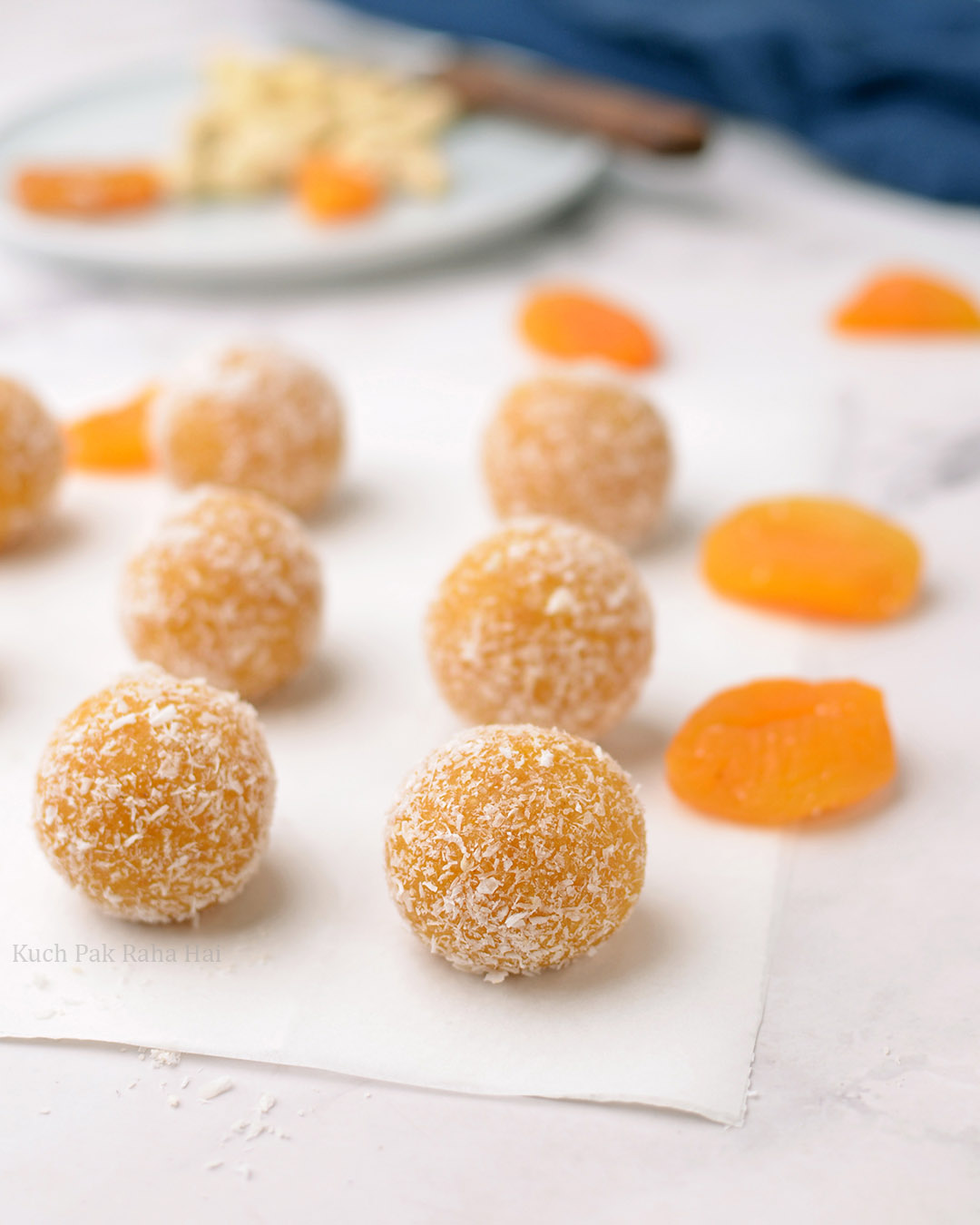 How to store these apricot coconut balls?
Store them in an airtight container at all times to prevent from drying. They remain good in fridge for upto a month. If you have made a big batch of these apricot balls, you can even freeze some of them to be consumed later.
Pin for later :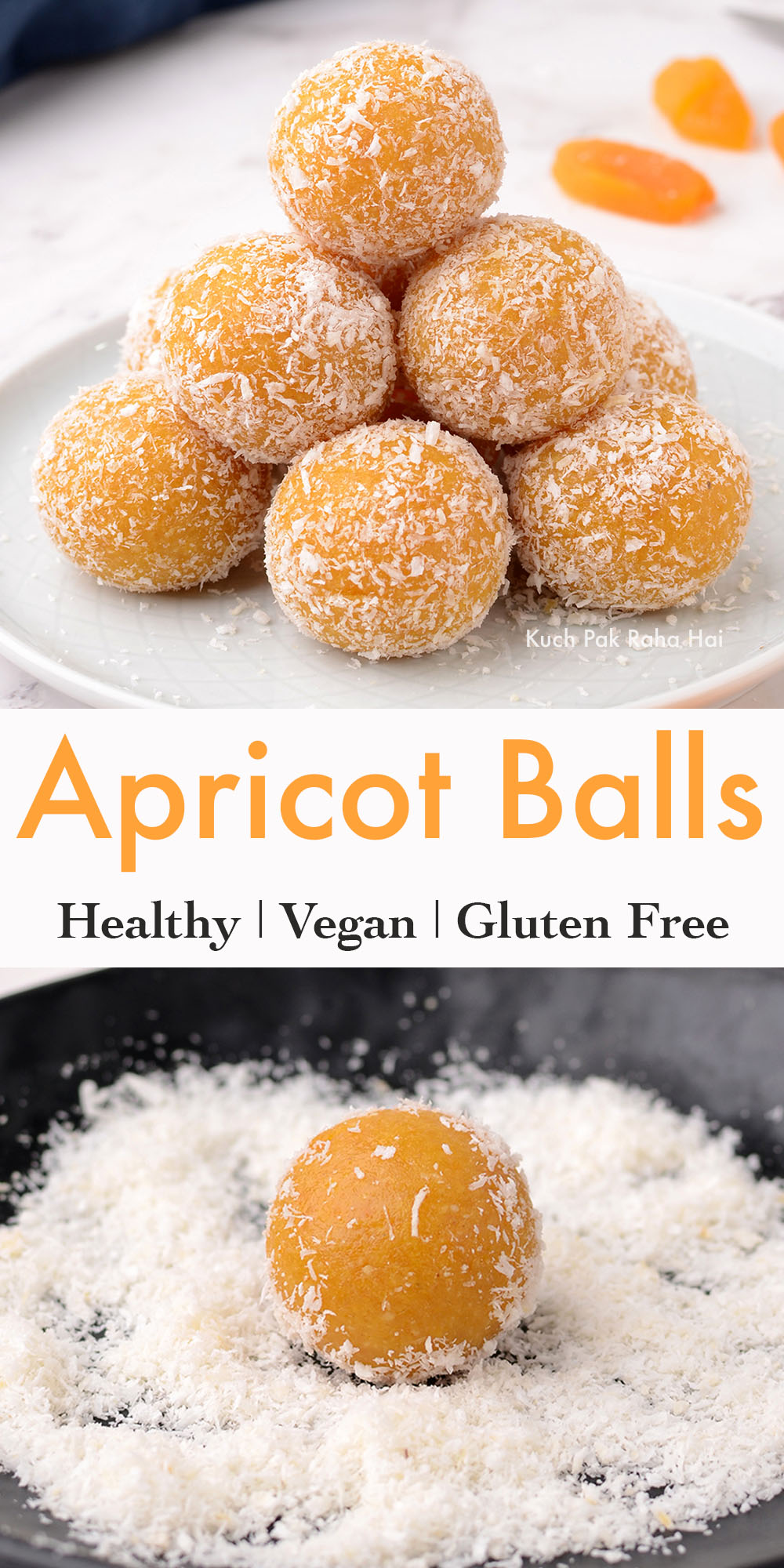 If you try this recipe & share pics on social media, then don't forget to tag us on Facebook or Instagram or use the hashtag #kuchpakrahahai.
Let's stay connected
Facebook| Instagram| Pinterest| Youtube