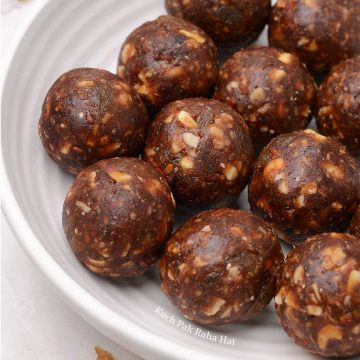 Dates Nuts Ladoo or balls are delicious healthy dessert or snack recipe made with dates (khajur), mixed nuts & seeds. They are vegan, gluten free & contain no refined sugar.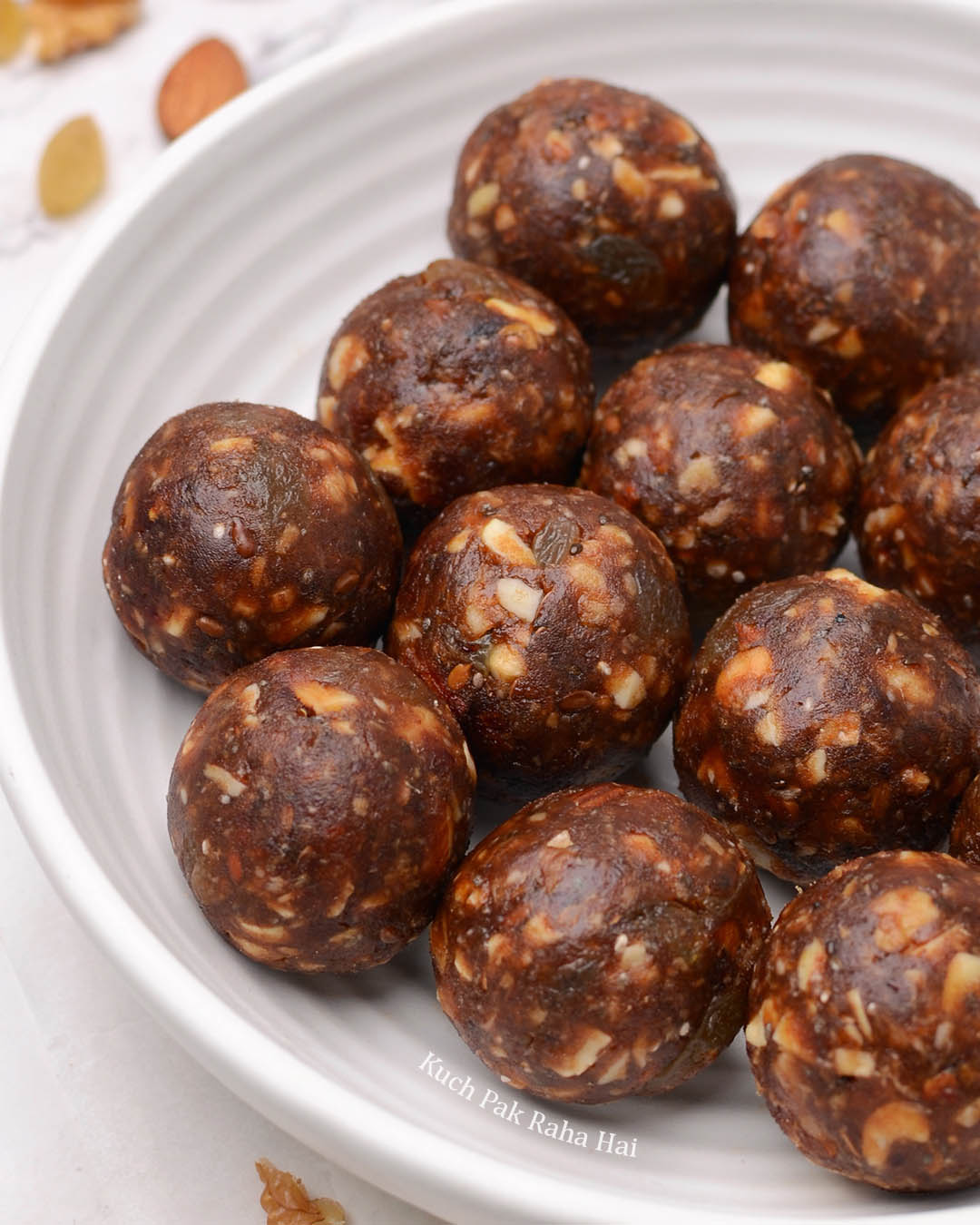 These can also be eaten as energy balls or packed in kids lunch box as they are made with nutritious ingredients like dates, walnuts, almonds, coconut & mixed seeds etc. Other names of this recipe are Khajoor Ladoo, Dry Fruit Ladoo, Sugar free Laddu or Khajur Dry Fruit Laddu.
The best part about these dates nut balls is that they contain no refined sugar. They get all the sweetness from the natural sugar present in khajoor or dates and hence you don't at all miss the white sugar while satisfying your sugar craving.
The recipe is easy to make & takes only 15 minutes of your time. These dates dry fruit balls can be prepared in advance and stored in fridge for 15 to 20 days. They can be served as healthy treats on festivals like Diwali, Christmas and are a great option for edible gifting too.
These dates dry fruit bliss balls are :
Vegan
Gluten Free
No refined sugar
Easy to make
Every bite of these dates ladoos is filled with health and nutrition. Dates are rich source of proteins, vitamins, iron and essential minerals likes sodium, potassium etc. They are instant energy providers because of their natural sugars and also beneficial for people suffering from constipation. When combined with almonds, cashews, walnuts and golden raisins these benefits multiply many times.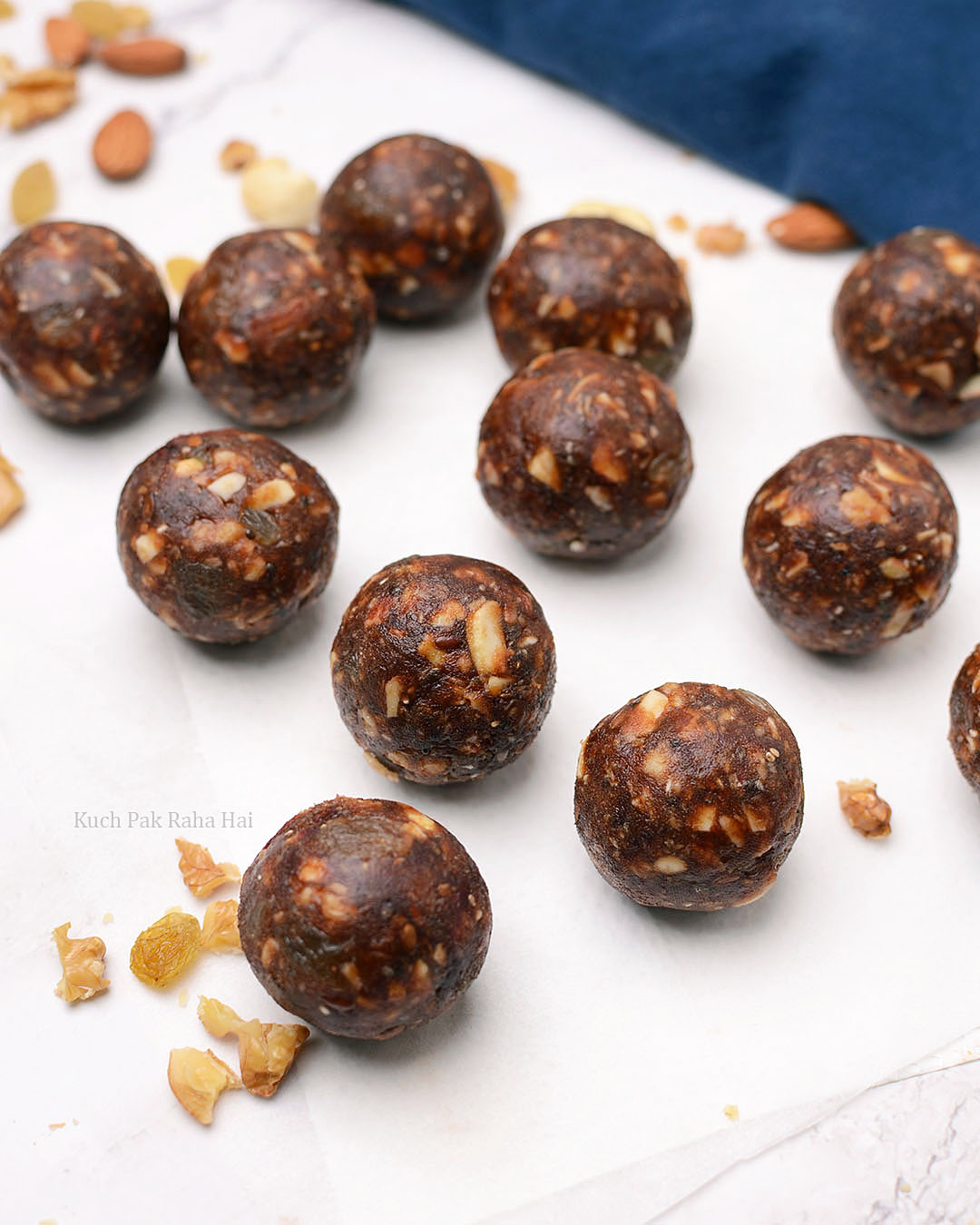 Though these dates ladoo or balls can be made with dates & nuts also but I have added some flax seeds and chia seeds also. I was looking to incorporate flax seeds in my everyday diet as they are full of Omega-3 essential fatty acids, fibre, lignin's etc and this recipe seemed to be perfect for it. The flax seeds have a nice nutty taste and aroma which goes really well in these ladoos.
Which types of dates should be used for making Dates Balls or Khajoor Ladoo?
I have used Lion Brand seedless dates in this recipe. You can use any brand of your choice. I would suggest using the ones which are little soft in texture as they are easy to grind. If you are using whole dates (with seeds), slit & deseed them first and then proceed with the recipe.
How to make Khajoor Ladoo or Dates Nuts Balls?
First the deseeded dates are ground in a mixer or food processor & kept aside. The chopped nuts, coconut & seeds are slow roasted in a pan and then these ground dates are added to them. The mixture is cooked on low flame till we get dough like consistency. Divide into equal portions & roll into smooth balls.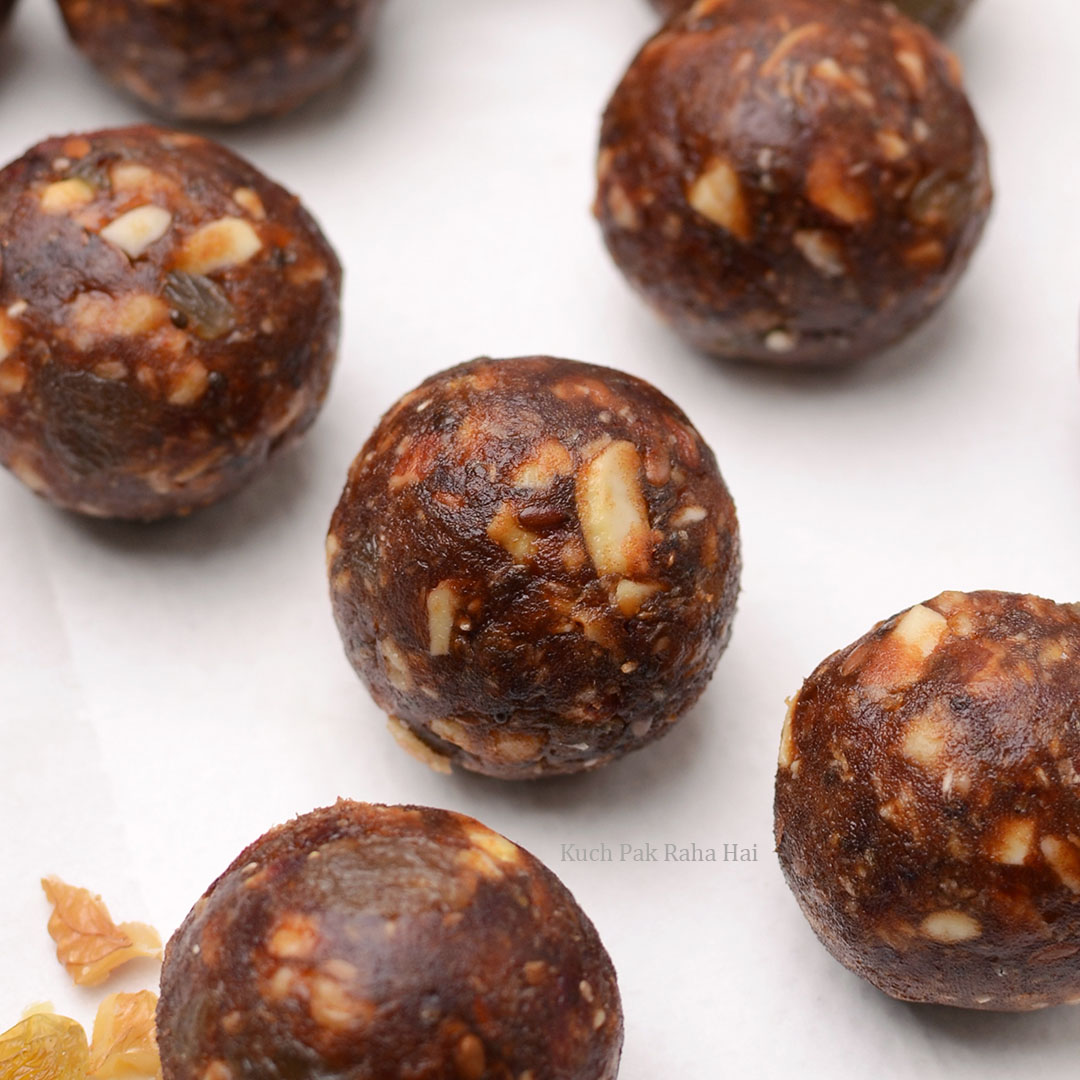 The recipe is quite flexible as you can add any nuts, dry fruits or seeds of your choice. I have mentioned the variations & substitutions in the post below. Hope you would like this easy Dates Nuts ladoo recipe!!
I have also added a youtube video for this recipe. Do subscribe to the channel if you like this recipe.
Youtube Video:
More such healthy dessert or snack recipes:
Ingredients: (Makes 12 pieces)
Khajoor (Dates)- 250 grams (deseeded)
Almonds- 1/4 cup
Cashews- 1/4 cup
Walnuts- 1/4 cup
Golden Raisins- 1/4 cup
Desiccated coconut powder-1/4 cup
Flax seeds- 1 tbsp
Chia Seeds- 1 tbsp
Ghee / Oil – 2 tbsp
Notes :
1. You can use any nuts of your choice apart from the ones mentioned above like pistachios, pecans or peanuts.
2. I have added flax seeds and chia seeds in these dates balls but you can use mixed seeds also like melon seeds, pumpkin seeds or sunflower seeds.
3. To make vegan energy balls use olive oil instead of ghee.
4. Feel free to add more dry fruits like dried cranberries or blueberries.
5. If you are a chocolate lover add little bit of cocoa powder to these balls to give subtle chocolate hint.
Directions:
Step 1:
Add dates in a food processor or grinder jar. Grind them in pulses till they gain paste like consistency. You can also chop the dates before grinding.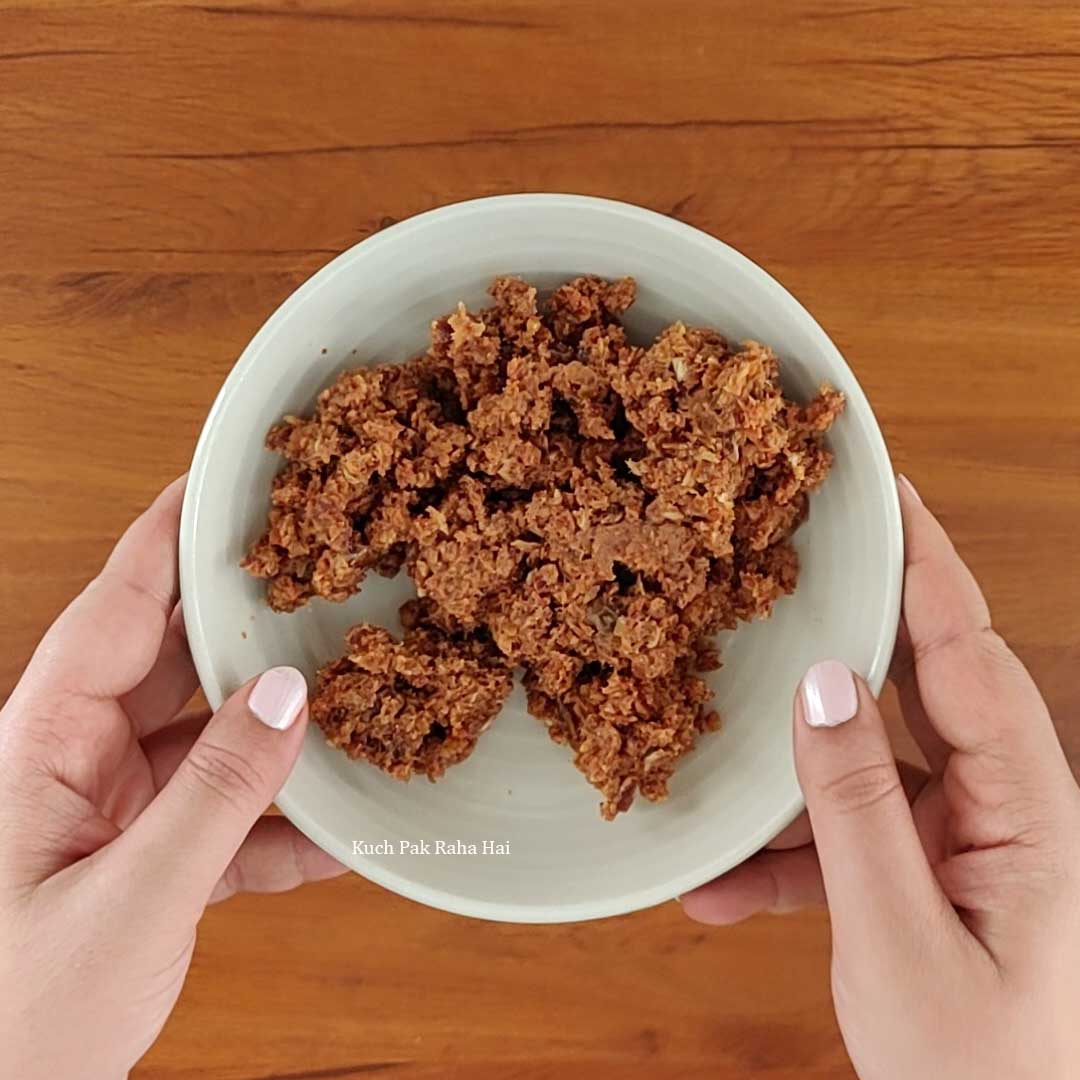 Step 2:
Roughly chop the almonds, cashews and walnuts  into small pieces. Keep them aside.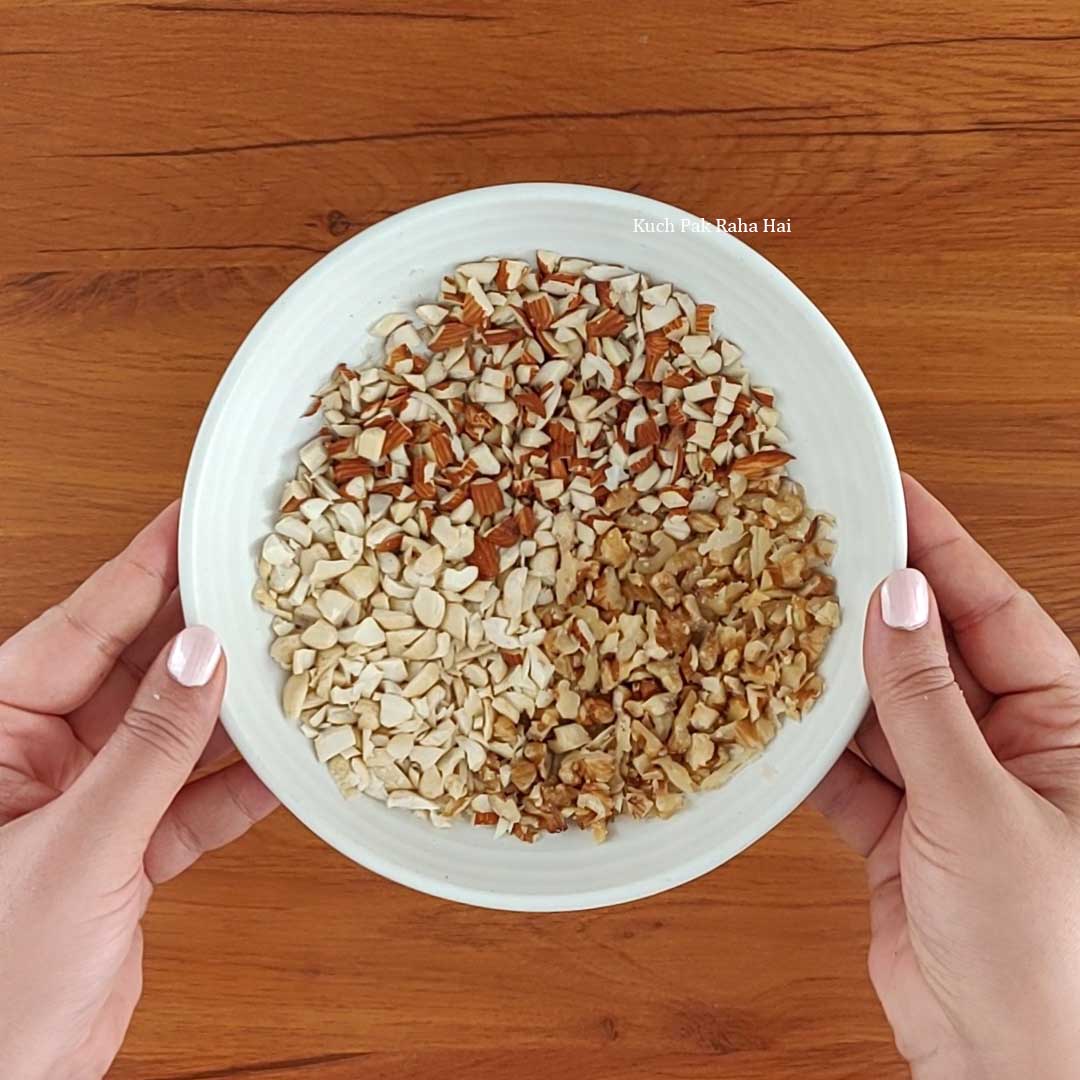 Step 3:
In a non stick or heavy bottomed pan, heat 1 tbsp ghee or oil. Add all the chopped nuts to it and roast on low flame for 1 to 2 minutes.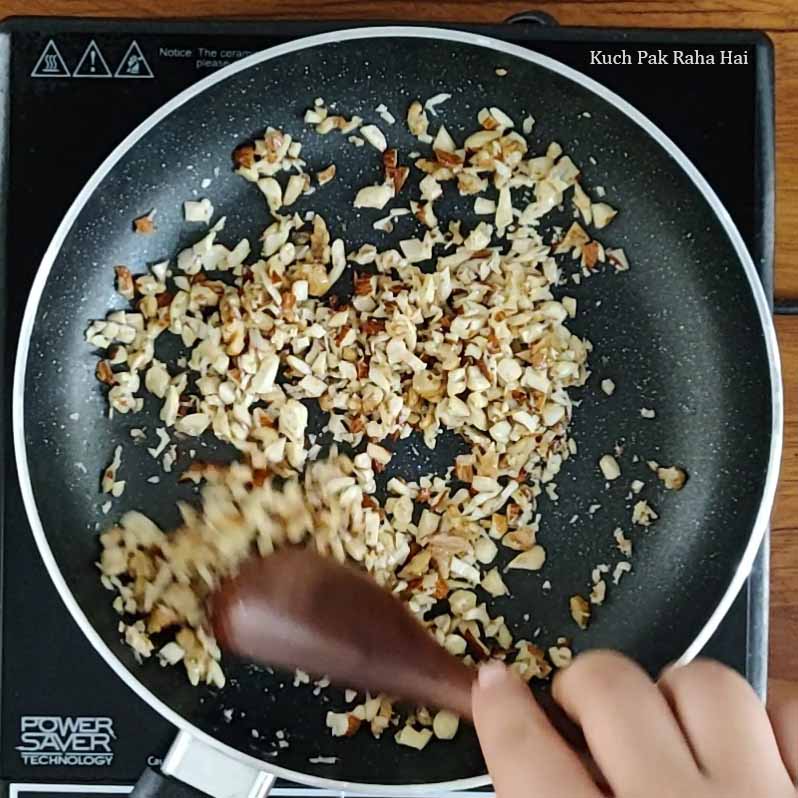 Step 4:
Add desiccated coconut, flax seeds, chia seeds and raisins to the above pan. Roast them more for 2 minutes till the coconut starts releasing it aroma. Keep the flame on low at all times as nuts or seeds can get burn quickly.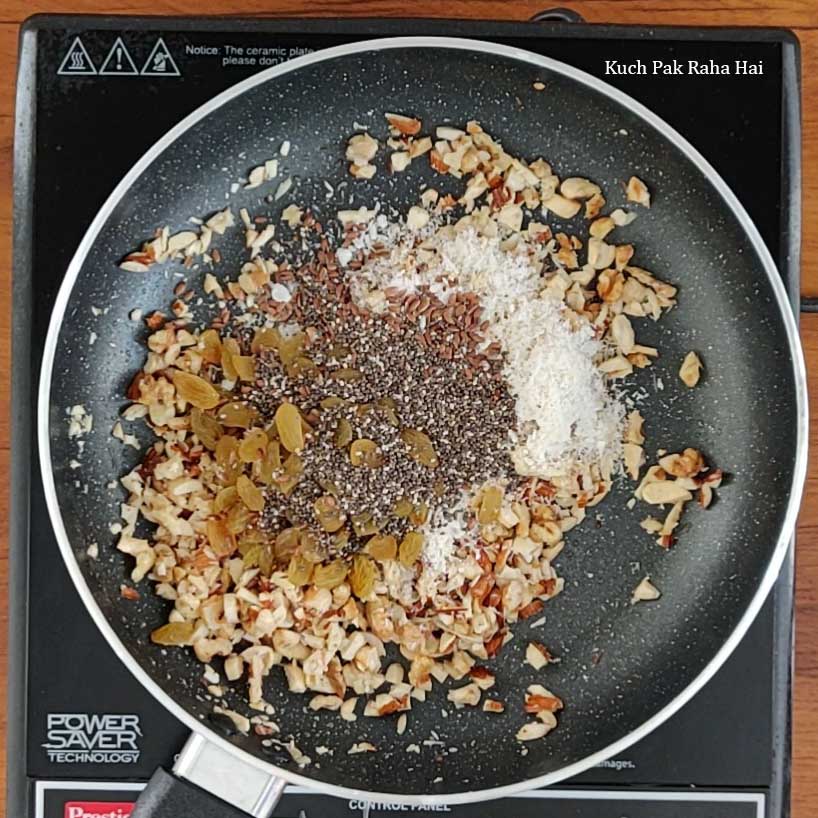 Step 5:
Add ground dates to these roasted nuts & seeds mixture. Mix well using a wooden spoon or spatula. Initially the dates paste can be tough but it will soften up gradually on heating.
Keep mixing continuously till the mixture becomes non sticky and gains dough like consistency.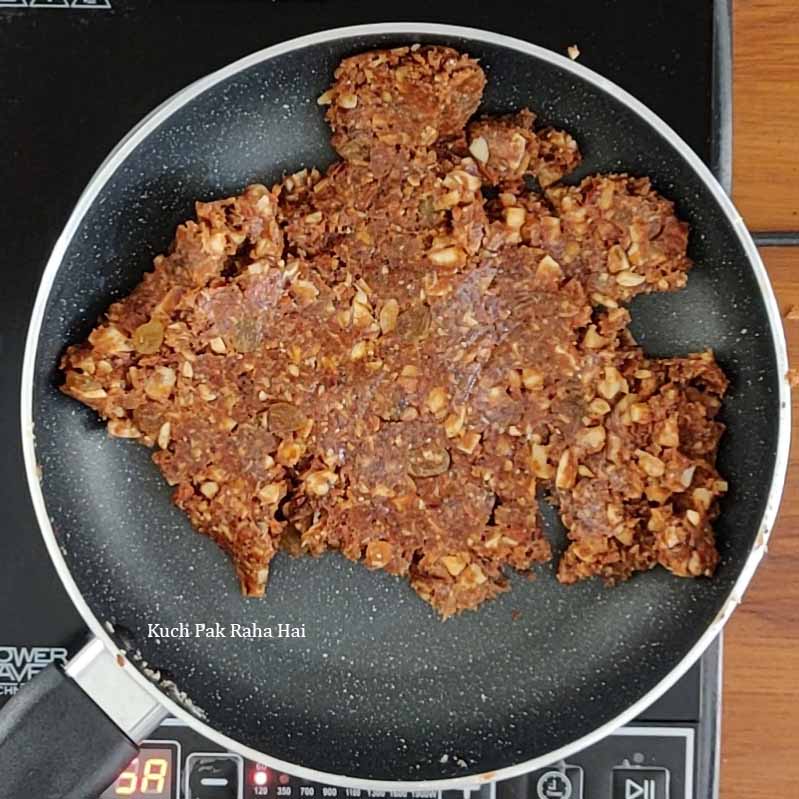 Step 6: 
Transfer this mixture in a bowl and let it cool down for 1-2 minutes. Don't let it cool completely else you will not be able to bind ladoos. While mixture is still warm rub some ghee or oil on your palms. Take spoonful of  mixture and roll it into a ball. Repeat this step for remaining mixture. This recipe yields 12 balls.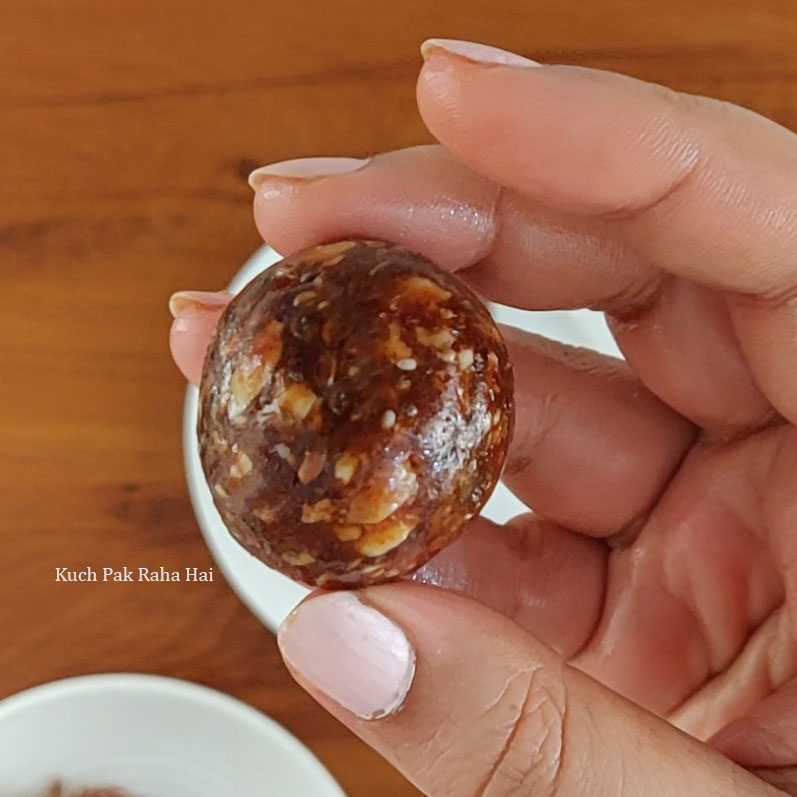 Enjoy these delicious healthy Dates nuts Ladoo!
How to store these Dates Balls or Khajoor laddu?
Store these ladoos in an airtight container in fridge. They can be stored for upto 15 to 20 days.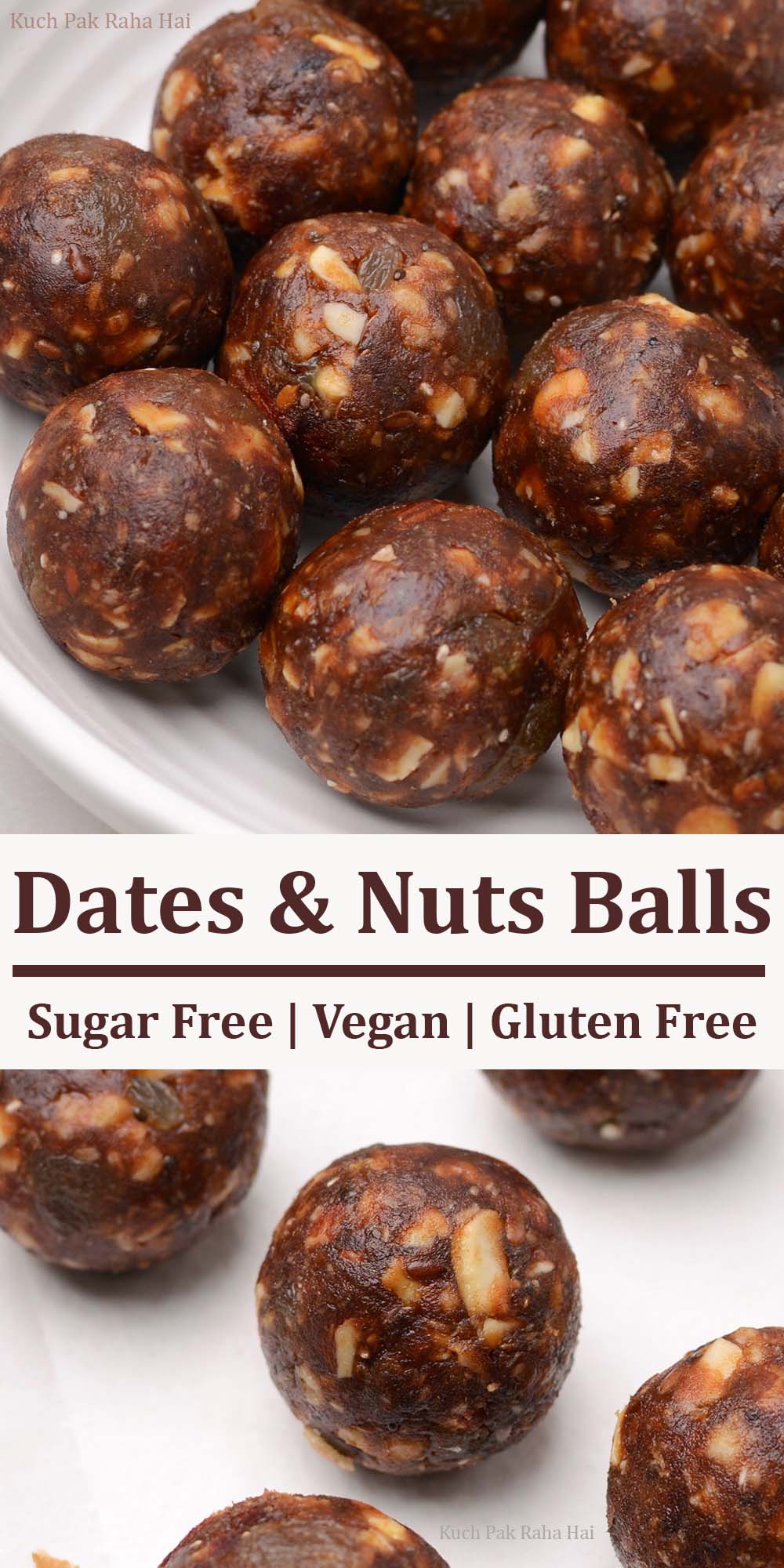 If you try this recipe & share pics on social media, then don't forget to tag us on Facebook or Instagram or use the hashtag #kuchpakrahahai.
Let's stay connected
Facebook| Instagram| Pinterest| Youtube