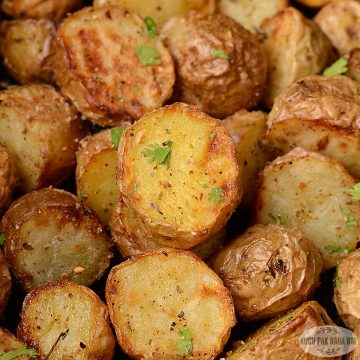 Crispy golden brown air fryer mini potatoes are perfect as quick side dish or snack. They are so easy to make, taste absolutely amazing and require just few simple ingredients.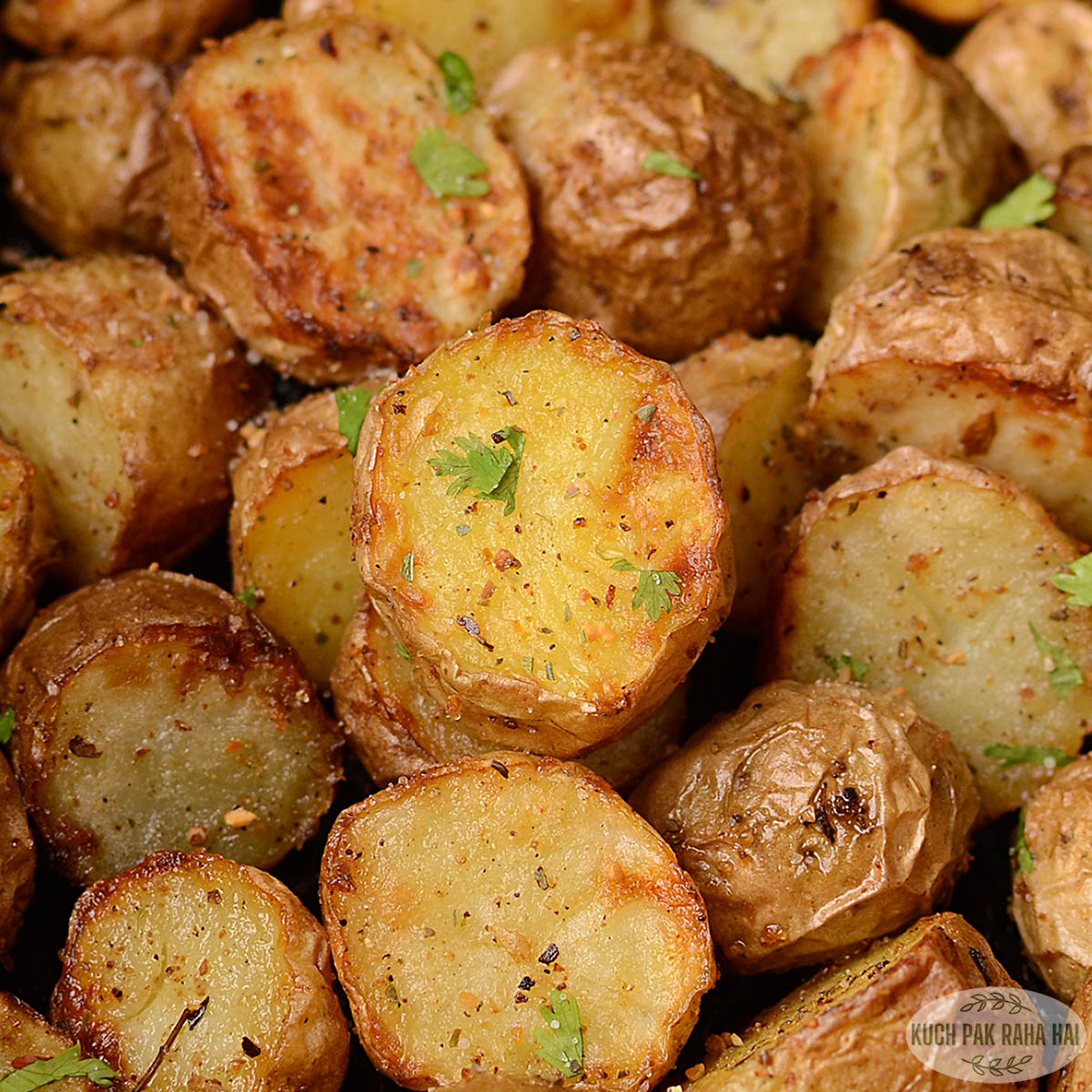 The air fryer roasted baby potatoes recipe shared here is made without soaking, without boiling or peeling the potatoes. They are-
Vegan
Vegetarian (Dairy free)
Gluten free
Kids Friendly
I love how different potato recipe turn out so good in air fryer and that too with such minimal effort (& oil!!) like air fryer smashed baby potatoes, potato wedges, air fryer french fries, hasselback potatoes.
Air fryer Baby Potatoes Ingredients:
Potatoes: I have made this roasted potato recipe with baby potatoes (or small potatoes). Varieties like baby russet potatoes, yukon gold or baby red potatoes can be used here.
Oil: Feel free to use extra virgin olive oil, avocado or canola oil. The oil makes the potatoes crispy & gives golden colour to them.
Spices: The potatoes are seasoned with simple salt, black pepper, garlic powder and Italian seasoning.
Herbs: A generous garnishing of freshly chopped herbs like cilantro or parsley adds more flavour & aroma. However you can skip them also.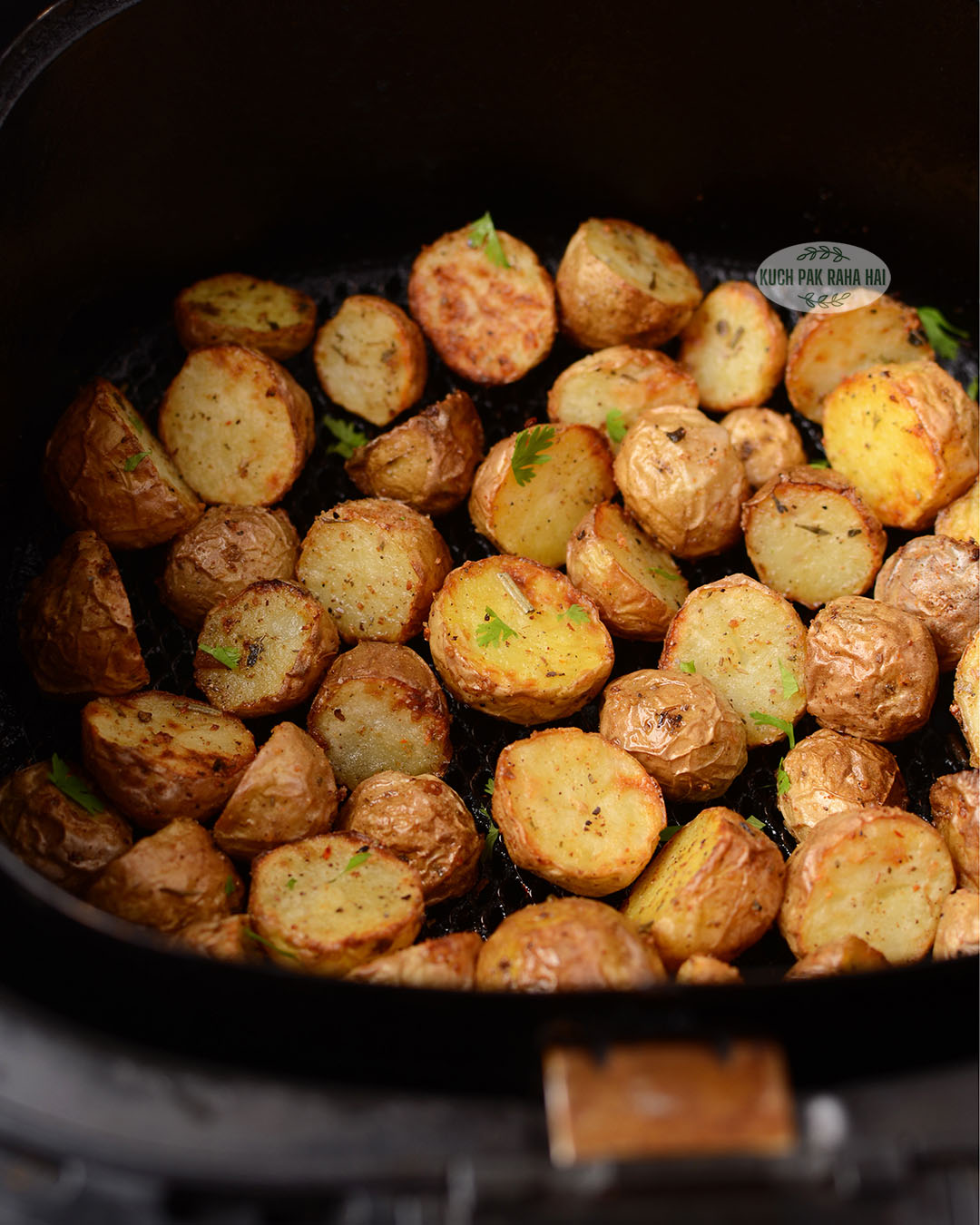 Variations:
For seasoning you can use other spices like cumin powder, onion powder, smoked paprika, red chilli powder, Indian chaat masala, cajun seasoning, peri peri or curry powder. If you don't have Italian seasoning, you can use rosemary, thyme, oregano or a mixture of these dried herbs.
To make cheesy mini potatoes in air fryer, transfer the roasted potatoes in an oven safe dish. Sprinkle some shredded or grated cheese on them & air fry for 2-4 minutes more at 180°C (360°F) till the cheese is melted & bubbly.
How long to cook baby potatoes in air fryer?
To roast these small potatoes in air fryer, all you have to do is chop the potatoes, toss them in oil, seasoning of your choice and air fry till they are fork tender. The time can vary from 12-15 minutes depending on the size & variety of potatoes. After 12 minutes just prick them with a fork for tenderness. If you feel resistance, then air fry for more time.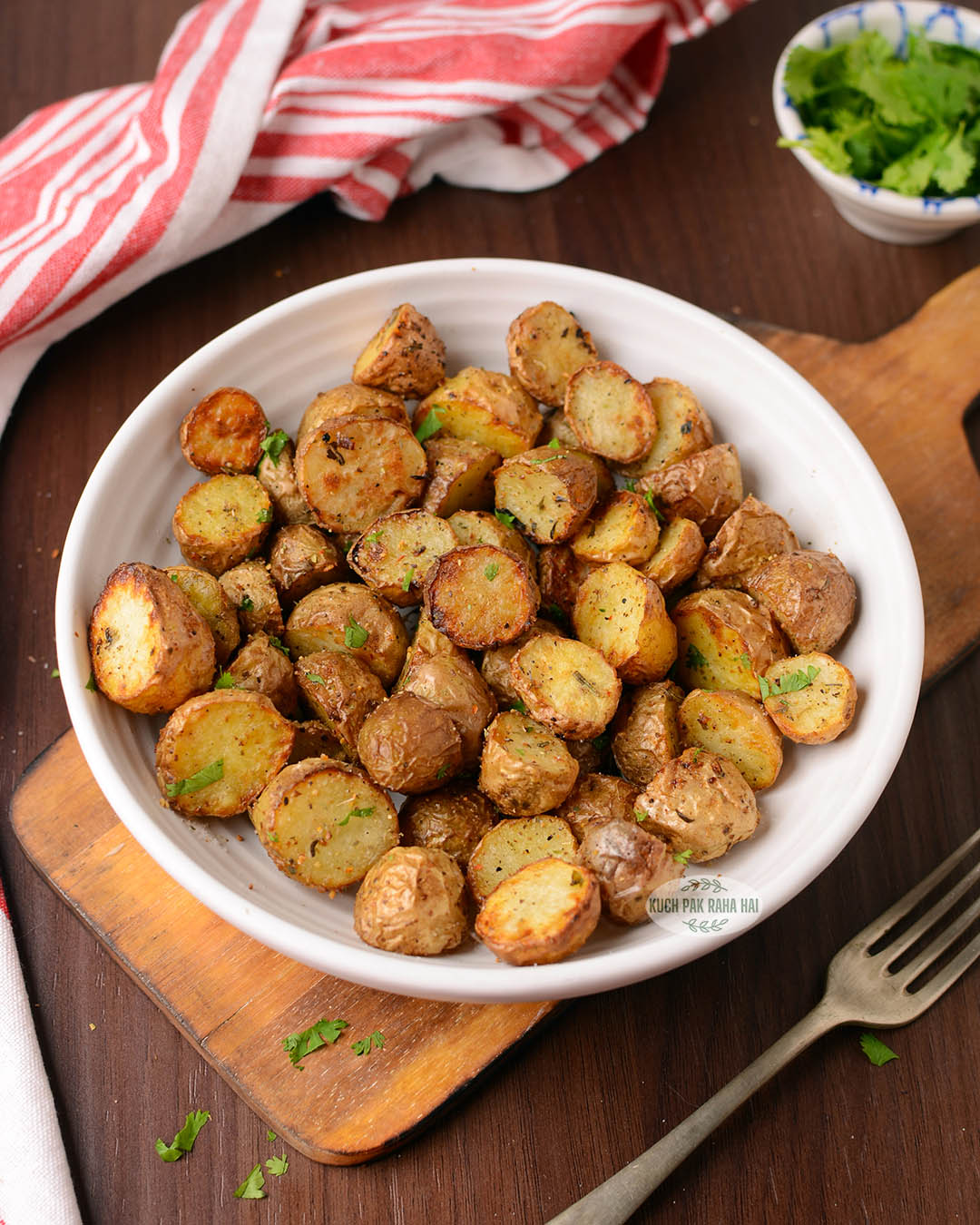 Storing leftover air fried mini potatoes:
You can easily store the leftovers in an airtight container in fridge for 2-3 days. To reheat them, air fry again in a preheated air fryer for 2-3 minutes at 200°C (390°F).
Serving Ideas:
You can enjoy these roasted mini potatoes as snack with dipping sauce like ketchup, sour cream, mayonnaise (I like it with garlic chipotle mayo) or make roasted potato salad with them.
They can also be served as side dish with Indian meals like dal rice, casseroles, pastas like cottage cheese pasta or penne arrabbiata. These roasted potatoes are a great option to include in Thanksgiving or Christmas menu as they don't require much preparation time.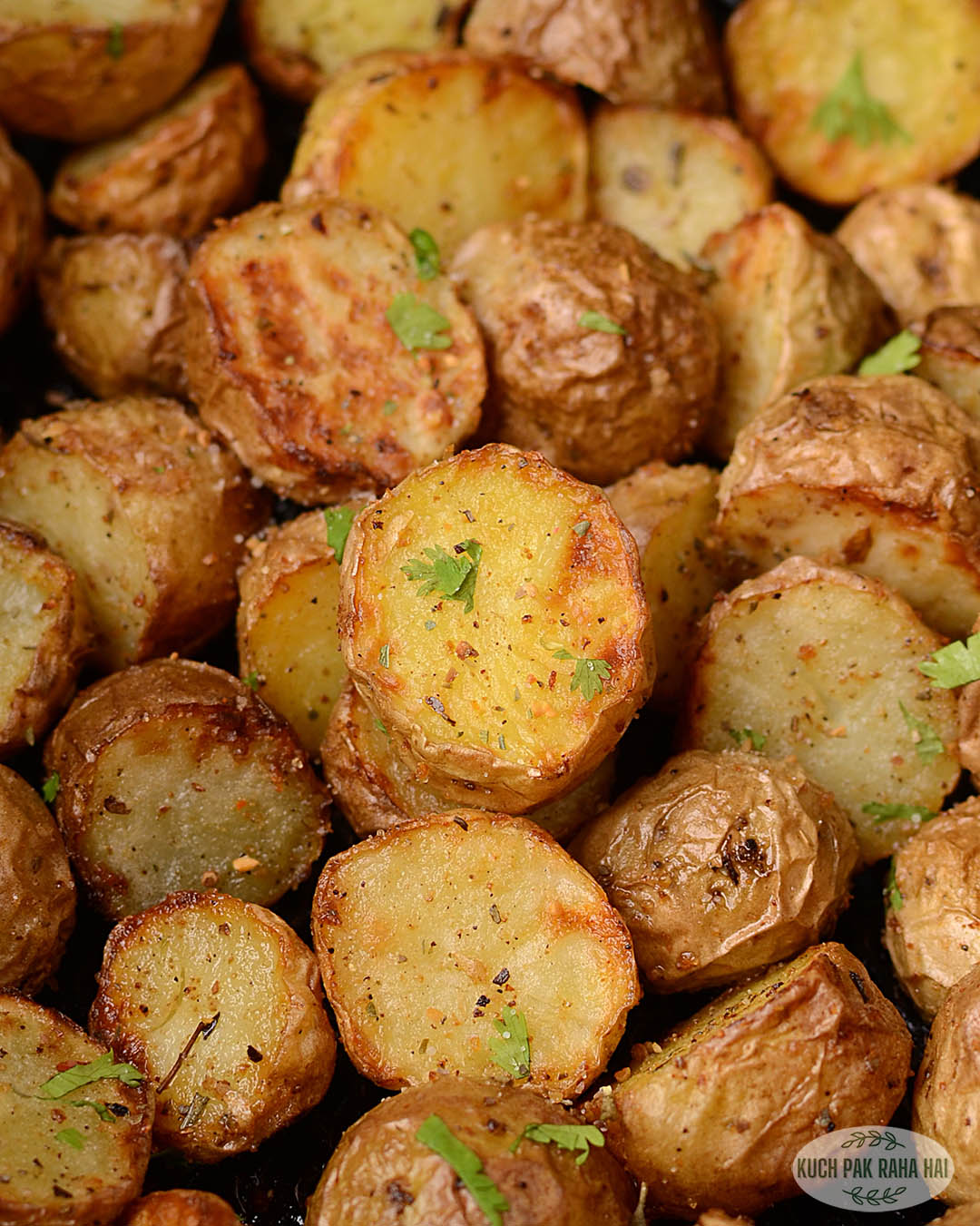 Hope you would like this easy tasty air fryer small potatoes recipe. More recipes you would like to try:
Ingredients:
Baby Potatoes-1/2 kg (1.1 lbs)
Olive Oil- 2 tbsp
Garlic Powder-1 tsp
Salt-1 tsp (to taste)
Crushed Black Pepper-1/2 tsp (to taste)
Italian seasoning- 1 tsp
Chopped Parsley or cilantro- 2 tbsp (for garnishing)
Directions
Step 1:
Rinse & scrub the potatoes well with water to get rid of any dirt. Dab them dry on kitchen towel. Make sure there is no moisture left as otherwise it will create steam in air fryer & potatoes will not become crispy.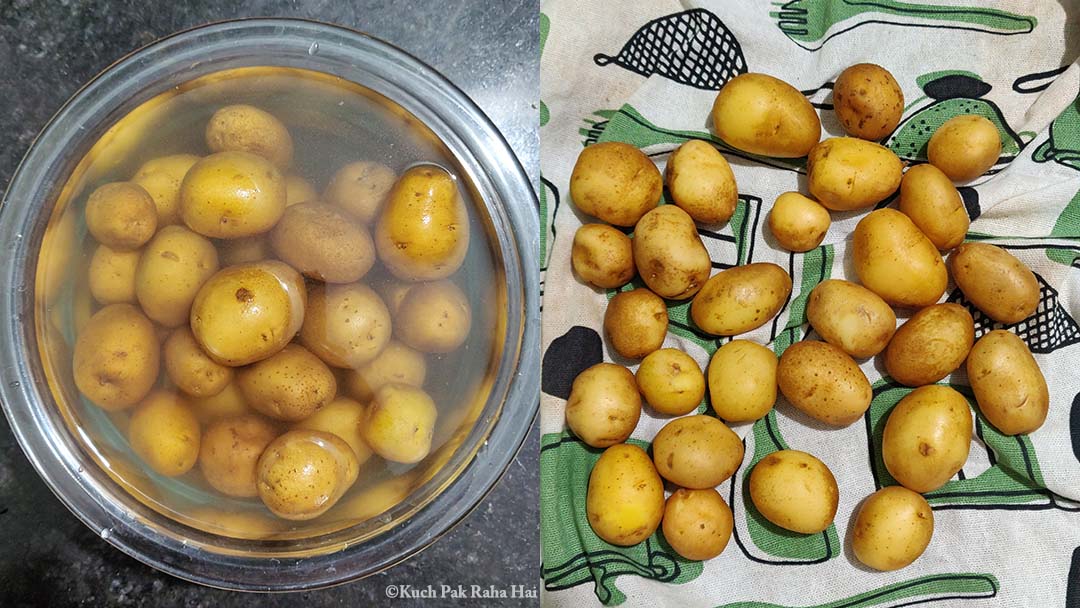 Step 2:
Halve each of the potato using a sharp knife. If they are larger in size, cut them in quarters. If the potatoes are little, then you can just prick 1-2 holes in them using skewer or fork. The intent is to keep all pieces of roughly the same size. Keep these chopped potatoes aside.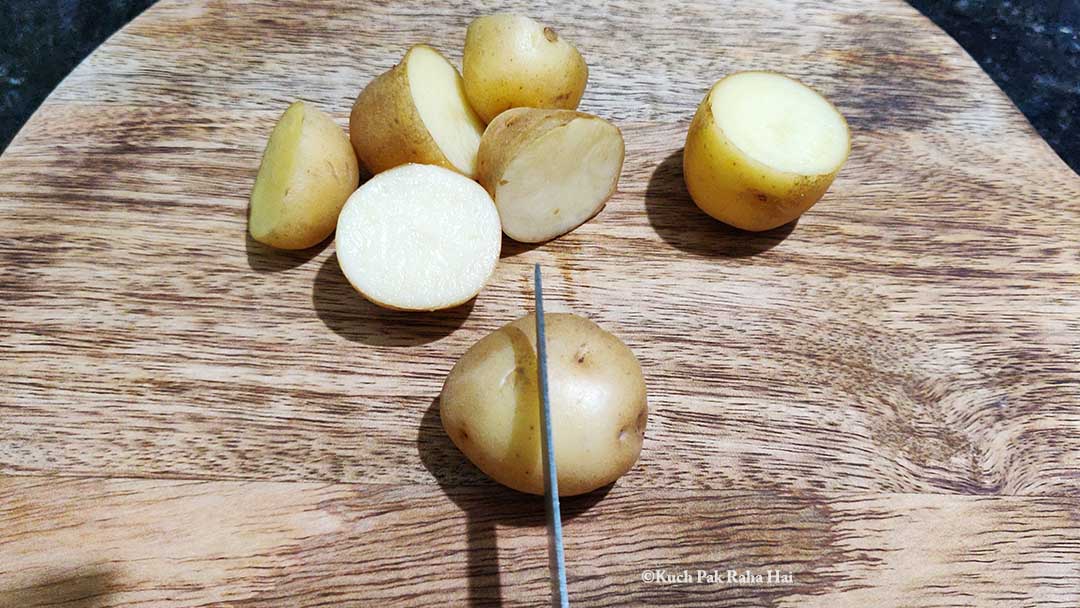 Step 3:
Set the air fryer for preheating at 200°C (390°F) for 5 min. By the time air fryer is preheating, mix olive oil, garlic powder, salt, black pepper and Italian seasoning in a small bowl (Add any seasoning or dried herbs of your choice).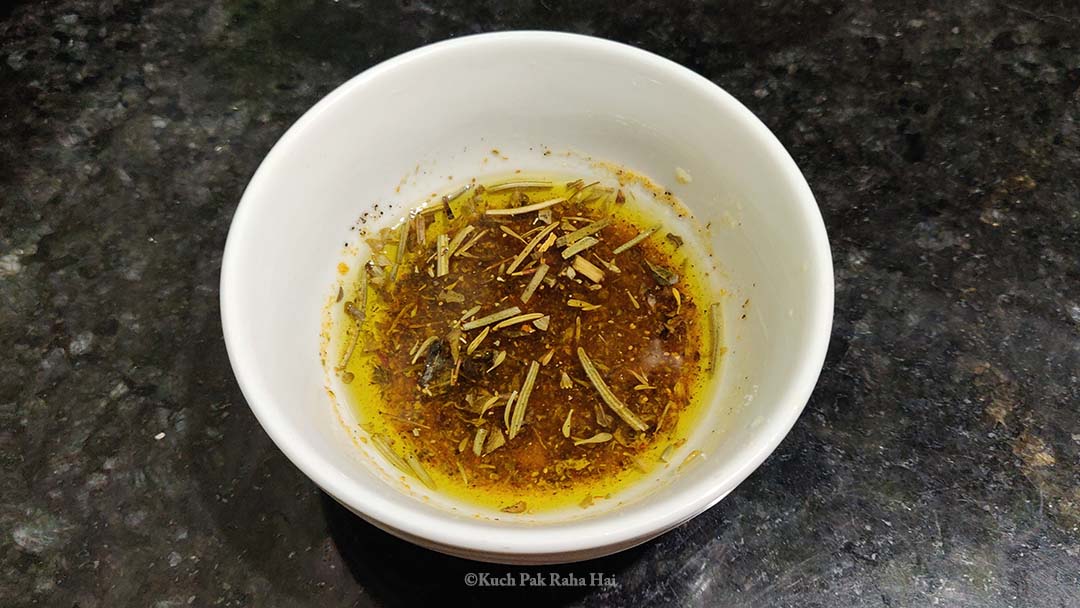 Step 4:
Add this spiced olive oil over the chopped potatoes and mix well using spatula or with hands. All pieces should get coated well with oil.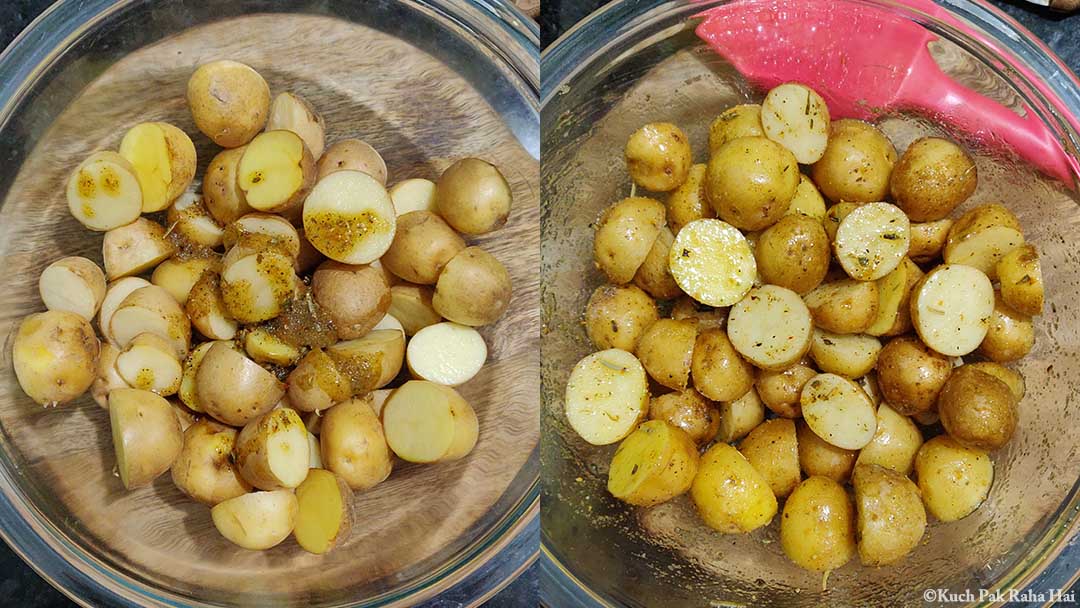 Step 5:
Brush oil in air fryer basket. Transfer these mini potatoes in a single layer in preheated air fryer basket. Air fry for 200°C (390°F) for 12-15 minutes. Shake the basket after half time (spray some more oil if needed). After 12 minutes, check them with a fork. They are ready if they are tender else air fry for 3-4 minutes more till they are cooked completely.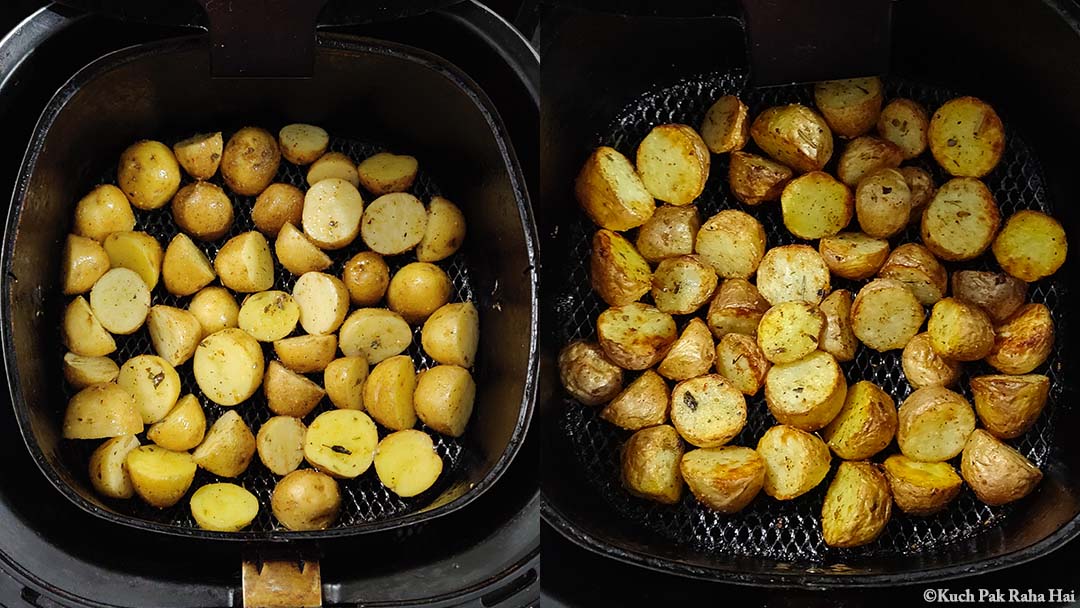 Garnish with some freshly chopped parsley or cilantro. Serve these hot crispy baby potatoes right away (as they start becoming soft on cooling down).
Tips:
Do not overcrowd the air fryer basket. Always arrange the potatoes in single layer so that all get evenly crispy and cooked completely. Shaking the basket half way ensures that potatoes get crispy from all sides.
The air frying time for cooking can vary slightly depending on the size of air fryer & potatoes. Always try to keep all potatoes pieces of similar size so that they have same cooking time.
As we will not be peeling the potatoes, it is important to clean them well to get rid of any dirt. Please do not skip this step.
If you want to make Indian style baby potatoes, then skip Italian seasoning & instead add cumin powder, red chilli powder & coriander powder. Once the potatoes are roasted completely, sprinkle amchoor powder or lemon juice along with coriander over them. Rest all the steps will remain same.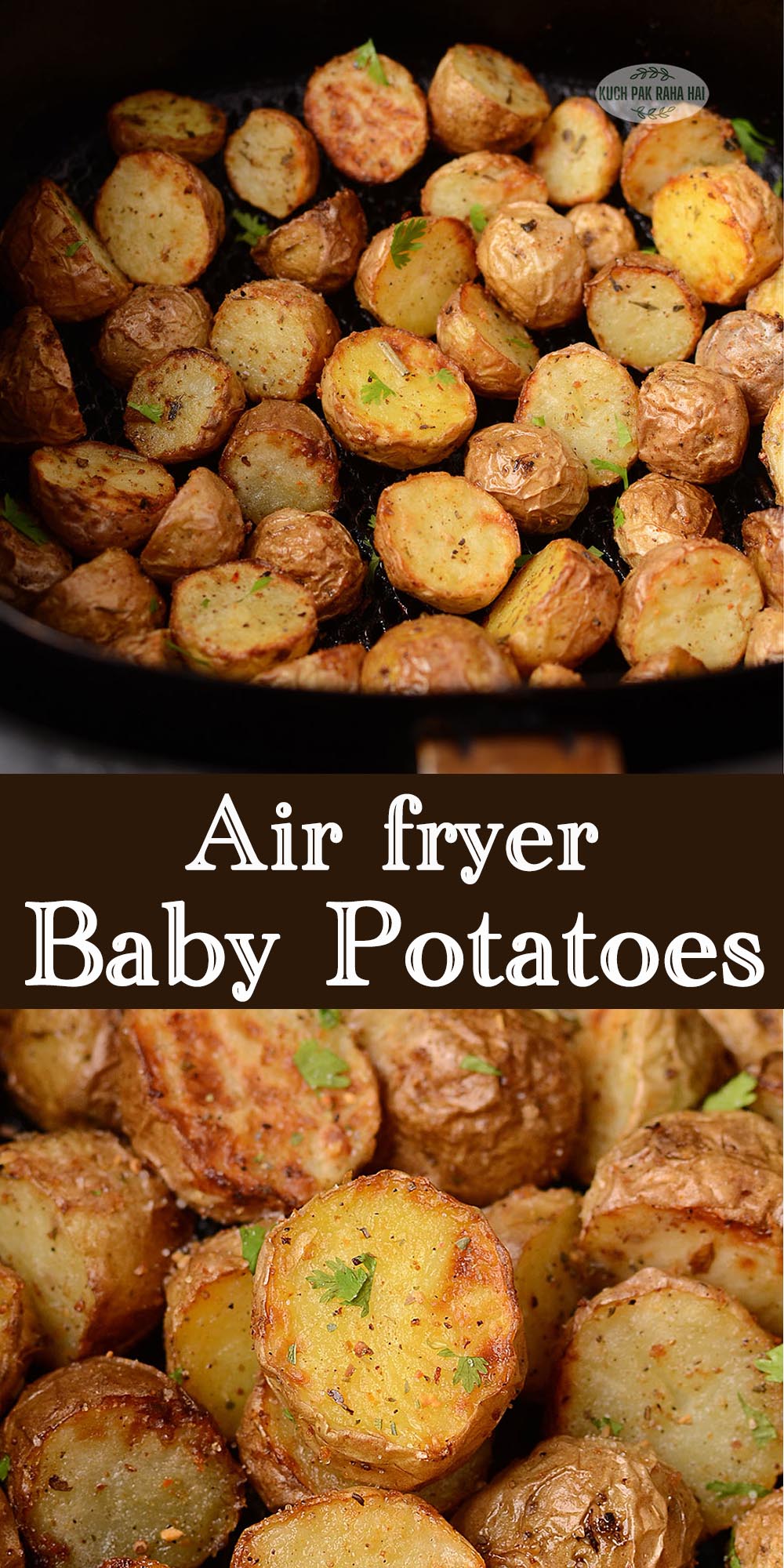 If you try this mini potataoes air fryer recipe & share pics on social media, then don't forget to tag on Facebook, Instagram or use #kuchpakrahahai.
Let's stay connected
Facebook | Instagram | Pinterest| Youtube