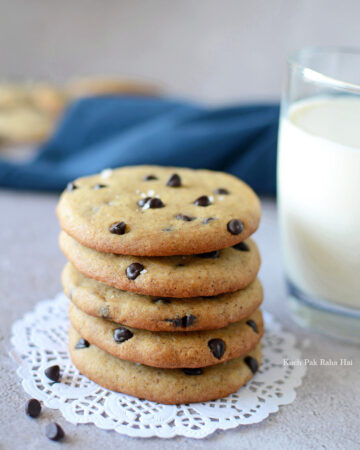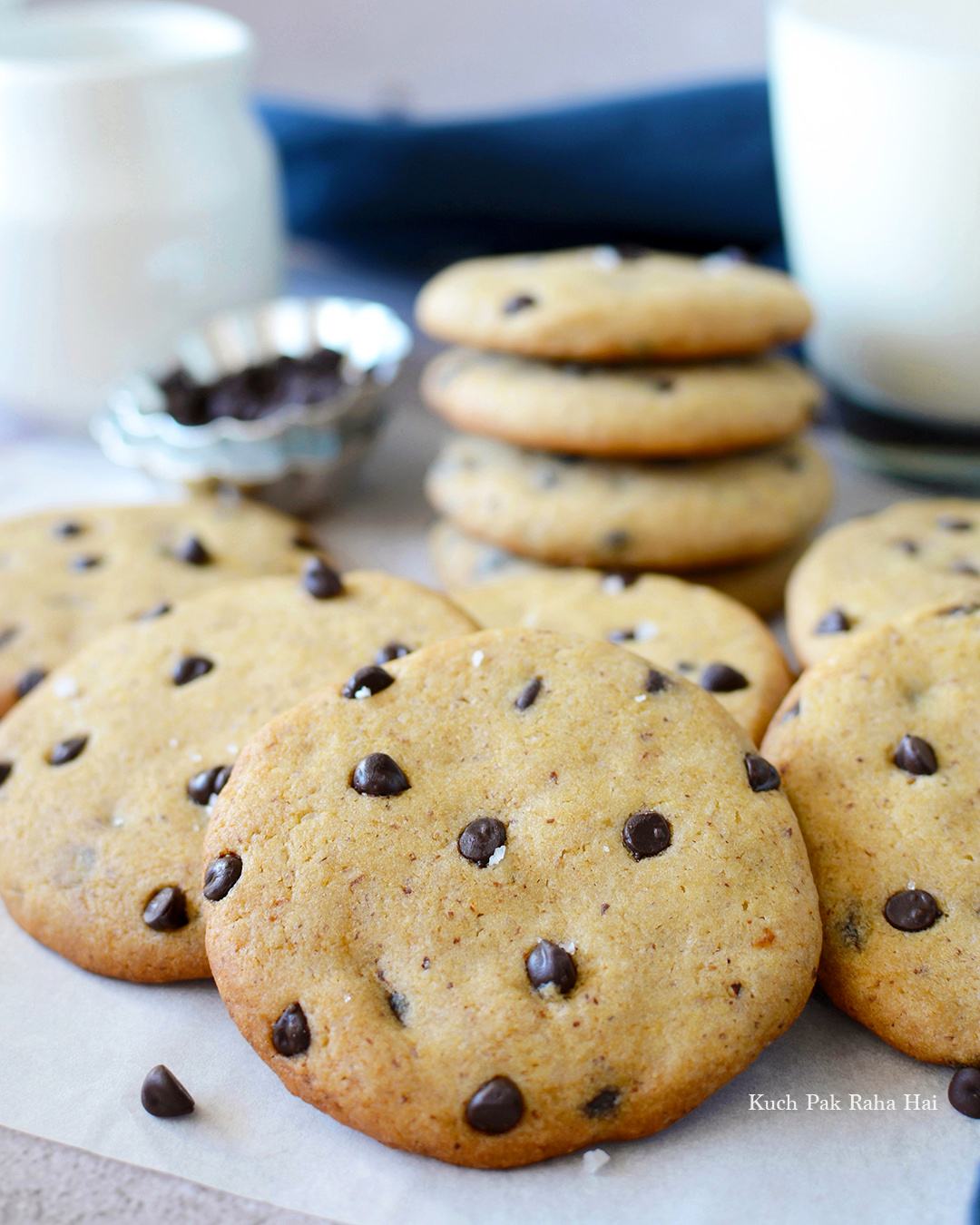 The moment I hear the word 'cookies', the first thing that comes to my mind is a rich decadent chocolate chip cookie. In this post I am going to share my ultimate egg free chocolate chip cookie recipe which you would want to make again & again. Their texture turns out absolutely dreamy with crispy edges and chewy centre. Many people believe that choco chip cookies cannot be made without eggs but trust me, many of my family members and friends have tasted these cookies & no one could guess that they are completely eggless.
The chocolate chip cookies shared here is extremely easy and quick to make. You don't need any fancy kitchen gadgets or stand mixer for making these cafe style cookies. Just few basic ingredients from your pantry and you are good to go!
This eggless choco chip cookies recipe is the first cookie recipe that I learnt and also most experimented with. As most of the recipes on Internet used egg, my attempt was to replicate the same texture without compromising on taste.
Sharing some of the mistakes (would rather like to call them experiments 😉 ) that I did and their outcomes:
Adding too much flour in the dough leading to dry floury cookies.
Used only white sugar, which caused the cookies to spread too much making them too thin, crispy and flat.
Used only brown sugar in recipe which led to soft cakey cookies.
Instead of using room temperature butter, I microwaved the butter (which kind of melted it). The end result cookies were a bit oily to touch.
Did not chill the dough which caused the cookies to spread too quickly and too much.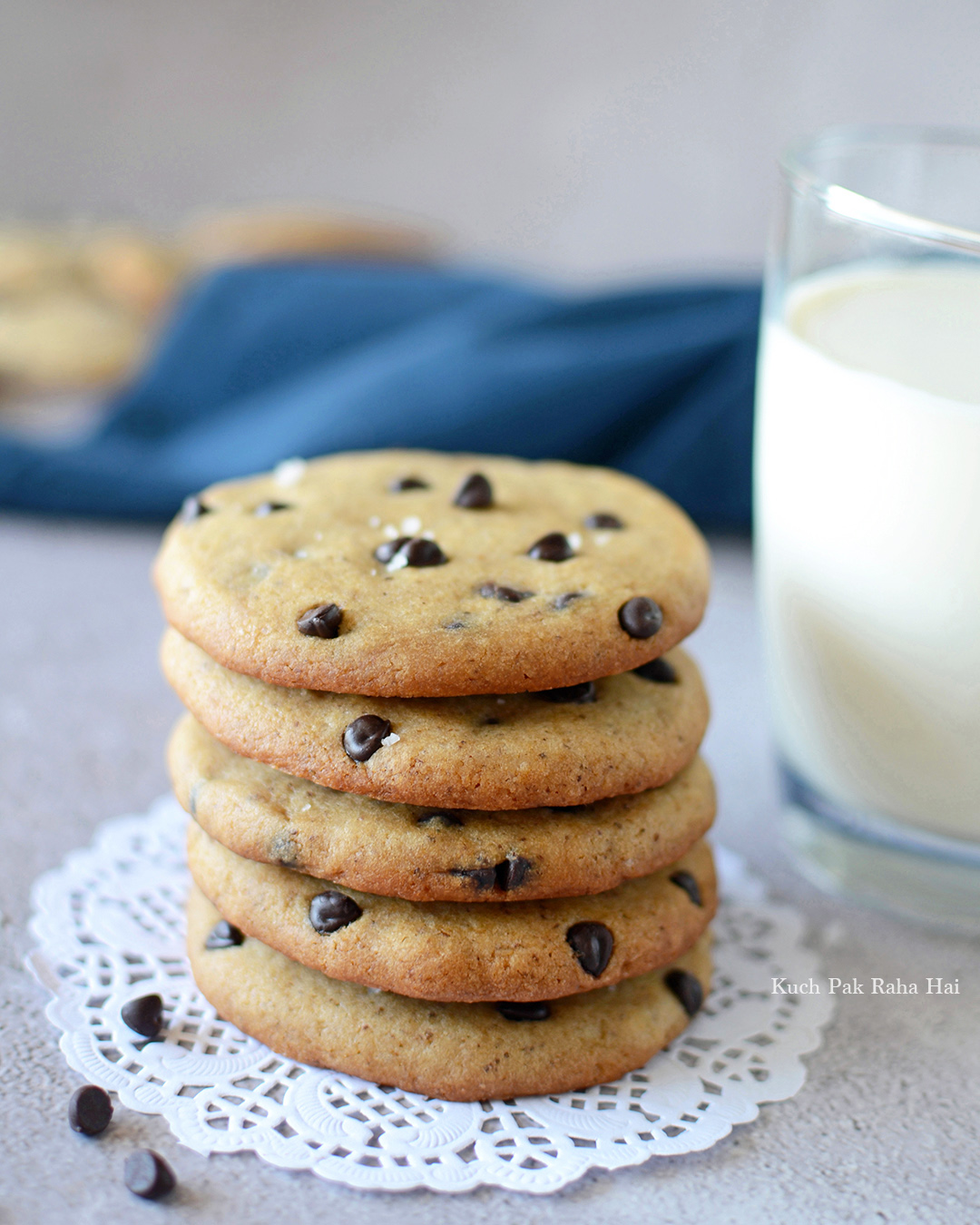 One of the key things that make a difference to a choco chip cookie is the use of salt. It is used just a little bit but makes a hell lot of difference in the final taste. While I was trying the recipe I was able to get the right texture and colour, however something was felt amiss. So I went to the grocery store, and in search for that special 'ingredient' I checked the labelling of many chocolate chip cookies brand (I do that a lot, please don't judge me!!). And yes most of them had salt in them. I added a big pinch of salt to the cookie and yes that was the perfect taste I was looking for.
Honestly I always prefer homemade chocolate chip cookies over the store bought ones as whatever ingredients we are using whether butter or chocolate chips all are of best quality minus the preservatives and margarine.
More eggless cookies recipe you might like:
Hope you would like this easy delectable eggless chocolate chip cookies recipe!!
I have also shared a youtube video for this same recipe on our channel 'Kuch Pak Raha Hai' . If you are someone who loves to gawk at oven while cakes or cookies are baking then do check out the baking part in this video where these cookies harmoniously spread, rise & finally their lower edges turn beautiful golden brown.
Youtube Video:
Ingredients: (Makes 12 cookies)
Unsalted Butter-1/3 cup (75 grams)
Brown Sugar-1/4 cup
Powdered Sugar- 1/4 cup
Baking Soda-1/4 tsp
Salt-1/8 teaspoon
Chocolate Chips-1/3 cup
Vanilla Extract-3/4 tsp
Flaxmeal*(powdered flaxseeds)-1 tbsp
Warm Water-3 tbsp
Notes / Substitutions:
1. Unsalted butter has been used in this recipe and little bit of salt is added. You can use salted butter as well but skip adding salt in that case. I would personally recommend using unsalted butter as sometimes salted butter has too much salt which will turn the final cookies too salty.
2. Use butter that is at room temperature.
3. In this recipe, flax egg (flaxmeal + water) is used as egg replacement. You can get ready made flaxmeal packets from market or make flaxmeal at home by fine grinding flaxseeds in grinder jar.
4. The role of eggs in chocolate chip cookies is to give them softness and make them rise slightly. In this recipe 'flaxegg'  serves the same purpose.
5. If you don't have chocolate chips you can use chopped chocolate chunks too. I have used Dark Choco chips in the recipe, you can use milk chocolate chips too.
( Recipe Tips / Tricks shared at the end of post)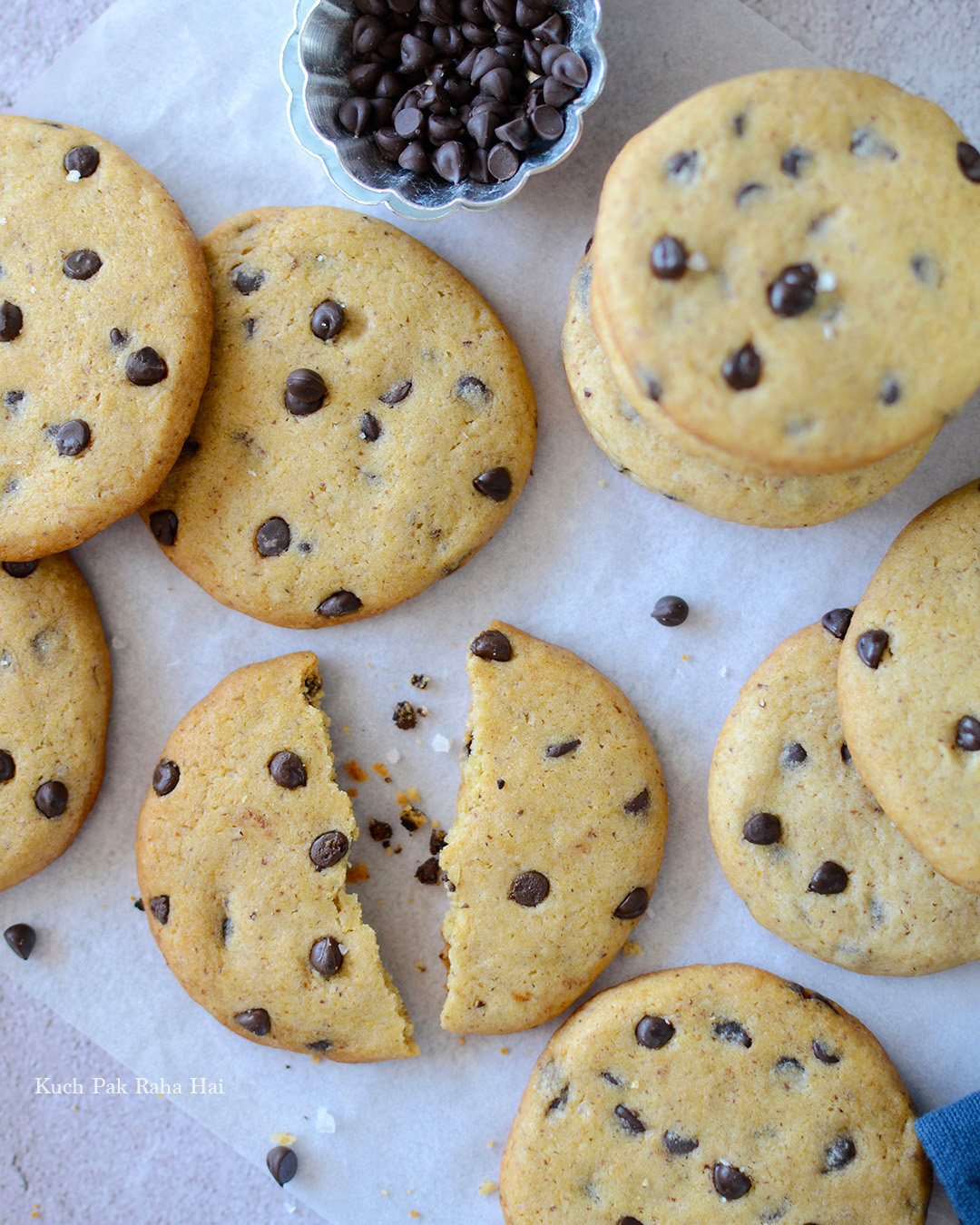 Directions:
Step 1:
Sieve the All purpose flour, baking soda and salt together. Keep it aside.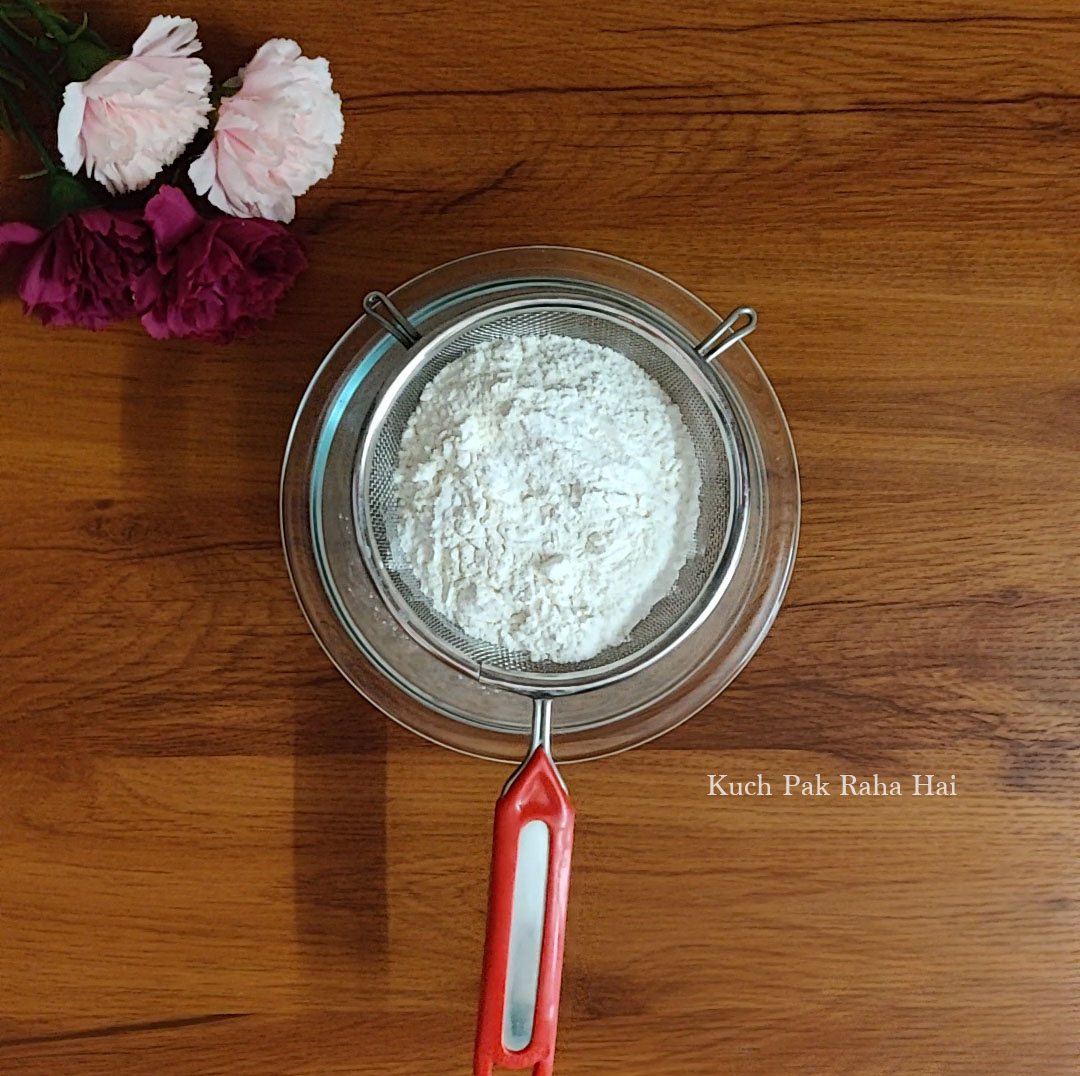 Step 2:
Prepare the flax egg by mixing flaxmeal in 3 tbsp warm water. Mix vigorously and keep it aside. In some time it will gain gel like consistency.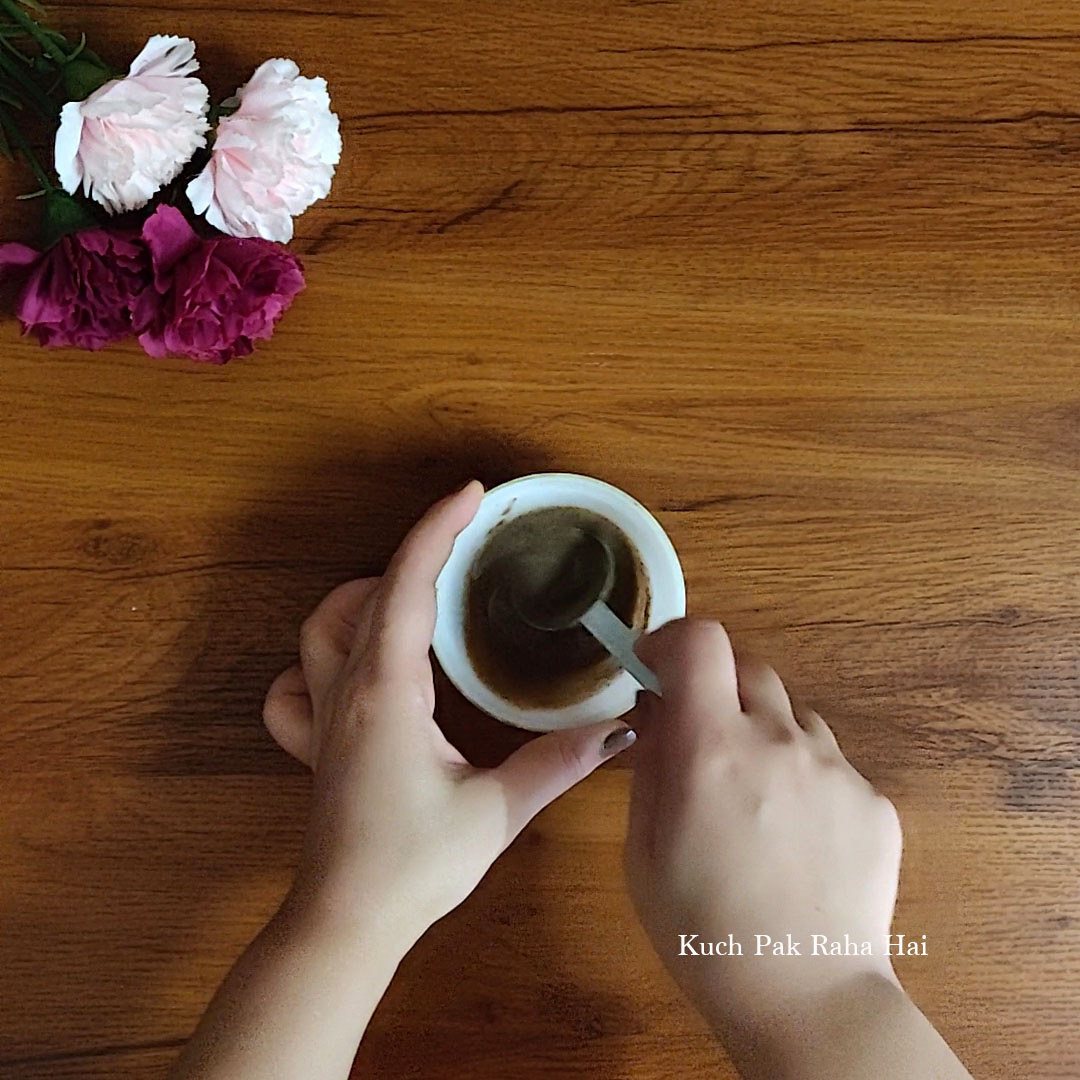 Step 3:
Bring the unsalted butter to room temperature. Add brown sugar & powdered white sugar to it. Whisk it till it is smooth & fluffy. The colour of the mixture will also turn slightly pale. Add flax egg and vanilla essence to it. Whisk once again.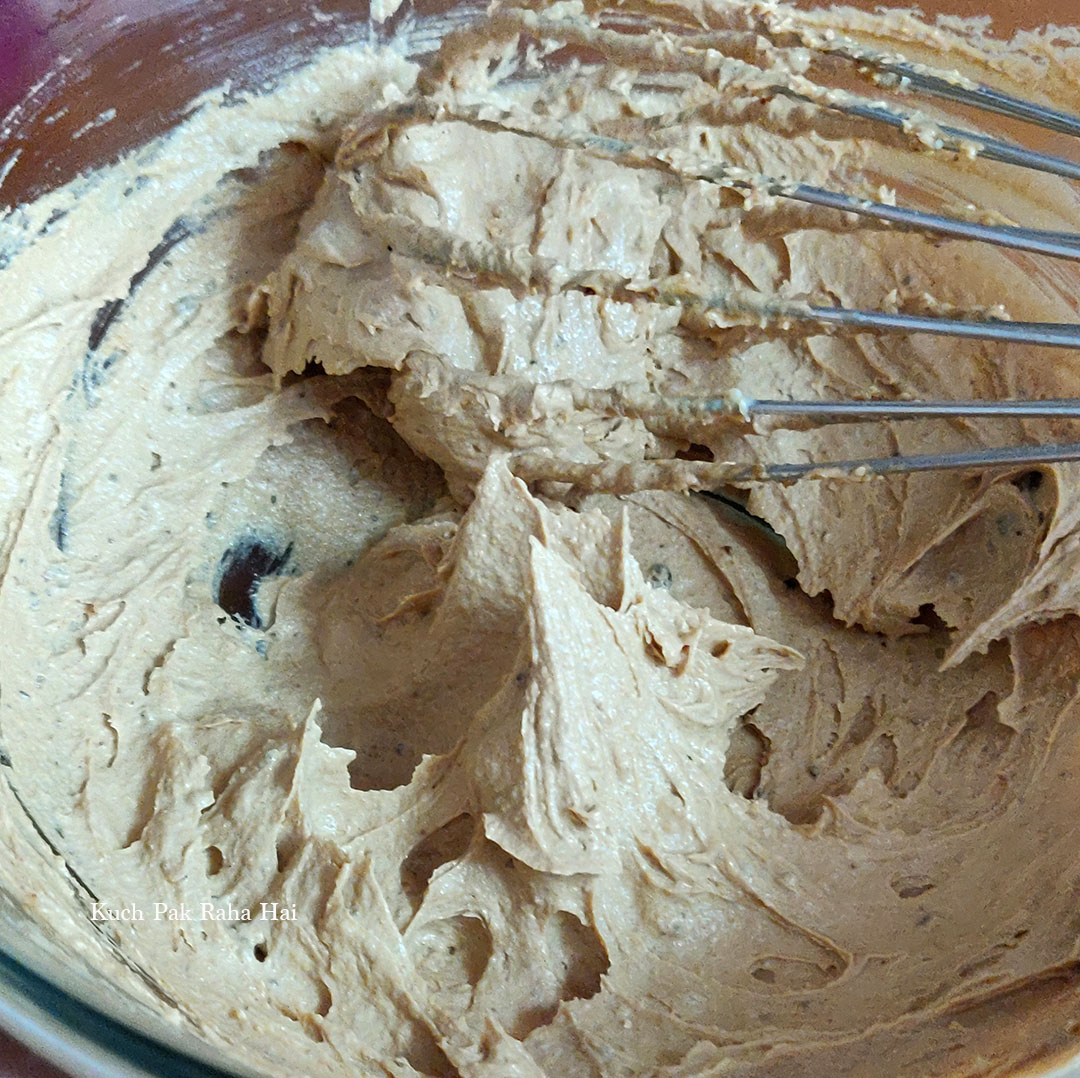 Step 4:
Add the dry ingredients to above whisked butter & sugar. With the help of silicon spatula or a spoon start binding the mixture. We don't have to knead the cookie dough but just bring the ingredients together. Add chocolate chips to it and fold once again (Save some of it to sprinkle on top before baking). The final cookie dough should be extremely soft.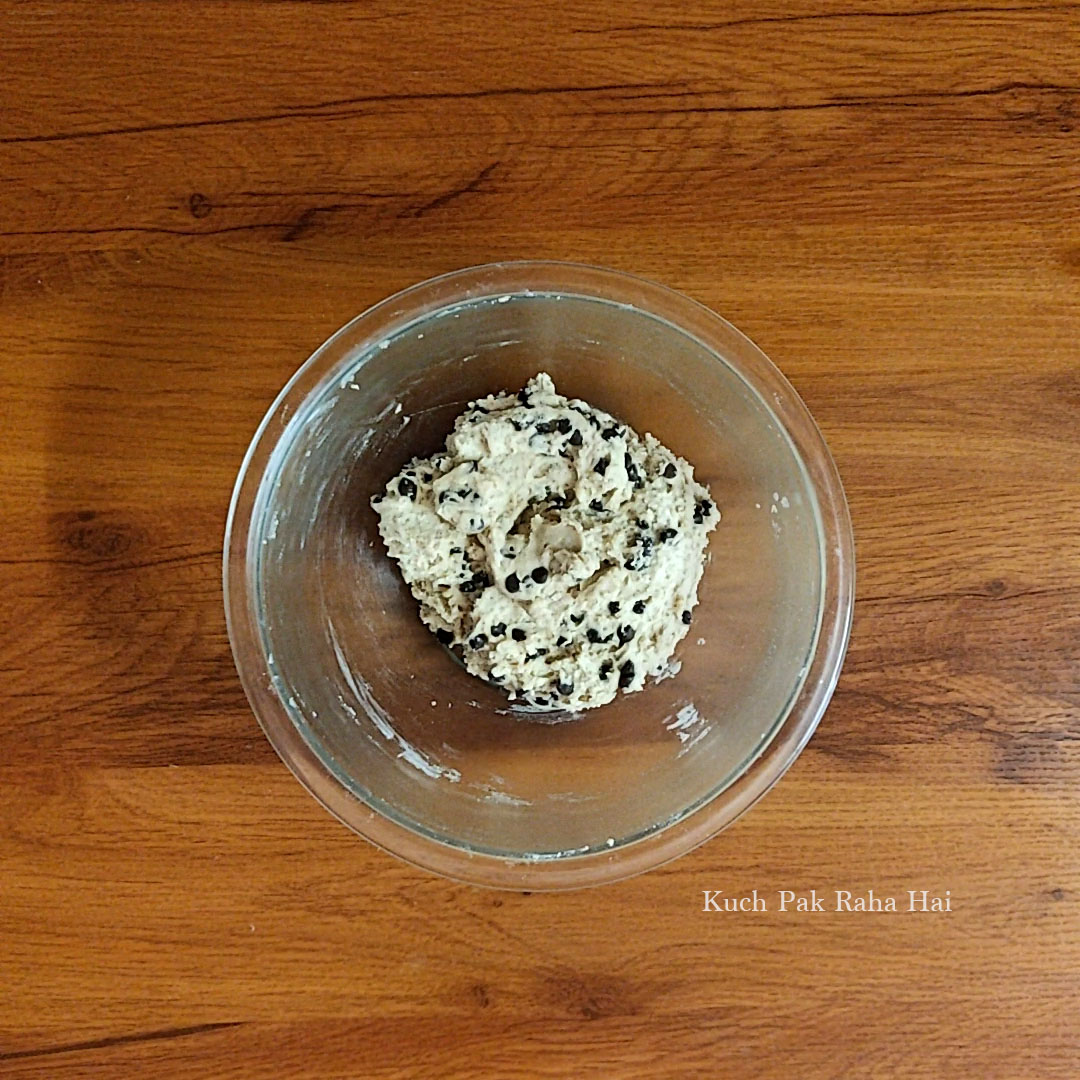 Step 5:
Cover the dough with a cling film or a plate and chill it in refrigerate for 15 minutes.
Step 6:
Just when you are ready to bake the cookies, bring the dough out of refrigerator. Set the oven for preheating at 180 degree Celsius. Line the baking tray with parchment paper or aluminium foil. By the time oven is preheating lets move to next step.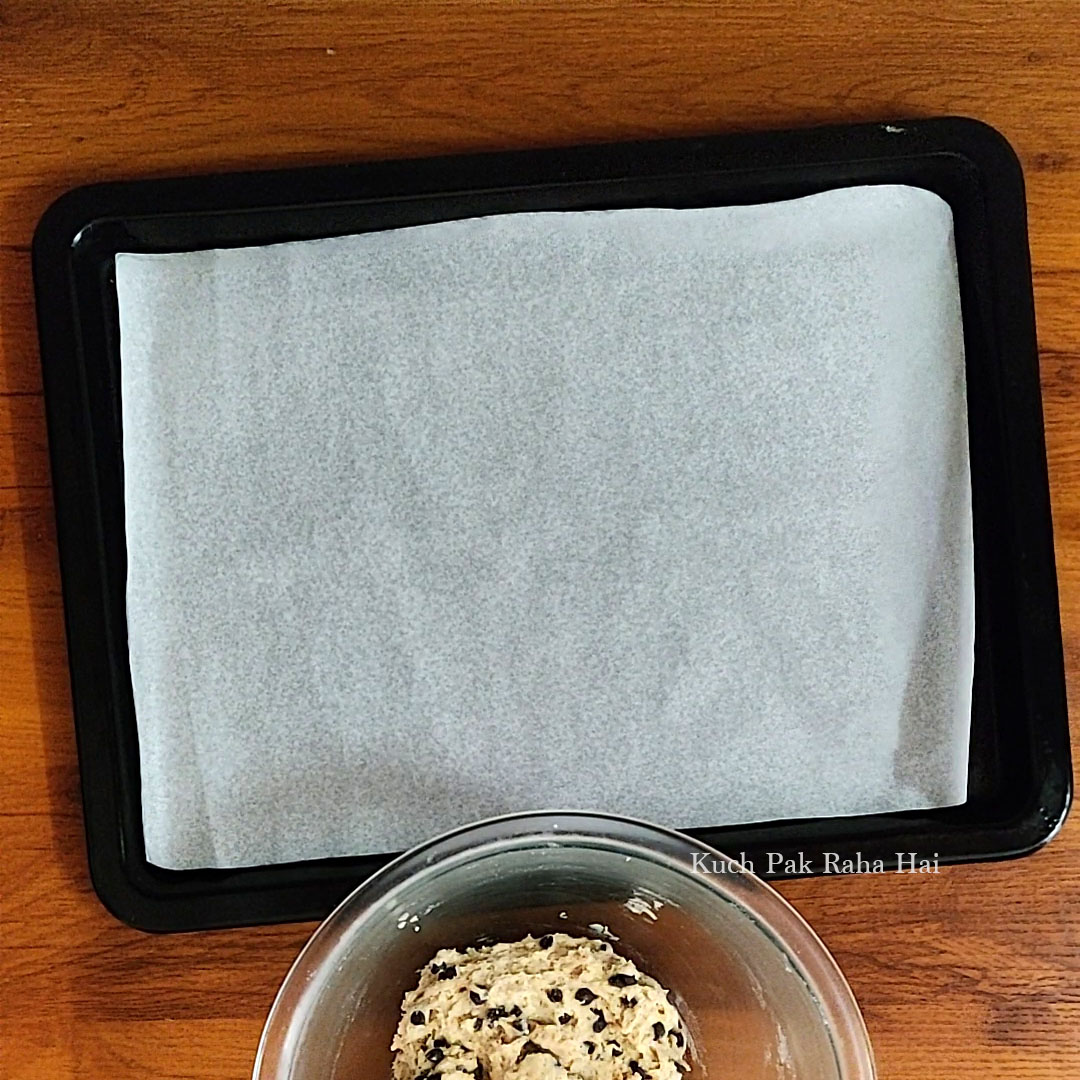 Step 7:
Scoop out balls from the cookie dough using ice cream scooper or a spoon. Roll them into balls and place onto the baking tray.Lightly press these cookies with finger (don't flatten them as they will spread more while baking). Sprinkle some more chocolate chips on each of the cookies. Pressing the cookies slightly makes sure their base is evenly baked.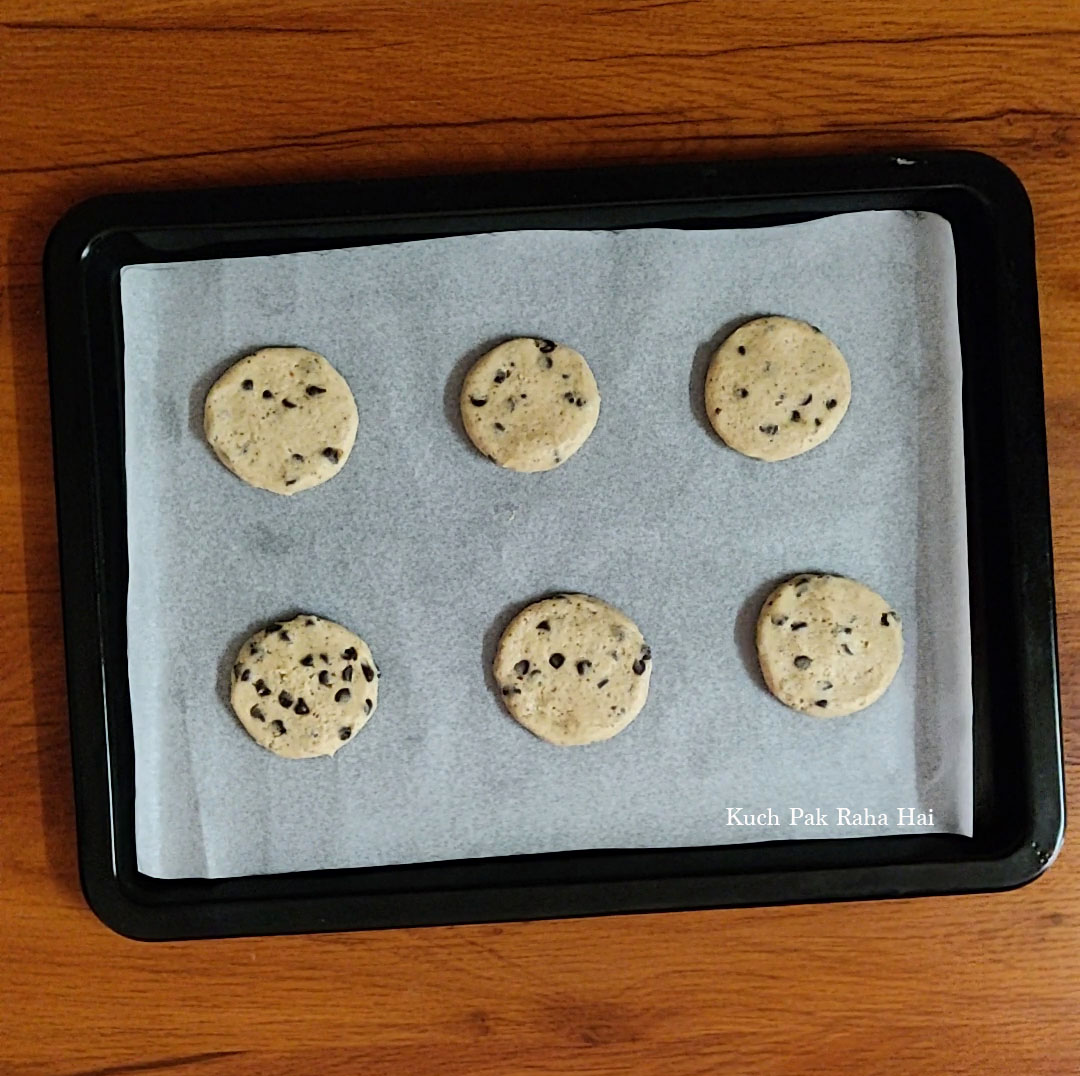 Bake these cookies at 180 degree celsius for 10 minutes. You will notice how the edges of the cookies start turning golden brown when it is nearing the completion time.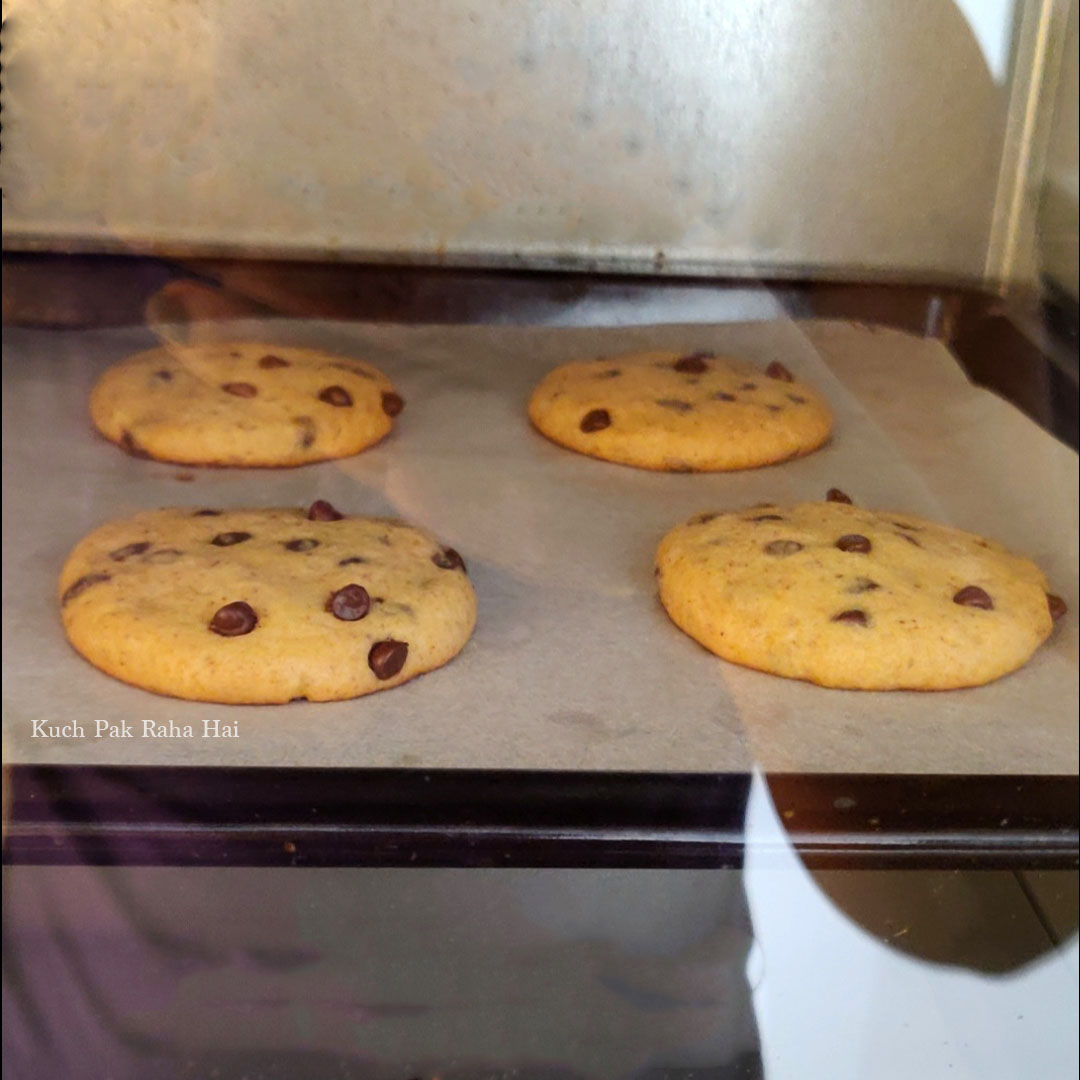 Step 8:
Bring theses cookie out of the oven and let it cool down on baking tray itself for 10 minutes. After that transfer them on a cooling rack to cool down completely.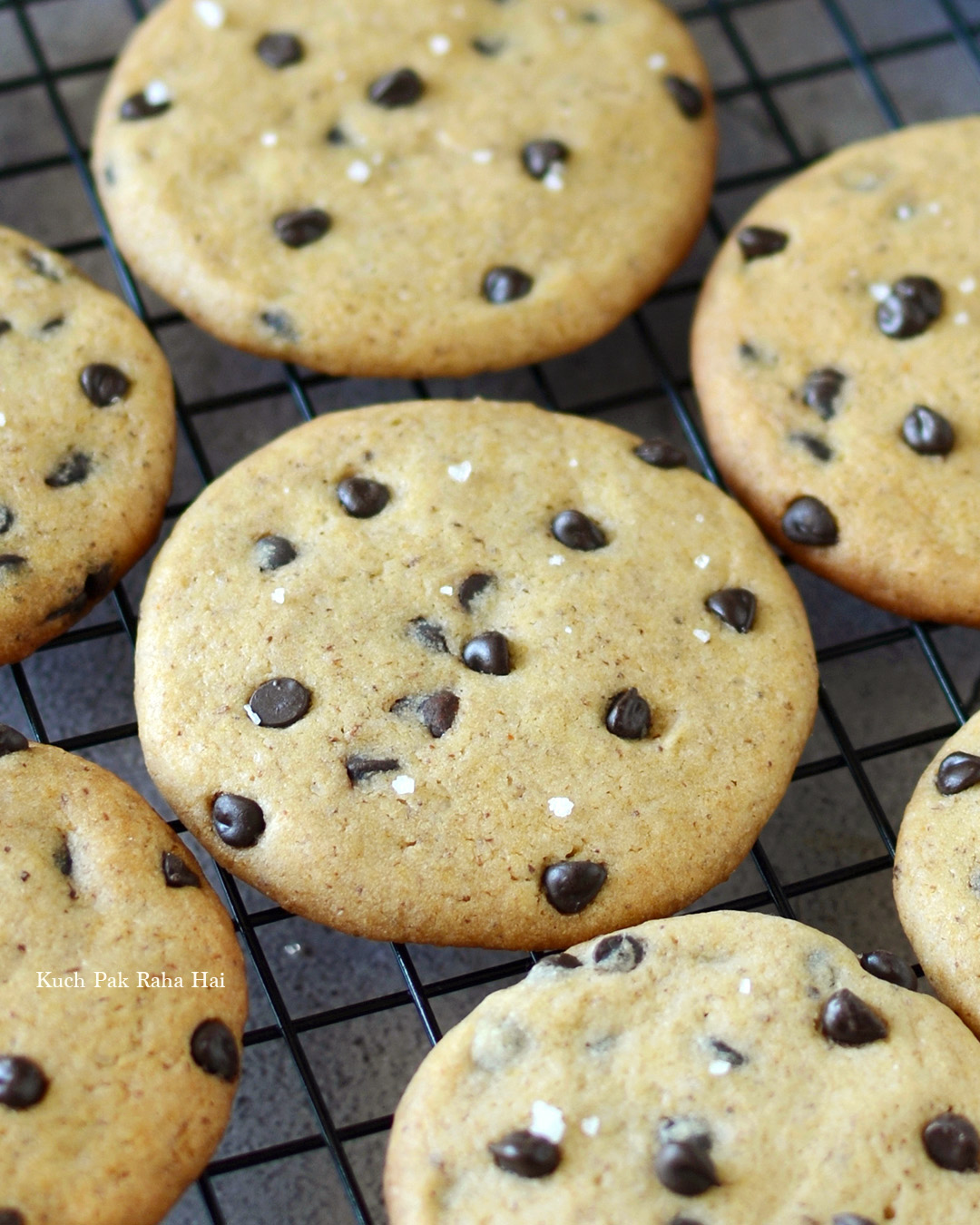 Delicious Eggless Chocolate Chip Cookies are ready. I like to sprinkle a bit of sea salt over my cookies but it is totally optional. Enjoy them with a hot cup of your favourite coffee or a glass of milk!! Store these chocolate chip cookies in an airtight jar for upto 3 days (Can't say anything beyond that as my family always finishes them by that time :D) !!!
This is how the cookies looks from inside. It has got perfect crispy edges and chewy insides.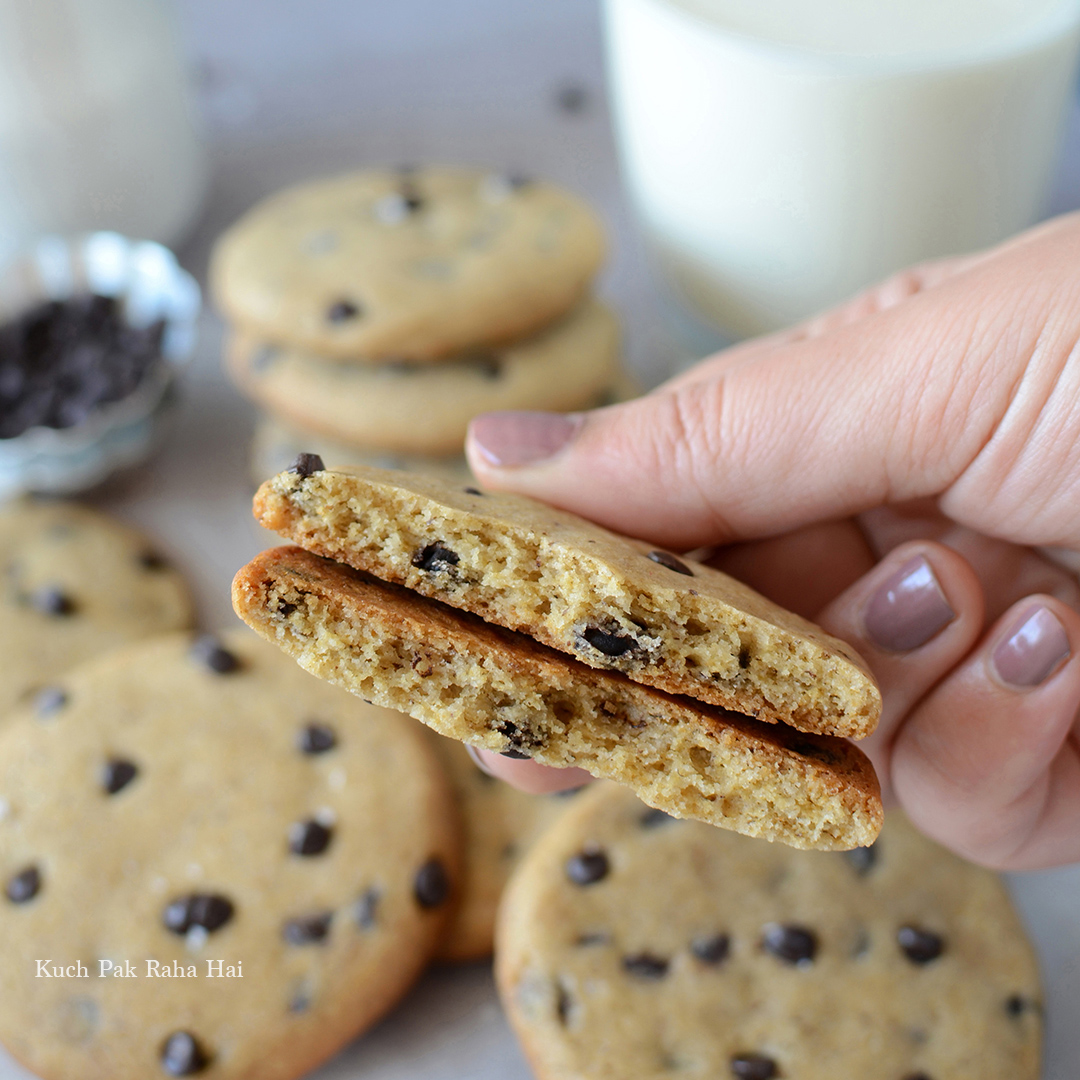 Recipe Tips / Tricks :
Can I use microwaved(melted) butter in this cookie recipe?
No, Don't use melted butter in this recipe as this will change texture of the cookie completely. Please use butter which is at room temperature. Leave the butter on kitchen counter till it soft enough to touch. In summers this happen really quickly, so don't let the fat get separated from butter.
Can I make the cookie dough a day before?
Yes if you are planning to make these chocolate chip cookies in morning, you can prepare the cookie dough, cover it with a cling film and place it in fridge (not freezer) a night before. In morning, bring the dough out and leave it on kitchen counter for 10 minutes. Just roll the cookies as usual and enjoy freshly baked cookies.
How much should I whisk the butter & sugar?
Whisk the butter and sugar till the mixture is light, fluffy and have soft peaks. The colour of the butter will also turn slightly pale.
Why are we using both brown sugar & white sugar in this egg free chocolate chip cookie recipe?
As the brown sugar has more moisture to it, it gives the cookies chewiness and slight softness. White sugar is responsible for spreading of cookies & also turn their edges crispy. So in order to balance the softness and crispiness of the cookies we are using the combination of these two sugars.
Can we freeze the chocolate chip cookie dough?
Yes, you can wrap the cookie dough with a cling film, place in it a ziplock pouch & freeze it. Whenever you are planning to make cookies, bring this dough down, thaw it and make cookies as usual.
Pin for later :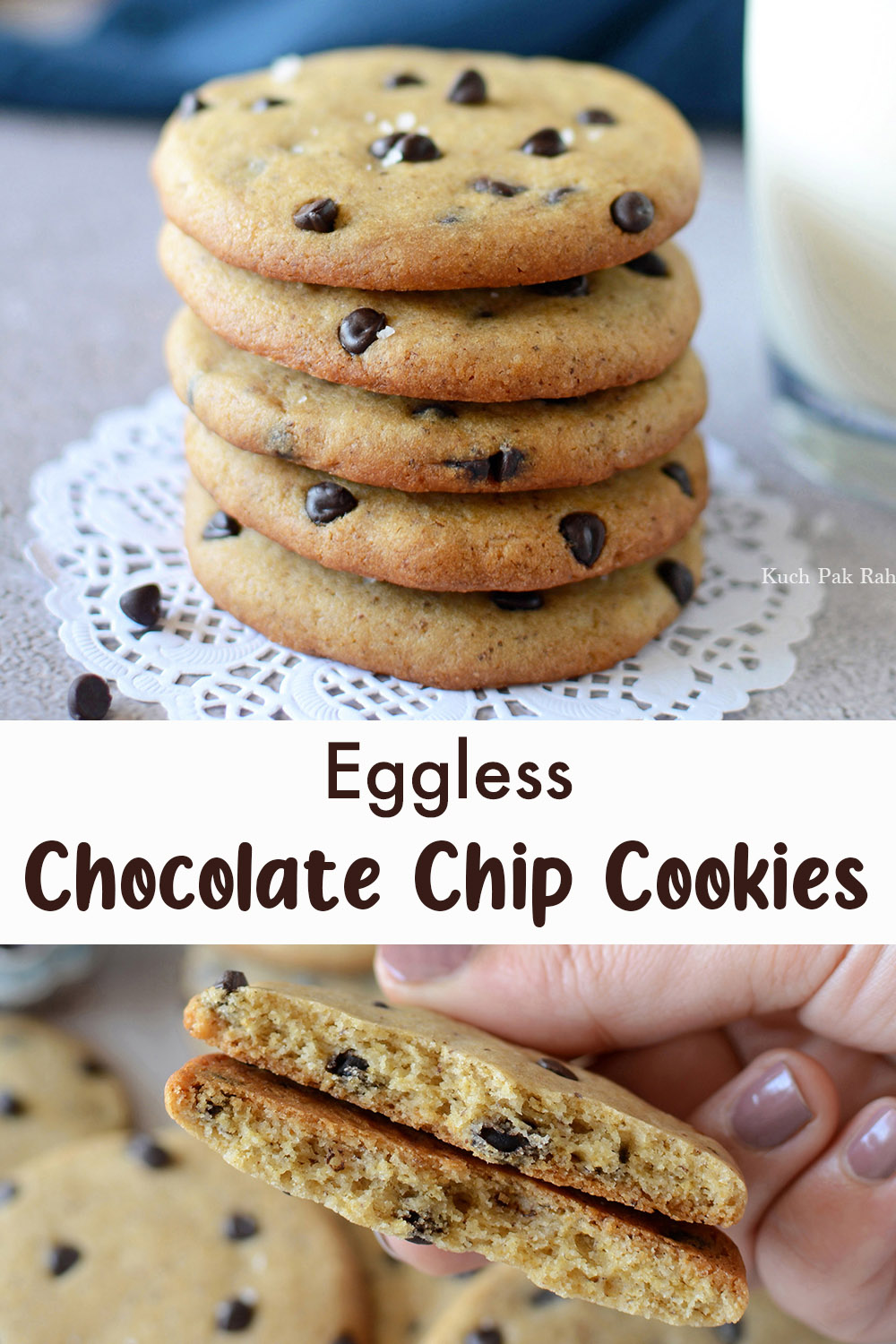 (Baking Products Used-
P.S: The links shared above are Amazon affiliate links. For further details, please refer to Privacy Policy page)
If you try this easy egg free chocolate chip cookie recipe and share pics on social media then don't forget to tag us or use the hashtag #kuchpakrahahai.