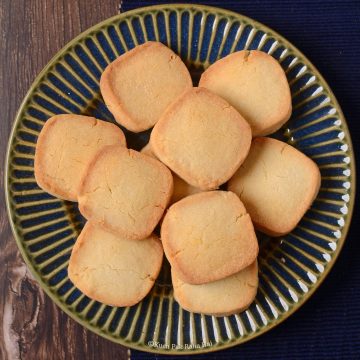 Delicious, buttery, crumbly and easy to make air fryer shortbread cookies. These are made with just 3 ingredients, contain no eggs & are perfect to serve with tea, coffee or milk.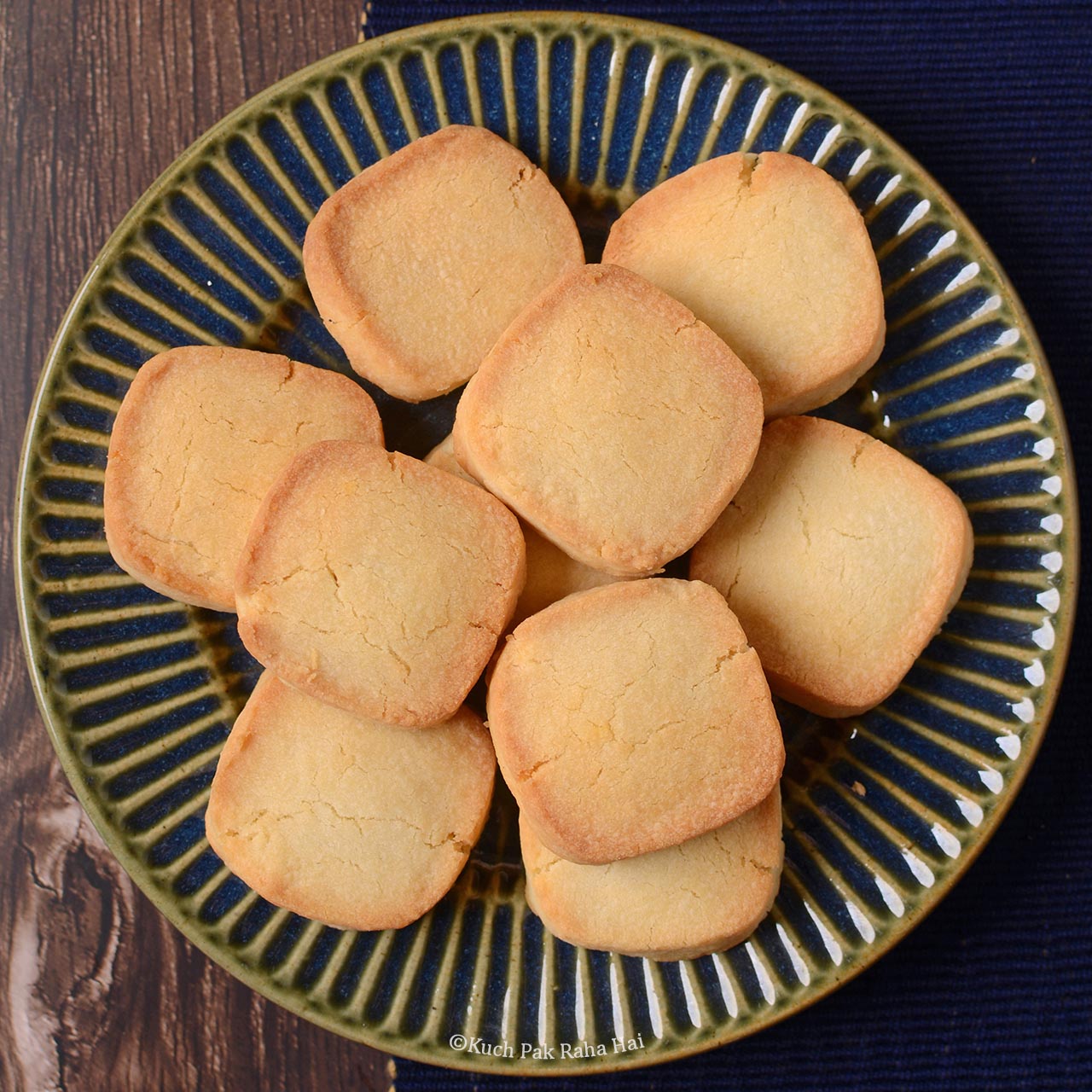 The air fryer cookies recipe shared here is:
Vegetarian
Eggless (No eggs)
Slice and Bake
Made with 3 ingredients
Shortbread cookies are one of the simplest cookies made with 3 basic ingredients- flour, butter, sugar. They are made without eggs or leavening like baking powder or baking soda. The ideal ratio of ingredients to get the perfect crunch & texture is 1:2:3 i.e. for every 1 part of sugar there should be 2 parts of butter and 3 parts of flour.
I like my shortbread cookies sweet & salty, so I have used salted butter here. If you like plain cookies, then use unsalted butter & just add a pinch of salt to it. Adding vanilla extract is totally optional here. If you are not a fan of overtly sweet cookies, then you will definitely like these.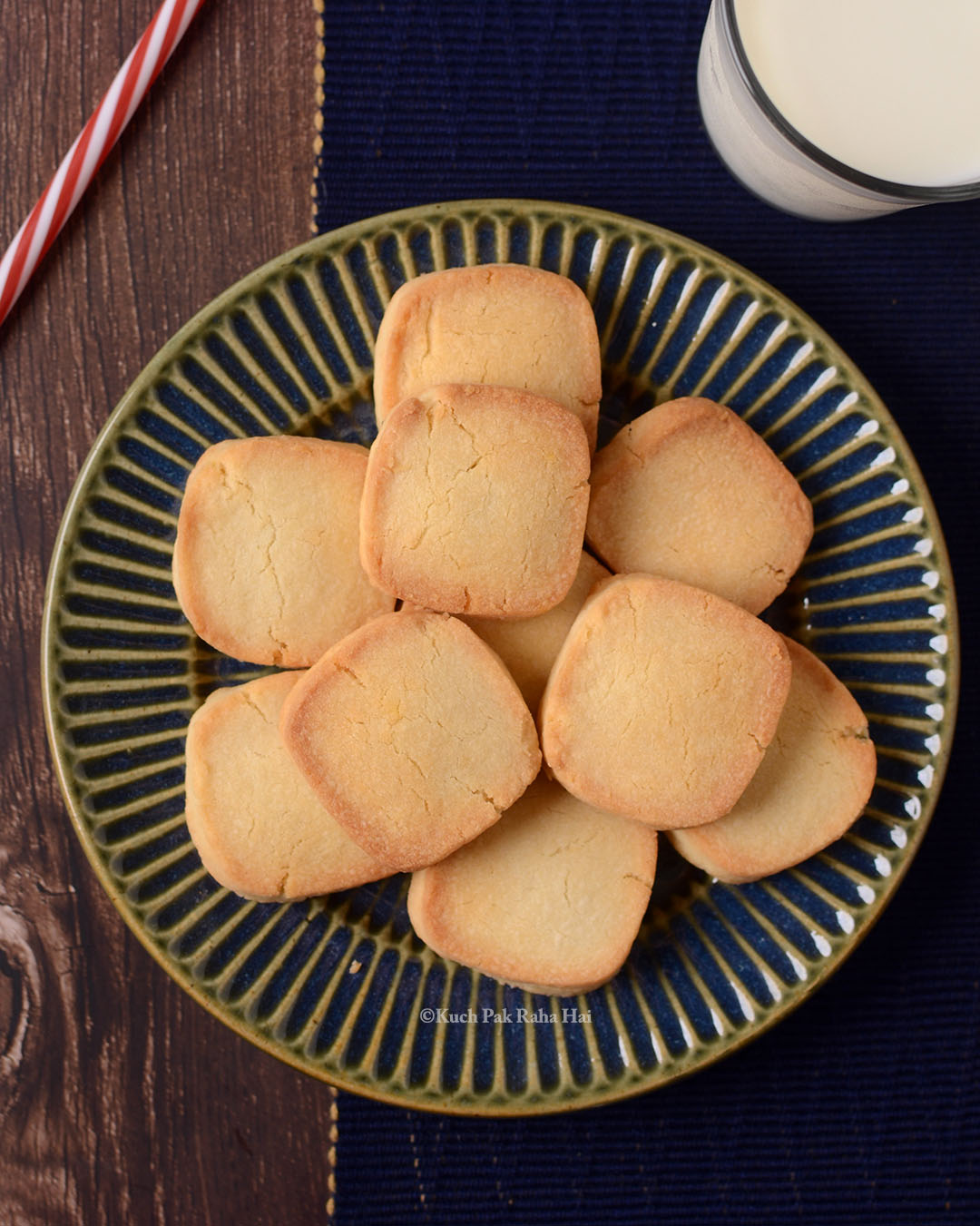 I had tried & shared so many recipe in air fryer like banana bread, fruit muffins, baked oatmeal but this holiday season I was getting lots of queries if we can bake cookies in air fryer.
Can you bake cookies in air fryer?
Yes you can make cookies in air fryer. As my air fryer basket is small, I decided to try a recipe which spreads the least as this way I can easily place maximum cookies in basket and shortbread cookies seem to be the perfect choice for it.
The air fryer needs to preheated before you start baking and the basket should be lined with parchment paper so that cookies don't stick. Please make sure to cut the parchment paper smaller than the basket leaving the space for hot air circulation.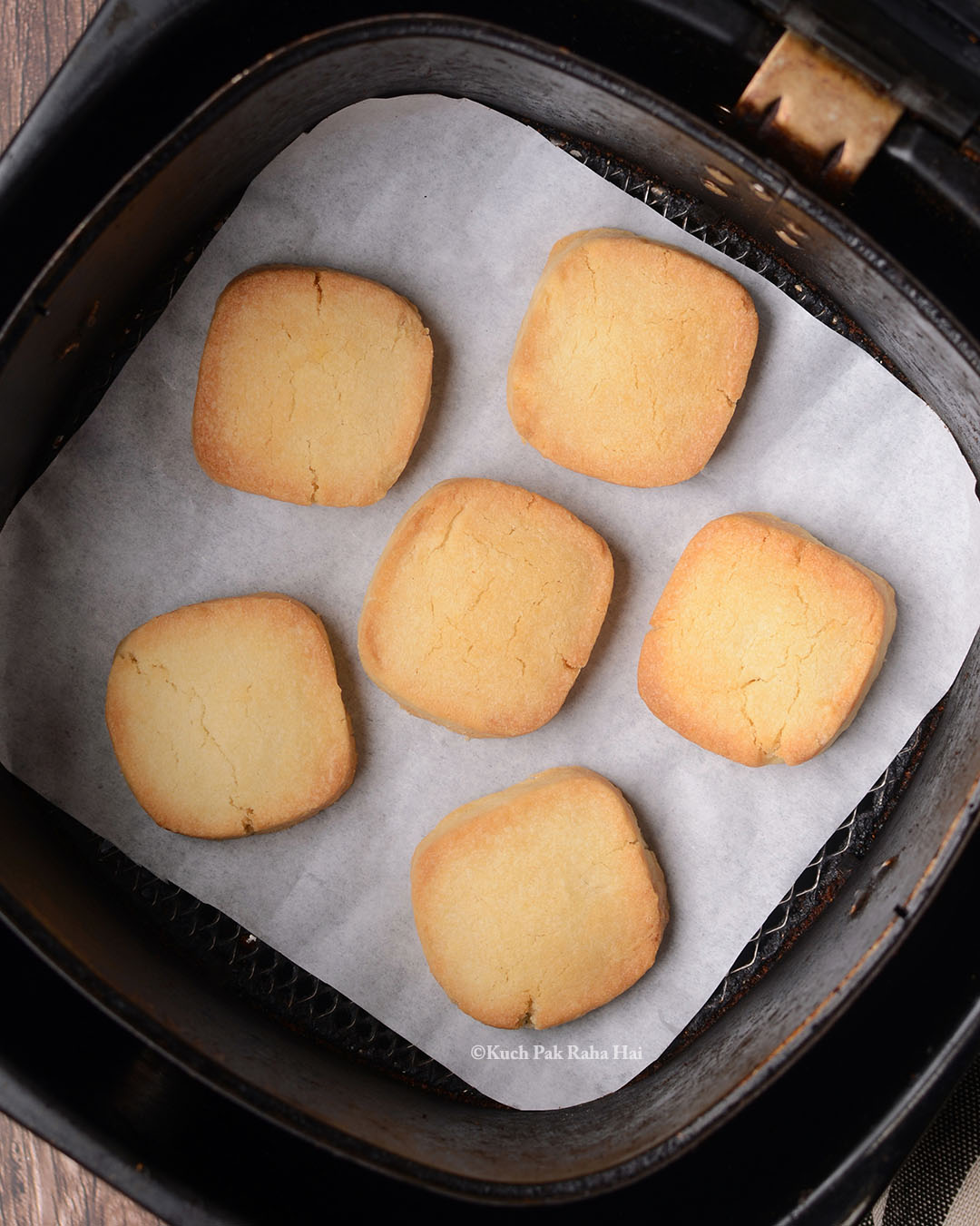 The best thing about this cookie recipe is it is 'slice & bake'. Once you have prepared the cookie dough, just form a log, wrap with cling film & chill it. Whenever you want to have them, just slice & bake / air fry.
Airfryer Cookie Variations:
You can try different variation of these cookies by adding flavour of your choice. For example instead of vanilla extract you can add some cardamom powder, cinnamon powder, almond extract, lemon zest or rose water. Add finely chopped dried cranberries or nuts of your choice like pistachios, almonds in the dough. You can even drizzle some melted chocolate or sugar icing after the cookies are baked.
Can I make these air fryer cookies vegan?
Yes, you can make these cookies vegan by using non dairy butter or margarine instead of regular butter.
Youtube Video:
More egg free baking recipes: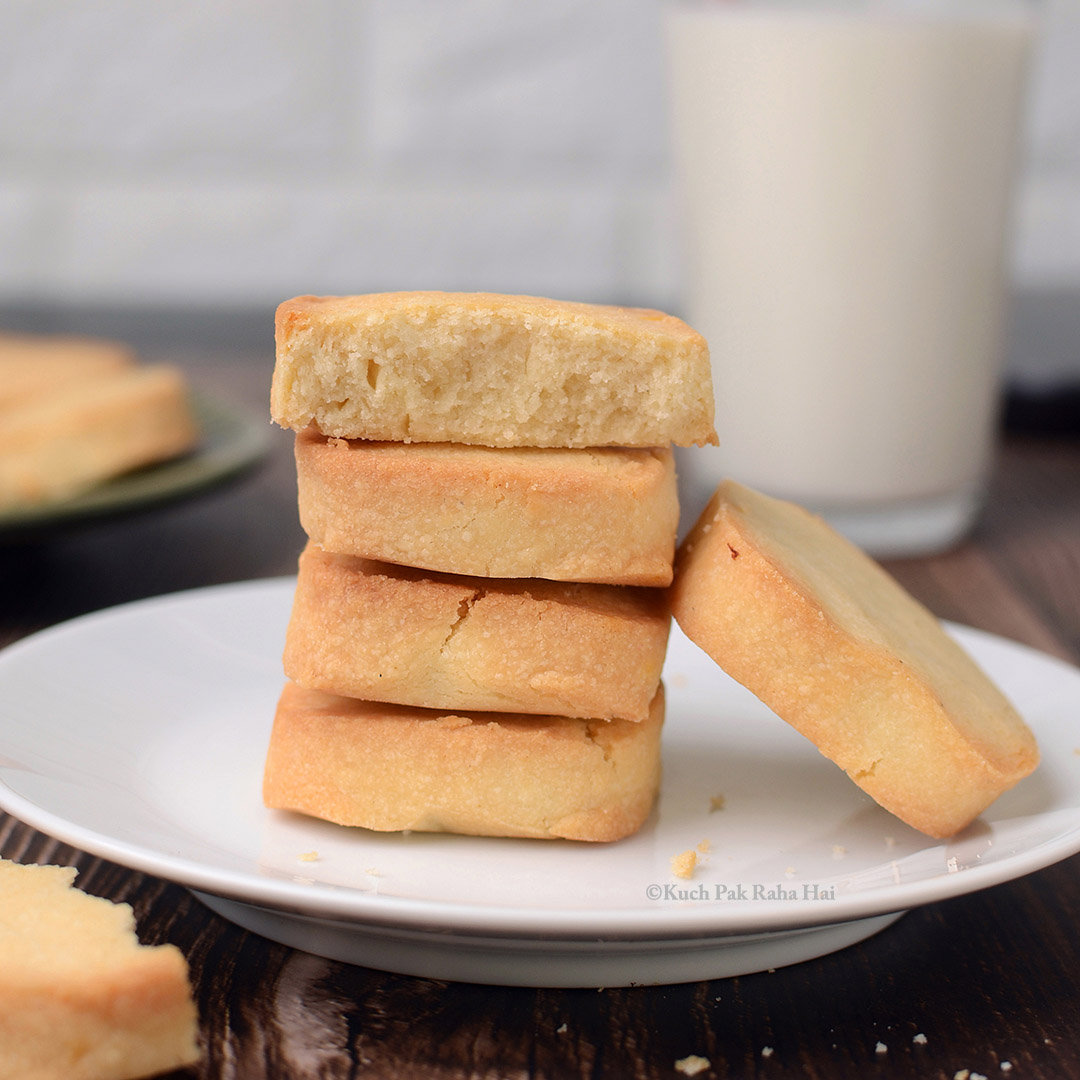 Ingredients:
All purpose flour (Maida)- 1+1/4 cup (150 gms)
Icing Sugar / Powdered Sugar-1/2 cup (52 gms)
Butter (soft)-7 tbsp (100 gms)
Vanilla Extract- 1 tsp (optional)
Notes:
I prefer to use salted butter in this cookie recipe. If you are using unsalted butter, you can add 1/4 tsp salt.
The butter should be at room temp not melted.
Measuring Cup used 1 cup=250 ml, 1/2 cup=120ml, 1/3 cup=80 ml, 1/4 cup=60 ml
 The recipe yield 12-14 cookies.
Directions:
Step 1:
Add butter & sugar in a bowl. Start whisking it using hand whisker or stand mixer. Add vanilla, salt (if using) while whisking. Whisk till the mixture becomes fluffy & light in colour.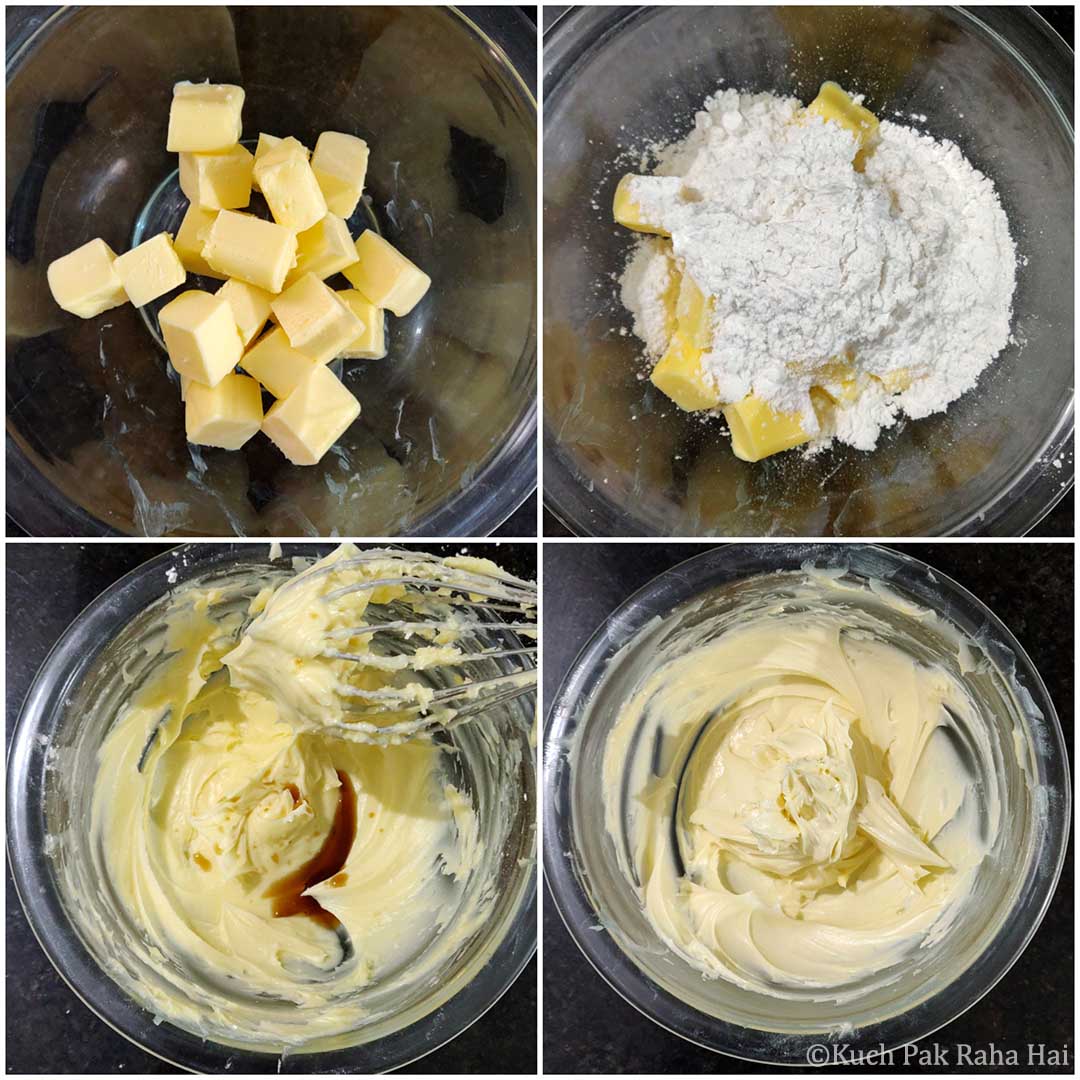 Step 2:
Add flour to the whisked butter and mix gently using spatula. You can also use your hands to bring the dough together (DON'T KNEAD it).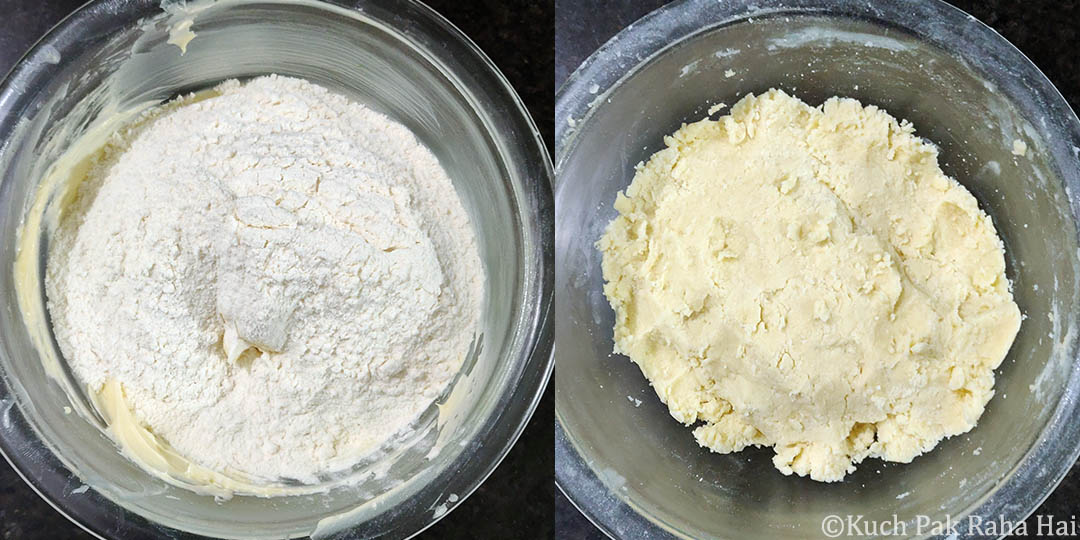 Step 3:
Spread a cling wrap sheet on kitchen counter. Transfer the dough on it. Give it shape of a log using your hands. (The dough may seem crumbly at first but  just focus on making log.)
Wrap this dough tightly in cling film and seal the ends. Chill the dough in fridge for at least 1 hr.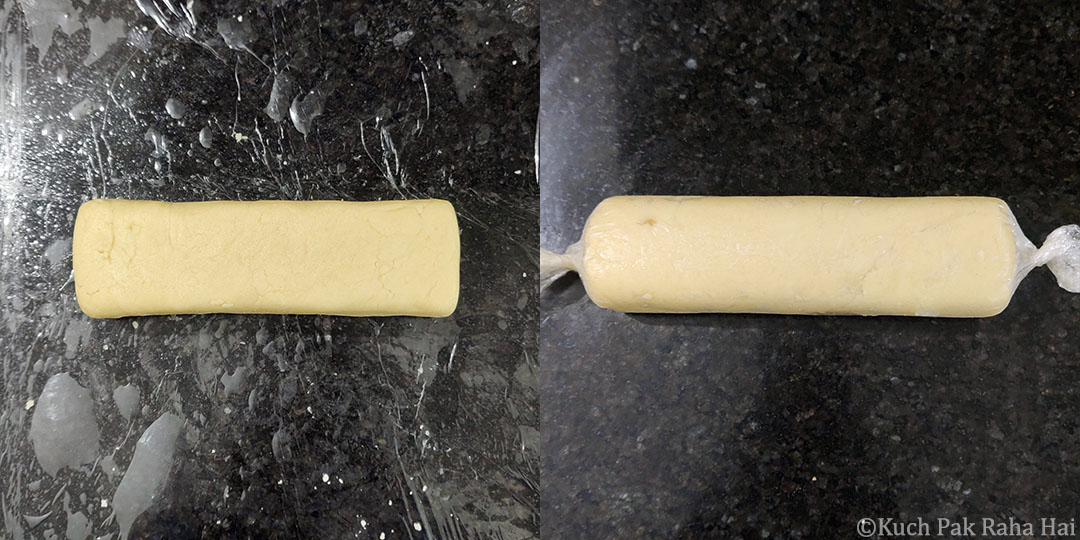 Step 4:
Whenever you are ready to make cookies, set the air fryer for preheating at 160°C (320°F). Bring the dough out of the fridge, unwrap it and slice into 1cm thick cookies (check tips at end of post).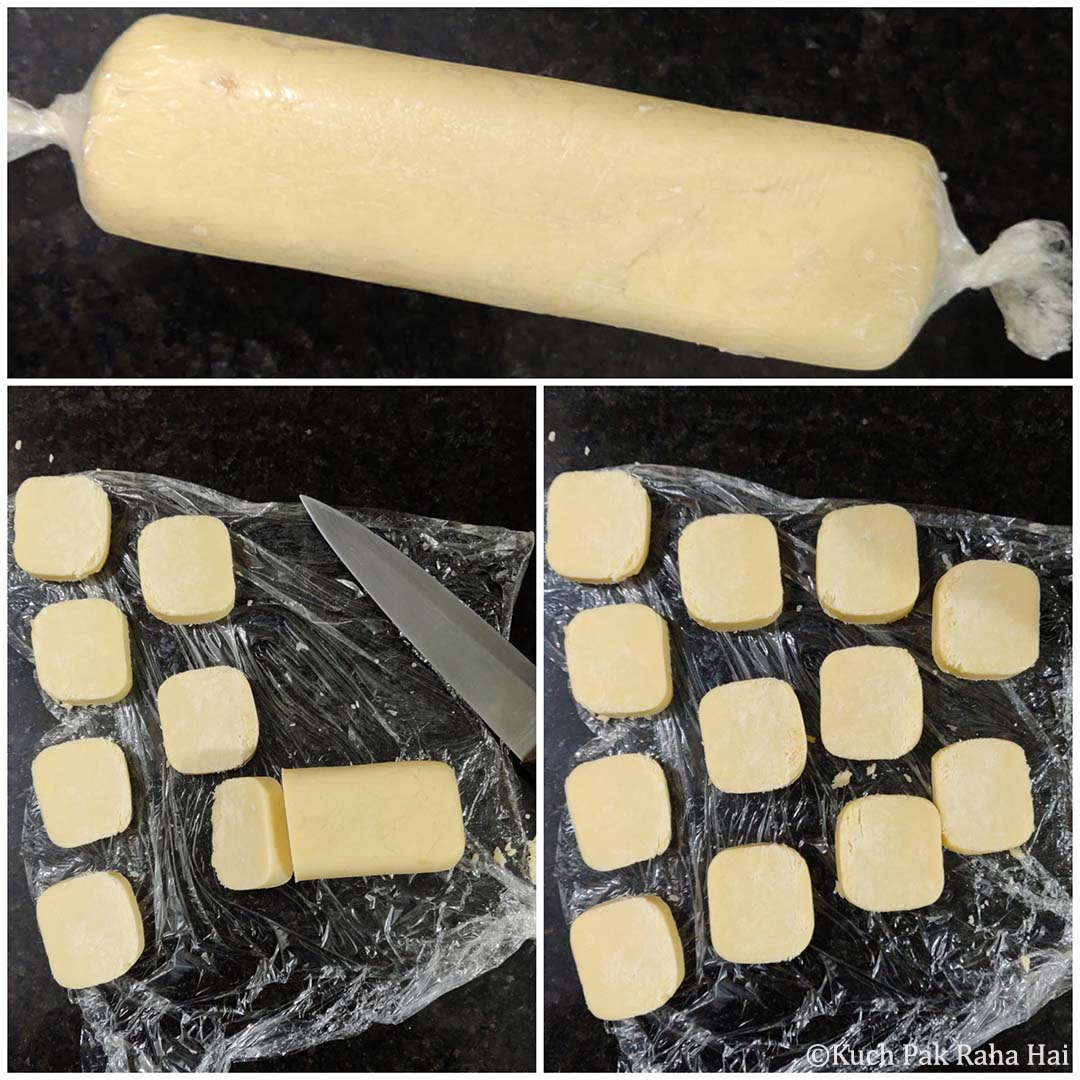 Step 5:
Cut the parchment paper little smaller than the size of air fryer basket (for air circulation) . Arrange the cookies on it so that they are not touching each other.
Air fry these shortbread cookies in a preheated air fryer at 160°C (320°F) for 10-12 minutes. In my air fryer it took 11 minutes but it can vary slightly depending on the size of air fryer. The edges should turn golden brown in colour.`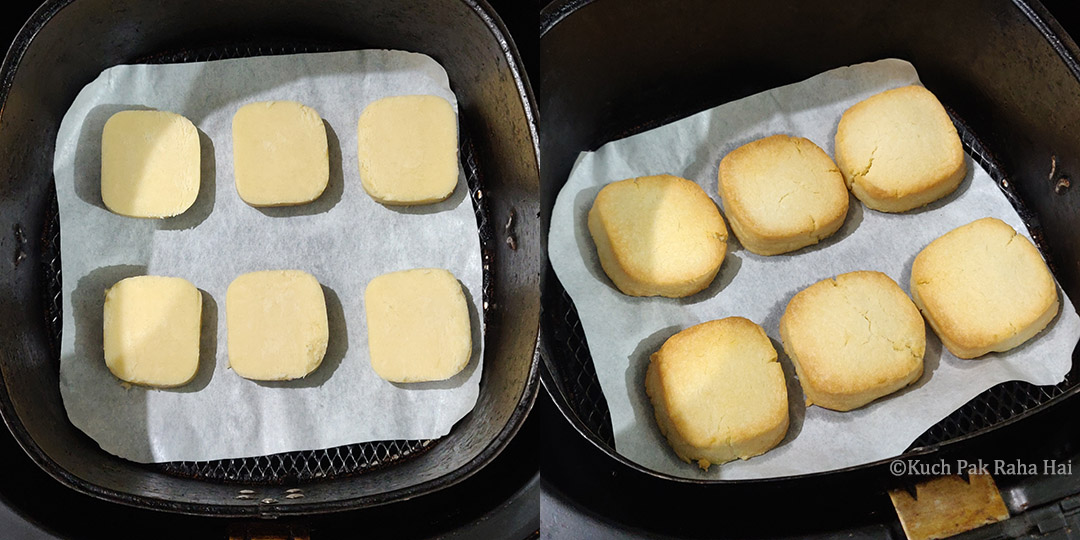 Step 6:
Once done let the cookies cool down in air fryer basket for 3-4 minutes. They may seem soft initially but will crisp up after cooling down. Finally transfer them on a wire rack to cool down completely.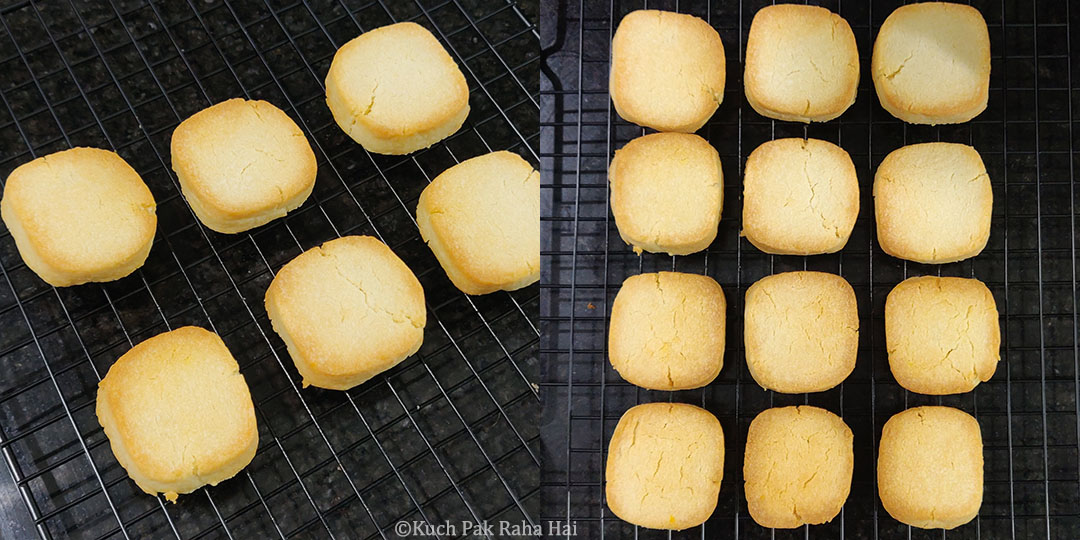 Enjoy these tasty air fryer cookies with tea or coffee!!
FAQ:
How to fix cookies that turn soft?
Sometimes when the cookies are under baked, they turn soft later on (happened in my first trial). All you have to do, is preheat your air fryer. Arrange all the cookies in the air fryer basket (no need to line with parchment paper this time). Air fry them for 2 more minutes. Take out the basket and let the cookies cool completely. They will become crunchy on cooling down.
Can I freeze the cookies?
You can keep the cling wrapped shaped dough in fridge for upto a week. Slice and bake whenever you want to enjoy freshly baked cookies. Similarly you can freeze this dough for upto 3 months. Just thaw the frozen cookie dough in the fridge for few hours first and then proceed with the baking.
Can I bake these cookies in oven?
Yes, you can bake these cookies in a preheated oven at 180°C for 15-18 minutes till the bottom edges become golden brown in colour.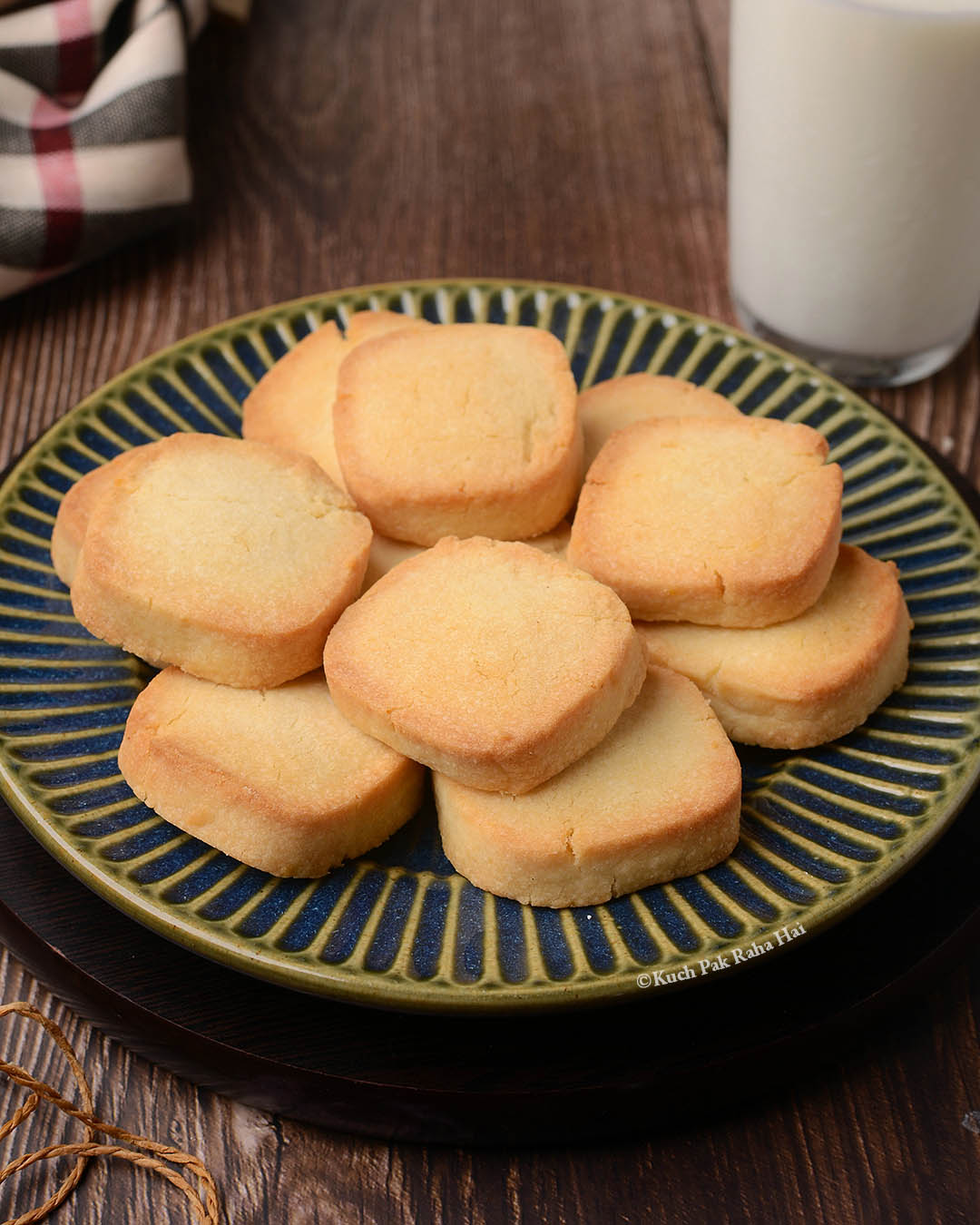 Tips:
1. To get smooth cut while slicing the cookies, use a sharp knife & don't cut it with back & forth motion. Instead press the knife downwards in one go.
2. Don't cut the cookies too thick otherwise they may remain raw from centre.
3. Transferring the cooking on wire rack is very important as otherwise the steam will not get a way to escape, making the cookies soggy.
More eggless cookies recipes:
Pin for later: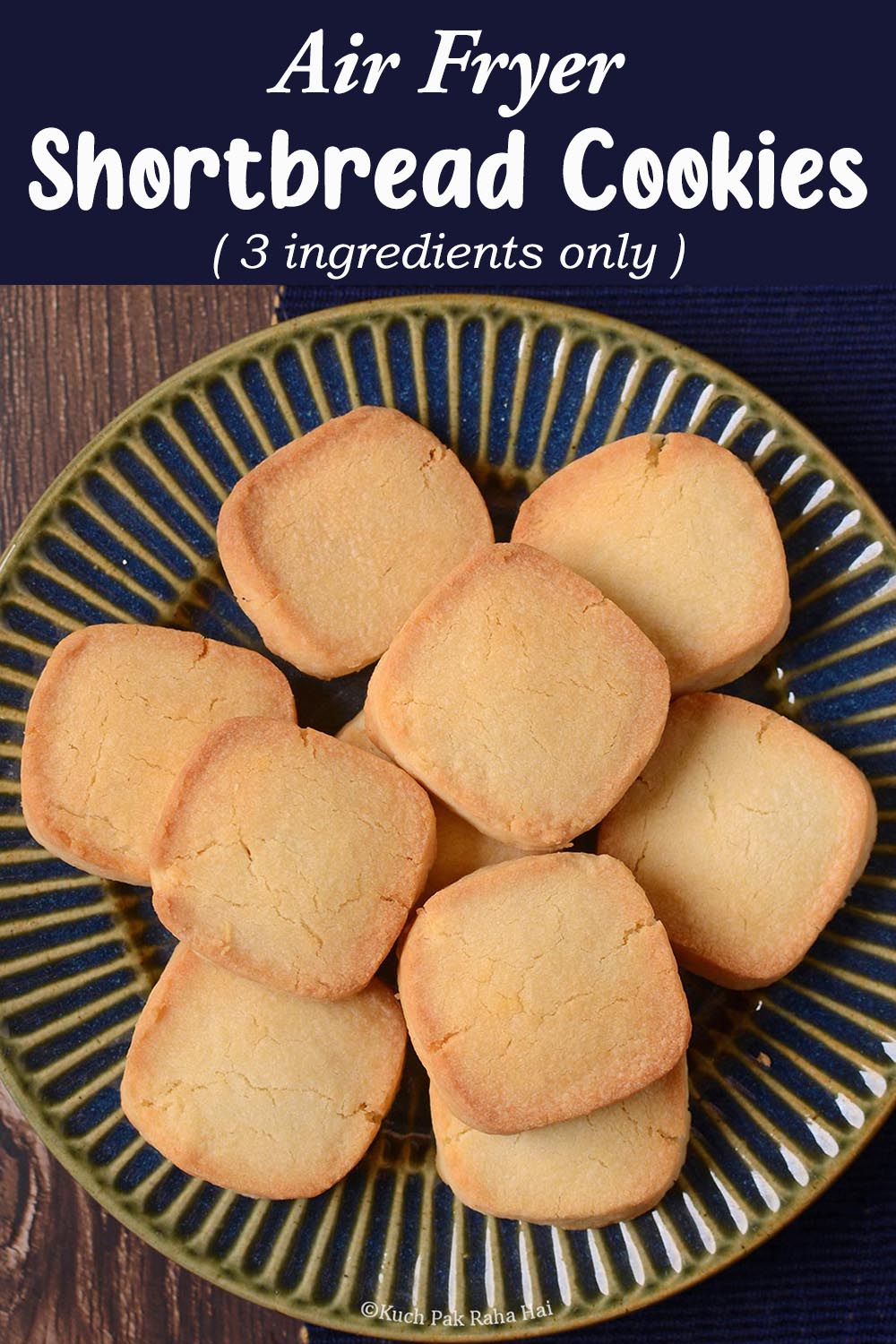 If you try this easy air fryer cookies (eggless) recipe & share pics on social media, then don't forget to tag on Facebook, Instagram or use #kuchpakrahahai.
Let's stay connected
Facebook | Instagram | Pinterest| Youtube