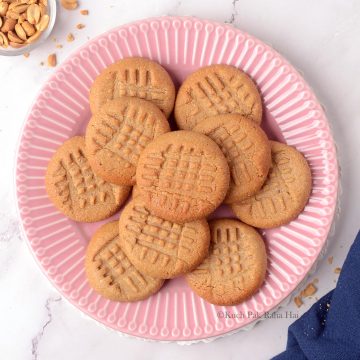 These delicious soft almond flour peanut butter cookies are perfect snack to accompany your tea or coffee. It is an easy cookie recipe with just 4 ingredients (no eggs) and gets ready in less than 20 minutes.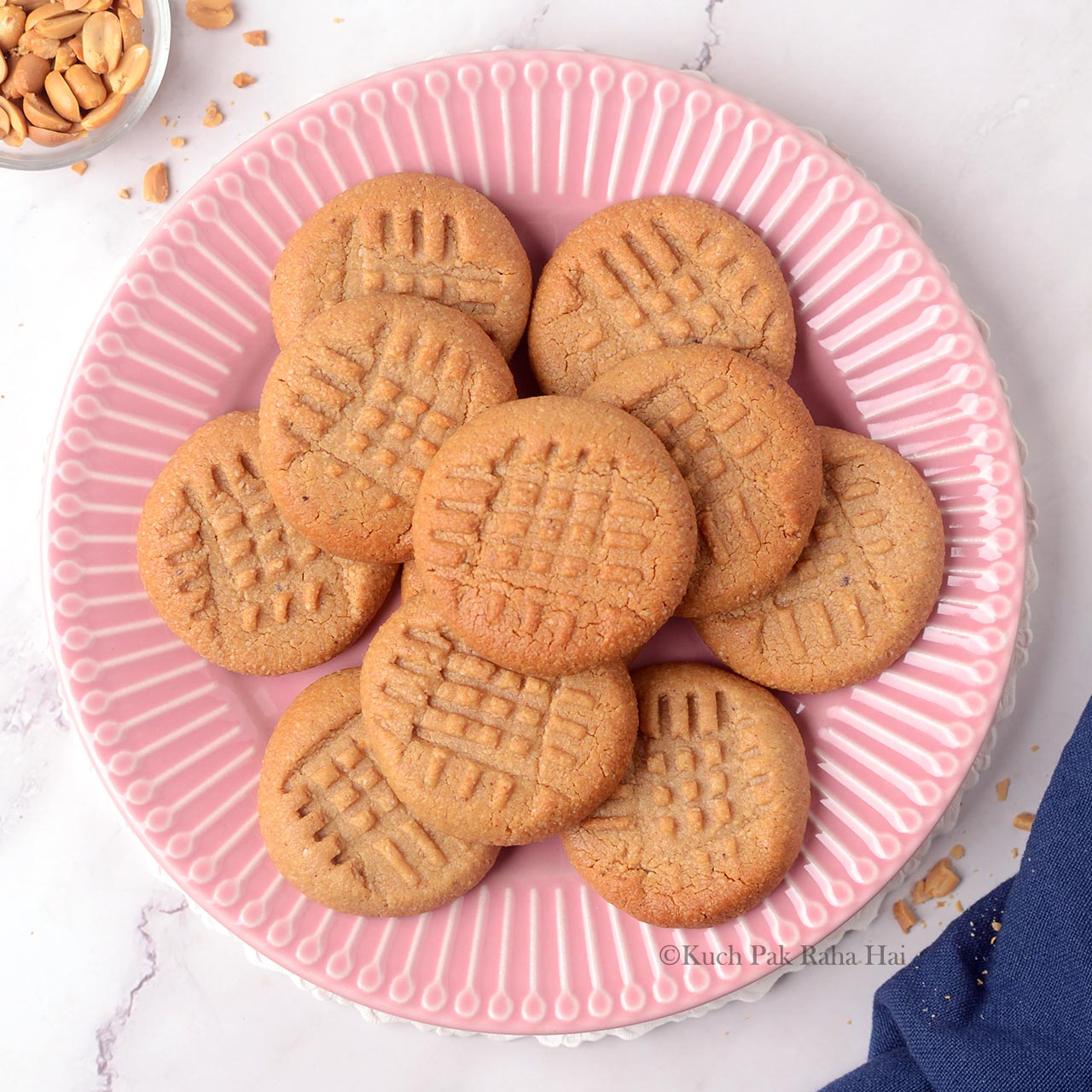 The almond flour cookies recipe shared here is:
Vegan
Vegetarian (eggless)
Dairy free
Gluten free
Sugar free (no refined sugar)
These tasty healthy almond flour cookies are packed with goodness of almonds & peanuts. You can have them in breakfast, as snack, pack in kids lunch box or make them part of holiday cookie boxes.
Almonds are rich source of vitamin E & proteins which are essential for eyes, hairs & skin health. Peanuts are also nutrient dense as they contain vitamins, magnesium, potassium, proteins & healthy fats.
Ingredients for almond flour cookies:
Almond Flour :
I have used blanched almond flour to make these cookies (made from blanched & peeled almonds). Un-blanched variety has peels ground in it which gives darker colour to cookies and tends to give burnt smell on baking.
Almond Flour vs Regular Flour: Almond Flour is a great alternative for traditional wheat flour especially for people with celiac disease & it can be used in variety of gluten free dessert recipes like cakes, cookies, muffins and macarons. It is paleo or keto friendly too as it is low in carbs & high in healthy fats (1/4 cup of almond flour has roughly 6 grams carbs) .
Do not get confused between almond flour & almond meal as almond meal is darker in colour (because of almond peel in it) & has coarser texture than almond flour.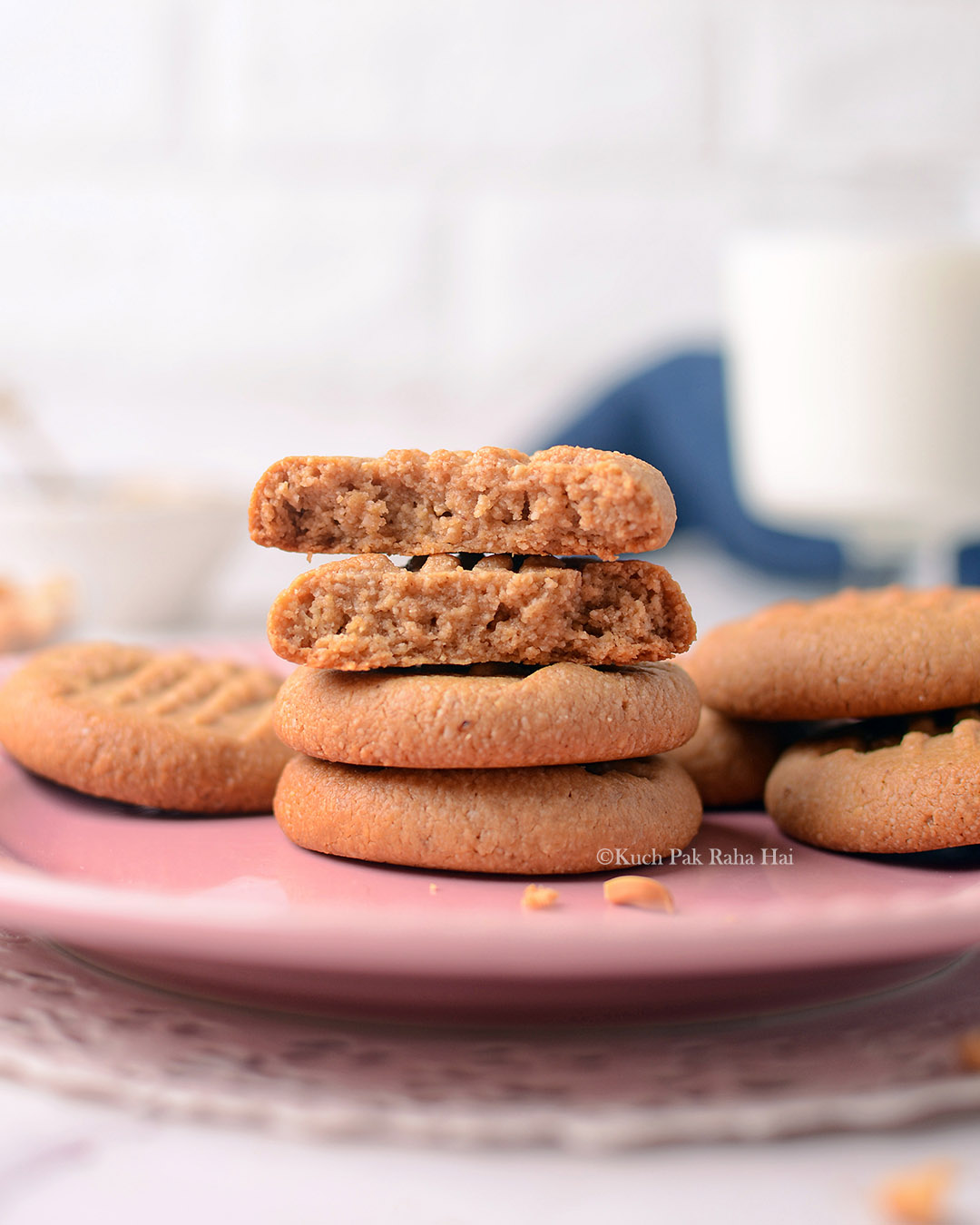 Peanut Butter:
It is best to use unsalted unsweetened peanut butter to make healthy cookies. Always check the label to check for ingredients on peanut butter jar as it should only contain peanuts and no sugar, oil or additives etc.
I have used creamy peanut butter here. You can use store bought or homemade peanut butter to make these cookies. Instead of peanut butter you can also use almond butter in this recipe.
Sweetener:
Honey is used as sweetener in these cookies but you can use maple syrup to make these cookies vegan. Once the cookie dough is ready, I would advice tasting it to adjust the sweetness as per your taste. (It tastes so good that you won't even mind eating it raw.)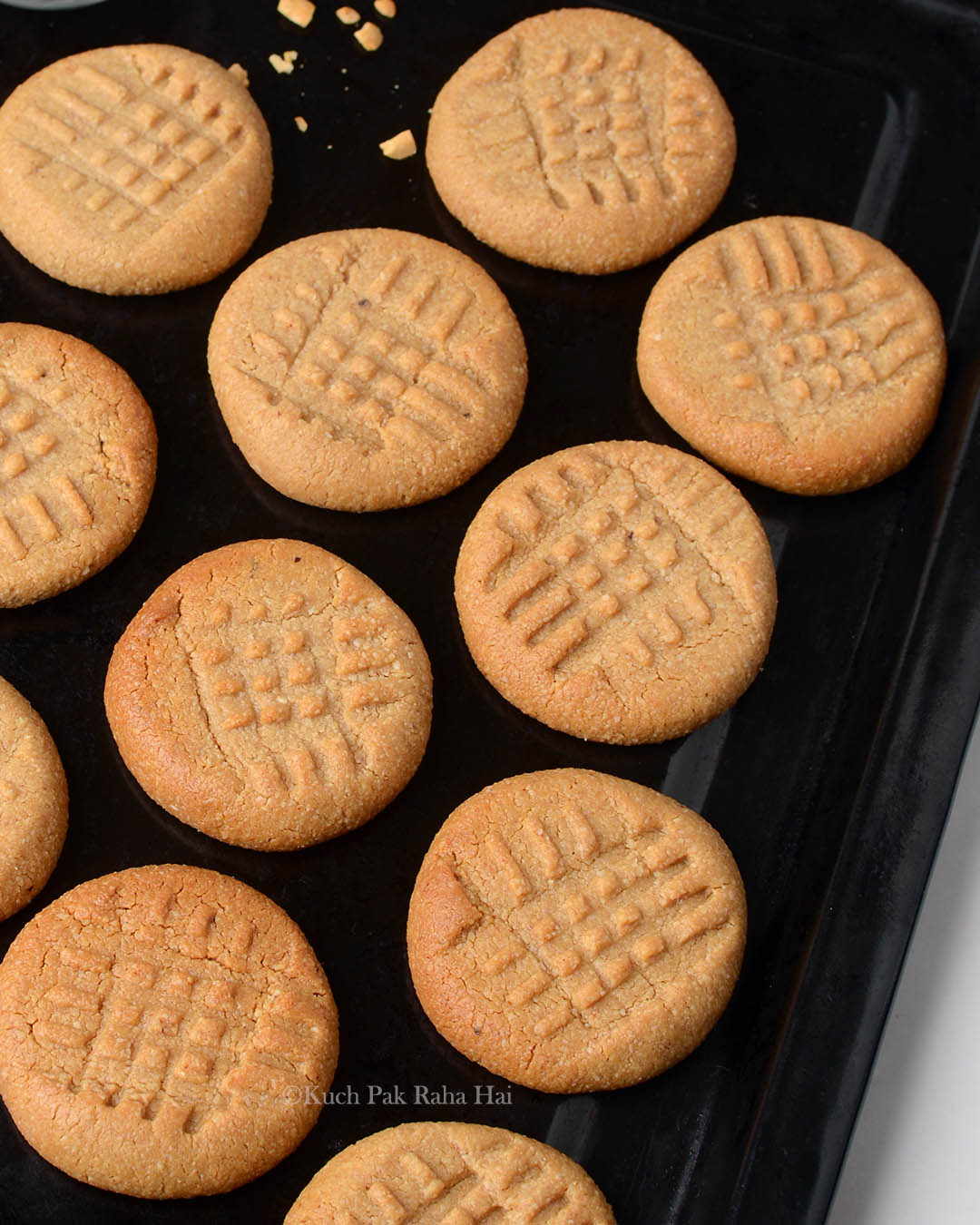 Other Ingredients:
Rising Agent- Little bit of baking powder gives a lighter texture to these cookies.
Flavouring- I like to add pinch of salt and vanilla extract to these cookies. You can make more variations by adding following ingredients in cookie dough-
Sea salt
Chocolate chips
Chopped almonds or peanuts
Almond extract
If you are looking for gluten free baking recipes, then also check out Eggless Gluten Free Cake Recipe made with rice flour.
Tips to make perfect almond flour cookies:
1. Cooking with almond flour is little bit tricky as it cooks & browns quicker than regular flour. So in comparison to wheat flour cookies, these cookies should be baked at slightly lower temperature.
2. Chilling the dough for 15-20 minutes gives better results as cookies maintain their shape and also don't burn quickly. You can even chill the dough overnight (keep it covered to avoid drying).
3. The total baking time is 10-11 minutes but keep an eye in the last 2 minutes of baking as sometimes oven performance varies.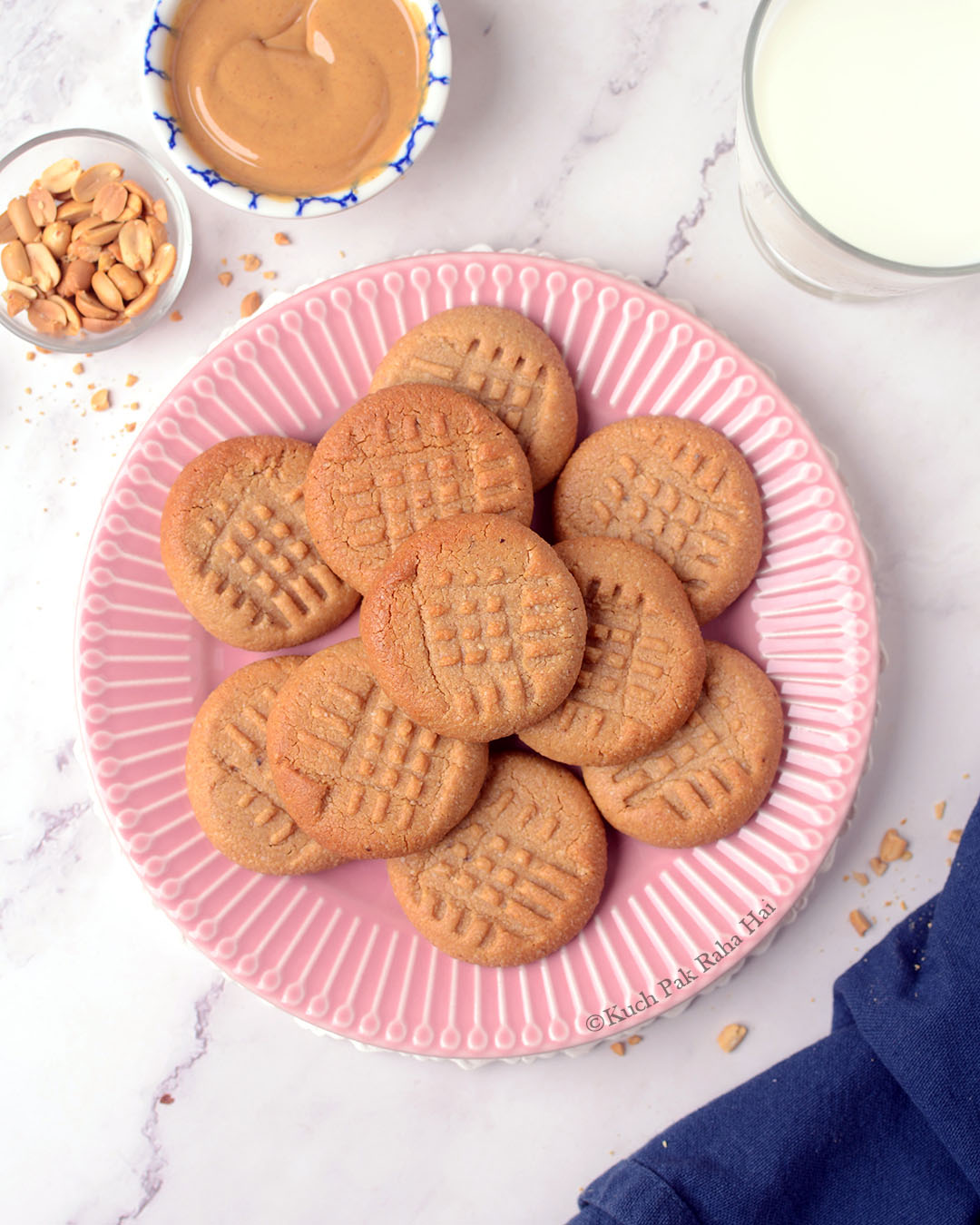 Hope you will like this easy almond flour peanut butter cookie recipe. More egg free cookies:
Ingredients:
Almond Flour- 1 cup (110 grams)
Creamy Peanut Butter (unsweetened)- 1/2 cup (120 grams)
Honey / Maple Syrup – 3 to 4 tbsp (to taste)
Baking powder- 1/4 tsp
Vanilla Extract – 1/2 tsp (optional)
Salt – A pinch
Note:
Above recipe yields 10 -12 cookies. You can halve or double the recipe as per your requirement.
Measuring cup used: 1 cup= 250 ml, 1/2 cup=125 ml, 1/4 cup=60 ml.
If you are using salted peanut butter skip adding salt.
Directions:
Step 1:
Add almond flour, baking powder and salt in a bowl. Mix well with a spoon.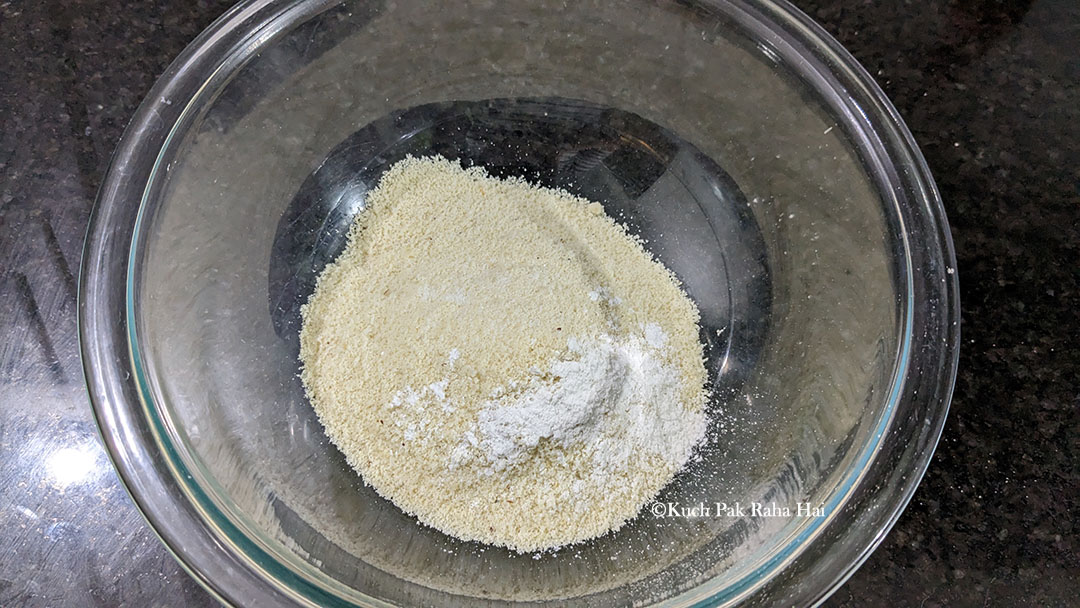 Step 2:
Add peanut butter, honey / maple syrup and vanilla extract to the above bowl.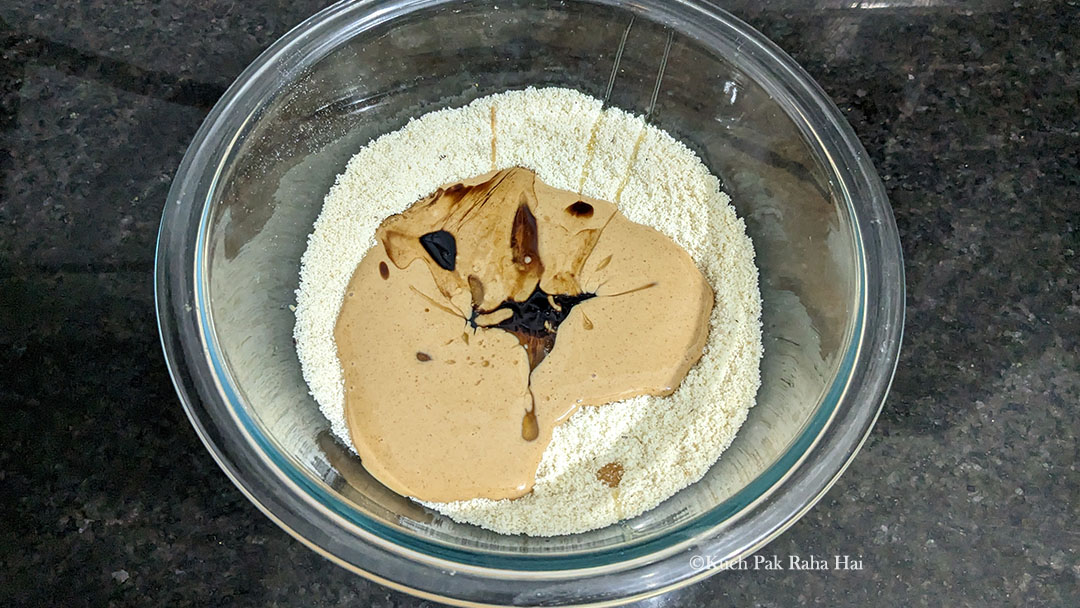 Step 3:
Mix all the ingredients to form a soft dough. Taste the mixture and add more sweetener if desired. Cover & let the dough chill in fridge for at 15-20 minutes.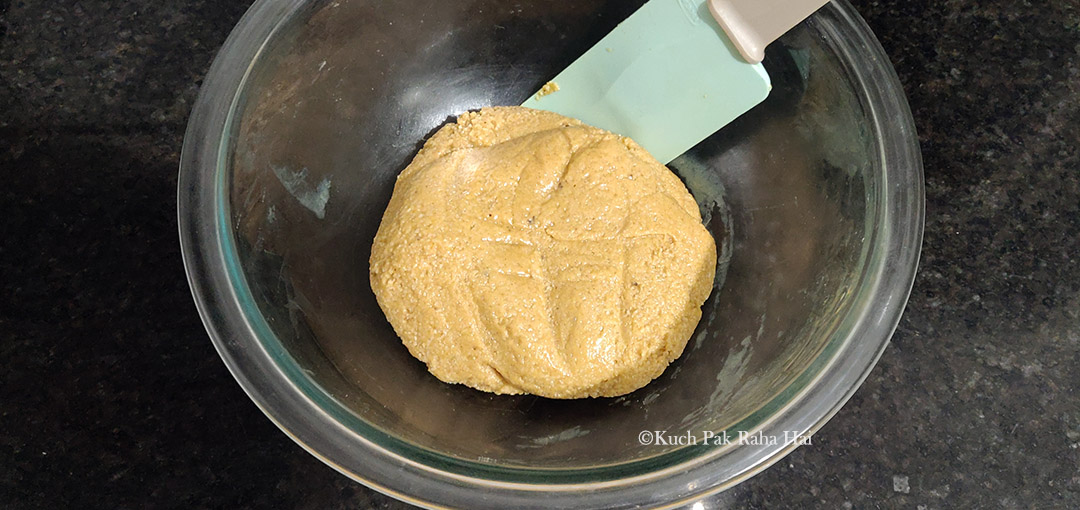 Step 4:
Whenever you are ready to make cookies, set the oven for preheating at 160°C (320°F). By the time oven is preheating, divide the dough into 10-12 equal parts. Roll each part between your palms to form smooth balls.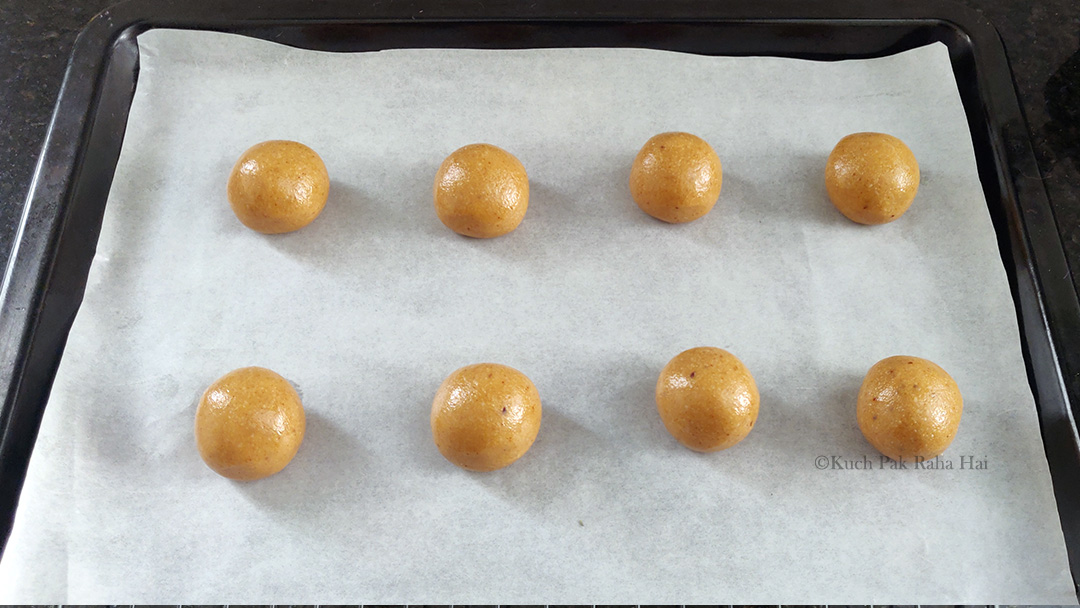 Step 5:
Line the tray with parchment paper & transfer these cookies balls on it leaving some space between them. Press them with a fork in criss cross fashion. Chill these shaped cookie in fridge for another 5 minutes.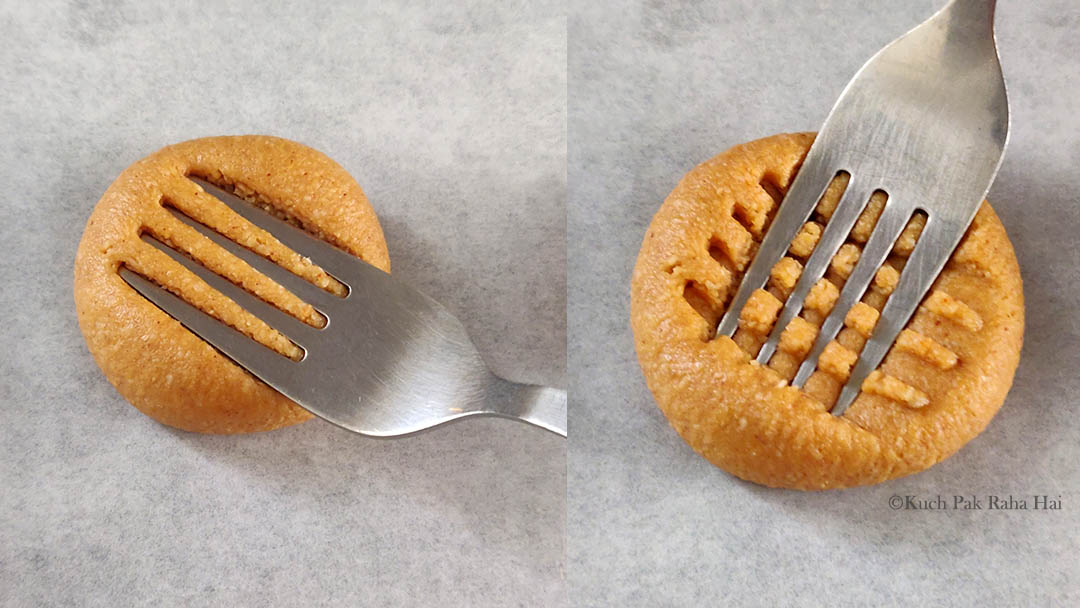 Step 6:
Bake these cookies in preheated oven at 160°C for 10-11 minutes. Check the bottom edges of the cookies for slight golden brown colour around 10 minutes. If it's there, then the cookies are done else bake for 1 minute more.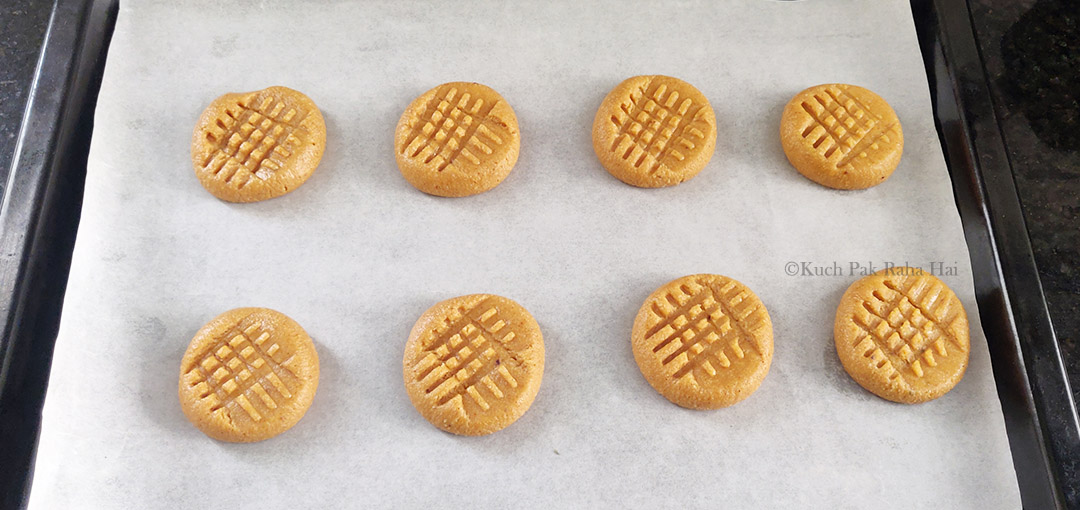 Step 7:
Bring the cookie tray out of the oven & let the cookies cool down on tray itself for 5 minutes.
Shift them on a wire rack to cool completely. They may seem soft initially but will harden up on cooling. Enjoy these yummy almond flour cookies with tea or coffee.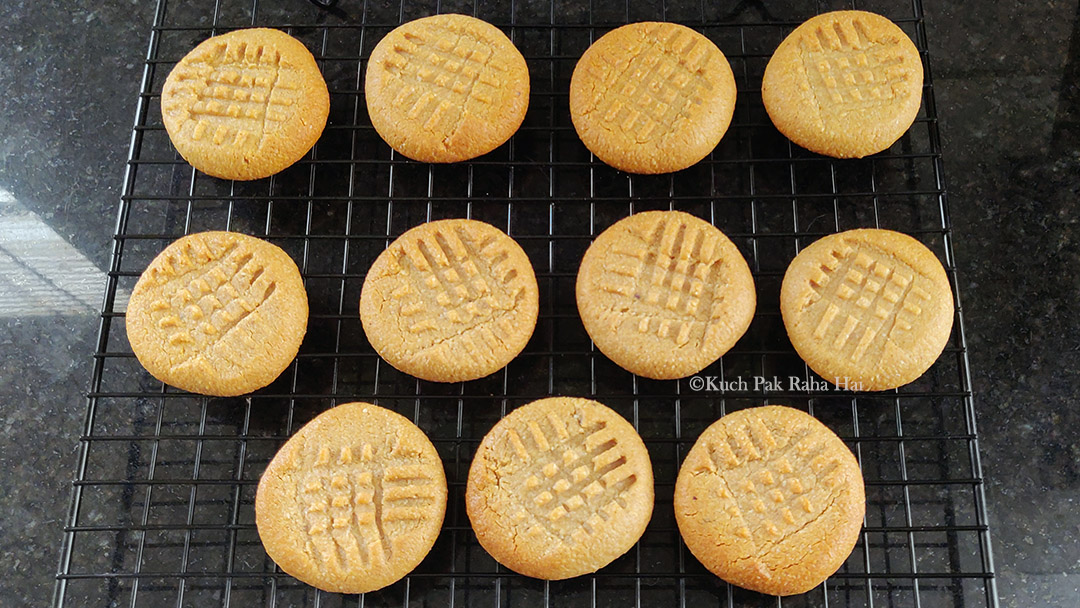 How to store almond flour peanut butter cookies?
Store them in airtight container once cooled. They stay good for 5-7 days easily.
Additional Tip: Always store the leftover almond flour pack in fridge or freezer to increase shelf life as it can go rancid quickly once opened.
Baking Products Used:
(Disclaimer: The post above contains amazon affiliate links. Buying from here will not cost you anything extra but we might earn a small commission from it.)
Pin for later: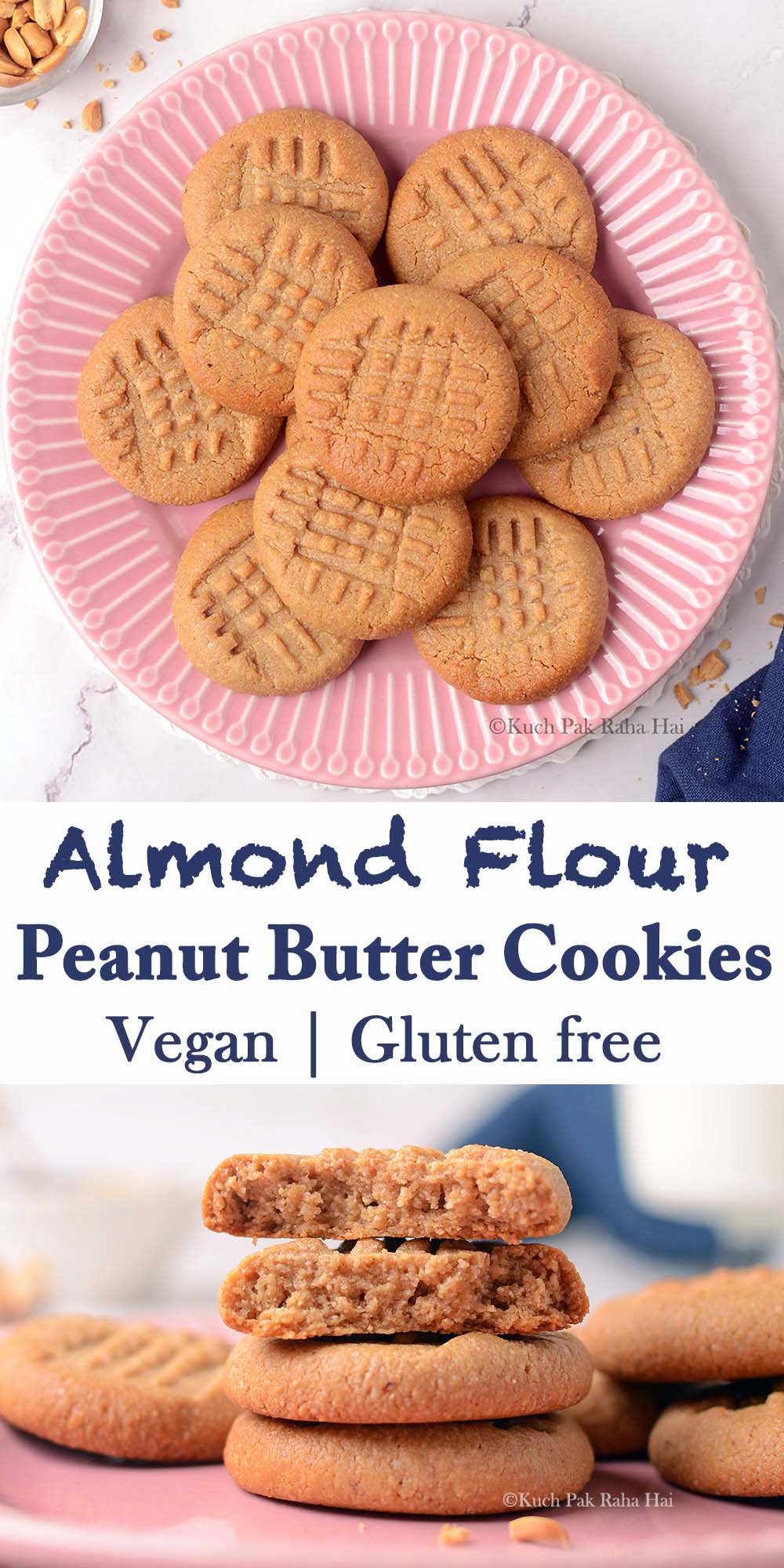 If you try this vegan almond flour cookies recipe & share pics on social media, then don't forget to tag on Facebook, Instagram or use #kuchpakrahahai.
Let's stay connected
Facebook | Instagram | Pinterest| Youtube