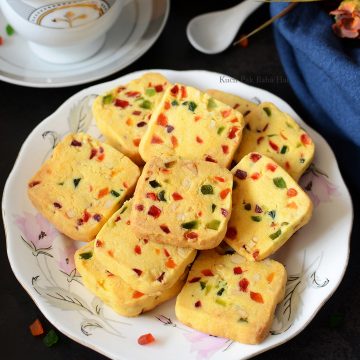 Eggless Tutti Frutti Cookies are crunchy delicious buttery cookies with fruit bits and cashews. It is an egg free recipe & made without baking powder or soda. These crunchy tutti frutti cookies are perfect accompaniment for tea time.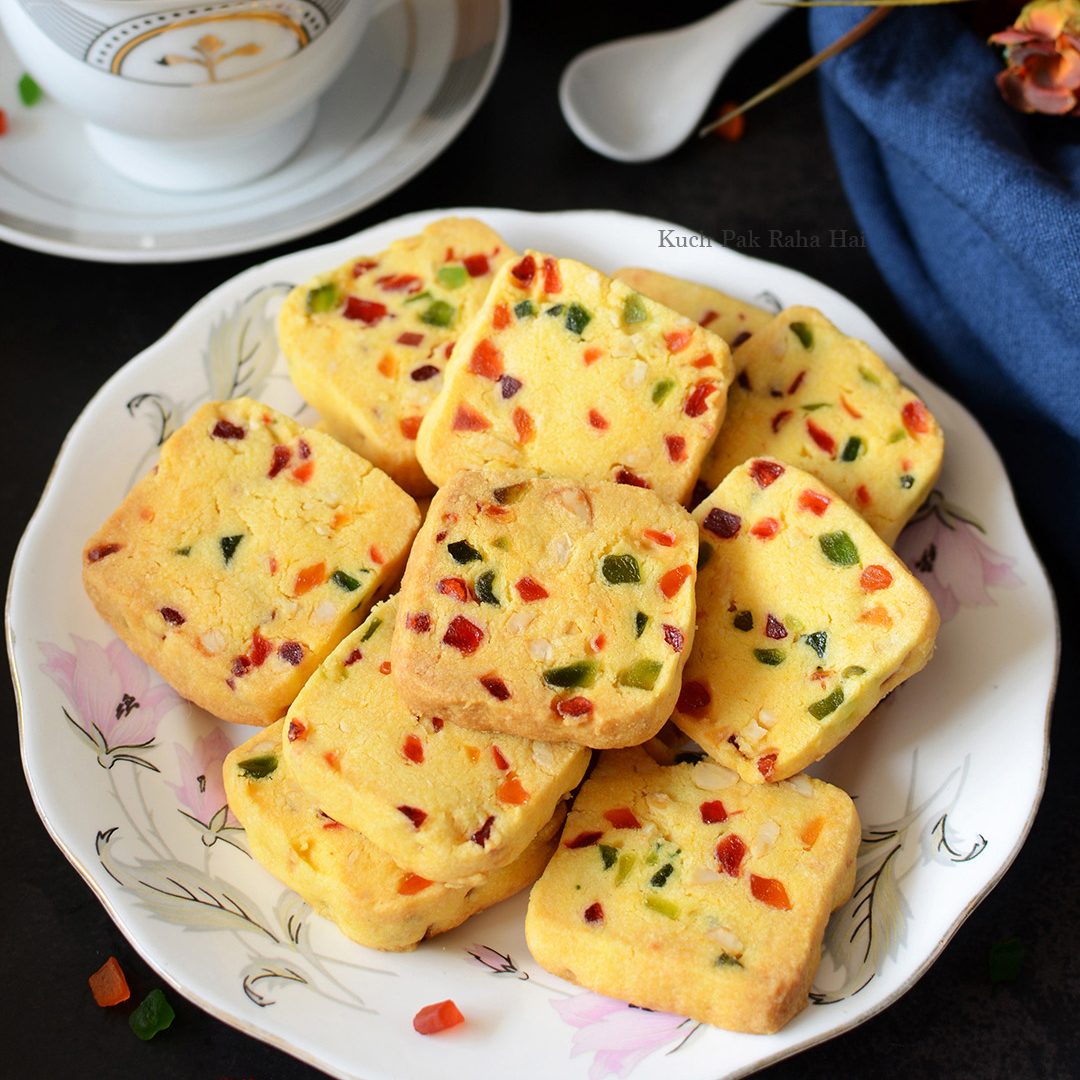 This is an easy tutti frutti cookies recipe and does not require any special baking skill. You can even involve your kids in their making process as I am sure they would love the parts where fruit bits are added and biscuits are sliced to be placed on baking tray. Also, feel free to experiment with different shapes or sizes with them.
These Tutti Frutti Biscuits are inspired from Karachi Bakery Fruit Biscuits. Karachi Bakery is one of the most famous bakeries of Hyderabad (India). They have lots of other varieties of  biscuits, cookies and cakes but their fruit biscuits are most popular amongst people. Also, Irani Chai is something which I have heard here only. Fruit biscuits or Osmania biscuits (another variety) are often served with Irani chai.
Ingredients to make tutti frutti cookies:
These fruit biscuits or cookies are vegetarian (eggless) & made with few basic ingredients- flour, unsalted butter and powdered sugar. I have also added custard powder to its recipe as it gives a nice golden tinge to biscuits which brings a good contrast with colourful fruit bits.
Apart from tutti frutti, some cashew bits are added to bring crunch in between bites. These fruit biscuits look so colourful and cute that I often include them in Diwali or Christmas edible gifting box too.
No leavening agent like baking powder or baking soda are used in this tutti frutti cookies recipe.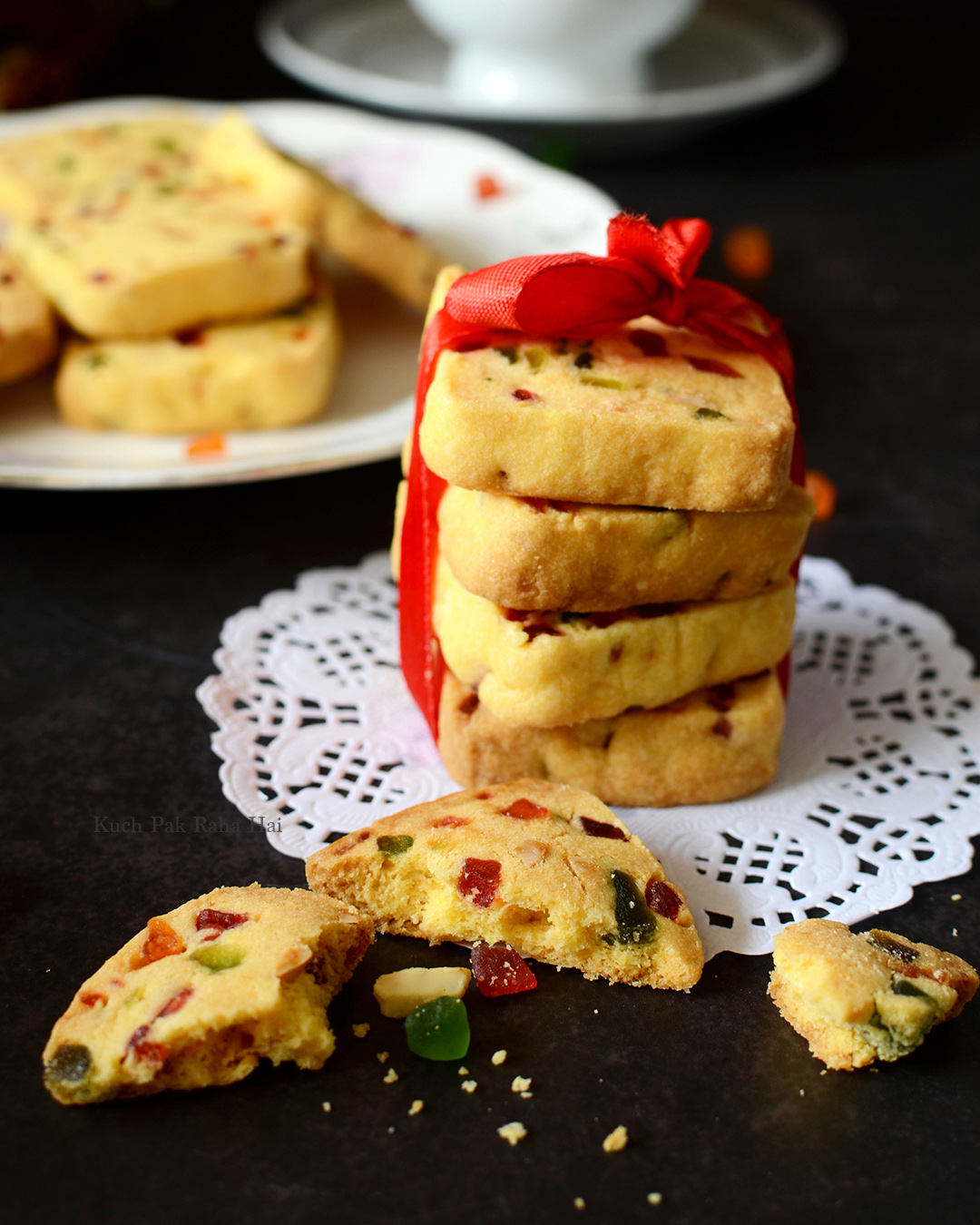 Earlier I had shared Eggless Whole Wheat Coconut Cookies recipe which was liked by many readers. If you are looking for healthy cookies recipe then you should definitely give it a try!!
More eggless cookies or crackers recipes:
I have added youtube video for this same eggless tutti frutti cookies recipe. In case you are confused at any step please refer to it. If you like this recipe please subscribe to our channel too.
Youtube video:
Hope you would like this simple & delightful tutti frutti cookies recipe!! For additional tips & tricks, check out the end of the post.
Ingredients: (Makes 10-12 biscuits)
All Purpose Flour (Maida)-1/2 cup
Custard Powder – 2 tbsp
Unsalted Butter (At room temp)-1/4 cup
Powdered Sugar-1/4 cup
Salt -A pinch
Cashew Bits – 2 tbsp
Vanilla Essence-1/2 tsp
Fruit Bits / Tutti Frutti-1/4 cup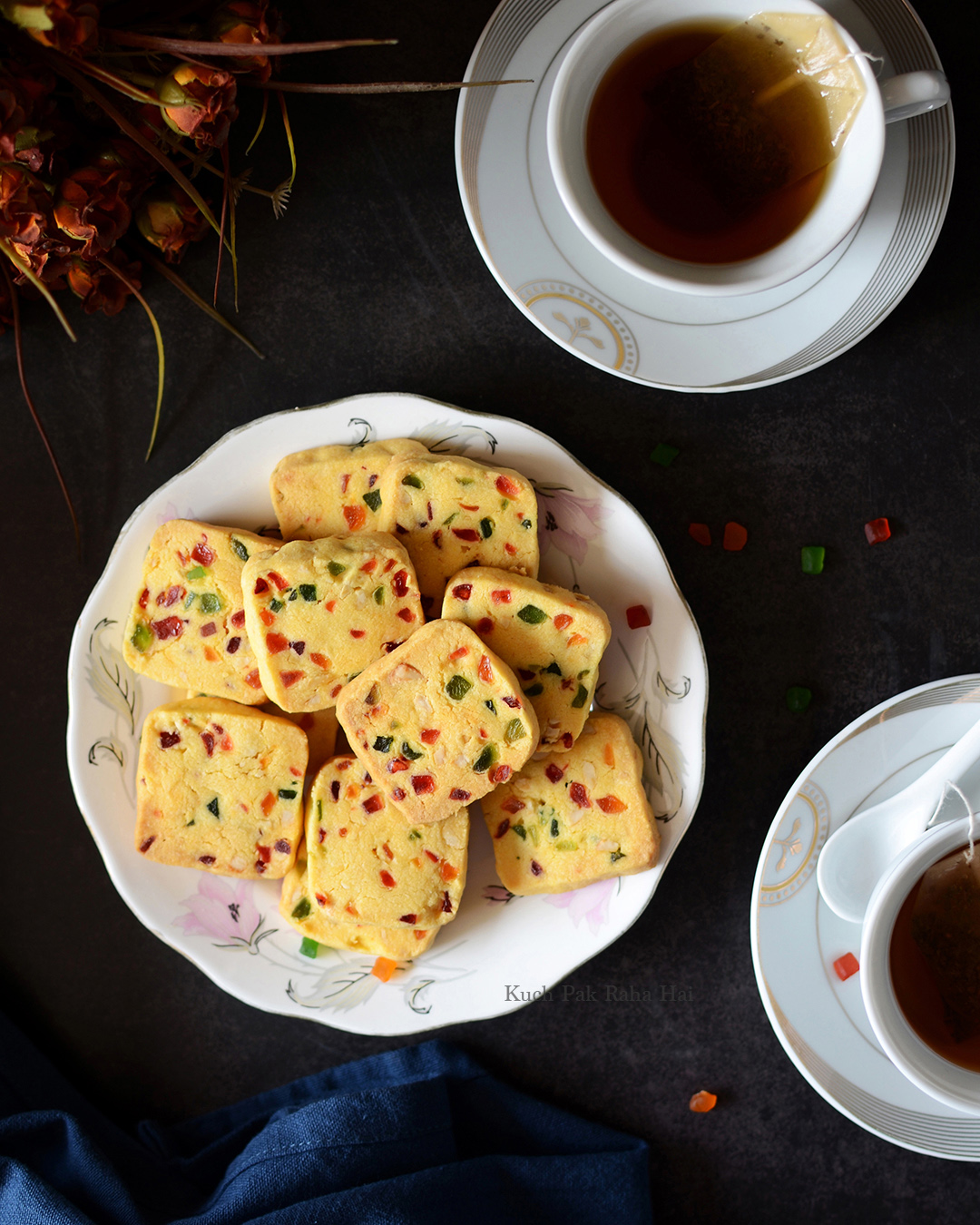 Directions:
Step 1:
Sieve All purpose flour (Maida), custard powder and salt together. Keep these dry ingredients aside.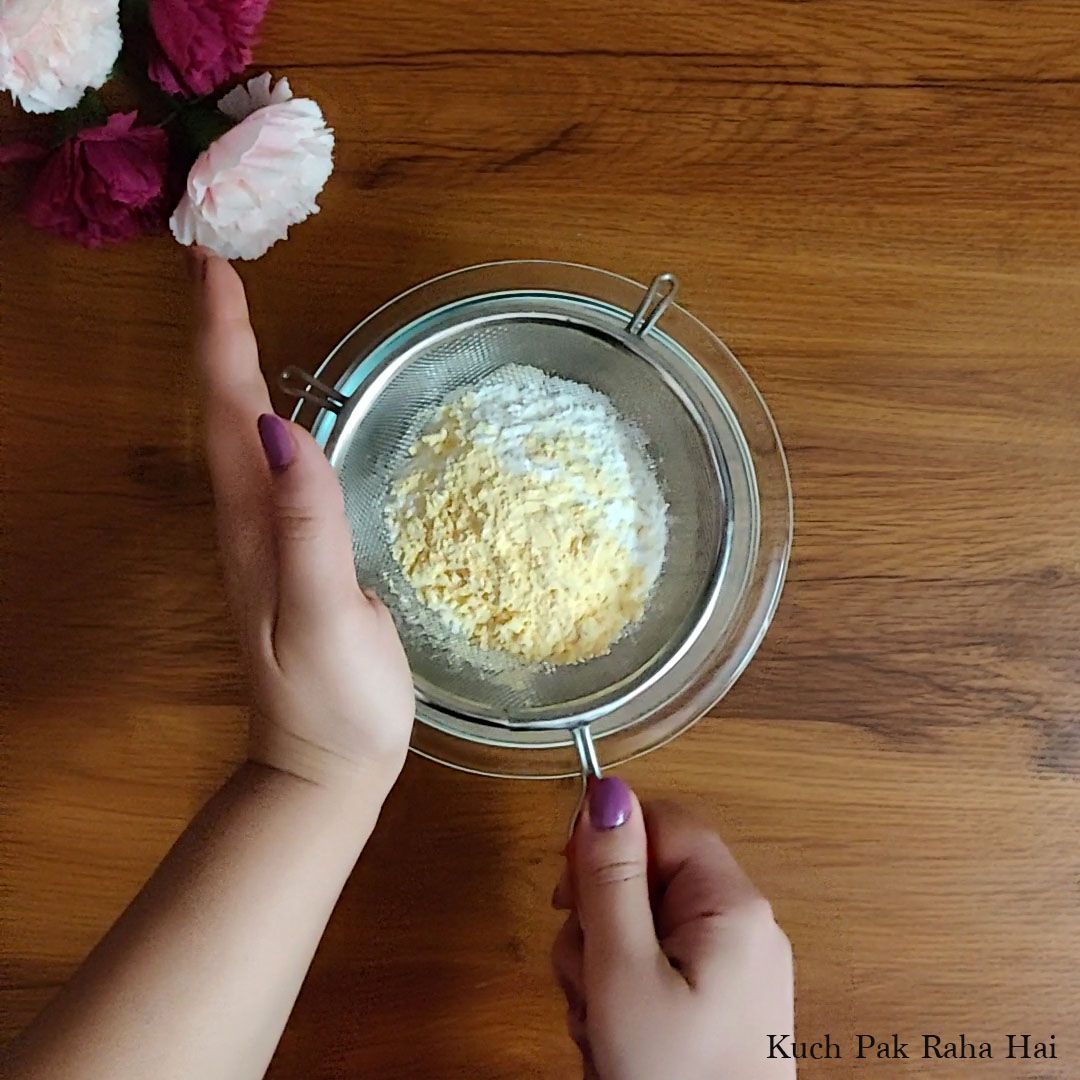 Step 2:
Take unsalted butter in a mixing bowl. Please make sure the butter is at room temperature. Add powdered sugar to it. Whisk it till it is light, fluffy & soft peaks are formed.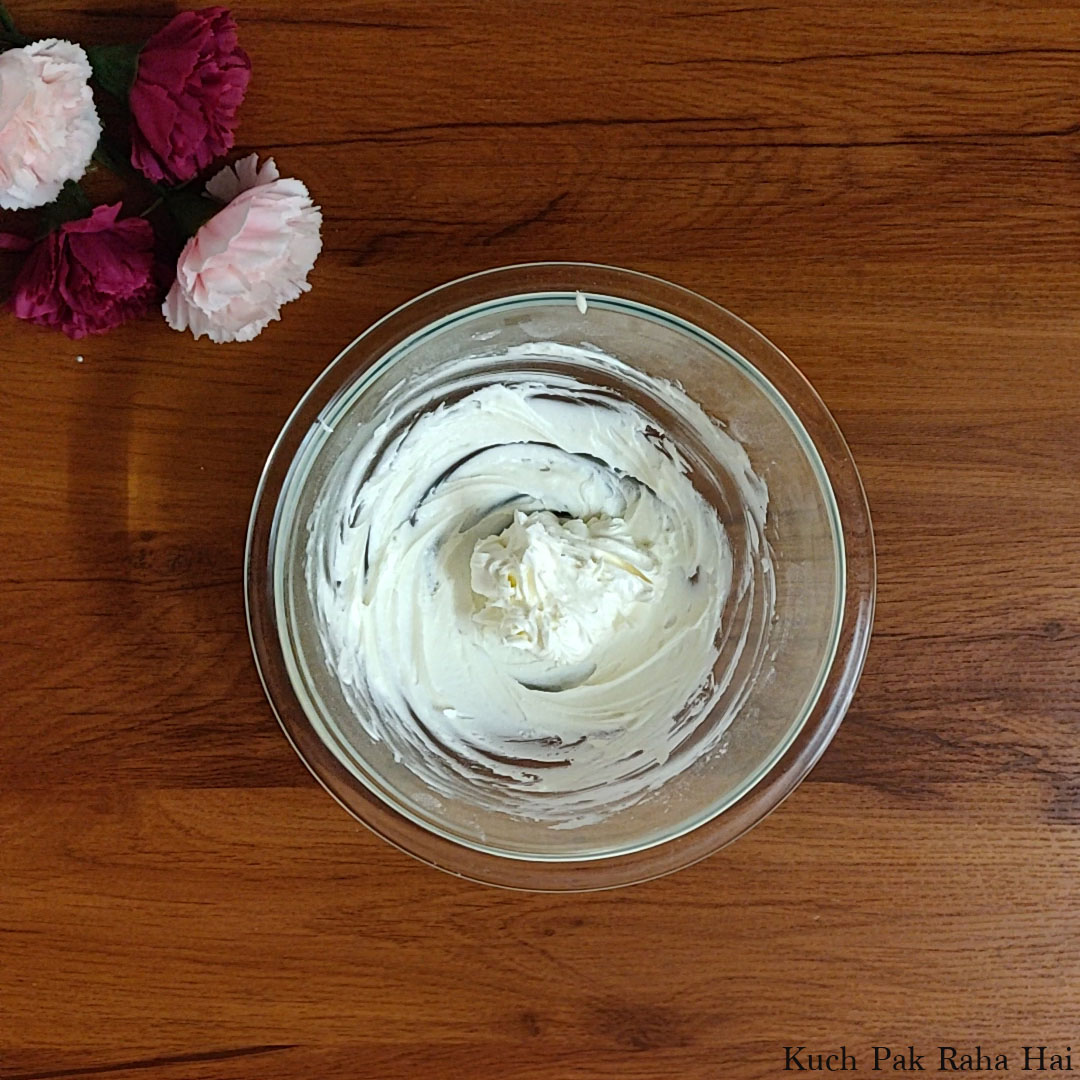 Add tutti frutti, cashew bits and vanilla essence to this. Fold them gently.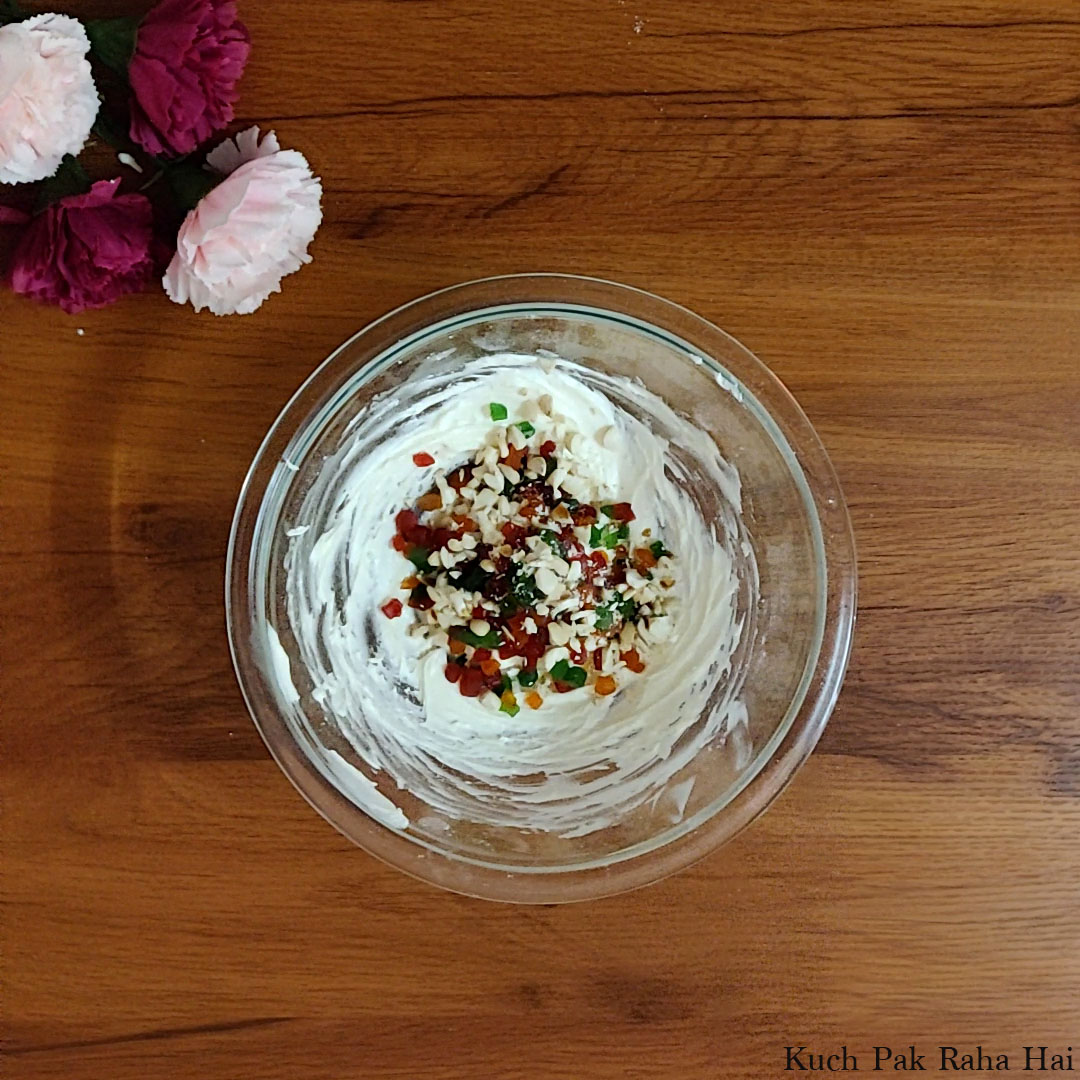 Step 3:
Add the dry ingredients (from step 1) to the whisked butter. Do not knead the dough, just bring the ingredients together gently using hands or spatula. If the dough feels sticky do not add more flour to it. Instead keep it in refrigerator for 10 minutes and then try again.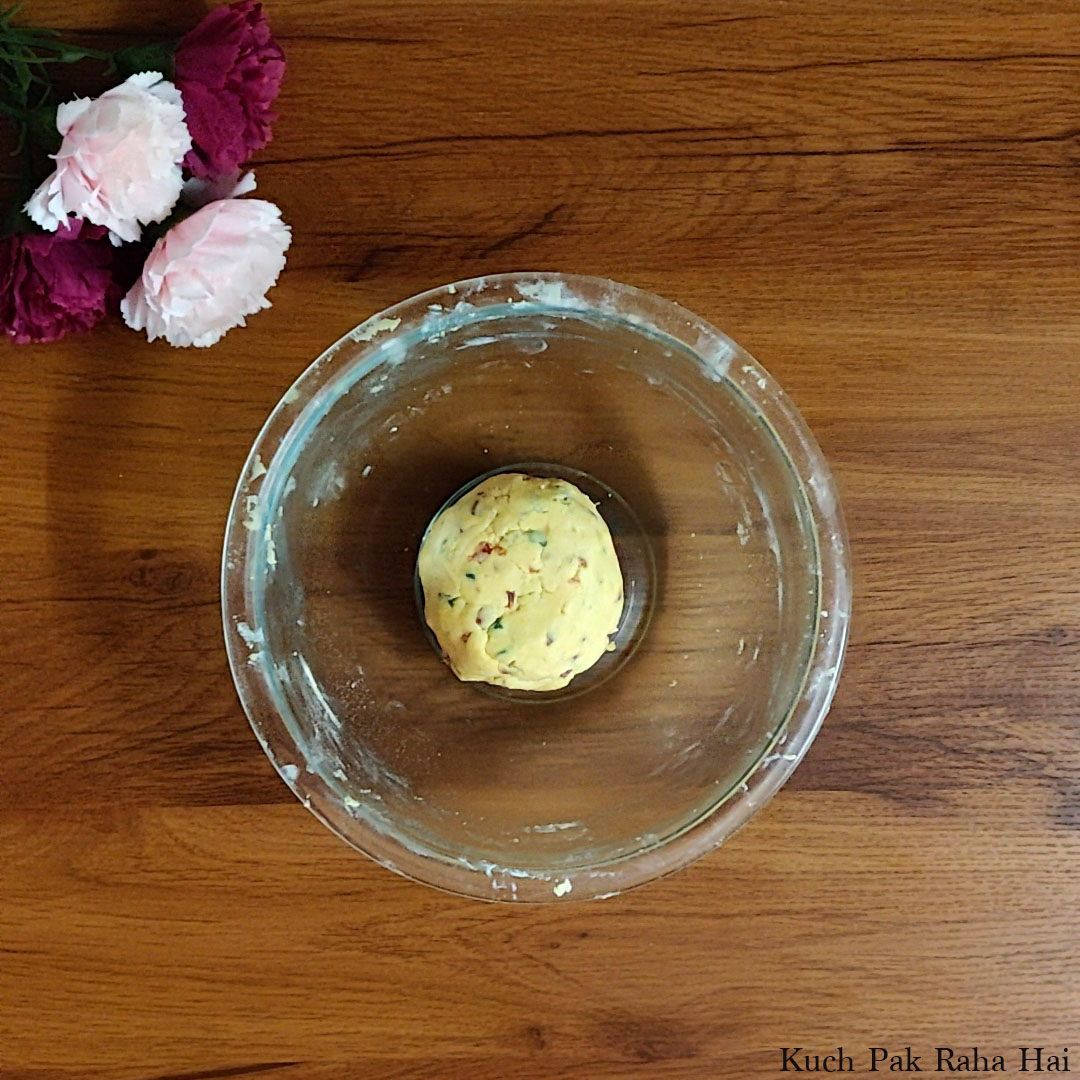 Step 4:
Form a small log out of the dough and wrap it with a cling film. Keep this log in refrigerator for 1-2 hours to set completely.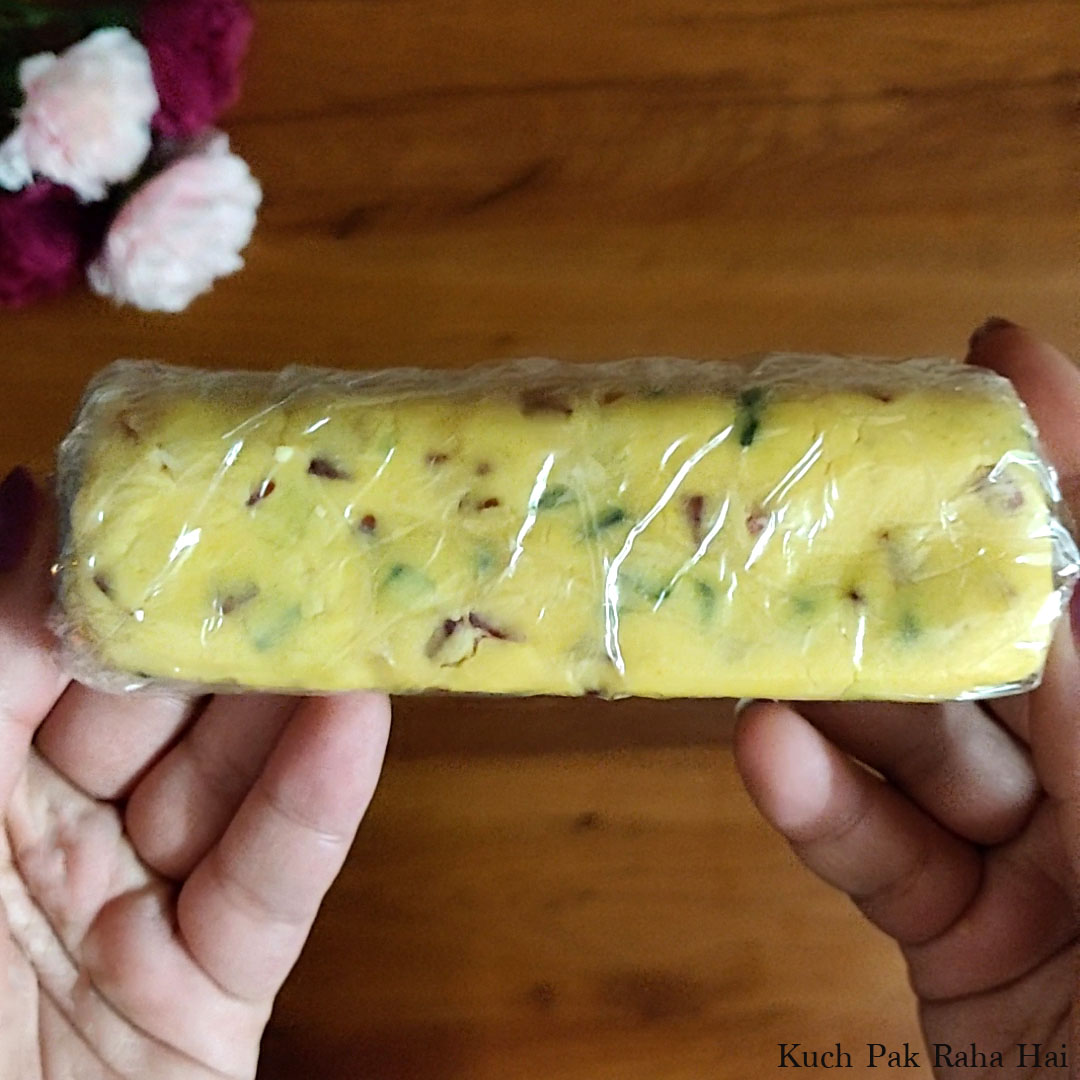 Step 5:
After 2 hours, bring the log out of the refrigerator and cut it into square. Use a sharp knife here for clean cuts. (Set the oven for preheating at 180°C before you start this step).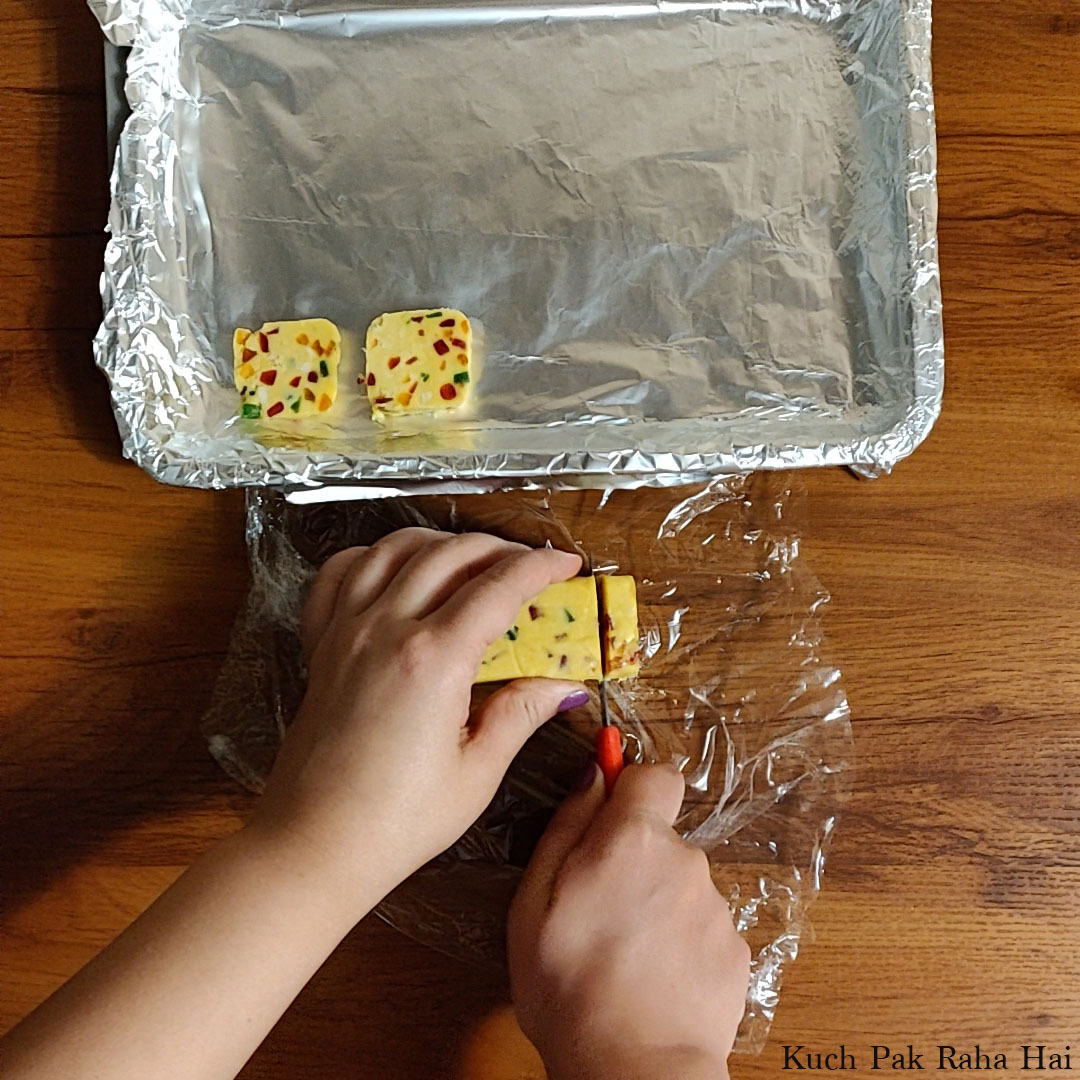 Spread aluminium foil on the baking tray and place these biscuits on it.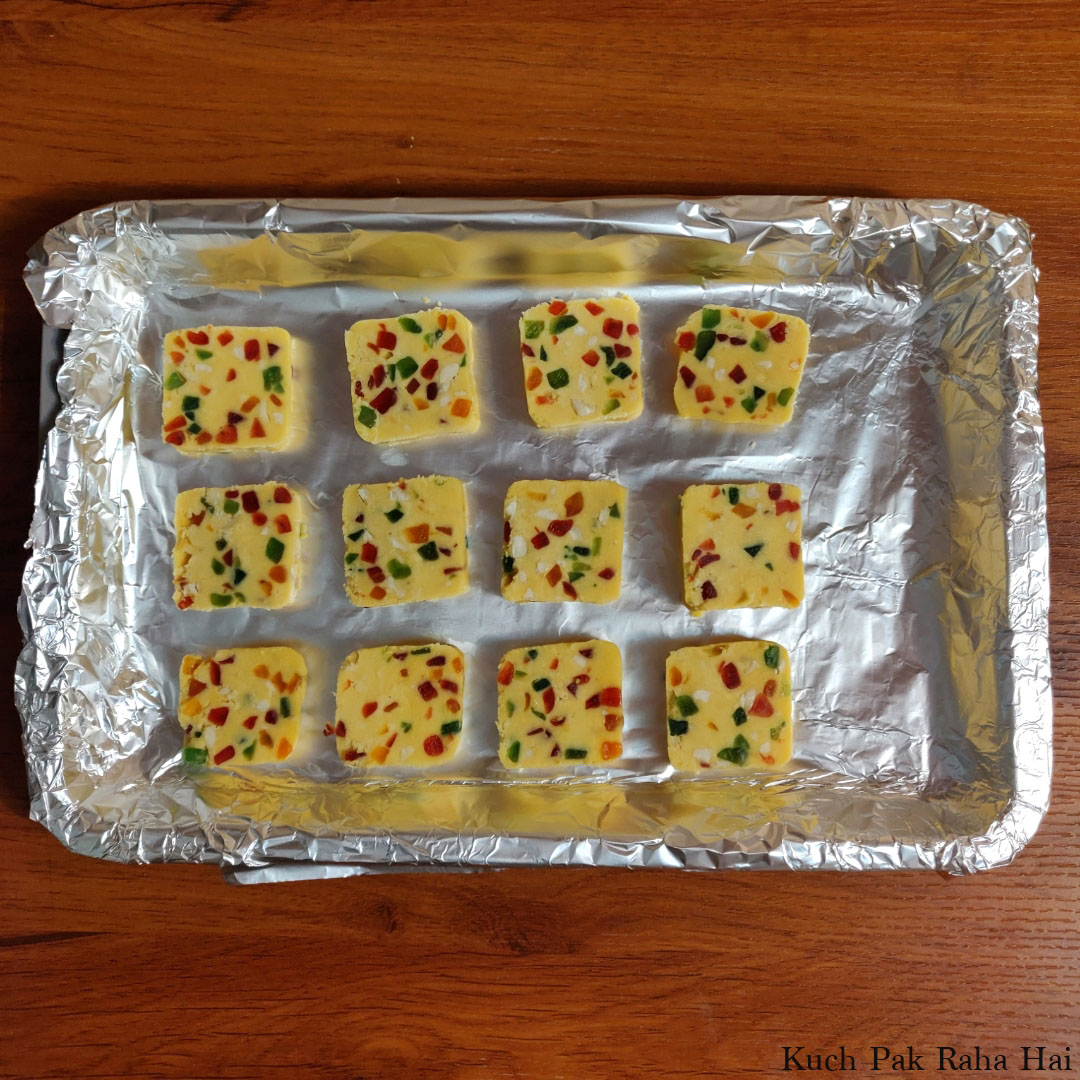 Step 6:
Bake these tutti frutti biscuits at 180 degree Celsius for 15 minutes. Bring the tray out and let the biscuits cool down for 10 minutes. After that let the biscuits cool down completely on a wire rack. They will seem to be soft when you first take them out of oven, however they will turn crunchy on cooling.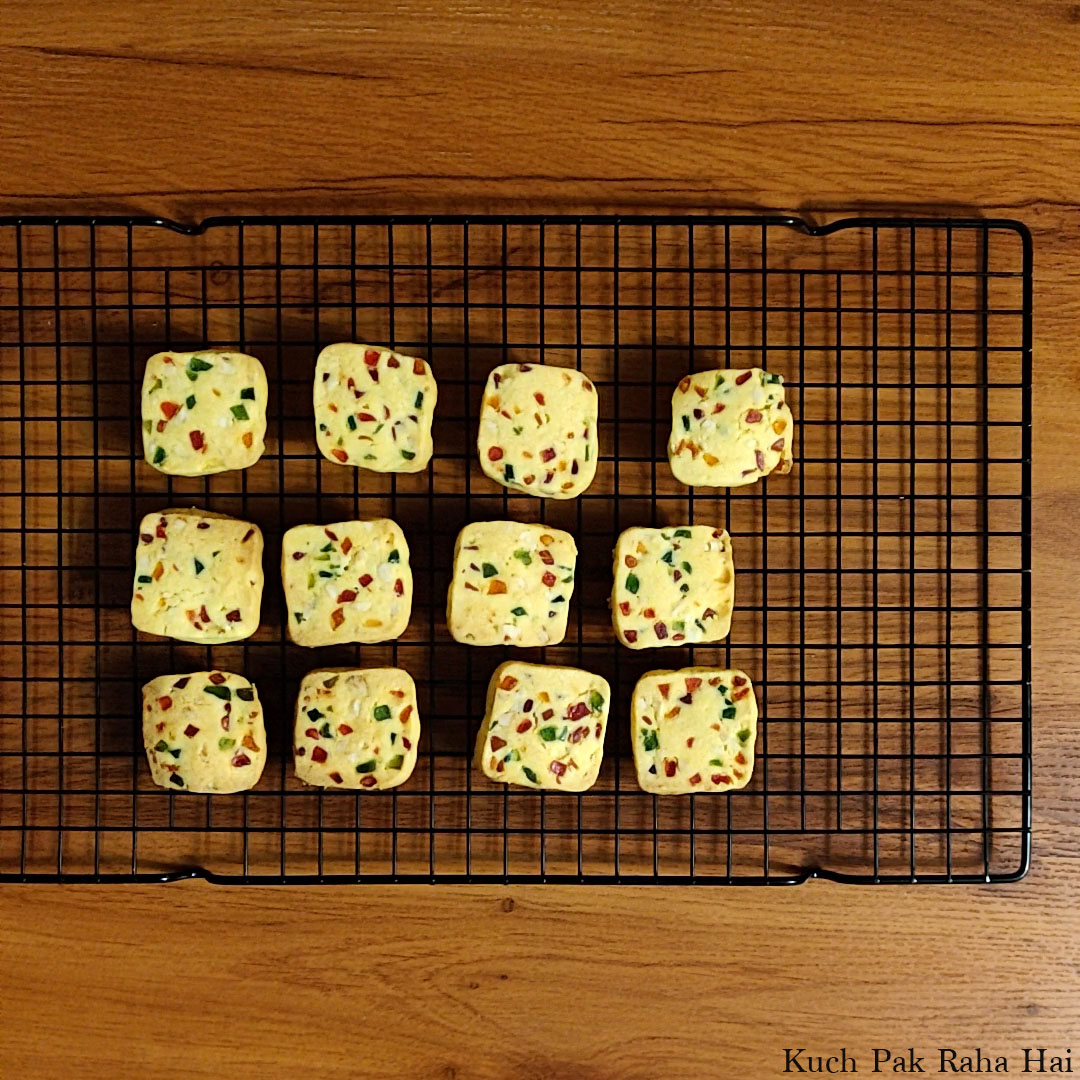 Enjoy these yummy crispy tutti frutti biscuits with your hot cuppa Masala Chai or coffee!!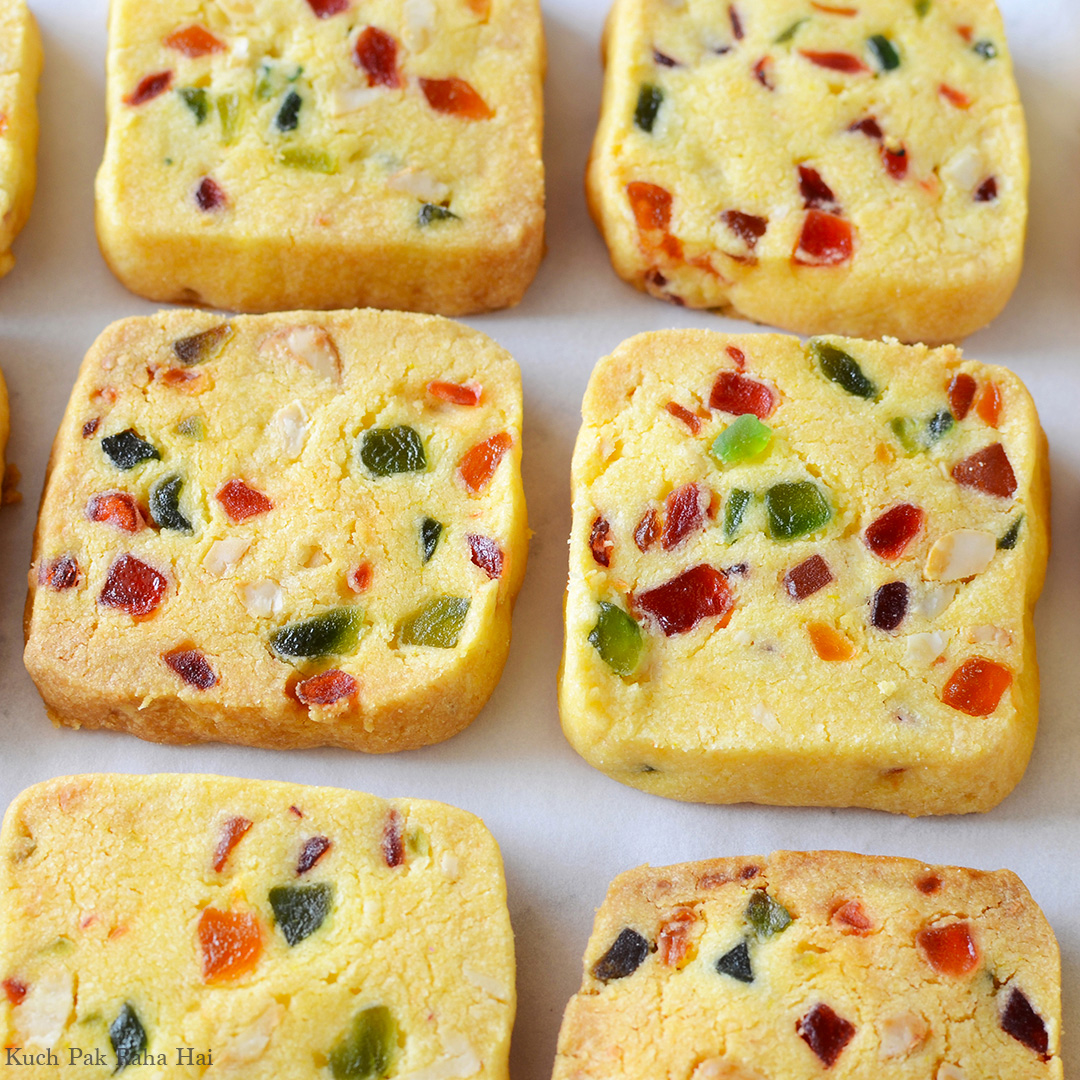 Additonal Notes / Tips:
1. How to know when the cookies are done?
You know the cookies or biscuits are baked or done when you start noticing the golden brown colour on the edges near the base. Below you can see how the cookies have got nice golden colour on bottom. So when you are observing the cookies from outside the oven notice the edges near bottom.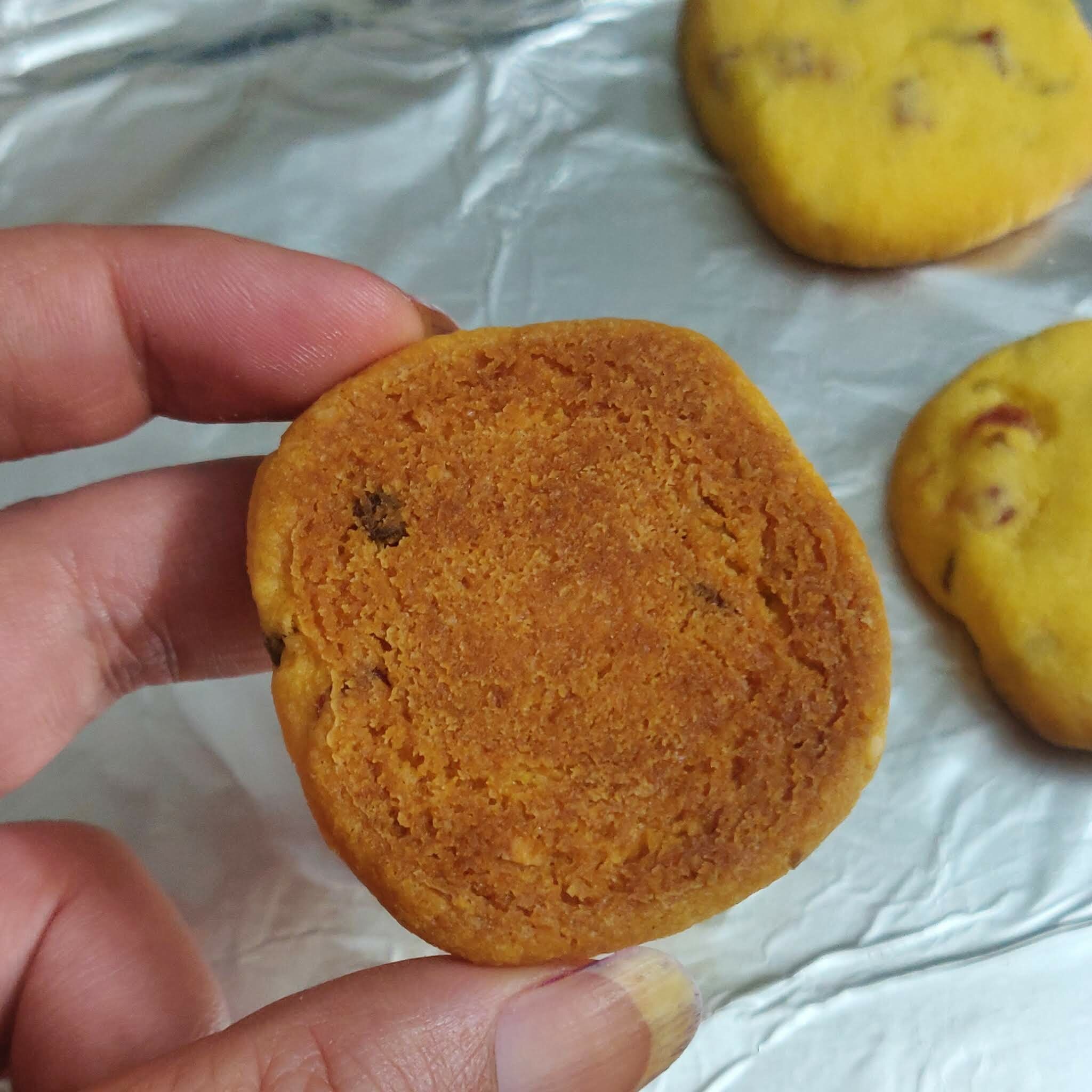 2. How to know when butter & sugar is creamed?
Use the butter which is kept at room temperature. This way it will be soft naturally and will whisk well with sugar. Also I always use powdered sugar for cookies as they cream well with butter. Once by mistake I added normal (granulated) sugar in butter and the sugar granules did not dissolve till the end. You know the butter & sugar are creamed enough when the butter turns lighter in colour and the mixture become light and fluffy with soft peaks.( You can refer to the pics and video above)
3. Alternate Flavouring in Fruit Biscuits:
In this tutti frutti cookies recipe vanilla extract has been used. You can replace it with some rose water or 1/4 tsp of cardamom powder for different flavour and aroma.
Pin for later: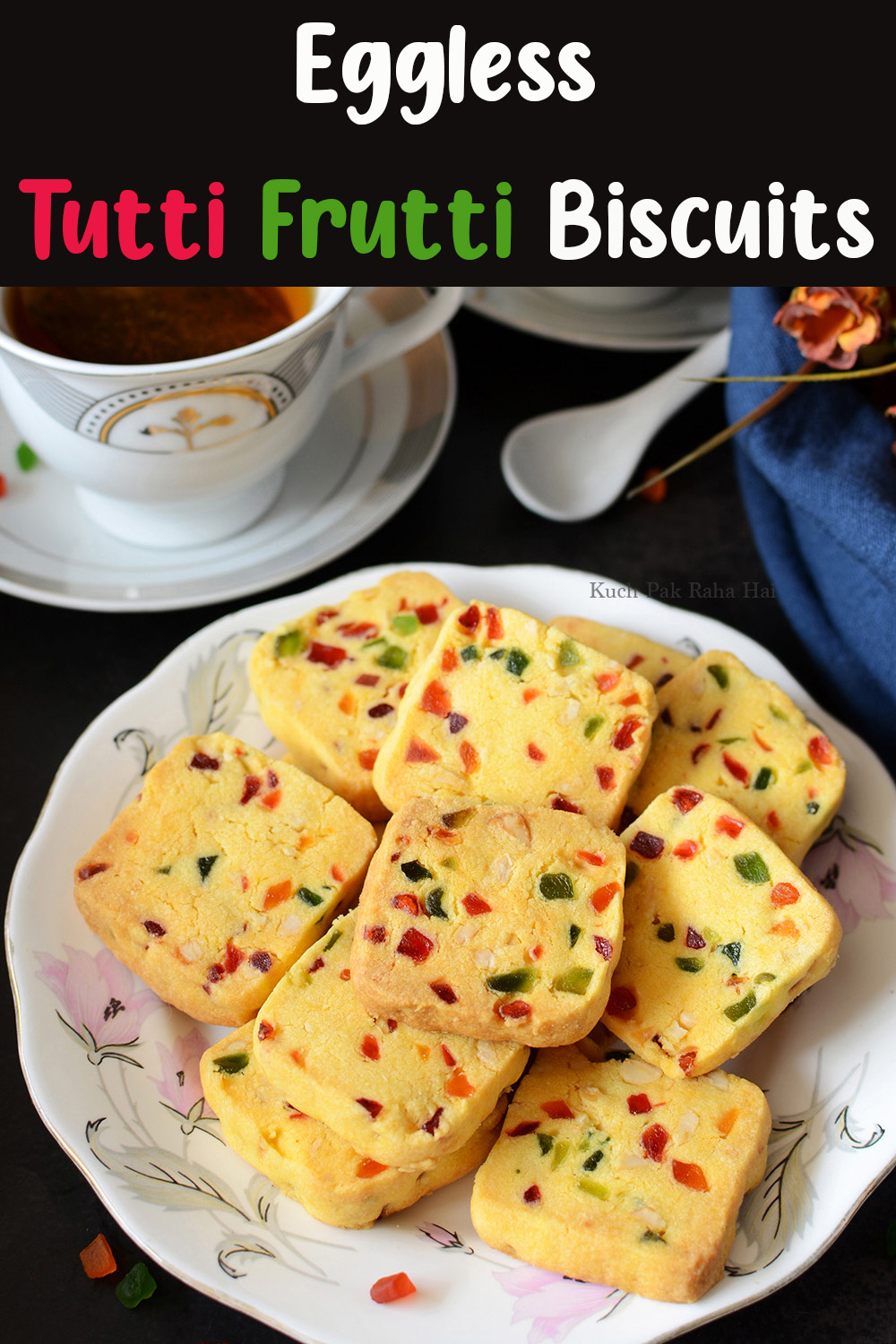 Baking Products Used:
(Disclaimer: The post contains amazon affiliate links. For more details refer to privacy policy page)
If you try this eggless fruit biscuits recipe & share pics on social media, then don't forget to tag us on Facebook, Instagram or use #kuchpakrahahai.
Let's stay connected
Facebook | Instagram | Pinterest| Youtube