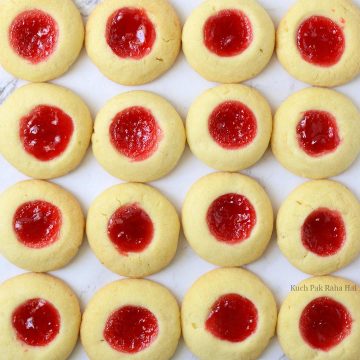 Eggless thumbprint cookies are delicious buttery shortbread cookies filled with jam in centre. These are also known as jam cookies and are perfect for upcoming holiday season.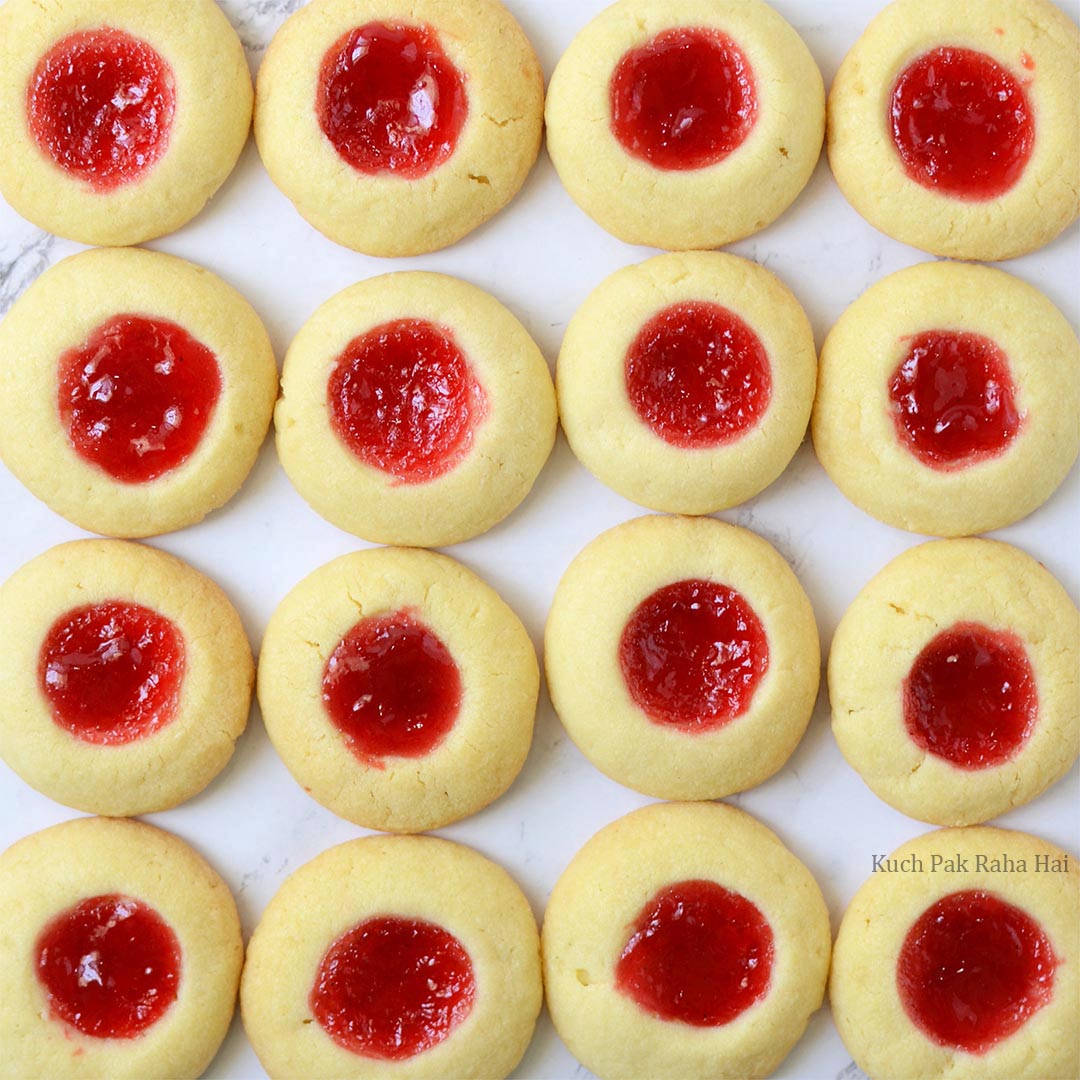 These jam thumbprint cookies taste absolutely divine with sweet-tart flavour from fruit jam combined with crumbly buttery cookies. It is an easy eggless cookies recipe and great to bake for kids birthday party, festivals like Christmas, Thanksgiving or for edible gifting.
What are Thumbprint Cookies?
Thumbprint Cookies are shortbread cookies made with just basic ingredients like flour, butter, sugar and jam. These jam filled cookies are absolute delight with rich, crumbly melt in the mouth texture combined with fruity flavour from jam.
In different countries they are known by different names. In Australia they are known as Jam Drops and in Germany they are known as 'EngelSaugen' which literally translates to 'eyes of an angel' in english. 'Rosenmunnar' or 'Hallongrotta' (meaning raspeberry caves) are some other name for Swedish thumbprint jam cookies.
You can fill any jam of your choice in these shortbread cookies like:
apricot
raspberry
strawberry
cherry
blueberry
Thumbprint Jam Cookie Variations:
You can try different variations in these thumbprint cookies like:
Chocolate Thumbprint Cookies:
To make these cookies in chocolate flavour, replace 2-3 teaspoon flour with cocoa powder. Don't fill them with jam and bake as it is. Once the cookies are baked, fill their centre with melted chocolate.
Peanut Butter Thumbprint Cookies:
If you are a peanut butter lover, you can fill the cookies with some peanut butter instead of jam. However peanut butter should be filled in centre after the cookies are baked.
Hershey Kisses Thumbprint Cookies:
Holiday baking is all about having fun and experimenting. So if you have Hershey kisses chocolates at home, you can place one piece in the hollow of each thumbprint cookie after they are baked and still warm. This way the chocolate will melt slightly and stick to the cookie while they are cooling down.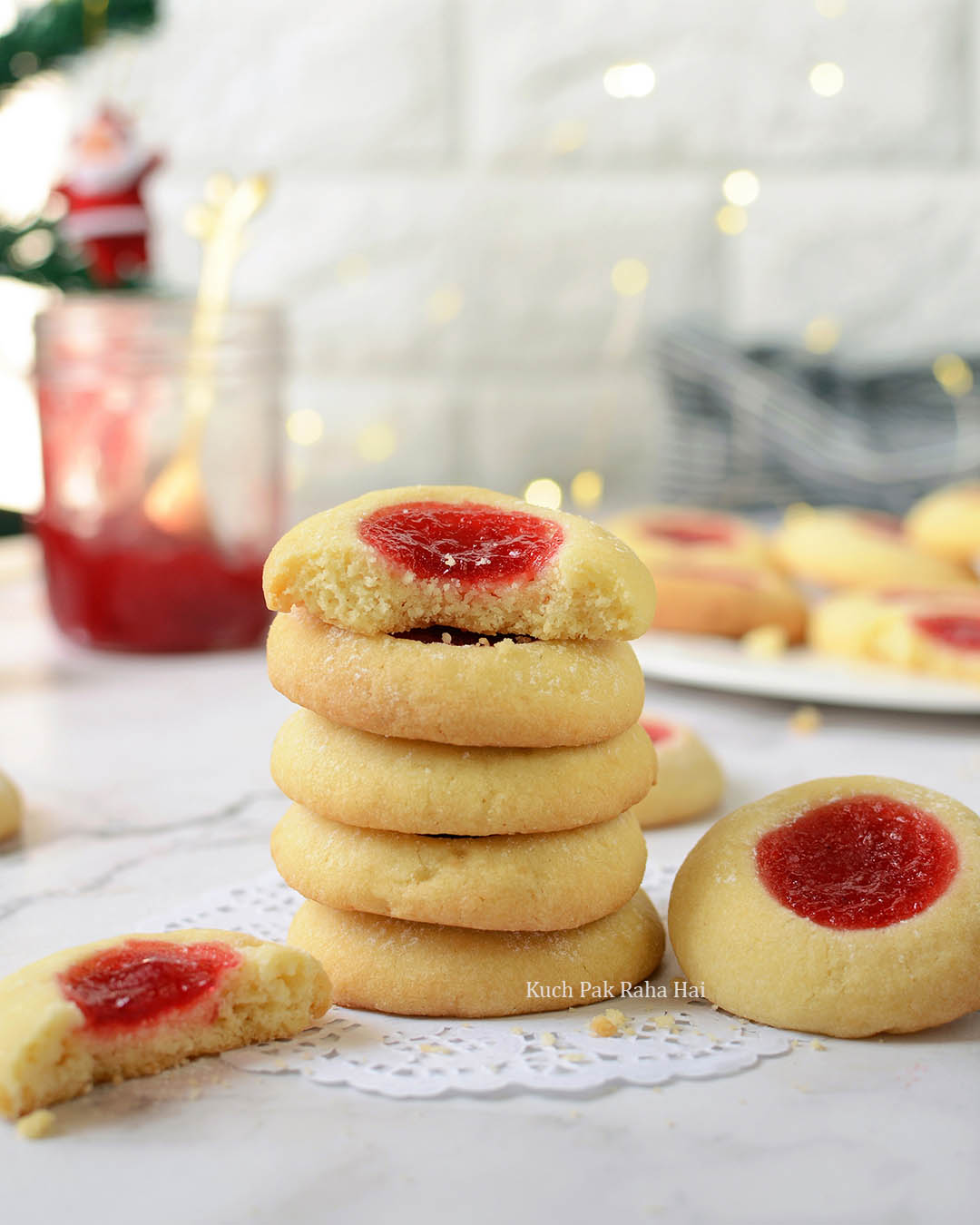 To make these cookies even more festive you can dust some icing sugar or powdered sugar on them, drizzle some vanilla glaze, caramel sauce or sprinkle some finely chopped nuts or confetti on them. The possibilities are endless, it all depends on your imagination and creativity.
These jam cookies are easy to make and the fun part actually begins when your fill the centre with your favourite jam. You can even involve your kids in shaping and filling these cookies as who would not love a chance of poking their thumbs in cookie dough.
While shaping the cookies you might get cracks on top. They can easily be smoothed with fingers or leave them as it is for rustic effect. Sometimes these cookies become flat while baking. I have shared below some of the reasons and if you follow the exact method and recipe, I am sure you will nail the recipe in the first attempt.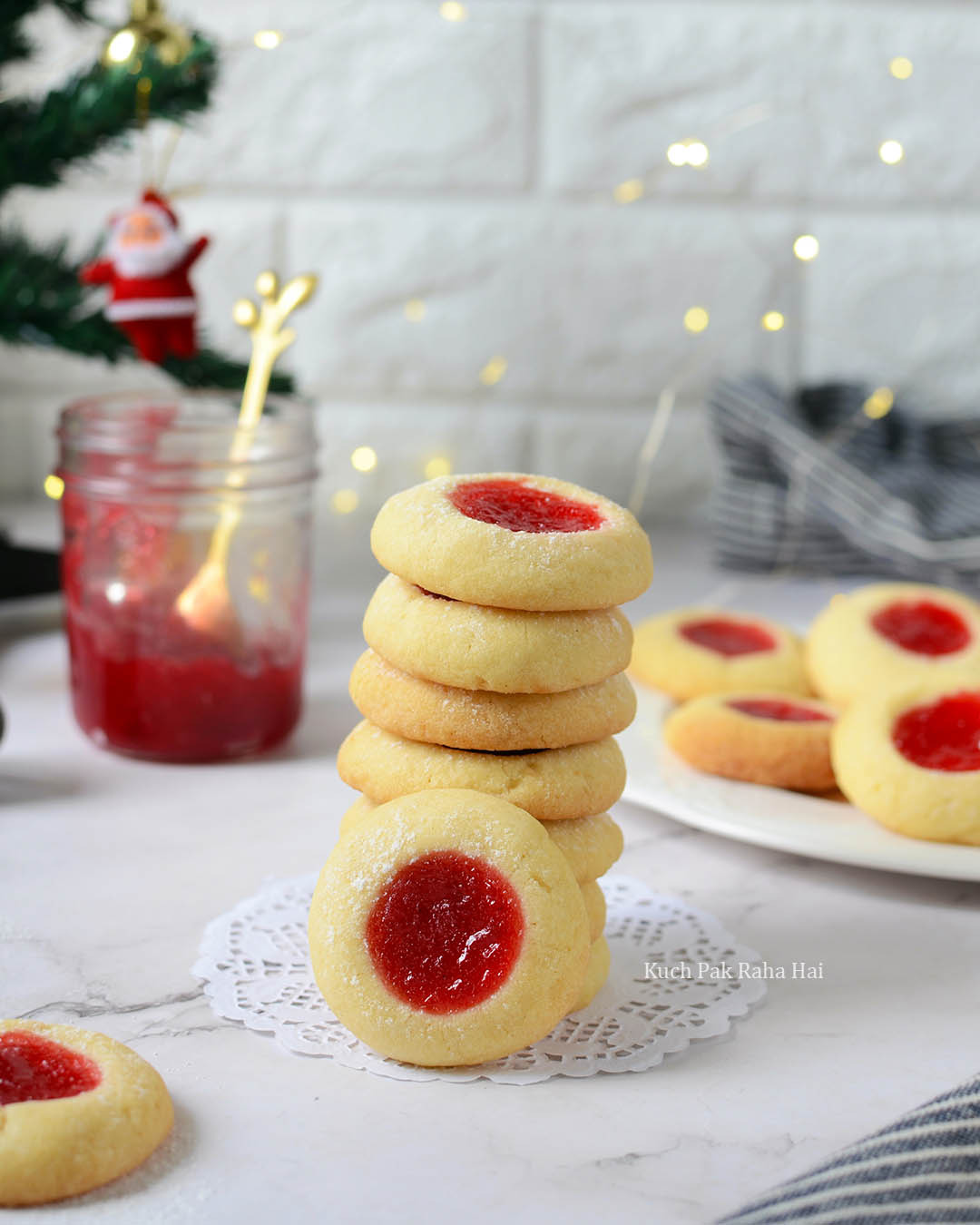 Why do thumbprint cookies spread?
There are many reasons because of which cookies start to spread rapidly while baking. Sharing few tips which will make sure you get perfect cookies each time:
1. Measure the flour correctly : Use measuring cups or scale to weigh the flour correctly. If the flour is less than what is mentioned in the recipe it disturbs the fat to flour ratio because of which cookies spread quickly on coming in contact with heat.
2. Chill the cookies: Chilling the cookies after shaping solidifies the butter and hence it does not immediately start melting in oven. Some people chill the cookies dough but by my personal experience chilling the shaped thumbprint cookies give better results.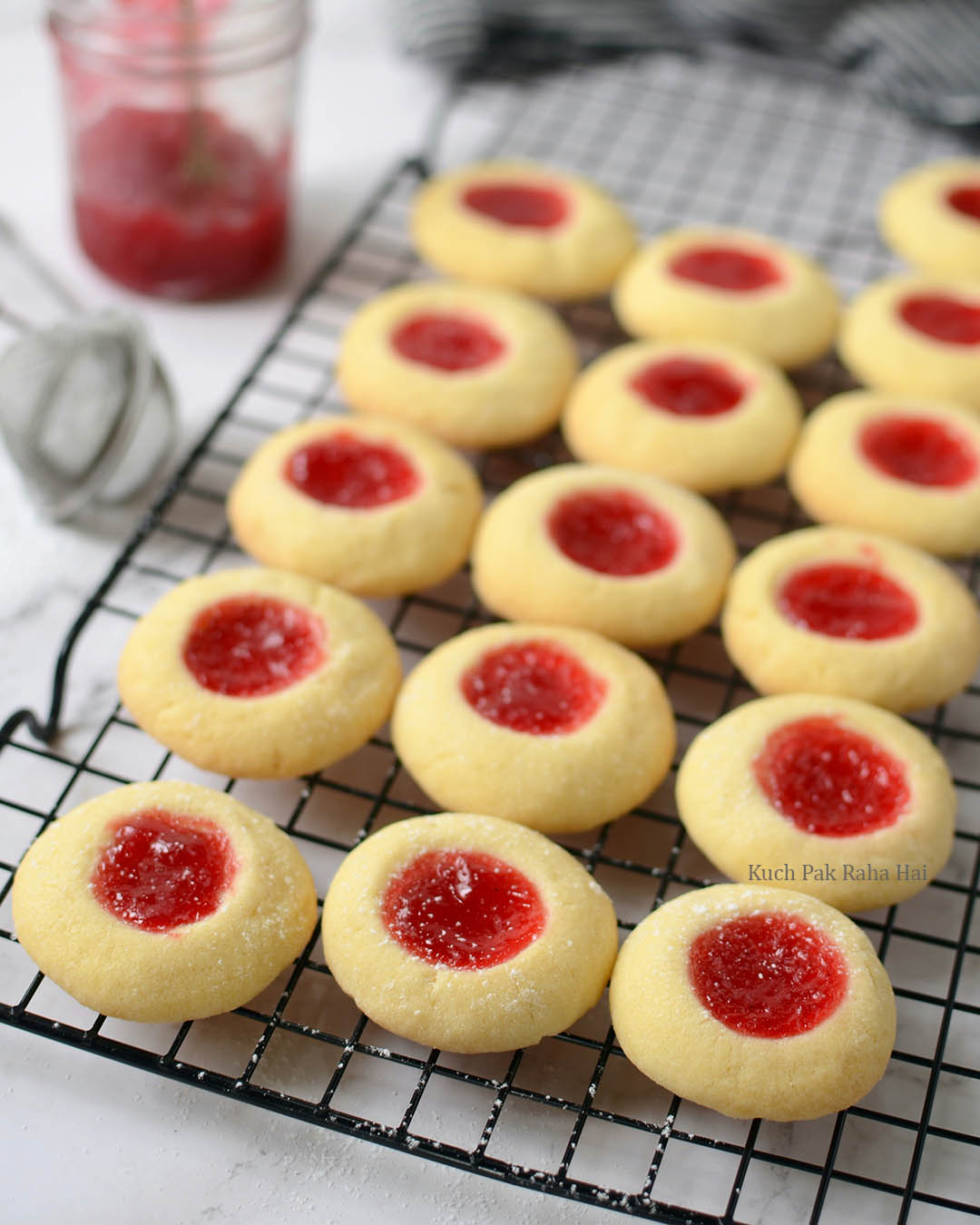 3. Do not grease the parchment paper: Do not brush the parchment paper on which you are going to bake cookies with butter or oil as this can sometimes cause cookies to lose shape while baking. You can even use silicon baking mat for baking these cookies
4. Butter : Always use room temperature butter when making cookies. Leave the butter on kitchen slab for 10-15 minutes or till it feels soft on touching with finger. Do not microwave the butter as melted butter results in flat cookies.
Youtube Video:
More eggless cookies recipes:
Hope you would like this easy yummy thumbprint jam cookies recipe. You can also watch its video on our youtube channel. Do subscribe to it if you like this recipe 🙂
Ingredients: (For 17-18 cookies)
All Purpose Flour (Maida)-1 cup + 2tbsp (135 gram)
Unsalted Butter- 7 tbsp (100 grams)
Powdered Sugar / Icing Sugar*-1/2 cup (60 grams)
Vanilla Extract- 1 tsp
Salt- 1/4 tsp
Jam / Fruit Preserve- 2 to 3 tablespoon
Notes:
1. Measuring Cup Used: 1 cup = 250 ml
2. *If you like less sweet cookies, you can reduce the quantity of sugar to 1/3 cup.
3. The butter used should be at room temperature. It should be soft but not melting.
5. If the jam is thick, you can transfer it in a bowl and mix it well for 1-2 minutes with a spoon or whisk. This way it can be easily filled with spoon in cookies.
Directions:
Step 1:
Sieve together flour and salt. These are the dry ingredients of the recipe. Keep them aside.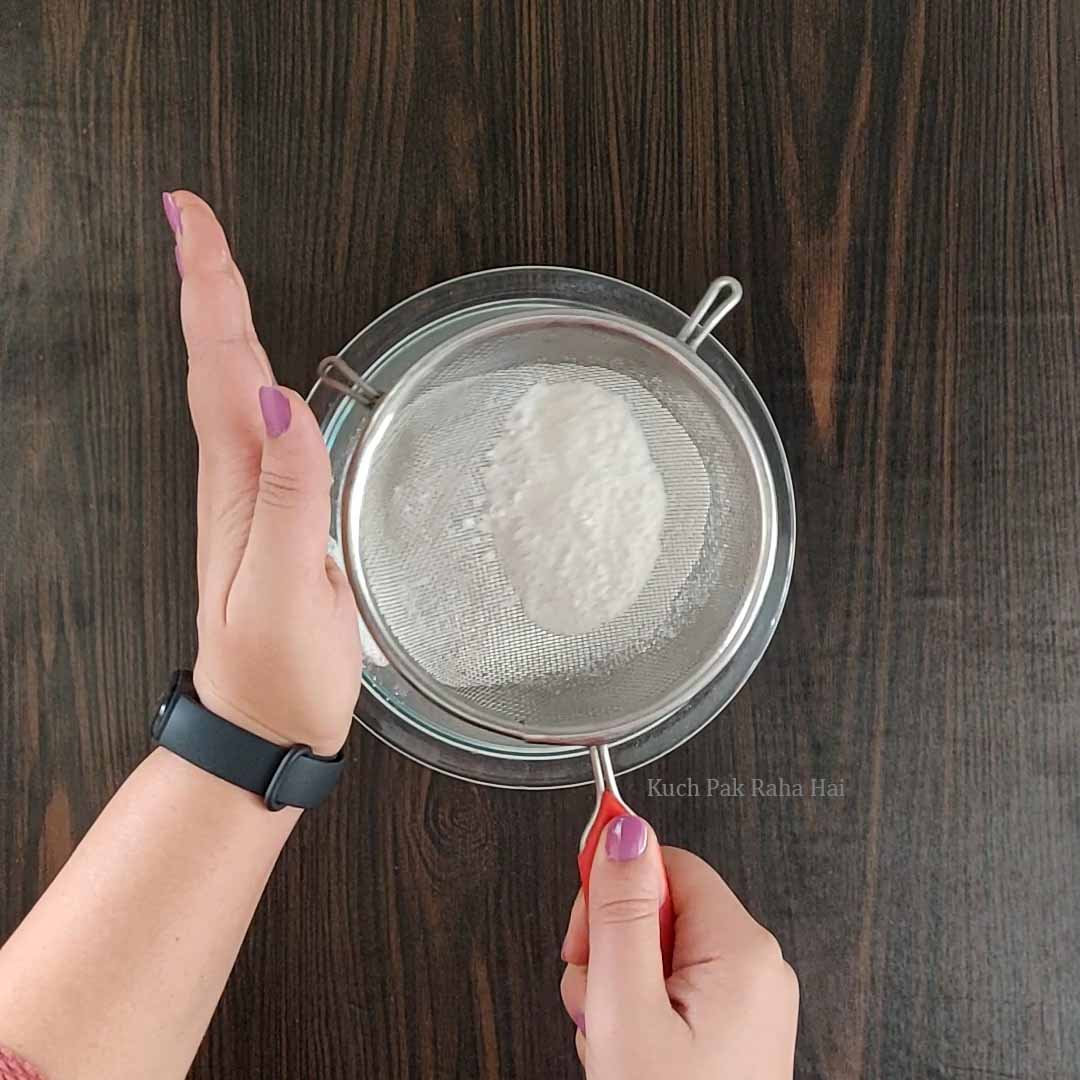 Step 2:
Cream together butter and sugar till the mixture become light, fluffy and slightly pale in colour. You can use hand whisker or electric mixer for this step.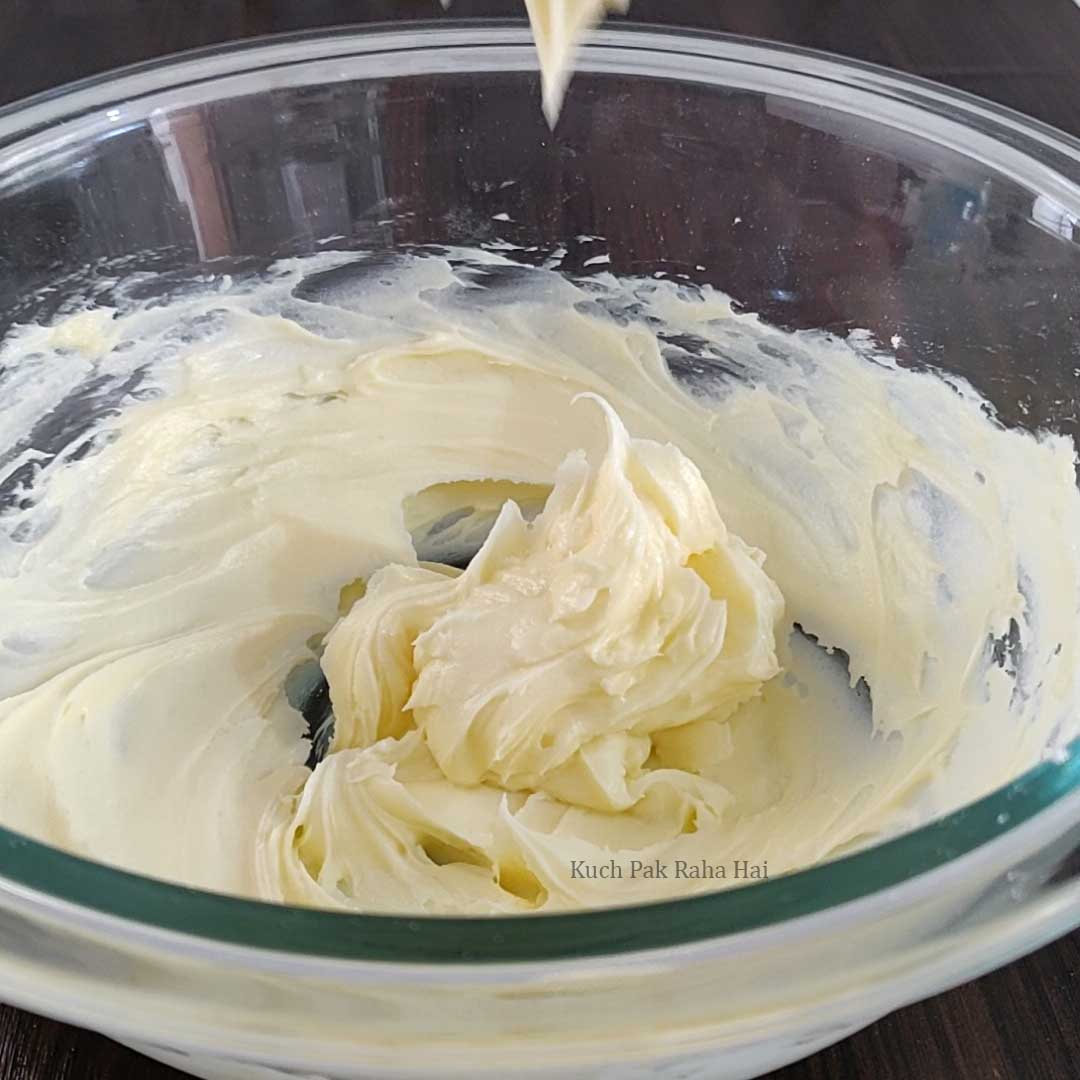 Step 3:
Add vanilla extract and dry ingredients to it and mix with hands or a spatula to make soft pliable dough.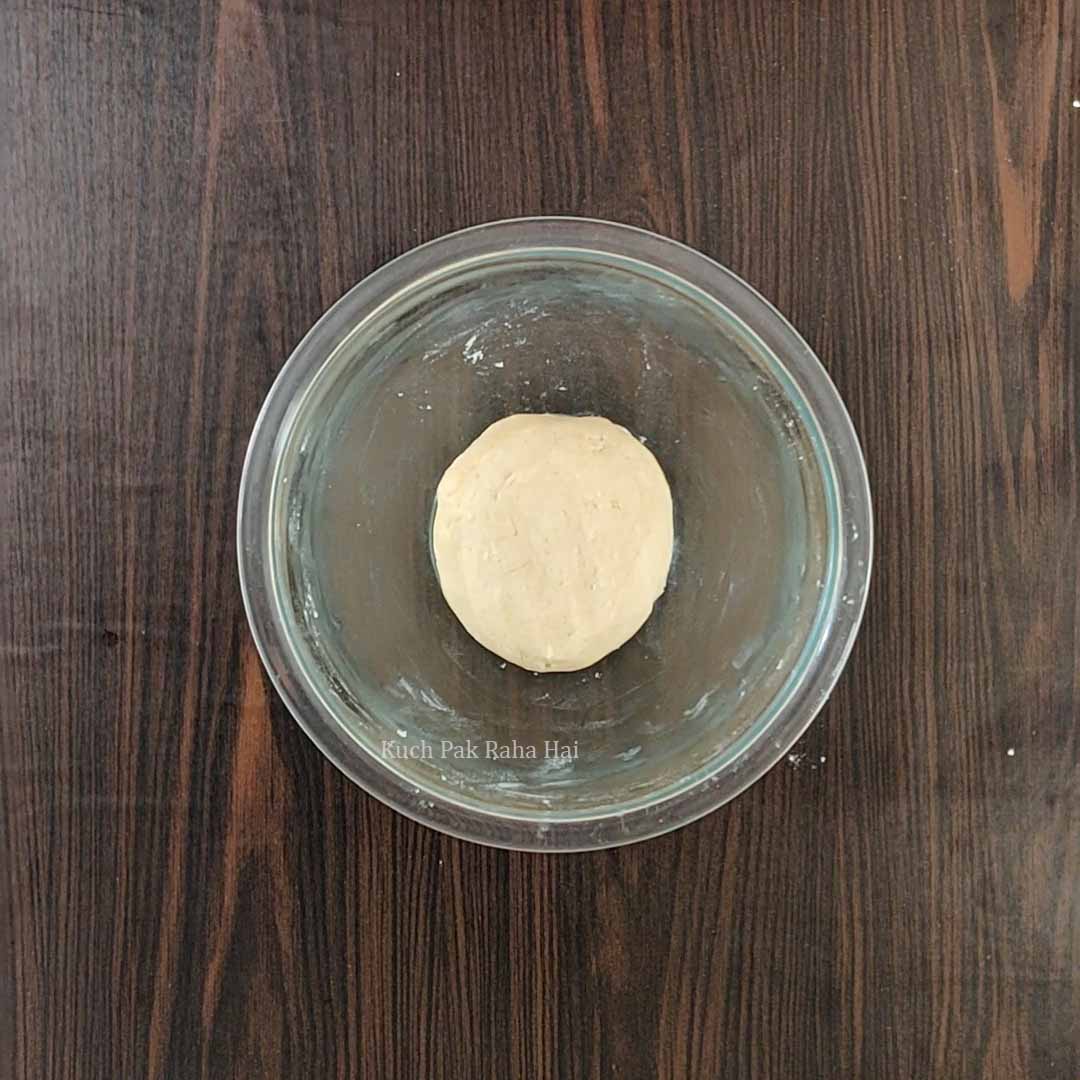 Step 4:
Divide the dough into 17-18 equal portions and roll them into smooth balls. Arrange them on a lined baking tray leaving gaps between them (as these cookies slightly spread).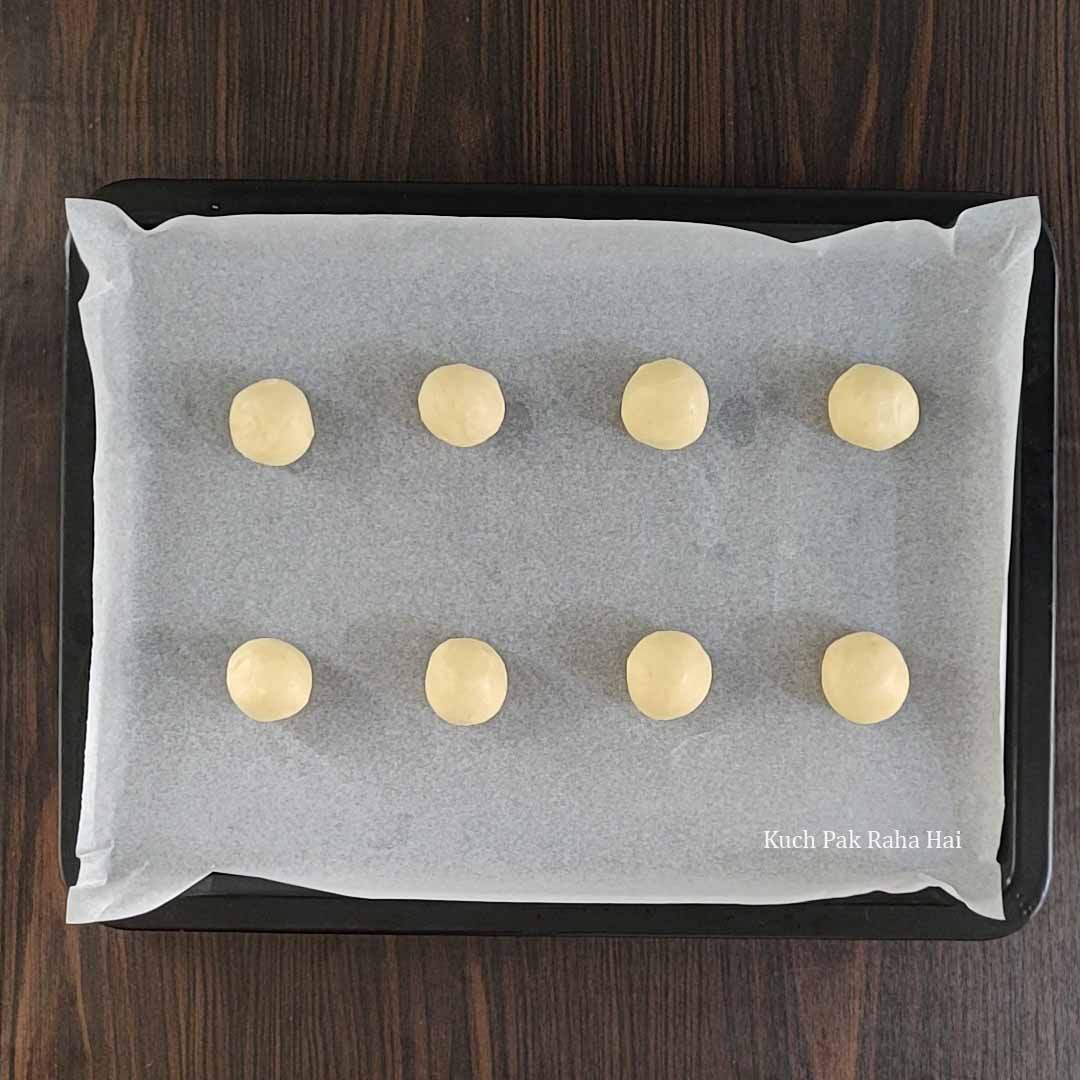 Gently make a hole in the centre of cookies using your thumb or back of 1/4 tsp spoon. Don't poke too deep. just make an indentation. Chill the cookies in fridge for 30 minutes.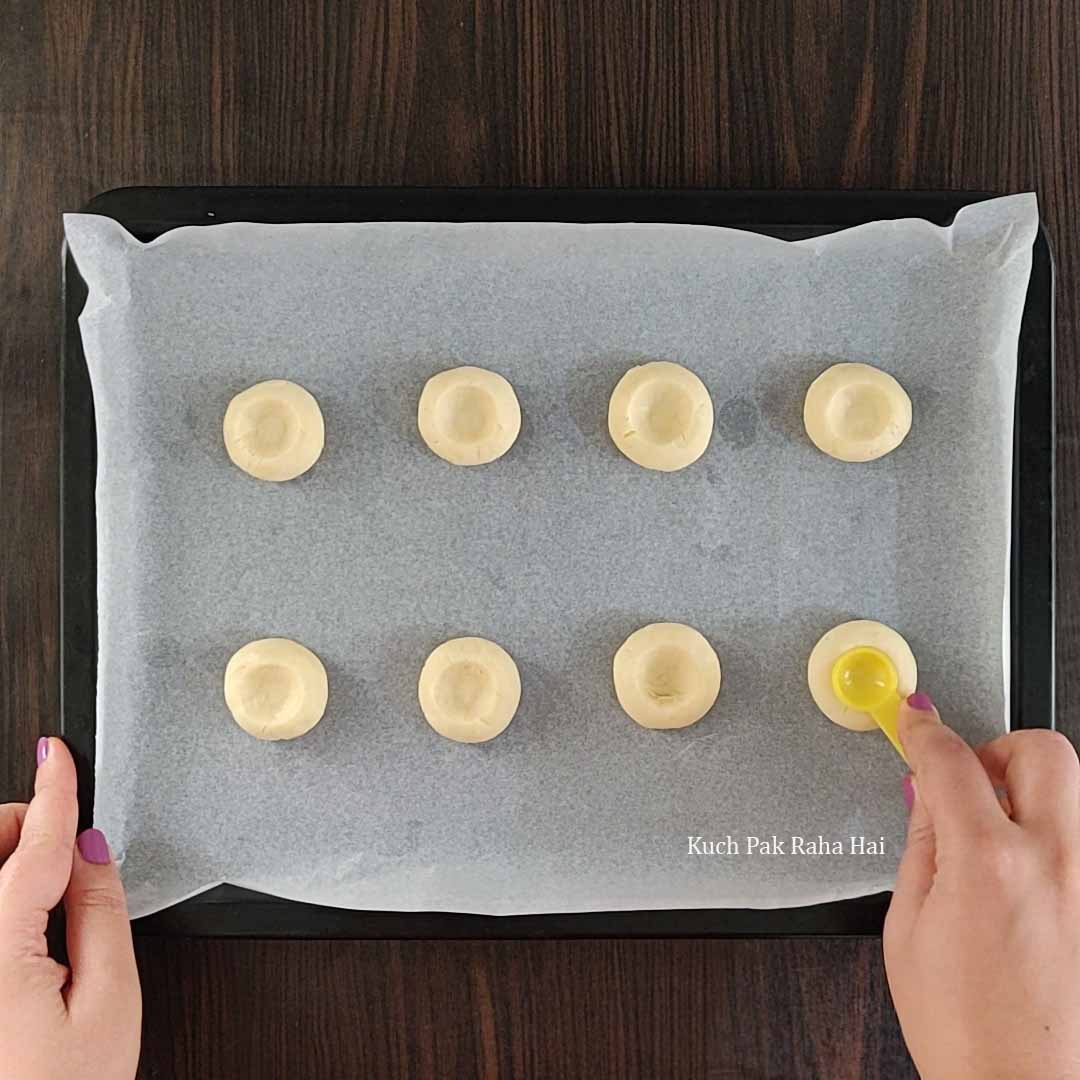 Step 5:
Whenever you are ready to make cookies, set the oven for preheating at 180 degree celsius. In the mean time, bring the cookies out of fridge and fill the centre of each cookie with 1/3 tsp jam of your choice. You can use spoon or fill the jam in a piping bag for this.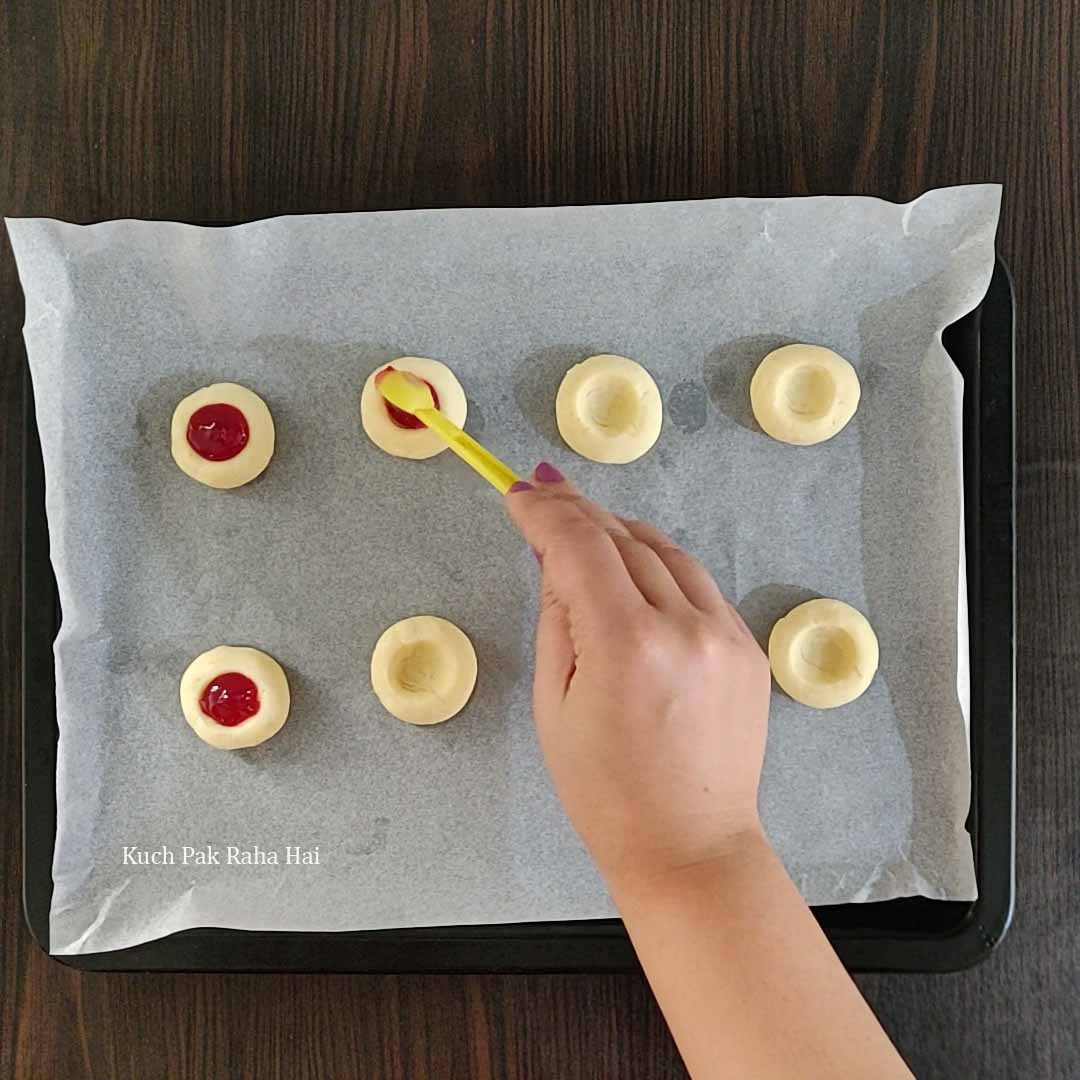 Step 6:
Bake these cookies at 180 degree celsius for 15-17 minutes. Keep an eye after 15 minutes. If the cookies have become slightly golden near the bottom edges that means they are done else bake for 1-2 minutes more.
Let the cookies cool down in baking tray for 5 minutes and then transfer them on a rack to cool down completely. They will seem soft initially but will become crispy on cooling down.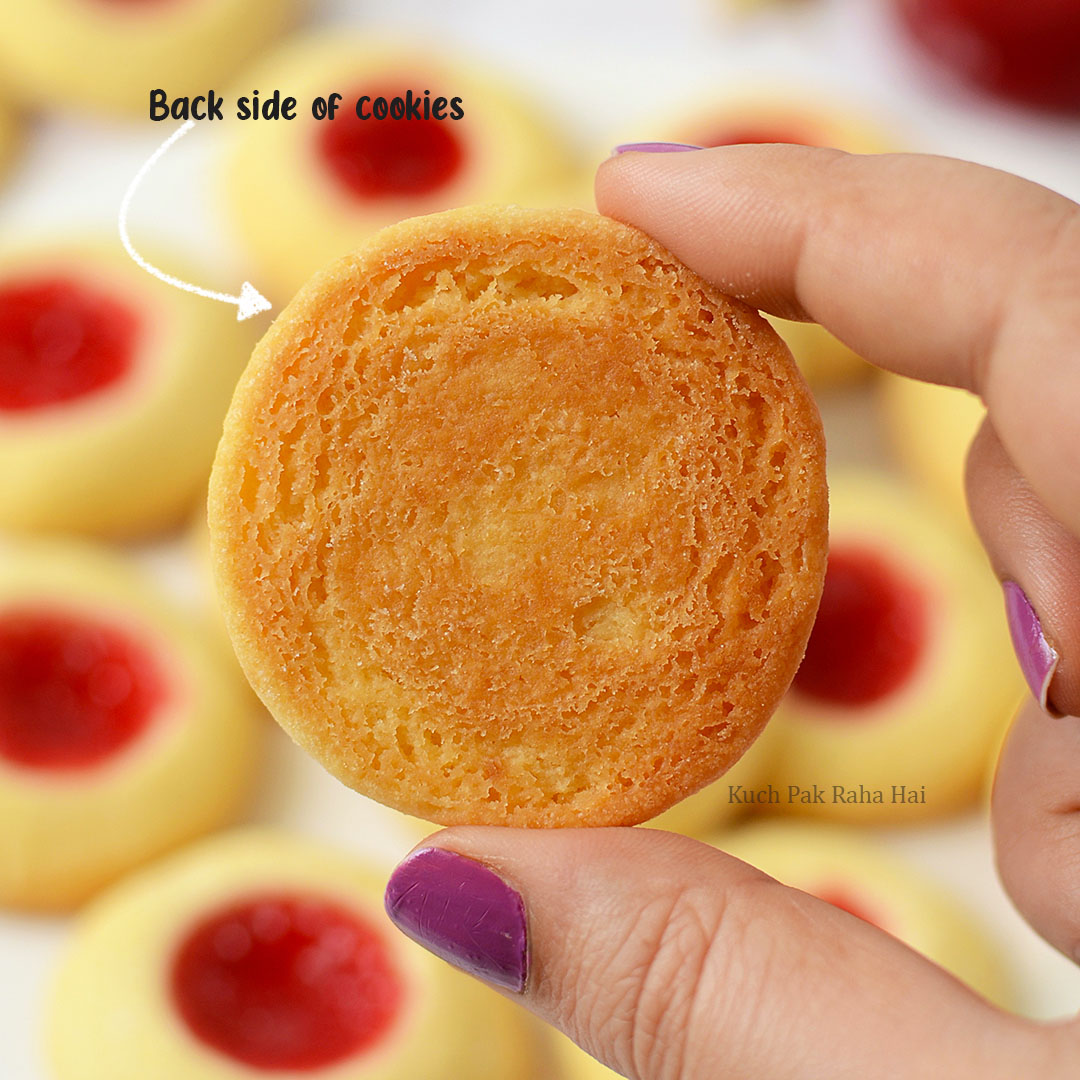 Delicious buttery jam thumbprint cookies are ready. Enjoy them with tea, coffee or glass of milk.
How to store these jam cookies?
These jam filled thumbprint cookies can be stored in an airtight container for upto a week. (If you have kids at home then these cookies definitely vanish really quick!!)
Pin for later: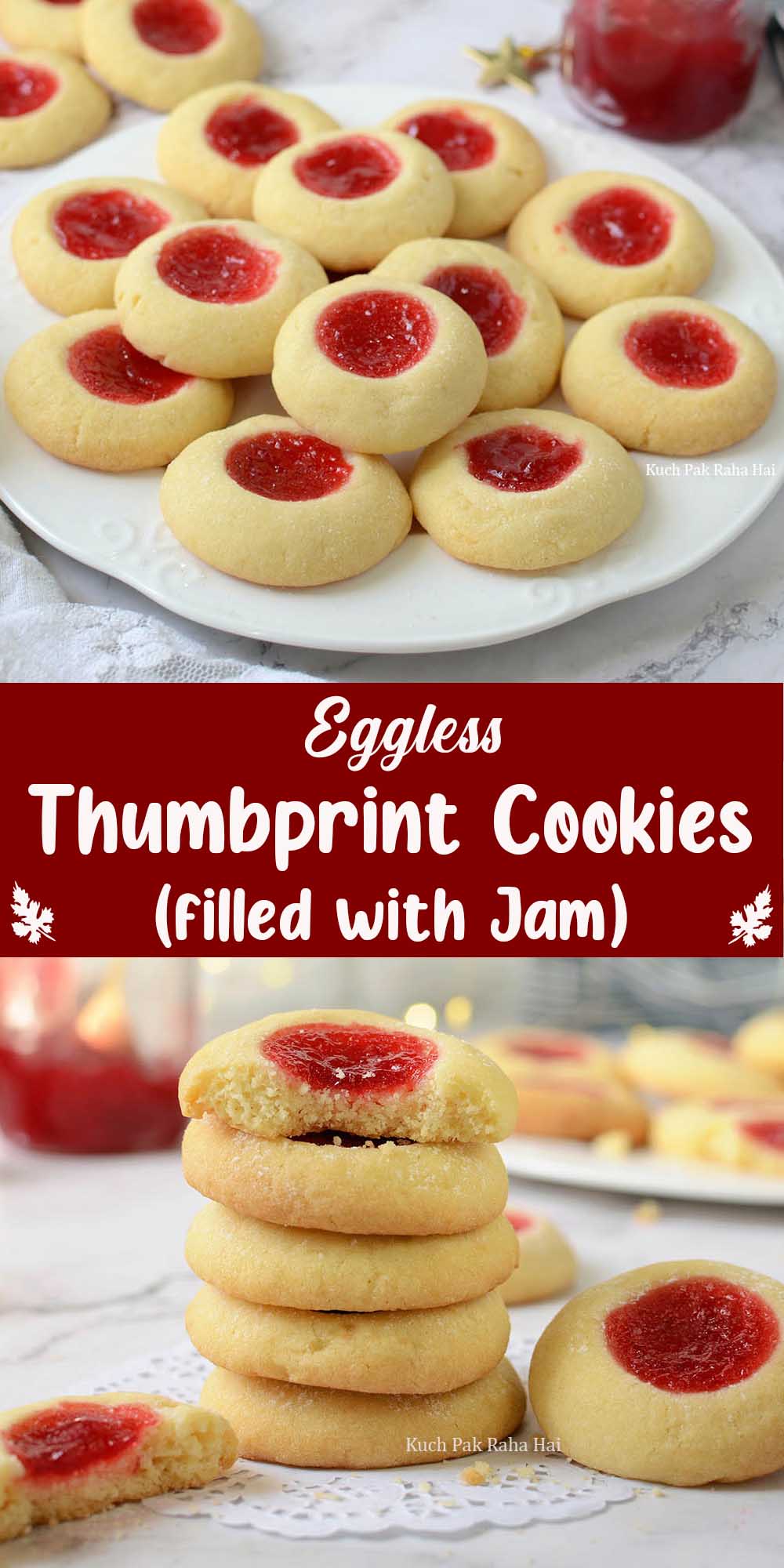 If you try this jam thumbprint cookies recipe & share pics on social media, then don't forget to tag us on Facebook, Instagram or use #kuchpakrahahai.