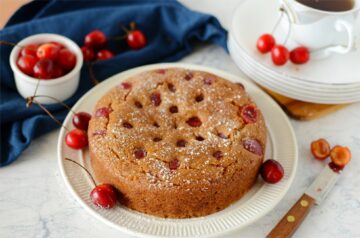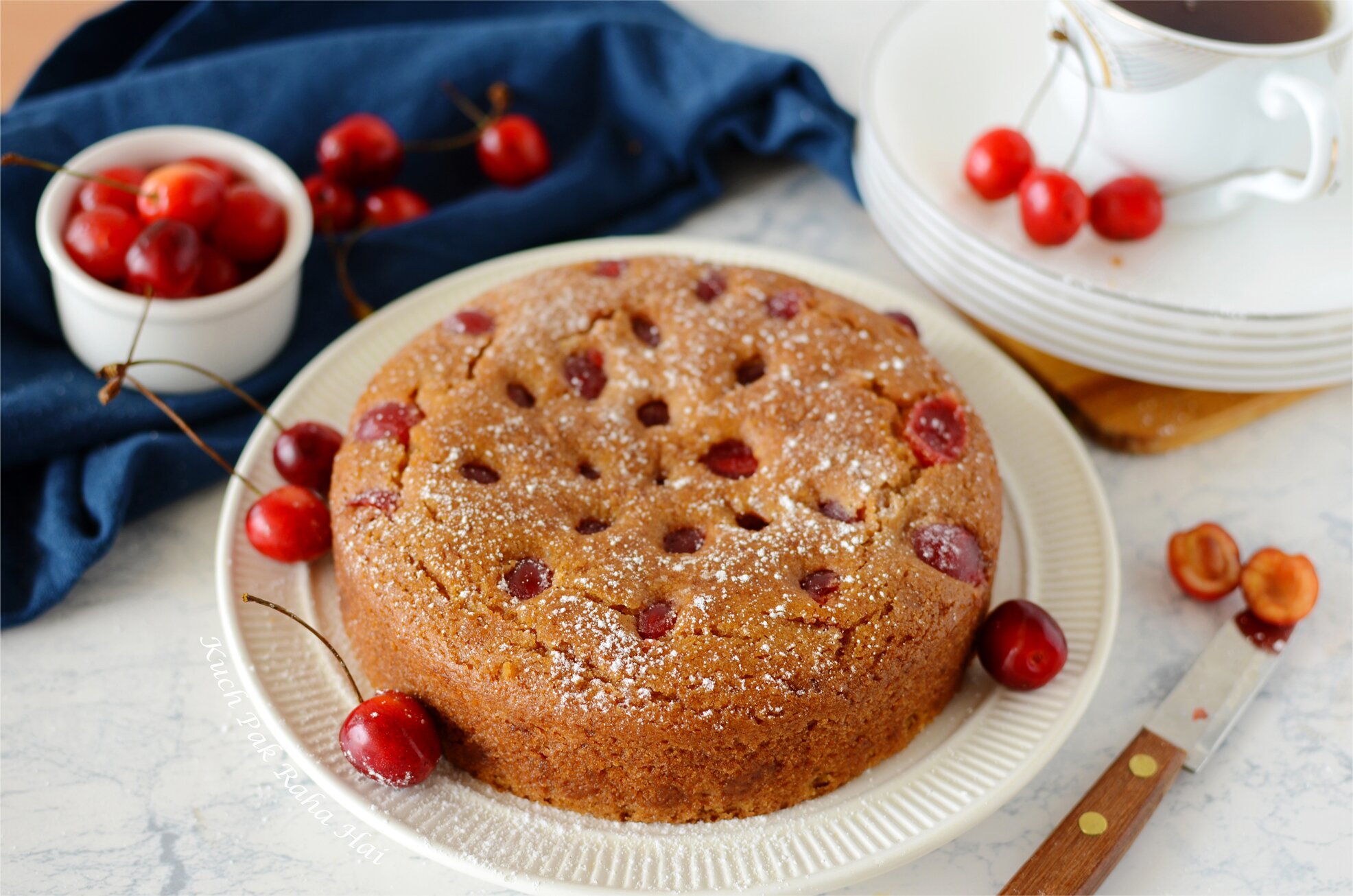 Cakes are loved by everyone, a great accompaniment for tea time and part of almost celebrations. It gets tricky when we have to make these cakes gluten free as baking with gluten free flours is much different from regular flour. In this post I have shared recipe for eggless gluten free cake made using rice flour & fresh juicy cherries.
This Eggless Gluten free rice flour cake recipe is given to me by my 'Nani' (maternal grandmother). She shared with me how she used to make this cake in cooker/kadhai for my mom & 'mama'(maternal uncle) when they were kids. As time passed, with introduction of fancy kitchen gadgets & easy availability of cakes in market, this recipe got lost somewhere. I got really curious on hearing this as I had never made cake using rice flour & tried the same recipe in convection oven. I included some season's fresh cherries in it.
These days gluten allergy (or celiac disease) has become quite common especially with kids. Also, many people are willingly excluding gluten from their diet for detoxification or other health reasons. This should not become a hindrance in enjoying one of the yummiest desserts 'cake'. There are different types of gluten free flours available in markets like chickpea flour, lentil flour, quinoa flour & almond flour. I am going to make this cake using a most commonly available gluten free ingredient (especially in Indian homes) which is "Rice flour".
The cake turns out to be absolutely delicious & refreshing with hints of cherries. You don't actually miss the APF or gluten part. Also, this gluten free cake is made without eggs and can be made withfew  ingredients easily available at home. As gluten free flours has tendency to absorb more moisture than usual flour it is best to combine it with something that add additional moisture in batter. You can even add strawberries, raspberries, blueberries or mixed berries of your choice.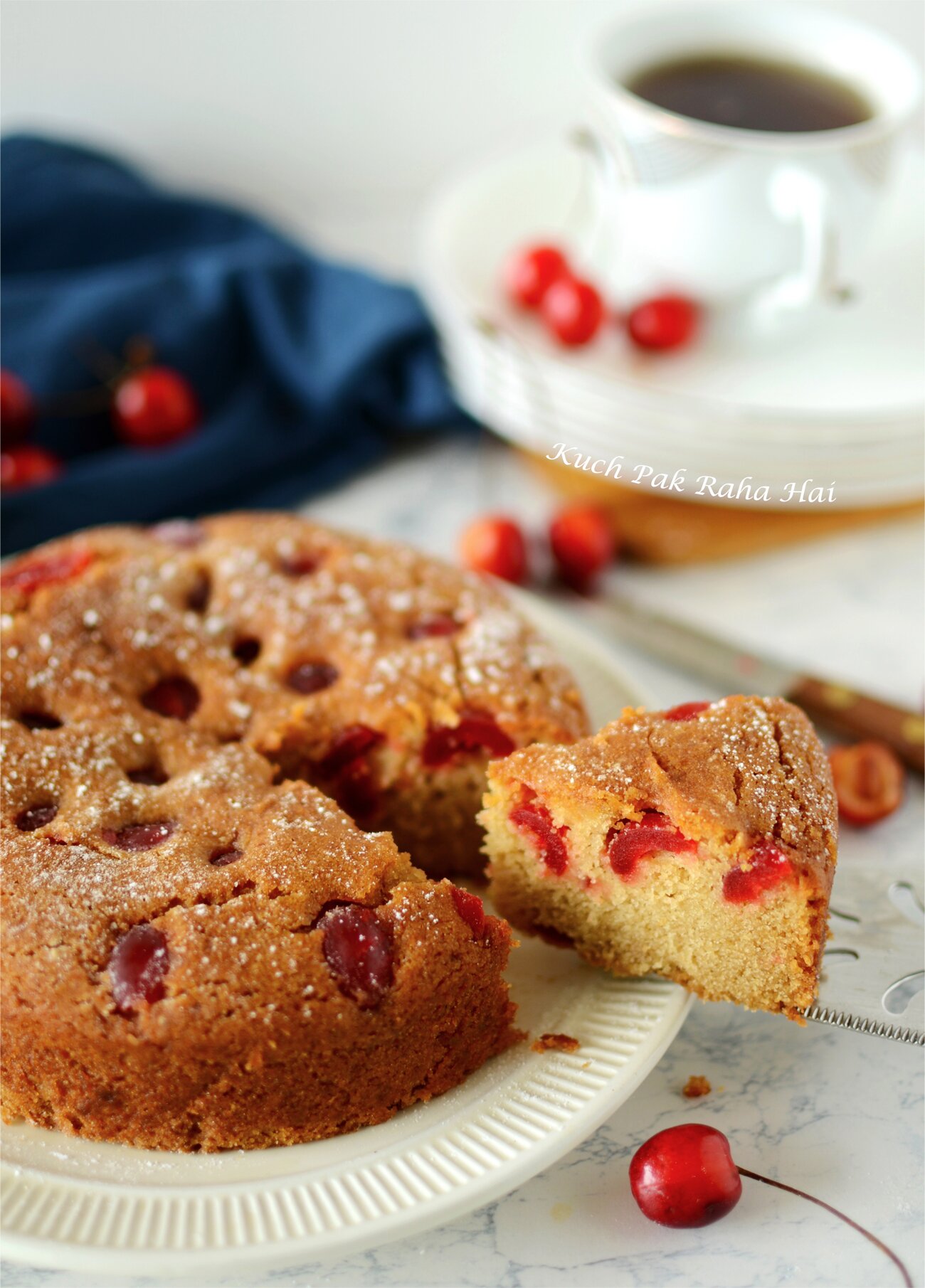 It is still a challenge in India to get gluten free flours readily in market. Rice flour is something which you can easily find it in any of the grocery stores. I have made a separate section for Gluten Free Recipes which includes different snacks, breads & main course recipes. Some of the gluten free recipes which you might like:
For more such gluten free recipes, click here.
Below I have explained in detail each step along with the supporting image that will help you in proceeding with the recipe. In case you are confused at any step please let me know & I will be happy to help 😊
Hope you would like this Eggless Gluten free Vanilla cake!!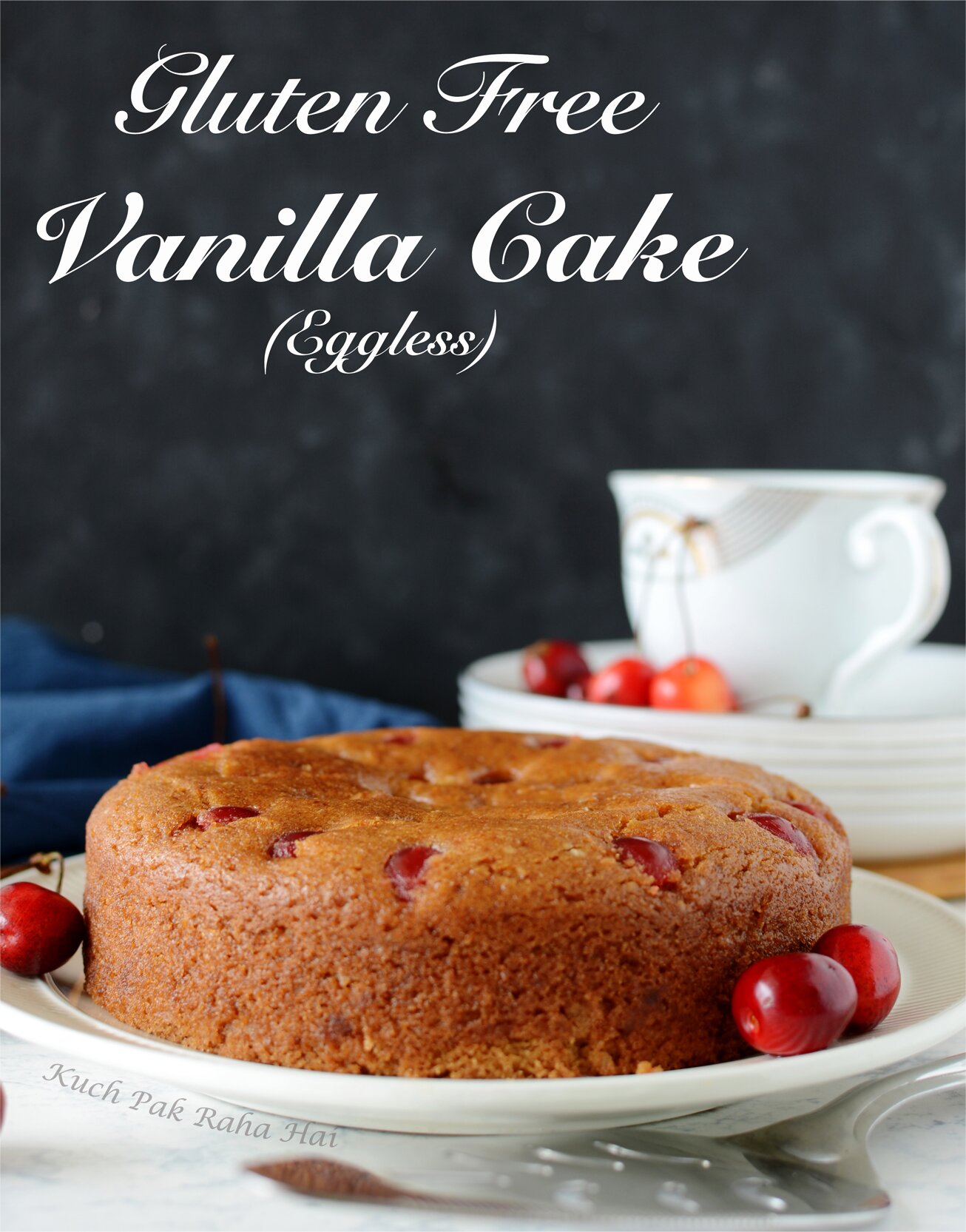 Ingredients:
Rice Flour – 1 cup
Baking Powder – 1 tsp
Baking Soda – ½ tsp
Thick Curd/Yoghurt – ¼ cup
Brown sugar – ½ cup
Olive Oil – ¼ cup
Milk-1/4 cup + 2 to 3 tbsp
Vanilla Extract – 1 tsp
Pitted Cherries – ½ cup
For soaking:
Sugar – 4 tbsp
Water – 4 tbsp
Cake Tin:
I have used 6.5″ inches diameter aluminium cake tin here.
Substitutions:
Instead of olive oil you can use sunflower oil or any oil which is tasteless & odourless.
For vegan version, use almond or soy milk and non dairy yoghurt.
I have used cherries as they were in season right now. You can use any berries or even mixed berries in this cake.
Steps To Prepare:
Step1:
Take curd or yoghurt & brown sugar in a mixing bowl. Whisk it well till all the sugar is dissolved. Add 1/4 cup milk, oil & vanilla extract to it. Whisk together once again till all the ingredients are mixed properly. These are the wet ingredients of the recipe. Keep them aside.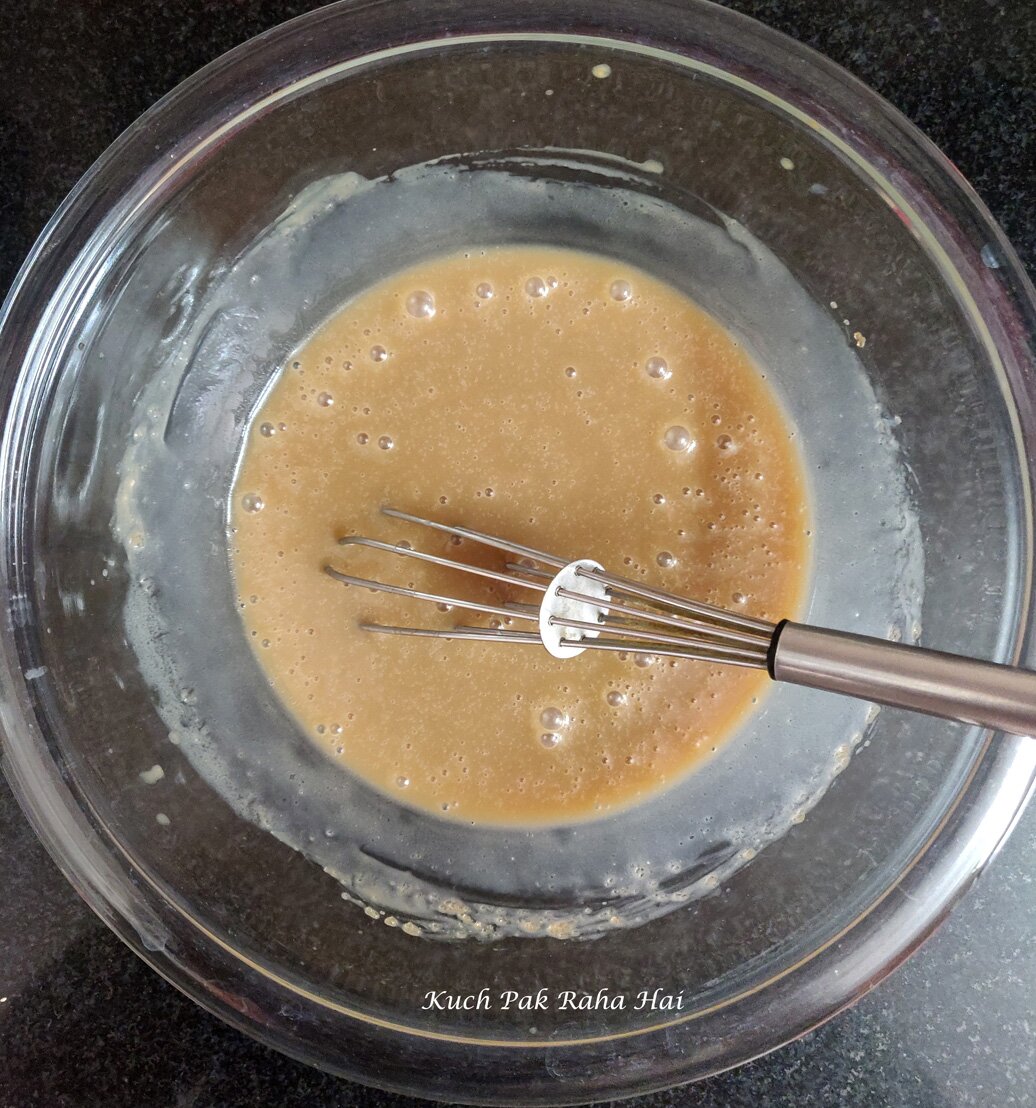 Hand Whisk: https://amzn.to/3dLWaoe
Step2:
Roughly Chop half of the pitted cherries & sprinkle 1/2 tsp rice flour over it. This is to prevent the cherries from sinking. We are saving some cherries to garnish on top.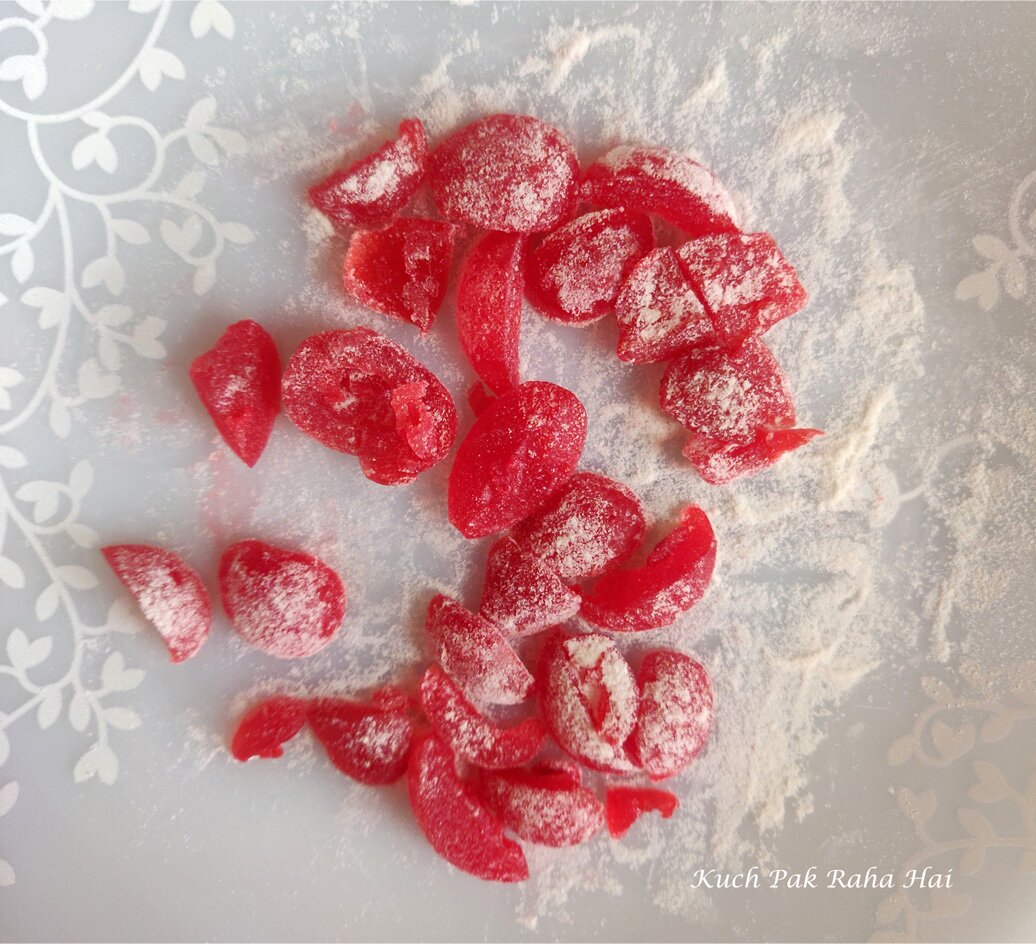 Pitted Cherries: https://amzn.to/2VAcJgm
Step3:
Sieve together rice flour, baking powder & baking soda. Sieving is done to make the flour lighter which will increase aeration. Also there will be no lumps in our batter. These are the dry ingredients of cake. Keep these aside.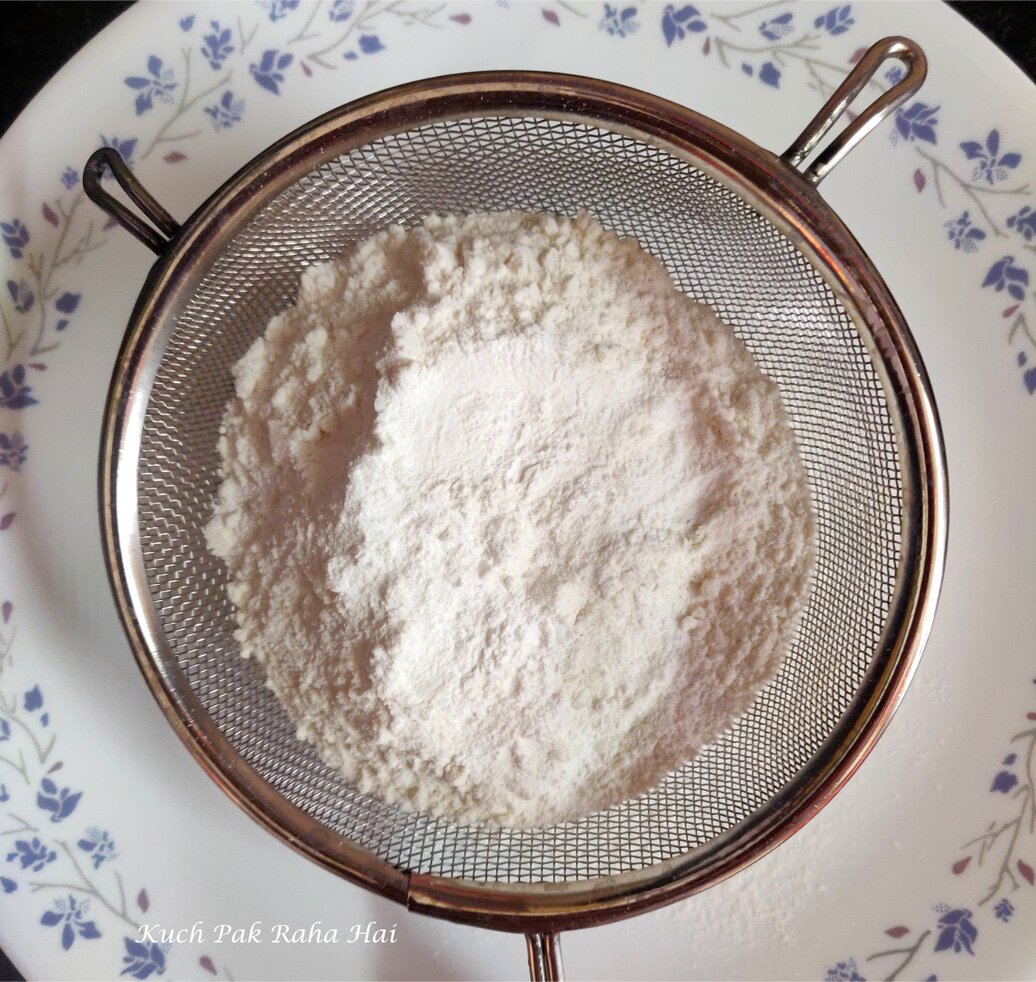 Step4:
We will line the baking tin with parchment paper. We will brush some oil on the base, flatten out the butter paper (which we have cut as per the size of tin) and then again brush some oil over & on the insides of tin. Keep it aside.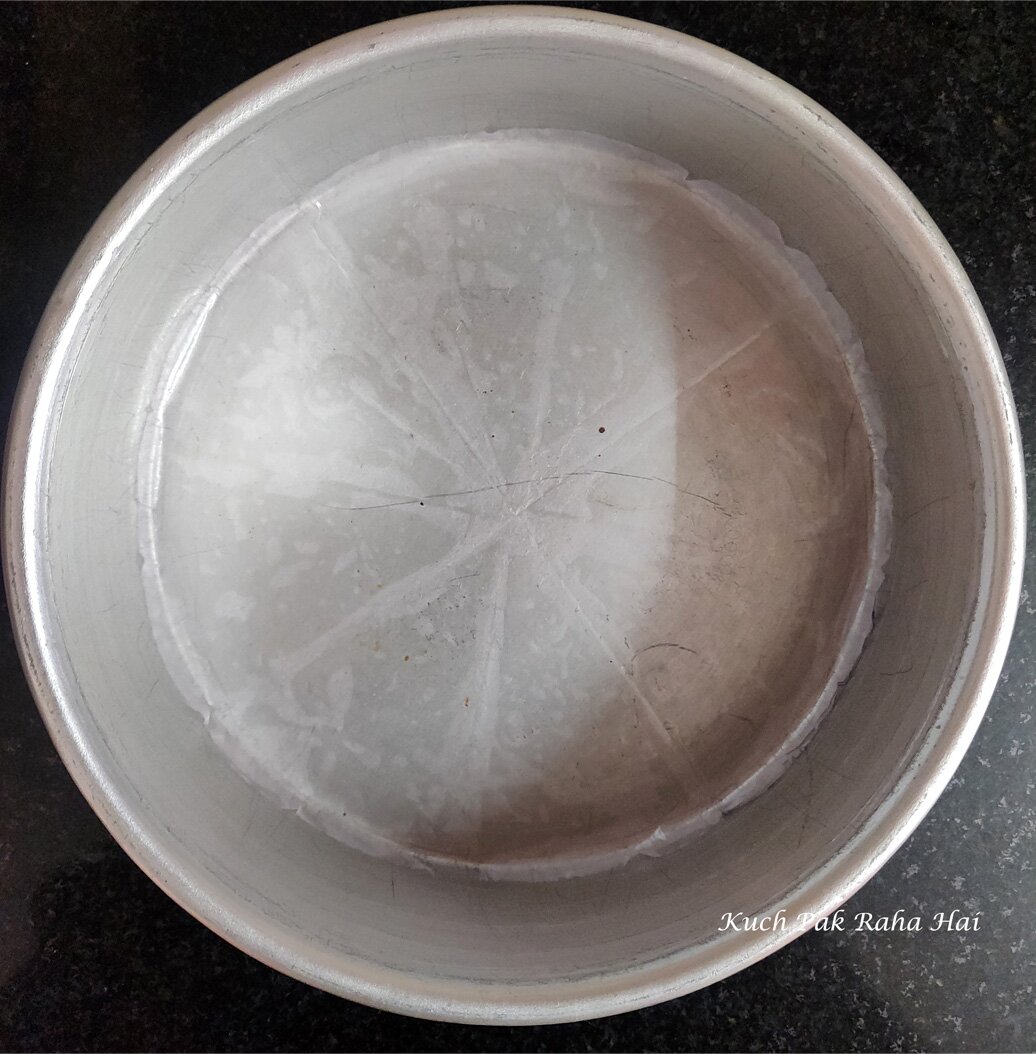 Cake Tin: https://amzn.to/3dMBZX9
Step5:
Start preparing the batter by mixing dry ingredients into wet ingredients. We will add dry ingredients gradually while sieving them once again. Add a tablespoon of milk. Repeat this process. The quantity of milk varies according to the quality of rice flour. It takes total 2-3 tbsp of milk.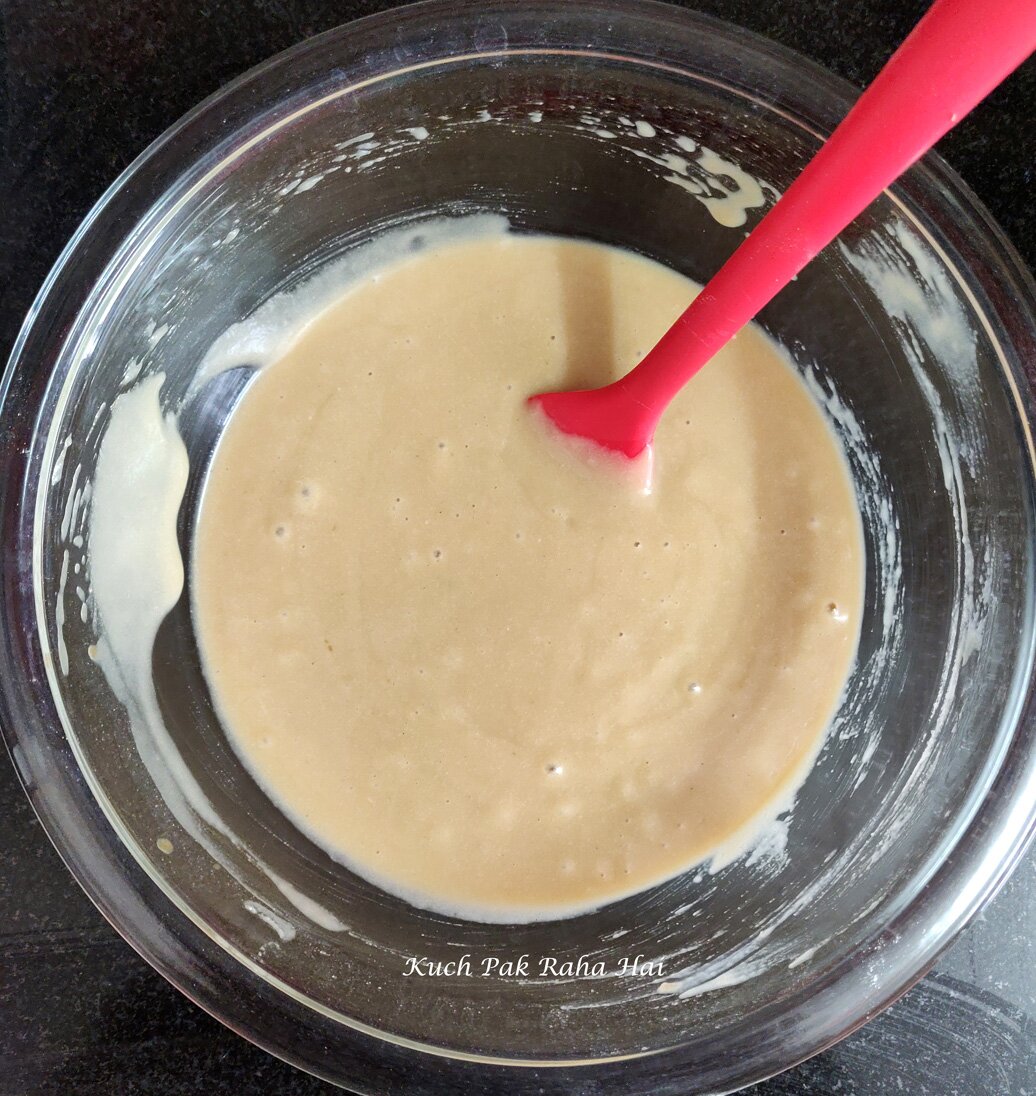 Mix well till there are no lumps. Generally it is asked to fold the cake batter gently as it leads to gluten formation but as we are using gluten free flour i.e rice flour we don't have to worry about it. Aerate the batter well buy mixing for 4-5 minutes. The batter should pour in ribbon consistency.
Cover the batter bowl with a lid/bowl. Let the batter rest for 10-15 minutes. Normally we don't leave the cake batters to rest but for gluten free flours it is better to rest them as it gives it time to soak up liquid. In the mean time, set the oven for pre-heating at 170 degrees Celsius.
After this time, check the consistency of batter once again & if it has thickened add 1-2 tsp of milk more.
Step6:
Fold the chopped cherries into the batter which we prepared in Step3.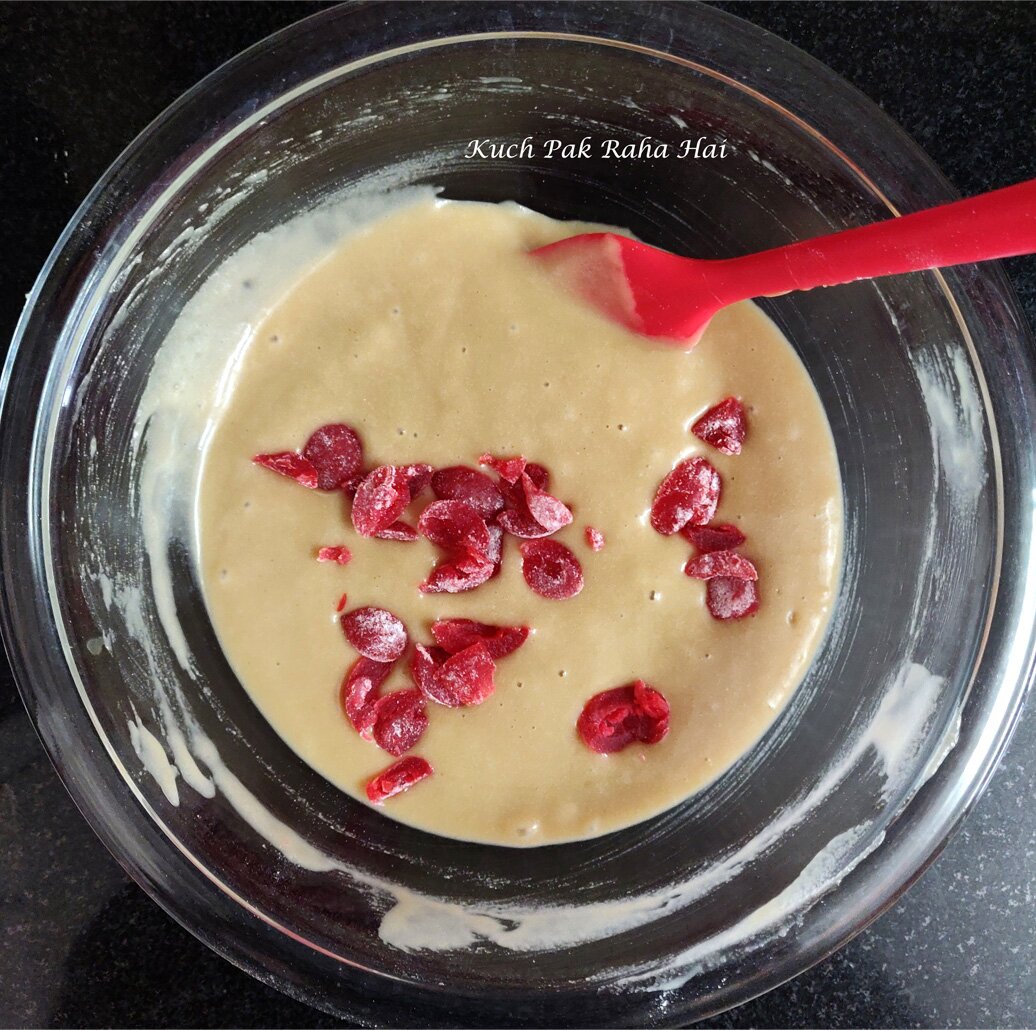 Pour this batter in greased cake tin. Top it with some more halved cherries.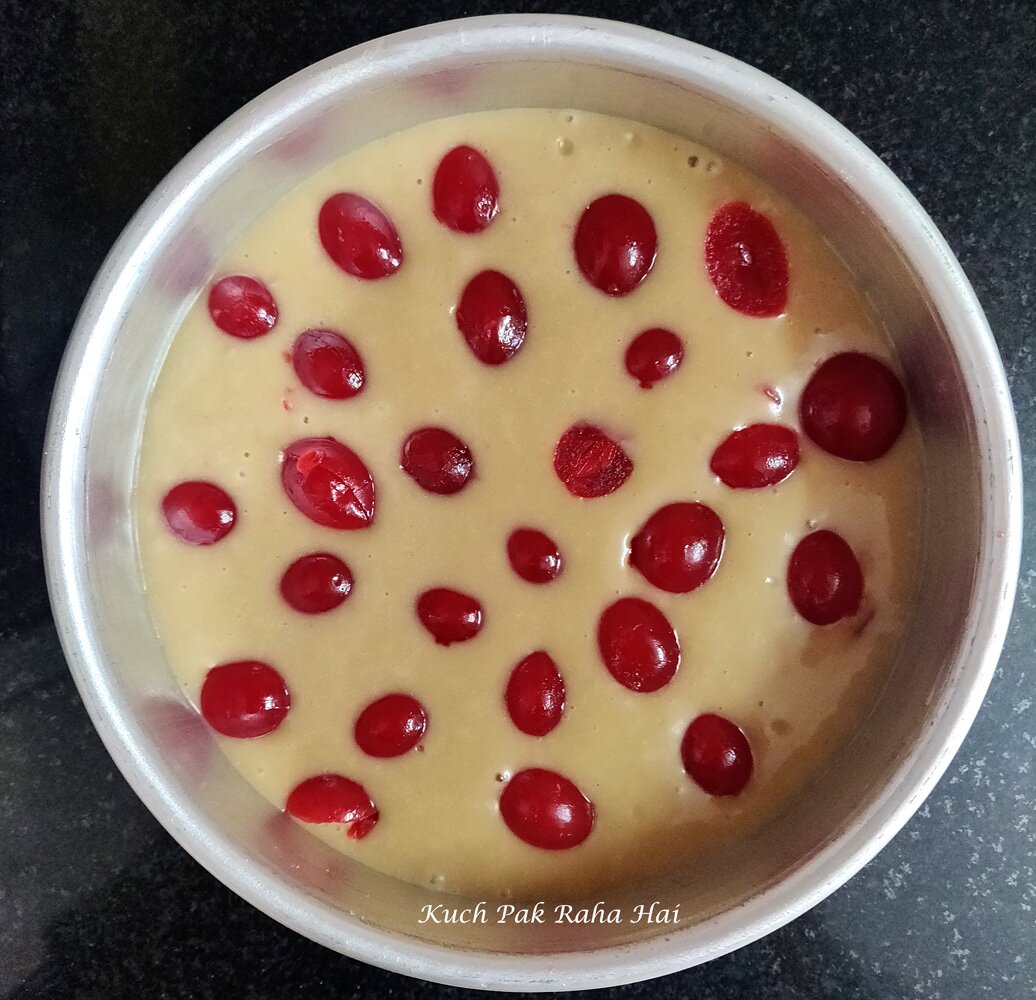 Step7:
Bake this at 170 degrees Celsius for 25-30 minutes. Check with toothpick after 25 minutes, it should come out clean else bake for 2-3 minutes or more till you get clean toothpick.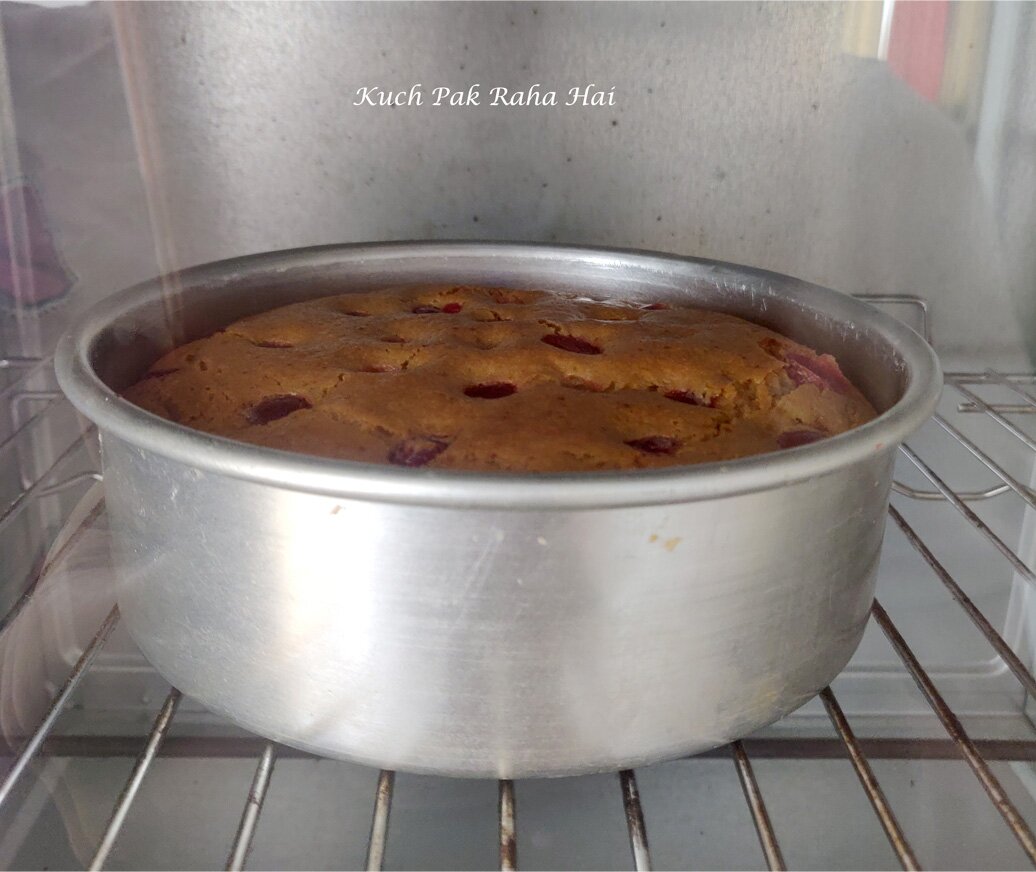 Bajaj OTG oven: https://amzn.to/3gdYuWB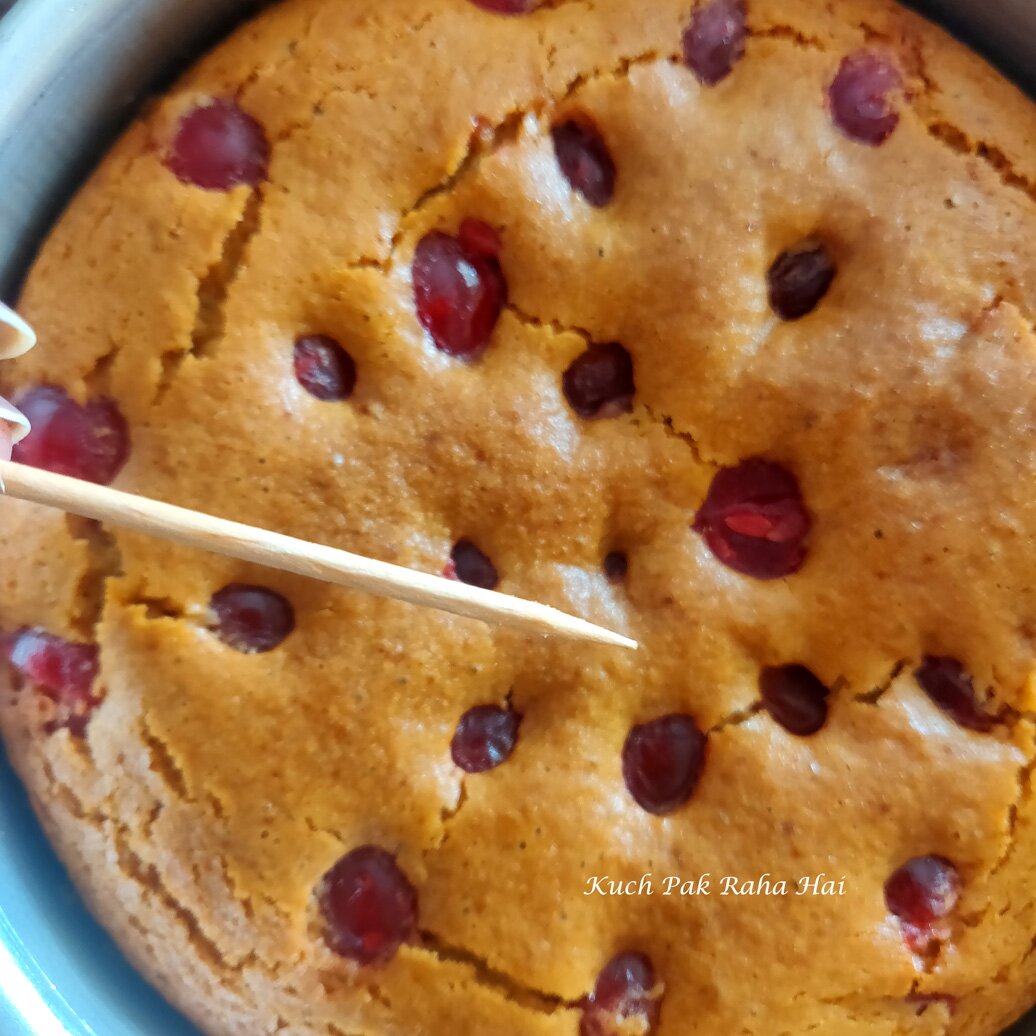 Step8:
Once the cake is baked, let it cool down for 10-15 minutes. Cover it with a kitchen towel while cooling to prevent it from drying. Free the edges by sliding knife between cake & insides of cake tin. Cover the cake tin with a plate & invert the cake over it. Peel off the butter paper gently.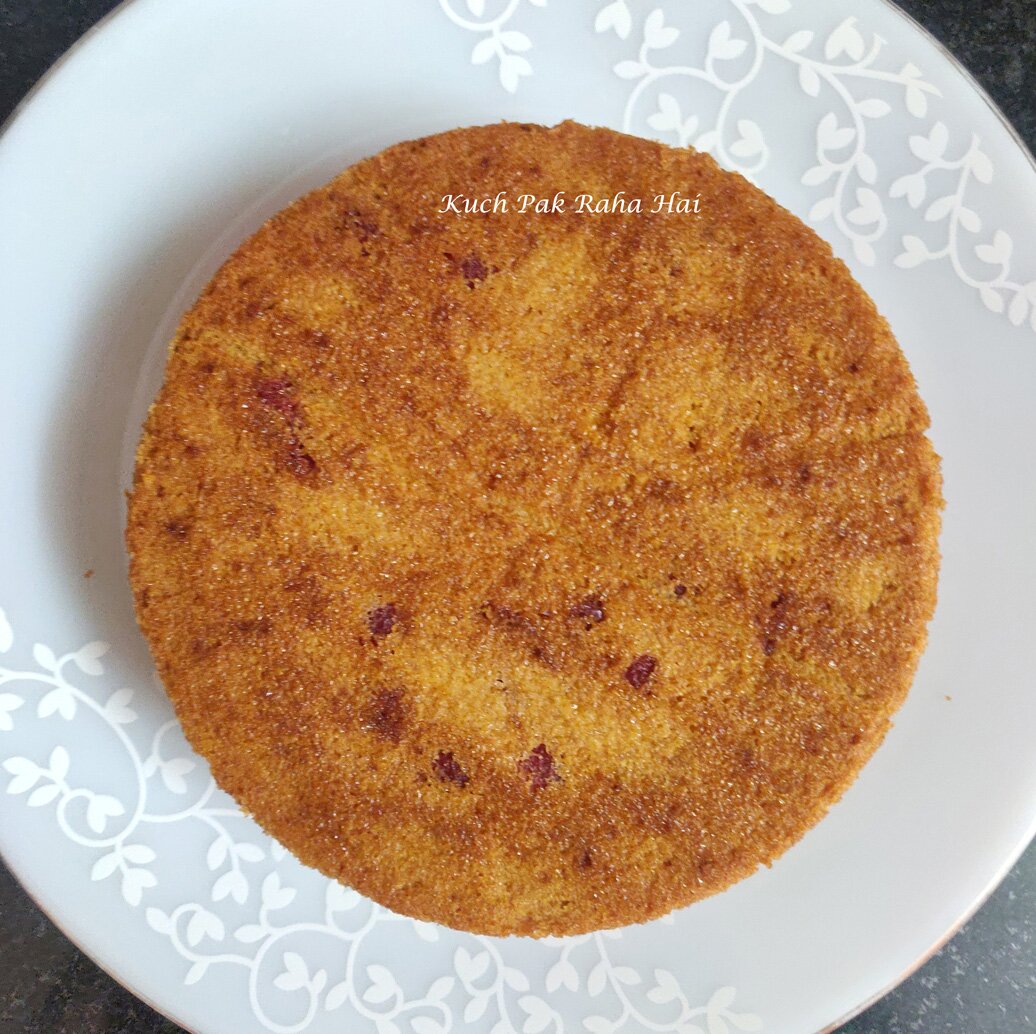 Transfer the cake over a wire rack to cool down completely.
Serving Suggestion:
As gluten free flours tend to absorb moisture with time, I would suggest to either frost the cake or serve it with whipped cream or cherry compote. You can also make sugar syrup by mixing equal quantity of sugar & water (4 tbsp of sugar + 4 tbsp of water) and simmering it down till all the sugar is dissolved. Brush the cake with this syrup & let it absorb completely before serving.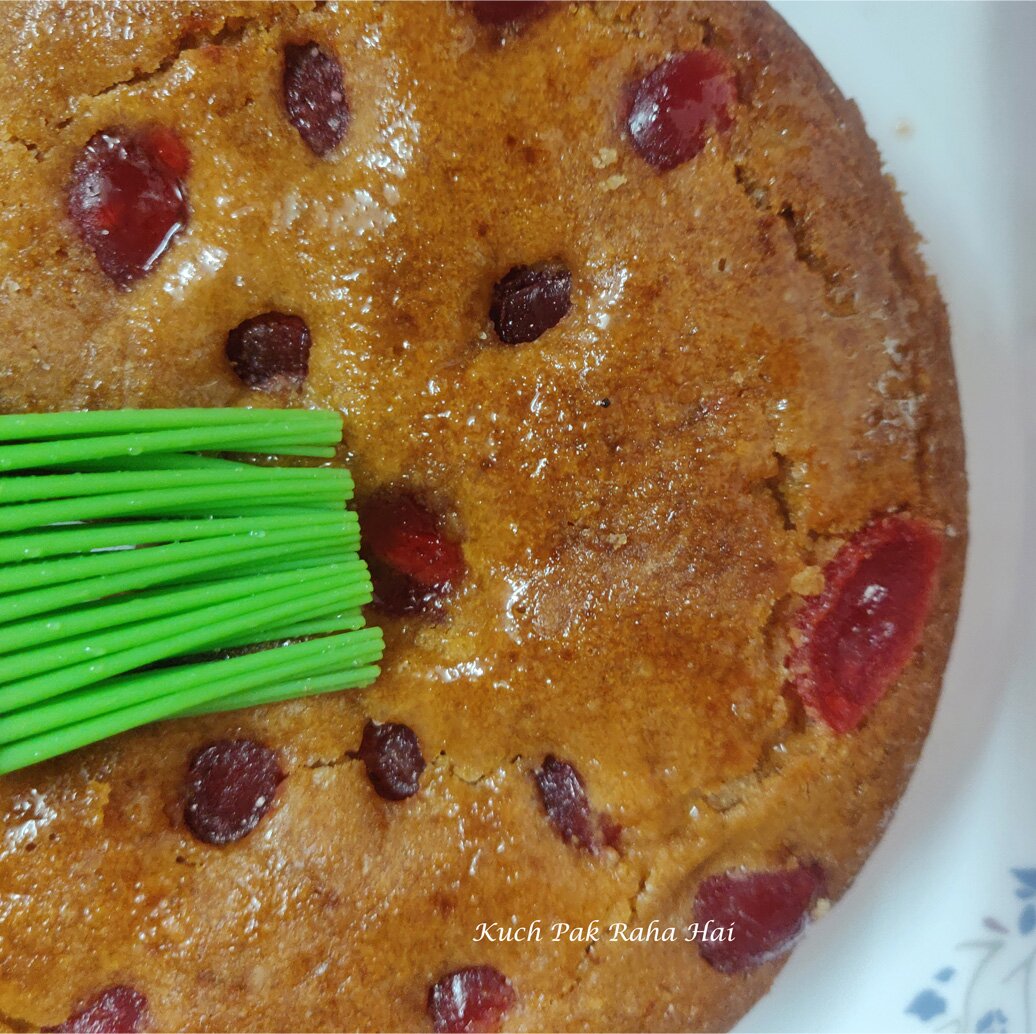 You can dust some powdered sugar over it. Enjoy this delicious Gluten free Eggless Vanilla Cherry cake!!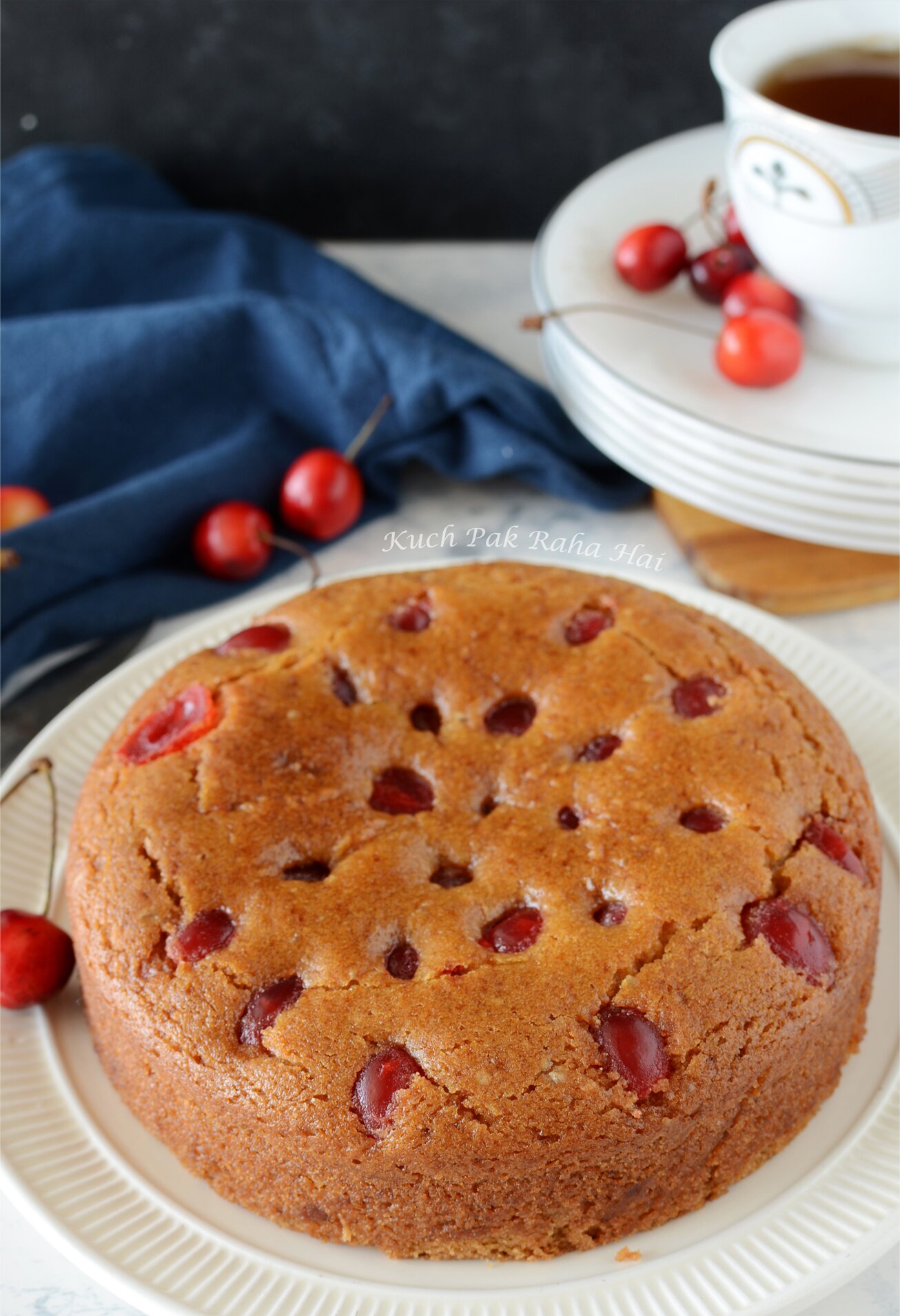 We also share interesting food videos and tips on our Youtube channel & Instagram page. Do Follow or Subscribe to stay in touch!! 😊