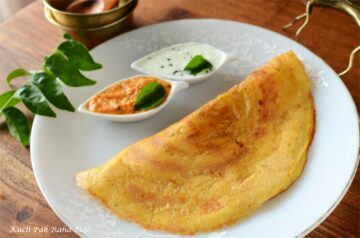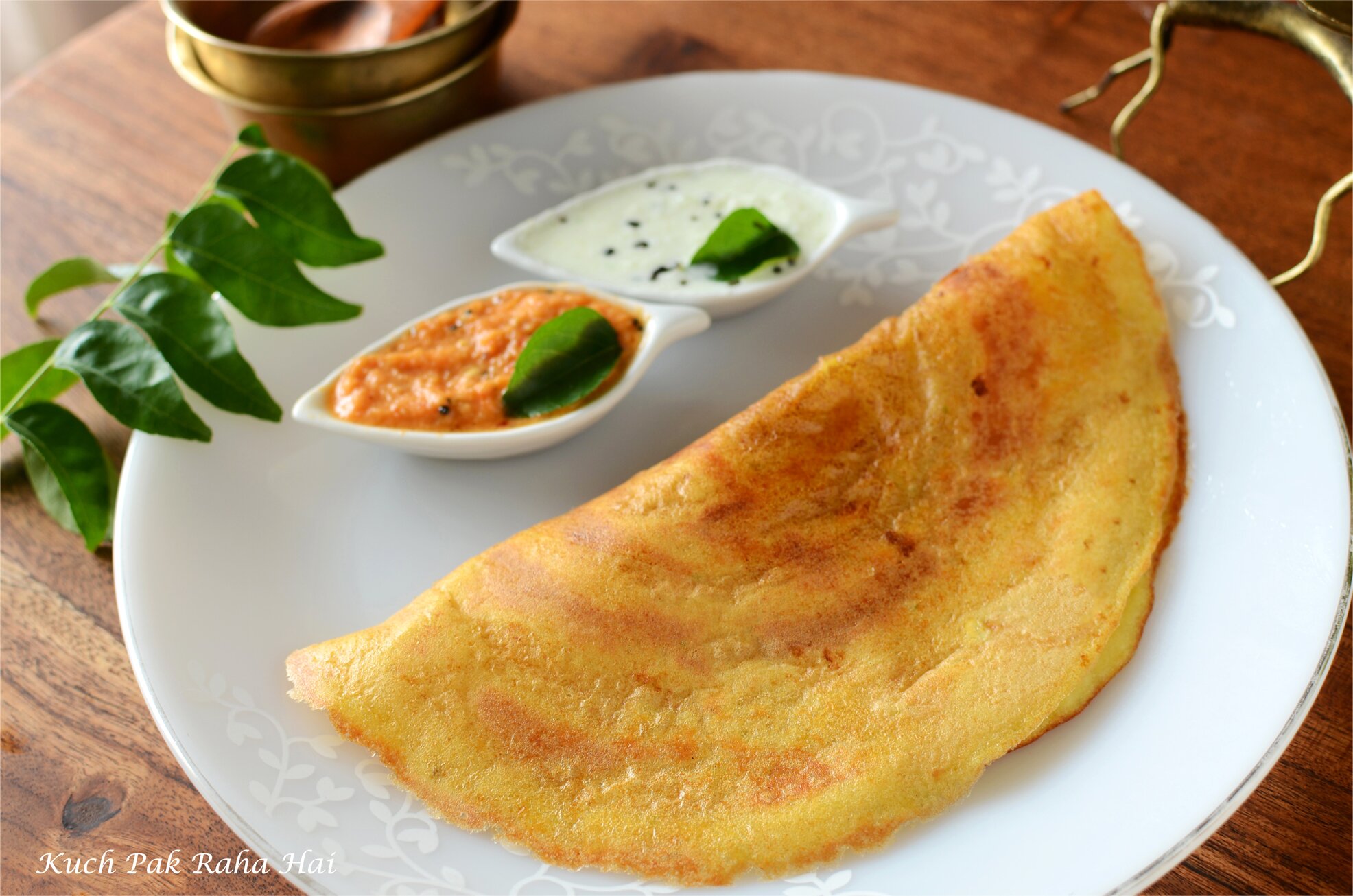 In this post we will be making a unique & instant version of dosa called 'Sweet Corn Dosa' using sweet corn kernels. The best part about it is that you don't have to wait for the batter to ferment. It is an easy & quick dosa recipe and no rice has been used in it. Sweet Corn will be the main ingredient and the recipe is vegan & gluten free.
Dosas are crispy crepes, originating from South India. Traditionally they are made by grinding soaked rice, split black gram, fenukgreek seeds & fermenting the batter but here we have made them using sweet corns.
With more & more people opting for plant based diets these days, I felt that this post will be really helpful as all the ingredients used in this recipe are easily available at home & also takes less time & effort in preparation. These crispy corn dosas are perfect for breakfast or snacks. You can have them with South Indian style coconut or onion-tomato chutney. As these dosas are slightly sweet in taste, I prefer eating them with tangy Onion-Tomato Chutney. You can check out the different Chutney recipes below:
I had shared one more instant version of dosa – Mixed Lentils Dosa. This dosa recipe is also vegan, gluten-free & completely protein packed as it involves a blend of different lentils. You can check out its recipe by clicking here. At my home, it was always casually referred as "Dal ka Dosa" but after coming to Hyderabad (in India) I got to know that the dosas made using lentils are authentically called "Adai Dosa". However "Adai Dosa" also include some rice in the batter.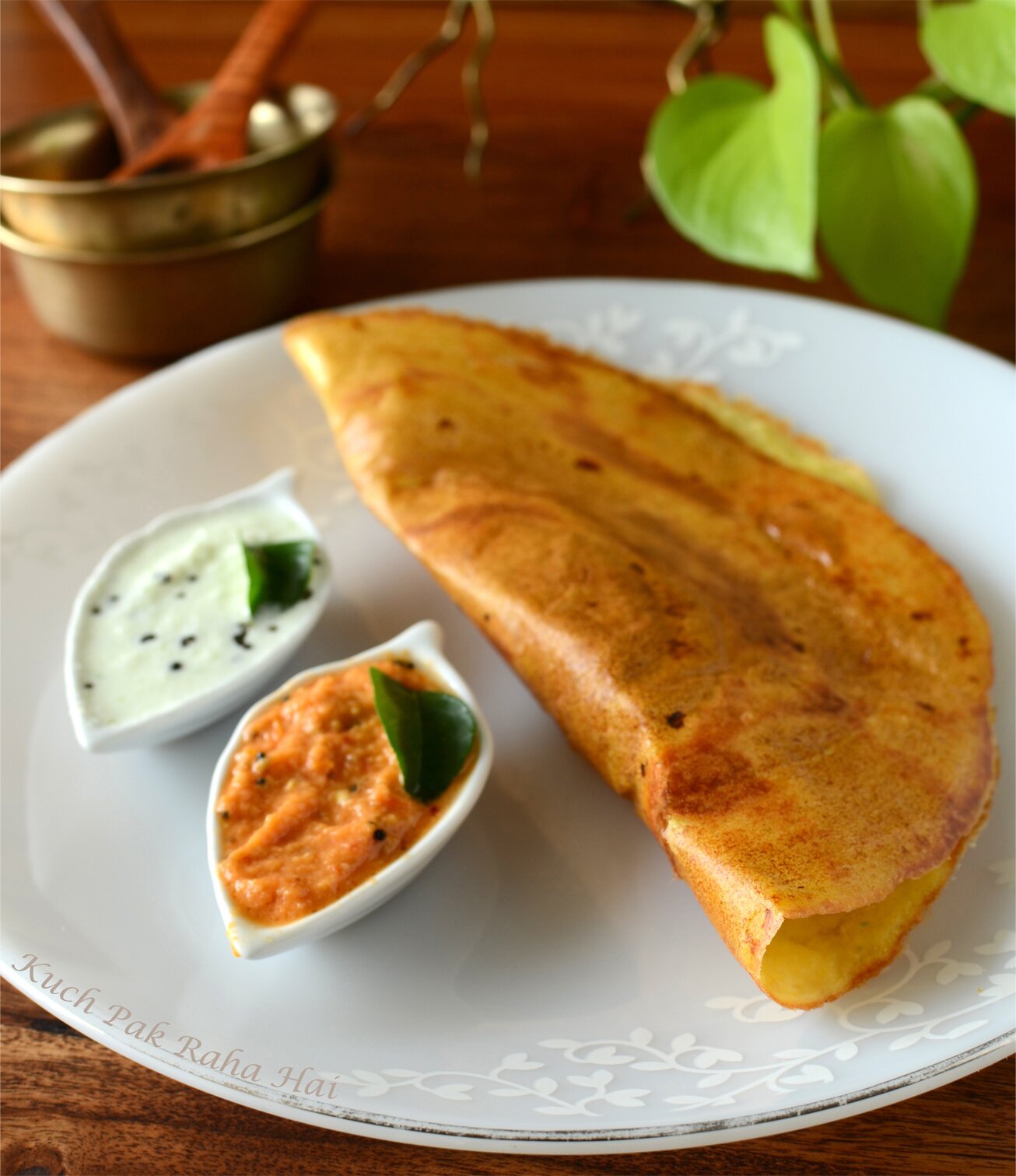 Sweet corn is a good source of antioxidants, fibre, vitamin B3 and other essential minerals. It is beneficial for eye health & aids in digestion too. However they should be consumed in moderation as it can cause blood sugar spike & cause hindrance in weight loss. I try to use organic sweet corn as much as possible & avoid using the GMO variety.
Most of the recipes shared by me on this blog are either passed on by my mother or nani (maternal grandmother). During this current lockdown situation, me & my grandmother talk frequently and as always she is concerned about what & how much I am eating every day 😂. While giving this sweet corn dosa recipe she especially said that you can make this anytime and at least make them in breakfast as it won't take long to prepare😊💟.
In this Corn Dosa recipe the major ingredient is going to be sweet corn but along with it we are adding some yellow lentil (moong dal too) & rice flour too as it helps in making the dosa crispy balancing the moisture from corn kernels. You can adjust salt & spices as per your taste.
Also the water should be added gradually while grinding as too much water will make the dosa batter thin & then they wont turn our crispy. Instead of red chilli powder I have added crushed black pepper as it tastes better. One of the key points while making this recipe is to NOT boil the sweet corn kernels. Using boiled kernels will increase the moisture content in our batter which we obviously don't want.
Other recipes which uses sweet corn are:
You can give this dosa in kids lunch box also as it is nutritious and will give an instant boost of energy. If they are cheese lovers, you can even grate some mozarella cheese inside this corn dosa before finally folding it.
Please do try this recipe and I am sure you will love it. Follow or subscribe us on other social media channels too for staying in touch. Links shared in the end.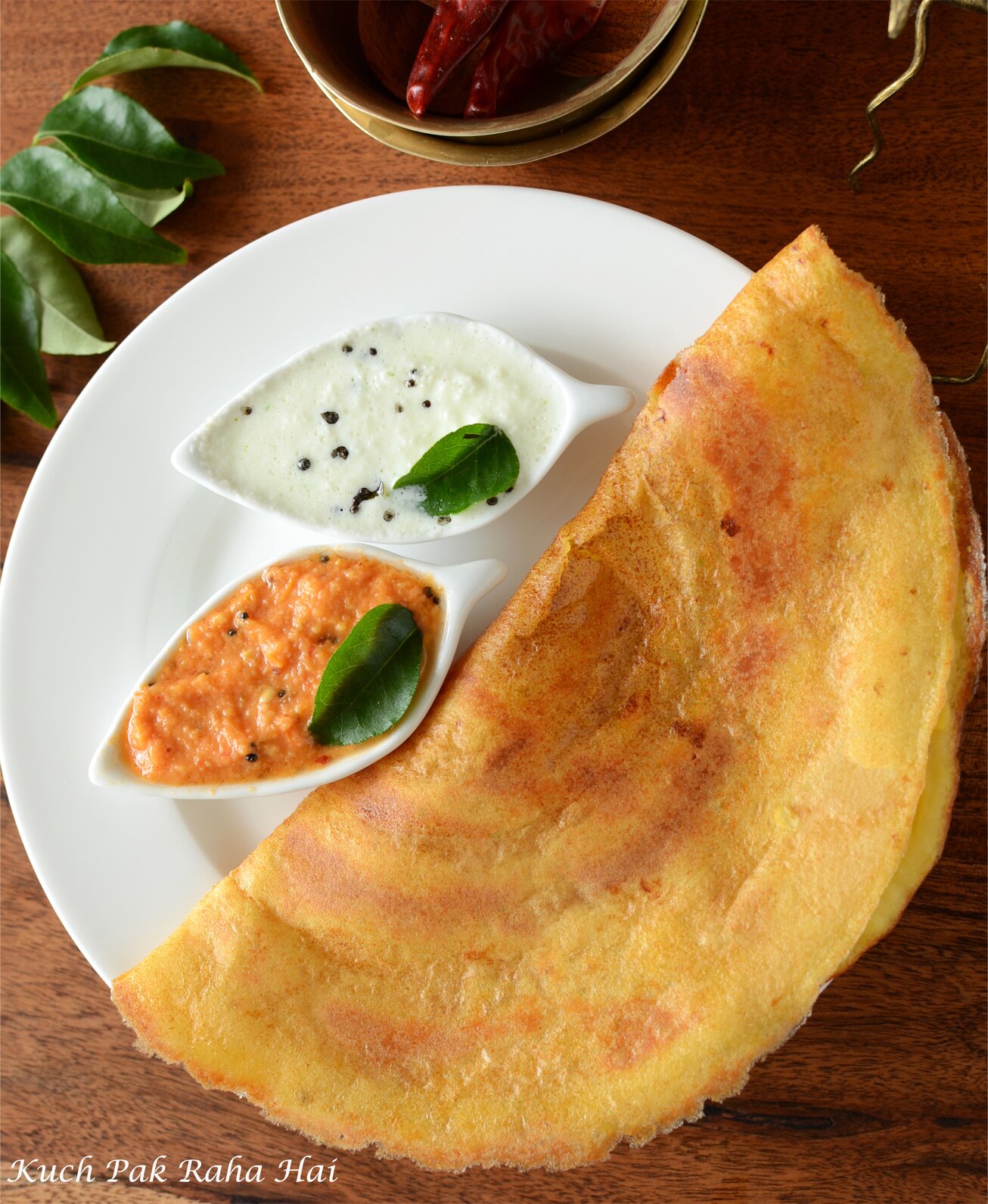 I have also shared a Youtube video for this recipe. You can check it out by clicking on the link below. Please SUBSCRIBE to the channel if you like it 🙂
Watch the Video:
Hope you will like this easy delicious sweet corn dosa recipe!!
List of Ingredients: (Makes 3-4 dosas)
Sweet Corn Kernels (Unboiled) – 1 cup
Split Moong Dal (Small yellow lentil) – 1/4 cup
Green Chillies – 2
Ginger Paste – 1 tsp
Salt – To taste
Black pepper – 1/4 tsp
Rice Flour – 3 tbsp
Water – 3 to 4 tbsp
Cooking Oil – 2 tbsp
Steps To Prepare:
Step 1:
Soak yellow moong dal in water for 1-2 hours. Yellow moong dal is deshusked & split whole green gram. The soaking helps in softening the lentil & it can be easily grinded. If you are making this recipe for breakfast, then you can even soak it a night before.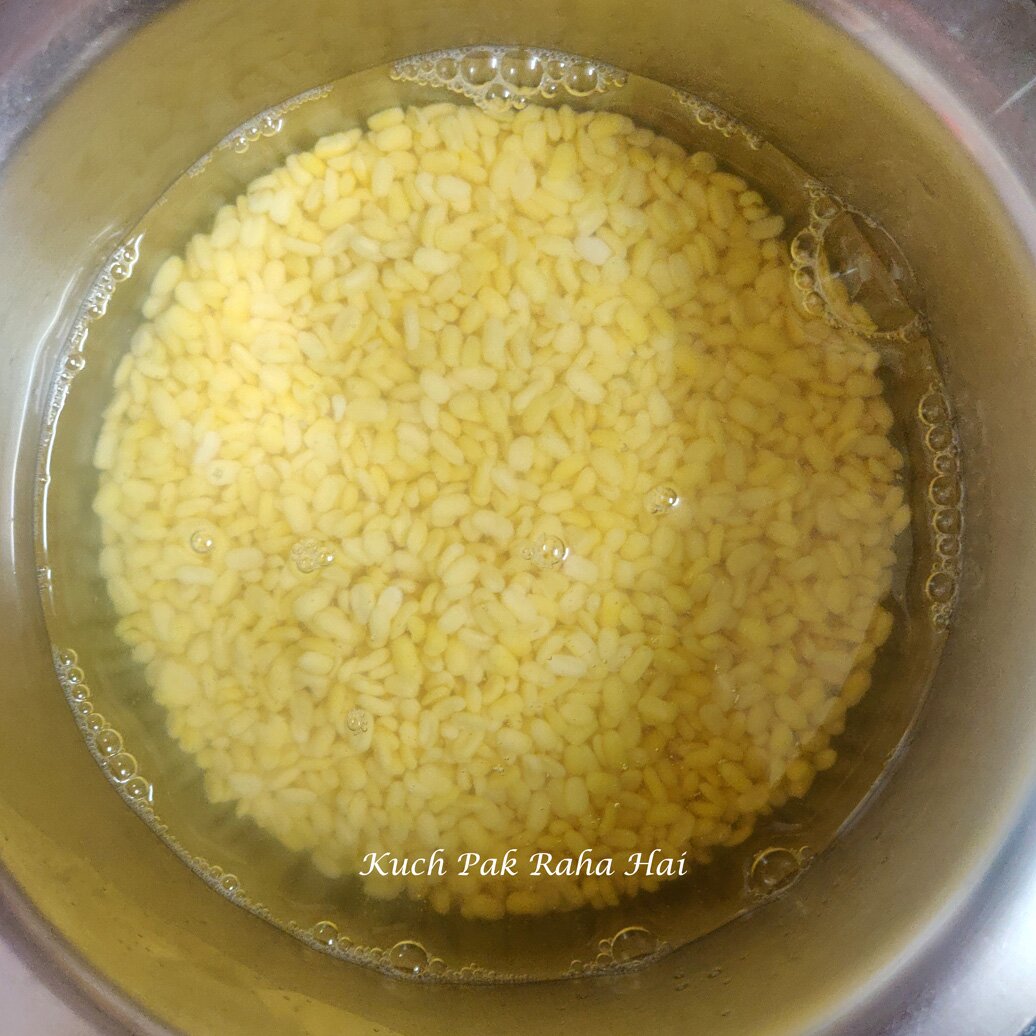 Step 2:
We will be using unboiled sweet corn kernels. I am using frozen sweet corn kernels here. I have just thawed & washed them once, You can use fresh corn kernels as well.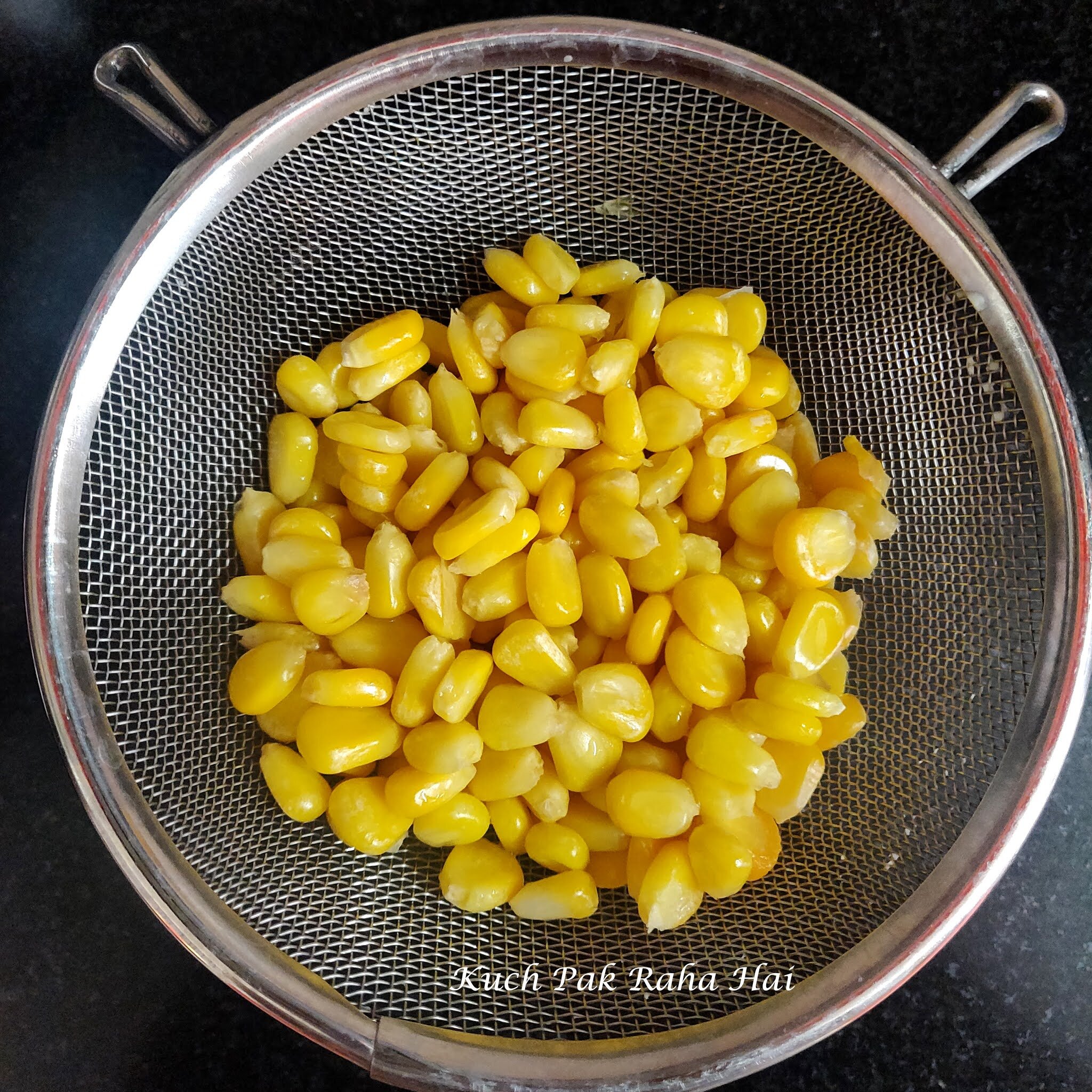 In a blender or grinder, add soaked lentils, sweet corn kernels and all the other ingredients (except oil). Blend to form a smooth batter. The water quantity may vary slightly so add it gradually while blending this batter.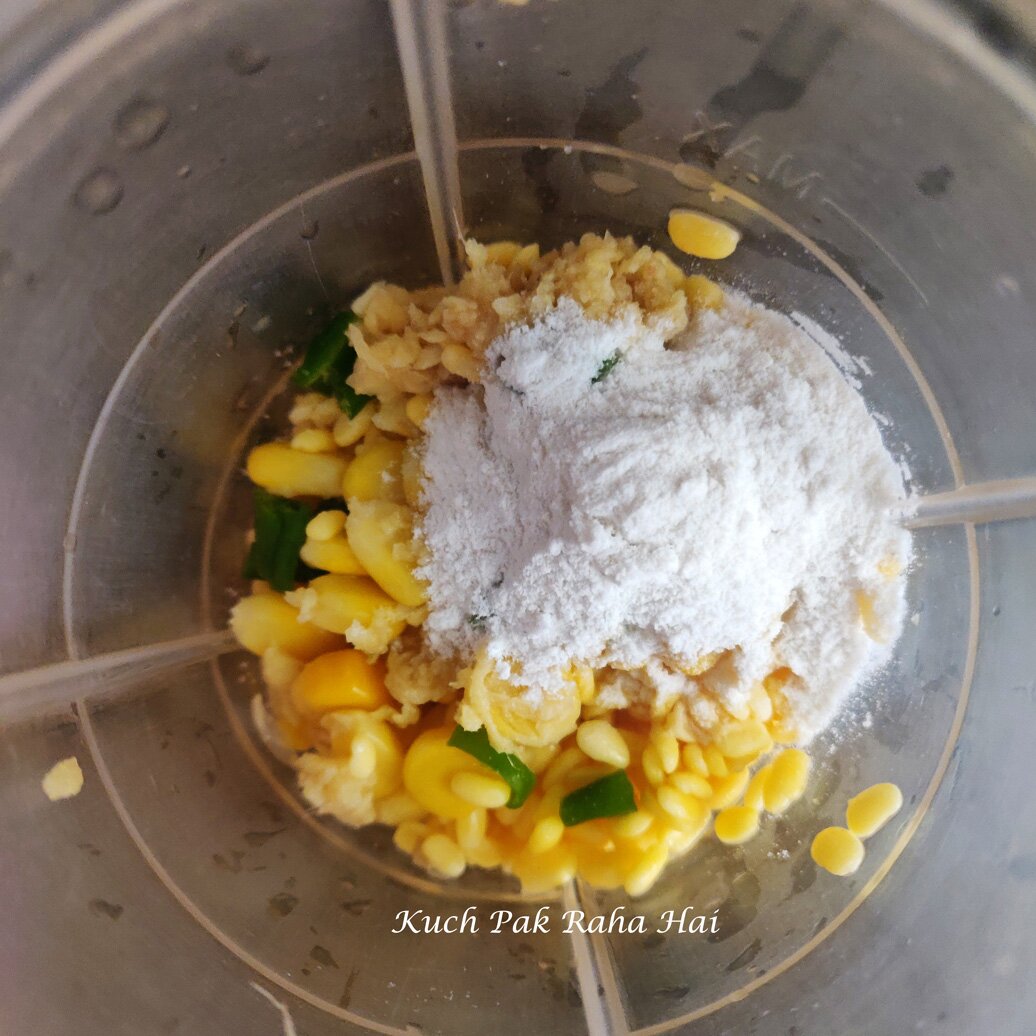 Transfer this corn dosa batter in a bowl.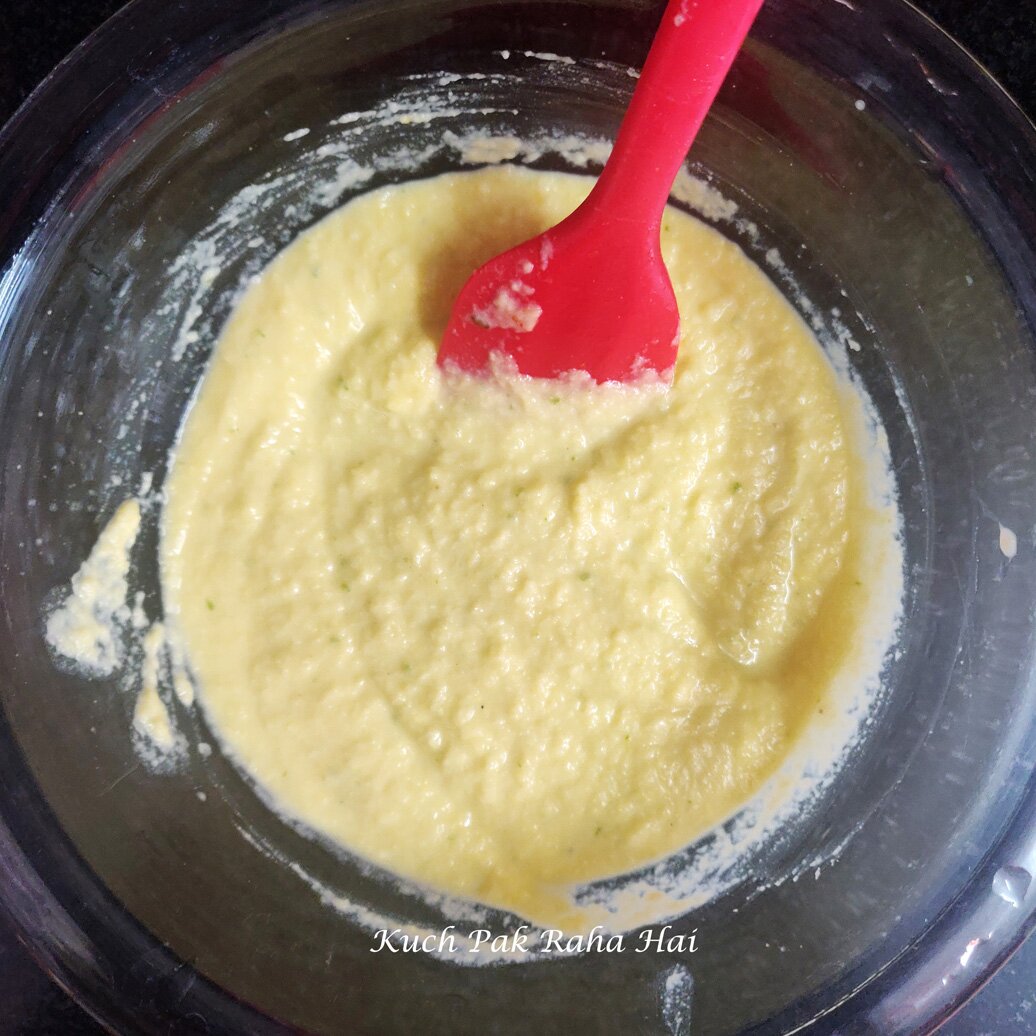 Step 3:
Once the batter is ready. Heat a non stick pan or tawa. Before making dosas, I generally spray or brush some oil on pan & wipe with kitchen tissue.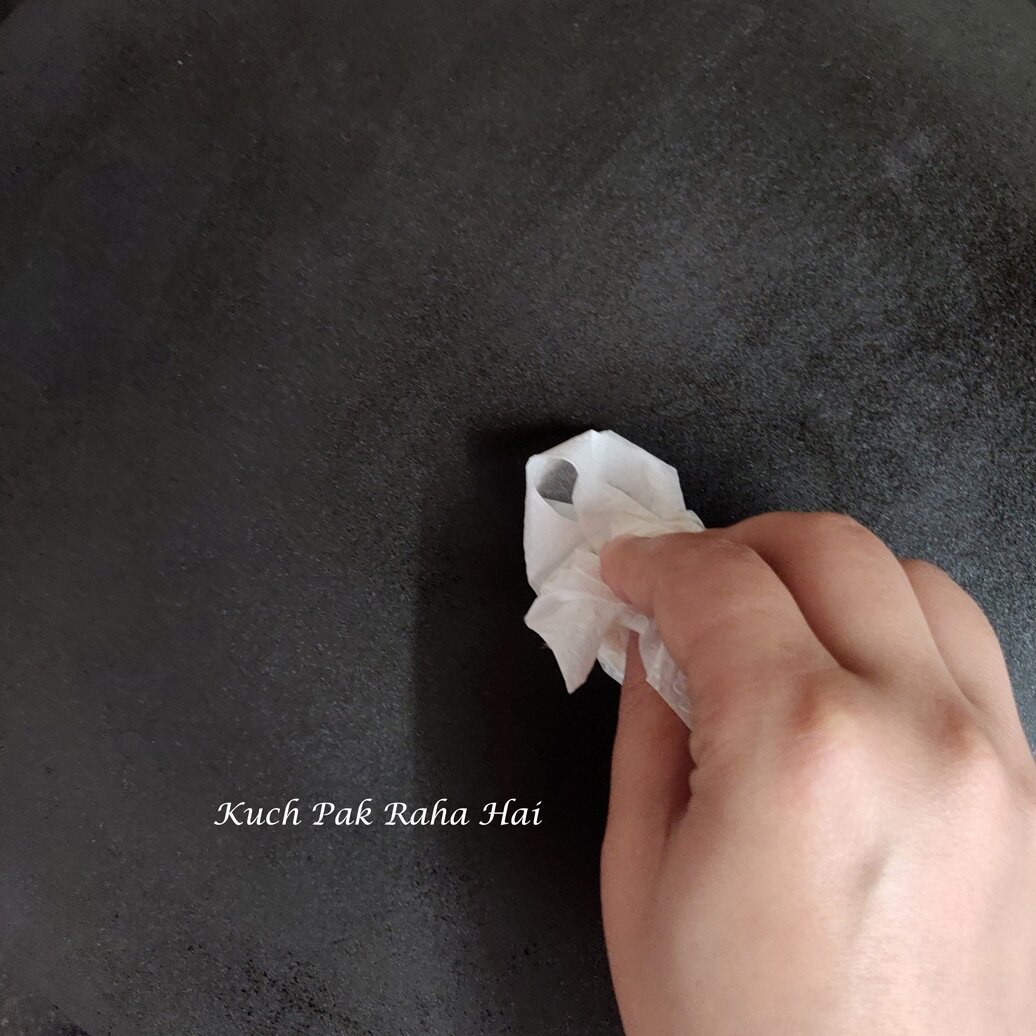 Step 4:
The tawa should not be very hot else the batter would stick. So turn the flame to Medium-Low. Take a laddle full of batter and starting from center, spread it on tawa using back of laddle. The movement should be in circle while constantly pushing the batter outwards.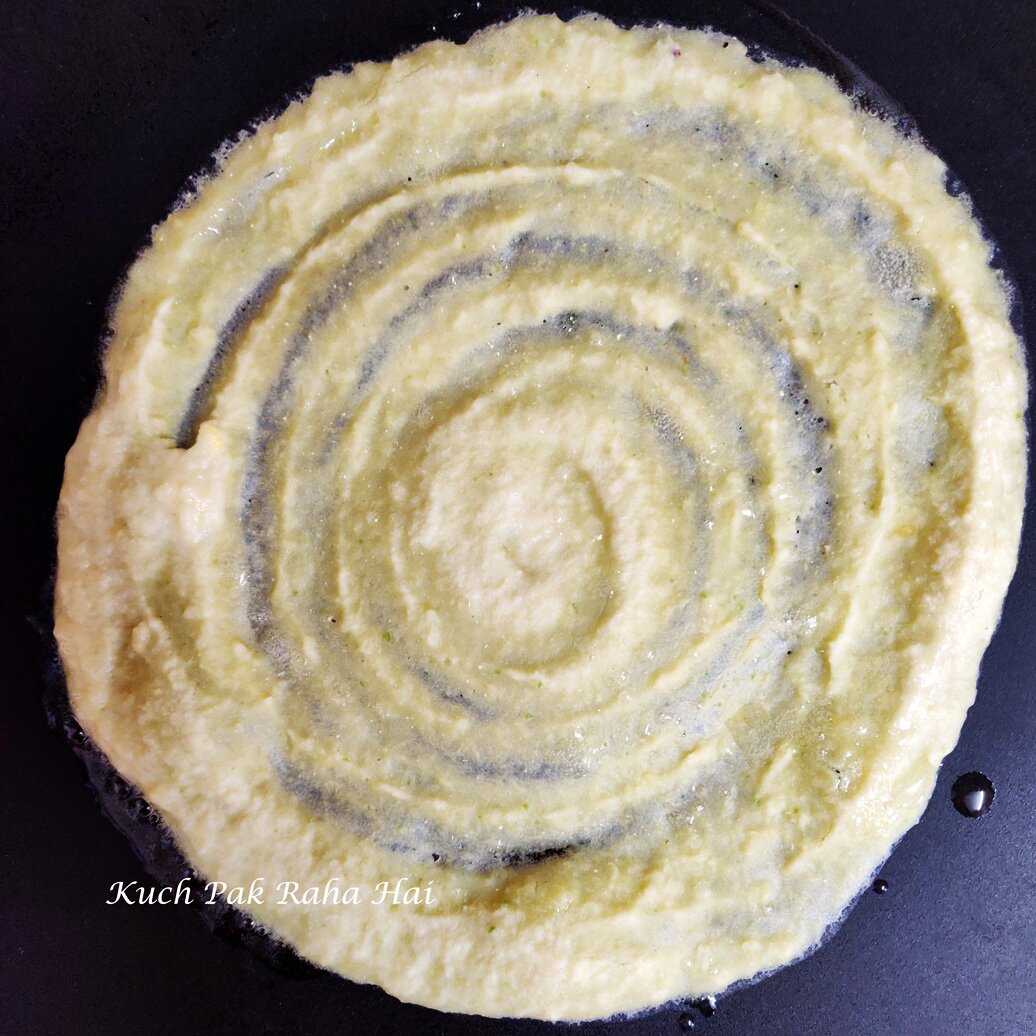 Step 5:
Switch the flame to Medium-High now. After few seconds drizzle some oil on the edges and centre of dosa. Let it cook for 3-4 minutes.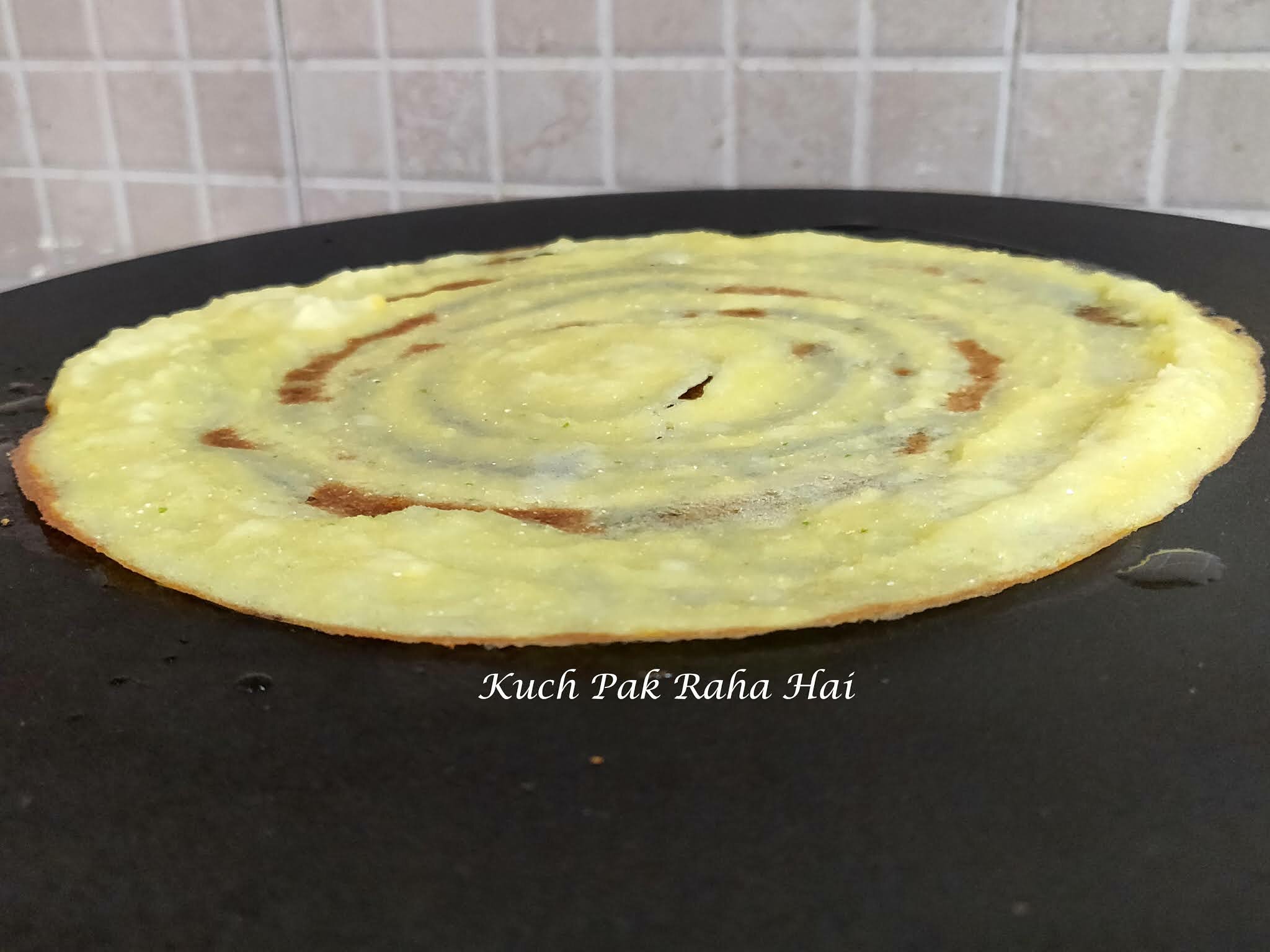 Once the dosa starts cooking it will itself start leaving the edges of dosa. If not, you can check it with the help of a knife.
Step 6:
When the dosa seems to be golden brown, fold the dosa using a spatula into half.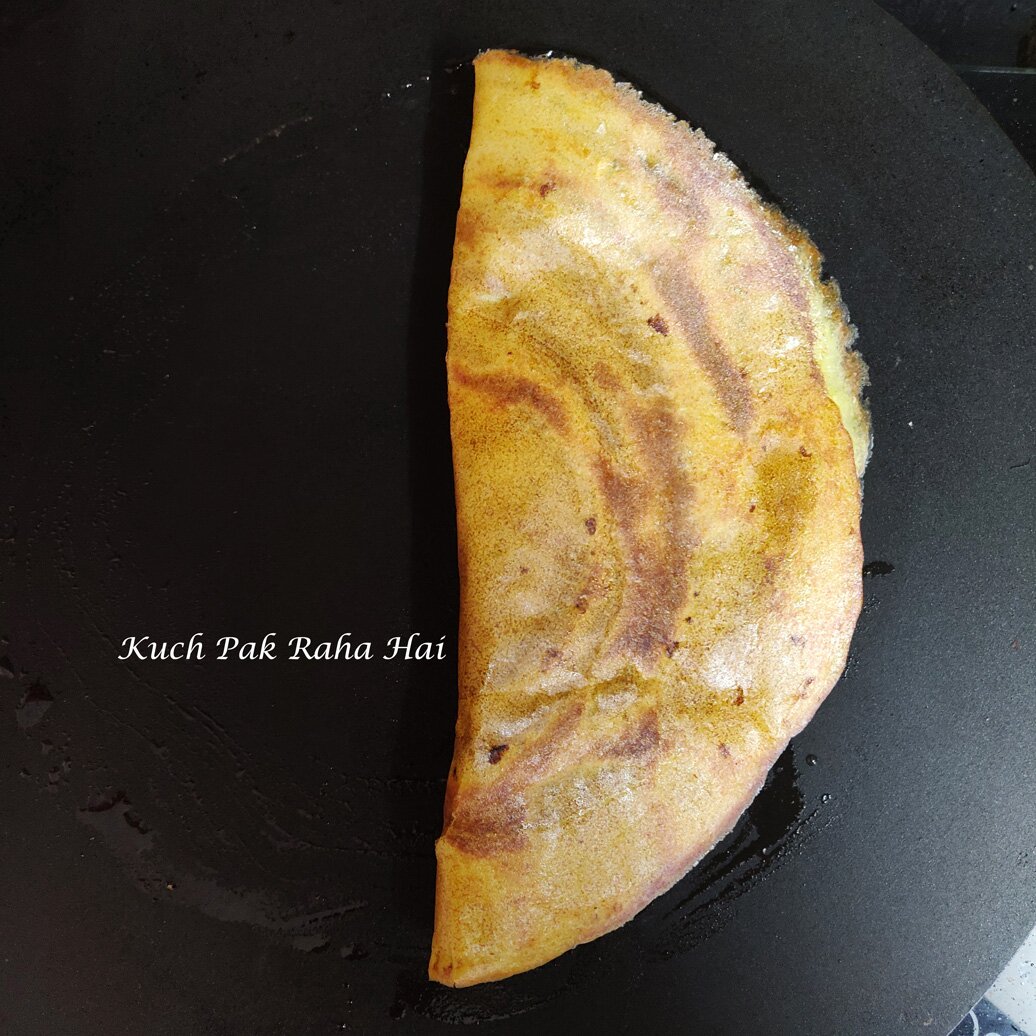 Enjoy this crispy sweet corn dosa with Instant Coconut Chutney or Tangy Onion-Tomato Chutney.Bon Appetit!!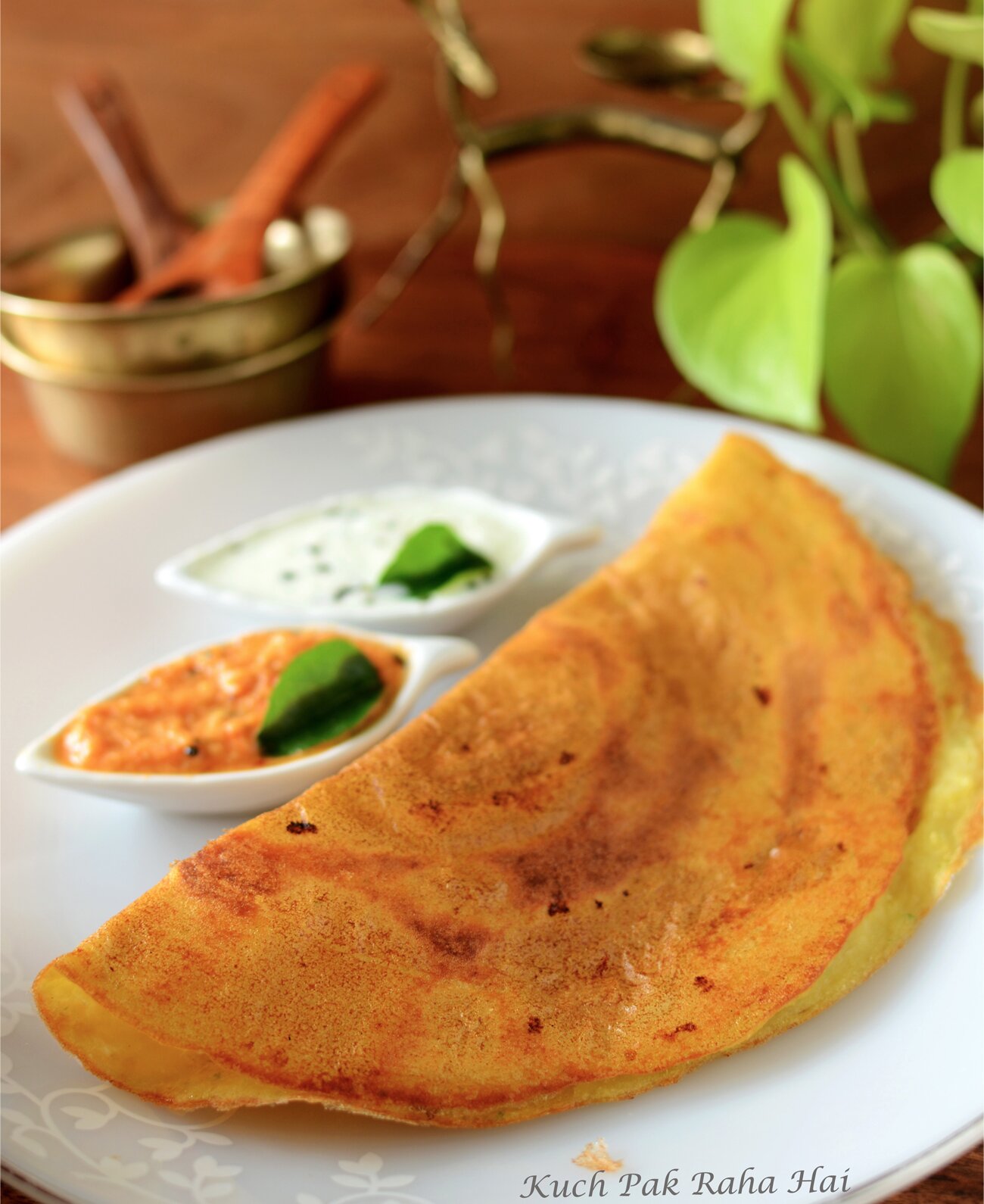 Kitchen Products Used :
(P.S: The above shared links are amazon affiliate links. Please refer to the privacy policy page for more details.)
Pin it for later :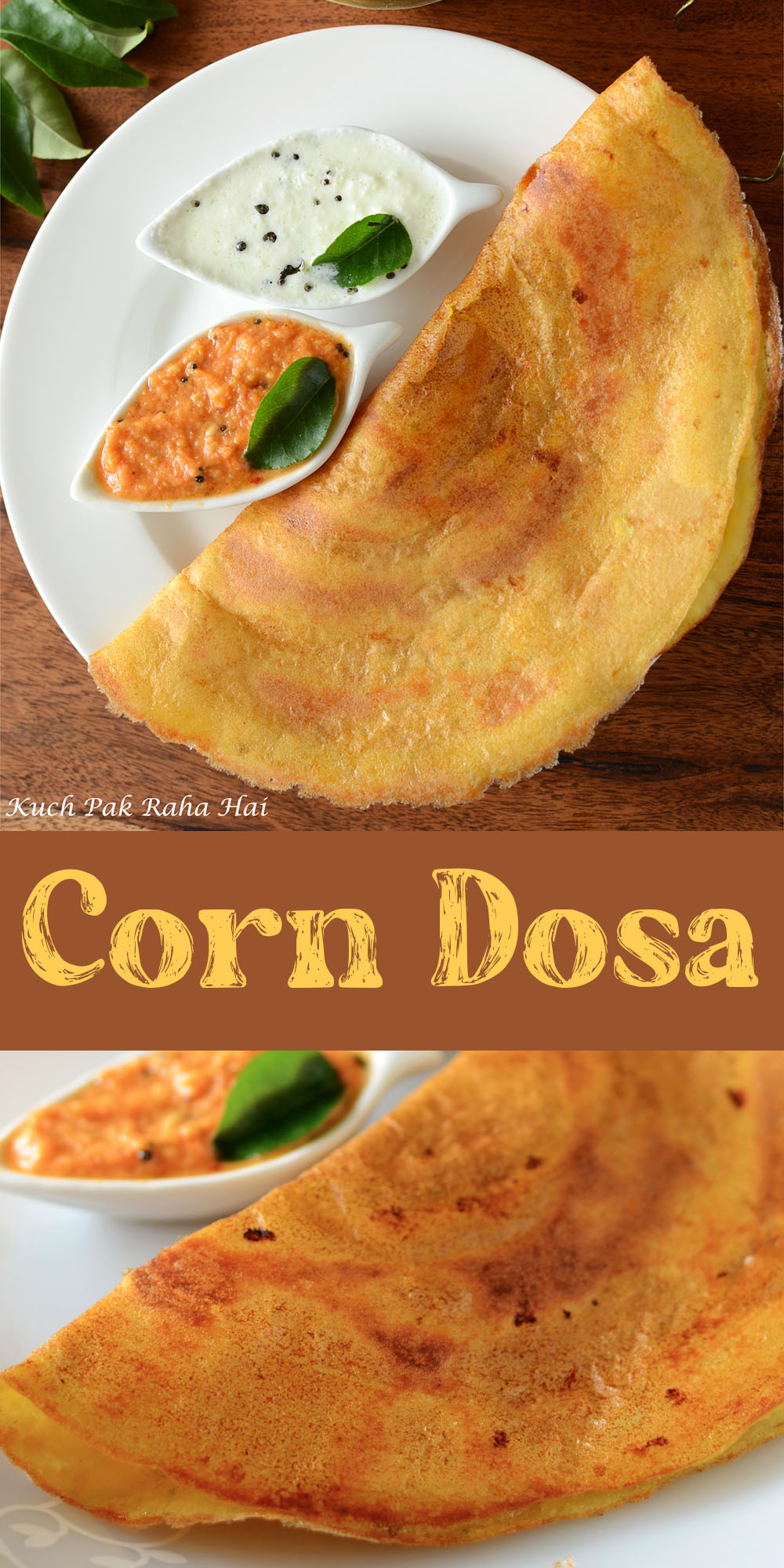 If you try this recipe & share pics on social media, then don't forget to tag us on Facebook or Instagram or use the hashtag #kuchpakrahahai.
Let's stay connected
Facebook| Instagram| Pinterest| Youtube