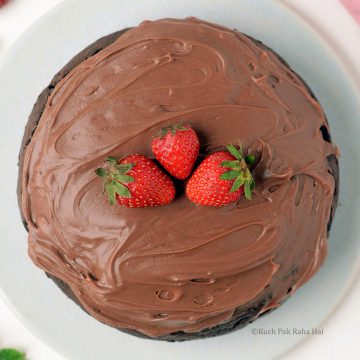 Easy recipe to make incredibly soft, spongy & moist chocolate cake in air fryer. The cake is egg free, made with whole wheat and can be made vegan (dairy free) too.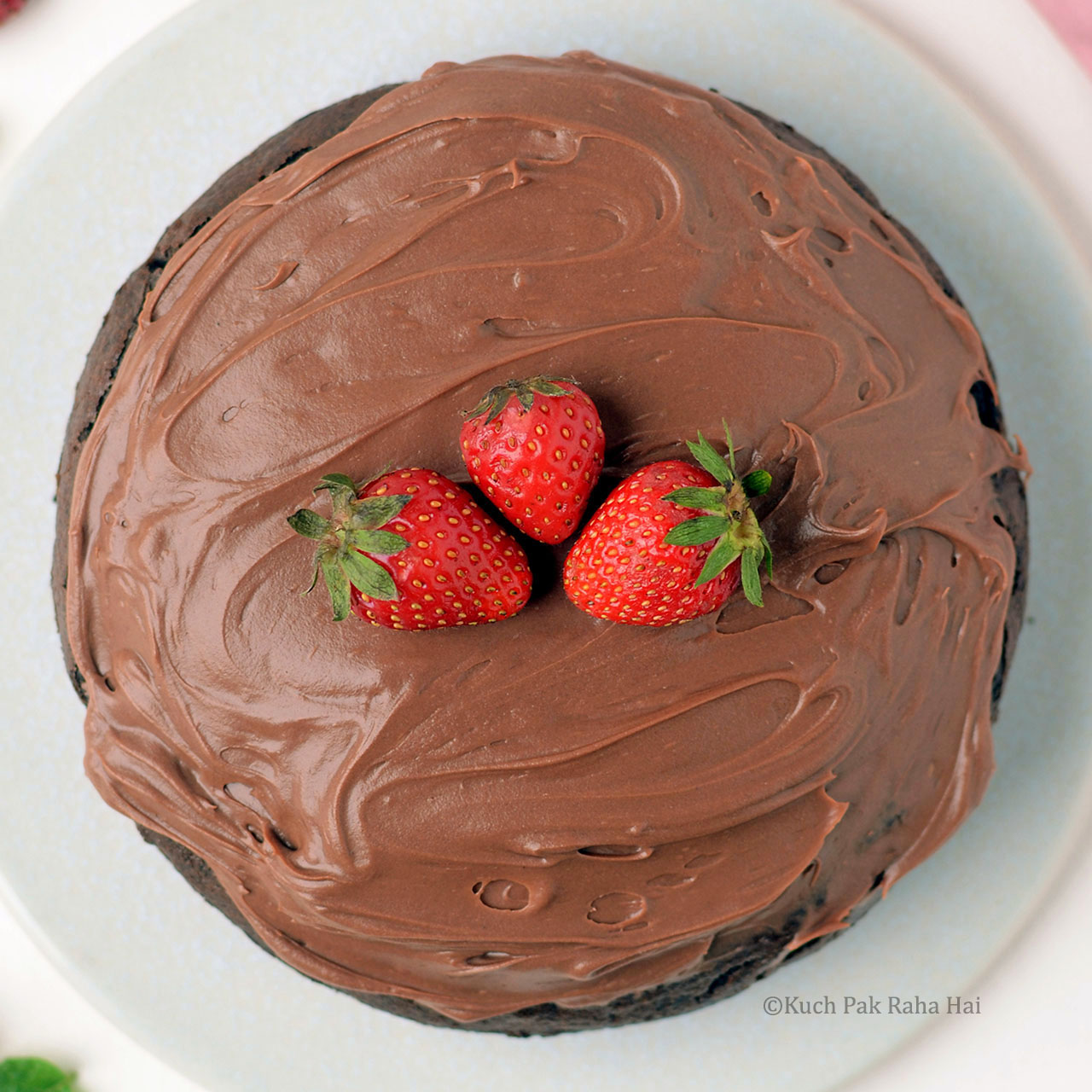 It is so easy to make, takes such little time & effort that I am sure it's going to be your favourite air fryer dessert recipe. I made this chocolate cake on Valentine's day and it turned out so good that I couldn't resist sharing it here. I decorated it with some luscious smooth chocolate ganache and strawberries.
This small serve cake is perfect for a couple or small family. You can add walnuts, chocolate chips to its batter and enjoy as tea time cake or frost it with whipped cream, buttercream or ganache for special occasions like valentine's day, birthdays, anniversary etc.
I have made this cake from scratch here but you can even use boxed cake mix. After I shared air fryer cookies and no knead bread recipe, I got numerous messages if they can be made with whole wheat flour. So this time, I have made this air fryer chocolate cake with whole wheat flour.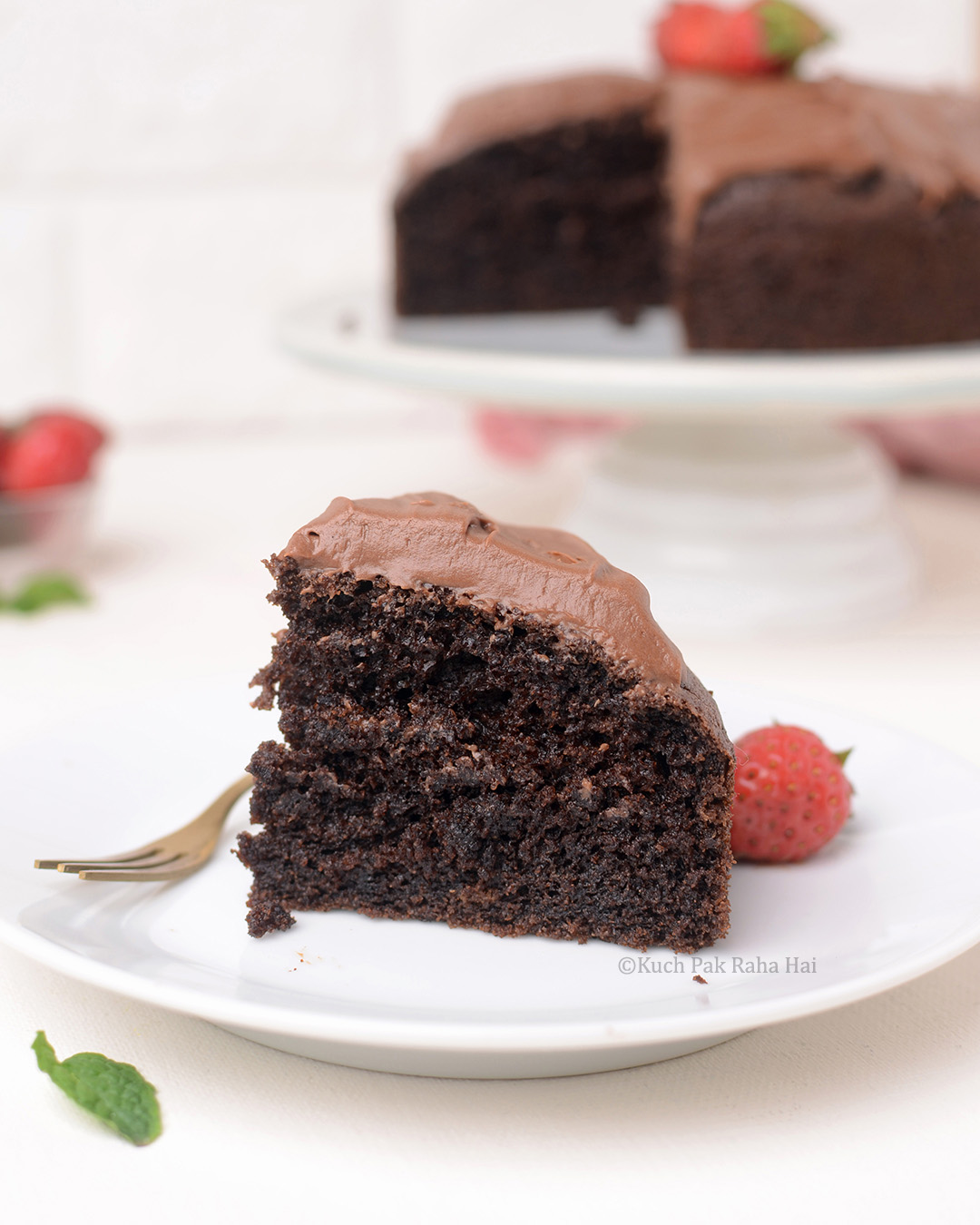 The air fryer cake recipe shared here is:
Eggless (No eggs)
Vegetarian / Vegan
Whole Wheat
Easy to make
Can we bake a cake in air fryer?
Yes absolutely!! You can bake muffins, oatmeal, bread, cookies, cakes, or most of the desserts in air fryer. The only thing to keep in mind while baking in air fryer is the size of cakes or bread as air fryer baskets are generally small in size.
Whatever quantity you are planning to bake, just make sure to first check its corresponding tin or pan should fit in air fryer. I have made this chocolate cake in 6″ round aluminium cake tin as it could easily fit in my air fryer.
Ingredients to make air fryer chocolate cake:
Flour: I have used whole wheat flour in this recipe to make this cake healthy-ish. I was skeptical that it might turn out little bit dense but its texture turned out perfectly spongy & moist. If you wish to use all purpose flour (maida), then reduce the quantity of milk used in the recipe.
Cocoa Powder: Use good quality cocoa powder as the overall taste of chocolate cake depends on it a lot. I have used Hershey's cocoa powder but feel free to use any brand of your choice.
Milk: The milk adds softness & richness to the cake. Use whole milk or soy milk to make the cake vegan (dairy free).
Sugar: I have used granulated brown sugar here. You can use granulated white sugar, jaggery powder or coconut sugar.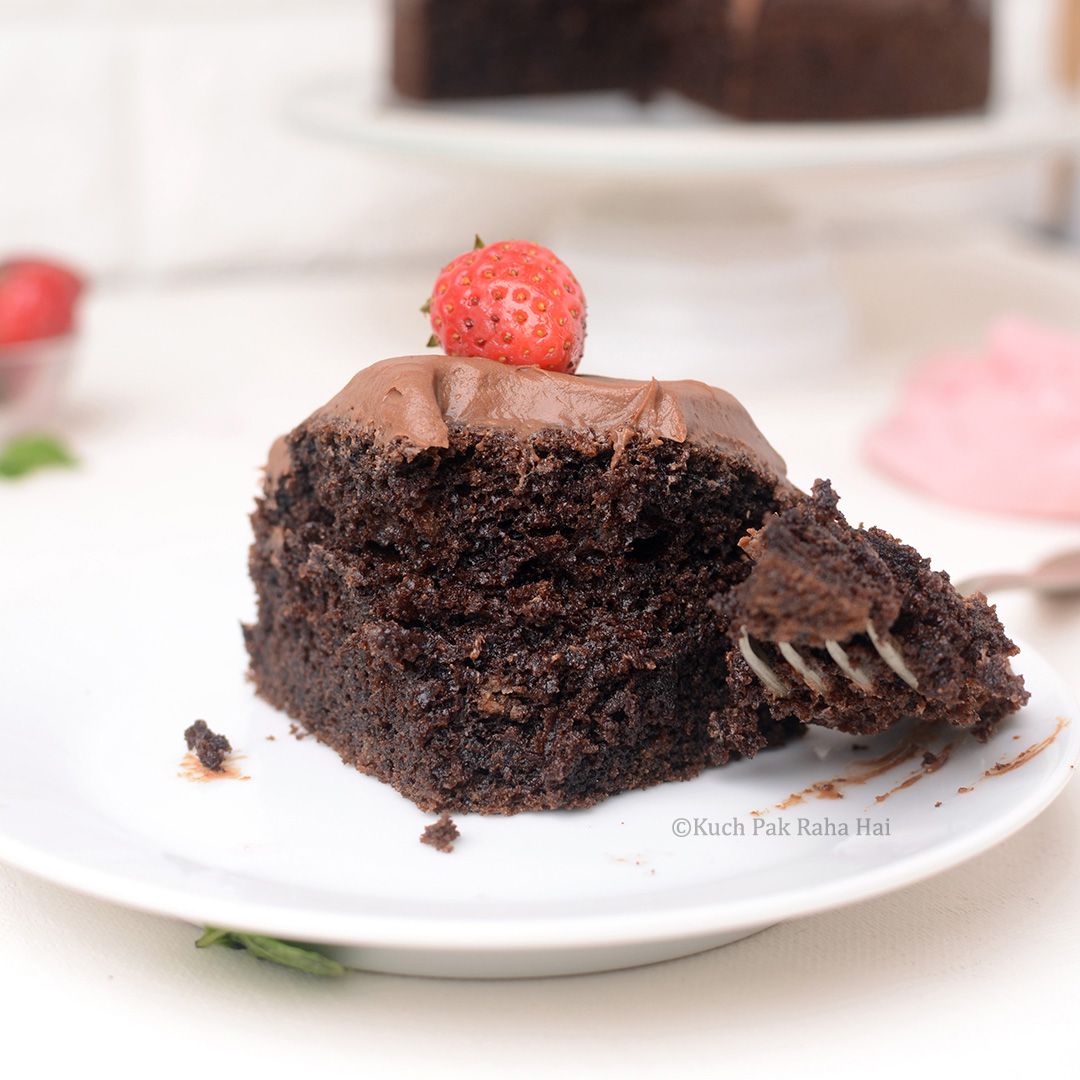 Oil: Oil adds moisture to the cake & prevents it from drying. Use any neutral flavourless oil like sunflower or avocado.
Salt & Coffee: Little bit of salt & instant coffee powder are added to enhance the chocolate flavour in cake. You can skip coffee if you want.
Vanilla Extract: Vanilla extract is a must add as it adds lovely aroma to the cake. If you don't have vanilla extract you can use vanilla essence.
Other ingredients: The reaction between baking powder, baking soda & vinegar helps the cake to rise & make it fluffy.
How to bake a cake in an air fryer?
We first sieve the dry ingredients & then whisk the wet ingredients in a large bowl. Before preparing the batter, we preheat the air fryer (just like we do with ovens). Fold the dry ingredients gradually into the wet ingredients and transfer the batter in a lined cake tin.
Bake the cake in a preheated air fryer for 18-20 minutes. The time can vary slightly depending on the size & model of air fryer.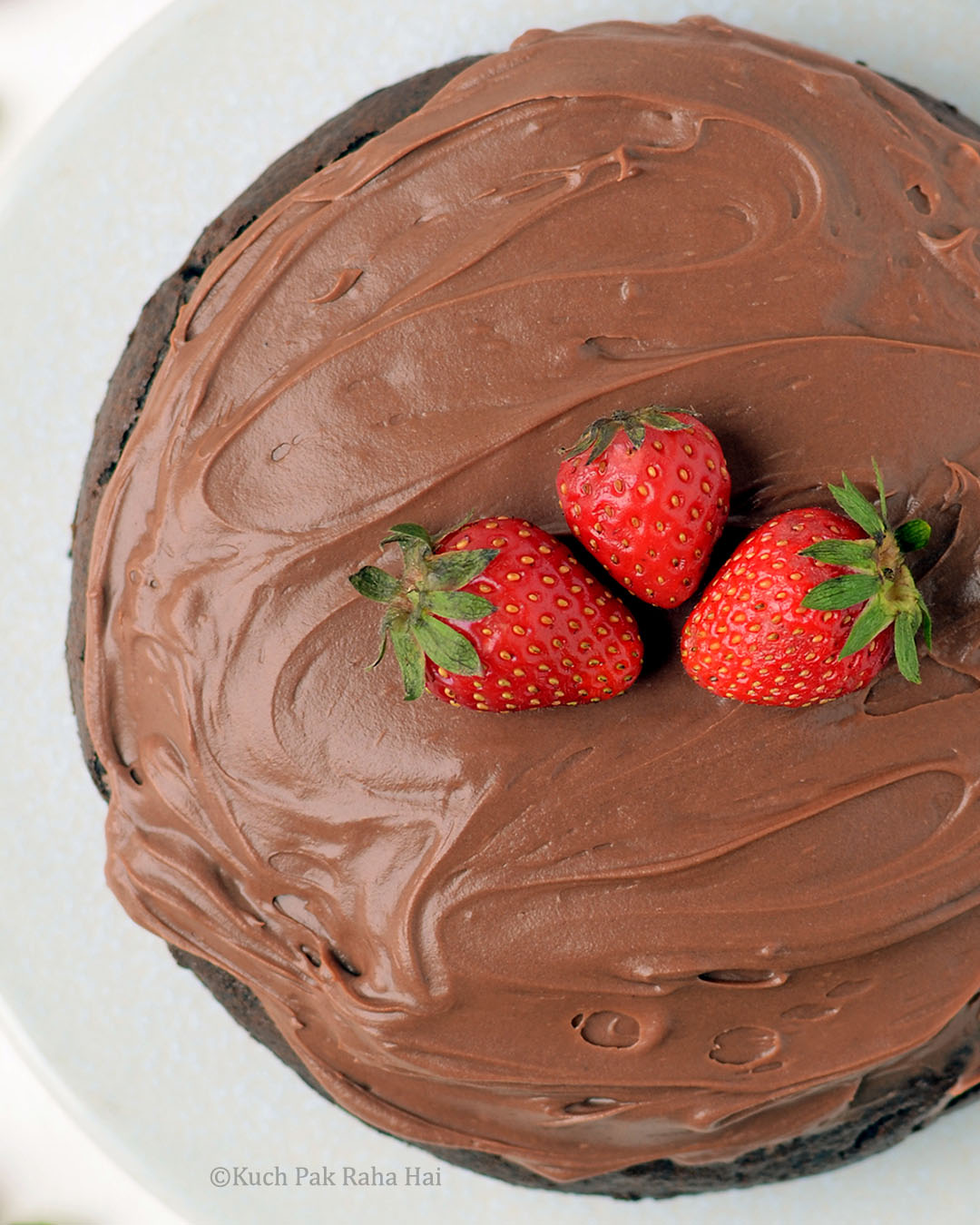 Below are some of the other eggless recipes which I have tried in air fryer:
Hope you would like this simple air fryer chocolate cake recipe.

Ingredients:
Whole Wheat Flour- 3/4 cup + 2 tbsp (104 grams)
Cocoa Powder- 3 tbsp (18 grams)
Baking Powder- 1 tsp
Baking Soda- 1/4 tsp
Salt- A pinch
Warm Milk (or Soy milk)- 3/4 cup (185 grams)
Vinegar- 2 tsp
Instant Coffee Powder-1 tsp (optional)
Oil- 1/4 cup (55 grams)
Granulated Brown Sugar*- 1/3 cup + 2 tbsp (94 grams)
Vanilla Extract- 1 tsp
Milk (room temp.)- 1 to 2 tbsp (if required)
For frosting: (optional)

Chopped Milk Chocolate- 100 grams
Heavy Cream- 60 grams (1/4 cup)
Strawberries- 3 to 4 (for decorating)
Notes:
 If you like more sweet cake, take 1/2 cup brown sugar.
 I have used cold pressed sunflower oil here. You can use olive oil or any neutral oil (odourless).
You can also add some chocolate chips or chopped walnuts.
Directions:
Step 1:
Add vinegar to warm milk. Mix & keep aside for 10 min. In the meanwhile, let's move to next step.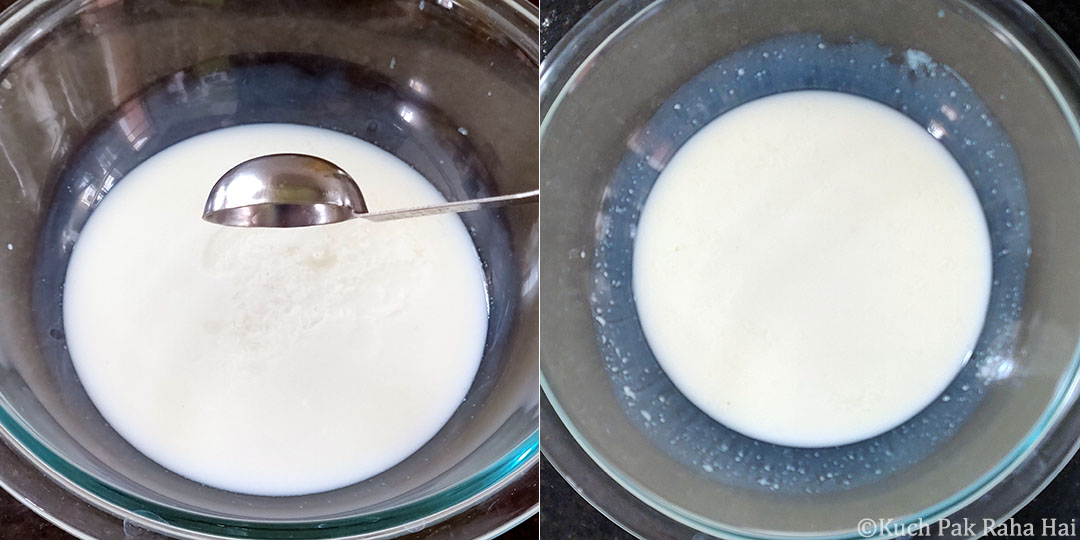 Step 2:
Place a sieve over a bowl. Add whole wheat flour, cocoa powder, baking powder, baking soda and salt to it. Sieve the dry ingredients and keep aside.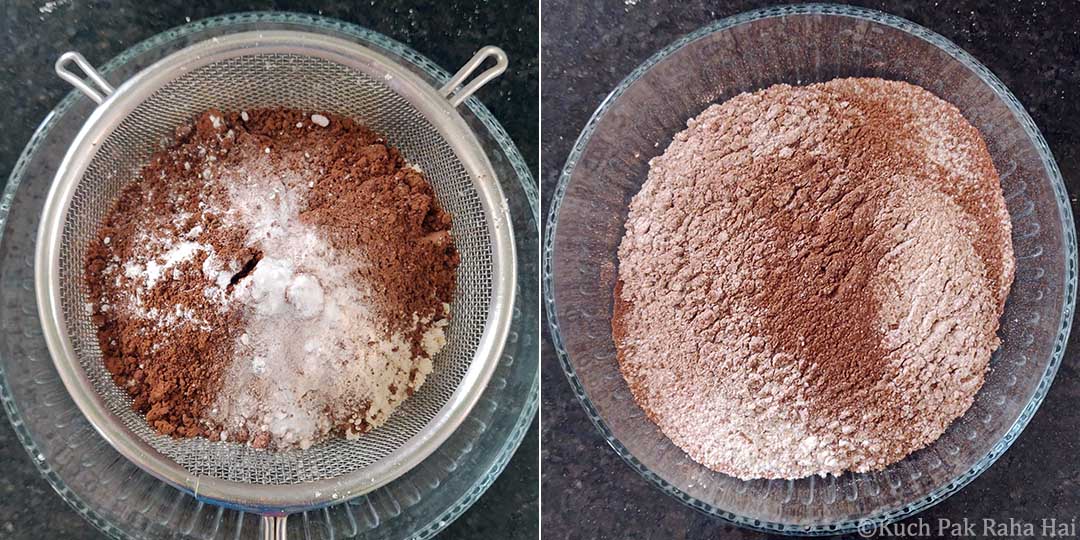 Step 3:
To the milk & vinegar mixture, add instant coffee powder, granulated brown sugar and vanilla extract. Whisk well till coffee & sugar dissolves completely. Add oil to it and whisk for 5 more minutes. Keep these wet ingredients mixture aside.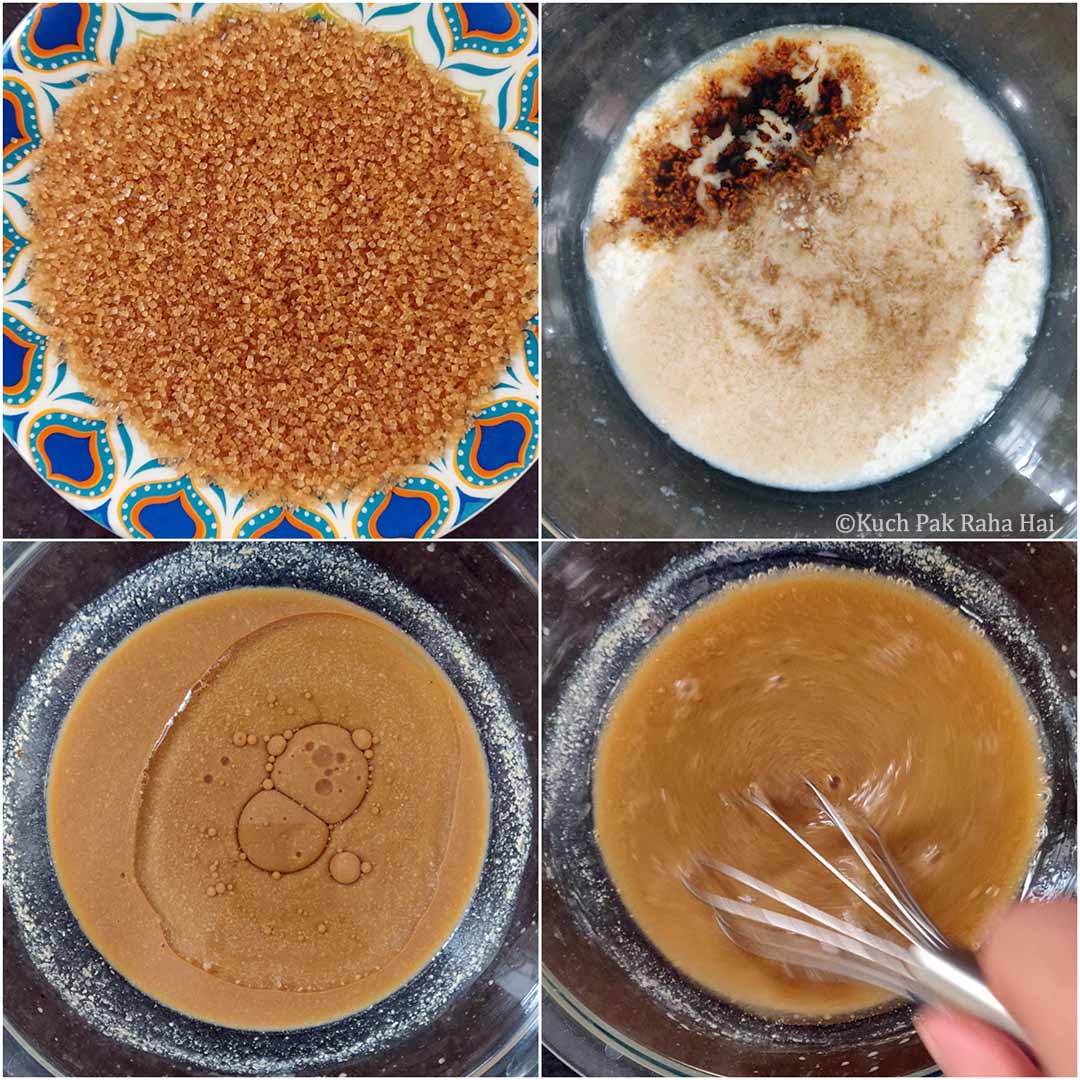 Step 4:
Prepare 6″ round cake tin by lining it with parchment paper and brushing oil over it. Set the air fryer for preheating at 160°C (320°F) for 5 minutes. While the air fryer is preheating let's move to next step.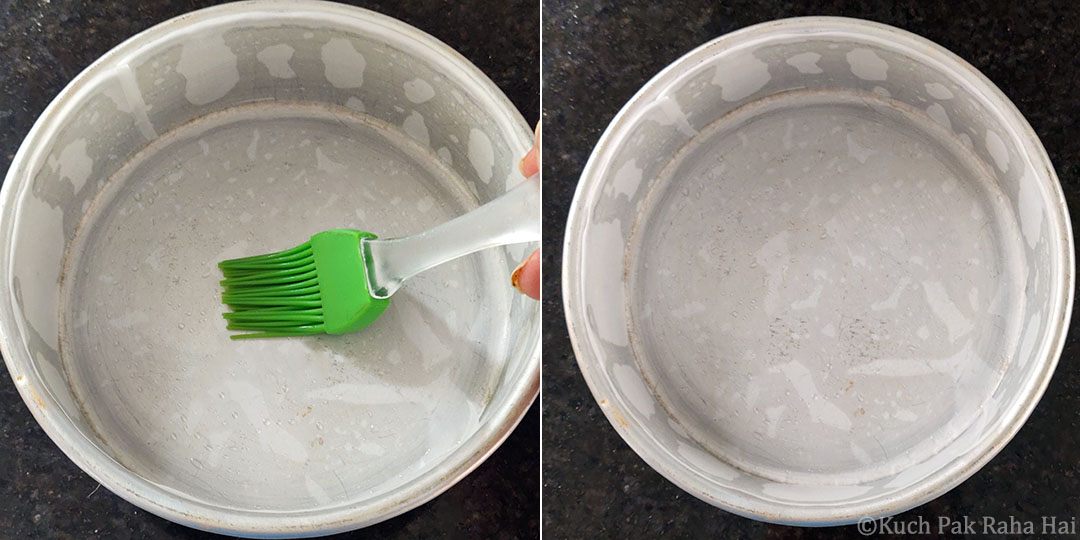 Step 5:
Add dry ingredients to wet ingredients and mix gently using 'cut & fold' method with a silicon spatula. If the batter seems thick, add little bit milk gradually. I have added (1 tbsp + 2 tsp) more milk here. The quantity can vary slightly depending on the quality of whole wheat flour. The cake batter should have ribbon consistency (see the pic below).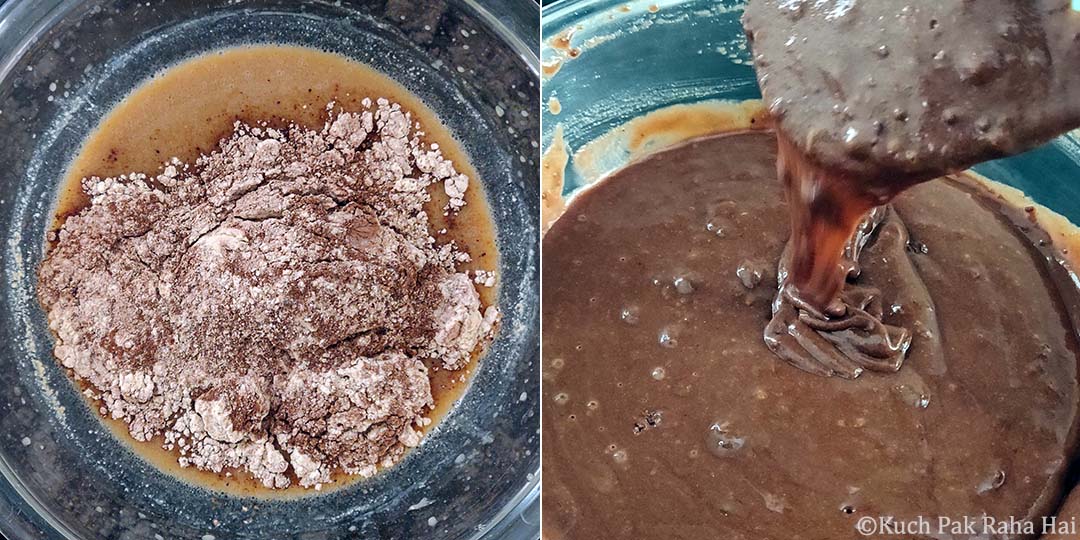 Step 6:
Transfer this prepared chocolate cake batter in lined cake tin. Tap it 2-3 times to get rid of air pockets.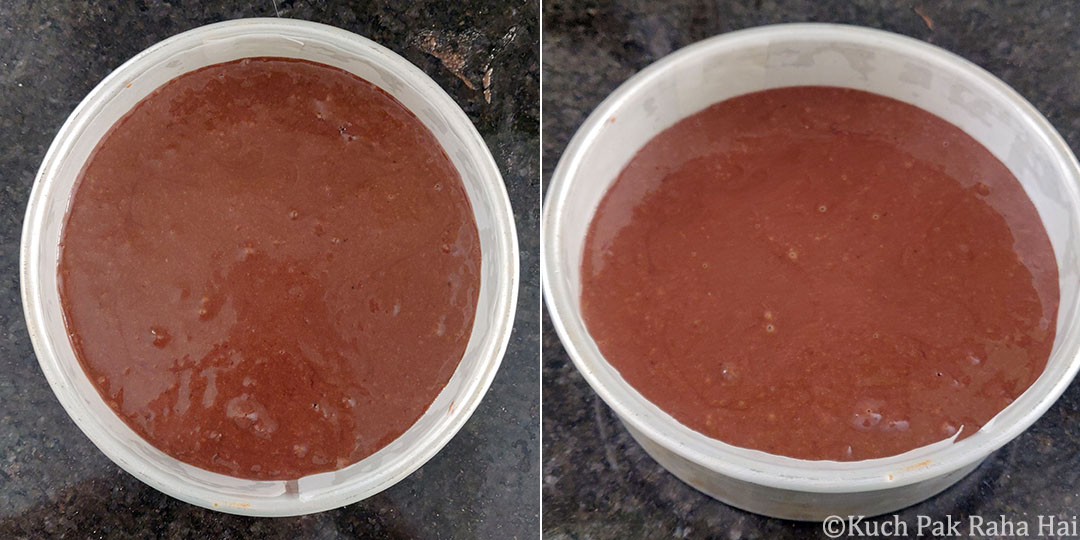 Step 7:
Bake the cake in preheated airfryer at 160°C (320°F) for 18-20 minutes. Check the centre of cake with a skewer after 18 minutes. If you notice wet batter on its tip, bake for another 2-3 minutes else the cake is done.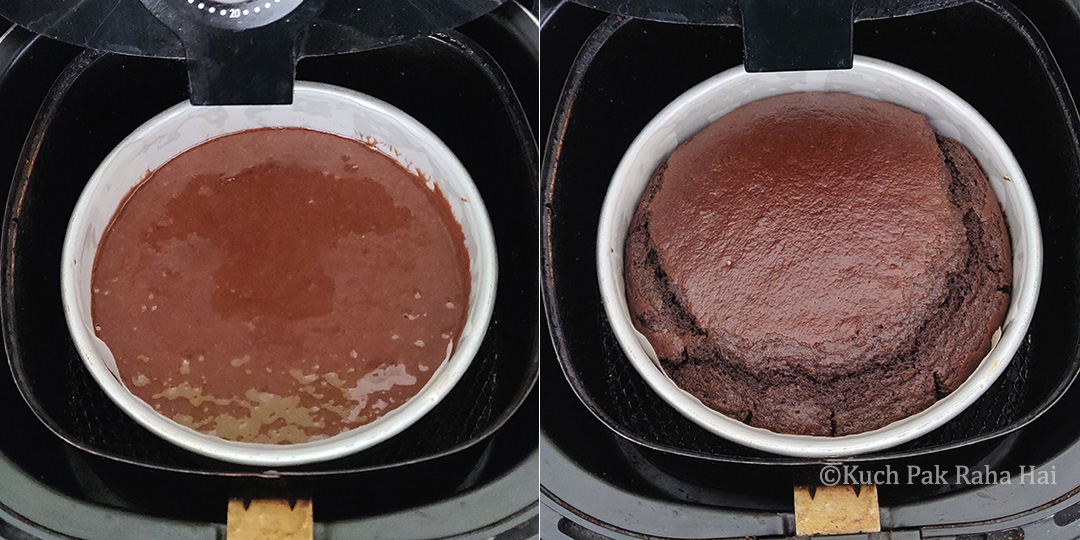 Step 8:
Let the cake cool down in tin for 5 minutes. Invert it over a plate first and then transfer over a wire rack to cool down completely.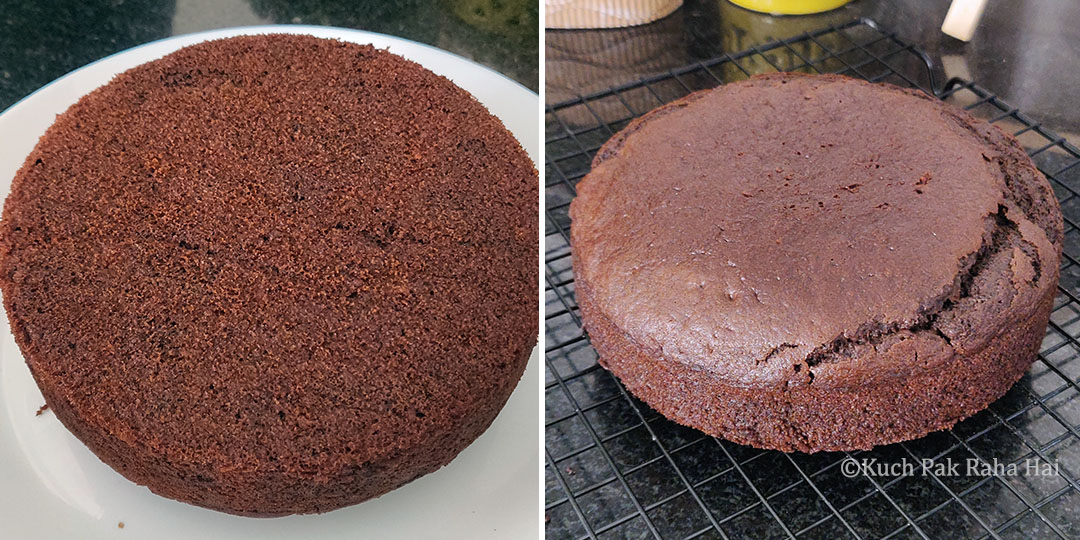 By the time cake is cooling, let's prepare the ganache frosting.  It is an optional step.
How to store chocolate cake?
Once the cake has cooled completely, transfer it in an airtight container & store in fridge. You can even cling wrap it to prevent drying. This way it can easily be stored for 3-4 days.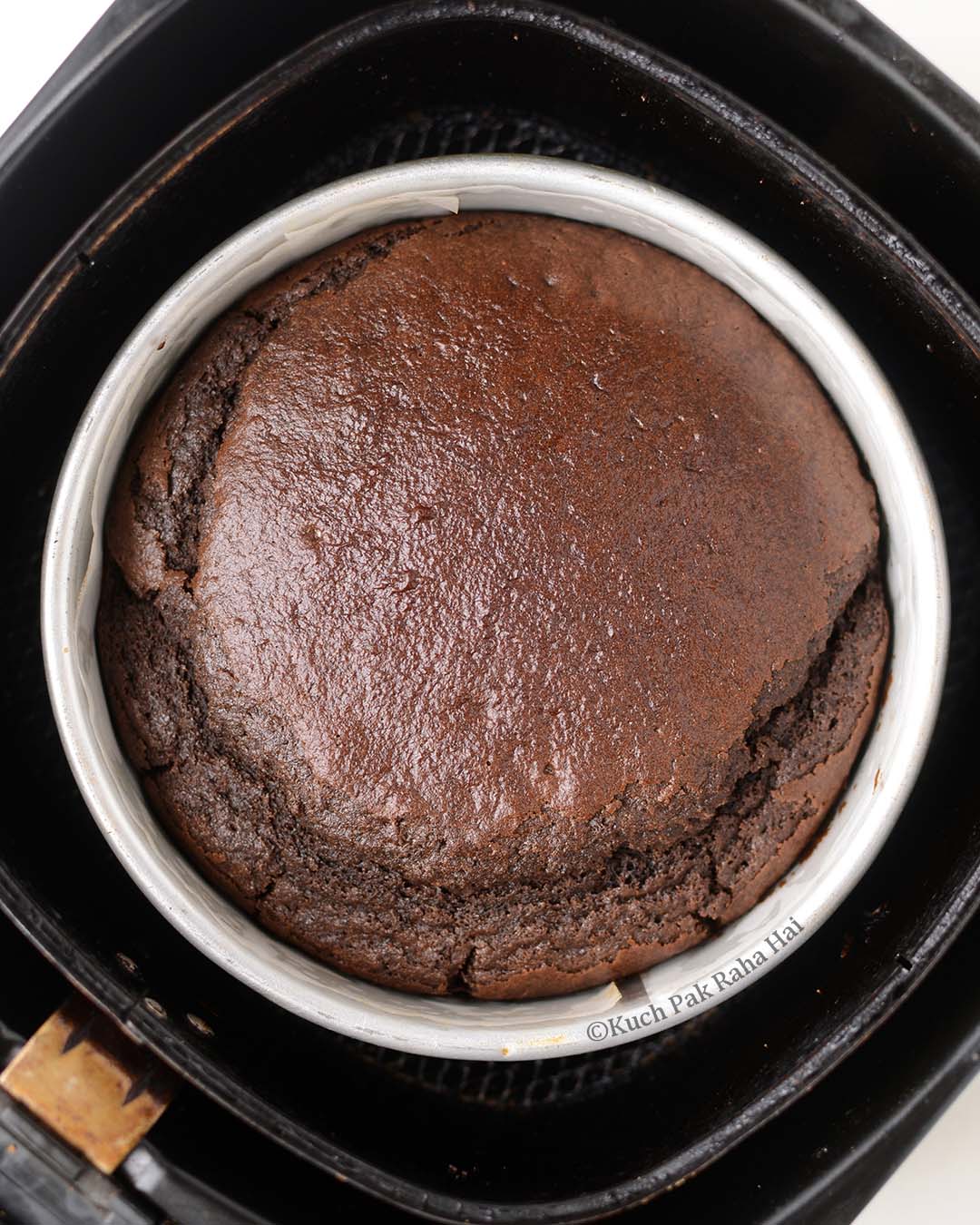 How to make ganache for chocolate cake?
1. In a pan, heat the cream (NOT BOIL IT). Switch off the flame. You can also heat the cream in microwave (80% power in 2-3 pulses of 30 seconds).
2. Add chopped chocolate to it and let it rest for 2-3 minutes. The heat from the cream will soften the chocolate. Mix well using a spoon or fork. The ganache should become smooth & lump free.
3. Let it cool down completely for 30 to 40 minutes on kitchen counter. It will thicken up on cooling. Cover & keep in fridge for 15-20 minutes. When you are ready to frost, take it out from fridge & whisk well with fork or whisker till it becomes light in colour.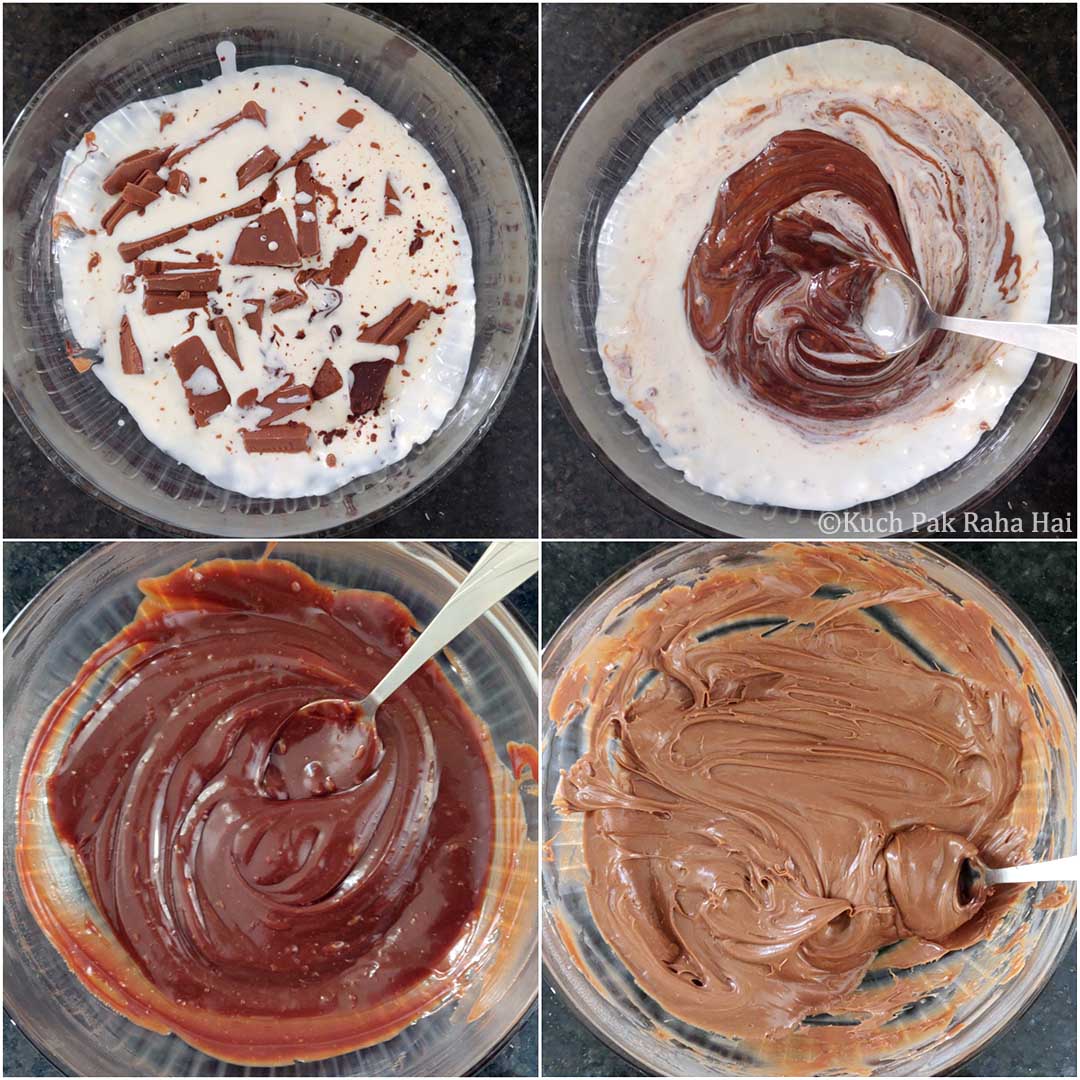 4. Transfer it on cake and spread with a back of a spoon. You can also pipe it using a nozzle & piping bag (check chocolate cupcakes recipe for piping details). Decorate with some strawberries or raspberries. Slice and enjoy.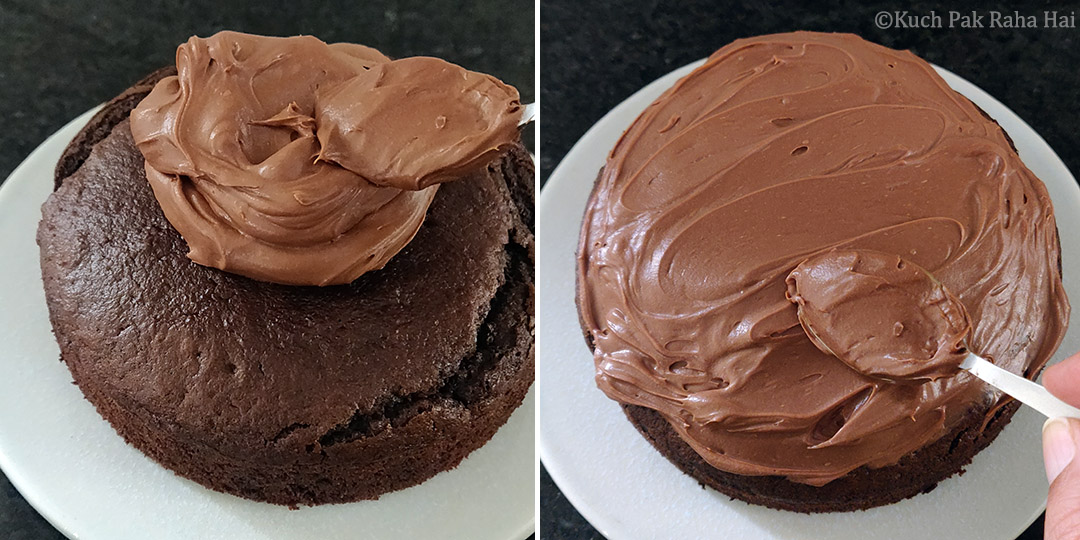 Tips:
1. Please line the cake tin with parchment paper. It prevents the cake from sticking to the tin & makes the de-moulding process easier.
2. Start frosting the cake only when it has cooled completely otherwise the ganache will melt because of the residual heat.
3. If you like less sweet frosting, you can use dark chocolate instead of milk chocolate for making ganache.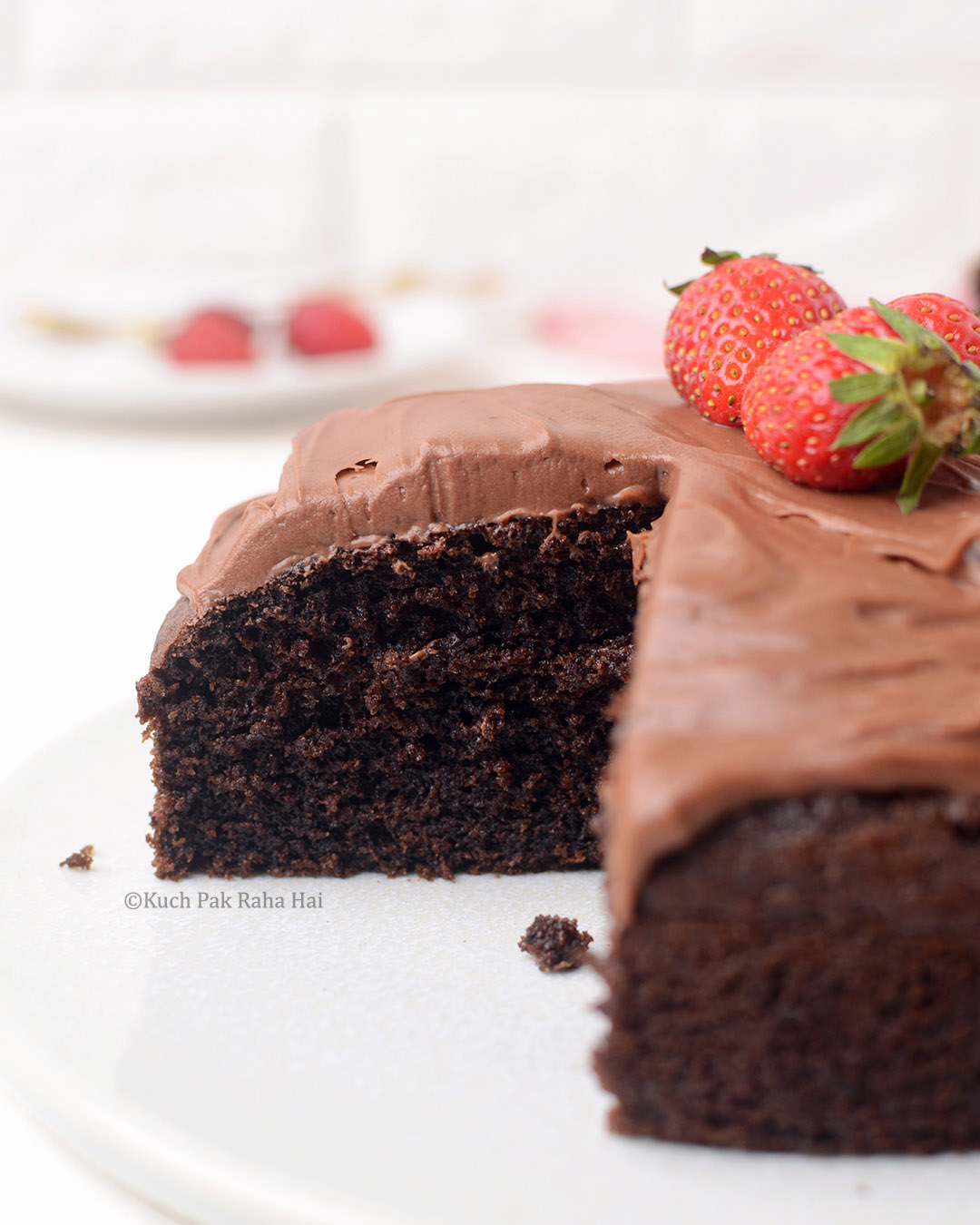 Sharing some more chocolate recipes you might like to try (all recipe are eggless):
If you try this easy eggless air fryer cake recipe & share pics on social media, then don't forget to tag on Facebook, Instagram or use #kuchpakrahahai.
Pin for later: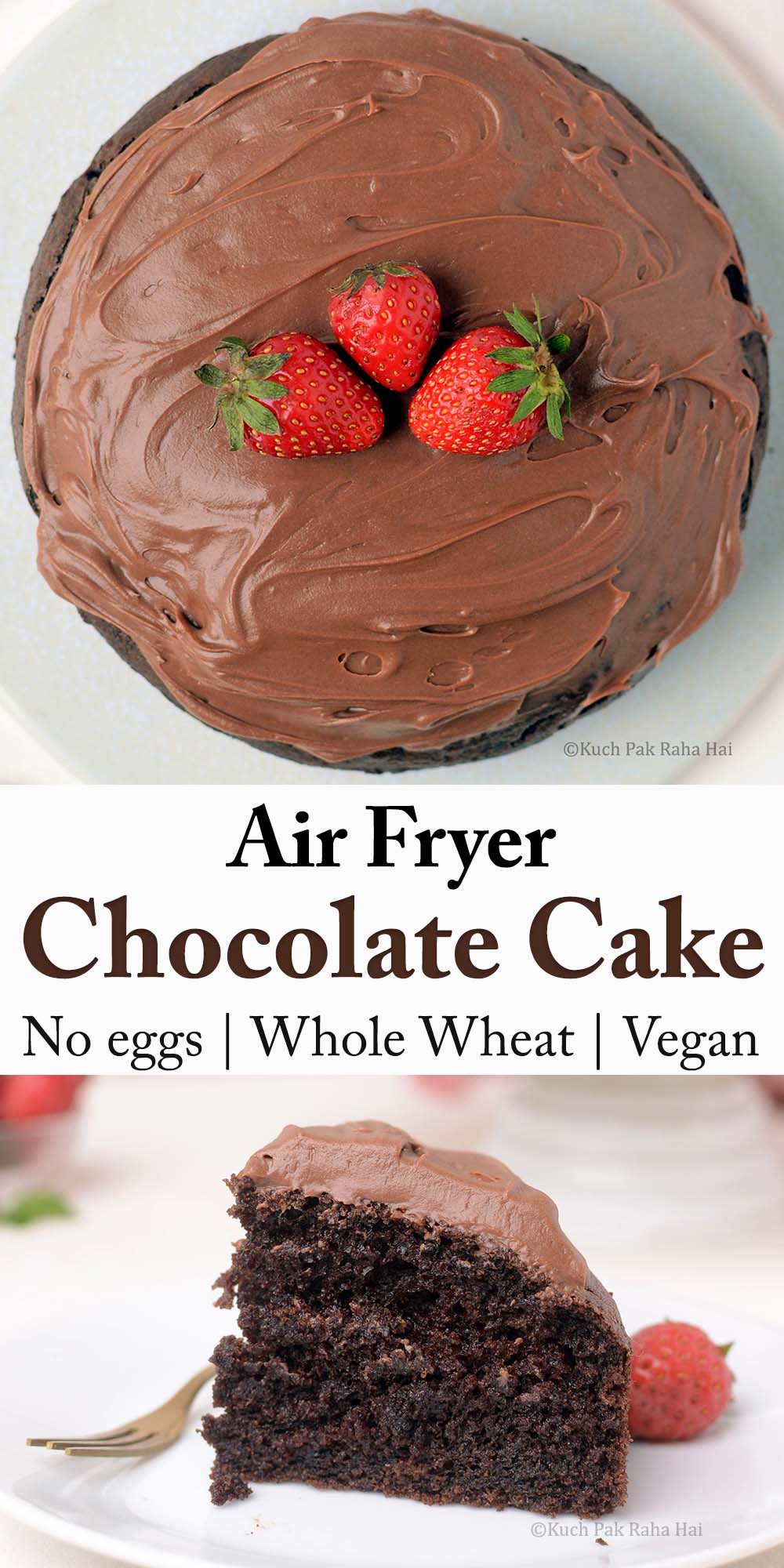 Let's stay connected
Facebook | Instagram | Pinterest| Youtube