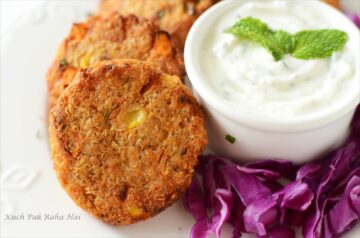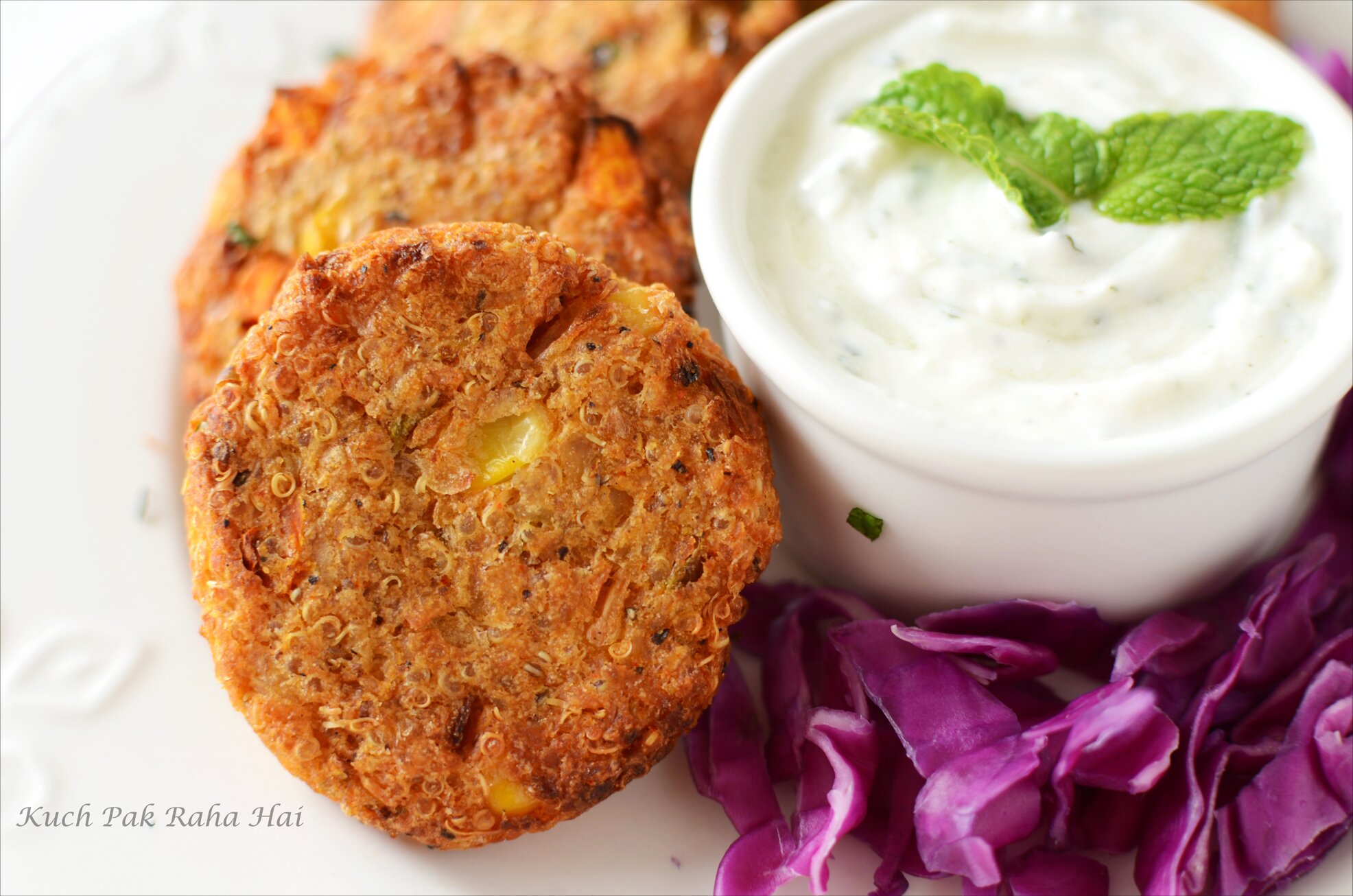 Crispy Quinoa Patties is a healthy flavoursome patties recipe made using quinoa, fresh vegetables and seasoned using herbs & spices. This is a vegan & gluten free quinoa patty recipe. It is perfect for breakfast, snacks or even appetiser.
Quinoa is often considered to be a grain however it is actually seed of a plant called "Chenopodium Quinoa". The word itself is pronounced as "KEEN-wah". It is known for number of health benefits as it is rich source of fibre, protein, iron & vitamin B6 etc. It is often recommended to people with gluten allergies because of its versatile use in sweet & savoury dishes. Also it is a great substitute for rice not only because of its nutrition quotient but also it make you feel full for longer.
Initially when I began experimenting with millets, I used to think Quinoa is from the same family. Much because the small quinoa seeds resemble barnyard/foxtail millets & also has nutty flavour which is yet again another characteristic of millets. After trying millet recipes like Ragi Roti (Finger Millet), Ragi Flakes Chiwda & Barnyard Millet Pulao etc., I also decided to join the quinoa bandwagon just to see how it tastes like. One of the key points while making quinoa is to wash it thoroughly. I generally rinse it well under running water while scrubbing it with my fingers to get rid of all impurities. If you wish you can also soak it for 10-15 minutes.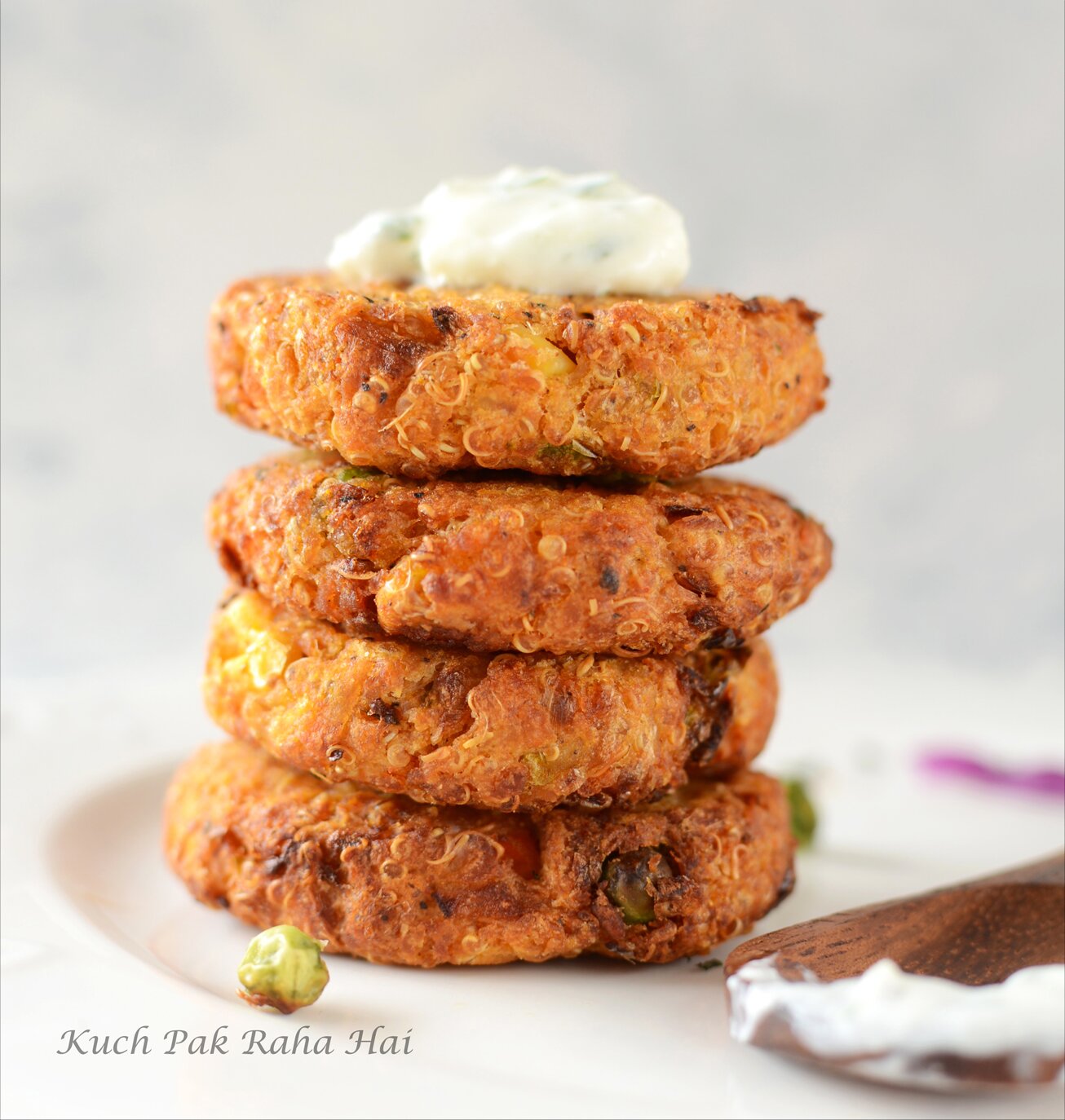 These crispy quinoa patties recipe uses a generous amount of vegetables like onion, capsicum, sweet corn, peas and carrots etc along with boiled quinoa. Also for binding purpose I have used chickpea flour or besan. If you don't have it you can use bread crumbs too but as I wanted this recipe to be gluten free & healthy so used the alternative as chickpea flour. The patties gets its flavours from ginger garlic paste, chopped fresh cilantro, red chilli & black pepper powder. The spices can be adjusted as per your own taste.
The best thing about this recipe is it can be both Pan Fried or Air Fried. It needs such less amount of oil while cooking that you can enjoy these crispy quinoa patties without any guilt or being conscious about calories. Both the methods have been shown in this post. If you are looking for quick breakfast or party recipes, then these quinoa cakes are perfect as you can prepare these patties beforehand. At the time of serving all you need is to pan fry or air fry them.
Some more Air fryer recipes, you might be interested in: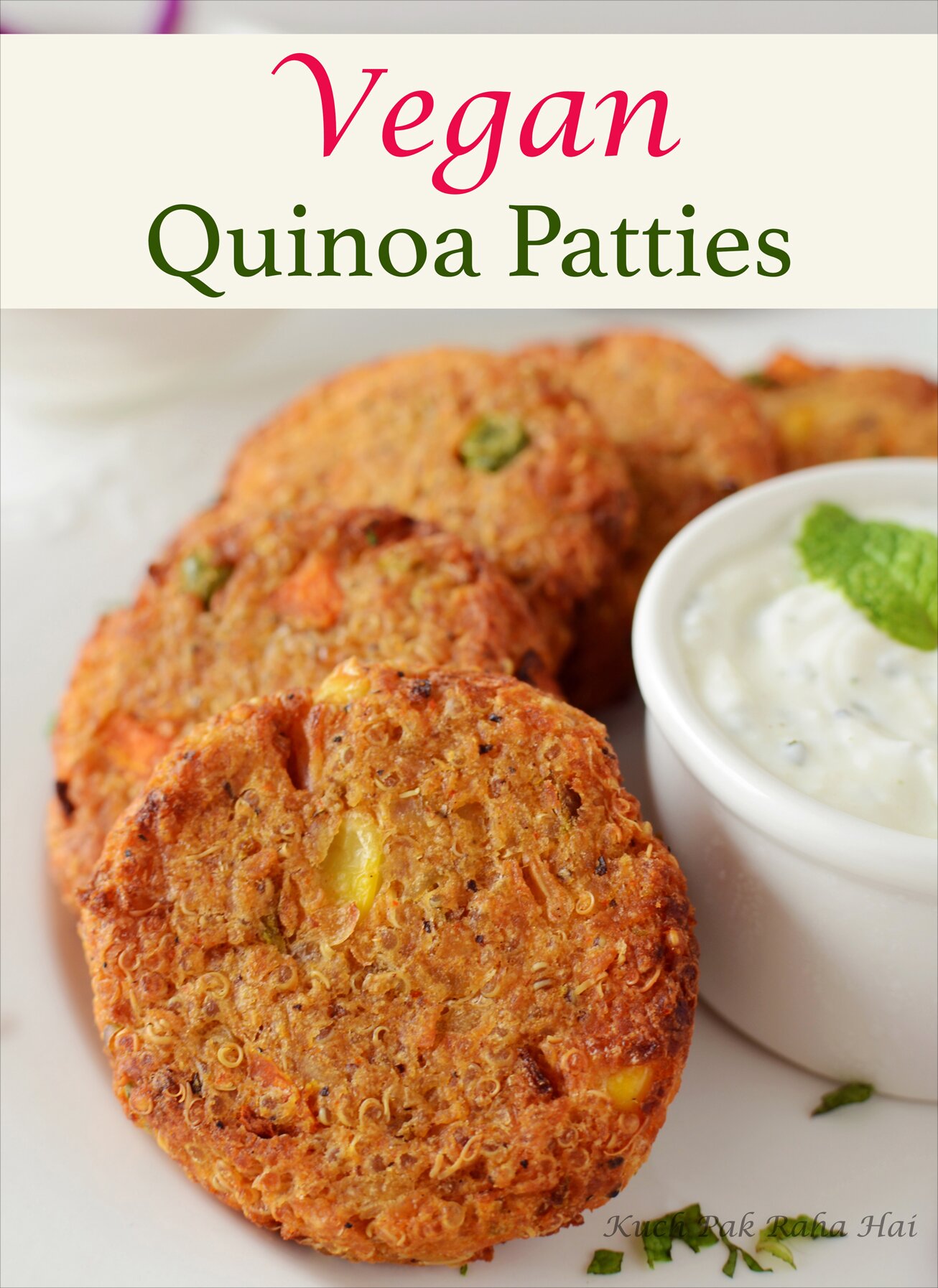 These yummy quinoa patties taste best when served with something creamy yet packed with flavours. So I serve them with healthy fresh Yoghurt-Mint dip made using hung curd. The combination tastes so good that you wont be able to stop at one.More Vegan Recipes:
I have also shared a youtube video for the recipe. In case you are confused at any step, do refer it. If you like the recipe, please do LIKE & SUBSCRIBE to our channel 😊.
Youtube Video:
https://youtu.be/vsIgK2wgZX4
List of Ingredients: (Makes 8 to 10 pieces)
Quinoa (uncooked)- 1/4 cup
Water – 1/2 cup
Salt – 1 tsp (or to taste)
Sweet Corn – 3 tbsp
Peas – 3 tbsp
Chickpea Flour (Besan) – 3 tbsp
Olive Oil/Cooking Oil -4 tbsp
Chopped Onion – 1/4 cup
Chopped Capsicum – 1/4 cup
Chopped Carrots – 1/4 cup
Chopped Coriander/Cilantro -3 tbsp
Mashed Potato -1 cup
Ginger Garlic paste-1 tsp
Red chilli powder – 3/4 tsp
Black Pepper – 1/2 tsp
Step to Prepare:
Step1:
Wash the quinoa well while scrubbing it with fingers. Repeat this 2-3 times to get rid of dust & impurities from Quinoa. Discard all the water.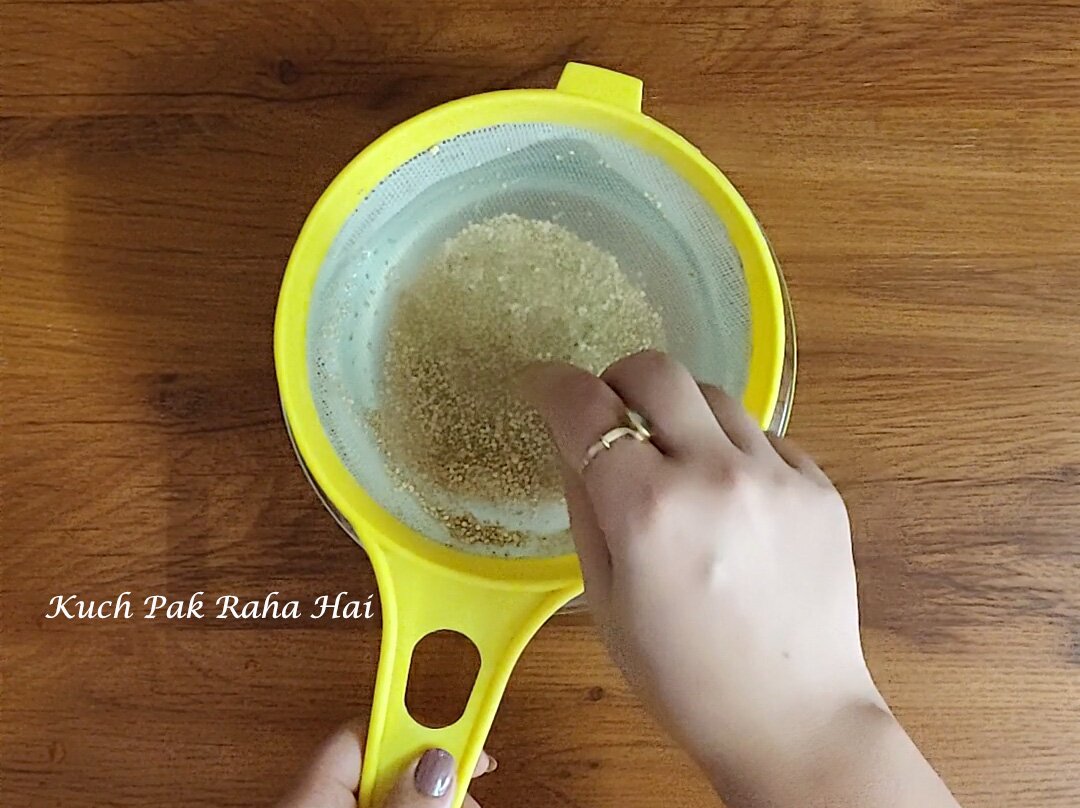 Quinoa: https://amzn.to/2BV9h99
Step2:
Transfer this rinsed quinoa in a pan. Add water to it. The Quinoa to water ratio will always be 1:2. For 1/4 cup quinoa we will use 1/2 cup water. Add salt to it.  Bring the water to boil & then cover it with a lid for 10 minutes.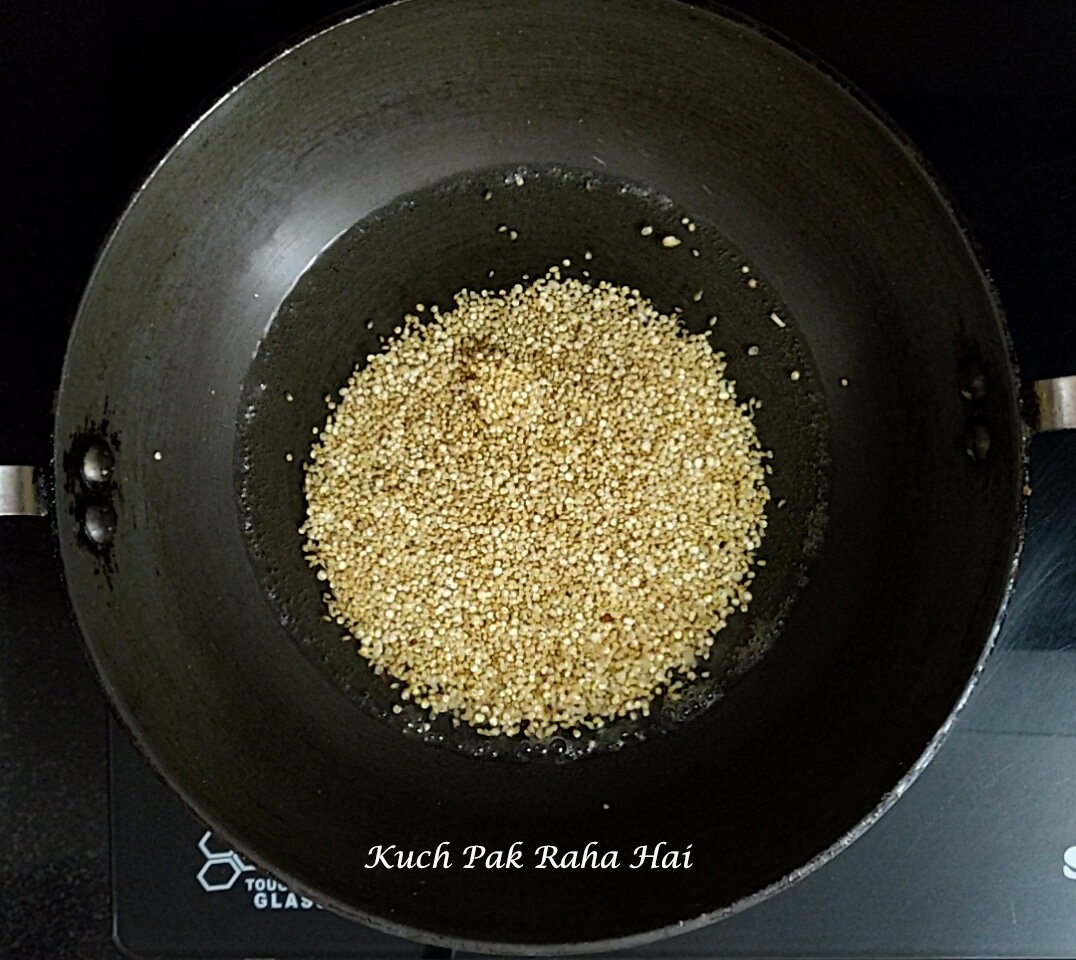 Small Deep Fry Pan: https://amzn.to/2zp9TmK
After 10 minutes, open the lid & add sweet corn kernel & peas to it. Close the lid once again & steam for another 5 minutes. Switch off the flame. Open the lid & fluff quinoa with a fork. Keep it aside & let it cool down.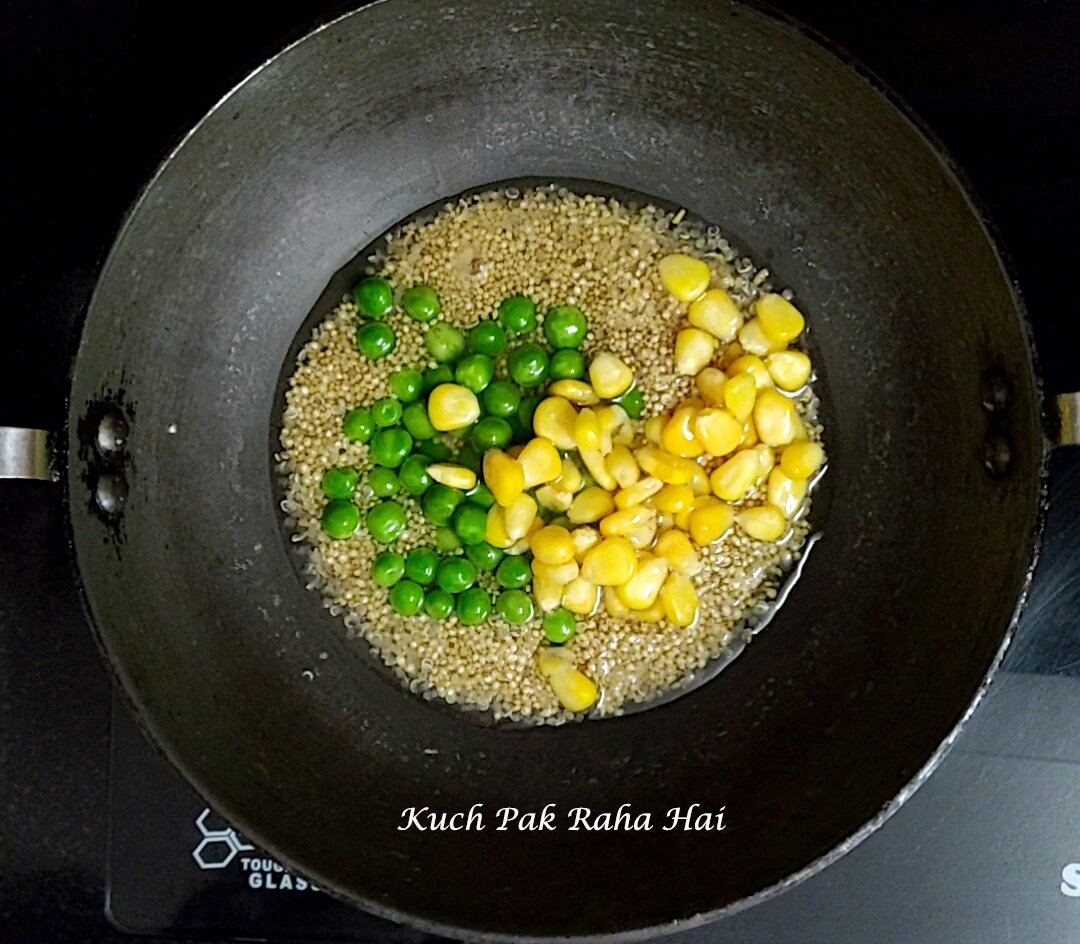 Step3:
Take a heavy bottom or non-stick pan. Dry roast chickpea flour or besan in it for 3-4 minutes while stirring continuously. Transfer it in a bowl & keep it aside.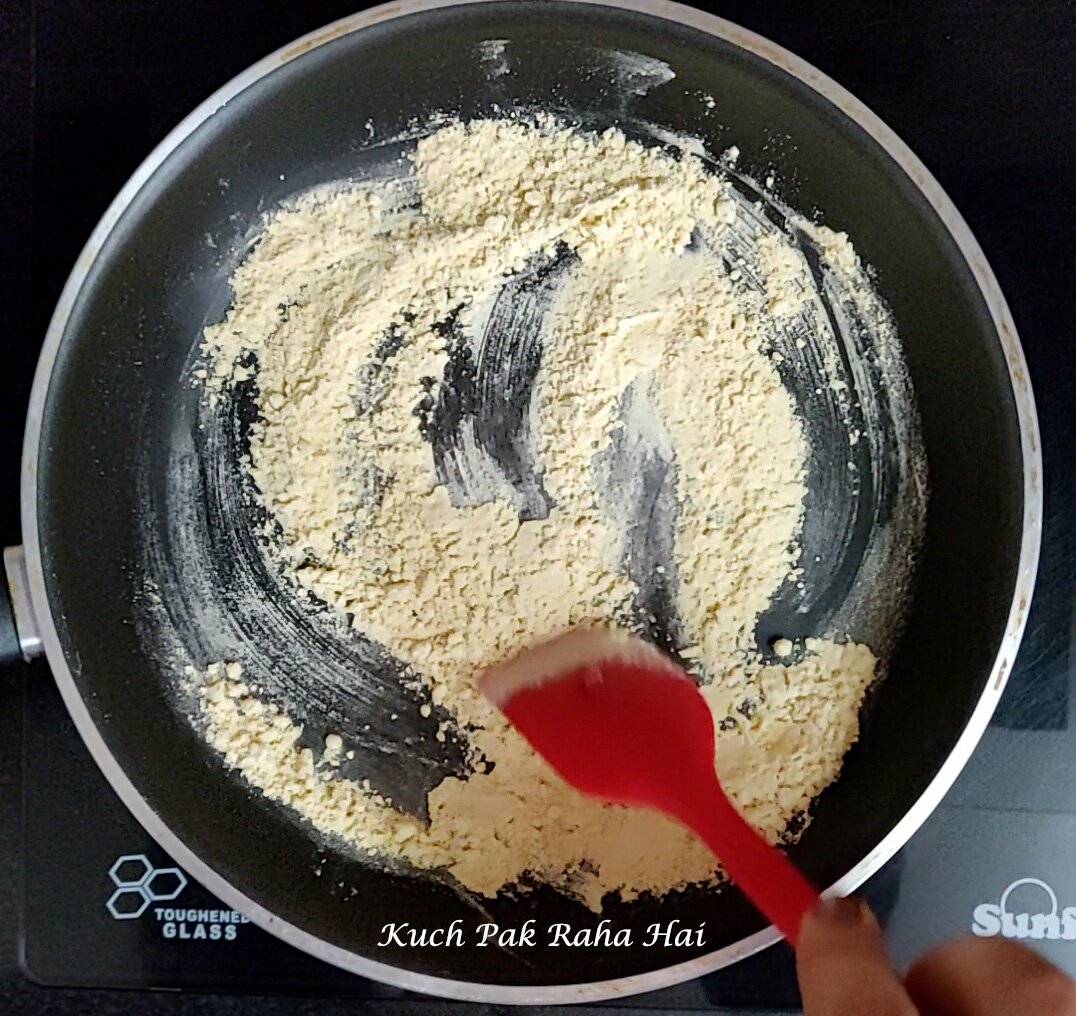 Step4:
In the same pan, heat 2 tbsp cooking oil. Add Ginger garlic paste, chopped onion, carrots & capsicum to it. Sauté for 1-2 minutes.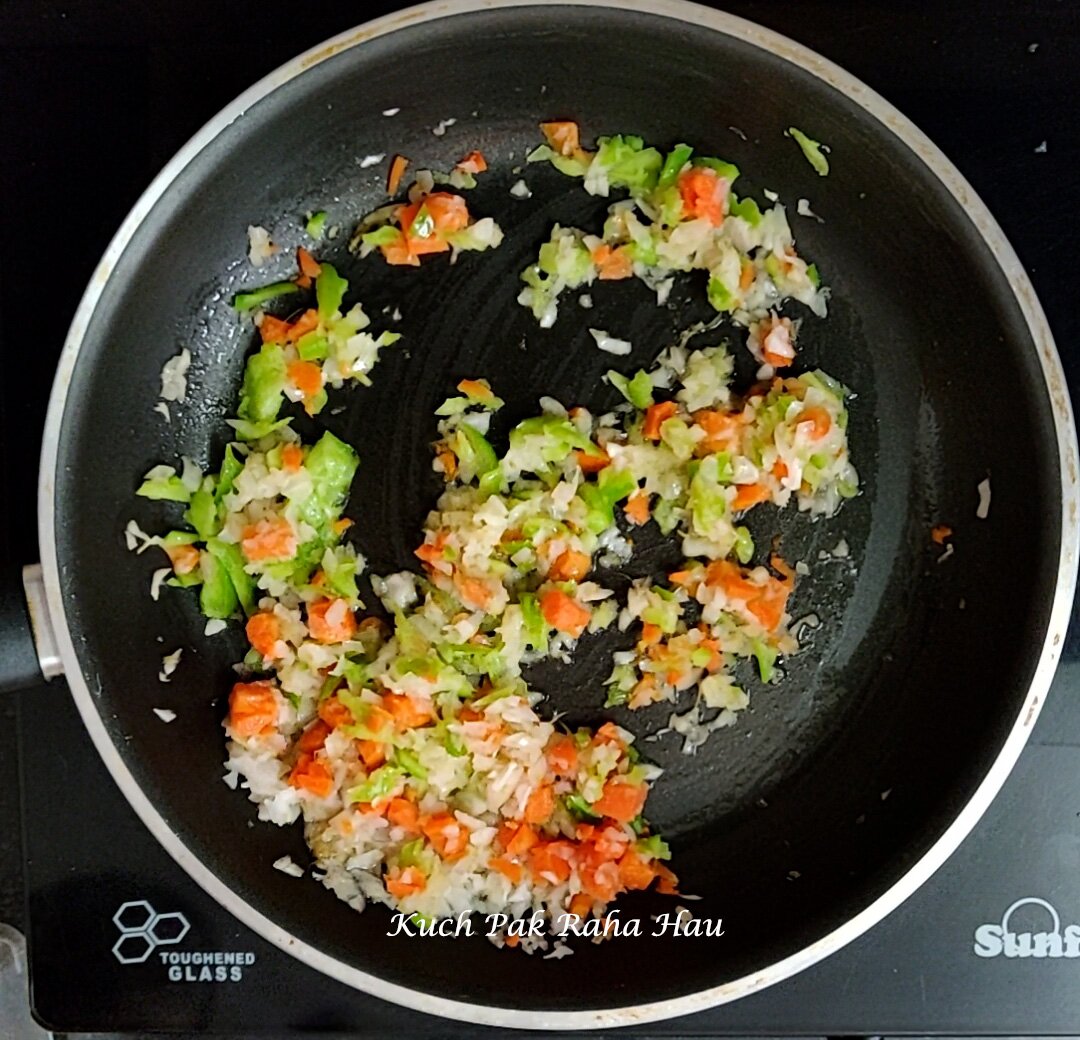 Step5:
Add mashed potatoes, boiled quinoa and roasted chickpea flour to it. Add chopped coriander, red chilli powder & black pepper also. Mix well. Keep the flame to low.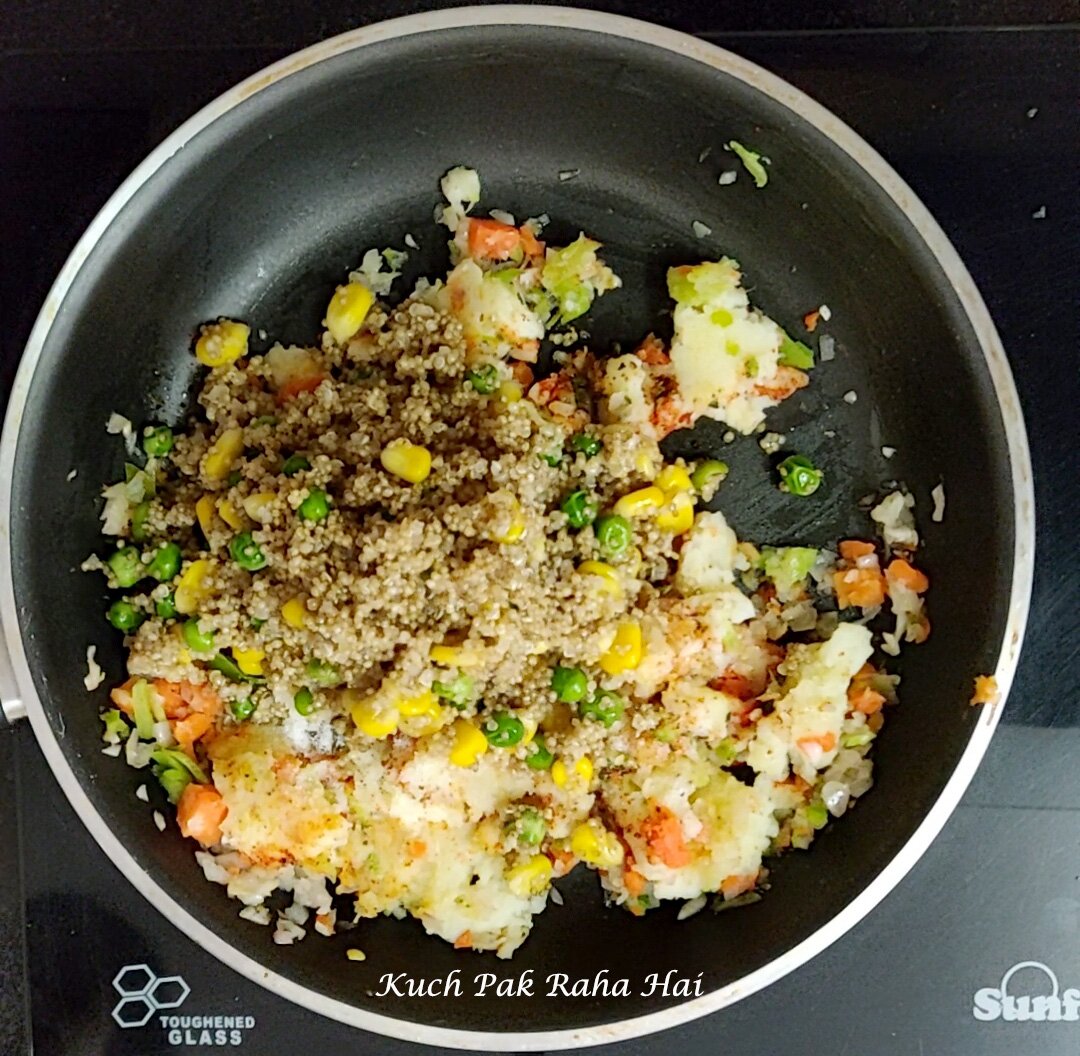 Check for salt once and adjust it as per your taste. Keep mixing till the entire mixture binds together.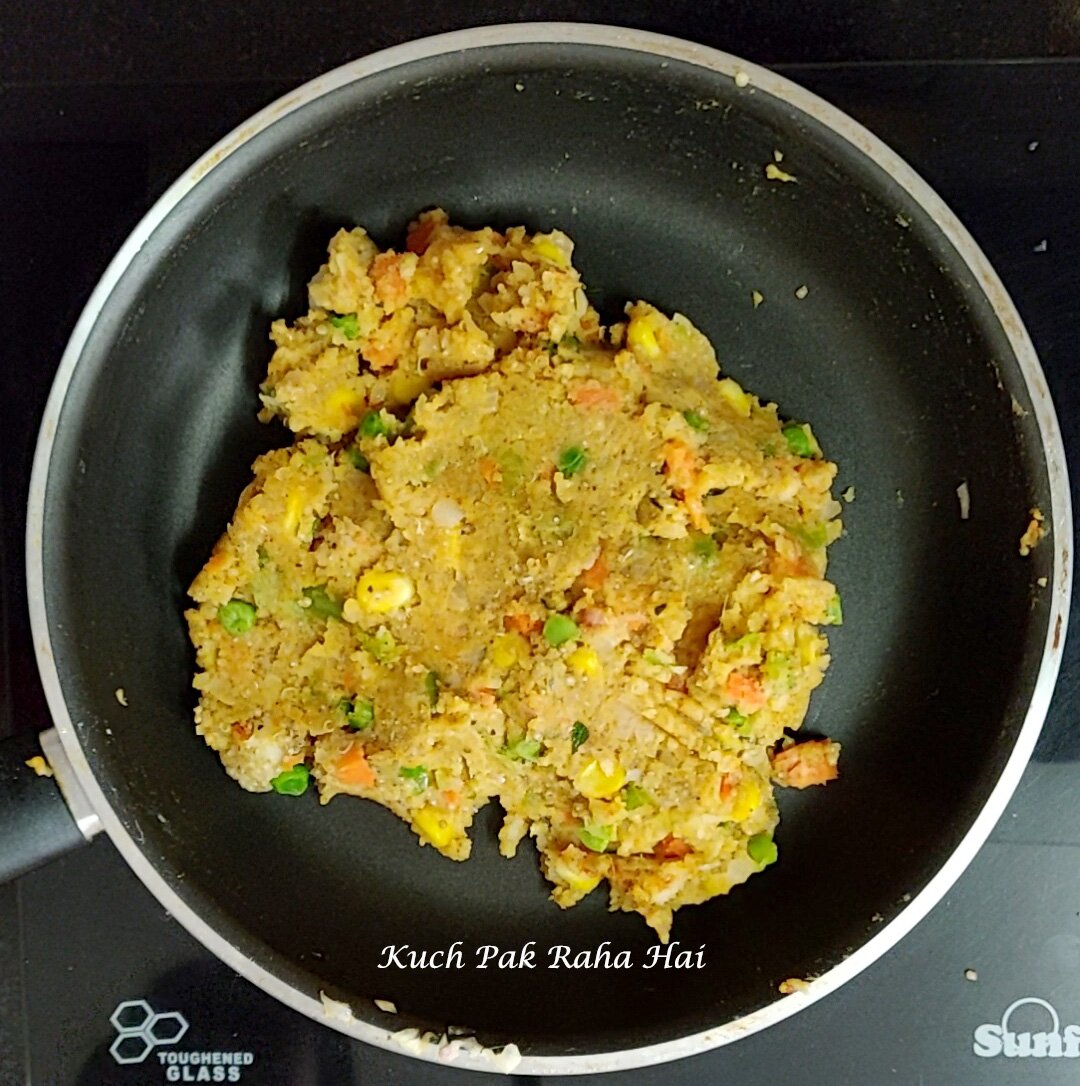 Non Stick Pan: https://amzn.to/2ApTnU6
Step6:
Transfer this quinoa patties mixture in a bowl. Let it cool down a bit but not much. While it is still warm, apply some oil on your palms and start making balls out of it. Flatten them gently between your palms and smoothen it around edges.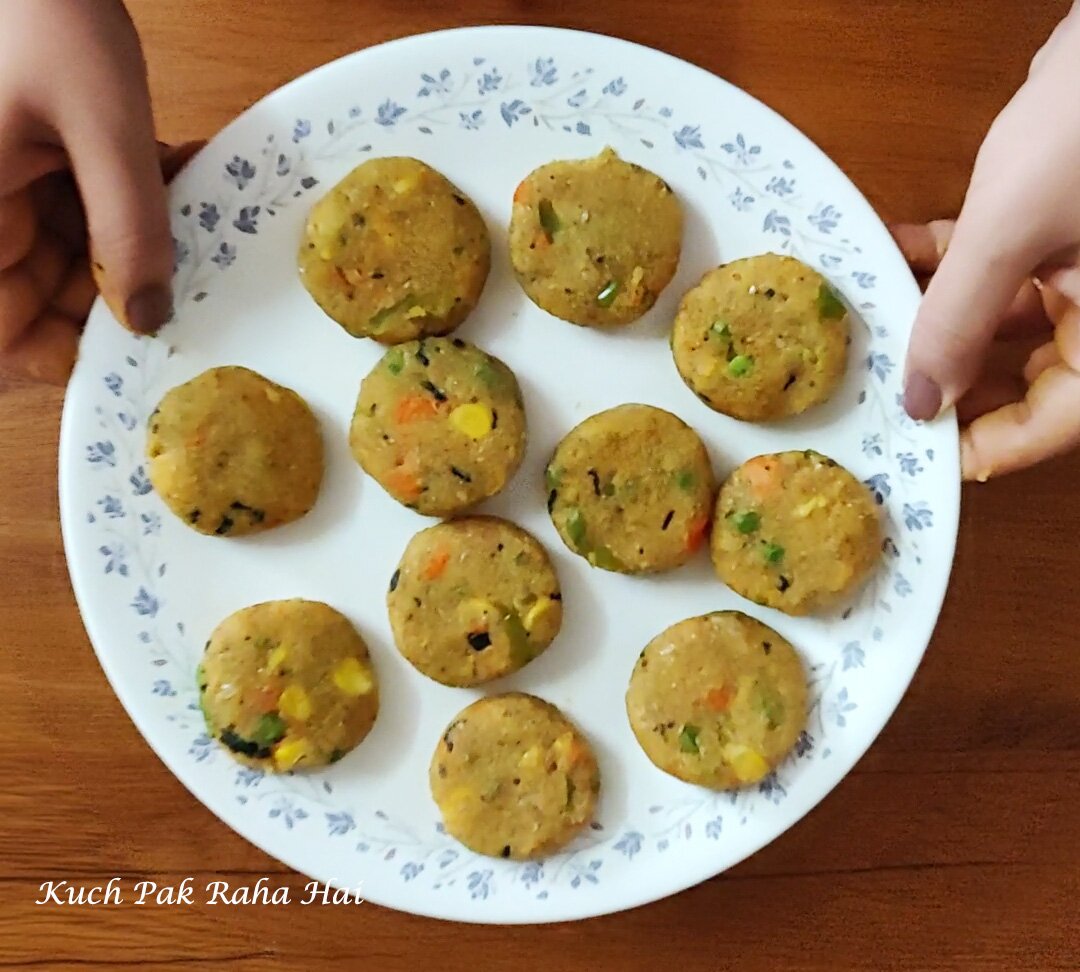 Now you can either pan fry them or air fry them.
Pan Frying Quinoa Patties
Heat 2 tbsp oil in a non stick pan. On medium heat, roast quinoa patties from both sides for 3-4 minutes till they become golden brown & crunchy.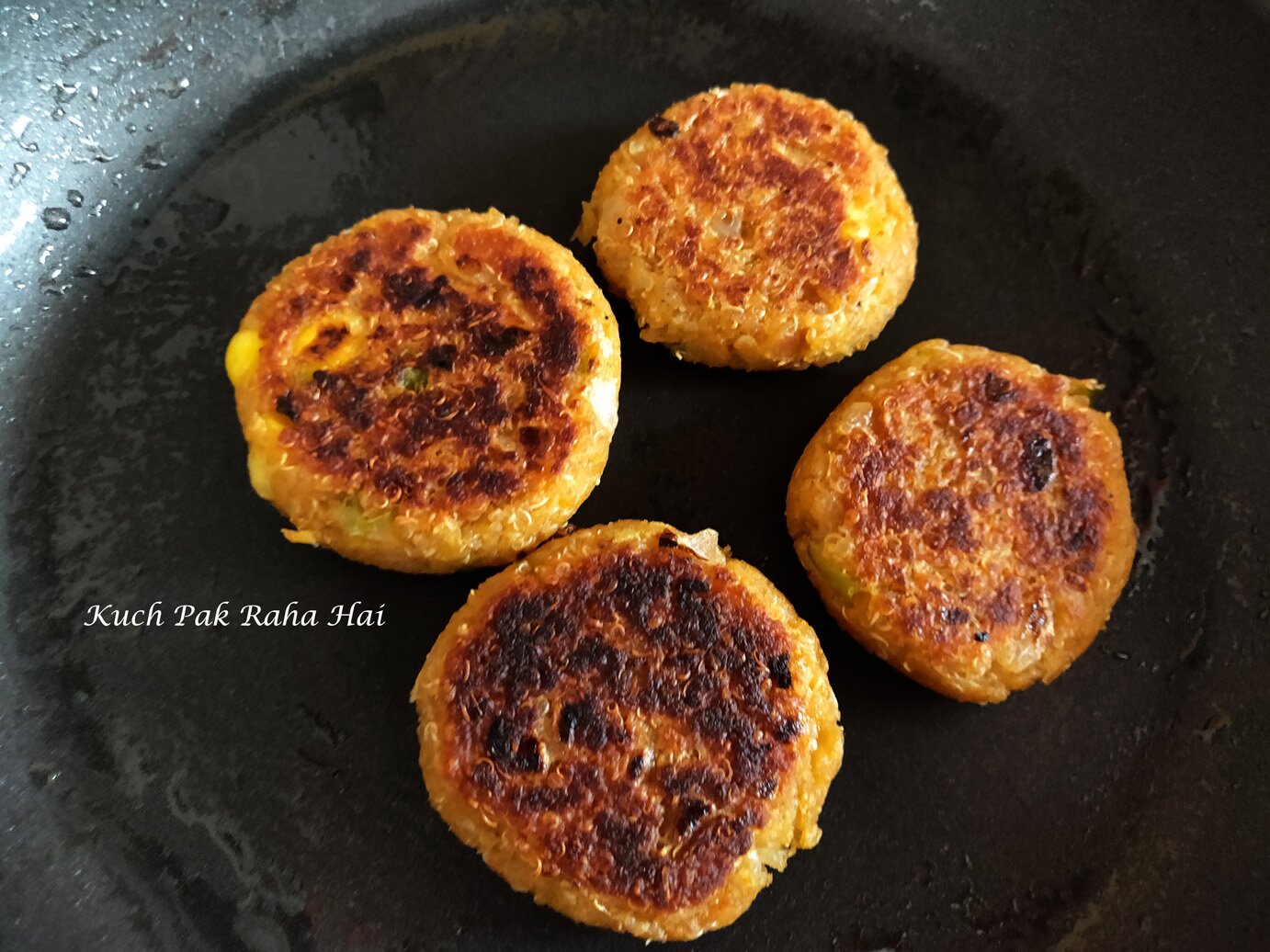 Quinoa Patties In Air Fryer
Preheat the air fryer at 180 degree Celsius for 10-15 minutes. Brush some oil on quinoa patties. Place them inside air fryer basket such that the side on which you brushed oil is facing downwards (this prevents it sticking to basket).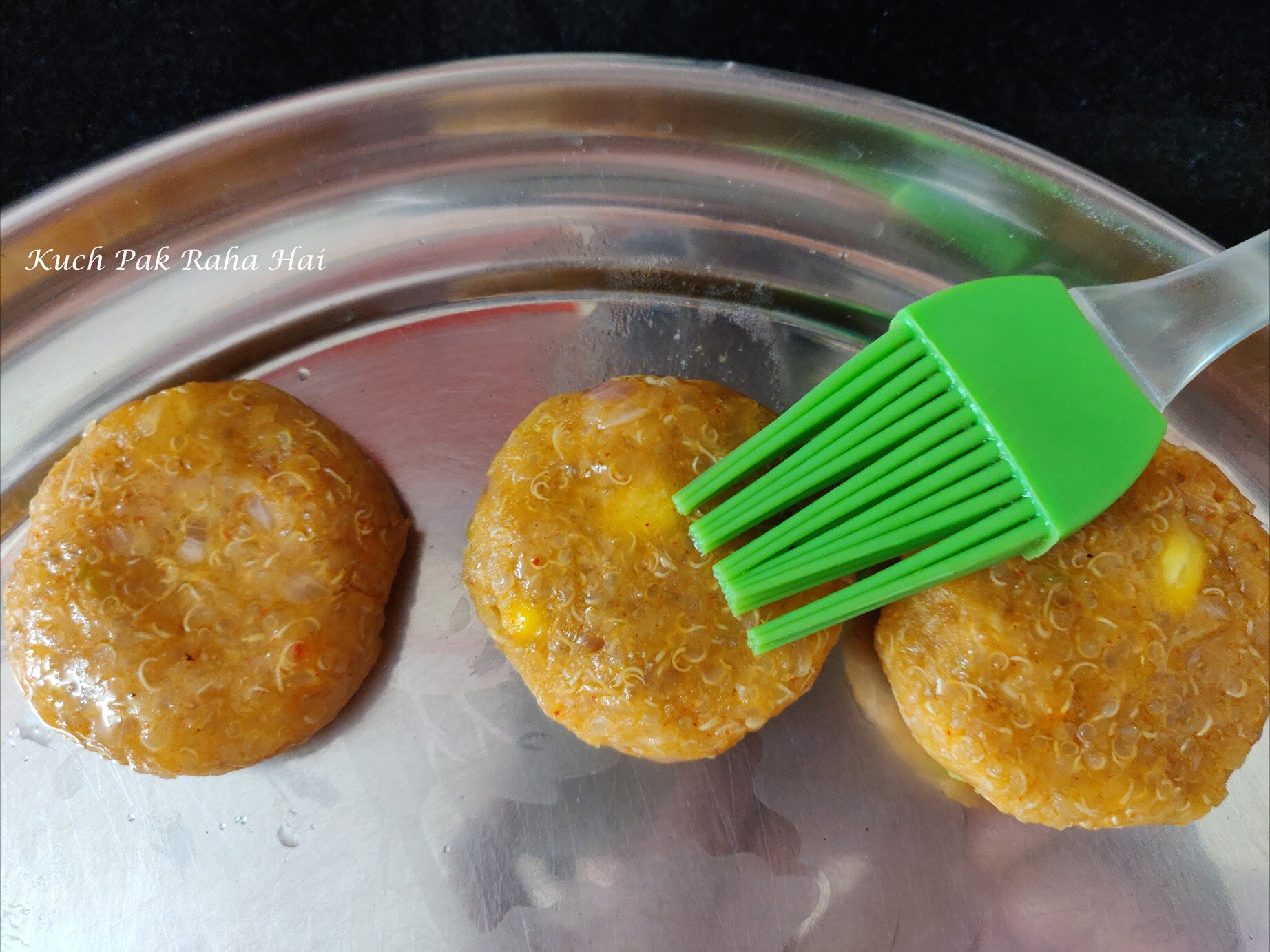 Silicon brush: https://amzn.to/3cVAyWM
After placing in basket, brush some oil on top too.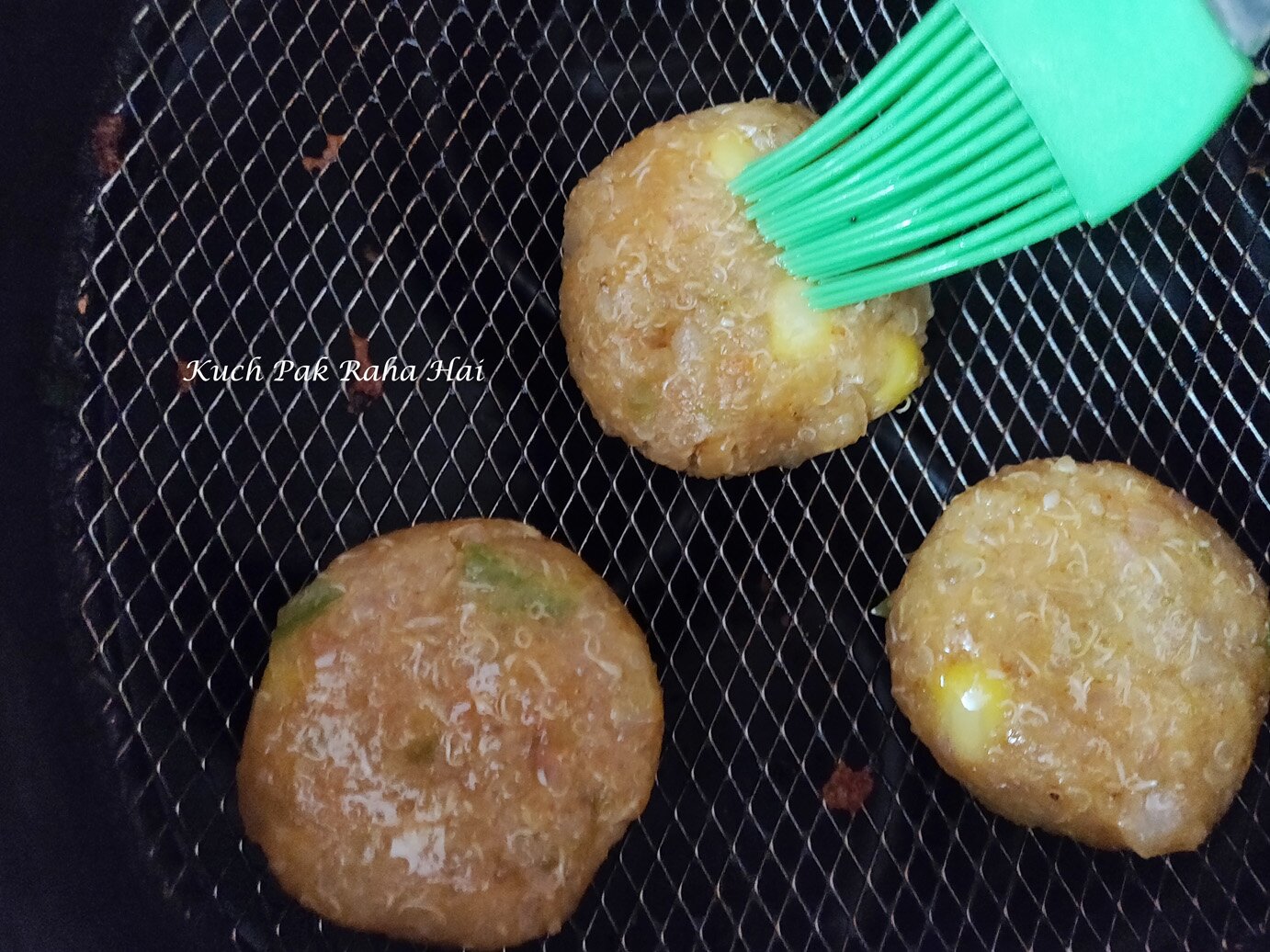 Philips Air Fryer: https://amzn.to/37tnlSU
Air fry them at 180 degree Celsius for 15 minutes. Flip them and air fry for 10 more minutes at same temperature till they are golden brown and crunchy from oustide.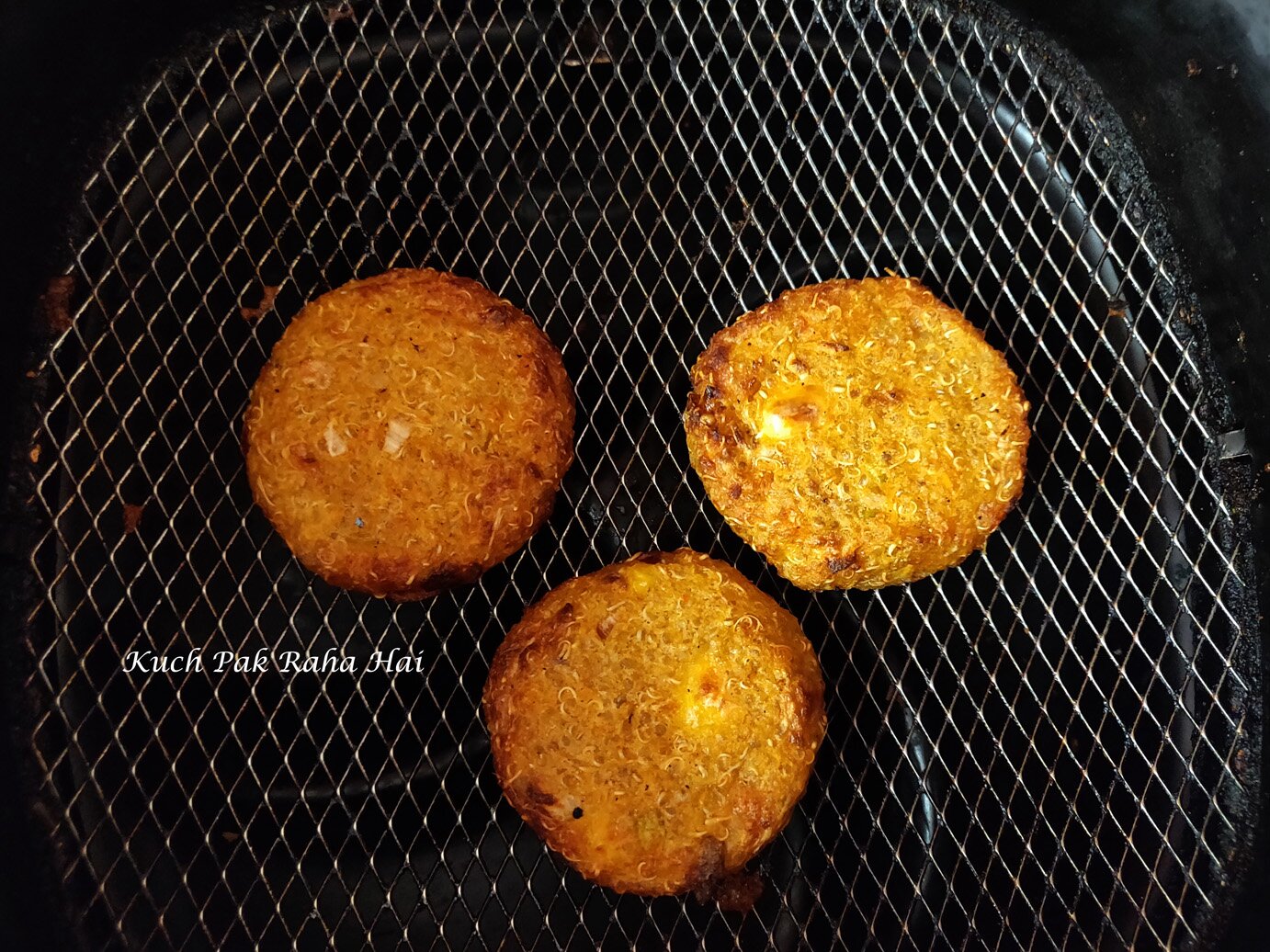 Crispy yummy Quinoa Patties are ready. Enjoy with fresh creamy Yoghurt Garlic Mint Dip. You will surely love it. For dip recipe, click here.