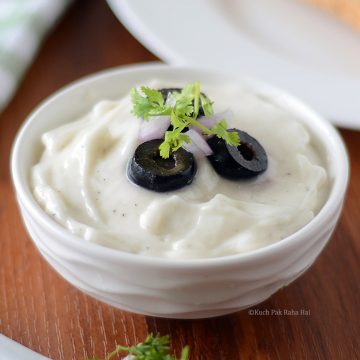 Make luscious creamy mayonnaise at home with this simple recipe and that too without eggs. It can be used as dips with snacks, spread in sandwiches, wraps, burgers or in salad dressings.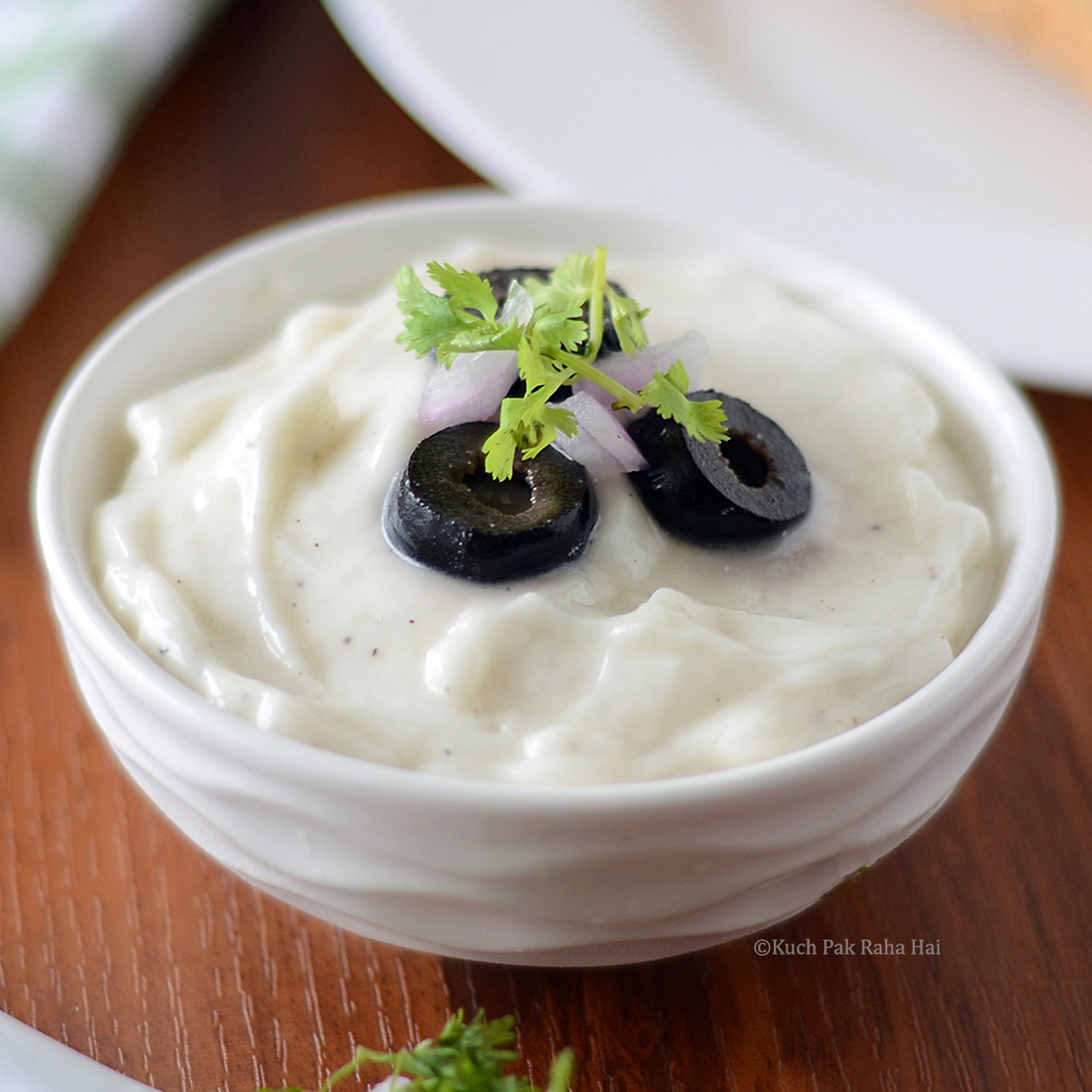 The mayonnaise recipe shared here is:
Vegetarian
Eggless (No eggs)
Easy to make
Can add any flavour of your choice
Mayonnaise, also commonly called 'mayo', is thick creamy sauce traditionally made with eggs, oil, seasonings and vinegar (or lemon juice). In scientific terms, it is basically an emulsion (a mixture of two liquids which generally don't mix like oil & water) where egg yolks acts as emulsifier (that helps the two liquids mix).
Ingredients to make homemade mayo without eggs:
Cream: I have used low fat (25% fat) cream to make mayonnaise.
Oil: To keep this mayo healthy-ish, use best quality edible oil as it is a major component in mayo. I have used extra virgin olive oil here but you can also use canola or avocado oil.
Seasoning: Salt, crushed black pepper and vinegar are added to season the mayo.
How to make eggless mayonnaise at home?
You can easily make mayonnaise without eggs and that too using just 2 main simple ingredients – cream and oil. I have used electric chopper with whipping attachment to make this mayo. You can use electric whisker or immersion blender too (Hand whisker is also an option but it will surely test your arm strength).
The texture of this homemade mayonnaise will be creamy just like the ones you get in market. Moreover it will be free of chemicals, additives or preservatives and you can even flavour it with herbs or spices of your choice.
Mayonnaise Flavours:
The mayonnaise recipe shared here acts as a blank canvas and you can add different flavour to it by adding herbs, spices and sauces. I am sharing some ideas below but sky is the limit when it comes to experiment with flavours:
Plain Mayo: This is classic mayo flavoured with salt, crushed black pepper and vinegar. You can also add some mustard sauce if you like its flavour.
Garlic Mayo: To add garlic punch to mayo, add some finely crushed garlic, garlic powder or chives.
Spicy Mayo: Add little bit of sriracha sauce, ketchup and paprika (or red chilli powder) to make spicy mayo. Instead of sriracha you can also use chipotle sauce.
Mint Mayo: I made this flavour for summer party this year by adding some freshly chopped mint, coriander (cilantro), green chillies & lemon juice in plain mayo. It tastes & looks absolutely refreshing with its lime green colour.
(Please note if you are using fresh herbs or vegetables in mayo, it will reduce it shelf life. Store it in fridge for 2-3 days only)
Mayonnaise Uses:
1. It can be served as dip with variety of snacks like french fries, potato wedges or smashed potatoes.
2. You can use it to make sandwiches like veg coleslaw sandwiches, wraps, burgers or rolls.
3. It can be used in salad dressings like macaroni pasta salad or gravies to make them more creamy & luscious. 
Sharing few recipes where you can use mayo:
Hope you would simple yummy eggless mayonnaise recipe.

Ingredients:
Cream*- 1/4 cup
Olive Oil- 1/2 cup + 2 tablespoon (as required)
Salt-1/2 tsp (to taste)
Crushed Black Pepper-1/2 tsp
Vinegar-1 tsp
1. *I have used Amul fresh cream (25% fat) here to make mayonnaise.
2. Instead of olive oil you can use any other flavourless oil.
Directions:
Step 1:
Transfer the cream to a whipping bowl. Please make sure the cream is chilled before you start whipping it. (Here I have used "Morhy Richard Chopper Vivo" which comes with a whipping attachment.)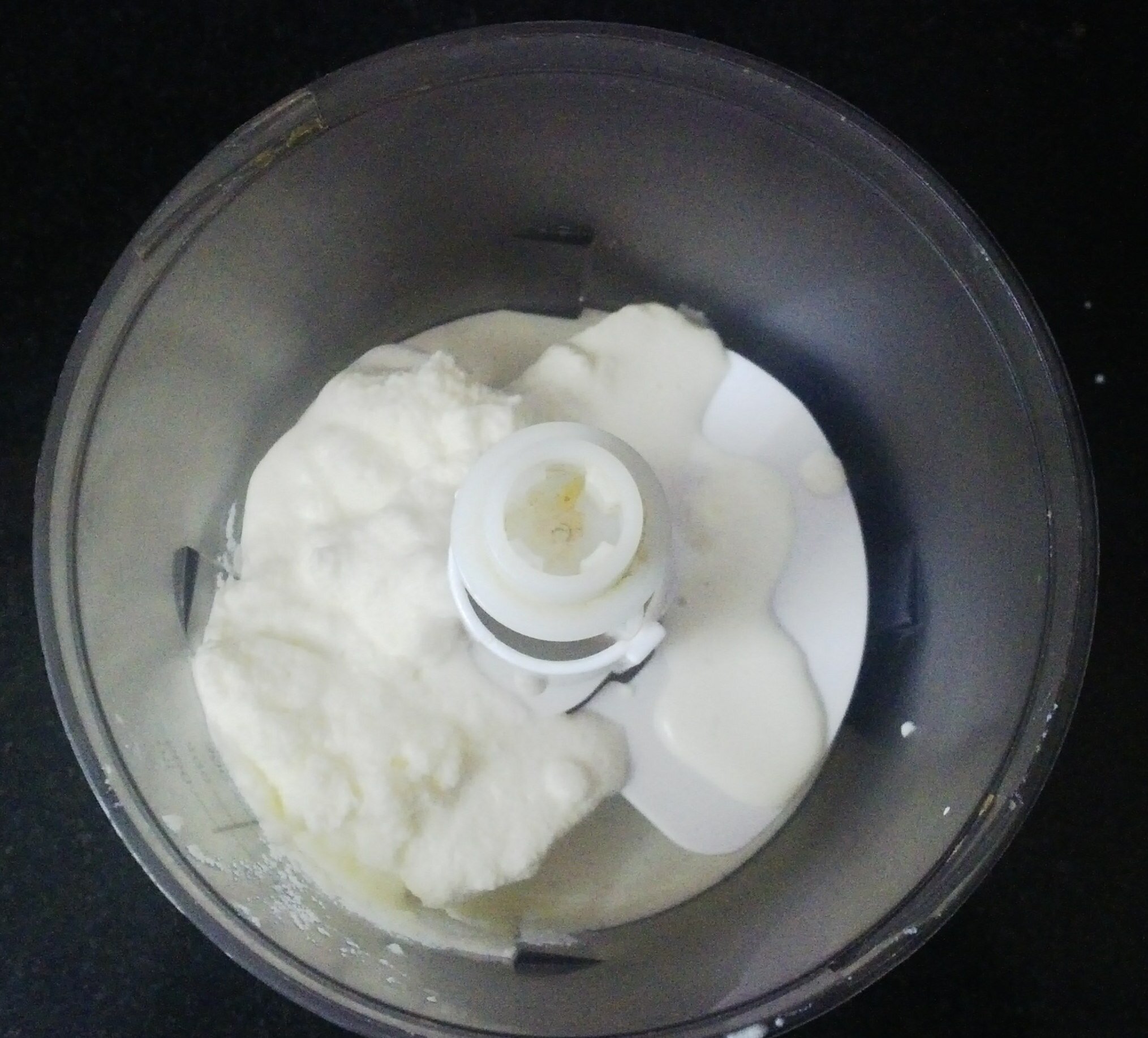 Step 2:
Start whipping the cream. Once the cream starts thickening up, add some oil to it. Do not add all the oil at once. Add the oil tablespoon by tablespoon and keep whipping it. It will start to thicken gradually.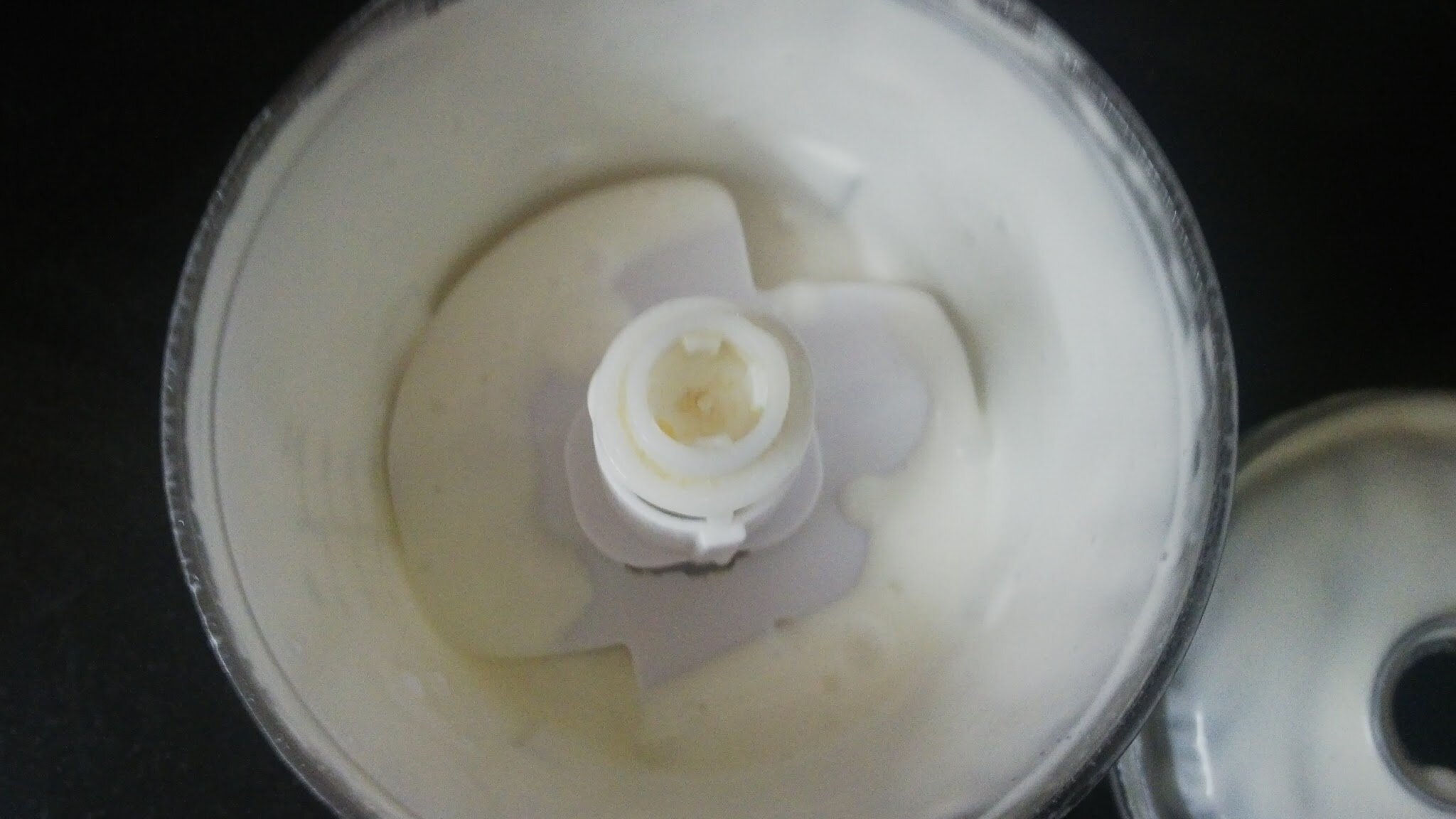 The quantity of oil can vary slightly depending on the fat content of the cream, so add little by little using a spoon.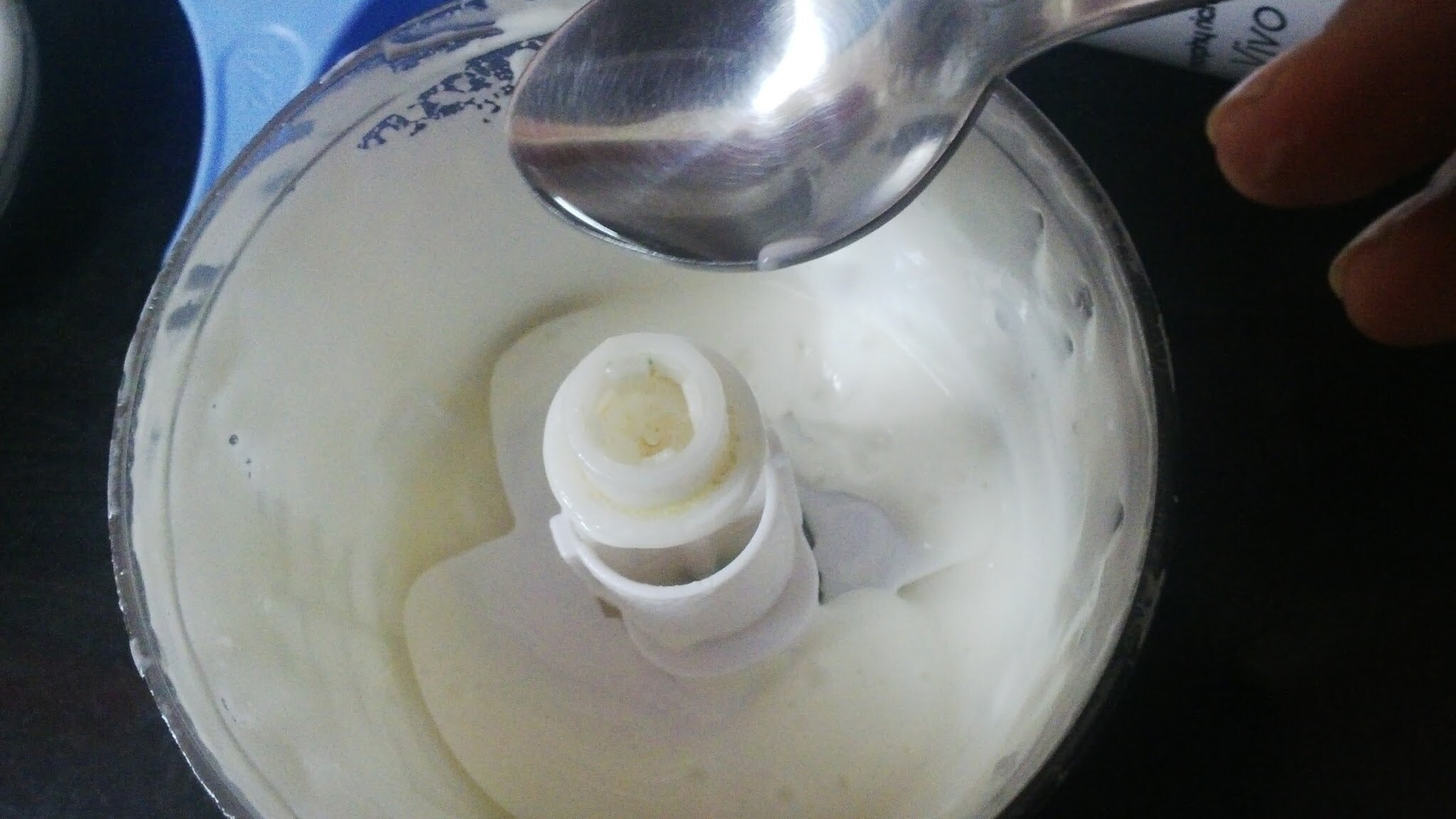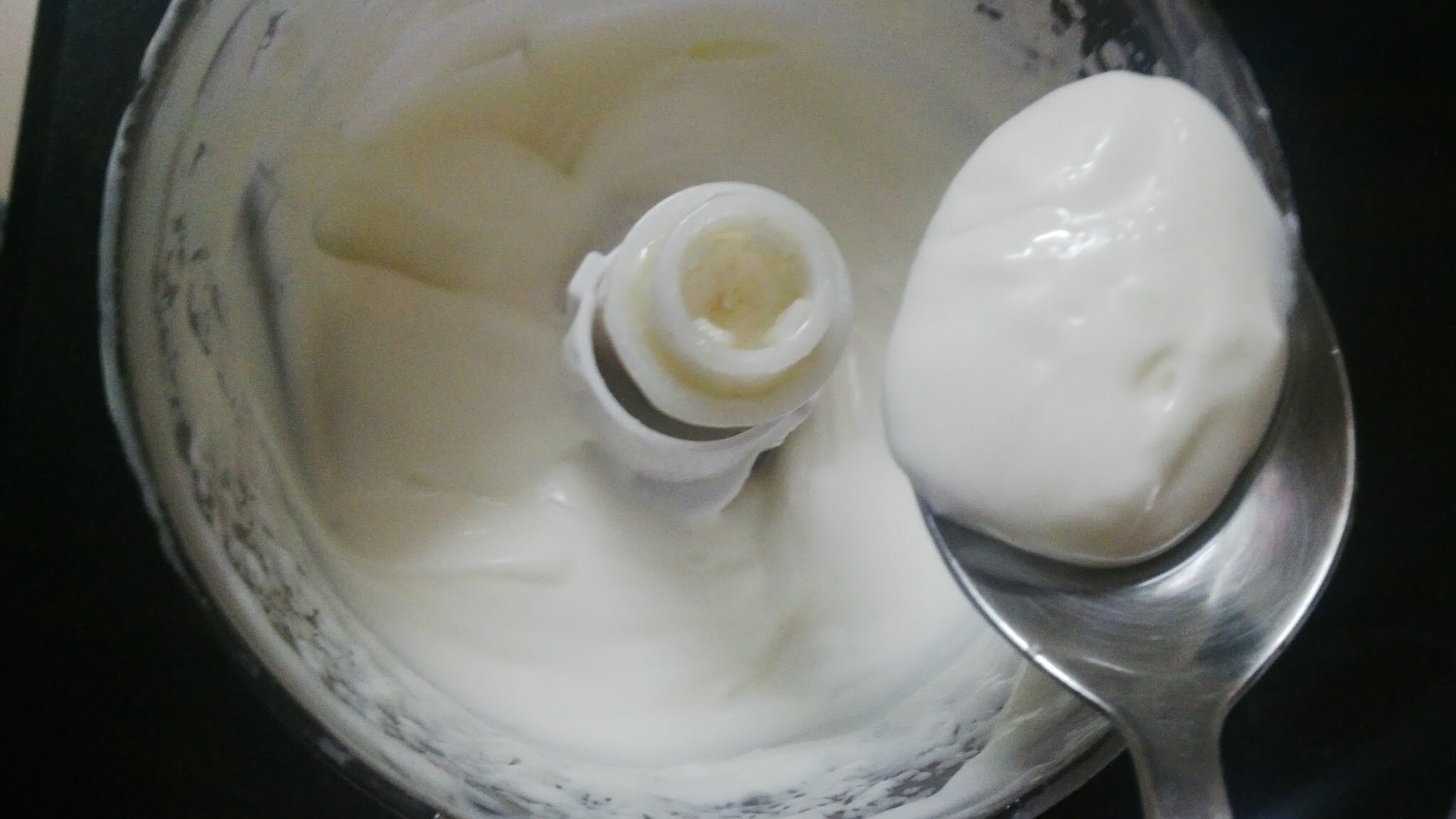 Step 3:
Add salt, black pepper and vinegar to the bowl and whip once again till all ingredients are mixed together properly.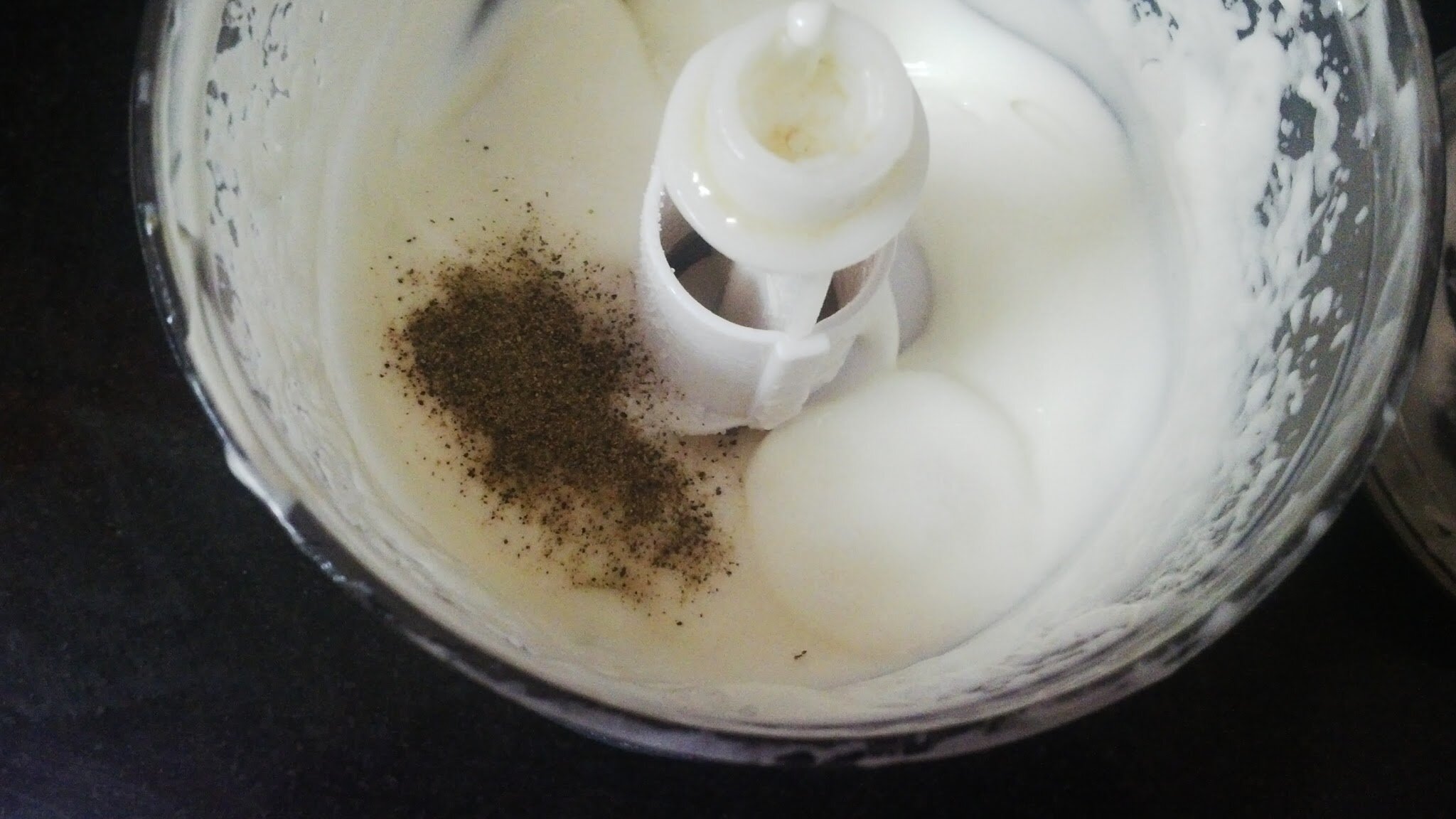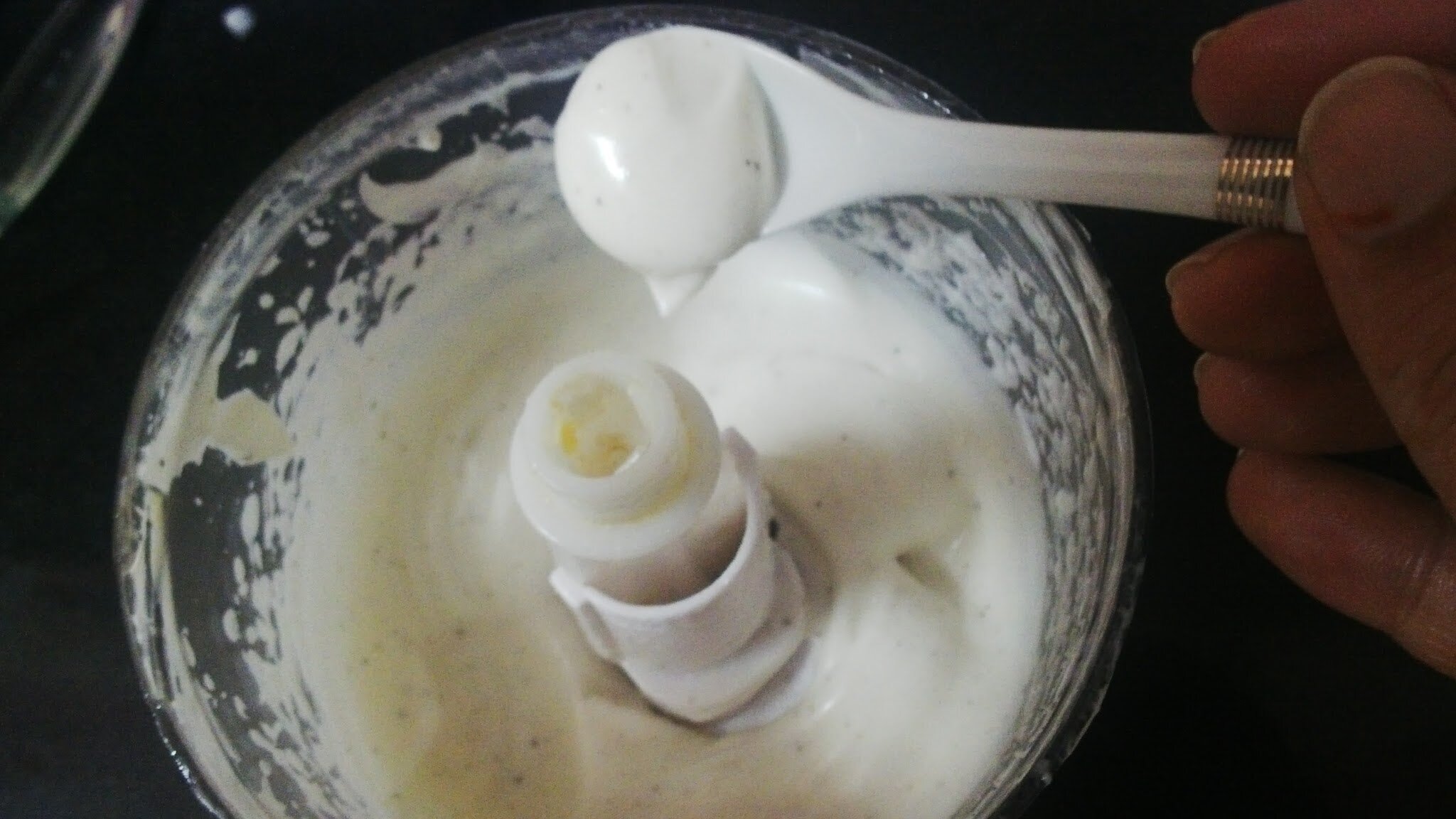 Creamy eggless mayonnaise is ready!! Enjoy it as dip or in sandwiches.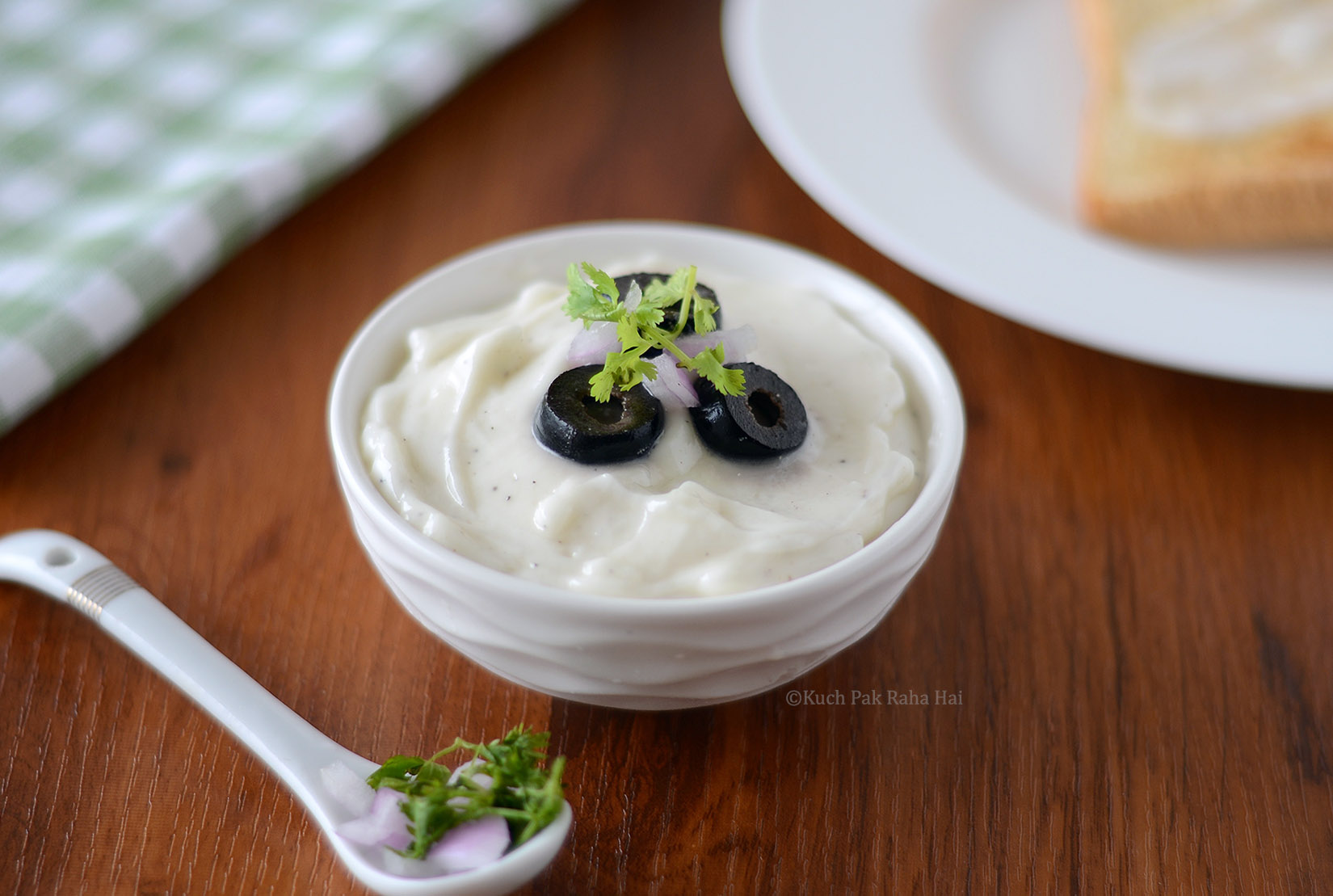 If you try this egg free homemade mayonnaise recipe & share pics on social media, then don't forget to tag on Facebook, Instagram or use #kuchpakrahahai.
Let's stay connected
Facebook | Instagram | Pinterest| Youtube