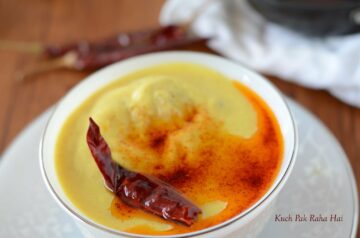 Kadhi or Kadhi Pakora is a tantalising flavoursome North Indian curry recipe made with yogurt, chickpea flour (besan), ginger and few spices. It is vegetarian, gluten free and can be served with roti or steamed rice.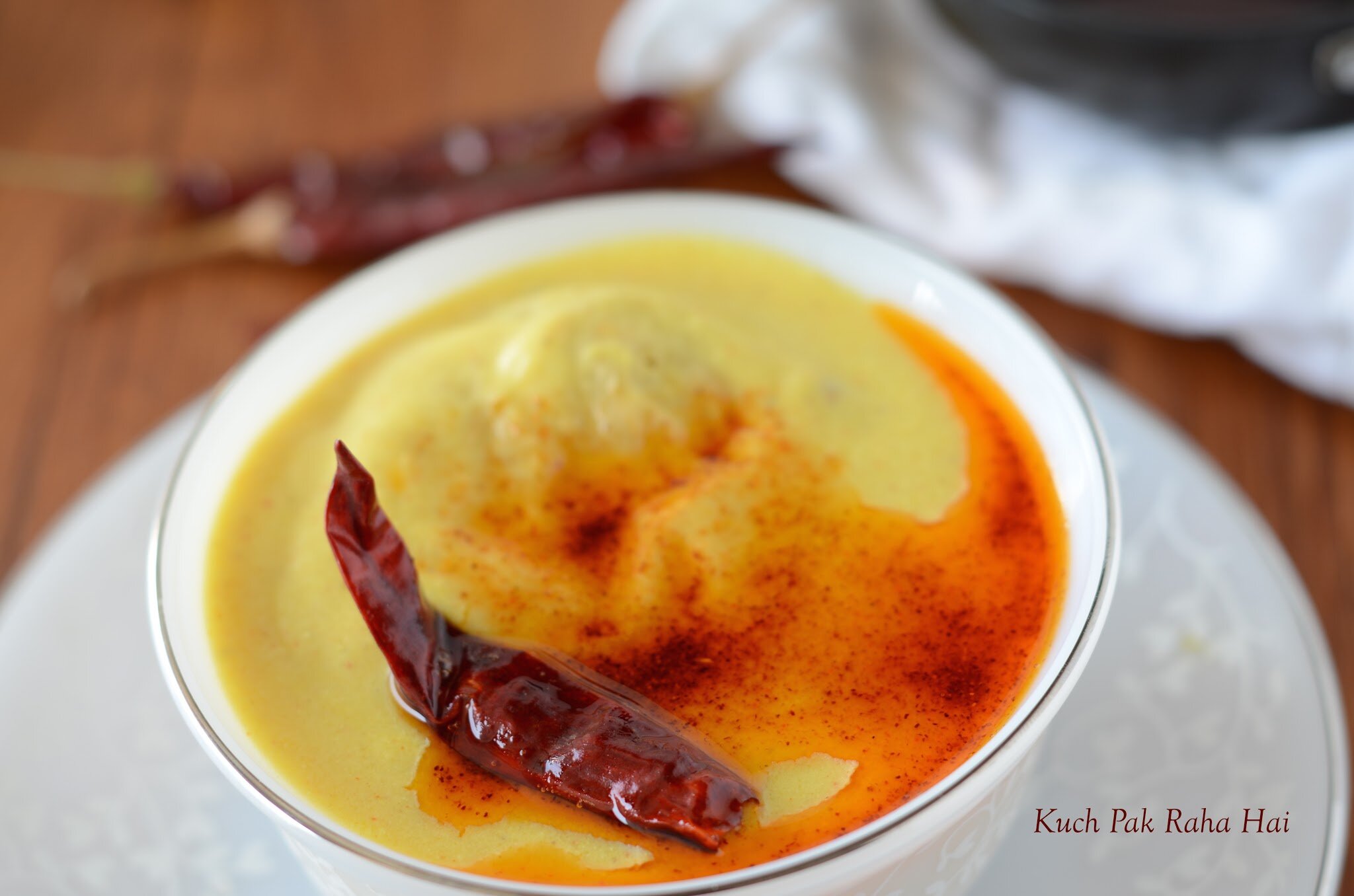 The main ingredients of kadhi is besan, known as chickpea flour or gram flour in english and yogurt, also known as curd in Indian homes. The word 'pakora' means fritters in english and is added in the curry for bite and texture. They are made also made using chickpeas flour.
Kadhi Pakora can be served with both roti or chawal (rice) but my favourite combo will always be 'kadhi chawal'. A hot steaming bowl of kadhi chawal with some tadka (tempering) on top, makes for an absolute soulful comfy meal any day.
There are different types of kadhi like Gujrati Kadhi, Punjabhi Kadhi, Rajasthani Kadhi etc as each state in India has its own recipe with minor variations. Rajasthani kadhi is thinner in consistency whereas gujrati kadhi is slightly on sweeter side. In Punjabi kadhi, onion garlic is used & is accompanied by some crunchy onion pakora (fritters).
The Kadhi recipe is quite simple and it does not require too many ingredients. It is especially a good option when you are out of veggies & don't want to rush to fetch groceries.
Kadhi is derived from the word 'kadhna' which mean slow cooking. It always tastes so much better when cooked on low flame for at least 30-40 minutes. The slow cooking gives curry the time to absorb all flavours & eliminates raw taste of besan & yogurt.
In today's post, I am sharing kadhi recipe which has always been loved at my home. The recipe is :
No onion no garlic recipe (satvik)
Vegetarian
Gluten free
Healthy & Easy to make
(If you wish you can use sliced onions & minced garlic while sautéing spices.)
Which type of yogurt should be used for making kadhi?
Kadhi tastes spicy, slightly sour and it gets it sourness from the use of sour yogurt. If you are using fresh yogurt to make this curry, then leave it on kitchen counter for 2-3 hrs in summer season or overnight in winter season so that it naturally becomes sour.
What to do if kadhi is not sour?
Sometimes after kadhi is ready, it may not taste sour enough. To make it sour instantly, you can squeeze some lemon juice or add some amchoor powder (dry mango powder). If you have citric acid, you can even a small amount of it to make kadhi sour.
How to make pakora (fritters) for kadhi?
To make pakora for kadhi, we first prepare a thick mixture of chickpea flour (besan), yogurt, salt & baking soda. A pinch of baking soda make the pakora light & fluffy. Drop spoonfuls of this mixture in hot oil to make pakora.
If you don't like deep fried pakora, then you can even makes them in appe pan. I have shown here both methods of making Kadhi Pakora.
More Indian vegetarian recipes:
Hope you would like this Kadhi recipe!!
Ingredients: (Serves 4)
Chickpea flour (besan)-1/2 cup
Yogurt (Curd)- 2 cups
Water- 5 cups
Turmeric (haldi)- 1 tsp
Red Chilli Powder-3/4 tsp
Mustard Oil*- 2 tbsp
Fenugreek seeds (Methi)-1/2 tsp
Whole Dried Red Chillies- 2
Asafoetida (Hing)-1/4 tsp
Ginger paste-1 tsp
Salt-1 tsp (to taste)
For pakora (fritters): (Makes 12-16 pieces)
Chickpea flour (besan)- 1/2 cup
Water- 1/3 cup (or as required)
Salt – A big pinch
Cooking soda- A pinch
For tempering
Ghee-2 to 3 tsp
Red Chilli Powder-1/4 tsp
Notes:
1. *In authentic Kadhi recipe we always use mustard oil for cooking. If you don't have it, you can use any other cooking oil or ghee (clarified butter).
2. If you are making this kadhi for paryushan, please skip using using ginger.
3. The quantity of water can vary slightly depending on how thick or thin kadhi you want.
Directions:
Step 1:
Take besan (chickpea flour) in a bowl. Add red chilli powder & turmeric (haldi) to it. Add yogurt gradually to it while while whisking to remove any lumps. Also, Add 3 cups of water to it while mixing continuously to make smooth lump free mixture. Keep it aside.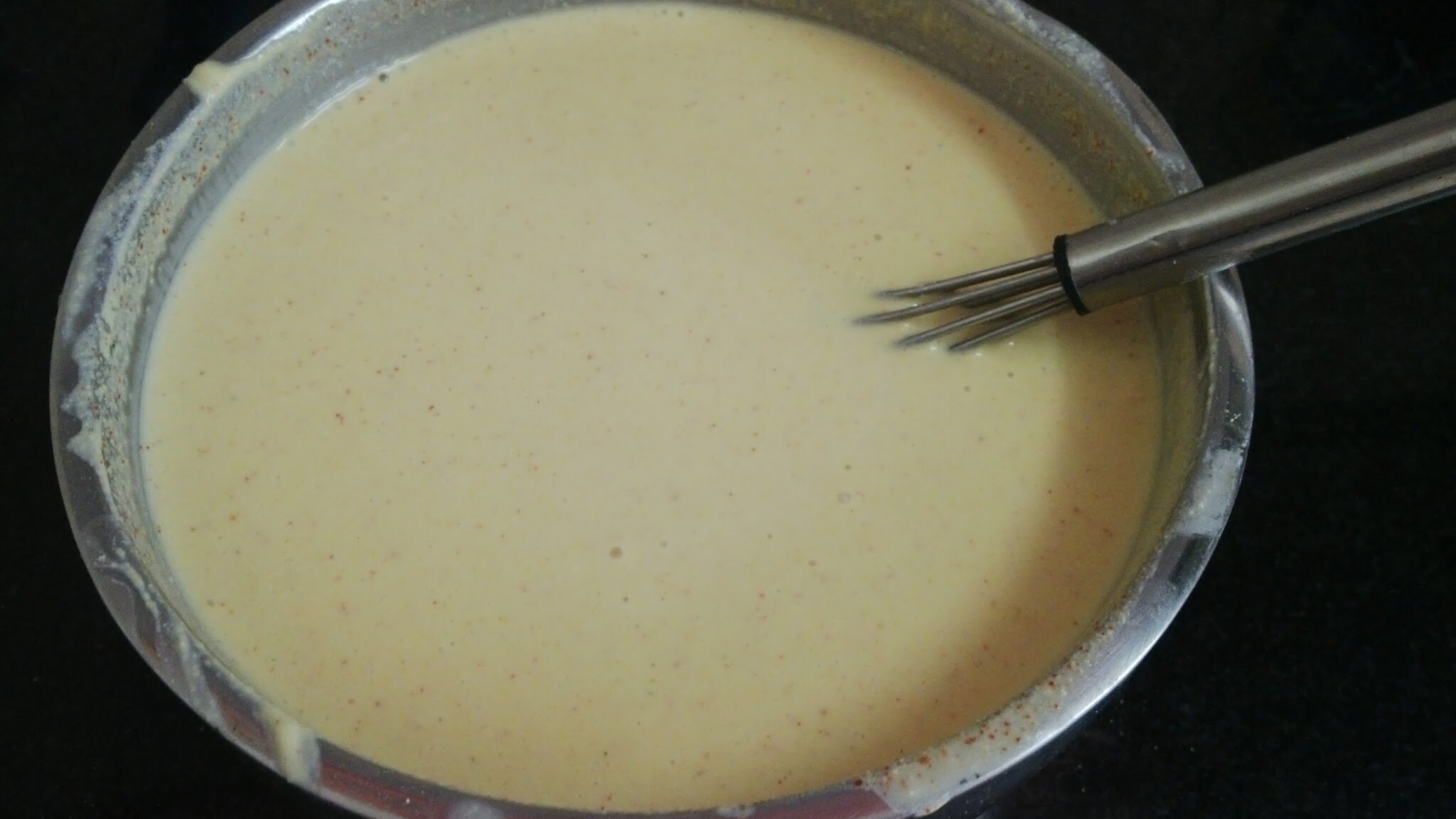 Step 2:
Heat mustard oil in a pan. Add whole dried red chillies, ginger paste, hing (asafoetida) and methi (fenugreek seeds). When the spices begin to release their aroma, turn the flame to slow or switch it off (this is being done to prevent kadhi from splitting).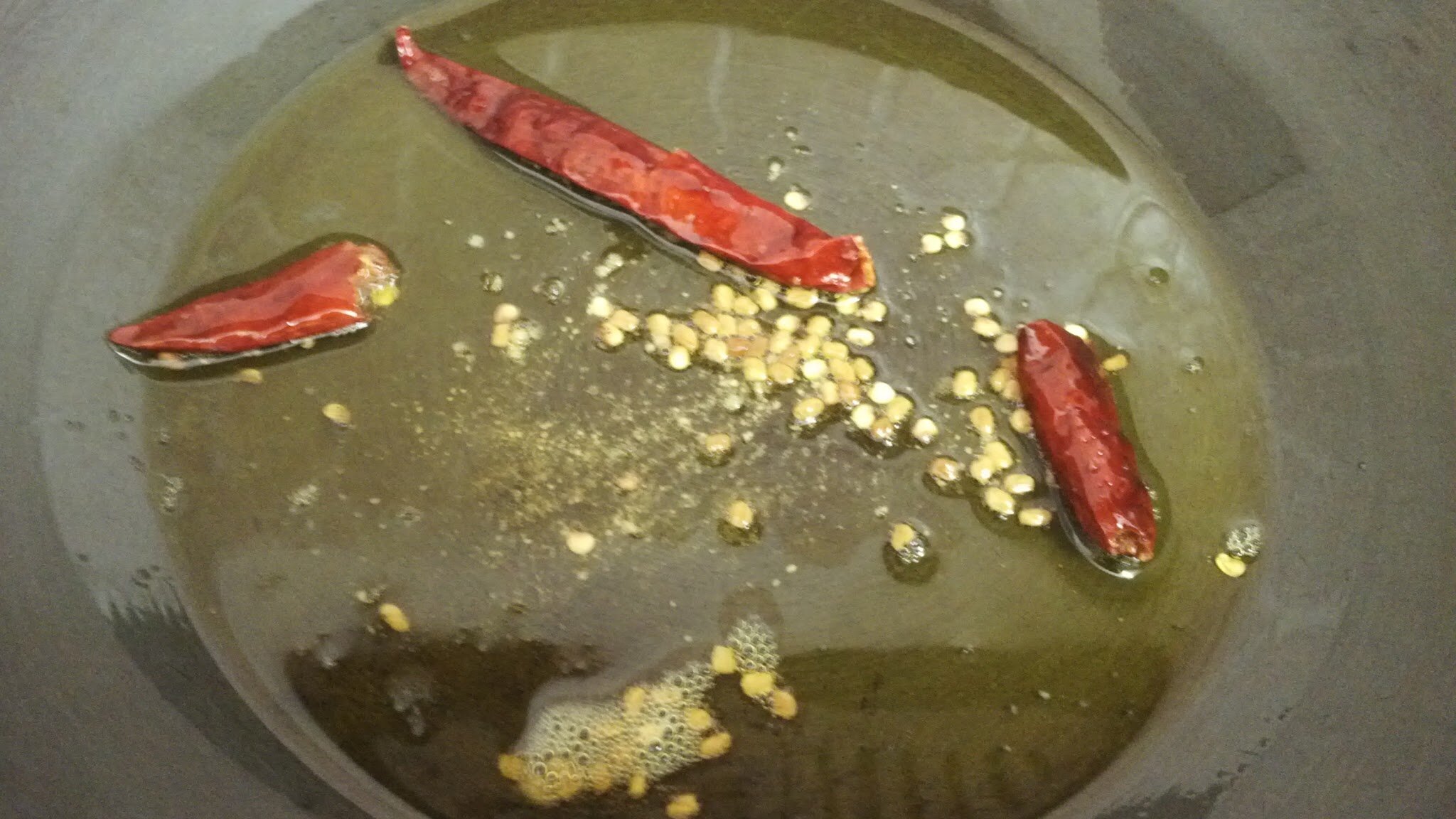 Step 3:
Add the yogurt & besan mixture prepared in step 1 to the pan. Mix well. Turn on the flame and add remaining 2 cups of water. Bring the mixture to boil and then turn the flame to low. While Kadhi is cooking let's prepare the pakora (fritters).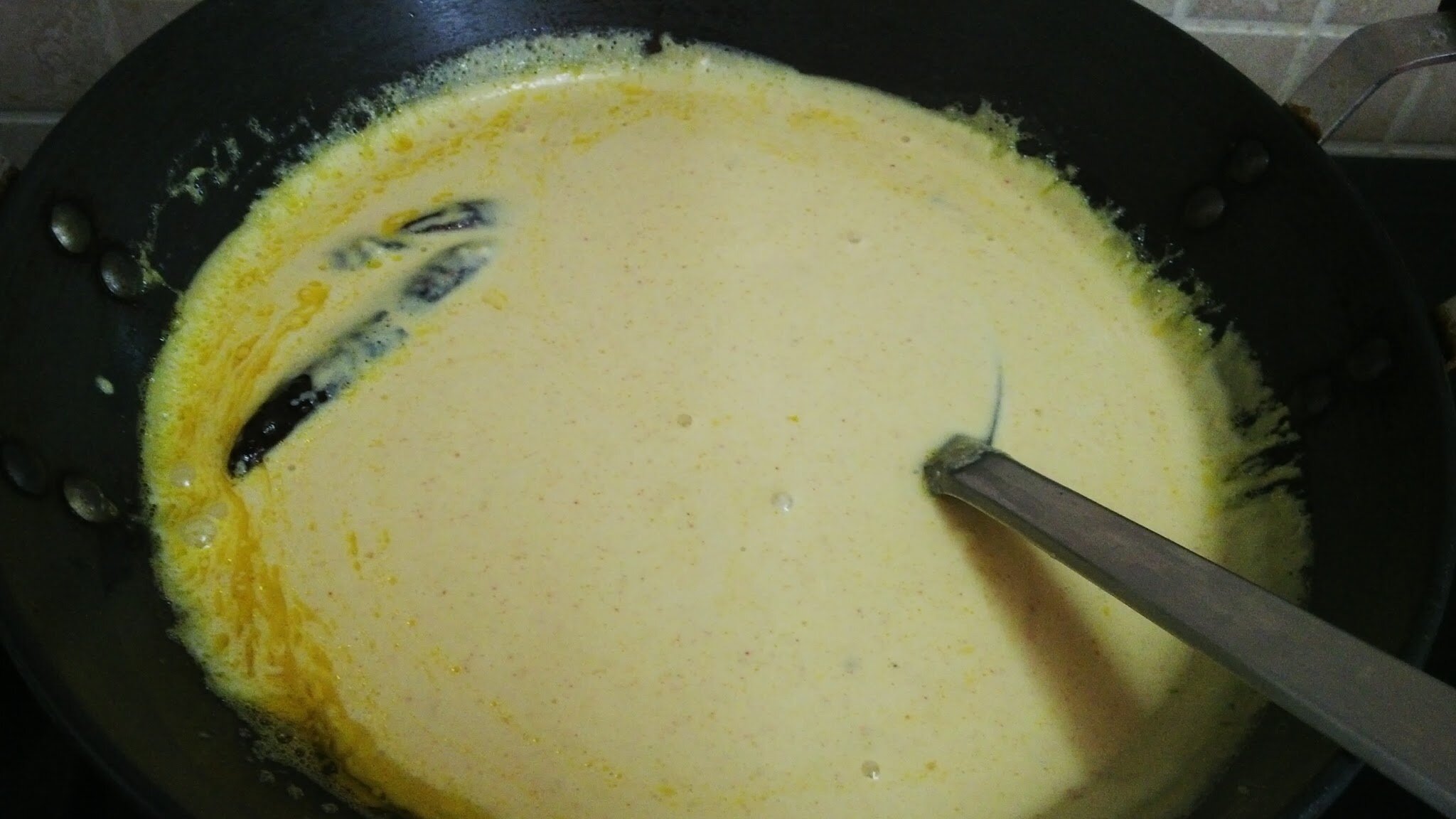 Step 3:
Take besan (chickpea flour), salt & baking soda in a small bowl. Add water gradually to it while whisking continuously to make smooth thick batter. Whisk well to incorporate air into it.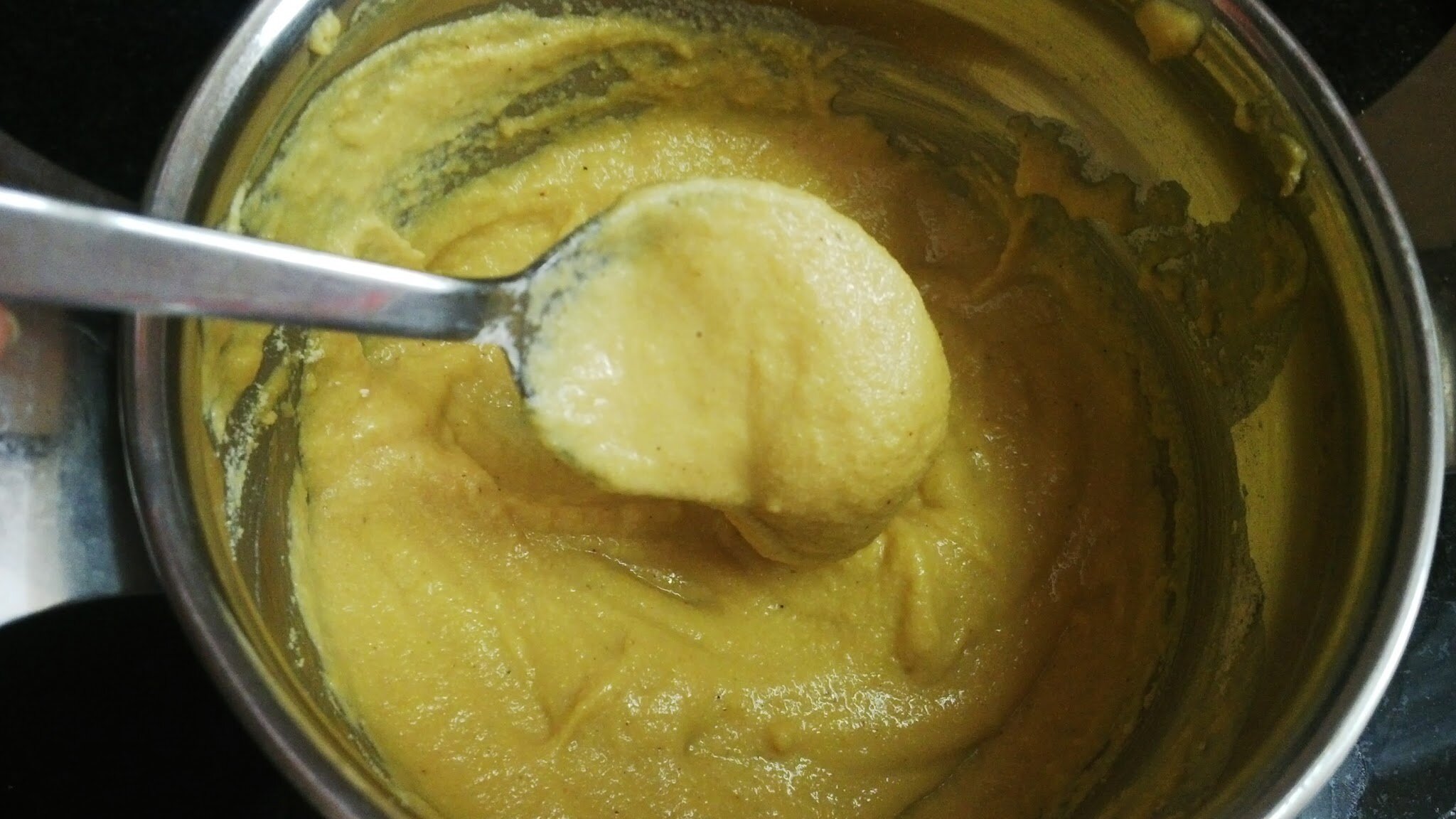 Step 4:
Heat oil in a frying pan. Drop spoonfuls of the mixture in hot using two spoons (as shown below). Fry them on medium low flame till golden brown in colour.Transfer them on a kitchen tissue once done & keep aside. (Appe pan method is explained at the end of post).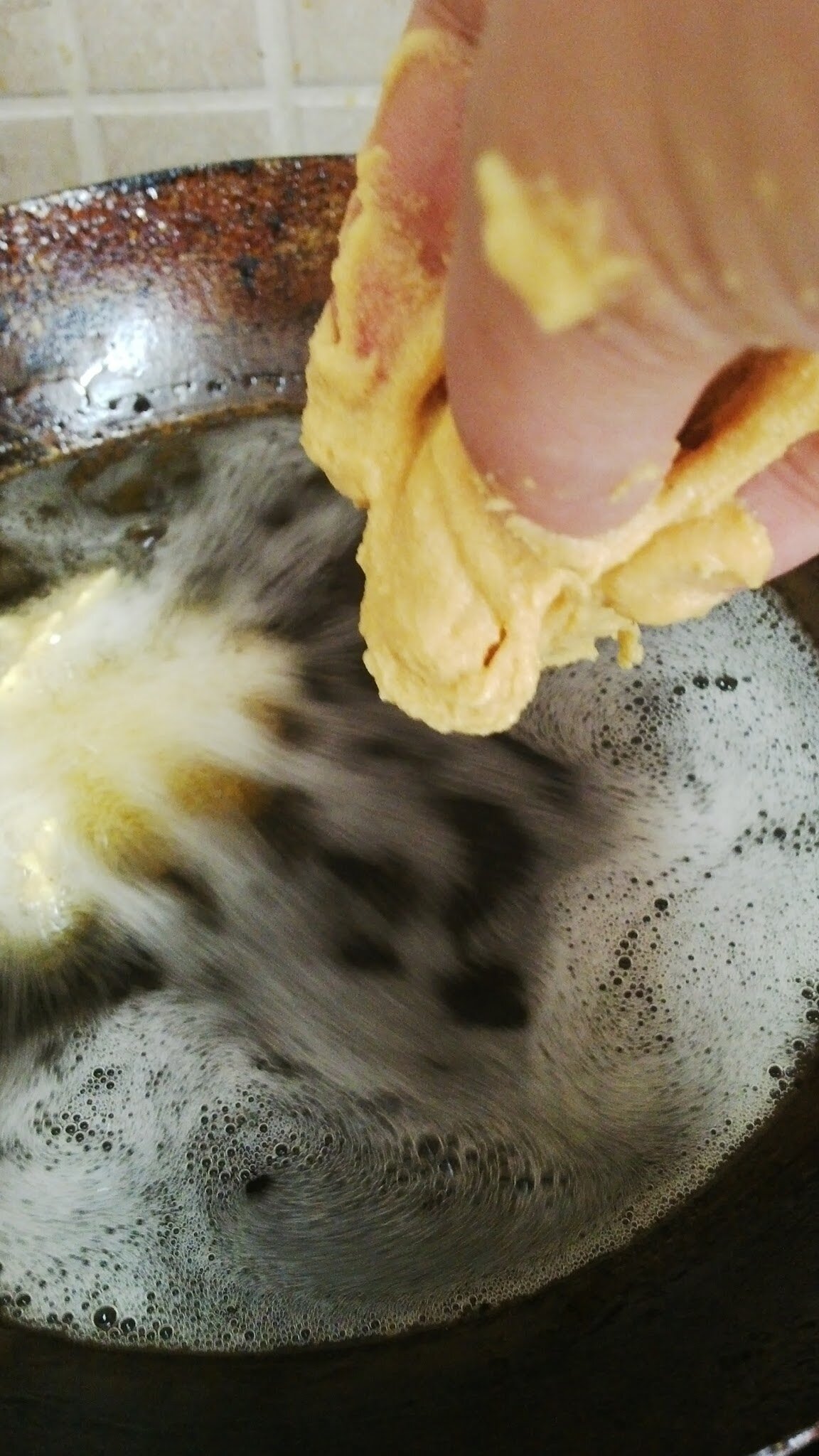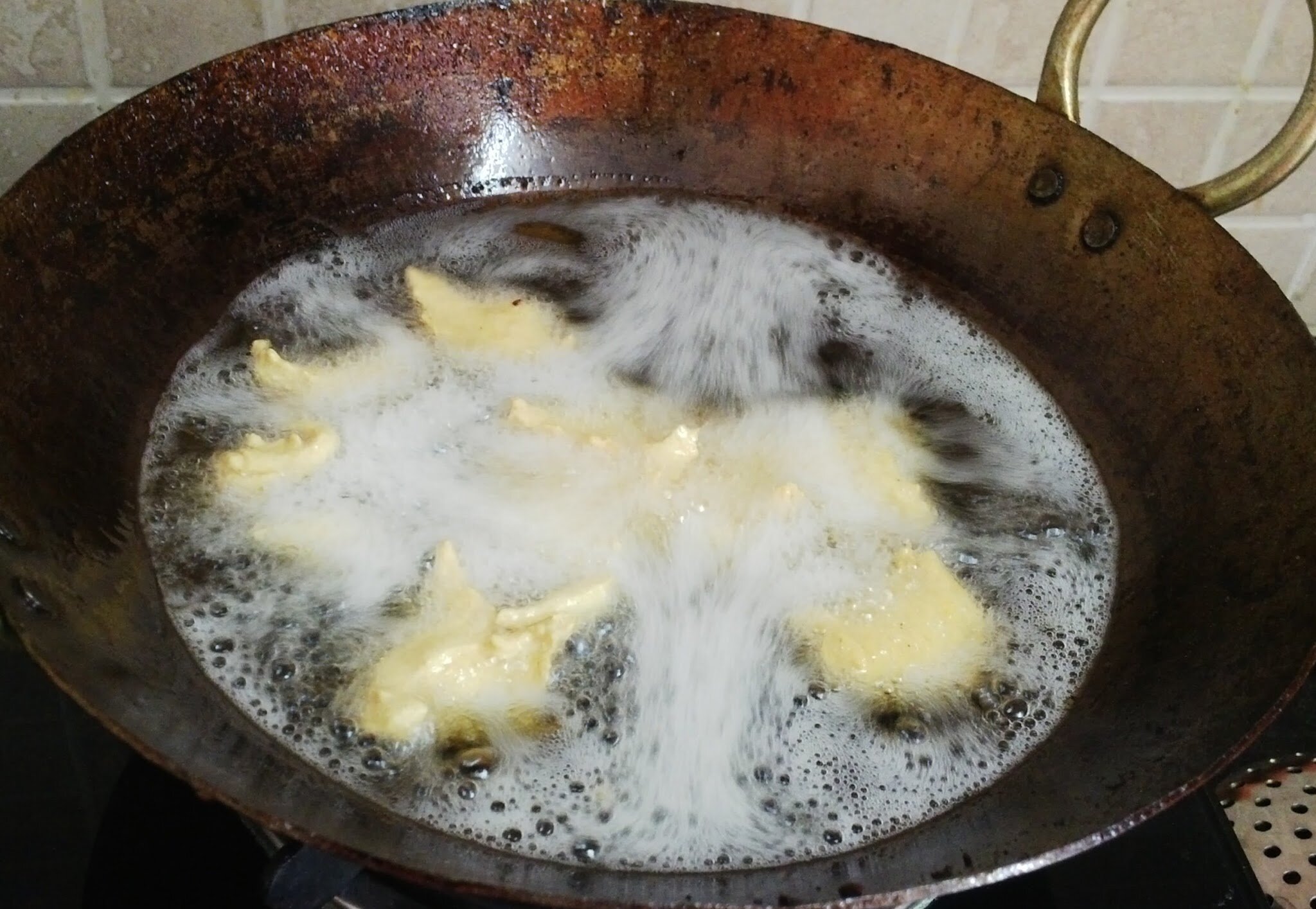 Step 5:
After 25-30 minutes, when kadhi is about to get ready add these pakora or fritters to it. Mix gently. Cook for another 10 minutes so that fritters absorbs the curry.
(Tip: Don't cook or mix too much after adding pakora as they can break easily. Add pakora just 10 minutes before serving while heating.)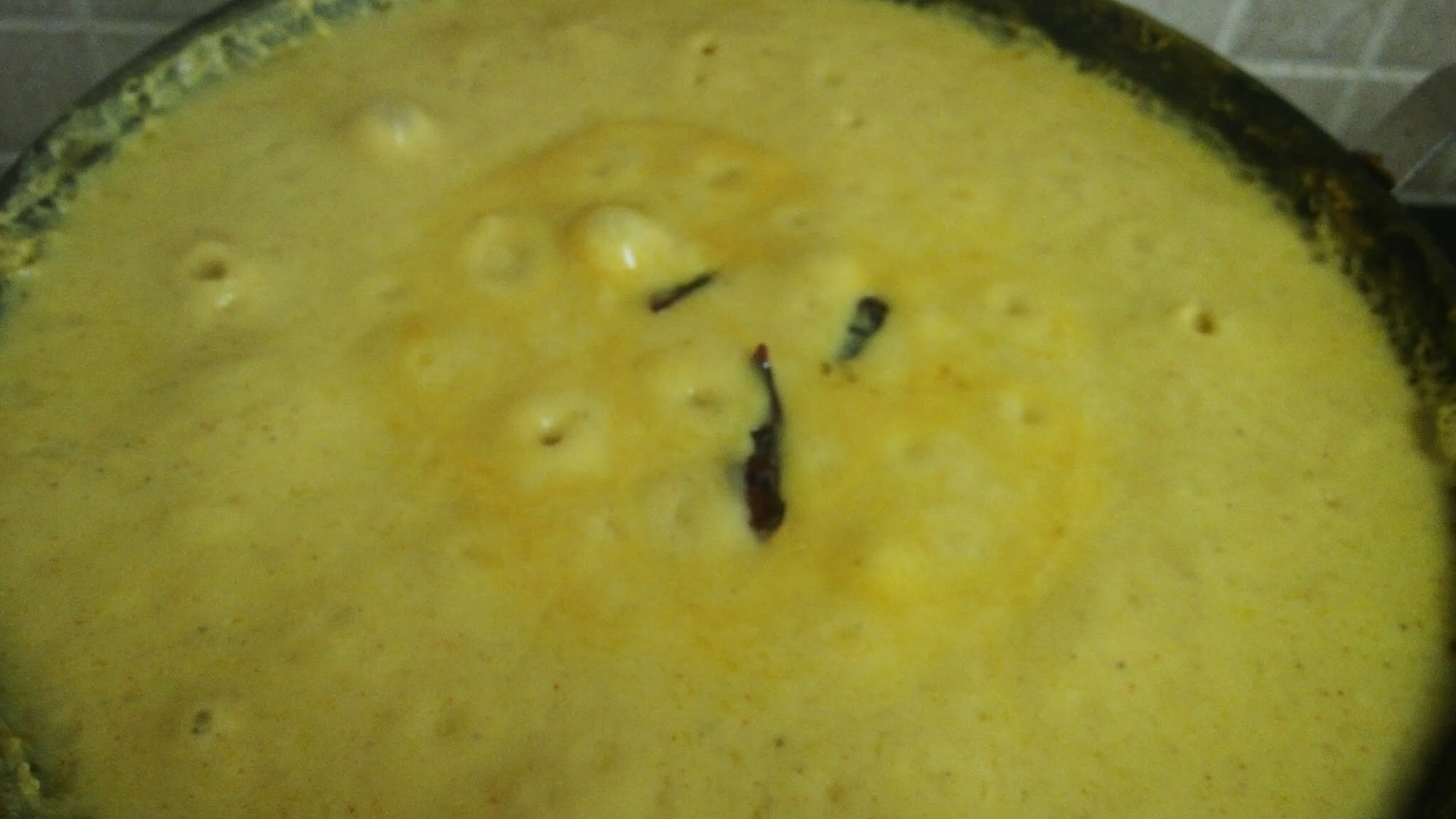 Step 6:
Tempering is added to the kadhi just before serving. Heat ghee in a small pan, add red chilli powder to it and switch off the gas immediately (to avoid red chilli powder from burning). Pour it over Kadhi & stir gently.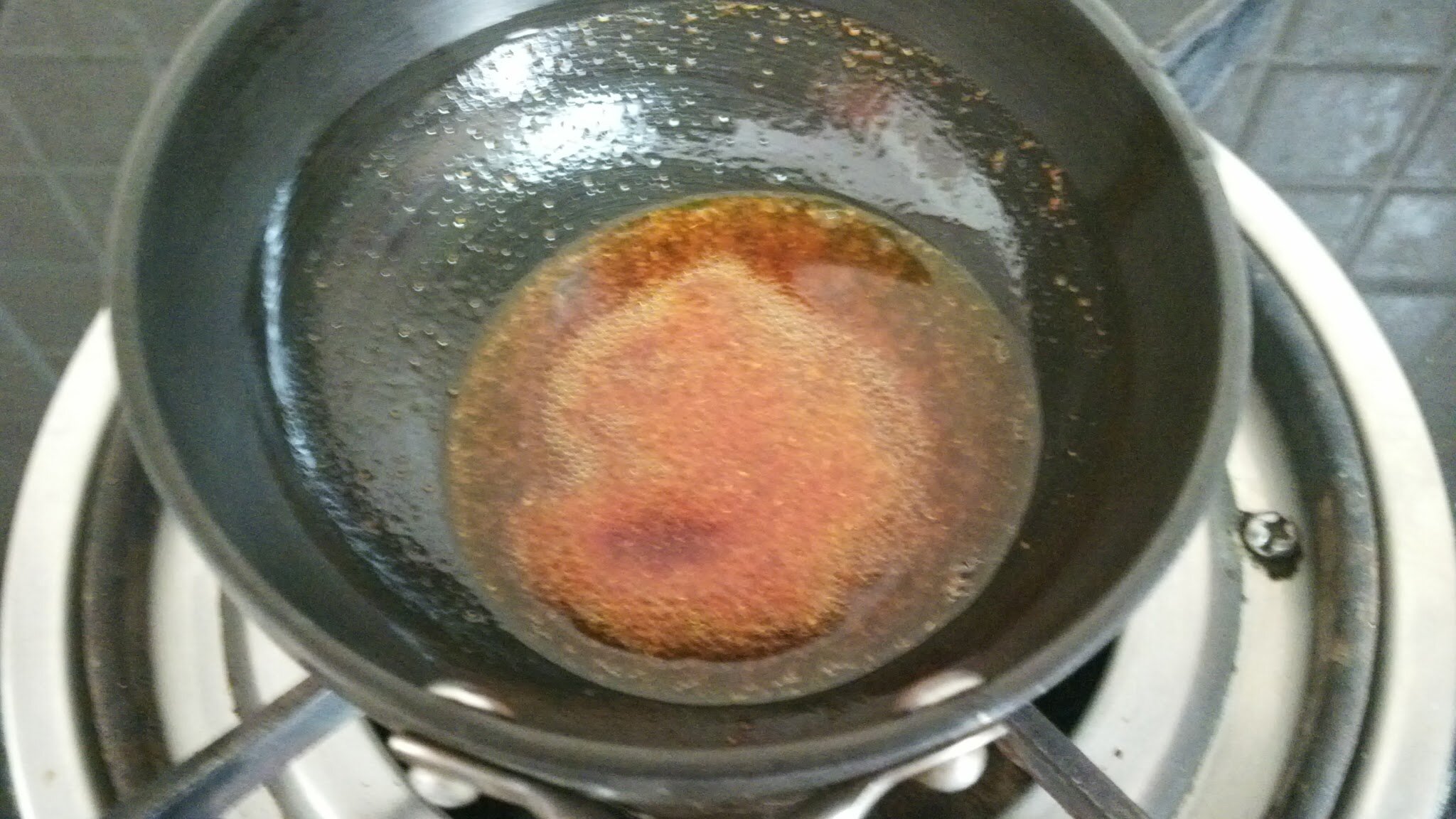 Enjoy yummy hot steaming Kadhi Pakora with roti or chawal (rice).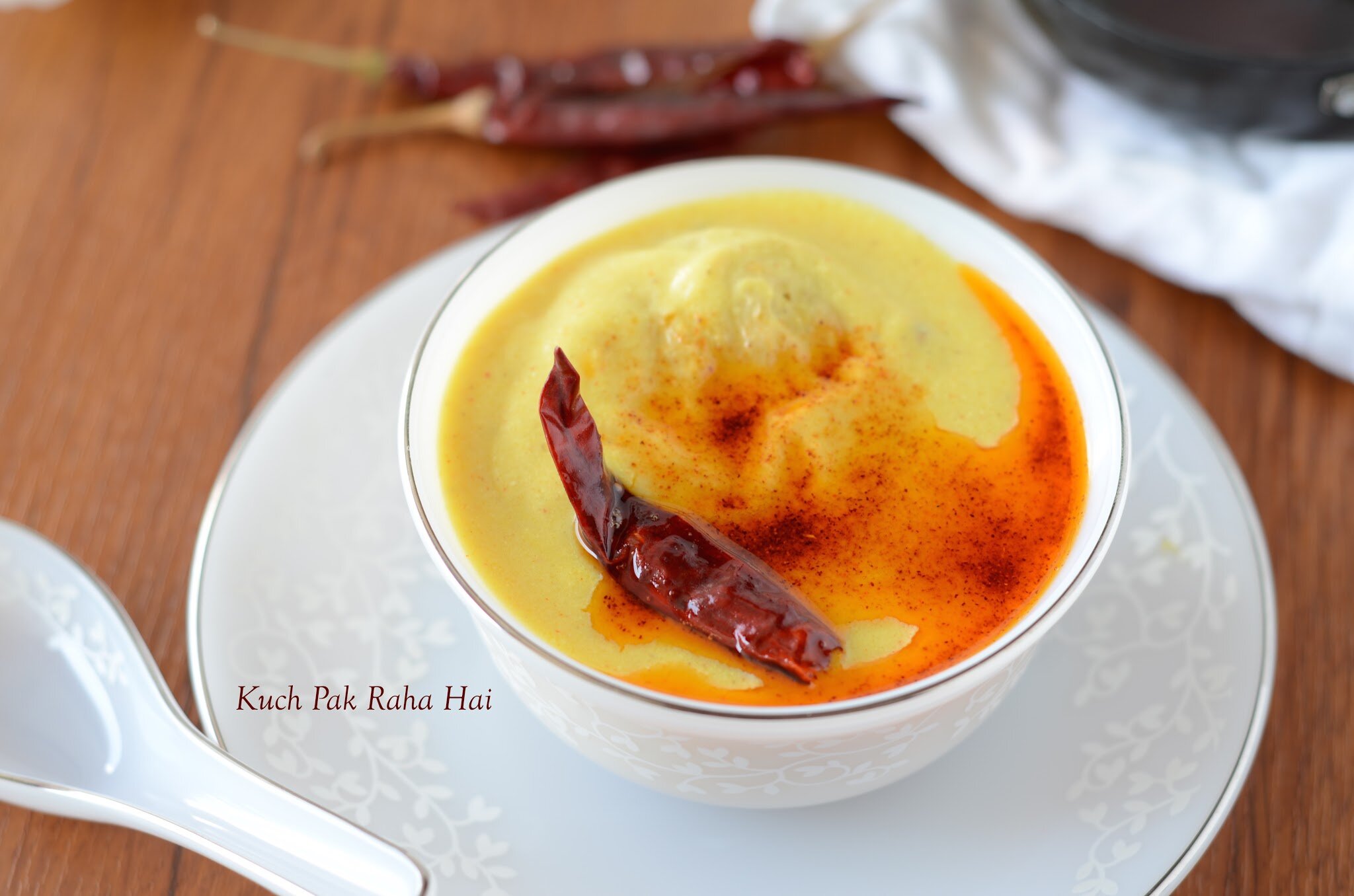 How to make Kadhi Pakora in appe pan?
If you are not interested in deep frying, you can also prepare kadhi pakora them in appe pan. It takes very little oil and comes out to be equally good.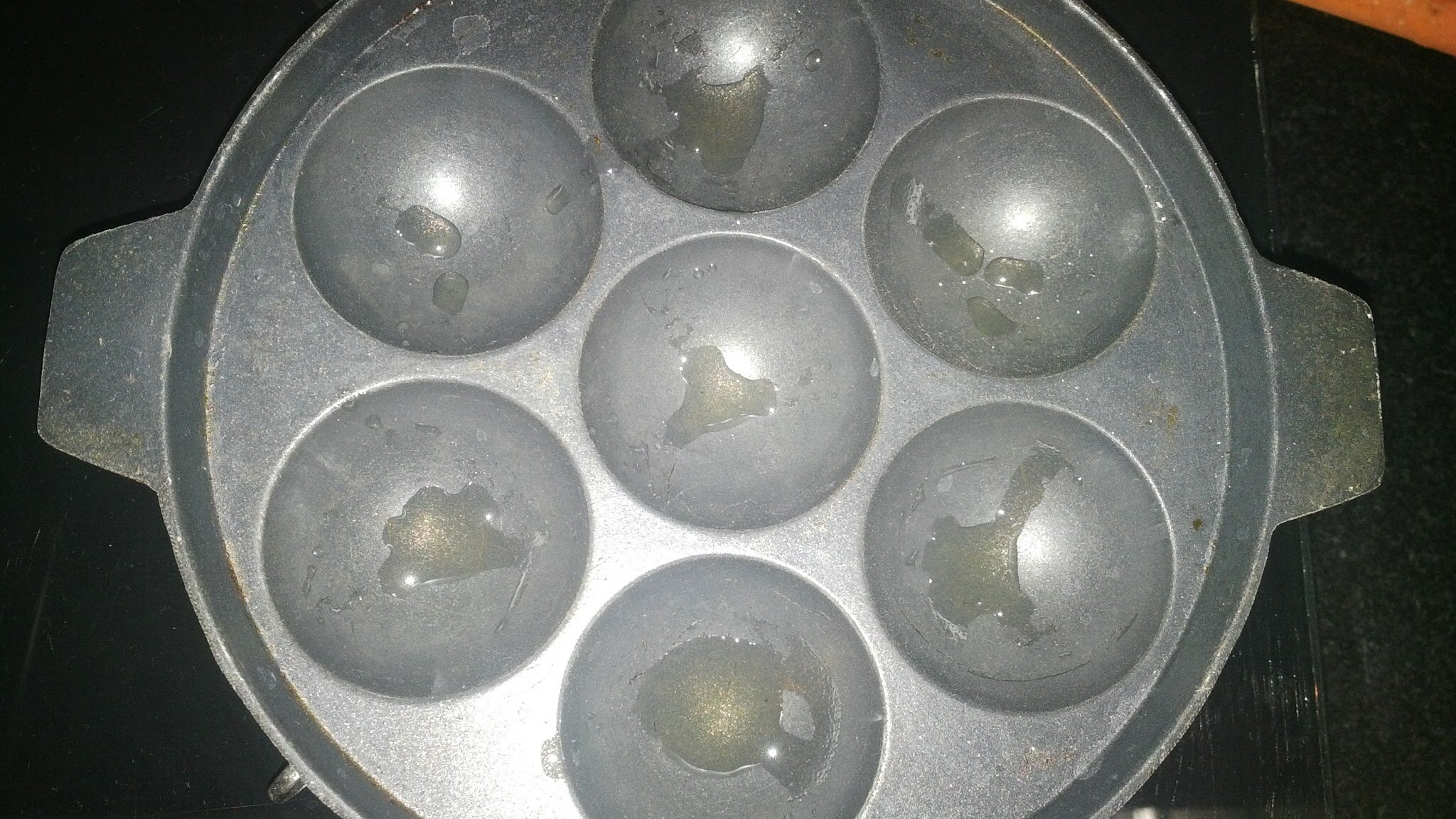 Add few drops of oil in each hollow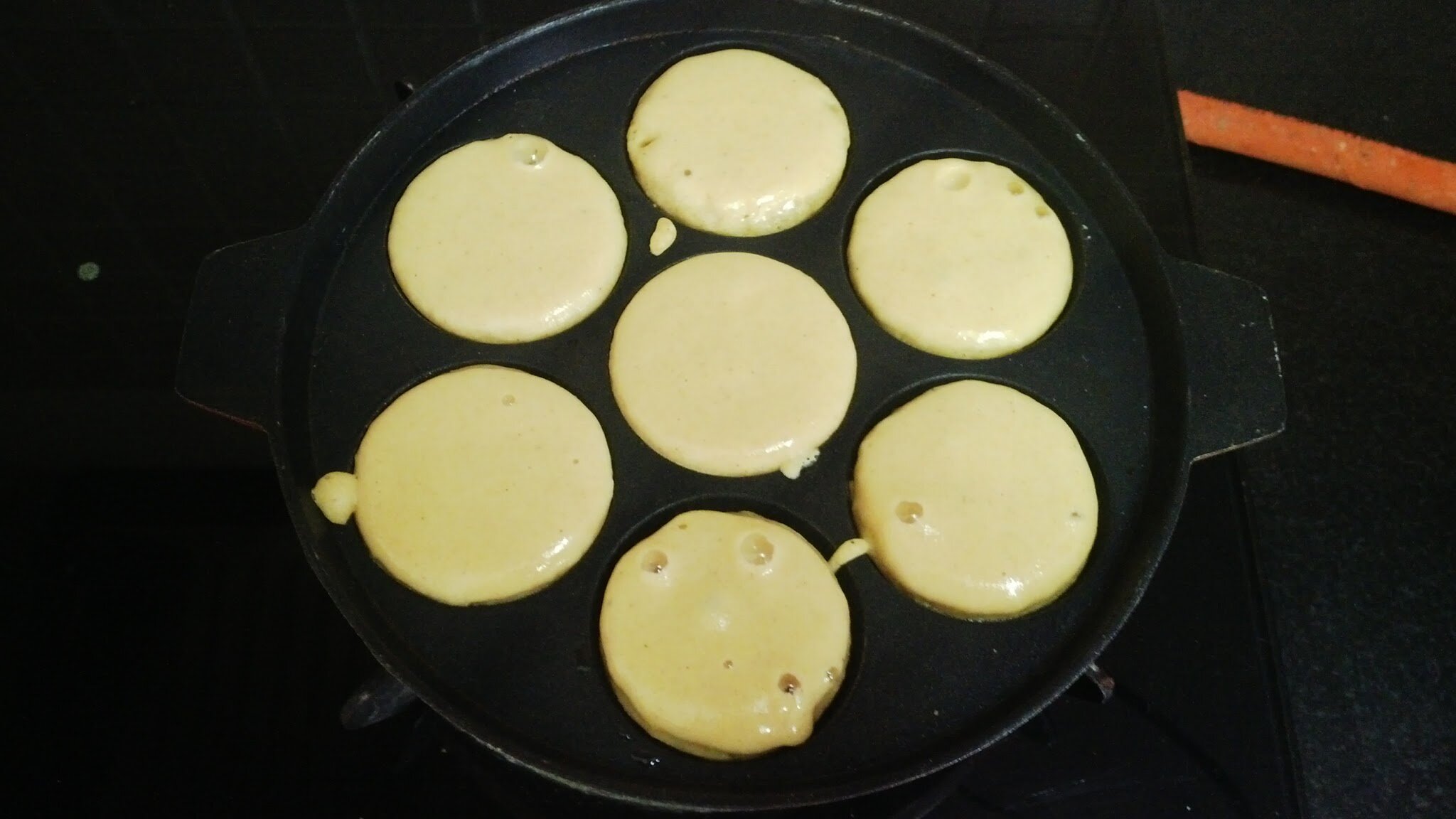 Drop spoonfuls of batter in each hollow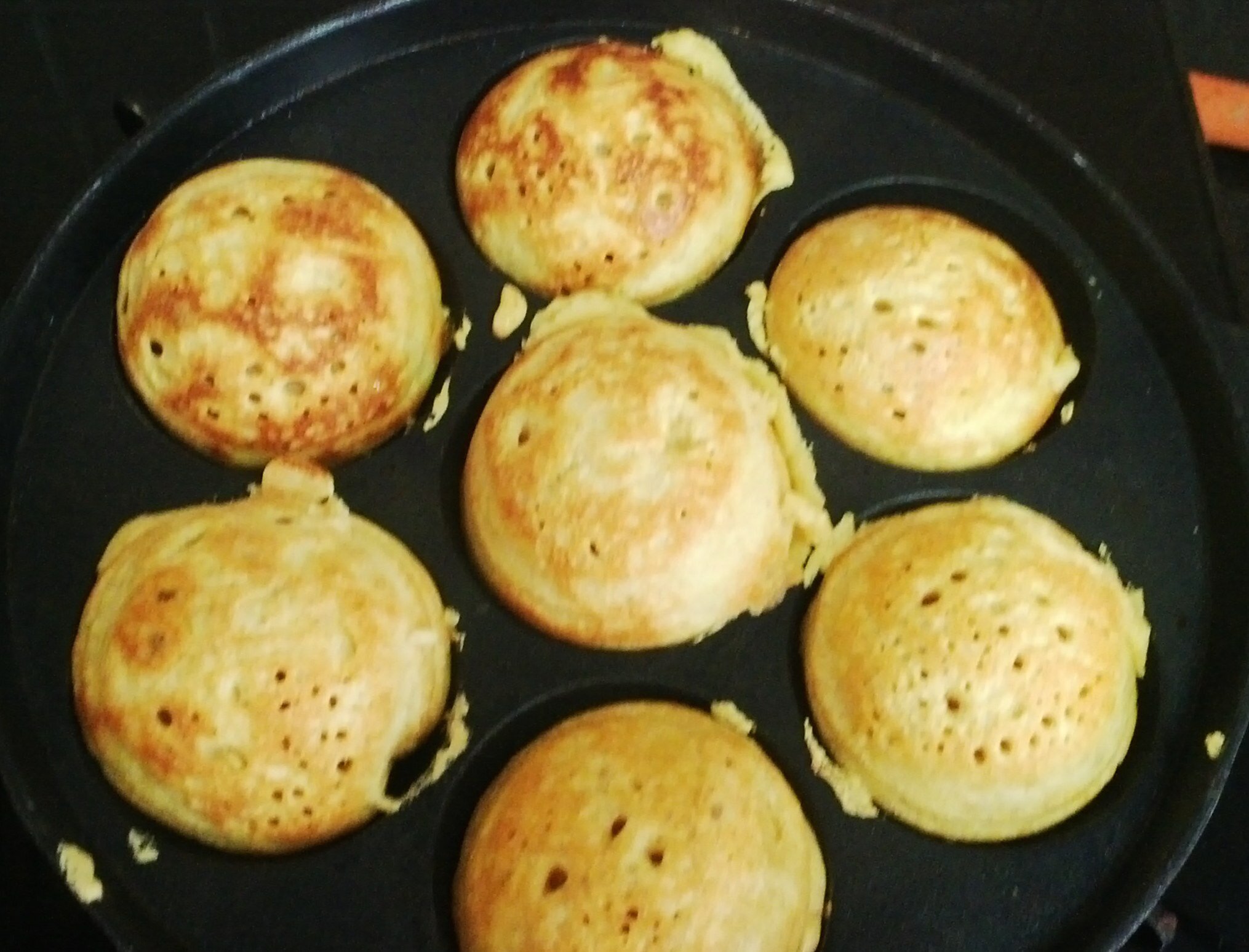 After 2-3 minutes, turn the balls with the help of knife so that it is cooked from other side as well.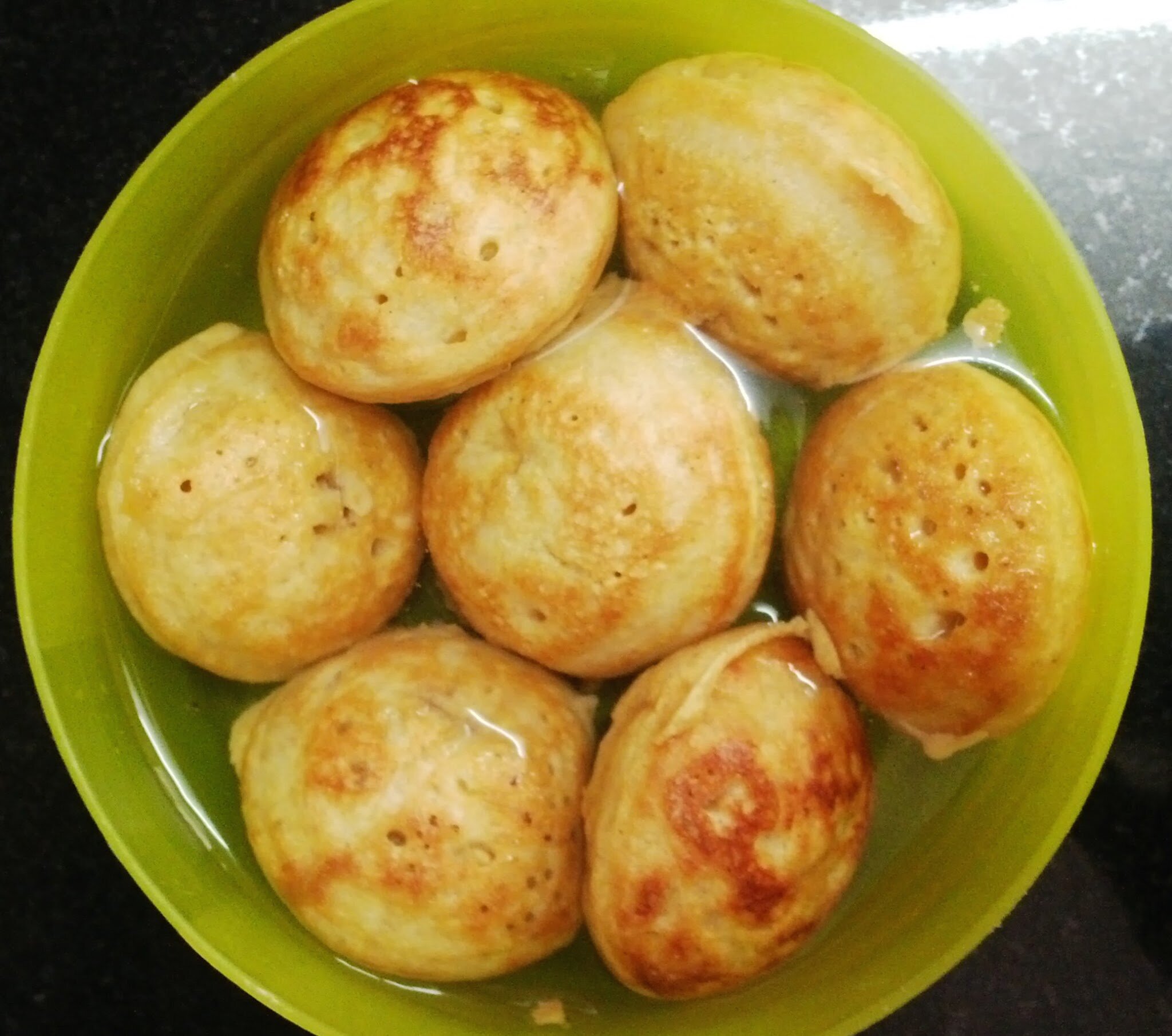 Tips to make perfect kadhi:
1. How to save kadhi from splitting or curdling?
Sometimes when you add the yogurt besan mixture in hot oil it gets split. To prevent splitting, turn off the gas before adding the mixture as it brings the temperature of pan down. Also, add salt once kadhi has come to boil. Adding salt in initial steps can cause the kadhi to curdle.
2. How to know kadhi is ready?
Kadhi will be ready when it becomes slightly thicker & changes its colour from pale yellow to slightly dark yellow. Also you will notice the fat floating on its surface.
3. What to do if kadhi becomes thick?
While slow cooking if the kadhi becomes too thick, add some water or buttermilk (thin mixture of yogurt & water). You can follow this method while reheating too.
If you try this kadhi pakora recipe & share pics on social media, then don't forget to tag on Facebook, Instagram or use #kuchpakrahahai.
Let's stay connected
Facebook | Instagram | Pinterest| Youtube