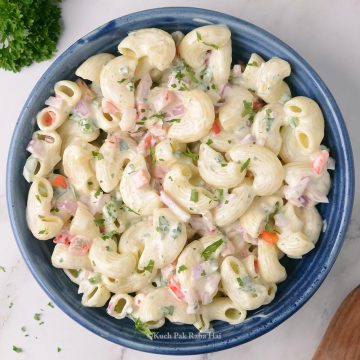 This refreshing, comforting, creamy no mayo macaroni pasta salad (without eggs) is perfect for summer season. It is easy to make, lighter than mayonnaise version and great option for picnic, potlucks, brunch or BBQs.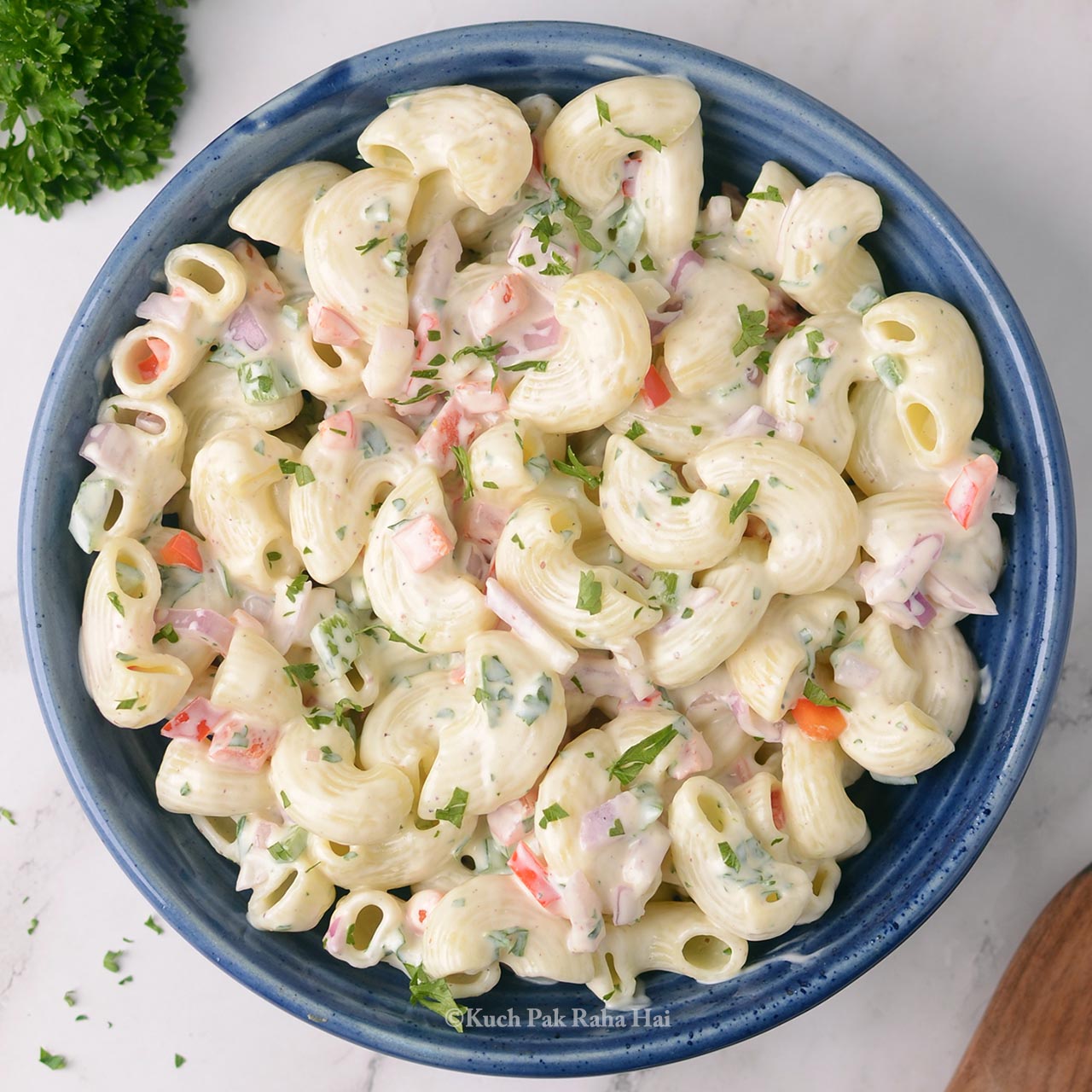 With just few basic ingredients, you can whip this simple macaroni salad anytime at home. It takes less than 30 minutes and can even be made ahead of time. This salad tastes great when chilled and can be paired with burgers, grilled sandwiches or panini.
The macaroni pasta salad recipe shared here is :
Mayo free
Egg free
Vegetarian
Cold salad
Macaroni Salad Ingredients:
Macaroni: I have used elbow macaroni to make this pasta salad. You can also opt for whole wheat macaroni or gluten free macaroni.
Vegetables: I like to add crunchy vegetables like red onions, coloured bell peppers and celery in this macaroni salad. You can use any bell pepper- green, red, yellow or orange as per your choice. Celery can be skipped if it is not available near you.
Greek Yogurt: In this macaroni salad, mayonnaise is swapped with plain greek yogurt for creaminess. In comparison to mayo, greek yogurt is far healthier as it is low fat and high protein. Instead of greek yogurt, you can also use strained yogurt.
Oil: Addition of good quality olive oil (evoo) or avocado oil in salad dressing is always advisable as it makes it smooth & creamy.
Lemon & Fresh Herbs: Some lemon juice & fresh herbs like parsley, cilantro or spring onion greens instantly elevate the freshness level in salad. Instead of lemon juice you can also use white vinegar or white wine vinegar.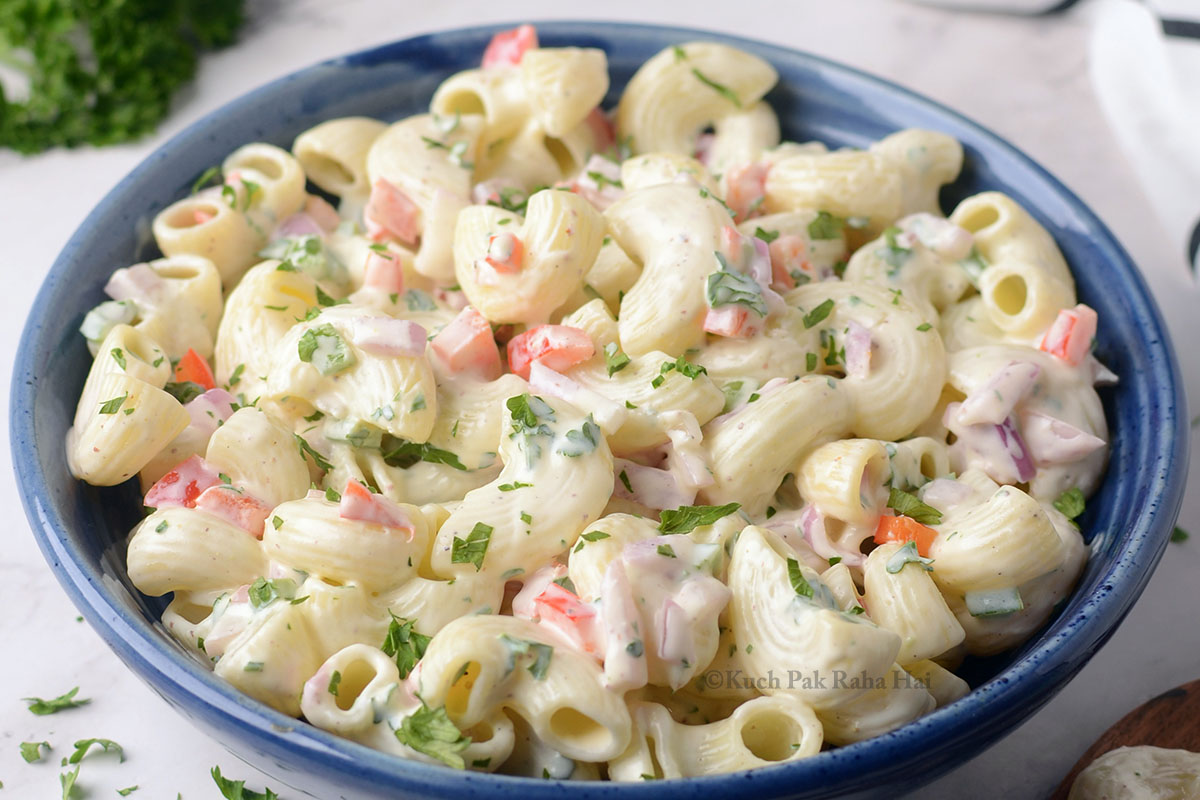 Seasoning: This summer macaroni salad is seasoned with crushed black pepper, salt, garlic powder & dijon mustard. You can always adjust the seasoning as per your taste. If you don't have garlic powder, you can use 1 or 2 minced garlic cloves.
Sweetener: A small quantity of sweetener helps in balancing the overall acidity & taste profile of salad. You can use honey, maple syrup or granulated sugar in this recipe.
Macaroni Salad Variations:
Spicy Macaroni Salad: You can spice up the salad by adding some sriracha, paprika or chopped jalapeños.
Macaroni Salad with mayo: Instead of Greek yogurt you can use store bought mayonnaise (I like hellman's), homemade mayo, low fat mayo, vegan (plant based) mayo or a mix of greek yogurt & mayonnaise.
You can make your variation of this salad by adding add some canned pineapple chunks, diced cheese or more vegetables like chopped carrots, roasted red bell pepper, boiled sweet corn, peas, sun dried tomatoes or black olives to this salad.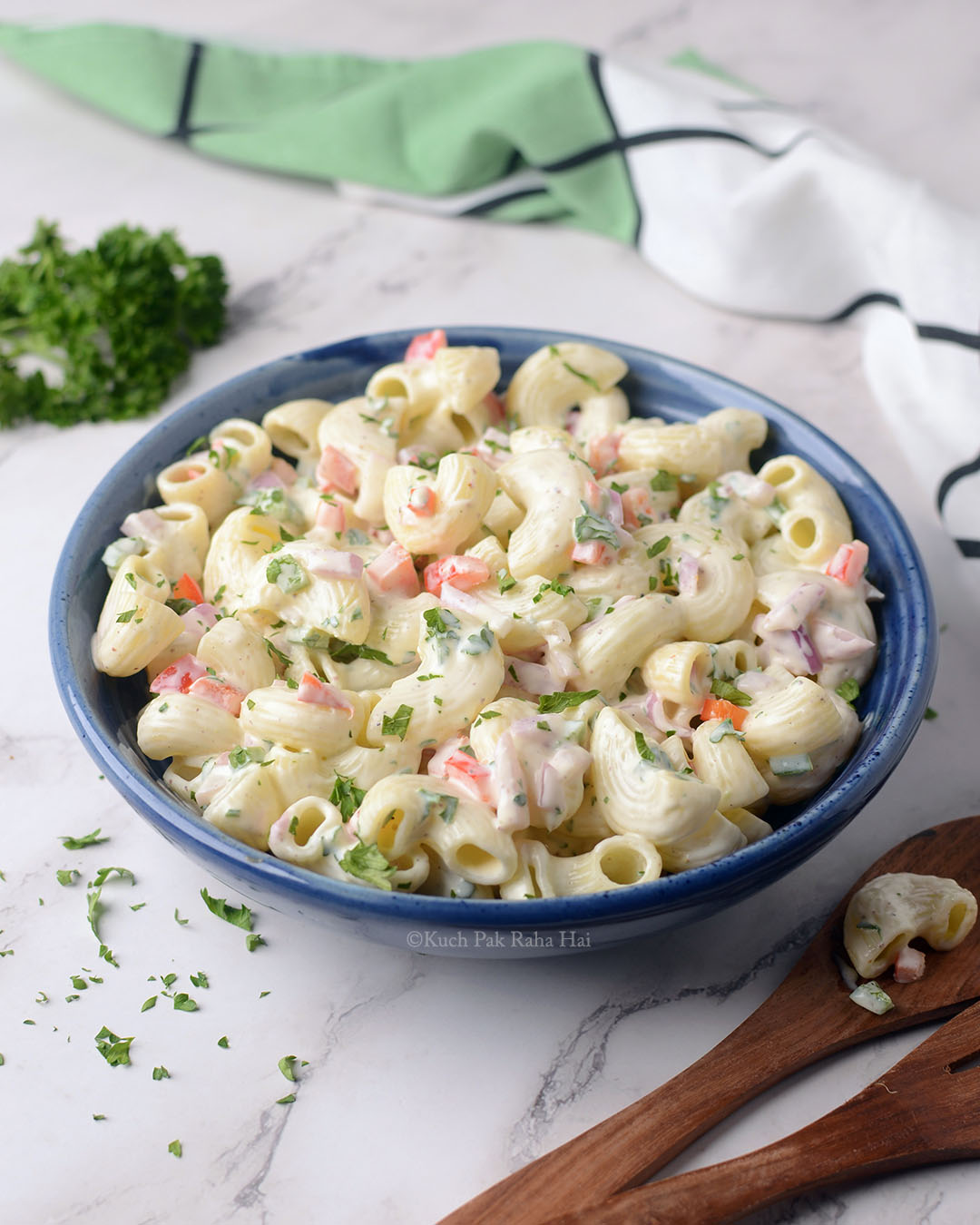 Tips to make perfect macaroni salad:
1. Don't overcook the pasta as the salad would otherwise turn out mushy or too soft. Cook it till al dente or slightly more than that and rinse immediately after boiling to stop cooking.
2. Chilling the salad helps in absorbing flavours and makes it tastier. Always cover it before chilling in fridge to avoid from drying.
3. Always cut the vegetables to similar small bite size pieces. This way you will get taste of all veggies in every bite.
Hope you would like this simple homemade veg macaroni salad recipe. More vegetarian or vegan salads recipes you might like: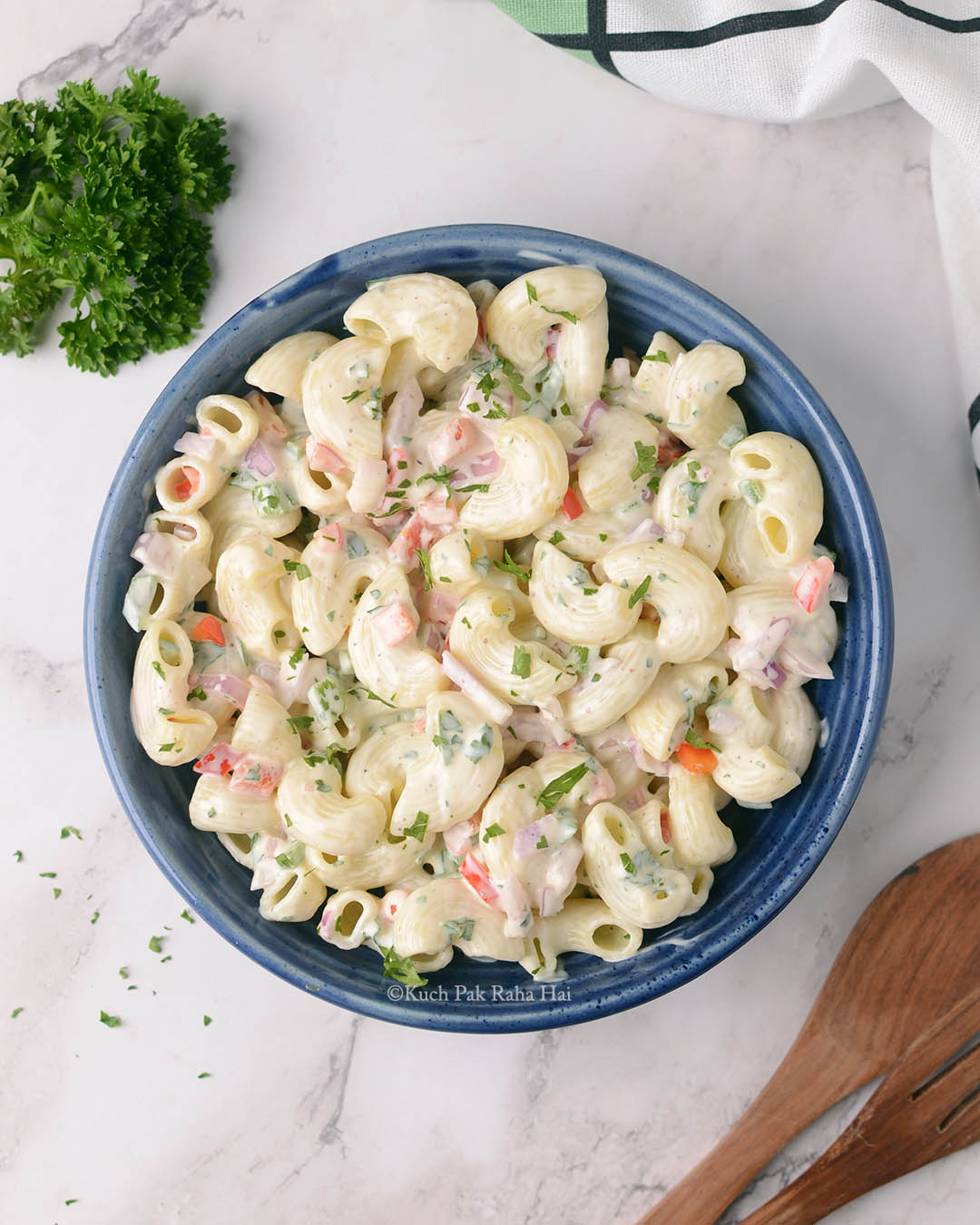 Ingredients:
Elbow Macaroni (Dried)- 1 + 1/4 cups (4 oz)
Chopped Red Onions- 1/4 cup
Chopped Green Bell pepper- 1/4 cup
Chopped Red Bell Pepper – 1/4 cup
Chopped Celery – 1/4 cup
Greek Yogurt- 1/2 cup
Olive Oil- 1 tbsp
Lemon Juice- 1 tbsp
Honey / Maple syrup – 2 tsp
Crushed Black Pepper- 1/4 tsp
Dijon Mustard – 1/2 tsp
Garlic Powder – 1/8 tsp
Salt – 1/2 tsp (to taste)
Chopped parsley – 3 tbsp
Note:
The quantity here is for small batch which means it is sufficient as side dish for 3 to 4 people. You can multiply the quantity for making big batch.
Instead of parsley you can also use other fresh herbs like chopped spring onion greens, scallions or cilantro.
If you are not totally averse to using mayo, then you can add 1-2 tbsp mayonnaise along with greek yogurt for more creaminess.
Directions:
Step 1: (Boil macaroni)
Heat 3-4 water in a pan & add 1 tsp salt to it. Boil macaroni in it as per package instructions. Once boiled, drain and rinse the macroni to stop further cooking and get rid of excess starch. Keep it aside.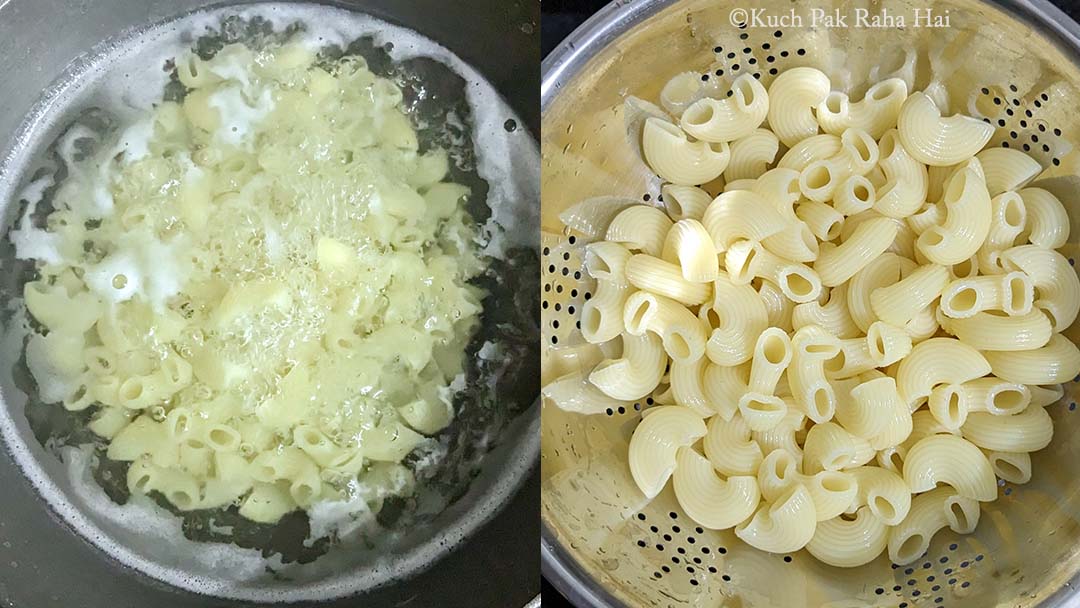 Step 2: (Prepare salad dressing)
Add greek yogurt, dijon mustard, olive oil, lemon juice, salt & seasoning to a bowl. Mix well using a whisker till it is smooth. Taste and adjust salt, lemon juice or seasoning as per your preference.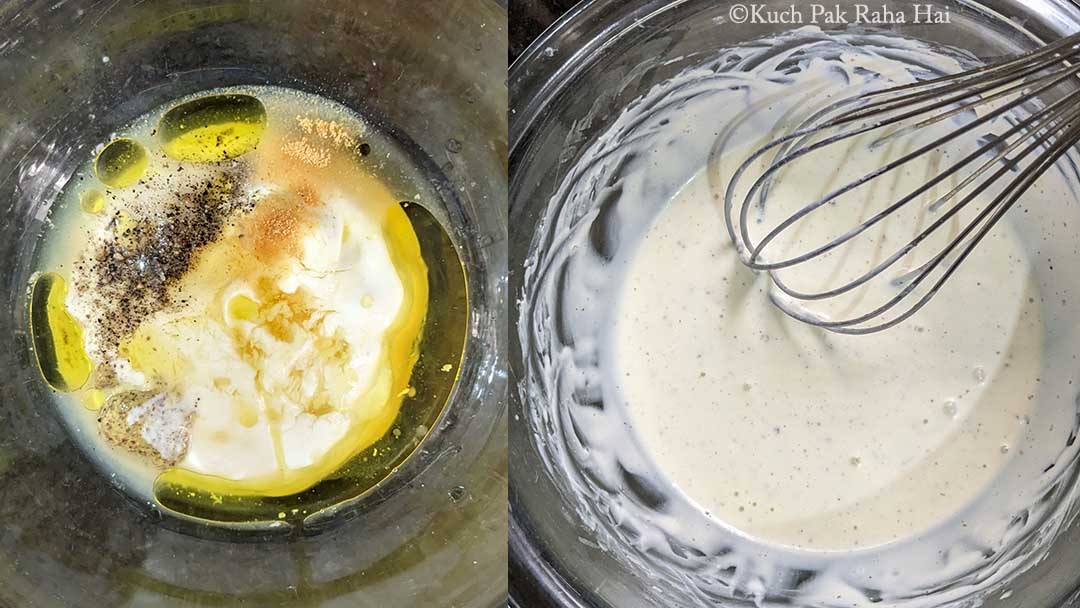 Step 3:
Add macaroni to a mixing bowl. Add the prepared salad dressing to it and toss well. Add chopped vegetables, herbs and mix once again.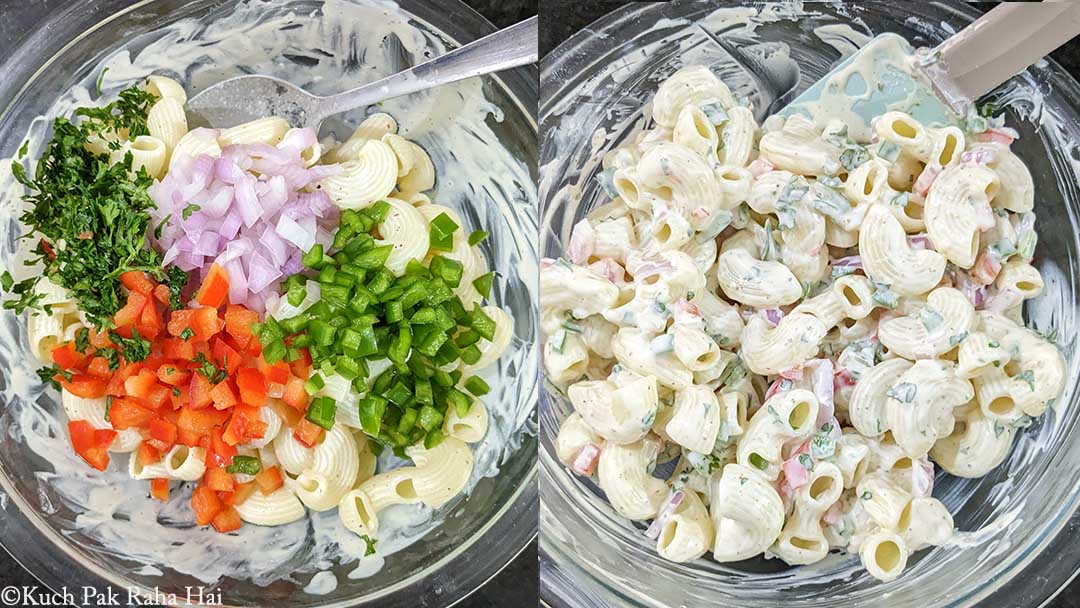 Step 4:
Cover the macaroni salad bowl with a lid or cling film and let it chill in fridge for 1-2 hrs before serving. Garnish with fresh herbs like chopped parsley or cilantro before serving.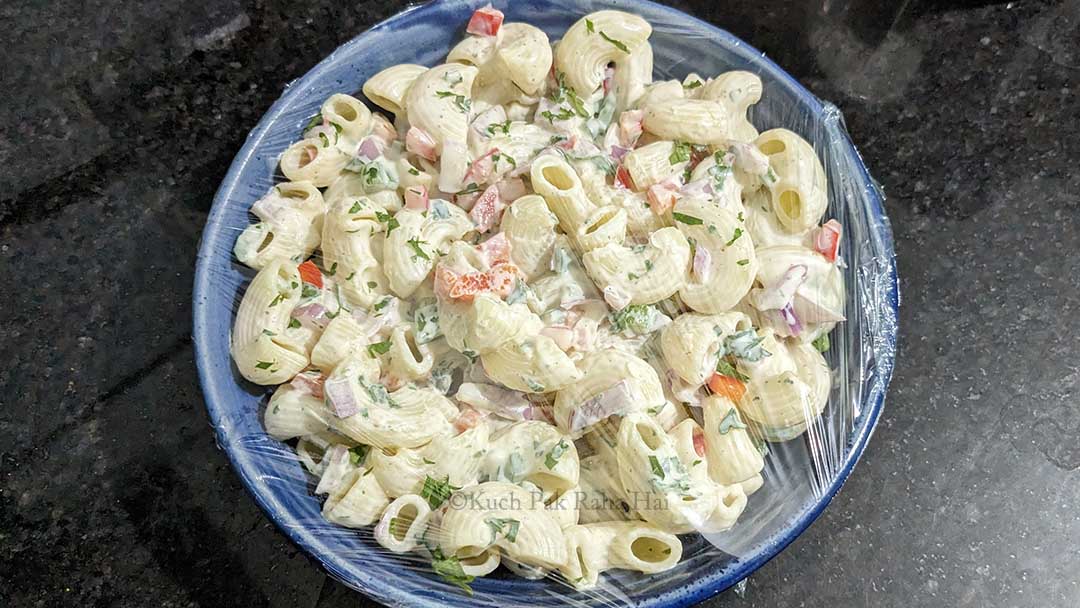 Additional Tip: The pasta tends to absorb dressing as it cools down in fridge. It is always better to make little bit of extra salad dressing. Just before serving add 2-3 tbsp of it to the salad, toss gently and serve immediately.
FAQ:
How long we can store macaroni salad?
As the salad dressing is made with greek yogurt, always store in an airtight container in fridge to avoid getting spoilt. This way it can easily be stored for upto 2 days.
Can I freeze this macaroni salad?
I would not recommend freezing it as the texture and flavours of the salad don't taste the same after thawing. Make and enjoy it fresh.
If you try this healthy no mayo macaroni salad recipe & share pics on social media, then don't forget to tag on Facebook, Instagram or use #kuchpakrahahai.
Pin for later: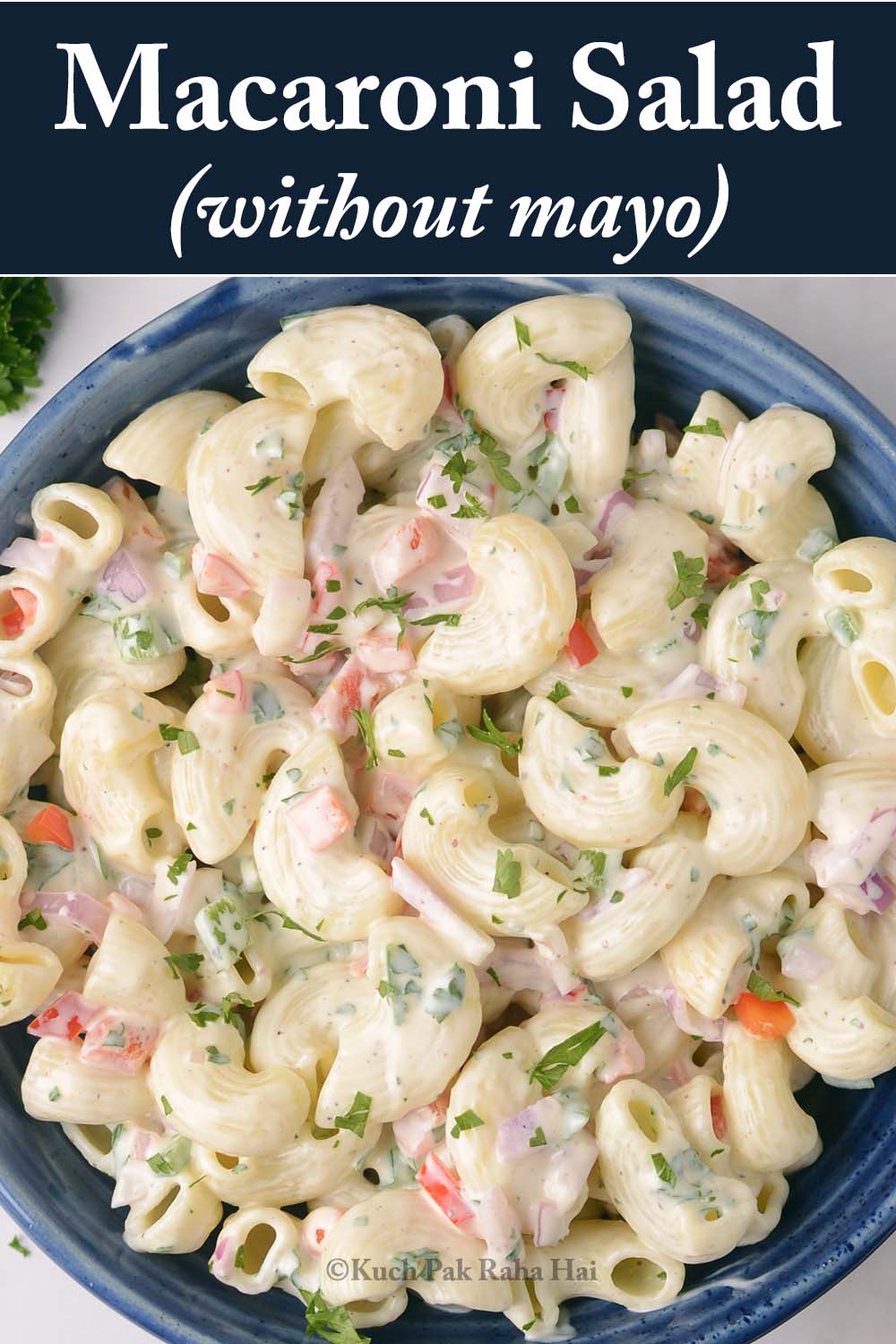 Let's stay connected
Facebook | Instagram | Pinterest| Youtube