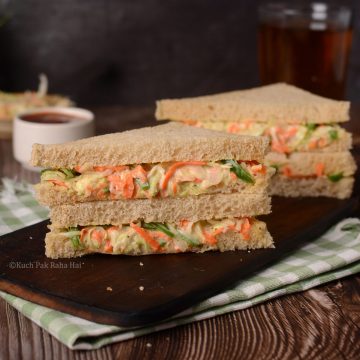 Coleslaw sandwich is a delicious creamy vegetarian sandwich recipe with goodness of cabbage, carrots & bell peppers (or capsicum). Easy to make & perfect for breakfast, snack or quick lunch.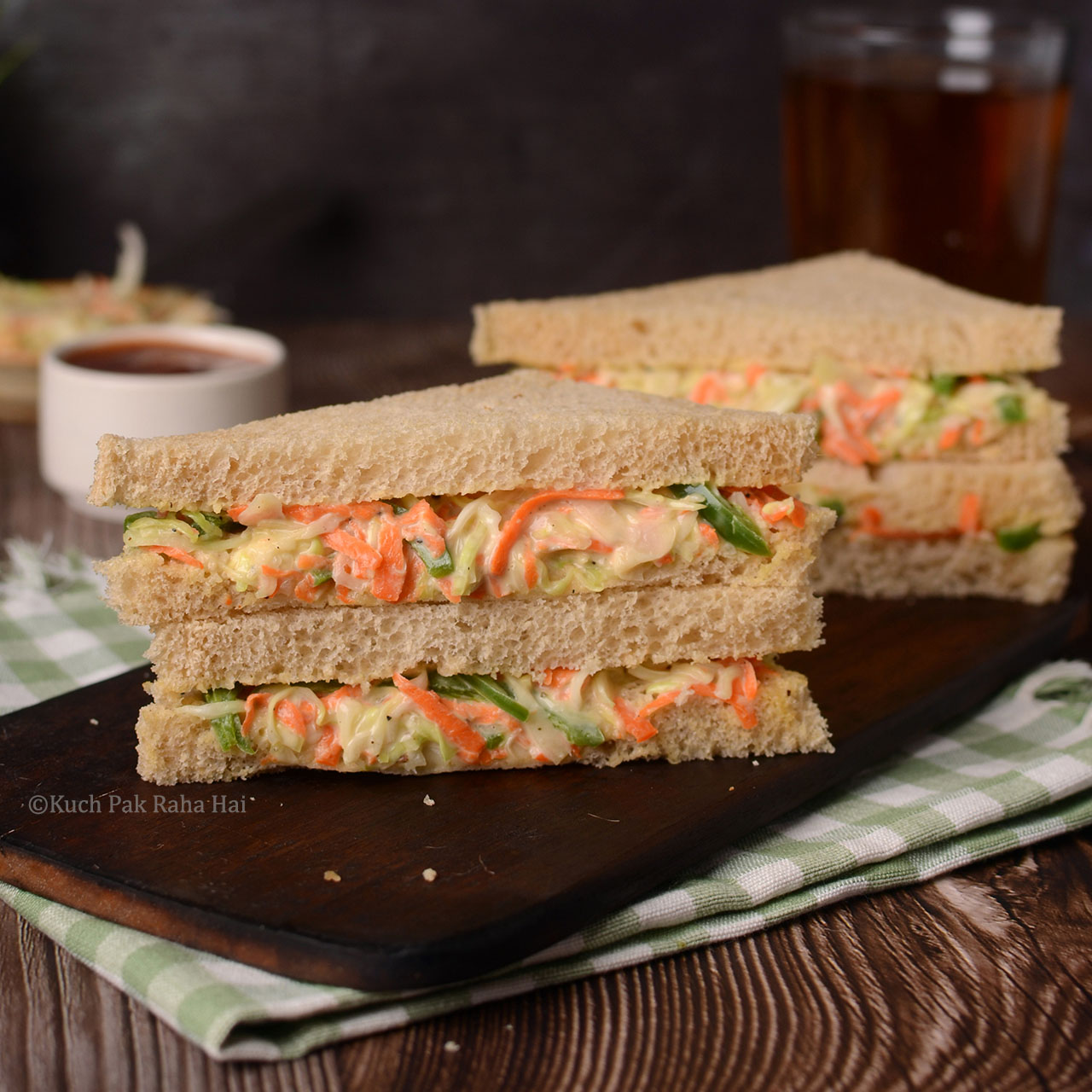 What is coleslaw sandwich?
The word coleslaw is derived from dutch word koolsla where the word 'kool' means cabbage and 'sla' means salad. Coleslaw (pronounced as 'kawl-slaw') has originated from Netherlands & is also called as cole slaw or slaw in many places.
Coleslaw is made with raw cabbage, carrots, mayonnaise & seasoned using black pepper, salt, lemon juice etc.  In this sandwich, we will be using it as filling.
It is simple, no cook sandwich recipe and if ingredients are available at home even kids can make it. You just need to have a bag of shredded vegetables, some mayonnaise in fridge & the sandwiches will be ready in 10 minutes.
The coleslaw sandwich recipe shared here is :
Vegetarian
Easy & Quick to make
Can be made vegan
No cook / No fire sandwich recipe
Great for breakfast or kids lunch box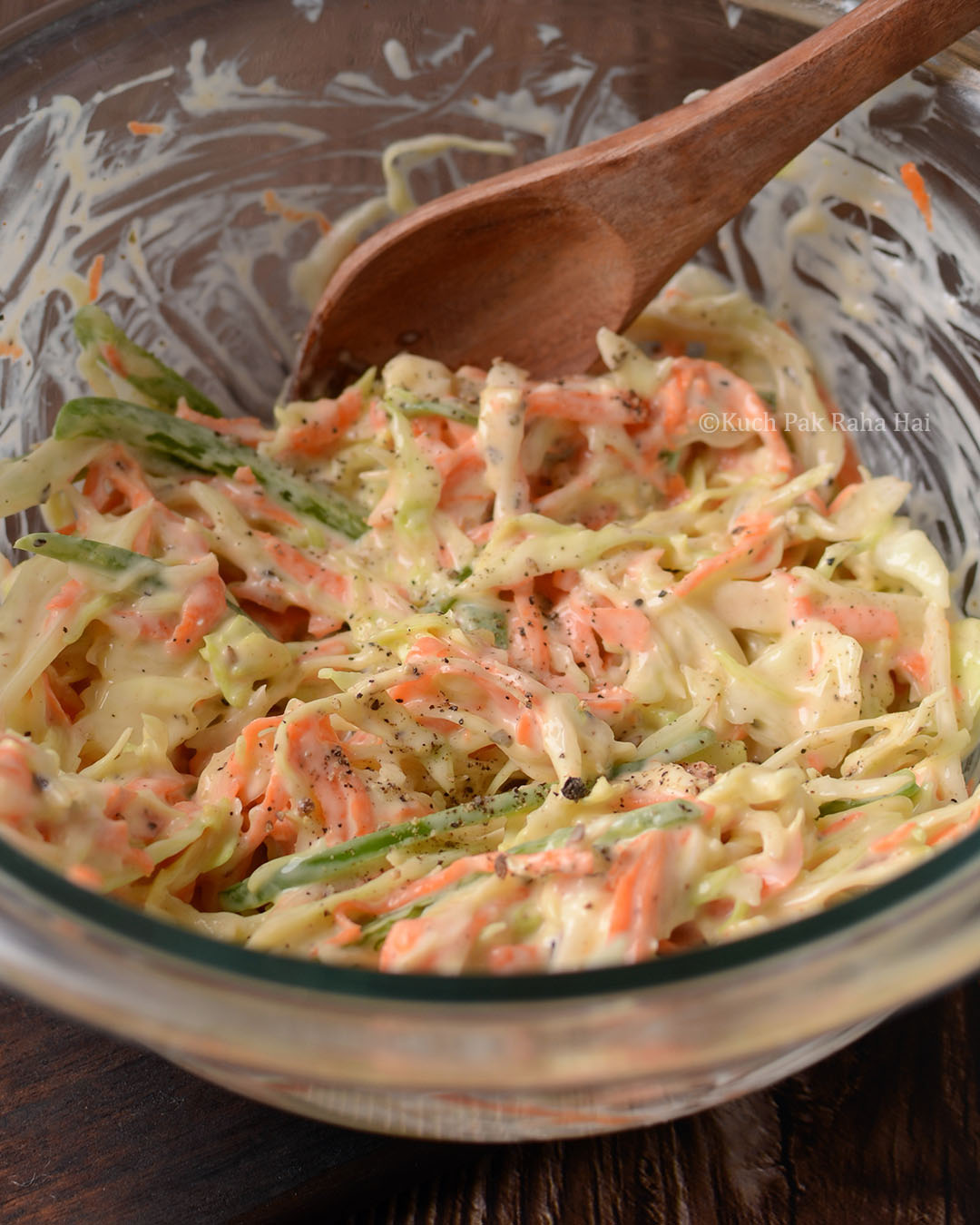 Though it is authentically cold sandwich recipe but if you wish you can grill or toast them on a pan. These yummy creamy sandwiches makes a great option for high tea too. You can cut them in bars or squares to make them easy to serve for large crowds. You can also use coleslaw in burgers.
Ingredients to make coleslaw sandwich:
Vegetables: The main vegetable used in these sandwiches is cabbage. I have used green cabbage here. You can use mix of green & purple cabbage too. Apart from carrots,  I have added some green bell peppers (or capsicum). You can also add red or yellow bell peppers.
Bread: I like to makes these sandwiches with whole wheat or multigrain bread. Sourdough, milk or sandwich bread can also be used.
Mayonnaise: It makes the base of sandwich filling & makes it creamy. You can use store bought veg mayo or homemade mayonnaise. Apart from plain mayo, you can even experiments with different flavours like chipotle, mint, garlic or tandoori mayo.
Seasoning: I like to season my coleslaw sandwiches with black pepper, lemon juice and some mixed dried herbs like oregano, rosemary & basil etc. Instead of lemon juice you can use vinegar also.
You can use mandolin slicer, food processor or grater to shred the vegetables for sandwiches.
Is coleslaw sandwich healthy?
Coleslaw sandwiches are packed with goodness of fresh veggies & has dietary fibre, vitamins, minerals. To cut down the calories & make these sandwiches healthier, use low fat diet mayo or use half mayo & half greek yogurt, strained yogurt (hung curd) in the filling mixture.
How to make vegan coleslaw sandwich?
These days vegan mayonnaise is easily available in market or online. Use vegan mayo instead of regular mayo. While picking bread, look for vegan (dairy free) bread option & you are good to go.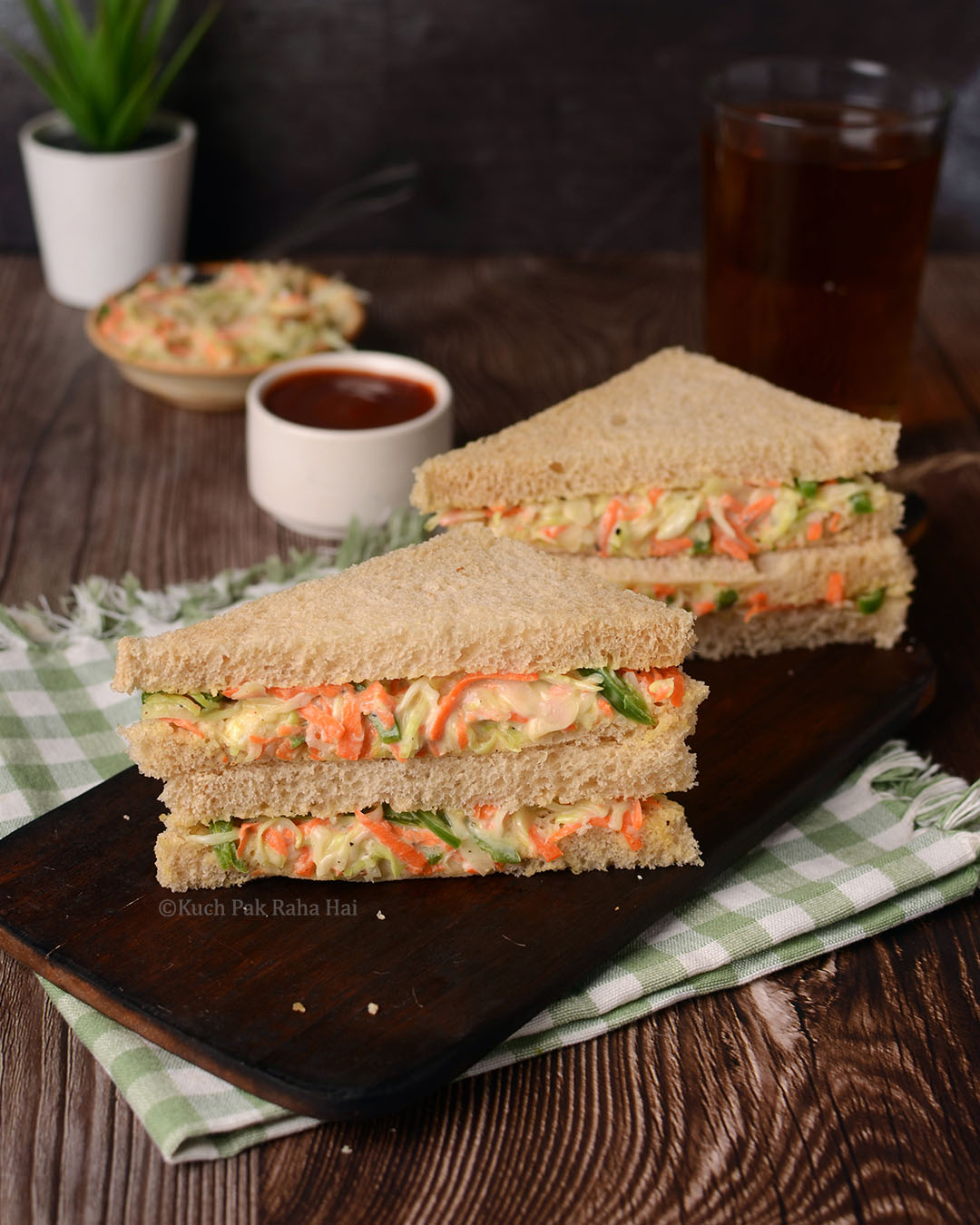 Hope you will like this easy coleslaw sandwich recipe. More recipes you would like to try:
Ingredients:(Makes 3-4 sandwiches)
Shredded Cabbage-(1 + 1/2) cup
Grated Carrots – 1/2 cup
Shredded Bell Pepper- 1/4 cup
Veg / Vegan Mayonnaise – 5 to 6 tbsp
Lemon Juice / Vinegar- 1 tsp
Salt-1/4 tsp (or to taste)
Black Pepper-1/2 tsp
Dried Oregano- 1/4 tsp (optional)
Bread Slices- 6 to 8
Notes:
1. Adding little bit of sugar / honey is optional.
2. Other seasoning that you can add- mustard sauce, chilli flakes or sriracha sauce.
Directions:
Step 1:
Add mayonnaise, lemon juice (or vinegar) & all the seasoning in a mixing bowl. Mix well. Taste it once to adjust salt or seasoning as per your taste.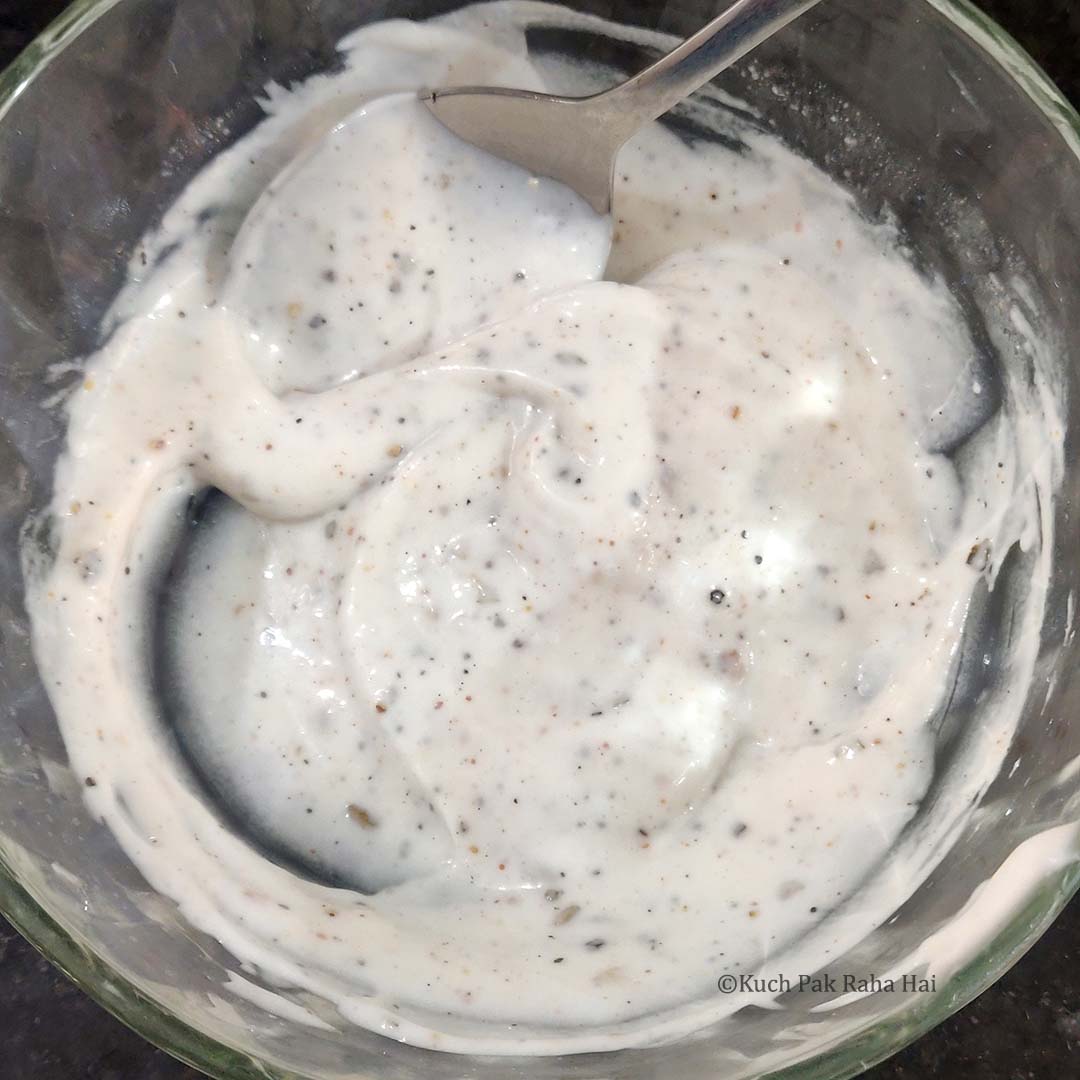 Step 2:
Take all the shredded vegetables in a big mixing bowl. Add the prepared mayo dressing to it.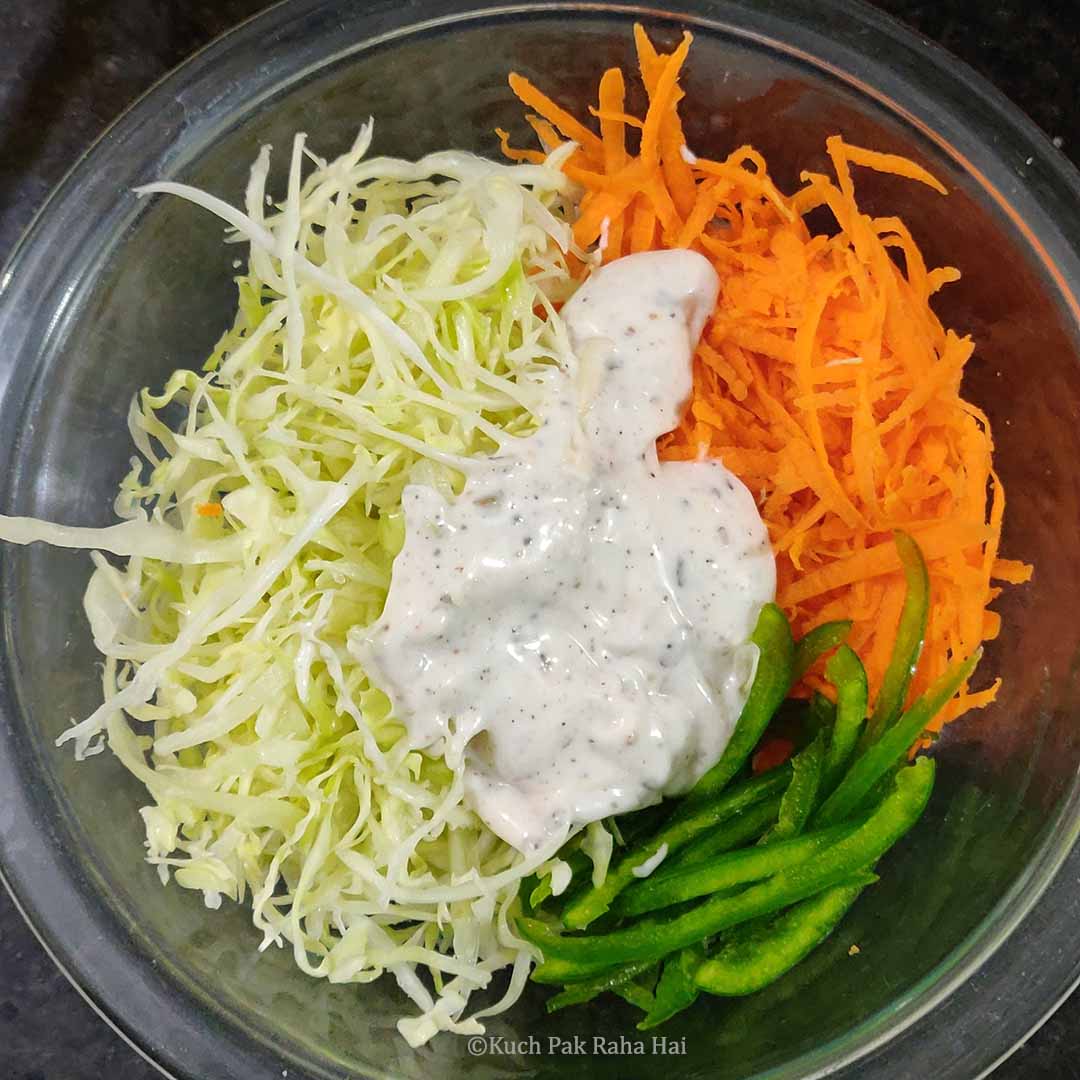 Mix it with a spoon or spatula. If the mixture seems dry or you want more creamy filling, add some more mayonnaise.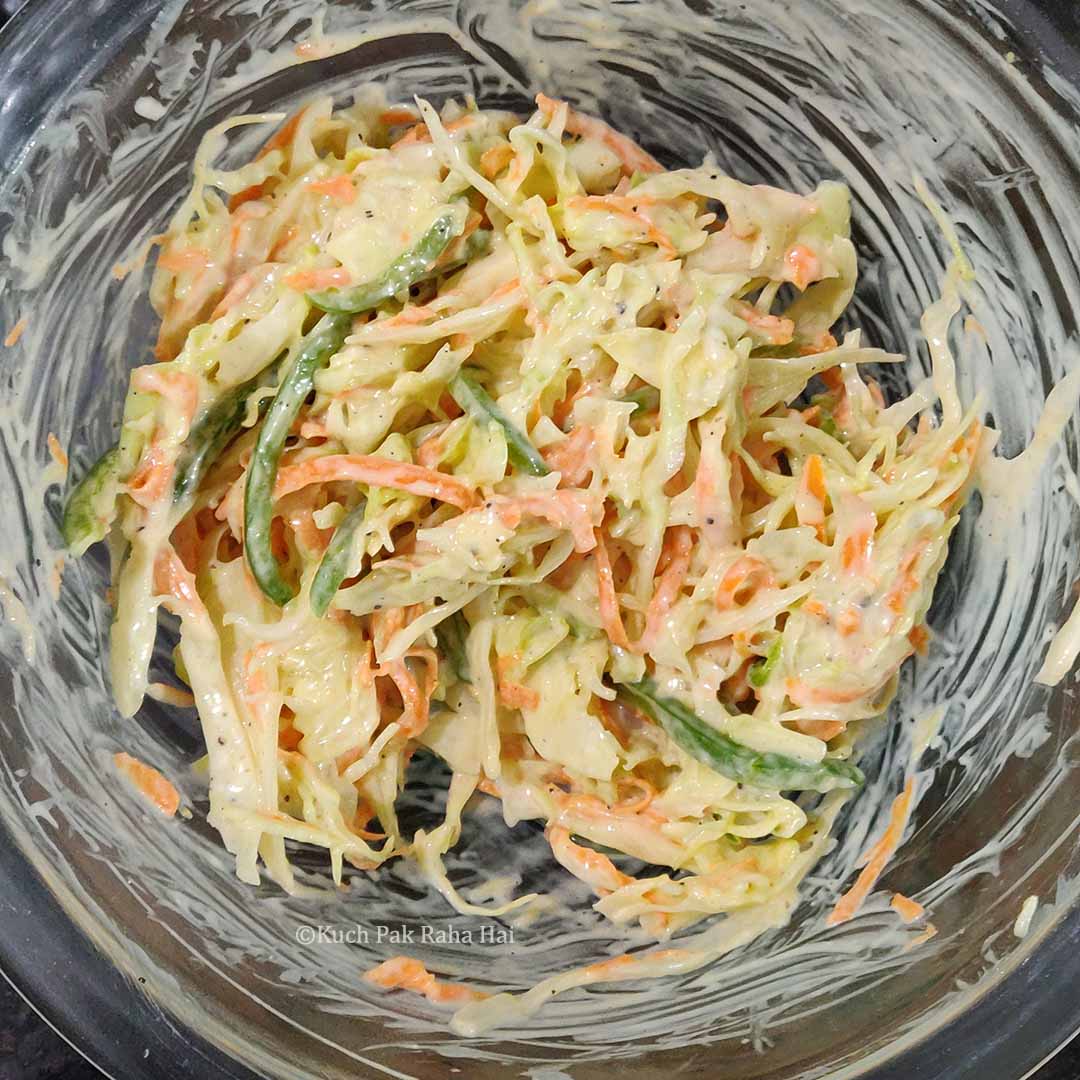 Step 4:
Chop off the sides (crust) of  bread. It is an optional step (You can use them later to make croutons for soup).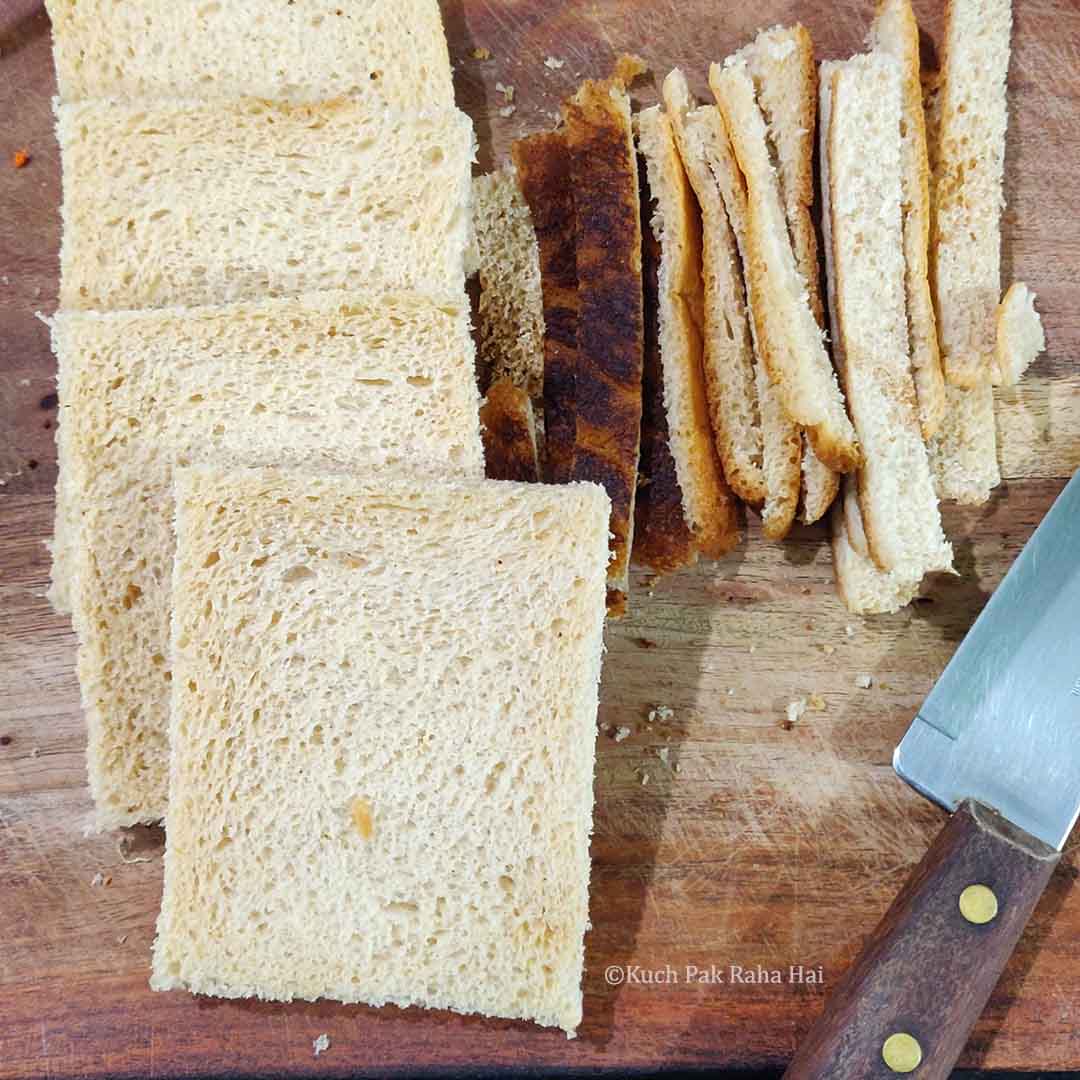 Step 5:
Spread the prepared coleslaw on one of the slices and cover it with another slice. Similarly prepare all the sandwiches.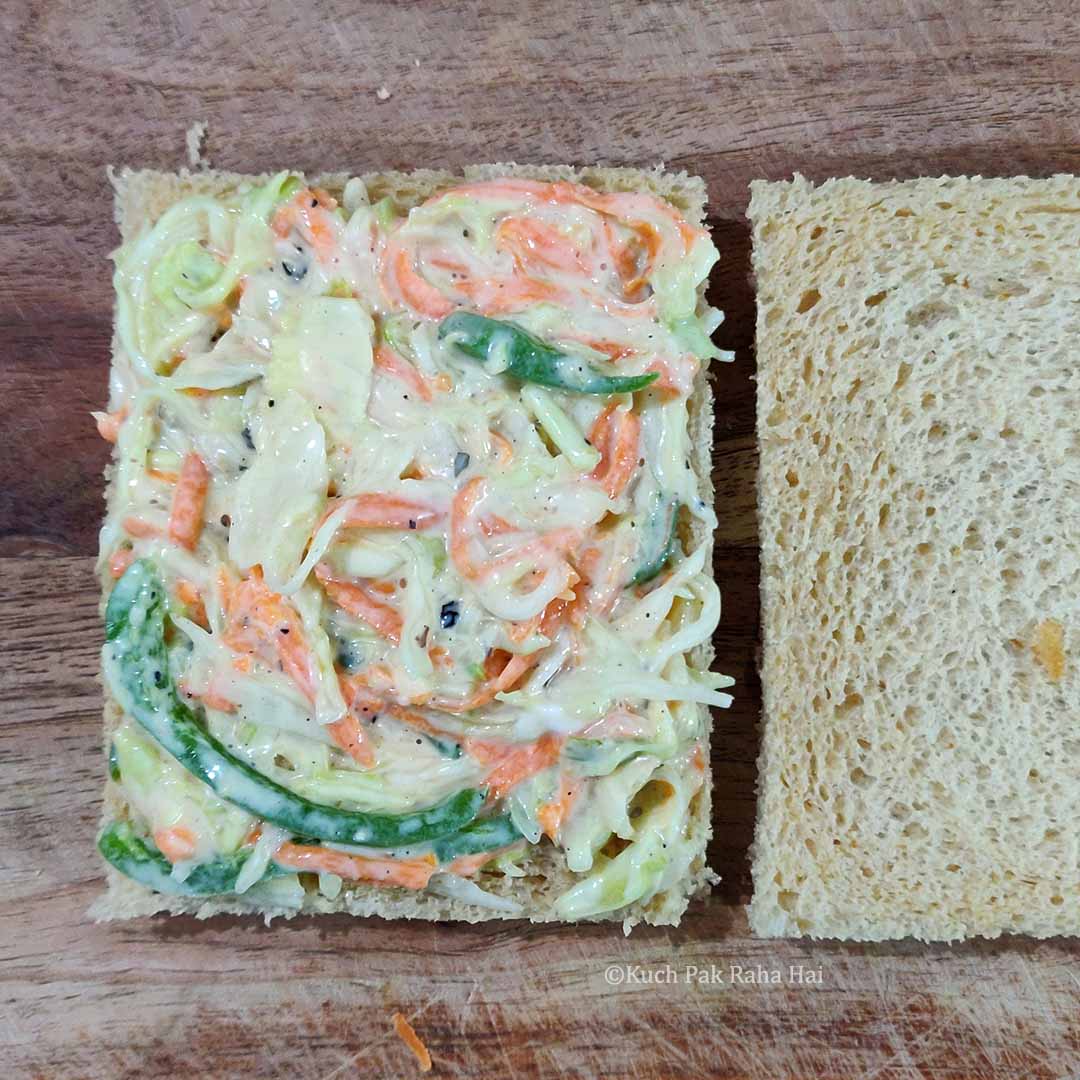 Delicious coleslaw sandwiches are ready. You can serve them with ketchup, chips or fries.
FAQs:
Can I prepare coleslaw sandwiches in advance?
You can shred vegetables in advance & store them in an airtight bag in fridge. If you like crunchy vegetables in sandwich, mix the shredded vegetables & mayo only when you are ready to make sandwiches. The longer you keep the coleslaw, the softer it becomes as vegetables start releasing moisture on coming in contact with salt. The filling stays good in fridge for upto 2 days.
How to store coleslaw sandwiches?
Wrap the prepared sandwiches with a cling wrap and store them in fridge. They stay good for 1-2 days.
Pin for later: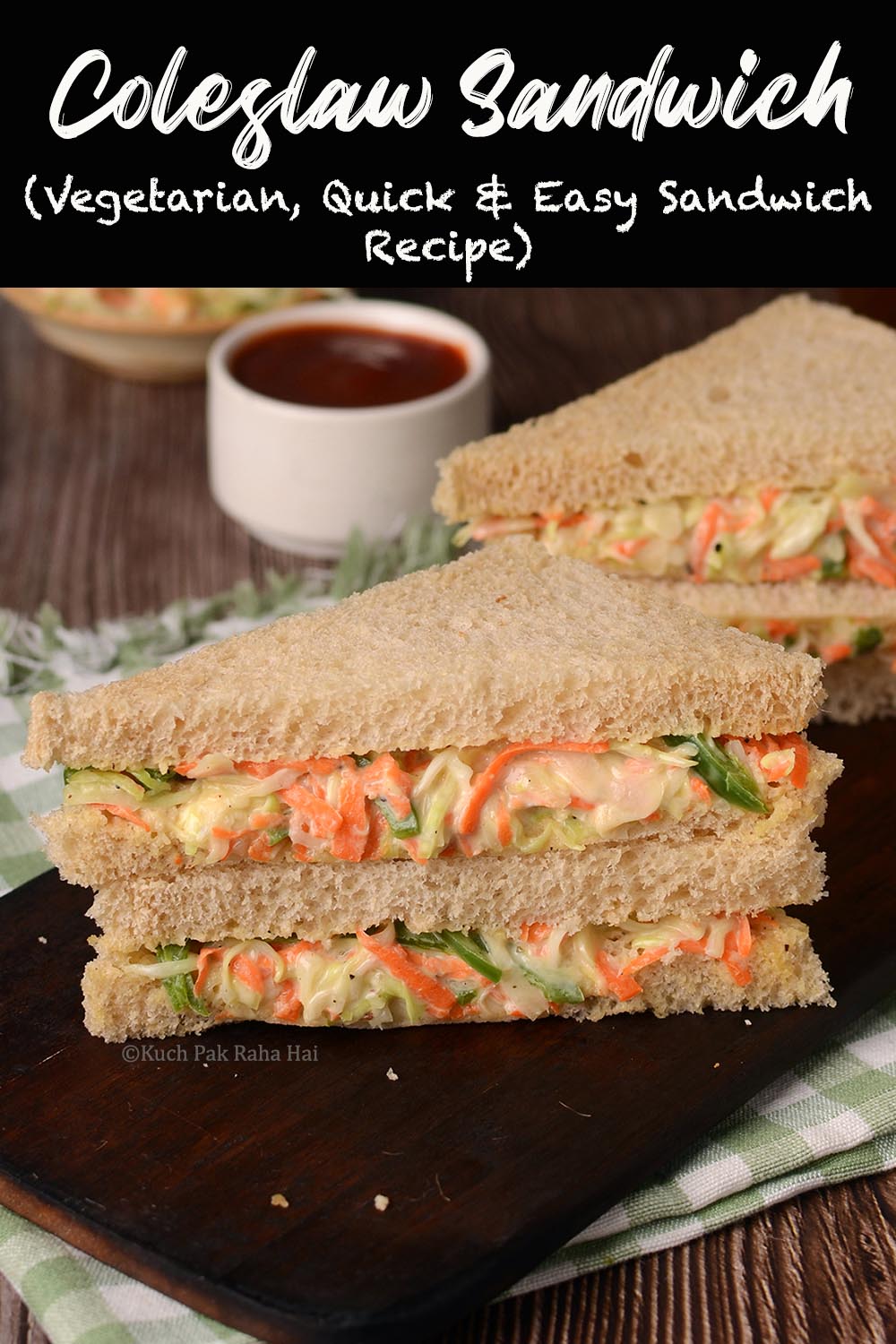 Coleslaw Sandwich Variations:
1. You can add more vegetables like onions, boiled sweet corn, broccoli, peas or fresh herbs like chives, coriander or cilantro.
2. Along with mayo, you can also add some cream cheese / grated processed cheese / sour cream to the sandwich filling.
If you try this veg coleslaw salad sandwich recipe & share pics on social media, then don't forget to tag on Facebook, Instagram or use #kuchpakrahahai.
Let's stay connected
Facebook | Instagram | Pinterest| Youtube