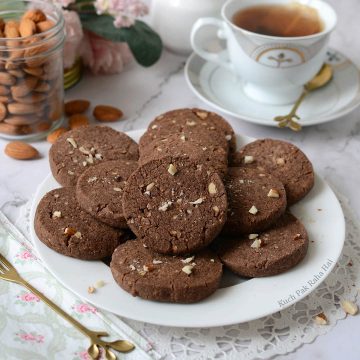 Eggless Chocolate Almond Cookies are delicious tea time cookies made with flour, cocoa, butter, sugar and ground almonds. It is an easy egg free chocolate cookies recipe perfect to be served with tea, coffee or milk.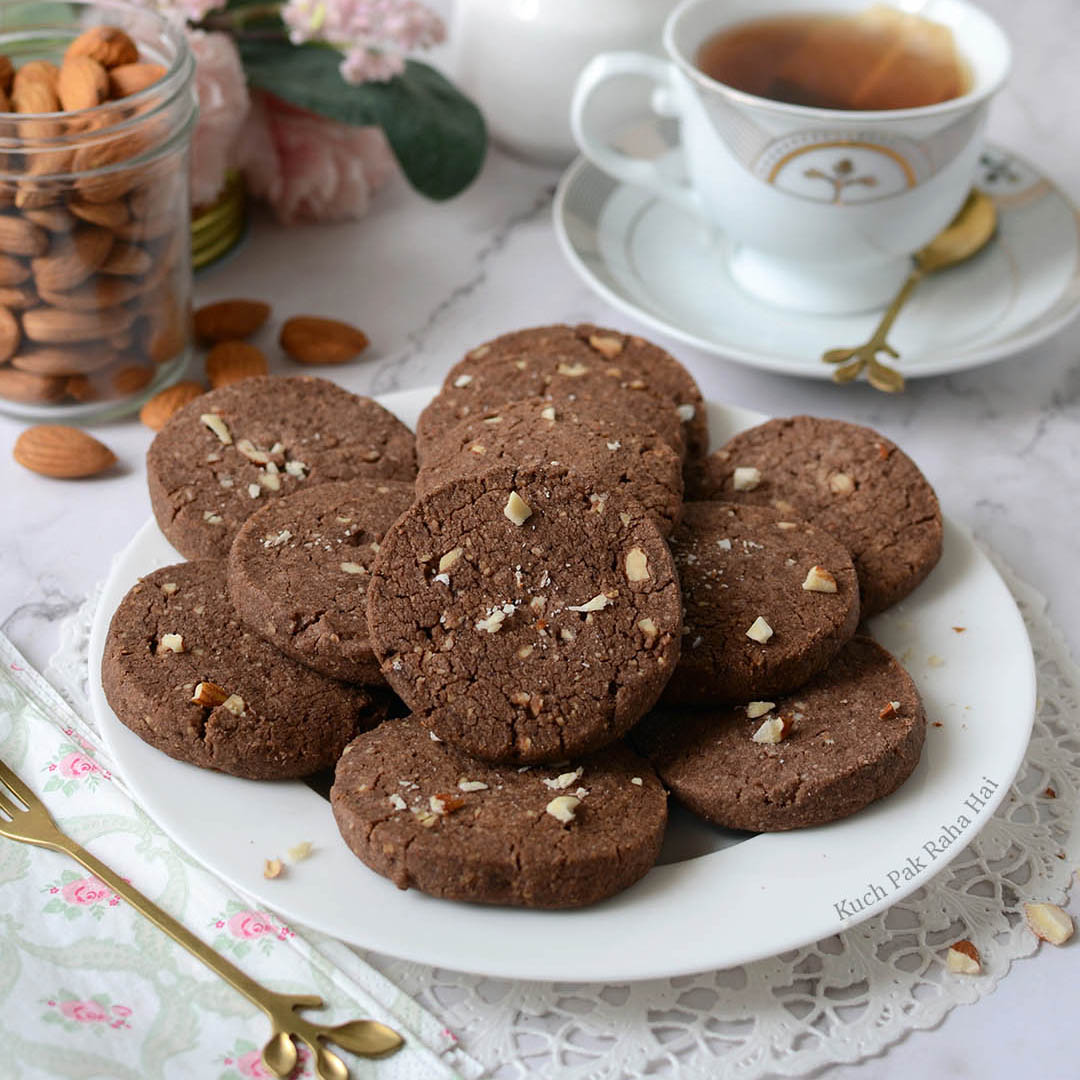 These chocolate almond cookies turn out crunchy from outside with crumbly melt in the mouth texture inside like shortbread cookies. The addition of almonds gives them nice nutty texture and warm aroma.
It is an easy slice and bake chocolate cookie recipe and are also great to pack in kids snack box or for edible gifting on festivals like Diwali, Christmas or Thanksgiving. You can also make it in big batches and store it in airtight container for 5-6 days.
I always prefer homemade cookies over store bought ones as they taste so fresh and you can enjoy them without worrying about the preservatives, artificial flavour or additives.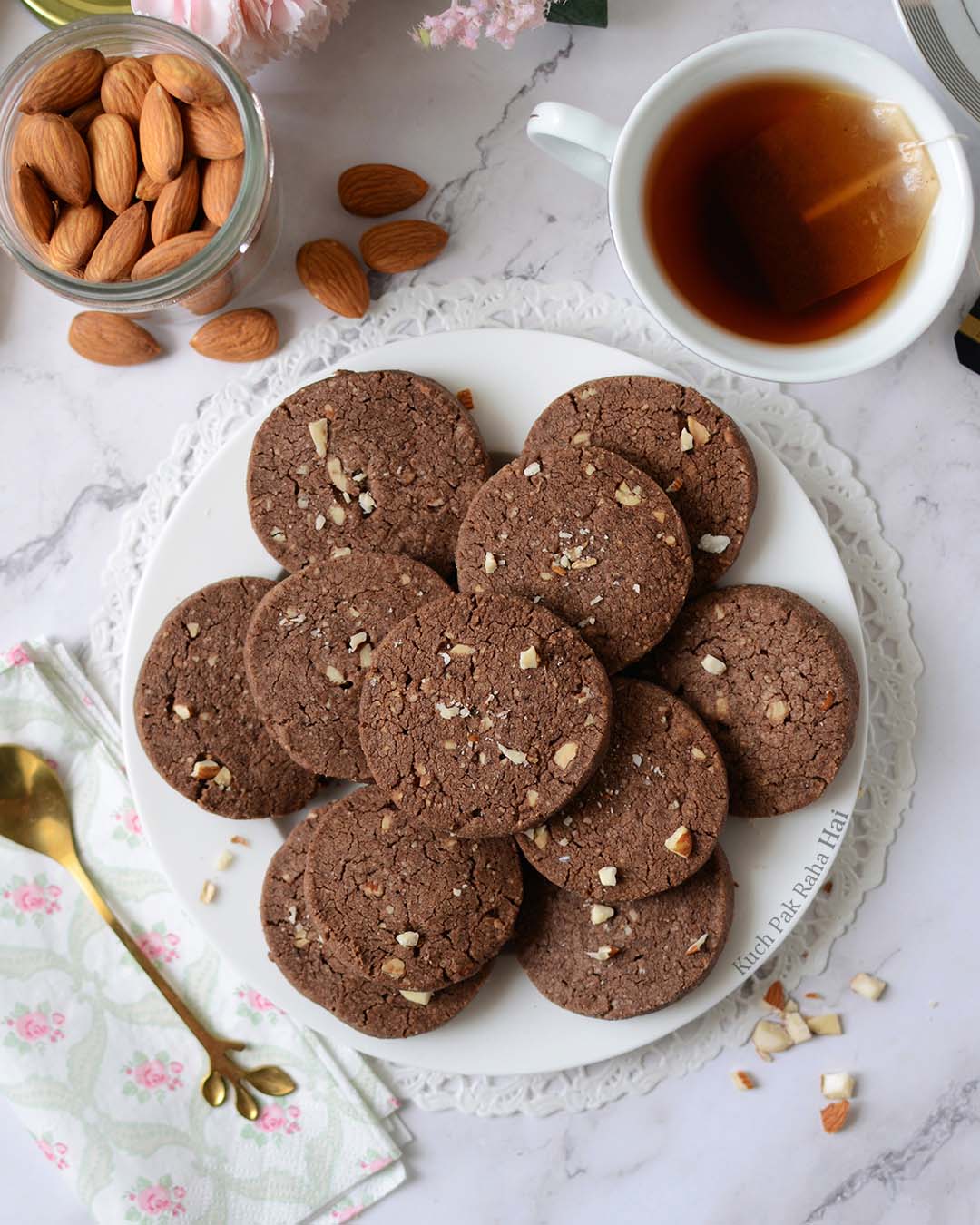 Chocolate & almonds make a great pair like chocolate coated almonds, almond clusters or baked goods like cakes or muffins. I love the way their warm flavours compliment each other and for the same reason I have used this combination in this cookie recipe also. 
Ingredients to make these Chocolate Cookies:
These eggless chocolate cookies are made with freshly ground almonds, unsweetened cocoa powder, all purpose flour, powdered sugar, butter and pinch of salt. I have used a little amount of baking powder but if you want to make cookies without baking powder then feel free to skip it. Salt although used in pinch, enhances the taste of these cookies.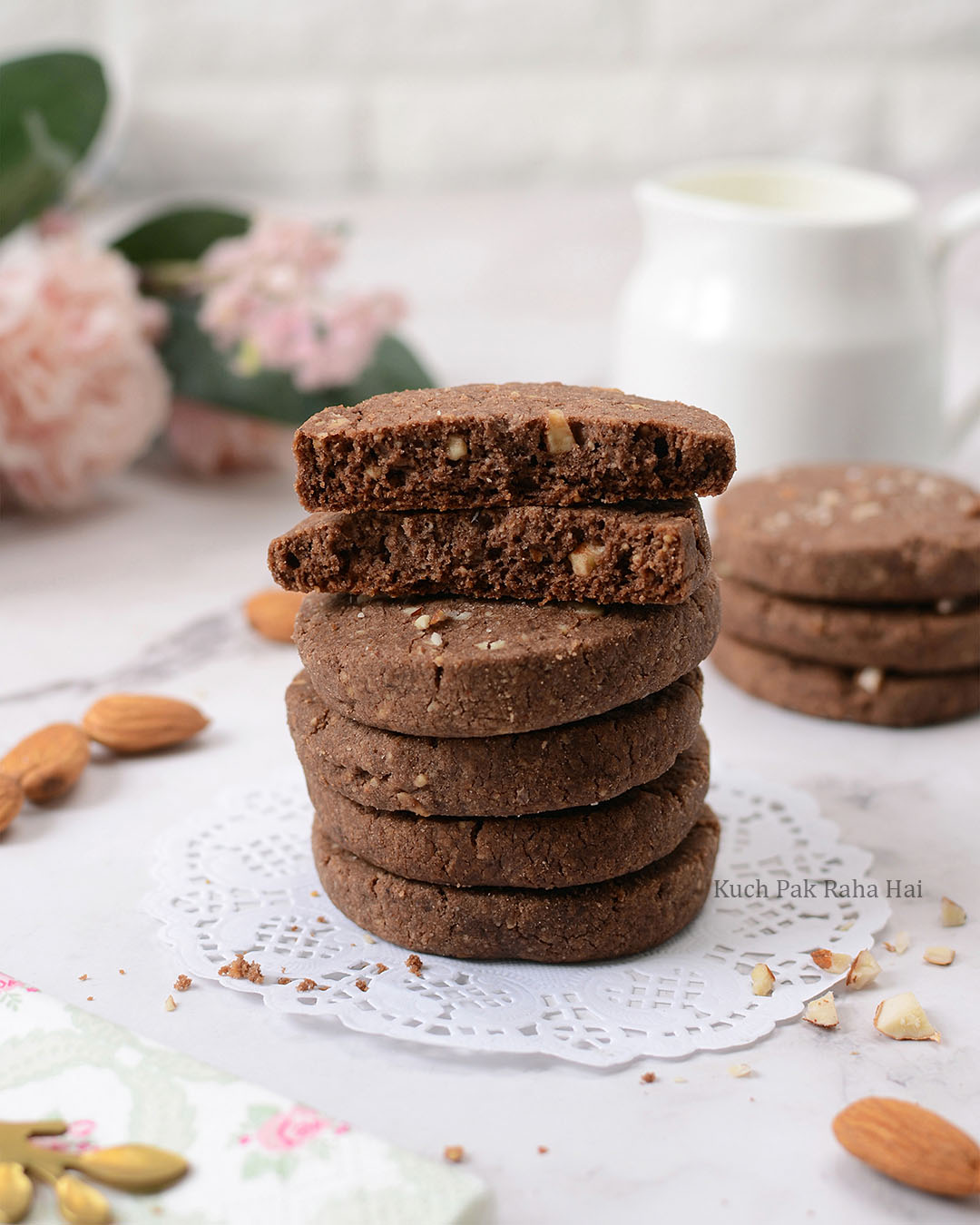 Prepping Almonds for cookies:
These chocolate almond cookies have almond bits & finely ground almond powder.
Always grind the almonds in pulses in a grinder as continuous grinding can sometimes make them release their fat (butter). We will first grind the almonds in 4-5 pulses and take out 3 to 4 tablespoons of almond bits from the grinder jar. Then we will grind the remaining almonds into fine powder.
You can even use almond meal to make these cookies. Do not confuse it with almond flour as almond meal is made by grinding unpeeled whole almonds whereas almond flour is made by grinding skinless (blanched) almonds.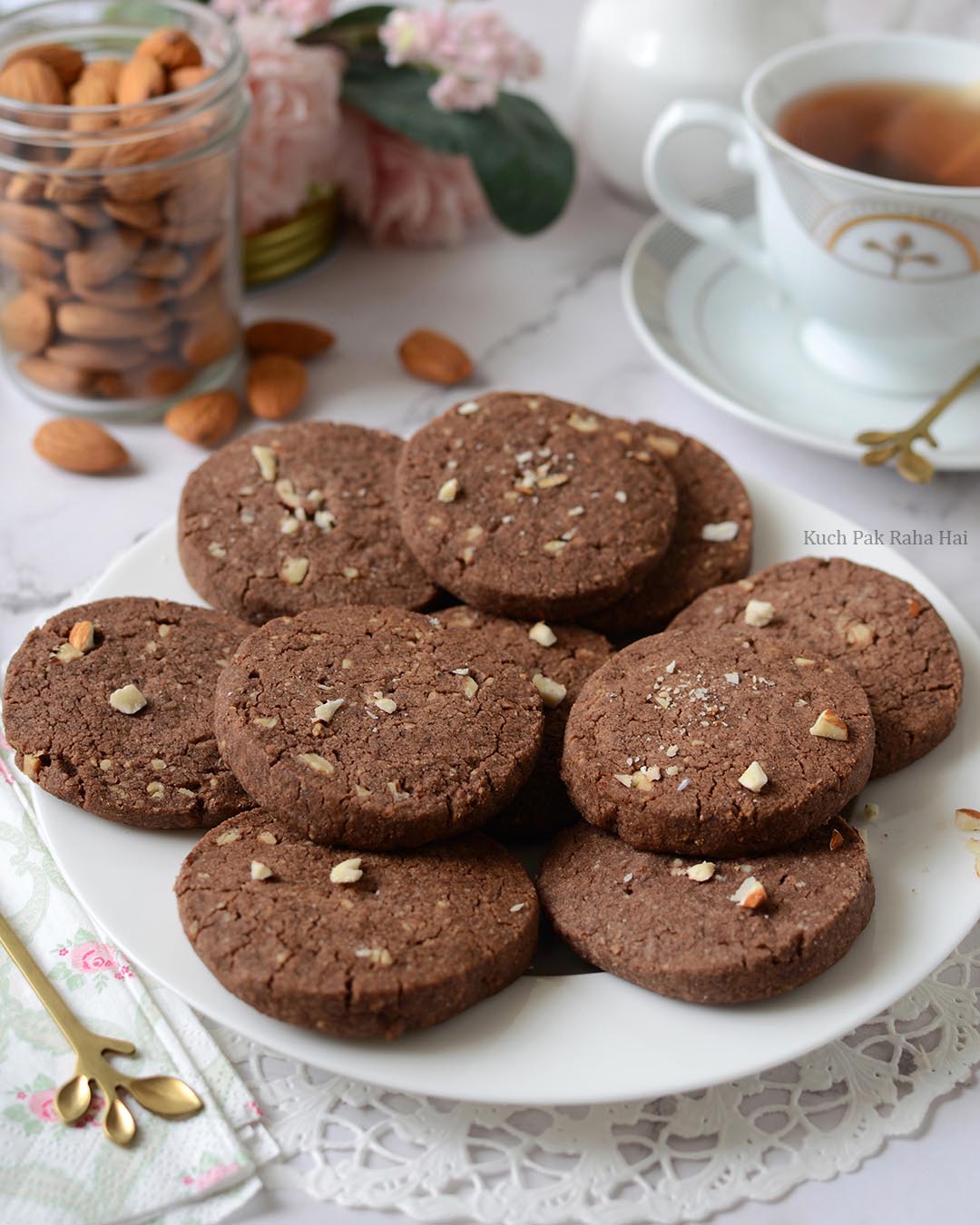 Variations:
This chocolate almond cookies recipe is quite flexible. Instead of almonds you can also add other nuts like walnuts, hazelnuts, peanuts or dark chocolate chips, white chocolate chips to the cookie dough. 
Youtube Video:
More eggless cookies recipes :
Ingredients:(Makes 16-18 cookies)
All Purpose Flour (Maida)-1 cup (120 grams)
Unsalted Butter- 7 tbsp (100 grams)
Powdered Sugar*- 1/2 cup (75 grams)
Almonds- 1/2 cup (70 grams)
Cocoa Powder (unsweetened) – 2 tbsp
Baking Powder- 1/4 tsp
Vanilla Essence- 1 tsp
Salt-1/8 tsp
Notes:
1. *If you like cookies on sweeter side add 1-2 tablespoons more of powdered sugar.
2. The butter used should be at room temperature.
3. Instead of vanilla essence you can also use almond essence or extract.
Directions:
Step 1:
Sieve together all purpose flour (maida), salt, cocoa powder and baking powder. Keep this bowl aside.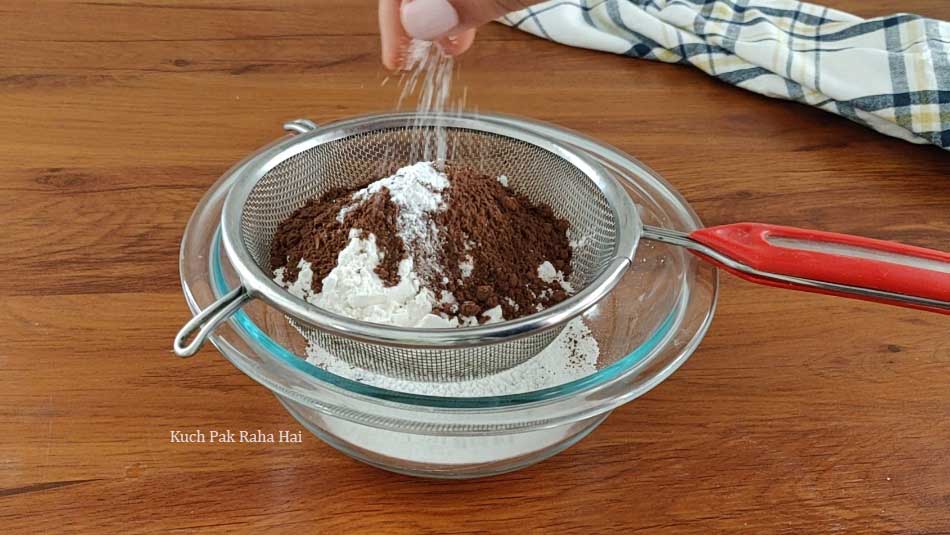 Step 2:
Add almonds to a grinder jar. First grind it in 2-3 pulses. Take out 2-4 tablespoon of almonds from the jar and keep them aside. Grind rest of the almonds till they gain powder like consistency. Keep these almonds aside.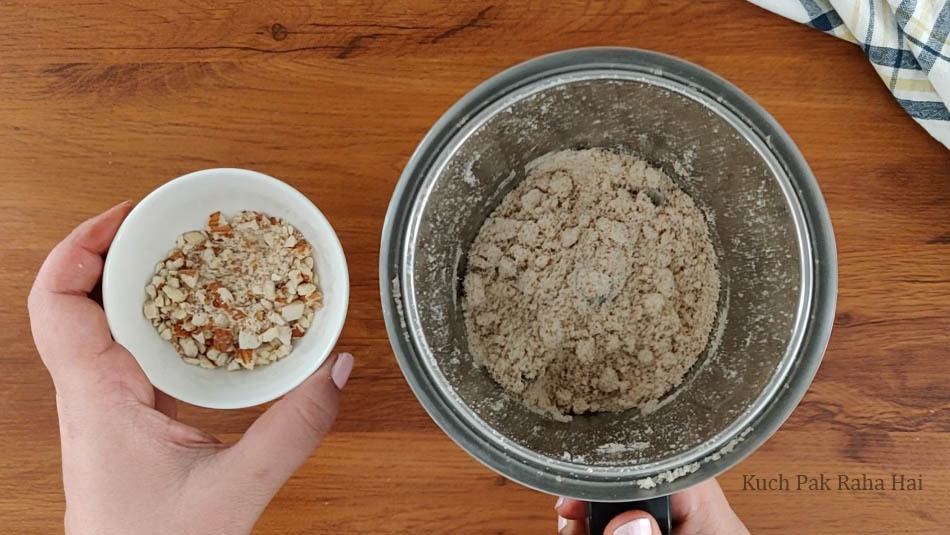 Step 3:
In a mixing bowl, whisk butter & sugar together till the mixture becomes fluffy and slightly pale in colour. Add vanilla extract and mix well. Add crushed almonds and fold gently.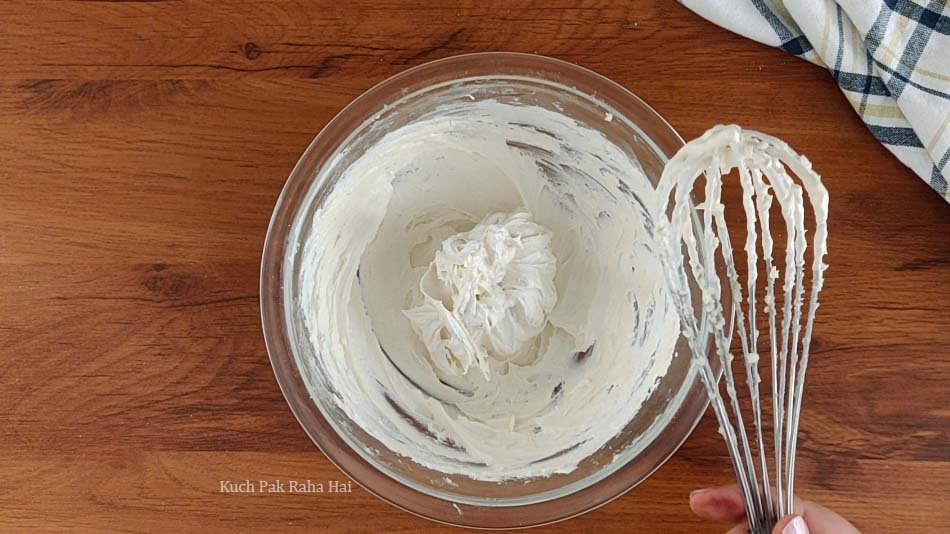 Step 4:
Add sieved flour and powdered almonds to the whisked butter and sugar mixture. Using hands or spatula mix all the ingredients. Do not knead the dough, just mix them enough so that they bind together as dough.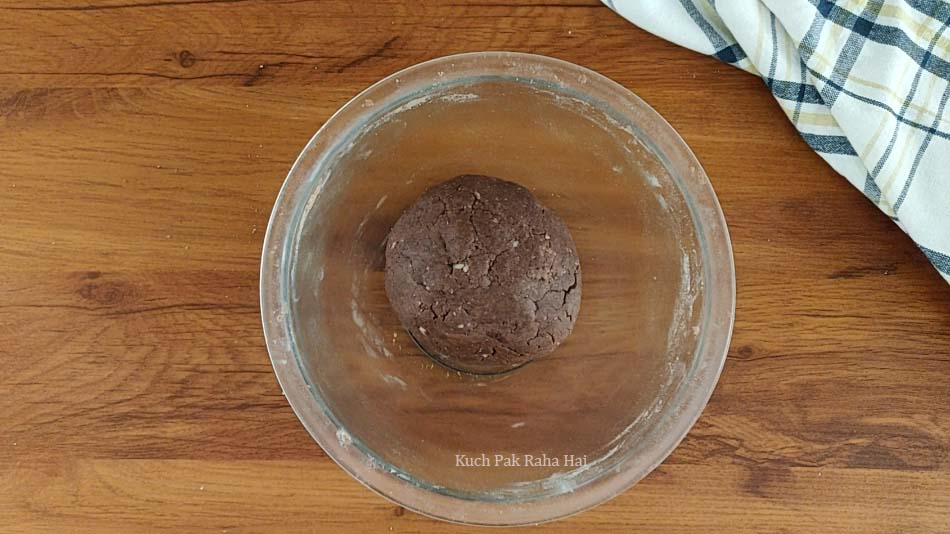 Step 5:
Spread cling film on kitchen counter & transfer this dough over it. Give it shape of a log & then wrap that log with cling film. Roll it into a smooth cylinder. Keep it in fridge for 30 minutes to 1 hour.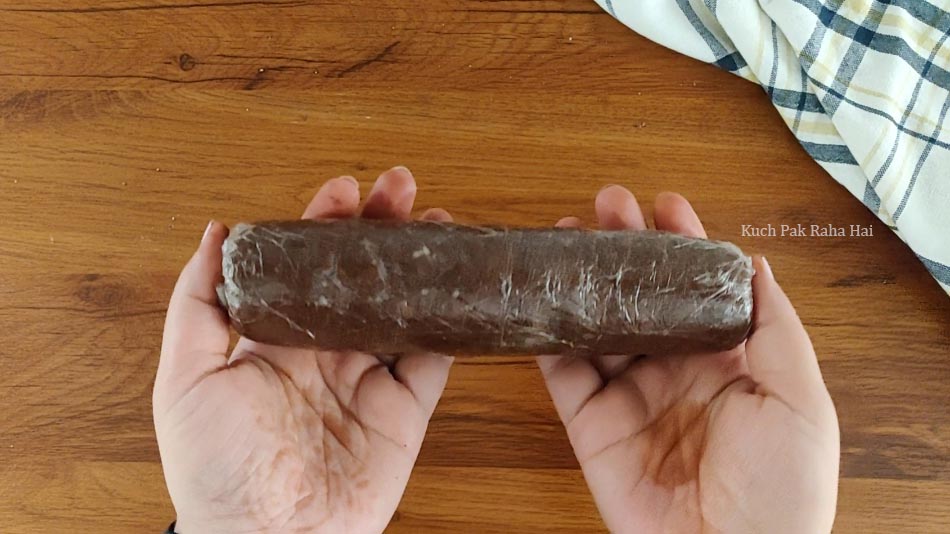 Step 6:
When you are ready to make cookies, set the oven for preheating at 180 degree Celsius. Line the baking tray with parchment paper. Bring out the cookie dough log from the fridge and slice them into even sized cookies. Line them on baking tray leaving 1 inch space between them.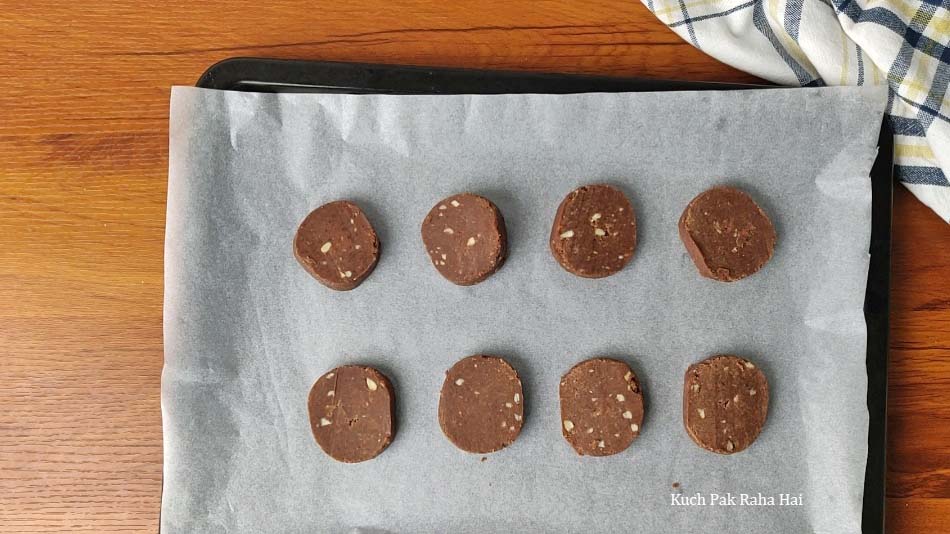 Step 7:
Bake these chocolate almond cookies at 180°Celsius for 18-20 minutes. Keep an eye after 18 minutes as the time varies from oven to oven.
Check the bottom edges of the cookies to see if they have changed in colour. Let them cool down in tray for 10 minutes and then transfer them on wire rack to cool completely. The cookies will seem soft initially but will harden up on cooling.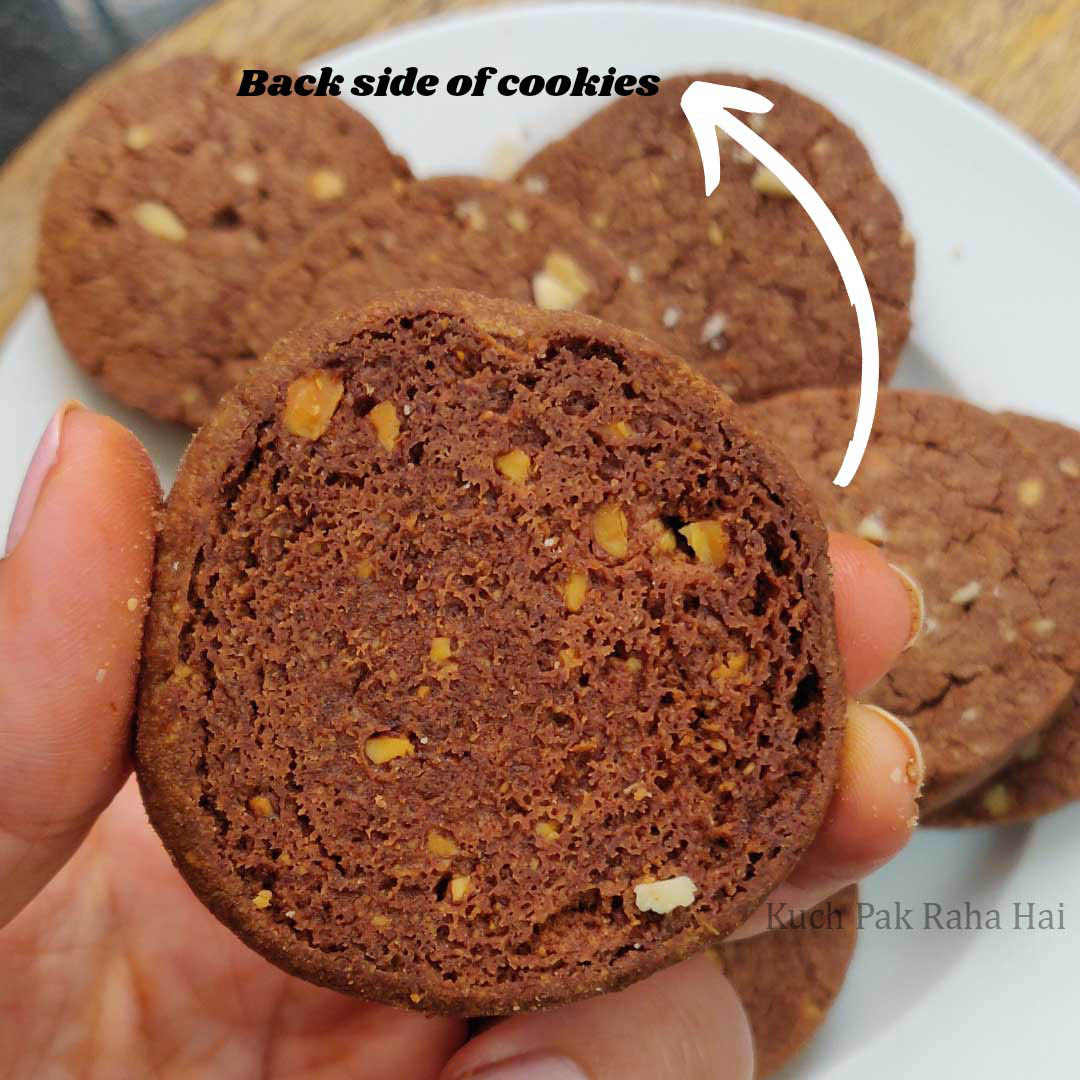 Enjoy these crunchy buttery cookies with your cuppa tea or coffee.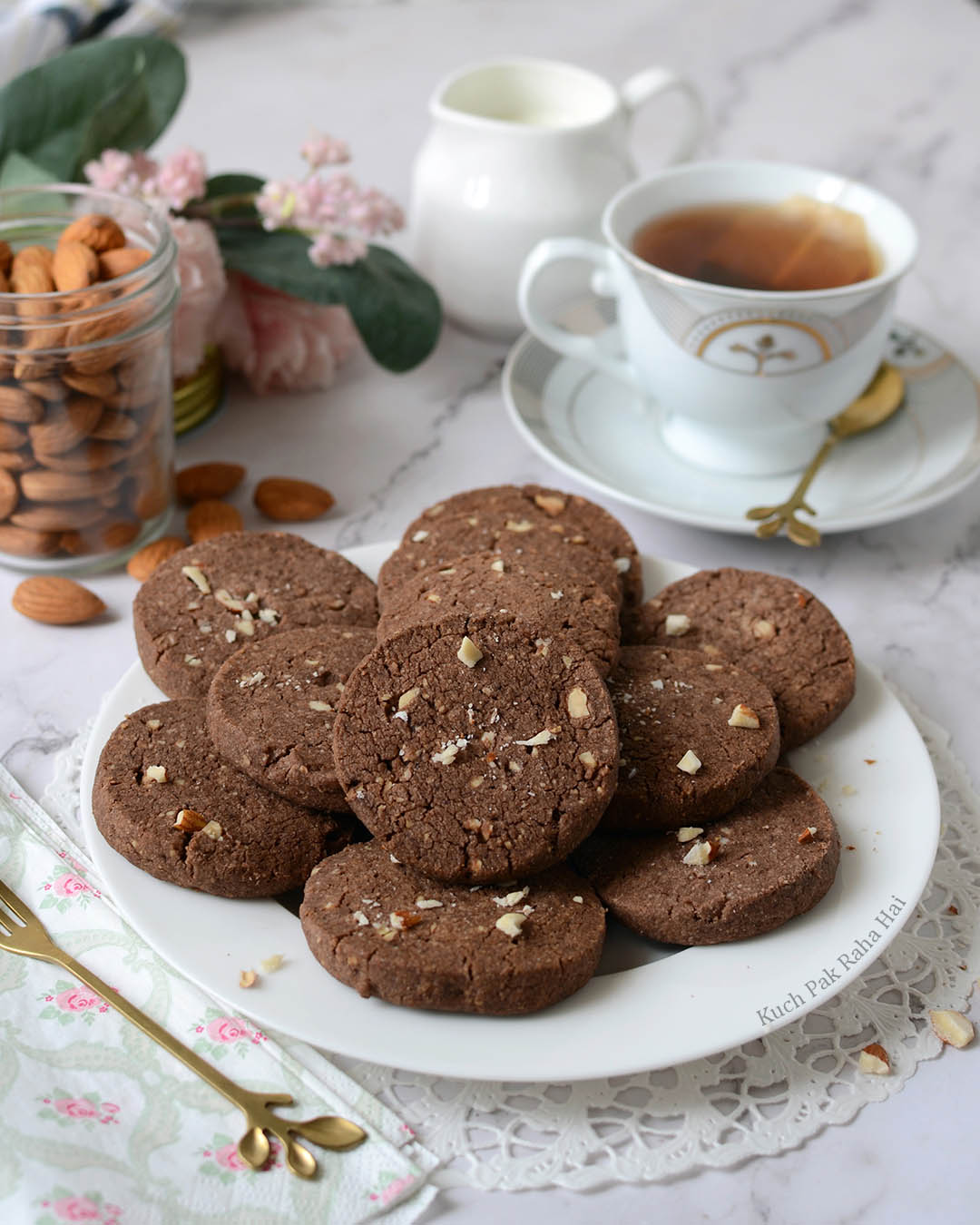 How to store these chocolate cookies?
Store them in an airtight jar or container. These cookies remain good for 3-5 days.
Tips :
1. Do not knead the dough too much as it can cause gluten formation spoiling the texture of cookies.
2. In summers sometimes the butter starts melting quickly and you might feel the dough has become too sticky. In such case keep the cookie dough in fridge for 10 minutes and then proceed with the recipe.
More chocolate recipes (without egg):
Pin for later: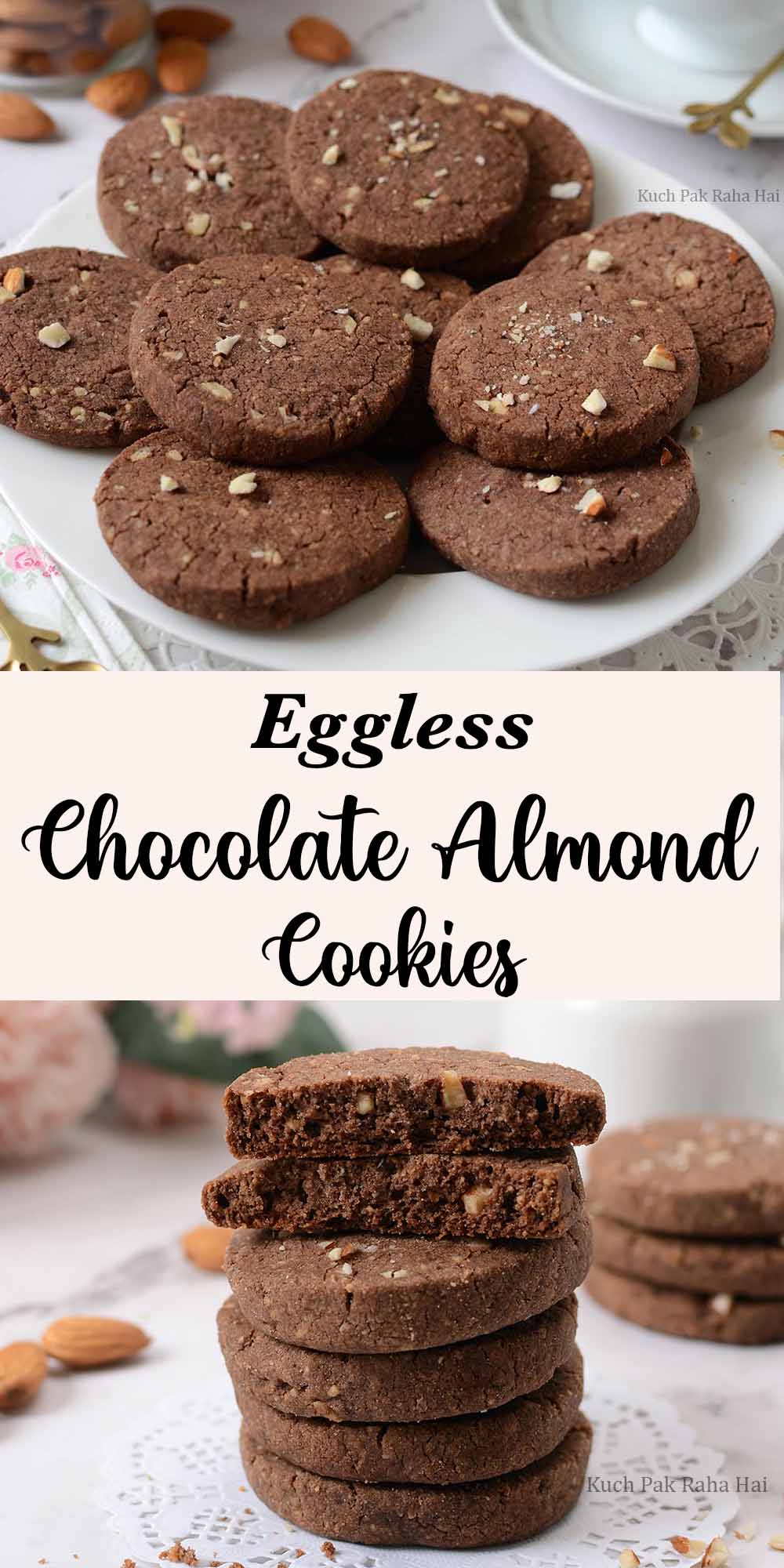 Kitchen Products Used:
(The links shared above are Amazon Affiliate links. It will not cost you anything extra but I may earn a small amount if you purchase anything using them)
If you try this easy chocolate cookies recipe & share pics on social media, then don't forget to tag us on Facebook, Instagram or use  #kuchpakrahahai.