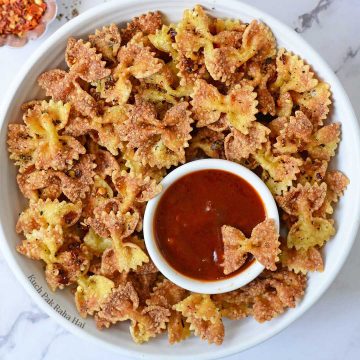 Air Fryer Pasta Chips is a crunchy yummy snack recipe made with farfalle or bow tie pasta, olive oil, salt and seasoning. It is so simple, quick and makes for a perfect appetiser with some dipping sauce.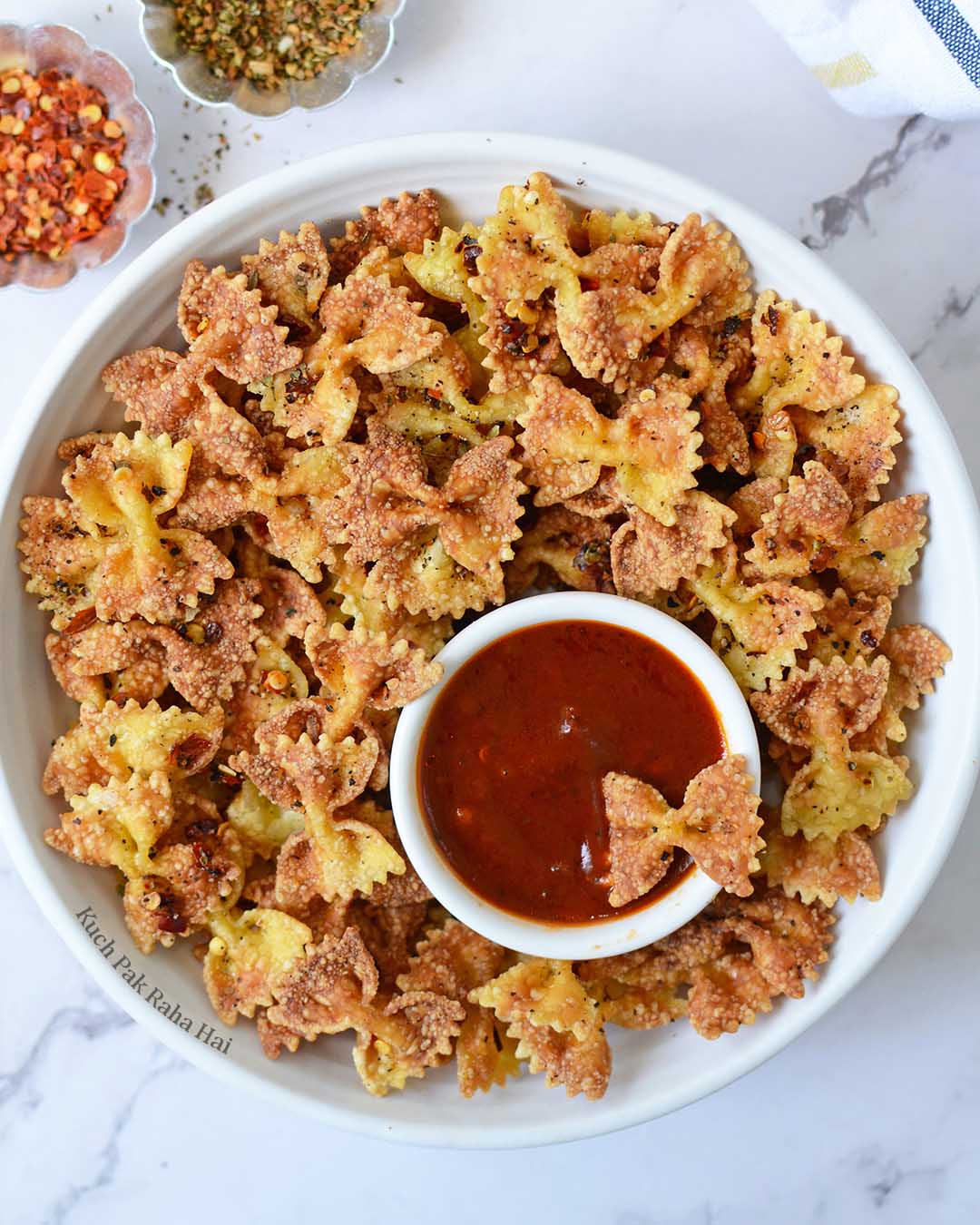 These air fried pasta chips are:
Vegan
Easy & Quick to make
Made in very little oil
Absolutely crispy!!
The pasta chips gained its popularity from viral, trending TikTok video. They can be made deep fried too but as I wanted to keep the recipe low oil & vegan, I made these pasta chips in airfryer without parmesan.
How to make pasta chips in the air fryer?
In order to make these airfryer pasta chips, we first boil them as per the package instructions. Once boiled, pasta is tossed in some olive oil, salt and air fried till it become crispy. Finally they are topped up with some seasoning or spices and served with a yummy dipping sauces like marinara, garlic mayo, hummus or whipped feta dip.
Pasta Chips Ingredients:
1. Pasta:
I have used Farfalle pasta (also known as bow tie pasta) to make these chips. You can use other short pasta varieties too like Rigatoni, Fusilli, Penne or Macaroni etc
2. Olive Oil:
Before tossing the boiled pasta in air fryer, they need to be coated well with olive oil. You can use other types of oil too like sunflower, sesame etc.
3. Spices or seasoning:
I have used a mix of salt, black pepper, chilli flakes, Italian seasoning to spice up these crispy chips. The Italian seasoning I am using already has dried oregano, dried basil, dehydrated garlic etc.
You can experiment & add any dried herbs or seasoning of your choice to these pasta chips. More options that you can try:
Garlic powder
Onion powder
Paprika
Cumin powder
Red Chilli Powder
Some people add the seasoning to chips before air frying but I like to add them later as sometimes during air frying the spices get slightly charred and taste off.
4. Parmesan:
Adding parmesan is totally optional. If you want you can add it or use vegan parmesan in the recipe.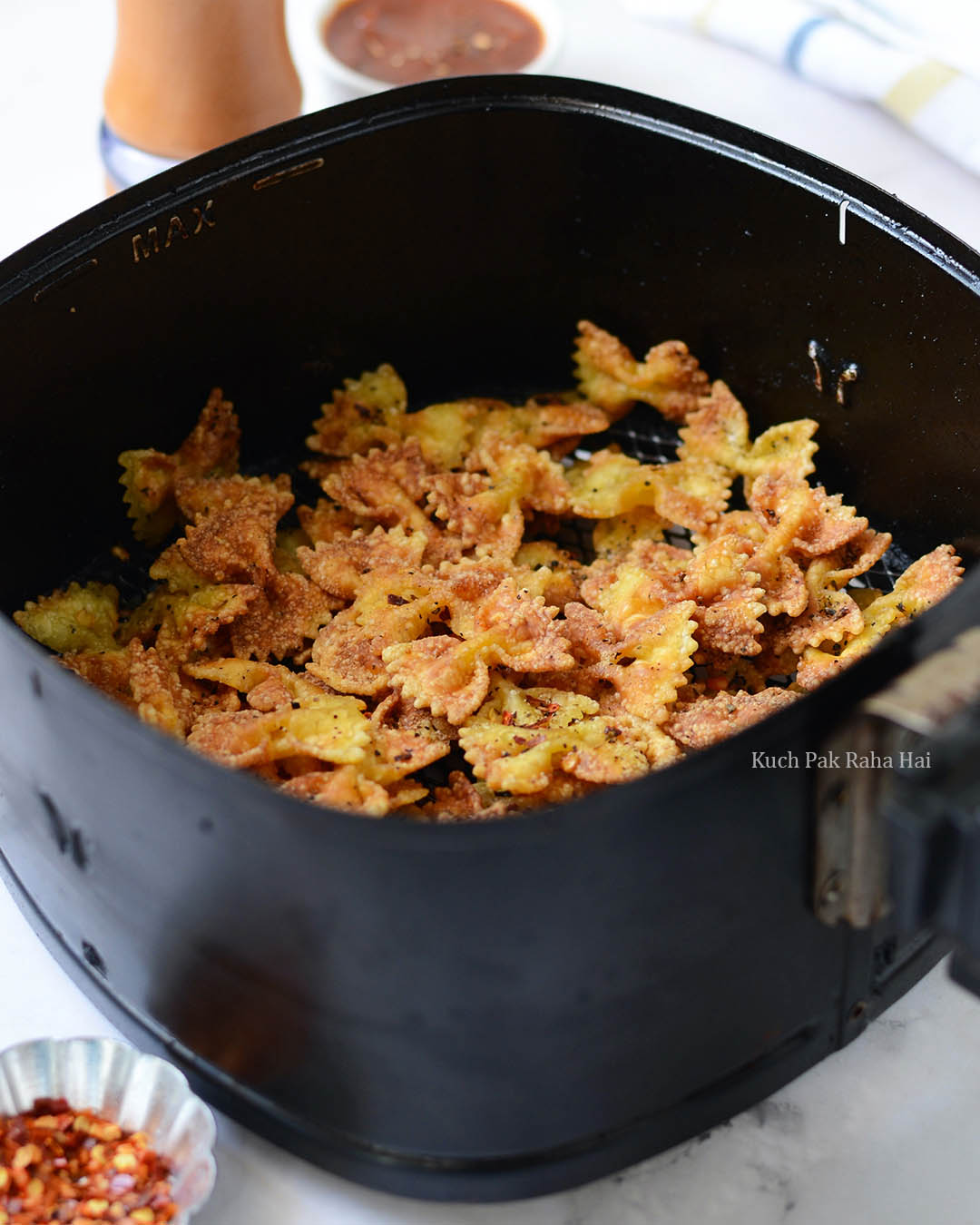 More air fryer recipes:
Ingredients:
Bow Tie Pasta- 1 cup (80 grams)
Olive Oil- 3 tsp
Salt- 1/2 tsp (to taste)
Black Pepper-1/2 tsp
Red Chilli Flakes-1/4 tsp
Italian seasoning- 1 tsp
Directions:
Step 1:
Boil water in a pan, add pasta to it and cook as per the package instructions. By the time pasta is boiling you can set the air fryer for preheating at 200°C (400°F).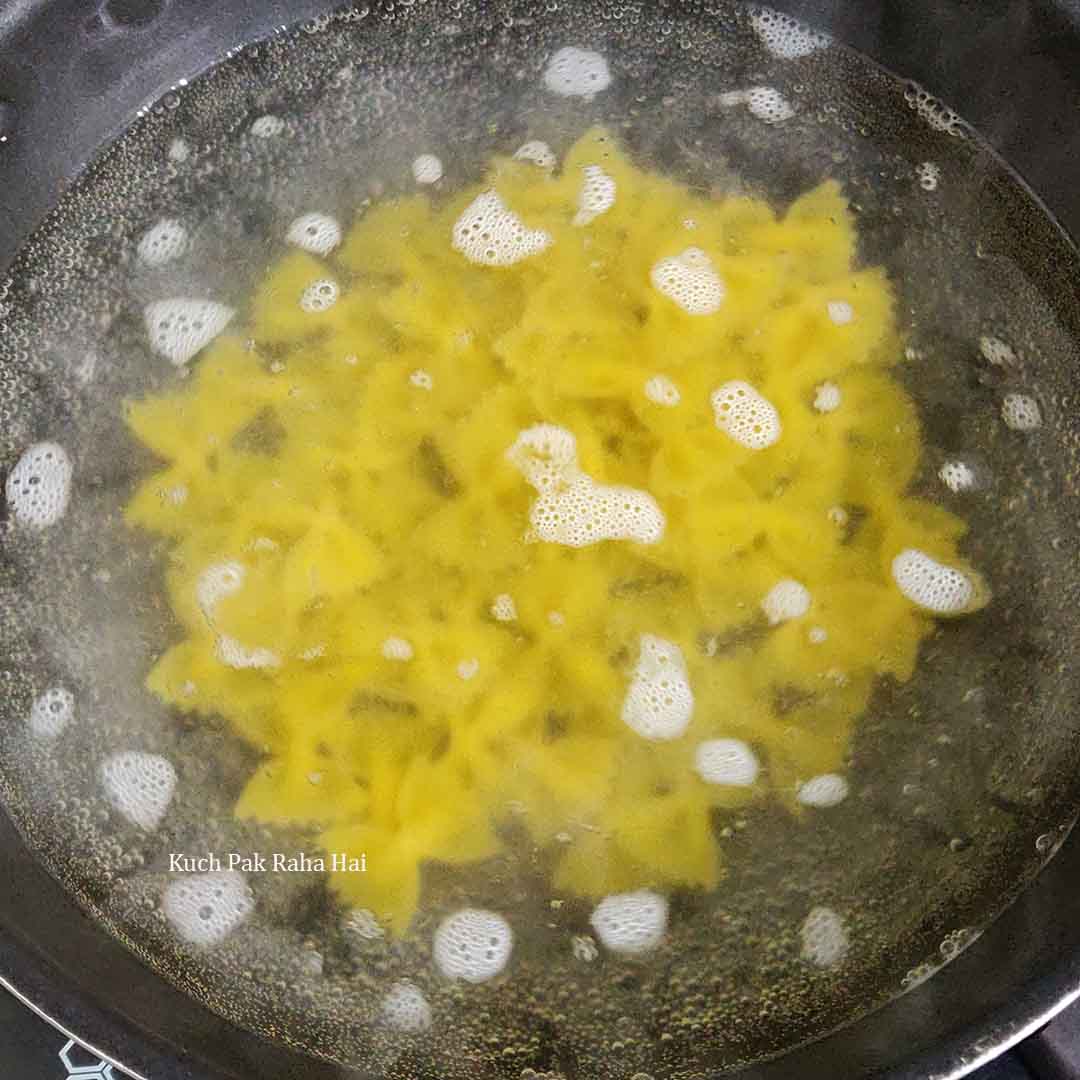 Step 2:
Once the pasta is boiled, drain all the water from it.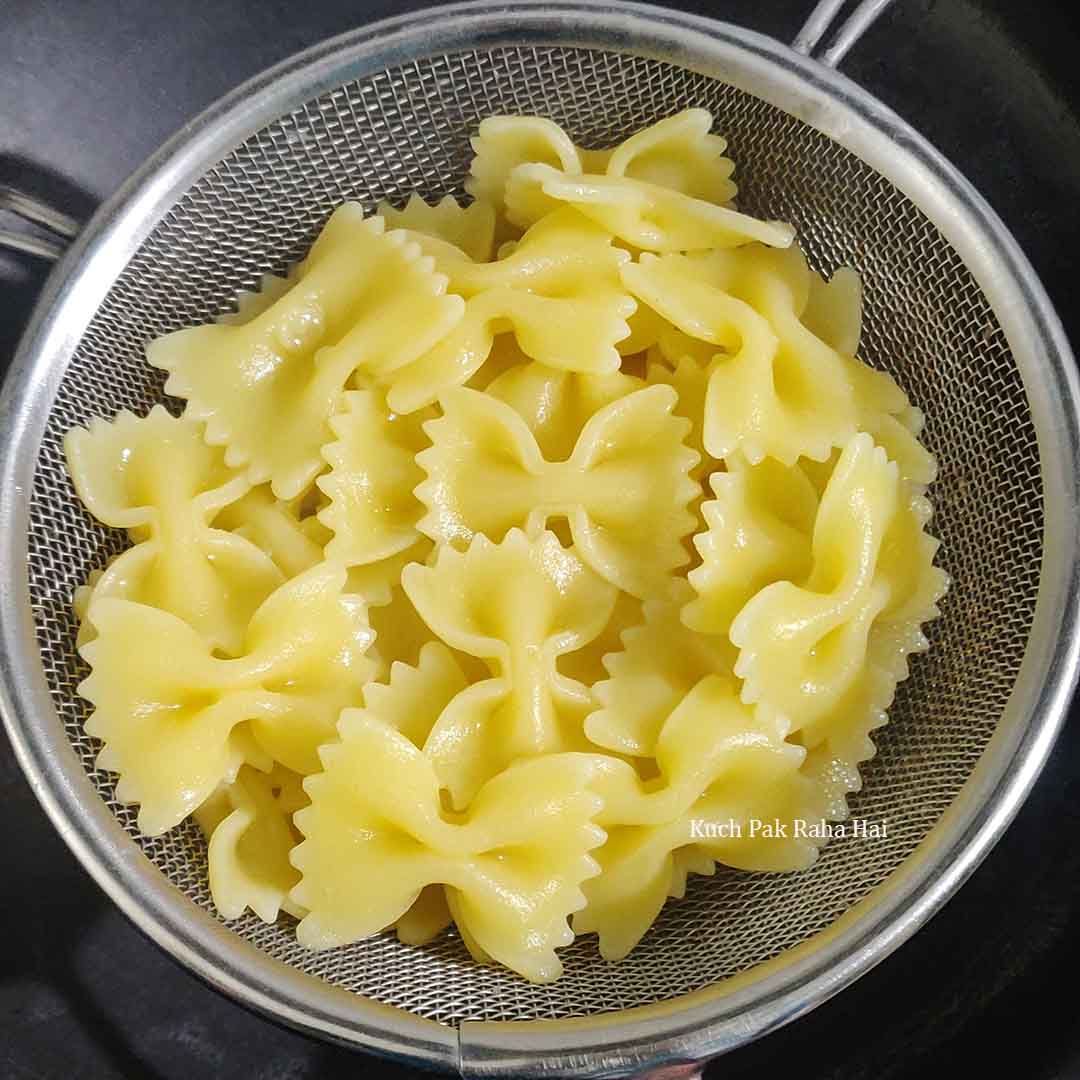 Transfer it in a bowl and add salt and 1 tbsp olive to it. Toss gently. (If you are using parmesan, add it at this step)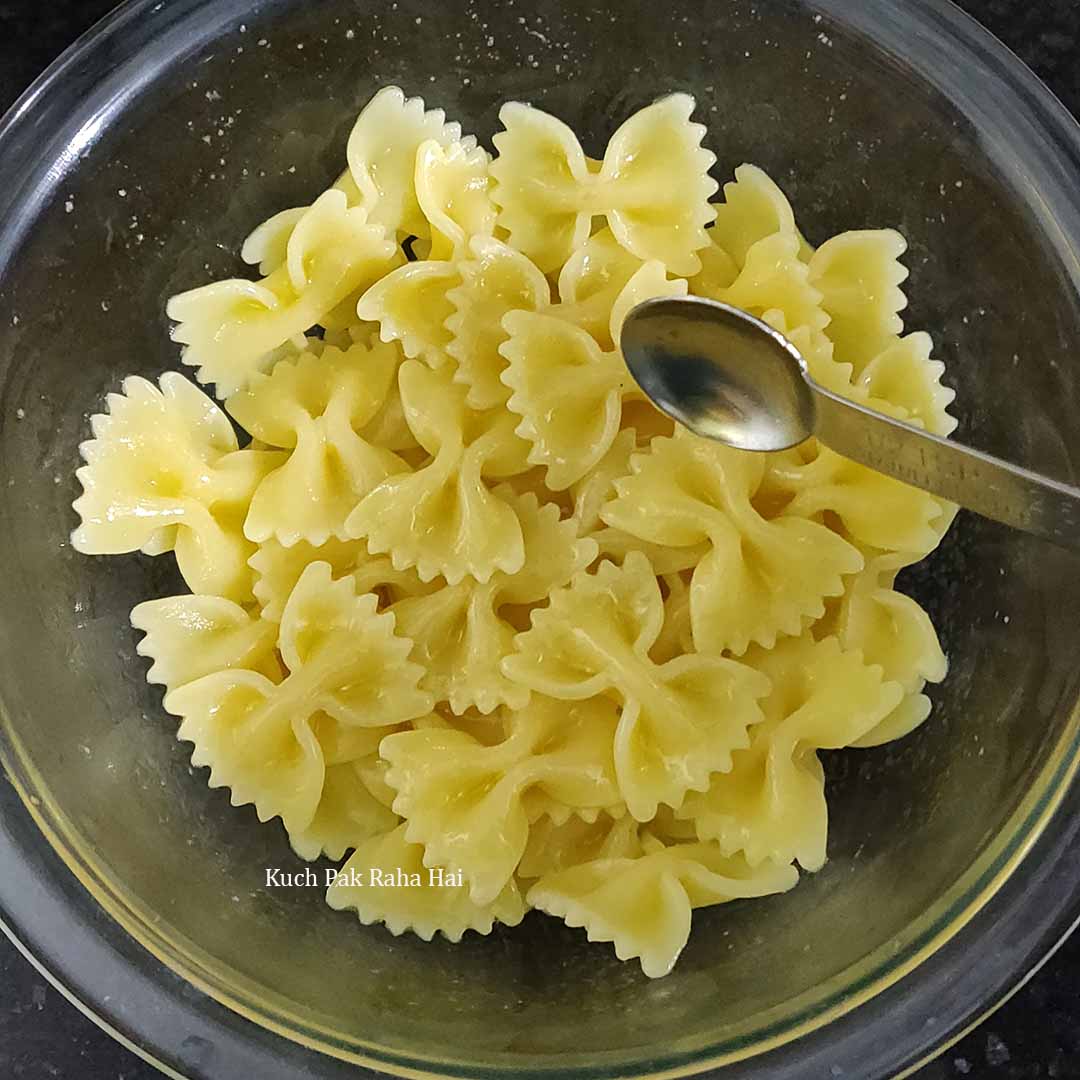 Step 3:
Transfer the boiled pasta in air fryer basket and spread it for even cooking. Air fry it at 200°C (400°F) for 8 to 10 minutes. Shake the basket gently after 4-5 minutes. Keep an eye after 8 minutes as air fryer time varies from model to model. Don't overcook them, they may seem slightly chewy when hot but will become crunchy on cooling down completely.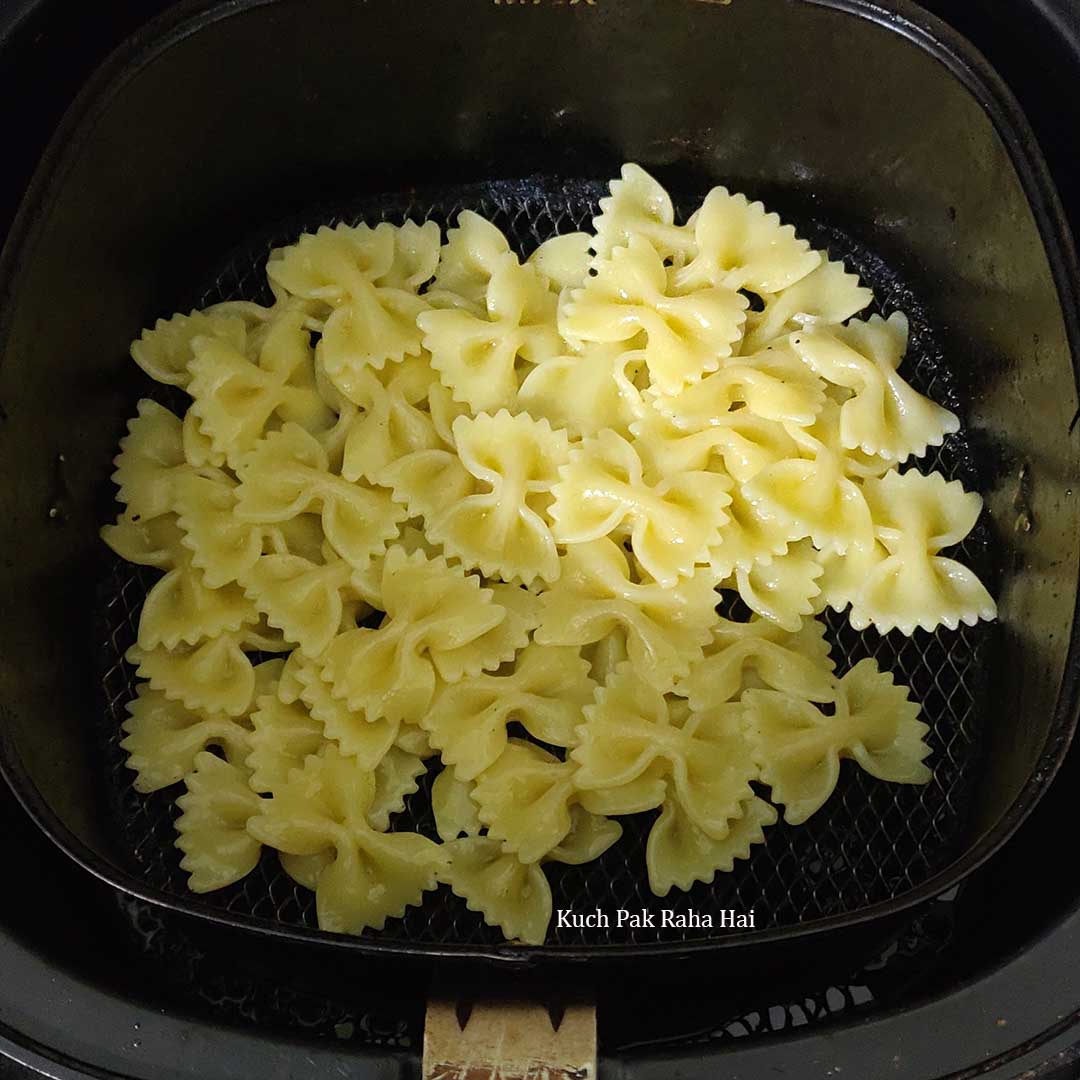 Step 4:
Transfer these air fried pasta chips in a bowl and add chilli flakes, black pepper, Italian seasoning to it while they they are still hot. Adding the spices to pasta when it is still hot makes sure that seasoning sticks to it.
Taste & adjust the salt or seasoning as per your taste. Enjoy these yummy crunchy pasta chips with marinara sauce, feta dip, garlic mayo or hummus!!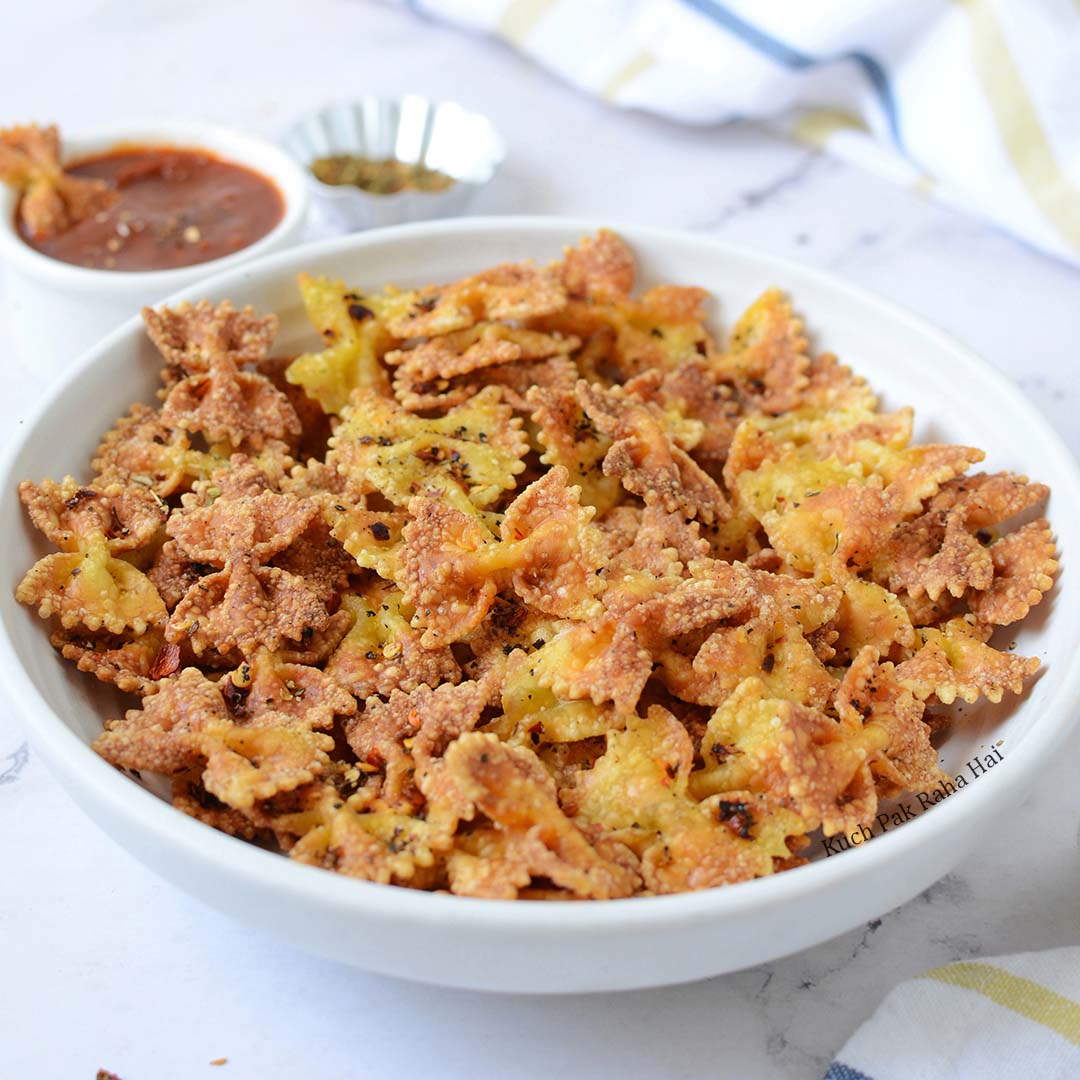 Tips:
1. Don't overcook the pasta as it will become soft mushy & might not become crunchy
2. Make sure the pasta is boiled to al dente. If it remains under boiled, the air fryer chips will turn out too hard.
3. Don't overcrowd the air fryer basket with pasta. Spread them as much as possible inside the basket for even cooking.
More pasta recipes:
If you try this air fryer pasta chips recipe & share pics on social media, then don't forget to tag us on Facebook or Instagram or use the hashtag #kuchpakrahahai.
Pin for later: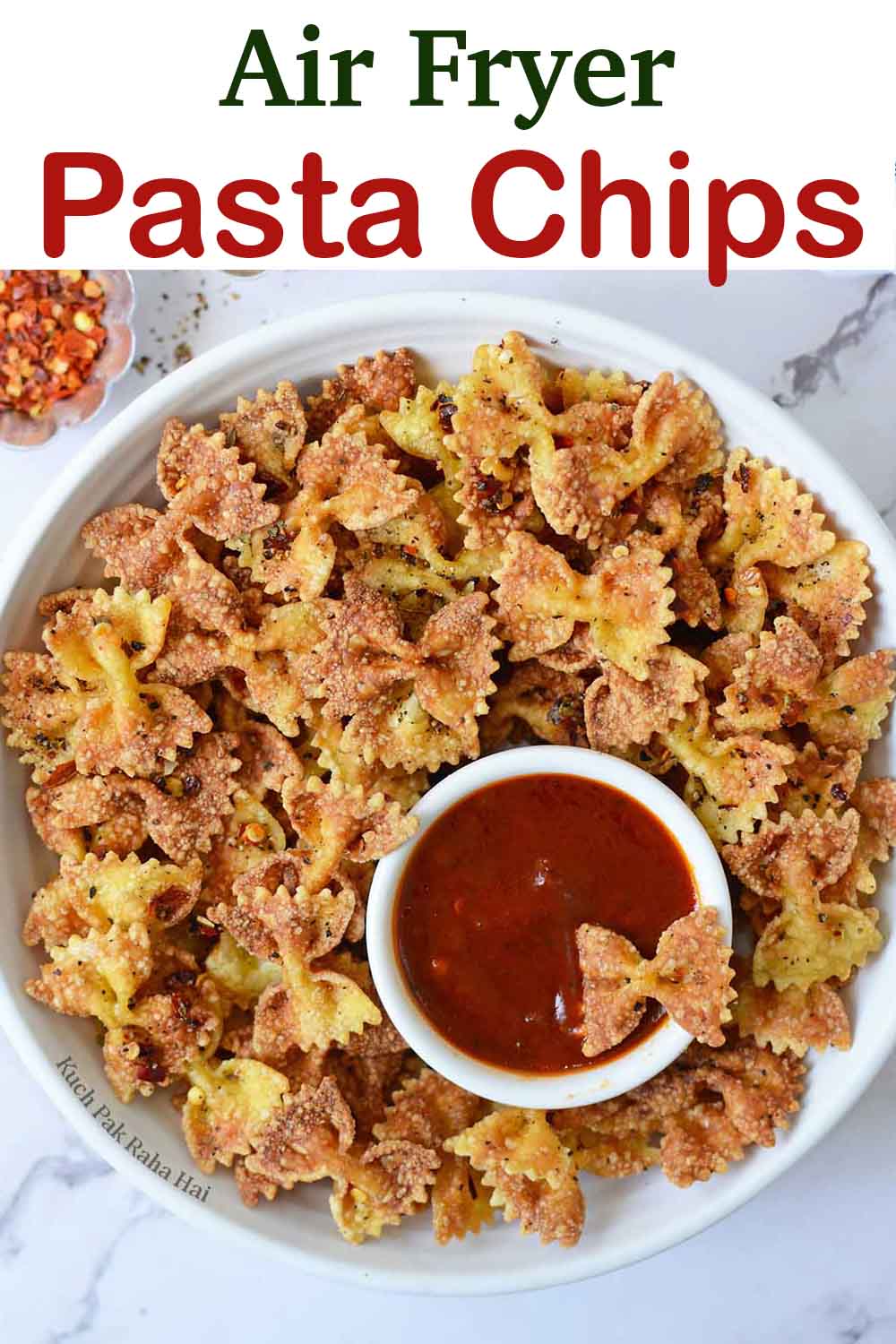 Let's stay connected
Facebook | Instagram | Pinterest| Youtube