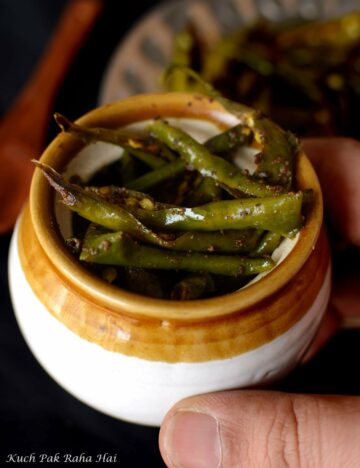 Green Chilli Fry or Hari Mirchi Fry is a spicy tangy Indian recipe where fresh green chillies are stir fried in traditional aromatic spices. It is a delicious condiment to enhance the flavours of your daily meals. These are also a perfect quick fix too if you are ever short of pickles.
This Hari Mirchi fry is my all time favourite especially with Yellow dal or Bottle gourd (Ghiya) sabzi. It adds a zing to everyday dishes which we would otherwise find boring or bland. The recipe is easy to make and does not take much time too.
One of the things one should take care off while making these is the variety of green chilli you are choosing. If you are someone who is fond of spicy food, then pick the variety which is already hot in itself. I like the flavour of chillies however do not prefer them to be very hot so I choose the light coloured ones which are mildly spicy. Also you can deseed the chillies to reduce the spiciness level. Mustard Oil (or Sarso ka Tel) have been used specifically as it adds up to the rustic aroma and flavours of this dish. However if you do not have it, you can use any other oil for cooking.
You can store them in an air tight jar and these remain fine for 3-4 days. For longer shelf life it is advised to store in refrigerator.
For more such recipes and regular updates, like us on Facebook or Subscribe on our Youtube channel. In case of any suggestions or queries, drop them in the comments below 🙂 .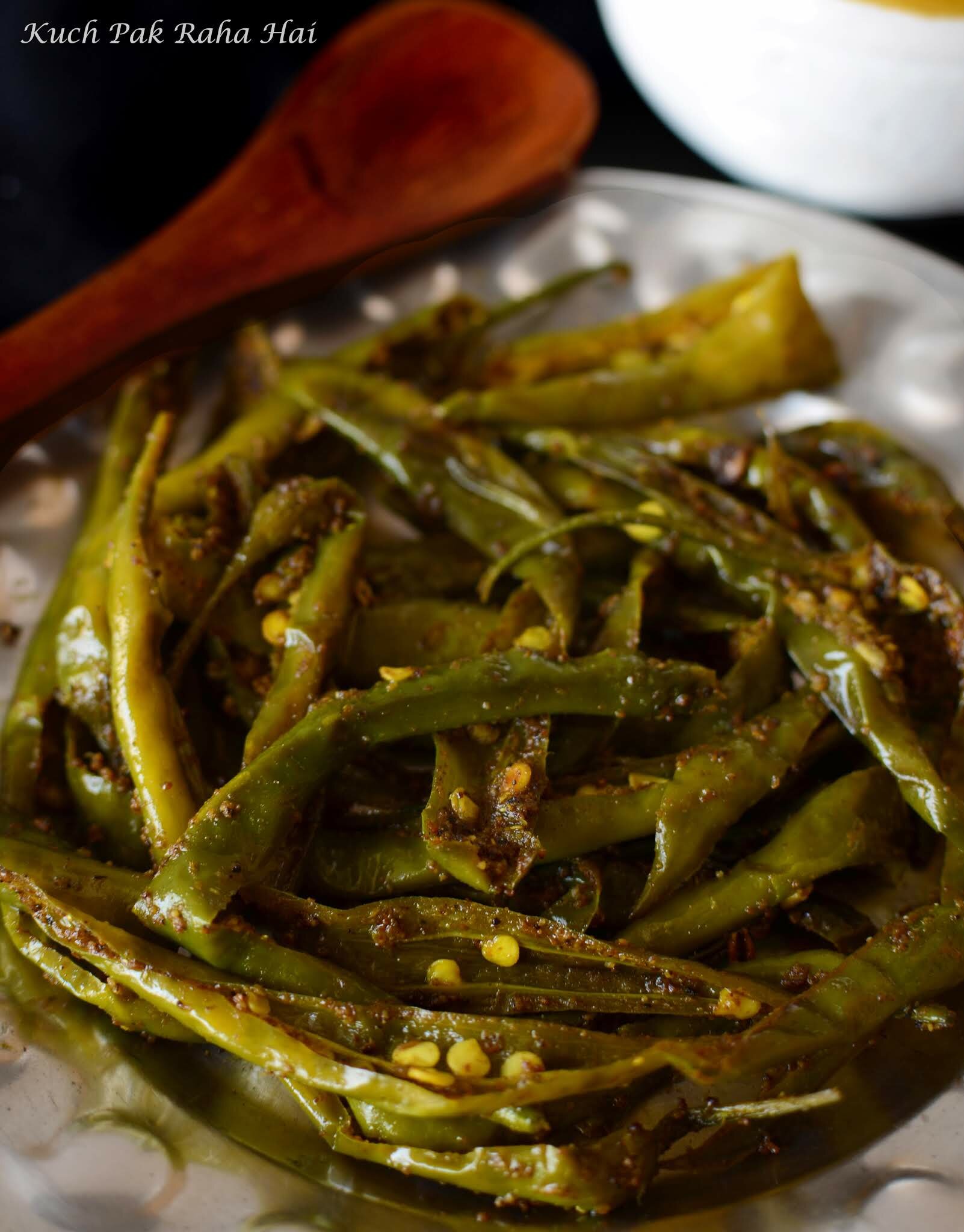 For more such delicious accompaniments, check out our Raita/Chutney section here.
Ingredients:
Green Chillies-150 grams (Approx)
Mustard Oil-1 tbsp
Coriander (Dhaniya) powder -1 tbsp
Cumin(Jeera) powder- 1 tsp
Asafoetida(Heeng) -1/4 tsp
Turmeric(Haldi)-1/2 tsp
Raw Mango Powder(Amchoor) -1/2 tsp
Plain Salt – 3/4 tsp (or to taste)
Black Salt – 1/4 tsp
Chaat Masala – 1/2 tsp
Steps to Prepare:
Step1:
Wash the green chillies well. Discard those which are discoloured. Split them vertically in two parts. Keep these aside.
Step2:
Take a non-stick or a heavy bottomed pan. Heat mustard oil in it. Add Heeng, cumin powder, coriander powder and turmeric powder to it. Once the spices release their aroma add Amchoor powder and mix well.
Step3:
In the above spice mixture, add the split green chillies. Add plain salt, black salt and chaat masala to it. Mix well so that chillies are coated evenly with these spices.
Step4:
Cover it with a lid for 5 minutes and let the chillies cook slightly. After 5 minutes open the lid, stir once again.
Cover the lid for 2 more minutes and allow the chillies cook some more. Switch off the flame and let the chillies cool down in the same pan.
Once cooled store this Masala Mirchi Fry in an air tight container. For longer shelf life, store the container in refrigerator.