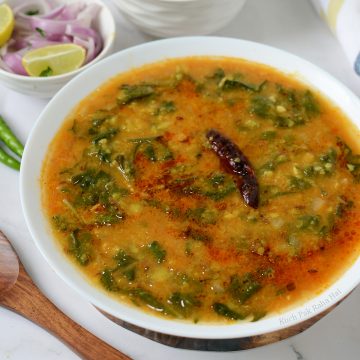 Dal Palak or Spinach Lentil is a delicious, nutritious Indian dal recipe made with yellow lentil (toor dal), spinach and tempered with few Indian spices. Toor Dal is also known as split pigeon peas in english. This spinach lentil dal tastes great with some hot chapatis or steamed rice.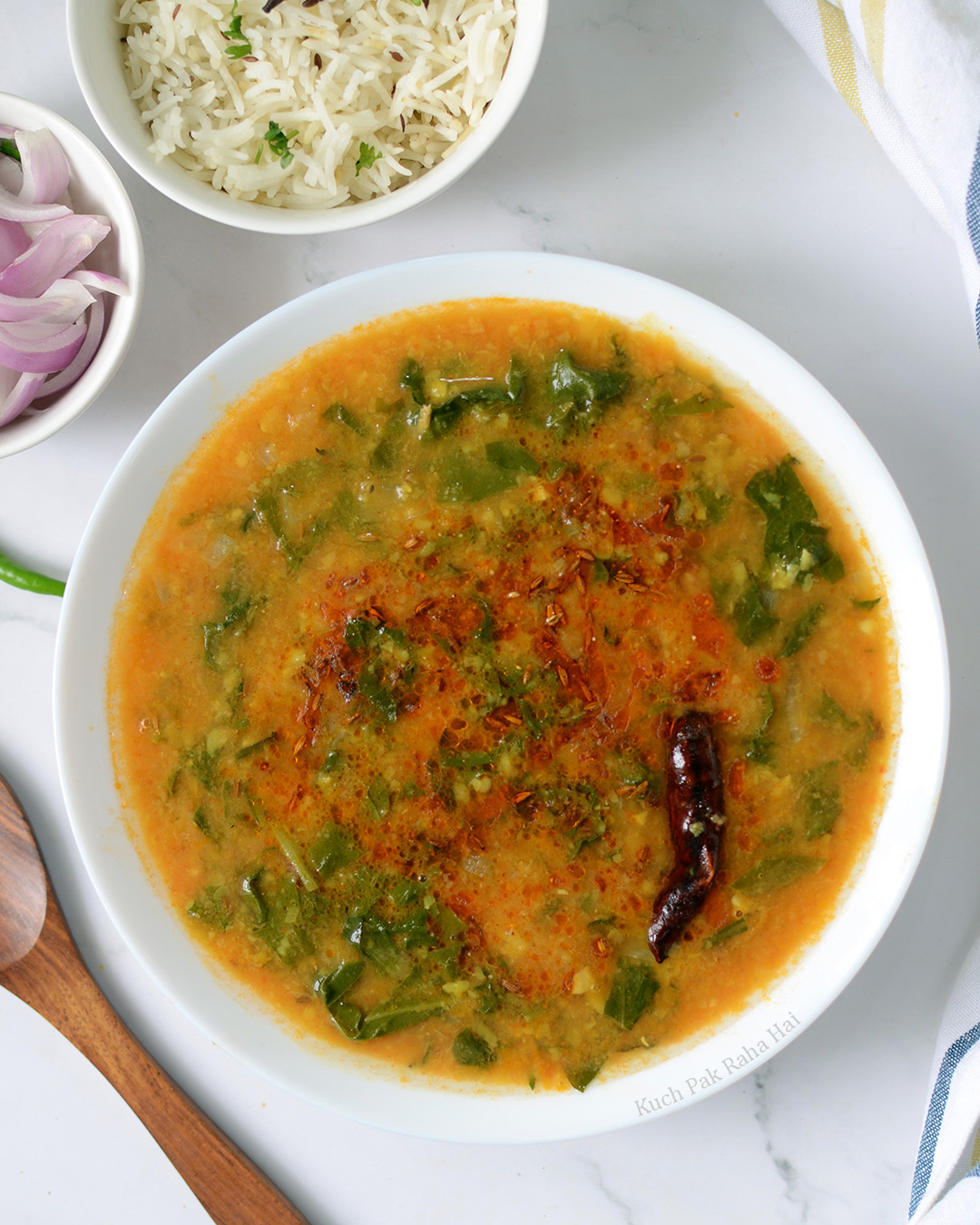 Lentils are rich in proteins and when combined with iron rich palak or spinach, its nutritional value increases many times. To make this dal palak  more flavoursome, some ginger, garlic, green chillies, onion and tomatoes are also added. You can adjust the spiciness in this dal as per your taste.
This spinach lentil curry recipe is :
Vegan
Gluten Free
Healthy
Rich in Protein
Can be made in Pressure cooker or Instant Pot
At my home I have always seen my mother cooking this palak dal in ghee (clarified butter) but if you want to make it vegan you can even use any cooking oil for preparing this dish.
Soaking the lentils :
One of the most important things before you start the actual cooking is washing and soaking the lentils. Washing the lentils thoroughly under running water makes sure that there is no dust or impurities left in it. Soaking the lentils makes it easier for the body to digest and absorb it. Also it reduces the cooking time which preserves the nutritional value.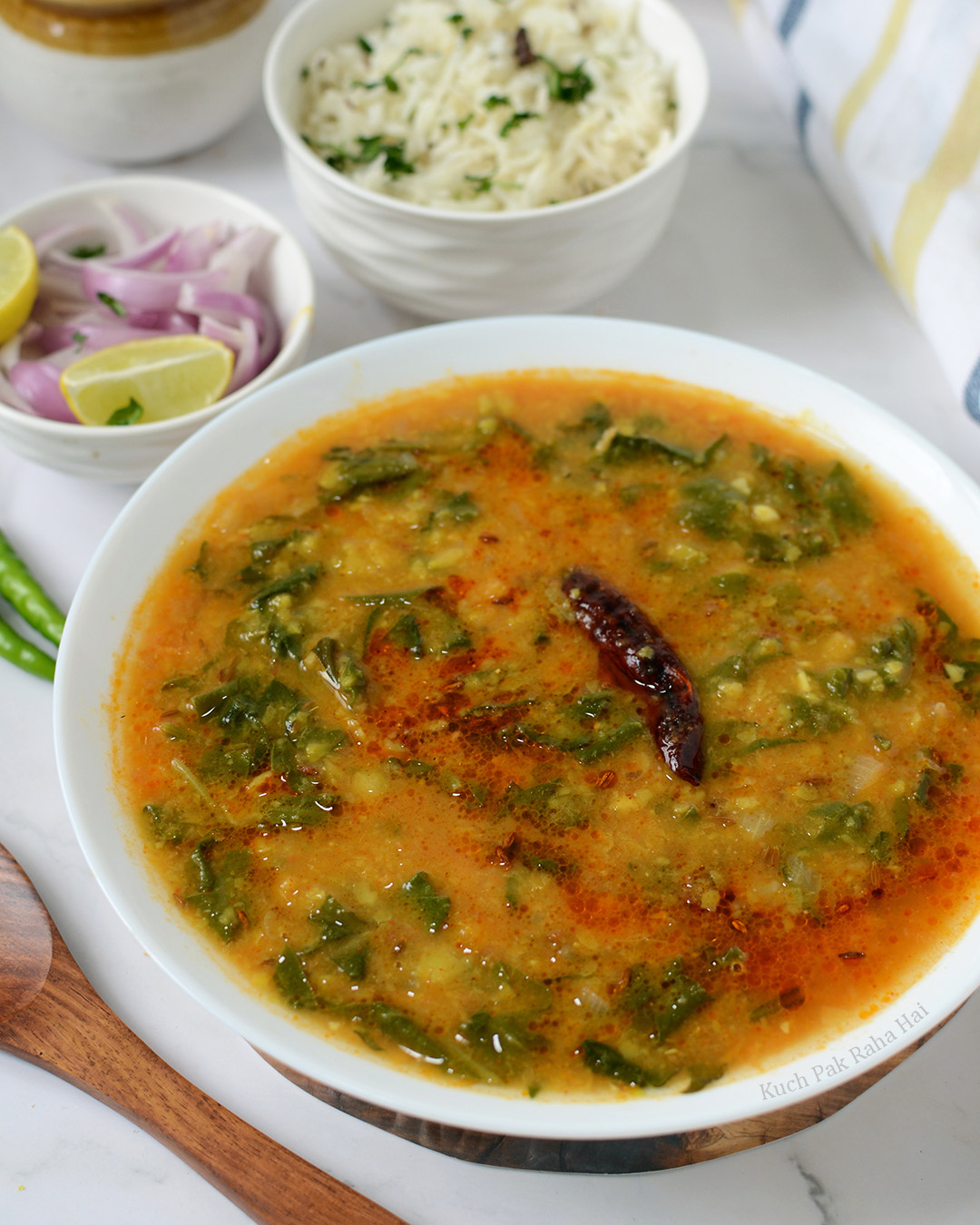 If you are trying to include more lentils or dal in your diet, the do check out the recipes below :
This Dal Palak tastes best with chapatis / roti or hot steamed rice. Served with some salad on sides, it makes for absolutely comforting soulful meal.
To make this dal palak we wash, soak the lentils and then boil it in a pressure cooker. You can even perform this step in an instant pot. Then we prepare a masala mix using garlic, ginger, onion, tomatoes & green chillies along with some Indian spices like cumin (jeera), coriander (dhaniya) and red chilli powder. Lentils (Dal) & spinach are then simmered in this masala to make them more flavoursome. Little bit of garam masala is also added towards the end to add some more aroma to dal palak.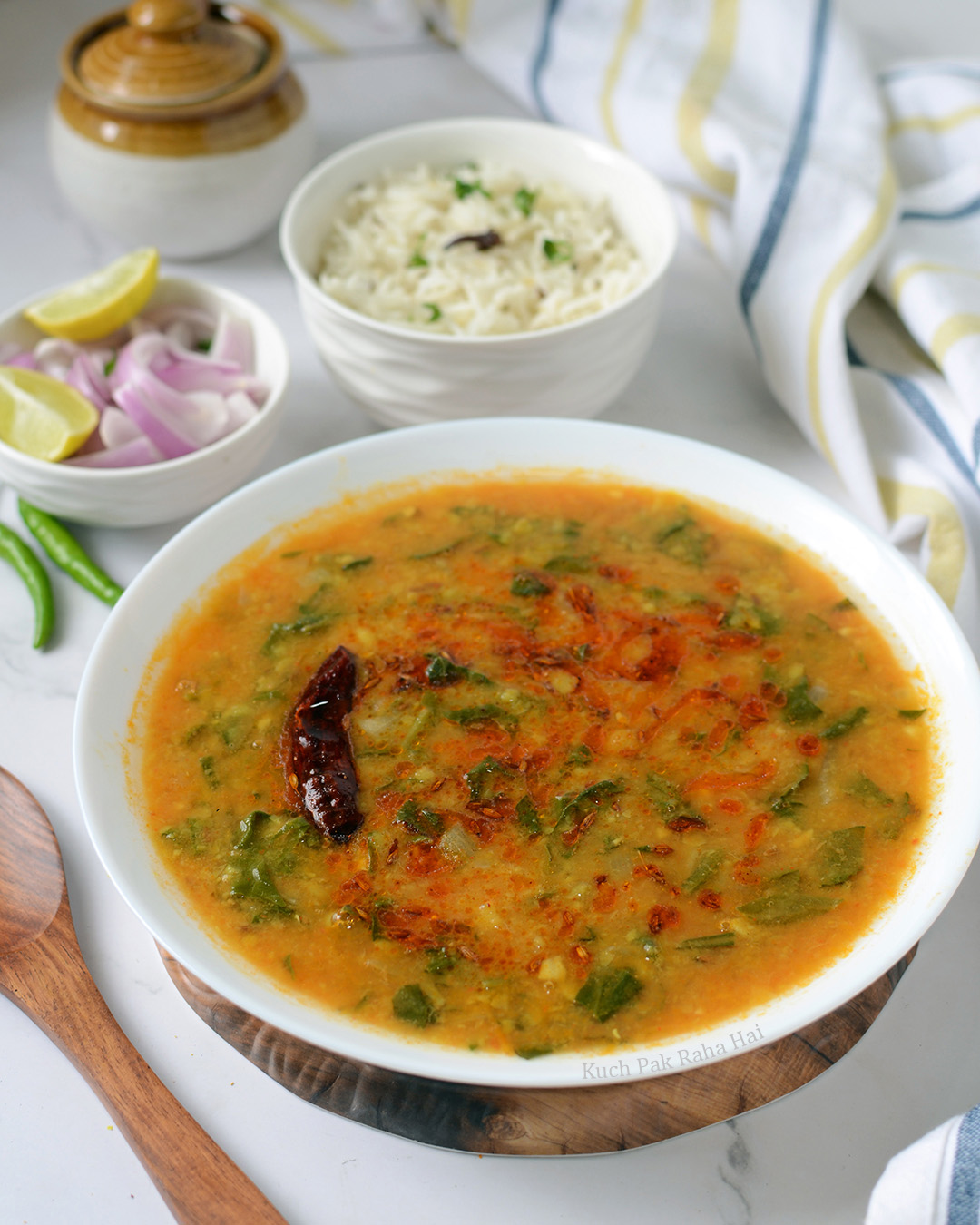 Hope you would like this easy delicious Dal Palak recipe !!
List of Ingredients: (Serves 3 to 4)
Toor Dal (Yellow Lentil)-1 cup
Spinach- 250 to 300 grams
Water- 3 + 1/4 cup
Turmeric Powder (

Haldi

)-1 tsp
Salt- 1 tsp ( or to taste)
Oil/Ghee-1 tbsp
Cumin seeds (

Jeera

)- 1 tsp
Asafoetida (

Heeng

)- 1/4 tsp
Red Chilli Powder- 1 tsp
Coriander Powder (

Dhaniya

)-1 tsp
Garam Masala- 1/2 tsp
Large Onion- 1
Garlic Cloves- 5 to 7
Ginger Paste-2 tsp
Tomatoes-2
Green Chilli-1
For Tempering (optional):
Ghee/Oil- 2 tsp
Cumin seeds (Jeera)-1/2 tsp
Red Chilli Powder-1/4 tsp
Dried Whole Red Chilli-1
Substitutions :
1. To make this spinach dal vegan, cook it in any cooking oil like olive, sunflower or canola.
2. If you don't have fresh tomatoes use 2-3 tbsp of tomato puree.
Steps To Prepare :
Step 1:
Wash the arhar dal (lentil) well while scrubbing it with fingers. Discard the water and repeat this process 2-3 times to get rid of dust & impurities.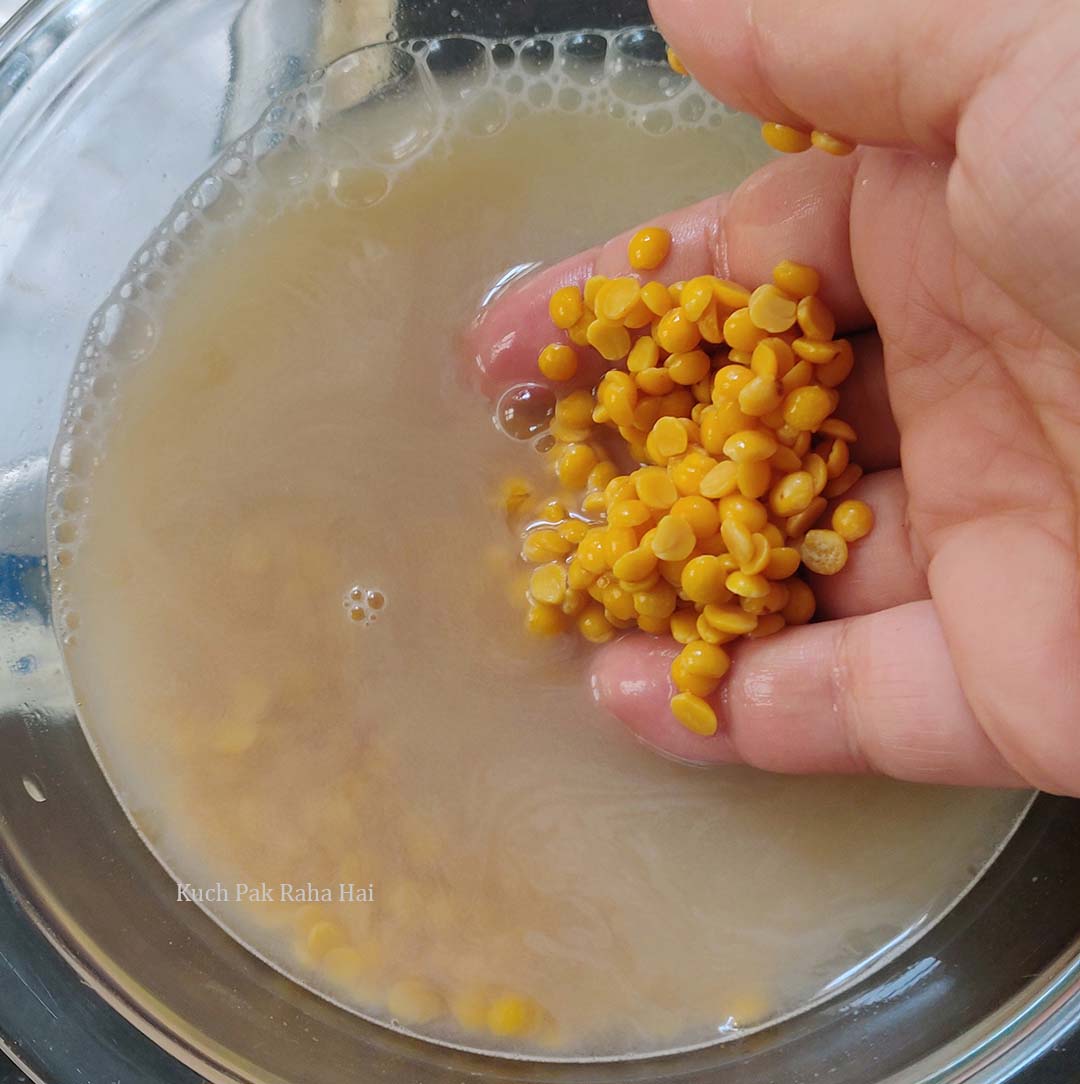 Step 2:
Soak arhar dal (lentils) in water for 1 hour. If you are in a hurry soak it in hot water for 15 minutes. Soaking lentils is an important step as it reduces the cooking time.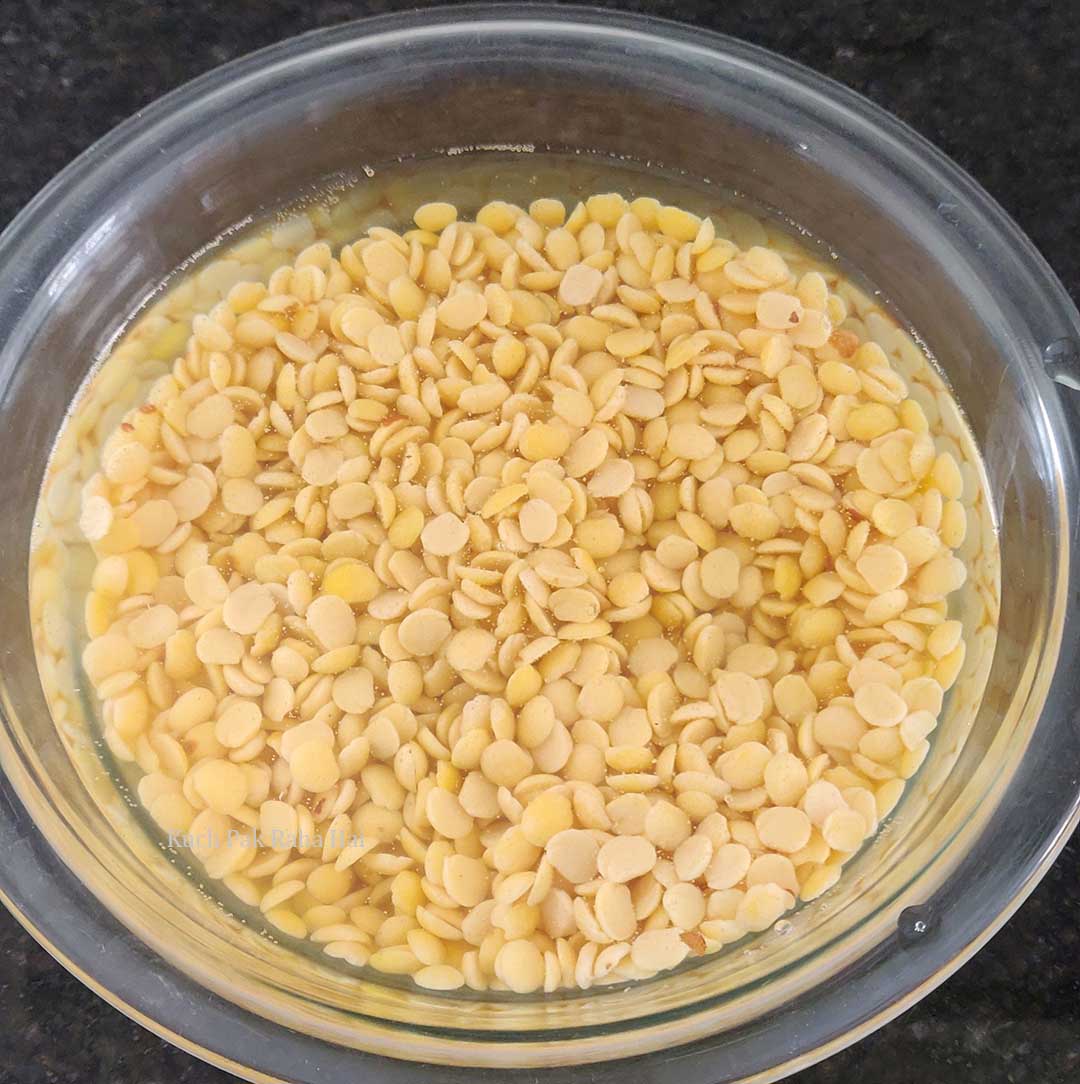 Step 3:
Discard the water in which dal was soaked. Add it to a pressure cooker with 3 cups of fresh water,1/2 tsp salt & turmeric (haldi). Pressure cook it for 2 whistles and then simmer for 3 minutes. You can even boil lentils in instant pot. Switch off the flame and let the pressure release on its own. Keep these boiled lentils aside.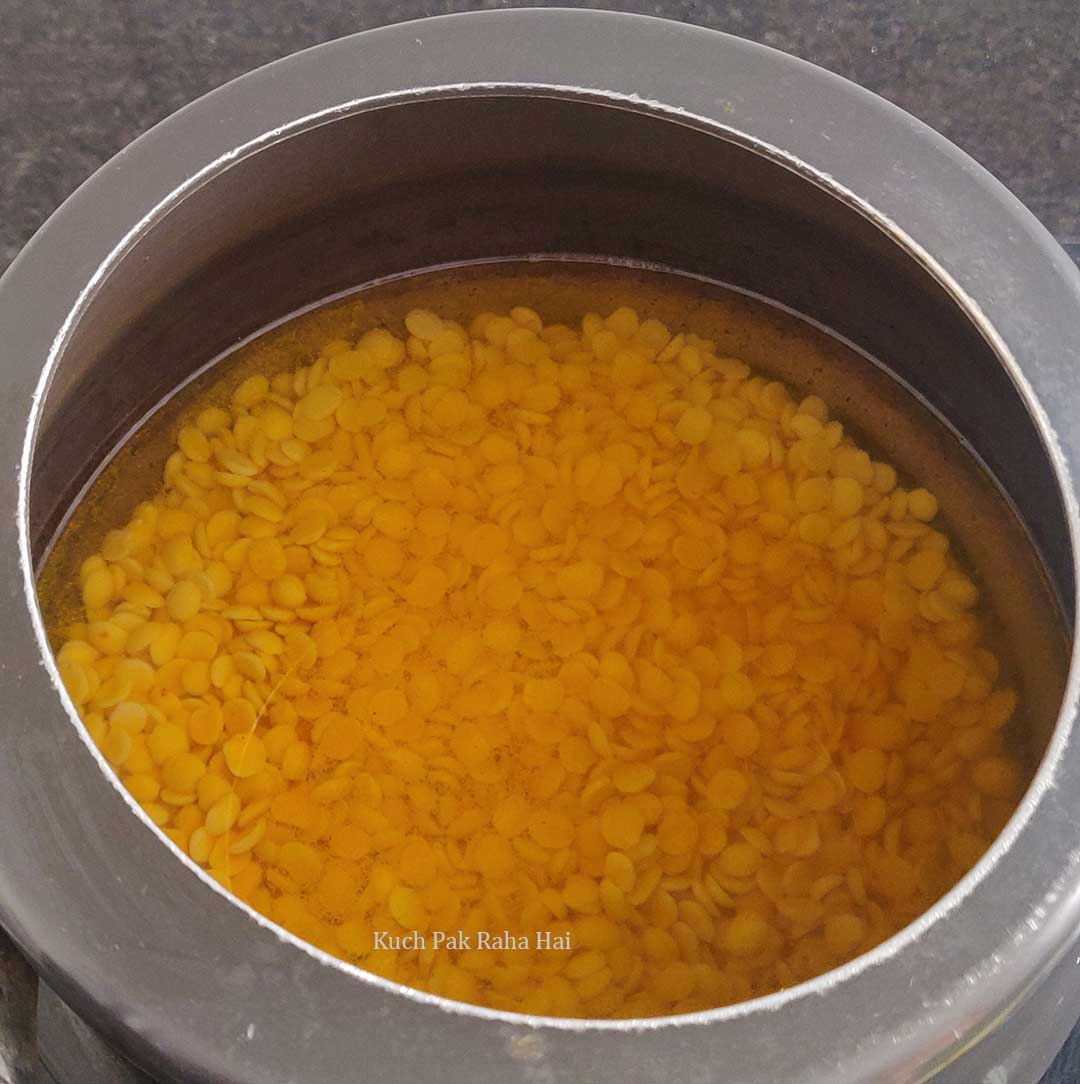 Step 4:
Finely chop onion and garlic cloves. In a pan, heat cooking oil/ghee. Add cumin seeds (jeera), asafoetida (heeng), chopped garlic and ginger paste. Saute for 30 seconds and then add chopped onion. Cook the onions on low flame till they turn pink in colour.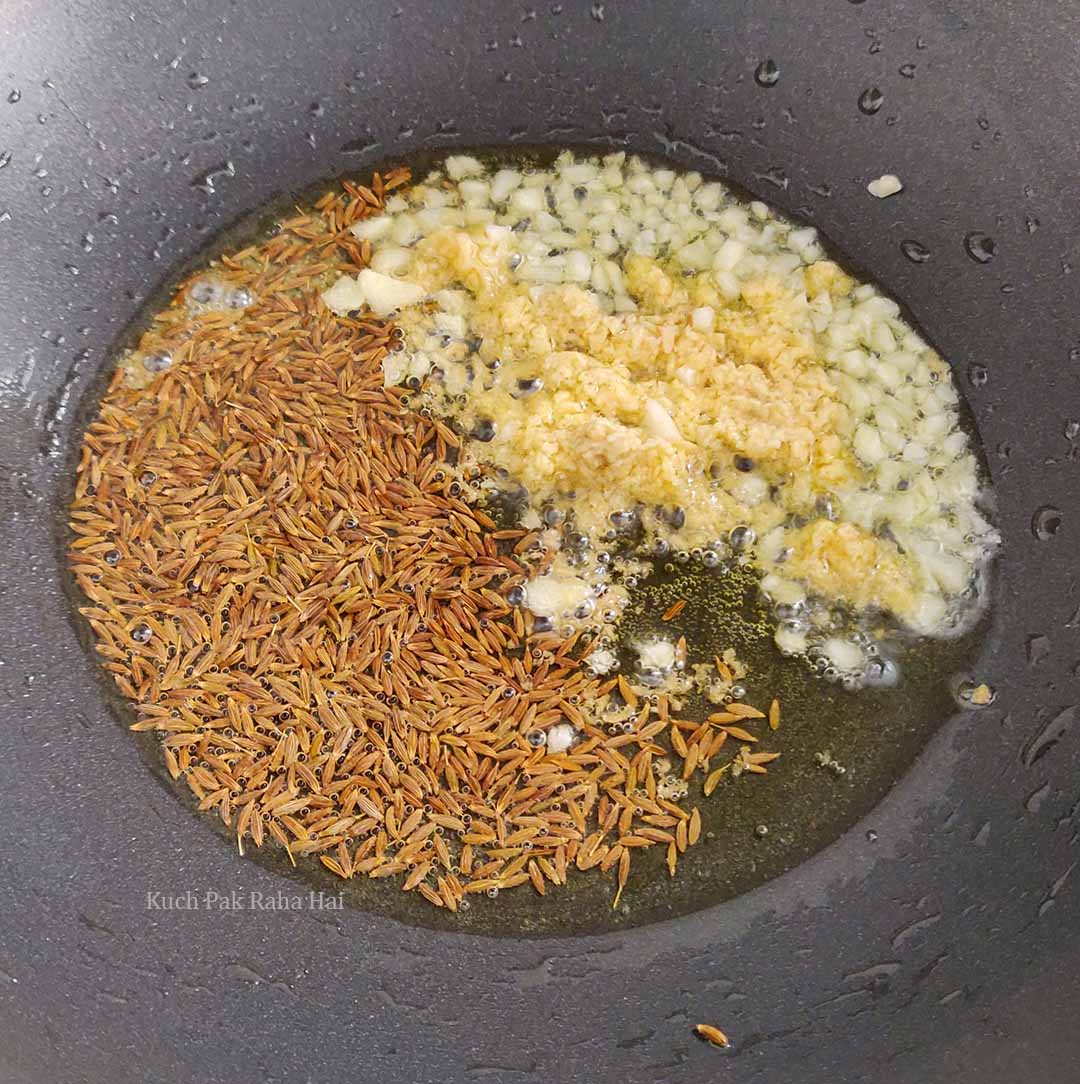 While the onions are cooking, puree the tomatoes and green chilli together in a blender jar.
Step 5 :
Once the onions have turned pink, add tomatoe puree, red chilli powder and coriander powder (dhaniya) to it. Mix well and let this masala cook well till it begins to release fat on the sides of vessel.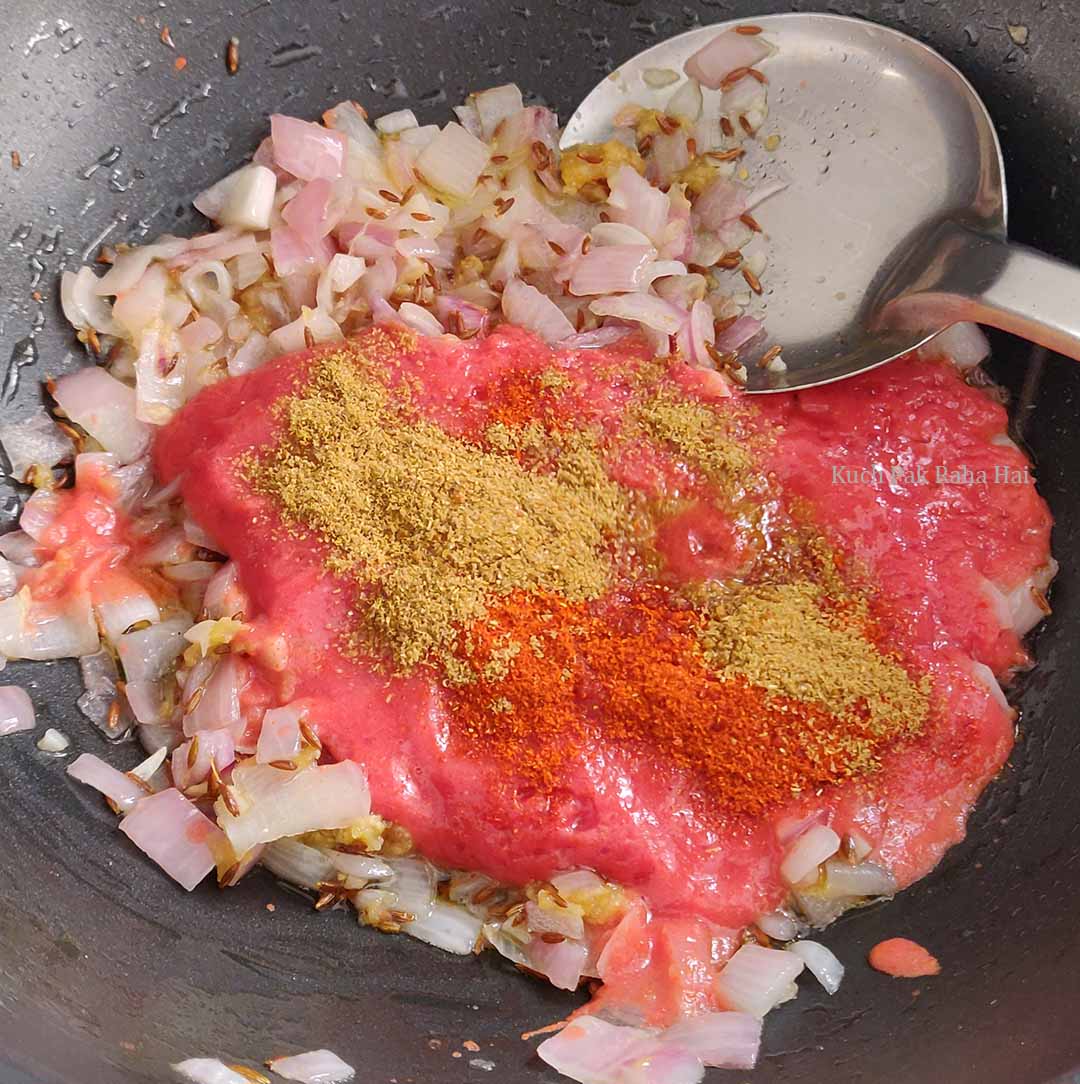 While the masala is getting cooking, chop off & discard the spinach (palak) stalks. Roughly chop the spinach leaves and rinse them once under running water.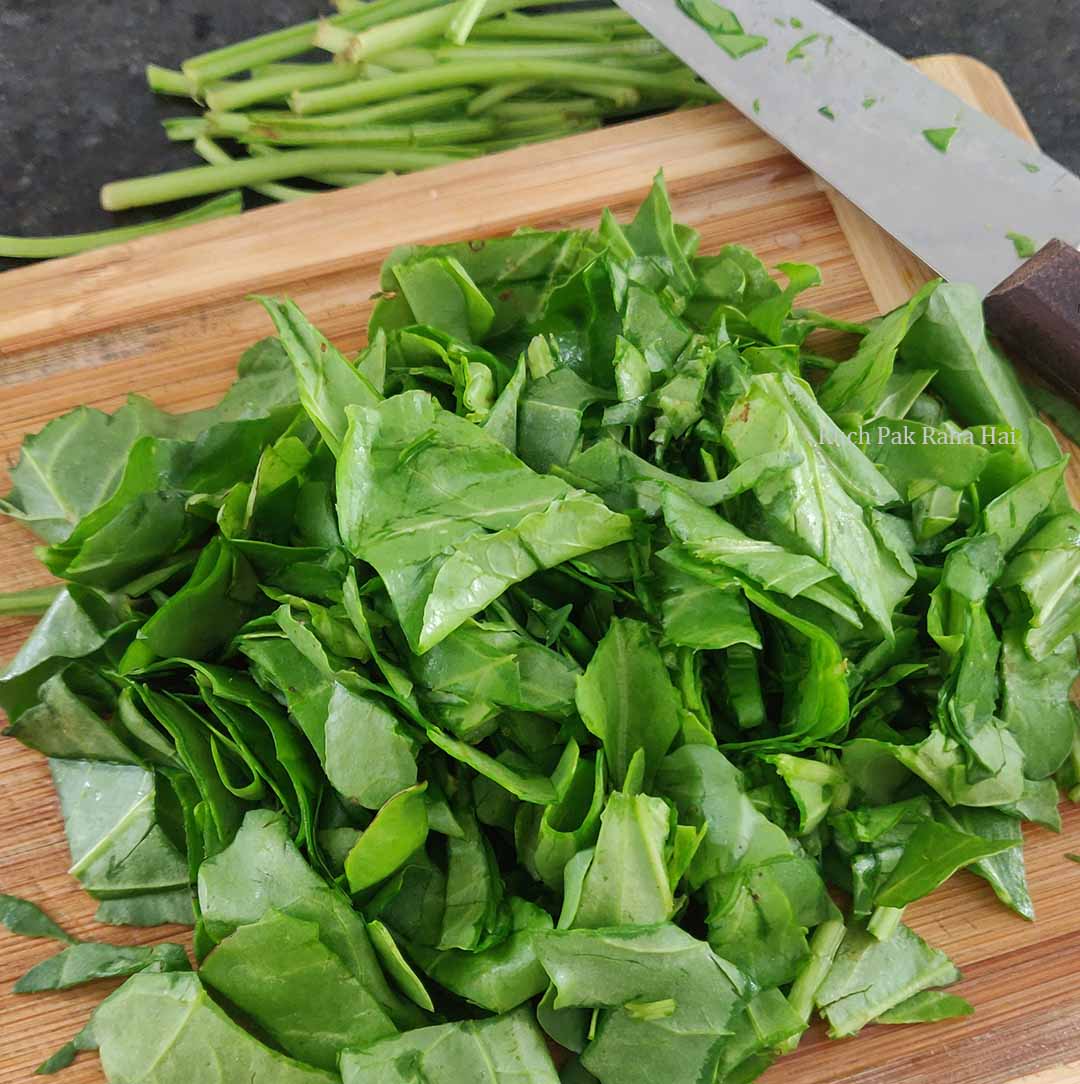 Step 6:
As you can see below, masala is completely cooked now.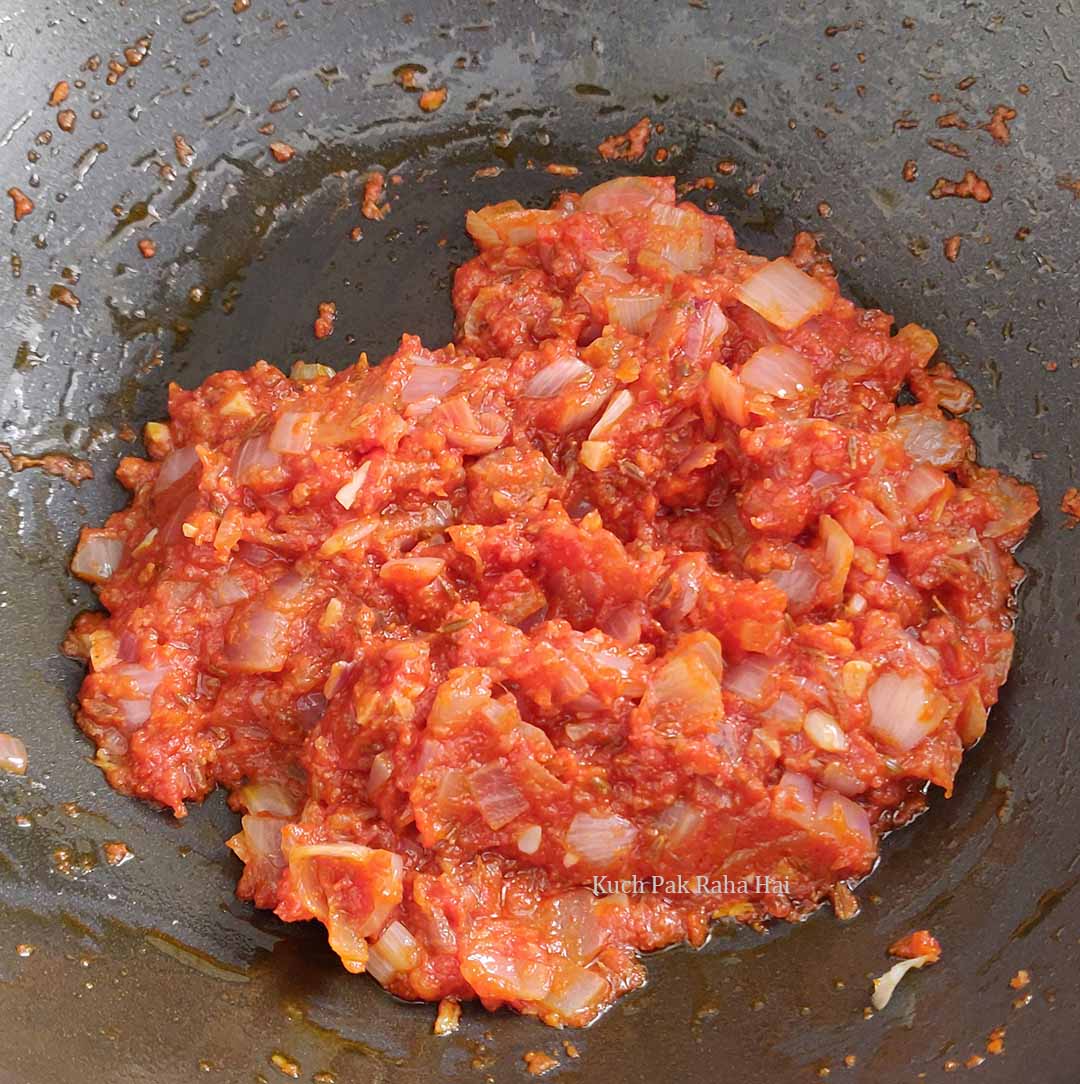 Add chopped spinach and 1/2 tsp salt to it. Sauté it for 2-3 minutes till it begins to soften up.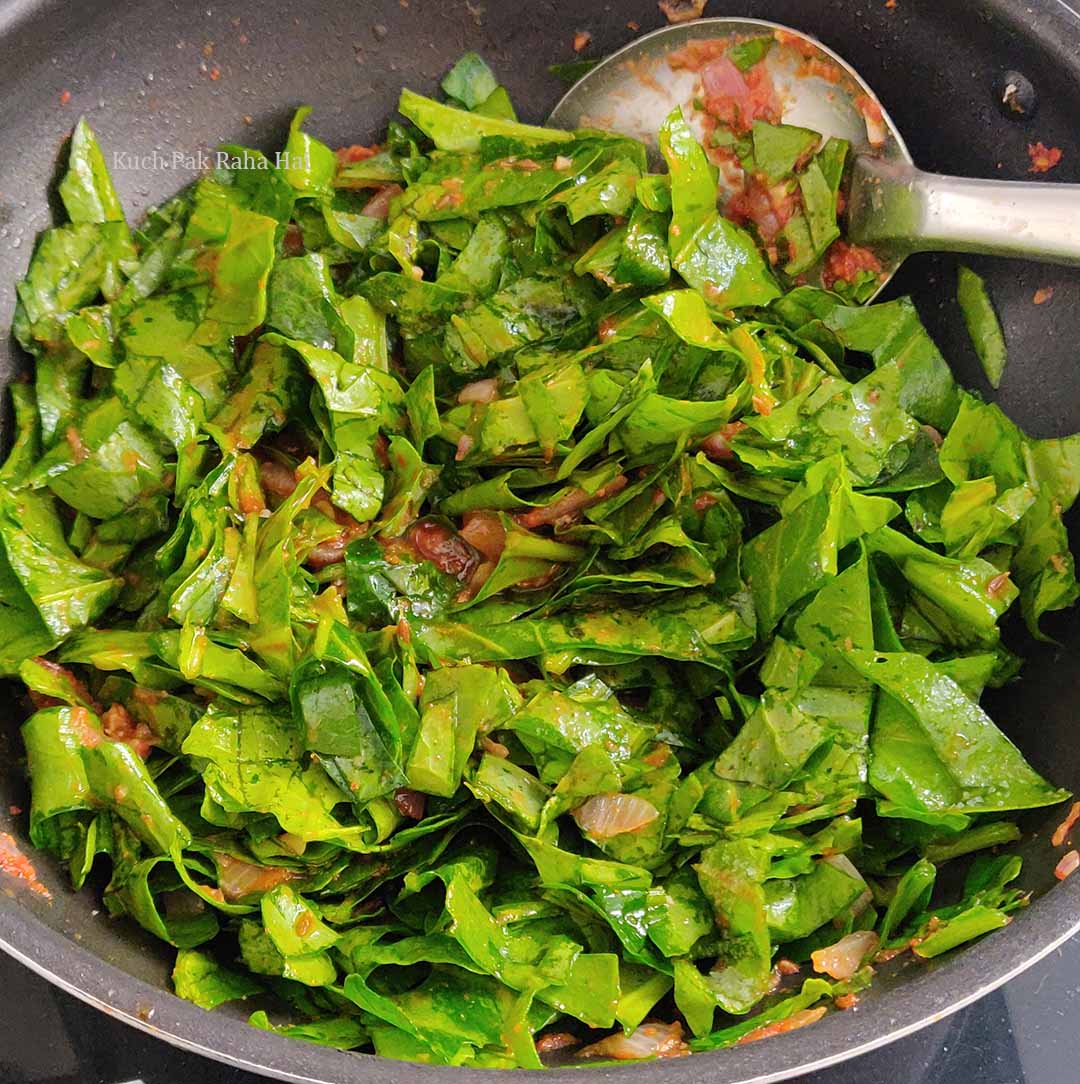 Step 7:
When the palak leaves have softened, add boiled lentils (dal) and garam masala to the same pan. Mix gently. Taste it once for salt and add some more as per your taste. If dal has thickened, you can add 1/4 cup of more water.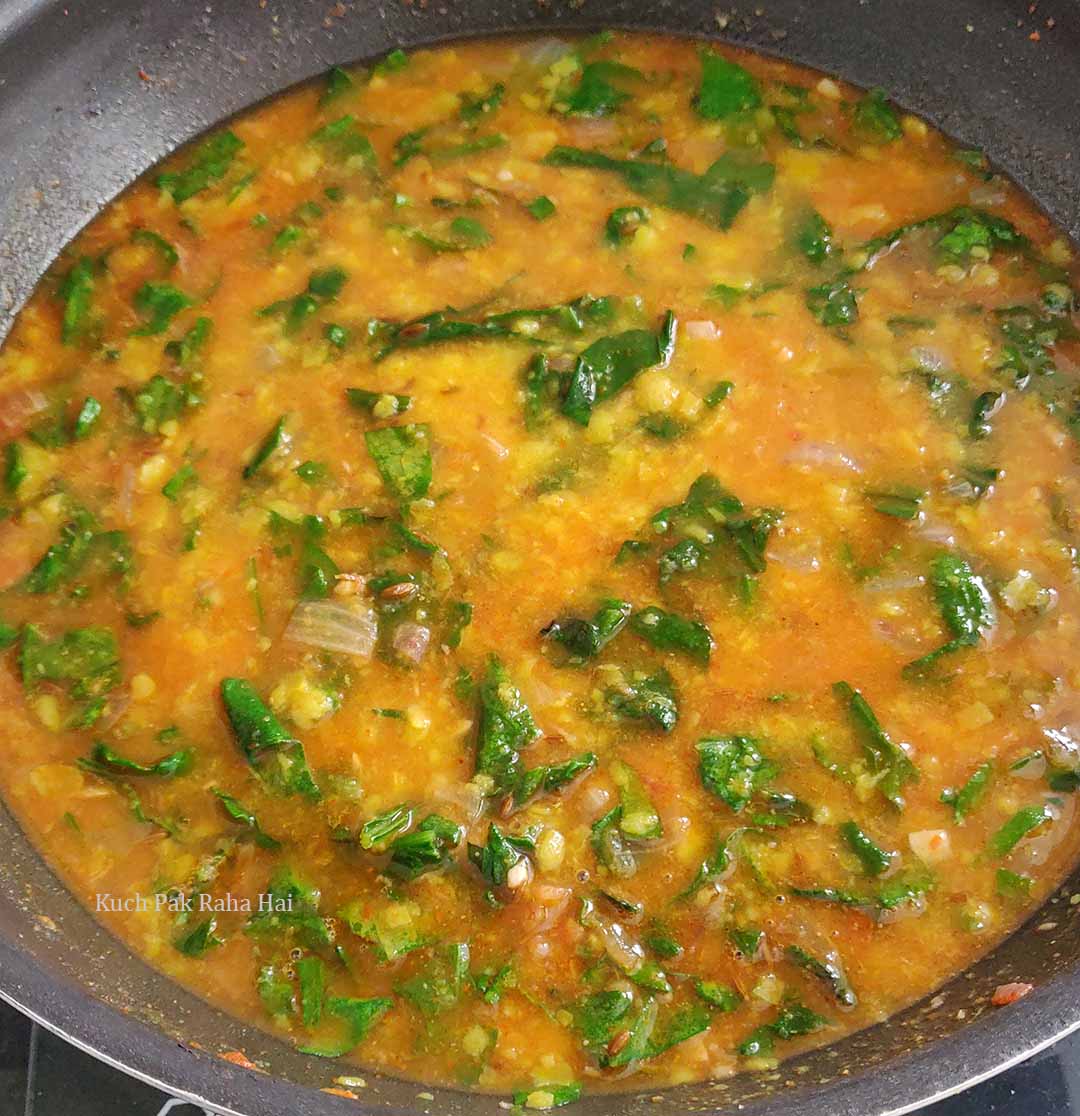 Cover the pan and let the spinach lentil simmer for 10 minutes. This ensures that lentils have absorbed all the flavours.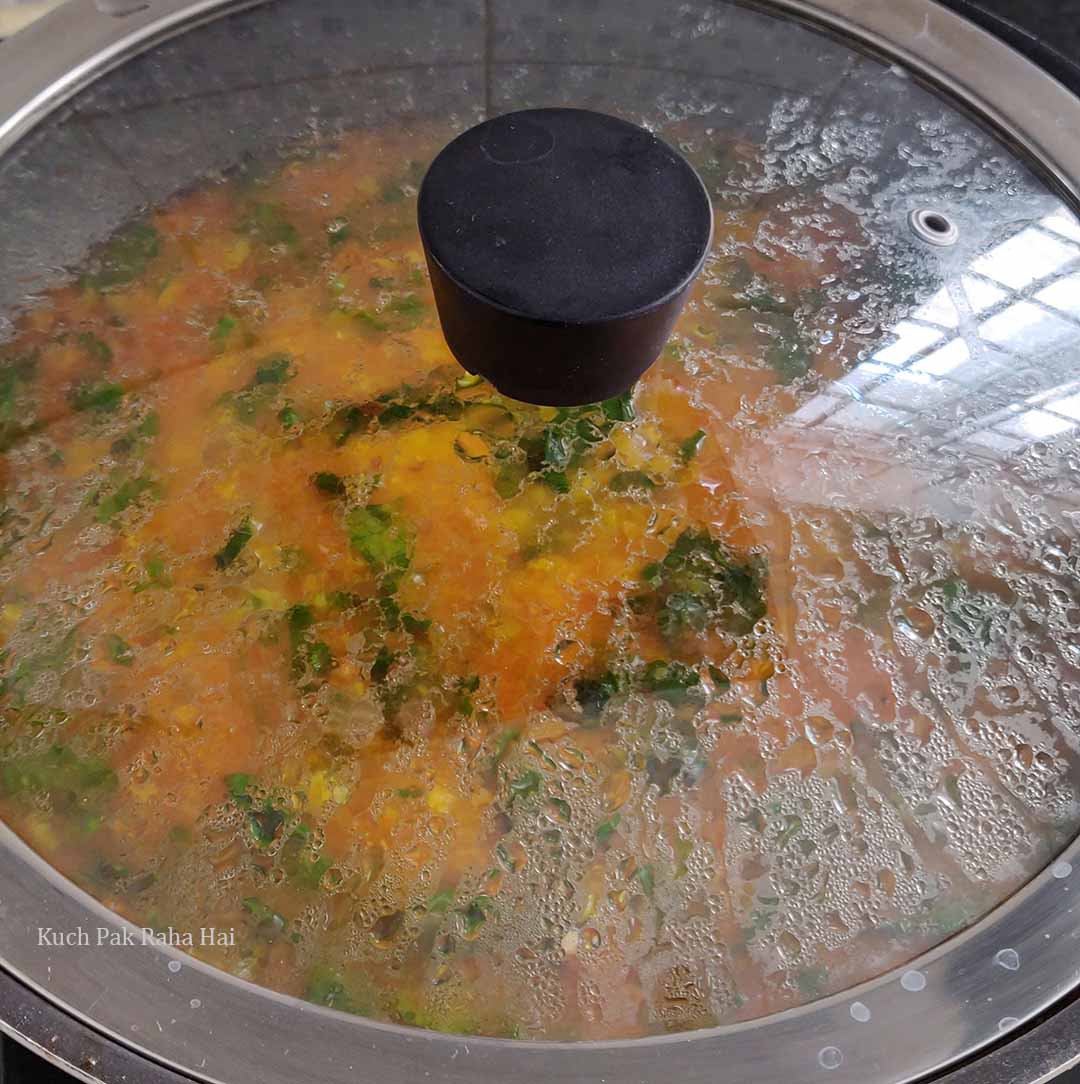 Serving Suggestion :
Once dal palak is ready, prepare a tadka or tempering to pour over the dal. Heat oil or ghee in a small pan, add jeera seeds, chilli powder, and whole dried red chilli to it. When the jeera seeds begins to crackle, pour this tadka over dal before serving. The step is optional but would totally recommend it as it enhances the taste of dal so much.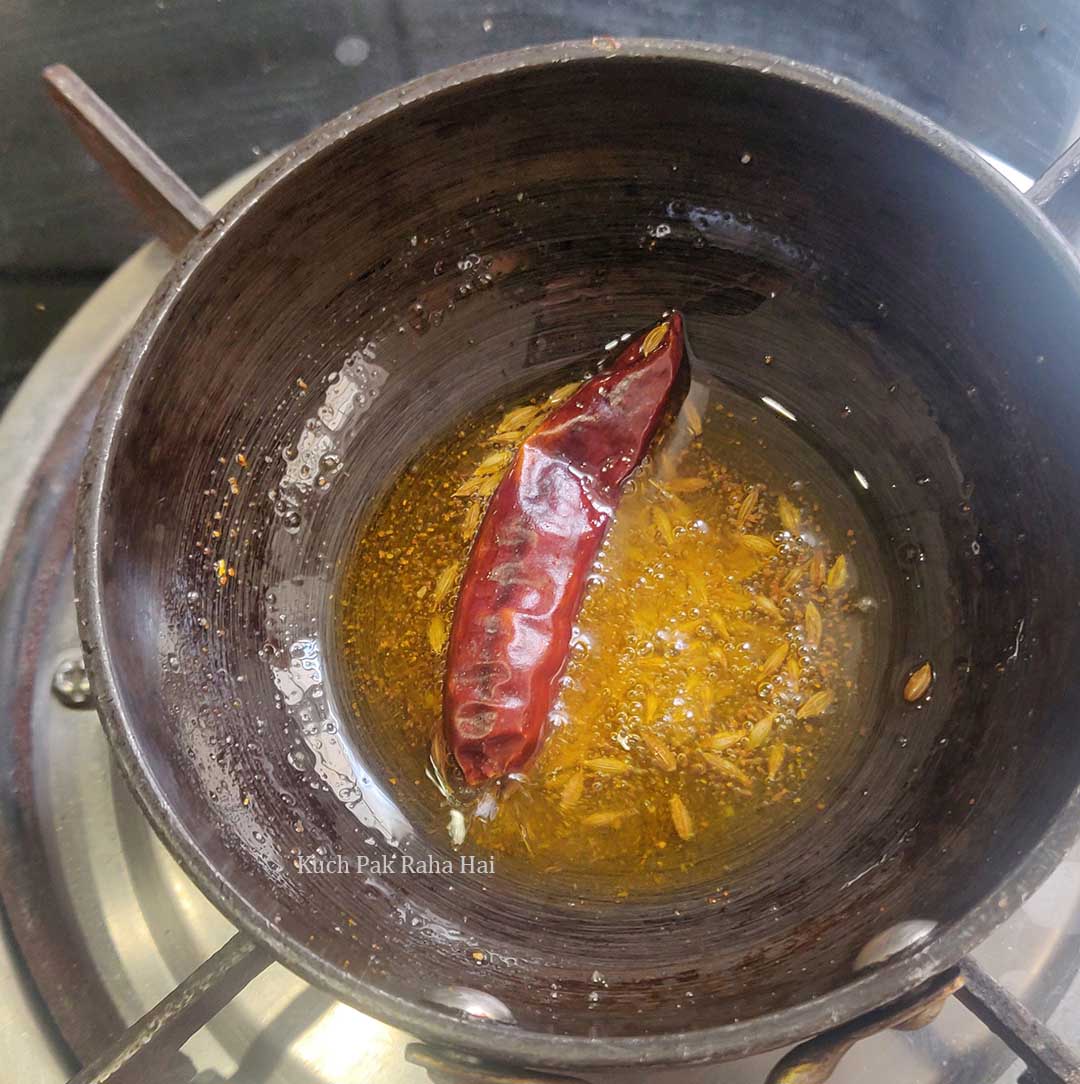 Enjoy Dal Palak or Spinach Lentil with some hot chapatis or steamed rice. Bon Appetit!!
Pin it :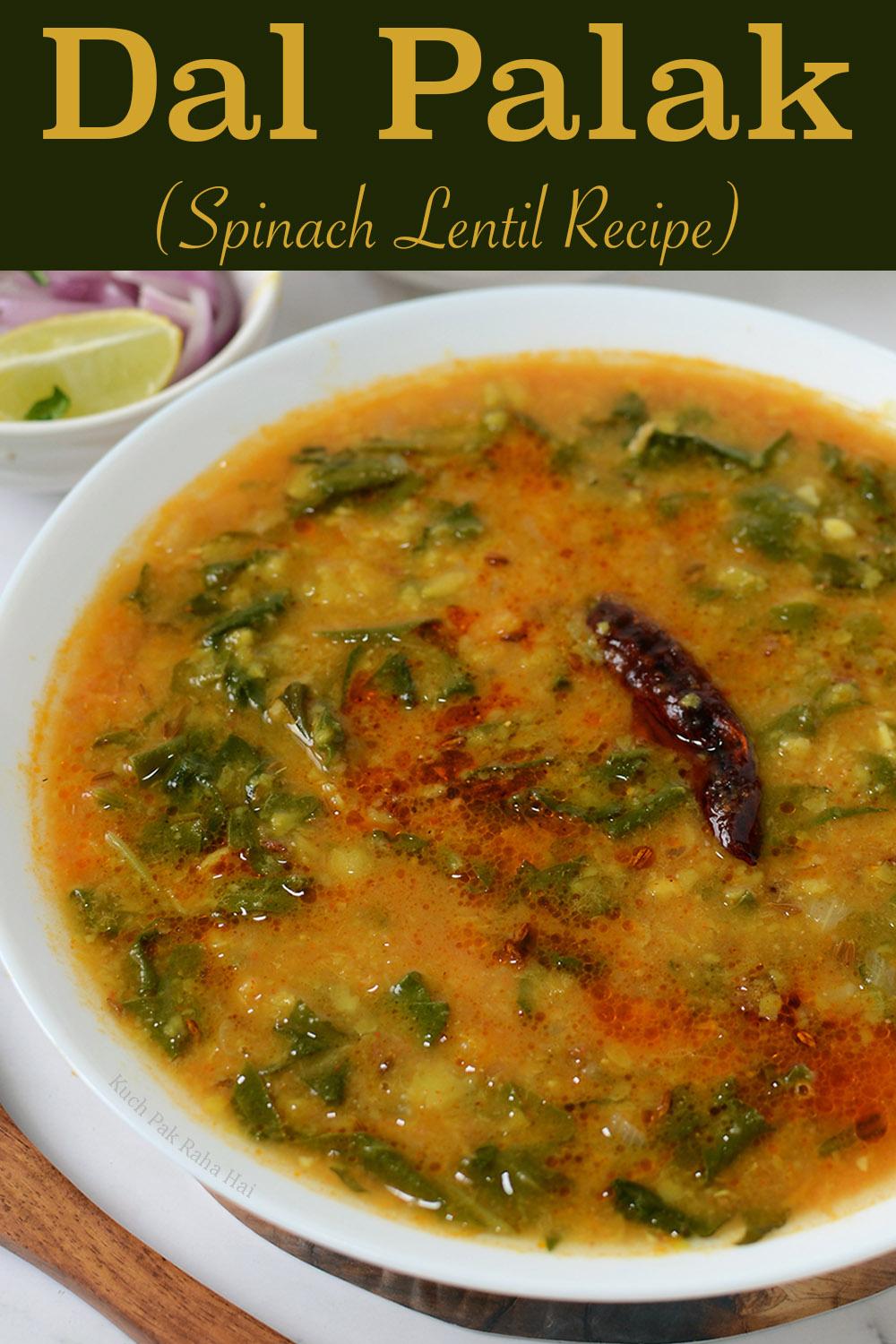 More spinach recipes:
If you try this recipe & share pics on social media, then don't forget to tag us on Facebook or Instagram or use the hashtag #kuchpakrahahai.
Let's stay connected
Facebook| Instagram| Pinterest| Youtube