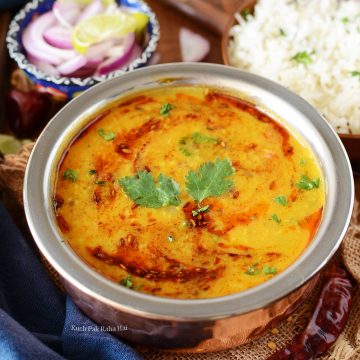 Dal Fry is a flavoursome Indian lentil recipe made with toor dal (yellow split pigeon peas), moong dal (split de-husked green gram), onion, tomato & seasoned with few aromatic spices. Instead of moong dal you can also use 'Lal Masoor Dal' (red lentil). Dal is known as lentil in english & is an essential source of protein in vegan or vegetarian diet.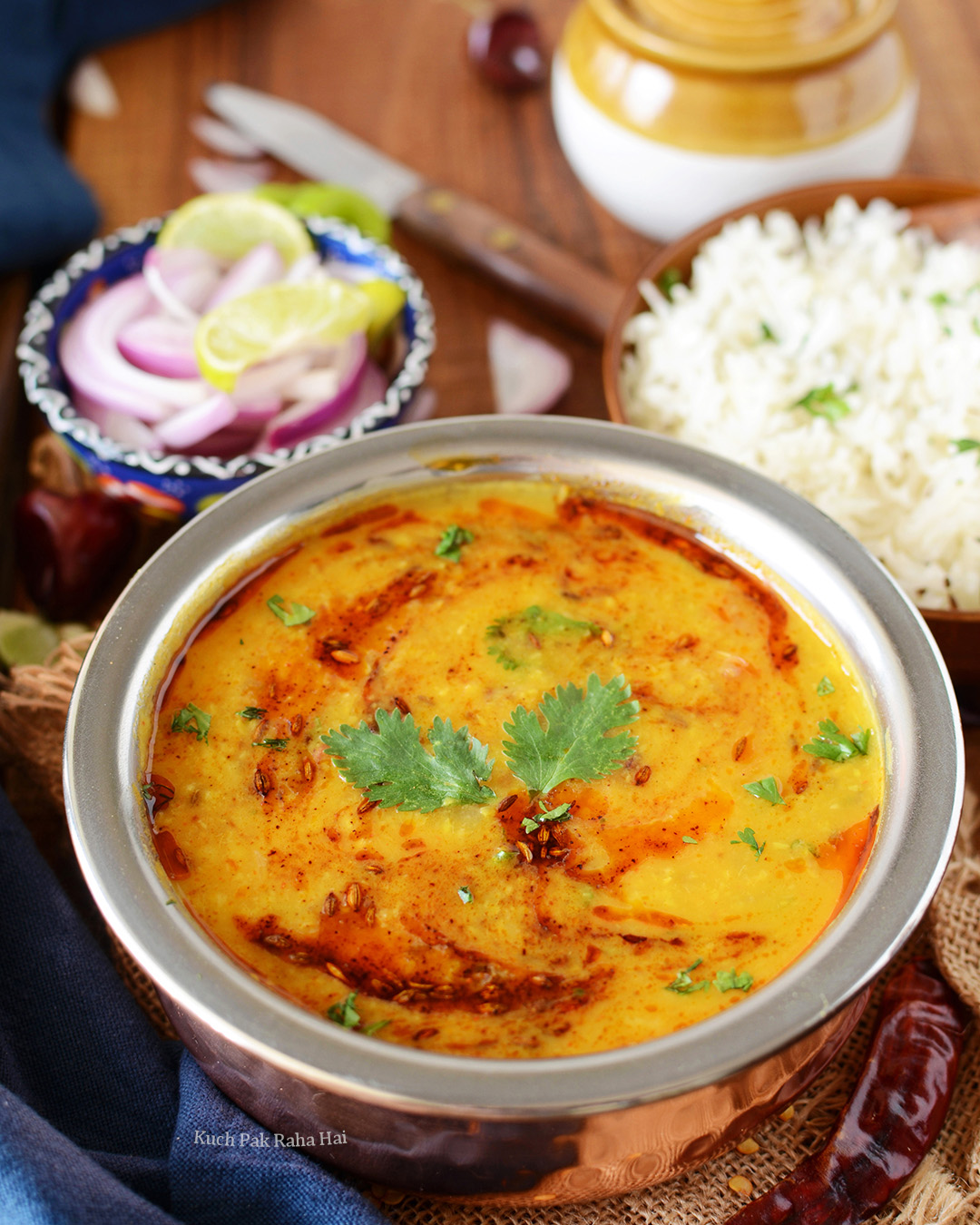 The Dal fry recipe shared here is easy & quick to make. I have used stove top pressure cooker but it can be made in Instant Pot too. The dal tastes absolutely comforting and delicious. It can be served with hot phulkas, chapatis or steamed basmati rice.
After Dal Makhani, Dal fry is second popular version of lentils in India. You will find it in almost all restaurant menus & hence it is often referred to as Dhaba Style or Restaurant style Dal Fry or Dal Tadka. It is a medium spicy lentil curry recipe with lots of vibrant flavours & aromatic Indian spices.
In this dal fry recipe, the main lentil is going to be Toor dal also known by tuwar dal, arhar dal or yellow split pigeon peas. The second lentil in this recipe is moong dal (split de-husked green gram), added in lesser quantity & gives the lentil a creamy consistency and adds some depth of flavours. If you don't have moong dal you can use lal masoor dal (orange lentils).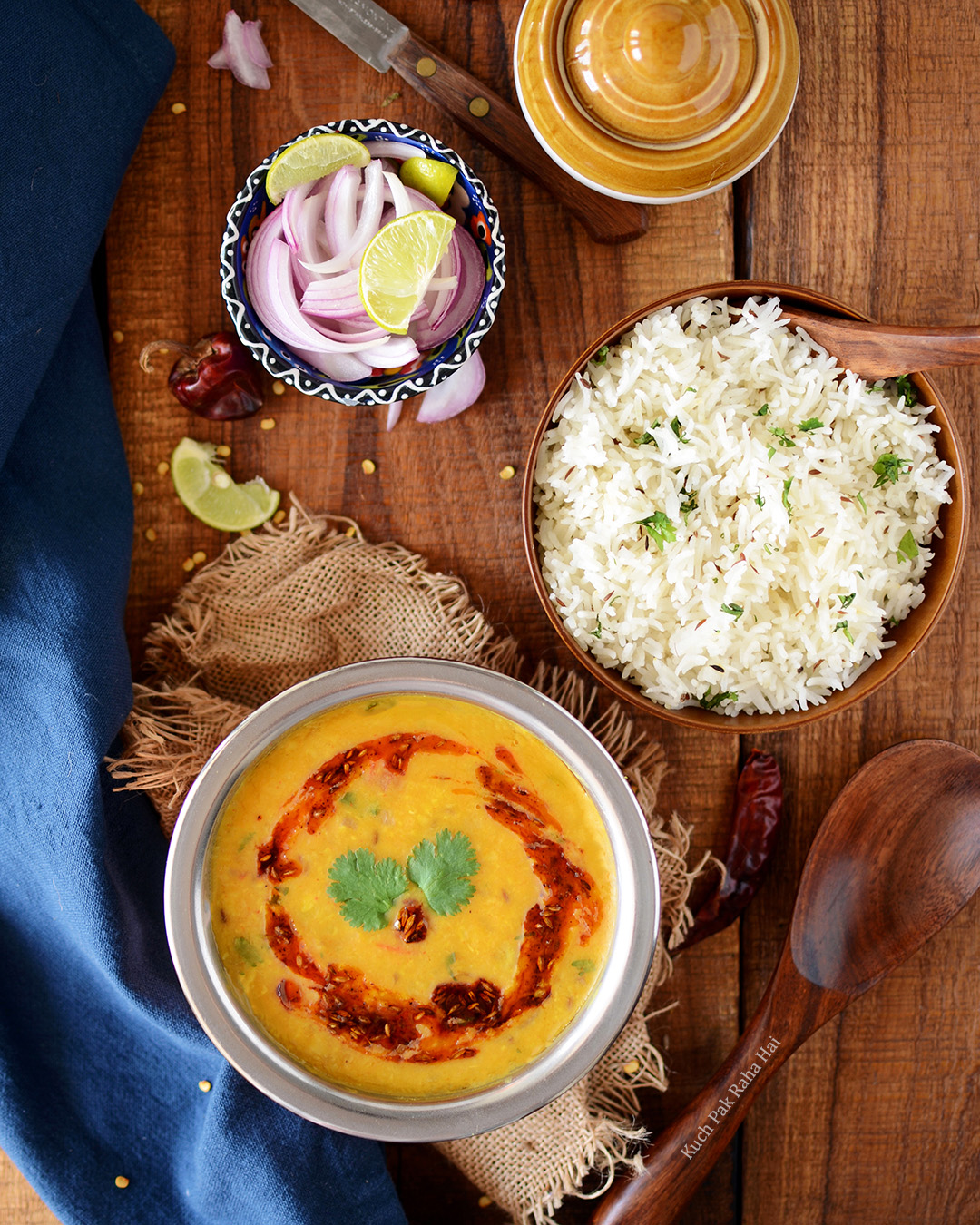 All the ingredients, substitutions & stepwise recipe is shared below. In case of any doubt please feel free to drop in comments or DM on Facebook or Instagram.
More Dal or Lentils recipes:
List Of Ingredients: (Serves 3 to 4)
Arhar Dal (Yellow split pigeon peas)-1/2 cup
Moong Dal (Small Yellow lentil)-1/4 cup
Water- 2 & 1/2 cups
Turmeric Powder-1 tsp
Salt-1 tsp (or to taste)
Ghee / Oil- 2 tbsp
Heeng (Asafoetida) – A pinch
Jeera (Cumin Seeds)- 1 tsp
Garlic- 4 to 5 cloves
Ginger Paste- 1 tsp
Chopped Green Chillies-1
Chopped Medium Sized Onion-1
Chopped Medium Sized Tomato-1
Red Chilli Powder-3/4 tsp
Dried Whole Red Chilli-1
Lemon Juice-2 tsp
For garnishing:
Chopped Fresh Coriander leaves (or Parsley)-2 to 3 tbsp
For tempering: (optional)
Ghee (Clarified Butter)-1 tbsp
Jeera(Cumin seeds)-1 tsp
Red Chilli powder- 1/2 tsp
Substitutions:
1. To make this dal vegan, use oil instead of ghee.
2. If you don't have lemon juice you can add 1/2 tsp of amchoor (raw mango powder).
3. For making Jain version of Dal fry, skip garlic & onion. For those who are unaware, many people from Jain community refrain from eating onion & garlic.
4. If you don't have fresh tomatoes add 2 tbsp of tomato puree. It gives a similar tang & colour to the dal.
5. Both fresh green chilli & red chilli powder has been used in the recipe. If you like less spicy food, feel free to skip either of  them. You can also use black pepper.
6. Instead of preparing tempering (for top), you can even use some chilli-garlic oil.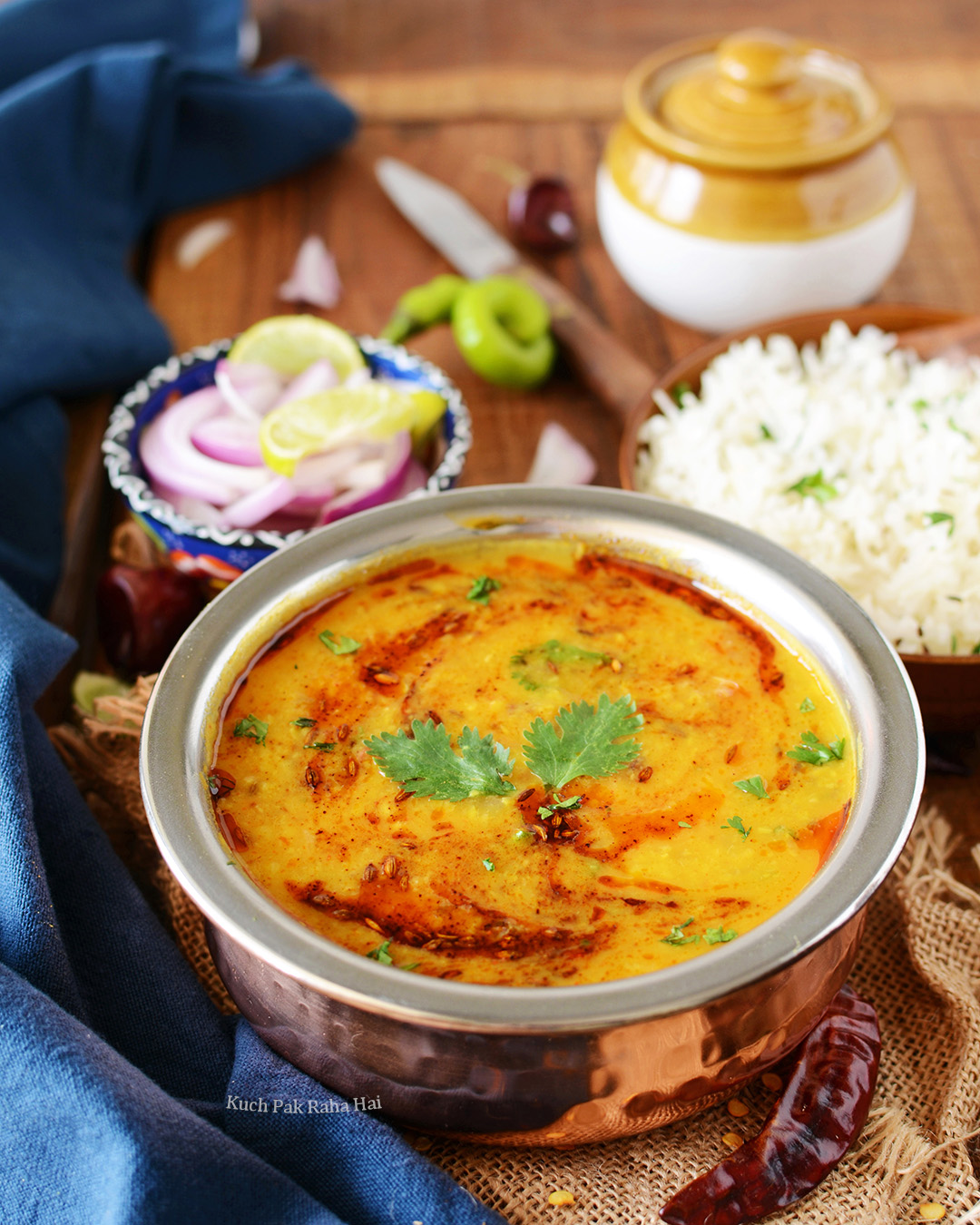 Steps To Prepare:
Step 1:
Take both dal in a mixing bowl & wash thoroughly to get rid of dust. Soak them in water for 1 hour. The grains would swell up a bit. It is an essential step as it makes lentils easily digestible & also reduces the cooking time.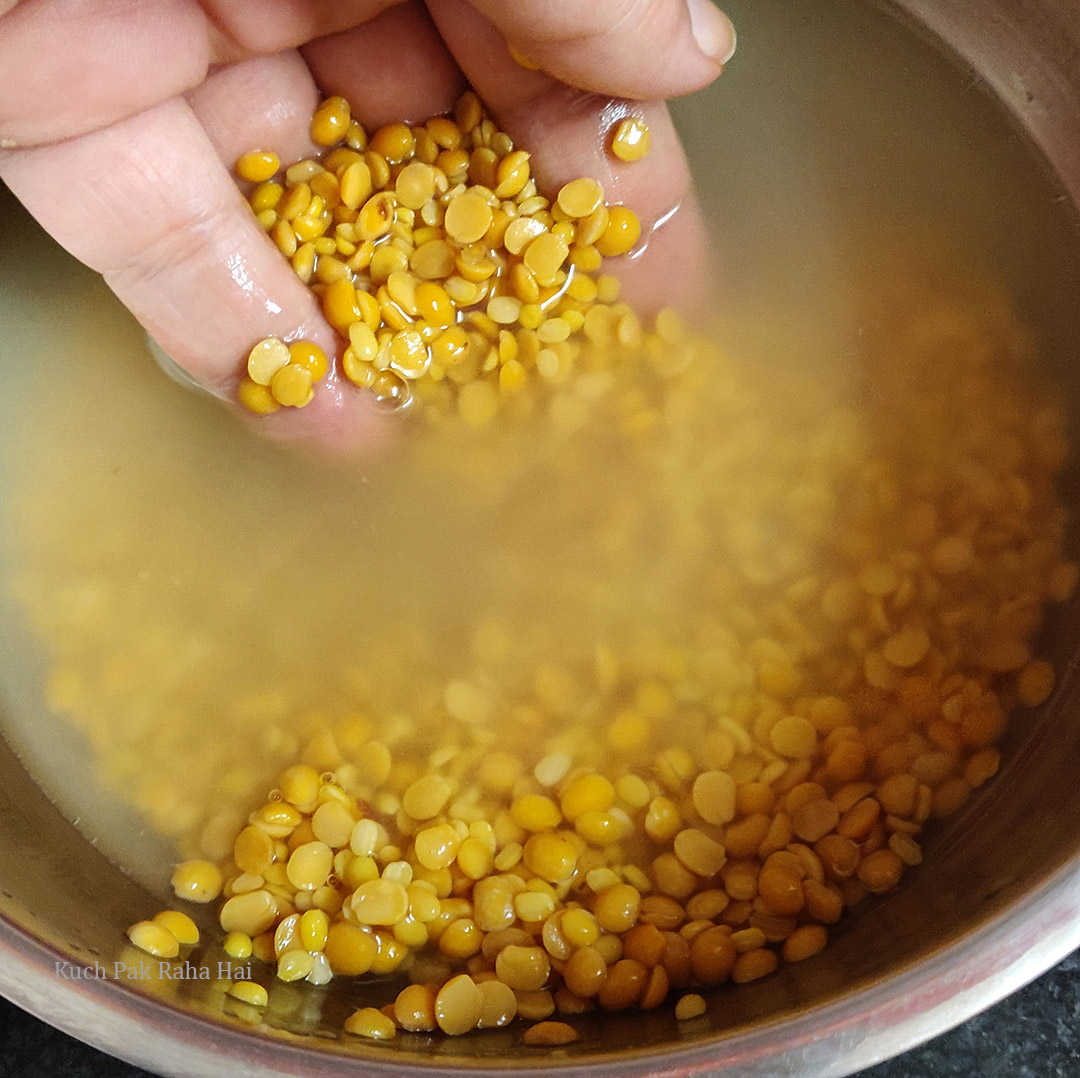 Step 2:
Discard the water in which dal was soaked. Transfer these soaked dal in pressure cooker & add 2 cups of water, salt & turmeric powder to it.  After 1 whistle, slow down the flame for 3 minutes. Switch off the flame and let the pressure get released on its own. The cooking time can vary slightly depending on the quality of lentils & water used.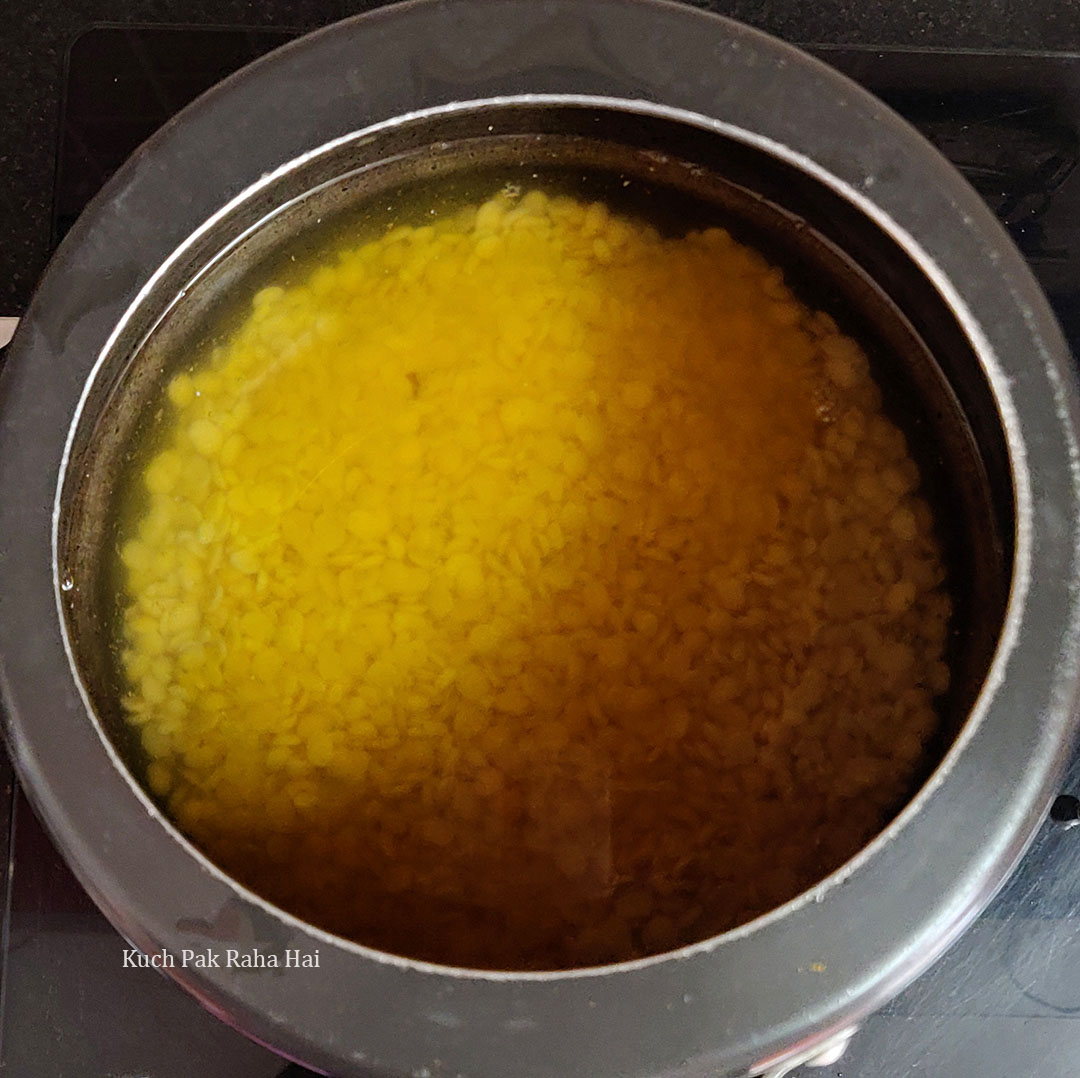 Step 3:
By the time pressure is releasing from the cooker, lets prepare the tadka for the dal. Heat ghee in a pan. Add jeera (cumin), heeng (asafoetida), ginger paste, chopped garlic and chopped green chillies. Sauté for 30-40 seconds.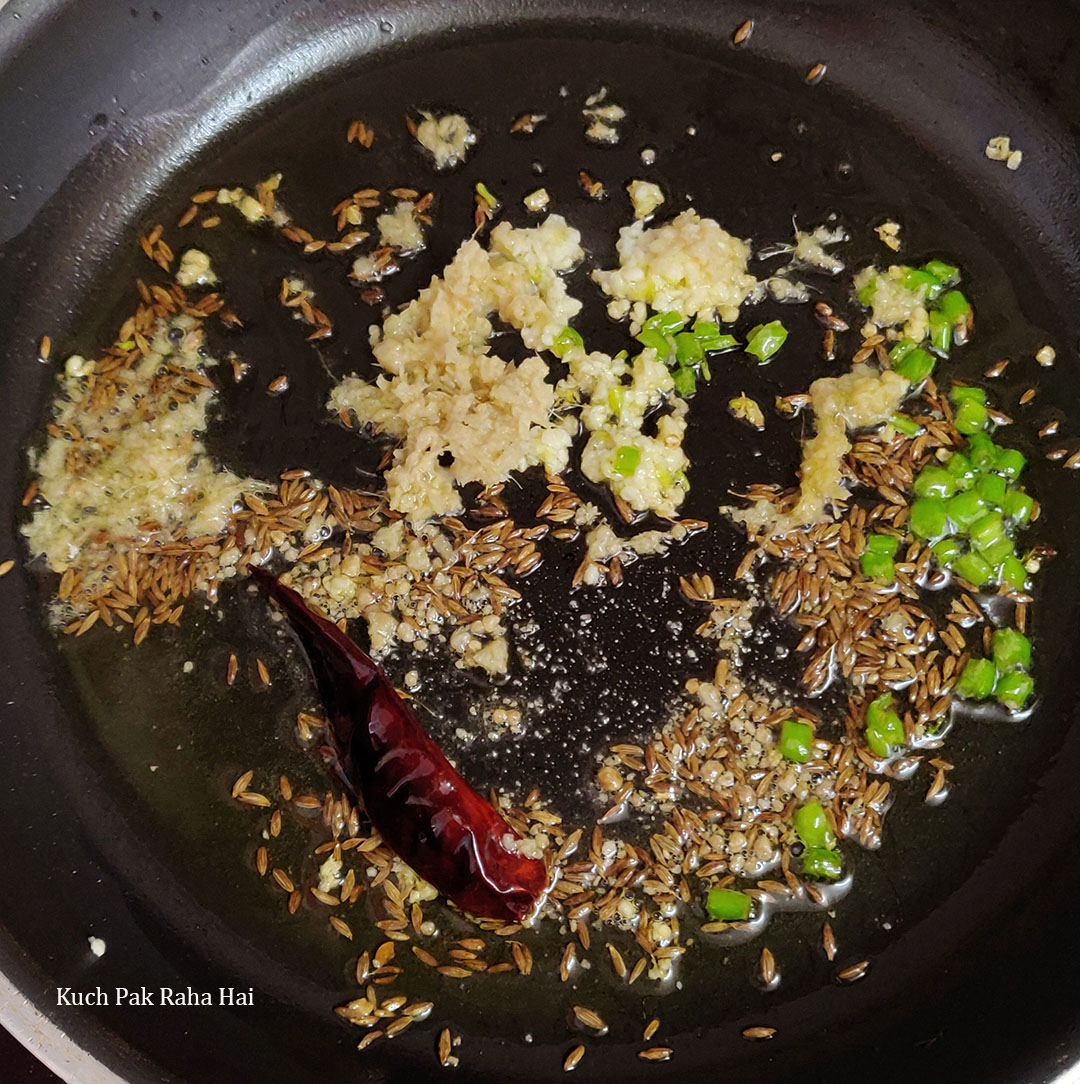 Step 4:
Add chopped onions to the above pan & sauté them till they turn slightly translucent.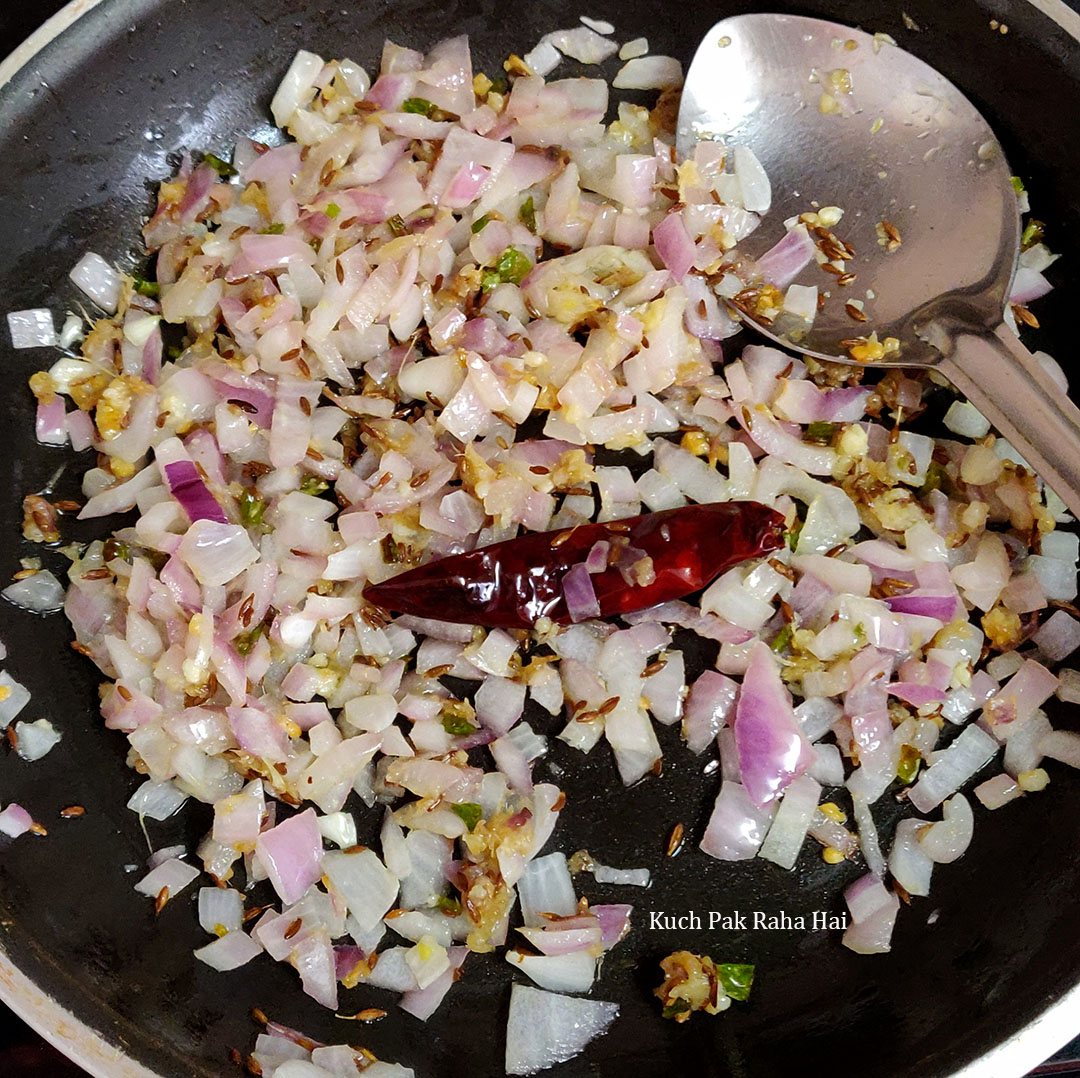 Add chopped tomatoes & red chilli powder. Let them cook on low flame for 5 to 6 minutes. Add 1/2 cup water to the pan & bring it to boil.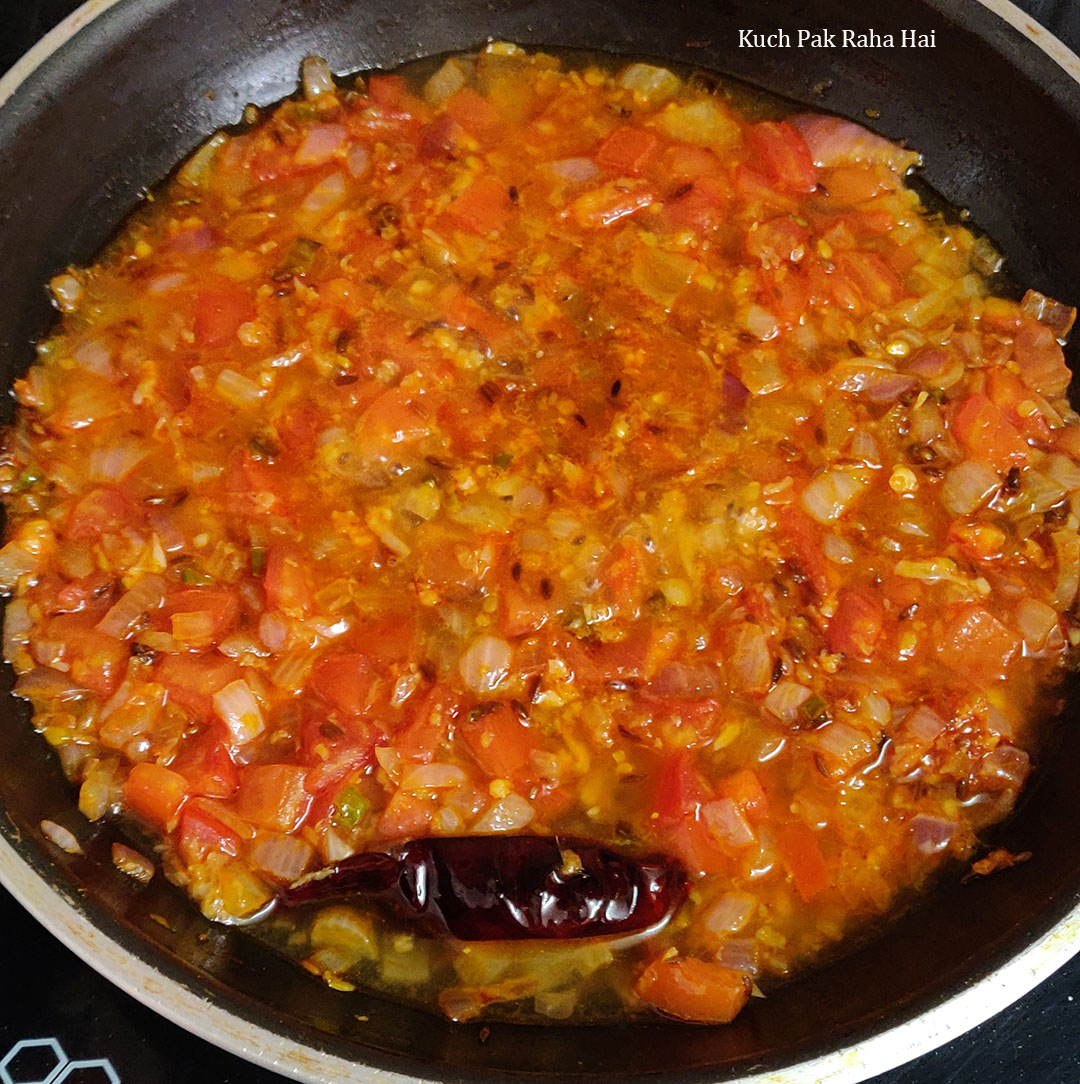 Step 5:
Open the pressure cooker as the steam would be released by now. Add boiled dal to the above pan. Mix well. Cook it in the open pan on low flame for 6 to 8 minutes. Stir it in between.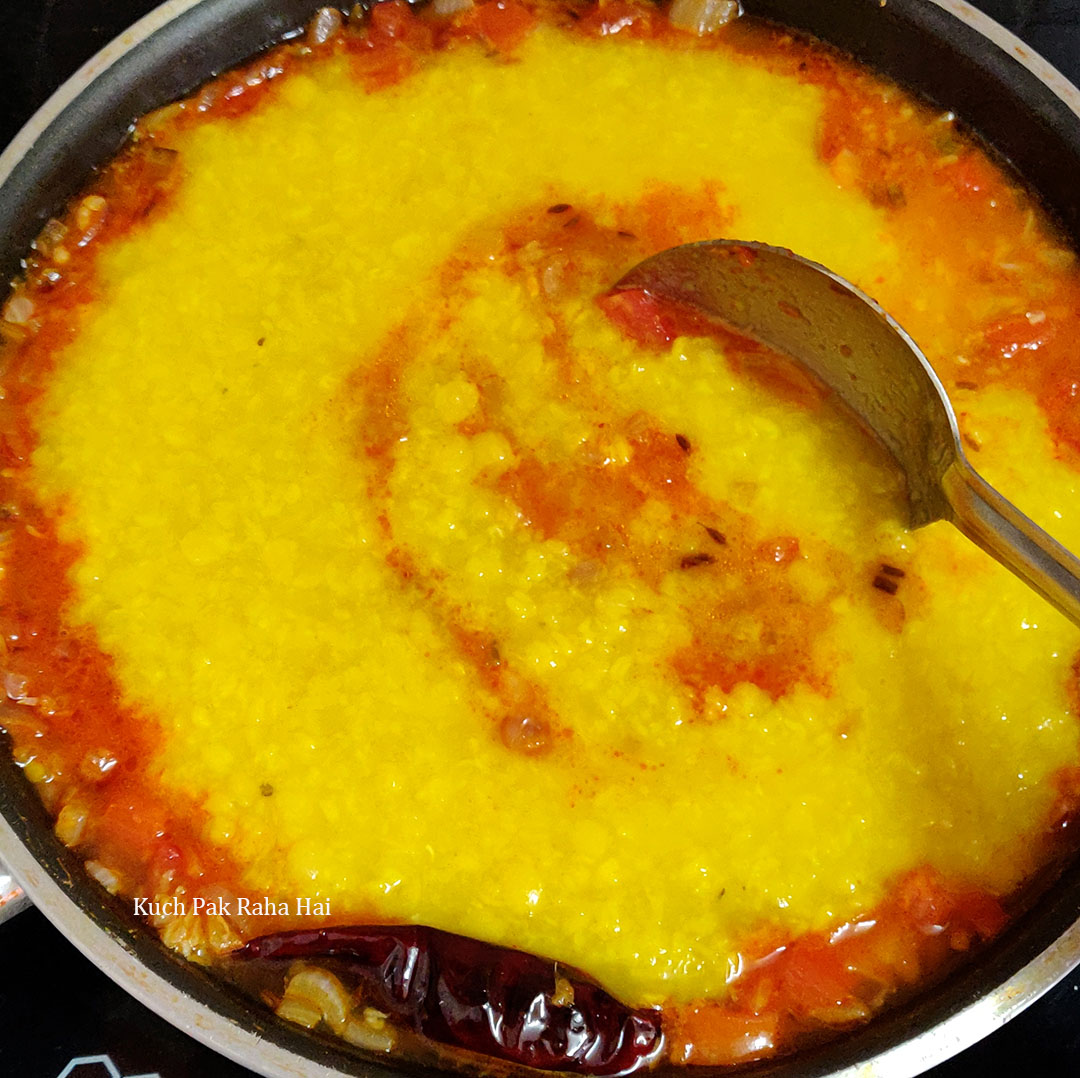 Delicious Dal Fry is ready !! After switching off the flame add lemon juice & chopped coriander leaves.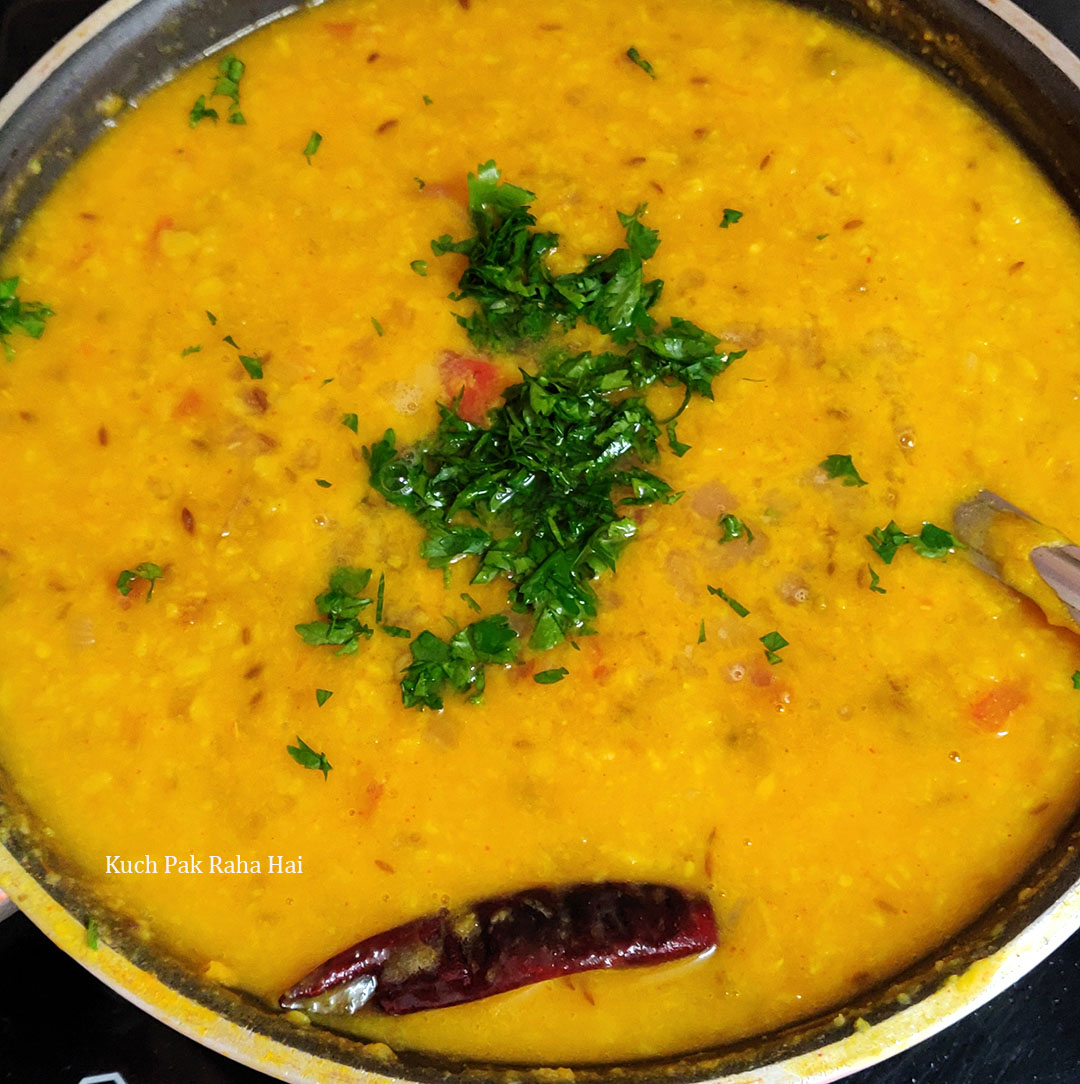 Before serving you can add, ghee tempering (or tadka) which is totally optional. For this, heat ghee in a small pan, add cumin seeds & red chilli powder to it. Let it sauté for 20-30 seconds & then pour it over dal. This tempering adds lovely rustic aroma to the dal.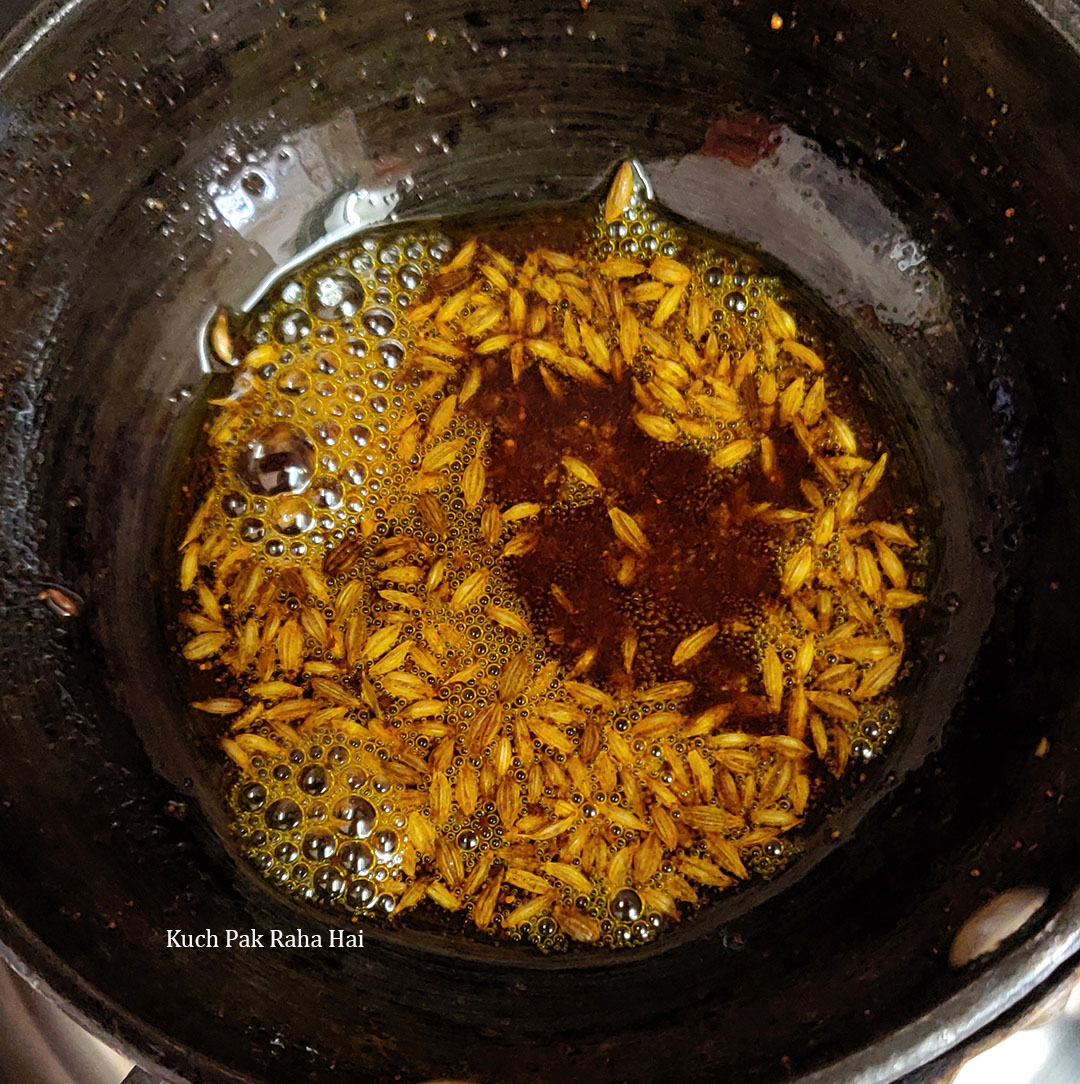 Serve Dal Fry with hot Phulka or steamed rice 🙂 .