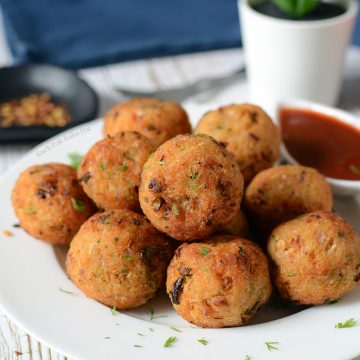 Crispy vegetable rice balls is a delicious snack or starter recipe made in air fryer using boiled rice, vegetables and some seasoning. It is a completely vegetarian / vegan recipe that can be easily made in air fryer with just a few ingredients. The recipe is also a great way to utilise left over rice at home.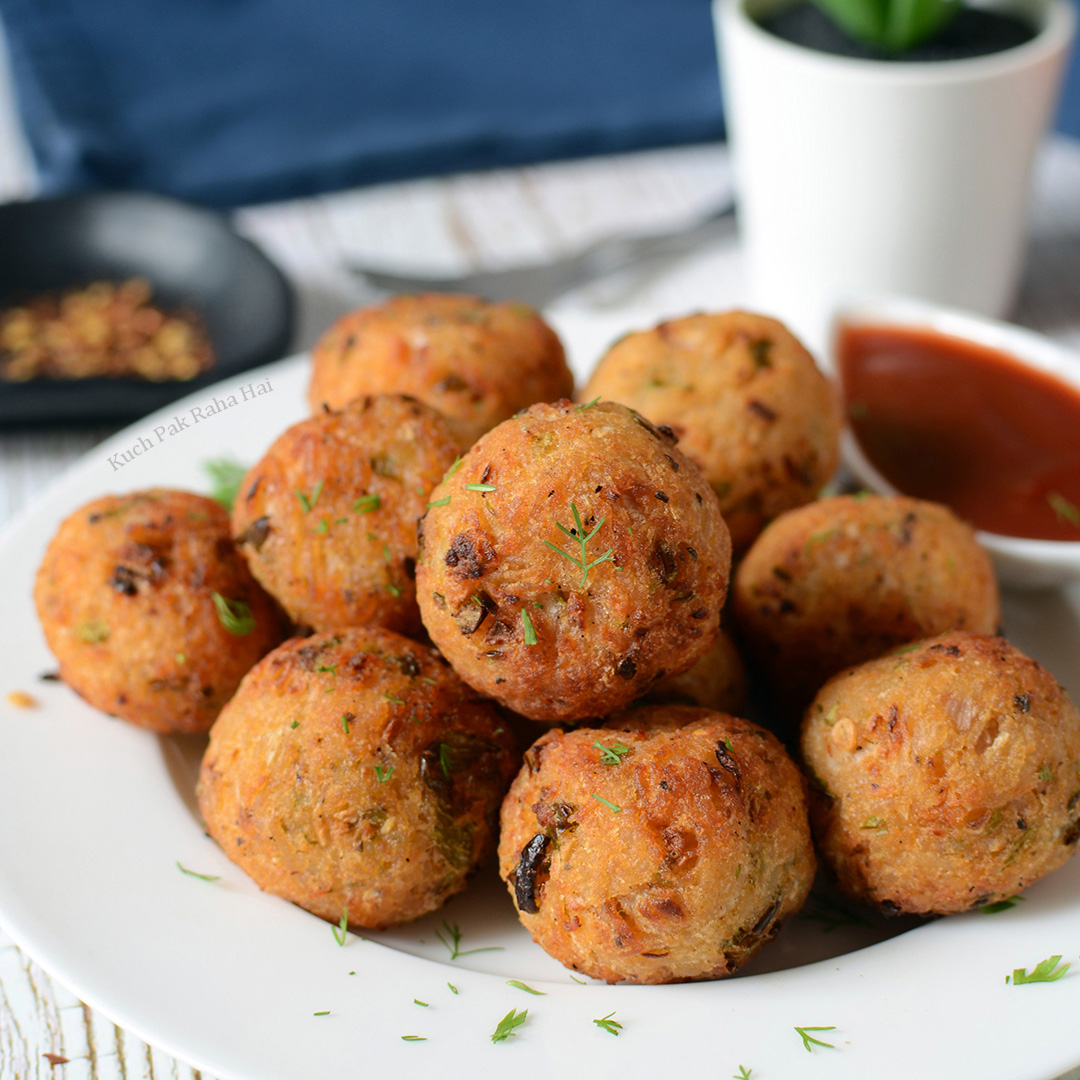 These vegetable rice balls are :
✓  Vegan
✓  Gluten Free
✓  Low in Oil (as air fried)
✓  Easy & Quick Snack
These vegetable rice balls are also a great way to utilise left over rice from your previous meal. Sometimes I even add some of the left over veggies like cooked french beans, potato mash etc in these rice balls.They make for a yummy appetiser or a light evening snack that you can enjoy with a cup of tea or coffee.
My inspiration for this recipe is derived from Italian Arancini Balls which are made using risotto rice, stuffed with mozzarella cheese and meat sauce. The rice balls version shared here is made using boiled basmati rice but you also can use any other variety of rice (like sona masoori etc).
The seasonings are kept simple with black pepper, chilli flakes and salt. If you wish you can add some Indian spices like cumin seeds, red chilli powder or coriander powder for different flavour.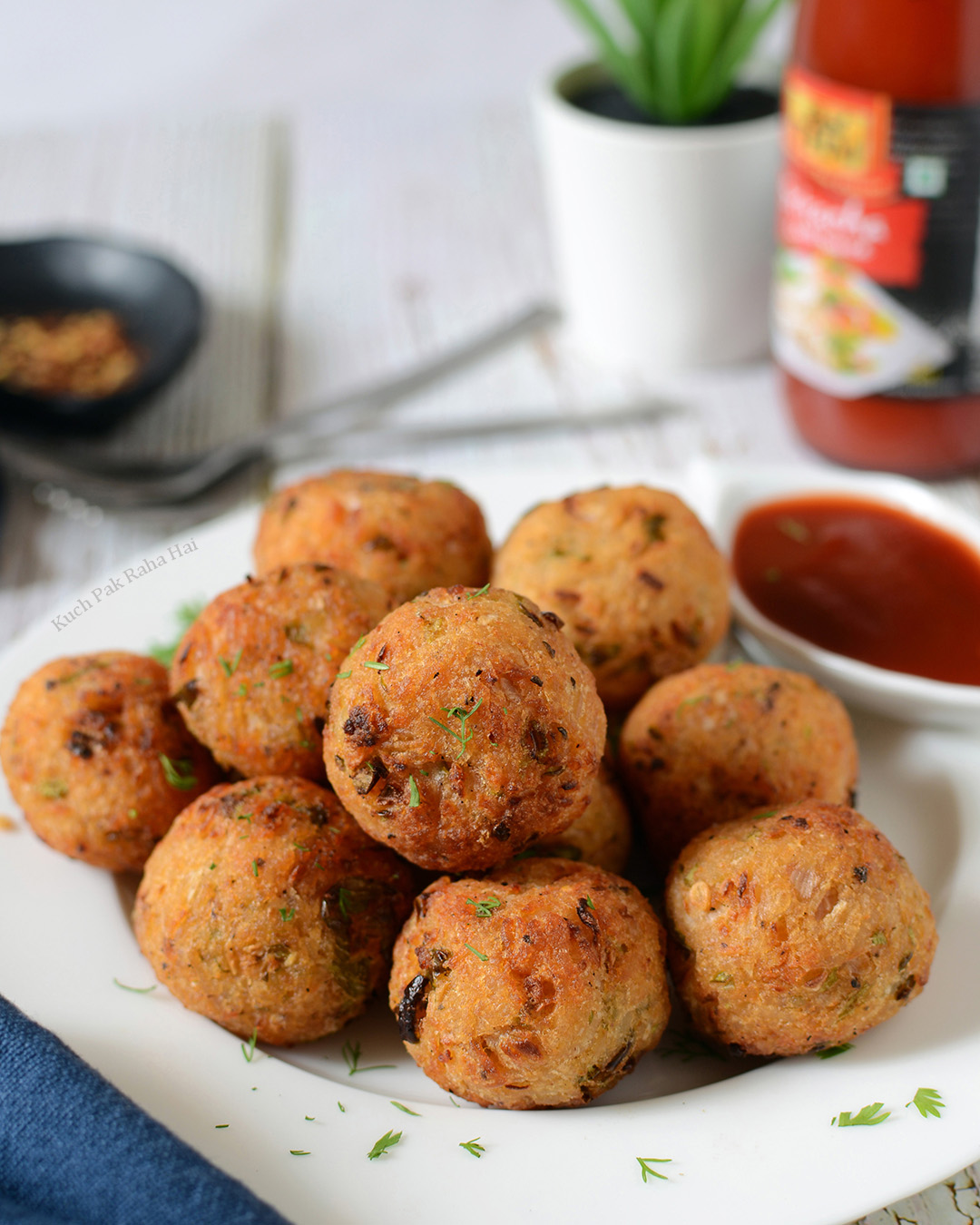 I did not feel the need for bread crumb coating as they turned out perfectly crispy even without it. The rice balls made here turn out quite light, crispy and a great gluten free snack. If you are a cheese lover, you can keep a small piece of cheese cube in the centre of the balls.
Ingredients used in making these veggies rice balls :
Boiled Rice : This recipe is a great way to finish over your left over rice. However if you want to make it from scratch, then make sure the boiled rice which you will be using must be at room temperature or kept in fridge (covered) for an hour.
Vegetables : I have used onion, capsicum, carrot, ginger, garlic & coriander (parsley) in the rice balls mixture. You can skip or add veggies of your choice like boiled peas or sweet corn etc.
Binding Agent : For binding the mixture together I have used rice flour here. However you can use cornflour or all purpose flour (maida) also. The quantity used will depend on the stickiness of rice.
Ketchup : Little bit of ketchup is added to the rice balls for flavour & also to mellow down the white colour of rice.
Seasoning : You can adjust the spiciness of these balls as per your taste. I have used chilli flakes, crushed black pepper , some dried oregano as seasoning.
Cooking Oil : As these rice balls are air fried you need a very little oil for brushing them prior to air frying. You can use olive oil, sunflower oil, sesame oil or any oil of your choice.
While writing this post, I am also feeling extremely happy & humbled as our Youtube Channel 'Kuch Pak Raha Hai' has just touched 2k subscribers. Every milestone achieved in this journey is possible because of the support & feedback I get from readers like you.
Youtube Video:
More vegetarian air fryer recipes you might like :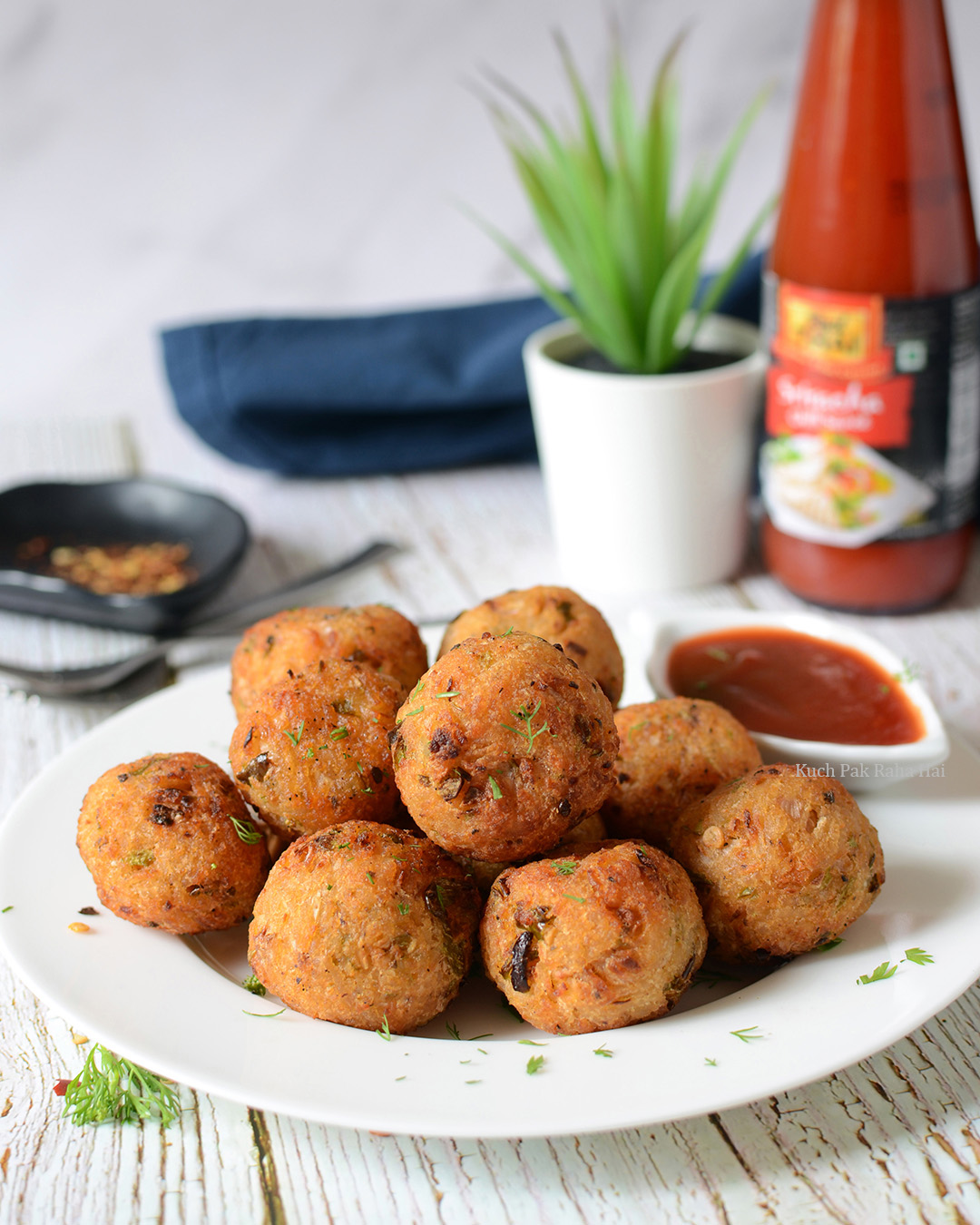 Ingredients: (Makes 8-10 balls)
Boiled Rice-1 cup

tightly packed

Chopped Onions-1/4 cup
Chopped Carrots-3 tbsp
Chopped Capscium-3 tbsp
Chopped Coriander (Parsley)- 2 tbsp
Garlic Cloves- 2 to 3
Chopped Ginger- 1/2 tsp
Rice Flour / Corn Flour- 1.5 tbsp
Salt- 1/2 tsp (or to taste)
Chilli Flakes- 1/4 tsp
Crushed Black Pepper- 1/4 tsp
Tomato Ketchup- 2 tsp
Cooking Oil- For brushing
Coriander (Parsley)- For garnishing
Notes:
1. Adjust the spiciness in this recipe as per your taste. In this recipe fresh green chilli, red chilli flakes & black pepper has been used. You can skip or use any one of your choice.
2. I have explained air fryer method here. You can even deep fry them.
3. You can use any oil of your choice like groundnut oil, sunflower oil or olive oil etc for brushing these rice balls.
4. You can skip or add more vegetables of your choice like sweet corn kernels, mushroom or french beans.
Directions:
Step 1:
The recipe makes use of leftover boiled rice which is at room temperature or cooled down in fridge for some time.
However If you are making these rice balls from scratch, soak 1/3 cup of rice in water for 20 minutes. Discard that water & add 2/3 cup of water more to the rice. Add some salt & oil to them. Bring the water to boil then simmer it down and cover with lid. Rice will be ready in 10-12 minutes. Let them cool down.
Step 2:
In a chopper, add all the vegetables & finely chop them. At this step you can skip any of the vegetable which you don't like or use vegetables of your choice like mushroom or french beans etc. Keep these vegetables aside.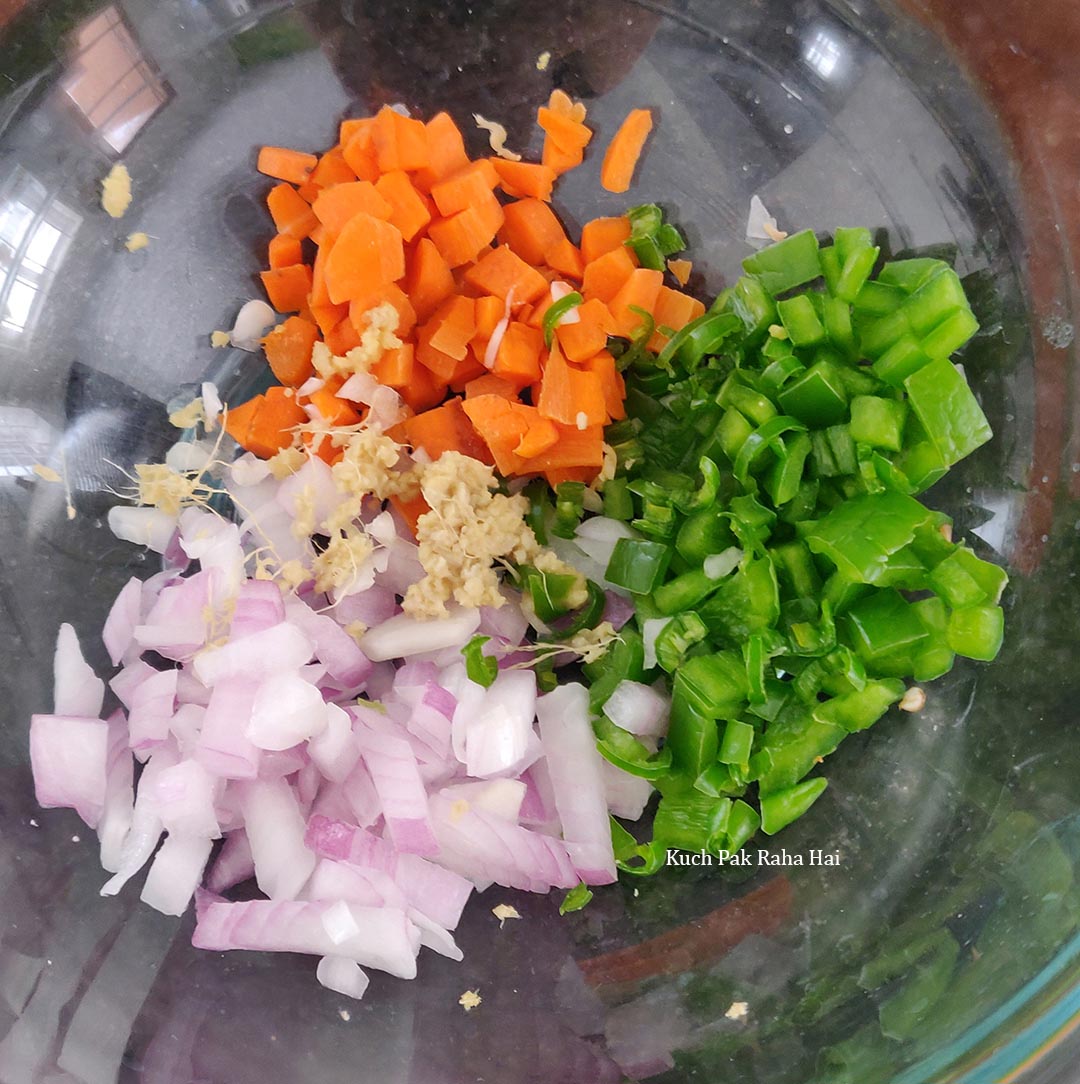 Step 3:
In a mixing bowl, add cooled down boiled rice, tomato ketchup, chopped vegetables, salt & seasoning. Start mixing them using a spoon & spatula and add rice flour or cornflour gradually.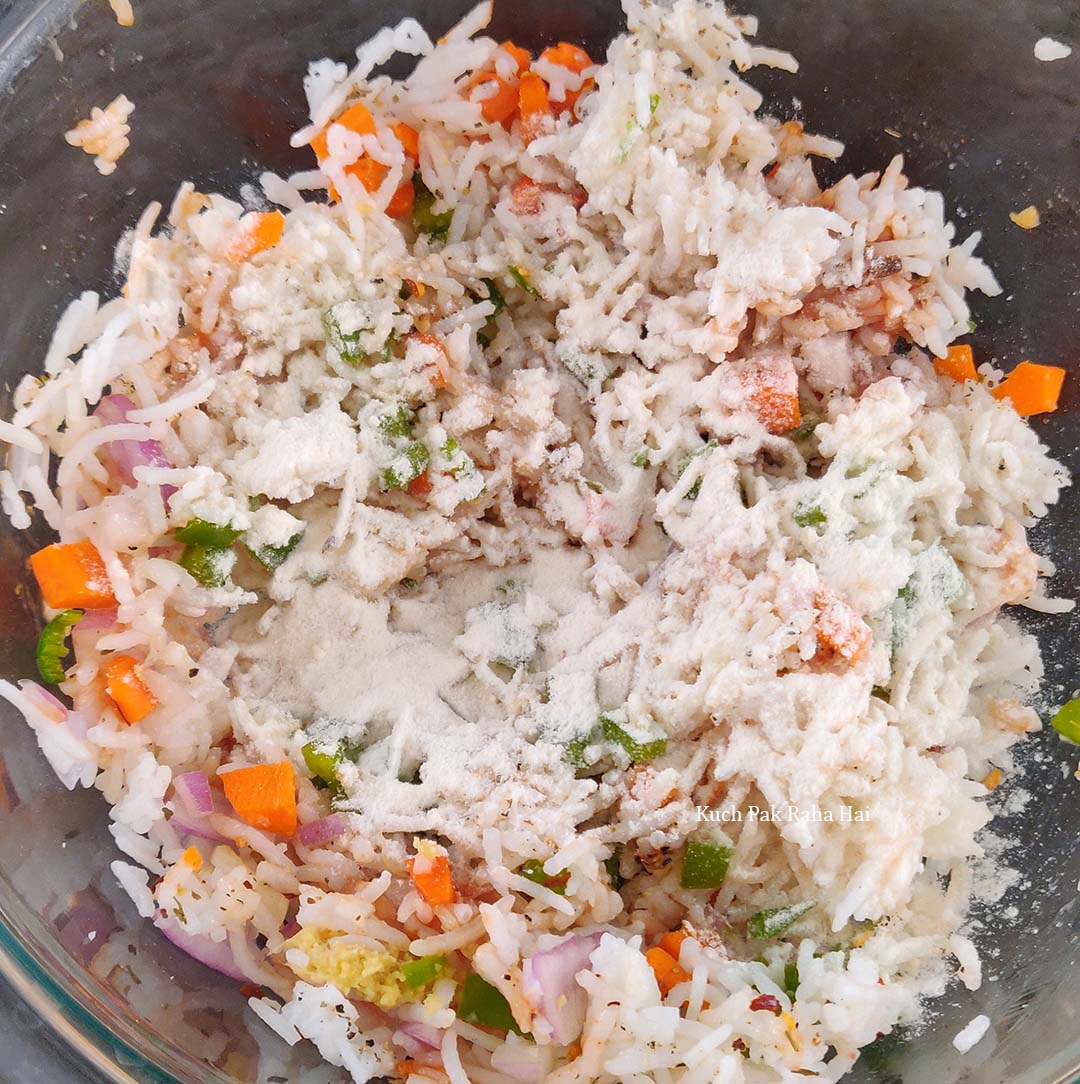 The quantity of cornflour depends on stickiness of rice and how much moisture the vegetables release. The consistency of the mixture should be such that you should be able to bind it.
Step 4:
Roll small balls with this mix. You can even apply some oil on your palms to make them smooth.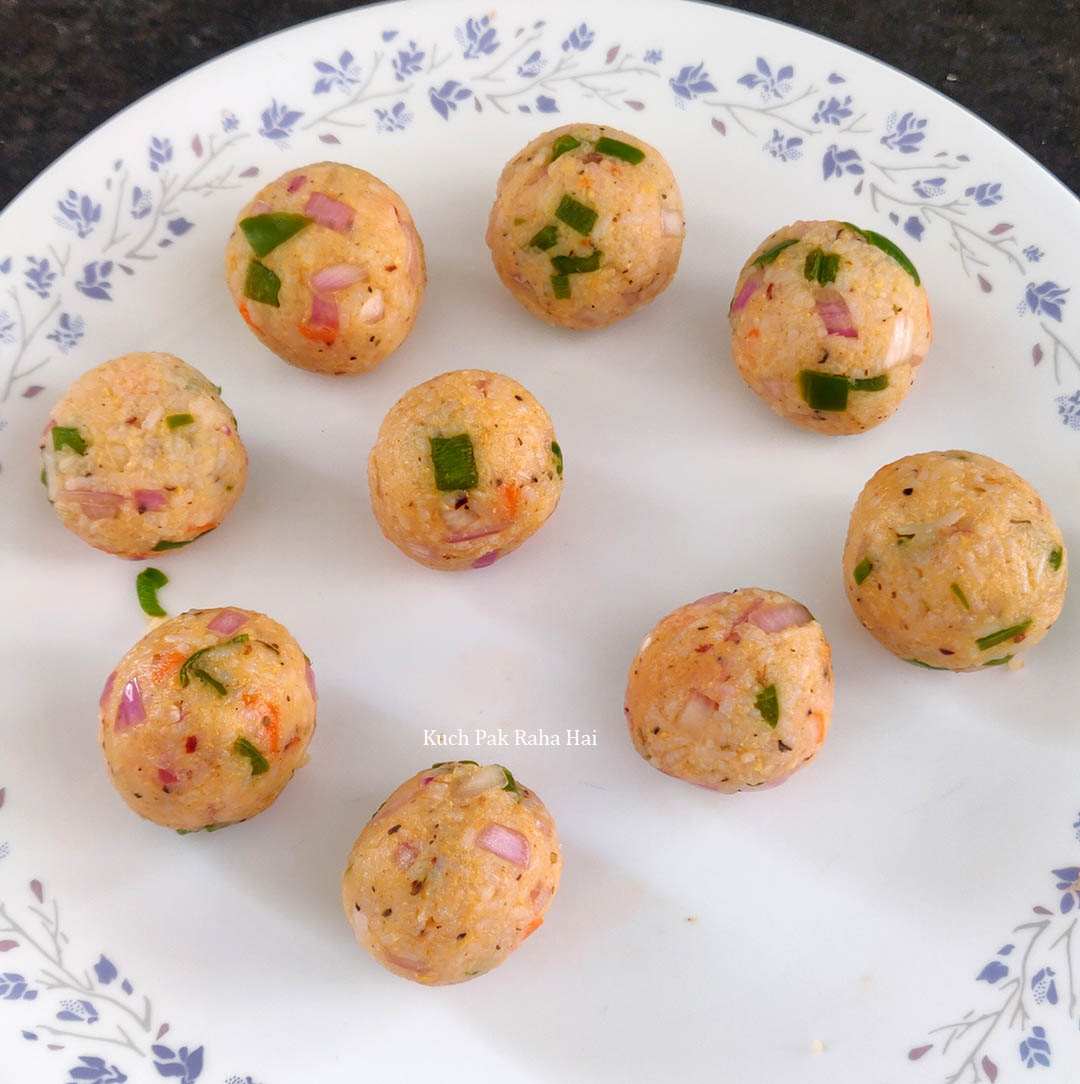 Step 5:
Set the air fryer for preheating at 200 degree Celsius. By the time air fryer is preheating brush some oil on these rice balls.
Step 6:
Once the air fryer is preheated, add the vegetable rice balls in its basket. Air fry them at 200 degree celsius for 16-20 minutes till they become golden brown & crispy.
After every 5 minutes shake the basket gently so that balls are cooked from all sides. If required you can brush some more oil during air frying.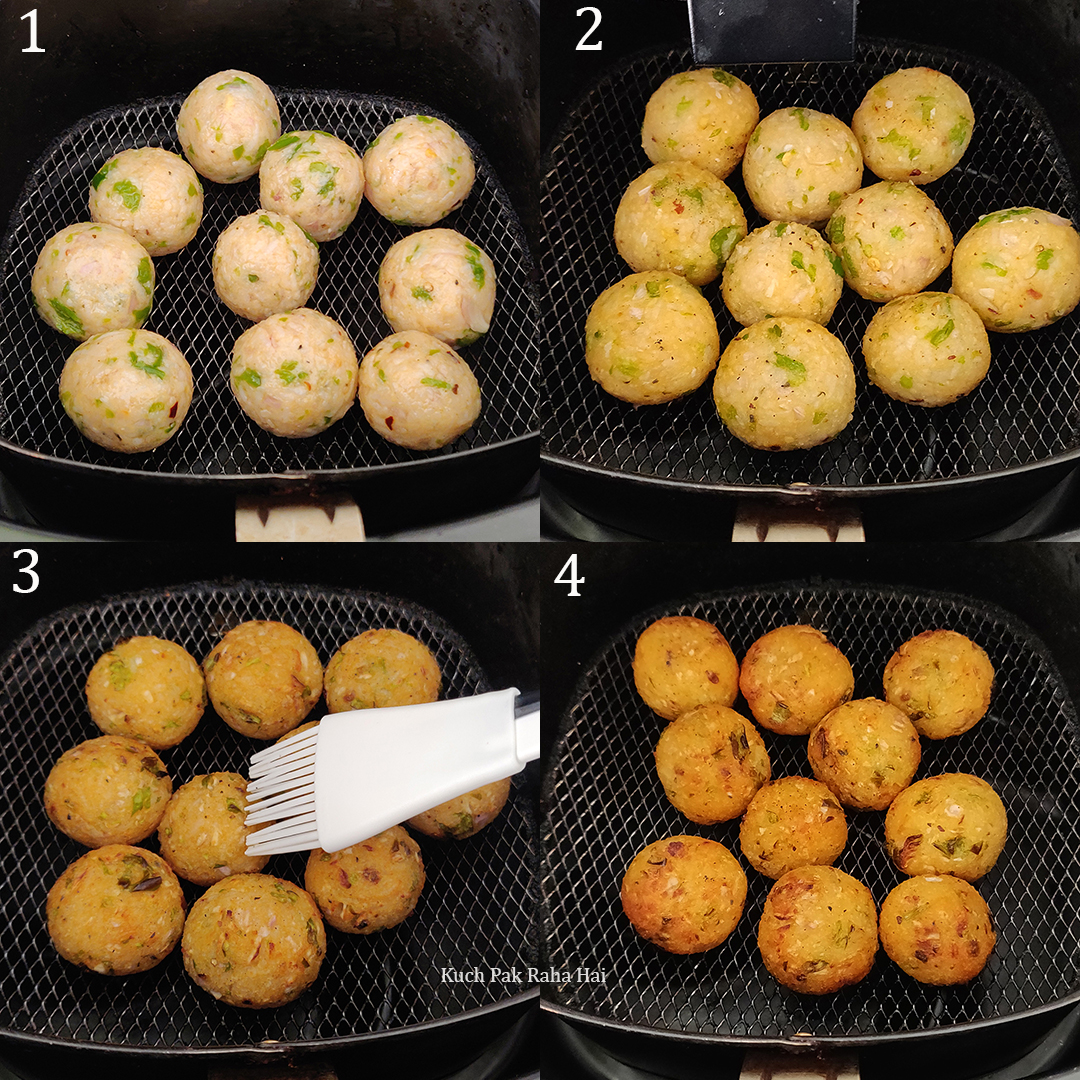 Garnish with some more chopped coriander (parsley). Serve them hot with ketchup or mayonnaise. Bon Appetit !!
FAQ:
Can we make these vegetable rice balls few hours before?
Yes, you can make these balls ahead of time but don't air fry them. Store them raw in an airtight box in fridge. Whenever you are ready to make them, bring the box outside and set the air fryer for preheating. Air fry them as explained above.
Can I deep fry these veggies rice balls?
Yes you can also deep fry these rice balls. They should be fried on medium-high flame. Start by frying one ball first just to test. If the balls splits open, add some more binding agent and try again.
Pin for later: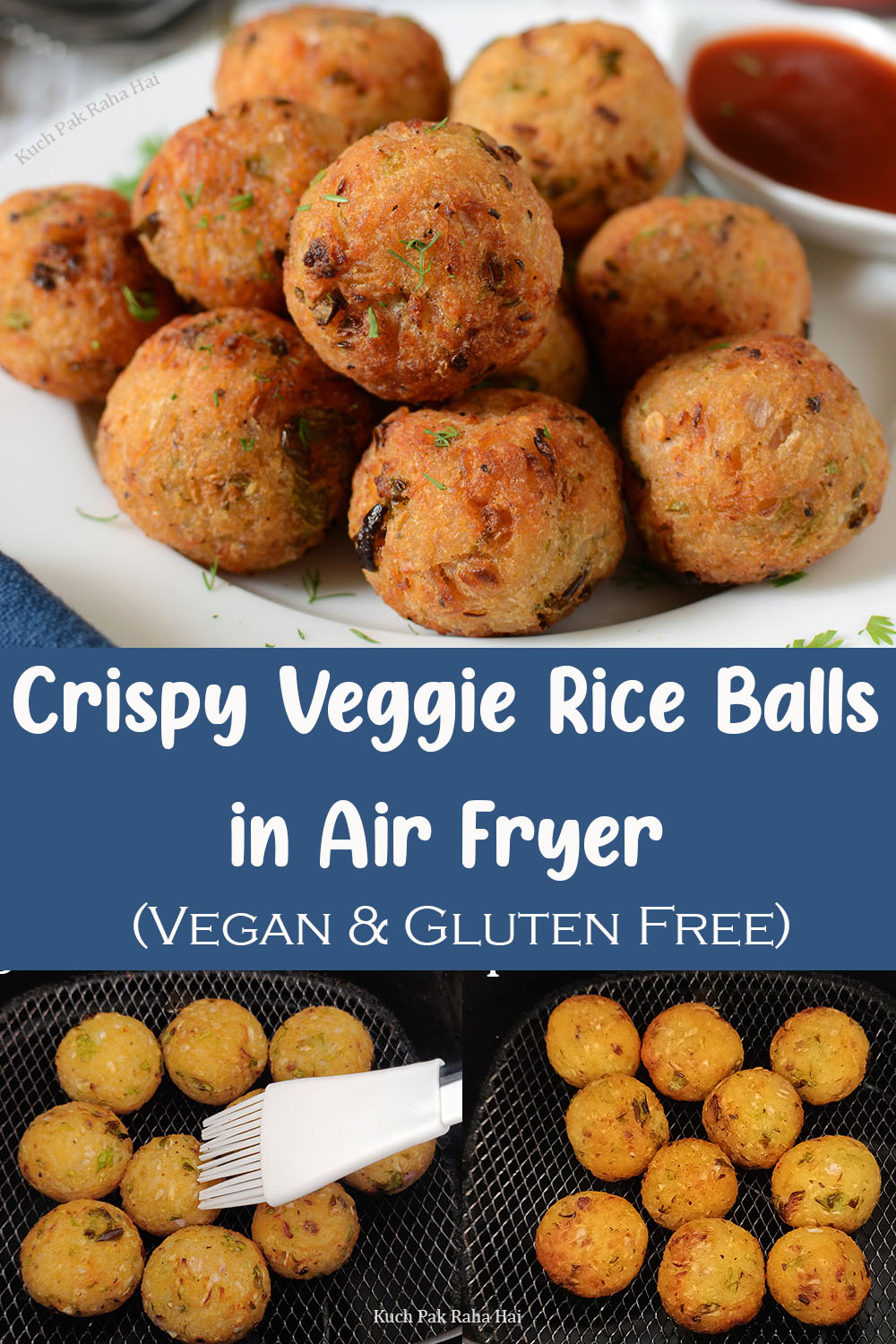 If you try this recipe & share pics on social media, then don't forget to tag us on Facebook or Instagram or use the hashtag #kuchpakrahahai.
Let's stay connected
Facebook| Instagram| Pinterest| Youtube