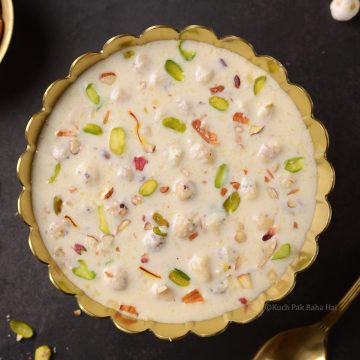 Makhane ki Kheer is a delectable Indian pudding recipe made with makhana, milk, cardamom & sugar etc. The creaminess of the pudding is accompanied by the crunch of various dry fruits like almonds, cashews & pistachios etc.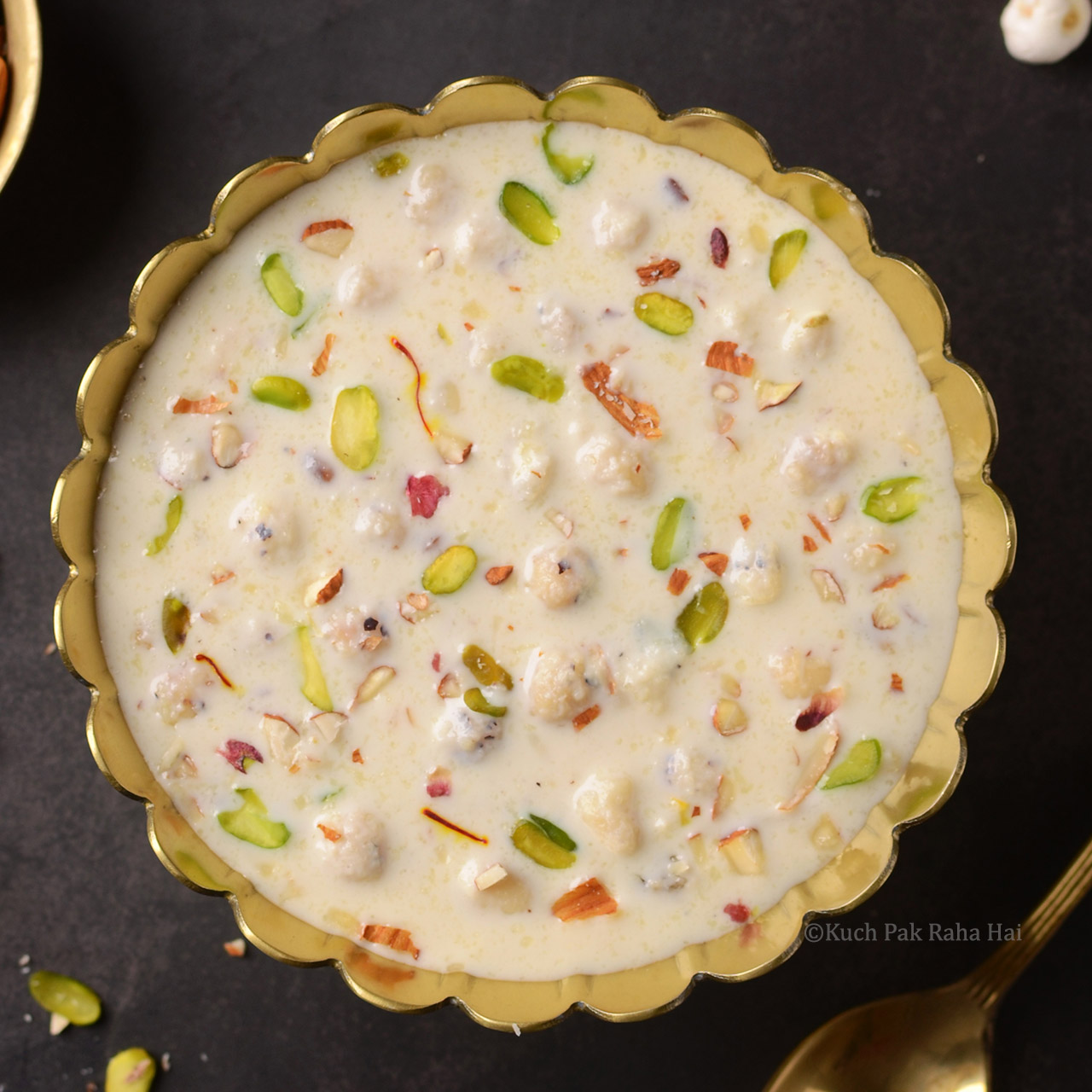 Makhana Kheer is an easy dessert recipe that you can make anytime at home. It uses some of the basic kitchen ingredients and does not take much time. It can be served both warm or chilled depending on the weather.
You can even consume it during Navratri or Maha Shivratri fast. I always make it during fasts as it tastes delicious & instantly satiates the sugar craving without being heavy on stomach. You can also try Sama Rice Kheer which can also be consumed during fasting.
To make this makhana kheer, we will use makhana in 3 ways- whole, split and coarsely ground. The ghee roasted makhanas are slow cooked in milk along with almonds & cashews. I have used full fat (whole) milk to prepare this delicious kheer. However, you can use toned milk for lighter version.
The quantity of sugar can be varied as per your own taste. Apart from almonds, cashews & raisins, some chironji is also added to makhana kheer which gives its a rich nutty taste.
Chironji or charoli, is an Indian spice harvested from tree called 'Buchanania Lanzan' and has number of health benefits. It is a natural coolant, improves digestion & overall skin health.
The cardamom powder, known as elaichi in hindi, renders a soothing aroma to the kheer. You can also add a few saffron (kesar) strands to it for colour & more aroma.
What is Makhana?
Makhana or phool makhana, is known by other names in english like lotus seeds, fox nuts, gorgon nuts. They are basically seeds derived from the Euryale Ferox plant (prickly water lily), dried and then used for consumption.
Makhana are known for number of health benefits as they are rich source of protein, fibre, calcium, magnesium, potassium & low in fat etc. As they are full of anti-oxidants, they are known to slow down the ageing process thus promoting skin health.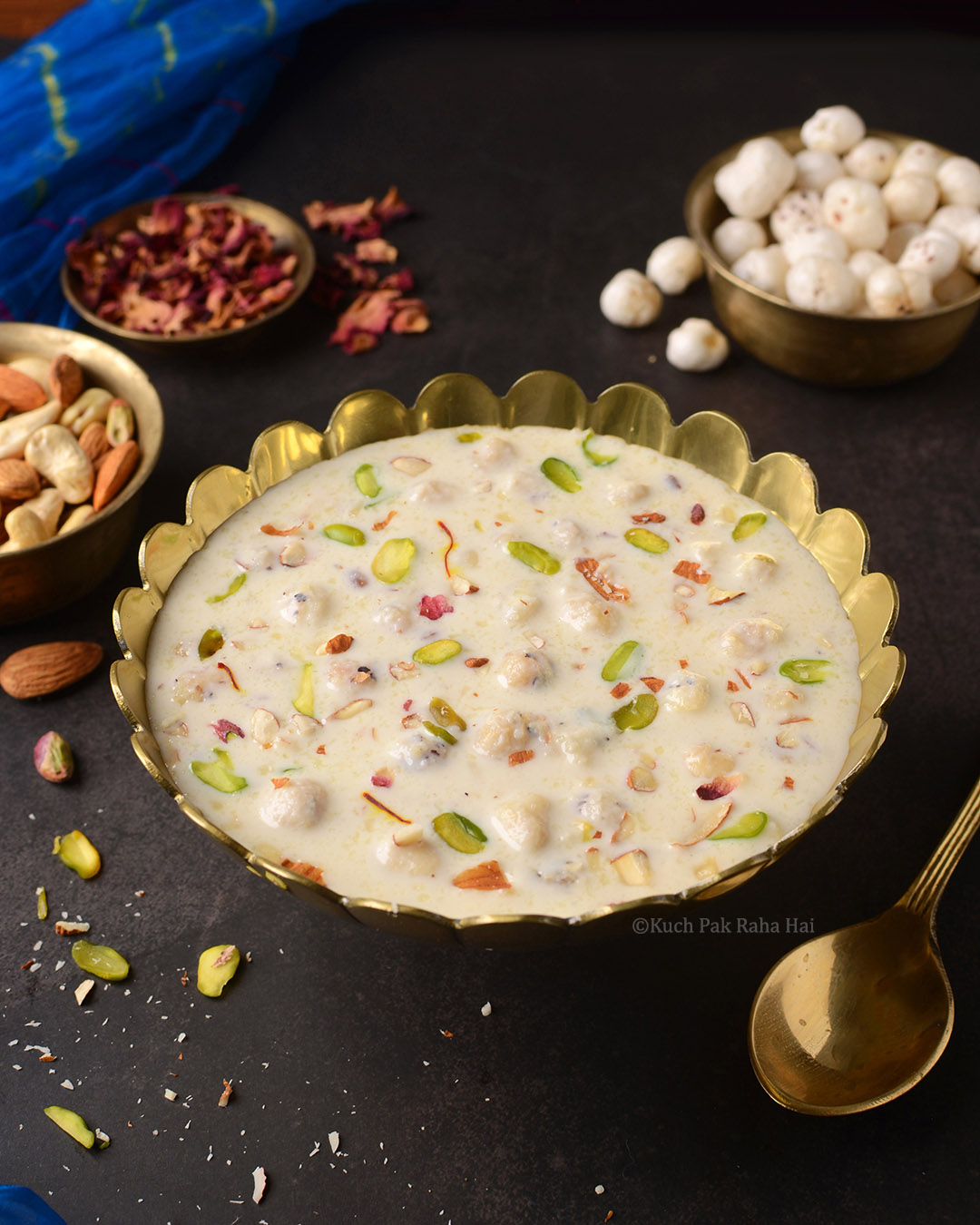 More Makhana (lotus seeds) recipes:
They are most commonly eaten as snack after roasting. Apart from it, makhane can be used in variety of recipes from sweet to savoury as they does not have any inherit taste of its own.
Serving Ideas:
You can serve this fox nuts kheer warm or chilled as per your choice. A rest of 1-2 hrs of time makes sure that all flavours are soaked properly in it.
In winters, you can re-heat or microwave the kheer for 30-40 seconds to serve warm. In summer season, I like to serve it chilled in earthenware bowl as they look so elegant & give a nice earthy aroma to the kheer.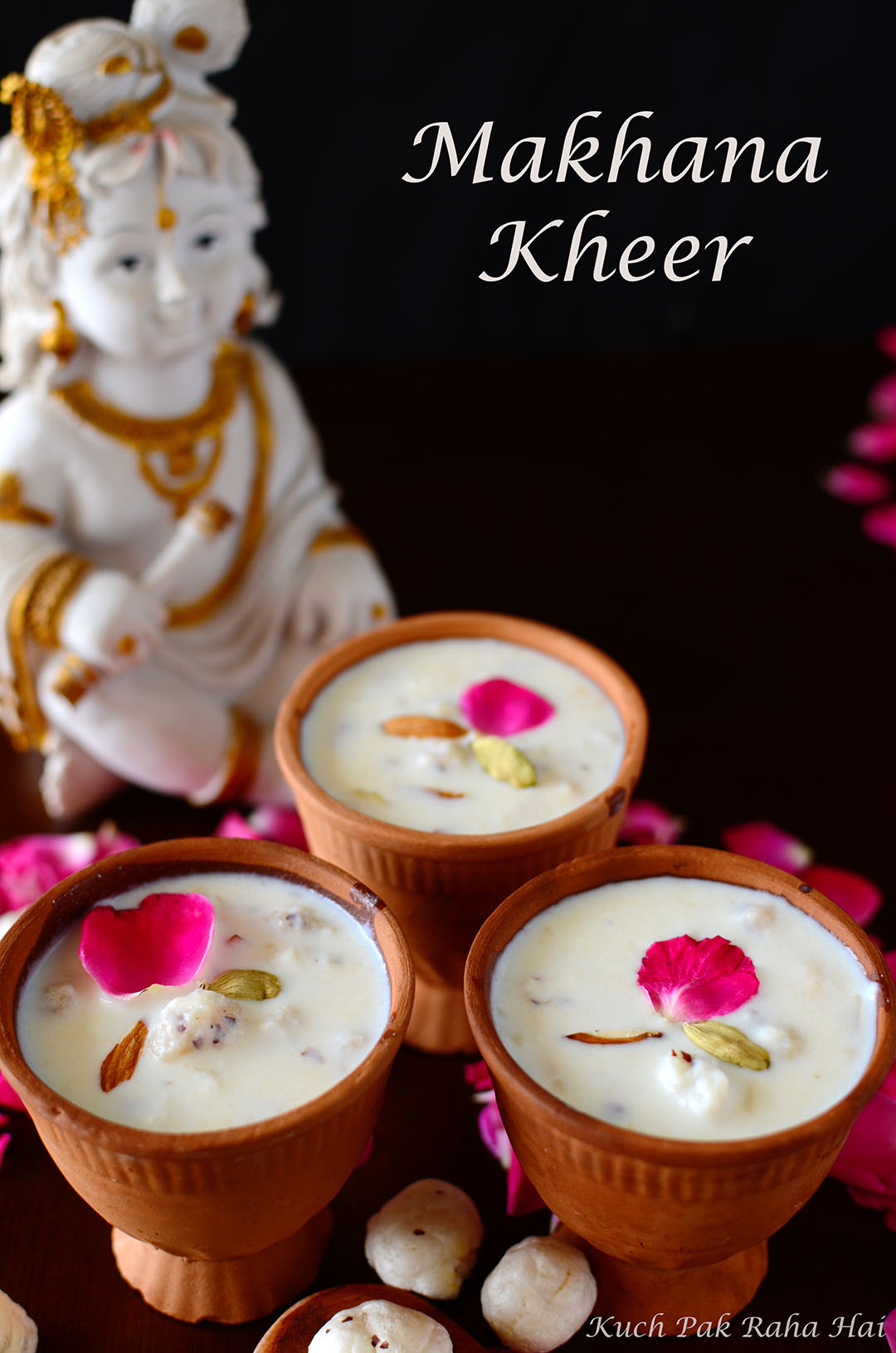 Hope you would like this delicious and creamy Makhana Kheer recipe. Some more such luscious mouth-watering Indian sweet recipes:
Youtube Video:
Ingredients:
Makhana (Fox nuts)-2 cup
Ghee- 3 tsp
Milk- 4 cups (1 litre)
Sugar-1/3 cup (

or to taste

)
Chopped Almonds- 10 to 12
Chopped Cashews- 10 to 12
Chopped Pistachio- 8 to 10
Raisins- 10 to 12
Cardamom powder-1/2 tsp
Chironji (or Charoli)- 1 tsp
Notes:
1. Full fat milk renders a creamy thick texture to the kheer. However if you are want to make low fat kheer, then use toned or skimmed milk.
2. Adjust the quantity of sugar as per your taste. If you like more sweet kheer, take 1/2 cup sugar.
Directions:
Step 1 :
In a pan, heat 2 tsp ghee and roast makhana on medium-low flame till they become crunchy.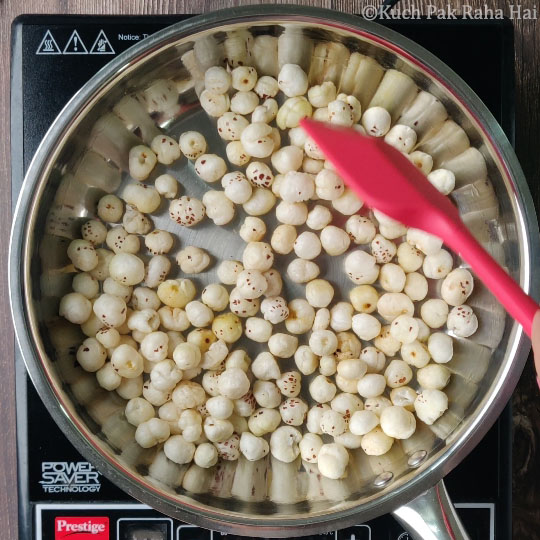 Step 2:
Coarsely grind 1/2 cup roasted makhana. Roughly chop the remaining makhanas into halves, leaving some of them whole. Keep these makhana aside.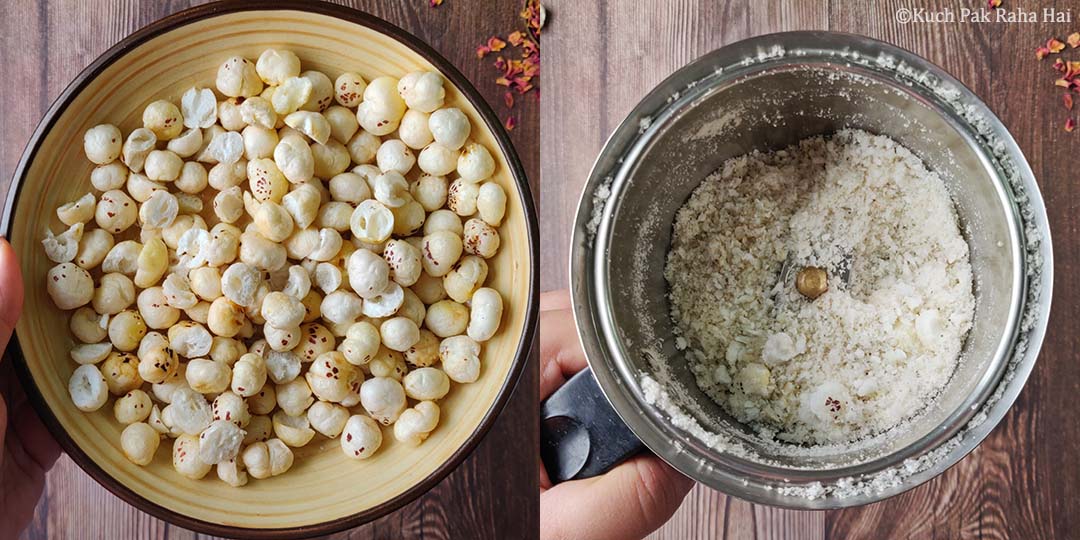 Step 3 :
In a pan take 1 tsp ghee, add chopped almonds and cashews. Roast them on low flame for 2-3 minutes till they become crunchy & aromatic. Keep these aside.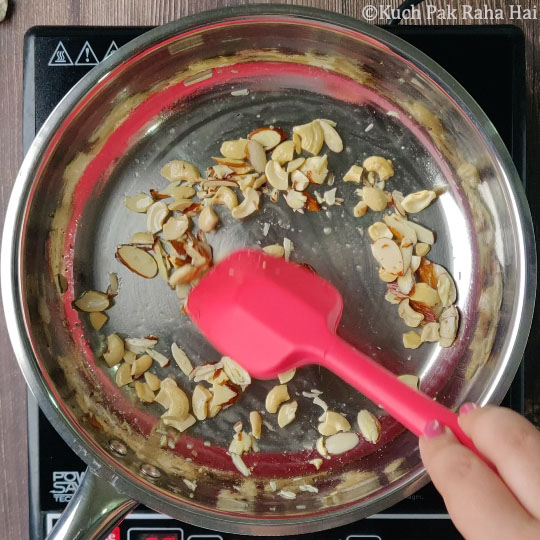 Step 4:
Add milk to the same pan & let it come to boil. Once the milk comes to boil, slow the flame and add all the roasted makhanas, cashews, almonds (save some for garnishing). Mix well & let it cook on low-medium flame.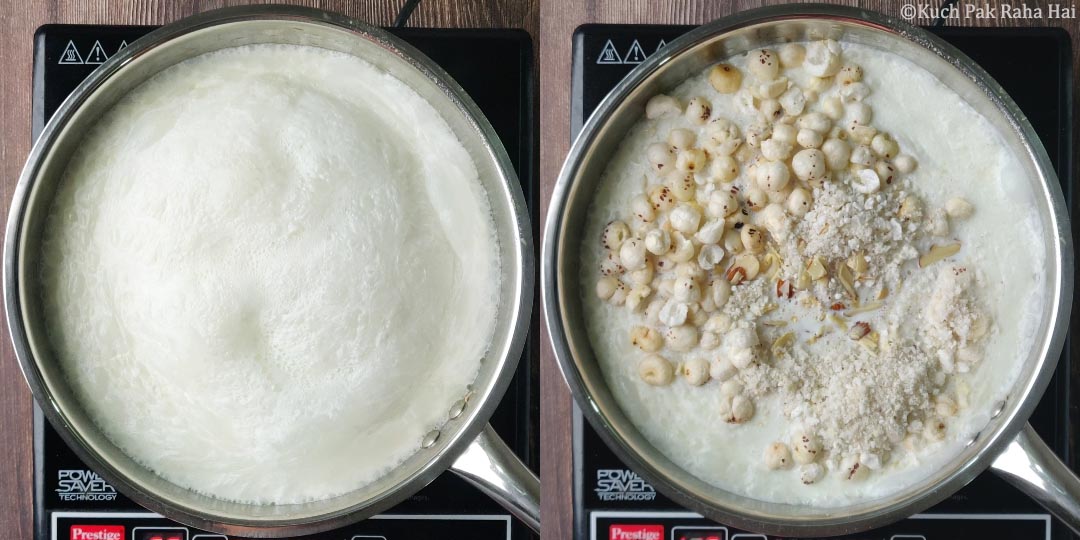 Step 5:
Keep stirring in between while scrapping the mixture from sides & bottom to avoid burning.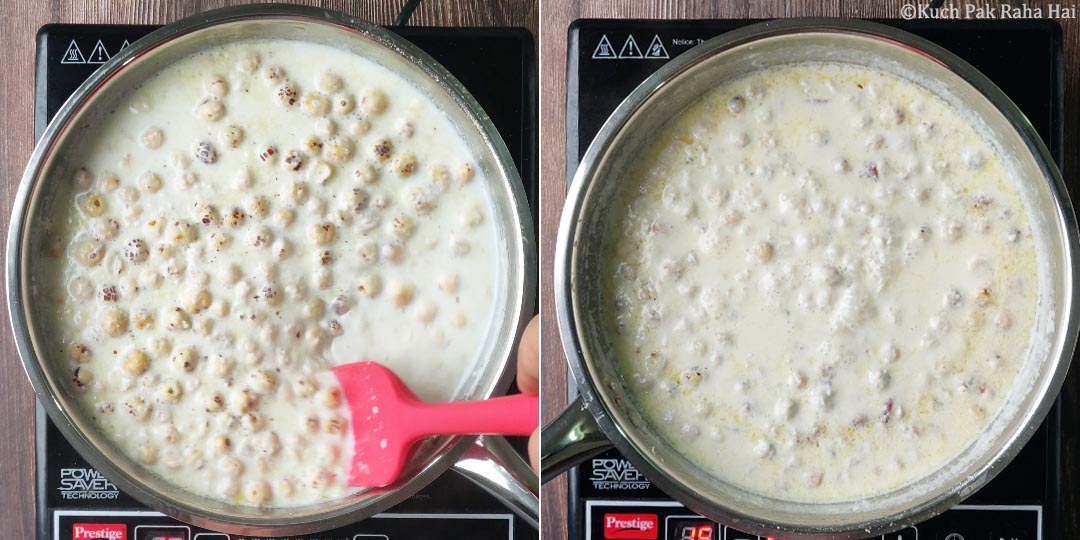 Step 6:
After 15-20 minutes, when the milk begins to thicken up, add raisins, chironji, cardamom powder & sugar. Let it cook for 5 more minutes till sugar dissolves completely & then switch off the flame.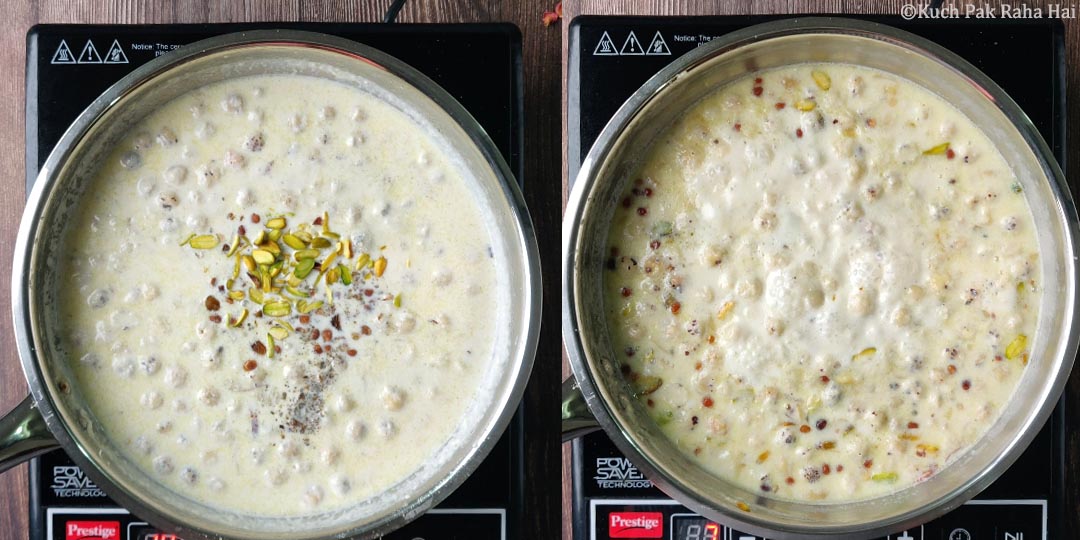 Step 7:
Transfer the kheer into a serving bowl and chill it in fridge for an hour. Garnish with more chopped nuts before serving. Enjoy delicious creamy Makhana Kheer !!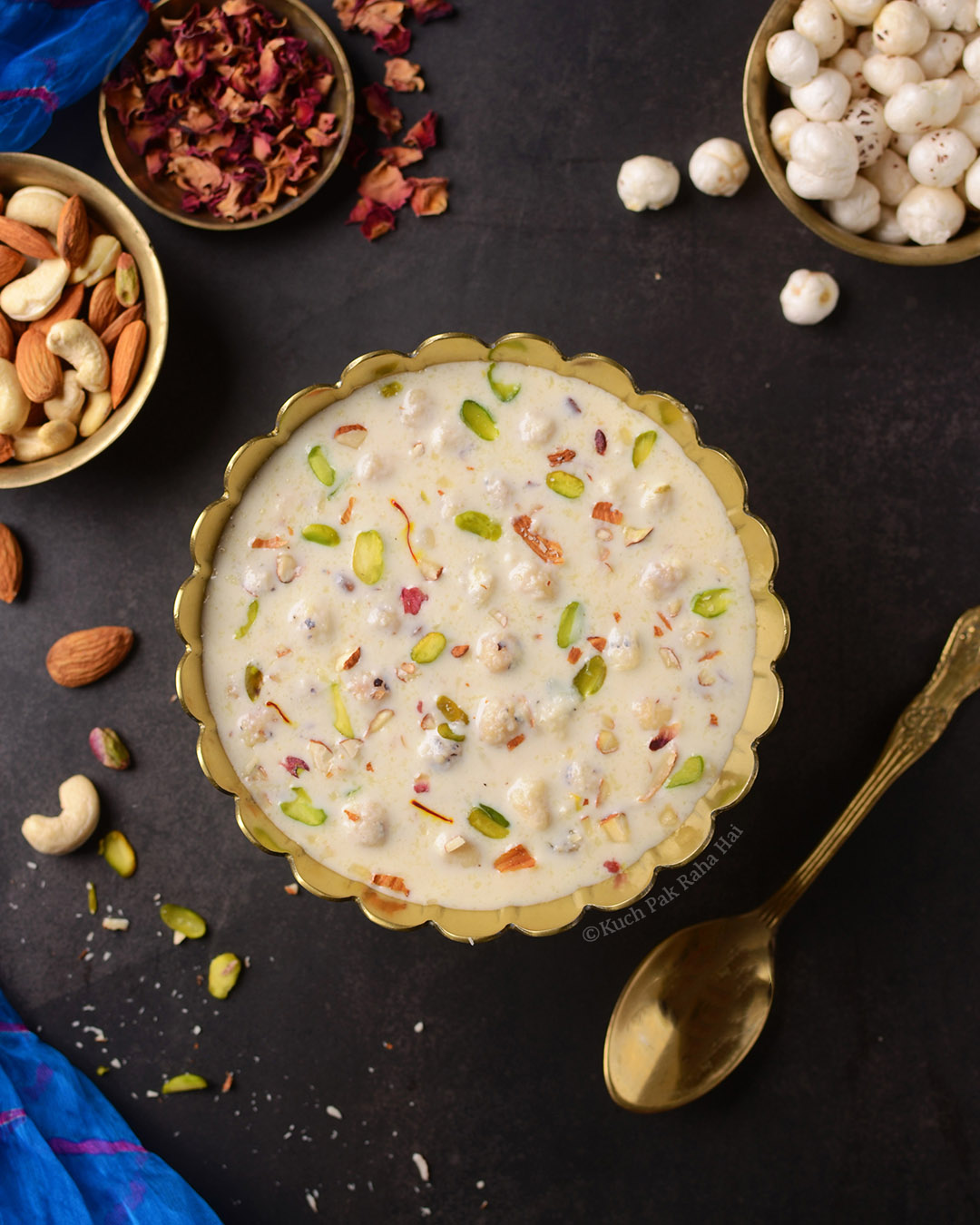 Tips:
1. You can soak and peel the almonds before adding them in kheer.
2. If the kheer gets too thick after some time, add 2-3 tablespoon of warm milk.
3. Use heavy bottomed pan to make kheer and keep scraping it periodically from sides to avoid milk from burning.
4. To make vegan makhana kheer, use coconut oil in place of ghee and any plant based milk like almond, soy or oats milk.
Pin for later: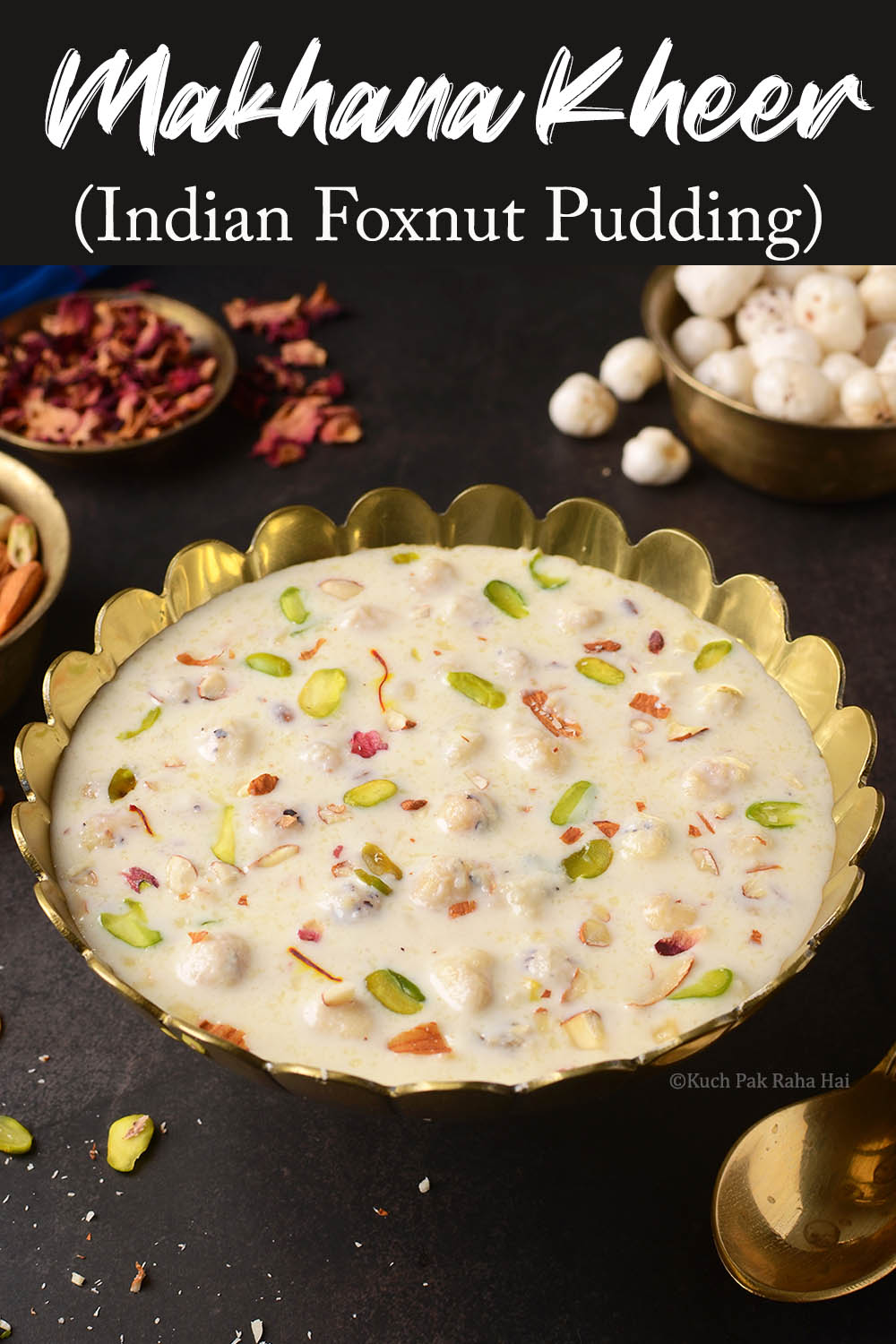 If you try this easy makhana ki kheer recipe & share pics on social media, then don't forget to tag us on Facebook, Instagram or #kuchpakrahahai.
Let's stay connected
Facebook| Instagram| Pinterest| Youtube