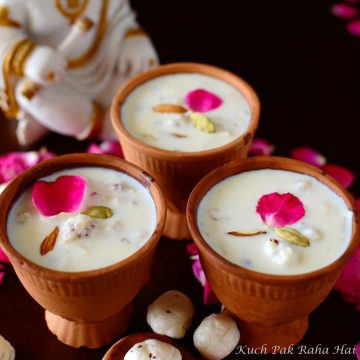 Makhana Kheer is a delectable Indian pudding recipe made by cooking makhana in milk, sugar till it reaches thick creamy consistency. To add crunch to it, we also add some dry fruits like almonds, cashews & pistachios etc. This lip-smacking 'makhane ki kheer' is an easy dessert recipe that does not take much time or effort.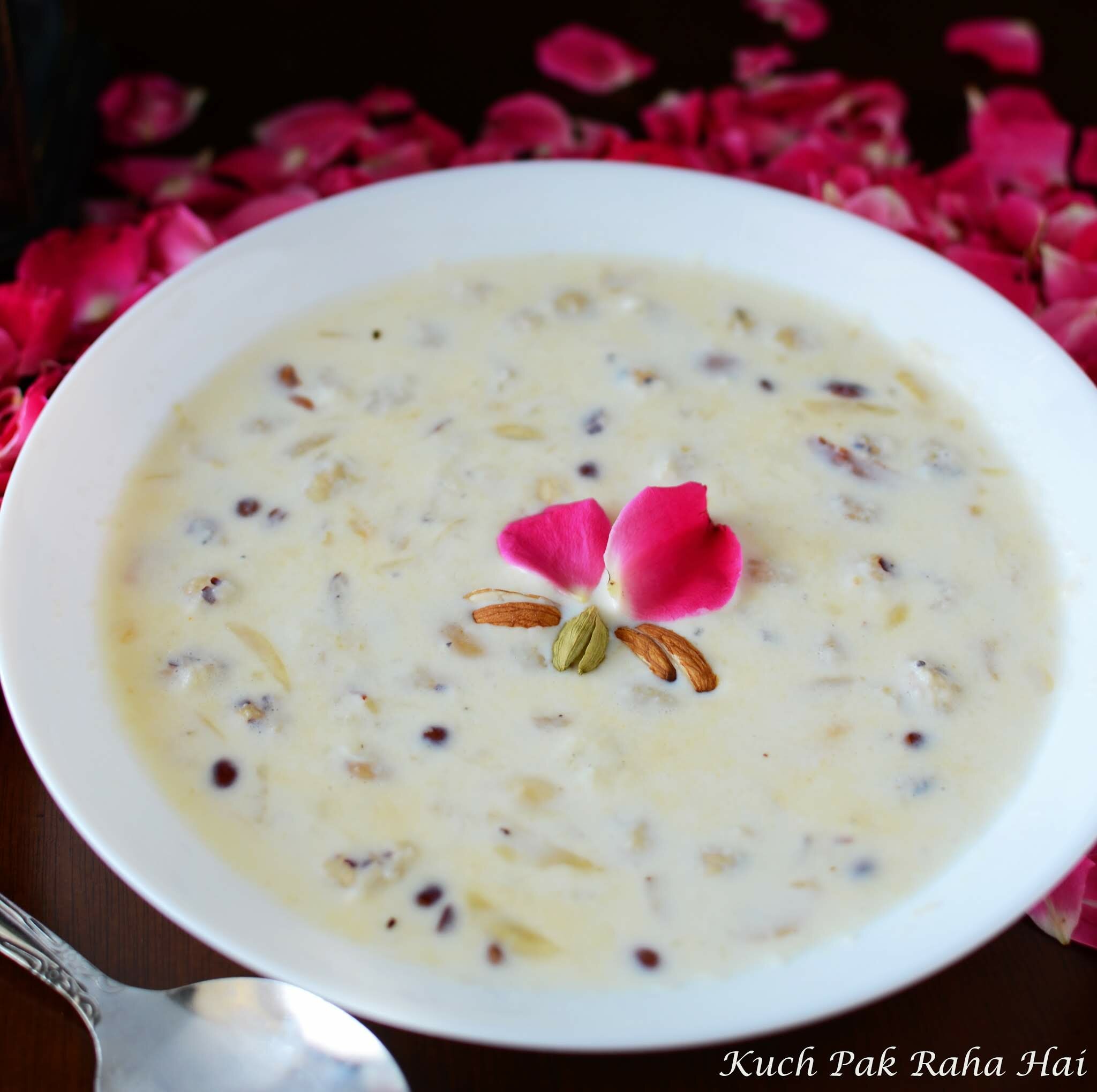 Makhana is known by other names also like lotus seeds, fox nuts or phool makhana. They are rich source of calcium, iron, antioxidants, natural flavonoids which prevent ageing and fibre etc. They are also considered as a great snack especially if you are trying to lose weight as they make you feel full for longer time.
To make this makhana kheer, we first roast the makhanas till they are crunchy. We then boil the milk  & add them along with some chopped almonds, cashews and raisins. I have used full-fat milk to prepare this delicious kheer. However, you can use toned milk for lighter version. The quantity of sugar can be varied as per your own taste.
Apart from almonds, cashews & raisins, some "Chironji" is also added to makhana kheer which gives its a rich nutty taste. Chironji is an Indian spice harvested from tree called "Buchanania Lanzan" and has number of health benefits. It is a natural coolant, improves digestion & overall skin health. You can add it in other recipes of kheer or halwa. The cardamom powder gives a nice soothing aroma to the dessert overall.
Some more Makhana recipes which you might like :
You can even have this delicious kheer during in Navratri fasting or MahaShivratri fasting. I always make in during Navratri fasts as it tastes so delicious & instantly satiates the sugar craving without being heavy on stomach. I have also shared another recipe Sama Rice Kheer which can also be consumed during fasting.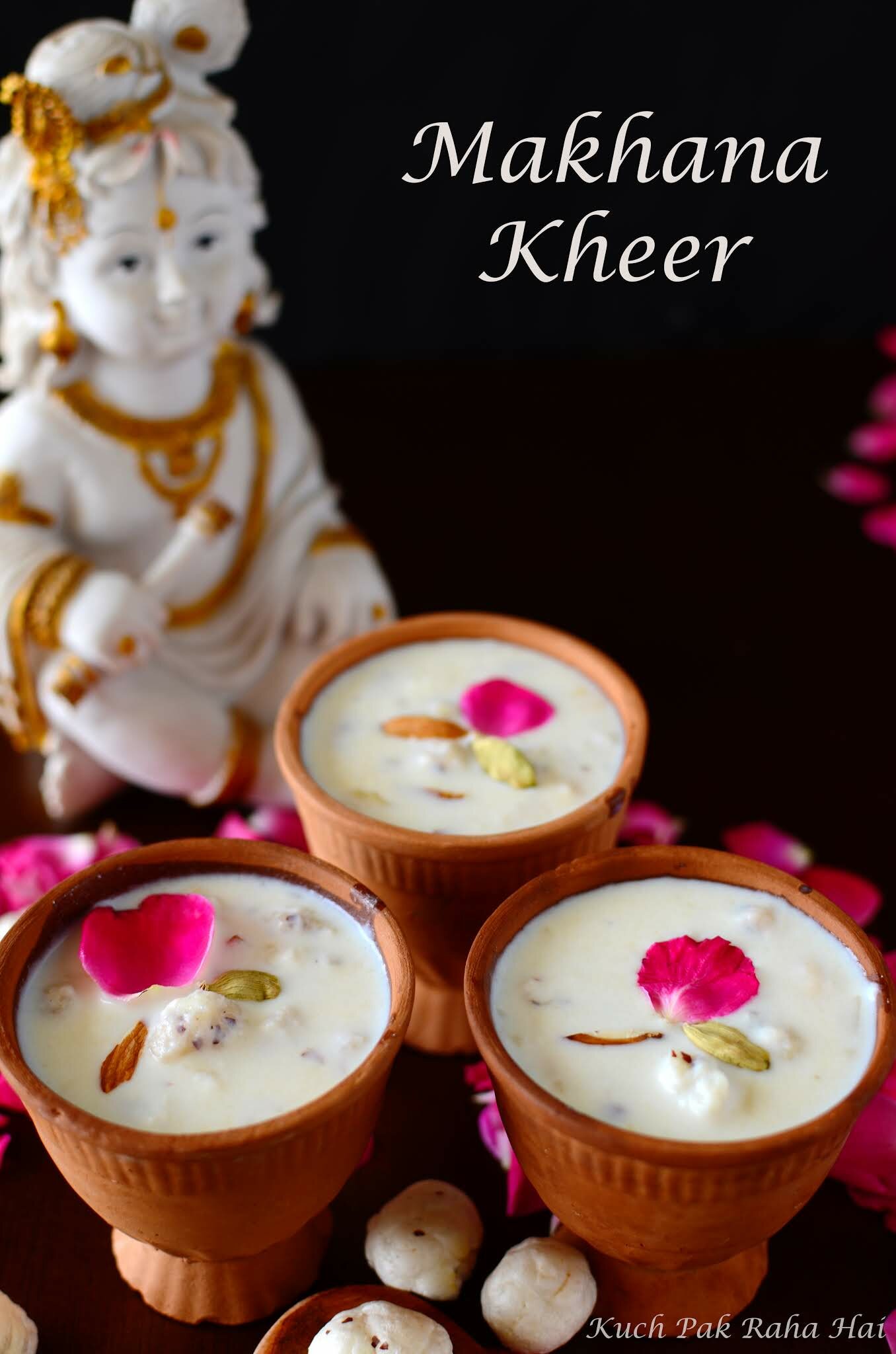 Whenever it comes to serving, I generally prefer clay earthenware bowls ("kulhar" in hindi) as they not only look really elegant but give an earthy aroma to the kheer. These Kulhars can be used to serve tea, yoghurt & many other Indian desserts like kulfi, rabdi and mishti doi etc.
Hope you would like this delicious and creamy Makhana Kheer recipe!!
List of Ingredients: (Makes 3-4 servings)
Makhana (Fox nut)-1 cup
Ghee (Clarified butter)-1 tbsp
Milk- 500 ml
Sugar-1/4 cup (

or to taste

)
Almonds- 6 to 8
Raisins- 8 to 10
Cashews- 6 to 8
Elaichi powder (Cardamom)-1/4 tsp
Chironji (or Charoli)- 1/4 tsp
For garnishing:
Almonds- 4 to 5
Rose petals- 8 to 10 (optional)
Steps to Prepare:
Step 1:
Split the makhana or foxnuts into 2 pieces. In a heavy bottom or a non stick pan, heat ghee and roast these split makhana in it for 2-3 minutes till they become sighlty golden in colour & become crunchy. Keep these roasted makhana aside.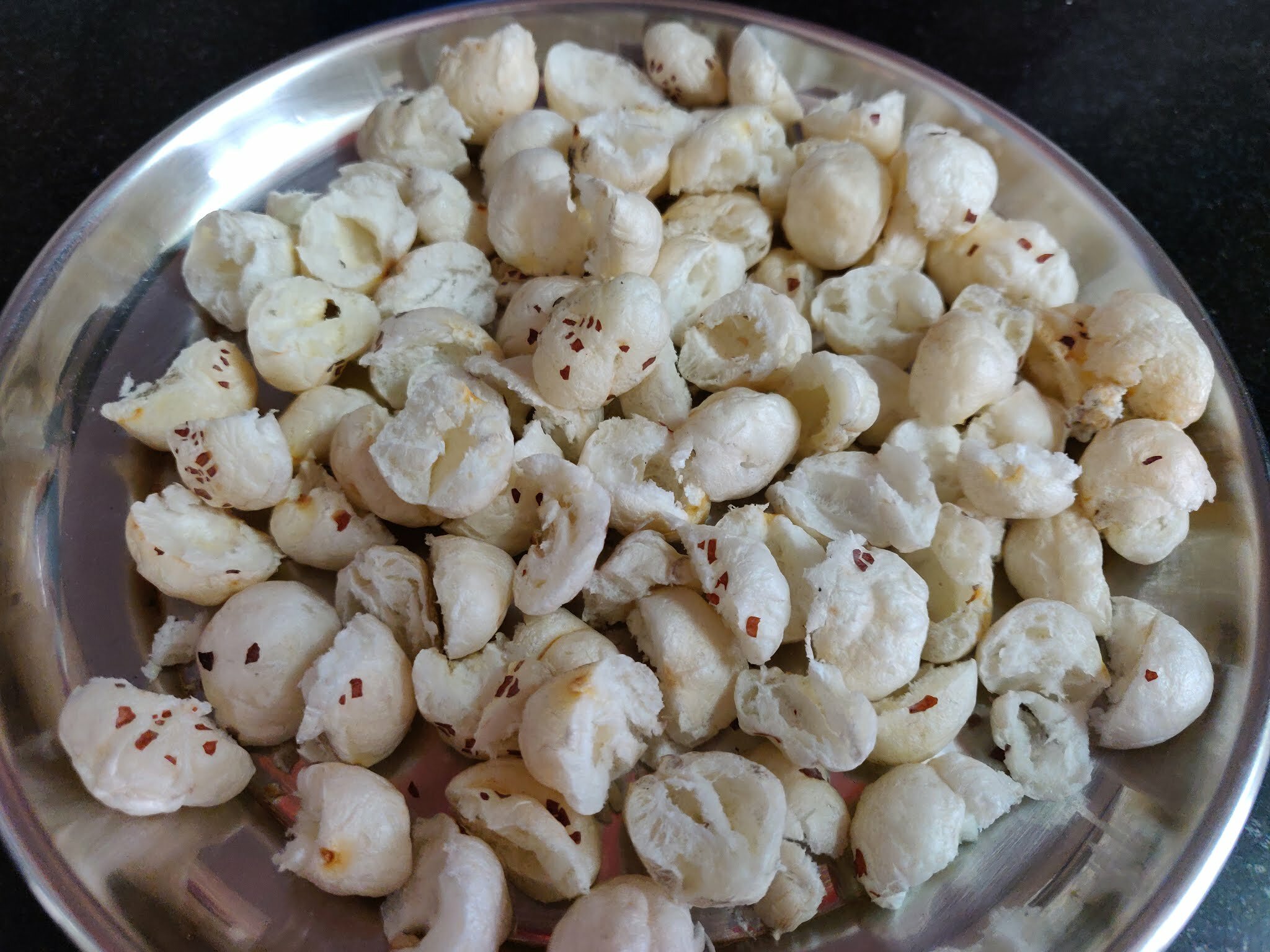 Step 2:
In the same pan, heat half litre (500 ml) of milk & bring it to boil. I have used full-fat milk here as it imparts more creamy flavour to the kheer. If you wish, you can use toned milk also. By the time milk is boiling you can proceed to next step.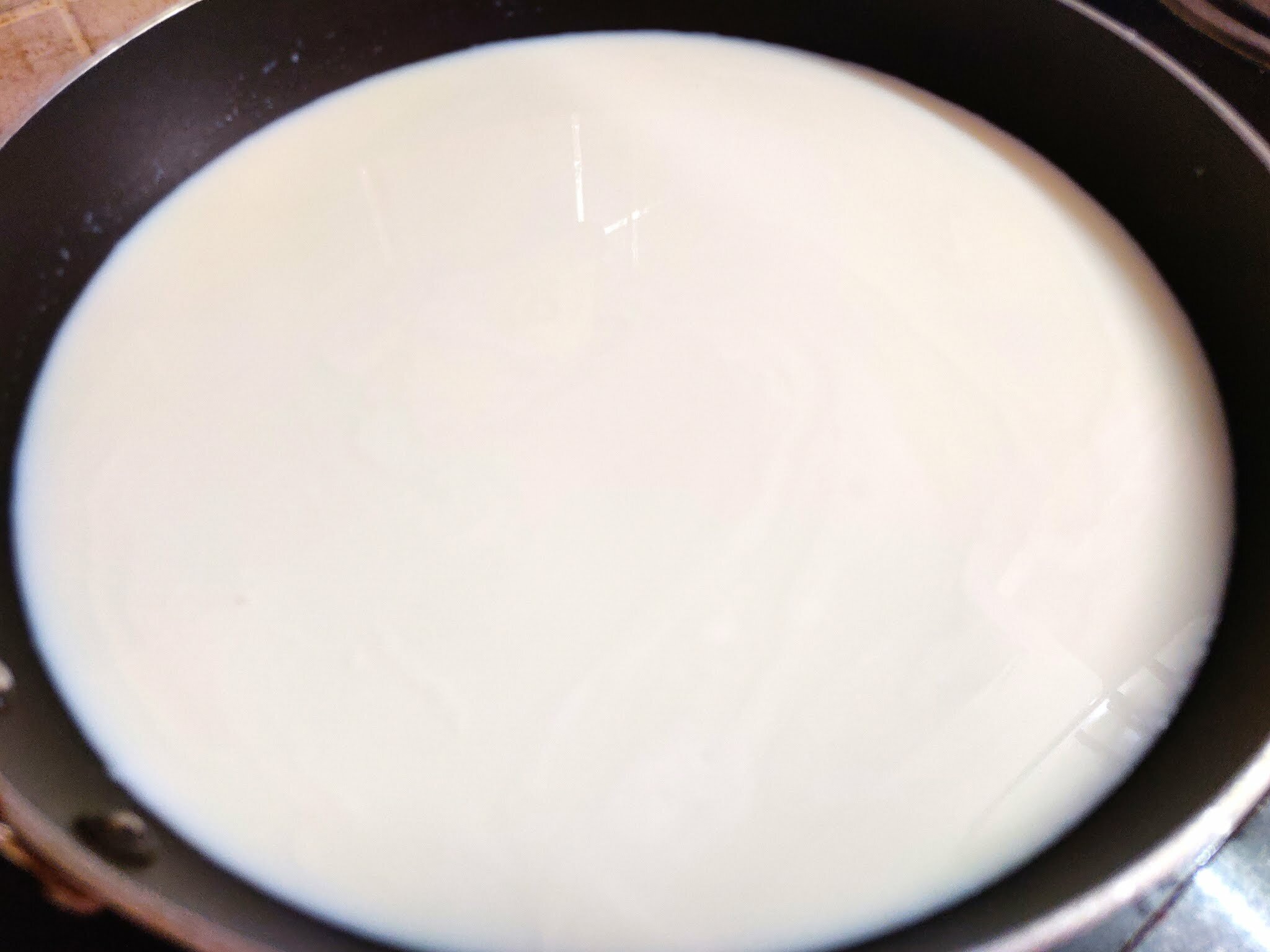 Step 3:
Chop the cashews & almonds in small pieces. Also, if you are using whole cardamom you can powder it in mortar-pestle. Keep these aside.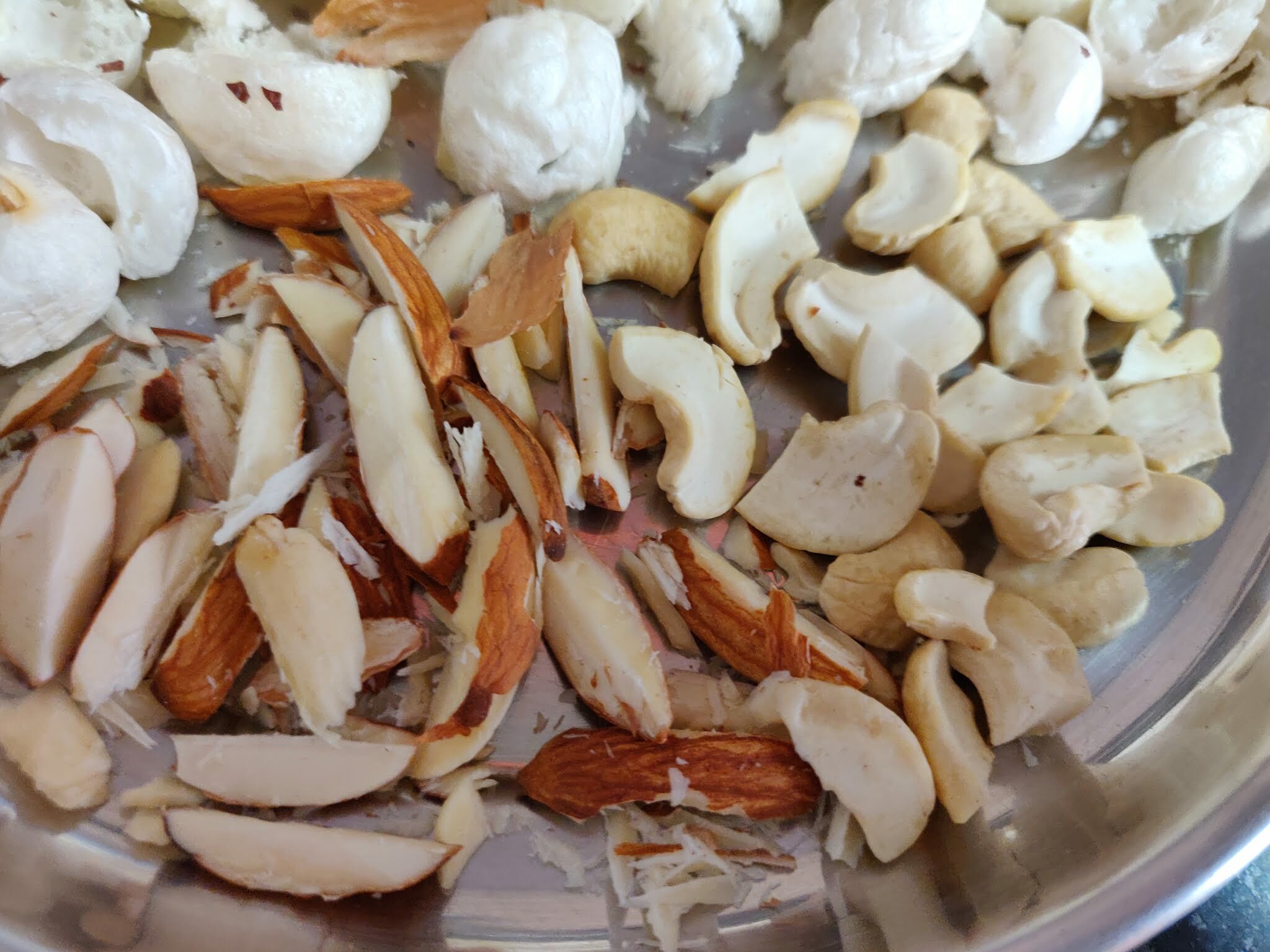 Step 4:
Once the milk comes to boil, slow down the flame. Add the roasted makhanas we kept aside along with raisins, chironji & chopped almonds, cashews. Let it cook for 20-25 minutes on low-medium flame. Keep stirring in between while scrapping the mixture from sides & bottom.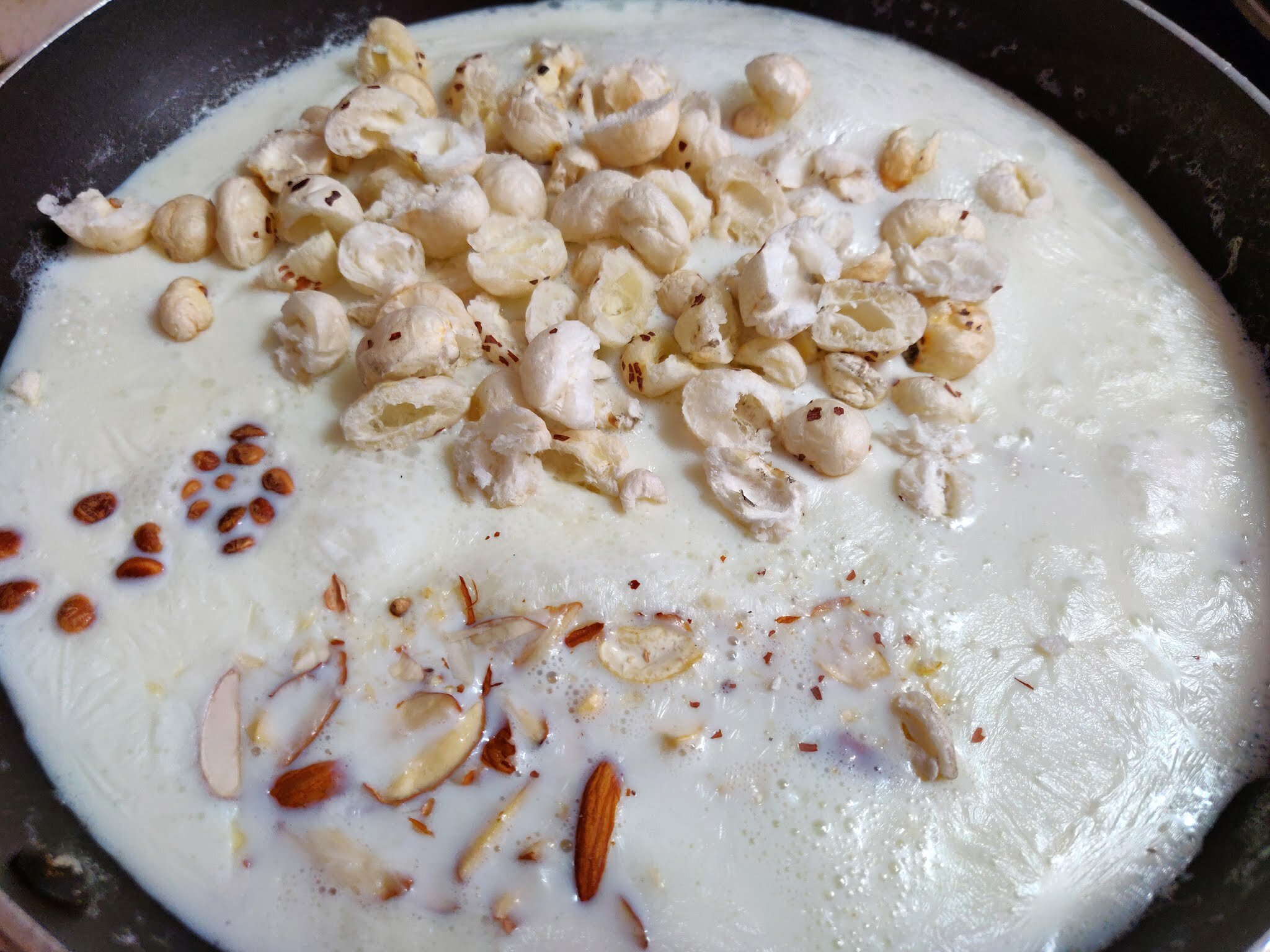 Step 5:
When the pudding / kheer thickens up, add cardamom powder & sugar. Let it cook for 2 more minutes till sugar dissolves completely & then switch off the flame.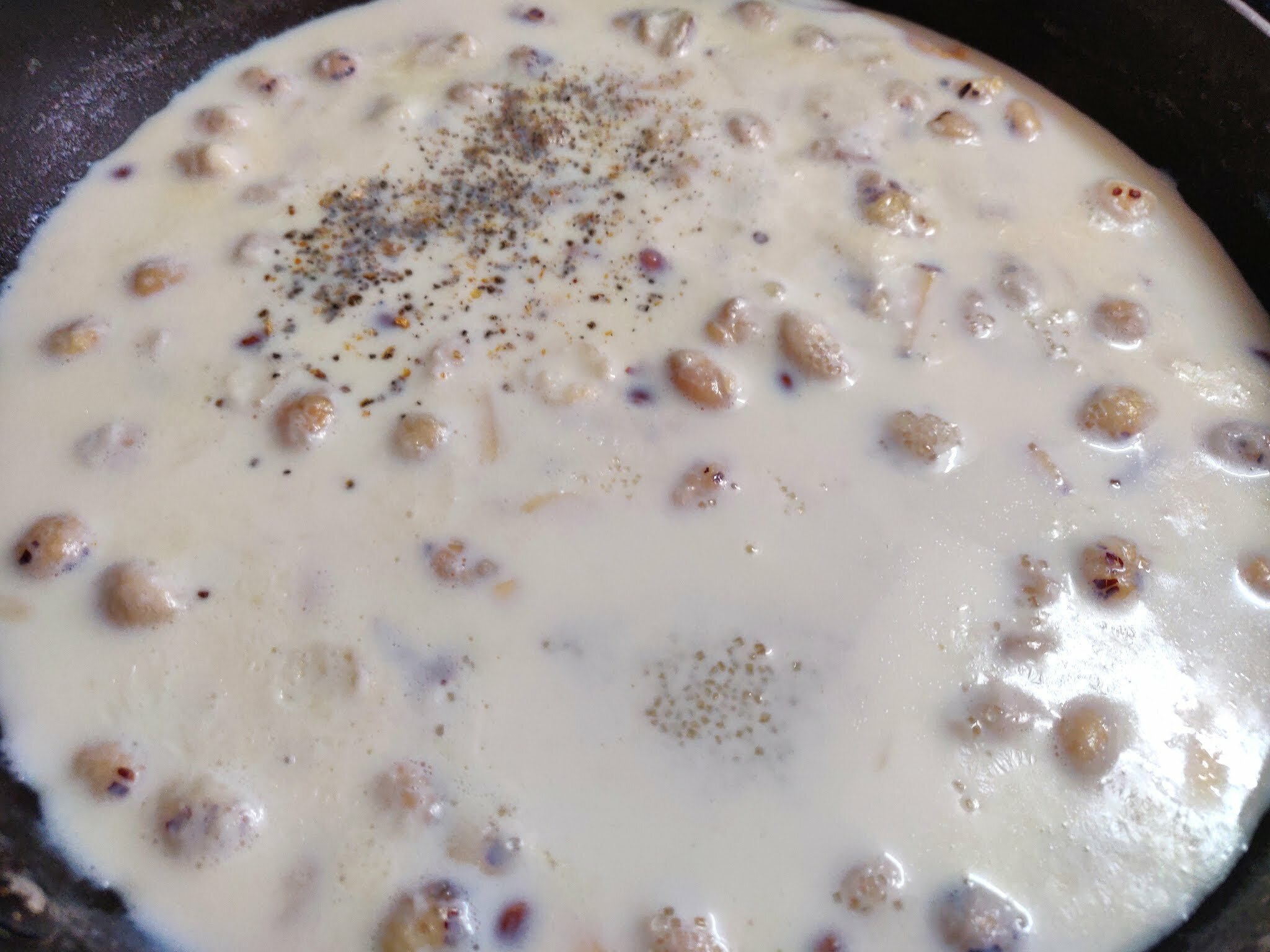 Step 6:
Transfer the kheer into a serving bowl & garnish it with some more chopped almonds and rose petals. You can serve it hot but I generally like to chill it in fridge for an hour or so before serving.
Enjoy this delicious creamy kheer chilled or warm !!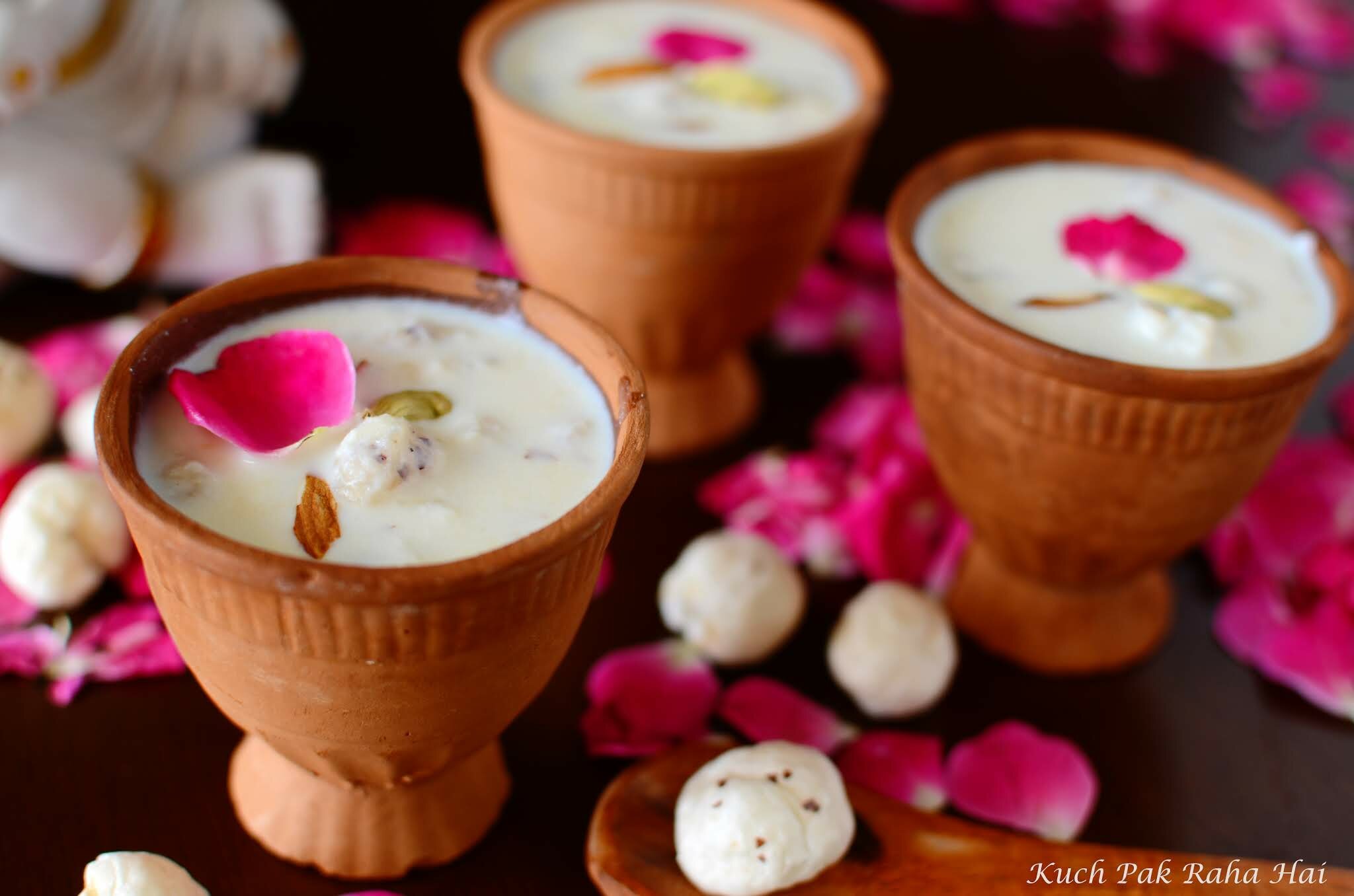 If you try this recipe & share pics on social media, then don't forget to tag us on Facebook or Instagram or use the hashtag #kuchpakrahahai.
Let's stay connected
Facebook| Instagram| Pinterest| Youtube