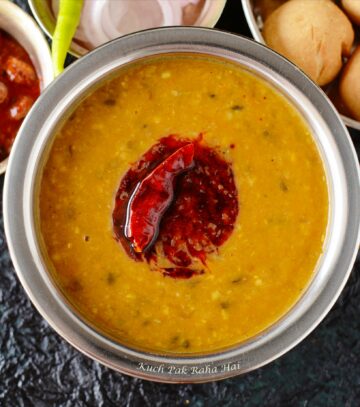 Panchmel Dal or Panchratan dal is a delicious flavourful blend of five lentils or dal. It is a rajasthani recipe and is traditionally served with bati (whole wheat flour balls slow cooked in charcoal oven). However it tastes good with everyday chapati & rice also.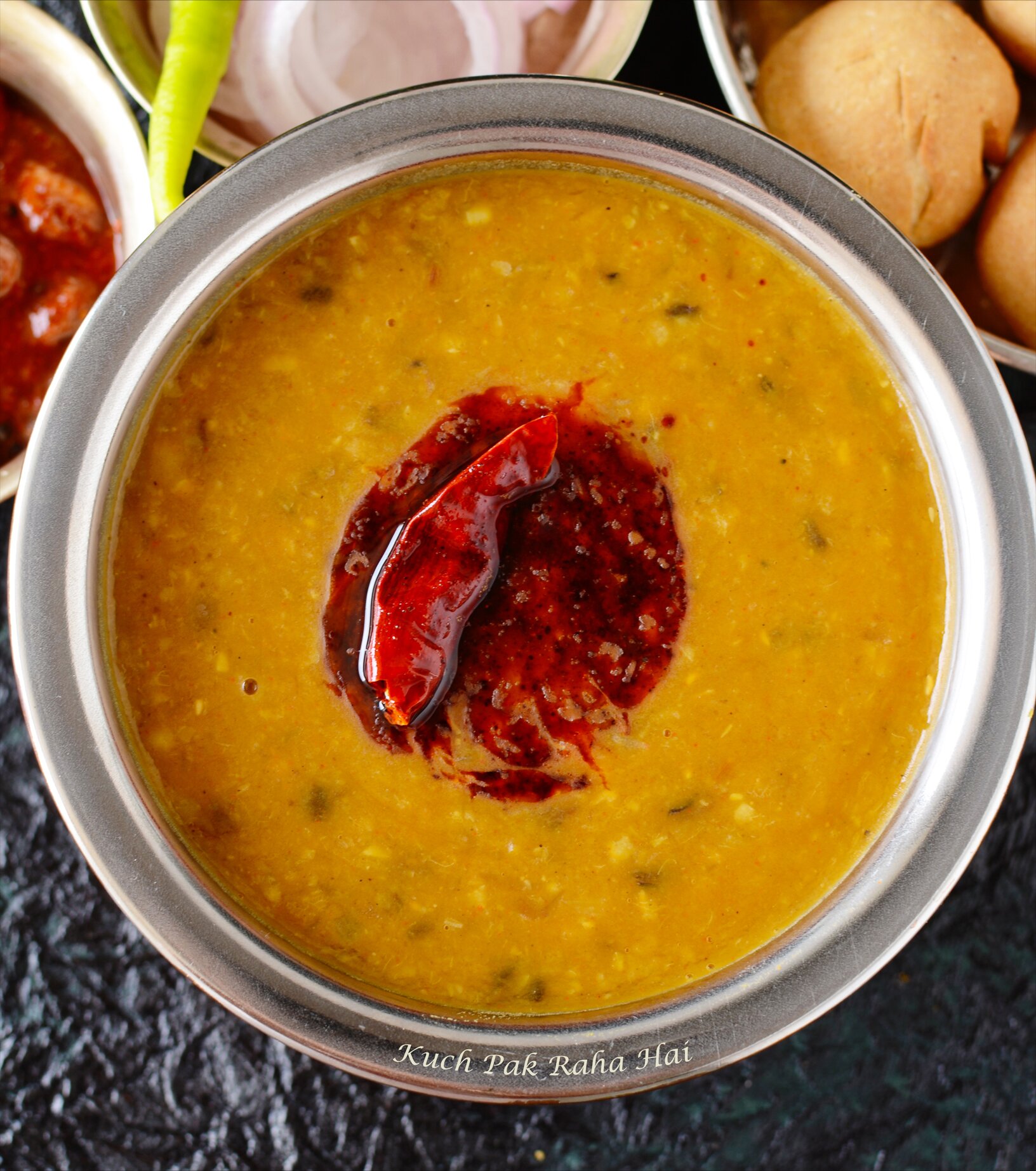 The word panchmel in hindi literally translates to "combination of five". This panchmel dal is full of proteins & other nutrients as it amalgamates the goodness of different dal or lentils. The five dal which are used in this recipe are given below. All are taken in equal quantities, boiled and then mixed with fresh aromatic spice blend.
Arhar Dal (Split Pigeon Peas)
Chilka Moong Dal (Split Green Gram)
Masoor Dal (Orange Lentil)
Chana Dal (Split Chickpeas)
Chilka Urad Dal (Split Black Gram)
It is fine to do minor substitutions like if you don't have chilka urad dal you can replace it urad dal or instead of split green moong you can use split yellow moong. However is you want taste close to authentic panchmel dal then I would recommend using above mentioned lentils.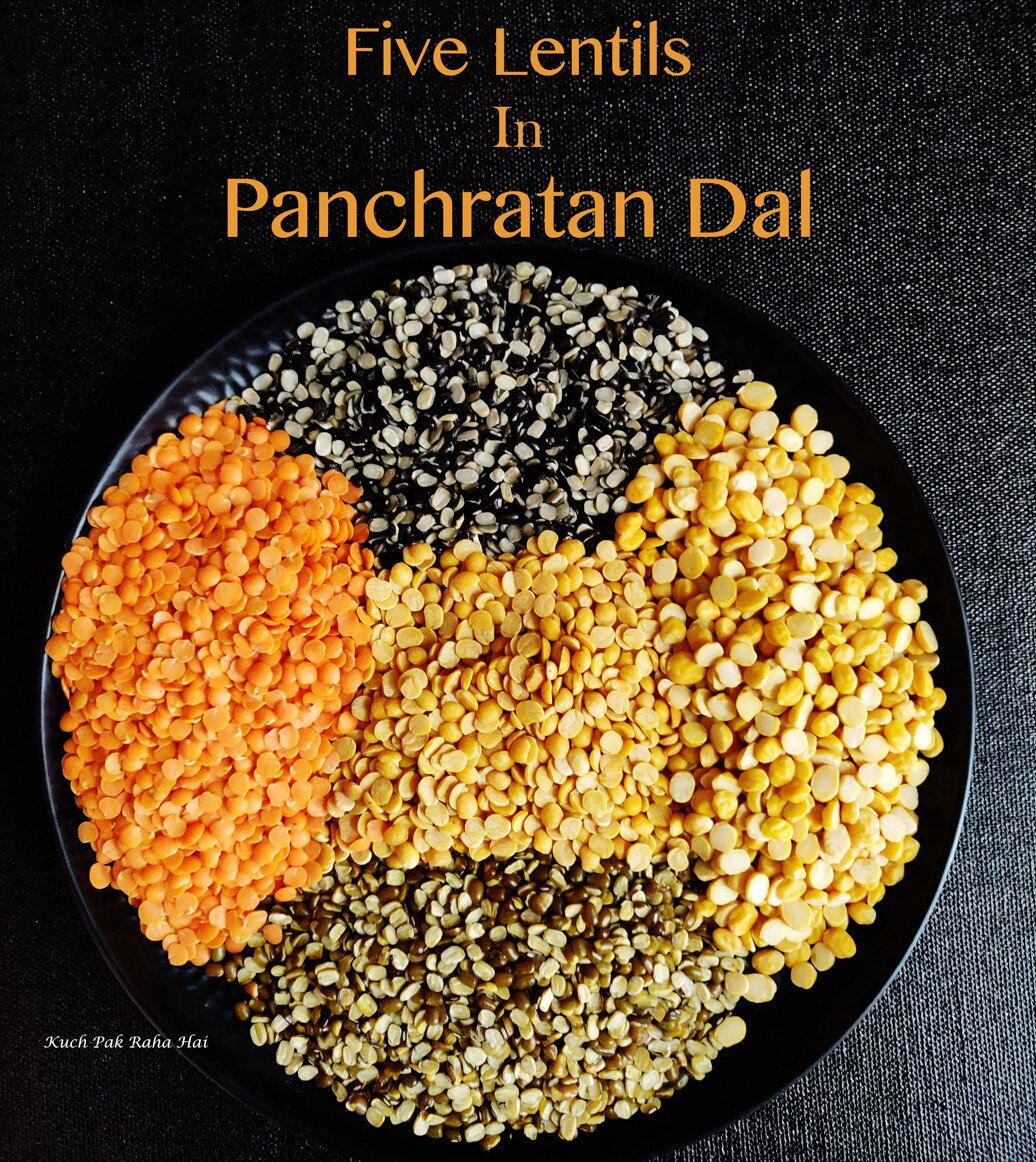 Lentils have been an essential part of our diet since childhood. Our mother made sure that we ate lentils in at least one of our meals as it is a major source of protein especially in vegetarian or vegan diet. In fact in most of Indian homes, you will find different varieties of lentil being cooked every day-Arhar dal (Toor Dal), Urad dal, Masoor, Malka, Kabuli Chana, Rajma, Chhole and the list goes on.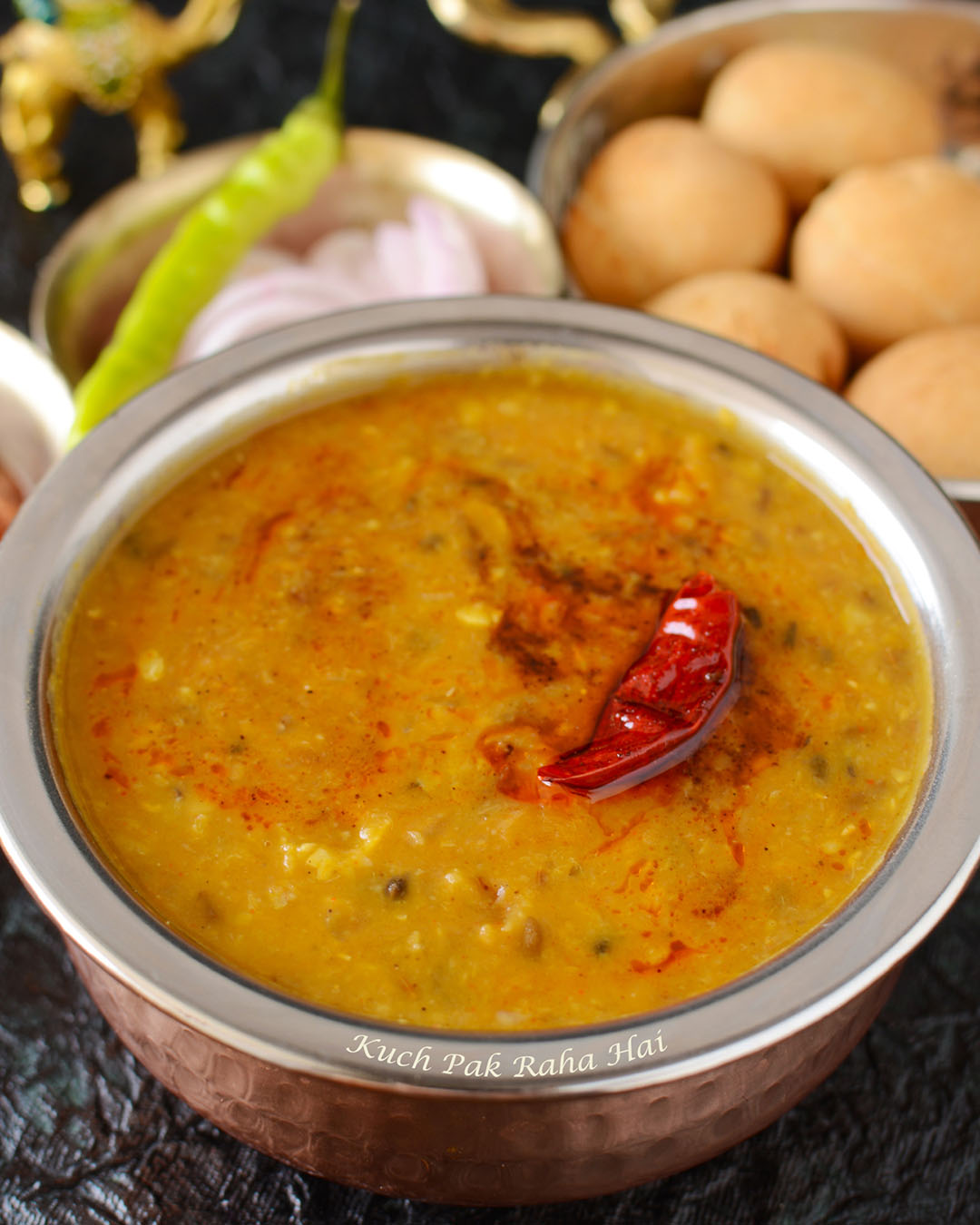 If you are interested in reading about the fascinating history of dal and how they evolved with time then do check out this article. While making recipes I always keep thinking how did anyone decide to cook an ingredient in a particular way and chose certain flavours to enhance its taste. This article definitely answers some of these queries related to dal 😇:
https://www.thebetterindia.com/92642/food-history-dal-lentils-india/
I have also shared Bati recipe, which you can easily make in oven or air fryer. If you want to check out its recipe, click here.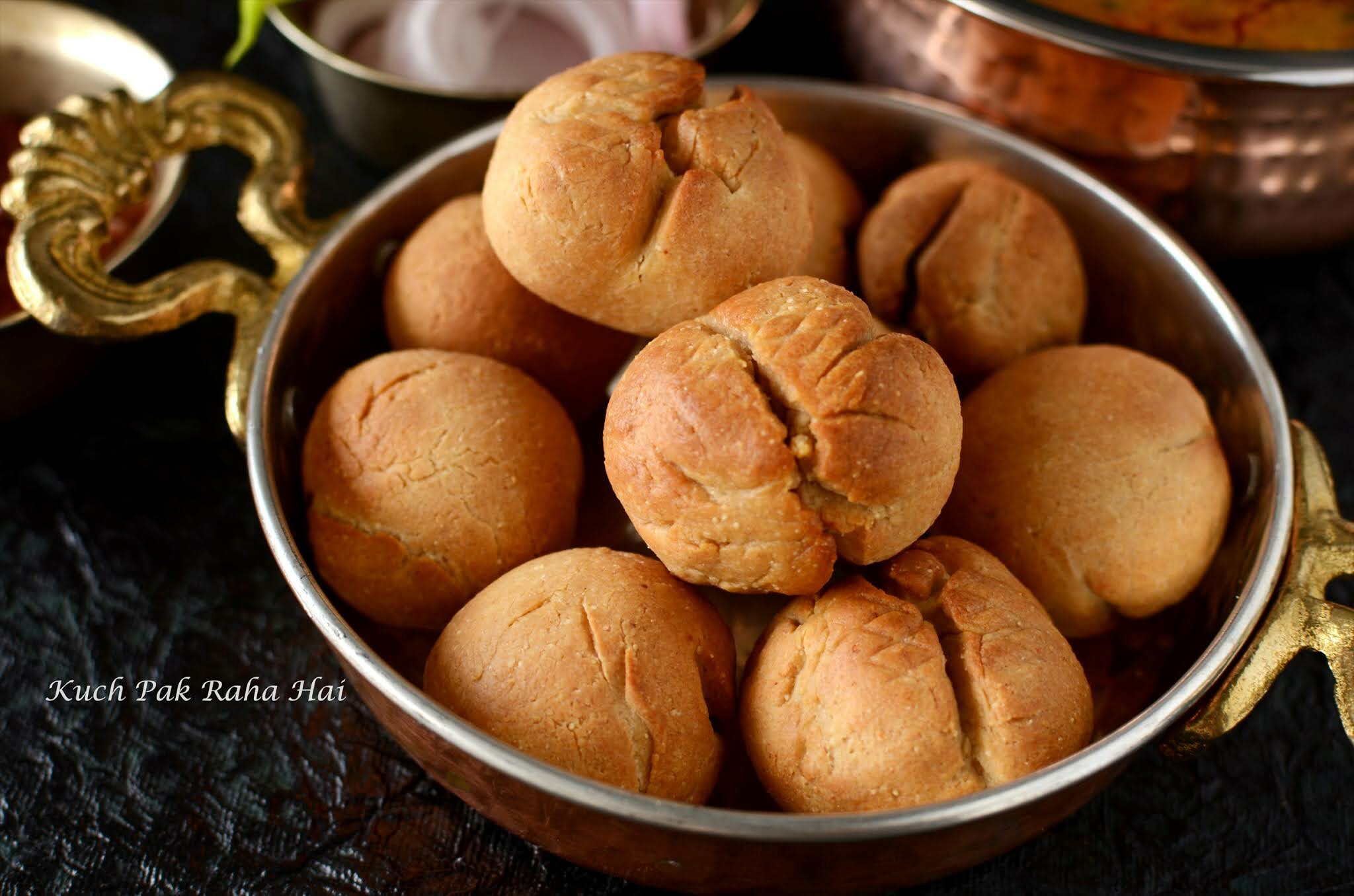 Hope you will like this Panchmel Dal recipe. Do try & have it with bati and generous serving of ghee. I am sure you will love it💛.
More dal or lentil recipes :
List of Ingredients:
Arhar Dal (Split Pigeon Peas) – ¼ cup
Chilka Moong Dal (Split Green gram) – ¼ cup
Masoor Dal (Orange Lentil) – ¼ cup
Chana Dal (Split Chickpeas) – ¼ cup
Chilka Urad Dal(Split black gram) – ¼ cup
Salt – 1 & ½ tsp (or to taste)
Water – 5 cups
Haldi (Turmeric) – 1 tsp
Ghee (Clarified Butter) – 2 tbsp
Jeera (Cumin seeds) – 2 tsp
Heeng (Asafoetida) – ¼ tsp
Whole dried red chilli – 1
Chopped Green Chilli – 2
Ginger Paste – 1 & ½ tsp
Chopped Garlic Cloves – 4 to 6
Chopped Onion – ½ cup
Tomato Puree – 3 tbsp
Red Chili powder – 1 tsp
Garam Masala – ½ tsp
Amchoor Powder – ½ tsp
Chopped Coriander – For garnishing
Substitutions:
1. Though this dal tastes best when cooked in ghee but if you want to make vegan version you can cook it in any cooking oil.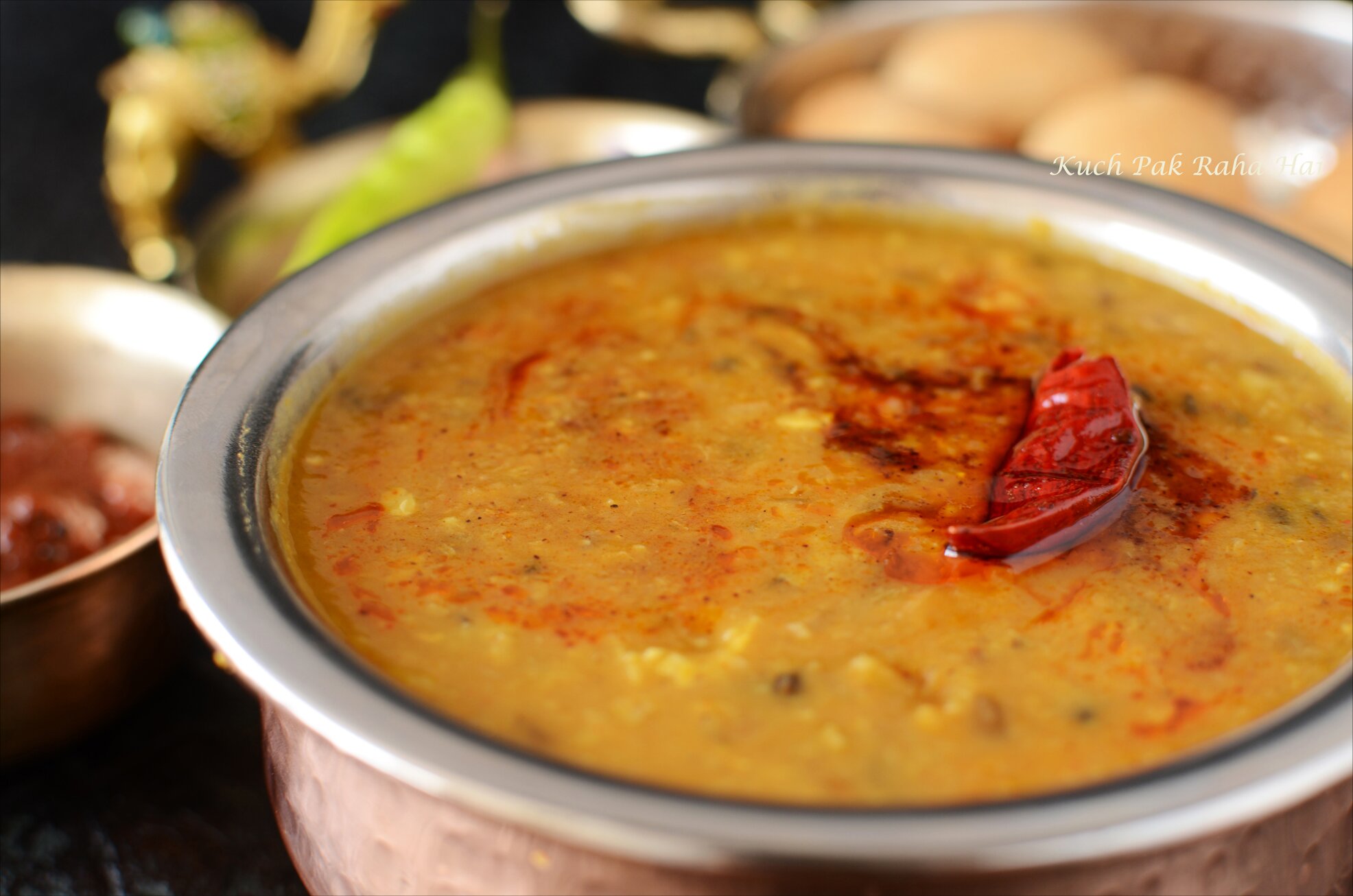 Steps To Prepare:
Step 1:
Add all the lentils in a mixing bowl. Rinse it twice thrice while scrubbing with hands. This is done to wash off all the dust & impurities. Soak it in water for 1-2 hours.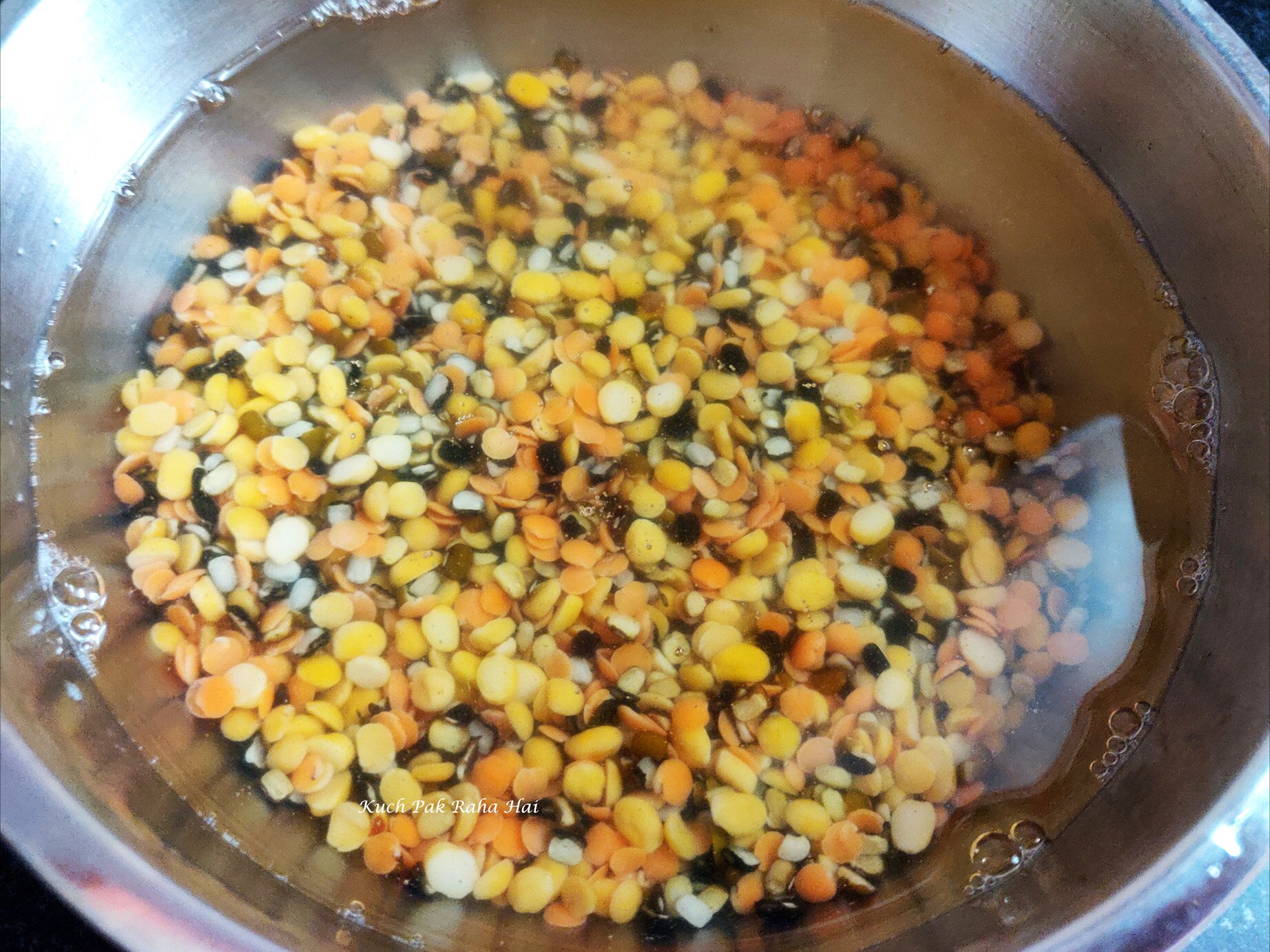 Step 2:
Discard the water in which dal was soaked. Add the soaked lentils, fresh water, salt & turmeric in a pressure cooker. After 2-3 whistles, sim for 10 minutes. Then switch off the flame. Let the pressure release on its own. By the time dal is boiling you can proceed to next step.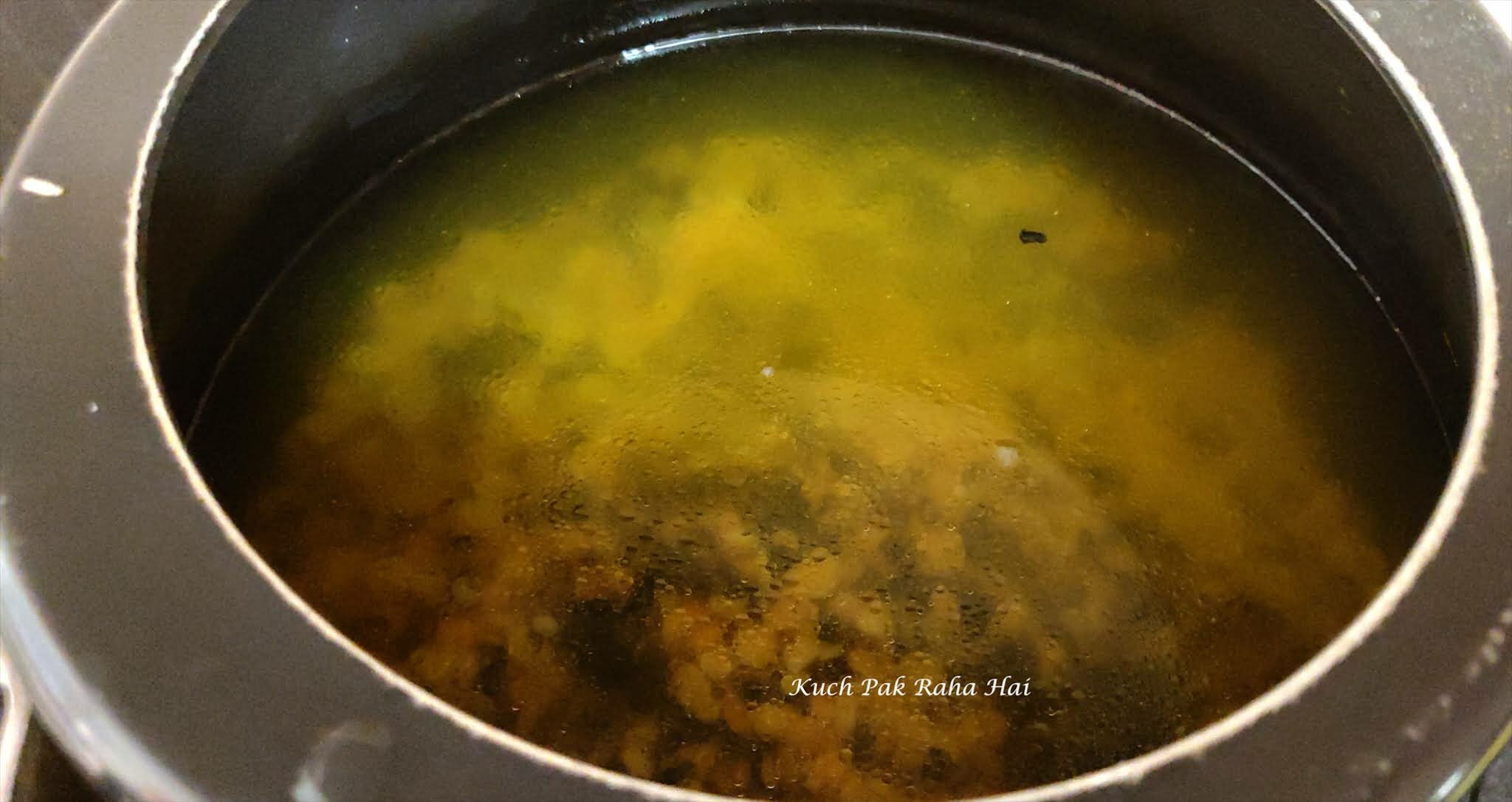 Step 3:
In a non stick or heavy bottomed pan, heat ghee. Add jeera, heeng, whole dried red chilli, chopped green chillies and ginger paste. Sauté for few seconds.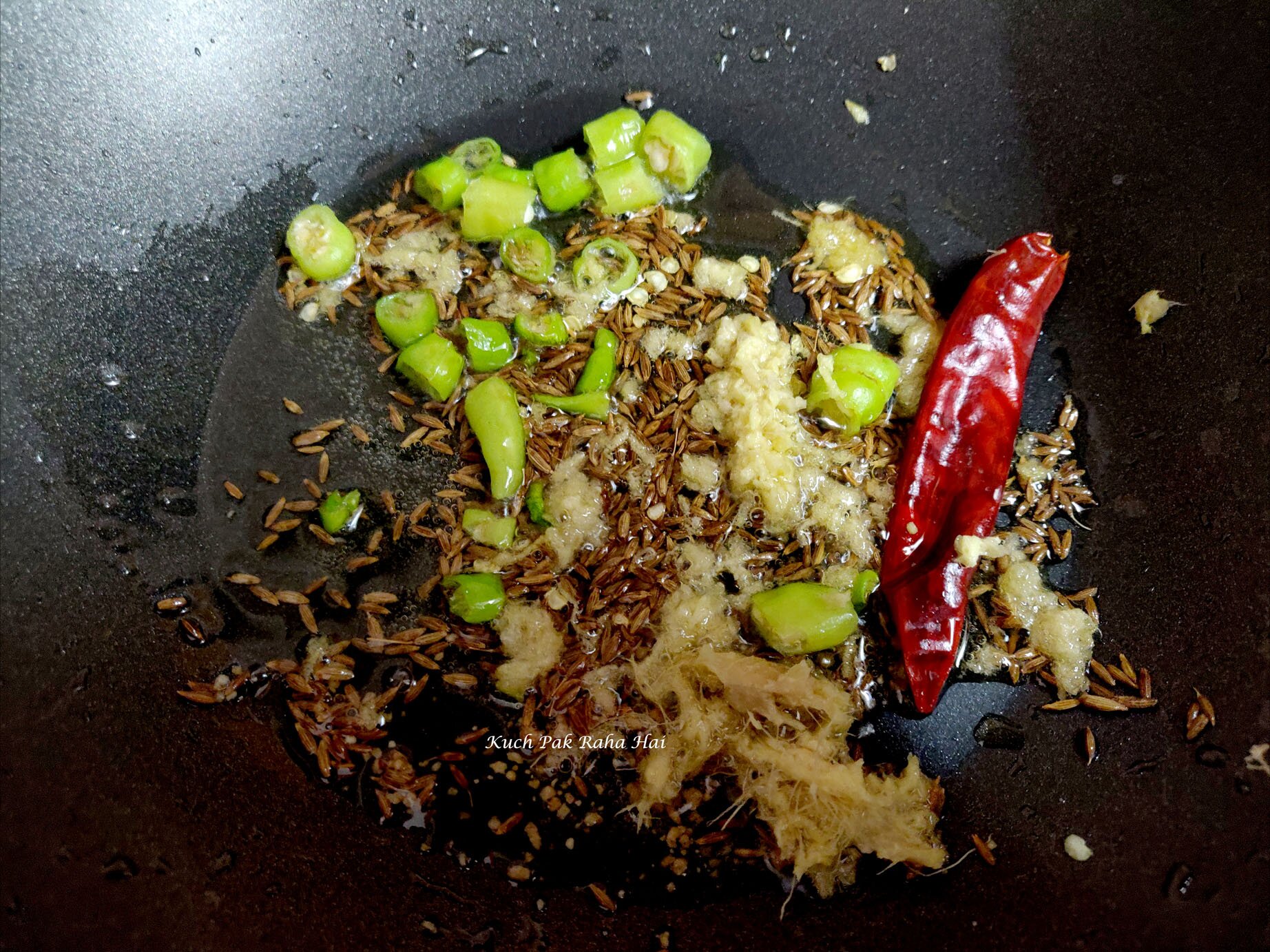 Step 4:
Add chopped garlic cloves, onion and stir till onion turns translucent.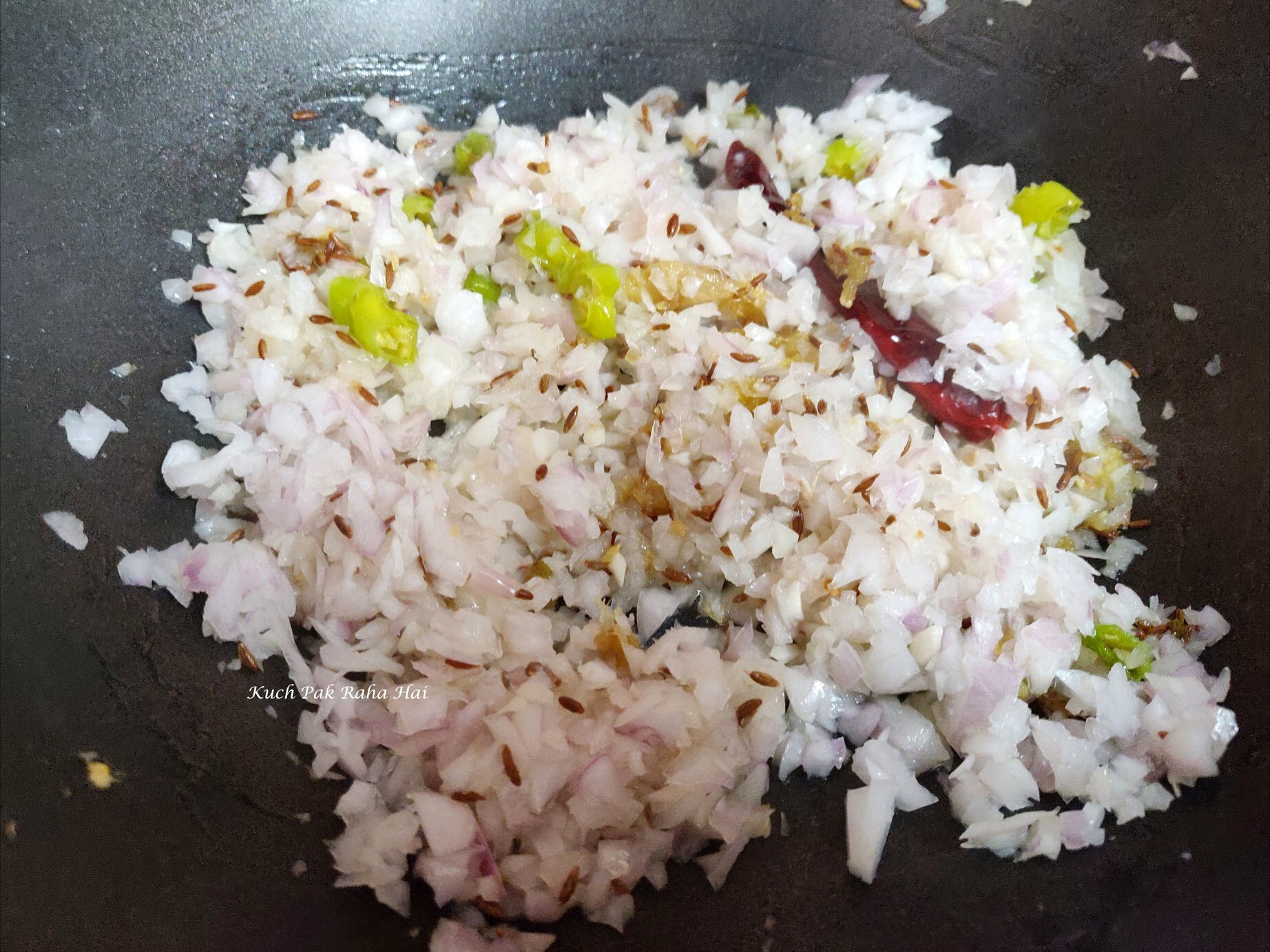 Step 5:
Add tomato puree, red chilli powder & coriander powder. Stir well. Let this masala cook for another 5-6 minutes.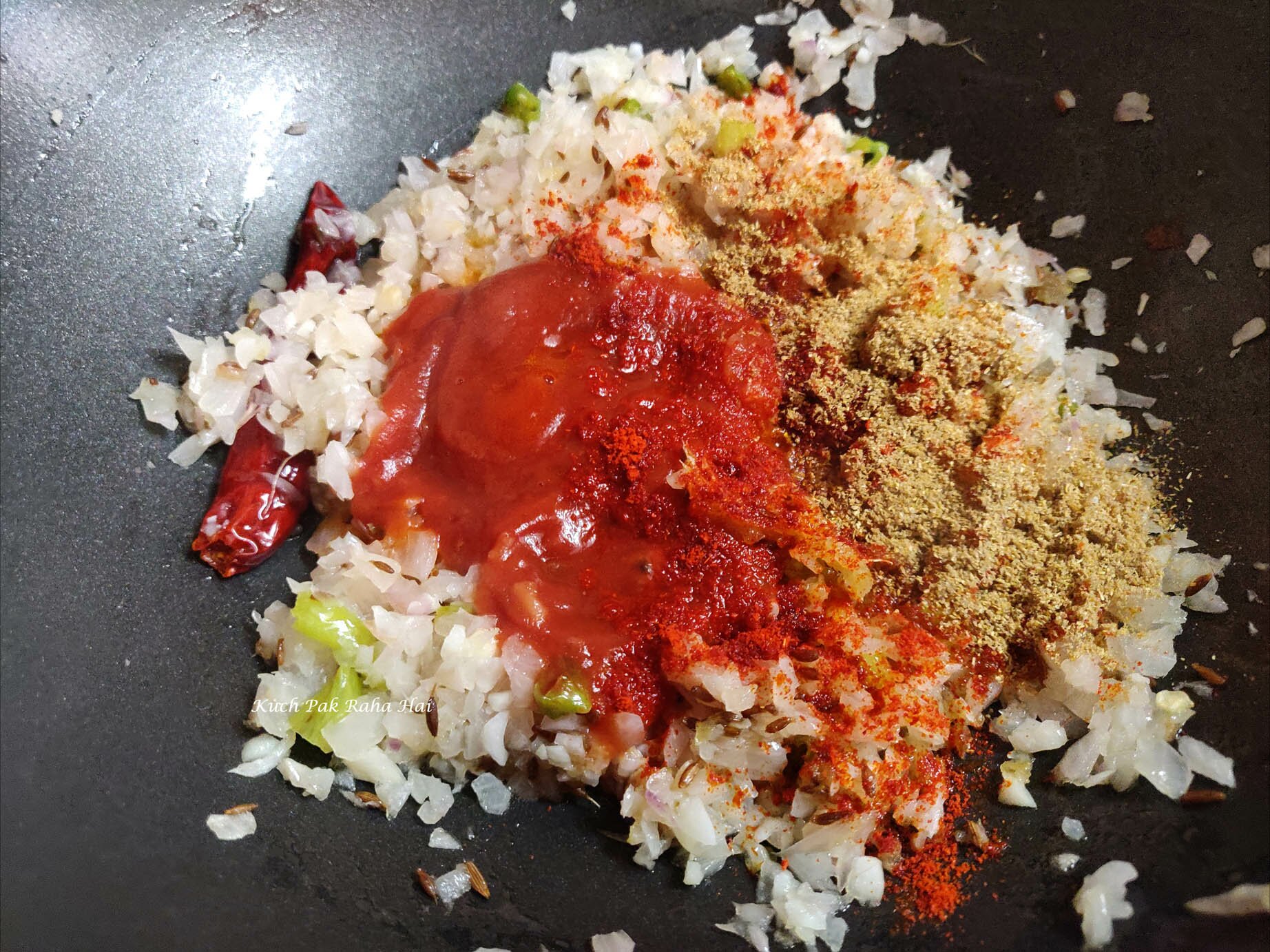 Roast the masala on medium flame for 5-6 minutes.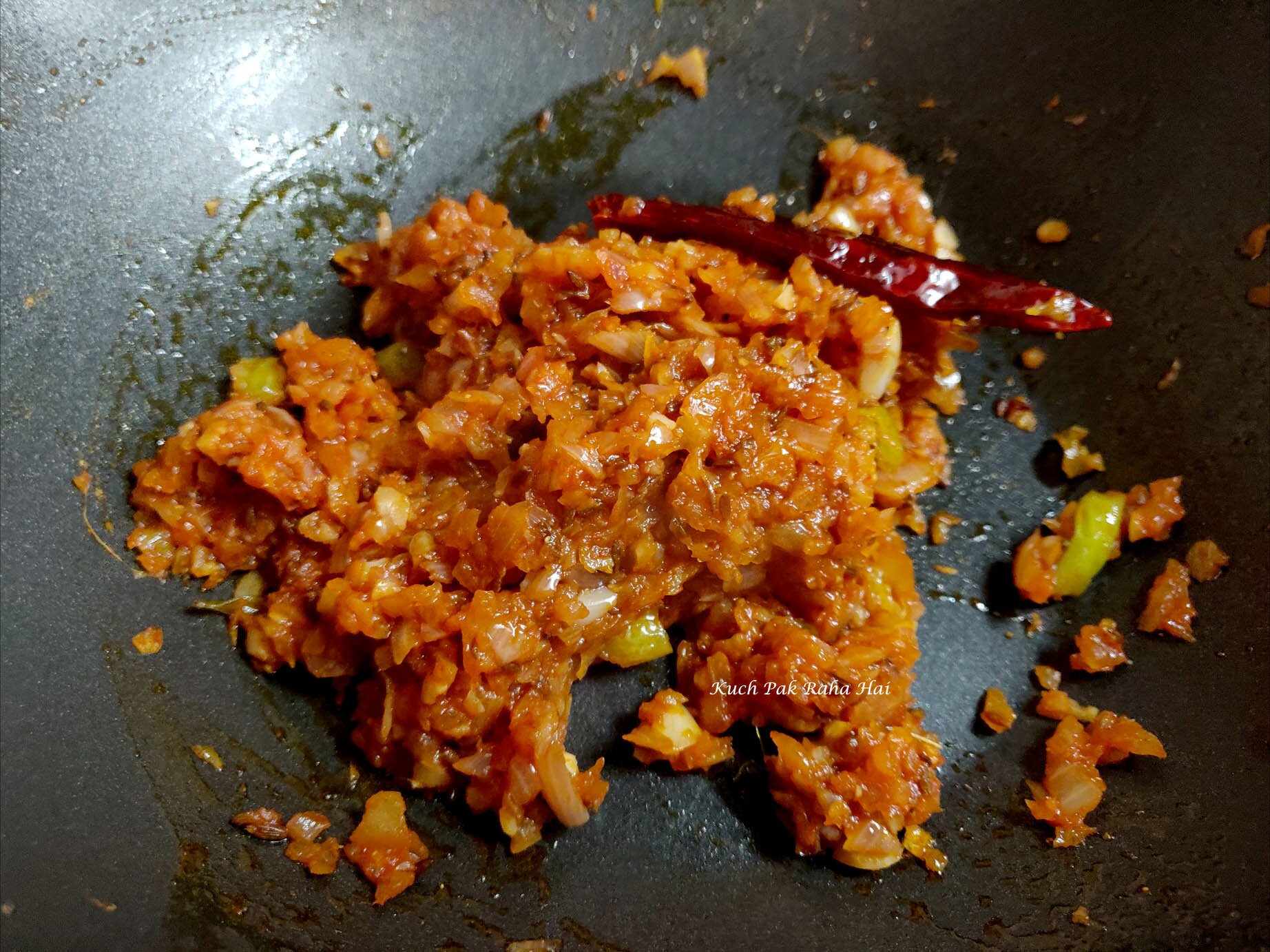 Step 6:
Once the masala is ready, add boiled lentils to it along with garam masala & amchoor powder. Mix well and let dal cook in these spices for 8-10 minutes more.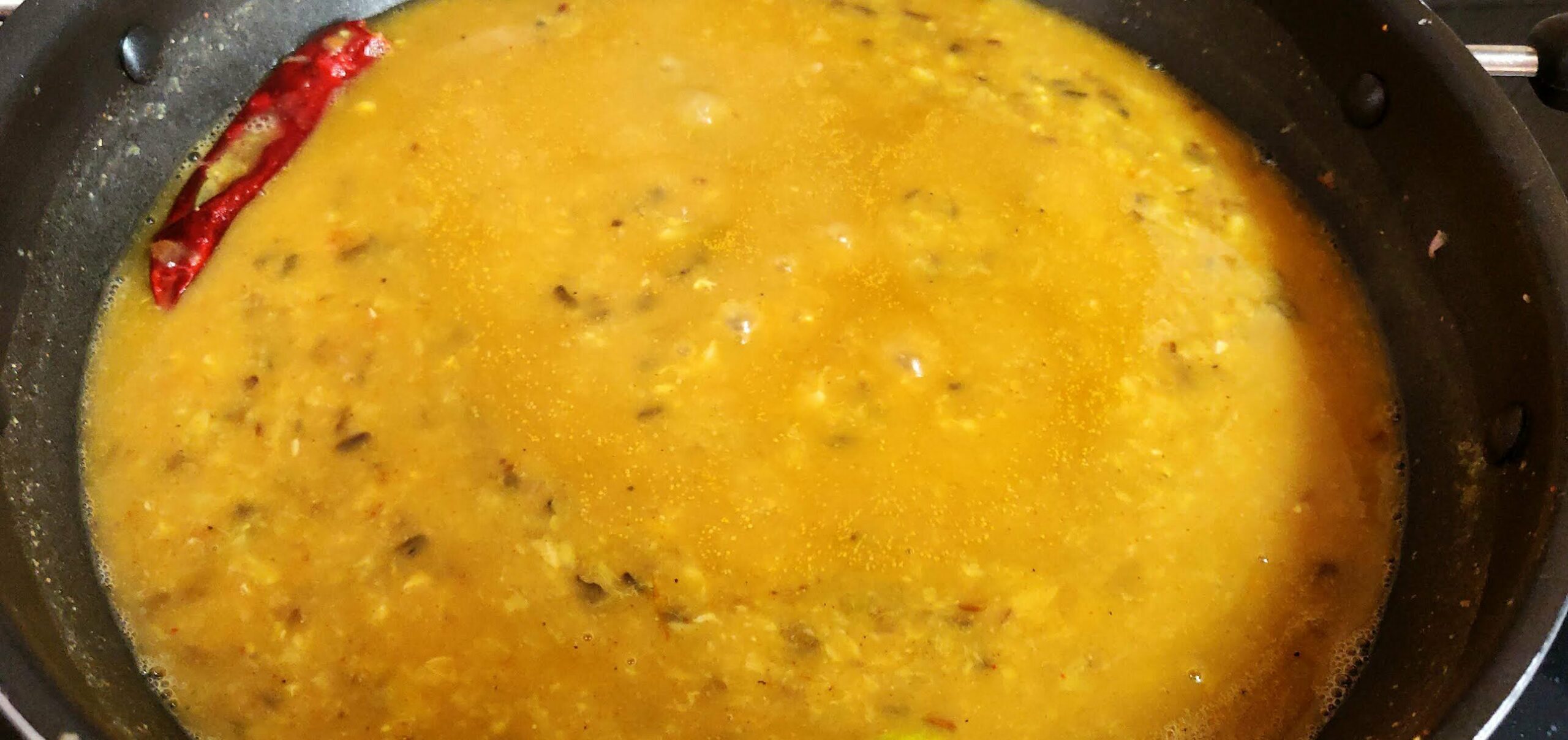 Delicious flavourful Panchmel dal is ready. Garnish it with some more ghee & red chilli tadka/tempering. Enjoy it with hot bati!!
Pin it for later :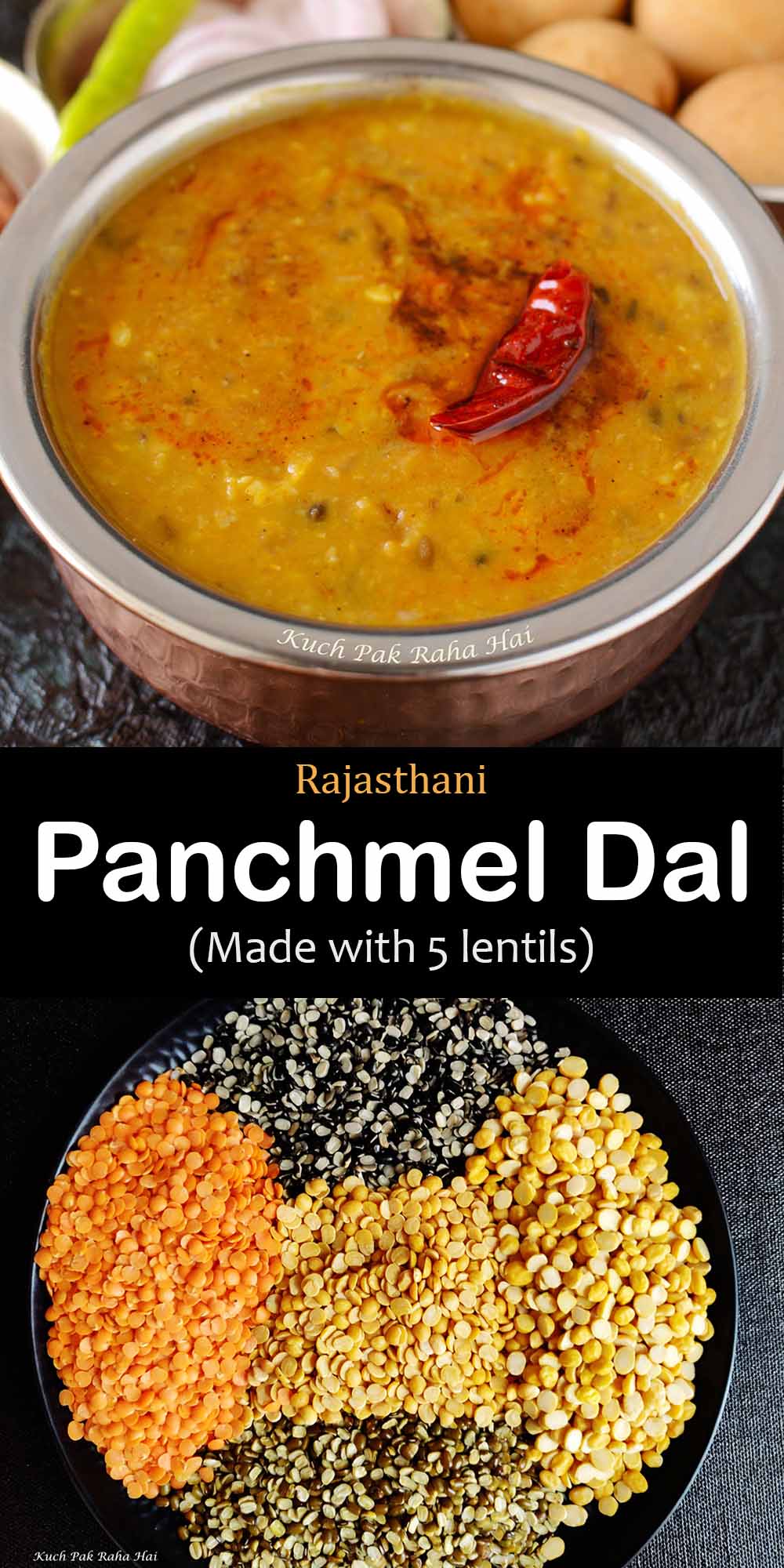 If you try this recipe & share pics on social media, then don't forget to tag us on Facebook or Instagram or use the hashtag #kuchpakrahahai.