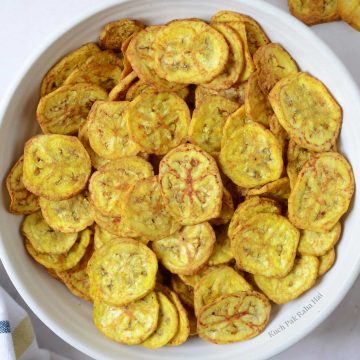 These crunchy, salted, light air fried banana chips are going to be your next favourite snack. Easy to make with just 4 ingredients and takes less than 30 minutes of time!!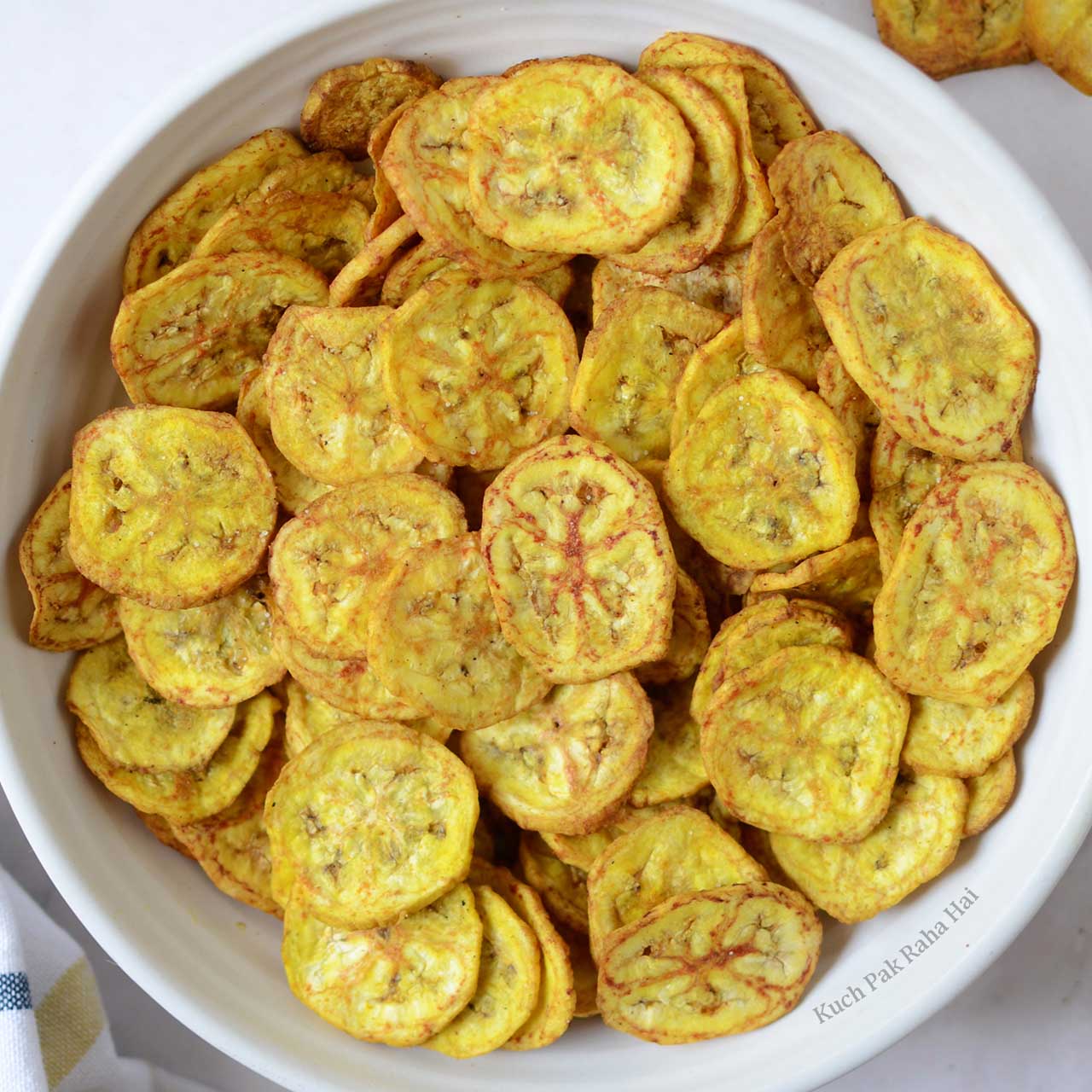 Air fryer has become my favourite kitchen gadget when it comes to making baked snacks. Some of my regular go to snacks in it are crunchy chickpeas, pasta chips , roasted peanuts and banana chips. They take so little oil and you can do endless flavour variations with them.
These air fryer plantain chips are great to have as everyday snack, packing in lunch box or for carrying while travelling. They turn out super crunchy, yummy and I find them so much better and healthier than store bought chips which are deep fried, salty and laced with preservatives.
The air fryer banana chips recipe shared here is:
Vegan
Gluten Free
Easy & quick snack
Made in very little oil
Air Fryer Banana Chips Ingredients:
You need just 4 main basic ingredients to make these banana chips:
Raw Banana or Plantains: You need plantains or tough, green unripe bananas to make these chips. In India such unripe bananas are often referred to as 'raw bananas'.
Oil: I like the subtle flavour & aroma of coconut oil in these banana chips. However if you don't like it, you can use neutral cooking oil like avocado, sunflower, peanut or canola.
Salt: You can use regular table salt, pink salt or crystal salt for this recipe.
Turmeric Powder: Also known as haldi, this golden Indian spice gives a lovely yellow colour to the banana chips.
Optional: You can experiment by adding more spices or seasoning of your choice like ground black pepper, lime salt, red chilli powder, peri peri, cajun, onion or garlic powder etc. For sweet banana chips, you can sprinkle some cinnamon and brown sugar.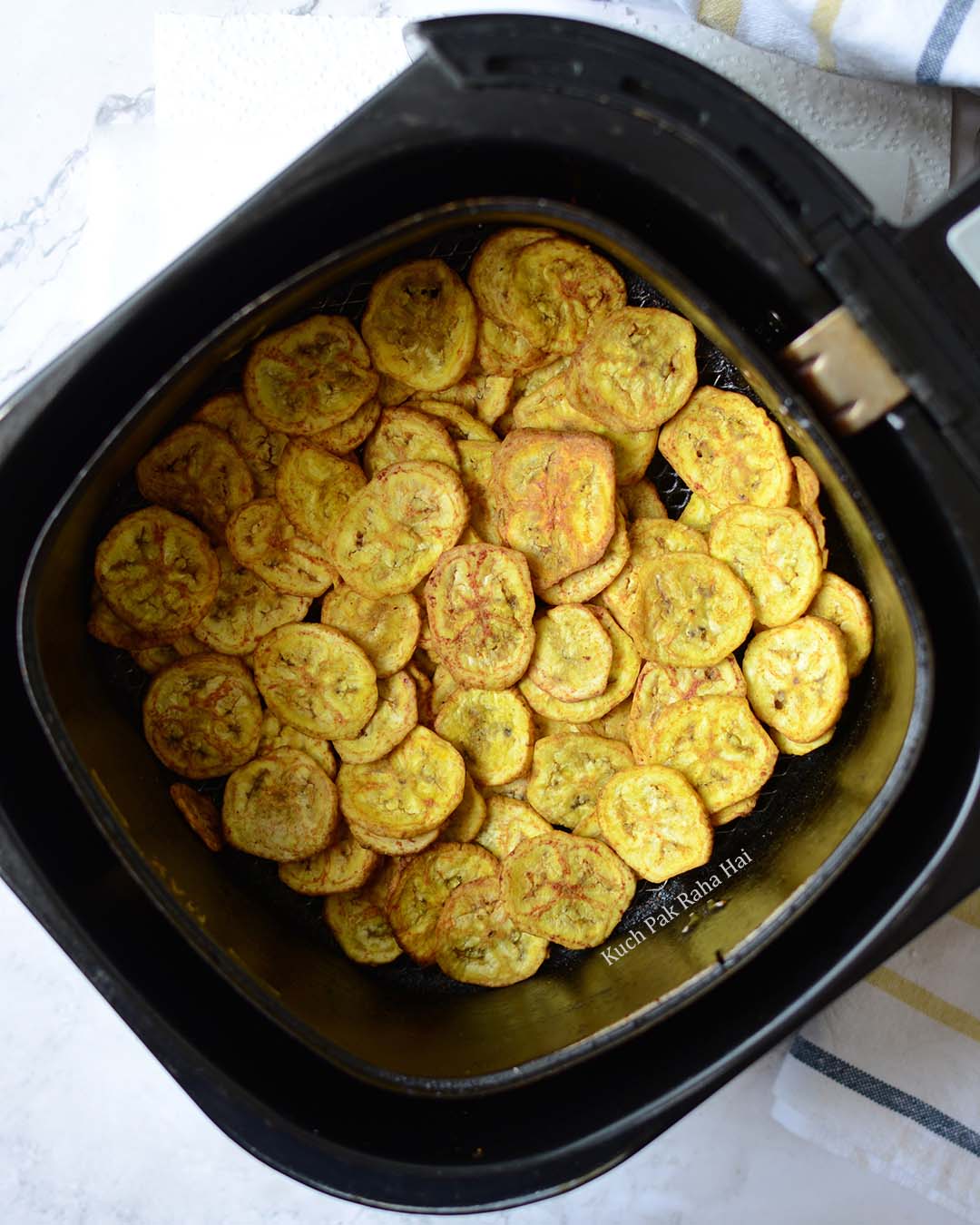 How to make banana chips in air fryer?
We begin by chopping off the edges and peeling the bananas using a knife or peeler. Then soak it in water with turmeric powder for 30 minutes. Soaking is an important step as it helps in getting rid of excess starch , thus making the chips light & crunchy.
After soaking for some time, the plantains are dabbed with kitchen tissue or towel and sliced using a knife or mandolin slicer. Mix them with oil, turmeric powder and salt. Air fry them for 14 to 16 minutes till they become golden crispy.
Are banana chips healthy?
These low oil air fried banana chips are much healthier than store bought packaged potato or banana chips as they are mostly deep fried, salty and laced with preservatives.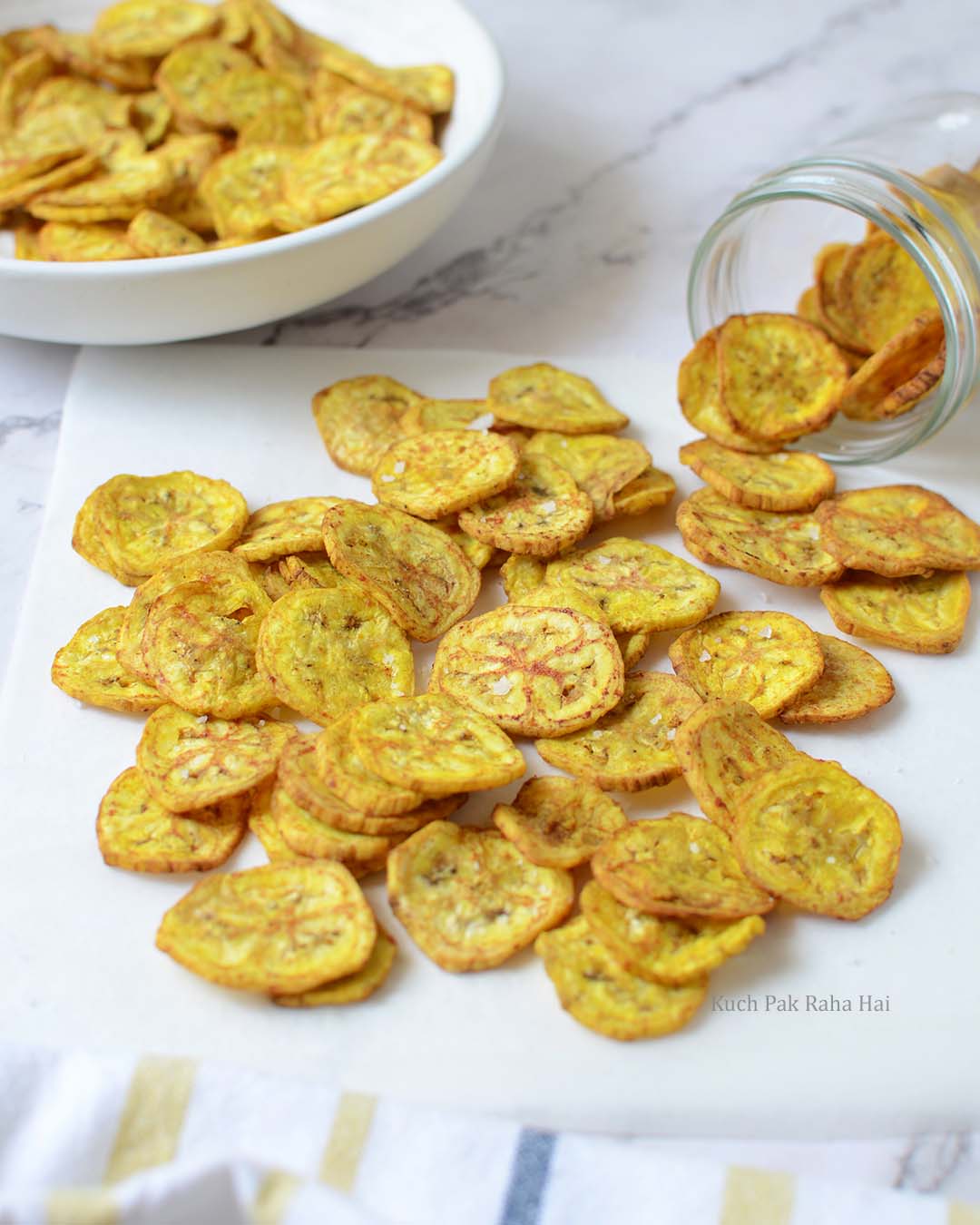 Tips:
1. Try to keep same thickness of all raw banana chips for same cooking time. It is best to use a mandolin slicer for cutting.
2. Arrange the banana chips in air fryer basket while spreading them in a single layer. Avoid overlapping or else the chips will take slightly longer to crisp up.
3. Don't skip soaking the bananas in water to get rid of starch. This will also prevent the chips from sticking to one another.
More banana recipes:
Hope you would like this quick & easy baked banana chips recipe!!

Ingredients:
Raw Banana (Plantains)- 2
Turmeric Powder- 3/4 tsp
Coconut Oil- 2 tbsp
Salt- 1 tsp (to taste)
Water- 3 to 4 cups
Directions:
Step 1:
Chop off the top & bottom part of plantains (or raw banana). Peel the skin using a knife of peeler.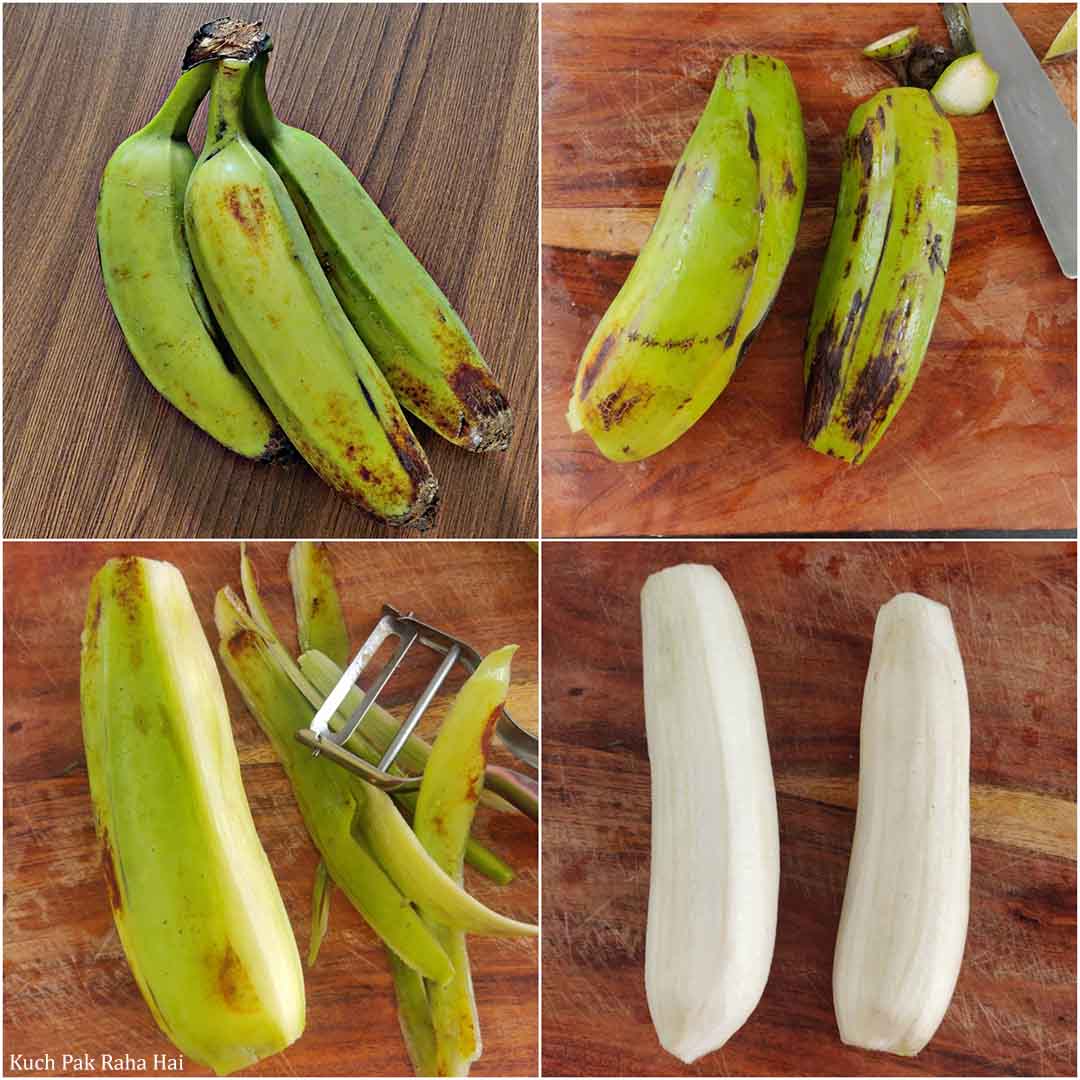 Step 2:
Dissolve 1/2 tsp turmeric powder in a bowl and soak bananas in it for 30 to 40 minutes.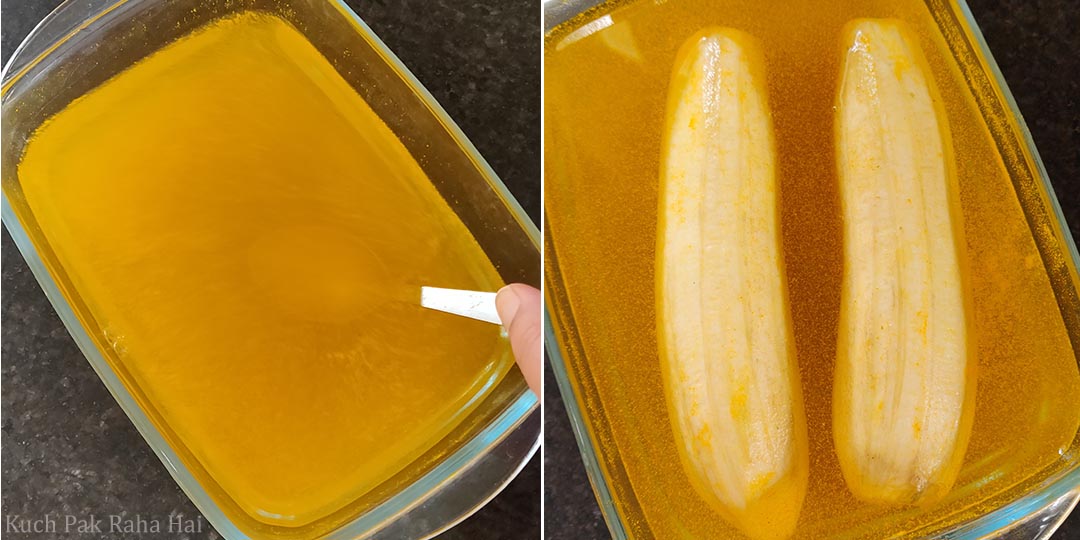 Step 3:
Dab these bananas with a kitchen towel or tissue paper to get rid of excess water. Using a mandolin slicer or knife, slice these bananas. In the meanwhile set the air fryer for preheating at 180°C (356°F).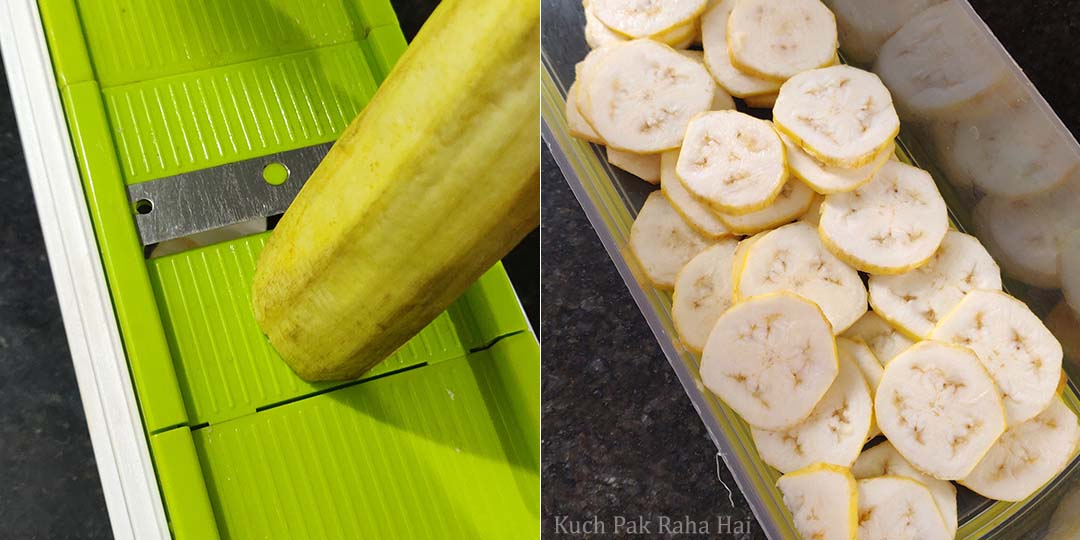 Step 4:
In a mixing bowl add coconut oil, remaining turmeric powder, salt & mix well. Add raw plantain chips in it and mix using your hands or spatula so that all of them are coated well with oil.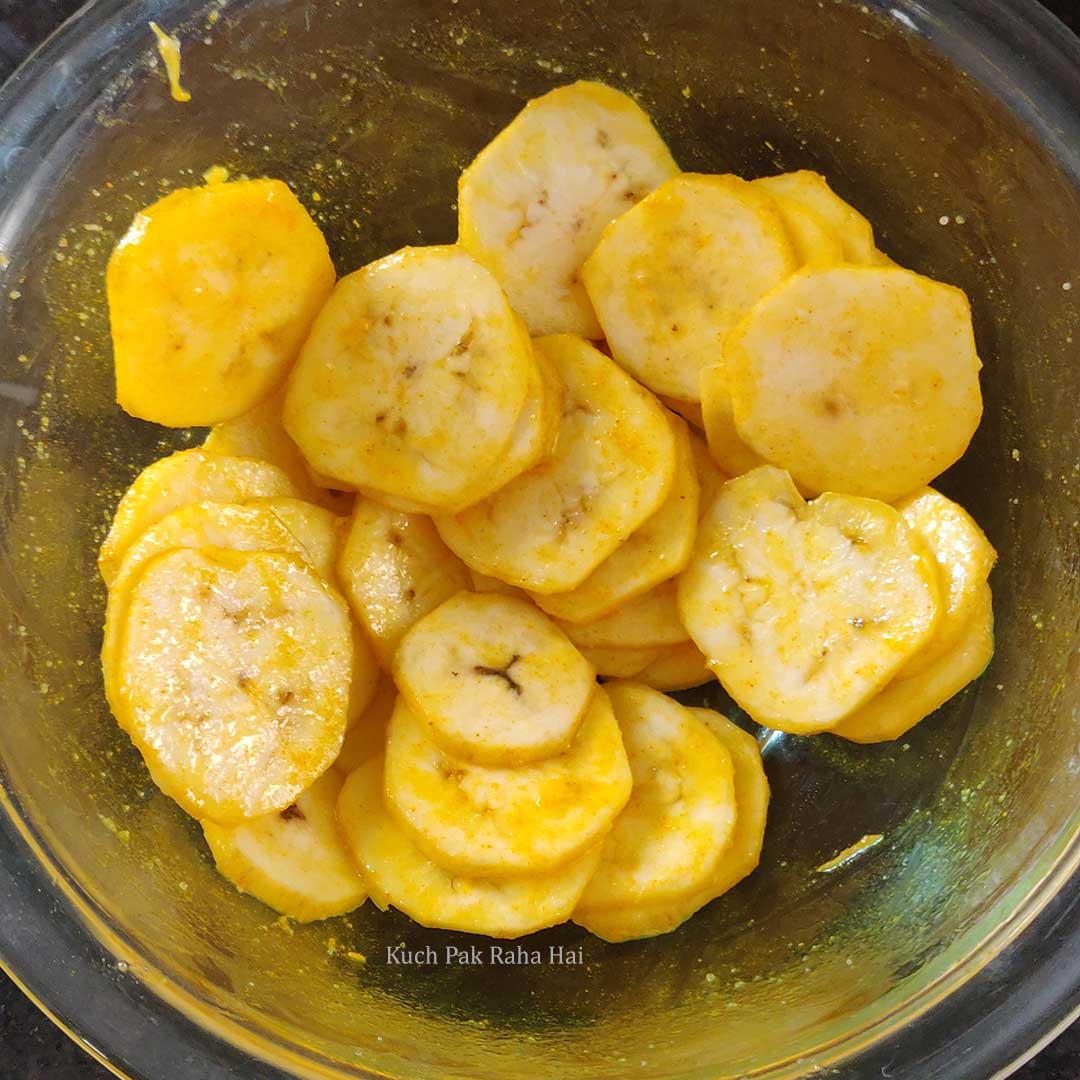 Step 5:
In a preheated air fryer, spread these chips in a single layer on an air fryer basket. If you are making large quantity, please make them in batches. Air fry at 180°C (356°F) for initial 2 minutes and then at 160°C (320°F) for 14 to 16 minutes till chips become crispy. Shake them after 6 -7 minutes.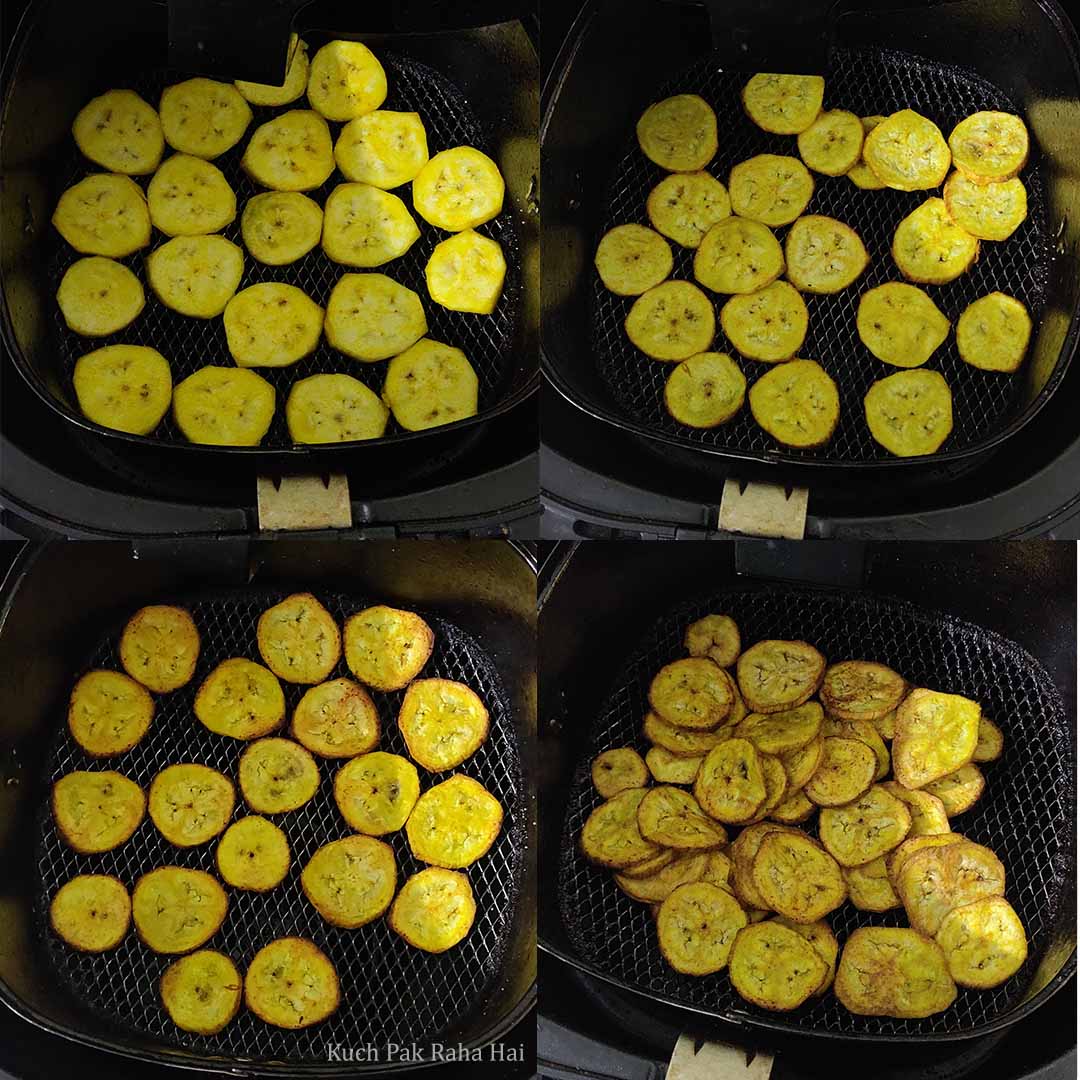 (Tip : As the chips begin to dehydrate they start rattling (or flying) inside the air fryer. You can place a steel mesh cover or lid over it to prevent this.)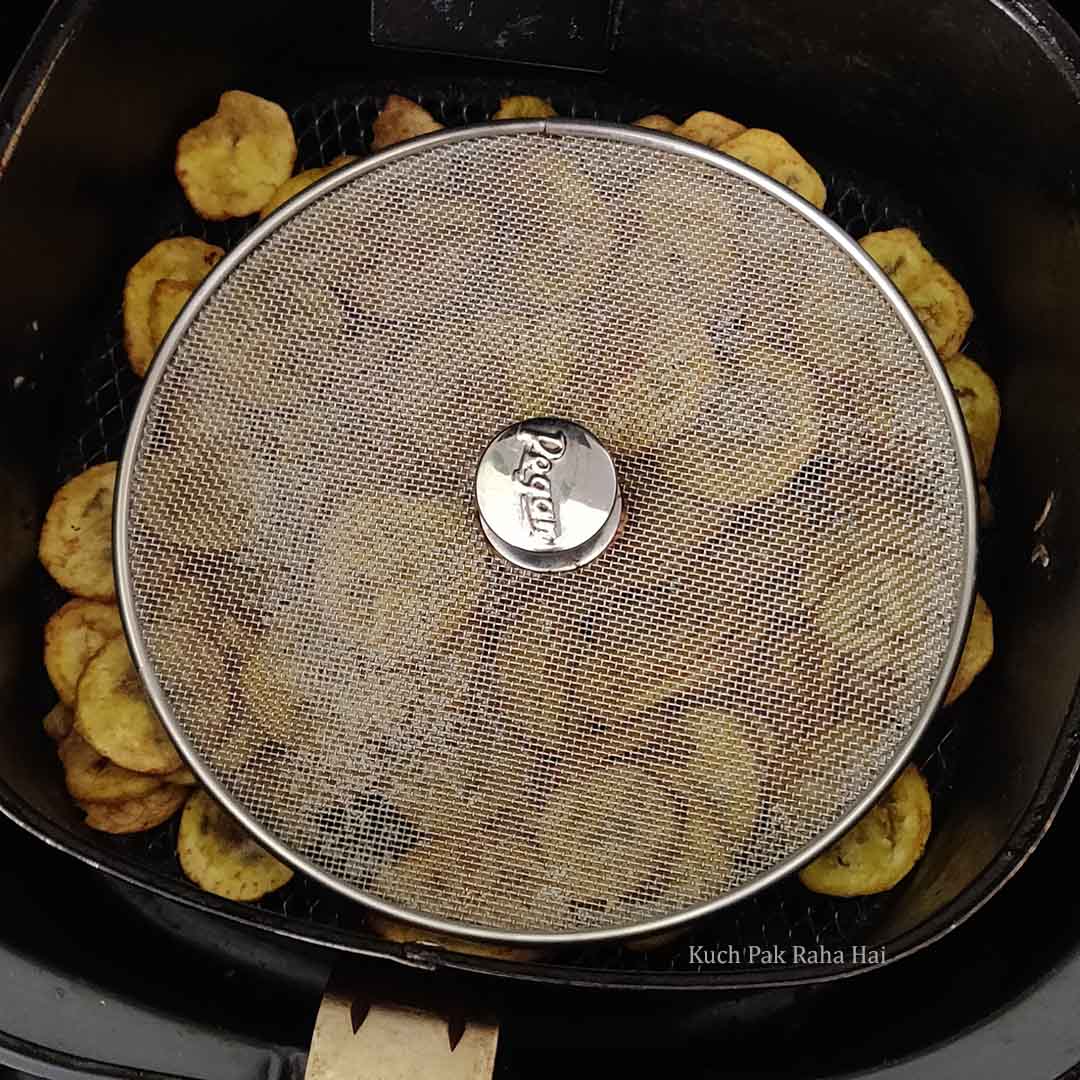 Let them cool down completely. They will become more crispy on cooling down. Enjoy these air fried crispy banana chips with tea or coffee!!
How to store banana chips?
You can store these banana chips in an airtight jar for upto 7 to 10 days. It is a travel friendly snack recipe and stays good for a long time if you use dry hands or spoons while taking the chips out.
How do you make soggy banana chips crispy again?
Sometimes due to under cooking or humid weather conditions, the banana chips become soft or soggy. In that case, preheat the air fryer at 180°C (356°F). Transfer all the chips in air fryer basket and place steel mesh over them (shown in image above). Air fry them at 180°C for 2 minutes. They will again become crispy and fresh.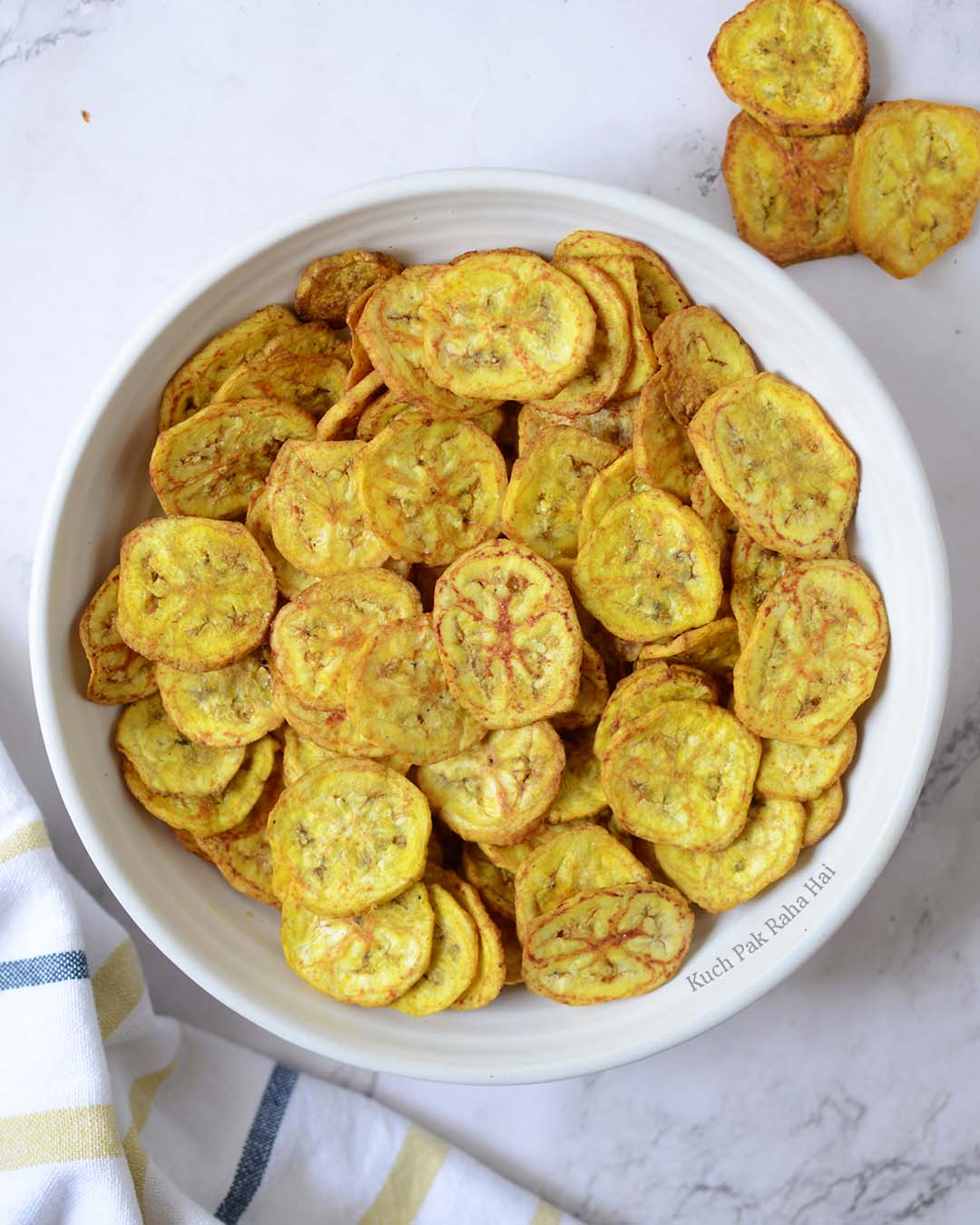 Notes:
1. The air fryer time may vary slightly from depending on the air fryer model and size. So keep an eye on chips in last 2 minutes.
2. Instead of coconut oil, you can use any other cooking oil of your choice like olive, sunflower etc
More air fryer snacks recipes:
If you try this air fried banana chips recipe & share pics on social media, then don't forget to tag on Facebook, Instagram or use #kuchpakrahahai.
Pin for later: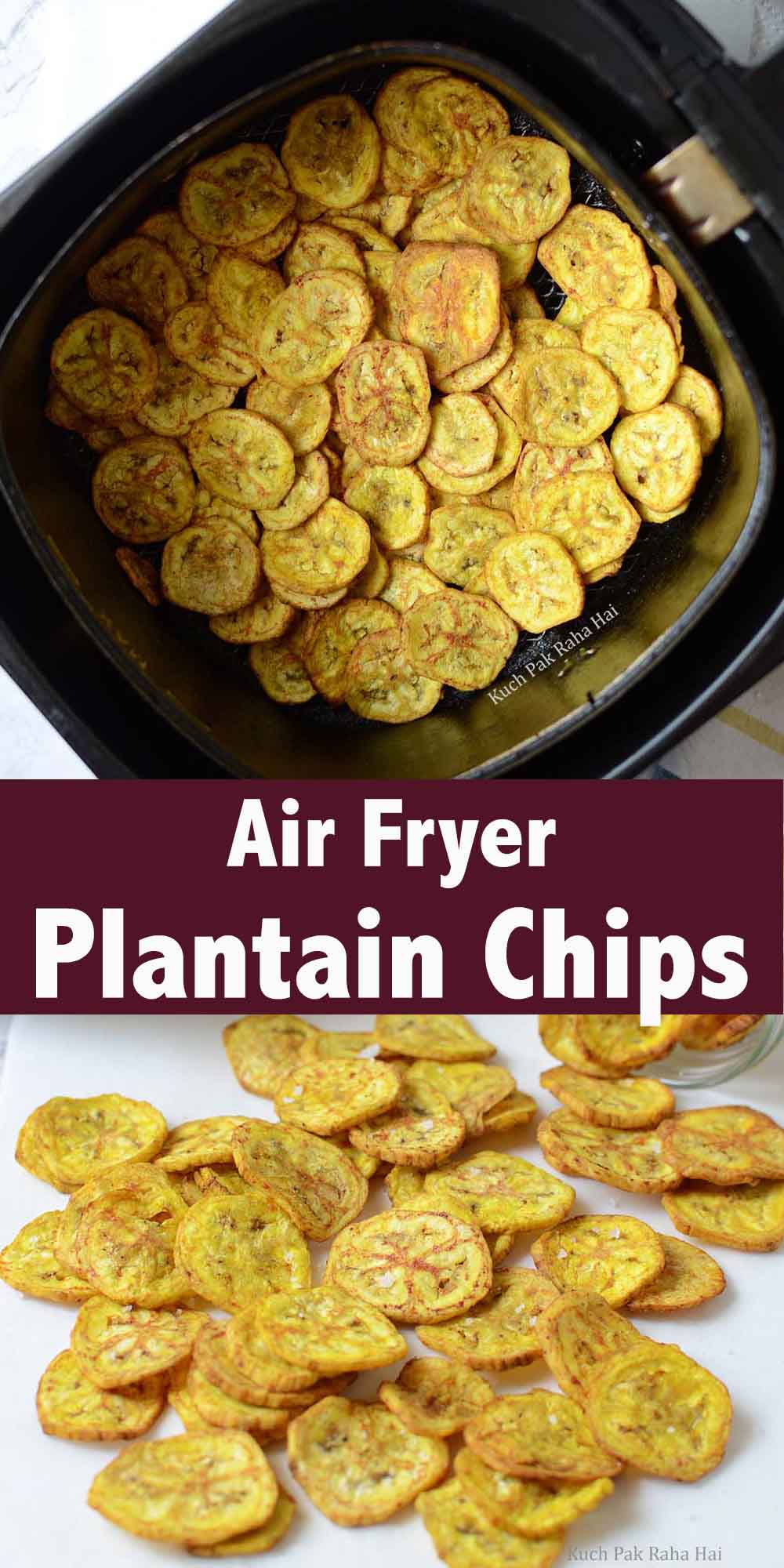 Let's stay connected
Facebook | Instagram | Pinterest| Youtube