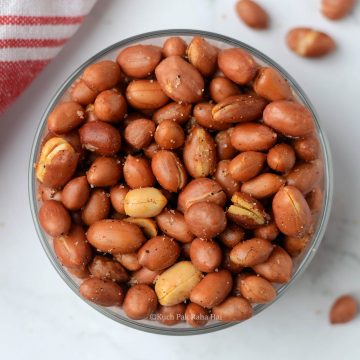 Air fryer roasted peanuts makes for a perfect tasty, crunchy, salted snack anytime. They are super easy to make, takes just 10 minutes and are great for munching or mid day snack.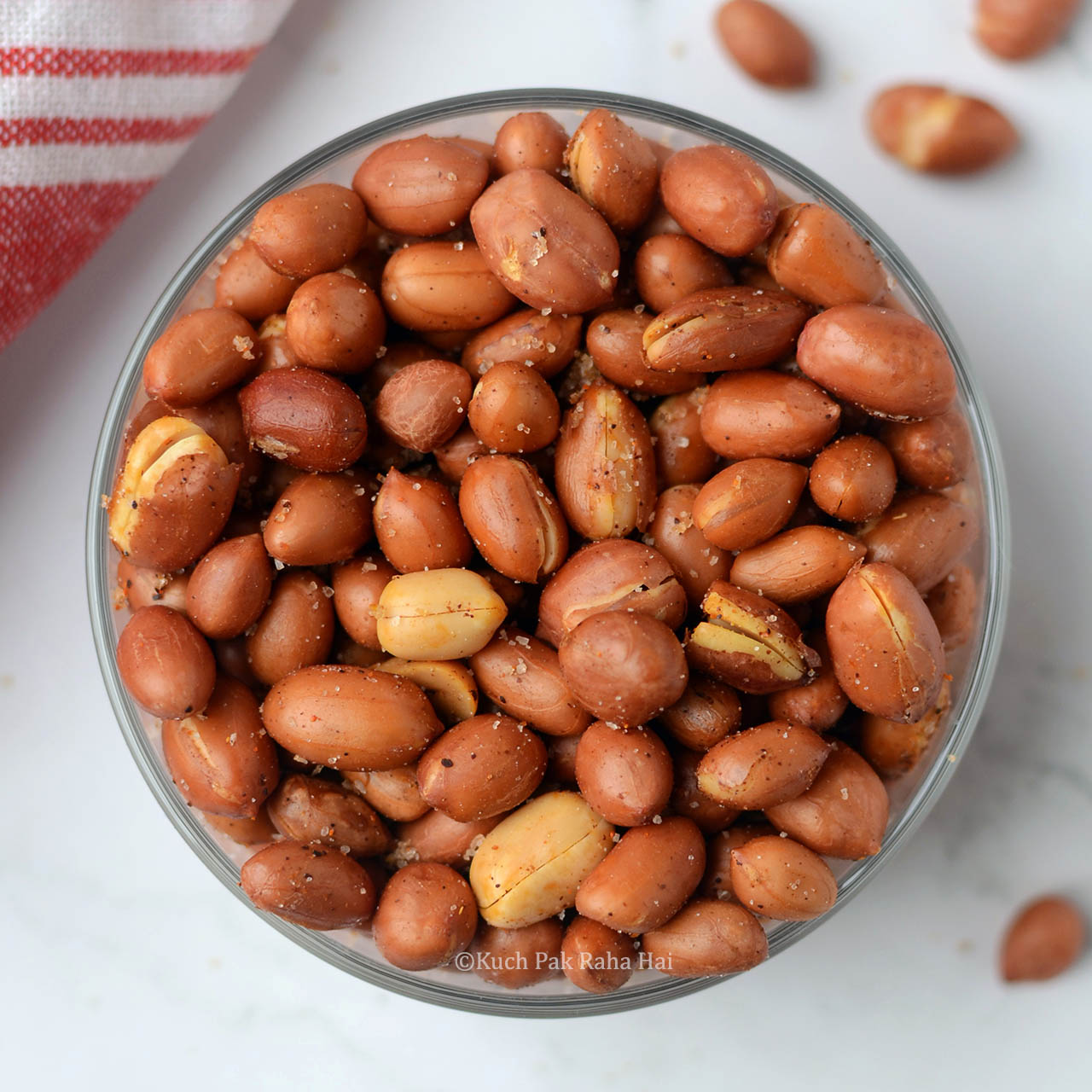 The air fryer peanuts recipe shared here is:
Vegan
Vegetarian
Gluten free
Low oil healthy snack
Peanuts, also known as ground nuts or goobers, are a good source of protein, fibre, contains vitamins, minerals like folate, phosphorous, vitamin E and biotin etc. These homemade roasted peanuts are so much better than store bought ones as you can easily control the amount of salt going in them or flavour them using spices of your choice.
You can pack these air fried peanuts in small ziploc bags & enjoy a quick snack while travelling too. I especially love having them with a hot cup of masala tea.
Earlier I used to roast these peanuts in a skillet but I found the air fryer peanuts to be better as they took lesser time, were more evenly roasted (with very little or no oil) plus you don't have to shake them every other minute to prevent from burning.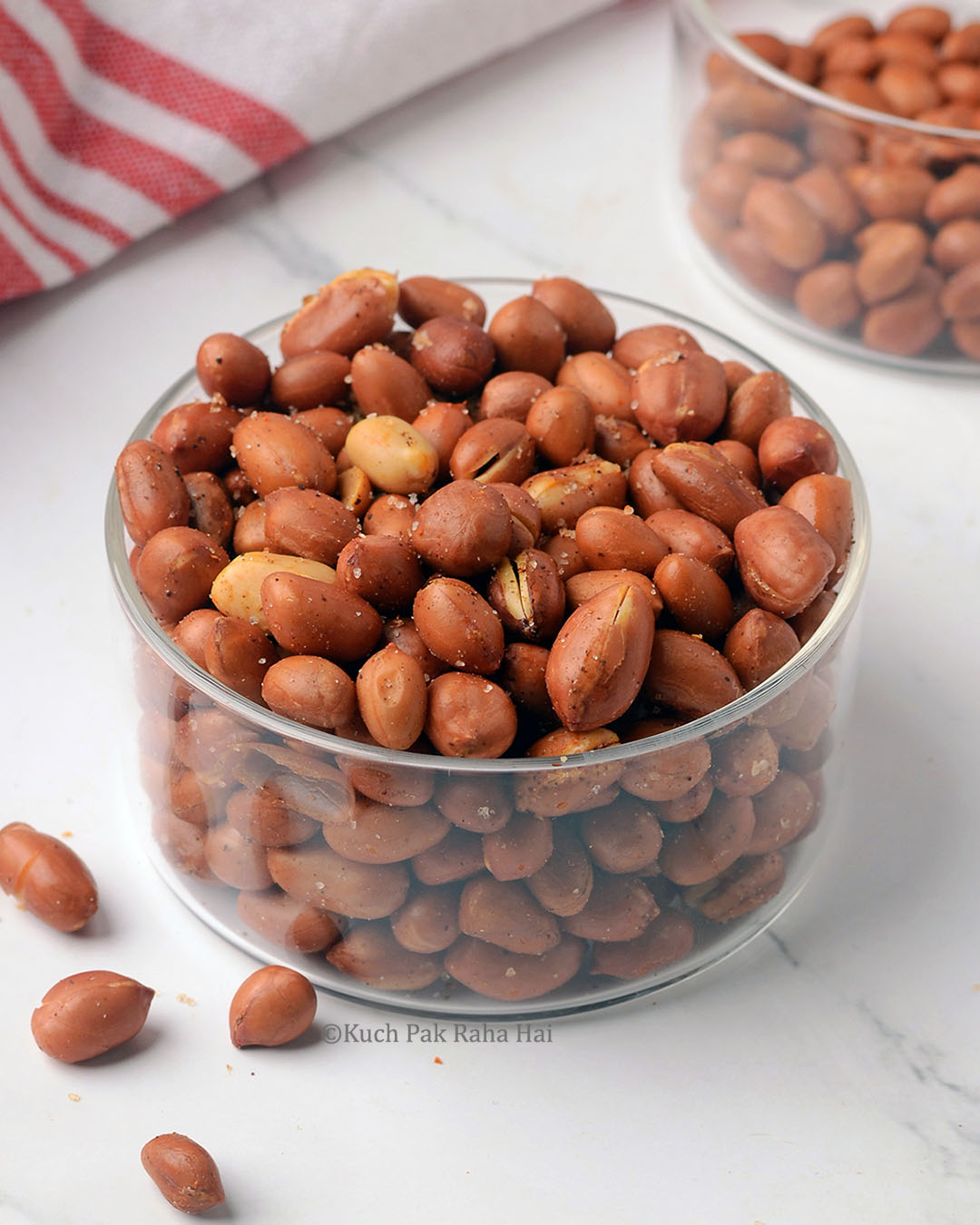 Ingredients to make air fryer peanuts:
Raw Peanuts: I have used raw peanuts (without shell) for this recipe. Always make sure to taste one peanut (from the batch you are about to air fry) to check for bitterness or rancidity. Sometimes peanuts which are stored for long time taste bitter & smell off.
Oil: Use any cooking oil of your choice like- olive, avocado, peanut or canola oil etc. Peanuts can be air fried without oil too (shown at the end of post) but little bit of oil helps the salt or spices to stick better on them.
Salt: You can use table salt, pink himalayan salt or black salt (kaal namak) or blend of these salt for making salted peanuts.
Red Chilli Powder / Cayenne pepper: My husband & I like spicy peanuts, so I also add some red chilli powder or cayenne pepper. If you want to make only salted peanuts in air fryer, then skip adding it.
Other flavouring options:
You can also season these masala peanuts with garlic powder, onion powder, black pepper, cajun seasoning, smoked paprika or peri peri spice mix.
For Indian flavour, you can add amchoor (dry mango powder), chaat masala, kala namak (black salt) or garam masala.
If you are making it for Navratri fasting, you can use use ghee (clarified butter) instead of oil and sendha namak (rock salt) instead of table salt.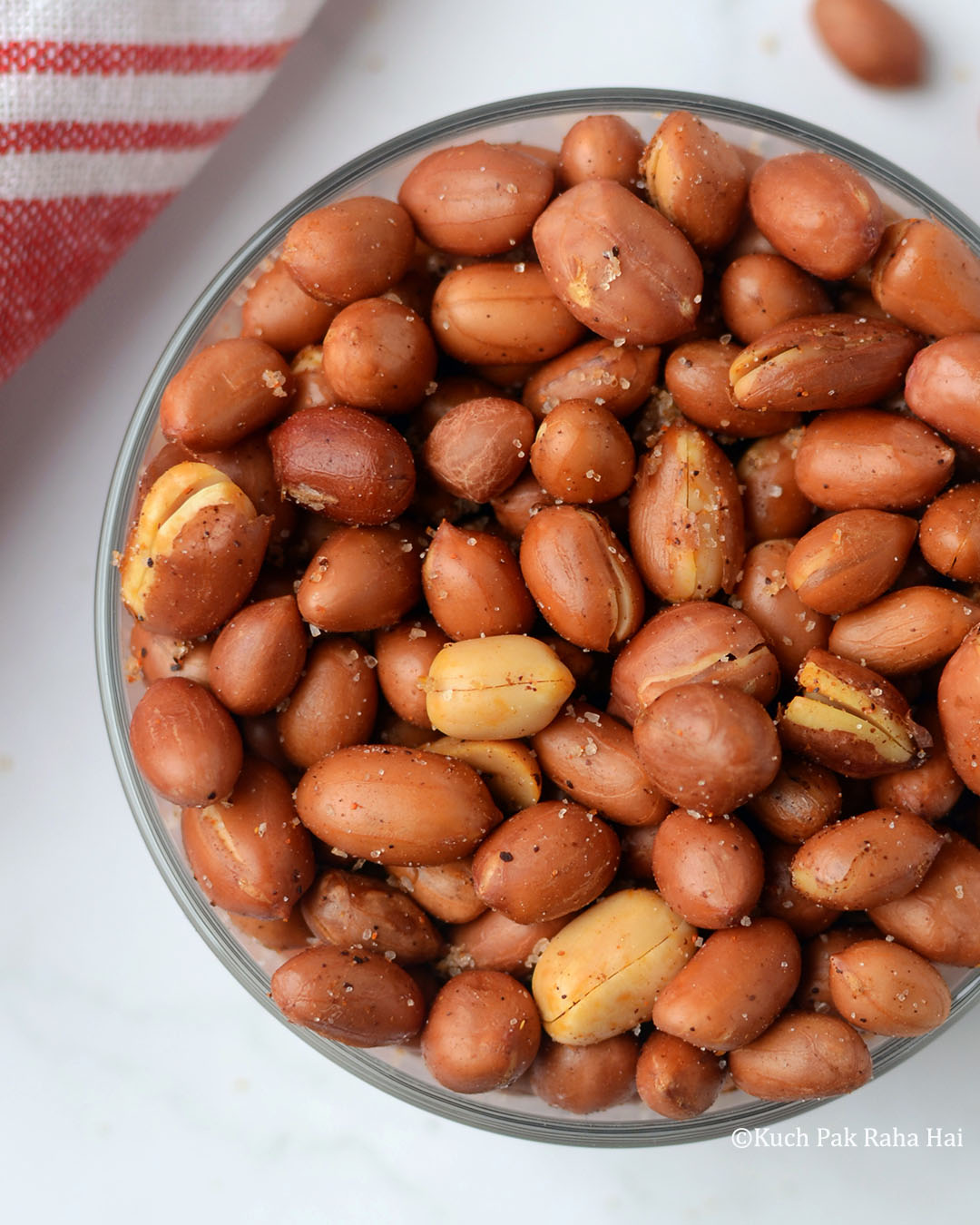 How to store these air fried peanuts?
Always store them in an airtight jar and use a clean dry spoon for longer shelf life and maintaining their crunch. This way they can easily be stored for 7-10 days.
Roasted Peanuts Uses:
You can enjoy these air fried salted peanuts as snack or use them in salads (like chickpea salad), buddha bowl, sabudana khichdi, poha etc for crunchy goodness.
More air fryer recipes :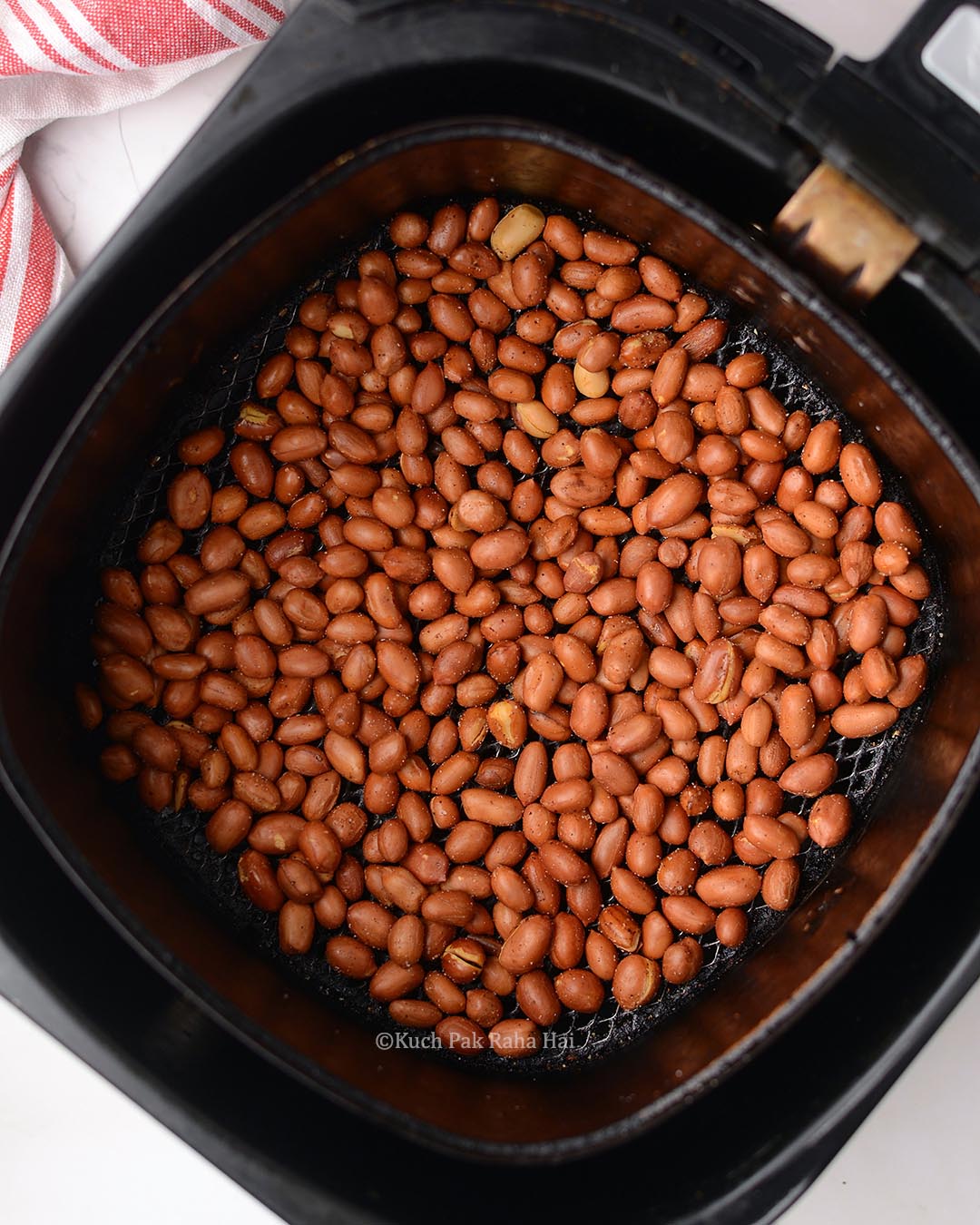 Hope you will like this easy air fryer baked peanuts recipe. Do checkout the tips shared at the end of post.

Ingredients:
Raw Peanuts- 1 cup
Oil- 1 tsp
Salt- 1/2 tsp (to taste)
Red Chilli Powder / Cayenne pepper- 1/4 tsp
Directions:
Step 1:
Take raw peanuts in a bowl. Add oil, salt and red chilli (or cayenne) to it. Mix well so that all peanuts are coated well.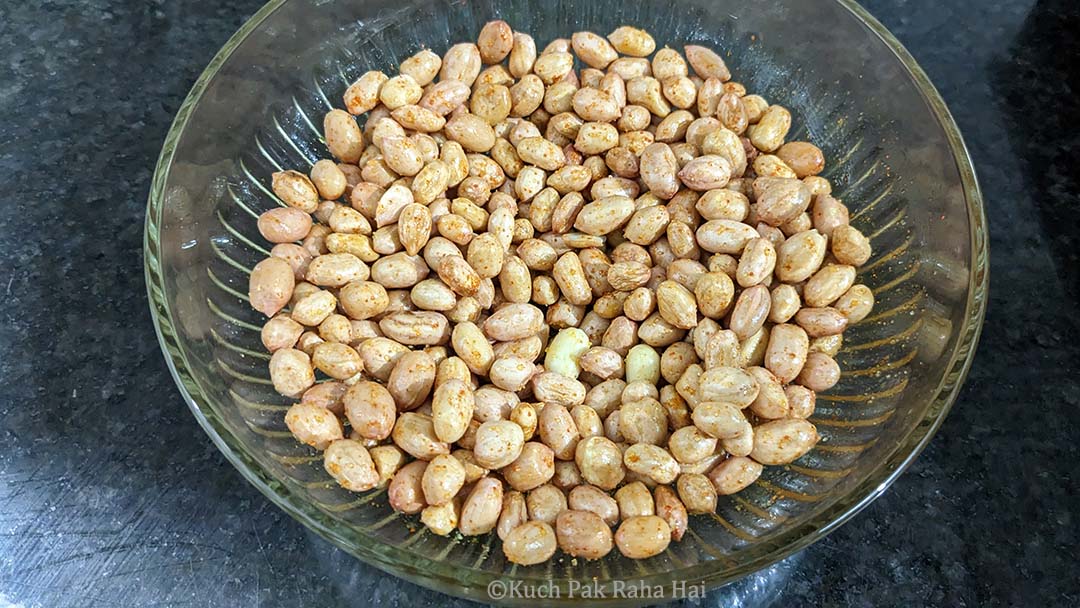 Step 2:
Preheat the airfryer at 160°C (320°F) for 3-4 minutes.
Step 3:
Transfer raw peanuts to the air fryer basket and spread them. Let them roast for 6-7 minutes at 160°C (320°F). Shake the basket after half time. Keep an eye after 6 minutes as the time can vary depending on air fryer model.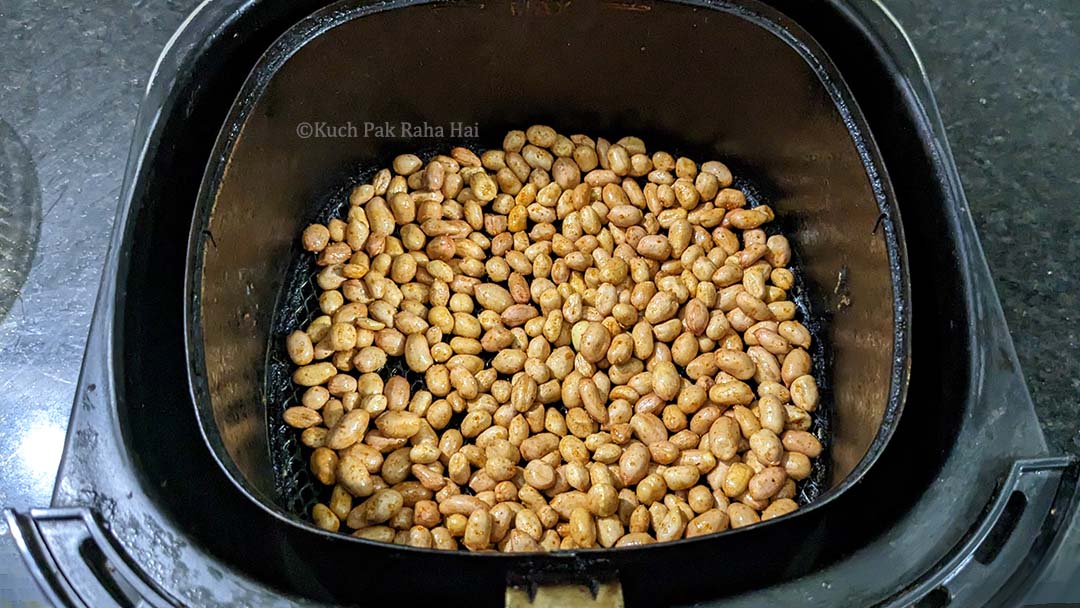 Step 4:
Let the peanuts cool in the air fryer basket. Initially they may seem soft but but will become crunchy on cooling down.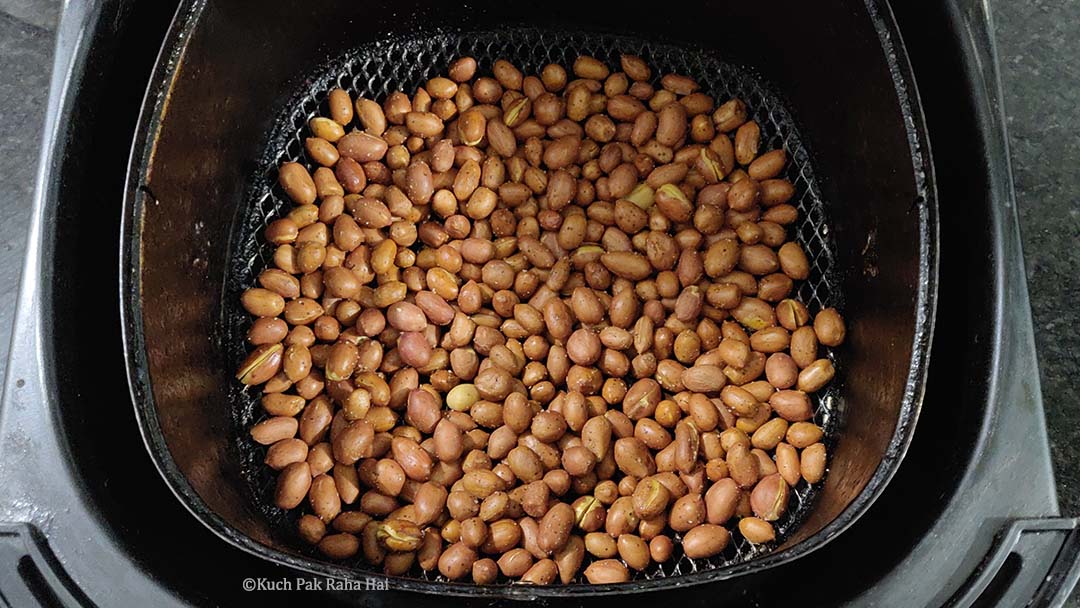 Once cooled, store these air fried roasted peanuts in an air tight container.
Can I roast peanuts in air fryer without oil?
Yes you can easily dry roast peanuts in air fryer (no oil, no salt). I have also shown a simple method to peel these roasted peanuts. These dry roasted peeled peanuts can be used to make peanut butter or chutneys like peanut chutney, coconut chutney etc. You can even coarsely crush them and sprinkle over peanut sauce noodles or Pad Thai.
1. Transfer the raw peanuts in air fryer basket and air fry at 160°C (320°F) for 6 -7 minutes. Check one of the peanuts after 6 minutes by rolling it between your finger. If its peel comes out easily the peanuts are done else air fry for 1-2 minutes more.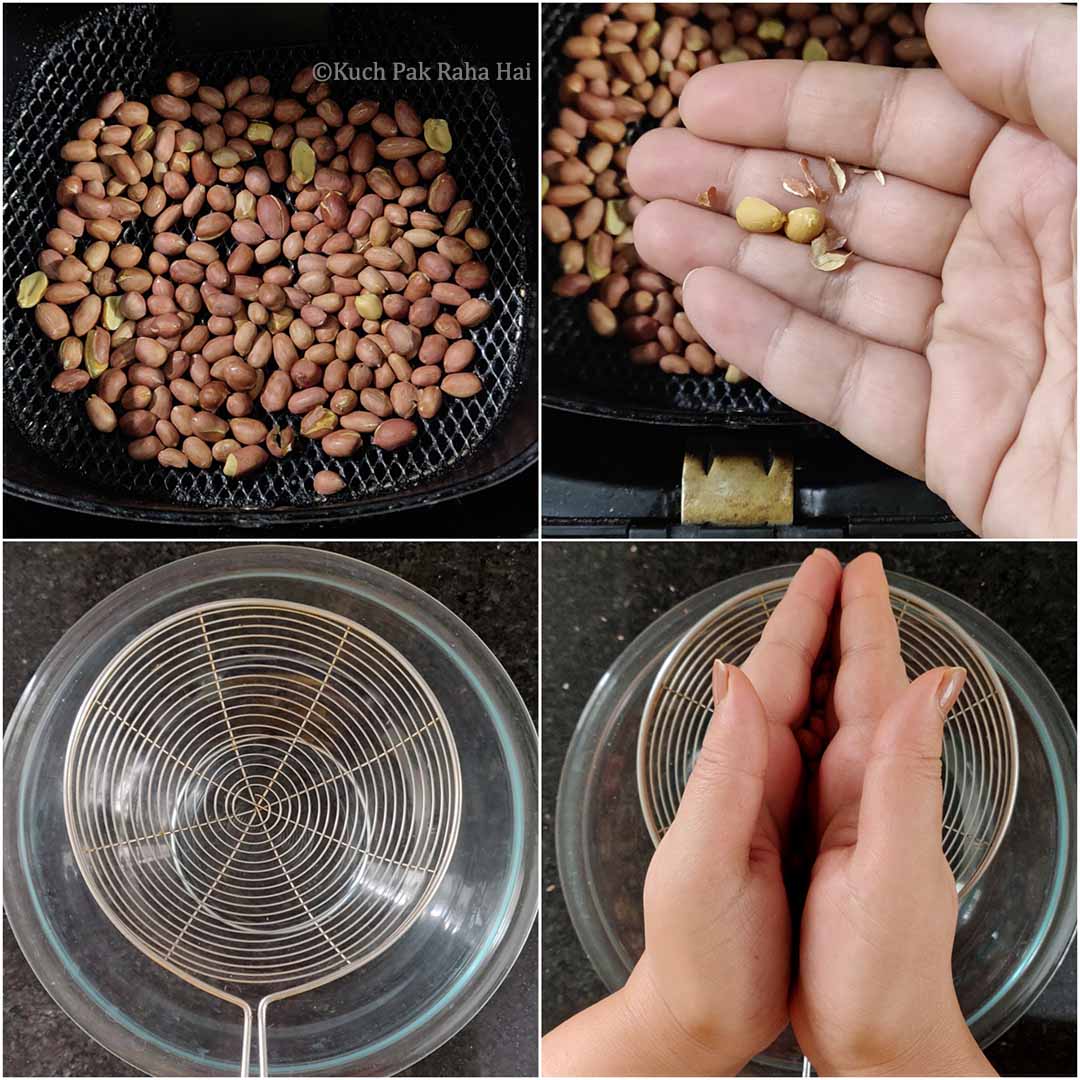 2. Let the peanuts cool down a bit. Place a sieve with large holes over a bowl (I have used spider strainer here). Roll the roasted peanuts between your palms to unpeel.  Transfer them as it is over the strainer and shake it to make all the peels fall in the bowl.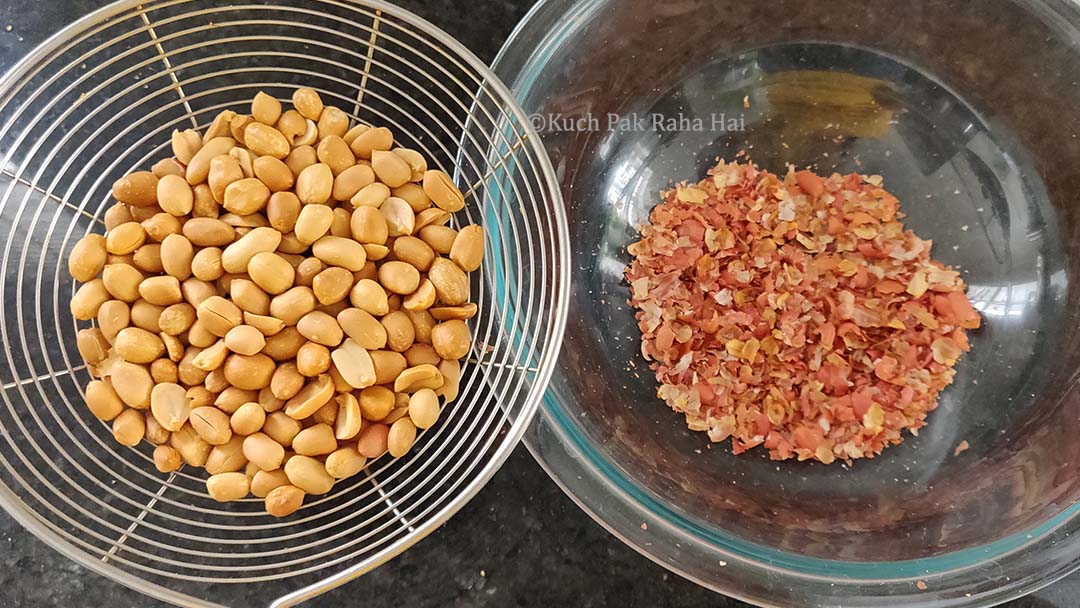 Tips:
1. Don't overcrowd the air fryer basket. Spread the peanuts in the basket as much as possible so that all are evenly roasted.
2. The air frying time can vary slightly depending on the model & size of the air fryer. Please keep an eye after 5-6 minutes as peanuts can over cook or scorch quickly.
3. How to make peanuts crunchy again? Sometimes due to humid weather conditions the peanuts tends to loose their crunchiness after 2-3 days. You can air fry them again for 3 to 4 minutes to evaporate that moisture. On cooling down the peanuts will become crunchy again.
Pin for later: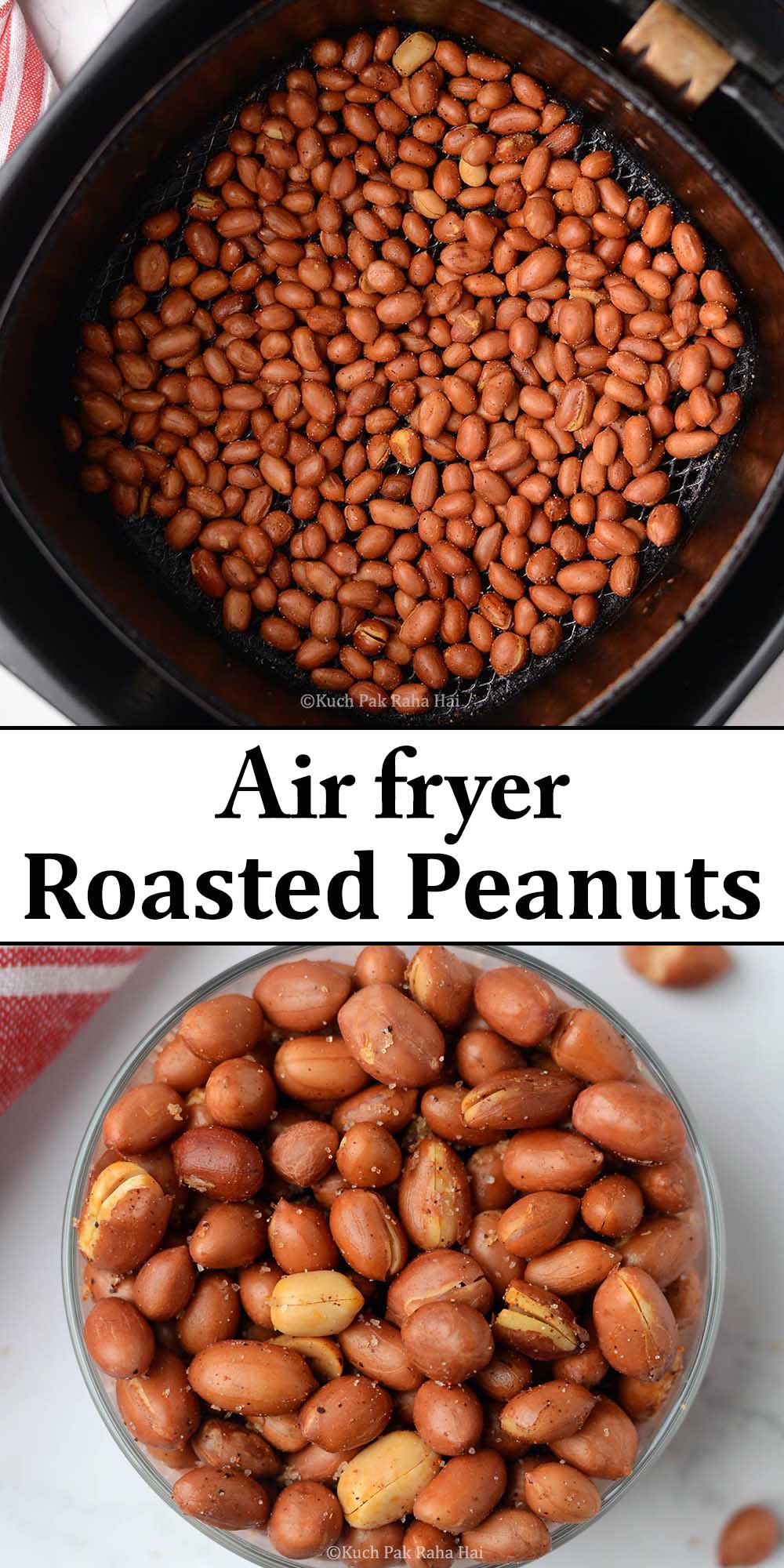 If you try roasting peanuts in air fryer using this recipe & share pics on social media, then don't forget to tag on Facebook, Instagram or use #kuchpakrahahai.
Let's stay connected
Facebook | Instagram | Pinterest| Youtube