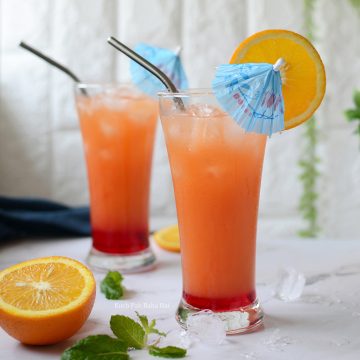 Rose Sunrise is a summer cooler or mocktail recipe with floral fruity notes inspired by the famous 'Tequila Sunrise Cocktail'. This Sunrise mocktail recipe is made without any alcohol & is great to serve in parties or you can enjoy it just like that on any hot day.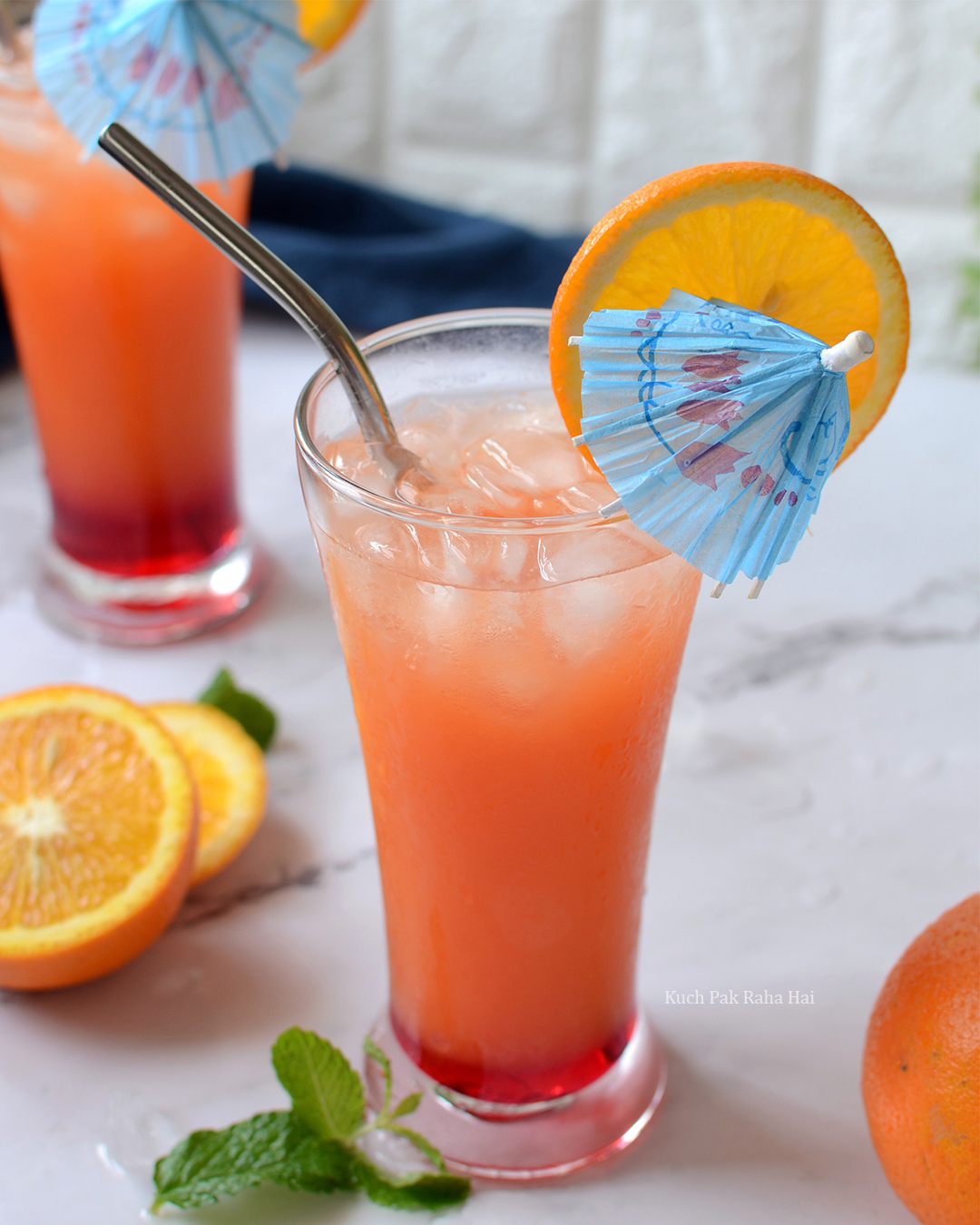 The original Sunrise cocktail drink is made using grenadine syrup, orange juice and tequila and is served unmixed in tall glasses. Grenadine syrup is traditionally made from pomegranate and is deep red in colour. The drink is served with a orange slice or maraschino cherry.
In this mocktail recipe, instead of grenadine syrup I have used rose syrup and skipped tequila altogether. I would suggest using freshly squeezed orange juice but you can use packaged ones too.
This Rose sunrise is an absolute head turner with its gorgeous florid orange red colour blend. The fruity orange flavour combines really well with subtle rose aroma. It is so easy to make, perfect for house parties or you can even make for kids birthday parties.
It is summer time ,when sun is blazing at its peak and you cannot even imagine stepping out of your house in this sweltering heat without the fear of sunstroke. On the positive side, it is also time for long summer vacations (for kids of course!!) , visiting grandparent's house, enjoying ice-creams. sorbets, sherbets and slushies without the fear of being scolded upon.
A glass of chilled rose sunrise drink on one of these hot sultry day is surely going to refresh the senses. More summer cooler recipes you might like: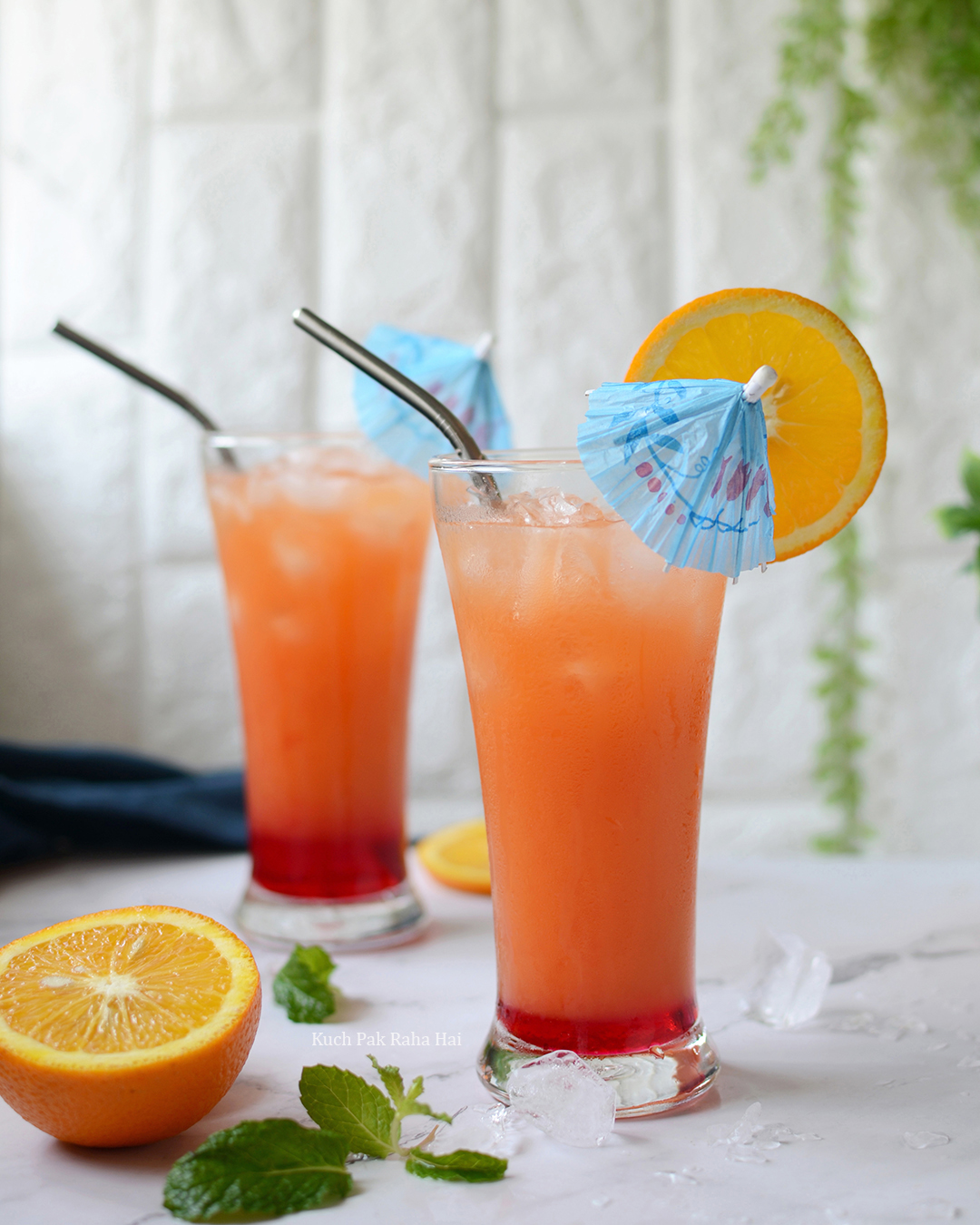 Little bit of lime juice balances the sweetness from orange juice & rose syrup. However if you are using fresh orange juice & it is already sour in taste, then skip lime juice and add some powdered sugar to balance the sweet-sour notes. If you want to make alcoholic version, add a shot of tequila in each glass.
Ingredients: (Serves Two)
Chilled Orange Juice – 300 ml
Rose Syrup- 3 tsp
Lime Juice- 2 tsp
Soda / Sparkling Water-200 ml
Ice Cubes
For garnishing:
Notes:
1. If the fresh orange juice tastes sour or bland, feel free to skip lemon juice & add some powdered sugar as per your taste.
2. For alcoholic version add a shot of tequila in each glass.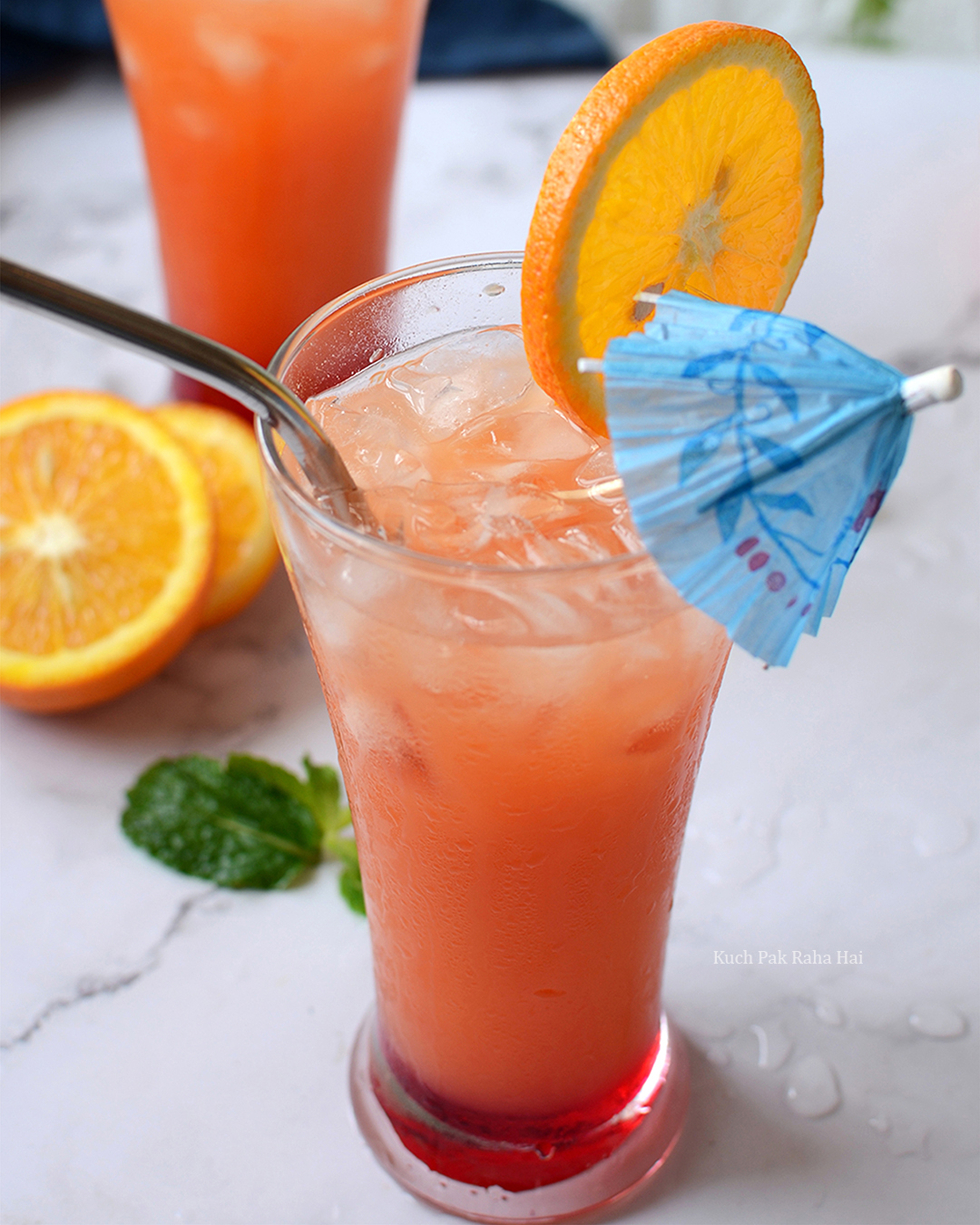 Directions
Step 1:
In a tall glass, add ice cubes, orange juice and lime juice. Stir well using a stirrer or you can even perform this step in a shaker.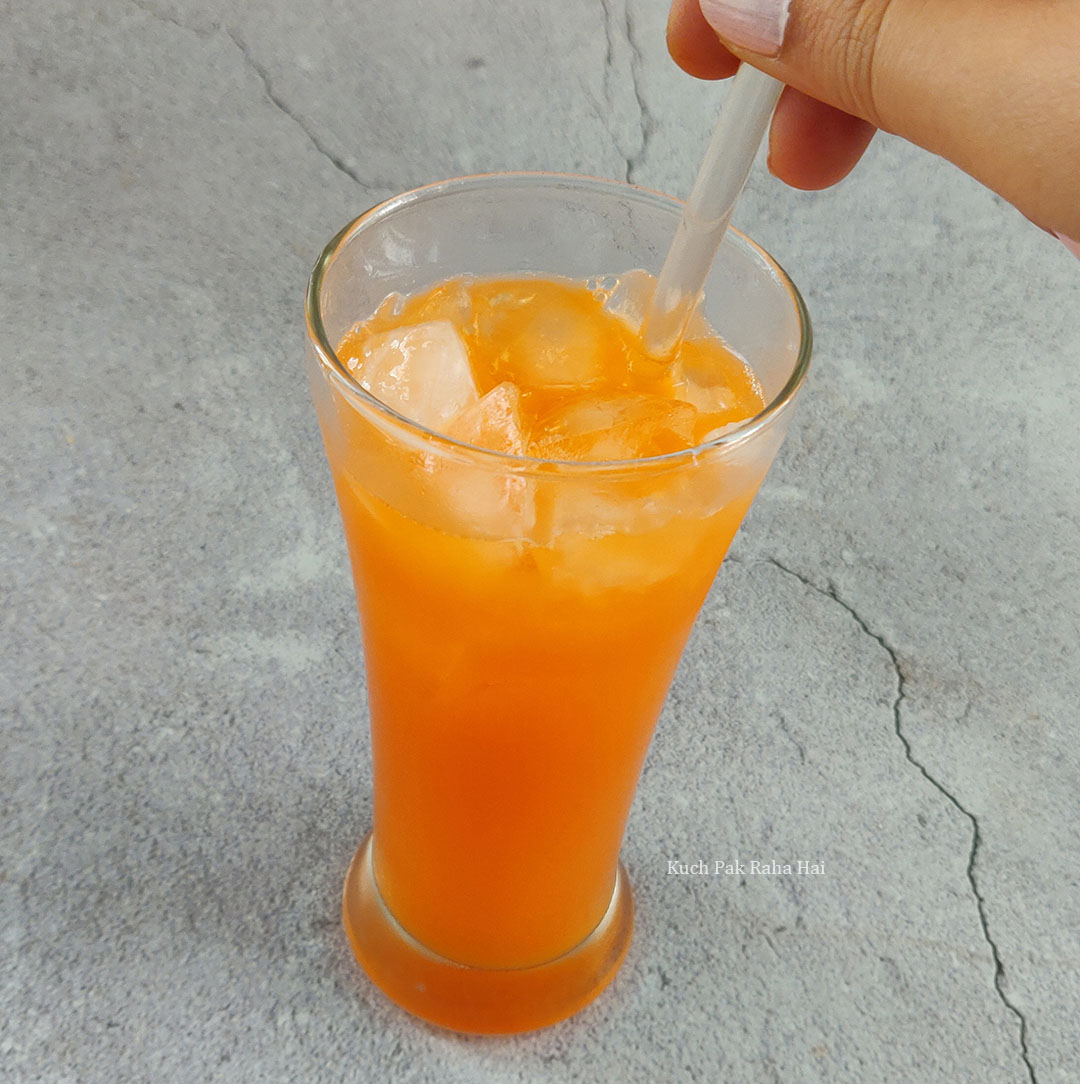 Step 2:
Tilt the back of a spoon on top of it and gently pour rose syrup over orange juice. The syrup will settle in the bottom, lightly blending with the orange juice. (Do not stir the drink now)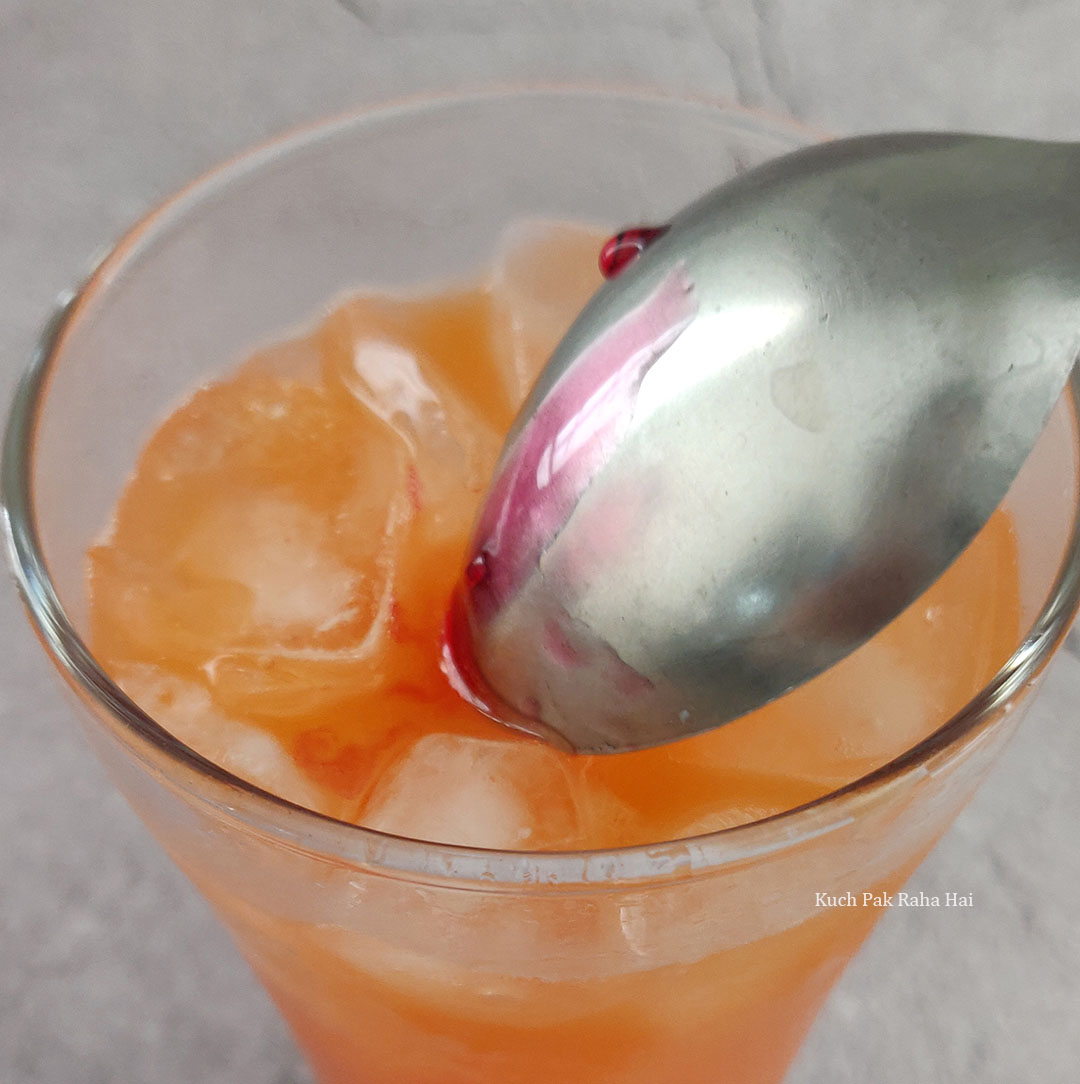 Step 3:
Top up with some chilled soda water or sparkling water. Add more ice cubes if required.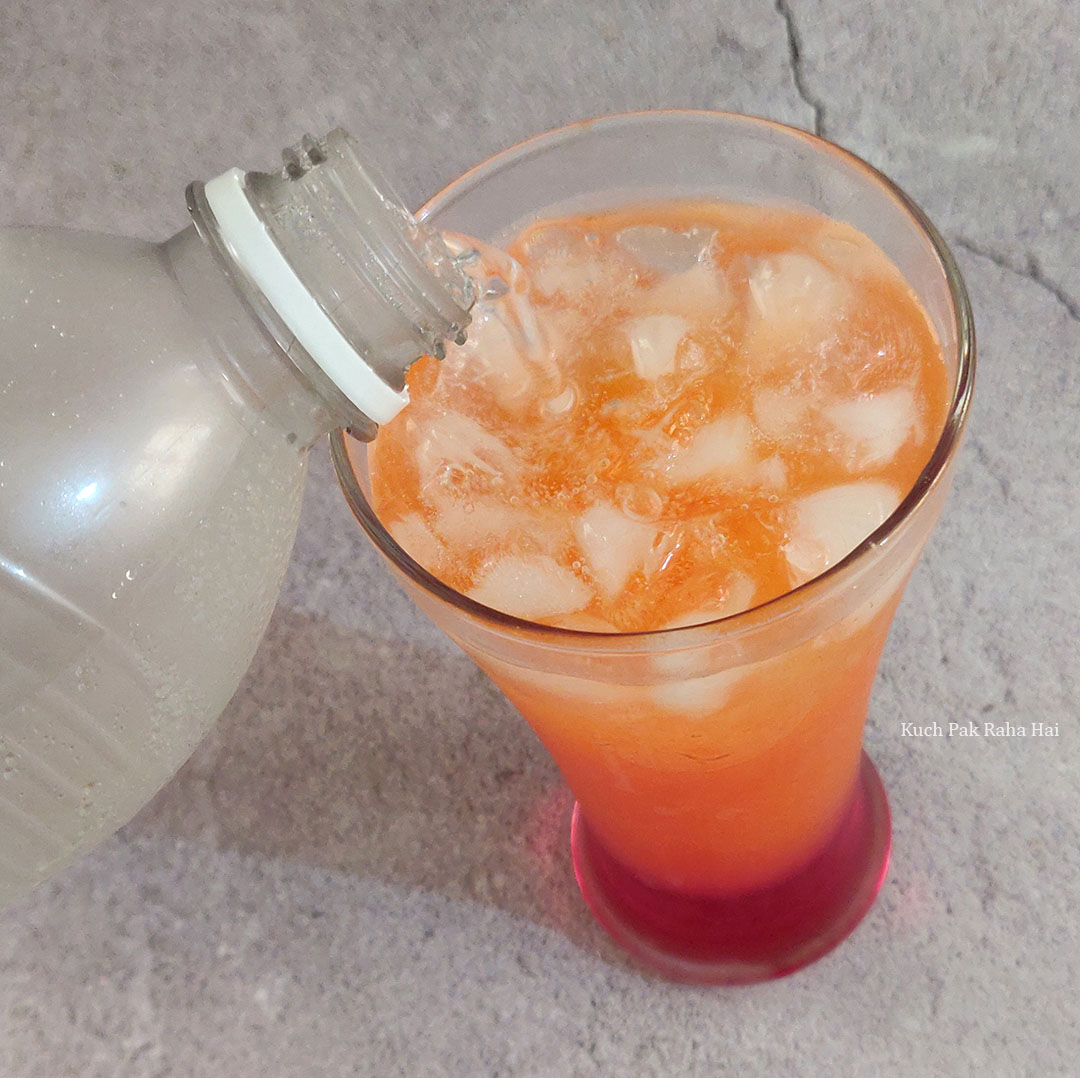 Step 4:
Garnish with an orange slice. Serve immediately. Cheers!!
Pin for later :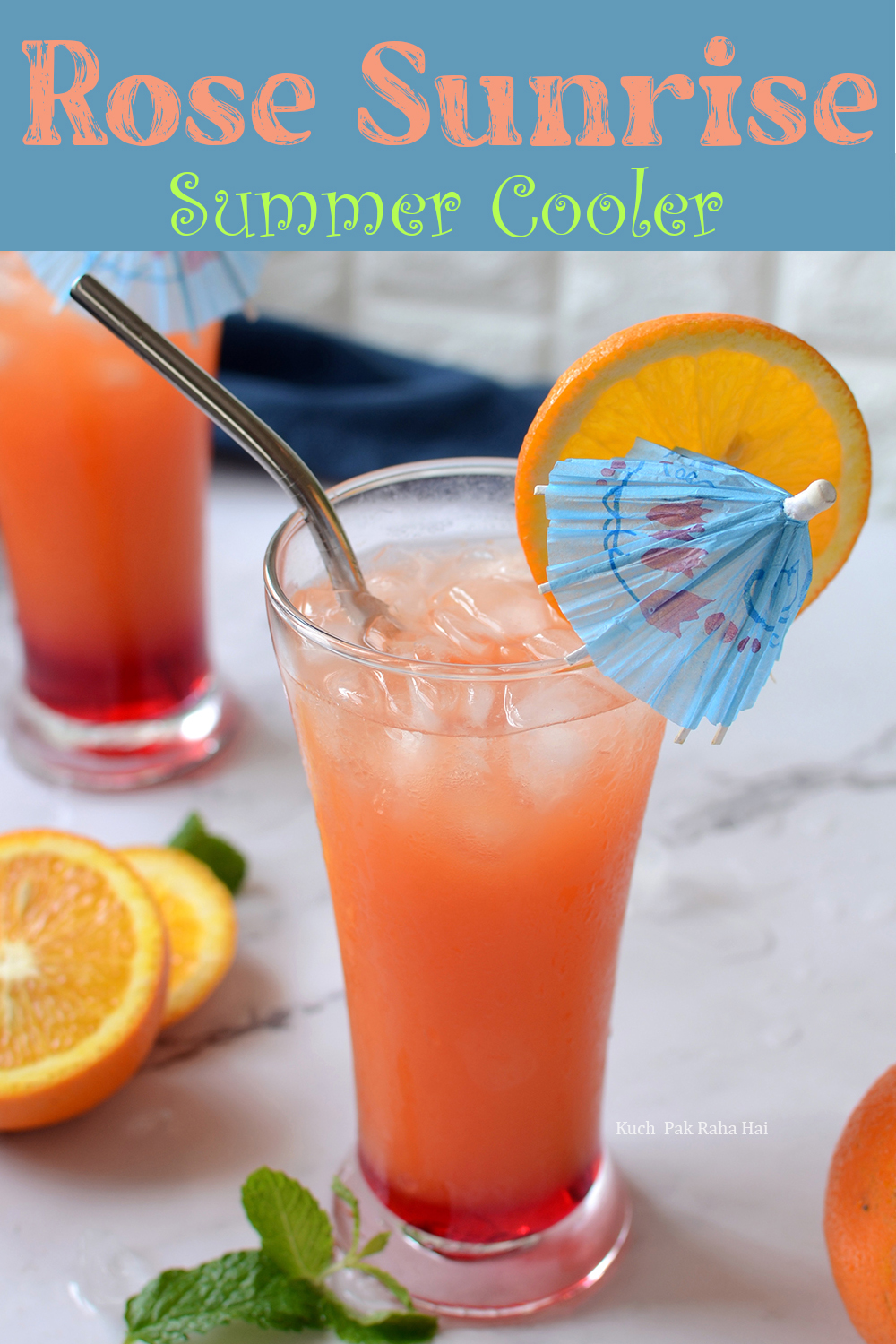 If you try this sunrise mocktail recipe and share pics on Facebook, Instagram then don't forget to tag us or use the hashtag #kuchpakrahahai.
Let's stay connected
Facebook | Instagram | Pinterest| Youtube