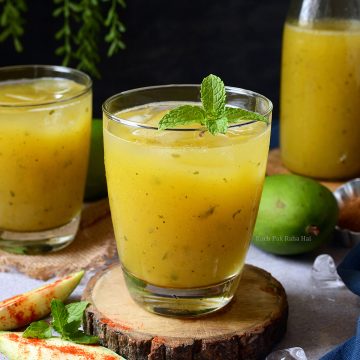 Aam Panna is a refreshing summer cooler drink made with raw mangoes (unripe green mangoes). It is made by combining raw mango pulp or juice with roasted cumin, cardamom, sugar, black pepper, mint and black salt etc.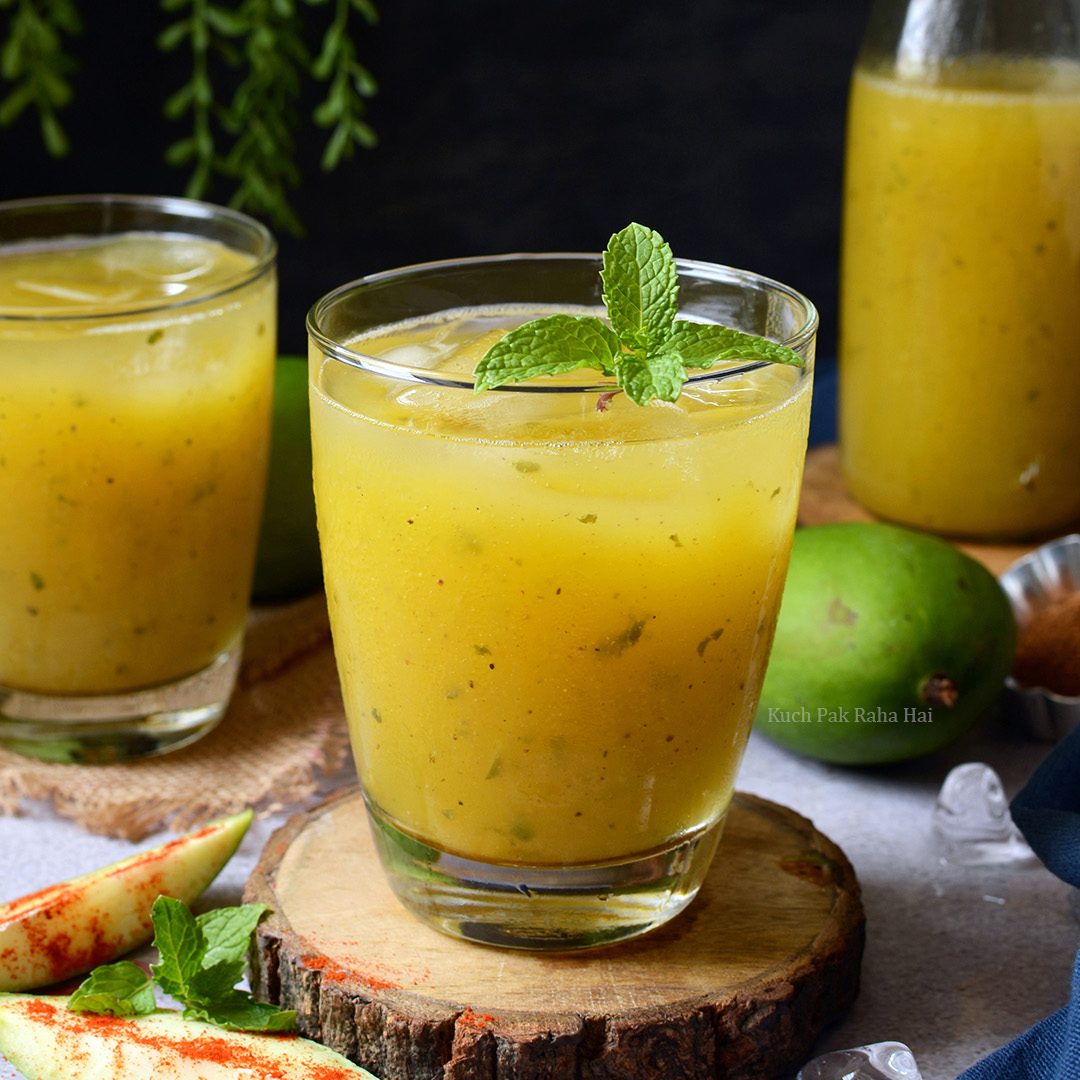 Aam Panna also known by many other names like keri ka panha, kache aam ka panna, ambi panna, aam jhora or raw mango juice etc. This sweet sour tangy drink is popular especially in summer season because of its heat resistant properties.
The aam panna recipe shared here is:
Vegan / Vegetarian
Gluten Free
100% Natural
Easy to make
It is extremely hot in Delhi these days & what else can be more refreshing than a chilled glass of this raw mango drink to soothe your senses. I find it to be so much better than aerated drinks or store bought squash syrups that are loaded with sugar, artificial colours, and flavours.
Aam Panna Ingredients:
Raw Mangoes: The main ingredient of aam ka panna recipe are unripe or raw mangoes. They are green in colour, sour in taste and are hard to touch in comparison to fully ripe mangoes.
Sweetener: The sourness of raw mangoes is balanced by adding sugar in the drink. You can use white sugar, brown sugar or jaggery powder (gur) which is easily available in market these days.
Spices: Indian spices like roasted cumin (jeera), cardamom (elaichi), black salt (kala namak) & black pepper(kali mirch) add aroma & rustic flavour to aam panna. If you like spicy aam panna, you can increase the amount of black pepper used or even add some red chilli power.
Fresh Mint: Summer drinks are incomplete without adding some fresh mint leaves. It is also known as 'pudina' in hindi. If you don't have fresh mint leaves, you can also use crushed dried mint leaves or powder.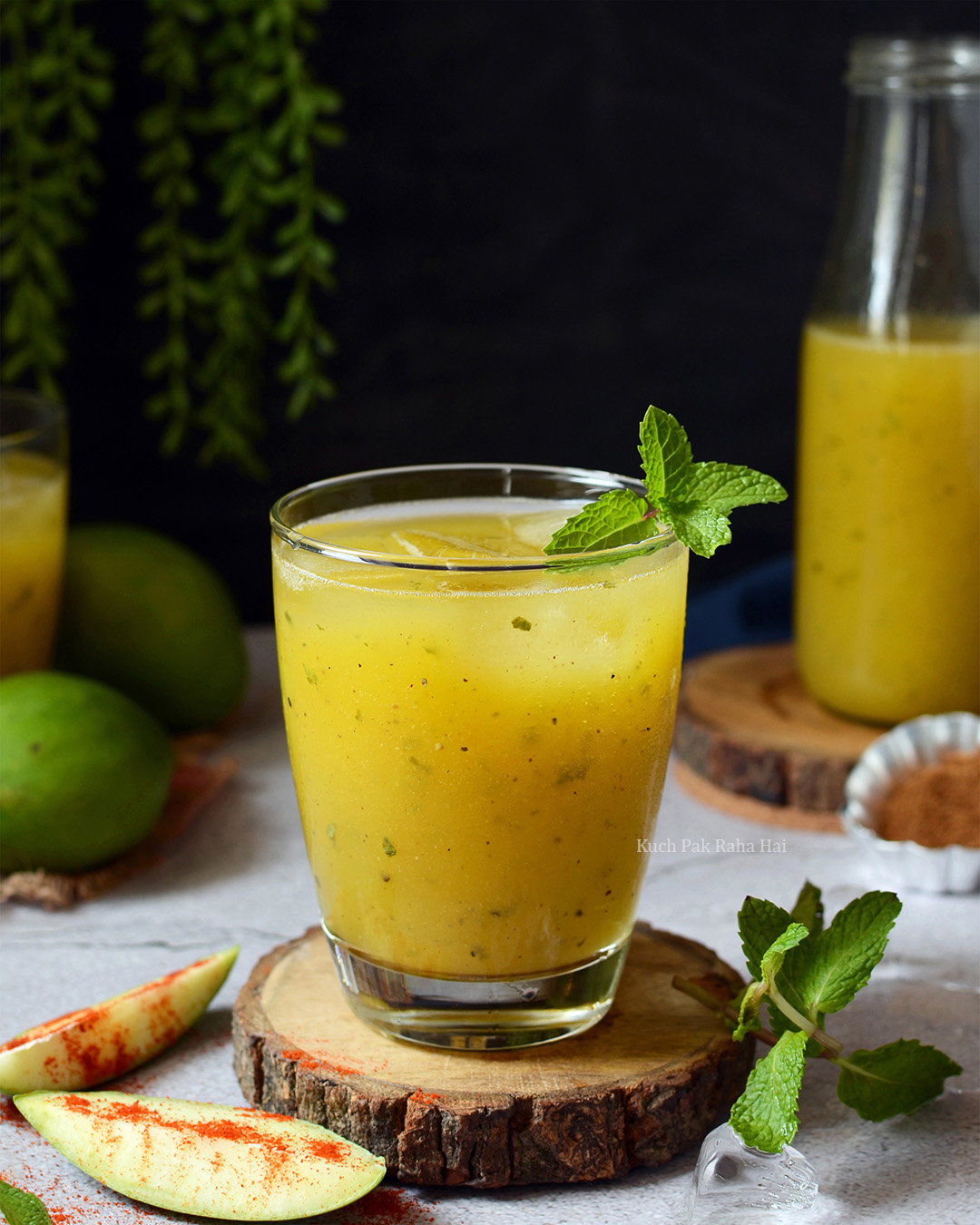 How to make aam panna?
In this post, we have made mango panna  by two ways:
By boiling raw mangoes
By roasting raw mangoes
In the first method, the raw mangoes are peeled, cut, boiled and then blended with sugar or jaggery and assortment of spices to make aam panna.
In the second method, we will roast the mangoes directly over flame burner which is closer to the traditional method when raw mangoes were roasted in 'chulhas' by embedding in the left over hot ash. The roasting process adds smokiness to the aam panna flavour.
Aam Panna Benefits:
It has got numerous health benefits like it is loaded with vitamin C, antioxidants, nutrients; helps in maintaining electrolyte balance in body and has wonderful heat resistant properties which makes it the most desirable drink in summers. You can also give it to kids who often demand for something cool to drink after returning from school or after playing outside in this hot sweltering summer.
More mango recipes:
The sight of raw mangoes instantly reminds me of my childhood days, grandmother & mother (We had a big family so not to forget all the aunties and us kids).  The memory of verandah with heaps of raw mangoes dipped in buckets, the entire tedious process of cutting, drying and making mango pickles, storing them in giant sized 'martabans' is a memory that will always cross my mind on seeing kache aam.
There used to be a black coloured magnified version of  'Sarota' (Nut cracker in english) for cutting the raw mangoes. None of the children were allowed to touch it & we were told that in case you missed the angle while cutting the mangoes, your finger would be lying on the floor instead of the mango (I know its painful to read but that is how my mom & grand mother used to scare us!!).
Youtube Video:
The aam panna recipe shared here is easy & quick.  I have also shared its step by step youtube video. If you like the recipe don't forget to like or subscribe:) 
Ingredients: (Makes 4-5 serving)
Raw mangoes – 2 (300-400 grams)
Sugar / Jaggery Powder- 1/3 cup
Salt- 1/2 tsp (to taste)
Black Salt – 1 tsp
Black Pepper Powder (Kali Mirch)- 1/2 tsp
Roasted Cumin Powder (Bhuna Jeera) – 1 tsp
Cardamom (Elaichi)- 2 to 3
Mint Leaves (Pudina) – 10 to 12
Water – 6 cups
For serving:
Notes :
1. The quantity of sweetener can always be adjusted in the recipe. If you like sour (or khatta) aam panna, use less of it & if you like it to be on sweeter side add more of it.
2. If you like spicy aam panna, increase the quantity of black pepper or add little bit of red chilli powder.
Directions:
Step 1:
Wash the raw mangoes thoroughly. Once washed, peel them off and chop them into thin slices. Place these slices in a pan, add 2 cups of water and salt. Bring the water to boil and then cover the pan with lid for 7 to 10 minutes.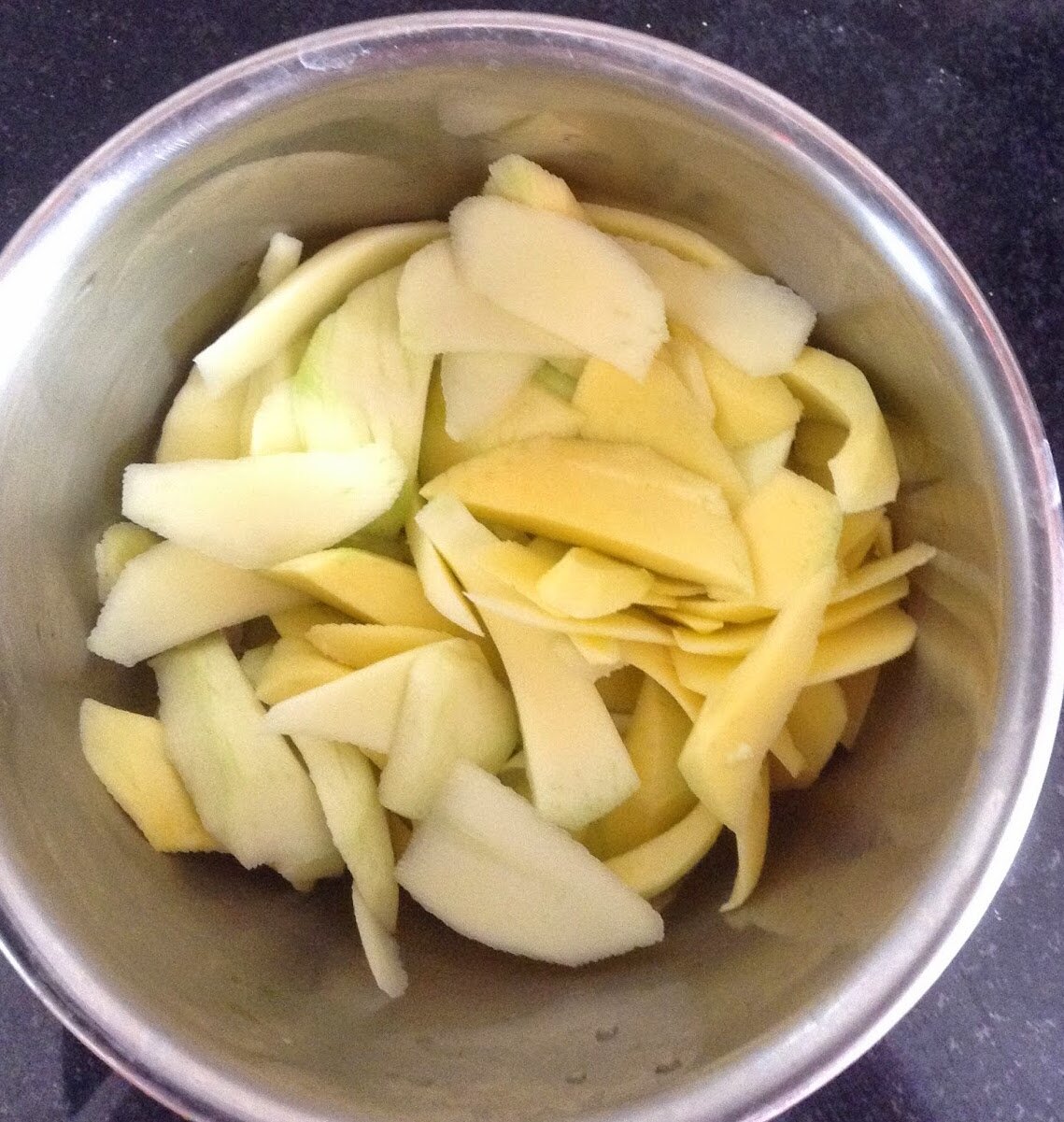 Step 2:
Check the mangoes after 7-8 minutes using a spoon of knife. The mangoes should have should have softened and you should be able to easily cut them with a spoon. In case they seem not so soft, boil them for 1-2 minutes more.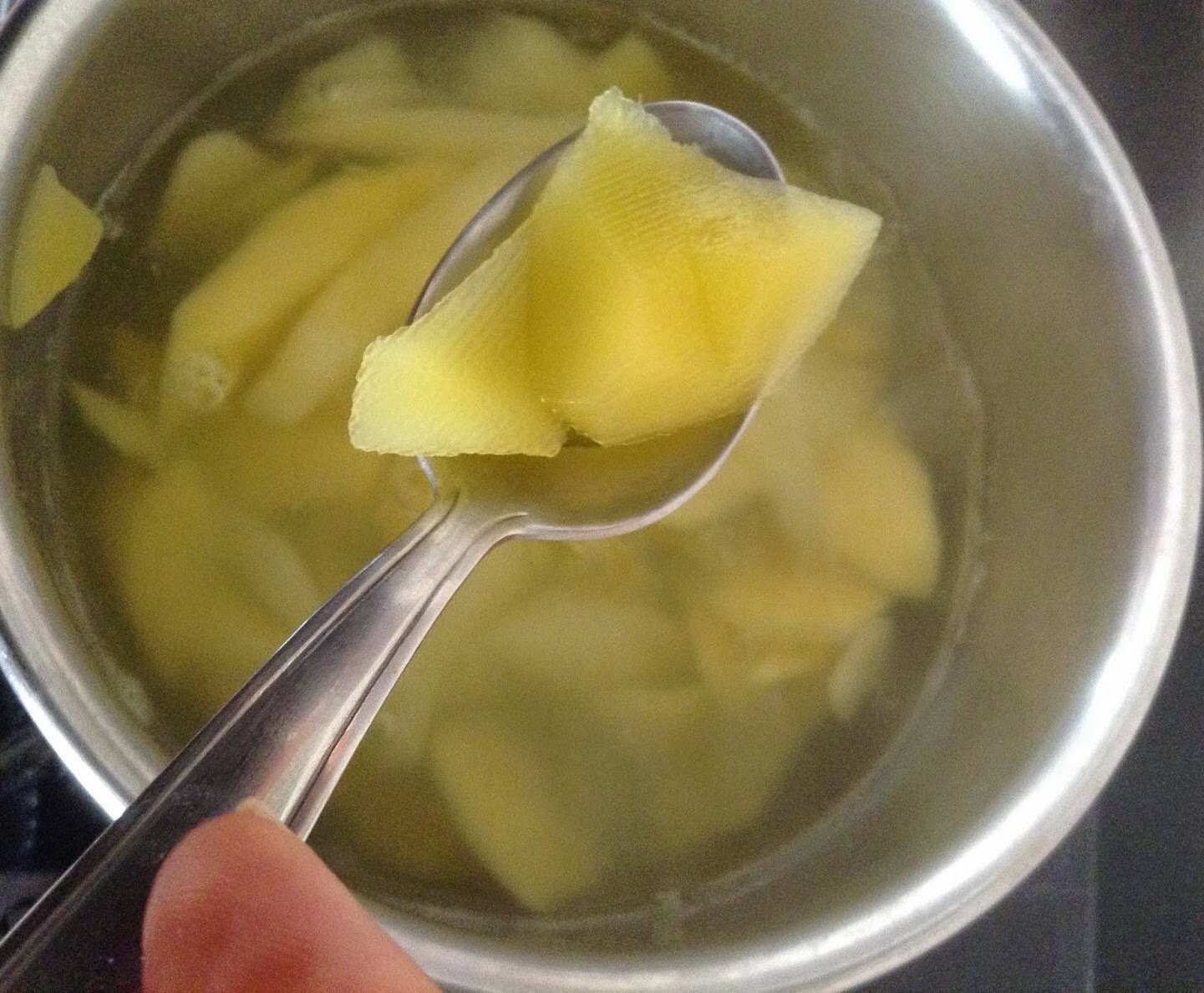 Step 3:
Once the raw mangoes are boiled, turn off the flame. Add sugar or jaggery powder to it. Mix well and keep this aside to cool down a bit. The warmth from the mangoes will melt the sugar quickly. Using a hand blender, blend all the mango pulp with sugar.
(If you want you can sieve the mixture once to remove the mango fibres. However it is an optional step.)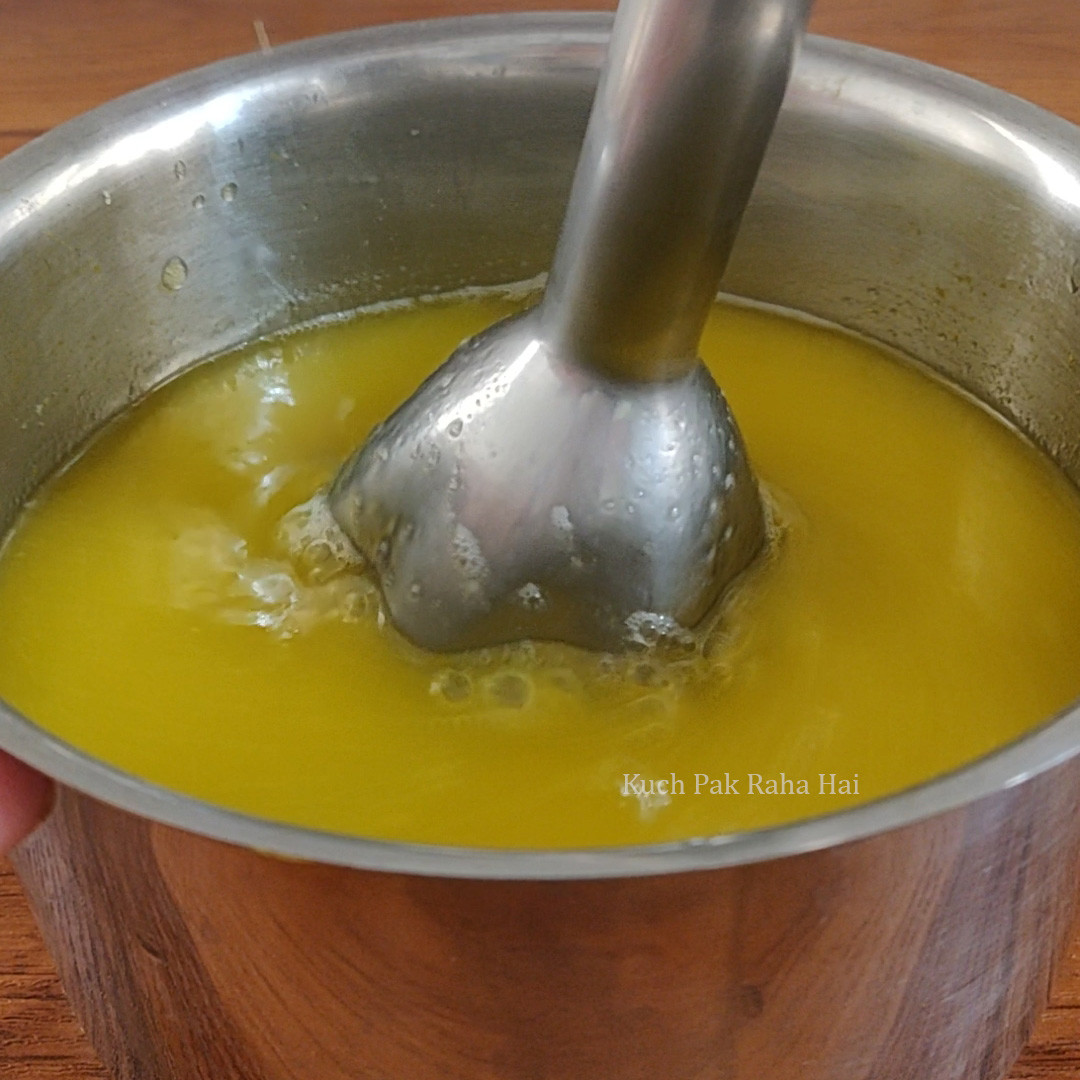 Step 4:
To the pureed mango pulp, add 4 cups of chilled water along with black pepper, crushed cardamom seeds, black salt, roasted cumin (bhuna jeera) and mint leaves.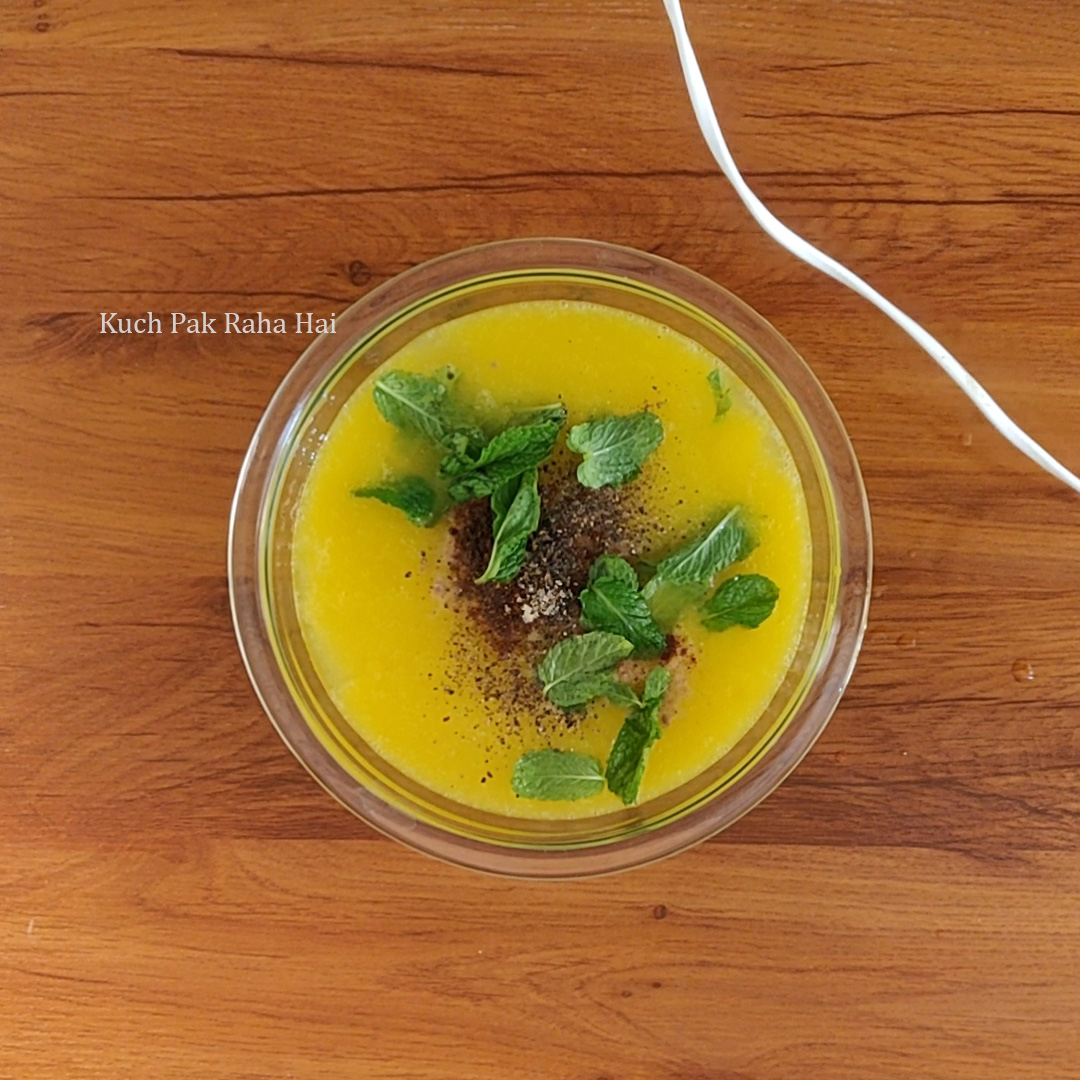 Blend it gently once again. We just want to mix all the ingredients well and such that the mint leaves are not completely crushed.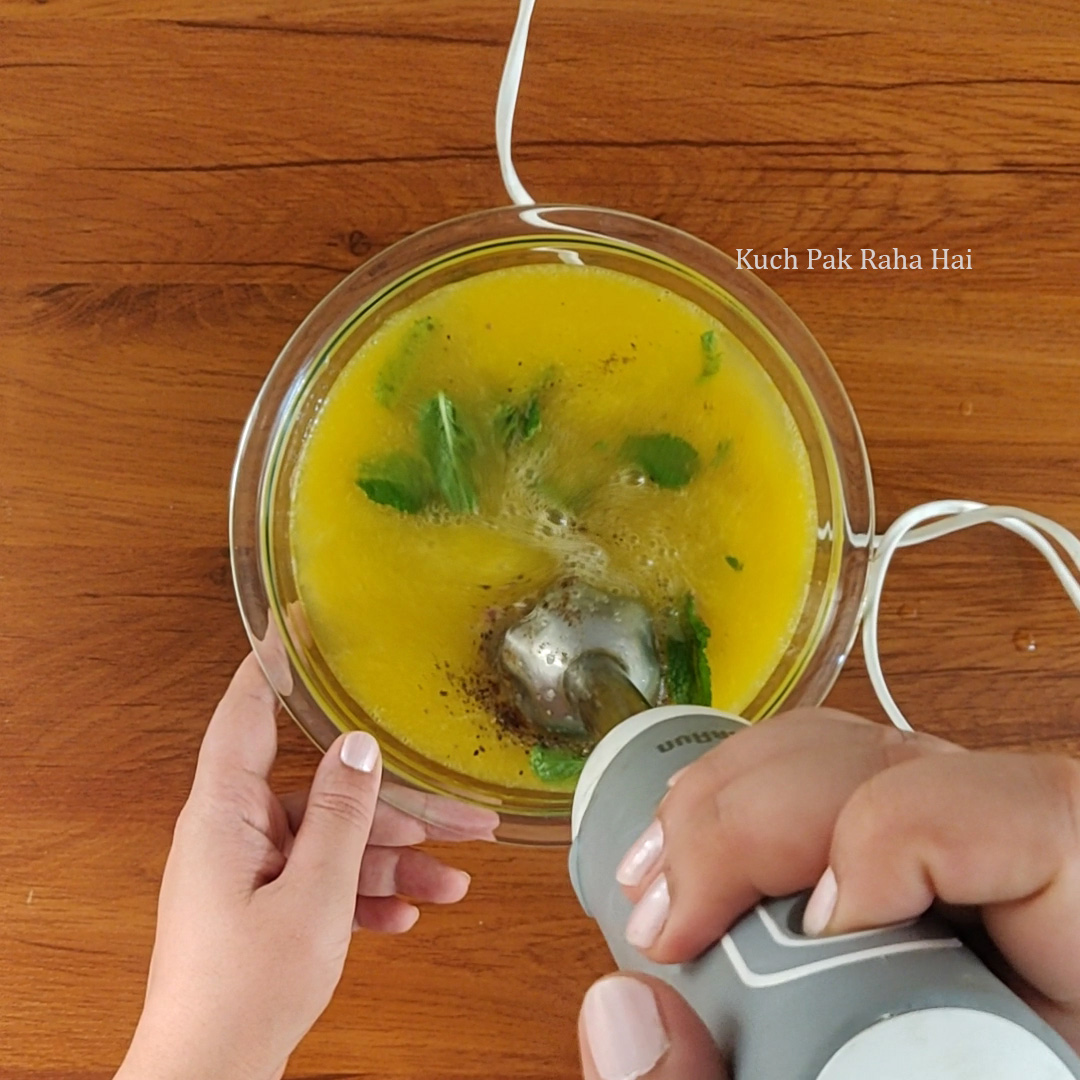 Chill this aam panna well in fridge for 1-2 hours. Serve it over some ice cubes and garnish with mint leaves on top. Delicious refreshing Aam Panna is ready!! 🙂
Pin for later: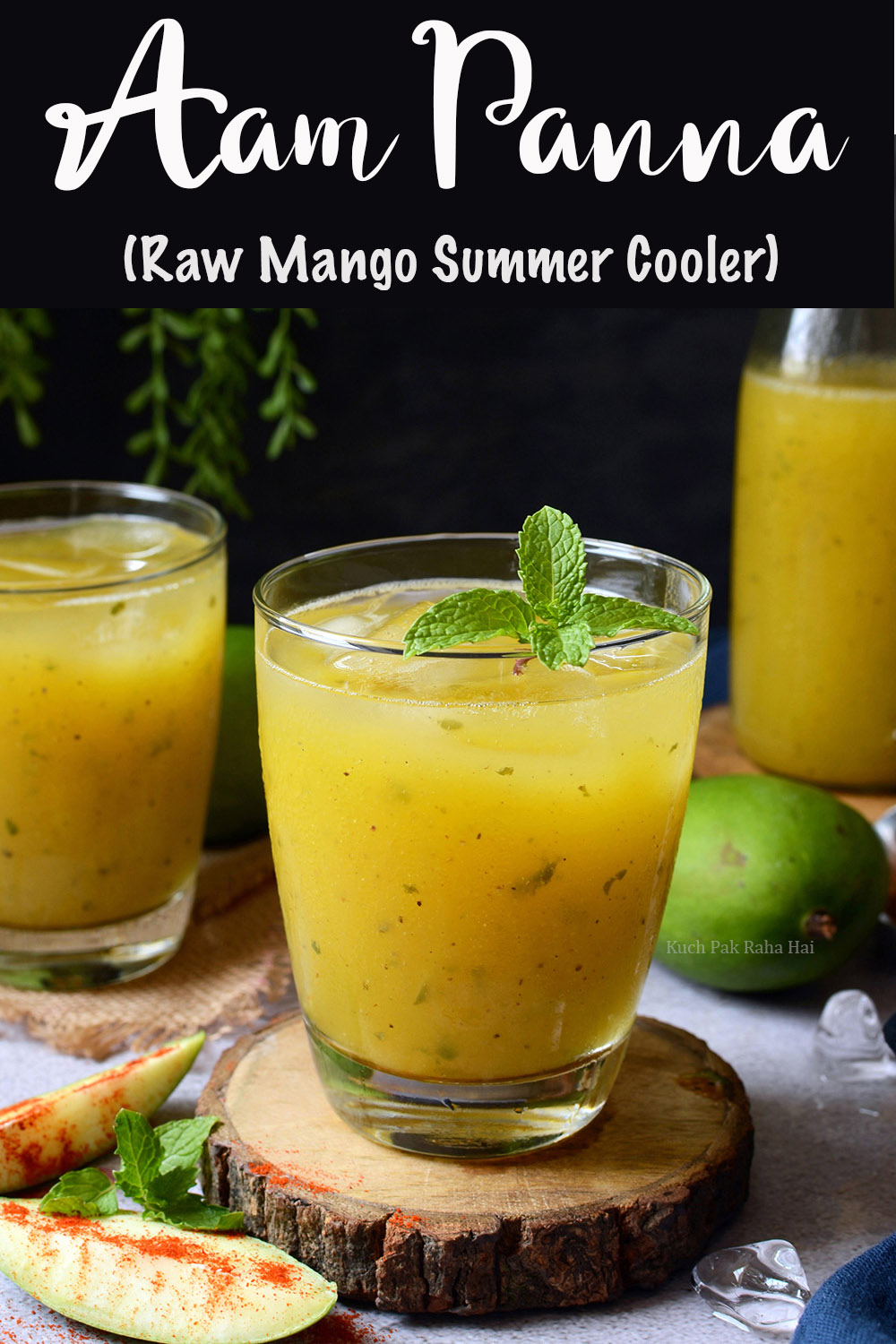 Roasted Aam Panna
The second way of making aam panna or kairi panha is by roasting the raw mango on flame directly. It takes slightly more time than the above method but tastes closer to the traditional aam panna.
Roast the raw mangoes on Medium-low flame till it skin becomes black & brittle on different spots. Keep rotating it on the flame as you want to roast it evenly. Don't do this on high flame as it will burn the skin of mango too early leaving the insides raw & hard.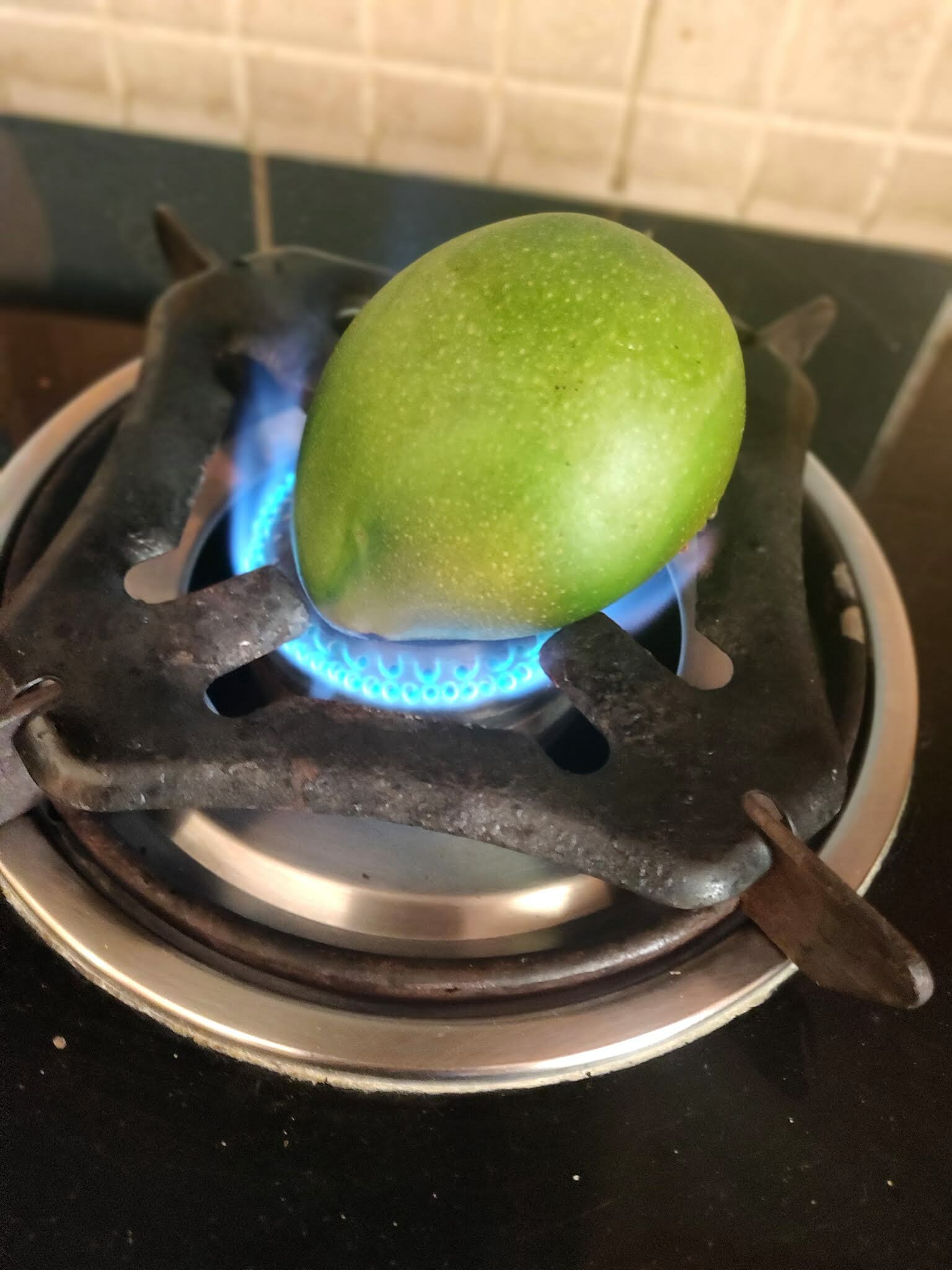 Once the ambi is roasted, wrap it in an aluminium foil while it is still hot. Keep it aside for an hour. The warmth cooks the insides completely making the pulp soft & mushy.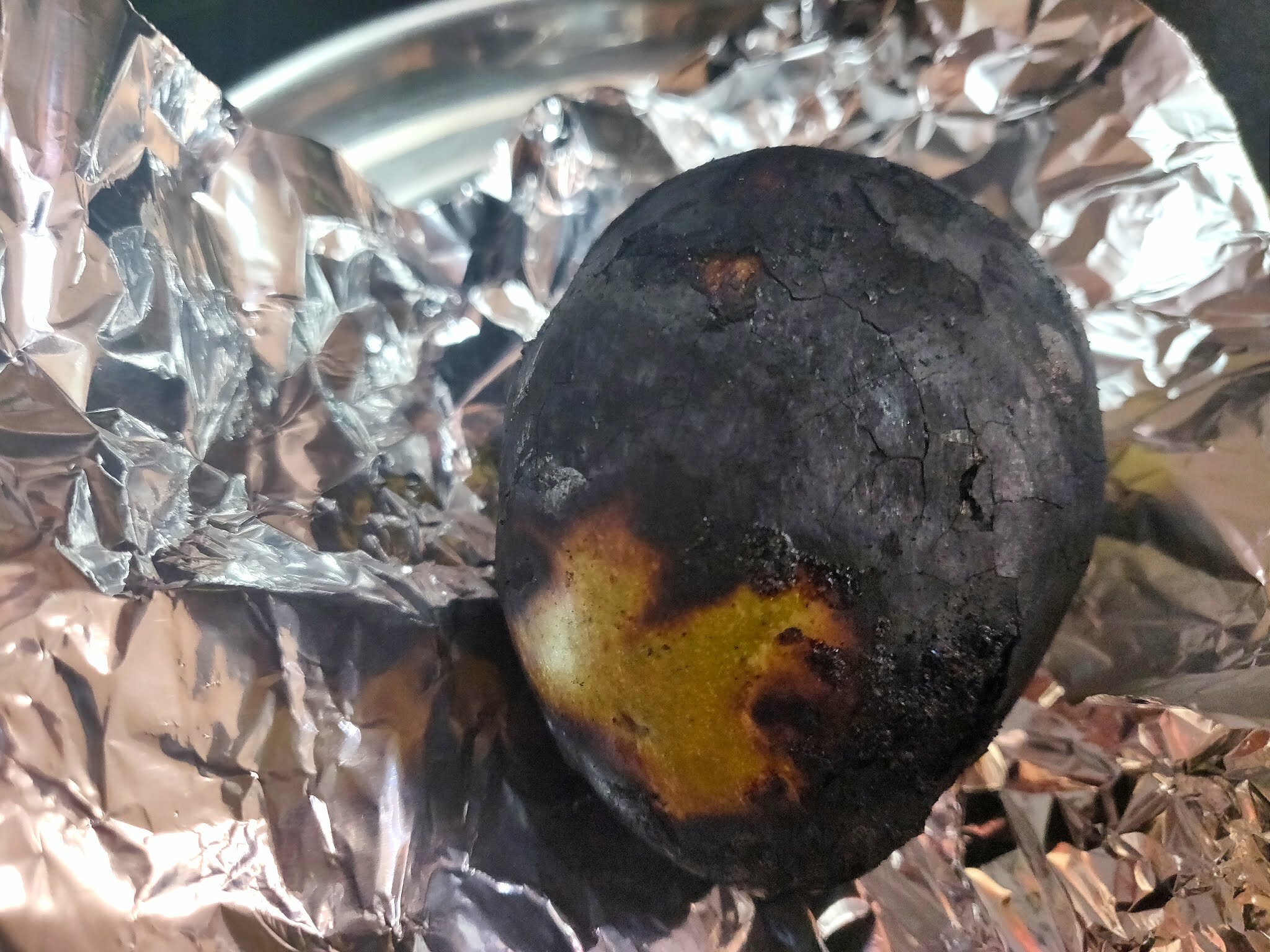 After one hour, unwrap the aluminium foil & peel the ambi with hands. The peel will come out very eaily as it has already turned brittle.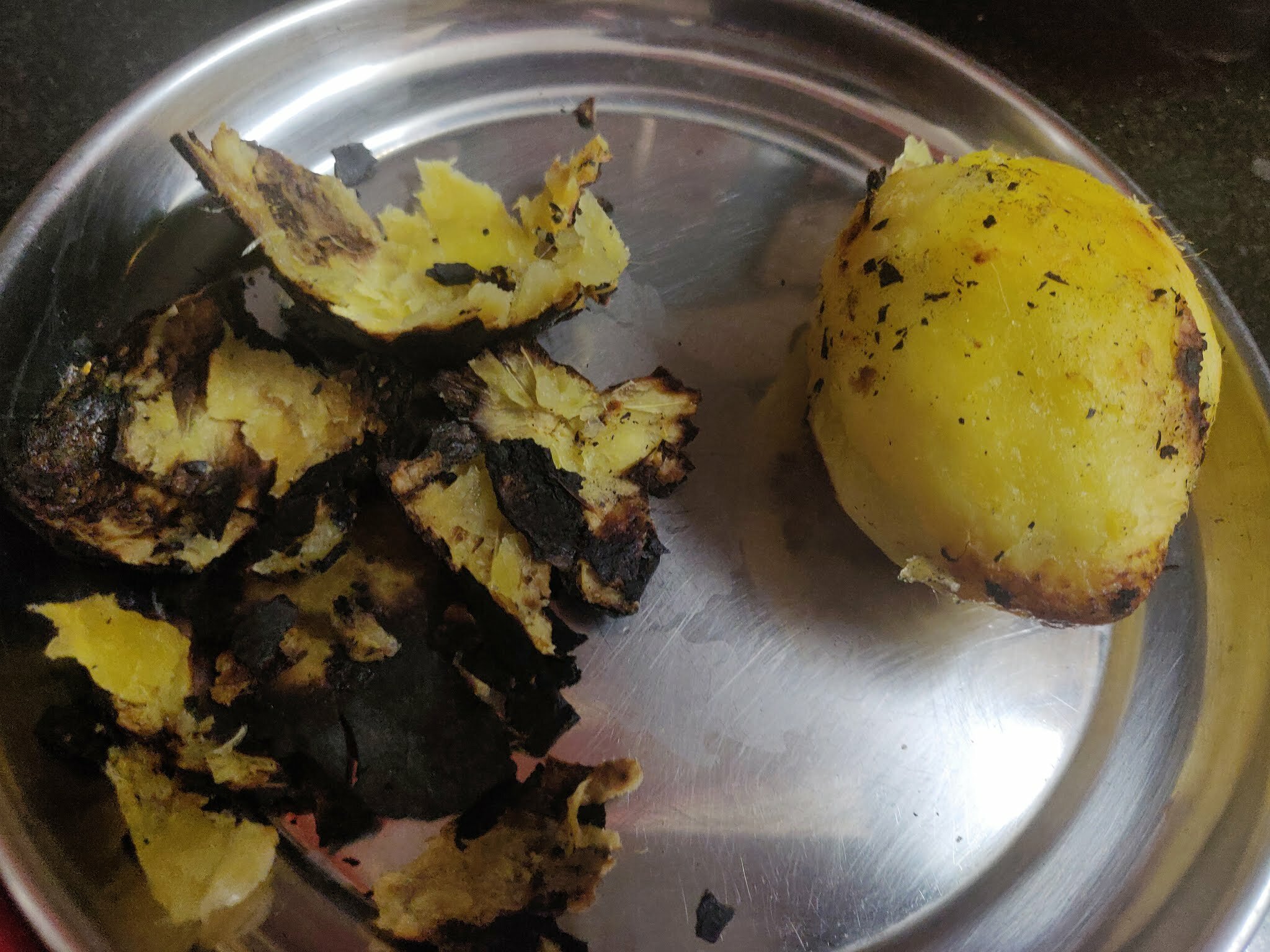 Using a knife, separate all the pulp from this roasted ambi. Add water to this pulp & continue from step 3 above.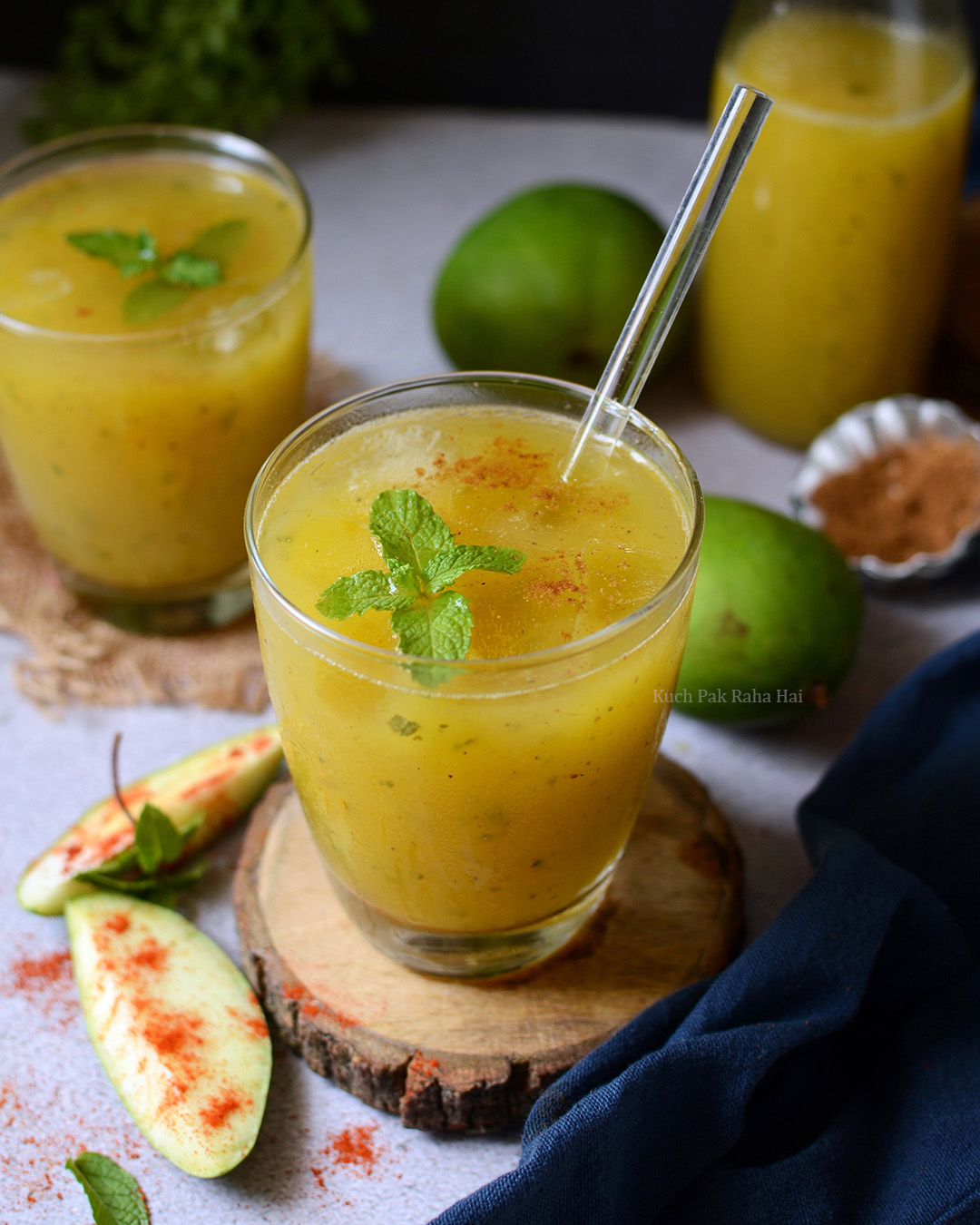 More Summer Cooler Drink Recipes :
If you try this aam panna drink recipe & share pics on social media, then don't forget to tag on Facebook or Instagram or use #kuchpakrahahai.
Let's stay connected
Facebook | Instagram | Pinterest| Youtube