It is extremely hot in Delhi these days. The mercury is touching 45-46 degree every day; what else can be more refreshing & soothing than a cool tangy drink like "Aam Panna" to satisfy your thirst!!
As we all are already aware about the side effects of aerated drinks; how it is loaded with sugar, infused with carbon dioxide, full of artificial colours and flavours, I am not going to compare any of these soft drinks to this homely and humble summer drink Aam Panna :).
The main ingredient in Aam Panna recipe is raw mango pulp. The raw mangoes are peeled, cut, boiled and then blended with sugar and assortment of spices to give this refreshing sweet-sour drink. You can also replace white sugar used in this recipe with jaggery . It has got numerous health benefits like it is loaded with vitamin C, antioxidants, nutrients;  helps in maintaining electrolyte balance in body and has wonderful heat-resistant properties which makes it the most desirable drink in summers. This is also beneficial for kids who often demand for something cool  to drink after returning from school or after playing in this sweltering summer.
Another method of making Aam Panna is by roasting the raw mangoes which gives the drink a nice smokiness along with the depth in flavours. I have explained its method in the end of this post. Earlier the raw mangoes used to be roasted in traditional 'chulhas' by embedding the raw mangoes in the left over hot ash but now we will give it a slight modern twist & roast it on our burner.
The smell of raw mangoes is so soothing and refreshing amidst the hot gushing winds in summer. The sight of raw mangoes instantly reminds of my childhood days, my grandmother, mother (and not to forget to mention all the aunties and 'bachcha' party 😉 ).  The memory of verandah with heaps of raw mangoes dipped in buckets and tubs full of water, the entire tedious process of cutting, drying and making pickles from them in those giant sized 'martabans' instantly flashes my mind.
There used to be black coloured magnified version of "Sarota" (Nut cracker in english) especially for cutting the raw mangoes. Only experienced hands were trusted with this cutter. None of the children were allowed to touch it as it was told to us that God forbid in case you missed the angle while cutting the mango, your finger would be lying on the floor instead of the mango (ouch..I know its painful to read, but that is how your mom & grandmom used to scare you as a child!!).
Ahem Ahem!!Enough of the flashback memories, lets get back to cooking…
List Of Ingredients: (Makes 4-5 serving)
Raw mangoes – 2
Sugar – 4 tbsp
Black Salt – 2 tsp (or to taste)
Black Pepper – 1/4 tsp
Roasted Cumin seeds Powder – 1 tsp
Fresh Mint Leaves – 10 to 12
Chilled Water – 4 cups
Ice Cubes
Steps to Prepare:
Step 1:
Wash the raw mangoes thoroughly. Once washed, peel them off and chop them into thin slices. Place these slices in a boiling pan. Fill the pan with water such that all the slices are completely submerged in water.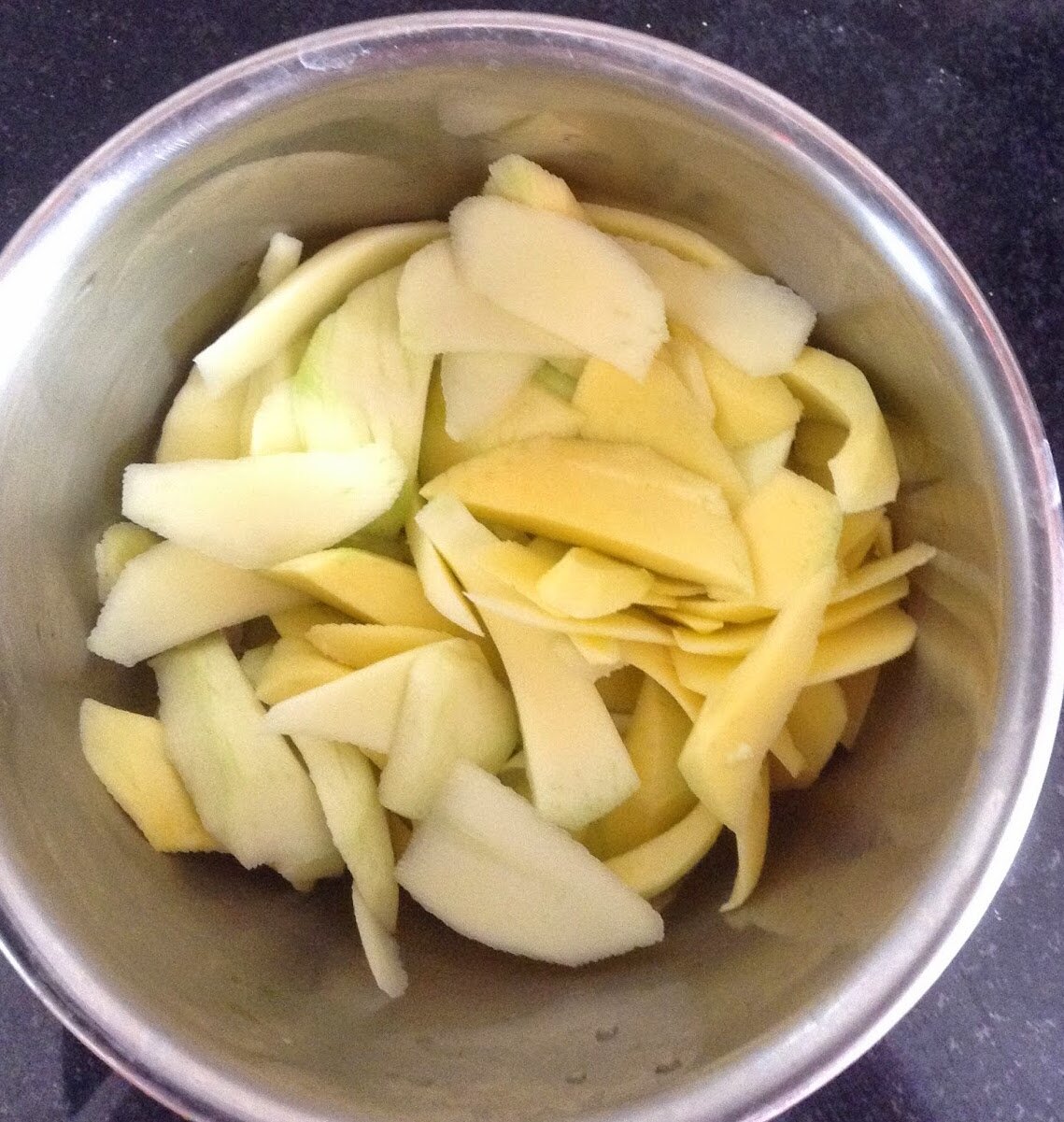 Step 2:
Cover the pan with the lid and boil the raw mango slices for complete 10-12 minutes. After this open the lid and check. The mangoes should have turned soft and mushy. In case they seem to be not so soft, boil them for another 1-2 minutes.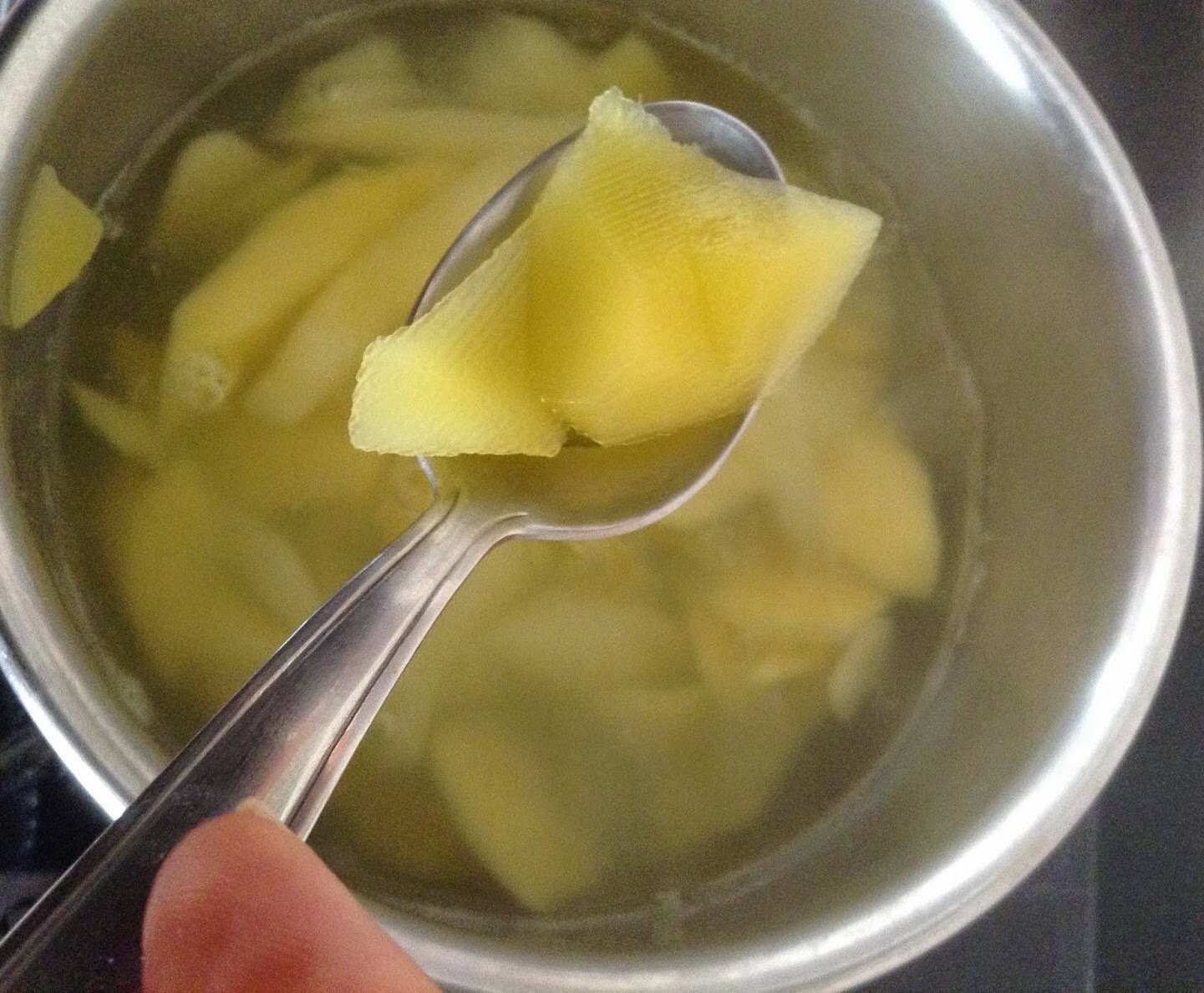 Step 3:
Add sugar, black salt, black pepper, roasted cumin seeds and mint leaves to the boiled raw mango pieces.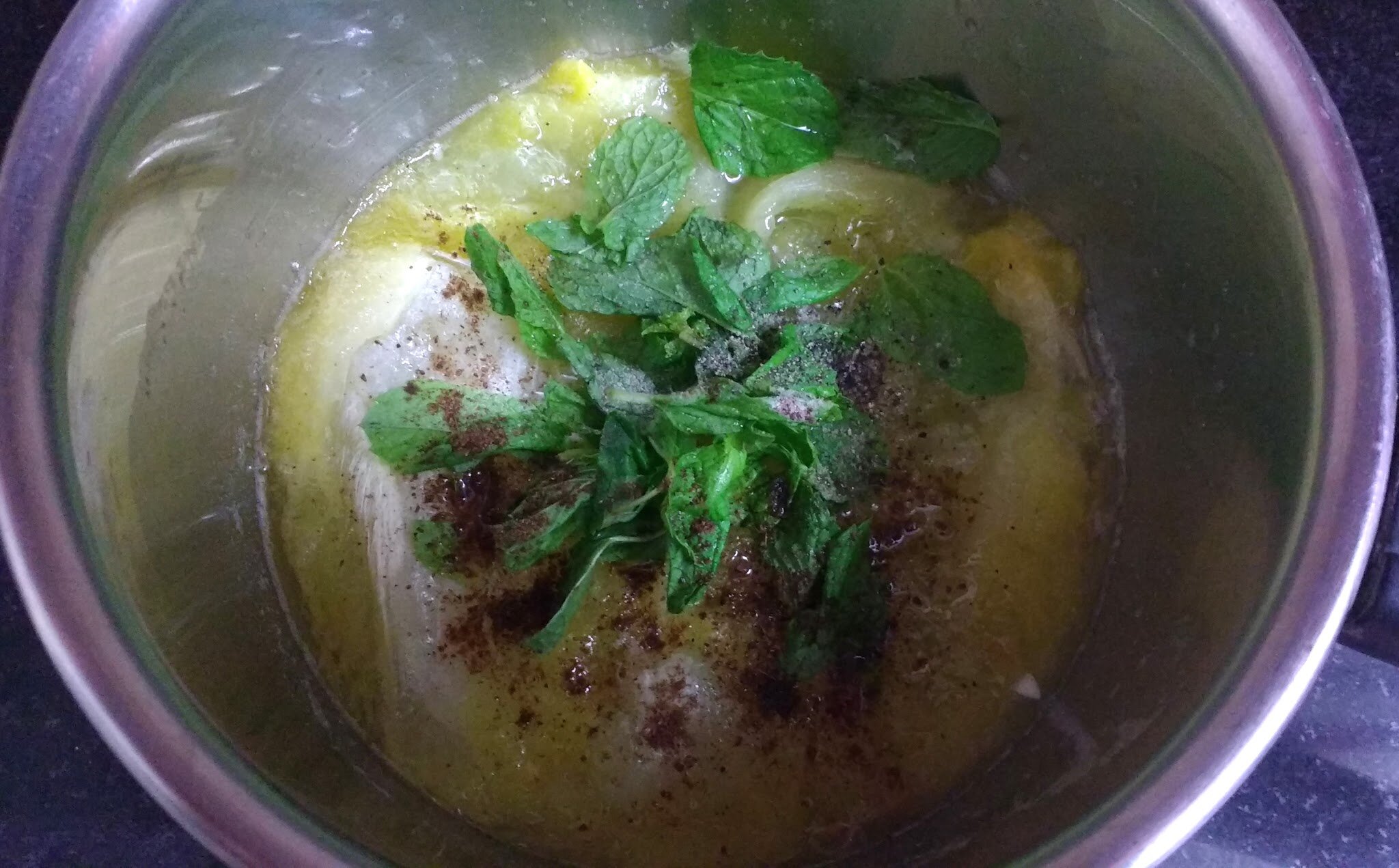 Turn this mixture into puree using mixi or hand blender. Below I have used hand blender for turning the ingredients into puree.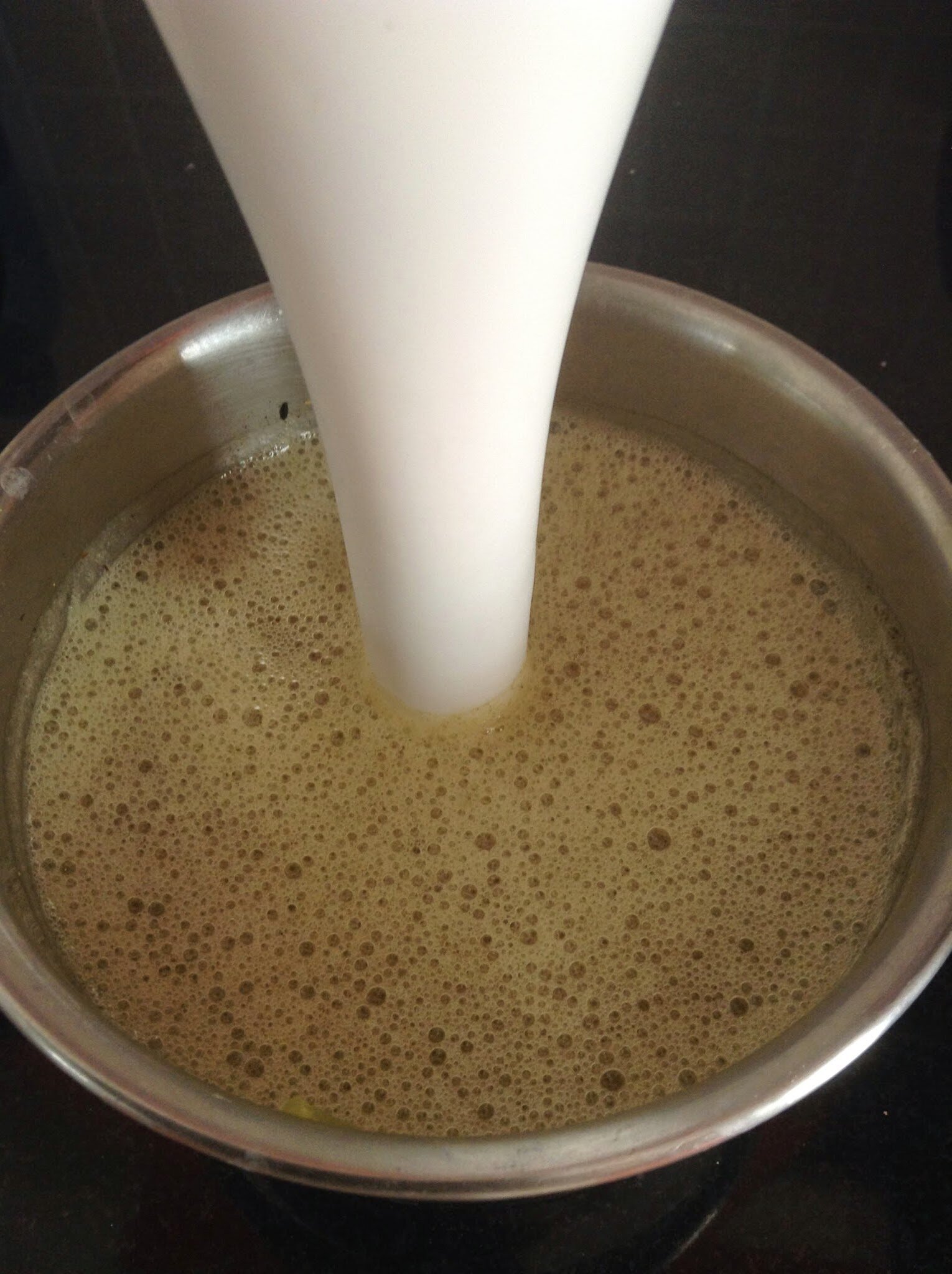 Step 4:
Add chilled water and ice cubes. Blend it once again. Keep it in fridge for some time to chill.
Garnish with some more mint leaves at the time of serving. Your Aam Panna is ready!! 🙂
Smokey Aam Panna
The second way of making it is by roasting the raw mango (called "ambi" in hindi) on flame directly. It takes slightly more time than the above method but tastes closer to the traditional aam panna.
Roast the raw mangoes on Medium-low flame till it skin becomes black & brittle on different spots. Keep rotating it on the flame as you want to roast it evenly. Don't do this on high flame as it will burn the skin of mango too early leaving the insides raw & hard.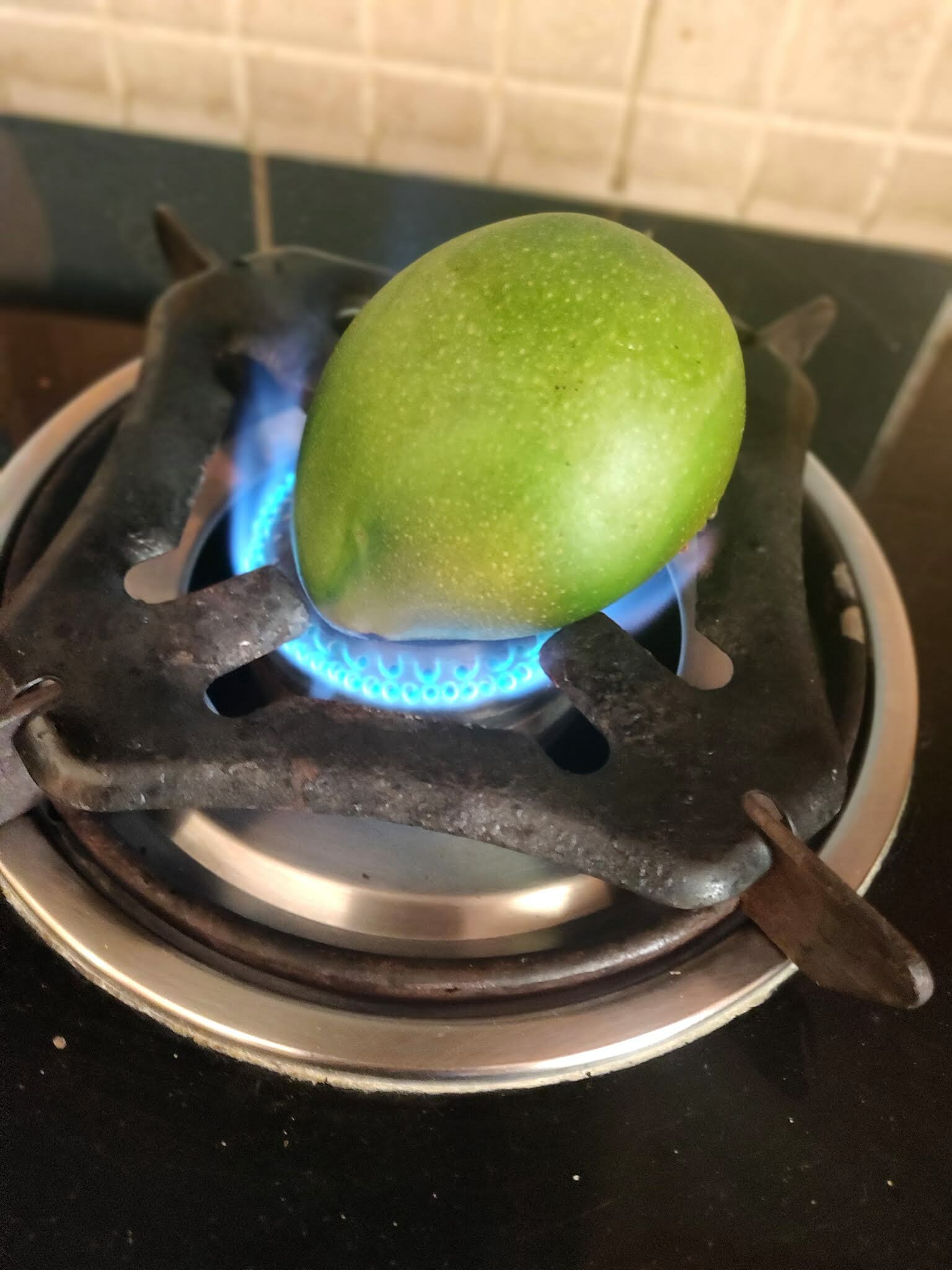 Once the ambi is roasted, wrap it in an aluminium foil while it is still hot. Keep it aside for an hour. The warmth cooks the insides completely making the pulp soft & mushy.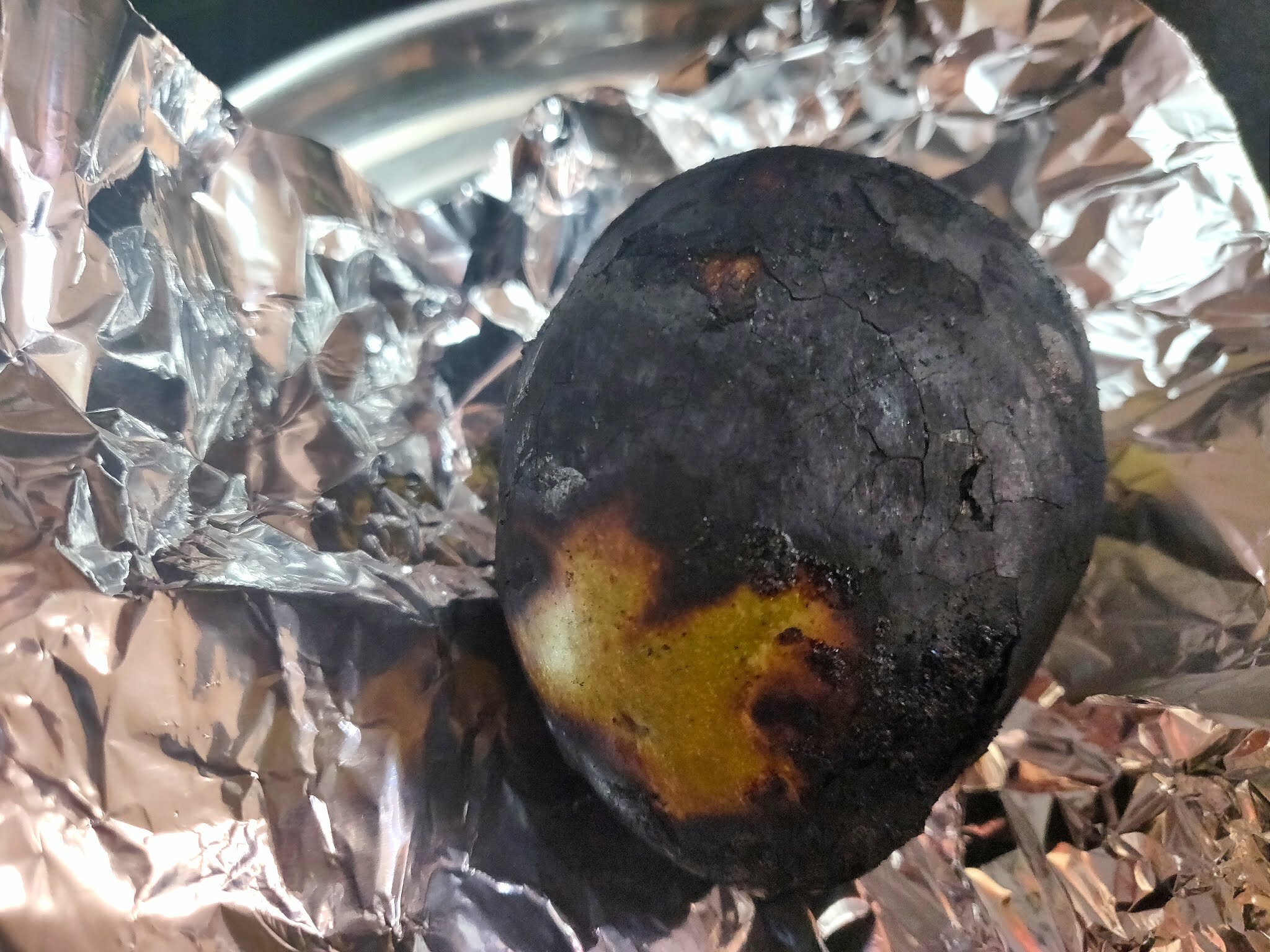 After one hour, unwrap the aluminium foil & peel the ambi with hands. The peel will come out very eaily as it has already turned brittle.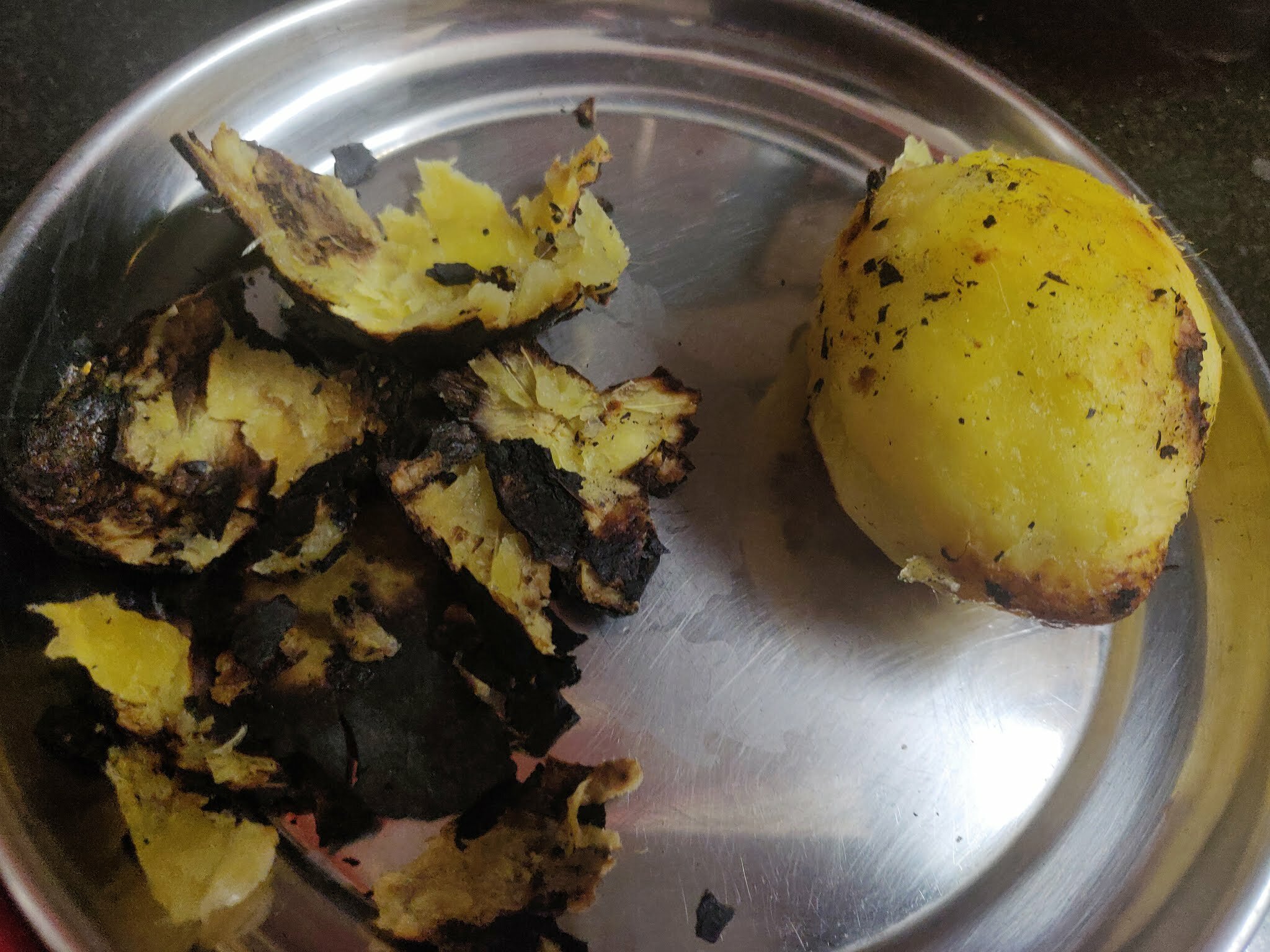 Using a knife, separate all the pulp from this roasted ambi & continue as shown in Step 3 above.Tangy & refreshing Aam panna, full of vitamin C & antioxidants, is ready for you!!