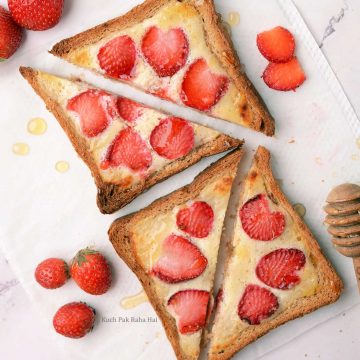 Custard Yogurt Toast is a viral tiktok breakfast recipe made with eggs, yogurt & maple syrup. In this post, we will be making it without eggs in air fryer as well as oven.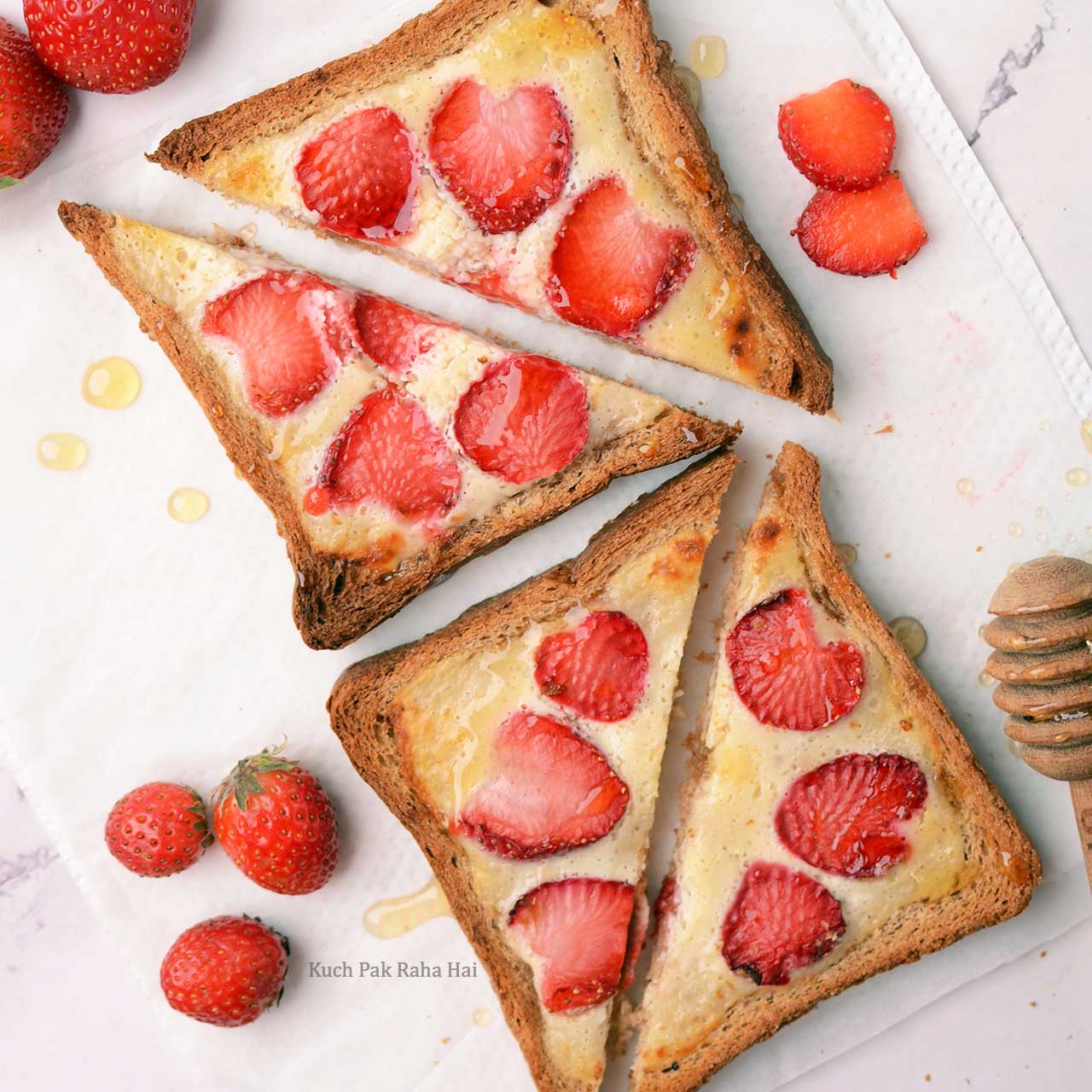 Strawberry Yogurt Toast is an easy fun toast recipe that can be made in less than 10 minutes!! It makes for an absolute satisfying yummy breakfast with its caramelised custard bits, baked strawberries and drizzle of honey or maple syrup .
As Valentine's day is just around the corner, this custard toast is surely going to be my go to breakfast recipe that day. Instead of strawberries you can also use blueberries, pomegranate or raspberries. You can bake this yogurt toast in both:
This yogurt toast also known as custard yogurt toast, gained it popularity after getting viral on tiktok. I have tried to make eggless yogurt toast by replacing eggs with a mixture of chickpea flour, cornstarch & a pinch of baking soda.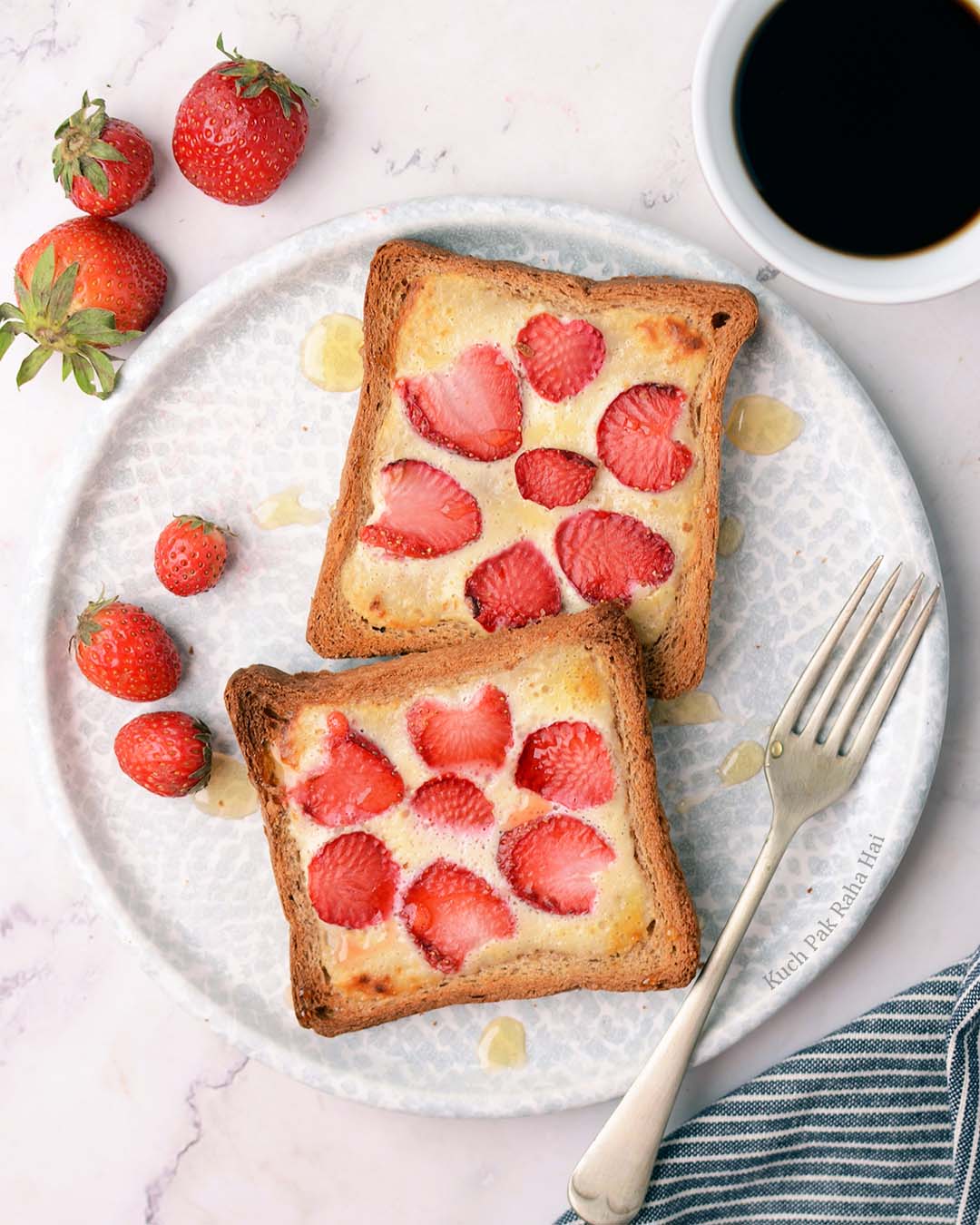 Ingredients for Yogurt Custard Toast:
Bread:

Use soft thick bread slices to make these toast. You can use white bread, whole wheat, sourdough, multigrain bread, gluten free bread for this.
Greek Yogurt: Yogurt adds creamy rich taste to the toasts without adding loads of calories. You can use regular greek yogurt, low fat yogurt or even experiment with flavoured yogurt like strawberry or blueberry yogurt. To make vegan yogurt toast use plant based yogurt like coconut yogurt.
Honey / Maple Syrup: You can use any sweetener of your choice like honey, maple syrup, agave or brown sugar. Adjust the sweetness as per your taste.
Chickpea Flour:

I

n

this recipe egg is replaced with a mixture of chickpea flour, cornstarch & baking powder. Chickpeas flour can easily be found in Indian grocery stores. On being cooked it give egg like structure & binding to the baked goods.
Cornstarch and baking powder: These are used along with chickpea flour to replicate the lightness and fluffiness of egg.
Cinnamon: Little bit of cinnamon adds a lovely aroma to the toast and also masks the slight smell of chickpea flour.
Optional: You can also add vanilla extract or nutmeg in the mixture.
Topping Ideas:
Add any berries or fruits of your choice like:
Strawberries
Raspberries
Blueberries
Pomegranate
Peaches
Banana
If you love chocolate then you can also add some dark or white chocolate chips over this eggless custard yogurt toast. Once the toast is ready you can drizzle some more honey, nutella, peanut butter or biscoff over your toast.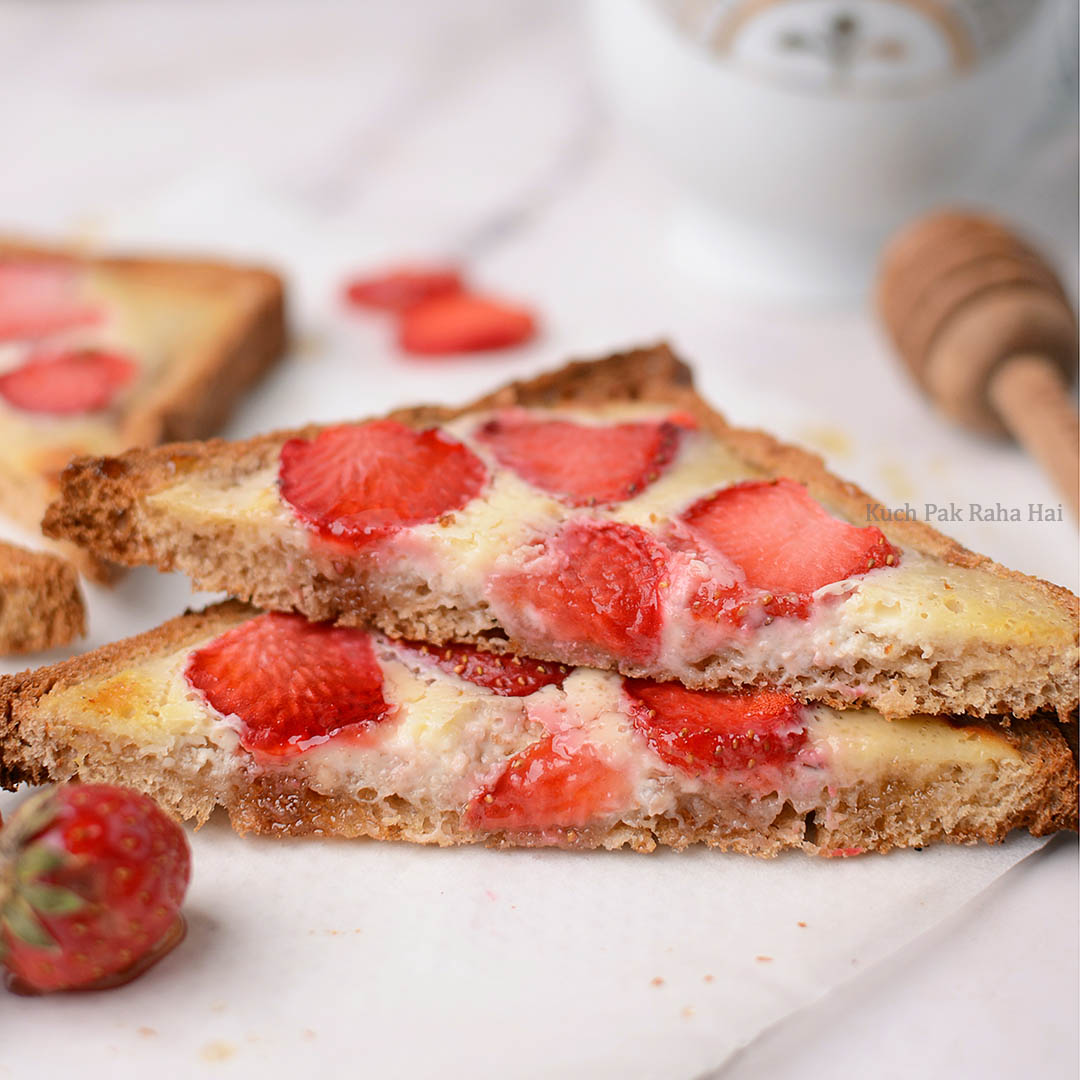 How to make vegan custard toast?
Use plant based yogurt like coconut yogurt and maple or agave as sweetener to make this toast vegan.
Is yogurt custard toast gluten free?
All the ingredients use in the preparation of yogurt mixture are gluten free. These days gluten free bread made with chickpea flour, quinoa, rice, buckwheat etc are easily available in market. You can use any of them to make gluten free custard toast.
More quick easy healthy breakfast recipes: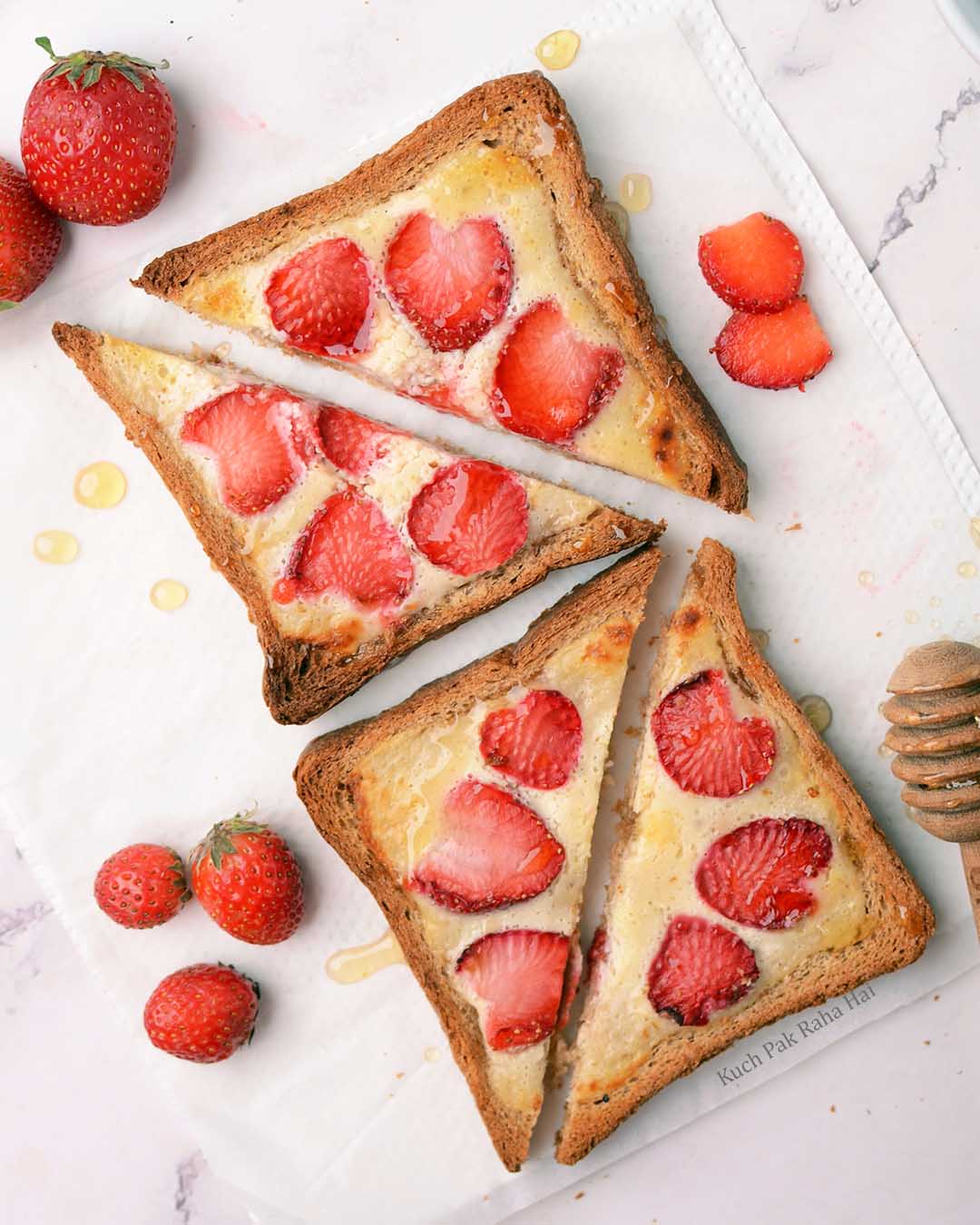 Hope you would like this easy yummy custard yogurt toast recipe.
List of Ingredients:
Bread Slices-2
Greek Yogurt / Coconut Yogurt- 4 tbsp
Honey / Maple Syrup- 2 to 3 tsp (to taste)
Vanilla Extract- 4 to 5 drops
Strawberries- 3 to 4
Cinnamon- A pinch
Chickpea Flour-2 tsp
Cornstarch-1 tsp
Baking Powder-1/8 tsp
Water-1.5 tbsp
Directions:
Step 1:
First add chickpea flour, cornstarch, baking powder & water in a bowl. Mix well with help of a fork till there are no lumps left. Now add yogurt, vanilla, cinnamon and honey (to taste) in this mixture. Beat for 1-2 minutes to make smooth mixture.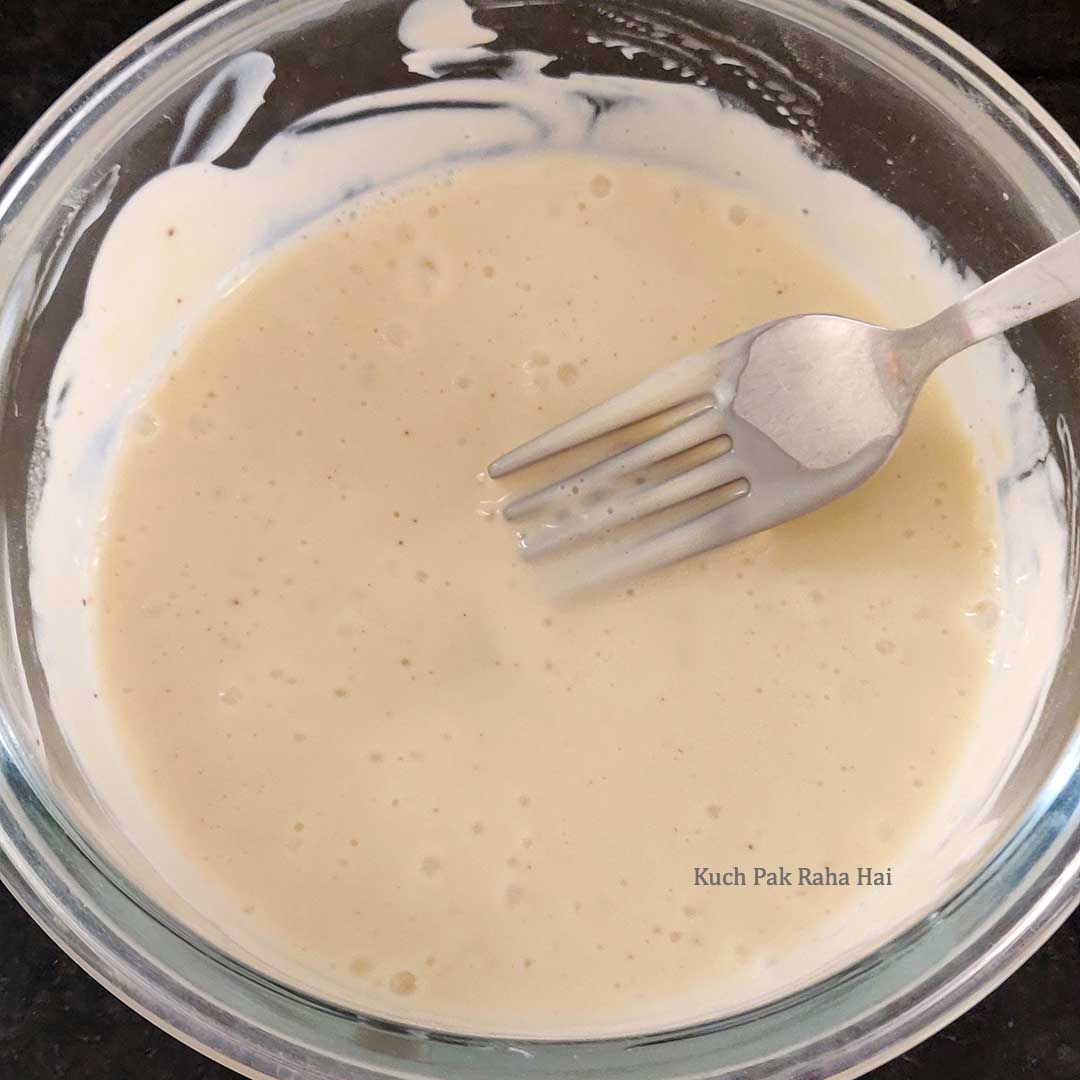 Step 2:
Press the centre of the bread using your fingers or back of spoon to create a slight dent in the centre.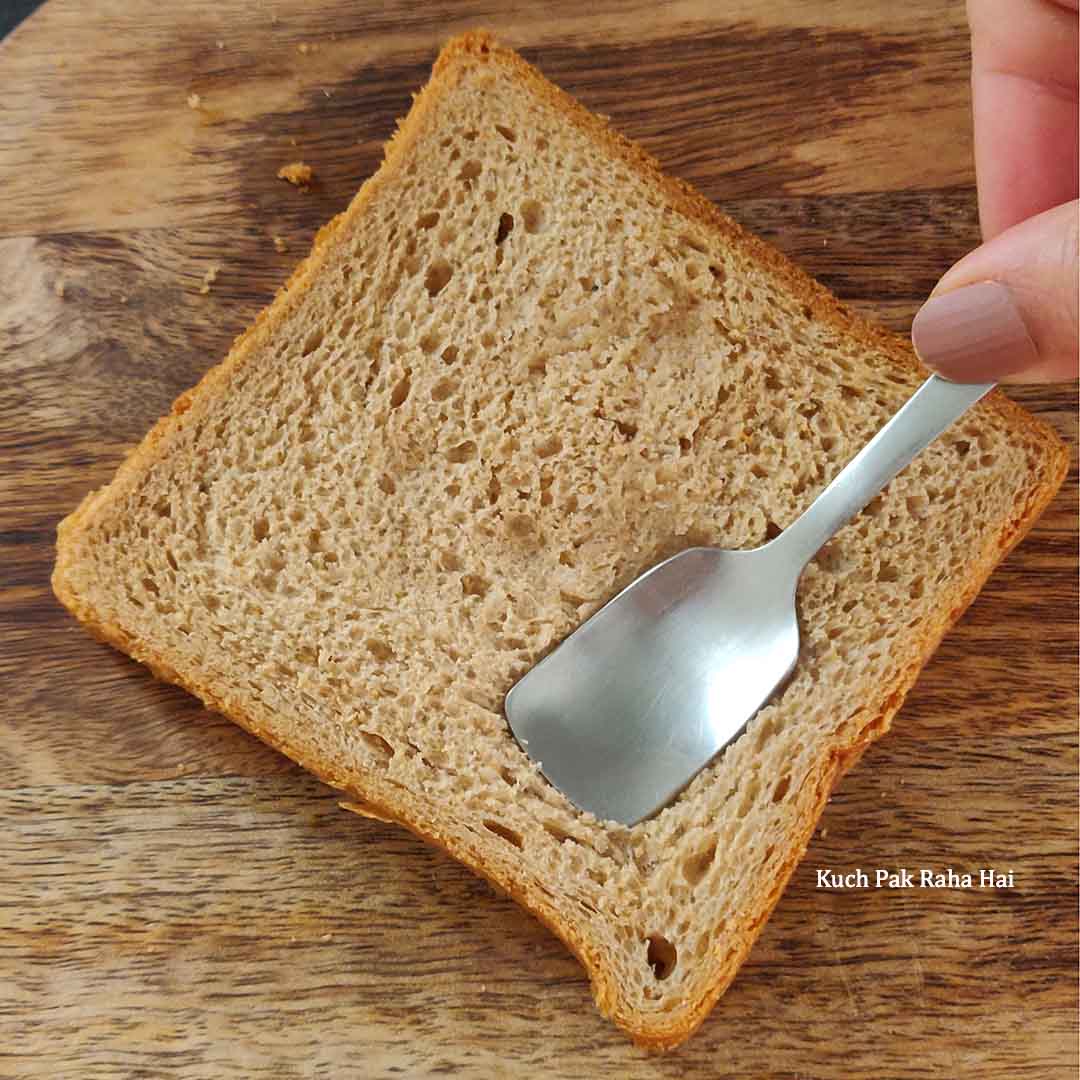 Step 3:
Using a spoon fill the mixture in the centre of bread. Arrange sliced strawberries or any berries of your choice over them.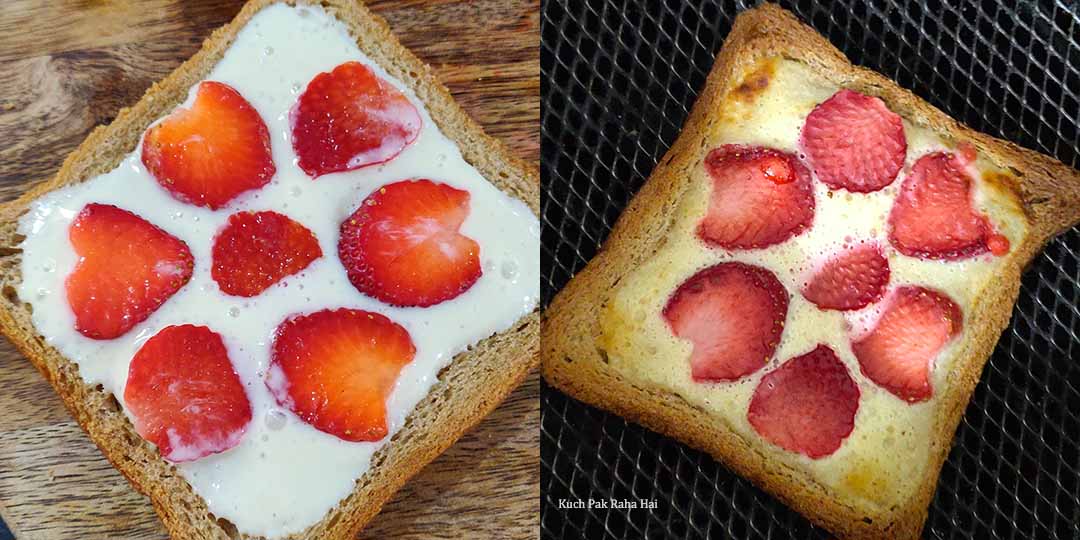 You can bake them in air fryer or microwave oven.
Air Fryer Toast
1. Preheat the air fryer at 180°Celsius.
2. Transfer these toasts on air fryer basket. Airfry them for 5 to 6 minutes till it edges become crispy and the yogurt mixture starts to caramelise near the edges.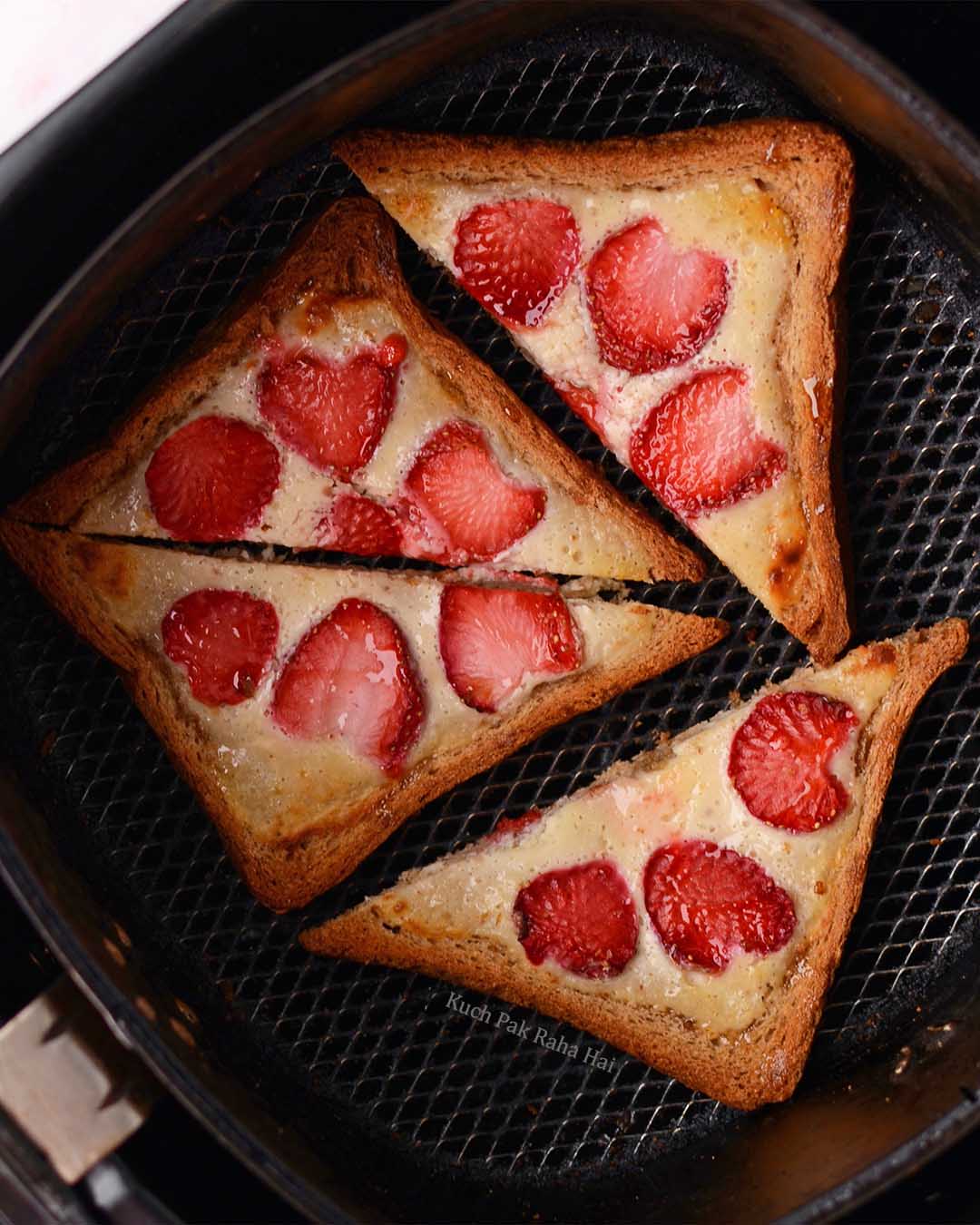 Oven
1. Preheat the oven at 180°Celsius.
2. Bake these toast for 10 to 12 minutes till the toasts become golden brown and crispy.
Pin for later: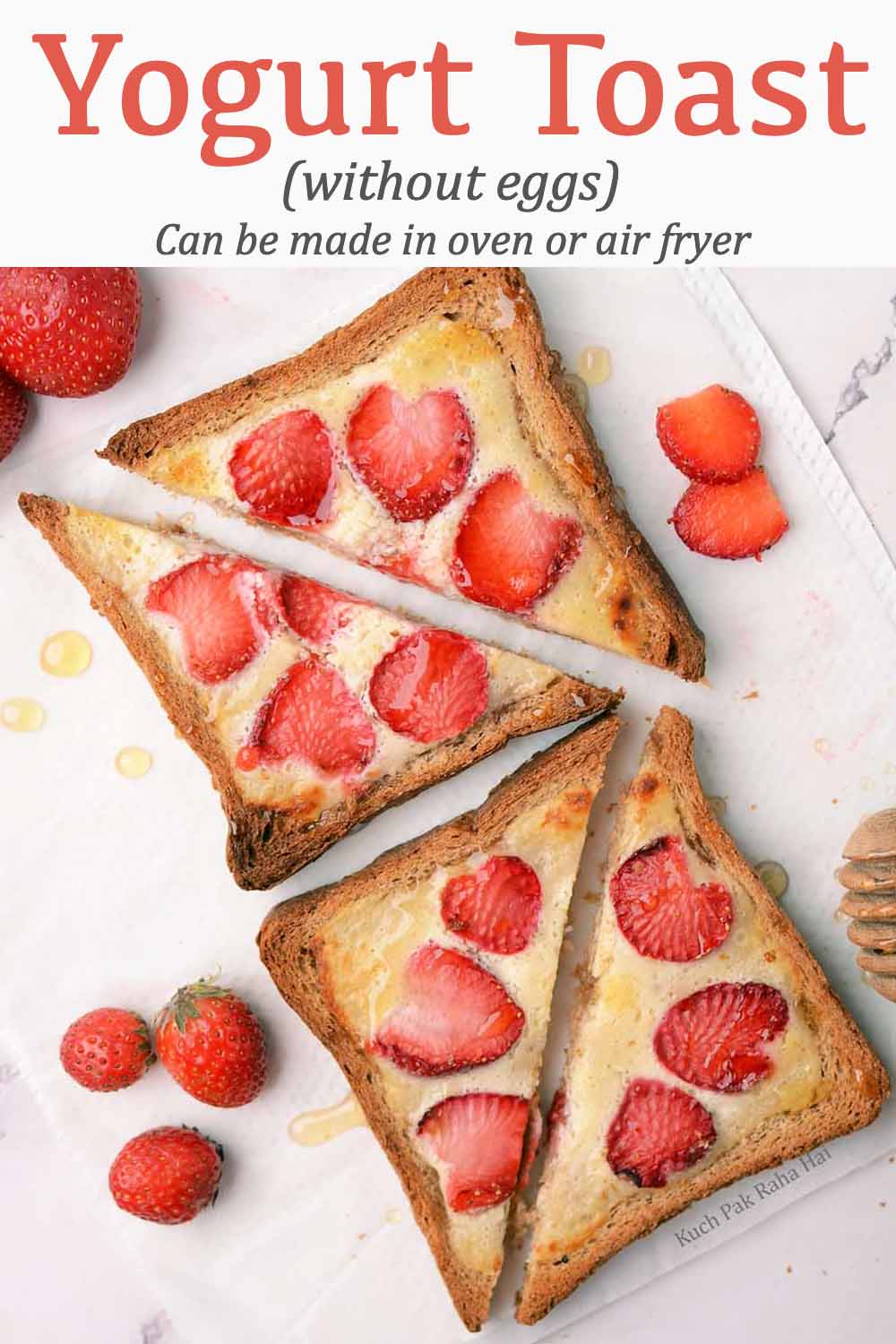 You can drizzle some more honey or maple syrup on top. Enjoy them warm with tea or coffee!!
Tip:
1. Preheat the air fryer or oven before you start making the toast. Don't wait after applying the mixture as the bread can turn soggy.
More strawberry recipes:
If you try this eggless custard yogurt toast recipe & share pics on social media, then don't forget to tag on Facebook or Instagram or use #kuchpakrahahai.
Let's stay connected
Facebook | Instagram | Pinterest| Youtube